Galloway rewarded with new contract
by

35 Comments [Jump to last]
| 10/12/2015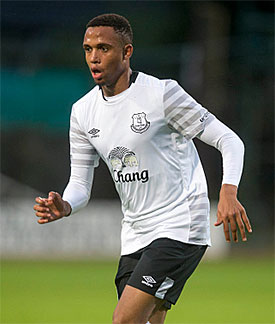 Brendan Galloway has put pen to paper on an improved deal that ties him to Everton until 2020.
The 19-year-old's new contract is a reflection of his impressive form at first-team level since breaking into the side last May.
Galloway was signed from MK Dons in the summer of 2014 for a fee that was officially undisclosed but was reported to be around Ł400,000 as a prospect for the future.
Like John Stones, however, the centre half found himself in the senior side in fairly short order under Roberto Martinez, deputising as a left back for the injured Leighton Baines for the final two matches of the 2014-15 season.
It was a role in which he would continue in impressive fashion this season after Baines suffered a relapse of his ankle problems just before the start of the campaign and Galloway has emerged as another of Everton's impressive stable of young English defenders.
The Zimbabwe-born player has been capped to Under-19 level by England had to wait to make his U21s debut for his country because of injury but he looks to be developing into a cert to earn full international honours in the near future.
"I'm really happy to commit my future here," Galloway said when the news of his new contract was announced. "This is a club that has got so much young talent and is moving forward. It's great to be able to commit to being a part of that."
His manager was equally delighted to secure one of his brightest young prospects to the club for an additional year beyond the terms of his original five-year deal.
"Brendan arrived at the Football Club with a very clear development path in front of him but the reality is that he has surpassed that," Martinez said.
"Then he joined the first team environment and he has developed into an important player and a very good performer. At Everton we will always reward those who deserve it.
"This is another step forward. He is still a young man but one with a fantastic personality."
---
Reader Comments (35)
Note: the following content is not moderated or vetted by the site owners at the time of submission. Comments are the responsibility of the poster. Disclaimer
Michael Kenrick
1
Posted 10/12/2015 at 16:40:43
This is great news. I know some of our analysts pick at his weaknesses but I think he's done a tremendous job coming in as he has and putting in some pretty solid performances.
I like him a lot as a player, and this is a tremendous statement of belief (or, for the cynic in me, excellent hedging of bets for being able to ask a massive fee when the rich clubs come sniffing).
And we still haven't seen him in his 'proper' position, have we? We may not for a while yet if the excellent pairing of Stones and Funes Mori continues. But that's a whole other thread...
Paul Andrews
2
Posted 10/12/2015 at 16:58:56
Michael,
I see both sides of your post. A just reward for a young player developing into a very good defender. Hopefully we don't need to sell our best young players, but who knows in the future.

One thing's for certain – there would be a massive profit margin on Galloway if he does go.
Derek Turner
4
Posted 10/12/2015 at 17:00:45
Good news, now I can put Grobbelaar out of my head. The single most irritating thing about being a Zimbabwean Everton fan. Come to think of it, its one of the reasons I'm an Everton fan.
Taken his chance and deserves it, and we (Zimbabweans that is) finally have some football pride. Peter Ndlovu anyone? Maybe Kitbag will let me sell chinese knockoffs to our new fanbase. I'm working on it.
Ray Roche
5
Posted 10/12/2015 at 17:04:11
Excellent news, looks to be a very good prospect, it will be interesting to see him in his real position. And we also have Garbutt to return, hopefully the extra game time at Fulham will bring him on. The experience should do him good.
Raymond Fox
6
Posted 10/12/2015 at 17:16:39
He's a very good bet to become an International player alongside Stones in a couple years in my opinion.
He's shown a maturity way beyond his years, to be thrust into the first team with his limited experience in a position that is not his obvious one, stamps him as an above average player.
He looks like he's going to be a real asset to the club.
Steavey Buckley
7
Posted 10/12/2015 at 17:18:56
Brendan Galloway, Everton's best left back, who provides extra height in defence, and good at getting forward. What I also like about him, he has that same built in confidence that John Stones has.
Matthew Williams
8
Posted 10/12/2015 at 17:19:16
Future back 4:Browning, Stones, Galloway, Garbutt... sounds good to me.
James Stewart
9
Posted 10/12/2015 at 17:20:09
I would like to see him in his natural position. The boy has obvious talent but looks unconvincing at fullback to me.
Defensively sound which is some accomplishment with the wandering Kone sporadically in front of him.
Offensively though he looks every inch a centre half and not of the John Stones variety. We have really missed Baines's attacking skillset.
Denis Richardson
10
Posted 10/12/2015 at 17:27:45
Good long contract, given to a very promising young player.
James Flynn
11
Posted 10/12/2015 at 17:33:23
What I liked best about the kid was his comment prior to playing against Chelsea earlier; the "daunting task" I suppose. "We're all on the same pitch for a reason", was his view.
Enjoyed that. Thought, "Look at this cocky teenager."
Injury aside, really looks like he can make something of himself. It's up to him.
Mike Gaynes
12
Posted 10/12/2015 at 17:34:34
Hate to swim against the tide here, but am I the only one who thinks he's already in his "proper" position?
I think his speed and ability to get down the line and into the box -- and his passing touch when he gets there -- make him potentially one of the best left backs in the Prem. He also chooses excellent defensive angles and is extremely difficult to beat off the dribble one-on-one outside.
On the other hand, his weaknesses would be on display in the center -- sloppy marking, ballwatching, not strong in the air, lack of physicality.
Just one man's opinion, but I think Browning, not Galloway, is our CB of the future. I think Galloway's future is at fullback.
Tony Doran
13
Posted 10/12/2015 at 17:39:02
I think he has stepped in reasonably well. Had a few good games and a couple of dodgy ones. Still learning and will probably be getting resting time now Bainesy is fit.
I still believe him to be 4th choice left back behind Baines, Oviedo and Garbutt.
ps: What's happened to Oviedo?
Christian Hoff
14
Posted 10/12/2015 at 17:50:41
Excellent news! I still want Garbutt on the left because of his fantastic corners and freekicks. That was poor against Crystal Palace...
Mike Gaynes
15
Posted 10/12/2015 at 17:53:29
Baby pulled a hamstring a few weeks ago.
Brent Stephens
16
Posted 10/12/2015 at 18:05:04
Well done Everton. Excellent.
Hugh Jenkins
17
Posted 10/12/2015 at 18:16:39
Sam Byram, who is a very promising right back at Leeds and is 22 years old, has turned down a new contract . Apparently, Everton is one of several clubs that are in the hunt for his signature.
If we do sign him, I think it would be safe to say that our back four will be settled for the foreseeable future with young, very talented players, on long contracts with good cover in all positions.
I think RM is building a dynasty, that, if we can hold them all together, will be virtually unstoppable in a season or two's time.
Jon Withey
18
Posted 10/12/2015 at 18:30:01
Love him, no room for both Oviedo and garbutt now.
Ian Jones
19
Posted 10/12/2015 at 18:37:30
And we have Pennington as well as a defender. Good times ahead. If we sell all our players based on potential we would raise the funds for a stadium refit in next to no time......and a mutiny!
Eugene Ruane
20
Posted 10/12/2015 at 18:48:39
Seems to play a rather conservative game, rarely straying too far from his position (not a bad thing for a defender by the way).
Once or twice, he has suddenly just appeared unnoticed in forward positions and had a couple of great chances – I think a goal would do this lad the world of good.
Anyway, very pleased for him getting his deal and think he has done very well in the games he's played so far.
Henrik Lyngsie
21
Posted 10/12/2015 at 20:36:11
Mike 11 I an with you on that one. He seems very natural as a left back and he does not strike me as a natural central defender. But off course I have never seen him play and he is still young and could become more physical.
But goodness me he has been a revelation this season. Imagine how many would have moaned about Roberto allowing Garbutt to go out on loan if Galloway had not replaced Baines.
Ian Williams
22
Posted 10/12/2015 at 21:42:44
A decent start but is prone to wandering around a bit and often finds himself out of position....great prospect for the future as he is definitely not the finished article yet.
Convenient timing too as he is sure to be dropped for Bainesy either this weekend or next so the new contract will stop him from "getting distracted" in the January window.
Whilst in the window, Yarmolenko went off after 10 mins last night! Probably a hamstring injury!
Keith Conchie
23
Posted 10/12/2015 at 21:51:18
Great news. Galloway has done a great job covering for Baines. He's definitely our 2nd choice left back now, ahead of Oviedo (who is too injury prone) and Garbutt when he returns. I do think he's more suited to left back than centre back, which I believe is what is planned for him.
We've got a really young squad full of quality starting to emerge, let's just hope we can keep them all together for the long term, cos I think they could be capable of really achieving something.
Martinez has really brought the age of our squad down and added real quality in such a short period of time without any huge amount of money and seemingly under the radar. We were all questioning why we weren't recruiting enough defensive cover with the departure of Alacaraz and Distin, and we were already light in that department anyway. Now we seem to have plenty of defensive options.
Peter Gorman
24
Posted 10/12/2015 at 22:39:02
I wish one could bottle this kid's attitude and make quite a few other players take a sip.
Harold Matthews
25
Posted 10/12/2015 at 22:39:53
Good player already. Tough lad with a fighting attitude. Looks a left back to me. Stones, Jags and Funes Mori are all two footed. Galloway is all left foot. Maybe CB at a later date.
Charlie Burnett
26
Posted 10/12/2015 at 23:35:54
Good player, showed us a lot of promise and still not young. But let's not get two carried away. He's only a pup. He still has a lot to learn as well as Stones, Barkley and Deulofeu.

I read somone say he's the best left back in the Premier League. Come on, the lad has done well when his chance was given but he still an understudy. He ain't no Baines.
Rob Hooton
27
Posted 11/12/2015 at 00:12:22
Great news and nice to see comments on what Roberto IS doing well, hopefully he will develop well as we do seem on the cusp of great things.
Some of our play lately has been scintillating and we need these lads to believe.
COYB!!
Jay Harris
28
Posted 11/12/2015 at 00:12:42
Great attitude,Good ability,well deserving an improved contract.
Still not convinced he is ready for the first team but thereagain he has had a real mixed bag in front of him.
Would like to see Bainesy in the left mid position and see how this improves him.
Anthony Dwyer
29
Posted 11/12/2015 at 00:20:59
Great news for everyone concerned, Galloway is a huge asset and a great kid, his attitude is unbelievable.
Keep all our talented youth together an we will go places.
Jakob Herd
30
Posted 11/12/2015 at 00:35:19
Everton's best kept secret.... while the press go on about the 'Fab Four' and the 'Divine Quartet' most Evertonians know there is a fifth member of the quintet, who just gets on with the business of developing into a class footballer.
I have never been so optimistic about the quality of Everton's squad as I am now.... I just hope we can start turning these games into wins and push up the table. We could win the Premier League this season if we tightened up at the back, it's totally open.

Minik Hansen
31
Posted 11/12/2015 at 01:21:02
Stones had to settle in to the team in his first proper season 2014-15 before catching everyone's eye, one year it took. Same goes to Galloway; it will be his season in 2016-17.
Laurie Hartley
32
Posted 11/12/2015 at 09:57:22
It's almost all been said above except perhaps the fact that this lad is a tough character. He is scared of no-one, and I mean no-one – you can see it in his eyes. You need players like that in your team.
Mike (#11) – For me also he is a left back, he's tall, can show a player the line, and can tackle. Likewise Browning is going to be competing for a CB spot in the not too distant future. What a double to have coming through the ranks!
As far as getting forward is concerned, if I have any doubts, I just recall the one-two with Naismith before he plonked a peach of a cross on his head against Chelsea.
For me, things are looking distinctly blue at the moment.
Dave Abrahams
33
Posted 11/12/2015 at 10:28:58
Brendan has done much better than expected at left back and I think he can be even better with a winger in front of him. I think he hesitates going forward too much because he is aware that when he goes forward he is leaving a big space behind him that doesn't get covered.
Looks like he has got a big future in front of him.
Brent Stephens
34
Posted 11/12/2015 at 11:13:18
Dave (#32),
I totally agree about the need for Brendan to have somebody in front of him linking up. The crowd can see it every game. Kone started sort of leftish last game but it was not long before he drifted well right.
Aaron Underwood
35
Posted 11/12/2015 at 14:58:39
Best find of the season, hands down. When Baines got injured, I'll hold my hands up and say I absolutely slated Martinez for sending Garbutt out on loan, and I thought it meant our season would be off to a rocky start, but this kid's got it all.
He's totally fearless. I think of some of the players he played against in his first couple of games with the senior squad, seems like he's always in the right place at the right time.

Favourite moment for me was against West Brom when Berahino pretty much had the ball in the back of the net only for Galloway to come out of nowhere with the challenge. The three points we gained that day belonged to him if you ask me.

I agree completely with Jacob (#29) about the fab five, but don't tell the press that or they'll have him on every front page as some other team's main transfer target just like they do with Stones. Also agree with what's being said about how he'd flourish with a real winger in front of him.
The system we play at the moment means Kone's always drifting into the centre. I also recall that one-two and the assist for Naisy, I watched that game with a mate who's an Oviedo fan who wasn't convinced Galloway should play over him, but he was certainly convinced by the end of that match – the kid played a blinder.
Geoff Williams
36
Posted 13/12/2015 at 17:12:19
A player of true potential but to make it he will need strengthening and a bit more weight but that might come naturally as he is still only a kid.
Add Your Comments
In order to post a comment, you need to be logged in as a registered user of the site.
Or Sign up as a ToffeeWeb Member — it's free, takes just a few minutes and will allow you to post your comments on articles and Talking Points submissions across the site.
© ToffeeWeb