Everton won't stand in Naismith's way if he elects to leave
by

54 Comments [Jump to last]
| 11/12/2015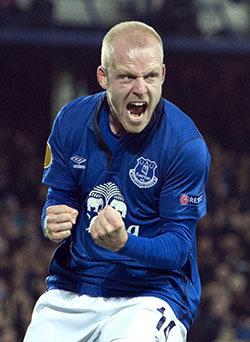 Roberto Martinez says that he will sit down with Steven Naismith to assess his role in Everton's squad amid speculation that the Scot could look to leave the club to satisfy his desire for first-team football.
Naismith came close to moving on transfer deadline day in September after Norwich City lodged an Ł8m bid that was accepted by Everton's board but the move was ultimately blocked by Martinez who felt the 29-year-old was too important a squad member to lose without a replacement lined up.
Since then, however, despite his superb hat-trick against Chelsea in September, Naismith has seen his opportunities in the senior side wane in the face of the impressive form of Arouna Kone, Gerard Deulofeu and Ross Barkley and that has the former Rangers forward once again eyeing the forthcoming window as a time to assess his role in the Blues' squad.
Martinez was pragmatic about Naismith's dilemma when probed about the situation by the press yesterday. The manager acknowledged that at this stage of the player's career, it was only natural that he wouldn't want to be warming the bench and he admitted that he wouldn't stand in Naismith's way should he request a transfer next month.
"The offer from Norwich arrived very late and I wouldn't have had time to replace him," Martinez said in The Guardian. "I was honest with the player and told him he was too important to the club to be allowed to leave. I didn't know at that stage how Arouna Koné was going to be, or how Gerard Deulofeu was going to settle in, but I had a good idea that Steven still had plenty to contribute, and so it has proved. 
"He has been a consistent performer since I came to this club, but at 29 I can fully understand him wanting to go somewhere else if he thinks he can be the main player.
"I respect Steven as a player and a professional," MartĂ­nez said. "He gives everything to the cause and if he says something you have to listen. I do not want to lose him but I understand his position. I think if Naisy was 22 years old he would be happy to fight for his place – you have that confidence at that age – but when you are 29 and not playing as often as you would like it is completely different. 
"I will talk to Steven in January and see where we are. If he feels we can offer him something he will enjoy over the next six months then fine; if not we will try to help him out."
Martinez has cited the stiff competition for places that is keeping Naismith out of the side as one of his team's biggest strengths this term and it is likely the chief reason why he told reporters yesterday that he does not have plans to strengthen his squad next month. While that competition will remain while his current first-choice attacking players are performing so well, the Catalan may not be able to retain the same depth in personnel should his fringe players look to move on.
Kevin Mirallas has been the subject of plenty speculation about his future in recent weeks, chatter that intensified among Evertonians after he was again left on the bench during Monday's draw with Crystal Palace, and Martinez hinted that the Belgian could also be granted his wish to find a new club next month to ensure that he remains in Marc Wilmots' plans for next summer's European Championships in France. 
"Some [players] have more personal reasons [for wanting to leave]" Martinez continued in The Guardian. "Kevin Mirallas, for instance, needs to think about how not playing for Everton might affect his selection for the Euros next summer. You have to try and help someone in that situation, if he needs to be playing. 
"We have helped players in the past. Nikica Jelavic had it in his head that he wanted to play against Brazil in the last World Cup. You can't really deny a player an ambition like that. We had a fantastic deal of Ł6.5m [with Hull]. It all made sense. 
"It was the same with Johnny Heitinga. Louis van Gaal told him he would not be considered if he was not playing for a club, so we allowed him to go to Fulham. He wasn't playing with us and it was only fair."
Aiden McGeady and Darron Gibson, meanwhile, have also been mentioned as potential departees in January as they eye Ireland's participation in Euro2016. Both players  had their injury problems earlier in the campaign but despite now being fit, they remain down the pecking order at Goodison Park.
McGeady was reportedly the subject of bids from Norwich and Sunderland late in the August transfer window and elected to remain with the Blues to fight for his place but he could be forced to reconsider his position now that he is currently out of his country's first-choice line-up as well.
With the possibility of as many as four players moving on in January, the Everton boss would be forced to weigh up potential transfer targets to ensure that his squad remains deep and competitive enough for the second half of the season.
"January is not a window where we're looking to bring players in unless something happens," the manager said at Finch Farm yesterday. "January can be a window of opportunity and as a football club we'll always keep that in mind but I think, for us, January is just a transitional month.
"We want to carry on working; it's right in the middle of the season. This season was always about the continuity, about having a team that know each other really well, and January for us is about carrying on that continuity."
---
Reader Comments (54)
Note: the following content is not moderated or vetted by the site owners at the time of submission. Comments are the responsibility of the poster. Disclaimer
Anthony Jones
5
Posted 11/12/2015 at 07:45:39
So he wants rid of Mirallas after all. If he was serious about this big role he has to play for Everton, Martinez wouldn't have gone down that route during the interview/statement. McGeady and Naismith, fair enough.

Mirallas and Gibson are two of our better players on the other hand. I don't care if Mirallas is arrogant. The best players often are. He is a really useful player to have for rotating.
John Audsley
6
Posted 11/12/2015 at 07:53:18
He has more guts than half the team and proved against Chelsea how good he can be. He is the kind of player we need in the next 4 months so unless the offer is close to the reported £8M Norwich deal it's a no until June.
He has attitude, I can barely think of another player at the club who has the same, maybe Besic but he hasn't been seen for months.
Les Martin
7
Posted 11/12/2015 at 08:36:14
Shame for Naismith as I am a big fan but I feel an offer of ٦M for a 29-year-old is what Martinez is hoping for... but that carrot may be gone.
Mirallas also being mentioned makes you wonder as you would have thought that we need quality players like him in the long push.
Deulofeu is a player who could pick up a hamstring at anytime, hence the need for Mirallas. I can only assume that Martinez has someone in mind to replace anyone that leaves? Interesting...
Roger Sunde
8
Posted 11/12/2015 at 08:40:09
With Dynamo Kyiv qualifying for the later stages of the Champions League. I guess Yarmolenko is out of the question... is Januzai a bad shout? He can't get in a high flying Dortmund side and could be cheap.
Darren Bailey
9
Posted 11/12/2015 at 08:55:17
I like Naismith; I think he brings a different dimension to the team when he plays... but he's not a Martinez type player – he's a Moyes type player. I'm also just not sure where he fits in now with Martinez favouring Kone and probably Lennon before him.
The same can be said for Mirallas. It's very disappointing as both are very good players and if Martinez was a bit more flexible, he'd be able to keep everyone happy with sufficient playing time. Top managers at top clubs can do that with the right amount of rotation and appropriate substitutions but Martinez isn't capable.
With players like Naismith, Mirallas, Gibson and McGeady looking to leave, other's like Pienaar, Osman, Hibbert, Howard and Barry coming to the end of their careers and contracts and then add a very frustrated Besic and our squad is looking threadbare and I lay that on Martinez lack of flexibility. There's no doubt we have a very strong starting 11 but, once injuries and suspensions kick in, we could be in trouble.
I'd like to think our very good younger players will be given a chance as I don't think there's anything better than to see an academy player come through the ranks and be a star. We have plenty at the moment but we can't rely on that... so, if we lose anything up to maybe seven players over the next two transfer windows, we have to spend.
Martinez either has to change his philosophy on squad rotation to keep players we have happy or the club has to change its stand on spending money.
Ste Wallace
10
Posted 11/12/2015 at 09:24:42
Everton are at a real crossroads in January and the Summer: we are already hearing Naismith and Mirallas possibly going... then you have McGeady, Gibson, Pienaar – that's just in January!
We'll then have Stones, Lukaku, Deulofeu, and Barkley – all big targets for other clubs. Barry and Howard are getting older, so Roberto you'd best start identifying replacements because we are in for a bumpy ride.
Chris Gould
11
Posted 11/12/2015 at 09:32:50
So we got Mirallas to sign a new deal in the summer to flog him for a decent sum in January. Makes good business sense.
I find it hard to believe that we will sell both Mirallas and Naismith without a more than decent replacement coming in. Maybe a deal for that player has already been agreed?
Ged Simpson
12
Posted 11/12/2015 at 09:50:56
This is exactly what we want from our manager. Some bottle and looking forward rather than pandering to us who think back to good moments these players have had.
Not comfortable as we wonder who may replace the likes of Naismith/Mirallas but I like the ruthlessness, even if it is dressed up as doing best for the player.
Makes a change from same old "loved" players we have had for years. Look at defence. Would you replace Funes Mori with the "stern leadership" of Jags?! Not automatically surely.
This is about change, and I love it... but, as a Blue, I am of course nervous!
Thomas Surgenor
13
Posted 11/12/2015 at 09:58:47
Naisy has been a good servant but isn't of that required standard to push us to the next level. He should be allowed to leave if a suitable offer comes in. It needs to make business sense for us as well. The lad has a great attitude and commitment. I cannot fault his efforts.
However, we should accept ANY offer for McGeady. Every second he gets on the pitch is a waste of our time and his. I would far rather see an inexperienced kid get an opportunity over this waster. He has already proved that he cannot be depended on (the stupid sending off against WH) I have never liked him from the second his overweight lazy persona stepped onto the pitch to be presented to us fans.
Finally, onto Mirallas, I would be gutted to see him go. I do feel he has been slightly unfairly treated. He is clearly talented and goalscoring wingers are hard to find. I personally believe he is a much better option on the left than Kone but perhaps that's why I'm not the manager?
I would love to see him down one side and Geri down the other. It might be far too attacking but heck lets give it a go.
Thomas Surgenor
14
Posted 11/12/2015 at 10:02:58
Sorry – I forgot to add, to those who think Mirallas has a bad attitude and not a 'team' kinda guy.
When the players emerged for the second half on Monday night, he patted each one on the back and said some words of encouragement to them. I do believe he wants to be here and cares about the team.
Perhaps, I may be blindsided by my favouritism towards him but I do believe he isn't as 'selfish' or 'sulky' as a lot make him out to be. It is bound to be hard sitting on the bench, itching to make a difference and witnessing the need for a sub but being overlooked.
Sam Hoare
15
Posted 11/12/2015 at 10:24:33
Squad players for me have to have 3 key elements:
1. They have to be able to offer something from the bench or do a decent job of filling in if someone gets injured.
2. They should be mostly game fit.
3. They should be relatively content with their role and happy to wait for chances.
I think we have a few players who don't fit these criteria.
Hibbert arguably fails 1 and recently 2. Pienaar sadly fails 2. Gibson as well. McGeady potentially fails all 3.
Naismith passes the first 2 with flying colours but looks as though he may fail number 3 and that's fair enough. He deserves to be playing Premiership football every week.
Mirallas again passes the first 2 but may fail 3 as well. He will also want to be in that Belgium squad for the Euros. Possibly he's closer to the first team than Nais.
I suspect that during the Winter or if not certainly next Summer the club will part ways with Hibbert and McGeady. Pienaar and Gibson too unless they can stay fit. Naismith and Mirallas will also be out unless they get more game time. Ossie will possibly stay another year though he's looked off the pace when I've watched him recently.
That's potentially 6 or 7 players who have been in or around the first team in the last few years. Of course there may be some bigger names agitating for a move but that's a different thread!
We need to replace these squad players with people who fulfill the first three criteria and for me that's likely to mean promoting young players who are doing well (the likes of Dowell, Henen, Ledson and Callum Connolly who's been on fire recently) and also finding some new players who are going to push the weaker parts of our first team (for me that includes a left winger, a goalkeeper and another creative central player).
Martinez has been loathe to make sweeping changes and I can see the sense in maintaining stability but at some point he will have to bite the bullet as we have too many squad players who need or want to be moved on or out.
James Newcombe
16
Posted 11/12/2015 at 10:55:18
Naismith is a really good finisher, we'll miss him if he goes.
Michael Polley
17
Posted 11/12/2015 at 11:31:50
Keep him until the summer
Winston Williamson
18
Posted 11/12/2015 at 11:37:51
Squad players cost a significant amount in wages. Thus they have to be of benefit to the club on a short, medium and long term basis.
Pienaar: £60k per week = £3,120,000 p/a - rarely fit and nearly 34
Hibbert: £20k per week = £1,040,000 p/a - rarely fit and nearly 35
Gibson: £35k per week = £1,820,000 p/a - rarely fit
Osman: £40k per week = £2,080,000 p/a - nearly 35
McGeady: £30k per week = £1,560,000 p/a - utter dross
The total of £9,620,000 per year on players who offer the first team very little...you probably could add a few more to that list too.
Moving them on is the hard part. Not an easy task. Hibbert and Osman should be offered coaching roles (as they're good dressing room influences apparently).
Someone should take McGeady if we offered them a tenner (similar to paying someone to remove rubbish from a property)...
Gibson & Pienaar's contracts expire at the end of this season?? In no way should they be offered new deals.
John Voigt
19
Posted 11/12/2015 at 11:38:47
Naismith is one injury away from playing. He's a good player. There are several players who most ToffeeWeb subscribers would prefer to leave the club.
Naismith is not excess baggage. The thing is he's a player who other clubs have interest in. I'd prefer him to stay and if Lukaku can't play or maybe Kone can't play he'd be in the starting 11.
Barry Pearce
20
Posted 11/12/2015 at 11:48:47
I like Naismith. I just wished half our players had his desire & fight, plus he can score a goal.
Mirallas is another I wouldn't want to see leave, I think he's better than Kone. Also I think he doesn't play because Martinez doesn't like him.
Ernie Baywood
21
Posted 11/12/2015 at 12:15:01
You can see why Martinez kept him. £8M isn't that much nowadays for a reliable player on the fringe of the first team. Unfortunately for Naismith he'll have to hope we add someone for him to get his wish.
I'll wish him all the best. I'll just think it is a shame if Kev goes. He could have been brilliant but he's never quite realised his obvious ability. At least not consistently.
Jim Bennings
22
Posted 11/12/2015 at 12:32:07
Shame but understandable, every player wants to be playing regular football and it's a loss to the squad if Naismith and Mirallas leave even for decent money simply because both players have proved they can do it at Premier League standard.
Sometimes you bring players in and they don't look suited to the league so if we do flog one or two then we need ready made replacement.
I'd still like to see the money spent on any of the following..
A quality instant replacement for Tim Howard.
A real tough central defender who's already fine tuned to the way the English league is played, Ryan Shawcross my preference.
Yarmolenko, although where he will play at present is unclear. And another striker if, God forbid, Lukaku got any type of injury, and given Kone's age you can never be convinced he's about for the long haul injury free.
Ian Jones
23
Posted 11/12/2015 at 13:10:26
It was reported earlier in the year that Gibson was to be offered an extension to his present contract. Does anyone know if that happened?
Steve Guy
24
Posted 11/12/2015 at 13:18:51
Shame we can't get Tim Howard out in January too. Spend the money we save on Naismith, Mirallas et al on Jack Butland.
Dan Hollingworth
25
Posted 11/12/2015 at 13:43:30
Kev should stay, and be given a run of games. But of course Roberto don't like him. He will never play for a club as big as Everton. His problem is, he thinks he Dortmund, Atletico Madrid level (and on his day he could be, but he doesn't do it enough). He should get his head down.
In terms of leaving, if you can get £10 Million for McGeady and Naismith, then that's good business, especially Naismith who was signed on a free. I have never taken to Naismith, he is terrible on the ball and just runs around.
One of Rooney or Yarmolenko in. That won't happen, of course, wishful thinking. But how nice would it be if we actually went for one of them and sent a message.
Lukaku, Rooney, Barkley, Deulofeu
Just imagine!
Jay Harris
26
Posted 11/12/2015 at 13:46:45
It's a shame that consistent goalscorers are being lined up for the exit door when players who play link up well but have poor goalscoring ratios are being played regularly.
Naismith is arguably the best header of a ball we have and has a desire and workrate second to none...
Kevin Mirallas can create a goal out of nothing and has pace to burn.
Lukaku and Deulofeu and/or Kone will not play every game this season so it is important to have quality in reserve.
Wasn't it RM who said the squad is the most important thing and then continues with he same 11 for 90 minutes every game.
Peter Cummings
27
Posted 11/12/2015 at 14:12:36
While people like Martinez talk about the quality of our squad 'in depth', how come we can't seem to make our way past teams we should beat week in and week out??
Our great supporters, especially those fanatics who turn our away games into virtual homers, are being constantly frustrated by seeing points dropped or having to come from behind to grab just one. Most frustrating of all is the manager's refusal to make subs who would inject required urgency into our game, namely those like Naismith and Mirallas who are now expected to be on their way next month.
It's an unpleasant fact that if we can't hold on to our best players – and I personally don't include Barkley or Kone in that category – we will end up as also-rans for the umpteenth time. Quite frankly, I can't see Martinez coming close to achieving what Everton Football Club needs, and deserves, in the near future, and so it will go.
Tim Wardrop
29
Posted 11/12/2015 at 15:00:53
People wanting Mirallas to leave.....what on earth is wrong with you? He should be one of the first names on the team sheet. Look at his goal scoring record for us – better than one in four despite playing out wide and often not completing the full 90 minutes, or coming off the bench. Ridiculous
Raymond Fox
30
Posted 11/12/2015 at 15:12:26
Peter we don't 'deserve' to finish high in the Premier League under the present ownership, I'm sorry to say. In the last 5 years spending on players table, we come 17th! Guess who the top 5 spenders are? You got it, Man City, Man Utd, Chelsea, Arsenal and Reds.
We actually achieve a higher position in the League each season than we can be expected to, not a pleasant thought I know, but on money spent to improve the team that's the truth.
Going back to the thread, what happens if Lukaku is missing through injury or suspension? We need Naismith to the end of the season, then let him go.
If you have a good squad some players are going to be 'cheesed off', it's inevitable. We definitely need to get a few players off the payroll, Gibson, Pienaar, Oviedo, McGeady, Hibbert as a player.
Osman I'd keep for another season as a squad player and maybe on the coaching side when he retires.
Stephen Brown
31
Posted 11/12/2015 at 15:35:45
It's got to the point when we should be worried that all players could be leaving! Lukaku, Stones, Barkley, McCarthy because they are too good for us! Deulofeu as he's only really on loan! Mirallas, Naismith now because they don't play every game!
It's hard to enjoy watching the players as I'm constantly worried that soon they'll be off! It's getting ridiculous – every time Lukaku scores, I think "Oh dear, that'll make him attractive to 'the big clubs'..." Same with Geri – every wonder cross is met with I hope Barca didn't see that!
Even though, one day, I'd like to think that some of these players could be remembered as Everton greats?! Will they win anything to justify that? Will they stay long enough? I hope so!
Shane Corcoran
32
Posted 11/12/2015 at 16:02:03
I'd imagine that Naismith and Mirallas will get their chance over the busy schedule.
The Blues have seven games in 22 days from 26th December to 16th January.
Mirallas has the Euros to think about; Naismith hasn't. I'm not sure when his contract expires but there's no way he should be allowed leave unless there's someone with goals in him lined up as a certain signing.
John Crook
33
Posted 11/12/2015 at 16:24:41
Darren Bailey (#4). Why do you think Naismith is not a Martinez type player? Martinez tried to sign him whilst he was Wigan Manager.
I think Naismith got an unjustified amount of abuse in his 1st season considering the injury he had come back from effectively meant the whole 2012-13 season was a rehabilitation. Naismith has more than proved himself to be a decent Premier League player.
Whilst he will never get in the 'class' category of players, he would continue to be a very useful squad player in my opinion. If he does go in January all the best to him!
Denis Richardson
34
Posted 11/12/2015 at 17:25:52
With the exception of McGeady (who was a cheap punt that didn't work out), looks like Martinez is clearing out all of Moyes's attacking players.
Mirallas should be sold if he's not going to play, Naismith because he's not good enough imo, McGeady because he's not good enough either. The three combined have not really contributed much this season (Chelsea hat trick apart).
I can see at least one or two of these going in January. We have too many midfielders right now so losing one or two isn't going to cause a huge problem. I'd be sad to see Mirallas go but he's too good to be on our bench.
Paul Thompson
35
Posted 11/12/2015 at 17:29:28
So, both Naismith and Mirallas
could
leave in January, but they won't or not until we have at least one replacement. If Mirallas is not getting a game and the Euros are coming up he should be allowed to go for a decent fee.
I would keep Naismith. If Rom gets injured, he could lead the line and we'll need him (his versatility and attitude) as injuries pile up in the second half of the season.
Paul Commons
36
Posted 11/12/2015 at 18:18:10
Too many voices on here calling for a return to the days of Moyes when we usually had no more than 18 players of Premier League quality.
Of course some of the players referred to are well past their best and should be moved on or retired but Naismith and Mirallas are not among them.
Sensible use of the duo as subs (when others are failing to make an impact) would do much to keep them interested and feel valued but this manager is not for changing.
He obviously believes that his favourites will be good enough to get us to a 6/8th finish which is all we can aspire to however attractive the football.
Aaron Underwood
37
Posted 11/12/2015 at 19:12:08
I just hope that if Kev leaves we find an equally good replacement, which I'd be happy with, because you can have all the talent in the world but, if you don't have the attitude to match, then you're useless.
I think Kev and Martinez don't see eye to eye, and I think when Kev does play he's ball greedy and wants to be the star.
In contrast, when Gerry gets the ball, first thing he does is look for the pass. Kone might not have as much talent but I'd argue he's the same, and that's why he's being played over Kev.
I will be really sad to see Naisy go though, he's got the best attitude of anyone in our squad, but he hasn't got the talent to be in the starting 11, so if he wants to leave to get some playing time then that's fair enough.
I'm feeling quietly confident about this January transfer window, with a couple on their way out, I can't help but feel Bobby Brown shoes has a trick up his sleeve.
Remember when we thought all hope was lost, then we signed big Rom and Barry on loan on deadline day? Remember when Alcaraz and Distin left and we ended up with Mori? Remember when he signed Galloway for 400,000? Remember when he signed one of the best players in the Premier League this year for £4 mil from Barcelona?
Have some faith.... COYB

Russell Smith
38
Posted 11/12/2015 at 19:44:19
Martinez should be given some credit for what he is clearly building. Younger hungrier and more exciting players and squad members are being gradually introduced, tied in by longer contracts that gives the club the upper hand during transfer windows.
Others on this thread are worrying that the "Fab Four" will all move on in January or this summer. Why? They all have three or more years on their current contracts so the club does not have to sell. They will all want to play in next year's Euros (or two years later in a World Cup) so they will not want to languish out of the team if we refuse to sell and sit them on the bench, and they will want to play well to ensure that their national managers pick them.
This has to be to Everton's benefit. Neither Naismith nor Mirallas is a first choice nowadays, and neither has had any real or consistent impact over the past 12 months. We cannot complain about Martinez hanging on to the likes of Gibson, Hibbert etc and then when he does act decisively complain.
Despite some reservations on Martinez he is building something pretty good and if this progress continues over the next 18 months we will have a young and talented squad with a real chance of winning silverware.
Andy Crooks
39
Posted 11/12/2015 at 20:20:28
In my view, selling either Mirallas or Naismith would be folly. Mirallas is a quality player and unlike some I admire his self belief. Naismith has played most of his time at Everton out of position. I think he is a brilliant finisher and will get goals if Lukaku gets injured.
I fear we will let players go in January without replacement and that it will be the beginning of a cash in.
Paul Andrews
40
Posted 11/12/2015 at 20:47:31
Naisy has been a good servant to the club, a whole-hearted player who gives 100 % every game. Also a good lad off the pitch with his donations to people less fortunate. If he goes I wish him all the best, if he stays he will get the support he deserves.
As Russell points out in post 33, Martinez is creating a squad of young, hungry players who are buying into his philosophy.The improvement is plain to see for anyone who wants to see it.
As the song goes "Roberto had a dream..."

Oliver Molloy
41
Posted 11/12/2015 at 21:08:33
I have been told by a relative of a first team player that Naismith has already told the manager he wants to join Norwich if a fee is agreed and Norwich want him.
Sunderland have also sounded out Martinez about three Everton players so take your pick!
I do not believe for one second that Mirallas and Naismith would be allowed to leave in January unless Martinez has replacements lined up. I'd say whatever is going to happen is already happening if that makes sense.
Tony Doran
42
Posted 11/12/2015 at 22:02:18
Naismith, McGeady, Pienaar... makes sense to let them go. Mirallas, Lennon and Gibson should be kept and played more often. They are good players.
Saying that, I think Mirallas has defo upset someone. Get rid of all the deadwood.
Andy Crooks
43
Posted 11/12/2015 at 22:20:50
Paul, what is this "philosphy",that are young players are buying in to? The "philosophy" that made John Stones put in a transfer request? The philosphy that has Lukaku's agent looking for a transfer for him.
It is good that Roberto has a dream. So do I. Good squad with potential and ambition; innovative coach with defensive nous and an open mind; a coach without favourites but with imagination. Well, we've got some of that.
Christine Foster
44
Posted 12/12/2015 at 00:41:13
I have a real feeling of disquiet about the way there is a lack of team rotation and the public allowance to proclaim both players can go. Especially when they are both proven and valuable players in our squad when there are at least half a dozen that should be moved on or out ahead of either player.
Recently we have thrown points away through poor decision making both on and off the pitch. Kone is in the team because he has built an understanding with lukaku whilst Deulofeu is NOT as good or a complete player as Mirallas.
It great we have a team of young and exciting players, but without steel, craft and hard work the mix will not succeed. Naismith is not pretty but he is effective, Mirallas is direct with pace, Lennon is a clock work winger, point him to the line and say go...
Message to manager. Clear out the driftwood, rotate the team better. Keep the better players. Keep your mouth shut more often.

Tom Bowers
45
Posted 12/12/2015 at 01:34:33
Everton are carrying a lot of deadweight and they need to be moved on or out so that some new faces can be brought in to strengthen the squad.
It is sad that some of these players have done well in the past but due to age or injuries are no longer worthy of a regular squad place.
As for squad rotation, I dIsagree. One should play a settled starting eleven if they are getting results and use substitutes accordingly as necessary.
David Chait
46
Posted 12/12/2015 at 03:53:22
Jay made the point I was going to add... RM just doesn't use his subs... It is my biggest issue with his management style. Players clearly off their feet are made to keep running and often, in my opinion, is why we concede late goals.
If Naismith was given 25 minutes every other game he would be ok. But with Martinez you have to wait for an injury. It's not a squad game at the moment.
Phil Sammon
47
Posted 12/12/2015 at 04:30:30
Totally agree, David.
I don't know how he can leave Mirallas and Gibson on the bench while we chase a game. And it's not only the change of tact a substitute can bring, surely he's the only manager in the league who hasn't figured out that a substitute will likely have much more energy than his opposite number.
Hugh Jenkins
48
Posted 12/12/2015 at 04:47:24
Russell (#33). I like your analysis and wholeheartedly agree.
I believer RM is building a team and has sold a dream to these youngsters that they have bought into - hence the reason they all signed five year contracts last season.
I think the benchmark on transfers for our young stars was set last summer with the John Stones saga, and I also think that no matter what happens or who may put in a transfer request in the summer, Roberto will stick to his guns and say, "No! A contract is a contract and you will stay". For the pother reasons you stated, they will all buckle down and play so that their International and possible future transfer prospects won't be damaged.
A couple of further additions in the summer (a new goalkeeper and a number 10) to add to the squad and the continued development of the youngsters already in the squad will make us a more formidable force than we already are.
With some of the very promising youngsters we have also being promoted to the first team squad, who knows, we may not even need to buy additions - they may already be here.
In any event, I think that by August next year, we will be entering the PL campaign with the strongest and youngest Everton team we have seen in generations.
I also believe that, (dare I say it), it will be a team capable of challenging, not just for the top four, but for the title.
Peter McHugh
49
Posted 12/12/2015 at 05:40:56
Keep hearing about keeping Mirallas, Naismith on the bench when we're chasing a game. I don't recall us doing that when chasing a game although I didn't see us play Man Utd. Other point being made is squad rotation. We don't need squad rotation at the moment and going forward we're doing well. Naismith in particular has had a run of games and didn't cut the mustard.
I agree wholeheartedly he's best in centre but manager (unless he drops Barkley) has no room for him there. Mirallas has played this season – I remember seeing him at Spurs where he stunk, to be fair the whole team did. He also got banned for three games and has had injuries and Kone and Delboy, particularly Delboy, have been playing great.
Come Festive season there will be squad rotation unless no chance to do so owing to injuries. Mirallas and Naismith will have chances to stake their claims again.
I can't argue with the manager's picks although I can understand why people would prefer Mirallas. Infact playing football manager as we all do, I too would give Mirallas a run out from the start instead of Kone very soon. Surely Kev would need to play out his skin which means good news to us all.
The downside is Rom is playing his best football for us and that's down to mostly Deulofeu and Kone so potentially his form could suffer if Kone dropped.
My prediction is that Naismith goes but Mirallas stays and will be starting games.
Phil Sammon
50
Posted 12/12/2015 at 07:10:06
'Keep hearing about keeping Miralles, Naismith on the bench when we're chasing a game. I don't recall us doing that when chasing a game'
Try last week, Peter.
Darren Hind
52
Posted 12/12/2015 at 08:16:13
Doesn't really matter what we think. Martinez has the gig and there are some players he clearly doesn't fancy.
In fairness, its his bollocks that are on the block and he must be allowed to ship out players he doesn't want... as long as he replaces them with players he does want. He says he is trying to be fair to the players, but no manager can afford to do that. I would hate to think he has been ordered to lighten the wage bill at a time when a little investment could make all the difference.
IMO this is the biggest test of our boards "ambition" to date, If we sell without replacing in this window, we may as well all throw our hand in, stop torturing ourselves and accept our status as a mid table prem team whose board are happy to stand still... as long as the money keeps rolling in.
Michael Ward
53
Posted 12/12/2015 at 11:16:05
I don't see how Martinez is being criticised here. He has given both Mirallas and Naismith new contracts recently, he is saying he will speak to the players and is trying to look after the interests of them and the club, he clearly doesn't have an agenda to get rid of them. If we choose to sell anyone in January I firmly believe we will have a replacement lined up that will either improve the team immediately or have potential to be a really good player in the future.
As for people asking for Osman to get another year, you mustn't have watched the Boro game. Osman was never a great player physically - always been slow and weak. Now that he is older is is practically stationary and collapses if a player comes near him, he is no longer suited to the modern game and should not be offered a new deal.
Hibbert is another for whom a new deal should be out of the question, even if fit I couldn't see him playing at RB any more, I would rather shuffle someone across than play him.
Gibson is constantly injured and while under Moyes he did show good quality in periods we pay him to never be available, he has done nothing to deserve a new deal at this point. Don't even get me started on his drink driving charge while he is injured, maybe if he treated his body like he should as a professional footballer we would get some minutes from him. He should be let go.
Oviedo, as much of a cult following as he has is struggling with injuries and plays in a position where we have a lot of cover, can we justify keeping him on?
Pienaar, now he is one Martinez seems to have pinned some hopes on still but as with Osman his body doesn't seem to be up to the rigours of premier league football any more. He is also the only one of the above that Martinez has not replaced, although he has found a role on that side for Kone.
Think of the team that Martinez took over, think back to Phil Neville playing centre mid, think about our 37 year old starting CB, Jelavic up front not scoring for weeks at a time, Anichebe punching his hand into the floor as he once again lost his balance. Martinez has done a fantastic job with the aging squad he inherited and now we have a young team with a young core that can be built around. Naismith and Mirallas are not young prospects if they aren't good enough to justify starting in the team then we should be considering letting them go. It's up to them to prove they are good enough, not Martinez. Look at Kone, work hard, play well and you will be rewarded.

Colin Glassar
54
Posted 12/12/2015 at 11:36:08
100% in agreement with you Michael. I wouldn't even change a comma of your post.
John Williams
56
Posted 12/12/2015 at 16:46:49
I, like many other Evertonians, can't quite fathom why Mirallas doesn't get any game time; would he unbalance the team so much even from the bench?

His problem has always been consistency. One game, he scores goals, plays great; next five games, he goes missing. He seems from the outside looking in a very moody guy both on and off the pitch but clearly the lad has quality.

Martinez has to harness his talent coming off the bench initially to playing him from the start.

In order for him to start, Baines needs to be up to speed at LB and maybe an axis of Cleverley and McCarthy as the holding midfielders who are both capable of covering every blade of grass.

Mirallas then could well be the missing link of the best Everton team in over 30 years... COYB

Peter Gorman
57
Posted 12/12/2015 at 17:06:06
I truly don't understand how Mirallas 'inconsistency' is trotted out whenever the debate comes up about him being selected for the team. "One game plays great... next five goes missing" is a line you could make about pretty much every single player at the club.
Similarly, the implication that he 'stank' at Spurs which somehow justifies Kone, Cleverley and Naismith being selected ahead of him. Incredible! As if every other player has not stank once let alone consistently (Kone at Bournemouth looms large for that one and best not even mention Barkley).
So how can we settle the question then, who is the better midfielder? Well, try comparing their records for one but that might not work because it just shows Mirallas is hands down better for the team than the rest.
Nick Armitage
58
Posted 14/12/2015 at 16:42:36
"Impressive form of Arouna Kone"
Have I got shit in my eyes because I see nothing in terms of a goal threat from him. All he does is occupy a centre half once in a while.
Ian Riley
61
Posted 15/12/2015 at 16:46:51
Look how far we have come. Five years ago, players on the bench would have been half the team. Our forward play is not the problem but defending. Let's face it, if we had taken our chances we could have scored fifteen goals in the past three games.
The manager has a plan, and that involves youngsters and experienced players. Players that are not playing must show more when they come on. Are they changing games? No! What do we want as fans? A manager whom is still young bringing a entertaining brand of football to our club or a dull hope for the best 1-0 win.
Martinez is developing as a manager to bring his style of football. This is his third season at our club, we are six points of the top four. Semi final of the league cup. A 7/10 so far this season.
Ray Roche
62
Posted 15/12/2015 at 17:09:44
Ian, "What do we want as fans?"
I would suggest that we want half of what Martinez has provided. We want good attacking football, we want an air of lightness about the club, the proverbial breath of fresh air. We want a personable manager who can see beyond 40 points.
We also want to go out and KNOW that we are not a soft touch for any coach who can see that balls whipped into the area will lead to a goal. We want a coach who will stop these balls being sent in at source. Who can see the benefit of defending first, the key to success at every club who wins things.
A few years ago, watching Everton concede a goal left us all feeling that "We're stuffed" because although we could defend, we didn't have a goalscorer. Now we just HAVE to score, because we concede goals just about every week. We have managed 4 clean sheets, against Swansea(!) , Spurs, Villa, and Southampton. Villa and Swansea are the two lowest scorers in the Prem so that's nothing to get carried away with. Scoring goals is only great if you don't concede the same or more than you score. (Beginning to sound like Michael Owen)
His "plan" involving young players coming through will never bear fruit, at least, under Martinez, because he will be out of the door unless he can eradicate our failures in front of our OWN goal.
I really do try to like Martinez, especially when he cuts the flannel out, phenomenal etc., but he's got to start stiffening the defence up or our season will go from bad to worse.
Ian Riley
63
Posted 15/12/2015 at 19:54:36
I agree, Ray, I cannot listen to Martinez after games or before. To much of a pundit for me. However, if anyone thinks Martinez is under pressure or at risk from the sack, they can think again. The football under Moyes at times was... well, OK at best. He lasted 11 years with a further 5 years if he had chosen to stay. The main problem is we have the best squad of players for 30 years with an average manager.
As a fan, I try and take the best from what we have because frustration with the manager will only put my blood pressure up! As a club, we don't sack managers unless we are in real trouble. My only hope is the manager learns from his mistakes and makes Everton stronger. My fear is he won't but I have been wrong before.
Remember, Ray, it's not the football that kills you: it's the hope it will get better!
Add Your Comments
In order to post a comment, you need to be logged in as a registered user of the site.
Or Sign up as a ToffeeWeb Member — it's free, takes just a few minutes and will allow you to post your comments on articles and Talking Points submissions across the site.
© ToffeeWeb