Barry: We need to change our mentality
by

122 Comments [Jump to last]
| 29/12/2015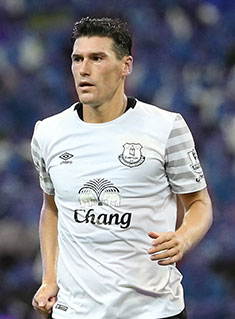 Gareth Barry says Everton can only blame themselves for once again failing to close a game out and hold on to three points in the wake of the debacle against Stoke where they snatched defeat from the jaws of victory.
The Toffees had twice recovered from going a goal down and taken the lead for the first time in the match when Gerard Deulofeu scored with 20 minutes to go but they allowed the Potters to equalise 10 minutes later and then win the game, albeit in controversial circumstances, with Marko Arnautovic's stoppage-time penalty.
Coming on the heels of the draws against Bournemouth, Norwich and Crystal Palace, matches in which Everton were the superior side and had scored first, the 4-3 defeat to Stoke was a body blow to the team's hopes of pushing for the top four this season.
More than that, it was further evidence that the Blues are currently not equipped mentally to close out matches, something that clearly frustrates veteran campaigner Barry who admits that the players and manager have held meetings about the situation in recent days.
"We have just got ourselves to blame," the 34-year-old says in The Guardian. "We've been in this situation many times before and clearly we have not learned our lesson. You get that sort of game and then find yourself ahead and with 12, 15 minutes to go, we've not got ourselves in a position, or in formation on the pitch, to close the game out.
"We need to change our mentality and as a team being able to realise the situation of the game. We have got attacking players that do want to score goals but once you get ahead in an end-to-end game like that there is an opportunity to win, which is the third goal for us, and we need to close the game out. We have to change our mentality that we don't need to score again but need to keep a clean sheet to win the game."
While he was asked specifically about Tim Howard's culpability for Stoke's third goal where the American was unable to properly deal with Arnautovic's cross and Joselu banged in the loose ball, Barry refused to blame individuals and insisted that the responsibility lies with the team as a whole.
"We have had meetings about it. It is a team job, we have spoken about it so everyone knows their jobs. Unfortunately we let ourselves down."
There was further reference to behind-closed-doors discussions about what has gone wrong at Everton in the Daily Mail today, where Simon Jones reports that players have voiced concerns over Roberto Martinez's tactics. He claims that, "Everton's squad held a team meeting in which they exchanged frank opinions about the side's style of play with Martinez and coach Graeme Jones."
Barry's comments don't quite appear to be the "fierce criticism" of Everton's tactics that Andy Hunter suggests they are in his Guardian report but they do hint at the fact that the players are voicing their concerns to the management, just as they did this time last year during the Blues' festive slump. Then, the team's reliance on a slow possession game was questioned, with Romelu Lukaku requesting that the emphasis be switched to involve more direct passes to the forward line.
---
Reader Comments (122)
Note: the following content is not moderated or vetted by the site owners at the time of submission. Comments are the responsibility of the poster. Disclaimer
Jos Rowland
1
Posted 29/12/2015 at 23:35:11
I personally think that Barry has had a great season. He's been far better both going forward and being disciplined and voicing concerns over both younger players and those that have been at the club a lot longer.

These comments only make me like him even more. Well in, Barry – don't be afraid to voice concerns to the management if things are clearly not working, as long as they are done in a constructive manner.

Hopefully management will listen before it's too late. I have written the league off sadly again this season so let's go all out for the cup. COYB!
Danny Broderick
2
Posted 29/12/2015 at 23:37:46
Even Wenger at Arsenal has Steve Bould as his assistant. We need a top drawer defender on the coaching staff. I've only just seen the Stoke goals, and the main thing for me is that the defenders are not on their toes before danger happens. They don't anticipate, and seem slow to react. It doesn't help that the full backs are often running back into position - this leaves the centre halves exposed.
Just a few suggestions of ex players who could join the 1st team coaching staff as defensive coach:
Promote Davie Unsworth
Davie Weir
Dave Watson
Alan Stubbs
Etc
They've all played for us in the Prem, and would all jump at the chance to be assistant manager or defensive coach for us, I'm sure.
Tony Doran
3
Posted 29/12/2015 at 23:43:15
Some shit-stirring going on here. What's missing is a dominant defender who doesn't have to be that brilliant himself but is a leader and great organiser – a Gough or Weir or, dare I say, Carragher. A defender's defender, if you know what I mean.
Nick Armitage
4
Posted 29/12/2015 at 23:46:16
Barry and Lukaku are the only two to come out of December with any credit. If the rest of them played like these two, and the manager managed like these two, we'd be a lot higher up the league now.
As for defensive coaches, can you name one that has ever worked? This isn't the NFL. I think the manager needs to change and if he can't or won't then he simply needs to be gotten rid of.
James Stewart
5
Posted 29/12/2015 at 23:49:59
Cracks rapidly appearing this is only going to end one way, couldn't come at a worst time for BK who is touching distance from his big payday.
Rock the boat and sack Martinez or do nothing and risk losing our only real assets in Lukaku, Stones and Barkley. Lose Lukaku and there goes any top 4 aspirations, we won't make it without him.
Paul Holmes
6
Posted 29/12/2015 at 23:52:46
Let's be honest, if we could close games out we would be in the top 4. Rom has as many goals as Vardy and can't stop scoring but we look like conceding every time the ball goes in our box.

If he could sort the goalkeeper and defence out we are on the brink of something special BUT he never sorted Wigan's defence out all the time he was there so we are getting frustrated as fans as we are not far away.
Terry Downes
7
Posted 30/12/2015 at 00:04:06
Don't forget the players seem to like RM. They must see something we don't. Get rid of him and you might get rid of more than you want.
Steve Jenkins
8
Posted 30/12/2015 at 00:07:55
It would help defensively if we had a defensive midfielder that protecting the back 4 and two full backs that actually held their width and marked wingers, instead coming narrow whilst marking nobody and giving all the time in the world to the wingers.
Kieran Kinsella
9
Posted 30/12/2015 at 00:13:23
Interesting he specifically mentions the formation. That is something set by the manager and not the players. So for all the "we" it sounds like a direct criticism of the manager.
Don Alexander
10
Posted 30/12/2015 at 00:31:20
Never mind his softly-softly words, the sentiment behind what Gareth says is stark. It says the players have no belief in the manager. Last season they said they had to sort him out to stave off relegation. This season they're at it again by Christmas. Unfortunately, as many have said, the players are all really nice guys, for whatever reason. In any other club persistent shortcomings such as this mean the manager's lost the dressing room. In any other club that means he gets the sack.

Are the board interested about anything but the size of their divvy though?
Phil Sammon
11
Posted 30/12/2015 at 00:42:48
Barry for manager!
It's about time somebody stood up and addressed what is going on. Barry may well be aiming some of the criticism towards the manager, but more importantly, he is accepting that the team as a whole need to wise up and manage games based on circumstance.
That for me shows more intelligence than anything Martinez has ever said.
'We have a phenomenal group of players'
'The referee let us down'
'We were unfortunate not to get this or that'
The Martinez rhetoric has not washed for some time. I'm much more inclined to back Barry's stance.
Eddie Dunn
12
Posted 30/12/2015 at 01:55:03
Some very astute comments on here. Most of us seem to have spotted the problem, and it is fairly obvious that the players must be just like us. Will Martinez listen?
James Wong
13
Posted 30/12/2015 at 02:10:00
Barry's been outstanding this season, but he can't do it all by himself. The only thing I would say is that as a veteran and a leader he needs to start barking out the orders on the pitch. Especially when Jags is out. There wasn't a real leader out on the pitch in the last game was there?
Steve Brown
14
Posted 30/12/2015 at 02:23:53
Agree totally James, Barry has led by example on the pitch this season. But he is not leader-like, and the same could be said for Jagielka and Baines.
Jim Jennings
15
Posted 30/12/2015 at 02:29:11
Interesting that he was asked about Howard's culpability for the third but not his own for the fourth, where a shocking first touch and lunge gifted the ball to Stoke. Whatever the driving force behind it, good to hear players and management having frank discussions about how to address the problem.
Paul Ferry
16
Posted 30/12/2015 at 02:29:33
Don Alexander (10):
'It says the players have no belief in the manager'
Where, exactly?
'Last season they said they had to sort him out to stave off relegation'.
A confident statement. Do you have evidence to suggest that players told Martinez to change things 'to stave off relegation'?
'Unfortunately, as many have said, the players are all really nice guys, for whatever reason'.
So with a few additions and a few outgoings the same players have turned from tigers into 'nice guys': discuss.
And, finally, can you produce a single shred of evidence to show that 'the manager has lost the dressing room'?
Anthony Dwyer
19
Posted 30/12/2015 at 03:00:02
I'm sick of people pussy footing around our problems , the main problem is quite simple: Roberto Martinez is not a Premier League manager.
He did a fine job at Swansea in a lower league, that's it, full stop, as far as good jobs go.
He's relegated Wigan , and he's taken us backwards even though he's had funds at his disposal plus inherited a talented squad.
Every match he costs us points with his piss poor tactics or pathetic team selections.
He couldn't shut a game out if his life depended on it.
The game v stoke he had options on the bench which would have allowed him to see the game out at 3-2.
Baines on along with Besic for Kone and del boy, making a 5-man defence whilst leaving Rom and Naisy to be a threat.
Also , Howard needed replacing a long time ago, everyone knows it apart from the manager.
Look at the other teams with goal scorers – Vardy and Ighalo have their respective teams flying high whilst Rom is pulling his tripe out to gain us points, only for Bobby to give them away.
Sack Roberto as soon as possible, KEEP Mirallas, sign a top keeper, shake up the squad players/deadwood and watch us go.
Harold Matthews
20
Posted 30/12/2015 at 03:11:24
The manager may be at fault but so are the players, Barry included.
The manager does not tell players not to close down. The manager does not tell players to ball watch. The manager does not tell players not to jump. The manager does not tell players to turn their back on shots. The manager does not tell players to pass the ball to the opposition. The manager does not tell players to go to ground in the box. The manager does not tell players to lose concentration and wander out of position.
Yes, the tactics may be wrong, the defensive organization non-existent but there's no excuse for basic football faults. When Barry said, "We let ourselves down" he wasn't kiddin'. Some of our closing down, tackling, heading and passing was Sunday league stuff. The players may blame the manager but they should take a good look in the mirror before doing so.
David Barks
21
Posted 30/12/2015 at 03:38:36
So back to back seasons the players have held meeting questioning the managers tactics. That's a big F'ing problem with management.
As for who's to blame for not closing down, defensive organizations etc. That is actually the manager. The manager would be the one putting in the game plan of how and when to close down and when not to. That's why no players in our team furiously close down the man with the ball these days, where as the likes of Baines and Coleman and Jagielka did do that in the previous regime and during Martinez' first season.
The players know the manager is naive and keeps making mistakes. They can't set the lineup themselves, they can make the subs themselves, they can't put Kone's ass on the bench instead of the left wing, and they can't get Howard's broken down ass out of the lineup. That's the manager, that's his choices and his system. And clearly the players aren't happy with these "phenomenal" performances that result in 0-1 points.
Tahir Abdullah
23
Posted 30/12/2015 at 06:08:14
"This result is an accumulation of lessons we have learnt and that's very pleasing as a manager looking at your players wanting to take responsibility and get better. (RM following the narrow victory over Newcastle)

vs

"We've been in this situation many times before and clearly we have not learned our lesson. (Barry as per the current Guardian article).

And some still defend RM? The above disconnect is further illustration that RM is simply a poor manager...
Mark Andersson
24
Posted 30/12/2015 at 06:19:11
I said on another thread that Barry needs a word in Martinez's ear, I actually wanted to say give the Spanish oops nearly said it again.
Harold yes you have a point, however I feel it's under the manager's instructions that we don't close players down. The other points you make could be argued.
It's debatable whether Martinez has lost the dressing room. Barry's points of view are no different from a lot on here. Martinez's gung ho type of football is only great when you win. We don't win enough and the managers short comings are starting to get under the skin of the senior players.
Don't be surprised if Barry is dropped now. (rested) will be the excuse from Martinez.
All in all we are no better off than last season results-wise, and the players must feel like the fans, that we have missed a opportunity to make top four
There is no chance of the manager getting the sack unless the players go to blue Bill and demand it.
Finally if Billy boy does sell he would rather leave it up to the new owners to do his dirty work.

Anto Byrne
25
Posted 30/12/2015 at 06:38:41
The senior players – and that includes the flapping American – should have taken responsibility, but, no, we have a couple of talented kids and a newbie in defence.

Both McCarthy and Cleverly off injured and we bring on Naismith who is headed to Norwich as soon as he can get his arse in gear and go. At least with Lennon he knows how to defend and Gibson has the ability to spray a long ball accurately to the forwards.

Twenty minutes to go and leading we should have gone into our shell with a 4-5-1 but we continued to play an open game and got punished. How many times have we seen teams park the bus, it's a tactic, it's a professional way of playing. We did the hard work getting to 3-2, the crowd is not stupid. They want to see some tactical nous.
Tony Cheek
26
Posted 30/12/2015 at 06:39:48
After the Stoke game, I was left with a feeling that we didnt really take them seriously. They are a good outfit this season and Hughes has done a great job getting them where they are. When we took the lead 3-2 with 12 minutes left, what tactics should be used ? Should we park the bus or do we continue with gung-ho?

If we had dropped back and defended to get the points and then Howard had made his usual blooper, then there would have been criticism that we should have "played our game"! ....and vice versa!

It's going to be very hard to find that balance that brings the points home with such a young and inexperienced team (back four). I just feel we have gone full circle from Moyes. What we need more than anything, is a manager that picks the right team, puts players on the bench that don't perform and plays to the strengths available. Moyes use to do my head in with his team selections and Martinez is doing the same now!
Jon Withey
27
Posted 30/12/2015 at 07:10:27
The attacking football under Martinez is the best I've seen from Everton in two decades.
Its a crying shame that defensive and set-piece organisation just seem to pass him by. The constant talk of mentality and intensity makes me think he has limited ideas on these things.
It's not like we have two full backs providing all the crosses anymore - a well organised back 5 should be doing better.
I'm happy to give him the rest of the season but the summer will be a washout if he can't find a formula soon.
Graham Morris
28
Posted 30/12/2015 at 07:20:38
The buck stops with the manager. It's all very well talking about mentality but we lost the game because of naive tactics. I didn't see us going gung-ho for another goal. I saw a wide open team , understandably knackered after 2 hard games.

He should have brought on Besic for Kone, gone 4 51 with instructions to close down the space and players quickly. We were 4 2 4 and trying to play keep ball which we're not actually that good at. This is all down to the idiot.
Peter McHugh
29
Posted 30/12/2015 at 07:33:20
Jon 22 my feelings exactly. I also worry how light we are at centre back and striker department. After a solid enough start Mori is looking shocking since Norwich game. He looks weak, indisiplined and in need of a break perhaps understandable given he is new to the league.

However only possibly Barry or Galloway could give him a break and I would prefer each not to play centre back currently.
Darren Hind
30
Posted 30/12/2015 at 07:45:23
We need to develop a maturity, but how do you do that with several players barely out of their teens ? We want to see youngsters given a chance, but we don't want to live with the consequences.
Something happens when we get our noses in front, our players seem to celebrate in a way that suggests they feel its job done (the celebrations after Duelofeu's goal went on for ages) . .but then, all the intensity we'd shown to get in front, just disappears, our play becomes casual and sloppy. our work rate visibly drops.
The manager hardly helps when he stands arms folded with a contented look on his face . . He's as bad as the youngsters on the pitch
I'm not sure I agree with Barry either. He seems to be advocating that we adopt a "what we have, we hold" mentality, but we simply don't have the players to do that. This group of players are better playing with a high intensity and when they do, few can live with them.
This is the managers responsibility. He needs to be drilling into his players that any drop in effort or concentration will not only result in a substitution this time, but also mean a spell on the bench. The players need to be left in no doubt as to what is expected of them.
Martinez would need to be deaf, dumb and blind not to hear the football world talking about the "Wiganisation" of Everton, it has to be hurting him
Question is . . What's he going to do about it ?
Paul Tran
31
Posted 30/12/2015 at 08:05:37
Definitely a mental thing. Seems to me that we go in front and get caught between two stools. This team's natural tendency is to attack, yet at the point we went 3-2 up, I got a sense that they thought they should be holding on to the lead. They can't do that and ended up doing the inertia that plagued us last season.
Playing our natural game is what brings us goals, curbing that won't help. Lack of concentration is the issue. I'm no sports coach, but there must be a few sports psychologists out there who can help.
Martinez can help by instilling in himself and his players the importance of closing down, working like trojans to get the ball back and keeping your shape when the other team attacks. People keep forgetting that Barca did this all the time. If it's good enough for those world class players, it's good enough for our youngsters.
Patrick Murphy
33
Posted 30/12/2015 at 08:15:35
I can't say I'm too happy to see a senior professional having a dig at either his boss or his team-mates, no matter how much truth there may be in what he says, these things are to be dealt with in-house and privately and certainly should not be for national public consumption.
However, it does seem that there is a tension between what the manager wants and what some of the players want and that is never a good thing to have at the club when results are not going your way - let's hope they can all start singing from the same hymn sheet in what is going to be a very tough start to the New Year.
My advice for Barry and the team, if you don't have a good defence or defensive plan, then continue attacking in the same way in which you got in front and stop taking the foot off the pedal just because you are ahead in the game and please don't try to play keep ball in your own half for twenty minutes in any game, it's unproductive and leads to too many dropped points.
Ian McDowell
34
Posted 30/12/2015 at 08:28:33
Sick of hearing we need to do this better, we need to do that better. Just bloody do it. We hear this every week.
John Keating
35
Posted 30/12/2015 at 08:29:37
Patrick I believe we should know that players are concerned with the playing situation and having a go at management.
As supporters we watch them weekly seemingly making the same mistakes and feel they are not interested.
Last season things improved - slightly - after reports of player meetings. Remember the obvious change that occurred after the supporters got on the players backs ? Unfortunately lessons were not learned and this season Martinez' stubbornness has returned big style.
Nobody is more important than the Club, especially a manager who is slowly transforming our Club into a joke and easy meat to any team that plays us.
Good on Barry and any player who at least tries to influence this joker.
It is, sadly, becoming an embarrassment to be an Evertonian
Nick Oakley
36
Posted 30/12/2015 at 08:30:02
I think Barry has other it spot on. There was no over reaction in his comments just pure sense.
With regard to getting rid of Martinez. In my opinion this would be absolute and total madness. He is getting us playing the best football we have ever seen at Goodison and in every away stadium we visit. Managers that have lost the dressing room, never play beautiful football like we do.
I do agree however, that we need to change our mentality when we take the lead in this sort of game. Play it as though your life depends on not letting in another goal, rather than trying to get that extra shot off. It's not rocket science but is much harder to coach in to young players. Keep the faith, we will still finish in the top four.
Geoff Evans
37
Posted 30/12/2015 at 08:32:27
Excuses, excuses, excuses....
Geoff Evans
38
Posted 30/12/2015 at 08:32:27
Excuses, excuses, excuses....
Paul Tran
39
Posted 30/12/2015 at 08:33:01
Manager and team have heated discussions. What's next, Pope's Catholic, bears do it in the woods? I'd be worried if they didn't have any heated discussions.
At least Barry's come out and told us that the players can see what we see. That's a start. Now they can share some solutions as well.
Wonder if the story was a 'helpful leak', or the Daily Heir shit stirring?
Gordon Roberts
40
Posted 30/12/2015 at 08:36:39
This is down to poor game management which I would expect to improve once Jagielka is back.
Barry is an experienced professional so his comments provide an insight into the level of concern that exists within the squad. Stay positive and let's get behind the team.
John Malone
41
Posted 30/12/2015 at 08:36:48
I can't believe a conversation had to be had to professional footballers about seeing a game out surely it's automatic when you take a lead late in a game to drop in and go tight!
I also can't understand why a premier league manager should need a coach to teach his team how to defend!
Surely if that is the case then the manager would be deemed incompetent for his role and should be classed as an 'attacking' coach if he csn't set his team up to cope with all aspects of the game!
To cut to the chase my sentiments are exactly that of 17 Ant Dwyer, Roberto Martinez is not good enough!
Trevor Peers
42
Posted 30/12/2015 at 08:40:46
Expecting Roberto to change is laughable! Surely after all that's happened over the last two season's the one thing we have learned is that the manager's outlook, game plan whatever, has not and will not change, it is exactly the same as when he first walked through the door.
The guy's an amateur, he not professional enough to pay attention to the important small details required to run a successful team, if he was, for example, he would of made the required substitutions when we're 3-2 up to see out the game, and changed the shape of the team and the game.
His backroom staff don't help, there's no winners there either and he's made no attempt to recruit any help and never will, he's far too arrogant to ask for it, the whole thing results in the usual shambles and capitulation. Especially when we take the lead.
He should be long gone, but unless BK finds a new owner, I think he'll still be here this time next year, god knows were we will be then, the whole situation is hopeless. No wonder its so quite at GP these days.

Paul Tran
43
Posted 30/12/2015 at 08:50:10
Thing is John, we used to drop in and go tight under Moyes and often lost leads as well.
Then, as now, we lost leads due to lack of concentration. You can drill situations and set pieces all you like. It helps, but doesn't in itself make anyone concentrate.
Why not keep the intensity, play in their half with a couple of
defenders back, concentrating?
Ray Roche
44
Posted 30/12/2015 at 08:52:53
Nick Armitage #4
"As for defensive coaches, can you name one that has ever worked? "
Nick, all clubs have specialist coaches, goalkeeping, forward play and defensive duties. Whether it's as a result of Ferguson taking responsibility for coaching Lukaku that has improved his attitude and first touch is any body's guess, but Lukaku himself has stated that Ferguson has improved his game and added some aggression to his play. Likewise, I am certain that someone in, as stated buy other posters, the Gough mould would help bring a collective responsibility to defending, particularly at set pieces, so whoever has that job at Finch Farm should be shown the door. Martinez is clearly incapable of setting a team up to defend. If he can't do it then someone who can should be employed.
Paul Roach
46
Posted 30/12/2015 at 09:05:07
A mental thing, People need to but this into perspective! Our defending this season is nothing short of shocking. To suggest we need to close games out tactically is fair enough, but we also need to be realistic here. No matter how good we're set up tactically the opposition will create chances, especially in the last 20 mins of a game where teams are chasing games!
Our vulnerability from set pieces is making us a laughing stock of the premier league! Can a defensive coach sort this out? possibly! But, and this is a big but. If we've got a manager who cant put this right after the amount of time he's spent with the players - can we really trust him to take the club forward?
As for Barry he's not immune to it himself. He lost his man against Palace which nearly cost us the game. As the saying goes 'people in glass houses shouldn't throw stones.'
Ray Jacques
47
Posted 30/12/2015 at 09:22:42
Whilst I find common ground with the frustration of all the posts and it is an entertaining read during the current time off work, in reality we are all wasting our time. Nothing will change unless we have new owners.
We are not a top 4 team (stop dreaming) and we won't be relegated(don't panic), we are inconsistently consistent and will finish in the lower part of the top ten at best. Like it or not we are now on a par with teams such as West Ham, Stoke and Crystal Palace, but all these clubs appear to be progressively run whilst we appear regressive. We may win a cup (we are the weakest of the 4 teams left in the Carling cup based on league positions) so this is unlikely. My biggest fear is that with our keystone cops defending and heading into games against the stronger teams , someone is going to click and we will be given a severe beating by conceding 6 or 7.
Gerard Carey
48
Posted 30/12/2015 at 09:31:09
Where's the inexperience in the back four, Coleman a seasoned international, Stones becoming first choice with England, Mori first choice with Argentina and Baines/Galloway, one a seasoned international, the other on his way. Its shit tactics all the way, we need a propper defensive coach and thats RM's job to sort out. He's proved over the last two seasons he is not able to sort it out. Have a look at this site this time last year, same problems again, and again RM cant sort it out. The buck stops with him.
Guy Hastings
50
Posted 30/12/2015 at 09:38:33
While I echo Barry's comments, surely experienced pros such as himself, Jags and Baines (when fit) have been around long enough to know how to shut the game down. If it means ignoring the bench then so be it. Have the row in the dressing room afterwards. He may have his nose put out of joint but RM isn't so vain as to drop all three of them for nicking three points. Or is he?
Ray Roche
51
Posted 30/12/2015 at 09:38:41
Paul#41
Barry is the current Captain. If he's asked for a comment he is obliged to give one. I'm glad he has sufficient balls to say what he thinks and not toe the party line with Martinez. I imagine that he's not the only player seriously pissed off with our ineptitude in our own box and the fact that he's been culpable himself is neither here nor there, he has stated his feelings and good on him.
Ken Buckley
52
Posted 30/12/2015 at 09:38:51
One thing I have noticed in games for some time is after subs are made, which is usually near the end of games ,the players spend time shouting and looking over and gesticulatin to the bench as if requiring instruction. Could our problem be in the area of clear communication not being transmitted before and during games. Then this leading to our players suddenly looking like they don't know what they and their teamates are supposed to be doing. Just something I have noticed.
Gerard Carey
53
Posted 30/12/2015 at 09:46:15
Ken, all smacks of poor leadership dosnt it.
Derek Thomas
54
Posted 30/12/2015 at 09:54:31
Nick @32; top 4? get real mate, we'll do well to do top 8.
So the options are 'Get the extra shot off' or 'Play as though your life depends on it'. There's no reason we can't do both, after all it's what proper teams, teams with CL aspirations should, nay, MUST, do.
What we did was neither, we fannied about on the edge of our own half playing keep ball. That is until Naismith under hit a back pass. But basically we didn't know what to do other than the plan A pass it about, as we have been Instructed for 2 and a half years.
Martinez has them so as they don't know any other way than his way,
aka 'The Right Way'.
It's ALL HIS FAULT...and he won't change.
Sell Naismith and pay him off smartish
Guy Hastings
56
Posted 30/12/2015 at 10:02:02
It always makes me laugh when a sub's about to come on for Everton (and most other clubs). Some anorak'd feller appears with a laptop, 84-page laminated dossier, a complete set of the Encyclopedia Britannica and a menu from the local curry house to show the poor sod what to do. He then runs onto the pitch and yells, pointing at something, possibly the location of the curry house. We then continue to do exactly what we were doing. Surely a piece of A4 with 'Don't let them score at our end' scrawled on it would do the trick.
Ray Jacques
57
Posted 30/12/2015 at 10:24:34
Guy, very funny. Plus at every corner we have, the taker puts two hands up as if it's a secret signal and then fails to clear the first defender.
The late win at Newcastle and then getting to 3 2 against Stoke should have been a positive turning point in the season. Instead it's like a kick in the stomach , but that sums this team up. Who knows what will happen in the next few games with the exception that we will concede goals.

Charles McCann
58
Posted 30/12/2015 at 10:25:45
Up until quite recently I have been a fan of Martinez and his style of attacking football. However in this past few weeks my support for our manager is disappearing. The main problem that he has failed to address is the goal keeper. Tim Howard is simply not good enough and so Robles should have been given games in his place.
Another mistake I think he has made is his persistence with almost the same team every week and his poor use of substitutions during a game. Gibson, Mirallas, Besic, should all have had a lot more game time at this stage in the season.
One final thing, I can't understand all the love and admiration for Gareth Barry on here. I've said it before that I believe Barry is a liability and his terrible first touch that led to Stoke's winner reaffirmed my opinion. Yes, he has occasionally done some good things in games recently against mediocre teams but his lack of pace and his non existent cover for our defenders has been a big problem which needs addressing immediately. I know I'm sticking my neck out here by criticising Barry but despite being captain his lack of leadership on the field is obvious to me.
Paul Tran
59
Posted 30/12/2015 at 10:27:46
Ken, this is part of an issue I've gone on about since Martinez took over. I've never been convinced he gets his ideas across to the players. Far too many managers/coaches overcomplicate a simple game to make themselves look clever. Couple this with Martinez's interesting grasp of English and you've got potential for confusion.
Part of me also thinks that surely these overpaid footballers can do strange things like think for themselves?
Clive Rogers
62
Posted 30/12/2015 at 10:39:58
Barry is part of the problem. He was at fault for two of the goals against Stoke, as he has been for others recently. His passing game is still reasonable, but he is far too slow to get his tackles in. Also goals and assists have both dried up.
Simon Hermansen
63
Posted 30/12/2015 at 10:45:01
'...we've NOT got ourselves in a position, or in formation on the pitch, to close the game out. We need to change our mentality...'
in other words the current mentality is not there, within the team, to try and win an open game - where we're ahead late on - by getting tight and closing the game down.
This is damning. Without that we are Newcastle under Keegan, Spurs under Ardiles etc. and that is not sustainable and will only end one way.
Didn't we have all this team meeting bollocks last year? and look at us now, back to square one (lessons learned indeed).
If a defensive coach is the short term answer then Richard Gough might be a good shout
Brent Stephens
75
Posted 30/12/2015 at 11:05:29
Poor decision making by individual in the heat of the moment...
Goal 1: out of an organised back 4 Stones needlessly breaks forward to close down a man who is about to receive the ball but who already has Macca alongside him; shape of back 4 immediately broken, compounded as Coleman then gets pulled out of position due to Stones' blunder, and across the box Galloway doesn't stay goal-side of his man.
Goal 2: Galloway doesn't stay goal-side of his man.
Goal 3: Howard doesn't come the 2 yards needed to get the ball.
Goal 4: Stones goes to ground.
Guy Hastings
76
Posted 30/12/2015 at 11:07:37
Ray - good point about the corner signalling.Maybe if they had different glove puppets on to indicate where the ball was going it might work. Sooty and Sweep, near post; Lambchop, outswinger; Mr Punch Judy, dropping it into the six yard box et.
Simon Jones
77
Posted 30/12/2015 at 11:11:34
When we were 3-2 up against Stoke there were a couple of occasions when all our defenders were in the Stoke half and Galloway was taking throw-ins deep in Stoke territory. That is the mentality that needs addressing. Defending a one goal lead is part of the game when you want to win (or finish in the top four) of the Premier League. How many times do you hear pundits talk about winning games when you haven't played that well?
Barry was boss on Monday, but the four fellas who should have been behind him kept being in front of him...
Simon Jones
78
Posted 30/12/2015 at 11:14:25
#55 Brent
Goal 3, Arnautovic receives a ball and not one of our players is anywhere near him, his cross causes all the woe that leads to the goal.
Brent Stephens
79
Posted 30/12/2015 at 11:16:11
Simon #55 - yes, and that as well, thanks. So the initial blunder re marking, and then Howard's blunder re staying one yard off his line and not coming the other two yards.
Norman Jones
80
Posted 30/12/2015 at 11:23:38
Gareth is a brave man to come out with this stuff. He is clearly hinting that match instructions are not coherent and the manager is responsible for that, surely.
Rumour has it that Distin said something similar last season and look what happened to him !
Andy Walker
81
Posted 30/12/2015 at 12:02:31
Martinez must be the most tactically naive manager in the EPL. This is Groundhog Day, exactly the same happened last season lead by Jags. The players know they are being asked to play schoolboy style football i.e. when we get the ball let's get all 10 forward with no regard to what happens when we lose the ball.
It wouldn't matter if we had the best players in the league, if they were asked to play the Martinez way they still would lose more than they won. Simply paying scant regard to the defensive side of the game will never get consistent results.
Stephen Brown
82
Posted 30/12/2015 at 12:07:42
I'm watching Paul Merson interview Tony Adams on demand. He's discussing the art of defensive coaching and organisation. He's saying the team with best defence always wins the league! This is so true and obvious! Why can't we do it ??
Paul Roach
84
Posted 30/12/2015 at 12:38:57
Ray45
If Barry had a pair of balls he'd be backing his manager instead of putting his spin in the paper!
In any walk of live, I don't think I'd take criticism off someone who makes the same mistakes them selves. I don't know how you see it Ray? Personally I find it a bit hypocritical!
Don Alexander
85
Posted 30/12/2015 at 12:41:23
Paul at "16";
I was very wary of Martinez when he joined us but enjoyed his first season, until the last few games where we just fell short of CL.
I was upset by the shambles of last season from the off. No way I could or will ever understand the type of football he insisted on, the type of football that may as well have been devised by our opponents. By March we were in serious trouble in the league and Buzz hadn't played since New Year despite Alcaraz. Eto'o had gone too. Rumours were rife that these two senior vastly experienced pro's had expressed opposition to Martinez' tactics.
Away in Kiev we were 4-0 down in that March when there was a massive visible change in playing style by the team on the pitch. We nearly salvaged a result. We continued thru' April with that style and won 10 out of twelve points. Bainsey, Seamus and Ossie said to the media that the team were playing "the old Everton way", and they were. It works, especially with the better players Martinez has at his disposal.
Ossie in his book stated that training is "different" under Martinez and infers it's easier too. He says they don't practice defence to the same extent. Even Martinez all but says the same within the garbage always coming out of his mouth.
On the players, everyone can see we do not have a "yard-dog" type. Nearly everyone is unable to spot a leader on the pitch. They're nice guys and good on 'em for that but good teams need devil too.
Few if any of us really know what's going on at Finch Farm but we all know what's going on in the match, and that's why I and so many others use this site to complain about the bloke whose job description makes him 100% responsible for the damage (possibly lasting damage if we lose our best players to teams who play in a professional manner) I believe he's doing to OUR team.
Ray Roche
86
Posted 30/12/2015 at 12:47:13
Paul#63.
I think it takes more balls to speak your mind than to suck up to the boss, don't you? In any walk of life...
Barry has been excellent for us this season, if Martinez could do his job as well as Barry has done his we'd be a top four club.
I'm not sue about backing Martinez, a lot of people are talking of Sacking him.
Geoff Evans
87
Posted 30/12/2015 at 12:52:27
All great structures need solid foundations, obvious to the vast majority, rocket science to some.
Geoff Evans
88
Posted 30/12/2015 at 12:52:27
All great structures need solid foundations, obvious to the vast majority, rocket science to some.
Paul Roach
90
Posted 30/12/2015 at 13:06:39
Ray65
.
JT and SG, two of the best English captains in the modern era. Both knew when to tow the line and keep their mouth shut - even when their manager has lost the plot! so no, I don't agree with what he's done, sorry Ray.
But hey - I'm no expert!
Colin Malone
91
Posted 30/12/2015 at 13:11:08
Every top side has a top class goalkeeper. Enough said.
Ray Roche
92
Posted 30/12/2015 at 13:37:58
Paul, well you're right on one thing..... ;-)
Mike Oates
94
Posted 30/12/2015 at 13:43:23
Do I enjoy the superlatives being thrown my way, here down on South Coast from all and sundry, London fans, coast fans, even 3-4 Man Utd fans - Everton are the best team to watch, best young talent around, Martinez gives youth a chance etc etc , as compared to 5-6 years ago when best comments were normally, Moyes's teams punch above their weight, pity they cant score goals and even on a number of occasions the word boring was used.
Like everything else you really want a balance between the two managers, Martinez's attacking philosophy but with a Moyes defence. Are we close to this balance, that's were opinions will be divided, I even swing both ways at any given time. Normally and most times I'm pro Martinez and thoroughly enjoy the attacking play our team has but after we've lost the lead on numerous occasions I go ballistic and so anti- Martinez . But in reality I don't want a Moyes type era's again (think Mourinho was finally found out with his negative approach), and I constantly pray that Martinez finds a totally dominant centre half and perhaps a real pitch/team leader who can enforce the safety game we need once we've gone ahead or can safely see the last 10 minutes out.
Ray Roche
95
Posted 30/12/2015 at 13:47:38
Mike, never, ever come on a football blog and say that you swing both ways.
Max Murphy
96
Posted 30/12/2015 at 14:03:40
As a senior player he should be the voice on the pitch - not just the voice in an interview. I would like to see him organise the defence, bollock players when needed and generally create a winning team-spirit. In fact I can't be arsed with newspaper reports, interviews and especially RM's post-match comments. We need the action and committment on the pitch not in the media.
Norman Jones
98
Posted 30/12/2015 at 14:07:59
Which ever way you swing, Mike, don't you realise the boys 'daan souf' love you because Everton are absolutely no threat to their teams -whoever they support !
For all the plaudits of our 'beautiful' attacking football, the reality is that it has brought only SIX wins from NINETEEN games and a total of EIGHTEEN from the last FIFTY- SEVEN.
But it's nice to be loved.
Don Alexander
99
Posted 30/12/2015 at 14:14:25
Mike Oates, do us a favour and see if you can get Martinez to say "I'll get my coats!"

Susong Hermawan
100
Posted 30/12/2015 at 14:26:25
Me: We need to change our manager!

David Hallwood
101
Posted 30/12/2015 at 14:29:22
Like most people on here I've watched and played more matches that's good for my health. But to concentrate on televised matches, how many times have you heard to co-commentator saying when asked how will the 'small' team compete with the 'bigger' team or if a teams gone down to 10 men and are holding on for the point or points "well Brian 2 banks of 4 and compress the space"
This really isn't rocket science and has been the philosophy since the mid 70's-and it isn't only the 'smaller' teams. How many times have you seen Man U, the Arse Chelsea in their pomp when they're have the lead shut the game out and leave one up top, and then capitalise on the gaps left by the other team and score a goal or three on the break. 100? 200? 300?
For those that say del or kone should've gone off miss the point: they are being asked to do a job for 20 Bleedin minutes not reinvent themselves as defenders.
The old maxim of all academic and no common sense ('Er indoors for instance ) applies to Martinez. He wants to win beautifully and won't have a truck with the more uglier, pragmatic aspects, despite it being the most successful type of football, and he isn't going to change anytime soon.
He's not a stupid man, far from it but obviously single minded, because he's watched 10 times the games I've watched and must know that to see a game out teams close down the space. But our next 3 games are in form Spurs, and City And Chelsea away, which are tough, tough games especially with a leaky defence.
If we lose all three, the beautiful game won't look that beautiful 16th or 17th in the league.
Dave Abrahams
102
Posted 30/12/2015 at 14:47:02
When Martinez first came, the first three games were dull boring draws, with no urgency or fight in the team. Alan Stubbs said to Jones, the assistant manager this is not good enough, he replied, well he won't change no matter what you think, Stubbs said, do you think this crowd are fucking daft, they will not have this.
Well two and a half years later and the manager hasn't changed and isn't likely to and has much as we have shown our disapproval of the managers tactics he is still doing as HE wants, so the only person who can have a word ( now that he is over whatever ailed him) is Kenwright, let him prove that he has the best interests of the club at heart and tell Martinez he has to improve his all round tactics and do the job properly, attacking and defending or he will have to be replaced.
Dan Parker
104
Posted 30/12/2015 at 15:05:26
Phenomenal
Dave Richman
105
Posted 30/12/2015 at 15:08:50
Nick Oakley (32): "He is getting us playing the best football we have ever seen at Goodison and in every away stadium we visit."
Please do us a favour and watch the video at:
https://www.youtube.com/watch?v=AS45UkyfQl8
Ross Edwards
107
Posted 30/12/2015 at 15:19:23
This indicates that Martinez's methods are being questioned. Barry is absolutely spot on here, it's not just concentration or whatever Roberto's excuses are, his tactics and mentality are too attack minded and forgo any defensive organisation whatsoever.
As Ferguson once said 'Attack wins you games, defence wins you titles'. Liverpool didn't win the league in 13/14 despite scoring over 100 goals because Rodgers was too attack minded and his team leaked goals, over 50 I think. Kevin Keegan's Newcastle teams were great going forward but didn't win anything because he was too naive and believed that you could win by simply outscoriing opponents. It doesn't work like that.
However, don't expect Martinez to change because this time last year he said this: ' 'I don't work on having a good defensive record to win things''. In the same interview he says that 'it's not about listening to opinions'.
His stubborness will be his downfall.
Geoff Evans
108
Posted 30/12/2015 at 15:28:24
Dependant on your opinion we could either be on the brink of something really brilliant under RM (in an attacking sense) or catastrophic (because of pub league defending). Neither can be sacrificed at the expense of the other.
Striking a balance between the two is the trick. The difference between the best (Barca) and the wannabes is what happens when the other team has the ball and how quickly we get it back, we can do the pretty we have to be able to do the ugly.Ă'Âż
John Audsley
109
Posted 30/12/2015 at 15:31:14
I hope Gibson and Besic come in for the next game. We need some fire and mouth in the midfield and these 2 have it.
I've totally lost confidence in RM but he is staying.
This is the crucial part of the season for me, Spurs and the City cup tie are games we cannot lose.
Time for every player to man up and do the job they are paid to do.
No fucking excuses.
Andy Walker
111
Posted 30/12/2015 at 15:55:39
A pretty unsubtle way of saying what the players really think, 'Martinez needs to change his mentality'.
You can't blame the players constantly for the problems, the ridiculous style they are being asked to play by our fantasist manager is the bottom line issue.
Frank Crewe
112
Posted 30/12/2015 at 16:01:36
Dave 78
Seen Peter Reid in that video. If we had him in our midfield now we'd be top of the league.
Paul Hewitt
113
Posted 30/12/2015 at 16:05:18
For everyone who says we are playing the best football in years, we are also shipping goals at a rate of knots, and losing games. Football is also about defending, which Martinez hasn't got a clue how to do.
Paul Tran
114
Posted 30/12/2015 at 16:17:04
Nick, if this is the best footy you've seen at Goodison you're either very young or have a short memory. Frank, Reid and Bracewell would be great in this team. Think Reid would have needed a lifestyle change to play these days, mind! There doesn't seem to be any players like that these days - they'd be priceless.
Frank Crewe
115
Posted 30/12/2015 at 16:19:18
Last season we complained because our play was too possession based which made it dull, boring and predictable. This season we complain because our play is too cavalier and attacking. It's unpredictable and exciting to watch but keeps costing us games.
What we want is something that gets the best out of both these styles. There is nothing wrong with our attack. We make plenty of chances we just need to convert more of them into goals.
Our problem is the way we defend. We cannot keep sending our fullbacks forward without proper cover at the back. Our CB's are good on the ball but lack concentration and mental toughness when under pressure. On top of this we have a GK way past his best. If we do sell Naismith, or anyone else for that matter, in January RM's first priority has to be to buy a dominating GK and CB to keep the likes of Stones, Coleman and Galloway in line and stop them from dashing off up the pitch at the drop of a hat.
If RM can tighten up the defense without losing our attacking potential we will have a formidable side.
Brian Denton
116
Posted 30/12/2015 at 16:34:46
Just watched that Youtube link #78. Makes you weep, but also made me thank God I was born when I was! I f***ing hate the Premier League.
Mike Berry
117
Posted 30/12/2015 at 17:46:08
Harry 'the cat' and Howie must be spinning in their graves at the defending of Martinez teams
Stephen Williams
119
Posted 30/12/2015 at 19:21:50
I'm sick to the back teeth of all this 'Martinez out' nonsense. I can imagine that some of you may have had paint on your hands back in the early eighties!
Whilst I'm not suggesting that Roberto is within months of turning us into a powerhouse at home and abroad, I am totally convinced that the style of play HE has nurtured is the only one that has a chance of winning things - even the most cursory glance of trophy winners (and their style of play) in the last however long will tell you that. The dour, safety first, knife to a gunfight approach under Moyes (which bored the arse of us all) was never going to achieve anything other than 5th - 8th at best (and I do know we fluked 4th once with a magnificent 59 points!). If we end up in that range again this season, then at least we've had a chance of achieving more whilst at the same time playing an exciting brand of football that hasn't even been dreamt of since Howard's halcyon days.
That's not to say that I'm not immensely frustrated that so far our performances haven't given us the points haul that our general play deserved (which would have led us securely into the top four). No-one's more miserable after 'dropped points' games than me. It's just that I refuse to knee-jerk to unjustified criticisms of the manager. If he's guilty of anything then its raising our expectations to a level that makes us believe we should be at or near top of the pile and therefore frustrated as above that we're not. I'm not advocating slagging off players - that's just counter-productive, but if some on here feel a need for culpability, then consider the players. Our left back let Shaqiri run off him twice and our right back was marking nearer the penalty spot when Arnautovic picked up the ball outside the box which gave him total freedom to deliver. Result: three goals and the game was lost. These aren't the only brainless acts by some players. Martinez can't be held responsible for players not doing basic stuff that Sunday league players would do - the players must take responsibility and it is this that Barry was alluding to, not some veiled criticism of a manager that they are all so clearly behind and play some binding football for. Some on here would do well to follow Barry's lead.
Now is a time for keeping one's nerve not throwing the baby out with the bathwater, to allow those players improve their experience (we have a number of inexperienced young lads and of the others few have experience of playing in winning teams) because I sincerely believe that we are closer to something special than at anytime since Howard's days.
Peter Bell
120
Posted 30/12/2015 at 19:26:42
But Stephen, it all changed when Kendall realised he needed help and drafted in Colin Harvey, Martinez will never admit to needing help to improve the defending, that's the difference
Kim Vivian
121
Posted 30/12/2015 at 19:28:03
Not read all these comments so may have been said but would Victor Valdes not be a good start to plugging our defense? Why are we not linked with him?
Stewart Lowe
122
Posted 30/12/2015 at 19:33:56
Has anybody noticed a season long pattern here? Why is it that every game we have played has turned into an epic battle? Time and time again this season Everton have been involved in some of the best and hard fought games according to the media, yet we aren't winning them. How many times have we seen teams allow us to have 70% possession and bide their time before counter attacking us with pace, and there is no better team at this than Leicester City. We only JUST made it over the line against a woeful Newcastle who we allowed to look better than we all know they are. An EPIC game is an inevitable by product of how we allow teams to play against us and not because they just happened to have a great game against Everton. I just don't buy it that when teams play against Everton they up their performance, its the way Everton play that makes it appear that way.
Joe Clitherow
123
Posted 30/12/2015 at 20:03:04
Nick 32 "He is getting us playing the best football we have ever seen at Goodison and in every away stadium we visit."
Sorry mate you speak for yourself, or you must be about 12 if you think Martinez' half football is a patch on any of our title winning sides. Defensively we are awful to watch and I must be in the minority because I don't think attacking wise Martinez is that good either for three main reasons:
1. Good football in my book is effective football. Martinez is not effective. For the amount of possession and possible chances in the final third we are completely wasteful in terms of conversions;
2. Related to 1, any team can look good when the opponent's tactics are to let you tippy tap it around in useless areas to no real effect and then smash you on the counter which is what happens to us all the time;
3. For all the gushing praise of attacking football we are not exactly streets ahead of everyone else in terms of goals. We are up thereabouts on goals scored, right down the other end in goals conceded. Like I said, ineffective and the league does not lie.
As I said, I may be in a minority, but I do not like watching Martinez' ineffective football. Skill, adaptability and competence is what I am entertained by, not ineptitude, hubris and incompetence in setting up a totally imbalanced team that can only ever play a single way
Dennis Ng
124
Posted 30/12/2015 at 20:14:42
Stephen 87, How long is your window of patience? At what point do you say that we're not heading in the right direction? It's not a counterpoint but rather a question of whether your support is blind faith or more patience.
Unless RM grows some extra guts soon to (1) use Robles or buy a new GK, (2) play Mirallas opposite Deulofeu, or (3) make any other strategic and tactical maneuvers for the team before and during the game (all of which he could have exhibited over the past 2 years), blaming Howard for our results is equally myopic. What we are right now is "using a buckshot to play a game of skill". Possess the ball with not direction or plan.
FYI, Howard is good when there is a solid defence before him, much like how he first came to us. Give him a leaky immature defence and you have the same results we're having, or man utd for that matter.
In my mind, firing RM now does not make sense (transfer window pretty much useless to us), even when I truly believe we have better options available, but I do not believe we should invest wastefully into RM's theory without seeing some actual effort by him to improve himself. We have the team to compete, let's make that happen first.
I'm equally sick of hearing people defending RM by shifting the blame to the players or luck or referees or money. Humans make mistakes all the time. It's the manager's job to manage those mistakes within or outside the game. If we lose by that odd goal in a game, sure, you can call it luck, but if that happens for 19 games (not to mention last season), it's the manager's fault.
Style points matter these days (not that RM has a lot of by my assessment), but substance and defence matters just as much if not more.
Christy Ring
125
Posted 30/12/2015 at 21:45:53
This is the 2nd meeting between the squad and Martinez. Is that not enough to tell us he's not UP too the job.
When he left Besic and Gibson on the bench with 10mins left, 3-2 up, and Kone and Naismith (neither midfielders), still on the field, that tells me he's CLUELESS. Then he tells us he 'rested' Mirallas and Lennon, Enough.
Clive Lewis
126
Posted 30/12/2015 at 23:38:01
All this talk of a leader is wide of the mark, we have a leader... Roberto Martinez, he is leading us to pass, pass and pass, full backs moved forward then pass it back, strikers make a run, pass it back. If the full backs makes a run and you pass it back they are out of position. The rest is history.
Same with midfield, how many time have you seen Seamus etc with his arms out looking for a pass. The midfield have gone lingering around the half-way line. The main problem with our leadership is no direction to win, these guys think they are phenomenal just passing it around and losing it.
The biggest leader is the manager and sadly he is leading us to relegation. Without Romelu we would be close to the bottom, that is a fact.
James Stewart
127
Posted 30/12/2015 at 23:51:00
@91 Stephen that viewpoint is fine but I would ask, and this is also to anyone who thinks we should keep RM, Martinez teams have never not shipped a lot of goals. Swansea, Wigan and now us all conceded heavily under his tenure so what makes anyone believe this will change? He is tactically blinkered and all this rubbish about being close to something is far wide of the mark.
Paul Kelly
128
Posted 30/12/2015 at 04:41:46
Are we going to concede goals? Of course we are. Are we going to lose games? Of course we are. But it's important we know the way we want to play and that is never, ever going to be changed. Our style is very clear.
Straight from the horses mouth, frightening isn't it, said over a year ago but could be about this team now or next year or the year after because he will never change. Time for us fans to show our discontent and oust this fool once and for all.
Steve Brown
129
Posted 31/12/2015 at 05:45:09
We have conceded more goals against than any team in the top ten - by quite a margin. Spurs, Palace and Man U have conceded 15, 16 and 16 to our 28 goals against.
For me that is terrible, but if RM was working on it then we would be patient. The fact that he views it as less important shows his arrogance and stubborness. We should applaud his efforts to build this squad then hire someone who can actually manage it.
John Malone
130
Posted 31/12/2015 at 09:04:34
Ross 81, spot on mate! Hat's off to Barry for opening his trap and telling the truth that the player's are pissed off losing lead's because of the manager's inept tactics!
Mark hughes made two tactical changes late in the last game, while Martinez brought on Naismith for Cleverley and left an ageing Kone playing 4-4-2 after we went 3-2 up!
The guy is total amateur if it wasn't for Lukaku and Coleman playing out their skin we'd be the drop zone again!
Steve Alderson
131
Posted 31/12/2015 at 09:44:43
As pointed out enough times in this thread individual errors led to Stokes goals. What I can't work out is why when , Barry for instance , doesn't control the ball can't the rest can't react in time to cover the mistake.
It's happened plenty of times this season , a blunder seems to surprise and stall everyone except the opposition.
Brian Harrison
132
Posted 31/12/2015 at 10:38:23
Just look at the other lot they have scored 1 goal in 2 games and collected 6 points, without playing particularly well. We have scored 5 goals in our last 2 home games and got no points, despite playing well for large parts of the game.
Tony Abrahams
133
Posted 31/12/2015 at 11:07:50
Ray 65, if Martinez could do his job as well as Barry we would be in the top 4 this season.
This might be true, but I think Martinez tailors the team around Barry, and it definitely plays suit to Gareth's strengths. I think he's a very good footballer, but I'm not sure he would get in many other teams on a regular basis, due to a lack of speed and mobility.
Just a thought, but if we could play higher up the pitch, and stop Barry going so deep to receive the ball, (managers tactics) do you think he would be as effective?
Game management is about having leadership, which is something we seem to really lack. I also don't feel we have got the defence playing as a unit, and still wonder what system the manager will play once Jagielka is fit.
Not sure if Martinez, is the right man because of his teams defensive deficiencies, and his lack of attention to detail, (set pieces). But if he could sort out these major problems, then who knows? Anything could be possible.
Tony Abrahams
134
Posted 31/12/2015 at 11:19:41
Stephen Brown 101, sums it up better and simpler than anyone. If Martinez was working on it then we would be patient. This sounds about right to me.
Jim Knightley
135
Posted 31/12/2015 at 11:50:17
This is a significant news piece - it is essentially Barry criticising the manager, in not so many words. Another meeting taking place, like last season, demonstrates the realisation of the players that this is not good enough.
Martinez is a very good attacking manager. He is positive, and superb at motivating the young players. Stones, Lukaku, Deulofeu and Barkley have really come on under him. But he is half a manager. The team has two parts: Attack and defence. Teams who cannot defend will achieve nothing. Teams who cannot attack can sometimes achieve things. The attacking football is a joy to watch at times, but it is far too naive and idealistic.
The game against Stoke symbolised our season, and its loss of potential. We overturned a deficit to brilliantly lead 3-2. Then what do we do? Do we take Kone off for a defensive player, bring everyone deep apart from Lukaku and Deulofeu and play on the break? No. We continue to attack. Our players stream forward whenever they can. We play dangerous passes and leave players one on one. It's unforgivable. It's ridiculous.
This team has fantastic potential. Howard is needs replacing but the first choice defence is superb (Even if we have been denied the first choice unit for much of the season). Stones is young, takes too many risk, but has the potential to be one of the best CBs in world football. How often have we had a player that we could say that about? Our two full backs are superb, and Jags is still a very good CB.
Deulofeu is an attacking winger with much to learn..but he has genuine vision. To have someone so good at running at players but with vision is a very rare commodity. He again has the potential to be a world class player. He is a feeding a striker, Lukaku, who can be world class. Who with 15 league goals already should get 25 this season, and who is only 22!
Then we have the likes of McCarthy, who is one of the league's best DMs, and an improving Ross Barkley (albeit a player whose tactical naivety seems to mirror that of his manager at points).
I don't think we've everr had a Premier League squad with so much potential. The team of Arteta (esp the season when he should have won player of the year), Pienaar, Cahill etc was superb, but 3 players in this team have the potential to become superstars at the highest level. The frustration here is that Martinez is partly responsible for their achievement, but can't get us defending right. And this was the biggest question mark over Martinez since day one. It's two and a half years on, and if he can't get a team with good defensive players to keep consistent clean sheets and defend leads, then will he ever? Pardrew has managed to sure up Palace's defence. Bilic's West Ham, defensively terrible in the early part of the season, have shut up shop in the wake of a series of attacking injuries and have made themselves defensively stable. Us? We've scored 22 home league goals, and have managed only 3 wins in 10 games! That's 7.33 home goals per win. Arsenal have scored 15 in 9 games, and won 6.
This is not a question of transfer windows and new arrivals. A goalkeeper would help of course, but the primary issue is stopping big chances. In particular, we've demonstrated an ability to stop crosses coming in, and to defend at set pieces. Our wide players are far too advanced (including our full backs), and Barry is left covering in the full back positions, and in the worst case scenarios our CBs are pulled out of position and left one on one. If we want 3 attacking players acting like forwards, then we need to control our full backs and play 3 CMs with discipline (As a team like Barca does). We can't have Barkley running on, Coleman running beyond Deulofeu, and then panic stations when we lose the ball.
I can't help but feel that we could have broke top 4 this season because of Chelski's collapse and given the lack of European football. Instead, we will probably finish 7th-10th. Martinez is not a bad manager, but is not a good manager either. He has until May to save his job I hope. He needs to prove that he can deliver defensive stability, and he needs to bring a Cup I think. At the moment I can only see our season petering out, and a Summer of uncertainty as bids come in for Stones, Coleman and Lukaku etc.
Ray Roche
136
Posted 31/12/2015 at 12:17:40
Tony#105
The point I'm making, Tony, is that the job that Barry is being asked to do he is doing at a level that, if equalled by Martinez, would have us top 4. Barry has been a consistently good performer this season and has been well worth his place in the team.

I've said before that I'd like someone else to show for the ball from Howard, but let's be fair, Barry is always available and is always finding space. I'd like Stones to play in front of the back four when Jags is back, I feel we'd be more solid at the back and Stones can move forward with a vision that some lack. Just a thought.
Keith Richmond
137
Posted 31/12/2015 at 12:37:25
At halfway through the season, with all PL teams having played 19 games, here is a comparison and ranking of the effect of each goal scored on the yield of points for each team. It gives some indication of the overall efficiency of each team.
(Columns show: Points Gained per Goal Scored / PL Position / Team)

1.45 10 Stoke
1.36 6 Man Utd
1.36 7 Liverpool
1.35 5 Crystal Palace
1.28 13 West Brom
1.21 9 Watford
1.19 17 Swansea
1.18 1 Arsenal
1.06 4 Tottenham
1.05 2 Leicester
1.04 8 West Ham
0.97 3 Man City
0.92 12 Southampton
0.91 15 Norwich
0.91 16 Bournemouth
0.89 18 Newcastle
0.87 14 Chelsea
0.74 11 Everton
0.63 19 Sunderland
0.53 20 Aston Villa
Everton's position gives some food for thought.
Joe Clitherow
138
Posted 31/12/2015 at 12:48:55
Good analysis Keith. Take Lukaku's goals out of that and it is, in my opinion, a stark reminder of how ineffectual Martinez is and where he will undoubtedly, again in my opinion, take us.

We have a striker on fire and we are actually 5 points worse off than the same point last year with a very difficult run of fixtures coming up.

He must be replaced ASAP.
Patrick Murphy
139
Posted 31/12/2015 at 13:15:15
Joe (#110) Could you show me where Everton are five points worse off than last season? Everton didn't get to the 26-point mark, last year until the victory over Palace at the end of January.

Tony Abrahams
140
Posted 31/12/2015 at 13:29:28
Fair point Ray, but the point I'm making, is that I think Barry is a major part of a system, which is not working properly.
Not sure about Stones and his vision, think he does the first part well, but then gives the ball away too much, when he passes it forward.
That said you might have a point, and this should make us more solid at the back. I would personally play with 3 centre backs, purely and simply because our fullbacks, already play like wingbacks. Again, not sure how we would adapt to this major reshuffle, but anything has got to be better than the lack of balance the team has at the minute.
I think if the players are not happy (FINALLY), then he has got to listen to them. Let's hope it results in a positive change. It's not easy though, because we all left Goodison earlier in the season after the derby against Liverpool, feeling deflated because we never went for the win enough. But when we have been going for the game, we have been getting done off the sucker punch, way to easily.
Find the solution and it will be much happier days, but if we don't, then we will have to change our manager, even if he his starting to build a very good squad. It's not easy when the team is underachieving, and why so much depends on our semi final against City.
John Keating
142
Posted 31/12/2015 at 13:39:43
Our defence is so shit I would actually like Jagielka to come in alongside Stones and Mori and make a back 5.
Obviously when attacking, the full backs can get forward to complete a 5-man midfield, if and when the attack breaks down we are not overexposed still maintaining the three centre-halves at the back.
As soon as the season ends we ship out the idiot of a manager and his sidekick who nobody knows.
Joe Clitherow
143
Posted 31/12/2015 at 13:44:12
Sorry, Patrick, that was my error. I meant to type "only 5 poits better off than the same point last season". The guy is staggeringly consistent though in maintaining his 30% win percentage. Five wins before the end of the year last year, just one better this year with the last header against a dreadful Newcastle side.

How anyone thinks we will ever improve with this guy is beyond me. Never was good enough or the right man, certainly not good enough now. Get rid ASAP
Bill Gall
144
Posted 31/12/2015 at 14:41:31
The people on here who are asking for patience that Martinez just "may" turn it around, they may have a valid point; but, on the other hand, he just "may not" turn it around.
The major problem is that we are in the result business and even if BK may give him some time, there will become a point that he can no longer ignore the position we are in and sooner or later the gates are going to go down and then he will be forced to act. The end of January may be that time.
I along with a fair number of other supporters firmly believe that Martinez will not change his tactics or way of thinking of the game, and there will be many highs and lows before the end of the season, and we can only hope the highs will outweigh the lows.
The funny thing is that, at the moment, it is becoming more interesting to read the comments on TW than watch the game, worrying about what is going to happen.
David Hallwood
145
Posted 31/12/2015 at 20:50:35
Just thought I'd go all anorak and have a look at Matinez's record. and it isn't good reading. He took over from Steve Bruce and Wigan immediately headed south in the table and started shipping goals.
The same is true with Everton with the exception of his 1st season, with OFM our position was 5th-8th with a remarkable consistency of goals for & against. We then go down to 11th with a negative GD whereas boring DM always has a plus GD.
Is the man going to change? well he's hardly a newcomer as this is his 8th season as a PL manager, He's working with better quality of defender and still shipping a shed loads of goals. I really don't like clubs that change managers like I change boxer shorts, but he's got to go.
Wigan manager Pos GF GA Diff
2008-09 SBruce 11th 34 45 -11
2009-10 RM 16th 37 79 -42
2010-11 RM 16th 40 61 -21
2011-12 RM 15th 42 62 -20
2012-13 RM 18th 47 73 -26

Everton manager Pos GF GA Diff
2008-09 DM 5th 55 37 18
2009-10 DM 8th 60 49 11
2010-11 DM 7th 51 45 6
2011-12 DM 7th 50 40 10
2012-13 DM 6th 55 40 15
2013-14 RM 5th 61 39 22
2014-15 RM 11th 48 50 -2
2015-16 RM 11th 35 28 7

Michael Winstanley
146
Posted 31/12/2015 at 21:13:08
My god look at the goals against when he was at Wigan, we ain't seen nothing yet.
Norman Jones
147
Posted 31/12/2015 at 21:20:16
I wonder, just wonder if BK did that elementary research before he made the appointment?
I have always suspected he was just star-struck by Roberto's beating of Everton on the way to FA Cup glory.
David Barks
148
Posted 31/12/2015 at 21:26:00
Those statistics do make for scary reading. It also shows what many of us have been saying, that it is indeed getting worse. We're on track to ship more goals in each of his first three seasons.
And you can't even say that this seasons poor defensive record was due to early season struggles, because it's actually gotten much worse as the season has progressed. Again, as has been stated many times on here, seven goals allowed in the last 2 home games against far from prolific offensive teams.
Mark Fraser
149
Posted 01/01/2016 at 10:27:11
It seems to me that Funes Mori was bought with half an eye on Stones leaving and they were never really intended as a partnership. A big central defender whose main attribute is in the air is quite possibly the easiest player to find, so scout the Championship and bring one in!!
I've been a big fan of Howard over the years but I'm afraid he seems to be shot, and I'm still not 100% sure about Robles... but surely he should be given a chance.
Sort these two issues out, and have a look at our farcical marking at set pieces, and we're flying! :-D
Paul Cherrington
150
Posted 01/01/2016 at 12:11:48
I think it's very telling when you have someone like Alan Stubbs, who was a great player and is looking a pretty good manager, indicating RM was not up to the job after seeing him at close quarters. Why can't some fans see that either?
We all agree that our defence is a shambles and is what's costing us and that is down to the manager's tactics. Why does he continue to send both full-backs up the pitch to attack at the same time? Why does he continue to play with no cover in front of the full-backs? Why do the centre-backs still play on the halfway line despite it leaving us so open in behind?
Only RM knows... and he isn't going to be changing anytime soon. For this reason, he needs to go before he does anymore damage. I remember people on here saying we were accepting mediocrity under Moyes for only finishing 6th/7th and not winning anything or being in the Champions League spots. Well, those days look rosy compared to what we face under the current manager.
James Marshall
151
Posted 01/01/2016 at 17:28:05
The bottom line is the system we play. It's not rocket science. We attack hard, play too high up the pitch and all the goals we concede (aside from set pieces) are with our players running back towards our goal as the opposition breaks on us.
The people blaming the defenders and goalkeeper are (in my opinion) wrong entirely. It's all about the system – our defenders haven't suddenly become bad players, but they're often made to look as though they're doing things wrong purely because of the system.
We're too gung-ho if you ask me – yes, we're good to watch, and we're scoring goals... but it's at the expense of shipping too many as well. Football is a simple game made complicated by managers with bold ideas.
I admire Martinez for the way he likes to play, but it won't win you anything across a league season, and certainly won't find you near the top of the league come May. We should all resign ourselves to mid-table obscurity and a potential cup run, but I seriously doubt we'll win anything under this manager, as I did when he was appointed.
Like I say, personally I admire the guy for having the balls to play such an attacking formation and he's put together a cracking side to watch (I'm probably a lot more philosophical than most on here when it comes to results as I've even enjoyed our thrilling defeats!) but we won't win anything and we won't climb the table playing the way we do.
Balance is the key – Martinez needs to find some and play a little deeper if you ask me, especially when we're leading in games. Keeping the ball like we used to (yeah, that tippy tappy crap) when leading would be a good idea to balance out our attacking, high-line formation to get into leading positions.
Add Your Comments
In order to post a comment, you need to be logged in as a registered user of the site.
Or Sign up as a ToffeeWeb Member — it's free, takes just a few minutes and will allow you to post your comments on articles and Talking Points submissions across the site.
© ToffeeWeb