Martinez: 'Pure anger' at officiating in Chelsea draw
by

101 Comments [Jump to last]
| 16/01/2016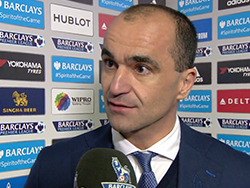 Roberto Martinez says the crucial decisions that went against Everton during a controversial climax to today's 3-3 draw at Stamford Bridge were "diabolical" and heart-breaking.
Everton were denied their first League win on Chelsea's turf since 1994 by a clearly offside goal almost a minute beyond the stoppage time indicated by the fourth official, Craig Pawson.
Martinez had seen his side throw away another commanding 2-0 lead and were drawing 2-2 when Ramiro Funes Mori scored in last minute of normal time to set the Blues up for a precious victory.
Those five goals and injuries to Bryan Oviedo and Diego Costa prompted the officials to allot seven minutes of stoppage time but John Terry's goal with almost eight minutes later was allowed to stand despite him being half a yard offside.
Martinez, remaining measured in tone despite his emotions, said after the game that he was feeling "pure anger" at both decisions but he also insisted that his team won't change it's positive style by simply running down the clock to win a game.
"You can't describe it any other way," the Catalan said to the BBC. "To show the character to get to 3-2, it should have been the winning goal and that's where it becomes very hurtful.
"Its not down to a matter of opinion over a decision by a referee. It's a clear-cut offside that should have been spotted and then, to make it worse, it's 50 seconds well over the time.
"Its just something that's not good enough. The referee today and the way the scoreline ended up is not acceptable [for what is the best league in world football] and it's very, very hurtful for everyone connected with our football club.
Asked if he would get any explanation from the officials over their decisions, ones he described to Sky as "horrific", Martinez said that Pawson knew it was over time. Chelsea boss Guus Hiddink admitted in his interview that he urged the officials to add more time for Everton's celebrations following Funes Mori's goal, a wish seemingly granted by the officials.
"There's no explanation ... that would satisfy anyone," he continued."It's a big, big error. It's big mistake – maybe the referees need help of having a clock where everyone can see it. Maybe the referee got [immersed] in the tempo of the game but to go a bit further, it's a clear-cut offside decision. You have to spot that decision; it's a good two yards offside. I don't understand how the linesman doesn't spot it."
Regarding his team's failure to see out what would have been a 3-2 win, a carbon copy of the stoppage-time calamity at Bournemouth in November, Martinez rejected the idea that his players should have just parked the bus or run the ball into the corners.
"We want to be a brave team and win games by not running the clock down or playing with aspects that aren't what we want to be," he told the Liverpool Echo.
---
Reader Comments (101)
Note: the following content is not moderated or vetted by the site owners at the time of submission. Comments are the responsibility of the poster. Disclaimer
Chris Gould
1
Posted 16/01/2016 at 18:26:07
Still feel so sick. Terrible ref. Complete travesty of justice.
Eivind Nyhus
2
Posted 16/01/2016 at 18:26:17
The officials should lose their jobs. This was a bridge too far.
Amit Vithlani
3
Posted 16/01/2016 at 18:30:20
Agreed Eivind. Bridge too far. We need to Stamford this type of refereeing. We Chelsea if the FA will take any action against Mike Jones. Or, at a minimum, buy him a new watch, which should not Costa too much.
Jim Bennings
5
Posted 16/01/2016 at 18:30:31
I truly hope Leicester win the league this season, just to get up the nose of all these media darling clubs, little old Leicester spent sod all but rob the Champions League position of one of these so called big clubs.
What gets me is when you get to the knockout stages of the Champions League, the pundits think they are speaking for every neutral supporter in the country telling us that "it will be great for the Premier League if there's an English winner ".
Why would any self respecting neutral, a fan of anyone other than one of these teams, want the cheating, horrible, sickening odious behaviour and referee loving teams to win the Champions League??
I want Barcelona, Paris St Germain and Dynamo Kiev to all prevail in their ties with our loveable English compatriots.
Stick them all.
Chris Leyland
6
Posted 16/01/2016 at 18:30:46
The additional time issue is debatable as it is a minimum of 7 and we celebrated and took up time after making it 3-2 but the offside is not open to debate. What is the point of having linesmen who are paid to, amongst other things, assist the referee with offsides if they can't spot what I could watching at home first time whilst on a dodgy stream of the game?
Kieran Kinsella
7
Posted 16/01/2016 at 18:32:36
We had our shortcomings but ultimately it doesn't matter if the referee has been paid to ensure you don't win. In other countries this type of thing is investigated and people punished. Here, we are so arrogant, we don't want to admit the truth so we put it down to bad luck.

It's corruption. It's rife. Any fool can see it. The referee shouldn't be sacked... he should be jailed. This isn't a matter for Lawri to mull over – it's a matter for the police.
Phil Whittock
8
Posted 16/01/2016 at 18:33:41
From the BBC:
"Since 28 November, Everton have dropped a league-high 11 points from leading positions in nine Premier League games."
That would have put in us 4th place.
Trevor Lynes
9
Posted 16/01/2016 at 18:34:39
Martinez is getting castigated for us only drawing but how can a manager be blamed for a terrible refereeing decision.
The actual tactics worked very well but the second Chelsea goal took a big deflection and the 3rd was offside.Tactics cannot be blamed for players errors and I reckon Martinez is being blamed unjustly.
Plaudits for Hiddink for agreeing with Martinez over the Chelsea equalizer in added time.He is one of very few managers who are wholly honest. Most pretend not to see things.
Keith Glazzard
10
Posted 16/01/2016 at 18:37:24
Collina was bent.

This Jones was incompetent.

PL refereeing is crap.
Colin Glassar
11
Posted 16/01/2016 at 18:45:12
FIFA is corrupt to the core so why do we think the EPL is somehow different? We are not genetically more honest than anyone else so why can't we have bent refs like in other countries?
Even the Germans have had their corruption scandals regarding game fixing and now Der Kaiser Franz looks like the next major figure to fall.
Dennis Ng
13
Posted 16/01/2016 at 18:50:45
Jim 5, the downside to that is the Uefa coefficient and if they do badly, the Premier League will lose the 4th spot and that screws us and every other club with Champions League ambition.
Syed Rashid Alsree
14
Posted 16/01/2016 at 18:52:34
It's a huge mistake by the officials... it could cost us dearly in the race for a Champions League spot. It's time the FA took full responsibility of the official mistake. It happens time and time again...

When a club makes a mistake, they punish us dearly... but it comes to the officials mistake what do they get. They must be accountable for what happened today... demote them I say. The FA should be held responsible.
Jim Bennings
15
Posted 16/01/2016 at 18:56:10
We won't get 4th under Martinez Dennis, this season or next; lessons are just sadly never learned...
Jackie Barry
16
Posted 16/01/2016 at 19:00:06
Well no matter what this just highlights we have an inability to close out games. We threw away the game, yeah the ref didn't help but we only have ourselves to blame. Martinez should have a long hard look at what actually went wrong, sadly he wont, the ref today is his excuse.
Gerard Carey
17
Posted 16/01/2016 at 19:08:27
Never a dull moment following Everton. We should have been home and hosed when 2-0 up, but threw it away. All these lessons we are supposed to be learning, week-in & week-out!!!!!
Mark Tanton
18
Posted 16/01/2016 at 19:08:32
Funnily enough, anger is what I feel at this team's almost pathological inability to keep a lead. Who honestly thought we would win, even after a last minute goal? Pathetic.

And oh formulaic that we ship the goals and defensive incoherence sets in when that carnival chimp puts his gloves on.
Steven Twine
19
Posted 16/01/2016 at 19:12:06
Nothing to do with our style of play. Plain and simple the officials cost us the game. Ref for finding another 50 seconds and the blind linesman who can't spot a player 2 yards offside. It's amazing to me how linesman can't do the only thing they're there for.

Every weekend, someone from the Premier League should come on Sky Sports and say sorry for all the errors. Few weekends of that, then watch replays come in for dodgy decisions
James Morgan
20
Posted 16/01/2016 at 19:13:06
Something has to be done about this. It's absolutely criminal. The ref was just waiting for them to score and the fucking linesman needs to be on Sunday league next weekend.

I hope Martinez goes to the top with this but the clowns at the top will brush it under the carpet. In this day and age, for that goal to stand is beyond words.
Kieran Kinsella
21
Posted 16/01/2016 at 19:13:53
Love too how Roman was caught on live TV transferring money to the refs account. Bet they're having a right old laugh at our expense at the home of whoever hosts Illuminati parties now that Leon Brittan is dead.
Dennis Ng
22
Posted 16/01/2016 at 19:14:22
Jim, sure, but look at Italy and other leagues that lost that 4th spot. Things doesn't change for them either, so while we won't win EPL anytime soon, the 4th spot is a slim opening for us to get to play with the bigwigs. If anything, I wish Leicester will go on to win UCL next year, even if they are to become a mediocre midtable team after that. That will kick everyone's teeth in.
Anything short of an extreme overhaul, we won't get there because the current board is just, well, static. Can the Americans make up their mind yet? If not, next buyer please!
Eddie Dunn
23
Posted 16/01/2016 at 19:14:26
The lino was at fault for Terry's goal. Terry was booked. Time was added on for our celebration.
Poor reffing throughout the game – lots of rough stuff, which was ignored.
All in all though, we just ain't streetwise! Mugs... all season.

David Barks
24
Posted 16/01/2016 at 19:15:27
More excuses. It's always "unlucky" or the ref. We conceded 3 goals after getting a 2-0 lead. We dropped points from a winning position AGAIN.
It's a trend now, the expected result is a draw or loss. We can not win a game in the league no matter who or where we are playing. Our defensive record this season is shocking and that is not down to the refs.
Colin Hughes
25
Posted 16/01/2016 at 19:15:59
Blame the ref all you like for the last goal but what's his excuse for blowing a two-goal lead in two minutes to a team whose confidence was rock bottom ? We can count ourselves lucky not to have given it away last Wednesday at Man City with a blatant penalty in stoppage time, only for the ref not giving it.
Dennis Ng
26
Posted 16/01/2016 at 19:16:05
We need a few hounds that can surround the refs and hustle them like those Sky 4 teams. Short of that, we're just playing their game.
Dave Abrahams
27
Posted 16/01/2016 at 19:22:58
Martinez says he will not run the game out, but wants to bebrave and play the game the proper way... Admirable, but every other manager in the league will close up with just minutes to play and win the game.
Wise up, Bobby. If not for yourself but for the fans, especially the ones who follow our club all over the country.
Brent Stephens
28
Posted 16/01/2016 at 19:30:03
Somebody might want to check my calcs but if I'm right, then the travesty was not allowing too much added time but not enough (for us to get the 4th)...
I've just timed each second half stoppage: total of 11.00 minutes!
Goal 1 min
Sub 30 secs
Goal 1 min 10 secs
Goal 30 secs
Goal and sub 1 min
Injury 3 mins 50 secs
Subs 1 min 40 secs
Goal and yellow 1 min 20 secs
And their 3rd goal stopped play for 60 secs
Game ends 99 mins but should have gone on another couple of minutes - time for us to score.
Eddie Tully
29
Posted 16/01/2016 at 19:31:59
Looks like he's a fecking Kopite!
On 1 January 2015 Jones awarded Liverpool two disputed penalties in a 2–2 draw with Leicester City. Liverpool's first penalty was given for a handball against Wes Morgan, though replays showed the ball clearly struck Morgan in the face.
Eddie Tully
30
Posted 16/01/2016 at 19:37:29
Ok, maybe not a kopite but a very poor referee with a history of controversial decisions:
In October 2009 Jones infamously allowed to stand a bizarre goal scored by Darren Bent for Sunderland against Liverpool. Bent's shot at goal took a deflection off a beach ball which had been thrown onto the pitch by a fan in the Liverpool supporters' section. Under the Laws of the Game, the beach ball should have been considered an "outside agent" and Jones should have disallowed the goal and awarded a drop-ball. He was subsequently demoted for one week to officiate a match in the Football League Championship.
In October 2013 Jones was required to act upon another bizarre incident where a goal was apparently scored under controversial circumstances. In the final moments of a Premier League game between Norwich City and Cardiff City which was to end 0–0, Cardiff's goalkeeper David Marshall had put the ball out of play to allow Norwich's Alexander Tettey to receive treatment from a physio. Ricky van Wolfswinkel took the subsequent throw for Norwich and his teammate Leroy Fer tapped the ball into the net as Marshall looked on. The apparent goal, which sparked a brawl on the pitch, was disallowed by Jones who stated he had not blown his whistle to restart play. Cardiff's manager Malky Mackay praised the official's decision.
In late 2014 Jones was the subject of controversy following Southampton's 3–0 defeat to Manchester City, during which he failed to award City a penalty for a foul on Sergio Aguero, instead booking the striker for diving. The following weekend, Jones officiated a Championship match between Wolverhampton Wanderers and Bournemouth. During that match, he made a number of debatable decisions, including dismissing Wolves' Rajiv van La Parra after a clash of heads with Bournemouth defender Steve Cook, and incorrectly awarding Bournemouth a corner which led to the visitors scoring the winning goal. Van La Parra's red card was subsequently rescinded, and Jones was dropped from the refereeing roster for the next week's fixtures.
Gavin Johnson
31
Posted 16/01/2016 at 19:53:08
I don't like the comment about refusing to run the clock down and playing brave.
That being said, I don't think there was too much we could do today. The ref was determined to keep playing until they scored, and the linesmen was completely incompetent. He needs to book himself an appointment at Specsavers next week.
Niall McGurgan
32
Posted 16/01/2016 at 19:54:53
Did the 7 minutes added time include the time it took to celebrate the previous 4 goals?! Nuff said.
Paul Hewitt
33
Posted 16/01/2016 at 19:57:47
It doesn't matter if terry scored in the 97th or 98th minute. It was clearly offside, that linesman should never officiate again.
Brin Williams
34
Posted 16/01/2016 at 19:57:57
'Maybe the referee got [immersed] in the tempo of the game.'
Oh yea? Or perhaps he was just a homer!!
Brin Williams
35
Posted 16/01/2016 at 19:59:26
If ever there was a decision to be contested and investigated at the highest level this is the one. Nuff said!!
Brian Porter
36
Posted 16/01/2016 at 20:03:08
Never mind the blatantly corrupt officials, we have to look at the bigger picture. One win in ten games, only the bottom four have won fewer games than us, This is relegation form. Even Newcastle and Sunderland have started winning games.

Martinez is useless and has no idea of reality if his words about playing the noble game by not running time down are an example of his beliefs. He is rapidly turning us into another Wigan. Something has to be done to get the charlatan out of our club before he destroys us.
Joe Clitherow
37
Posted 16/01/2016 at 20:15:25
This will be one of the rare (only) times I agree with Martinez 100%. No complaints about him today. Jagielka's error was turned unnecessarily into a calamity by Howard who could have jockeyed Costa away, a spawny deflection for the second and linesman/referee incompetence for the third. We were robbed today, no question about it, and nothing will be done about it.
Jim Bennings
38
Posted 16/01/2016 at 20:29:13
Hiddink has owned up to demand that more time was added on!!
Since when do referees take orders from managers on the sidelines? Hiddink is a cheating poppy-seed smoking big time Charlie who only works short term yet he's controlling a referee's final decision.
Chelsea have to have the most odious cheating bunch playing for them and managing them from high levels, Costa is a disgusting low person and I don't forget the behaviour of that Ivanovic last season strangling McCarthy and getting away with it.
It's that bad that even the Redshite have more stomach-able players since Gerrard and Suarez left.
Chris Leyland
39
Posted 16/01/2016 at 20:52:45
Brian Porter, having calmed down a bit, I agree re seeing the bigger picture.
1 win in 10;
6 in 22 this season;
18 in 60 this season and last.
A criminal under-performance in my view and Martinez is the criminal mastermind behind it all.
He would have been sacked by any of the clubs we supposedly aspire to compete with.
Eric Paul
40
Posted 16/01/2016 at 20:59:55
Jagielka and Stones at fault for the first two goals and our third, did we not learn anything from Bournemouth? If we went back to the centre, there would have been 7½ minutes of added time, regardless of Terry being offside
Brian Porter
41
Posted 16/01/2016 at 21:02:16
Exactly Chris. In fact if you compare Martinez's record with us with David Moyes at Man Utd, it seems Moyes did pretty well at United.

Any other club would surely have fired Martinez by now. 18 wins in 60 games is nothing to be proud of...
Tony Doran
42
Posted 16/01/2016 at 21:06:36
Martinez was one of the only Premier League managers, when asked about more video use for things like Chelsea's 3rd goal, to say leave it as it is. Human error is part of the game he said. So to now complain seems very stupid, even though he is right.
Paul Kennedy
43
Posted 16/01/2016 at 21:08:09
Why do we go supporting our team, waiting with expectation and no small measure of hope? We do somethings right, look like we're going to get a result we deserve... then, along come the corrupt biased useless idiots that are refereeing and running the game.

It is not a case of how well the team plays; it's how many decisions the clowns in black get right that ultimately decide the game. It really is pathetic to think the richest sport in the world will not accept modern technology to get fair and just results instead of leaving it open for us to really wonder: Is the game straight or is there an underlying bias towards the top teams??

I know we have had some of the decisions go our way and that, over the course of a season, it evens itself out... but that is crap why can we not have it right for each and every game??
Marcus Reynolds
44
Posted 16/01/2016 at 21:14:51
Martinez has brought this club as far as it can go.apart from the obvious mistakes today from Jagielka and Howard. Martinez inability to close out the game at 2-0 up is unforgivable. We are the laughing stock of the Premier League.
We have quality in 8 out of the 11 players on that pitch today. Another manager with an ounce of cop on would have parked the bus and tried to catch them on the break. On three occasions today we should have closed out the game.
Terence Tyler
45
Posted 16/01/2016 at 21:32:15
Established international defenders. Jagielka, Baines, Howard. Bags of experience, Tim can make some great saves, Jags is fast, and reads the game well, Bainsey is a great free kick taker, and crosser of the ball, when in attacking situations.
Unfortunately they all have something in common. They have never won anything. Great servants they are, and have been. I am beginning to wonder if they ever will. Would love to be proved wrong, especially as we are only one game away from a Wembley final. Funes Mori did good when Jags was out, most on here wanted Robles to keep his place, young lad that stood in for Baines did okay.
Is it time for change? OK, these youngsters have never won anything, but probably more important, have never lost anything. Or are we as fans, destined, like some of the players, to become perennial losers?

Jim Bennings
46
Posted 16/01/2016 at 21:39:53
I'd lose no sleep at all if a £40 million bid comes in for Stones and we take it. Two things to consider...
1) Stones is not a great defender, yes he's great at walking the ball out but he's not a great defender end of!
And
2) He's unlikely to ever get better at defending working under Roberto Martinez, let's be honest.
So I ask you this, we are happy to snub £40 million that could go on varied team building just to see a guy walk the ball out of defence but at the end of it plays in a defence that just seeps goals like there's no tomorrow.

Nick Armitage
47
Posted 16/01/2016 at 21:41:52
Tactictally inept yet again.
Howard let them back into the game but Martinez will blame the ref for pissing away another lead. If they knew how to defend it wouldn't be an issue.
Why can't Martinez see a pattern emerging?
Derek Davies
48
Posted 16/01/2016 at 21:42:02
I'm frustrated to say the least but can't understand some people on here: it was definitely a penalty for Man City (agree); can't blame it on the ref / linesman today (disagree). I can almost see them smiling when we lose as it fits their agenda .

Roger Helm
49
Posted 16/01/2016 at 21:50:47
Just back from the match and I am gutted – I feel like we lost twice. Forget about blaming the ref; Martinez needs to look at himself and his players.
Chelsea were very poor. Only Willian looked interested. At 2-0 down they were finished. Then Howard gifts them a goal and suddenly their heads were up and they were sharper and then our lead is gone.
Then at the end, in the last minute and a goal up, the ball is cleared to Deulofeu on the wing. Does he pass to a white shirt? Does he get his body in the way and draw a foul? No, he tries a fancy flick and turn, loses the ball and Chelsea equalise.
We would be in the top four if we had a proper keeper and a manager not too up himself to sneer about seeing games out.
Patrick Murphy
50
Posted 16/01/2016 at 22:00:45
Roger (45) The goal didn't come from Del Boy's initial bad judgement it came from Del Boy aimlessly jogging back towards our penalty box and giving the Chelsea players loads of time and space to launch the ball into our box, when he could just as easily have marked the receiver of the ball and forced Chelsea to play through Everton's defence.
Craig Fletcher
51
Posted 16/01/2016 at 22:06:35
"We want to be a brave team and win games by not running the clock down or playing with aspects that aren't what we want to be."
Absolutely ridiculous statement, Roberto. And as mentioned above, it's galling that we had possession in the 98th minute, we lose the ball, out for a Chelsea throw-in, allowing the joke of a decision that would transpire a few seconds later.
Jim Bennings
52
Posted 16/01/2016 at 22:08:10
We cam blame the ref but as we know.
0-0 at half time then after 56 minutes you are 2-0 up, after 66 minutes it's 2-2...
It's amateurish at the very best, especially after we did the exact same thing against Bournemouth in November and effectively threw the Stoke game away in a similar manner.
Where are the lessons learned? I can't be arsed anymore!!
Nick Armitage
53
Posted 16/01/2016 at 22:13:46
"We want to be a brave team and win games by not running the clock down or playing with aspects that aren't what we want to be."
If he said that then that's it for me. Points win prizes and his inability to be pragmatic means he'll win nothing. Moyes would get more from this team.
Doug Harris
54
Posted 16/01/2016 at 22:14:04
Forget about losing twice, sadly it feels like a loss. We bossed the game throughout; someone somewhere has to tell our boys we have done enough. Close the door on the opposition.
Everton have been brilliant this season in their style of attacking play but so horrendous in defence; today, we slaughtered the Chavs and our naiveity let us down from getting 3 points.
Now whether that is the players' fault or the management/coaching fault remains to be seen. But we where robbed of a win today by a referee and a linesman's inability to define what is and what isn't offside.
Eric Paul
55
Posted 16/01/2016 at 22:14:37
Goalkeepers are like brakes on a Lambretta – if you need them it's too late.
Paul Smith
56
Posted 16/01/2016 at 22:17:54
This is Everton and so frustrating to take we just can't see games out. The frustrating thing is we are so close to being a great team but the way were going it will be broke up if we don't win a trophy this season.
I thought Mirallas did well today and it could be the time to give Geri a break and let him come on with 20 mins left against tired legs. Baines also had his best game since he came back so there the positives. When McCarthy is fit I would like to see him with Besic in midfield and give Barry a break to see if the younger legs can protect the back four better.
We must be the neutrals favourite team this season as all our games are classics I just wished we had won a few more of them. I think Bobby needs to look for a better defensive coach than Dennis Lawrence because were conceding far too many goals this season.
Ian Riley
57
Posted 16/01/2016 at 22:24:06
Sorry, Mr Martinez, but the time added on was correct. Please tell your players to concentrate and get back and defend.
The same happened at Bournemouth. We celebrated as if we won the league or less superior than Chelsea! A complete lack of control. When we scored, I sat there thinking "Don't celebrate – remember Bournemouth."
The goal Chelsea scored at the death was offside but sadly we were the away team. Some you get some you don't. The team should never put themselves in that position.
This season will be the "what could have been." As a team and manager, lessons are not being learnt. The league table dosen't lie and goals conceded is typical of Martinez's style of play. Exciting? yes, a worry? yes, will continue? yes.
Mr Martinez, please don't make the offside goal cover the cracks. The players lack concentration at important moments. Thank goodness we can score two or three a game or we would be in real messy stuff!

Patrick Murphy
58
Posted 16/01/2016 at 22:31:56
This should be interesting... David Moyes in the MotD studio, and Nick (#49) that was a Roberto quote and to me it smacks of ignorance of what Everton fans want. Yes, play good football; yes, be enterprising but it's all to no avail if you don't bring home the three points when leading a game. If we stop scoring 2s and 3s, we'll be in big trouble, but as we are all eternally optimistic perhaps our luck will change.
I do worry when former players such as the former player (Hammer / Spurs) Sky says things like "Results aren't important, after all it's the entertainment industry and I love watching Roberto's team" so would I, if I didn't care about the points or lack of them.
Trevor Peers
59
Posted 16/01/2016 at 22:37:01
I've thought for a long time now that under Roberto we have become laughably amateurish, it runs right through the whole coaching staff, it stinks and is rotten to the core.
We play, at times, like David Beckham's all star show ponies.
If some people think that's good enough for any EPL team thier living in a dream world, we will perish next season if we persist with him as manager.
Jim Hardin
60
Posted 16/01/2016 at 22:37:24
Roger, even if Howard "gifted" them a goal (way to excuse Jags and Stones) did the home goal count as two? Didn't they score a second (oh yeah, Howard should have anticipated a deflection, that clown) and a third?
BTW, Howard might have decided he had no choice but to come out a little late on the first goal to stop Jags from having to pull down Costa and take a red and a PK. Jags initially seemed to have it under control, so Howard wouldn't come out, nor would any eeper other than Lloris maybe. If Howard causes the ball to go wide or deflected sideways , it is brilliant, if not, it is a goal. But how did our defense get beaten by a long ball and where was Stones again?
What must you all be saying about Chelsea's keeper? Isn't he equally as poor having "gifted" three goals or was those just brilliant plays by us?
Jamie Tulacz
61
Posted 16/01/2016 at 22:41:00
Jim Bennings (49),
Conceding two goals in 10 minutes... Really need to sort the defence out... The board really needs to dig their hands out their pockets...
So come on Mr Abramovich dig your hands out of your pockets...
I'm not going to defend our inability to hang onto leads and undeniably poor defending, nevertheless today was a bit of a sickener given that one goal was clearly offside and another a massive deflection!
And credit where it's due for some more great attacking play!
Nick Armitage
62
Posted 16/01/2016 at 22:47:21
Jagielka lost the flight and got barged of the ball, but Costa would still have had a lot to do if Howard hadn't sold himself down the river again.
When he stays on his line he doesn't move and when he comes out he usually over shoots the mark. He's too slow and his reactions are shit, in short he's finished and an utter liability. Chelsea wouldn't have got back into the game without that blunder.
Colin Glassar
63
Posted 16/01/2016 at 22:47:24
Jamie, I think their second goal should be put down as a Besic OG. He completely changed the trajectory of the shot.
Tom Bowers
64
Posted 16/01/2016 at 22:58:44
Some things never change.
I've been supporting Everton for 60 years and have seen my fair share of travesties going against Everton by bad officiating and today was just so typical. Only Everton would fall afoul of 7 minutes injury time turning into 8 minutes and an offside goal robbing them of 2 points.
I would have the referee and linesman struck off the league register. Having said that, what is RM going to do about the defensive side of Everton's game? Oh, I forgot, they don't have a defensive side!
Geoff Evans
65
Posted 16/01/2016 at 23:00:26
Excuses, excuses. Fact: the difference after nearly three years under this (phenomenal) manager and newly promoted Norwich City is six draws, excuses are for losers.
Dave Bowen
66
Posted 16/01/2016 at 23:23:22
One job, that's all they have. Linos or Assistant Referees as they prefer to be called nowadays have one job. Get the offsides right, it's not too much to ask is it? Otherwise, what is the point of them being there?
Chris Gould
67
Posted 16/01/2016 at 23:58:16
The game needs a young Fifa president who embraces technology. Follow rugby's lead and consult the TV ref on any goals where there is doubt. It takes 30 seconds and ensures no controversy. Football really is a dodgy old game.
Patrick Murphy
69
Posted 16/01/2016 at 00:01:53
Chris (62),
There is a need for the use of technology in certain situations. Imagine if today's result had cost the team a Champions League place or had doomed us to relegation. I'm not sure that many would take it as just one of those things.
The Linesman must have thought that Jags had headed the ball into Terry's path, but if he wasn't certain he should have raised his flag, that's the action they take on handball's etc.
Colin Glassar
70
Posted 16/01/2016 at 00:02:19
Chris, have you seen the dinosaurs who are the front runners for the Fifa presidency? The only way technology is allowed into the game is if the concerned companies are prepared to give out huge brown envelopes to the people with the votes.
Eric Paul
71
Posted 17/01/2016 at 00:14:07
Jim @56
Spot on, it's too easy to blame the keeper but the defence are crap, especially Stones, who thinks he is Bobby Moore. £20 mill would do us.
Jason Davenport
73
Posted 17/01/2016 at 01:41:47
Didn't everyone notice the ref chatting and smiling with the Chelsea players just before kick-off? I thought to myself, there will be some controversial decisions go against us now. How right I was. The whole world is corrupt and I am tired of it. I wish the aliens would come in and sort it out.
Peter Barry
75
Posted 17/01/2016 at 03:35:59
We can bitch and moan about refereeing decisions until the cows come home but if Everton knew how to defend and had a Manager that knew how to coach defensive tactics we would not have to and we would not be languishing in the bottom half of the table.
But that's where we are and that's where we will stay, or worse. It's Roberto-managed teams' NORMAL position and it will remain so unless someone bites the bullet and admits their mistake and gets rid of Roberto.
Geoff Evans
76
Posted 17/01/2016 at 09:38:42
Dear Mr Martinez,
Would you and the rest of the people on here complaining about bad and biased refereeing like to comment on the Stones incident at Man City on Wednesday?
Was it a definite penalty or a good refereeing decision?
Michael Penley
77
Posted 17/01/2016 at 09:53:53
Geoff (#71) – It was a good decision. Martinez already said that after the game and I agree with him.
Steven Jones
78
Posted 17/01/2016 at 10:03:44
Peter Barry.
The one goal to blame on our defensive capability yesterday was the Jags and Tim fiasco. That was very poor and nothing to do with Martinez's setup etc. Just two experienced pros messing up (time for a change of GK etc).
Deflections happen and an offside goal that we set up correctly to defend as it was offside and should not have stood was not Martinez's fault, defensive frailties, set-up, mindset etc.
Les, be fair to the manager and the players.
Mike Benjamin
79
Posted 17/01/2016 at 10:16:48
Geoff (#71).
What about the Stoke penalty? What about Baines being taken out on the edge of the Man City 18-yard-box before their penalty claim?
The truth is that officials are generally very poor these days and it isn't going to change. As a team, we must stop putting ourselves in the position the officials are able to make stupid decisions. How many chances did we have to clear the ball before Chelsea scored the third goal? Oscar, one of the smallest on the pitch, won the last one.
On a positive, how many times have we complained about watching utter boring shite, even when winning games under Moyes. At least it is entertaining now, even if frustrating with points won.
Steven Jones
80
Posted 17/01/2016 at 10:16:59
Having just read the thread from top to bottom, I have to say, some of the negative comments on this thread about our manager and the club are pathetic. Our players and our manager all needs our positive support.
Martinez is building a lovely young squad that is admired and has amazing potential. To score 3 away to Chelsea would have been a dream for a number of years.
Our top players are being talked about by Barcelona and Real Madrid and some are calling our manager incompetent or taken us as far as he can, etc... We are still on a journey and if we lose two or three stars then the manager will replace with more talent and have the financial ammunition from sales to do so...
Please show a little more context of the journey we are on and see the great assets we have – not in small measure due to the policy of the Chairman and The Manager.
The rest of the season looks really promising... I can still carry on dreaming.
COYB!'s
Ian Hollingworth
81
Posted 17/01/2016 at 10:37:11
As bad as the decision was, it was not the only thing that cost us, Roberto. We were 2-0 up... What about Howard's needless 20-yard dash that gifted an open goal and gave Chelsea the momentum???
6 wins in 22 league games with this squad is criminal and the Manager has to be under the spotlight.
Ian Hollingworth
82
Posted 17/01/2016 at 10:41:30
Steven Jones (#73),

Howard's form has been poor all season, littered with costly mistakes, and Martinez keeps selecting him regardless. Therefore Martinez is responsible for the first Chelsea goal.
Terry McLavey
83
Posted 17/01/2016 at 10:44:11
Call me cynical (I think I am amongst friends) but I would love to see the contents of Abramovich's texting during the match?
Tony Abrahams
84
Posted 17/01/2016 at 10:48:52
Jim Hardin, watch Chelsea TV mate, and listen to one of their fans being interviewed. He's laughing his head off, and saying the only reason Chelsea got anything from the game is because Howard is such a poor keeper.
He actually blamed Howard for all three of their goals, but like you I don't think he could have done much about the deflection. I hear you have been a coach yourself Jim, and although I don't know much about keeping goal, surely a goalkeeper should be judged on the saves he doesn't have to make, if you know what I mean?
Tony Steele
85
Posted 17/01/2016 at 11:59:30
It's your defensive mentality you should be angry at. We should have never allowed a bad refereeing call to decide this game.
Harold Matthews
86
Posted 17/01/2016 at 12:17:11
Sickening result but it wasn't the first and it won't be the last. We just have to get over these things.
Our plan was to block off the centre of the pitch with Barry and Besic never too far apart, the latter with one eye on Willian. This left the wings completely exposed and we were peppered with countless uncontested crosses which kept us on the edge all afternoon. In all my years I've never seen us play so narrow. Eventually it caused Fabregas to drop deep and hit us with high balls over the top.
This time we didn't wait for the fans to invade the pitch. We invaded them. A South American celebration with 7 minutes to go and all focus out of the window. Crazy days indeed.
A needless Mirallas foul in the middle of the pitch brought Terry forward for the free-kick and he stayed there. These things happen when your luck is out. Mirallas was meant to come off but we pulled Barkley off instead... Unbelievable. I think they call it Serendipity – or is it Murphy's Law?
Sam Hoare
87
Posted 17/01/2016 at 12:32:18
This season is turning into the most frustrating ever! So near and yet so far with 11 points dropped from winning positions in the last 3 months. If only we could close out games then we'd be 4th and flying in the cups.
Frank Crewe
88
Posted 17/01/2016 at 12:59:16
RM "We want to be a brave team and win games by not running the clock down or playing with aspects that aren't what we want to be," he told the Liverpool Echo.
Sounds like Williams talking to Han in "Enter the Dragon" when asked about losing. "When it comes, I won't even notice; I'll be too busy looking good." Then Han beat the shit out of him.
RM doesn't seem to realise that this is PROFESSIONAL football. They are playing for money and the more matches you win the more money and trophies you get. It is not cowardly to close down a game when you two up. It is PROFESSIONAL.
Did he think it was cowardly to play for a draw at City? No. He thought we were "resilient". The man is totally inconsistent. The fact is that we defend as long as the score is 0-0 but the moment that changes all defensive discipline is abandoned and we go on all out attack even if we are well ahead. He has to get rid of this ridiculous notion or we'll get rid of him and bring in a professional manager.
Everton supporters want a winning team not Barcelona on the Mersey. If playing ugly secures the points so be it. Because if he wants to get Everton into the top four (next season; this season is screwed) then he had better learn this lesson. Time to grow up.
Colin Glassar
89
Posted 17/01/2016 at 13:14:15
Great post, Frank, I have to agree with every word except for the last paragraph. Personally, I DO want us to play football the Everton way. I was brought up on the School of Science and we can, we are to an extent already, play that type of football, ie, open, entertaining, ruthless etc... What he needs to do is sort out the defenders.
Our starting defence yesterday (Howard, Oviedo, Stones, Jagielka and Baines) were all there when Martinez arrived. These were guys who were apparently superbly drilled by the former regime. Throw Seamus into that and that's a defence he inherited. A defence that has played for years together.
So what's gone wrong? Has he told them not to do the basics? Has he told them not to jump? Not to tackle or clear their lines? Why do these guys who've spent years together sometimes appear to be complete strangers? These are questions I'd love someone at the club would answer.
Mike Hughes
90
Posted 17/01/2016 at 13:21:43
Frank (#79),
100% correct. And I've stated as much since he was appointed / before his first game in charge.
I was open minded but underwhelmed by his appointment. Now just underwhelmed.

Tony Doran
91
Posted 17/01/2016 at 17:12:12
Steve Jones, well said. How can our manager account for two senior internationals messing up for the first goal, then a deflected shot and finally an offside?
Get a grip and stop slating players or manager and save it for the board.
Des Farren
92
Posted 17/01/2016 at 17:38:29
Steven @75. Top post. The invective negativity here on a weekly basis is unbelievable and more depressing than anything that happens on the pitch.
Ian @ 77 "Therefore Martinez is responsible for the first Chelsea goal". That is some jump in your reasoning process although you will probably receive some support for your stance.
Fraser Auld
93
Posted 17/01/2016 at 17:48:49
I like a lot of what Bobby is trying to do, particularly with the youth set up. BUT his refusal to face up to our obvious failings is becoming excruciating.
He was asked after the game if we have a problem defending leads, his answer: 'No. We are a young team. Sometimes you need to go through these experiences to develop that knowhow.'
He's clearly hoping that if says it enough we'll start believing it!
The trouble is Bobby, Everton fans aren't stupid and a cursory glance at the league table exposes this bollocks you continue to pedal.
If our issues are due to young players needing to develop knowhow, please explain why Spurs, who have the youngest team in the league, sit well placed for a title push, have one of the best defensive records in the league, and don't continually throw away leads?
If it were simply to do with youth, you would expect Spurs to be experiencing similar problems to our own.
The fact is, though, Spurs aren't having any of the issues we are and that's because it has bugger all to do with age and everything to do with how the respective managers manage and set up their teams.
So fucking sort it, Bobby, because hearing the same shit from you week after week is becoming very very tiresome and that's from someone who likes you!!
Chris Leyland
94
Posted 17/01/2016 at 18:23:52
Steven, Tony, Des, have you been brainwashed like Moonies by watching hours and hours of Martinez motivational videos?
Tony, Martinez can account for two senior internationals messing up: (1) because he persistently picks the one in goal when most people can see that he is a liability; and (2) The same sort of mistakes are happening with alarming regularity, week-in and week-out, and he has failed to eradicate them in training because his 'values' and 'beliefs' don't see anything wrong with it happening.
Whilst the 3rd goal was offside, how were Chelsea in a position to get the ball up there that late in the game in the first place? (1) Because our Spanish wonderkid got caught on the half-way line trying fancy skills to beat a man instead of hitting it into the corner and (2) the team then failed with 3 headers in a short space of time to get the ball away.
Again, things like this happen regularly directly because of the manager's philosophy. The sloppy, casual failure to see out games, week after week, has seen us drop 9 points since the end of November alone.
Geoff Evans
95
Posted 17/01/2016 at 19:16:02
Frank 83: Agree word for word.

Anthony Dwyer
96
Posted 17/01/2016 at 20:02:47
Frank (#83):

I agree too, we have to learn lessons very quickly as a team though as Martinez is too stubborn but unfortunately we are stuck with him.
Ian Hollingworth
97
Posted 17/01/2016 at 20:34:52
Des at 87 please read my post again. I was trying to respond to a previous comment where Martinez was not to blame for players' mistakes.
My point is related to Howard who has been very poor all season with numerous costly mistakes. Despite this, Martinez continues to play him so therefore he has to take some responsibility for that player's subsequent mistakes.
Darren Bailey
99
Posted 18/01/2016 at 08:55:30
Dear Mr Geoff Evans #71.
Care to comment on-
1. Troy Deeney not getting his marching orders on the first game of the season and then scoring one of their goals.
2. A second yellow also not being given to Lucas vs Liverpool.
3. The penalty that should have been vs Leicester.
4. The "handball" that wasn't given in the lead up to Leicester's third goal.
5. The penalty that shouldn't have been given to Stoke.
6. The penalty that should have been given to us in the same game.
That's 6 crucial decisions that have gone against us this season that have directly influenced the outcome of the game. Make Saturday 7 and by my calculations we should be 10 points better off by decisions being called correctly. And before you say it Dermot Gallagher has called each one of these incorrect on review of the incident.
In contrast to that decisions that have gone in our favour include-
1. A possible penalty to Bournemouth.
2. Barkley's indiscretions vs Liverpool
3. (If you believe West Ham fans), McCarthy's challenge on Payet - not my call as I think it was a good tackle.
4. Penalty vs Man City.
4 calls in our favour and the 2 (possible) sending off incidents are up for debate anyway. This would amount to 3 points lost. That's a difference of 3 calls against us this season amounting to a possible points difference of 7.
I know these are "ifs" and "buts" but people say they even out over the season so I'm testing that theory by keeping track. Before you say it as well I'd have rather the refs done their job properly over the last two games as we'd be a point better off now.
The people that keep going back to the penalty incident vs Man City need to look at the bigger picture over the course of the season.
Geoff Evans
100
Posted 18/01/2016 at 11:41:56
Darren. Excellent and well thought out thread, based on your observations. Having watched our team for a long time I could possibly make an even greater list of what I feel were decisions that have gone against us, that may have changed not only individual games but entries in record books.
I dare say that supporters of every club in the country could talk all day about awful decisions that have gone against their teams, these are the ones that tend to stand out. What they all have in common is that they are all now irrelevant. The point I was and am trying to make is, rather than blaming poor decisions, which happen in all games, and always will, I'd prefer to concentrate on some of the things that led up to their second, equaliser which have resulted in us coming away with two points from three games after scoring nine goals.
Firstly, their equaliser was definitely offside, as their manager readily admitted. Now as an Everton supporter I watched us, after lots of hard graft and no little skill, drag ourselves back into a lead we thoroughly deserved. Then, because of a lack of professional nous on behalf of our scorer, he then launches himself into the crowd allowing the ref to add on extra minutes to those already accumulated for the injury to Oviado (not much learned from Bournemouth, 2 points lost).
We then know from the kick off Chelsea are going to throw the kitchen sink at us so instead of playing this great possession football RM keeps talking about and keeping the ball in their half, we then have the sight of the golden Spanish boy hoofing the ball upfield knowing full well it's coming straight back (obviously learned at Barca).
From there the ball comes at us the good old English aerial root, (didn't see that coming did we?) and not one, not two, but three successive headers are won by their forwards in our box (more brilliant defence to go with the Jagielka/Howard debacle and the own goal that brought them level), with the ball finally ending up at the feet of Mr Terry...
I wish these officials would be more like our players and stop making mistakes that keep costing us games
(Bournemouth, Stoke, Chelsea). Those seven points would have been invaluable... bloody refs!!!
Darren Bailey
101
Posted 18/01/2016 at 14:03:15
Geoff, I'm with you all the way in wishing we would become as tight on the pitch as our board are off it with their money.
If only there was a blend of Moyes and Martinez? "Moytinez". I dread to think what that would look like but the football team would be bloody hard to beat I know that.
Unfortunately under RM I honestly can't see anything changing and that means this isn't the last time we're going to come away from a game thinking what should have/might have been.
Let just blame Hibbert instead.
Des Farren
102
Posted 18/01/2016 at 14:06:57
I don't look at it in that way.Ian @92.Howard's mistakes are down to Howard.Jag's are likewise his own and I have no doubt he would hold up his hand for those.
Martinez will accept responsibility for the team performance although in fairness it is never 100% the manager's fault.
We seem to nitpick individual players mistakes on here to fit in with our own agendas ie the sacking of the manager.
I would prefer to look at his overall contribution to the club since he arrived which I think has been exemplary in terms of the squad he has and continues to build.
If Martinez was to be hounded out of Everton we can all expect an exodus of our best players as he is the main reason they came to us.
A replacement manager would have another 5 year project to begin.
Is this what supporters want? I don't.
Anto Byrne
103
Posted 18/01/2016 at 16:44:27
Better the devil you know. Pros great football, better players signed, positive, wants to win playing football.
Cons. Inflexible, Favourites over form, talks bollox, shambolic defenders. Mysterious substitutions. Poor game plans.
No-one's perfect not even Mourhino or Wenger just that they have more experience at a higher level.
The best managers surround themselves with the best people. What about Moyes as an assistant manager?
Roger Helm
104
Posted 18/01/2016 at 17:14:58
Jim, it is true that Jags was left one on one with Costa, but neither of them had the ball under control. The responsibilty had to be Howard's - he could see everything whereas Jags had his back to the ball. Either come out properly and get the ball, organise his centre halves (Stones went AWOL) or stay back to cover the shot (which would have missed - Costa had a mare apart from that moment).
That was the turning point of the whole game. We were never the same after that cock-up.
Kim Vivian
105
Posted 18/01/2016 at 19:32:57
I know this thread is running out now but as a matter of interest – because I do not have the salient info – does anyone know how many points we have picked up from a losing position? eg, Sunderland?
We all know we have dropped 11 from winning positions because we keep getting told so it would be an interesting counterpoint. Any stattos out there got this?
Patrick Murphy
106
Posted 18/01/2016 at 19:41:34
Kim (#98),
Watford (h); rescued a point;
WBA (a); rescued 3 points after being 2-0 down.
Liverpool (h); rescued a point after going behind.
Sunderland (h); 2-2 to 6-2, so two points gained.
West Ham (a); 1-0 down rescued a point.
Same against Palace (h).
Nine points if we're counting the Sunderland game as a rescue mission, which it oughn't to have needed.
Kim Vivian
107
Posted 18/01/2016 at 19:53:10
Nice one - thanks Patrick. I've just been trying to work iy out and got to 10 points but forgot that Sunderland never took the lead against us.
Interesting. Not sure what it tells me though except that we have spunked 1 more than we have clawed back. It would be interesting to see the same stats for all prem teams and how it tallies with league position and stuff... or something.
But don't worry - I do not expect you to trawl that up for me, Pat.
Add Your Comments
In order to post a comment, you need to be logged in as a registered user of the site.
Or Sign up as a ToffeeWeb Member — it's free, takes just a few minutes and will allow you to post your comments on articles and Talking Points submissions across the site.
© ToffeeWeb