Baines rues not managing Chelsea game better
16/01/2016

88 Comments [Jump to last]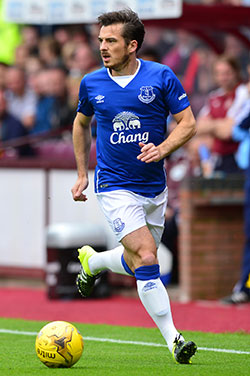 Leighton Baines expressed the players' disappointment with today's 3-3 draw at Chelsea saying that Everton only had themselves to blame for not seeing the game out.
The fullback also commented on the controversial decision by referee Mike Jones to go well beyond the seven minutes of allotted stoppage time saying that the official tried to justify why he had played on.
"We are devastated," Baines said. "We'd done so well to get ourselves ahead in the game twice. We've only got ourselves to blame, particularly for the goals at 2-0 up [but also] for not managing the game well enough, really.
"We go and get what we deserve [by getting] back in front and throw it away again. It is offside, the goal, but we've got to manage the game better.
"Walking back I spoke to him and he started telling me about the timing. so straight away it makes you think he might have got something wrong because I didn't really ask him about that. He's trying to justify playing as long as we had.
"I knew there were seen minutes, which is a long time and I didn't realise we'd gone over that. I don't know – you'd have ask him. I know his comment to one of the lads was that he hadn't got anything wrong all day so you'd have to speak to him."
---
Reader Comments (88)
Note: the following content is not moderated or vetted by the site owners at the time of submission. Comments are the responsibility of the poster. Disclaimer
Geoff Evans
1
Posted 16/01/2016 at 23:53:27
At last, honesty instead of more lame excuses.
Patrick Murphy
2
Posted 16/01/2016 at 23:57:41
Baines was Man of the Match for Everton today, it was after he had been clattered by one of the Chelsea players that he seemed to spark into action and therefore sparked the team into a more dangerous attacking force. He was here, there and everywhere and couldn't have done more to try and help Everton get all the points, but alas it was not to be.
John Austin
3
Posted 16/01/2016 at 00:01:13
Wouldn't expect anything else from Leighton Baines. Top guy. Follow his example, Roberto, and you might get a bit more respect.
Jim Bennings
4
Posted 16/01/2016 at 00:03:38
We managed the game poorly!!
It was almost scary the comparison to Bournemouth right down to the celebrations which we dragged out too long hence adding on more time, I know we must celebrate but after Bournemouth you'd think a wise head should have been used to focus.
I keep saying it but at 2-0 the game is ours with less than half an hour to go, but we just squandered it with a moment of sheer stupidity getting them the first goal.
Then for Terry's offside goal, yes it's offside but as Jenas pointed out on Match of the Day, we lost not one, not two but THREE headers on the edge of the area, it's poor defending I'm sorry but it is.
How I'd love to see a Robert Huth, or a Ryan Shawcross there in defence winning his duels aerially.
But then, how I'd love a manager with a bit more tactical awareness and nous and managerial savvy.
Lee Brownlie
6
Posted 17/01/2016 at 00:25:23
Felt like the ref had played till Chelsea scored, at the end... even giving it despite a clear offside! Nonetheless, as our esteemed LB (LB) points out, it should never have been on for them to nick the draw, from 2-0 up and then 3-2, last minute!!! Gutted.
Brian Porter
7
Posted 17/01/2016 at 00:26:48
At present, despite the talent we have available, Martinez is running us into the ground and potentially into a relegation battle. The teams below us are all picking up wins, closing the gap on us while we fall further behind the clubs above us.
With only one win in nine, against relegation strugglers Newcastle, only the bottom four teams have fewer wins than us this season. In fact, our last 60 games under Martinez have produced only 18 wins, hardly what we expect from this group of players.
It can only be put down to poor management and at any other club, I think Martinez would have received his marching orders by now. How much longer do we have to put up with his ineffective tactics and his inability to coach the defence to the standard required to defend a lead late in the game?
He made my blood boil when he said, after the game that other teams might have parked the bus after taking the lead at the death but that's not how we play the game. That's how teams win matches, you buffoon Martinez! When is he going to learn?
I've said before and now again, he is not of the required standard to manage a Premier League club. He will, if still here next season, lose our best players who will be looking for better prospects and could lead us to the Championship if he doesn't do it this season.
And oh yes, Ramiro Funes Mori should be one of the first names on the team sheet. I don't care if it's Stones or Jagielka who makes way, but this guy has to be a starter. His defending is now as good as anyone we've git and he's now scored three goals in recent weeks, not bad for a centre-half.
Drew O'Neall
8
Posted 17/01/2016 at 00:37:10
We only ever 'manage' the game well when it's nil-nil. If we go in to the lead we surrender management of the game. It calls in to question whether this team should be playing tippy-tappy football if they can't do it when they need to.
Bobby Angwin
9
Posted 17/01/2016 at 00:39:07
Interesting to hear that the ref talked about timings before LB, just goes to show he knew he was a cheating bastard straight away.
You need a bit of luck at this level, don't care how good a team you are. If you're playing away to the champions against 12 men you're fucked.
Proud of the team though today, Martinez will get this right and they will be heroes.
Kieran Kinsella
10
Posted 17/01/2016 at 01:28:08
RM is what he is. We got frustrated with Moyes's glass ceiling so we replaced him with a dreamer. Reality is that they're the best we can get when we are constantly rebuilding after richer clubs pick off our prized assets.

Realistically, we can never achieve anything because of the financial side of the club. Who is to blame for that? It's a long list but includes Kenwright, Peter Johnson, and the board who over spent and made poor managerial choices from the moment Kendall went to Bilbao.
Ernie Baywood
11
Posted 17/01/2016 at 01:49:05
Kieran, I'm all for criticism of the ownership but there's a good side going on the park each week and being mismanaged.
Right now, Martinez's side is failing to even punch its own weight.
Nigel Gregson
12
Posted 17/01/2016 at 02:04:41
I don't know why we absolve this *good* but mismanaged of any accountability in the matter. Sure the buck stops with Martinez, but right now we're indirectly praising him for putting together this *good* team and then giving them incorrect instructions. For starters I don't think the team is as good as its made out to be. There is potential – yes, raw ability yes, but street smart – NONE and mental toughness neither.
Also we hardly seem to credit the other team with their abilities. I mean look at the bright side. We went to the champions home, where we didn't win since 1994, and we score THRICE and made them look pretty ordinary. We are talking about a billion dollar team with Gus Hiddink as a manager – at their home ? What would we have done 4 years ago ? Kept it tight ? hope to nick one ? and ended up either losing 1-0 or nick a draw.
Lets face it – our attitude and expectations have changed and we have Martinez to thank for it. The team has its deficiencies, but deficiencies like lack of experience and street smart wont be rectified in two weeks.
Rahul Sreekumar
14
Posted 17/01/2016 at 04:07:37
Had some time to sleep over it. So I'm calmer & less inclined to break things now. But still feeling sick.
These post match comments from the players and manage could be from ANY of our last few league games; that's how little we've learnt. I'm yet to see what RM keeps saying he's going to do differently. Can't/Don't want to hear another excuse from him. And to think I used to wait for his press conferences in his first year.
Slightly off topic- what's most frustrating other than dropping all these points is to see how we take our 'throw-ins'. Noone makes himself available and we usually end up losing the advantage.
Nick Wall
17
Posted 17/01/2016 at 08:03:03
Good post, Nigel (#11). It's strange to see fans laying into players and the manager because yesterday was a great Everton performance and, but for a refereeing blunder, we would have got our first win at Stamford Bridge in over 20 years.
How can you talk about Martinez without talking about how he's brought on young players, helped them to build up their confidence, turned us into a team that passes the ball from the back but is also lethal on the counterattack. To "drop" two points at Stamford Bridge, you first have to be good enough to win.
Duncan McDine
18
Posted 17/01/2016 at 08:28:21
I only just had a chance to watch the extended highlights, so can only comment on what I saw there...
It looked like one hell of a performance, away at the Champions (who are back playing like Chelsea). Besic, Baines and Mirallas all looked fantastic – and their seasons have only recently got underway!
Joe Foster
19
Posted 17/01/2016 at 08:30:59
Or rectified in 3 years apparently, Nigel.
Joe Foster
20
Posted 17/01/2016 at 08:36:26
If we don't win next week, the airplane banners should start again. Martinez Out.
Jim Bennings
21
Posted 17/01/2016 at 08:42:48
Nick
It wasn't a great performance as you put it yesterday; if it was a great performance, we would have kept a solid back line at 2-0 and seen out the game at that point!
A great performance requires near perfection at both ends of the pitch.
We were great going forward but at 2-0 up, Chelsea were on their knees, they had registered just one shot on target before Messrs Laurel & Hardy, sorry, I mean Jagielka and Howard, cocked it up for us.
That gave the whole Chelsea team a huge boost and got the notoriously fickle Stamford Bridge crowd going, which up until that point they were very restless.
I'm completely sickened by yesterday's result, we will never get a better chance to banish the hoodoo, but I'm even more sickened at the amount of games we have literally just thrown away in the last two months: Bournemouth, Stoke was equally galling, even the Norwich game when we should have been 5-0 up at HT, we drew 1-1, gutting.
All we ever seem to get with Everton Football Club is heroic failures, whether it's Merseyside derbies, FA Cup implosions or near big wins, we just CANNOT get over the line.
Hand on heart, even though we won the first-leg Semi-Final against Man City, how many of us truly believe we are going to complete the job in two weeks time? And how many think it will be the usual "hard luck" story with the same old tales of woe and heroic failure?
I'm sorry but I just watch Everton season after season and nothing ever seems to surprise me anymore; we just do hard luck or self destruction better than anyone!
Steven Flynn
22
Posted 17/01/2016 at 08:56:29
That linesman is either incompetent or a cheat. Everton should put a formal complaint in, these officials are now professional and should be made to explain their decisions.
Trevor Peers
23
Posted 17/01/2016 at 09:00:09
Ranieri was spot on when Leicester reached 40 points, he set that as his goal for the season, to be reached as quickly as possible. Then you start to chase glory and gamble a little in games.
Unlike Roberto who does the whole thing arse-ways about. I've never heard him set a goal for points during the season, just a load of waffle about playing a certain way that suits his ego.
Dave Abrahams
24
Posted 17/01/2016 at 09:09:50
No matter what we think about yesterday's game, who was to blame etc etc, we all know the same mistakes will happen again a good few times before the end of the season, because the team and the manager refuse to learn.
Geoff Evans
25
Posted 17/01/2016 at 09:31:45
The spine of the team is flawed, Jagielka and Howard are Championship players at best and wouldn't start for any of the teams above us. Stones as a central defender is not the answer and we should cash in while his stock is up.
Jim Bennings
26
Posted 17/01/2016 at 09:40:16
It says it all when probably 8 of the 11 draws we've had have felt like defeats.
It's been the most frustrating season in living memory – that was the THIRD time this season we have scored THREE GOALS and still failed to win! Martinez has to ask himself really, playing this way, how many teams are we actually outscoring?
It's obvious more often than not, when we score three goals, so do our opponents... I'm just amazed we didn't draw the Sunderland game 6-6!
I honestly think under Martinez we will be the first team to score 6 goals and still lose.
Andrew Laird
27
Posted 17/01/2016 at 09:53:00
Well, I am pleased that we have learned our lessons since the Newcastle game... imagine how many goals we would have conceded since then if we hadn't!
Roberto needs a rocket up his arse from the experienced players for his moronic comments alluding to him rather having his team lose points than winning by seeing the game out, by being professional and running down the clock. This man has overseen yet another game where we score 3 but don't win but cannot man-up and be honest that his tactics do not allow for the team to win many games.
Ian Riley
28
Posted 17/01/2016 at 10:13:03
What do the coaching team do on a Monday back in training?? Consistency is becoming the key word with our defending. Is the manager learning from his mistakes? No! This is not an Everton issue but was a Wigan issue and look how that turned out!! A manager that cannot coach a team to defend a lead is a massive worry for me.
Sorry, I don't want entertaining football and no wins in four and one win in eight in the league! Our priority is 40 points first and see where it takes us. Martinez is a nice guy and wants to play good football which he has achieved. Go out and get a defensive coach and change your methods.
If fear for the long term with Martinez. Relagation under this manager is more than a possibility within three years. As a squad we have the players to keep clean sheets and be in the top four. Is our squad worse than Tottenham? No! The answer lies in the coaching! I can only see one outcome unless changes are made.
Geoff Evans
29
Posted 17/01/2016 at 10:15:36
European aspirations? Happy if we are above Bournemouth and Norwich at the end of the season with this manager. As for City on Wednesday, forget it.
Laurie Hartley
30
Posted 17/01/2016 at 10:17:34
Jim, with all due respect, don't give up just yet. Yes we are throwing points away for fun, but we are in a better place than we were this time last season.
We have progressed from tippy tappy and are now playing the ball out from the back very quickly. The way all the best Everton teams of the past 50 years have played. It doesn't always come off at the moment but when it does it is a joy to watch.
That, plus the fact that I expect us to score at least once in every game, is what is tempering my disappointment at the moment and giving me hope.
Terry Downes
31
Posted 17/01/2016 at 11:27:32
Can we all give Martinez a break? It's getting to the point where it's any excuse to have a go at him.
Two of their goals were very lucky and nothing to do with our manager... Perhaps we're just having a run of real bad luck that these things happen!
Paul Thompson
32
Posted 17/01/2016 at 11:37:13
Laurie (#25) is right – in some respects, we are progressing. The quality of counter-attacking play is fantastic to watch. We move the ball much more purposefully and the movement of players is so much better.
But under Martinez it's two steps forward, one step back. Defensive disorganization and failures in ball retention underpin much of the inability to hold on to a lead. Baines is very honest in his comments, but why do we keep doing it?
I did, however, think Baines was superb yesterday and is coming into top form now that he is fully fit. That was one of the compensations on a day of frustration.
Brian Harrison
33
Posted 17/01/2016 at 11:51:27
Laurie,
Well, if this is progression, then I must check my dictionary as I thought 'progression' meant getting better. Clearly points-wise or position-wise we are worse off; if you think this is progression, how far down the league do we have to go before you change your mind?

Brent Stephens
34
Posted 17/01/2016 at 11:54:40
Laurie (#25). I'm with you. Our attacking game has improved so much, down very much, as you say, to the reduced tippy-tappy at the back and the greater use of more direct balls upfield from the back.
Only one team above us has scored more goals than us. No problem there.
Losing so many games after being ahead late on shows just how close we are to something big. If only, if only he sorts that defence:
1. A different keeper;
2. Close out games when ahead so late on.
Brent Stephens
35
Posted 17/01/2016 at 11:58:42
Brian (#27) "Well, if this is progression, then I must check my dictionary as I thought 'progression' meant getting better".
Re progression, Laurie only says "We have progressed from tippy-tappy". I say he's right.
Mark Andersson
36
Posted 17/01/2016 at 12:19:22
Brent and Laurie, it's fans like you and the other deluded lot, hoping that it will all come good. We are going backwards. I can't see where our next win will come from. When was the last time we won 3 on the bounce?
Yes, we look good going forward and the neutrals love our entertaining way. Football is about results and we ain't getting enough wins... simple.
Dream on and keep Bobby in a job. I hope Man City give us a spanking, the last team I want to face in a final is those fuckers across the park because, if for some small miracle we do get to the final, we sure as hell will bottle it.
Joe Clitherow
38
Posted 17/01/2016 at 13:06:28
"Lets face it – our attitude and expectations have changed and we have Martinez to thank for it."
100% correct. I used to expect solid Top 8 as an absolute minimum league placing, challenging for Europe, clean sheets and seeing us win home games and my attitude has completely changed to that. And I thank Sr Martinez for all of it.
John Hughes
39
Posted 17/01/2016 at 13:52:44
I haven't checked these stats out to be honest but I am reliably informed that Martinez has managed to win 18 league games out of the last 60. (30%).
Yesterday was his 250th game as a Premier League Manager and he has won a total of 72 (29%). Says it all really – mediocre at best.
Jim Bennings
40
Posted 17/01/2016 at 14:38:20
The stats are correct John.
12 wins from 38 last season and just 6 in 22 this season, don't need to be good at mathematics.
It's a poor return.
Trevor Peers
41
Posted 17/01/2016 at 14:50:03
Poses the question: Why do some of our fans have such undying loyalty to a manager with such a poor win record?
Baffling really.

Joe Foster
42
Posted 17/01/2016 at 14:52:51
I think they are trolls, Trevor, just trying to get a rise out of us.
Mark Andersson
43
Posted 17/01/2016 at 16:01:00
Only good news this weekend is Rooney sinks the RedShite. What a crap game that was. Two has-been sides and yet both are above us.
So, for all you excited Martinez fans, the table doesn't lie. Goodnight.
Brian Denton
44
Posted 17/01/2016 at 16:02:23
They don't have 'undying loyalty' to Martinez. They have undying loyalty to Everton, and don't make a point of slagging off our own. And all this ''We are going to be in a relegation fight. Fact.'' shite doesn't help. It just makes the poster look stupid. We are two points behind Liverpool having played the same number of games.
Without going all Kipper, I can see sometimes why this site gets criticism.
Barry Jones
45
Posted 17/01/2016 at 16:56:39
Last season was dreadful, the standard of play was dire. This season has been a whole lot better... in some regards. We are far better going forward, moving the ball quicker and not afraid to hit it long when it is on. The team is far more exciting to watch. On our day, we can match anyone in the league for playing football, we lapse into defensive shambles way too often.
This is not always the fault of the manager. Many goals have been conceded because of individual errors, but I do concede that we can look shaky under pressure, failing to clear the ball and holding it long enough to relieve the pressure. Against Chelsea, it was incredible how often this happened at one point in the second half.
Do I think RM is the man to lead us forward? Probably not, but he has corrected many of the poorer aspects of last season's play. At the moment, I would release both Jags and Howard. Howard is way too timid and this is costly. Jags, for all his qualities, has concentration lapses too often and this is also costly.
Jay Harris
46
Posted 17/01/2016 at 17:06:10
To all the optimists, I agree, we are better going forward than last season but you only have to look at RM's record and utterances to know he is not up to standard for EFC. Wigan were also easy on the eye and look where they ended up.
I don't think it's negativity on TW, I think it is realisation and frustration. Any manager who doesn't do defensive and thinks set pieces are only a small part of the game should not be managing in the Premier League.
Moyes inherited a relegation squad and built a top six side on crumbs... this guy inherited a top six side, a maturing Stones, Barkley and Coleman, and got backed with money that Moyes could only dream about.... and yet we languish in the bottom half of the table.
Patrick Murphy
47
Posted 17/01/2016 at 17:19:57
According to the official Premier League website, Roberto has managed 250 PL matches, winning 77, drawing 74, and losing 99. His teams have scored 314 but conceded 396, garnering 305 points, which gives a win ratio of 31%
David Moyes managed 461 games in the PL. He Won 190, Drew 129, Lost 142. His teams scored 624, conceded 543 and won 699 points, giving him a 41% win ratio. The Moyes stats look a little high to me but that is what the Premier League website states.
Dean Adams
48
Posted 17/01/2016 at 17:37:01
Patrick. Looking a little closer at the figures you may note that the important figures are:
P 123 W 54 D 36 L 33 Average win % 43.9.
Not sure how accurate they are, but if correct then he has still done better than OFM, despite our recent form!!


Patrick Murphy
49
Posted 17/01/2016 at 17:39:49
Dean, I only gave the overall Premier League figures so I assume you are counting all competitive matches or are you only including his PL performance at Everton?
Dave Ganley
50
Posted 17/01/2016 at 17:41:35
Let's not compare Moyes and Martinez shall we. Moyes took over a very very poor team and transformed them into a top 5 team. Martinez took over said top 5 team and has turned them into a team struggling to get into the top 10.
Moyes may have had an issue with the top 4 away from home but Martinez has an aversion to beating anybody above us home or away. No contest really.
Dean Adams
51
Posted 17/01/2016 at 17:44:31
Patrick, I believe they are his EFC figures overall. Not sure of his PL figures for us without doing some more research!!
Christopher Timmins
52
Posted 17/01/2016 at 17:52:39
Dave (#44) you are spot on. You have to take into account where things stood when the manager walked in the door. Moyes took over a team heading out of the Division. Martinez took over a team who finished in and around the top 6. However, you also have to factor in the time the manager has been in situ.
Dean Adams
53
Posted 17/01/2016 at 17:55:38
Patrick.
His PL form is not great but;
P 98 W 39 D 31 L 28
Around 39% win rate, could be much higher and probably will rise before the season is finished!!
Brent Stephens
54
Posted 17/01/2016 at 18:08:06
In another article (Martinez: Cups v League), Joshua produces Roberto's win % stats in the Prem for the last 3 seasons: 55%, 31% and 27% so far.
That's a stark comment on our "development"! Many on TW were saying through last (calendar) year that Roberto should "go now", and others that we should at least give Roberto 2 years before judging, and I think some saying even given him 3 years. We're now beyond the halfway mark in his third season and our % win is down to 27%.
And yet, clutching at straws (or in total denial) I feel we're so close to being a top 4 team if only he'd sort the keeper and swallow his pride and his philosophy about not closing games down.

Ian Riley
55
Posted 17/01/2016 at 18:16:49
The question is would David Moyes do better with the current squad than Roberto Martinez?
The current manager knows he is under pressure? Why? Yesterday's reaction to Chelsea's late goal. Don't worry, Reberto, you are at a club that doesn't sack managers unless we're bottom of the league!!
Dave Ganley
56
Posted 17/01/2016 at 18:23:23
Ian (#49), I would think so. What many people forget is that Moyes did have an entertaining team towards the late 2000s. Arteta, Pienaar, Baines, Cahill, Mirallas, Coleman, Jagielka, Lescott etc, really the only player lacking was a good centre-forward.
With the myth that this is the best team in decades, the question we should be asking is how many of the current team would get into that one?
Colin Glassar
57
Posted 17/01/2016 at 18:23:51
Can we please put OFM to bed once and for all? He's been sacked as a TV pundit (ratings plummeted over the weekend) and he is now set to become the face of "Rest" (natural tranquilliser) in their new publicity campaign.
For all the ginger widowers out there, you can now buy your bottle of Rest with the face of the Ginger Minge on the box... Zzzzzzz.....
Dave Ganley
58
Posted 17/01/2016 at 18:29:58
Colin, we all knew it was time for Moyes to go but when the pro-Martinez brigade try and tell us it's so much better now than it was when we were regularly challenging the top tier, and Goodison was a fortress and rocking on a regular basis, then some of us who remember that far back have a right to say that they are talking bollocks.
Colin Glassar
59
Posted 17/01/2016 at 18:33:50
Just thought I'd try and inject a bit of lightheartedness into what is becoming another acrimonious thread, Dave.
Dave Ganley
60
Posted 17/01/2016 at 18:40:34
Sorry, Colin... I am obviously a little bit more tetchy about yesterday's game than I realised.
Geoff Evans
61
Posted 17/01/2016 at 19:07:11
Dave, no need to apologise, what you say is perfectly fair and based on fact.

Andy Meighan
62
Posted 17/01/2016 at 19:07:17
I don't think I've taken a goal like Terry's as badly for many a long year. Yes, I've calmed down a bit but that was hard to take yesterday.
We will never ever have a better chance to win there than yesterday. We absolutely dominated that game from start to finish and never once looked in any danger.
But I just knew, even after Funes Mori scored, we wouldn't see it through – not for one minute. Losing late goals once is unlucky but it's becoming the norm. And while Martinez is manager, it won't change.
I'm not advocating bringing Moyes back but he hit a great point on MotD when he said at 2-0, it should've been game over – especially at a place like that. I personally thought that was a dig at Martinez and his naivety and he was totally right.
These late collapses can't be allowed to go on. But I fear they will and it only confirms my belief that we won't finish in the top half of the table!
Anthony Dwyer
64
Posted 17/01/2016 at 20:16:00
Baines is not our manager, he should not have to worry about it. Clearly he is a senior player and yes he should speak to younger members to keep a steady ship.
But, all that said, Roberto is paid handsomely to manage our team to a result, and the fact is Roberto failed again to do his job. We were struggling majorly for the ten minutes before we conceded the first, Roberto had Funes Mori on the bench and Oviedo struggling.
It's not rocket science: he had the options to sort out our problems before the goals materialised.
Option 1 was replace Oviedo with Funes Mori and put Stones to right back.
Option 2 was replace Lennon with Funes Mori and go three at the back with Baines and Oviedo at wingback.
Option 3 was Roberto's preferred choice yet again though... Stand on the sidelines, clapping your hands like Flipper, and do sweet FA until he's forced to and it's too late.
Jim Bennings
65
Posted 17/01/2016 at 20:35:06
Andy
I know what you mean mate!
I haven't felt empty and quite simply gutted by a goal as that Terry one yesterday, I felt absolutely pained after blowing the 2-0 lead but then the sheer euphoria of Funes Mori's goal in the 91st minute, before like you memories of Bournemouth came flooding back!!
Lo and behold, we blew it again by allowing Terry to get into his offside position anyway by being done THREE times in aerial duels on the edge of the box!!
Even today, I feel no better; calmer, yes but totally utterly deflated. The only thing that will save this season for me is winning a Cup or winning the Anfield derby for the first time since 1999.
I just need something like that to restore my faith in this team, to show me we are not just endless big-match bottlers that can't drag themselves over that line to either win silverware or win at our rival's pit!!
At the moment, I feel nothing more than overwhelming senses of recent history repeating itself season after season.
Steve Carse
66
Posted 17/01/2016 at 20:42:08
What experiences like yesterday teach us of relevance for the imminent League Cup 2nd Leg is that there is no feasible favourable scoreline going in to the last few minutes of this game that would allow Blues fans to relax. Who will believe that we will go through even if we are holding a two goal aggregate advantage with say 10 minutes to go? No-one.
I know I'll be taking a few changes of underwear with me for that one.
Jim Bennings
68
Posted 17/01/2016 at 20:55:53
Throw a few pairs my way Steve!!
Interesting reading from Peter Reid who has said what we've all been saying this past 12 months.
"Everton have a soft underbelly,
Best squad since the 80's but too soft"
Doug Harris
69
Posted 17/01/2016 at 21:06:57
It has got to change somewhere.

This young and up coming team will bring our long and desired success that we all crave for ...
Tony Abrahams
70
Posted 17/01/2016 at 21:15:57
Dave 50. I could see maybe Barry, and possibly Besic or McCarthy. Give Funes Mori, a bit of time, just like Baines needed at the start, but although he signed Stones, I'm still not sure Moyes would have played him.
I'm sure he would have played Lukaku, and I also think he would have found a place for Aaron Lennon, who would seem like a David Moyes player to me, and also would have fitted in with the players and squad you mentioned.
I'm really not sure if Martinez is going to do it, but I would definitely take a season like this after the absolute dross we had to endure last year. Let's face it, even the best teams that Moyes produced were mainly flat-track bullies, and this was usually because of the man's cautious nature when playing against the so-called bigger teams.
I thought we was going to win The Europa League with most of that squad, and I'm sure we would have beaten Fiorentina, if Moyes hadn't been so naïve in the first leg in Italy.
I do think the Premier League has gone backwards though, and the squad you mentioned above would have stood a very good chance in today's league. But then again, so should this squad, and this is obviously the reason why people are not very happy with Martinez at the minute.
Mike Price
71
Posted 17/01/2016 at 21:33:06
No doubt we have a soft underbelly. It starts with the manager and runs right through our nice, quiet, naive squad.
Martinez stubbornness over Howard is what's cost us the season. I've never seen a keeper get so much praise for actually doing the bare minimum, for one game in ten. Jags made a mistake and Howard turned it into a goal and a game changing moment. You can't have a keeper that makes game changing mistakes in just about every game, it's beyond farcical.
Laurie Hartley
72
Posted 17/01/2016 at 21:44:11
Brian (#29) – to be quite frank I have changed my mind 4 times about Martinez:
1. Didn't want him in the first place.
2. After the Arsenal game at The Emirates in his first season, I thought he was going to lead us back to the glory days.
3. By last January, I wanted to swap him for Pulis because I thought we were heading for a serious relegation battle and the football we were playing was dreadful and ineffective.
4. After the Palace game this season, I saw signs that he was starting to get the best out of the squad and we were playing a different and more exciting brand of football.
He has got me bamboozled to be honest with you. I suppose my post was in response to the obvious heartbreak of Jim Bennings and many passionate Evertonians like him. But it is the hope that keeps me alive.
Paul Hewitt
73
Posted 17/01/2016 at 22:08:48
This is the best squad I have seen since the heady days of the '80s. Surely this board are not going to sit back and watch it break up. Which will happen with Martinez in charge.
James Flynn
74
Posted 17/01/2016 at 22:47:43
How's this for managing the game better? Last season, Roberto sat both Lukaku and Barkley to get their attention. With Jags back, time to sit Stones for a game or two. See if he pulls his head out of his ass.
Dean Adams
75
Posted 17/01/2016 at 22:50:13
Brent (#49),
I would not want to disagree with your figures, wherever they came from, but we have played 22 league games and 6 cup games (which we have won all of) this season, that makes 12 wins in 28 games this season. I won't isolate league and cup because it distorts the picture. As a whole, this season 12 wins from 28 games played is 42.85%.
Now I am not satisfied with our league form but I will not sit down and idly read false statistics and let people spin on about how crap the manager is. We had enough of that type of behaviour during Tony Blair's reign as Prime Minister!!
David Barks
76
Posted 17/01/2016 at 23:06:41
Dean. Those cups games were mostly against teams 3 divisions below us. Give it a rest.
Patrick Murphy
77
Posted 17/01/2016 at 23:25:14
Dean (#69),
I very rarely put cup matches into the equation in relation to stats for exactly the reason David (#70) gives: the luck of the draw, second-string team selection etc etc.
West Ham we drew with twice but ultimately lost on penalties, Norwich we beat on penalties after we drew at home. Arsenal battered us at The Emirates after we beat Swansea at Goodison. Lost to Swansea away, lost to Fulham away and beat QPR at home...
That's 8 Premier League sides we've met in domestic cups since Roberto took over and we've won two, drawn 3 and lost 3. Obviously we also beat Man City in the semi-final first leg but we won't know whether that is relevant until the second-leg has taken place.
Michael Kenrick
78
Posted 18/01/2016 at 01:49:17
Brian (#39), It would be appreciated if you could differentiate between 'the site', which we can control, and the posters to the site... which we can't.
Thanks
Phil Walling
79
Posted 18/01/2016 at 02:26:57
Punching our weight is to secure eighth place as that co-includes with Everton' s place in the wages table. But a good manager should be able to coax a little more out of the talented group of players he has been financed to assemble.
Regularly challenging for top six should be attainable but Roberto's failure to address defensive weaknesses and the game management LB mentions sees us come up short game after game.
As several posters have pointed out it appears none of our defenders are overly blessed with heading skills and this is costing us dear.But ' looking good on the ball' and ' playing it out from the back' is the order of the day so the disappointment will continue. If the Board- old or new- are happy to see the new riches of the Premier drain away on Martinez tin pot philosophies ,they deserve all they get. We don't.
Tony Abrahams
80
Posted 18/01/2016 at 08:49:54
Phil, our defenders not being good at heading balls away is not a modern phenomenon. Even with a 6ft 4, Distin, things were only marginally better.
Don't think we have anyone to organise since Stubbs stopped playing, and that is the biggest problem for me. Howard has been slated enough on these pages, but the man rarely comes for crosses, and just doesn't boss his area. How to be a defender, knowing that you can't trust the man behind you,except maybe, he might pull off a very good save now and again.
I can understand everyone's frustration, but we are getting so much better as an attacking force, and one of the reasons Moyes had a much better defensive record is because his team usually had a very conservative nature. I think it's really difficult trying to get the right balance, but if the manager can find it, I think we all know better days are just around the corner.
It's a big IF, especially considering that's all we all keep saying at the minute, but maybe I can understand NOW, why we never went for Liverpools throat earlier in the season, when they were there for the taking that day.
Brent Stephens
81
Posted 18/01/2016 at 08:59:19
Dean #68 You say "Would not want to disagree with your figures.."
and go on to say "but I will not sit down and idly read false statistics"
That's contradictory. And the win ratio in the EPL is 27%, as quoted.
(PS, I share the sentiment about prime ministerial spin - Cameron and deficit is a fine example).
Laurie Hartley
82
Posted 18/01/2016 at 09:43:22
Mark # 32 - "when was the last time we won three on the bounce" - I don't know but it was probably in Martinez's first season.
It is quite possible I am deluded - I'll wear that one. So not surprisingly ....? I am hoping we will beat City at The Etihad (a draw will do) because IF Liverpool beat Stoke I want us to beat them at Wembley and finally put our inferiority complex to bed. You'll never know if you don't have go.
Brent # 30 - gave his formula for converting draws to wins (which is what you and I both want) :-
Change the goalkeeper
Close out the game when we are ahead.
That is exactly what we did when we beat City at Goodison.
Brian Denton
83
Posted 18/01/2016 at 10:03:42
MK - Okay, I'll hold my hand up there. But the previous postings came preciously close to breaking what I thought was the cardinal rule - not calling fellow-Evertonians lesser Evertonians. 'Trolls' was used: interestingly I was put in the sin bin a few months ago for using 'Troll' about a poster who trotted out some very objectionable lines about Hillsborough.
Harold Matthews
85
Posted 18/01/2016 at 15:13:10
The last second decision to sub Barkley instead of Mirallis played a big part in the final result.
1, With minutes to go, Kev committed a needless foul just inside our half. This caused Terry to advance to our area for the freekick where he stayed till the late equalizer.
2. Throughout the 8 minutes we needed Barkley to help us hold on to the ball as we did when down to 10 men in the Cup. I wonder why they decided to take him off.
Steve Carse
86
Posted 18/01/2016 at 15:31:31
Harold (77) I suspect Mirallas was in line to be hooked because he'd just missed a sitter; in the event Barkley got hooked because for the third time in 5 minutes he'd run the ball into a group of Chelsea players and lost possession. In other words maybe, though one hopes not, it was the manager's reaction to the annoyance he was feeling at the time rather than a fully considered decision.
Steve Carse
87
Posted 18/01/2016 at 15:31:31
Harold (77) I suspect Mirallas was in line to be hooked because he'd just missed a sitter; in the event Barkley got hooked because for the third time in 5 minutes he'd run the ball into a group of Chelsea players and lost possession. In other words maybe, though one hopes not, it was the manager's reaction to the annoyance he was feeling at the time rather than a fully considered decision.
Phil Walling
88
Posted 18/01/2016 at 15:33:09
Tony@73; I do understand, respect and appreciate that there are many Evertonians who buy into Roberto' s philosophy and see the beautiful game as an end in itself.
For instance, it is understandable that so many prefer to dwell on Stone's ball skills rather than his limitations as a defender.Even I would prefer watching young John every week to Leicester' s Huth but just check, it's the Foxes who are ruffling the feathers of those clubs usually sitting at the top of the tree!
My concern has always been around the failure of Martinez to win points rather than plaudits. Some of his players are set in the same mould but if ' pretty' mid- table is what floats your boat, we are having a great season. So be it !
Dan Parker
89
Posted 18/01/2016 at 16:48:28
Play to the whistle, it's as simple as that. Sort it out Bobby!
Brian Harrison
90
Posted 18/01/2016 at 16:59:54
Well the confusion between manager and players continue, Baines is quoted as saying: "We have only ourselves to blame for not managing the game better."
Today in the Liverpool Echo, Martinez is quoted as saying "Don't question the game management of the players."
Now this is not about protecting your players as one has already come out and accepted it was the players' game management that was at fault.
Paul Tran
91
Posted 18/01/2016 at 17:29:31
I think he thinks he's protecting his players, Brian. It's just the way he does things. To me it's a roundabout way of protecting himself. I don't believe for a second he doesn't want players to close the game out, it's the kind of nonsense he tends to come out with when his players have failed us.
As for Baines's comments, they're the usual Everton senior pro "We must do better" stuff we always hear when they stuff up. I'm not sure these guys are ever going to get it, my only hope is that the younger players eventually do and/or we buy some experienced players who are winners.
I'm not holding my breath for either.

Tony Abrahams
92
Posted 18/01/2016 at 20:19:36
Phil (#80), l don't see where I said anything about being happy with mid table? I hear what you say regards Martinez, but the only thing that is going to float my boat? Is Everton winning some silverware.
I don't really care, if we come 7th or 11th Phil, I grew up believing that Everton was the greatest team in the world, and neither is really good enough for me.
if I did have to pick though, I would definitely choose the Everton of the last six weeks, rather than the mostly conservative football, that usually took us to around 7th place under Moyes.
Doesn't mean I'm totally happy with the present regime, because I'm not, but I can see a very good side emerging, if only we could just learn how to defend.
Barry Lambert
93
Posted 18/01/2016 at 21:55:22
Why do we continue to allow our Full Backs to bomb on when we clearly have the game in the bag leaving gaping holes in our defence? How many goals have we conceded from our own corners? We truly are great to watch going forward.

We have the best squad this club has assembled for many years. Roberto needs to ditch the Kevin Keegan coaching manual.

Oliver Molloy
94
Posted 19/01/2016 at 01:29:47
I have been saying all along it was the teams fault failing to win another game from a winning position and I'm sticking with that – the players and manager have to take responsibility.
However the incredible one insists that the fourth official told him time was up at seven minutes, but I have just come across a quote from Terry which has made me even more angry.
"A bit" could mean two three four minutes..!
"I was thinking maybe four, five minutes (to go)," Terry told Chelsea TV.
"Then the ref jogged past me and said 'you've got seven and a bit (minutes) there, they've just over-egged their celebrations'.
Laurie Hartley
95
Posted 19/01/2016 at 05:34:33
Regarding Terry's goal – for me the the biggest issue is why the goal wasn't given offside. Even the live commentator on Sky said it was offside before they replayed it.
The linesman didn't do his job – why? He was right in line with the play.
William Cartwright
96
Posted 19/01/2016 at 15:44:23
Oliver / Laurie, You have just alerted me to a significantly unprofessional exchange between the referee and John Terry if true... What is the ref thinking telling the Chelsea captain the time left to play! That alone is up for questioning his impartiality.
What was the linesman doing missing the bloody obvious (if indeed he did miss it?)
I smell a rat with all the Sky 4 favorites, the BBC Liverpool love in and all the rest of the commercially driven bollocks that puts too much power in the hands of the semi professional referees. Rugby sorted out the refereeing and communication issues and priorities years ago and football should do the same.
An irony is Roberto set out his stall to support referees to the hilt when he joined but 2 years plus later, even his neutral stance has gone and he is as frustrated as the rest of us.
Why is it we are heading towards our 2nd season without having had a penalty awarded in our favor? Statistically it must be impossible for there to be a complete lack of pushes, trips, pull-backs, stamps, nudges, whatever it is you need to get a penalty awarded. No issues with the Redshites getting awarded 3 in on fucking game!
We are not just outside the favored set we are actually an irritant to the football establishment who wish we would simply go away. Incidentally they think the same way about City but they have staying power that money brings.
Why is the Manure v Redshite constantly being trumpeted as the biggest match of the season be the BBC and now Sky? Buggered if I now but local rivalry counts for nothing. Just appealing to the overseas shirt sellers is what it is all about now.
---
Add Your Comments
In order to post a comment, you need to be logged in as a registered user of the site.
Or Sign up as a ToffeeWeb Member — it's free, takes just a few minutes and will allow you to post your comments on articles and Talking Points submissions across the site.
© ToffeeWeb