Everton pipped to Byram by West Ham
18/01/2016

183 Comments [Jump to last]
Transfer Latest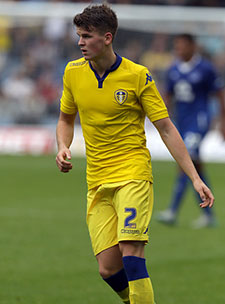 (Clint Hughes/Getty Images)
Everton look have been beaten to the signing of Sam Byram from Leeds United by West Ham United whose late bid has swayed the 22-year-old to move to Upton Park instead.
Byram completed a medical at Finch Farm on Sunday and looked set to put pen to paper on a four-year contract to become Roberto Martinez's third acquisition of the month following the signing of Matty Foulds from Bury and Shani Tarashaj from Grasshopper Zurich.
Everton and Martinez appeared to have tempted him to Merseyside with the Catalan's burgeoning reputation for developing young talent an obvious draw but the promise of more immediate first-team football from Slaven Bilic appears to have been the deciding factor.
The Mirror's David Anderson tweeted a quote from Leeds chairman Massimo Cellino apparently confirming Byram's change of heart, a decision that will see him move to Upton Park for a smaller fee than one the Blues offered:
"I'm really sorry for Everton because they really acted like gentlemen, but Sam chose West Ham," Cellino said.
Everton's proposed £3.7m deal, rising to £5m based on appearances, would have represented the culmination of concerted efforts by the club to bring the exciting young fullback to Goodison Park that date back to last summer. The Blues were unable to get a deal over the line before the September transfer deadline but Martinez retained his interest in a player who had turned down offers from Leeds to stay at Elland Road.
Byram is reported to have rejected a deal from Leeds that would not have improved his existing terms and he would have been out of contract at the end of this season. Everton, however Ė perhaps with Seamus Coleman's recent calf injury as a catalyst Ė were keen to see off rival interest from West Ham and Newcastle this month to land their target rather than wait until the summer.
Born in Thurrock, Essex, Byram moved to Yorkshire as a boy and eventually signed scholar forms with Leeds in 2010 and penned his first professional deal two years later.
Despite his comparatively young age, the versatile right-sided player has already made 130 league appearances for the Whites and is Leeds's second-longest-serving player, a nod to the instability that has plagued the Championship club in recent years.
Able to play anywhere from right back to right wing and to create and score goals, Byram was the subject of a rejected £4.5m bid from Southampton in August 2014 and has remained on the watchlist of a number of Premier League clubs since.
---
Reader Comments (183)
Note: the following content is not moderated or vetted by the site owners at the time of submission. Comments are the responsibility of the poster. Disclaimer
David Hallwood
1
Posted 18/01/2016 at 21:09:35
Good luck to the lad, he probably realises that he wouldn't get much game time with Coleman ahead of him.
Colin Glassar
2
Posted 18/01/2016 at 21:13:00
We always act like "gentlemen". We acted like gentlemen with the Kyles', Fernandes, Wjinaldum, Byram and god knows how many more players because we are such gentlemen.
I'm sure Yarmolenko and these two Belgian lads are just kicking their heels, ignoring everyone else, until the gentlemen make up their minds!!
This kid can fuck off anyway. Hibbo is better than him.
Tom Evans
3
Posted 18/01/2016 at 21:13:47
Good old Everton eh?

Acting like gentlemen seemed to have got us nowhere. Pretty much like our on field attitudes.
Kevin Elliott
4
Posted 18/01/2016 at 21:14:34
Oh well, nothing ventured.
Had a funny feeling all along that this wasn't going to happen.
Chris Williamson
5
Posted 18/01/2016 at 21:16:03
To be fair ... from his point of view, Coleman would be ahead of him for the next 6 years or so and he'd be tied into bit parts. We ought to have a decent utility player to cover there rather than a specialist – like Alan Harper used to, and I reckon, Bryan Oviedo could .... if he can keep in one piece.
Lyndon Lloyd
6
Posted 18/01/2016 at 21:16:28
If the kid wants to play week-in week-out and he's got more guarantee of it elsewhere, then you can't blame Everton. He made a decision for the here and now knowing that he'd have to bide his time behind Seamus.
He can also play right midfield (where he's supposed to be better anyway) where there's Lennon and Deulofeu in his way.
We tried, he chose somewhere else. We move on...

Frank Crewe
7
Posted 18/01/2016 at 21:16:53
A week from now, we'll be wondering what all the fuss was about. A skinny RB didn't sign. Meh.
Jim Bennings
9
Posted 18/01/2016 at 21:18:02
So, the underperforming Seamus Coleman still has no real competition for right back except a injury prone Bryan Oviedo!!
Fan's who come on slating Byram are the same one's saying he was a great signing this time four days ago.
Imbeciles.
Colin Glassar
10
Posted 18/01/2016 at 21:19:10
Sam who? See, I've forgotten about him already. Seamus will be back against Swansea so that's all that matters now.
Joe Foster
11
Posted 18/01/2016 at 21:19:38
Maybe we will buy a couple of 15-year-olds who we might see play in 5 years or so
David Barks
12
Posted 18/01/2016 at 21:20:35
Not to mention he chose a club that is actually ahead of us, only 4 points off the Champions League, moving into a brand new stadium.
Colin Glassar
13
Posted 18/01/2016 at 21:21:49
Jim, on another thread I was accused of becoming a miserable, pessimistic old sod. I'm blaming you, and Walling, and Peers, and Ganley and Crooks and...........
Dave Pritchard
14
Posted 18/01/2016 at 21:21:53
When we were his likely destination the comments were things like, good signing, this lad is decent etc. Now he's seemingly chosen to go elsewhere it is, hope he gets injured, he can fuck off etc. Some people are so childish and pathetic.
Iain Thomson
15
Posted 18/01/2016 at 21:22:49
In London.
Jim Bennings
16
Posted 18/01/2016 at 21:22:59
Could it just be that Sam Byram has realised that as a defender, signing for a club where the manager pays zero attention to defensive duties would actually see his career regress?
Mark my words, the stock and value of John Stones will continue to fall the longer he works under this management.
Geoff Evans
17
Posted 18/01/2016 at 21:24:59
Maybe he thought he would progress better under Bilic, can't blame the boy.
Dan Parker
18
Posted 18/01/2016 at 21:27:39
If his heart's not in it, better for it to be now rather than 5 million quid later.
Joe Foster
19
Posted 18/01/2016 at 21:31:59
I will not be surprised if all our transfer business is now done and we don't see any more incoming. I mean it's only one of the most significant years in top flight football where the clubs that don't get relegated will be swimming in gold coins and precious gems.
Ged Simpson
20
Posted 18/01/2016 at 21:32:18
Who cares.....
John Hughes
22
Posted 18/01/2016 at 21:34:57
Good luck to the lad - wish him well. Fact is, no matter how good he is you don't build a team around a full-back, especially one who is twenty two years of age. Move on and let's get back to the priority of defending two goal leads.
Jim Bennings
23
Posted 18/01/2016 at 21:35:02
Well let's see if Roberto's prediction of..
"we aim to finish the January window with a stronger squad "
actually come true.
I won't be holding my breath.
Scott Goin
25
Posted 18/01/2016 at 21:37:53
This sucks but I can understand where Byram is coming from. He wasn't going to get to play much when Coleman got healthy. Can't blame Everton for this either. Just an unfortunate byproduct of having a strong #1 at right back.
That being said, I secretly hope Byram never becomes a star. I would hate to see him dominating the league 5 years from now and wonder what could have been.
Si Mar
26
Posted 18/01/2016 at 21:39:11
I thought we were buying this lad because I got the impression Seamus might be moving on in the summer from an article I read about him a few weeks ago and he was a natural replacement.
If Seamus is staying (and I hope so) this lad has showed that he has ambition and after 130 odd games doesn't want to sit on the bench or play the odd cup game.
I must admit I'm a bit disappointed though that we have lost another player that looked set to sign!
Christy Ring
27
Posted 18/01/2016 at 21:41:21
Disappointed we didn't sign Byram, he's only 22, and would have been a great addition, and challenged Seamus for right back.
We agreed a fee with Leeds last Thursday, why didn't we bring him to Finch Farm, have his medical, agree terms and sign him on Friday?
West Ham matched our offer, 4 days later. Transfers are never straight forward at Everton.
Helen Mallon
28
Posted 18/01/2016 at 21:41:51
On another point. I hear McCarthy and Coleman are fit. Well that's Besic and Funes Mori dropped...
Tom Evans
29
Posted 18/01/2016 at 21:42:06
If I am honest, I hadn't heard of the kid until the last couple of weeks. I read mixed reviews about his game. Possibly no great loss.
I'm more annoyed at us looking like cocks for advertising our interest over that time and another club coming in and seemingly doing the deal in a matter of hours.
Armando Canaj
30
Posted 18/01/2016 at 21:44:38
Jim (#16), Stones's stock was £30k when RM took over. The fact that RM has played Stones in the first team last and this season is a reason his value grew to circa £40 million!!!
Joe Foster
31
Posted 18/01/2016 at 21:44:39
Ged (#20) – apparently you cared when you said "great stuff" on the other thread about Byram coming to us.
Jim Bennings
32
Posted 18/01/2016 at 21:44:48
We sold Naismith for 8 million, we could have spent half of that on a ready made replacement in Austin, a goalscorer... pay him whatever is needed.
Coleman gets injured or loses form, what do we do, stick a centre half there or Oviedo who looks a complete fish out of water there at this level.
We never seem to have a clear plan. We need a keeper, what do we do? Let's just stick with tried and tested failure Tim Howard.
Kone has a few good games then all of a sudden gets another 18 month's on his contract.. Never a clear plan!!
James Morgan
33
Posted 18/01/2016 at 21:45:13
Don't blame the lad. An Essex boy choosing a local team to his heart, more guarantee of regular football and brighter future prospects while we rot at GP. Good luck to the lad.
Will be interesting to see if we go back in the market for another right back.
John Audsley
34
Posted 18/01/2016 at 21:46:48
Well if RM was fucking fuming after Saturday he will be even worse now.....
He is a very good young player but if you don't nail the deal then some other twat can come in.
He would have done well at Goodison but I cannot see him progressing that well with the Hammers, just a feeling.
Anyway let's move on and try and get someone who might make an immediate impact.
Chris Kelly
35
Posted 18/01/2016 at 21:50:25
Disappointed, although January can be a difficult time to buy players, I think it can be a boost for the back half of the season.
In seasons gone by, we have sold and not added, a few injuries later and we are looking threadbare. The addition of pacey, skillful or creative player, particularly a big name can galvanise a team.
I don't know too much about Byram but I hope this saga does not end up like drawing at Chelsea, a win lost at the last minute, with everyone feeling gutted.
Colin Glassar
36
Posted 18/01/2016 at 21:50:34
We probably couldn't find a biro for him to sign with Christy. Jim, you're enthusiasm is contagious (he says while slowly slitting both wrists).
Jim Bennings
37
Posted 18/01/2016 at 21:52:27
I might be the only one here too that thinks Coleman hasn't been the same player for about two years now, certainly not at the levels he was at in Moyes last and Martinez first season, whether or not that's down to the man himself or Martinez negligence on defensive work who knows.
Byram could have been the rocket he needed.
Colin Glassar
38
Posted 18/01/2016 at 21:55:06
Seamus hasn't been himself recently but there have been signs of improvement. I could swear I saw a green shoot sprouting out of his left ear.
Andrew Ellams
39
Posted 18/01/2016 at 21:56:48
The club is a joke. I've read a lot about Roberto's long term project over the last couple of days but how can that possibly stay on track if we are facing a second consecutive bottom half finish? It could all go very wrong this summer.
Colin Hughes
40
Posted 18/01/2016 at 21:57:27
Hate to say it but West Ham are becoming another one of those clubs who are set to leave us behind in the way that Man City have – they were in League Two when Kenwright came to the helm in 1999.
Next season, the Hammers will be playing in a state-of-the-art stadium with crowds of 55,000 which the club are expecting to sellout for most home games, from what I have read. They have the lure of London to the big money sponsors and more facilities for corporate fans whilst we will still be pondering on a new ground location and searching for investment 24/7.
It's no surprise players are not enamoured by the Everton package anymore...
Chris Kelly
41
Posted 18/01/2016 at 21:59:47
Christy makes an excellent point, we still struggle to get deals done. The rumour mill very rarely turns out to be true and the target ends elsewhere, I still remember the Dean Saunders and Nigel Martyn fiascos. I also remember the successes of Yakubu and Lukaku, deals done quickly with very little noise.
As Evertonians we still get excited at rumours of Yarmolenko but too often end up disappointed. We need to get deals done quietly and quickly.
Teddy Bertin
42
Posted 18/01/2016 at 21:59:50
Good luck to him. West Ham are moving to a massive stadium, have a good manager and he'll fancy himself to displace Tomkins at right back. He knows he won't be first choice at Everton for a good few years, so probably the right decision for him. Shame for us because we need backup there.
Denis Richardson
43
Posted 18/01/2016 at 22:00:08
Seems I spoke too soon. Shame, seemed like a good signing...
Oliver Molloy
44
Posted 18/01/2016 at 22:00:45
Jim,
I was told that Austin was indeed being considered by the Incredible One as a replacement for Naismith but his agent was demanding £75 grand a week minimum + bonuses.
He must have got what he wanted at Southampton.
Regards Byram, am I bovverred!
Joe Foster
45
Posted 18/01/2016 at 22:01:11
I have more faith in the magic beans I buried in the back garden growing a bean stalk into the clouds than RM's project.
Steve Alderson
46
Posted 18/01/2016 at 22:01:50
I noticed that he's from Essex and wondered if it would matter. Seems like it does.
West Ham shouldn't be more of a catch than us but the truth is we are not a big club anymore...

Andrew Ellams
47
Posted 18/01/2016 at 22:03:14
Nobody ever built a team on the back of porous defence.
James Stewart
48
Posted 18/01/2016 at 22:04:47
Disappointing as I think this lad will go on to be a very good player. If you take the blue specs off though I think there is more to it than just a better chance at first team football. They have a new stadium and are in the top 6. We can offer neither of those things, still just that idiot Sullivan kid and co would be enough to put me off signing for them.
Geoff Williams
49
Posted 18/01/2016 at 22:05:39
Sad indictment on the perceived status of Everton as a football club when West Ham is a players preferred choice.
This deal should have been signed and sealed a week ago but maybe Martinez should look at giving a game to the right back of the Under-21s or even the Under-18s.
Daniel Lawrence
50
Posted 18/01/2016 at 22:07:01
Agree a fee Friday... wait until Monday to progress deal. Wait for another club to come in. The Everton Way.
Fraser Auld
51
Posted 18/01/2016 at 22:08:50
Disappointing but he's 22; I can understand if he's opted for immediate first-team football, if that's what West Ham have promised him.
We do need cover at right back, personally I'd really like us to go for the boy Callum Paterson at Hearts up in Scotland (despite him scoring against us in pre-season). He's 21 and we'd get him for a couple million at the most. He's getting absolute raves, looks like a beast in the air, aggressive and very good technically. He's not going to be in the SPL for much longer and he's a stick on for the next Scotland squad. If we've missed out on Byram then I'd take a punt on him.
Brent Stephens
52
Posted 18/01/2016 at 22:09:41
These possible / probable signing threads are hilarious...
...Yes, get him in quick, a snip at that price, good back-up for x, good for the future...
...Come on, get him signed, pay whatever we need to pay, I can see y stepping in, would be typical Everton...
...effing us all over, same old same old; he's no use anyway, better players out there for that money; it's Osman's fault.
Andrew Ellams
53
Posted 18/01/2016 at 22:10:06
Still it looks like we might sign another pointless loanee from Chelsea.
Stephen Brown
54
Posted 18/01/2016 at 22:15:48
Yarmolenko aside, I'm not too bothered about transfers in this window. It's more important to get the best/better out of the very good squad we already have!
Mark Dunford
55
Posted 18/01/2016 at 22:15:59
Very strange affair which has probably got some greedy agent's fingerprints all over it. Big fanfare then we fail to sign a second-choice right-back who – not unreasonably – snubs us for first team football at another mid-table team. Presumably his agent hawked him round till the biggest fee fell into his grubby hands and the gullible fool picked up a pen.
William Colman
56
Posted 18/01/2016 at 22:16:56
We already have some very good defenders, Browning, Pennington, Holgate and JonJoe Kenny coming through the ranks. So if Byram signs for WHU, so be it.
Shane Corcoran
57
Posted 18/01/2016 at 22:17:03
Ian #8, you should be ashamed of yourself.
The majority of other posts make sense although some posters seem to think that Coleman is under-performing which I don't agree with.
Mark Wilson
58
Posted 18/01/2016 at 22:18:33
We wanted Byram very badly but not badly enough to offer Leeds a decent amount of money in August, instead opting for the usual "let's get him on the cheap" approach in Summer '16. But then a few things happened: our defending got even worse than last season... Coleman continued his generally under whelming form, then gets injured... and our "too large" squad can only handle this by putting a left-back returning from long-term injury with hardly any games under his belt at right back.
A player like this shouldn't have got away from us when none of the usual squad-stuffing suspects were involved. We may have saved a couple or three million on the price agreed with Leeds over that likely to have been necessary back in August. But in the process we've lost out on a very reasonable prospect who at 22 offered a genuine bit of competition to Coleman but much more, would have given us strong wing-back options in a five across the back approach as well as dare I say it, offered some real balance in 4-4-2 play.
Please don't see us being hailed as "Gentlemen" as a plus. It just means we probably refused to either up our offer and force WHU to do the same or increase his salary offer. I don't buy this story that WHU offered "less" as that weirdo in charge at Elland Rd isn't about to be done over by anyone unless it really only amounted to buttons in terms of the clubs offers.
Gutted, as I think the manager will be tonight, but it's done; given he has by this pursuit of Byram clearly signalled he knows we need this position sorting in the short term AND with a view to longer term picture, I expect to see something by way of a Plan B.
[Yep. that really does read like I've seen lots of Plan B success this season!]
Jon Withey
59
Posted 18/01/2016 at 22:19:33
Oh well... Money saved for priorities.
William Colman
60
Posted 18/01/2016 at 22:21:04
Oh and I missed Holgate out.
Brent Stephens
61
Posted 18/01/2016 at 22:24:23
... and now the post-decisional reduction of cognitive dissonance (as we sing in the Upper Bullens).
Ross Edwards
63
Posted 18/01/2016 at 22:25:24
Some of you very quick to say that you 'don't care', particularly Colin, which surprises me.
Had we signed him, there would have been praise for Martinez for signing good young players and talk of how the future is bright and we're building for the long term in class of 92 style and all that kind of stuff.
This is a disappointment but it's an understandable decision. I do think Coleman needs someone to challenge him and Byram would have done that, but obviously West Ham offered first team football.
Hopefully we do 'end the window stronger' as Martinez promised we would. Yarmolenko looks unlikely unless something changes. Dynamo will want to keep hold until the summer and the Champions League knock out phase.
I can see us signing a cheap Championship striker to replace Naismith, someone like Zach Clough, and someone like Elmohamady knowing our luck.
Paul Dickinson
64
Posted 18/01/2016 at 22:25:57
Why are we bothered? We've missed out on a Championship right back nothing more; he might turn out to be a world beater but he might not. I honestly don't see him being any better than Browning; he apparently can play on the right wing but I'd say we are covered there too.
The lad is from Essex and will be moving home and he will probably be getting guaranteed more money rather than first-team football. Watch the knobhead son of the porn king trying to gloat about him going there, maybe now they can get over McCarthy's fair tackle on their only good player!!
Ron Haslam
65
Posted 18/01/2016 at 22:31:02
Nothing to do with West Ham being a bigger club. Jenkins is there on loan so he has probably been promised first-team football which he wouldn't have got at Everton. The main thing is that he is from Essex so naturally wants to move nearer to home.

Jim Potter
66
Posted 18/01/2016 at 22:32:04
He didn't come ... he didn't see ... he won't conquer.
Chris Gould
67
Posted 18/01/2016 at 22:32:30
Pretty sure he chose us over West Ham initially. When it came to personal terms we obviously didn't want to give him what he wanted. West Ham were prepared to, so he changed his mind.
He plays regular football in front of passionate Leeds fans. No way was he going to come and sit on the bench. He wanted first team assurances. Didn't get them. End of.
We've lost a potential squad player and have plenty of young defenders for the future. Nobody cared about him at the start of the window, so no point being bothered now.
Christy Ring
68
Posted 18/01/2016 at 22:37:03
When Byram was back training at Leeds today, was that not proof that talks didn't go well with Martinez yesterday?
Barry Morrison
69
Posted 18/01/2016 at 22:39:52
I would have like to see him sign.
However, seeing the West Ham fans trolling on Twitter because they are signing a player that doesn't think he's good enough to displace our current right back is just bizarre.
These are strange times we're living in.
John Daley
70
Posted 18/01/2016 at 22:40:37
If he chose someone else after being promised a clear path for progression into the first team then fair enough. There's no way Everton coud guarantee him being first choice any time soon. Coleman (irrespective of recent form) is widely regarded as one of the best full backs in the league and maybe the player himself doesn't believe he's got enough to force himself past him in the pecking order.
Wishing injury on a young player for the perceived snub is way over the top by the way.
John Daley
71
Posted 18/01/2016 at 22:42:26
"Mark my words, the stock and value of John Stones will continue to fall the longer he works under this management."
Marked.
Certainly worked out that way for the –3M purchase so far, hasn't it?
Gavin Johnson
72
Posted 18/01/2016 at 22:45:29
Oh well, very disappointed but he wasn't going to be an immediate 1st teamer and I hear he's an Essex boy, so it' not the biggest shock.
As for Charlie Austin. I think he'd have been a great signing but I read he's signed a £100k a week contact. That's too much for someone with his injury record.
If we sign Yarmolenko, Sam Byram will soon be forgotten..
Gavin Johnson
73
Posted 18/01/2016 at 22:53:56
Also, with due respect to Byram, he was moved further up the field as a right winger at Leeds because he hadn't made the fullback place his own.
He was going to be a squad player at Everton for a while. I don't blame him for choosing West Ham at all.
I will be absolutely gutted though if he becomes the next Gareth Bale. I can't see that happening though, so won't lose too much sleep.
Bill Gall
74
Posted 18/01/2016 at 22:55:05
Most probably talked to Bilic and as a defender realized that he would get better defensive coaching at West Ham than with our manager, whose defensive tactics seem to come from the trial and error manual.
Rob Halligan
75
Posted 18/01/2016 at 22:55:57
No great loss. We still have Mason Holgate who can play at right back. Remember seeing his debut, think it was against Liverpool U21's, and he looked quite impressive. He will turn out to be a better player than Byram.
Ian Smitham
76
Posted 18/01/2016 at 22:55:58
Forgive me, even help me. There has been another thread on this one for a few days. It looks like we were preparing a bid, whatever that means, then he was making the big journey from Leeds to Liverpool, about 2 hours, then the medical stuff blah blah all documented in the press and made a meal of. It is a relatively minor deal, how unprofessional has it been handled. Surely to God, a big team acting like a big team would have had a bid in, got the player over for the medical and sorted it, all in one day and sorted the players' terms while at it. No wonder while this has been dithering on WHU have been able to step in and offer whatever they have. And quickly.
Can someone help me understand how this has gone so wrong? Why didn't any possible obstacles get anticipated and resolved in advance?
Paul Morgan
77
Posted 18/01/2016 at 22:57:05
Always going to go to his boyhood club. Who wouldn't? He'll also get a game there.

Personally I don't think he is a priority anyway and I am more concerned we are letting Naismith go. And for those who are saying ٦.5 million is too good to turn down, I'd rather have got ٦.50 for Kone.
Michael Williams
78
Posted 18/01/2016 at 23:00:08
From the Guardian:
"Everton last week agreed an initial £3.7m deal with the Championship club for the 22-year-old, who discussed a proposed move with manager Roberto Mart√ɬ≠nez and the personal terms on offer at Goodison Park. However, the prospect of more regular first team football under Slaven Bilic is understood to be behind Byram's decision to join West Ham, who have offered Leeds less than the fee agreed with Everton.
Michael Williams
79
Posted 18/01/2016 at 23:01:13
Yes. We offered more money to Leeds than West Ham.
Jim Knightley
81
Posted 18/01/2016 at 23:15:31
Jim.. 'Mark my words, the stock and value of John Stones will continue to fall the longer he works under this management.'
Really? We all have problems with Martinez's inability to arrange our defence, but Stones was not attracting the attention of big clubs until Martinez put him in the team. His stock has since risen so much that he ostensibly attracts the interest of the best team in world football, and was subject to a record bid for a British defender during the summer. Clearly Martinez has been good for John Stones.
This is a real shame, and it's frustrating that we could not tie up the deal quicker. But Jenkinson has fallen out of favour at West Ham a little, and Bryam has a better chance of being a first team fixture there. I'd like to see us turn our attention to someone who can play full back but cover at CB. Although I can't help but feel that our primary problems areas are in the goalkeeping position and striking positions, whilst we also need a creative midfielder. I admire the continued determination to invest in youth talent however. We have one chance of long term progression, and the readiness to invest money and time in the likes of Lukaku, Deulofeu, Besic, Stones etc is clearly reaping rewards.
I would have also liked Austin, but can people not attempt to use perspective? Clearly the wages were an issue, whilst Austin has to compete with Pelle and Long for a place at Southampton...at Everton he has to compete with a 22 year old with 19 goals already this season. He would have played second fiddle, and would have been an occasional starter and a regular sub. We are not going to pay someone over 75,000 to do that. He is also use to a very different style of football at QPR, and Burnley before that. I really rate him, and would have loved him here, but sometimes football is a bit more complicated.
I think some need to calm down a little. We've spent approaching 60mil in the last two summers, and have brought in genuine brilliance in Lukaku and Deulofeu, and invested sensibly in Besic, Cleverley, Mori and several youngsters. Most of us would have loved Payet in the summer, or Wijnaldum or Cabaye, but clearly we are a club who can now spend money, unlike during the Moyes era. I don't buy into Martinez, and feel that we have under-performed this year, but I'm pleased with what he has managed in the transfer market so far, and in terms of player progression. I'll wait till the end of the month before making judgments about the state of our squad, which is good in most positions. Having a hissy fit because a right back has chosen West Ham is a disproportionate reaction.
Also - Ian 8. What is wrong with you?
Albert Perkins
82
Posted 18/01/2016 at 23:19:13
Ian Smitham ... 69
Ian, all deals are not just about money. Would you, if you were a Londoner, sign for a club with no guarantee of playing regular first team games, when your local boyhood club is offering you just that?
If you just wanted to put Everton FC down again, then by all means look for a failure to complete the deal. I have a sneaking feeling you are trash talking EFC and playing dumb...................
Paul Thompson
83
Posted 18/01/2016 at 23:26:48
Will the doom mongers and conspiracy theorists give it a rest? We didn't do anything wrong. The guy chose a 'local' club where he is guaranteed to play more regularly. It happens. Move on.
Mark Wilson
84
Posted 18/01/2016 at 23:28:30
Jim, (#72),
I don't see it as a "hissy fit" to be really cheesed off at this one getting away but I do very much agree that during a transfer window the only analysis that really matters is the one the day after the window closes.
It's just that this is Everton and I'm reading how our manager thinks the squad is too big as we struggle to cover a key defensive position at a time when our defence is, well, woeful. I get that Jags, Chelsea debacle aside, is already making a difference but, even if Coleman does return at Man City, it's still the case that we are one injury or suspension away from having no real cover at right-back... this again in our massive squad.
If the mythical figure of Yarmolenko was to sign, I'd be made up, but it still wouldn't make me feel great about losing out on a chance to address a real issue in terms of that right-back position.
John Jones
85
Posted 18/01/2016 at 23:38:05
I'm sorry but we shouldn't of missed out on this one, why couldn't we guarantee him at least a fair shot at dislodging Coleman. Someone please tell me what Coleman has actually done since RM's first season?
He isn't as effective going forwards and he has never been the best defender, he uses his pace to get himself out of sticky situations.
We could of signed this lad and give him a month or two without rushing Coleman back and if he had played well then he could of fairly kept his place. But Seamus as mentioned above is in the same "favourites club" as players like McCarthy who will take Besic's place in the team regardless of whether he brings Jesus back on a surfboard in an episode of Home and Away.
Aside from the fantastic young players we have at our disposal at the moment, what else exactly do we have going for us? A deluded manager, an absent skint dictator-esque chairman, a fallen through takeover, we don't own our training ground, we don't own the land our stadium is built on and the stadium we have is, for all its sentimental beauty, a shed.
It's so frustrating that we can't push on when we have players like Deulofeu, Lukaku, Stones, Barkley, McCarthy and others. Truly a spine of a squad is in place but there is so much else wrong at the club.
Chris Leyland
86
Posted 18/01/2016 at 23:38:46
Absolutely fucking gutted, we've missed out on a back-up right back who is older than 4 of our first team regulars and who 90+% of us have never actually seen play. A lad who is from Essex and has chosen to sign for a team near ....Essex where he will likely play regular first team football as opposed to having to get in ahead of one of the league's best right backs.
I'm no Martinez fan but let's not make this the be all and end all and make it into something it is not.
Ian Smitham
87
Posted 18/01/2016 at 23:41:57
Albert, thanks for the reply. Put Everton down "again"?
Trash talking Everton??
I was simply trying to understand why such a modest deal has been in the press for about a week and at the last minute it appears hijacked and wondered why.
Also, I keep reading that Seamus may be on his way, Man Utd and Chelsea rumours, and I know they are that, mean he actually might have a chance at Everton sooner the most of us may think.

Denis Richardson
88
Posted 18/01/2016 at 23:50:47
So this deal's toast. Naismith and McGeady off... 12 days to sort out some going the other way.
Gordon Crawford
89
Posted 18/01/2016 at 23:53:00
Wish the lad all the best. I can't blame him for wanting first team football. He just wouldn't have started for us. In saying that though, Coleman has been underperforming all season.
John Jones
90
Posted 18/01/2016 at 23:53:58
We will get a loan player in to cover Rom, that's all that will happen roughly £10M banked and never seen again. Big money in the summer so they think we won't notice.
Brian Cleveland
91
Posted 18/01/2016 at 23:57:14
Jim (72) "I don't buy into Martinez, and feel that we have under-performed this year, but I'm pleased with what he has managed in the transfer market so far, and in terms of player progression. I'll wait till the end of the month before making judgments about the state of our squad, which is good in most positions."
Spot on with that one. I also don't really buy into Martinez as a manager, but as a long term strategist in terms of bringing in future potential and closing the gap between youth and first team, I think he has some good vision... I just don't think he quite has the tactical nouse on game day. We have the best squad we've had for years and should be doing better than we are, but I feel there is something there to be nurtured, it just needs a more ruthless man on the touchline putting the names on the teamsheet and giving the bollocking to make sure instructions are followed... and Bobby can work with that person in planning the future.
John Aldridge
92
Posted 19/01/2016 at 00:03:29
He's been offered first team football by a team near his hometown – can't blame him for that. You snooze, you lose – but that is the Everton way in the transfer market.
I'm more concerned about our options up front – we've lost Nessi so the only backup we have for Lukaku is Kone. And that fills me with dread. We've got young options in the reserves but we all know Bobby will ignore them and persist with a geriatric with all the pace of a snail.
Just another day of being a Blue...
Kevin Kolasinski
93
Posted 19/01/2016 at 00:05:14
I hope Everton move fast on these signings minus Byram. We need good quality depth and another scorer – it doesn't need to be a striker.

Mirallas is good but goes through goalless droughts.
Eddie Dunn
94
Posted 19/01/2016 at 00:20:36
The boy is from Essex, as if you couldn't tell, his middle name is Dicky, he comes from Billericay.
Oh well... West Ham is is local club, 'innit!
Never mind.
Garry Corgan
96
Posted 19/01/2016 at 00:58:47
Great news! That's £3.7M more we can put towards grabbing Yarmolenko.
Seriously though – he's gone to his local team, currently in 6th place, with rich owners investing loads and a brand new stadium next season. Can we be surprised? It's just an early sign that our standing still is sending us backwards.
Jack Cross
97
Posted 19/01/2016 at 01:18:02
Lyndon LIoyd 6.
Quite agree, he probably chose West Ham because of more guarranteed football.
His decision not to come to us, so he is history, and we move on.
J Benning. I agree mate about Coleman. Just nowhere near the player he was. Who knows why?
Jay Harris
98
Posted 19/01/2016 at 01:30:54
Very disappointed.
I thought this lad was class cover for all along the right side and he scores goals.
When we agree personal terms, I don't know why we can't nail it there and then instead of allowing people to "go away and think about it".
Victor Jones
99
Posted 19/01/2016 at 02:34:43
I'm a little disappointed. But I think I mentioned on another thread a few days back, that I felt that this deal would not go through. Just had that feeling. No problem with a player choosing West Ham (and possible first team football). To coming to Everton and maybe not even getting on the bench. He might have noticed that Holgate has not been featuring much. Byram seems to be a lad in a hurry. That's his prerogative. Good luck to him... only not against Everton.
I know that we have a shortage of specialist RBs. But we do have a number of players who can play in that position. I rate Browning, and when fit, he can do a job in that position. Stones also. Pennington. Holgate (I think can play RB). Oviedo has done OK. How about even Lennon, if stuck. And Coleman is still an Everton player(despite transfer talk). For now I think we can manage. There are other positions that I would worry about. Why are we not linked with Goalkeepers? And nonsense to say that Charlie Austin would only warm the bench. How about him and Lukaku playing in a 4-4-2 set up. Mirallas on the left wing. Deulofeu on the right. That would have been a joy to watch. Backed by Barkley and Besic bossing the midfield. That set up just might have "out scored", a few teams. But it was not to be. We all worry about his wages, and that he might be on the bench. FFS we play Kone. We could have adapted to accommodate Austin. That's what good managers do... adapt, change, rotate, have a Plan B.
Last comment... I read somewhere that Scott Dann could be on the market soon. And that a few teams are showing an interest in him. Should Stones be moving on... then I think that Dann is the sort of replacement we should be showing an interest in. (I don't care that he supports the RS) I think that's true... He could do a job for Everton. But as usual Everton are showing no interest in this type of player. Nor will they ever show an interest in a Shawcross type player. Probably would haggle over a few thousand and lose out on a deal anyhow. And as for Yarmolenko signing... Let's hope so. But I wouldn't hold my breath. Some supporters might start complaining about his wages. FFS.
Darren Hind
100
Posted 19/01/2016 at 02:51:11
So much for the much vaunted pulling power of Roberto, as soon as an alternative offer came along...
Coleman is still the same player, but he is being asked to do a different job. You cant play out from the back if your full backs are in the opposition half.
Haven't you guys heard? We traded the exciting marauding attacks down the flanks for a more measured crowd silencing approach two years ago... perhaps that's why the kid chose West Ham.
Jim Knightley
101
Posted 19/01/2016 at 03:24:14
Coleman cant be the player he wants to be with Deulofeu in the side. He can't bomb on as much, and run beyond. He also suffers defensively because of Deulofeu, and because we leave our full backs one on one too often. Defenders look alot better when they are not exposed. In a different (Defensive) system, Coleman, Jags, Stones and Baines with 2 DMs in front would be one of the most solid defensive units in the division.
Gavin Johnson
102
Posted 19/01/2016 at 03:28:41
Bloody hell, Darren, you couldn't resist turning this into some Roberto bashing.
Byram's an Essex boy. West Ham have offered him 1st team football. They've moving into a stadium we can only dream of. It's got little to do with Roberto's pulling power. Don't pretend it does.
Mike Price
103
Posted 19/01/2016 at 03:37:01
If he was a goalie, I'd be upset!
Craig Fletcher
104
Posted 19/01/2016 at 03:44:06
Colin (33) glad I'm not the only one......
I think the day Jim Bennings joined ToffeeWeb, Lyndon and Michael should have started prescribing Valium as a matter of course for all other fellow ToffeeWebbers!
Peter Morris
106
Posted 19/01/2016 at 05:16:36
Sometimes circumstances pan out to favour one outcome over another, and this looks like one of those instances. If the lad left us wanting to ponder over the offer, and has been persuaded by West Ham that his prospects of first team action are better there than they are with us, and when you overlay the Essex dimension, then who can blame him?
The only thing we could gripe about is if there was any dishonesty or skulduggery here (agent playing games etc) and there is no evidence of that. I don't think there has been any dishonesty here has there?
Byram clearly didn't leave Everton last weekend saying he would sign and that's why RM portrayed such a cautionary tone about the proposed move at his press conference. Offers have been made, choices made which don't land in our favour this time around.
We all move on. No conspiracies. Just life. Now let's show him what he's missing out on. It's the only way.
Peter McHugh
107
Posted 19/01/2016 at 06:08:52
Appears a cock-up to me and I'm not buying into this as just one of those things. They should have got his medical done immediately and paperwork signed in escrow and made a big fuss of him. They did not do this. Waiting till Monday to get him down was a mistake and was lazy.
The attitude was according to Martinez "we're Everton and we don't panic or rush". We have a higher opinion of ourselves both on and off the pitch. We should have attitude of "we're Everton not Real Madrid so we should get this done sharpish".
We lost out on Martyn all those years ago and seems to me not much has changed.
James Marshall
108
Posted 19/01/2016 at 06:10:32
I don't understand all the sour grapes towards Byram. He's entitled to make his choice of clubs, and I think he's made the right choice. As a defender I'd rather play for Bilic and actually play in the first team, than play for Martinez who knows about as much about defending as a blancmange.
West Ham are also way better placed in the league than we are, and look a much better balanced outfit than we do. Good luck to the kid.
James Marshall
109
Posted 19/01/2016 at 06:12:09
Oh, and he's from that part of the country too, so y'know......there's more to some people's lives than Everton amazingly!
Laurie Hartley
110
Posted 19/01/2016 at 06:39:20
I really want to see us get a cover for Coleman at Right Back. One of the reasons being it will force the manager to make a decision about his centre back pairing.
As the saying goes one door closes and another one opens – at least this hasn't happened at the end of the window.
Harold put me on to this lad a few weeks ago:
Arbnor Fezjullahu : Link
He looks the business to me.
Kevin Walker
111
Posted 19/01/2016 at 07:01:18
If we fail to sign him, I'd look at Debuchy on loan until Coleman is fully recovered. Debuchy gets a chance to play for a decent attacking team as opposed to Villa and we get cover until Seamus is back and firing and who knows if it works out well for Debuchy, he wouldn't be a bad signing in my opinion as he can also cover centre back too....
Laurie Hartley
112
Posted 19/01/2016 at 07:25:51
Actually this is a better link – he looks a player – 6'-1":
Link
Steve Brown
113
Posted 19/01/2016 at 07:50:08
Assume he looked at Coleman and frowned, then looked at Jenkinson and laughed. Good luck to him, although if he was truly ambitious he would have backed himself to get the starting spot.
I'd prefer a more experienced player anyway to add a bit of wisdom and nous to our defence. We missed Jag's experience badly when he was injured.
Colin Glassar
114
Posted 19/01/2016 at 07:50:29
Initially, I was livid at the lad yesterday but now it seems that with the promise of regular football, playing for his boyhood club, living close to home (higher wages?) etc....have made WHU a more attractive option. Good luck to him but I can still see us finishing above WHU this season and proving him wrong.
Hugh Jenkins
115
Posted 19/01/2016 at 07:54:35
Christy (#25).
I wonder about this too. With other teams, often the first you hear is when the player signs, but our transfers seem to be in the news for days (if not weeks) before they are completed (or not, as the case may be). There is no reason (other than prevarication on the part of the player), why a deal can't be done in 48 hours max (subject to a clear medical), after the bid is accepted.
On the matter of right backs at the club, my understanding is that Pennington is supposed to be very useful in that role and isn't there also one called Evans (or Jones), that is meant to be equally good?
Perhaps all is not doom and gloom as far as an eventual successor for Coleman is concerned, after all?
Phil Walling
116
Posted 19/01/2016 at 07:57:48
He came over on Sunday, Martinez failed to impress and the agent got the lad a more attractive offer elsewhere. Or could be that he watched Saturday's balls-up on TV and just said 'No thanks'!
Tony Abrahams
117
Posted 19/01/2016 at 08:33:09
Darren 93, I like your line of fact there mate. As much as I like to watch skilful attacking football, I have to agree with you on that one mate. I'm glad to see I'm not the only one, who thinks the overlapping fullback is possibly the hardest thing to defend against in football.
On the subject of Byram, he's chose West Ham, so good luck to him. Just felt if Everton really, really wanted him they should have moved a lot faster last week. Don't know much about the kid, but if he's been told he will get a start most weeks (crazy), he might be decent. Soon find out but more interested in getting Coleman back fit in the next week to be honest. Jim says he hasn't been the same player, but I've seen signs, that Seamus is starting to play a lot better myself recently.
Andrew Ellams
118
Posted 19/01/2016 at 08:48:27
Is Yarmolenko becoming the new Riquelme?
Matt Traynor
119
Posted 19/01/2016 at 08:52:08
Andrew (#110), only if the Official Site actually announce his signing, then quickly pull it and say it was a test page by their IT supplier. (Yes, that really happened with Riquelme.)
Les Martin
120
Posted 19/01/2016 at 08:54:10
I think Roberto was up against a stacked deck, if any of you have read the comments of other young players that were enticed to Goodison, they will tell you that Roberto's selling of the club and his efforts to make them feel special swung it.

In this case Byram would have been bench warming when Seamus was fit with little chance of action, also family connections etc.

These circumstances worked against us, it is something he will regret because we are going to be a fantastic team, but I wish him luck.
Darren Bailey
121
Posted 19/01/2016 at 08:59:16
I for one am quite pissed at this one not going over the line to be honest. I think Sam Byram is a very good, young versatile English player for a decent price (in this market). We should be tying these deals up much quicker than this but the past week has been typical Everton.
I can understand the lad choosing West Ham because to be frank if I was him I probably would have as well. Local lad with the opportunity to play for the team his family (reported to) support with less competition (Coleman) for a decent manager (Bilic) in a nice sparkly new stadium?
We are being left behind big time!!! I wanted Shaqiri and I wanted Byram and to be honest we should be getting them over the likes of Stoke and West Ham, full stop! And if we had the money to bring in Shaqiri and didn't actually spend it then where fuck is it now because it wasn't spent last summer. Newcastle are also spending like there's no tomorrow (well they have to if they want to stay up) while Martinez, Elstone and Kenwright sit on the briefcase talking about possible takeovers that never happen looking around at parks that can't be developed.
On the other hand, if Ty Browning hadn't been injured I don't actually think this would have even been on the cards. I think Ty is decent competition for Coleman and at his age will be the more long term replacement for him. With Byram coming in this would have stopped Ty from developing in the way he would have needed to to become a decent right back for the future. So, as someone stated above, every cloud has a silver lining and I think ours is that we have Browning already at the club and we have saved £5m.

Hugh #107 – the player you're floundering for is Gethin Jones who by all accounts is a very solid defender. We are pretty well stocked in that area with Jones, Pennington, Holgate, Foulds and Kenny all able to develop in that position. Granted they are all young and probably all more seen as central defenders (apart from Jones) but there's potential there.

So in conclusion yes I'm pissed we didn't buy Byram but I am one for bringing through youngsters from our academy so will get over it if at least one of the above are given the opportunity to compete with Coleman in that area. That money can be put to better use elsewhere as we have so little of it.
Andrew Ellams
122
Posted 19/01/2016 at 09:05:38
Matt Traynor, I remember it well.
Geoff Evans
123
Posted 19/01/2016 at 09:06:08
Phil, more like it mate. Better for the lad to play under a manager with defensive nous than one who makes it up as he goes along.

Mark Hughes
124
Posted 19/01/2016 at 09:39:51
Byram has been drawn to the bright lights and fancies himself as an Essex Boy. After this contract he will move to Blackpool then The George pub side.
With Everton, he would have become an International.
Brent Stephens
126
Posted 19/01/2016 at 09:46:05
A lot of the assumption in this thread is that EFC dragged their feet. Might it just be the case that the lad dragged his feet? Keeping his options open until he'd made his mind up? Just as plausible to me.
Anyway, we might well have ended up with a very disgruntled lad on the bench, because he's probably not going to get into our side as quickly as at WHU.
John Dempster
127
Posted 19/01/2016 at 09:55:17
Sad reflection on the club that Byram has gone to WH but ultimately I believe we still have sufficient cover.We have a squad which should be good enough but we have to sort the defense out. Gung ho full backs flying forward looks great but leaves us horribly exposed.

Howard has had his day we need Buttland from Stoke and in the meantime Robles deserves his chance.Mirallas needs more game time and I would play McArthy and Besic to provide better cover at the back - especially against City.COYB
Joe Clitherow
128
Posted 19/01/2016 at 10:05:40
To all those blaming the club for not getting the deal done quickly and letting him go back to Leeds, well, yeah, it must been whichever cretin forgot the EFC crested club handcuffs, shackles, straitjacket and Rohypnol at the contract negotiations. You do recognise we live in a free society and you can't actually *force* someone to sign for you even though you have already agreed a price with his existing "slave owners", yes?
I have no doubt EFC would have wanted to keep this quiet and not alert anyone, but Byram and his agent do have free will, you know? He may well have expressed a desire for WHU as his boyhood team and his agent engineered this with EFC as a backup club/stalking horse. In fact, much as I posted on the original thread within minutes of others, saying, "Great signing" yadda yadda yadda, why do people still get surprised with how transfers are done these days? And contrary to posts above saying other clubs do this on the quiet, they really don't. You just don't pay as much attention to them.
Separately, if he has gone to WHU with a guarantee of first-team football, then see ya, bye bye, no loss. I would want a player who has faith in his ability to displace anyone. I don't think he is all that anyway at the moment. Someone said yesterday he was most like Glen Johnson and I think that is a decent comparison at the moment. I like my fullbacks to defend first and foremost rather than look good going forward.
Lastly, I don't agree at all we have a great squad. IMO we have decent first choice 11, but the squad is horribly unbalanced in three seasons of Martinez. A great squad has good cover in all positions and we simply do not. We have no comparable cover in key positions, notably striker, no real recognised first choice left midfield and a glut of midfielders. Not my idea of a great squad at all and Martinez has had plenty of transfer windows to address it but, just like attention to defence, he has been negligent in not doing so.
Kevin Tully
129
Posted 19/01/2016 at 10:23:15
The moderators should just set up a 'I hate Martinez thread' and leave it open. Every single topic ends up coming full circle – with the same old tired rhetoric. This site is rapidly deteriorating into a childish borefest, with the same old posters repeatedly turning every thread into an attack on players and manager alike.
Have a day off!
Don Alexander
132
Posted 19/01/2016 at 11:00:31
I'm sorry you feel that way Kevin Tully.
A number of us do have very real concerns about where we're going under Martinez. It's all very well some saying that he's made some good signings but the fact is that he has by now long since created HIS squad rather than the one he largely inherited from DM.
For the record the DM boys achieved a record Premier League points tally for us, whilst Martinez has reduced us to mid table with all his good signings and all.
This is the crux of the matter; it's Martinez, obviously, who's way short of what we and the players deserve. Anyone with nous should see that and it's not acceptable to many, many Evertonians to settle for what he's delivered, year-in & year-out.
John Atkins
133
Posted 19/01/2016 at 11:04:06
Well said, Kevin.
Joe Clitherow
134
Posted 19/01/2016 at 11:16:38
Perhaps you could set up an "I Heart Martinez" thread for balance Kevin?
For my part at least I was addressing comments within the thread.
It is possible that the "same tired old rhetoric" appears because Martinez keeps making the same tired old (and obvious) problems without any indication of addressing them despite blathering on about having "learned lessons" countless times.
I for one never wanted him but certainly was willing to give him a chance. He has had plenty now and is a failed experiment now and should be curtailed as quickly as possible IMO. He won't be though, so paying fans have every right to express their dissatisfaction.
Geoff Williams
135
Posted 19/01/2016 at 11:24:53
Not sure the process followed by Everton was the most efficient. I think terms between the club and player should be agreed in the first place and then sign the player subject to a satisfactory medical.
If a player has been identified and the club have done all the necessary background checks about temperament etc then why give other clubs the chance to gazump us. This deal could have been sorted prior to the window opening and finalised on Jan 2nd.
Ernie Baywood
136
Posted 19/01/2016 at 11:32:41
I never knew there were so many football agents on TW.
Don't some of you feel just a bit silly making statements like "there's no reason why a deal can't be concluded in 24 hours" without any kind of experience or understanding of the circumstances backing it up?
Joe Clitherow
137
Posted 19/01/2016 at 11:38:45
Geoff 122
How do you know this? If the agent wants to alert other clubs, as I suspect, why couldn't he have done this outside the window too, so they are equally prepared? Why would it be any different?
If a player has a preferred choice other than EFC and his agent lets out that his client is available and they then come in, what exactly can Everton do about this situation, whether it is in the window or not?
Marc Hints
138
Posted 19/01/2016 at 11:44:07
I honestly think there are more worrying times ahead this transfer windows and the next. The players I can see that need replacing are:
Tim Howard
Tony Hibbert
Aiden McGeady
Gareth Barry
Leon Osman
Steven Pienaar
Arouna Kone
Steven Naismith

That's eight players who I think will not be any good for next season at all and will need replacing. Naismith looks set to leave so hopefully get a replacement soon; Gareth Barry I don't think can do another season at his age to the level required. The rest speaks for itself. I do think we need to replace all eight, and still add depth to the squad on top of that.

Also, can we keep Lukaku, Stones and Mirallas? If not, they will also need replacing. Its great that Roberto has been buying for the future but the first team squad overall needs replacing as above and I think i'ts worrying especially if we want European football, which we do to keep the likes of Lukaku etc at the club.

Mike Doyle
139
Posted 19/01/2016 at 11:44:12
Surprised any fellow TWers are getting excited about this. It's not as if we've been pipped to the signing of Lionel Messi is it?
If the lad (or his agent) would rather he play elsewhere, best to find out now.
Wasnt it "the great man Shanks" and, more recently, SAF who were only interested in players who wanted to play for their respective teams... and happy to avoid / off-load those who weren't?
Andrew Humphrey
140
Posted 19/01/2016 at 11:49:33
Suspect the reasons he would fancy WHU over us are location, possibly wage, and maybe the chance of more first team football. If he thinks he isn't good enough to seriously put Coleman under pressure than fair dues, play somewhere else because we need to sign players who will be contesting for first team places.
Also, on the gentlemanly conduct debate. Only six months ago, these forums were seething about the less than gentlemanly way a certain London club went about trying to acquire one of our players. We can't have it both ways.
David Midgley
141
Posted 19/01/2016 at 11:51:47
Laurie Hartley (#103),

He looks a better player than Byram and a few months younger. Strong, skilful with a football brain. However, he's probably not been spotted by anyone at Goodison.
Tony J Williams
143
Posted 19/01/2016 at 12:41:05
Not bothered.
He chose the team he supports, will walk into the first team, moves closer to home, above us in the league, new manager and a new ground next year,
Why wouldn't he go there?
It's not worth playing the blame game, as the kid clearly wanted to go there, as they offered less than us.
Jim Hardin
145
Posted 19/01/2016 at 13:13:26
Sorry for Everton but good luck to the player. I liked the player and cannot fault him for wanting to play first-team full-time games at 22. It does say something for the quality of Coleman though that Byram chose to go elsewhere for starting time. Hope the Goodison Park faithful don't ride the player too hard when he comes to play.

Jim Knightley
148
Posted 19/01/2016 at 14:02:01
I'm with Kevin on this one. There is a time and place for criticism. Why does Martinez deserve criticism because we haven't signed a player? Is Martinez negotiating each detail of every transfer? Is he scheduling the medical? Is he sorting out the terms of the transfer too now?
The manager does not control every aspect of the club. The only manager that gets near that kind of control is Wenger, and he is a rare example.
Incidentally, it's common for transfers to take an extended period of time. It happens with all clubs, and not just ours. We've had a pathetic record with medicals etc... but guess what? Everton are not special. Other fans will tell similar stories.
We've missed out on Bryam, not Alexis Sanchez, because he has decided to sign for another club for obvious reasons. We had a bid accepted at the end of last week, sorted out a medical for after the weekend's football (a common practice), but he chose a different club. Martinez is not to blame for this! He may be to blame for our defensive problems, but this is not a thread about that – it is a thread about our attempt, and failure, to sign a back up full back.
For those with their heads so far up their arses that they think Everton are a special case, take a look at some of the stuff that has gone on at United and Liverpool in recent seasons. The Fellaini story is perhaps my favourite, but their much reported attempts at signing Bale and Muller are also pretty remarkable. We are not as efficient as we should be, but we are not alone. To cheer us up, it might be worth checking this out:
http://www.telegraph.co.uk/sport/football/teams/liverpool/12104210/Brendan-Rodgers-reveals-how-Liverpool-missed-out-on-deals-for-Dele-Alli-and-Alexis-Sanchez.html
Michael Williams
149
Posted 19/01/2016 at 14:02:04
I agree with Kevin (#119). I ask the moderators to put up an "I hate Martinez" post every time they post a news story. That way, those of us interested in learning more about the news subject can read the comments and learn from others and those who want to rip the manager can do that as well.
Also agree with Andrew (#126). Several critics are saying Everton's nice guy approach cost us a player? What does this even mean? Everton got Leeds to accept more money than West Ham. They were bringing in the player for a medical when West Ham pipped Byram by promising him first team football near home. What were Everton supposed to do? Kidnap Byram and force him to sign? How many of were screaming about the behavior of another club in their pursuit of or young centre-back?
How can some of you critics expect us to take your criticisms of RM seriously when you rip him for everything? Especially when it is something that is obviously not his fault.
Mark Fitzgerald
150
Posted 19/01/2016 at 14:07:48
Amused by some OTT reactions here. A few posters really need to take a deep calming breath before they type. I see this as a deal that didn't work out, despite the best efforts of EFC. Why some immediately jump to criticise the club is baffling.
By all accounts, the club handled this in the proper manner and were not to blame for the player opting out. Personally I would love to have seen this kid come in as backup/competition for Seamus. But to guarantee him his spot ahead of a fit Coleman would have been ludicrous. The player was told this and refused to sign. His choice. End of. Move on.
I have to also mention that I was appalled by the comments of Ian @ 8. A young 22-year-old craving first team football doesn't deserve that, no matter whom he turns down.
Gary Edwards
151
Posted 19/01/2016 at 14:29:04
I'm with Darren (#112) on this... we have some cracking youngsters coming through who can play RB / RWB. Holgate for example I'd consider playing now... and for those who say they're not ready I wonder what you said re: Brendon Galloway.
That said I still think Byram would have been a sound, timely acquisition.
It used to be "Dithering Dave" during the Moyes era... is it the Manager or the club's 'process' for buying new players in that these 'dramas' ... or the usual smoke & mirrors during a transfer window?
Are the perspective buyers of the cub still doing their Due Diligence?
Jamie Crowley
152
Posted 19/01/2016 at 15:26:15
I don't blame this kid in the least for going to a team that's closer to where he's from and offers immediate first-team football. It's disappointing but completely understandable and you can't blame Everton in the least.
Were I a neutral, I'd say it's actually refreshing to see a kid that wants to play go somewhere for less money to do so.
Of course that leads right back to the disappointment because that's exactly the kind of player and mindset you want...
Lyndon Lloyd
153
Posted 19/01/2016 at 16:05:10
I can only echo what others have said by repeating what I said at the top (6). We lost out on a player who ultimately chose to go somewhere else, probably for more money and a greater guarantee of first-team football.
It happens, and in this instance I'm sure the kid's agent should be the object of your scorn (for going as far as the medical, actually fully agreeing terms and verbally committing to sign) rather than levelling weak accusations at Martinez for not being able to sign him.
At the end of the day, he's untried at Premier League level and I've seen plenty of Blues with Leeds-supporting mates say that he's more of a midfielder (so he'd have Lennon and Deulofeu at least in his way there), hasn't really played right back at Leeds for the best part of a year and hasn't been that great defensively when he has. Apparently, he loves to get forward but gets caught out at the back... sound familiar?
Kevin T is right – these threads are becoming boringly monotonous with the same names (and I can reel them off before I've even hit the button to publish an article) posting the same stuff about Martinez day after day. It gets back to the plea I made for less negativity a few months ago – if you've said it 10, 20, 30 times already, please try and hold off saying the same thing again on a new thread.

Tom Roberts
154
Posted 19/01/2016 at 16:08:23
I'm slightly disappointed based on reports from my Leeds Utd friends who say that he is already a top player and will only get better but I can't help feeling that we have more young and promising defenders than we know what to do with already. No fault of Everton's that this did not work out and good luck to the lad.
Like everybody else who cares about Everton, I feel that we need another striker (priority number 1), a goalkeeper and a commanding centre-half. I would love to see Yarmolenko also but cannot see that one happening somehow. If Naismith goes, which is looking likely, we are really short if anything happens to Lukaku.
As much as I am a critic of Mr Martinez, I actually trust him in the transfer market so let's review on February 1st and see if we have a stronger squad like he promised.
Christy Ring
155
Posted 19/01/2016 at 16:10:16
I never liked Gold & Sullivan, and all their abuse and whinging about McCarthy, after the Payet tackle. I still reckon after agreeing terms, his agent negotiated a better deal with West Ham.
Paul Jeronovich
156
Posted 19/01/2016 at 18:28:15
Disappointing just for the fact it's West Ham. Having said that, we have a long history of fucking up transfers by not acting quickly enough and being "gentlemen".
One final thought, it wouldn't surprise me if his agent let Everton negotiate a deal with Cellino who looks a bit of a crank then tip off West Ham.
John Rogers
157
Posted 19/01/2016 at 18:53:15
Maybe Tony Henry was a key factor?
Richard Reeves
158
Posted 19/01/2016 at 19:03:30
It is disappointing because I thought he would fit in perfectly and looks like a Martinez player (skillfull, good passer, likes to get forward).
On a more positive note we've probably got a better right-back in the making in Kenny ..... and between Browning and Pennington, the position could easily be filled when Coleman is out. They've both impressed me when they've played there and I think they deserve a chance as they won't get many opportunities at centre-back.
Darren Hind
160
Posted 19/01/2016 at 19:25:33
This is a different issue, Lyndon, surely? I'm not sure the criticism of Martinez on this thread is the same old stuff as seen on other threads.
When the news broke that we'd had a bid accepted, praise was being heaped upon Martinez from all quarters: "Another piece of fantastic business" by the guy who had attracted more youngsters than the Pied Piper. So, if we are going to give him all the credit when we think he has got his man, why should he not take the blame if he lets it slips through his fingers?
Let's look at some of the reasons/excuses being put up for Byram turning us down.
"He's a London boy who decided to go with his local team".... really? Byram left London when he was a toddler, he probably doesn't even remember ever living there. Listen to him speak and he sounds more like Dickie Bird than a Cockney Sparrow. He's as Yorkshire as a Bradford curry house.
And what's all this about being guaranteed first-team football? Where does anybody at West Ham say that? They are paying Jenkinson's wages, what are they going to do with him? The Evening Standard (not gospel by any means, but closer to the club than us) are reporting that it may well be Byram himself going out on loan.
How about we acknowledge the probability that the West Ham manager made a bigger impression than Martinez? Have we really got to the stage where Martinez is to be given total credit for the players who do sign, yet take no responsibility for the ones who turn him down? Last week, he was being lauded for landing this guy.
I seriously doubt anybody on this thread "hates" Martinez. But this was a one-horse race when our bid was accepted, some are (justifiably IMO) asking how the fuck we managed to come second.
Mike McLoughlin
161
Posted 19/01/2016 at 19:33:39
Has he actually signed for West Ham? Because all I can see is rumours.
Brian Harrison
162
Posted 19/01/2016 at 19:37:11
These things happen with transfers, I wouldn't say we did anything wrong. We have often been criticized for making our bids for players after they had agreed terms with another club. This time we got in early and the boy chose West Ham, one of his Leeds teamates said he has gone to West Ham for footballing reasons.
I did read that Leeds would have preferred him to come to us as they had negotiated add ons with our deal, were West Ham refused any add ons.
Tony Abrahams
163
Posted 19/01/2016 at 19:42:36
If that report in the London Evening Standard about him going out on loan is true, he would be daft to sign for West Ham, considering he would be a free agent in 5 months.
Colin Glassar
164
Posted 19/01/2016 at 19:44:01
Same here, Mike. It's all a bit murky isn't it?
Jamie Barlow
165
Posted 19/01/2016 at 19:57:52
Darren, apparently this lad is a pretty good prospect. Why wouldn't Martinez be praised for getting him on board?
Also, why should Martinez be getting grief just because he's chose to sign for someone else? Until we know why he's gone to West Ham(if he has), why should Martinez be held accountable? Especially with our board!!
For what it's worth, I've never seen this lad play so I've no idea whether he is any good or shite.
Darren Hind
166
Posted 19/01/2016 at 20:00:42
Gavin Johnson.
I just scrolled back to see where this "turning the thread into a bobby bashing" claim originated and what a surprise, it was you (again).
Care to explain how describing the different uses our two most recent managers made of their full backs constitutes "Roberto Bashing"
And while you are at it, would you like to point us in the direction of the statement from West Ham that announced Byram would deffo get first team football?
Ian Riley
167
Posted 19/01/2016 at 20:14:53
What are we debating here? He chose West Ham. The player is from that area, seems logical to me. Time will tell if he has made the right decision. Can't miss what we never had. Move on.
Mike McLoughlin
168
Posted 19/01/2016 at 20:23:44
I agree about the Bobby bashing, not his fault. He is usually pretty good at getting the lads to sign. Only time will tell if it's a bad miss. But all quiet on the Everton front as far as transfers are concerned, which could mean anything I suppose.
But I have a feeling something good is going to come out of this transfer window or perhaps just wishful thinking from a transfer starved Bluenose.
Jim Jennings
169
Posted 19/01/2016 at 20:24:37
Darren,
The statement from West Ham saying the player would defo get first team football is filed in the same evidence folder as the one that shows the "probability that the West Ham manager made a bigger impression than Martinez".
The truth is none of us know the lad's reason for choosing WHU over EFC. Martinez may have fucked it up. Byram might just be a greedy bastard that chose the bigger wage packet. But we don't know. So your assertions are as baseless as anyone else's.

Darren Hind
170
Posted 19/01/2016 at 20:39:37
Read it again, Jim.
I ask people to consider and acknowledge the possibilities and probabilities.
Bit different than some of the "facts" that are put up there as an excuse for him not signing.
Jim Jennings
171
Posted 19/01/2016 at 21:03:09
Possibilities are one thing Darren, probabilities are another. A statement like "How about we acknowledge the probability that the West Ham manager made a bigger impression than Martinez?" is still baseless because you have no idea what is probable in the same way none of the rest of us do.

Keith Monaghan
172
Posted 19/01/2016 at 21:05:54
People may be jumping the gun – no definite announcement anywhere, including official Hammers' WEB-site.
If he joins WHU, it seems likely the fact he's from Essex is a major factor – tough for us, but that's life. No decent manager will guarantee a player he'll be 1st choice – find it hard to believe Bilic will have done that. Truth is we don't know the why's etc.
I think we need decent, reliable cover/challenge for Seamus, so would like us to get this lad – but there's other good fish in the sea, and now Oviedo's hopefully OK, the pressure's off.
On a wider note, I still have faith in Roberto – we're work in progress and a young team, but the signs are looking good. We all need to be calm and patient, and support the team.
Mike Price
173
Posted 19/01/2016 at 21:41:52
Oviedo is no cover for right back. He proved that on Saturday.
Darren Hind
174
Posted 19/01/2016 at 21:54:50
Depend on how silly you want to be Jim
We know he has turned down one manager and agreed to sign for the other so the probability is pretty high.
Your claim that Byram might just be a "greedy bastard who chose the bigger wage package" is what I would call baseless.
You don't even know if wages have been discussed, let alone who offered the most.

Gavin Johnson
175
Posted 19/01/2016 at 21:56:25
Darren,
You've said on numerous other threads that you don't believe the exciting young players we have signed has anything to do with the 'Roberto effect' rather it being the club pulling them to sign
The opening sentence of your post # 94 See below
"So much for the much vaunted pulling power of Roberto, as soon as an alternative offer came along..."
Numerous reports have said the game changer was the promise of 1st team football (take your pick from News Now) so he's got more chance of 1st team football before he will at Everton. Carl Jenkinson has by all accounts stunk the place out this season. And Tomkins, the other player who's been playing at RB, is a CB, and not a very good CB.
Where would you go if you were him?! He'd have one of the best RB's in Europe ahead of him in Coleman. And Deulofeu and Lennon on the right wing.
Nobodies going off facts here. People are joining the dots together from variables like Byram coming from Essex, West Ham being higher in the league, Brand new stadium and more chance of 1st team football from sources including the Yorkshire Post.
If you want to go on probabilities instead of facts, Darren. Where do you think a young player who wants to establish himself in the Prem would go based on the variables above?! I don't think this has got anything to do with Roberto Martinez selling the club to Byram as you inferred with your opening sentence of #94.
Paul Tran
176
Posted 19/01/2016 at 22:00:42
I never get excited till there's a picture of them with the shirt on. So I didn't get excited. Sounds like he's made his choice. Good look to him, now let's move on, eh?
Darren Hind
177
Posted 19/01/2016 at 22:31:07
Gavin
I assume you now accept that the "cockney Sparrow" PROBABLY doesn't even remember living in Thurrock and you simply cannot back up your claim that he has been promised first team football ?
We only have one "fact" as far as I can see. The guy has turned down the manager of one of the finest footballing institiutions in order to play for the manager of a yoyo team.
Its up to the individual to draw his own conclusions, I think most will do that, despite you howls of "Roberto Bashing"
Gavin Johnson
178
Posted 19/01/2016 at 22:36:22
"We only have one "fact" as far as I can see. The guy has turned down the manager of one of the finest footballing institiutions in order to play for the manager of a yoyo team"
Yes, Darren, a YoYo club who are higher in the league and are moving to another level with a stadium we can only dream of.
Darren Hind
179
Posted 19/01/2016 at 22:50:06
So now we've established that he isn't a cockney wide boy and there is nothing from West Ham to indicate he has been promised first team football.
You're now claiming the the REAL reason he is going to West Ham, is because their manager has got an inferior group of players much higher in the table than our manager can get his incredibly talented squad?
And you say I'm Roberto Bashing?
Brent Stephens
180
Posted 19/01/2016 at 22:51:28
Darren #159 "We only have one "fact" as far as I can see. The guy has turned down the manager of one of the finest footballing institiutions in order to play for the manager of a yoyo team."
Do we know as "fact" that he has accepted one manager and rejected another? Is it the manager that has been accepted / rejected? or something else?
Svein-Roger Jensen
181
Posted 19/01/2016 at 23:38:06
We move on. He will soon find out what he's missing out on.

As a main target we need a creative midfielder and strengthen our goalkeeping position and add much-needed firepower after Naisy left.
Don Alexander
182
Posted 20/01/2016 at 01:18:42
There's been an increasing number of us seeking to lay off criticising Martinez; read Kevin Tully and Lyndon Lloyd for just two. To each and every one of them I ask why?
When he was appointed three years ago he got the job by saying he could achieve Champions League qualification. To put it mildly I held my breath given his record.
In his first season with us after four with Wigan, during which it's reasonable to assume he got to grips with teams and successful tactics in the Premier League despite Wigan's relegation, he nearly made good on his boast with a mode of play largely based on Moyes's tactics and players, players way better than Wigan's by the way, despite the drubbing they gave us in the FA Cup after Moyes had effectively jumped ship to Man Utd with Kenwright's support.
Having 'learned' from such a near miss, he then inflicted his 'Plan A' last season, and his fans will say why not after the years he'd had in the Premier League? But it was dismal from day one, and we all know his moronic tippy-tappy 'ideal' made it so. By March we were in danger of relegation.
This season, with a squad now entirely chosen by him, he's varied it slightly so that we score more goals. To be kind, we'll call it 'Plan B', as befitting any manager with such alleged hard-earned know-how.
Up to now 'Plan B', free from involvement in Europe, sees us in the bottom half of the table, again.
Everyone, repeat EVERYONE, even his supporters, have said we concede way too many goals like Wigan did. We constantly fail to win enough points to make good on coming remotely close to his boast, in a season where even Leicester City have been winning. Palace, Stoke, West Ham have always been above us too, as have newly promoted Watford more or less. Their managers have spent nothing like the amount Martinez has.
Further, he constantly states that "We need to learn lessons", but the team he sends out constantly shows failure in the very next match or two.
By the time 'Plan D' is instigated, assuming he has one (and I'm sure this bullshitter has one in his head all the way down to 'Plan Z'), we may be relegated because our better players will have long since sought pastures new, and who can blame them? Several of our senior ones have said they've sought meetings with him this season and last to rectify problems, such as relegation... and yet some fans still support him!
If he was any sort of manager, Martinez should have long since reviewed our matches, this season and last, on one of the alleged dozens of TVs he has in his house and recognised repeated problems in our set-up, and then done something to correct them by the time the next match begins.
But he hasn't, ever, and that's why us older fans and many astute younger ones take him to task.
Jim Jennings
183
Posted 20/01/2016 at 02:42:50
Darren (#156),
Nowhere have I claimed that he's a greedy bastard. It was a random example to illustrate that you, me and everyone else on here know absolutely nothing about why he chose WHU over EFC. To repeat my original post:
"The truth is none of us know the lad's reason for choosing WHU over EFC. Martinez may have fucked it up. Byram might just be a greedy bastard that chose the bigger wage packet. But we don't know. So your assertions are as baseless as anyone else's."
If you want to believe it is as straightforward as him choosing Bilic over Martinez, then good luck to you. That still does not make it "fact" as you claim in post #159.
Darren Hind
184
Posted 20/01/2016 at 06:22:51
Jim,
Whether you like it or not, Byram has turned down one manager and agreed to join another – that is an inescapable fact. It happens every time a player is offered a deal by more than one club.
You are the one who chose to introduce the notion that Byram may be a "greedy bastard that is looking for a bigger pay packet" – not me.
I don't choose to believe anything, certainly not the claims made by Gavin, as he has no proof whatsoever. I merely say that people will stick to what little they do know and draw their own conclusions. Your suggestions that he MAY be a greedy bastard, won't alter that.
Gavin Johnson
186
Posted 20/01/2016 at 08:30:22
Darren, I've not had a chance to speak to Sam Byram yet. But when I do, I'll find out and report back to TW for you. Until then, I'll have to go on what I've read in reports (like the Echo & Yorkshire Post) that said, the deciding factor to sign for West Ham over us was the promise of 1st team football.
Brent Stephens
187
Posted 20/01/2016 at 08:31:37
Darren, you're characterising this as rejection / acceptance of a manager. But we don't know that. It might have been acceptance / rejection of a club, of a pay packet, of career prospects, immediate and future, of the relative fan forums ("TW! Not being subjected to that vitriol"!).
He might not (or he might) give a toss about the manager (who can be here today and gone tomorrow). Bottom line is, we don't know.
Terence Tyler
188
Posted 20/01/2016 at 14:22:00
Signed a 4.5-year deal Hammers. Let's all move on and forward now.
Chris Williams
189
Posted 20/01/2016 at 14:50:47
Seemingly a key part of choosing them over us was the prospect of playing in the Olympic Stadium next season. Also, his uncle and cousin are Hammers fans.
James Marshall
190
Posted 20/01/2016 at 15:02:50
I love how these threads become an argument based around who's wrong and who's right, on subjects that none of us have any more information other than what we read on the Internet!
Opinions are like arseholes.
Graham Mockford
192
Posted 20/01/2016 at 15:36:34
Maybe this helps, straight from the horses mouth:
Byram revealed that Slaven Bilic played a big part in convincing him to join. "I spoke to the manager and he is one of the main reasons which attracted me to West Ham,"√ā¬Ě he said. "I think he's done unbelievably well with his team so far, so I'm really looking forward to working with him and his staff.
"My uncle and my cousin are big West Ham fans and have bought their tickets for the new stadium. My uncle was down here yesterday getting a shirt with my name on the back! It's nice to have them down here and they'll help me settle so I'm looking forward to seeing them."√ā¬Ě
No mention of first team football but of course this is what Bilic may have discussed with him and why he was so impressed.
James Marshall
193
Posted 20/01/2016 at 15:48:33
Graham, this is standard footballer patter though. New player praises manager, managers ego is massaged by new signing, new signing gets a game etc. He's not going to say he signed for them purely because he wants to live near the ground, or his family are Hammers alone – he was bound to praise the manager. I think pretty much every footballer since about 1978 has said this!
Will Firstbrook
194
Posted 20/01/2016 at 15:55:41
Not that I want to deliberately prolong a thread that has clearly run it's course, but I would assume it is Player Transfer 101 basic etiquette to speak well of a new club and manager when signing.
Bilic seems well liked and respected by most in the game and clearly has done well with their current squad (though I believe their success/progress this year has more to do with great individual performances by some their recent signings than anything else). In any event, they are moving in the right direction on many fronts.
I would suspect the reasons why a player chooses one offer or club over another will vary significantly involving a multitude of variables depending on the circumstances. The reaction and theorizing that is happening here is more newsworthy than the actual decision taken by the player himself.
Danny Halsall
197
Posted 20/01/2016 at 16:19:22
Who cares. He is a West Ham player and that's the end of it. He looks a good player, but nothing special. There will be hundreds more like him. Let's move on.
Simon Hermansen
198
Posted 20/01/2016 at 16:23:09
It's done now but I'd guess that the family connections he's quoted played a big part in his decision as opposed to anything we've done wrong.
Oliver Molloy
199
Posted 20/01/2016 at 16:51:54
We have had our fair share of successes in signing young talented players with BIG potential over the last number of years, so we can't really moan that this one got away. And he is hardly going to say I moved to West Ham because I got better money, undoubtedly a factor – make no mistake.
Personally, I think he has moved to the wrong club, time will tell, but we can remind him what he missed out on when we play them at our place in early March.
Paul Cherrington
200
Posted 20/01/2016 at 17:43:17
It would have been good to get him but sounds like it was down to him to choose and he chose them. I think he will regret it as Everton is a far better place for young players making their way in the game than West Ham these days.
Darren Hind
201
Posted 20/01/2016 at 18:41:18
James Marshall,
I never claimed I was right, I simply made the observation that a soon as the player had an alternative offer, the deal with Roberto was off. That might upset a few, it even had Gavin screaming "Roberto bashing" – again. but it is what happened.
Gavin did what he always does, he reads something in a paper and presents it as fact. We still haven't seen anything from West Ham to back up his claims.
What we have seen is the player come out and spell out in no uncertain terms that it was the West Ham manager who swayed his decision... which kinda blows away suggestions that it wasn't about the managers.
As I've said all along Draw your own conclusions, My conclusion is that Martinez has nowhere near the pull some people would have you believe and a guy who has been managing in this country for five minutes was able prize him away to a club that cant hold a candle to Everton.
Byram is not an Everton player and I have no further interest in talking about him.
Gavin Johnson
202
Posted 20/01/2016 at 18:54:32
Darren,
I didn't present anything from the papers as fact. The only person who used the word 'fact' was you, when you tried to claim it was Martinez who had failed to do enough to persuade the kid to sign.
Add Your Comments
In order to post a comment, you need to be logged in as a registered user of the site.
Or Sign up as a ToffeeWeb Member — it's free, takes just a few minutes and will allow you to post your comments on articles and Talking Points submissions across the site.
© ToffeeWeb