Deulofeu blames poor first half for Swans loss
by

32 Comments [Jump to last]
| 24/01/2016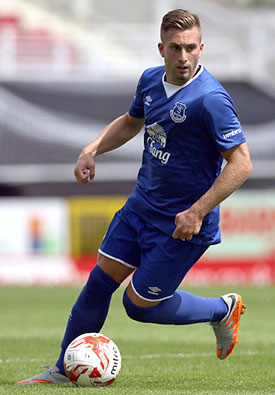 Deulofeu was bemused at how a team like Everton could perform so badly in the first half
Gerard Deulofeu was left to bemoan what he called a "horrendous" first half as Everton were beaten 2-1 by Swansea City at Goodison Park today.
The Blues fell behind in the first half when Tim Howard clumsily upended Andre Ayew with an attempted clearance from John Stones's ill-advised back-pass that left referee Anthony Taylor with no option to award a penalty, which Gylfi Sigurdsson despatched with aplomb.
And though Everton equalised less than 10 minutes later when Neil Taylor inadvertently helped Gareth Barry's touch on from a corner into the net via the far post following a corner, Ayew struck a deflected winner 11 minutes before half time.
Deulofeu was at the centre of most of the Blues' best moments in the second half with numerous crosses from the right but it was a game of few clear-cut chances for the home side until Seamus Coleman missed two gilt-edged opportunities to level it in the dying minutes.
"It's disappointing," the Spanish U21 winger lamented after the game. "I think the first half was horrendous. It [doesn't seem] possible that a team like Everton can play like we did today.
"We need to keep going, all together, but all the players need to think, when we're playing at home, what do we want because 12th position in the table is not normal for a team like Everton.
"We have a big game on Wednesday but we needed to take the three points to keep going for the next game."
Everton were much improved in the second half after a glaringly sub-standard display in the first period and Deulofeu was asked what the players did differently after half time to try and get back into the contest.
"Yes, of course the second half was better than the first half," the 21-year-old continued. "I think the first half was the poorest of the season. In the Premier League all the games are s difficult – you need to play well for the whole 90 minutes.
"Yes, we had a lot of chances but we didn't score and we didn't take the three points. The problem was in the first half. We need to be ready to go strong from the first minute and I think that is the big problem."
---
Reader Comments (32)
Note: the following content is not moderated or vetted by the site owners at the time of submission. Comments are the responsibility of the poster. Disclaimer
Brian Harrison
1
Posted 24/01/2016 at 19:34:23
How we will miss this kid when he returns to Barca in the summer. He is the only player that gets people out of their seats, his crossing in the second half was sublime and should have resulted in a couple of goals.

Would have loved to see Gerard with Sharp and Gray up top, with his ability to hit first time crosses they would have loved playing with him.

Good wide men are as rare as hens teeth, just a pity you are playing for a manager who only likes to have one man in the box for you to hit.
Andrew Burns
2
Posted 24/01/2016 at 19:36:07
It was a bad back pass but not in anyway did Stones sell Howard short. Howard was sleeping and before he did anyhting he took 3 what can only described as "square dance shuffles" backwards and then he tried to clear. It was horrific!
Patrick Murphy
3
Posted 24/01/2016 at 19:57:46
Deulofeu says "We need to be ready to go strong from the first minute and I think that is the big problem."

If ever a sentence summed things up, this is it; I thought we did start fairly brightly but as soon as Besic left the pitch everything went to pieces and nobody seemed to know what to do about it.

Ian Riley
4
Posted 24/01/2016 at 19:58:21
Brian, can't expect top players to stay. Stones looked like a player who couldn't give a shit. His attitude and casual nature of "I'm beyond being dropped" is appalling. Take the money and give it to a new manager. I've made excuses for Martinez but no more! Totally out of his depth and his coaching team!
I'm tired and sick of watching this shower!!
Eddie Dunn
5
Posted 24/01/2016 at 20:12:21
Del has been instrumental in Rom's resurgence, but today the big man continued his poor form, spurning the few openings that came his way.

Phil Smith
6
Posted 24/01/2016 at 20:21:38
No way he's going back to Barca yet. He knows with Messi, Jaws and Neymar he's got no chance of braking into that team. He'll be with us until at least the end of next season.
Neil Pickering
7
Posted 24/01/2016 at 20:59:49
Andrew (#2), I'm sorry, mate, I don't agree.
Firstly Howard is a lability and should be out the team, but the blame is solely on Stones for that backpass.
First of all, he should have put the ball down the line but didn't, and then he played a short back pass to Howard. Ayew read it like any footballer worth his salt would do when Stones is in possession, as everyone knows know he always tries to play no matter where he is on the pitch.
No way did Howard have any time to react to it. Not that Howard needs much help, but Stones made him look a right tit.
Colin Leckey
8
Posted 24/01/2016 at 21:03:16
Not your fault Gerald. You were the only one who turned up.
Neil Pickering
10
Posted 24/01/2016 at 21:07:27
Actually, Phil (#2). Sorry, mate, I owe you an apology.
I've just seen another angle of it and Howard sees the back pass and actually takes 2 steps back to kick it whilst Ayew is trying to intercept it... the fucking dickhead!
Tony Abrahams
11
Posted 24/01/2016 at 21:15:59
Made enough chances by himself for Everton to win the game, but I wish the kid was as brave as Pienaar, and wanted the ball more. He tires quicker than most and is obviously still adapting to the intensity of English football, so maybe in time this side of his game will develop more.
More quality than most, I keep hoping to see him play behind Lukaku, and think he would be a very effective sub, playing in this role once a game has become stretched.
Dave Abrahams
12
Posted 24/01/2016 at 21:23:54
Tony (#8), I wish a lot of them were as brave as Steven Pienaar – in particular the non-tackling Barkley.
Roman Sidey
13
Posted 24/01/2016 at 21:31:02
I feel this could be his last presser for a while. Martinez will not like him talking so much sense.
Good on the lad for calling a spade a spade, unlike our manipulative manager preferring to call a shovel a fucking garden hose.
Helen Mallon
14
Posted 24/01/2016 at 22:19:10
Why oh why can't reporters just hammer Martinez and tell him what they say about Man Utd fans – we want him OUT.
Damian Nolan
15
Posted 24/01/2016 at 22:31:46
Deulofeu played well in parts. However, his contribution is sporadic at best. He is very undercooked as regards fitness levels. Surely he must know this himself.
He is limited to two, at best three, consecutive runs. After that, he looks like he will need a defibrillator soon. He has been like that all season.
It is right to observe that his comments demonstrate a degree of candour often missing in other quarters at the club but some self-analysis wouldn't go amiss either.
Brent Stephens
16
Posted 24/01/2016 at 22:34:04
Gerri provided some very threatening crosses, not taken advantage of. What I can't understand is how he can be fooked at the 60-minute mark every game.
He was absolutely gone by that time again today. Just stopped, left our RB to pick things up on his own while he regained his breath and started again. Something very wrong there. Any ideas?
Alex Moore
17
Posted 24/01/2016 at 22:41:44
Is it guaranteed that Deulofeu will head back to Barca this summer? Man would I love for us to keep him around, I've never seen anyone cross like he does. (That said, if he does leave, I won't miss the diving.)
Jim Bennings
18
Posted 24/01/2016 at 22:49:25
Yes Brent,
Simple answer I'm afraid.
Martinez has neglected the physical fitness side of things, if you look closely, it's one of the reasons why his first season was quite successful, the players were still fine tuned with the Moyes era, it's well known that Moyes was a stickler for physical fitness.
Two years on, the fitness side evaporated, we can't play two halves of football, and as pointed out, Gerry always looks wrecked by the hour mark.
Peter Cummings
19
Posted 24/01/2016 at 22:57:32
I love Geri but, like other players, after the fact, he is merely stating the bleeding obvious. He was our only real standout today and must be bitterly upset as he saw his pinpoint deliveries wasted time after time.
I agree, however, that his own fitness is suspect at times and needs to be looked at and improved by the training staff.
Having virtually ruled out a Wembley appearance, if we get nothing from Newcastle this weekend, Martinez should be on his bike.
James Stewart
20
Posted 24/01/2016 at 23:43:56
Only player who turned up.
Damian Nolan
21
Posted 24/01/2016 at 00:01:54
James, I struggle to accept that you don't think that, yet again, Barry excelled in all aspects of his game. Deulofeu has his attributes but his fitness levels are put to shame by Barry.
Deulofeu really needs to do something about that. He needs to accept responsibility for his own standards. Too often, one good cross is followed by ill-advised and fruitless dribbling across the box or a passage of play that has him standing still as he watches the right back in front of him.
I am convinced that if fitter Deulofeu could become a quality player. However, his fitness levels if left in their current state will be his undoing.
All that said, I thought his gesture to the young boy (on at half time) and his family was laudable. Looking at that boy who is the same age as one of my boys and thinking about it tonight put a lot of things in perspective for me at least anyway. I expect his parents' anxieties go way beyond concern over next Wednesday. Wondering why my son was suffering from that cruel illness would get me angrier than anything RM could do. On that note I wish all Evertonians well; many of us luckier than we know.
Roman Sidey
22
Posted 25/01/2016 at 00:45:26
Damian, for us watching from home, can you elaborate on his half-time gesture? Sounds pretty special.
Damian Nolan
23
Posted 25/01/2016 at 00:54:57
He had seen social media footage of the boy playing football and scoring whilst wearing the team shirt endorsed with the Number 19. Deulofeu invited the boy and his family as his personal guests and they were treated to a meeting with the players etc... including the aforementioned shot into the Gwladys St goal at half time. There has been extensive coverage of it in the local media and in today's matchday programme.
Harold Matthews
25
Posted 25/01/2016 at 03:02:26
Ivanovic sent over one Deulofeu type cross and Costa bust a gut to get on the end of it.
Mark Andersson
26
Posted 25/01/2016 at 03:33:28
Nice one Harold. Deulofeu was clearly frustrated today after doing all the hard work only for no one to bust a gut and grab the glory.
Rom has improved his game, but is still guilty of ball watching. I have seen Rom many times collect the ball by the wing pass it and then just stand there admiring his pass.
Brian Porter
27
Posted 25/01/2016 at 06:42:57
I was watching Howard as Stones played his suicidal back pass and he was so clearly not watching the ball or keeping up with play. Then all of a sudden it was like he caught on and thought, "Oh shit, how did he get there?" and just plodded across like he had all the time on the world. Why didn't he try to fall on the ball, use his body and hands, (you can use your hands Tim you're the keeper), instead of going feet first? As a former goalkeeper, I was always taught that using your feet was the last resort for a good keeper. Howard is simply too fearful of getting hurt, I recall a few kicks in the head and bruised ribs in my time but that was part of the job, an occupational hazard of being a goalkeeper.
Stones is becoming a liability we can't afford and Martinez still defends him, basically blaming the whole team for Stones's error (!). He should be dropped until he learns to cut out his antics on the area and learns to clear his lines, another fault of Howard's by the,way, who rarely punts the ball upfield, preferring to roll it to the nearest defender, putting us back on the defensive as we try to work the ball forward. I noticed how often Fabianski initiated attacking play by kicking the ball at least to the halfway line, setting his team up for attacking play. Instead we pussy foot around in front of our box looking for options to pass until we somehow reach halfway and the opposition are by the all.in defensive formation. Great coaching, Roberto.
Pienaar impressed me. For his age he was damn good and showed glimpses of what we've missed without him. Baines too played well, but was unsupported on the wing once Kev went off. Funes Mori again showed he's the only defender we have who is comfortable heading the ball, and gets better every week. You could see determination in his face, and he looked disgusted at Howard and Stones after the penalty incident. Barry did well as usual but. Cleverley was ineffective beside him. Geri put in some great crosses but faded as usual around the hour mark. He did continue to try though.
It's clear that most of the team actually did ok as individuals but Martinez seems incapable of moulding those individuals into a coherent team with both attacking and defensive tactics instilled into their game play. That is a big part of a manager/coach's job and one he is incapable of doing as is proved every week. How far does our slide down the table have to go before action is taken to get rid of this inept 'snake oil salesman ' whose promises mean nothing and who has been found out as a charlatan and fraud. If we were in the old wild west he'd have been run out of time by his irate paying customers, (that's us by the way), long before now. Other managers with much better records have been sacked this season but Martinez seems fireproof. It's surely time the press got on his case.
BK might not read TW or social media but surely reads the Guardian, Telegraph, Times etc so couldn't fail to realise the growing discontent if it was splashed across the sports pages every day. Many respected pundits across the media were beginning to question Martinez's suitability for the job last night. We can only hope it grows into a clamour until our lethargic board and chairman wake up and realise he is taking us in only one direction, and that, sadly is DOWN, DOWN, DOWN. Forget the League Cup. One trip to Wembley won't make up for us losing most of our best players in the summer as will surely happen if we finish in the bottom half yet again.
Say what you like about Moyes, but at least we were always perceived as a top 8 team in his time, now we're a soft touch that nobody fears, and are looking more like relegation contenders than European wanabees. Nobody sees us as a 'bug' club any more thanks to the joker in charge. BK obviously heard Martinez wrong. He didn't say he'd get us in the Champions League in four years, he really said The Championship in four years and next season is year four guys.
Phil Sammon
28
Posted 25/01/2016 at 07:26:49
Brian,
'Why didn't he try to fall on the ball, use his body and hands, (you can use your hands Tim you're the keeper), instead of going feet first? As a former goalkeeper'
It was a backpass. Surely kicking it was his best option. He just took an age to do it!
Brian Porter
29
Posted 25/01/2016 at 08:25:14
Phil, in many cases I'd agree with you, but this is Tim Howard who has a propensity for giving away penalties by wildly swinging his legs at the ball/player and while it was a back pass he was so late in going for it he could have blocked it with his body, or as soon as the attacker touched it, dropped on it using his hands. He just doesn't think fast enough.
Tony Abrahams
30
Posted 25/01/2016 at 08:36:10
Jim Hardin, instead of going all around the world, with great detail, just read Brian's post @28. If not take Darren Hinds advice!!
Mike Hayes
31
Posted 25/01/2016 at 09:29:05
I can see that the penny is finally dropping with everyone as to how far out of his depth Martinez is. I have been banging on about it for three years – he has finally proved what a failure he is on and off the pitch.
To salvage the season, let Unsie and Big Dunc take over to try and salvage some respect and get the fans back on side. Drop Howard and Stones and reorganise the back four. Play players in their right position and try and keep a team together to gel more.
Harold Matthews
32
Posted 25/01/2016 at 10:51:42
This thread is not about Howard and Stones. It's about people not getting on the end of Delboy's wonderful crosses. Waiting for the ball, not getting in front of the marker and not showing enough fight and determination. Not just about Lukaku. Where were Barkley, Cleverley and Pienaar?
David Pearl
33
Posted 25/01/2016 at 14:49:48
Neil (#7),
Yes, it was Howard's fault. The game we play involves being able to use the keeper to keep the ball moving. Howard offered himself, he was there in line with play waiting for the ball. When the ball came he dithered and was unaware of Ayew which gave him time to press the self destruct button... yet again.
We had enough chances to bury Swansea. Coleman a couple of chances many of us would've scored. Lukaku also of course seemed to have his head elsewhere.
It was nice to see Pienaar play again.
Jim Hardin
34
Posted 25/01/2016 at 21:45:31
Tony Abrahams, What are you on about?
"Jim Hardin, instead of going all around the world, with great detail, just read Brian's post @28. If not take Darren Hind's advice!! "
Are we continuing a discussion from another thread or are you just choosing to attack my opinions on threads I am not on? Clever and cowardly in one master stroke. For the record though, Sri Lanka, Australia, Egypt, Belgium, Wales, Georgia, Peru, Ghana, Cuba and Mexico... because I felt like it.

Delboy is right about the first half but from the offensive standpoint, losing two players throws the best laid plans to the wind. Yes, the outcome of the game could have been very different had Mirallas and Besic not been forced off. Delboy delivered several good crosses but at times seemed to stand there pissed off instead of trying to do extra.
Delboy still needs to get his physical fitness level up and his attitude level down and just play a full 90 minutes and remember that perhaps his attitude and me first approach to the game is the reason Barca didn't keep him in the first place. He clearly had the talent to be better than Pedro last season.
Lest anyone take offense, he has improved but a few shovels of dirt does not a mountain make so hope he continues as he could be a leader on the team.
Add Your Comments
In order to post a comment, you need to be logged in as a registered user of the site.
Or Sign up as a ToffeeWeb Member — it's free, takes just a few minutes and will allow you to post your comments on articles and Talking Points submissions across the site.
© ToffeeWeb