Martinez takes positives from second-half reaction
by

142 Comments [Jump to last]
| 24/01/2016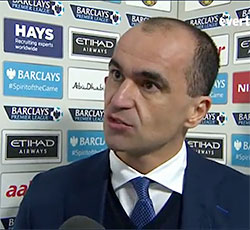 Roberto Martinez lamented bad luck and a failure to make pressure after half-time tell as the reasons for Everton's latest home defeat following a disappointing performance against Swansea today.
Everton extended their poor run of form to just one win in 10 Premier League games with a 2-1 defeat to the South Wales side, one that leaves the Blues in 12th place and closer to the relegation places than the top-four place that would have been their target at the start of the season.
Citing the disruption to his team by early injuries to Muhamed Besic and Kevin Mirallas and a lack of "control" in putting away chances in the second half, the Catalan reiterated the now-familiar refrain that Everton "have to be better" about pressing home their superiority in matches.
"It's a scoreline that is very hard to take," the manager told Sky Sports after the final whistle. "Obviously in the first half, I don't think we started as well as we can and that was our undoing. We weren't as sharp, we were a little pedestrian but other aspects that weren't in our control – we got two injured players – that stopped our momentum a little bit.
"The penalty comes from nothing and then a very isolated incident action for the goal. I thought in the second half, [based on] the amount of chances and the control that we had, the scoreline could have been very different.
"Today, nothing went in our favour and if you want a snapshot of how our performance went, it was the last chance that we had for Seamus Coleman in a great position that would have changed the scoreline in a different way.
"But we know we have to start games better. We know we have to use the first half at Goodison better. It's been difficult this season but the reaction in the second half and the chances we created should have been enough to win the football game or at least to get a draw."
Martinez refused to blame John Stones for the first goal, where the defender delayed back-pass created hesitation for Tim Howard and the goalkeeper ended up kicking through Andre Ayew and conceding a penalty after 16 minutes.
Asked if he thought Stones would learn from the error, Martinez said: "I don't think it's just John. As a team it's a situation that we need to deal with with a little bit more control. It's a bit of a reaction; of course we know we have to deal with that aspect a lot better but I don't think there's a need to get punished in the manner in which we did.
"It's very unfortunate. Tim does't see the player; he should have been aware and he should have seen that area a bit better but, in the same way, the second goal, which is the next shot on target, comes from a handball on Ashley Williams.
"Overall you look at certain aspects of the luck that you need to get through that period of the game. I don't think we had a good period in that moment and we got heavily punished."
Martinez was asked whether the difference between his side's first- and second-half displays leaves him scratching his head and he replied that as a group they just have to keep working.
"It's on days like today that you can see how good we can be but in the same way how softly we allow score-lines to go away from us. In the previous game we dropped two points with the last kick of the game which was a very, very important moment in our season and we need to learn from these painful lessons and become a lot better."
---
Reader Comments (142)
Note: the following content is not moderated or vetted by the site owners at the time of submission. Comments are the responsibility of the poster. Disclaimer
Steve Guy
1
Posted 24/01/2016 at 20:00:59
Groundhog Day. We can all predict the statements after every game now and they bear no resemblance to what we've just seen.
Phil Sammon
2
Posted 24/01/2016 at 20:04:56
He's always keen to 'learn' isn't he. I don't know how many more of these lessons I can watch. That was a real horror-show. I'm struggling to see any positives.
Bun McGale
3
Posted 24/01/2016 at 20:05:16
I have listened to his nonsense for way too long now, Why o Why has he not been sacked is Beyond Belief!!!
Jim Bennings
4
Posted 24/01/2016 at 20:08:09
Fool.
How many shots did the Swansea goalkeeper have to make in the second half?
Did we bombard the Swansea goal?.
No and no.
All we have was Lukaku totally isolated with no real support and Deulofeu whip in the odd inviting cross which nobody bothered to try getting on the end of (have a hunch that Naismith may have nodded one of them in).
Sorry Roberto but you are very deluded, our home form has become horrendous over the last 18 month's, barely winning any, leaking goals at will and basically losing more often than not.

Brent Stephens
5
Posted 24/01/2016 at 20:09:56
"We know we have to start games better" – and finish them better! And be better between the start and end.
I curse at Stones, faffing about on the ball, but I curse Martinez for ruining the lad. He must see that Stones is vulnerable when in possession but under pressure, and yet doesn't seem to coach him to take the cautious route when required.
Jim Bennings
6
Posted 24/01/2016 at 20:13:40
Brent,
I said exactly that a few weeks ago regarding what the point is in keeping Stones while Martinez is here because he's not ever going to improve as a defender, who should now be working on his basic defensive duties but has been totally neglected by the manager and his coaching staff.
Yes we all know Stones is great on the ball, we have known this for two years... but can he defend and will he get any better at defending under this management?
No.
David Flanagan
7
Posted 24/01/2016 at 20:13:53
He isn't fit to manage our club. He's taken a top-6 team to a poor bottom half team in 2 years.

Our home record and win percentage should have seem him sacked but he's still here trotting out the same garbage he did as Wigan's manager.
Martin Mason
8
Posted 24/01/2016 at 20:17:07
He's a deluded idiot.
John Keating
9
Posted 24/01/2016 at 20:17:43
If Gordon Clegg is as big a Blue as he tells us he is and really does have the Club's interest at heart, he will ditch this imposter before he either takes the Yankee dollar or goes to the great West End.
Patrick Murphy
10
Posted 24/01/2016 at 20:18:03
RM's post-match, pre-match, in fact at any time at all comments are becoming more meaningless with each passing month. I would just like him to say that he bears some responsiblity as do his staff and his players. The fans can only react to what they witness in the 90+ minutes of any game and any manager who is blaming ill-fortune or the need to learn is in the wrong job and way out of his depth.
A Kiev night on Wednesday should see him removed from his position along with the rest of his staff - if a takeover does happen in the coming weeks, we as a club need a completely fresh start after all we have endured Smith, Moyes and now Martinez in the last couple of decades or so.
Hopefully a new regime will go about things in a different way than the current one, if the takeover doesn't materialise how much longer do we have to suffer ill-equpped managers trying to fool the fans into believing we are a better team than our results suggest and nobody in the corridors of power posing any questions of the person they entrusted with the job.
Brian Mahoney
11
Posted 24/01/2016 at 20:24:13
I'd take the money for Stones now; he's playing like someone who wants away. We all know about Howard's failings... he should have been aware for the hesitant Stones back-pass.
It's infuriating this league this season is wide open but when opportunity knocks for Everton, we don't take it. We are definitely going to lose the spine of our team in the summer and probably replace them with crap.
Wednesday's game is a foregone conclusion: Aguero will have a field day and I predict at least 3-0 to Man City. I am still gonna go like, and hope lady luck smiles on us but I won't hold my breath.
Eddie Dunn
12
Posted 24/01/2016 at 20:24:55
The problem is that it was similar "isolated instances" that gave goals away at Chelsea, and in various other games recently.
I just saw his interview on BBC sport, and I'm afraid the record has stuck – same old excuses, and yet he never says "I" – it is always "We"! He seems surprised that the first half was so half-arsed!
Not good enough, Roberto! Time to take personal responsibility and at the very least say if the attitude and application don't improve, you will make changes and give this lot a shake-up.
Rom got dropped last season and woke up! Stones, Lukaku and Howard all need putting in the Under-21s. Oh how their precious egos would take a pounding.
If Martinez won't shake 'em up, then he should fall on his sword, as his faith in his favourites is misplaced.
I would have liked the interviewer to ask why he sold Naismith, when we have a semi-final in 3 days, and now have Mirallas and Besic out, and a player deemed surplus to requirements, scoring one, and winning another penalty for his new team?
Kev Hand
13
Posted 24/01/2016 at 20:33:05
I was at game today. Shocking and tired now of Martinez now. I've lost interest – and to blame the supporters, saying the players are playing with fear when they're at Goodison, is just a poor excuse.

This is the most talented team since 1985 yet look where we are under him. It's a joke. Mike Bassett could do a better job.

Sack him now, this season has gone now. Get a fresh face in. The players are not with him, Stones has no discipline. He thinks he's Billy big time now and believes in his own hype thinking Barcelona or Real Madrid want him.

I hope their scouts were there today because we wouldn't get 10 bob for him.
Mike Connolly
14
Posted 24/01/2016 at 20:36:40
Martinez is not only killing the team but the fans as well.
A bloke by me in the Upper Bullens (looked like he was going to have a heart attack) he was screaming out at Martinez. Saying how much we look like Wigan and how gutless we were. Everyone was looking at him and probably thinking he was right. If only the team had his passion. Dreading the next match.
Martinez Out!!
Helen Mallon
15
Posted 24/01/2016 at 20:40:23
Jim Bennings, not playing Kone, selling Naismith. We have Henen and a few other strikers but it's Martinez. He is rubbish.
John Daley
16
Posted 24/01/2016 at 20:42:46
"It's on days like today that you can see how good we can be but in the same way how softly we allow score-lines to go away from us."
Yep, they're called match day's and they've (largely) been playing out in the same, predictable, shoot yourself in the foot and then say 'Soz' manner for about sixteen months or so. Although, at times, there's been acknowledgement of the naivety, lack of nous and nobbish howlers on display there's seemingly sod all being done differently in an attempt to remedy these failings.
Rather, we witness the same scenario being played out again in the hopes that this time the coin lands different side up. Scrape a win rather than suffer defeat and the manager is soon promoting the theory that gaining three points is proof that these players have now learnt from past errors, so... err... we'll just leave it at that and crack on as we have been. Absolute bollocks. He'll be going home and munching on his gingerbread gate next if he truly believes that.
First thing he needs to do is instil a bit of fear into players who seemingly see defeat as something to greet with a shake of the head, a shrug of the shoulders and a few sweet promises to some suck arse interviewer on Everton TV to 'set things right next week... for the fans, like'.
Defeat should provoke a more potent reaction than mild disappointment in player and manager. I want to see hurt and anger and a determination not to endure it again any time soon. I want to see players fuming with themselves after throwing points away, rather than feeling sorry for themselves or acting like every self-inflicted wound is 'just one of those things'. I want to see a manager taking responsibility and saying "enough is enough".
Fuck up once and I can understand him letting it go. Fuck up repeatedly, in a nigh-on identical manner, and that player should be removed from the starting line-up until he sorts his shit out.
Kev Hand
17
Posted 24/01/2016 at 20:43:20
Get rid now.
I can't stand listening to his crap anymore
Martinez Out... get back to Wigan.
Michael Penley
18
Posted 24/01/2016 at 20:44:31
Why are we always surprised at his post-match comments? All his comments are carefully designed for one purpose – to protect his job at all costs.
The need to learn from the game, to build on certain areas, to maintain momentum and keep working. No matter how badly we do there's always something up ahead that necessitates the need for work, specifically his work.
This cycle will only end if and when we get relegated, as we saw with Wigan and his comments that he was not the man to bring them up, the reason being that his salary would have been much lower.
He's never going to say "I've failed. The project I've been working on for 3 years was poorly conceived and is never going to work in this league." Although sometimes I think he should.
Dave Ganley
19
Posted 24/01/2016 at 20:46:10
Blah blah blah blah blah... someone give me a nudge when he finishes talking his utter nonsense.
Same shit, different day. Finally all the pro Martinez brigade are finally realising there isn't progress, there isn't a master plan, he doesn't develop players he makes them awful, actually having a defence does matter, we are not that good after all, this isn't the best football we have seen since the 1980s, we aren't just unlucky, we are pedestrian, a new goalkeeper will not solve all our problems, we are not fit, there is no cohesion in attack against a team who knows what they're doing.... if I'm missing something, everybody feel free to fill in the blanks.
The guy is so far out of his depth, it's untrue. He has taken over a top 5 team whereby all feared to come to our ground and turned us into a laughing stock whereby all come to Goodison Park for 3 points now. The one saving grace today is at least the media are now seeing is for what we are, a shambles. We are not the free flowing football team that's easy on the eye like the myth would have you believe. We are a team sliding down the division who occasionally scores goals against rubbish teams but cant cope with any half decent team. Martinez has spouted so much rubbish you can see the younger players actually believe his propaganda.
Stones epitomised that arrogant belief today. He just strutted around the pitch like the world owed him a living, believing he is the reincarnation of Bobby Moore. Afraid not, lad. He has been displaying that attitude more and more recently and if that's going to be the norm then for me he can go. Take the money and run. He is costing us goals with his ridiculous posturing on the ball in dangerous areas. He forgets that he is there to defend first and foremost not to try and be Pele!!
The old guard of Barry and Pienaar showed all the younger ones up today. Its called professional pride, something some of the younger ones are sadly lacking and for that I put the blame firmly at Martinez's door for not instilling that into them. The fact that he exonerates any mistake they make means they are slack with the ball. There is no consequence for them personally if they fuck up. "There there, Ross / John / Gerard / AN Other it's okay... don't worry about those mistakes that leads to goals, they don't count anyway in my book" it's that kind of awful attitude that contributes us being in this awful situation. No professionalism in the slightest. This is not a playground this is supposedly elite football (not that you'd know it at Goodison Park over the last couple of years).
I guess I could go on at length as to why he should go/shouldn't ever have been here in the first place but I neither have the time nor inclination to cover so much old ground. Suffice to say the damage is already great, if we don't get rid now, then the damage could become terminal.
Jim Bennings
20
Posted 24/01/2016 at 20:50:40
Henen is on loan at Fleetwood until the end of the season, Helen, and frankly it's not the time anyway to be throwing some untried kid with no experience into the fray. We need leaders and men who are going to roll their sleeves up because two or three more bad results then, face it, we are looking over our shoulder.
He's going to have to go into the transfer market now, it's a must; he needs some hard-nosed experience – not more 18-year-olds to loan out for 6 months.
Selling Naismith is understandable so he gets game time at his age but it's a mistake until you get a ready-made replacement who offers the same goal threat as Naismith when he played.
If Lukaku does go on a poor run now, then our goals will very very quickly dry up; merge that with catastrophic defending, it could be a fatal mixture.
Christopher Dover
21
Posted 24/01/2016 at 20:51:05
Is this why most clubs have foreign managers? So they can talk a load of bollocks and no-one understand what they are saying.
They played crap, or as a steward, said they weren't that good, slow to start, give goals away, oh and hard luck not to score,
I hope he goes and soon... even though it won't happen. I just hope because they don't learn, don't start fast, don't close down the opposition, and don't seem to care.
Sharabi Singh
22
Posted 24/01/2016 at 20:55:26
Was it Martinez's fault that Stones did a shit back pass?
Was it his fault that their second goal was a deflection?
Was it his fault that none of our attackers gambled every time Deulofeu crossed one in?
Was it his fault that Seamus missed the open goal of the season?
No it wasn't. I actually feel sorry for Martinez today.
And before you all start on me for sticking up for him, I'm only talking about today's game.
Richard Farrington
23
Posted 24/01/2016 at 21:01:28
I've just got back to Essex. I'm going to Man City on Wednesday, back to Essex and up to Carlisle on Saturday, nearly 1,500 miles, I must need my head testing.
It's really difficult to comprehend after a performance like that but when he comes out with the utter garbage that he does post match, it has me full of rage and thinking that I may not renew next season if he is in charge. I just can't take it anymore.
The guy is an absolute charlatan; we got beat easily today by a well organised team with a decent centre half and leader. Williams had Lukaku in his pocket for the whole match.
In my opinion, Martinez must go if we fail on Wednesday. I don't give a shit who takes over.
Joe Foster
24
Posted 24/01/2016 at 21:02:25
RM just shut up and leave its too late for you. You certainly fooled some people with your amatuer hour management but you are well and truly rumbled. Your support gets smaller and smaller every passing week. Pathetic man blaming the supporters.
Brian Porter
25
Posted 24/01/2016 at 21:03:11
Same old, same old from the team on the pitch and the manager with his after-match excuses. How much longer do we have to suffer this buffoon of a manager who is so clearly out of his depth that he can only spout the same rhetoric and excuses every week?
The only players to emerge with credit today for me were Baines, Barry, Deulofeu, Funes Mori and Pienaar who rolled the years back out there today and showed the young ones how to do it. Stones was terrible and I can only hope he is rested on Wednesday with Funes Mori and Jags in central defence.
How many league places do we have to fall before the board takes action to remove Martinez? Our season is effectively over as far as the league is concerned but Martinez refuses to admit the problem exists.
Steven Naismith would probably have converted one of those chances Geri created today but Martinez refused to play him and he's gone and we have no real cover for Rom. It's gone too far now, something has to be done for the good of the club.
Mike Oates
26
Posted 24/01/2016 at 21:08:10
The team has lost the crowd at Goodison, Martinez referred to it in saying his players are scared. Barkley in his post match interview said "At least we'll have 8,000 fans supporting us on Wednesday night," and Barry in his said "We need to get Goodison on our side from the off."
Why the fans give Barkley so much grief is beyond me. And one week we are drooling over Stones bringing the ball out of defence, taking 3-4 opposition out of play, and now fans are screaming for him to be dropped, even to be sold - we are an incredible fickle lot, and I'll tell you what the players involved – Barkley, Stones, Lukaku will go .
In saying all of this Martinez is an absolute fool – living on cloud nine, totally absorbed in self-belief; in two weeks time, we'll be in the bottom 5, now that's a prediction.
Mark Daley
27
Posted 24/01/2016 at 21:08:55
Chaps, be philosophical: things HAVE to get worse before they can get better. RM's post-match gravity-defying remarks are just part of the end game.
Well, at least, that's how I am trying to "take positives" from the latest home defeat.
Meanwhile, the Americans' exclusivity period has a week left; let's pray for some genuinely good news (ie, the end of Bill and RM) in the next few weeks.
Ian Brandes
28
Posted 24/01/2016 at 21:10:21
Delusional dunderhead. Get rid before he is the ruination of Everton. PLEASE!!!
Brian Williams
29
Posted 24/01/2016 at 21:10:33
The man's deluded. You don't get a team coming out for the first half and not getting out of second gear, not pressing, low intensity and lack of urgency without them being instructed to play that way.
Please, Roberto, do the right thing and tell the board on the quiet you're prepared to go, and to look for a replacement NOW! Please!

Bun McGale
30
Posted 24/01/2016 at 21:10:54
Dave Ganley (#16)
Your post is spot on, what I don't understand is how he is still here. My Man Utd mates asked me today, "How is Martinez still in charge of that squad?" – and they would like 4 of our first team in a heartbeat.
Dave Abrahams
31
Posted 24/01/2016 at 21:16:40
Mike (12) you are right, if it was the same fella as I saw, really fed up with Everton, really passionate about our team,
I went over to him, shook his hand and told him that's the way thousands of us feel, he just shrugged and nodded thanks.... that's the sort of passion and pride that should be in every Everton player: the pride that hurts and gets embarrassed by the gutless displays of Martinez's teams.
I know and have met great Blues like this fan today; we deserve and want better than Martinez can provide and that is one of the reasons I despise Kenwright. He is not one of us because he doesn't understand what it is to be a real Evertonian.
Vijay Nair
32
Posted 24/01/2016 at 21:17:07
As much as most of us would like Bobby to be gone right now, the fact is (and I'm sure he knows) he's not going to be sacked. BK has never sacked a manager since he became chairman in 2004.
The last time a manager was sacked IIRC, was Walter Smith in 02, and PJ was still in charge.
Dave Clark
33
Posted 24/01/2016 at 21:17:54
I haven't posted on ToffeeWeb for the past 18 months as when I criticized Martinez, some people on this forum has the cheek to imply I was not an Evertonian! Really? I've been all over the world following my beloved Blues all my life and take great offense if anyone doubts my support.

Put simply, this manager has to go!!! I could never understand why people weren't rioting in the streets when he was appointed. I'll remind everyone: Everton, in my eyes the biggest team in the world, in the media's eyes (then) a top six club, hired a manager who had just been relegated!! I just couldn't believe it.

I live abroad so can't get to the games anymore but please everyone protest, please chant "Martinez Out" at the next game, please...He's is going to get us relegated and we need to act now!
Mike Price
34
Posted 24/01/2016 at 21:18:06
I know it's a bit of an oversimplification but he's brought this on himself with his ridiculous stance on Howard.
If he'd have changed him out, months ago, I think there's a good chance we would be in a much happier place right now.
Him turning on the home support is the death throes of a dying man, much like Howard. Turn on the crowd and there's only one winner.
Steve Davies
35
Posted 24/01/2016 at 21:22:35
The national media are even starting to realize that this clown is out of his depth. If we are knocked out on Wednesday, people will start to recognize what most of us Blues have said for the last 18 months. He used the FA Cup win to deflect from the fact he got Wigan relegated, he is doing the same again!!!! His record is not good enough, full stop.
While he continues to blow smoke up Stones's backside, he will never learn how to defend. A good manager would have put a stop to Stones's showboating and would have told him to stick to the defensive basics. Children are told to clear their lines and not dribble in the penalty box. Any defender would struggle under Martinez's tactics. The fact that Starjump Man is still in the goals says it all as well.
Fear factor? Never mind the Goodison crowd, the players should fear RM. Howard knows he can do what he likes and Stones continues to neglect his defensive duties knowing that RM will continue to pat him on the back. It is an absolute shambles under Martinez.
His record is abysmal, he talks bollocks and he is a deluded fool. However, the longer he can hang on to his £3m a year salary, and convince another deluded fool Chairman that we will get a top 4 position, and we are just unlucky every week, this will continue. Maybe RM is not a fool and £3m a year salary suggests otherwise.
You make your own luck and one win in ten is not unlucky – it suggests the manager is not up to it.
Patrick Murphy
36
Posted 24/01/2016 at 21:24:47
Mike (#22),
THREE home victories all season – even the home game with the other Premier League club we faced was decided on penalties.
Supporters views may be fickle on occasion, but the views only come about when the players and manager constantly let them down. Six home games remaining and not one of them is a home-banker under the present manager.
Even Moyes never got us to the point where we feared playing at Goodison that really does take some doing. Partly it is because Martinez wanted everybody to believe he had a special group of players who could achieve greatness, given a fair crack of the whip, but so far it has been a huge disappointment.
Partly it is about the way we play, which is totally unsuited to a Merseyside crowd who expect snap crackle and pop from their footballers and not fancy-dan posers who are afraid of hard-work.
How many of these soft-tissue injuries and long-term absences are more down to some of the players not being in a hurry to return to first-team duty or using any excuse to remove themselves from the firing line? I don't want Everton FC to have players on the pitch who are risking their careers but a sign of a bad team atmosphere and lack of respect for the staff, is when players leave the pitch as soon as they get a twinge – notice how Jenkinson in last night's game was loathe to come off, but our players are almost demanding to be substituted and it's not the first time it has happened under Martinez.
Fickle fans are not responsible for the position that Everton FC now finds itself. The manager and the players are paid to win football matches and compete for 90 minutes, sometimes three times in a week, but they have failed to do so too often for too long and it is they who should be castigated – not the long-suffering match-going Evertonians.
Roman Sidey
37
Posted 24/01/2016 at 21:26:32
Yes, Kev. And at least Bassett would be open to suggestions of formations. Barry in the middle as the sixpence?
Mike Hayes
38
Posted 24/01/2016 at 21:28:30
What will it take to get rid of Martinez? Defeat today? Defeat at Man City? Or relegation? He is absolutely clueless at this level and he's proved it time and again.
He has systematically stripped the talent from the players – they just didn't seem to have a clue. Selling Naismith was a big mistake – at least he had passion and guts, unlike what I witnessed from my seat today.
Anyone still backing the manager after this needs to reasses where they want to be – Premier League or Championship – we are not too big to go down.
Tony Hill
39
Posted 24/01/2016 at 21:39:12
The sadness is that the failure to deal with the problem last January has proved utterly toxic for us. Martinez should have gone then, giving a new manager time to buy and re-develop. Instead we have limped on and like all problems that are ignored, it has now got a whole lot worse.
It is painful to see the contempt in which Howard is now held, the contempt in which the manager is held and the contempt in which the board is held. Goodison is indeed a hostile environment for all of them, but rightly so. The danger is that this all turns seriously ugly and in a short period of time.
A number of the players are cocooned and, I am afraid, arrogant. They take that from our manager and from the chairman/board. Once the crowd gets blamed for the repeated failures on the pitch – and that is clearly now the narrative within the dressing room – then the manager has to go. To say that these cock-ups only happen at Goodison is wrong anyway – look at Bournemouth, Chelsea and Norwich.
Today leaves Martinez with nowhere to hide, he's on the run and knows it and he's showing something rather unpleasant in his character by insinuating that the home support is responsible. Now we can see where the arrogance of Howard and Stones fits in to the club culture.
We need a manager who's going to clear this nonsense out and urgently so.
Chris Regan
40
Posted 24/01/2016 at 21:39:16
He's got to go.
Sid Logan
41
Posted 24/01/2016 at 21:39:40
What utter twaddle.
There comes a time when you can't keep saying we must learn from this game because, quite simply, we never do. Nothing will change because Martinez won't change and he is the root cause of out problems.
He certainly doesn't see, and will never accept, that his flawed footballing philosophy is the main cause of many of our problems.
Martinez says we didn't start with intensity. It was clearly his plan not to press them. If you don't press them where does your intensity come from particularly at the start of a game. Do we watch them with great intensity as they pass the ball around in their own half.
With most teams it can be clearly seen when a manager has sent a team to play with high intensity. The manager obviously will drum this in to them before the game starts. With a few exceptions I've never seen an Everton team under Martinez start with a high level of intensity.
Yet I've heard him say many times that our problem in a particular game stemmed from the fact that we didn't start with a high intensity. How does he think teams get the message to do so.
If he doesn't know – I can tell him. You just blood well tell them!
It's becoming increasingly hard to have any faith in Martinez since he really can't see the wood for the trees.
I always believed we would need to write off this season and bide out time until he gets the boot. That is exactly what we will have to do.

Richard Farrington
42
Posted 24/01/2016 at 21:41:05
One word I can't get out of my head – UNTENABLE.
Steve Guy
43
Posted 24/01/2016 at 21:47:20
"He had me at Champions League"....
No, Bill... he said "I'll get you into the Championship."
Jim Bennings
44
Posted 24/01/2016 at 21:48:21
There's also another question I'd ask.
Our supposed big motivational coach Duncan Ferguson, why was he not in that dressing room at HT rattling some bones?
Instead he was laughing at joking doing keepy-uppies on the pitch with the subs!!
Why was he not in that dressing room, he should have barged Martinez out the way and been on to them for slacking.
And you wonder why there's never any intensity!!
Patrick Murphy
45
Posted 24/01/2016 at 21:48:40
Vijay (#27),
Sorry, mate, just not true: Peter Johnson had long gone from Everton when Walter got the boot as the following piece proves.
EXCLUSIVE: Smith on the verge
Mar 12 2002 By David Randles, icLiverpool

WALTER SMITH is about to lose his job as manager of Everton Football Club.

The Board of Directors are expected to make a formal announcement later today which will see both parties relinquish their four-year association.

Smith has been under increasing pressure from Blues fans following a run which has seen just one win in 13 League games, leaving Everton battling to maintain their 48-year top flight status.

Club owner, Bill Kenwright has stood by Smith in the past but it is thought that Sunday's 3-0 FA Cup quarter-final capitualtion at the hands of Middlesbrough has sealed the boss' fate.
Ray Robinson
46
Posted 24/01/2016 at 21:52:56
Analyse any interview that Martinez gives and it's nearly always a case of style over substance (a bit like we play maybe?). I cannot bear to listen to any pre- or post match interview and loathe words such as "phenomenal", "incredible", "intensity", "in a moment"! etc.
I spent years at work (for a bank) being told how hunky dory everything was before everything went tits up in 2008. I'm all for positivity but blindness to reality is downright delusional.
And talking of being delusional, I still think our name is on the Capital One cup. Nurse, bring me my tablets ....
Paul Kernot
47
Posted 24/01/2016 at 21:53:00
Sorry but he's got to go. I have loved our attacking flair this season but I've changed my mind about Martinez & must now agree with the 'Wigan' comments of the guys on here I used to call naysayers.
He doesn't have a clue about defending and, despite his rhetoric, he's too stubborn to listen. Get rid now before it's too late.
Gerard Carey
48
Posted 24/01/2016 at 21:54:35
It really is time to get rid of this man. Once the fans really turn on him, it will be all over. The sooner the better. We are going round in circles, nothing learned from match to match, just stumbling along to the next defeat, same mistakes and same excuses.
Andy Meighan
49
Posted 24/01/2016 at 21:54:53
Mike (#22),
I'll tell you why the fans give Barkley so much grief. It's because he's supremely talented but hasn't got a brain cell in that head of his.
I've defended this kid until I've been blue in the face. Well, sorry, no more... his decision-making is atrocious and his ability to get caught in possession all the time is becoming embarrassing.
And the same goes for that arrogant fucker Stones. I've seen kids in my son's Sunday League side defend better than that posing twat. "Oooh look at me... Barca want me... Ooh look at me... I'm worth £50 million" – my fucking arse he is.
Look no further for how to defend than Swansea's Williams today, who gave a masterclass in the art of defending. Won every header, made countless tackles, and had the vastly overrated Lukaku in his arse pocket.
And please, Mike, don't call me 'fickle'... because it insults my intelligence.
Trevor Peers
50
Posted 24/01/2016 at 21:59:11
I was at today's game and the atmosphere was not hostile at all, just a grim, subdued acceptance of our fate. Another season wasted.
There was some booing at the end but that was totally justified, after another shocking defeat.
Roberto blaming the fans in any way for his failings as a manager is totally despicable and the words of an absolute coward.
John Davies
51
Posted 24/01/2016 at 21:59:20
I just can't watch or listen to this crap any more. Martinez is an arrogant, self-promoting, deluded, idiot. Game after game we throw goals in. Week after week our, "manager" defends stupidity, sees a totally different game to everyone else and assumes that we fans will swallow his continuous drivel. He's nowhere near good enough and nor are some of his players.
But they won't improve under the self-styled Messiah who has no concept of what defending is. When is John Stones going to stick to the basics and concentrate on his role within the team rather than try to promote himself to potential suitors? If Barcelona were watching today they will have caught the first flight home with their cheque book in their pocket.
Martinez must be sacked and Kenwright knows it but won't have the balls to do anything about it. We're a shambles and Martinez is proving – once again – what most of us have known for a long time, that he is an under-achieving con-merchant who is out of his depth and now totally exposed as being just that.
Blaming the fans? You Spineless idiot. FOR GOD'S SAKE, MAN.... GO! And let's hope that Bill is out the door 45 seconds behind him.
Gerard Carey
52
Posted 24/01/2016 at 22:06:43
Hate to say this but we could learn from that shower across the park. Brenda got dumped and his record was better than RM's.
Philip OReilly
53
Posted 24/01/2016 at 22:10:52
Martinez, time's up: you have taken a top 5 team and turned us into a laughing stock. We have prima donnas strolling around in defence conceding goals for fun and, as much I'm looking forward to Man City, if we lose, do the decent thing and ask for your P45.
You let Naismith go and, lo and behold, he scores yesterday. He works tirelessly, something some of the young ones should do.
We are looking more like Wigan each match. You need to go. I'm glad you can take positives out of today's match because not to many fans can, if any...
Rant over. MARTINEZ OUT!
Finn Taylor
54
Posted 24/01/2016 at 22:12:44
Of the little I know...
Walter Smith was appointed by Peter Johnson, so when it came to getting rid, there was no issue as it wasn't a BK appointment - even though he stood by him, through thin and thin.
However... my understanding is that BK wouldn't get rid of RM because he wouldn't want to be seen as to have made the wrong appointment and, by letting him go, that would be a public acknowledgement this his judgement is unsound. Make of it what you will... I don't think Bobby is going anywhere.
Bill Gall
55
Posted 24/01/2016 at 22:13:48
How can this manager explain that before he took charge, Goodison was a ground were other teams came knowing they were in for a hard game with a passionate crowd supporting them?
Now it is a ground that teams expect to get a result at with very little noise from the supporters.
Colin Battison
56
Posted 24/01/2016 at 22:14:52
Utter tripe, RM.
As for John Stones, I've never seen such a disinterested footballer than today to put on the shirt. His attitude and body language on the pitch was appalling, he's definitely gone in this window, I'm reckoning.
Patrick Murphy
57
Posted 24/01/2016 at 22:16:39
Finn (#44),
If the takeover happens, it might not be in Bill Kenwright's hands to back or sack his manager – but you make a good point that Bill didn't appoint Walter Smith.
John Aldridge
58
Posted 24/01/2016 at 22:16:51
Blaming the fans for scaring the players – admission of guilt.
Admit it, Roberto – you've been found out. You were found out at Wigan and got them relegated.
You must talk like a dodgy car salesman to have convinced BK you would deliver Champions League. The only thing you will deliver is Championship football.
Do one, get out of our club before you destroy it for good.
Rob Halligan
59
Posted 24/01/2016 at 22:20:24
Finn (#44), everyone is entitled to admit a mistake. Kenwright would have to hold his hands up and admit he got it wrong. As Patrick says, though, it may not be Kenwright's decision before long....
Ste Traverse
60
Posted 24/01/2016 at 22:22:39
Patrick (#46),
Sure, BK didn't appoint Smith, but as soon as he acquired the club in December 1999 he'd gave Smith a new contract within a month and kept him for over 2 years afterwards, constantly backing him publicly during our struggles until even his patience ran out.
Oh and today my patience with Martinez finally ran out. He is deluded and has to go.

Rafa as new manager? [Puts tin hat on...]
Dave Ganley
61
Posted 24/01/2016 at 22:24:27
Ditto Trevor Peers,totally agree. It wasn't poisonous in the slightest. When Martinez arrived nearly 3 years ago, the crowd were boisterous, noisy and hostile to the opposition. Slowly but surely we have gone quieter and quieter to the point of no atmosphere at all.
Even Thierry Henry apparently remarked on Sky how shocked he was that the crowd was so quiet and that when he played it was tantamount to a bearpit. And that was supposedly when Moyes was playing his so-called dour football.
Truth is Martinez's philosophy on football has reduced the Goodison crowd to this. There is nothing to get excited about, there is no tempo to the play and we cannot win at home.
For a local lad like Barkley to remark that at least they will have 8,000 fans supporting them on Wednesday is shameful to say the least. He more than anybody should know that Evertonians will run through brick walls for the players so long as they know that the same applies to them too. Sadly the players haven't given the Goodison crowd much to cheer on a regular basis for quite some time now.
It's a two-way street; that the players would do well to remember. There is only so much good grace from the crowd. Disappoint and not put the effort in too much and you get the situation we have now.
If the players/manager think they can get away with producing that pile of shit on a regular basis and expect us not to voice our displeasure and support them regardless then they can just fuck off out of our club because I for one, don't fork out hard-earned cash to watch them year after year only for them to serve up sub-standard football and complain that we have the temerity to disapprove. Doesn't fucking work like that, I'm afraid.
Gerard Carey
62
Posted 24/01/2016 at 22:25:41
Ste, the way things are going, the tea lady would do a better job.
Tony Hill
63
Posted 24/01/2016 at 22:36:14
I think there is very strong feeling in the crowd at the moment and I saw it getting more apparent as the game wore on. It is not loudly expressed yet, but it soon will be.
Ray Robinson
64
Posted 24/01/2016 at 22:43:12
Next home match is Newcastle. We'd really see the bile if we lost that one!
Anthony Burke
65
Posted 24/01/2016 at 22:43:40
Took my lad to his first match today. Poor display but bad officiating for Swans second goal which has cost us 2 games running.
We need to put this behind us and concentrate on getting past Man City on Wednesday – they owe us big time as we have been pretty average all season and deserve to be were we are.
Let's turn this around!!!
Jos Rowland
66
Posted 24/01/2016 at 22:44:04
Wow, Martinez! Last season it was playing in Europe was to blame, what is it this season? 1 win in 10 games in the league, with a run of games that should propel us up the table with the best squad we've ever had? And let's be totally honest we didn't exactly deserve to win against Newcastle after all those free headers they missed.
Imagine if Cleverley hadn't scored that last minute winner – we would be well and truly in a relegation scrap after Swansea beating us (at home) today. No more blaming that we want to win so bad at home for our fans and that's what puts us under pressure, for once show a backbone and bollock all these individual errors that keep happening game after game.
And demand more from your players – for once, a 90-minute performance – or do us a favour and leave because we have now been an average predictable team for far too long!
Damian Nolan
67
Posted 24/01/2016 at 22:50:02
Re #12 - I sit by the "gentleman" you refer to. The only pleasing bit about his continuous rants was when my young son surprised me with his range of vocabulary and uttered the word "buffoon."
It is worth going to the match to watch this idiot mouth off. He expects so much better of the players on show that I can only assume he was some player himself; either that or he has mastered FIFA16.
He proves one thing beyond peradventure, though – a man foaming at the mouth is never a good sight. I used to think it was an allergic reaction to the meat-free chicken and gravy pie.
Christy Ring
68
Posted 24/01/2016 at 22:52:20
He sells Naismith for £8.5M, I agree it's good money, but you don't sell, unless you have someone lined up to replace him, because Lukaku is the only striker we have.
That tells us Martinez is out of his depth.
Michael Polley
69
Posted 24/01/2016 at 22:54:27
Same mistakes being made. We're not learning a thing. Each game just gets worse. Forget about Wednesday; instead let's hope that twat is sacked by Thursday. He is destroying our club. Big Dunc and Unsworth can steady the ship until season end.
Colin Glassar
70
Posted 24/01/2016 at 22:58:17
I think if Roberto found himself in the middle of a 9.5 (Richter Scale) earthquake, he'd find something positive to say.
Doug Nestor
71
Posted 24/01/2016 at 23:06:21
@Damion Nolan....."Idiot"??
Ross Edwards
72
Posted 24/01/2016 at 23:10:24
Martinez talks a lot without saying anything.
Damian Nolan
73
Posted 24/01/2016 at 23:11:47
Probably, Doug Nestor. I must be the only one who finds the man amusing. He should do the "kick in" with the mascots; he could tell them how crap they were.
Charlie Burnett
74
Posted 24/01/2016 at 23:11:55
Can someone tell me why we had a left-back playing right-back when we had Coleman on the bench? Also jags on the bench and we could've used stones as right-back.
I'm going to be honest, when Chelsea offered £35M for Stones, I was thinking if he had a good Euro16, we could get £50M for him... if £50M was on the table now, I would sell.
End of the day, he is still learning but he is making the mistakes at Everton to become that world class player he will be.
Shawcross would be perfect for us. £50 mil is a lot of money but it could buy us the 3 players we need on the pitch.
Stones or shawcross, a top keeper, and £20 mil left for a striker or left winger.
Ernie Baywood
75
Posted 24/01/2016 at 23:16:17
What's really starting to grate on me is the "We've got this under control" mentality. You see it in the game... 2-1 down at home again and there's a sense that the team believes that they just have to stick to what they're doing. Martinez's interviews are very much the same... we're a good team and can't control these individual moments that are costing us. We're a team in our manager's likeness.
Well it's about time they all figured out that our form isn't that of a good team. Use any yardstick you want -– it's shit. It's not good enough to believe that we have a good team – the results are awful. Change is needed without any semblance of doubt. Roberto needs to provide the change or be the change that is made.
Doug Nestor
76
Posted 24/01/2016 at 23:19:52
Thing is, Damian, we are probably the main thing in his (and a lot of supporters) life. I wouldn't be so quick to condemn...
Damian Nolan
77
Posted 24/01/2016 at 23:35:39
Jimmy, you may well be correct. The Upper Bullens is truly a cross-section of life. I hope EFC isn't all he has in his life otherwise everyday is going to be full of angst and despair bordering on hopelessness and he doesn't deserve that.
He probably belongs to the school of thought that states that if RM managed both sides in an Everton v Everton Reserves match both teams would lose.
Gordon Crawford
78
Posted 24/01/2016 at 23:59:55
Roberto would be out of his depth in the Championship. And he spouts the same drivel every time. I don't see the board sacking him though.

Patrick Murphy
79
Posted 25/01/2016 at 00:23:10
If our young superstar players can't fully express themselves in front of a mostly silent Goodison gallery then they had better steer clear of those clubs such as Madrid, Barca, Man Utd, Man City et al where they will have to produce good performances week-in and week-out or they will find themselves sitting on the bench or in the executive boxes for long periods of their careers.
It should be a privilege to play in the Premier League for any club, but to play for a club with Everton's heritage and fanatical fan-base it should be even more of an honour, not a chore that cripples those with talent and fortitude. The talent is most definitely there... the fortitude... well, I'm not so sure.
Tom Bowers
80
Posted 25/01/2016 at 01:38:27
What on earth are the ''positives'' this idiot is referring to? They dropped another 3 points to a crap team and at home yet again. He says the same things match after match and BK remains apathetic, doing nothing to arrest the situation.
Nothing he does changes this inability to win games and he is allowed to keep his job. Why? If they play with 15 defenders against Man City on Wednesday they will still lose because they just don't know how to defend.
How may fans are worried about Carlisle next Sunday? Things could only be worse if they were in the bottom three and the way things are under this manager that may not be long away.
For God's sake, Kenwright, wake up!!!
Dave Southword
81
Posted 25/01/2016 at 01:40:16
I'm going to clutch a straw to keep me going until Wednesday. Perhaps this is Roberto's Coventry game? The 1983 one.
It's always darkest before the dawn.
Who's with me? Anyone? Hello?
Colin Gee
83
Posted 25/01/2016 at 02:02:04
Dave (#68), Wednesday could end up in a nightmare, Man City will come out and attack us from the start, if they go 2-0 up in the first 10 minutes I fear the worst.
If so we could capitulate and suffer a heavy loss which we never recover from. City when they are up for it they are one of the most clinical sides in the world.
Jay Harris
85
Posted 25/01/2016 at 03:47:16
I looked at the players faces in the tunnel on the way out today and to a man they all looked as if they had just been told their mother had died.
I don't know what if any motivation or preparation is done but for someone whose job is becoming untenable I would expect more fire to be instilled into the team and as regards fitness levels I think Tranmere are as fit as our lads.
It's like an "after you" tea dance with our lads standing off in loads of space and NEVER getting in the oppositions faces.
We are now sitting so deep to try and defend that we haven't got any players forward to give the ball to.
Let's hope this takeover happens next week and the new owners have more ambition than taking a championship manager off their mates hands and paying ¥1.5M for being mugged.
William Cartwright
86
Posted 25/01/2016 at 04:53:14
Dave (75) I'm still with you, but 95% of me tells me that all the other articles are 100% correct. Most insightful being Jay at 78. It may well be that Roberto has lost the dressing room . . . . . . . .
That would be the nail in his coffin. All through his managerial experience he has been completely against criticizing his players, either personally or collectively. One indication of a political or weak mentality - keep them on side at all costs.
He has already lost the supporters and that has been a long slow process, which is a measure of the sincerity of Evertonians, but enough is enough.
I have been surprised at how long it took Roberto to finally turn on the biased Sky 4 refereeng. For 2 years he was completely supportive of the difficulties of the referees; position. However, when "enough was enough" and he voiced a heartfelt reaction to the Chelsea game what happens? He gets slaughtered by . . . . You guessed it Chris Sutton on the BBC. He was an idiot for mouthing it. But the BBC chose to highlight it. . . . . . ! Referreing has cost us so much this season. We are looking like going another full season without a penalty. Unbelieveable.
Bill will watch, and wait, until the current dynamic of freefall, cup-semi final, take-over, supporters reaction and players attitude is played out. If relegation becomes a real prospect then we will see some movement for obvious commercial reasons. You could say the next league match against Newcastle is the really big one and City is just a side show.
All I know is if we get a result at City, and if results take a sharp upturn, then I will be happy to see a reborn Roberto still in charge for seasons to come. (But I don't think it will happen)
Steven Flynn
87
Posted 25/01/2016 at 05:50:26
That's 8 home league wins out of the last 31, with a stat like that there are NO excuses. His tactics at home – ie, lack of pressing, slow in possession – all opposition managers have sussed him out. The Goodison crowd knew it last season.
Richard Lyons
88
Posted 25/01/2016 at 06:18:59
Only looked at ToffeeWeb to see if Martinez had resigned or been sacked. It reminds me of the 1980s when I would wake up every morning hoping Thatcher had resigned (or worse) overnight. The words "on and on and on" keep haunting me...
Mike Price
91
Posted 25/01/2016 at 07:01:54
If you remember it took the Goodison crowd to react to a ridiculous 'sideways' performance last season to change things and almost force a change in style to avoid a relegation battle.
There seems to be a power vacuum with Bill's illness right now, which maybe saving him, so the only way it will change is if the crowd truly turns on him.
I've always given him the benefit of the doubt and thought I would much prefer the chance of a cup and mid table, to the Moyes monotony, but his recent ramblings, added to the Howard farce, makes me want him out as soon as possible.
Mike Price
92
Posted 25/01/2016 at 07:46:21
Also, I don't have any faith in big DF as a motivator, or any high level belief in Stubbs or Unsworth.
The only player I'd like to see involved in our first team structure is Tim Cahill. He's a blue, he's got a non arrogant edge,and he would not accept this level of application from so called 'superstar' egos. Rooney would be a perfect fit but Moyes fucked that up by giving him that joke £300k contract for 2 more years, that all Man Utd fans hate.
Roberto's nice, but just too soft on so many levels,and a bad cup week ahead and surely he's got to go.
John Keating
93
Posted 25/01/2016 at 07:51:31
Remember when we were talking about Moyes going?
People were warning we should be careful what we wish for...
Well – they were right!
Rob Hooton
94
Posted 25/01/2016 at 07:58:46
I've given him the benefit of doubt for too long but after yet another shite performance Martinez had to go.
We need the Wizard of Oz as our next manager as we've shown no heart, courage or brains for some time and there really is no place like Home!
Vinny Garstrokes
95
Posted 25/01/2016 at 09:17:01
Carry on like this and we could be looking at the scenario of Steven Naismith putting us down and keeping Norwich up on the last day of the season!!
Counting on CL football to keep Lukaku, Stones et al seems a distant memory – Premier League survival is now the only realistic target.
Brian Mahoney
96
Posted 25/01/2016 at 09:31:43
I think somebody must have come in with a bid for Stones a couple of weeks ago and Martinez has told him he's going nowhere. Hence his inept performances.
As I said in my previous post, he's playing to get away. He gives a stupid penalty away against Stoke and a blatant one v Man City which we got away with but yesterday's performance was absolutely shocking and I'm not just talking about his blundering for the goal with his partner Howard.
There was one instance in the first half were he just stood still with the ball for what seemed an eternity... totally unacceptable. Is it going to take a shock at Carlisle next week for something to happen? Somehow I don't think so.
Tony Abrahams
97
Posted 25/01/2016 at 09:37:54
How can it be a scoreline that is very hard to take, when we keep making the same stupid defensive mistakes?
I can tell you what is very hard to take, and that is watching Everton put in so many lacklustre performances at Goodison Park.
I can tell you what is even harder to take and that is keeping Howard in goal, when everyone can see he's finished at this level.
And I can tell you what is very, very, hard to take, is watching young players who are fucking shattered after 60 Minutes. Especially when those young players have got all the ability in the world.
You have turned Goodison into a graveyard, Roberto, and if you don't get us to Wembley on Wednesday, I'm not sure you will be ABLE to take the level of abuse, that will surely come your way.
John Keating
99
Posted 25/01/2016 at 09:50:56
To be honest, Tony, I can't see Man City slipping up on Wednesday.
In a strange sort of way and though it's against everything I love about my Club, getting a result against City might do us more harm than good in the long run. It may well, in many people's minds, paper over the cracks about how we are run and managed and give this clown longer to achieve the inevitable.
Our priority now, as last season at this time, is to obtain 40 points. Sounds crazy but I'd be happy for draws now!
Tony Abrahams
100
Posted 25/01/2016 at 09:54:25
Patrick 45, I remember getting told a story off my brother when Walter Smith got fired. It went along the lines of a very good Evertonian, who was really quite pally with Kenwright at the time, telling Bill in no uncertain terms... That if Walter Smith wasn't fired, it wouldn't take long before the crowd turned on him.

Phil Walling
101
Posted 25/01/2016 at 10:01:19
Whichever way you look at it, RM's record over the past two seasons stinks. His record over four seasons at Wigan also stank but his reputation was saved by the FA Cup win and the Cinderella nature of that club.
Of course, he's had his moments and some have got off on his pretty football philosophy and the progress of young players. But he doesn't win enough Premier League games and never has.
It will be ironic if it's a failure to bury Carlisle in the FA Cup that finally does for him!
Tony Abrahams
102
Posted 25/01/2016 at 10:18:14
John, I'm desperate for Everton to win silverware, mostly for the younger generation, which includes my two sons. But no way will it paper over the cracks, unless we fucked Liverpool in the final, obviously!!!
Adam McCulloch
103
Posted 25/01/2016 at 10:40:19
Scrolling through these comments after yesterday purely vindicates the anger I feel towards Señor Soundbite. The man is utterly hapless, and sadly we are totally helpless. He won't walk, money talks too much now. And whoever is in charge will keep things steady until the summer. We are guilty of failing to capitalise on one of the most open campaigns in years, and yet we are lucky that there are some truly dire teams below us and keeping us out of a dogfight – for now.
As for the comments regarding Goodison, of course it's fucking flat; even when results have gone our way over the past year or more there has been a nagging doubt over Martinez and his side. I put it down to my own familiar seeds of cynicism but like some ghastly prediction of an upcoming Armageddon it's starting to turn true.
Those early heart-stopping moments of Distin and Howard trying to play the ball out, rough, uncut diamonds up front going from the sublime to the ridiculous, ever-glowing praise from the man on the touch line when points were dropped. It was all there, and now it's every fucking week.
Tony Abrahams
104
Posted 25/01/2016 at 10:57:32
Adam, when Martinez took over, I heard a story that Graham Jones was saying that they would not abandon their principles for nothing.
Jones was told by a member of the staff, that they wouldn't be able to kid the Everton crowd. It looks like he either chose not to listen, or he just kept it to himself.
watching Everton under Martinez, I sometimes get the feeling that results don't really matter, and when I see a team as talented as ours in 12th place, it really does make me think, that the players are getting told this AS WELL.
Adam McCulloch
105
Posted 25/01/2016 at 11:10:20
Tony, I can totally imagine that. Yeah, you can put it down to years of "here we go again," and after Moyes and the way things looked to be stagnating a bit of positivity might have been a good thing. But not at the expense of passion.
There are always going to be games that don't go your way, big decisions or sheer luck. But I was fuming at the Chelsea game last week not because of that elbow-faced Mockney Terry scoring from an offside position – but because Martinez would have another get out.
Constant excuses are bad enough, and plenty of other managers do the same thing every Saturday, but essentially celebrating draws like victories and defeats as lessons has become too much. The story about Jones speaking about a lack of compromise is exactly the kind of pig-headed mentality we are left with.
Vijay Nair
106
Posted 25/01/2016 at 11:12:27
Thanks Patrick, I stand corrected on Kenwright and Smith.
Tony Abrahams
107
Posted 25/01/2016 at 11:28:46
Adam, sometimes I can actually take pigheadedness all day, it's the absolute contradictions that I can't stand.
If you are going to persist with this way of playing, surely your keeper, must be able to play on the front foot, and have good feet.
Howard with the ball at his feet has never made for good viewing, it's bad enough watching the way he rushes his goal kicks to be honest. He's like a thief who can't wait to get rid of his stolen goods, except for the telly!!
Phil Roberts
108
Posted 25/01/2016 at 12:33:56
Thankfully we will not get relegated. We almost have to lose all the last 15 games. We have 29 points an Newcastle, Aston Villa and Sunderland are likely to not get more than 33-34.
So where are we getting the 5 points? I said, when he arrived, he would be useless... despite the first season.
Barry Pearce
109
Posted 25/01/2016 at 12:45:04
Swansea did what we might have to, if results keep going the same way. They got the lead and defended for their lives we weren't good enough on the day to break them down. Sadly Martinez doesn't seem to be interested In grinding out a result. It's against his philosophy idiot.
Oliver Molloy
110
Posted 25/01/2016 at 13:00:18
I have watched the match back again. We should have had a free kick for their second goal, Williams definitely intended to handle the ball. It was clear as daylight, ball to hand, and he was the last defender. The referee bottled it.
The Incredible One cannot be held responsible for Lukaku and others missing tap-ins. Coleman's failure to score at the death was unbelievable.
So yes, it is more or less the same, failing to take our chances and being hampered by some awful refereeing.
Of course this not excuse the total liability we have in messing about at the back, and for me that is the worst of the lot. The manager and coaches are totally responsible for the way our defence plays the game. Senior players like Jagielka, Baines & Barry should knock on his door and tell him NO MORE.
John Stones can make all the mistakes he wants at his next club, but it ends now with us. And we want Robles in nets... somebody has to do something.
Phil Walling
111
Posted 25/01/2016 at 13:00:44
Since posting earlier, I got to thinking what Kenwright will do if the Yanks walk away and Martinez continues to flatter to deceive.
My gut feeling tells me he will turn to the guy who served him so well. David Moyes! He'll probably say that the time for gambling on philosophies is over and we need points on the board.
Who's to argue with that? But Moyes as our saviour? I'm not so sure if I could take it!
Bill Griffiths
112
Posted 25/01/2016 at 13:27:01
There doesn't seem to be any middle ground regarding our Roberto. Since he was appointed, my own views have usually been polar opposites: he's either a genius or cretin every few games.
While I am now starting to feel more and more that he's got to go, he has brought some improvements to the club which should be recognised.
The big question is though if he does go who do we get to replace him and this worries me quite a lot. Personally I would like someone who continues a large part of his plan and philosophy such as getting old players & managers more involved and also building up the academies and signing good youngsters with great potential.
Again personally I think we need someone with a recognised pedigree – though I haven't got a clue who. I did see one post on this site mentioning Rafa; while that wouldn't sit easy with me, I think I would at this moment in time take him over Roberto.
It's not really just about getting rid of Roberto; it's a lot more about who we would get instead of him.
Bobby Thomas
113
Posted 25/01/2016 at 14:06:27
Indeed Roberto.
The "bad luck" of conceding of shit loads of goals at home, again & again & again.
Chris Williams
114
Posted 25/01/2016 at 14:20:07
Apparently we've won 11 times in the last 50 league games under this manager. Not too clever.
Fran Mitchell
116
Posted 25/01/2016 at 14:31:48
Rudi Garcia, recently sacked by Roma, finished 2nd two season's on the bounce with Roma. Had previously Won the french league/cup double and manger of the year in france for 3 consecutive years. On average has almost 50% win record (more than 50% in his last two jobs).
At 51, has experience but young enough and could well have enough pull to keep our key players for at least one year.
Patrick Murphy
117
Posted 25/01/2016 at 14:36:38
Roberto's relegation team at the same point of the season as now ie 23 games, recorded 5 wins, 4 draws and 14 defeats scoring 25 and conceding 43 with just 19 points on the board. Given the current Everton team is very much stronger than the team he had at Wigan and that we have a proven goalscorer in Lukaku it has to be confirmation that Roberto doesn't do defence, even when his Wigan team were unable to score goals often enough.
For this current Everton team to be only 10 points better off than his Wigan team is unbelievable for Everton to only have 3 more points than we had at the same stage last season is also unbelievable but as much as different opinions split the fans on occasions these sort of stats in 3 of his last 4 seasons as a PL manager are pretty damning evidence that he doesn't have what it takes.

James Stewart
118
Posted 25/01/2016 at 14:37:14
Pellegrini would be the most obvious one to me. Settled in the area, worked with top top players, won titles, knows Everton from his Villarreal days and out of a job in summer.
Only question mark would be recruitment but he's not even in charge of that at City so hard to say.
Danny Cleary
119
Posted 25/01/2016 at 14:45:43
Martinez faces the most important week of his tenure to date. The fans' anger at his belligerence is finally starting to boil over the top... the obsession with playing out from the back has crippled our season.
John Stones needs to start attracting plaudits for defending rather than passing the ball out from the back; if he was that good a passer, he would have been coached into being a midfielder... his job is to contribute towards clean sheets. Funes Mori is a far better all-out defender than him.
Roberto's philosophy has been found out; yes, on its day, it can beat any team... but, over the course of 38 games, it's been well sussed out. This is why success in the cup competitions is all we can hope for.
If the club do get rid, I would hope they resist any urge to sound Moyes out... fuck going back to them days of listening to him moan and complain about taking knives to gunfights. He is a born Loser, great for a team where his mandate is to keep them in the Premier League, but he will never manage a team to a trophy or Champions League places .
Sam Hoare
120
Posted 25/01/2016 at 14:47:12
So tempting to get drawn into new manager talk but realistically what odds on Bill sacking him, even if we lose on Wednesday? Very slim, I'd say.
Perhaps if we fail to beat Newcastle, Stoke or West Brom in our next 3 league games then it might force his hand as we slide down the table but otherwise I'd say Roberto is under little threat. Betway still has him at 40-1 as next manager to get fired.
Tony Abrahams
121
Posted 25/01/2016 at 14:48:42
See that Phil?
John Jones
123
Posted 25/01/2016 at 15:23:16
Surprisingly you can get better odds on no manager to be sacked than Martinez leaving.
Something has to change.
Steavey Buckley
124
Posted 25/01/2016 at 15:41:59
The second half may have been more productive if the manager had brought on Lennon instead of Coleman who missed two glaring sitters.
The manager does have form for bringing on the wrong substitutes. One wonders which empty cup of tea leaves at the bottom does he consult before deciding on who to bring off and who to bring on?
Winston Williamson
125
Posted 25/01/2016 at 15:45:21
How about Bernd Schuster? his overall win % as a manager is 44%. Admittedly, he hasn't any Premier League experience, but has managed big-named players...
James Hughes
126
Posted 25/01/2016 at 15:50:25
Surely the Board are taking notice of the growing discontent, especially on this site. I waited 24 hours before logging on as I was furious and if I had come across the 'work in progress' or 'something special' BS I would have ranted so much I would have been banned.
We are pure dysentery at the moment and we have talented players who should be getting results not defeats.
Roberto please leave, go on, do the right thing and admit you are burger bar chef running a Michelin unit
Phil Walling
127
Posted 25/01/2016 at 15:53:06
Stevey, you can't blame Martinez for Coleman's miss, a kid in the park would be ashamed of that one. And the same goes for Stones' lack of judgement in the penalty incident.
Everyone knows my views on the manager but it's about time we all started getting real about some of the players in ' the best team since '87' !
They ain't as good as we'd like to think they are.
Chris Williams
128
Posted 25/01/2016 at 16:00:22
A composite team consisting of current players and 1980s players would look something like
Southall
Stevens or Coleman
Jags or Watson
Ratcliffe
Baines
Steven
Reid
Brace well
Sheedy
Lukaku
Sharp or Lineker
Or something along those lines. The point being that overwhelmingly it would comprise of players who are not current players.
It may or may not be the best since those days but it's still a long way short.
Brent Stephens
129
Posted 25/01/2016 at 16:17:36
James #117 "We are pure dysentery at the moment".
Wonderful, James. A better class of vulgarity. It's better than the bog-standard (!) word as this conveys the continuing nature of the problem.
Harold Matthews
130
Posted 25/01/2016 at 18:12:55
Hmm Brent, "Bog standard dysentery", good thinking.
Ste Traverse
131
Posted 25/01/2016 at 19:03:54
Bill Griffiths (#106)
It was me on another thread who mentioned Rafa. I would take him in a heartbeat, I'm not even arsed he used to manage them. He'd certainly have this side better organised, that's for sure.

His stock isn't particularly high at the moment. I reckon he'd take the job.

Paul Kernot
132
Posted 25/01/2016 at 19:35:52
Damian (#67). Back in the late '60s when my dad took me to my first games, there was a bloke behind us who I'm sure also frothed at the mouth as he screamed, at least 40 - 50 times a game at the top of his booming voice – "GET A GRIP, EVERTON!!!'
It was the only phrase he knew. If he's still around, changing the last word to 'MARTINEZ" would make him far more appropriate now than back then when we were playing decent football.
Pete Ellingham
133
Posted 25/01/2016 at 19:37:20
I actually used to like Martinez and thought he would turn things around after last season; how wrong was I! He is deluded if he thinks we have anyone else to blame but ourselves for our performances.
I am fed up with the same excuses after defeats or lost points and as a lot of people have said our players look so unfit when you compare them to other teams. Still so bloody angry!!
Frank Crewe
134
Posted 25/01/2016 at 19:45:33
Phil 118. What can we blame him for then? Our league position? Only 11 wins in 51 games? Relentlessly picking Howard? I could go on but I think you get the picture.
Stones was in the corner two feet from the touch line. Just kick it and give them the throw. That's the professional thing to do. But No! I'll try a risky pass back to the GK 25 yards away. After all the manager wants us to "express" ourselves and possession is all important.
Also how can a side with a qualified physio as manager have so many fucking hamstring injuries?
This man will never improve this squad. They went all out to buy Lukaku for him. We knocked back £38 million quid to hang on to Stones. What have we got to show for this? A squad who according to RM is scared to play at home. A miserable twelfth in the PL. Top class young players totally wasted by harebrained tactics and a total lack of professionalism.
RM has to go and the sooner the better.
Harold Matthews
135
Posted 25/01/2016 at 19:50:30
Interesting to see Britton flying here there and everywhere. He was a winger till our manager converted him to defensive midfield. Pity he didn't get Lukaku and Funes Mori to swap positions in the second half. The ex-River Plate lad would have loved those Delboy crosses.
Incidentally, we should have had a penalty when a defender deliberately pushed Barry in the back and caused him to miss a good aerial chance around about the 70th minute. The ref had an easy afternoon but made two or three decisions which cost us. The Williams handball switched the play, giving them an unfair advantage. This cannot be right.
Other things not right are the lack of wins and fans being genuinely upset and worried. We haven't hit crisis point yet but clubs below us are spending big money and several will improve and climb the table. The time when home games secured safety has long gone and Martinez, his staff and the players need to get their act together. Pronto. Being beaten at home by struggling Swansea wasn't down to bad luck. We simply weren't good enough.
Russ Quinlan
136
Posted 25/01/2016 at 19:58:26
It's sad to say that EFC will not sack RM. They did not sack Moyes and his last couple of years were just as bad: if Man Ure hadn't persuaded him to go he'd still be here, maybe with a better defence but with nobody scoring.
The worrying thing is, I feel the Board don't care and even if we finish 4th bottom they will be happy.
Something really has to happen and even getting to the League Cup Final shouldn't save him, he won the FA Cup with Wigan and look where they ended up.
We do have the players, we just don't have a Manager who knows how to use them.
Frank Crewe
137
Posted 25/01/2016 at 20:00:40
James (#111) and anyone else who advocates Pellegrini, or any other big name manager of a rich club.
They never got where they are today by managing potless mid-table also-rans. They want big transfer budgets and Champions League football. Neither of which Everton have or are likely to have anytime soon.
We need someone like Ronald Koeman. He knows how to play attacking football without sacrificing proper defending.
Just forget the "rich club" managers and get in someone who knows what he's doing and get rid of this fantasy football dreamer we have now.
Tom Bowers
138
Posted 25/01/2016 at 20:03:25
It could be significant this week if Man City put them out and then they have a poor result at Carlisle, which is always possible when teams are struggling to win games, and they play away in the cup at a lower league ground.
Perhaps then RM will be removed.

Teddy Bertin
139
Posted 25/01/2016 at 20:55:44
I can't see Pellegrini coming. Unai Emery Would be worth a shot but I can't see him leaving La Liga.
Personally I'd like to see Marcelo Bielsa over here, surely he'd like to have a crack at the Premier League before he retires.
Rudi Garcia is a great shout if Martinez was to be sacked now, but he won't be and I think he should be given till the end of the season. His football suits cup games and that's all we have left to play for now anyway.
Regardless I'm NOT in the camp of fans who would like to see us lose against City, just to hasten Martinez's exit.
Bun McGale
140
Posted 25/01/2016 at 21:30:58
Frank 128, I totally disagree with what you said. The reason the likes of Pellegrini, Mourinho and those coaches get the top jobs is because they have been successful in teams that were not quite fancied.
Pellegrini brought Villarreal to the semi of the champions league on a shoe string budget compared to others. Mourinho as we know won the Uefa Cup and Champions League with Porto. Going back further Alex Ferguson won European honours and broke the old firm with Aberdeen before he got Man Utd job.
My point is if the club want to show true ambition they need to be approaching the likes of Pelligrini, Benitez, De Boer ie managers that have won, accomplished something with lesser clubs and show ambition to go further.
Martinez's record is nothing short of disgraceful and that was before he got the Everton job. Forget the FA Cup win – it means nothing when relegation followed
Dick Fearon
141
Posted 25/01/2016 at 21:33:31
Martinez is going nowhere! Get that firmly fixed in your noggins. Like Moyes he will have complete control for as long as he wants. Don't waste time on wishful thinking.
Same as the Koppites we must get organised. Boycotts, Protest marches, CDs, Aerial sign posts, Letters to papers, In-ground demos, Talk-Back radio, Tee-Shirts etc – make use of those and any other means to express our disgust at boardroom and Martinez failings.
Until or unless that happens we are just pissing in the wind.

Ian Smitham
142
Posted 25/01/2016 at 21:53:07
Phil (#102), not having a go at you mate, in any way, you raise a good point.
More interested in seeking the views of the critics of Moyes, those who whinged at his "Let's get to 40 points" attitude.
Ernie Baywood
143
Posted 25/01/2016 at 22:02:55
It shouldn't be Martinez vs Moyes. We're a big club with a rich heritage and a respectable recent history.
Why is it a straight choice between conservatism and delusion?
Mark Daley
144
Posted 25/01/2016 at 22:06:53
Tom Bowers (#129), a voice inside me tells me to hope for that.
Conor McGregor
145
Posted 25/01/2016 at 22:20:01
It's not all Martinez's fault or Tim Howard's for that matter but yesterday's performance was very poor and it's being happening for the last 18 months.

If we get beaten by City on Wednesday night, I'd get rid there and then put Dave Unsworth and Joe Royle in caretaker roles til the end of the season.

And then we have four months to interview new managers.

Biesla, A Conte, Frank de Boer, Koeman, Sampoali, Mark Hughes, Tony Pulis, Eddie Howe, Cocu, etc.
Don Alexander
146
Posted 25/01/2016 at 00:05:25
Total shite is a given every time Martinez speaks.
His "philosophy" of attractive football has been compared by some to aspiring to the likes of Barcelona's style. Very worthy. But if anyone's actually watched Barcelona for the last few years you see their tippy-tappy taking place all round the edge of the opposition's penalty area for ages, not like us on the halfway line or the edge of their own. Their tippy-tappy is mesmerically good and successful but it not only takes great physical fitness to ping the ball around like that and then to provide loads of options for the receiving player to lay it off to the next recipient, it also takes even more fitness to win it back on the rare occasions the opposition get possession. Barcelona still regularly win it back in the opposition's half.
So, hugely fit players are compulsory, as is years of practice on the training pitch for most of those making the first team (according to them Guardiola has made Bayern's players sweat blood since he took over....hence they keep winning).
To me it's been crystal clear since he took over that our players under him are very unfit indeed and very, very poorly coached.
Anyone who watches football can see this and genuine professionals talk on TV about it, so what the fuck is Martinez watching on his much boasted dozens of TV's at his home?
I can only assume it's, "It'll Be Alright On The Night" or "Gym Won't Fix It"?
Ralph Basnett
147
Posted 26/01/2016 at 07:01:08
I cannot believe that his post match interviews now he is analysing our LUCK!!!!!
Jesus, give me strength, this man is a buffoon.
"You need a certain kind of luck, we just had no luck, we have the wrong kind of luck."
The bad luck is that we have you as our manager!!!!
Ian Jones
148
Posted 26/01/2016 at 07:24:41
Conor. Not sure if I would include Tony Pulis but if you are considering him as a manager to keep us away from relegation then you may have a point.
I raise you Ralf Rangnick.
Harold Matthews
149
Posted 26/01/2016 at 11:37:03
Martinez is king of the castle, has long term plans and is going nowhere.
Add Your Comments
In order to post a comment, you need to be logged in as a registered user of the site.
Or Sign up as a ToffeeWeb Member — it's free, takes just a few minutes and will allow you to post your comments on articles and Talking Points submissions across the site.
© ToffeeWeb