Martinez denies MLS approach for Howard
by

28 Comments [Jump to last]
| 25/01/2016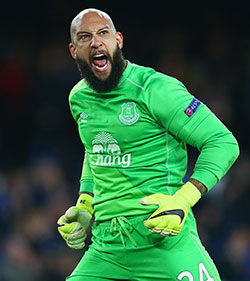 Roberto Martinez said there was nothing to comment on when asked yesterday if Colorado Rapids had made an approach for Tim Howard.
A report by ESPN last week suggested that the MLS side could take advantage of the fact that they hold the No. 1 spot in that league's allocation ranking, giving them first priority to acquire any player on their allocation list by moving for the the American international goalkeeper.
Speculation ignited on social media on the back of that report on Saturday evening when U21s goalkeeper Russell Griffiths mentioned on his Instagram account that he was to be included in the matchday squad of 21 for yesterday's Premier League game with Swansea City. (The inference being that one of Howard and Joel Robles would not be on the team sheet but it turned out that Griffiths was the third-choice 'keeper in the 21.)
Talk grew louder when Howard apparently began following the Rapids on his own Instagram account before later locking access to it to accepted followers only.
"No at the moment there is nothing," Martinez told the Liverpool Echo after the defeat to Swansea in which Howard conceded his fifth penalty in a little over two years with a clumsy attempted clearance that took out Andre Ayew instead of the ball. "There is nothing to comment on."
Howard was insistent when he signed a new four-year contract at Goodison in 2014 that he had closed the door on ever playing in MLS by committing his future to Everton.
Poor form over the past two seasons, public scrutiny of his performances in the media and a deteriorating relationship with a section of the Blues' matchday support has led to rumours that the 36-year-old could move back to the States to finish his career after all.
---
Reader Comments (28)
Note: the following content is not moderated or vetted by the site owners at the time of submission. Comments are the responsibility of the poster. Disclaimer
Ian Riley
1
Posted 25/01/2016 at 21:47:19
Never any good news anymore.
Mark Daley
2
Posted 25/01/2016 at 21:52:39
This sounds promising.
Colin Glassar
3
Posted 25/01/2016 at 22:02:54
He gets paid a kings ransom, he never gets dropped so why would he leave?
Ernie Baywood
4
Posted 25/01/2016 at 22:05:06
If he's not going to drop him then he's hardly going to flog him.
And it would leave us with only Joel and no goalkeeper signing seemingly on the horizon.
Jamie Sweet
5
Posted 25/01/2016 at 22:25:10
I will give him a piggy-back all the way to Colorado.
Brian Williams
6
Posted 25/01/2016 at 22:30:12
Take the fucking pair of them for Gods sake!!
Jamie Crowley
7
Posted 25/01/2016 at 22:46:17
It's time for him to leave. He's been a very good servant (model servant in my opinion) for Everton but this last year in particular his form has dipped to unacceptable levels.
I have no other option than to follow Everton the bastardized way – on TV. But even on television you can see it... I have never, ever, in my short (is a year shy of a decade "short"?) time following Everton seen the Gwlady's street end get on someone like they have Howard. You can hear it on the television – the mock cheers when he catches a simple ball out of the air off his line, the groans and disapproval when he stays rooted on his line, and the abuse he receives lately when he makes a mistake.
You can debate all you want if he should be treated with contempt but one thing's for sure – his time is 100% up. When the fans make up their minds?...
Hell, even being MotM against City and playing a stellar game like that can't reverse the sentiment.
He needs to move on. This summer at the latest. Back home to the US with the Rapids works well enough...
Anthony Dwyer
8
Posted 26/01/2016 at 00:09:44
Howard has had his day, its time to move on. He has been a good keeper for years but in football you simply can not live on past reputation.
Unfortunately, Howard is going to be remembered in the short term as a bit of a dodgy keeper with to much to say and in a way, its a sad state of affairs.
He only has himself to blame too in my opinion. His form since the World Cup has become very disappointing, with error after error. To some degree, that could be forgotton, or blamed on Martinez for not dropping him, but what is leaving the bad taste is his big mouth and terrible attitude towards the fans.
This is why he has become disliked, he has simply become to big for his boots, and his arrogance is offensive .
Hurry up and leave Tim while there is still some good memories.
Take Bobby too!
Gerry Quinn
9
Posted 26/01/2016 at 00:11:33
Not sure the Rapids would have him either based on recent performances, Jamie!
James Wong
10
Posted 26/01/2016 at 02:05:48
It must have been pretty embarrassing for Howard on the weekend. The jeering was so loud for Howard when he caught the ball on the telly that the commentators had to comment on it. It sounded as though the entire Gwladys Street end were mocking him.
Harold Matthews
11
Posted 26/01/2016 at 02:06:34
Whoever decided on a 4-year contract should go with him.
Derek Thomas
12
Posted 26/01/2016 at 02:24:42
Whoever can you mean, Harold? Also, we could add to the list of taxi passengers, the person or entity who gave your mystery man HIS recent extension as well.
Gerard Morgan
13
Posted 26/01/2016 at 02:27:13
Seems unlikely according to this:
http://www.denverpost.com/rapids/ci_29431108/zac-macmath-rapids-new-starting-goalkeeper-hopes-help
$130k is about a fortnight's wages for Howard, I'd have thought.
Anto Byrne
14
Posted 26/01/2016 at 02:47:53
I would have thought that the Goalkeeper of the Year would have lots of clubs knocking on our door to see if he is available. What is his current value? Whoever wants him just buys out his current contract surely? It would be a win-win for all concerned.
Harold Matthews
15
Posted 26/01/2016 at 03:18:32
Yes Derek, it's all quite sickening.
Peter Morris
16
Posted 26/01/2016 at 07:36:23
They'd have to change their name to Colorado Rapid Declines very soon after signing him!
His abilities now are well suited to MLS, which is basically five-a-side on full sized pitches. No physical contact for the goalkeepers, and lots of one-on-one shot stopping. Perfect.
Brian Mahoney
17
Posted 26/01/2016 at 09:37:00
We've always got the Goodison cat – at least it wasn't scared to come out of the box!
Tomos George
18
Posted 26/01/2016 at 11:33:10
Please let this happen.
Charlie Burnett
19
Posted 26/01/2016 at 12:00:35
It doesn't matter how he plays – we are a money-making business. Him being in the team just keeps the name 'Everton' floating around America.
Just like the film The Creed, it's just keeping the badge and getting the name of Everton FC noticed out there until we get bought. It's all about trying to sell this club.

Alan McMillan
20
Posted 26/01/2016 at 12:28:21
So we'd be paid to get rid of him? We would never be so lucky...
James Flynn
21
Posted 26/01/2016 at 12:55:32
Harold (#11) – "Whoever decided on a 4 year contract should go with him."
This.
It's not Roberto's money and every manager has his hits and misses with signings. But Tim didn't get 4 years at age 34 without Roberto having some input.
Tim's main strength was his terrific athleticism AND Moyes building a formidable defense in front of him. These, combined, mitigated his weaknesses in and around the box. Both those things are gone now and have been.
Competition for the starting position should have happened in pre-season. But, Roberto was stuck due to OKing the 4-year deal. He'd have to explain to the owners why his 4-year deal man (with a pay rise, to boot) was sitting and watching the game with the rest of us so soon into his new contract.
So, the team, us, and yes, Tim too are left to hang out to dry because nothing can ever be our manager's fault. He won't take the responsibility for this mess, either.
I always liked Howard. Back when you couldn't get Everton on TV unless they were playing Man Utd or Arsenal, I always checked Everton's box-scores to see if we'd gotten a clean-sheet. When he was installed as our 1st 11 keeper prior to the 2006 World Cup, he was always a model spokesman and genuine team leader for the National Side. 2010 and 2014, too. And it was him personally who raised Everton's profile in the States. Anyone following our Men's Team knew who Everton was because of Tim.
It's all too bad. He's had to go for a while now and no doubt of it. But it's on Roberto for not doing anything about it.
Derek Thomas
22
Posted 26/01/2016 at 13:09:05
James @18; spot on...2 wrongs don't make a right and / or...It takes a big man to admit he's wrong. but it'll will never happen
Brian Hill
23
Posted 26/01/2016 at 15:04:07
It is curious that Martinez is blamed for Howard's contract. The Board of Directors, via Elstone, are responsible for all employee contracts. Martinez can only make recommendations, which said Board can reject.
If the Board determines that a 34-year-old, indisputably declining goalkeeper is worthy of a 4-year extension, then shame on them, yet again.
John Davies
24
Posted 26/01/2016 at 15:42:19
Martinez would have gone to the Board, spouting his usual drivel about how good Tim Howard is and got him the 4-year contract. Howard cannot be blamed for that.
Martinez and the Board have again managed things with their customary incompetence. Howard has been a brilliant keeper for us but it looks like his time is now up. However he won't go without some serious compensation.
Yet another Martinez cock-up and until he's gone we'll have to put up with many more. He'll not be going anywhere either though, he'll not get another job in top flight football.
I'd keep Howard every day of the week provided Martinez was shown the door first.
Craig Harrison
25
Posted 26/01/2016 at 18:01:56
Two things that may be of interest:
1) The approach to sign Howard would come from MLS not Colorado as all the contracts are owned by MLS;
2) Colorado just traded their goalkeeper last week to Toronto.
Here's wishing this comes true...
Colin Glassar
26
Posted 26/01/2016 at 23:15:07
This is a done deal but in May.
Michael Polley
27
Posted 27/01/2016 at 09:38:47
Expect him to go in the Summer. Finding a decent replacement keeper is not going to be easy though.
Denis Richardson
28
Posted 27/01/2016 at 18:37:39
If he does sign a contract to go in 4 months then Robles should immediately be put in as no.1. The guy a) needs games and b) needs to be given a fair crack to prove himself.
Add Your Comments
In order to post a comment, you need to be logged in as a registered user of the site.
Or Sign up as a ToffeeWeb Member — it's free, takes just a few minutes and will allow you to post your comments on articles and Talking Points submissions across the site.
© ToffeeWeb