Robles back in for semi-final decider
by

53 Comments [Jump to last]
| 26/01/2016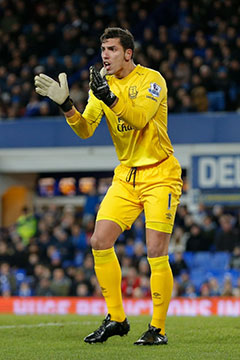 Roberto Martinez will stick with his policy of deploying Joel Robles as his goalkeeper in the cups this week after confirming that the Spaniard will be between the posts at the Etihad Stadium as Everton hope to book their place at next month's Capital One Cup final at Wembley.
Despite the manager's insistence this season that Tim Howard remains Everton's first-choice goalkeeper,  Robles has played in all of the Blues' cup ties and will be handed that responsibility again tomorrow evening as Martinez's men look to put the disappointment of Sunday's defeat to Swansea City behind them.
"I think Joel has been magnificent this season," Martinez said in his pre-match press conference this afternoon. "He's had a really big role in our success in the League Cup … and that's what you want from every player — to show that mentality of being ready and to show that the team can rely on that individual."
Pressed to confirm whether Tim Howard is still his number one goalkeeper, Martinez deflected the question by saying, "There's nothing to comment on that. We're preparing for the game tomorrow. It was a really difficult result to take at the weekend.
"As we all know, in the first half we weren't up to the standard as a team  and second half we were as good as you're going to see from a team in controlling the game, dominating and creating chances. That wasn't reflected in the score and that's a concern or an aspect that we have to change but now all we're doing is looking forward to enjoying a second leg in a semi-final of the League Cup.
"It's a momentous day. We're going to have 8,000 of our fans and we're really looking forward to facing a really strong team, as well all know, but I feel it's going to  be a terrific game."
Martinez confirmed that both Seamus Coleman and Phil Jagielka are fit enough to start and he suggested that the skipper will return to the starting XI after being rested entirely against Swansea. James McCarthy will be given a late assessment to determine 'what sort of role he can fulfil", in the manager's words, but Muhamed Besic and Kevin Mirallas are both ruled out with hamstring and thigh tendon injuries respectively.
"Phil Jagielka is a very important player for us but with five games in 13 days it's impossible for some certain players to play every single minute," Martinez continued.
"It's a real opportunity for us to have Phil Jagielka refreshed and fully fit going into tomorrow's game. We need to make sure we use the squad wisely and well because, as I say, five games in 13 games is a real test of the strength that we have in the squad."
---
Reader Comments (53)
Note: the following content is not moderated or vetted by the site owners at the time of submission. Comments are the responsibility of the poster. Disclaimer
Anthony Flack
1
Posted 26/01/2016 at 17:53:12
I wonder in blind hope if one can read between the lines and interpret these comments as an indication that it is dawning on him how poor Howard is.....
Just maybe, fingers crossed
Karl Masters
2
Posted 26/01/2016 at 17:53:38
If ever there wax a time for a sound defensive display this is it.
I am sure we can make it through.
The situation is a carbon copy of Chelsea's position against us in the last league cup semi 8 years ago. If we do what they did, and defend well before a breakaway sucker punch late on it will be a job well done.
COYB!!!
Jay Harris
3
Posted 26/01/2016 at 17:56:04
We can't just blame Howard for the continual defending mess, Anthony.
The manager has to take most of the blame but won't and therein lies the problem.
Anthony Flack
4
Posted 26/01/2016 at 18:09:26
Yes Jay you are right, and he is a big part of the problem, I think he is bad enough often enough to single out. Not since Gerard have we had such a poor keeper.
William Cartwright
5
Posted 26/01/2016 at 18:25:36
I can't see the logic of playing 1 keeper in the cups and 1 in the league. It is highly unlikely that any two keepers are the same in terms of quality. Also a keeper can be called upon to make only 1 save during a whole match and he succeeds or not. In the next game the keeper may be overwhelmed by the opposition. Direct week by week experiences and thus inevitable comparisons don't really have any meaning.
Shilton and Clemence used to rotate between the sticks for England but that was different. It was more of a mutual respect thing that did the job many times over for the intermittent international games.
If the club manager was to select his keeper based upon weekly performances in training then OK, but it would then seem Roberto has clearly more respect for Howard than he has for Robles. No issues in principle, except the quality of performances don't seem to match up? Thus it follows that Roberto has more respect for the league than the cup(s).
If Roberto was really doing his job, then surely he would pick his goalkeeper considering form, fitness, attitude, the nature of the opposition, the overall defensive set-up on the day and so on. By not doing this exercise then this does seem to undermine the actual role of the keeper in the mind of the manager, when it is generally acknowledged he is a foundation of a really successful team, such as Arsenal and that rather good ex Chelsea chappie.
The point is, there is no real point to having a 'league' keeper and a 'cup' keeper other than a squad rotation principle. If squad rotation is a requirement then alternating keepers either by alternate games or short runs followed by short breaks would be better than just being played when a cup game comes around. In this approach the cup only goalie is severely disadvantaged with never having the opportunity to get into a groove of form?
The last point reminds us that Robles is performing extremely well in the poorly managed circumstances.

Christopher Dover
6
Posted 26/01/2016 at 18:28:17
In the news conference he answered two questions with one word answer: Have you a replacement for Naismith? And are the Irish two going out on loan? Answer No.
Every other answer was a load of waffle, he missed his calling – should be a spin doctor.
Christopher Timmins
7
Posted 26/01/2016 at 18:33:54
Here's hoping that we can pull off a shock tomorrow evening and make it through. It will take a big effort but hopefully we can it through!
A long time has passed without the club winning some silverware and this represents are best chance this season.
Maybe tomorrow evening will be another Oxford United moment for the club.
Timothy Blanshard
8
Posted 26/01/2016 at 18:35:38
I'm all for managers protecting young players but for the first time today I binned Roberto's pre Man City press conference, if an individual player is playing gash say something that us fans get get our heads around.

Just what is he getting out of protecting our magnificent 12th place and shite performance at home, his press conferences are completely doing my cake in.
Charles McCann
9
Posted 26/01/2016 at 18:40:15
Delighted to have Robles in goal for this match. Persisting with Howard is the single biggest reason for our poor form this season. Roberto's loyalty to Howard could ultimately cost him his job and unless he acts fast and replaces him on a permanent basis the calls for his own head to roll will grow louder and louder.
Liam Reilly
10
Posted 26/01/2016 at 18:40:59
For this first time he appears to be leaving open the keeper position until we see how Robles does tomorrow.
If he steps up to the plate over the next two games the jersey may finally be his. Cue a nightmare against City and Martinez telling us all about how important experience is.

Trevor Lynes
11
Posted 26/01/2016 at 18:43:16
Stop blindly blaming the manager for schoolboy errors by highly paid professional footballers.
If we are to be involved in a beneficial takeover the last thing we should be doing is lynching the manager for all the bad form of the players.
Ian Robert
12
Posted 26/01/2016 at 18:50:50
Are we also missing that he will probably drop our Argie for Stones? This guy plays the reserve keeper in cup games... lots of clubs do... it doesn't remotely mean hes actually thinking how shit Howard has been.
Jay Harris
13
Posted 26/01/2016 at 19:08:28
Trevor nobody is "blindly" blaming the manager.
His shortcomings are pretty obvious for all to see.
It is a pretty commonly understood principle that you defend and attack as a team.
Good managers know players make mistakes and arrange cover for it.
Good managers encourage their players to put pressure on the opposition. Martinez encourages our players to stand off and give them space.
Of course the centre halves and GK will look as if they have made individual mistakes because they are left so exposed by the fact they are covering the full backs and the forward MF players are allowing the opposition to pick passes out or hit empty spaces.
Its not rocket science but Martinez does not get it.
In addition to that he does not believe in pointing mistakes out and will not pull a player no matter how badly he is playing.
Brian Porter
14
Posted 26/01/2016 at 19:45:44
Ian Robert #12, sadly you're probably right. Funes Mori has been our most consistent defender in recent games, has proved he can score goals but will probably be benched in favour of Stones who has become a liability at the back recently and needs a period on the bench himself.
Again we will see Martinez's favourites ploy at work again and the undroppable Stones will be there again, another mistake waiting to happen. Pick the form players, Martinez for God's sake.
Paul Montgomery
15
Posted 26/01/2016 at 20:09:54
Jay – I'm quite sure the 'crisis of arrogance' suffered by Stones on Sunday has been discussed with him, but such matters are surely for Finch Farm and not to be trailed through the media – no quicker way to undermine confidence and lose the dressing room.
I would like to see Jagielka paired with Funes Mori to give Stones a break from the pressure and give us two proper defending centre backs against Man City.

Mike Oates
16
Posted 26/01/2016 at 20:16:35
Stones will be dropped; I'm absolutely sure as his confidence in his own game must be shot. If he is dropped I just can't see him wanting away ASAP, maybe even by next Monday if someone is daft enough to offer over £40M.
More rumours Bill is ill and getting out – letter to stewards and staff on Sunday thanking them for all their hard work over the years he has been here.
Max Murphy
17
Posted 26/01/2016 at 20:21:32
Not only is Howard an awful goalkeeper, he is a bad decision-maker and totally unsettles the defence in front of him. After Sunday's game, Stones was blamed for the back-pass. But why wasn't Howard communicating with Stones?
If he did ask Stones to pass it back, then that was a bad decision. Or did he advise Stones to hoof it clear? I doubt it. Stones is still relatively young and still learning the game – so why isn't Howard helping him? Howard could have even rushed towards Stones for the ball and hoofed it clear himself.
But let's take a step back to the management and coaching staff. Why is this situation repeating itself almost on a weekly basis? Where are the defensive coaching staff? Why isn't Martinez involved in ensuring these mistakes are not repeated?
The answer is Martinez is absolutely terrible. He has no safety strategy in defence. If in doubt kick it up field or into the top row of the stands.
Before people rush to Howard's defense after his game against City in the League – I thought his performance was average. All the shots were right at him, and the save in the first half was one any half-decent goalie would have made.
The law of averages will guarantee that even someone as bad as Howard will make contact with the ball when he flings his boots at the ball. Without Howard tomorrow night, I expect a better performance from our defence.
Don Alexander
18
Posted 26/01/2016 at 20:25:49
It doesn't really matter at all what he says to the media, tripe as its incessantly been, it's what he says at Finch Farm that matters and, far more importantly, how that unfolds on the pitch on match days.
Nobody in my opinion "blindly" criticises anyone either. We cheer what we like and criticise what we don't. It's always been like that, at Everton and elsewhere.
If a take-over takes place it's virtually certain the new owner/s will have plans for it to be "beneficial" to their bank balance above all else. Hopefully, because hope is all we fans have, they'll see success on the pitch as the best way to make good.
Tony Abrahams
19
Posted 26/01/2016 at 20:28:14
I heard Kenwright sent all the stewards and staff, that letter thanking them because Dagenham were full of praise for everyone connected to Everton FC, the other week.
We might play three centre backs tomorrow, who knows?
Dennis Ng
20
Posted 26/01/2016 at 20:34:51
We need to park the bus in order not to concede. That's how bad our defence is now Tony.
Dave Abrahams
21
Posted 26/01/2016 at 20:38:25
Mike (#16), it could be he is ill and getting out, but the letters to the stewards could be in response to a letter from the club we played in the last round of the FA Cup in which they thanked Everton FC and in particular the stewards for the brilliant way they looked after the fans of that club.
Tony Abrahams
22
Posted 26/01/2016 at 20:52:22
He left out Stones in Kiev, and everyone was fuming with Alcaraz, and Martinez for picking him.
I don't think he will play 3 centre backs tomorrow, but if you read ToffeeWeb, many say he's deluded, so who knows?
I don't think he's deluded, but I'm pretty certain that he doesn't pay nowhere near enough attention to detail, and that is the reason I wouldn't be overly surprised if he started this way tomorrow.
Colin Gee
23
Posted 26/01/2016 at 21:03:09
Said it in one of the many other threads, Stones needs a few weeks on the subs bench to get his head straight again. It's got to be Jags and Funes Mori at the back for me tomorrow night.
Andy Crooks
24
Posted 26/01/2016 at 21:14:34
Trevor (#11), are you serious? Stop blaming the manager for blindly selecting a goalkeeper who is utterly useless. Howard has made schoolboy errors for almost two years. The failure of Martinez to replace him should be enough alone to see him sacked, never mind his ineptitude in so many other ways.
Ernie Baywood
25
Posted 26/01/2016 at 21:18:07
Just realised our destiny.
Glorious victory at City, followed by disappointment against Stoke.
Everton aren't we?
Jon Cox
26
Posted 26/01/2016 at 21:38:24
Spot on Andy.
John Hughes
27
Posted 26/01/2016 at 21:40:33
Ernie (25): Stoke! You are kidding aren't you? We all know what's going to happen now surely?
Tony Abrahams
28
Posted 26/01/2016 at 21:58:33
If our destiny is Wembley then I hope we play the other crowd Ernie. Liverpool are fucking shite!
Gerry Quinn
29
Posted 26/01/2016 at 22:32:05
Your wish is granted, Tony – the shite scraped through 6-5 on penalties!
Mark Rimmer
30
Posted 26/01/2016 at 22:36:52
Red shite through, season over.
Nick Page
31
Posted 26/01/2016 at 22:38:26
Penalty kings do it again. Filth!
John Malone
32
Posted 26/01/2016 at 22:44:51
We could beat them easy if he played the right team and tactics they were shite tonight!
Alan Ross
33
Posted 26/01/2016 at 22:45:19
So we are playing twice on the same day against the other lot. And both are on telly. Fuck me, I don't know which one to watch!!
Ian Hollingworth
34
Posted 26/01/2016 at 22:56:47
We are all hoping and praying that we get through tomorrow but please do not think it will be a turning point or an Oxford moment for this team.
Regardless of the result tomorrow things will not change under the current manager and he simply has to go.
The sooner the better for me...
John Malone
35
Posted 26/01/2016 at 22:58:53
The only thing the RedShite have got over us is a manager who is a winner and makes his players train and play hard!
Nick Page
36
Posted 26/01/2016 at 22:59:12
Yes, John. Unfortunately the Devil looks after his own.
Colin Gee
37
Posted 26/01/2016 at 23:03:21
Could do with Robles twisting his ankle in training tomorrow morning, with Howard back in goal we'll never get through then...
Brian Wilkinson
38
Posted 26/01/2016 at 23:40:20
I think Joel has been magnificent this season, yet he sticks with an out-of-form goalkeeper for the Premier League games, sound logic there Bobby lad.
Watch the difference in our defence tomorrow, with a different keeper behind them, one they have confidence in.
Make the most of these next two games, Joe. Regardless how well you play, Bobby will bench you for the next Premier League game.
John Aldridge
39
Posted 26/01/2016 at 23:42:21
Bobby's latest quote.....
"My philosophy and my way of working is not to keep clean sheets,"Ă'Âť he said. "My philosophy is to win games."
He will never learn, that I am sure of.
Jon Cox
40
Posted 27/01/2016 at 00:08:33
Sorry, Alan (33),
Can you explain your post, or can I have some of what you're smoking!
Ernie Baywood
41
Posted 27/01/2016 at 00:17:25
The pessimist in me saw two outcomes here. If Stoke got through then we would beat City only to fail when it seemed like we'd done the hard work.
Now I only see the Shite ahead and feel like we'll fail tomorrow.
Surely we can get a draw at City and prove me wrong?
Brian Wilkinson
42
Posted 27/01/2016 at 00:17:46
Jon@40, we are due to play the RedShite on February 28th, which is also the Capital One Cup final day, Alan is assuming should we get to the final we will be playing both on the same day, unless my capstan full strength are working overtime and I have Alan's assumption wrong.
Jon Cox
44
Posted 27/01/2016 at 00:39:04
Thanks Brian.
Ciaran Duff
45
Posted 27/01/2016 at 01:27:47
As per my article (http://ToffeeWeb.com/season/15-16/comment/talkingpoints/31665.html) I don't believe that our defensive frailties are down to our GK or a specific player. I believe that it is down to our fundamental (lack of) defensive system.
Ironically, I think that this particular game may actually suit us better than most. Given that we are away, with have a small lead against a "big team", I think that the team will be forced to adopt a much more tactical defensive approach. Hopefully with all of the flack that RM has received from the Swansea game will get him to think and plan for that in more detail. If we can pinch one on the break (we are custom made for that) then maybe we make the final.
Finally, in terms of RS in the final – Although I always support whoever is playing RS, I think that if we can make it (big IF) then the final will be have a far higher profile being an all Merseyside one. Brings back memories of the mid 80s and would be far more exciting than playing Stoke.
Abhishek Saha
46
Posted 27/01/2016 at 01:51:39
I guess there are 3 selection questions that await an answer for the cup tie:
1. Who will be partnering Barry in the central midfield?
James McCarthy / Cleverley
2. Who will be given the left winger role?
Pienaar / Cleverley / Kone (the third is an option since our manager is Bobby Brown)
3. Who will be alongside Jags in central defence? (this is a question since our manager is Bobby Brown)
Funes Mori / Stones
Ernie Baywood
47
Posted 27/01/2016 at 04:29:32
Agree Ciaran, our issue seems to be that we just don't consider what we will do when we lose the ball. Well that's not going to be a huge problem at City - we won't have a monopoly on possession.
I don't like talking about knives and gunfights but it's probably the right attitude against City. At the end of the day they're a very good, expensively assembled side and we will need to make a bit of luck for ourselves (for a change as we have deserved all the bad luck we've had this season).
KITAP1 doesn't need to be negative, or necessarily mean hoofball. It can be a strategic option involving disciplined defending and striking back at pace when the opportunity presents. Our side has at least as much chance as anyone else in the league of implementing that kind of plan.
Now watch Bobby send us out to play with our arses hanging out.
Roger Helm
48
Posted 27/01/2016 at 07:16:29
In the Telegraph today Martinez says he will be going for the win because he doesn't do clean sheets (his words).
I think we can guess the outcome.
For me, we will spend most of the time defending, and Aguero seems to be on song now, so we need numbers at the back, energy in midfield and impact players on the bench.
Robles
Coleman, Stones, Funes Mori, Jagielka, Baines
Barry, Cleverley
Kone, Lukaku, Lennon
On the bench McCarthy to protect a lead if we are in with a chance at the end, Deulofeu to give us his 20-30 minutes if we need to chase the game, Barkley in case of injury to Cleverley (Ross gives the ball away too much to start the game) and Pienaar or Osman.
Paul Olsen
49
Posted 27/01/2016 at 07:41:42
Losing Besic AGAIN is a big blow. It will make us a worse team. He has looked fantastic over the last few weeks and has sort of been a spark in the mini-esque revival period we experienced. If McCarthy is not fully fit, then he should not be an option in my opinion.
If we are to stand a chance tonight it will be backs against the wall and more than a fair bit of luck involved sadly.
Bill Griffiths
50
Posted 27/01/2016 at 09:30:03
It's certainly not one individual who is to blame but collectively as a Team and a Manager.
We are certainly not defending competently as a Unit, individuals (Stones & Howard mainly) are going through a difficult time form wise and he Manager doesn't seem to know what to do or blindly refuse to do so in the face of overwhelming evidence.
As Manager he has to be take the main share of the blame. You can rant against Howard and Stones for their mistakes but it's Roberto who continually selects them and makes it clear that however badly they perform it's fine by him.
While I like a lot of what e has done for The Club I think it's time we got rid though I worry about who we can get to replace him.
Harold Matthews
51
Posted 27/01/2016 at 12:58:38
Jay H # 13. You observe well.
David Hendricks
52
Posted 27/01/2016 at 13:12:33
Bobby's latest quote.....
"My philosophy and my way of working is not to keep clean sheets" he said. "My philosophy is to win games."
He is not winning games or keeping clean sheets. Surely the quote above warranted a follow up question at the press conference. If we was winning games whilst not keeping clean sheets we would not be concerned.

Anthony Lamb
53
Posted 27/01/2016 at 17:55:47
I wonder if anyone else feels any marked degrees of sympathy for Robles? With all the unrest swirling around Howard and with the team going through difficult times defensively Robles is then pitched into a crucial match against some of the most potent attacking players in the country, indeed in the world.
I am of the older generation who once had the naive idea that it was crucial for the goalkeeper and his defensive back line to have a rock solid understanding – usually developed on the training ground but more importantly in consistently playing competitive games together.
I despair at this nonsense regarding one player being seen as the "league"keeper and one as the "cup" keeper. Just how is this understanding being developed by the poor guy who has to come in for the occasional cup tie?
Now Robles comes in against City and one can only wish the guy well and that he performs as creditably as he has in the few times recently when he has actually had the chance to play. However, I fear that should any error on his part lead to a goal or a defeat then he will endure analysis and criticism that may well be misplaced and unfair.
It is the ludicrous management of the position that should be being castigated. After all, these days, these so called reserve guys do not seem to be getting much match action in order to hone their skills do they?
Brian Wilkinson
54
Posted 27/01/2016 at 18:21:54
Spot on Anthony @52, If Robles plays well tonight, and the weekend he deserves to stay in the team, but we know come the next Premier League game, he will b back on the bench.
Forget sentiment about a player who's been a good servant in the past, you play players in form and drop players not performing – that's why most Evertonians agree, Robles is not getting a fair crack of the whip.
Add Your Comments
In order to post a comment, you need to be logged in as a registered user of the site.
Or Sign up as a ToffeeWeb Member — it's free, takes just a few minutes and will allow you to post your comments on articles and Talking Points submissions across the site.
© ToffeeWeb