Martinez 'heartbroken' by missed call
by

97 Comments [Jump to last]
| 28/01/2016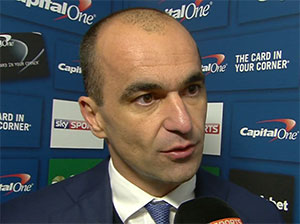 Roberto Martinez put Everton's exit from the League Cup in last night's semi-final firmly at the door of the match officials following Manchester City's controversial second goal.
The manager repeatedly used the word "heartbreaking" to describe the failure by either referee Martin Atkinson or his assistant on the far side to spot that Raheem Sterling had clearly taken the ball beyond the byline before crossing for Kevin De Bruyne to sweep home, level the tie at 3-3 on aggregate and confirm the shift in momentum towards the Citizens.
Sergio Aguero added an unchallenged header six minutes later to win the game 3-1 on the night and send Manuel Pellegrini's side through to a date in the final with Liverpool at Wembley next month, leaving Martinez to glumly face the cameras after the game.
"Goals are big calls, and the second goal is heartbreaking," Martinez told Sky Sports. "When you watch the replay it's incredible that you don't get that decision right. You can go into many aspects of the performance but goals today were going to be very important.
"We wanted to score that away goal - we did that. I thought the attitude and know-how to get into a major cup final was there – it's impossible to describe how you feel when you see a decision that is so clear and so big in how the game was developing. It's heartbreaking. I don't think anyone in the stadium would disagree that that goal was the major, major, change in the tie.
"It doesn't leave me with any doubt, the ball is clearly out. It's not one of those decisions where it's the judgement of the referee - it's clear out of play and City should have never been allowed to carry on and end up in the back of the net."
The defeat was only the second Everton have suffered away from home this term but it was the second of two damaging results in succession in two competitions and Martinez effectively has one competition left in which to salvage a season in which he has repeatedly said the club needs to achieve success.
His team travel to Carlisle in the FA Cup this weekend for an FA Cup fourth round tie and while Martinez didn't reference that last remaining avenue in his comments last night, he continued to insist that Everton are close to "reaching a really high level."
"We should take this as a real inspiration to achieve something special this season," the Catalan continued, "because the players don't deserve to get another huge call against us.
"I will never blame a referee for achieving or not achieving but that call cost us a goal and in this sort of tie it was essential to progress."
---
Reader Comments (97)
Note: the following content is not moderated or vetted by the site owners at the time of submission. Comments are the responsibility of the poster. Disclaimer
Chris Hooson
1
Posted 28/01/2016 at 07:11:52
I am heartbroken by how you are managing this team, Bobby.
Kev Smith
3
Posted 28/01/2016 at 07:23:32
Roberto, the officials may have cost us a goal, and yes they would have been down to 10 men for extra time, but it should never've got to that stage.
The substitutions you made were not needed at that time in the game. We weren't comfortable but we offered a threat. Despite being past his best Osman still has a goal in him and well changing Deulofeu for Kone... you it surrendered there and then.
I agree, Mr Martinez, the ball was out – and so should you be!

Jim Bennings
4
Posted 28/01/2016 at 07:56:03
"Close to reaching a really high level"??
Hahaha..
Roberto the only thing most of us are heartbroken with is your mismanagement of this football team and his nicey nicey approach to everything.
We are so tired of it.
Dean Williams
5
Posted 28/01/2016 at 07:57:04
I'm heartbroken that you're still in charge. Your love affair with Stones will ultimately cost you your job, and cost our club any chance of moving forward under your stewardship.
Tommy Coleman
6
Posted 28/01/2016 at 07:58:33
He has to look at his team selection.
I was surprised Osman started. Osman didn't have the legs to track his man for the 1st goal.
Stones should have been dropped after the last game, he cost us the 3rd goal by giving the ball away then not reacting at all to Aguero's movement.
I know Delboy has stamina issues but he still looked our best outlet and should have stayed on longer.
Rob Hooton
7
Posted 28/01/2016 at 08:00:34
To be fair, the ref was a big time homer and you must think he is on City's payroll.
Ian Jones
8
Posted 28/01/2016 at 08:01:33
He may not be blaming the ref but sure seems like it....indirectly.
Anyway. Moving on. More annoying is that some of the players in the box 'naturally' stopped when they thought the ball was over the line. I think, and apologies to him if it wasn't, that Barry stopped, had his arm in the air, appealing etc. If he had carried on covering back, he may have just about been in with a chance to cut out Sterling's pass.
He of course would have stumbled as he did so and planted a glorious og past Robles :)
As for taking this as a real inspiration. Of course. Why not. Plenty to play for!
Bring on Carlisle.
Dave Pritchard
9
Posted 28/01/2016 at 08:03:05
Rob, I know that, with recent corruption in sport, you can't rule anything out... but do you really believe that?
Jim Bennings
10
Posted 28/01/2016 at 08:04:44
"I thought the attitude and know-how was there to reach the Final."
Is that why we lost nearly every single aerial duel last night, still can't get the image of David Silva beating our defenders in the air out my head, and at times looked completely all at sea, why there was no pressure on City players high up the pitch, and why second half we barely tested their weak looking goalkeeper or defence??
Seriously call that attitude and know-how??
This man would tell you the clouds were made of marshmallow...
Kevin O'Regan
11
Posted 28/01/2016 at 08:11:31
Yes, but Roberto, did your Mam & Dad not tell you that life is unfair? It's a big money game we're at here – and fair doesn't have much to do with it.
Is it also unfair to criticise a player earning 50 times more than most sinners, or to tell him to wake up and get his act together? Is it unfair to take a yellow for the team when in danger?
Is it not unfair to the fans to keep coming up with the same drool of excuses just because you're too stuck in your ways and too proud to listen to good advice?
It's really wearing thin Roberto – fair or not fair is not the issue. Doing a job to the best of your knowledge, showing leadership and a willingness to learn and knowing your limitations and then doing something about it is what a good manager is meant to do – not whinge and whine and talk non stop about phenomenal potential and getting close and raw diamonds. Enough is enough.
Paul Setter
12
Posted 28/01/2016 at 08:20:16
Yawn... Shut up, Martinez, you clueless idiot.. Pack your bags and go. Your poor excuse for management has turned us into a big joke.
Until you're gone, I'm not putting another penny in this club I love. I hope other fans start doing the talking too by not turning up too – then perhaps our gutless board may act before it's too late.
Paul Smith
13
Posted 28/01/2016 at 08:22:09
I though we were really poor, leaving a huge gap between our midfield and forwards, aimless balls, easily intercepted, and shocking hold-up play.
Funes Mori & Barry were MotMs for me, and even the usual elegant Baines was showing signs of discomfort and stress. Now that is a warning sign!
Ian Jones
14
Posted 28/01/2016 at 08:24:44
Jim. Re clouds. They are... but only the lovely fluffy ones.
Geoff Evans
15
Posted 28/01/2016 at 08:32:46
GUTLESS WONDERS, just like their manager, always looking for excuses. The truth is he and they are just not up for it. BOTTLERS!!!

John Jones
16
Posted 28/01/2016 at 08:35:55
I am heartbroken that he is still in a job.
Geoff Evans
17
Posted 28/01/2016 at 08:38:42
If you think that was bad wait till Sunday.
Jermaine Jennings
19
Posted 28/01/2016 at 08:46:42
How can losing be inspirational to achieve something great!!!
These are words from a manager trying to save his job by telling the chairman just a little bit longer please and I hope not.
Delusional Roberto and wrong choice of words.
Geoff Evans
21
Posted 28/01/2016 at 08:49:27
He's been making excuses for so long he actually believes them. Just go away,... Please.
Dave Bowen
22
Posted 28/01/2016 at 08:50:28
Yes Roberto, the failure to see the ball was out was heartbreaking. But so was your decision to bring on a fullback (as much as I love Seamus) with 15 mins to go in a League Cup semi-final when we needed a goal. It had to be Pienaar or Lennon.
Even better, you shouldn't have sold Naismith before our biggest game of the season. Go now.
Harold Matthews
24
Posted 28/01/2016 at 09:04:44
Yes, that was a bad one. A real undeserved sickener.
John Jones
25
Posted 28/01/2016 at 09:11:14
Martinez has dropped from 40-1 to 16-1 to be sacked by all the major bookies over night. God let this happen.
We have had bad decisions go against us this season, but what about the other games where it has just been really poor defending?
He has blamed a young team err 8th youngest in the division I don't really see the younger teams making the same god dam mistakes every god dam week.
This Playing Brave football Crap he keeps saying.
I don't really rate Pellegrini because with Money and players he has any manager could win games, However last night they went 3-1 up. Pellegrini Takes Silva off and brings Fernando on attacker for defender. See what I am getting at? he is "Managing the Game" or "seeing the game out". Maybe "Closing Shop" you could even say "Parking the Bus"
Martinez has said in the past "You don't win games by changing the style." (From last season.)
After Chelsea "We want to be a brave team and win games by not running the clock down or playing with aspects that aren't what we want to be."
So it is good enough for Managers of teams like Citeh etc.. but not for Everton to "See a Game out" ????
P45 for Martinez please.
Oh finding those comments by Martinez took a while and there are so many more that you could add. I had my head in my hands the whole time. We all thought that Branda came out with some shit, Martinez makes Brenda sound like Yoda.
Ian Jones
26
Posted 28/01/2016 at 09:15:28
I suppose the only way to look at the 'inspirational' comment is that in the aftermath the players should be 'inspired' or perhaps 'determined' never to be in that place again, to suffer that kind of disappointment. I think Steven Gerrard once said that he hated losing to Everton when he was younger and that made him more determined never to be in that position again. He generally seemed inspired against Everton.
I think I can see what Martinez is possibly trying to say, but along with all the other stuff he spouts, it just gets lost in translation and becomes meaningless drivel...
Of course, easier said than done. Whilst luck will always play a part in matches, ideally, teams should be able to negate any luck that the opposition get by being better, being more organised, taking the chances when offered and letting the rest take care of itself.
Yesterday, Del had a glorious opportunity to grab another on the break bearing down on the City goal, but perhaps instead of leathering it with his left and making it 4-1 on aggregate, well the rest is history....
Also, one observation and this is perhaps true of most of the good/better/best teams, is that whenever they get the ball, there always seems to be a player close by/in space to receive the ball – almost as if they are playing with an extra player. Confidence and swagger is a great thing. Everton don't have it.
Bill Griffiths
27
Posted 28/01/2016 at 09:20:58
While I am of the opinion that Martinez needs to go sooner rather than later, it was still a dreadful decision which possibly had a major impact on the outcome. Though not really the only reason we lost we will never know what the outcome would have been had the goal been correctly disallowed.
Ernie Baywood
28
Posted 28/01/2016 at 09:27:10
We didn't concede that goal because it went out of play. We conceded because a player got into plenty of space to pick out a pass to a quality attacker in our box. About £100M worth of signings combining to create a goal.
Yes of course it was out of play, but officials make mistakes all the time. Some result in goals, the vast majority don't. A goal doesn't make the wrong decisions any worse. The fact is that we concede too many goals. An indisputable fact.
Brian Murray
29
Posted 28/01/2016 at 09:29:02
Not as heartbroken as I am, Roberto... so piss off somewhere else.
Kunal Desai
30
Posted 28/01/2016 at 09:36:49
He doesn't know the meaning of heart broken. Give him his P45 and put us all out of our misery.
Ray Roche
31
Posted 28/01/2016 at 09:40:19
Incidentally, we've got Lee Mason at Carlisle so more opportunities to have a go at the incompetence of referees. Oh Joy!
David Mosses
32
Posted 28/01/2016 at 09:42:30
Just read Pelligrini's comment about Lukaku being offside for Everton's first goal of the first leg, did he not see that Sterling was offside for their deflected shot for the first goal. Because it was a deflection, Robles could not see the flight of the ball, so therefore Sterling is interfering with play, and should've been given offside.
I'm starting to despair about the standard of refereeing, that's three times in as many games, and I can recall a few other dodgy decisions that have gone against us this season. But these refs never have anything go against them, it's so frustrating.
Gary Carter
33
Posted 28/01/2016 at 10:03:56
I'm sorry as this is going to sound nasty, but they are the words of a true loser; he comes across as being a whiny loser... he is a loser. He can see the same problems, week-in & week-out, that everyone else can, yet refuses to change his "footballing philosophy"!
Winners look at problems, change them as they are not scared to change in order to succeed and move on. This guy does nothing other than talk utter shit about "incredible moments", "reaching higher levels" and being "phenomenal", totally and utterly sick of him.
I didn't want him in the job when he was appointed, and certainly haven't wanted him in the job for the last two seasons!!!
Andy Meighan
34
Posted 28/01/2016 at 10:11:15
If it had been given out, it wouldn't have made a blind bit of difference. They'd have got a 2nd from another route. We barely got out of our half 2nd half and deserved everything we got. Let's face facts, we're just not good enough.
Colin Battison
35
Posted 28/01/2016 at 10:27:36
Well I think looking at Roberto's body language last night when interviewed by Sky Sports, that was the look of "I'm finished".
Close the door on your way out!
Kp Li
36
Posted 28/01/2016 at 10:30:32
RM is too stubborn to be our manager, he needs to change his tactics and vary his play as the teams that play us knows what we are gona do! we are too predictable. Osman has been a fantastic servant but to play him from the start in that game makes no sense apart from not being bothered about getting us to the final.
I didn't think I would say this but bring back David Moyes!! Or bring him in as an assistant to sort out our defense!
Paul Kelly
37
Posted 28/01/2016 at 10:44:54
Bob is heartbroken by one decision, while a lot of us fans have been heartbroken by the performances since the beginning of last season, one long heartache.
Welcome to the club.
Denis Richardson
38
Posted 28/01/2016 at 11:41:18
Can blame the officials and hard luck all he wants. Yes, the first goal was a deflection, the second the ball was out and the third started from a very risky pass by Stones.
However, we were battered by City, who created loads of chances and hit the post a couple of times. Sob stories and hard luck tales does not take away the fact City were the much better side on the day and deserved to win.
Overall, I was gutted with the result at the end but even if the ball had been called out for the second goal, they would have scored and won the tie anyway. We wimply were not good enough on the day. We played okay but they were/are simply a better side.
Ian Hollingworth
39
Posted 28/01/2016 at 12:01:49
Why is this clown still in a job at Everton FC. His team did not close down quick enough, did not make many tackles and his in game management was to the usual standard, ie, crap. Our only effective attacking threat on the night substituted on 53 mins.
Take note of the City players after they went in front they harried us and tackled like demons to win the ball back whereas we just all go back into our half when we lose the ball. All this achieved was handed the initiative to City to attack us constantly.
Too many Everton players did not look to me to be playing like it was a semi and putting everything on the line. Martinez is clueless and has to go NOW.
Mohammed Horoub
40
Posted 28/01/2016 at 12:13:00
How much lower can he take us... Jags has come out today and called Atkinson arrogant. It seems after De Bruyne's goal when he approached the ref to protest that the ball had gone out Atkinson responded that "The defending was brilliant"
Not sure if Everton can report something like this to the FA but the main worry is Martinez has turned us into a laughing stock.
Even refs are waiting for us to concede 3 goals a game and it's going to be even tougher to have decisions go our way.
Once again yesterday a substitution by the opposing manager left Martinez standing helpless... Navas was brought on instead of Delph because they saw Osman was off the pace on the left wing. He doesn't even try to address it by switching Cleverley with Osman to try and counteract it... If it doesn't work then bring on McCarthy for Osman. His solution bring on McCarthy and Kone and remove our only counterattacking threat Del.
Stones selected at RB again when he had a nightmare last game he was there. I will be shocked if Stones is here on Feb 2nd. Real Madrid's transfer ban in the next 2 windows might trigger a bidding war for Stones next week.
Something has affected his play the last few weeks and I imagine he's been told something by his agent. Lukaku is also going through the motions now and if he decides to coast till May then the game against Newcastle is our first '6 pointer' of the season.
We couldn't have just beaten Wigan in that QF and our club's fate would have taken a different road...

Bob Parrington
41
Posted 28/01/2016 at 12:13:27
Ian (#25). Right! Too often this season our players have looked half-arsed and lazy. Look good when things are going for them but give up at the slightest, timid and gutless.
The whole team needs a rev-up but has the management team got the balls to do it? I fear not.
Team and manager must be in sync or Manager and team need to be in sync. If not, change manager or change team. Same diff.
Board – make decisions and let's move on!
Brent Stephens
42
Posted 28/01/2016 at 12:16:01
I think a bidding war for Stones might actually be a Dutch auction. Given how badly he's playing his price might be in free fall.
Nick Armitage
43
Posted 28/01/2016 at 12:24:21
In addition to scoring 3, Man City hit the post twice and ran us ragged for 70 minutes. We were up by 2 goals in the tie but then carried on chasing the game. Was all that the refs fault as well?
I have been saying it for a year, Martinez Out... ASAP.
Tony J Williams
44
Posted 28/01/2016 at 12:27:52
This game was decided in the first 10 minutes of the shite game against Swansea – when Besic got injured.
He is the only player who seems to actually care about his performance and he was getting players to move about.
Too many of them just wonder about aimlessly and this is the least fit side I have seen in 4 decades – and that included side who were out on the piss after every game and smokers.
Ciaran Duff
45
Posted 28/01/2016 at 12:37:17
Did you guys read what Atkinson said to Jags when he questioned the ball being out of play? Unbelievable. Should be suspended.
Frank Bortoli
46
Posted 28/01/2016 at 13:02:43
A very disappointing night again as our chance of securing any awards this year pail into insignificance. The points that came out of the match for me were:
* The ref's decision killed the game but why are we still not using goal-line technology for these black-or-white decisions
* Deulofeu may not have been having his greatest game but why take off the only provider we had?
* Osman did not have the legs for this game, why were we not playing Mirallas?
* Stones needs to spend a few games on the bench while he contemplates the meaning of life.
* Why was Funes Mori the only player capable of heading the ball?
* Lukaku's first touches were bad as was his ability to win the ball in the air.
* Why did we not press Man City in their own half and give them that degree of possession.
* Robles should be our No 1 goalie.
* Why could we not take advantage of City's poor central defenders?
* Why is Martinez still in the job?
Brin Williams
47
Posted 28/01/2016 at 13:06:17
Sorry Ciaran – I missed that... what did he say??
Geoff Evans
48
Posted 28/01/2016 at 13:06:17
I'm heartbroken this idiot is still here. He's clueless and gutless and his team are a reflection of him. Time for a clear out, NOW!
Allan Barratt
49
Posted 28/01/2016 at 13:09:56
Is he still in charge???? I'm hoping/praying for a Spy Sports News flash that he's been sacked.
Helen Mallon
50
Posted 28/01/2016 at 13:10:10
The truth is this, Bobby. You said you would never play John Stones at right back but you did and he was pants again. Why was Coleman not played is beyond me. Ossie is way past his sell by date and should never have played in such a big game. Where has all our youth gone?
Taking Deulofeu off what a joke – if the lad can't last 90 plus mins then get rid I want someone who is fit for purpose. Please don't get me started on Kone... what is all that about?
The bottom line is this we had a chance to win last night and you messed it up I don't want to hear bad luck stories cause Man City should have had a pen and a disallowed goal at Goodison.
You messed up... get out.
Jim Bennings
51
Posted 28/01/2016 at 13:11:51
Atkinson is a twat but you know it's bad when even he can see what our own manager can't!!
Les Martin
52
Posted 28/01/2016 at 13:18:45
A mixture of poor defending and diabolical refereeing and an enormous mount of bad luck has got us this far into the season.
Dont see how anyone can criticize the team for effort, I thought Jags, Funes Mori and Barkley were excellent last night and I feel sorry for the lads.
Martinez has his detractors but a top side needs developing and time, he has brought in some excellent young talent, Lukaku and Delofeau would not be at Everton without his selling of the club, plus others bought who may break through.
I have decided to relax and lets see how the season pans out, there is still a lot to play for and a lot of chang to drink, then hopefully our luck and results will turn
Geoff Williams
53
Posted 28/01/2016 at 13:51:43
Whatever befalls Martinez is of his own making. He has refused point-blank to address the poor defending. He has turned a stalwart of the club, Tim Howard, into a laughing stock by not dropping him when his form was poor.
Most fans now would chip in to pay Howard's fare home. I think the way he has persisted with Stones after his series of calamities is criminal. The boy looks and plays as if shell-shocked.
Martinez has to go.
Andy Meighan
55
Posted 28/01/2016 at 14:16:48
We can go on about officials all we like. The truth is we've got a manager who is so arrogant and stubborn that by blaming a bad decision it deflects away from his many shortcomings. We got lucky in the 1st leg as others have pointed out last night in the 2nd half we got well and truly turned over.

Yes, we all know what an arrogant prick Atkinson is. Does he think we've forgotten Rodwell's sending off? But he wasn't to blame. No, our manager is tactically brain-dead. And as Helen superbly pointed out if Deulofeu can't play 90 mins what's the point of him being here?

Get rid and get someone who can last the game. It's not rocket science. I badly want this clown out now but I don't think it'll happen.
Tom Bowers
56
Posted 28/01/2016 at 14:22:08
The decision to start Osman was no more baffling than many other decisions by RM this season and last.
Osman has never really had any influence on a game let alone staying the pace for 90 minutes so why start him at all these days.
RM keeps up with the excuses whilst the team flounders and we all know he is not up to the task.
The goals keep flowing in with too much regularity even before Jags got injured way back and despite all the shouting about Stones he is a very cavalier player who like Funes Moriis very prone to silly errors.
The rest of the season is going to be very tough as the team's defensive confidence is waning and needs shaking up by a new man with a strong arm.
I can see a very difficult game at Carlisle.
Will Firstbrook
57
Posted 28/01/2016 at 14:44:28
Indeed what is heartbreaking is the madness that has befallen the current management group who week after week persist with the same ill-conceived approach to each match and for some inexplicable reason expect a different result. It's tragic, really. How can a so-called student of the game be so stubborn?
Yes, the goal should have disallowed but that alone did not determine the inevitable outcome last night. In a very short period of time, we have witnessed the systemic and utter deconstruction of any confidence and pride left in this squad.
We are a laughing stock to the point that even an crooked and inept official like Atkinson is comfortable enough to take a pot shot at our woeful defending.
Is this rock bottom? Tell me it's rock bottom..
Dominic Tonge
58
Posted 28/01/2016 at 14:55:09
You think he's heartbroken? He will get a pay off and another job if we sack him. This charlatan is making a great job of ruining the name of this great club, my first love. And he says he is heartbroken.
It's an affair with Everton for him; for us Blues it's a marriage. How does he think we feel?
Charles Brewer
59
Posted 28/01/2016 at 15:10:50
OK, I am highly critical of Martinez, but last night the whole thing stank.
Stones (the new Osman, for some) shepherded Sterling across the penalty area very well, forced him to play the ball off the pitch and behind the goal line. His alternative was jumping in and either giving away a penalty (we'd seen enough diving to be sure about that), or to give away a corner (not disastrous but undesirable). Instead he did exactly what a defender should do, he got the attacker to take the ball off the pitch.
Unfortunately given the crap officials (and the corrupt FIFA – I don't suppose there could be any connection between the lack of technology making "dubious calls" much easier to make and say, betting syndicates), failed to do a proper job being too old slow and blind (I am being generous now, because the alternative is "bent") to give the proper reward to an excellent piece of defending.
Stones actually did everything correctly and with the least possible risk. His reward was the same as against Ratboy whose squealing dive yards had a similar effect on the match.
I have no sympathy with Martinez for his failures of organisation or coaching, but last night was a shitty and grossly wrong outcome and he does not deserve criticism for it.
Chris Corn
60
Posted 28/01/2016 at 15:37:36
Sorry Charles but that is another sob story. There are six Everton players in the box when that ball is pulled back and two Man City players are allowed to waltz in unchecked.
As for your description of Stones defending, I would call it getting skinned but if you want to call it good defending then you clearly can't be as out of touch with Martinez tactics as you claim.
Ben Dyke
61
Posted 28/01/2016 at 15:43:36
I'm not concerned that we had our backs against the wall, anyone remember Chelsea Champs League win against Barca?
Its true that the goal should not have been allowed and that it turned the game. (combined with the fact they could bring a £54,000,000 player off the bench.)
But I get the frustration that we seem so poor defending as a team under Martinez.
We can look to the chances we missed that were under OUR control as to why we lost the tie. And that is equally painful right now. Mirallas had a one on one, Delboy had a one and one. Lukaku had a few chances etc
Dave Kelly
62
Posted 28/01/2016 at 15:51:42
No one seems to have mentioned this, but was Tom Cleverley actually playing last night? If so, what did he do?
Dave Kelly
63
Posted 28/01/2016 at 16:04:18
Am I right in saying that Carlisle are the only team Everton have not beaten in a top flight match? I remember travelling up there, probably mid seventies, and they tubbed us 3-0 which didn't go down too well as they had earlier beaten us 3-2 at Goodison (the Latch got 2 I think).
As Carlisle were relegated, we never ever got the chance to put the record straight. So be warned for this weekend lads, they're a bit of a bogey team.
Charles Brewer
64
Posted 28/01/2016 at 16:24:07
Chris, most normal players will stop defending when the ball goes out. It's covered by Law 9 of the Rules of Football and is the simplest of the lot.
The ball is out of play when: it has wholly crossed the goal line or touch line whether on the ground or in the air and play has been stopped by the referee.
The game is restarted with a throw in, a goal kick or a corner.
Unless Martin Atkinson is refereeing, then the game is allowed to continue. Sadly, he had not told the six Everton players about this local change to the rules.
This isn't a 'sob story'. Rather, it ranks alongside Thierry Henri's handball in to the goal for France vs Ireland, and was a disgusting and disgraceful piece of play, which tarnished his reputation forever, resulted in a case of bribery (to get the Irish FA off the backs of FIFA, no surprise there, though I might have expected better from the Irish FA).
I'd expect no better from an ex-RS, certainly nothing like the decency of Paulo di Canio, but then his "previous" was for shoving a referee, something a few of the Everton players might have done last night. Of course, it is perfectly reasonable to expect a much higher standard of decency from a fascist than an RS.
Andy Walker
65
Posted 28/01/2016 at 16:30:21
Very sad that we have had to go through the last couple of years before the penny may be dropping with the Board. He should never have been appointed, you only had to look at his record to see that, it was so obvious.
Lots of people were taken in by his ability to talk the talk though and the decline of our club which had risen considerably under Moyes, started.
He must be removed immediately before even further damage is done. He inherited a fine squad, yet his ludicrous style of play, which was there for all to see if they could be bothered just to do the slightest research of his past teams, has drastically reduced the winning capabilities of our team.
Let's hope that when he goes lessons will be learnt.
Jay Harris
66
Posted 28/01/2016 at 17:11:32
Dave,
I don't think anyone gives a shit about Carlisle or the FA Cup right now.
We just want this fraud out of our club.
Patrick Murphy
67
Posted 28/01/2016 at 17:20:58
Dave (59) It's true that we lost both top flight games to Carlisle United in 1974-75, however, we have played them twice since and beaten them on both occasions. We also beat them on the way to Wembley in 1968.
Everton v Carlisle
James Marshall
68
Posted 28/01/2016 at 17:28:09
From where I was sitting, Pellegrini made a great call in bringing off Delph for Navas. They opened us up time & again down our left in the second half.
Martinez's response? Well he took Ossie off for Macca, which was absolutely the right thing to do, however he also swapped Deulofeu for Kone at the same time – why? 56 minutes on the clock at the time and he takes off our supply line to Lukaku to bring on Kone who does hold the ball up well. Problem is, that wasn't what the game needed that early.
He made the wrong change IMO and it changed how we played from then on. Man City were well on top and we lost all our impetus on the break when Deulofeu went off.
He's a weird manager at times, and his continued inability to defend a lead is starting to even wind me up.
Dave Kelly
69
Posted 28/01/2016 at 17:28:53
Thanks Patrick for reminding me, but we've never beaten them in the 'Top Flight' if you know what I mean. I was at the '68 game!
Jay, sorry but I was just trying to lighten the mood. My own suicide attempt failed last night so I'm trying to think positive!
Jay Harris
70
Posted 28/01/2016 at 17:36:25
Truly understand Dave.
I just wish I could enjoy some humour right now but the last 2 games have put a nail in my coffin.
I have a bottle of aspirin in front of me and I'm very tempted.
Cant wait for this alleged takeover to take place as long as there isn't a clause retaining this manager.
Ken Williams
71
Posted 28/01/2016 at 17:47:09
The only crime is how Roberto is allowed to continue as manager of our club.
Christy Ring
72
Posted 28/01/2016 at 18:19:13
Biggest heartbreak is that he's still employed by EFC. He can cry about the injustice by the officials, but the results are his fault, because he hasn't a a clue about shape, balance, tactics, team selection, fitness levels, defending.... but, apart from that, he's doing a good job.
John Audsley
74
Posted 28/01/2016 at 18:24:14
Atkinson and his linesman were appalling last night and should be made an example of by the football authorities.
But.
We were rotten in the second half and Martinez has to carry the can for that. He refuses to criticise or allow criticism of his players and consistently praises players like Howard and Stones who everyone can see are playing woefully.
If that's how you work Roberto fair enough but then you must take and accept all criticism that comes your way.
This season, just like last has been disgraceful and he has learnt nothing.
With the board in control however he has more chance of being offered a new contract than the sack. BK will never sack him....He won't pay out.
Raymond Fox
75
Posted 28/01/2016 at 18:48:33
So some of the decisions given by officials this season are ok?
We got lucky with the no penalty against City in the League, but I can think of several more that have screwed us and cost us 3 or 4 places.
Roberto is definitely the reason why we are trophyless... Oh wait, what did we win in the 17 years previously!
Colin Glassar
76
Posted 28/01/2016 at 19:08:16
I can't open that link, John, but is it the same article where they do a complete hatchet job on John Stones? I saw a piece today where not only did they point out that his mistakes have cost us 8 goals this season but they attached videos to prove their point!!!
Can anyone imagine a major (albeit scumbag) daily doing this to a Liverpool player, or to a Chelsea, Arsenal, Manchester United or Manchester City player? This is typical of the gutter press in this country when it comes to putting young players on pedestals and then knocking seven kinds of shite out of them!! And if this player comes from one of their so-called "middling" then they do it with even more glee.
I hope Stonesy fucks off to a major European team as he's not appreciated here, as the prototype English player is scared shitless to use their iota of talent, and the golden rule here is 'get rid ASAP'. A once-in-a-generation player is being hauled over the coals because, god forbid, this 21-year-old makes mistakes.
John Davies
77
Posted 28/01/2016 at 19:09:52
Our Roberto is a whingeing, whining, excuse making fool who is now desperately trying to convince us all that our team is just a few games away from being world beaters. This is a desperate man clinging for all he is worth to a job he doesn't deserve to be in. But "Luvvie" Bill will make sure he keeps it since Roberto captured his heart in just 45 seconds and love is blind.
I'm sick to death of all the drivel, the excuses and all the bullshit which Martinez spouts every damn time he is asked why his team have failed to win again. I'm done with it now until he's gone from my beloved football club.
Get out Martinez, take your stupid, arrogant naivety with you. Oh and please, please ask "Luvvie" Bill if he will follow – just 45 seconds behind you.
Patrick Murphy
78
Posted 28/01/2016 at 19:13:30
Colin (#74), The gist of the article that John linked to was Graham Poll commenting that it was wrong for Jags to go public with the details of a conversation with a referee, as the officials take enough stick off players who often curse and swear at them throughout the game and many of those heroes wouldn't be such, if people could actually hear some of the players' comments.
I always thought that a referee could book a player for ungentlemanly conduct, so why don't they do just that? City would have been down to nine men before half-time if that had have been the case.
Colin Glassar
79
Posted 28/01/2016 at 19:19:41
Patrick, I'd like Graham Poll to tell me if a ref can take a throw in off one team and give it to the other team for "time wasting"?
In all the years I've followed football I've never seen that until last night? Can the refs make up rules as they go or is this in fact a rule?
Anyway, I'm still disgusted about the outrageous article in the Daily 'Hurrah for the Blackshirts' Mail.
Geoff Evans
80
Posted 28/01/2016 at 19:27:27
Allan @47: Unfortunately not mate, this is Everton whose only ambition is to stay in the Premier League and collect Murdoch's millions. If he had any thought for this club, he'd do the decent thing and fuck off.
Fran Mitchell
81
Posted 28/01/2016 at 19:36:57
Martinez moaning about goals conceded...

Man City (a) 3
Swansea (h) 2
Chelsea (a) 3
Man City (a) 0
Dag & Red (h) 0
Spurs (h) 1
Stoke (h) 4
Newcastle (a) 0
Leicester (h) 3
Norwich (a) 1
Palace (h) 1
Boro (a) 0
Bournmouth (a) 3
Villa (h) 0
West Ham (a) 1
Sunderland (h) 2
Norwich (h) 1
Arsenal (a) 2
Man Utd (a) 3
Liverpool (h) 1
WBA (a) 2
Reading (a) 1
Swansea (a) 0
Chelsea (h) 1
Spurs (a) 0
Barnsley (a) 3
Man City (h) 2
Southampton (a) 0
Watford (h) 2

Thats 43 goals concended in 29 games meaning 1.5 goals a game on average.

And this manager still says things like "My philosophy and my way of working is not to keep clean sheets, my philosophy is to win games." Despite having won only 11 of those 29 games (38%).

Considering 4 of those wins are against lower diversion teams, Against top division teams his win record this season is 28%.

I'm lost for words...

Mike Hayes
82
Posted 28/01/2016 at 20:01:20
Andy Walker (#62) I've been saying that for three years, the club is reaping what they sowed – bugger all. The club has been in a downward spiral for decades; it was saved twice by Bill but not invested in and saved from relegation a few times.
We get a manager in who stifled with cash (as the rest had) but managed to build a formidable squad got us into Europe albeit briefly but it got the fans excited to a point – then he left leaving us with a decent squad in a decent position. 11 years and no trophies, knives to gunfights and capitulating against the sky four was enough.
Fast forward three years and we employ a manager who had on his CV an FA Cup Final win and the same team relegated. He has recorded the lowest points in 10 years believes it's not essential to keep clean sheets, thinks the sun shines out of Howard and Kone's arse and is turning on the fans. He is tactically inept, naive stubborn and spouts more shite than a field full of cows and has dragged the team down and still has a job.
Smith and Walker walked for less. But some fans think he should be given another season. Well fuck off and go and support a Championship club... Oh wait – we could soon be there with this clown in charge.
Rob Halligan
84
Posted 28/01/2016 at 20:18:50
Colin (#76). Jags says Atkinson gave a "foul throw" against us, even though Stones hadn't thrown the ball in. If it was for time wasting, then the only outcome should have been a booking for Stones, but still our throw. This throw-in ultimately led to their second goal.
John Daley
85
Posted 28/01/2016 at 20:19:38
This is the fat arsed straw that broke the camels back for me and yet I don't think I've seen anyone else even mention it...
"... the attitude and know-how to get into a major cup final was there"
I couldn't believe him coming out with that immediately after demonstrating that they...err...don't know how to get to a major cup final and it still irritates the fuck out of me just typing the words now.
I'm half expecting to see him stood out on the sidelines at Wembley for the final, arms folded, staring blankly into the distance with his wet look, blue, wide boy jacket zipped up over his chin, wondering exactly what it is that's different about 'his boys' today because he can't quite put his finger on it.
The failure to see the plain obvious, right in front of his face, even though it's been going "Oy! Oy! Bobby!! OYYY!!!" for the best part of 18 months has long gone past the point of being a joke and is now driving me mad.
We've basically had the same glaring problems slapping us all in the face since self-destructing when 2-0 up against Arsenal at the start of last season. Yet, the manager has seemingly taken no steps whatsoever to remedy the situation.
Add to that the continual blowing of smoke up the arse of a set of players who have consistently proven that they cannot be relied on to see games out (which is of no benefit to anyone, especially coming on the back of a string of results the entire squad and coaching set up should be thoroughly ashamed of) and it's like he's totally blind to what is actually playing out in front of him week after week.
If he'd at least opened his eyes... even just a little...and shown some willingness to work on areas of glaring weakness, then I could maybe understand where those advocating persisting with him a little longer were coming from but, for me, that option should be well and truly off the board by now.
Michael Connelly
86
Posted 28/01/2016 at 20:22:56
I would be more than happy to get Benitez in to put a bit of order on the proceedings. You'd know if you took a two-goal lead, it was game over instead of wondering if you'd even draw the game. I think his red connection is sufficiently diluted at this stage.
Colin Gee
87
Posted 28/01/2016 at 20:48:15
I know I kept joking that getting beat by City meant we wouldn't have to play the RS in the final but last night still feels like a kick in the balls.
As others have said, Martinez and his tactics cost us again... why play Stones at right-back when Coleman is sat on the bench? If Coleman was only fit enough for the bench, what would have he done if Stones picked up an injury in the first minute?
The team was totally unbalanced again, it should have been Coleman and Deulofeu on the right with Banies and Pienaar on the left, that's the way to stop Man City on the wings. As for taking off Deulofeu and bringing on Kone, I despair...
Then taking off Stones for Coleman.... When we went 3-1 down, instead of swapping Coleman for Stones, he should have gone three at the back and brought on Lennon as a wing back and pushed Baines forward on the left.
Yes, Roberto, my heart is broken... broken that you are still in charge of my Club! City are a horrible club with horrible fans all those below us in Level 1 were more interested in 'baiting us' rather than watching the match and as for the stewards when it kicked off below us, that was a disgrace! Everton fans thrown out for celebrating Ross's goal, one of the cast of Shameless who threw all the punches sat back down and never got spoken to by either a steward or the Police.
Colin Gee
88
Posted 28/01/2016 at 20:50:53
Mike (#79) Rafa Benithus? You're having a laugh!
If he thought he was hated at Chelsea, that would be nothing compared to what would happen if he should ever be considered to manage our great club!
Paul Jeronovich
89
Posted 28/01/2016 at 20:55:21
Can't be unlucky in every match, can't be unlucky with every refereeing decision. At some point we need to hear "We were shit, I've told them that and they are under threat from ever playing for this great club again."
It won't happen, therefore I really want to see the back of Martinez now. We are a laughing stock – and no, it's not going to be a special season, so fuck off.
Christy Ring
90
Posted 28/01/2016 at 22:47:32
Martinez has lost it, his team selection and substitutions are absolutely slaughtering us. Why did he play Oviedo and Stones ahead of our only right back, and then bring on Coleman as our last sub in both games, when we needed to score.
Ray Robinson
91
Posted 28/01/2016 at 23:21:02
Yes, Colin. From Level 3, I saw an Evertonian being punched and kicked by a City Neanderthal – not once but at least seven or eight times.
What did the stewards do? Escort the Blue out of the stadium (possibly for his own safety sake) but leave the cretin Manc to calmly re-take his seat as if nothing had happened.
He must be easily identifiable on video, by seat number etc. Scumbag. Almost makes me want to cheer the Reds on at Wembley.
Colin Glassar
92
Posted 28/01/2016 at 23:52:17
Rob (#78), I think the club should demand an explanation for this incident. Like you said, if he was time-wasting he should've booked him not turned the ball over to city. If this isn't in the rule book then they should sack the useless swine.
Jay Harris
93
Posted 29/01/2016 at 01:42:58
Colin,
If you look at the replay it looks like he is suggesting it was a foul throw due to Stones feet following through but I thought the whole night was typical Atkinson giving us nothing and favouring City with all the big decisions.
Brian Porter
94
Posted 29/01/2016 at 02:25:15
Jay, he never actually TOOK the throw in so his feet were irrelevant at the point the throw was given to City.
Anto Byrne
95
Posted 29/01/2016 at 02:42:10
I'm not buying into this unlucky shite and poor reffing. We have given away reckless penalties. We have allowed free headers to all and sundry so it's only a matter of time before they become goals.

Deflections are not unlucky if they don't end up in the net however the defender sticking his foot out in the vain hope of clearing is fundamentally flawed.

As a defender I want to win the ball and have a say where its going. Defensively we are a shambles and it does not matter who you have in goal unless the basics are there then your wasting your time.
John Codling
96
Posted 29/01/2016 at 02:42:23
Liverpool sacked Brenda for having a far better record than Martinez. When a coach says things like "I'm not bothered about clean sheets," well the plot is not only lost it's buried.

But our Board (what Board?) will let things amble on because there is no leadership anywhere in the club.

Players sold and not replaced is a recipe for disaster.
Charlie Burnett
97
Posted 29/01/2016 at 13:17:54
Can someone tell me why we spent £4 mil on Lennon? Why we spent £6 mil on Kone??
Geoff Evans
98
Posted 29/01/2016 at 13:28:37
We are the most unlucky side in the world... hang on to that. Unlucky sounds better.
The blind leading the blind.
Andrew Laird
99
Posted 29/01/2016 at 13:32:23
it's funny how Martinez is always harping on about the future, how the players have to learn for the next game and how something special is coming.
The trouble is Roberto, it is never today – it's always tomorrow with you and it's blatantly a ruse to keep you in a job that you absolutely do not deserve in any professional top league in Europe with your negligent comments about keeping clean sheets and your arrogant and mystifying refusal to "learn" also.
Actually it's not funny and the only people who are laughing are the opposition managers who know they will score a minimum of 2 goals against your moribund philosophy. Have an ounce of credibility and fuck off with your talentless bunch of relegation coaches for the good of our club.
Ian Riley
100
Posted 29/01/2016 at 16:29:34
Even if the goal had been disallowed our second half performance deserved nothing. The manager is detering all the focus away from him!! Look at our goals against, that's "heartbreaking".
According to Reberto our future is great, brilliant, and great things are just around the corner. What does he see!!
Ian Cowhig
101
Posted 29/01/2016 at 18:50:45
I was so pissed off after Wednesday, that I left looking at ToffeeWeb till today. I can understand a lot of people having a go at Martinez at times. Bournemouth away & Stoke home as examples. But blaming him for Chelsea away and Wednesday in my view is opportunist.
If the Terry goal hadn't stood, then a win away against one of the usual top four would have been lauded. We used to have a go at Moyes for not going for it.
And yes we may have been under the cosh in the second half on Wednesday... but we were defending well, and I don't remember lots of City chances. I certainly wasn't biting my fingernails.
All 4 goals (including ours) were as a result of poor decisions by the officials, or poor luck with the deflection. So in my view Martinez was not to blame, and we were unlucky as a team, rather than poor.
Andy Walker
102
Posted 29/01/2016 at 20:03:01
Well said Mike (#78). Let's hope I the Board wake up soon.
Andy Walker
103
Posted 29/01/2016 at 20:09:31
"And I don't remember lots of City chances"
Ian 96, I admire your royal blue specs, but that really is pushing it! They hit the woodwork at least twice, Robles made a point-blank save (more like it hit him) and numerous other close shaves. We were battered.
Ian Cowhig
104
Posted 29/01/2016 at 23:12:31
Sorry Andy.
Definitely not Royal Blue Specs. I was referring to the second half. And up to the second goal. Others on toffee web are saying City would have scored anyway. We can talk about ifs, buts and maybes. But at that point you are correct, they were battering us, but we were defending well.
The change in momentum came initially from Navas, but more from De Bruyne for Toure. All of a sudden Stirling came into the game, because they were playing at a faster pace. We were just keeping our head above water. Then we got the kick in the teeth of that goal. You could see the effect it had on the players.
As said in original comment. Martinez does need to change his philosophy when we get ahead in games. He has been guilty numerous times of the gung ho approach. Wednesday wasn't like that.
Add Your Comments
In order to post a comment, you need to be logged in as a registered user of the site.
Or Sign up as a ToffeeWeb Member — it's free, takes just a few minutes and will allow you to post your comments on articles and Talking Points submissions across the site.
© ToffeeWeb