McGeady: 'I knew I had to get out' of Everton
by

93 Comments [Jump to last]
| 04/02/2016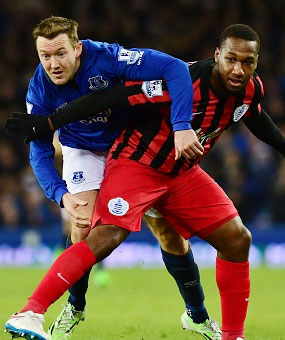 Updated
Aiden McGeady has been opening up about his frustrations at not playing with the Toffees this season after joining Sheffield Wednesday's push for promotion from the Championship.
After losing his place in Roberto Martinez's side last season following injury and the arrival of Aaron Lennon, the Republic of Ireland international found himself further down the pecking order at Goodison Park when Gerard Deulofeu was brought back to Everton on a full-time basis in the summer.
Since then, McGeady has started just one game, the Capital One Cup Second Round tie at Barnsley in which he was substituted at half time with Everton trailing 2-0.
With the threat of missing out on his country's participation in the European Championships in June if he wasn't playing regularly, the 29-year-old heeded the advice of his international manager, Martin O'Neill, and took a loan deal with Wednesday for the remainder of the season.
"The national team manager told me that I had to get out and play," McGeady told BBC Radio Sheffield. "You're wasting your time if you're not playing. It wasn't enjoyable at all."
"I forgot what it was like to be a footballer. I was training Monday to Friday and then having weekends off.
"Once it got to October/November, I knew I had to get out."
The former Celtic winger went into further detail about his final few months at Goodison in an interview with the Sheffield Star, explaining that it was that poor showing against Barnsley that was uppermost in Martinez's mind when it came to his subsequent exile from the first-team squad.
"It has been demoralising," McGeady said. "You just think 'what more can I do to get back in [the manager's] plans'. Obviously I wasn't doing enough or I might have been given another chance.
"Whenever I spoke to him, he just said 'the Barnsley game,' and that was it. Those were his reasons so what can you do?
"You can't really change the manager's mind by arguing with him. His mind was made up and I just had to accept his point of view."
McGeady, who signed for Everton for a nominal fee from Spartak Moscow two years ago and has made 43 appearances for the Blues, says all he is concentrating on now is helping get the Owls as far up the table as he can and he hinted that he could look to stay at Hillsborough longer term if things work out.
"There's 18 games left this season and a lot of points to be played for. There is not that big a gap between us and the top two," he continued. "The ideal scenario for me is to come here and play and help the club to get towards that.
"The owners are ambitious and it is something I want to be a part of."
---
Reader Comments (93)
Note: the following content is not moderated or vetted by the site owners at the time of submission. Comments are the responsibility of the poster. Disclaimer
Brian Williams
1
Posted 04/02/2016 at 17:53:17
Just wish he'd have realized earlier.............by about two years!!
Gerry Quinn
2
Posted 04/02/2016 at 18:10:09
I think that we ALL know the main reason for him wanting out...
Colin Glassar
3
Posted 04/02/2016 at 18:12:18
I'm just glad you've gone Aiden, you've found your level.
James Stewart
4
Posted 04/02/2016 at 18:14:21
Could have left the window before he did, he turned down Sunderland. Good riddance speaks volumes he is now in the Championship.
Geoff Evans
5
Posted 04/02/2016 at 18:15:50
Probably a good move all round. Hope he does well and plays in Euros.
Ged Simpson
6
Posted 04/02/2016 at 18:17:18
He was a Blue and tried. He is therefore one of our family. As is Brett Angel. Otherwise what are we ?
Colin Glassar
7
Posted 04/02/2016 at 18:17:22
Can we give him to Sheffield Wednesday for free?
Colin Glassar
8
Posted 04/02/2016 at 18:18:20
Better off Ged!!
Colin Glassar
10
Posted 04/02/2016 at 18:25:52
He's talented Ged but he's one of those players who appears to not give a damn if he's successful or not. It's no use being talented if you're not prepared to use that talent.
Tom Bowers
11
Posted 04/02/2016 at 18:31:32
Just too inconsistent.
Everton have had too many like him over the years.
Harold Matthews
12
Posted 04/02/2016 at 18:38:06
Good luck to the lad.
Trevor Powell
13
Posted 04/02/2016 at 18:45:19
I went to a talk by Neville Southall promoting his book. He was asked who was the worst player he had played with at EFC. A "wag" in the audience suggested Brett Angell.
Big Nev was clearly angered by the Angell comment and defended dear Brett to the hilt, noting that he may have not been gifted but he was dedicated to the Blue Cause unlike some higher paid so-called stars.
In my book, Brett Angell was made of the right stuff, even if he did not set GP alight!
Brian Porter
14
Posted 04/02/2016 at 19:00:27
McGeady seems to be slagging us off but should remember he's on loan at Wednesday and is still under contract to us for another two and a half years. Oops, Aiden.
Brent Stephens
15
Posted 04/02/2016 at 19:09:23
Brian #14 - what has he said to slag us off?
Martin Mason
16
Posted 04/02/2016 at 19:27:43
Good luck to him. He was a known quantity and we bought him, that is no slight on him but is one on us.
Des Farren
17
Posted 04/02/2016 at 19:28:27
Best of luck Aiden. Hope it works out well for you.
Les Martin
18
Posted 04/02/2016 at 19:39:56
Frustrating time for him and a frustrating performer in a Blue shirt, injuries didn't help either.
Talented but lacks consistency but I wish him luck.
Scott Goin
19
Posted 04/02/2016 at 19:41:48
It sounded like his wages were the main thing keeping him from getting a permanent deal to another club. That's fair. If I was getting paid a fortune for being filler at practice, I wouldn't want to take less money somewhere else. That being said, he can't then complain about not getting playing time either. He's not a horrible player.

He's just not good enough for Everton. It also seems like he's at a point in his career where he no longer has much ambition and is happy to live off his highlight vids on YouTube.
Ged Simpson
20
Posted 04/02/2016 at 19:43:45
This is more about slagging off some lad who wasn't good enough.
Paul Kossoff
21
Posted 04/02/2016 at 19:48:22
Harold, good luck to him? I wonder why he wouldn't go back to Celtic, oh I know... because he wouldn't take a pay cut. Aren't we paying some of his wages at Sheff Wed?
And before you jump in with the old, 'Would you take a pay cut?' – with the money he's on and the amount he must have in his bank, yes I would take a pay cut to as he says ' get out and play'.
Lazy, uninterested, over rated mercenary, not bothered who he plays for or where he goes, plenty for little is his motto. Good luck to him, umm I don't think he needs it.
Jay Wood
22
Posted 04/02/2016 at 19:55:36
Bitter? Not us, eh?
None of us, not one of us, truly know the personality, the mentality or thinking of any our players, or indeed the inner workings of the club; how players perform in training, how they react to being injured or benched, the dialogue and expectations expressed between player and coaches, etc.
And yet – time and again – posters comment with authority on such matters, elevating some players to demigod status or casting others into the burning pits of eternal damnation.
What I do know as a couch spectator is that Aiden McGeady is clearly a talented footballer. At times, he is capable of things few other players can reproduce. At other times, you wonder if he is a novice to the game. Ergo, he lacks consistency.
By all accounts, Roberto Martinez had tracked him for a long time - even before he became Everton manager – and 2 years ago landed his man for a nominal fee.
He took a while to get fit and up to speed, only played sporadically when he showed glimpses of his talent, without ever convincing he merited a regular start.
He has subsequently missed opportunities to play through injury and simply got pushed down the pecking order as new players joined the club.
It happens. Every transfer is a gamble. With Aiden, it hasn't worked out for either him or the club. There is clearly a player in there, but – as I say – he doesn't deliver regularly enough to merit a place in our starting XI. That is no grounds to question his personality or morality, as some do so on this site.
I am not aware of Aiden ever 'dissing' Everton. He certainly doesn't do so in his reported comments here. Rather, he speaks of his frustration and desire to play, recognizing he needed to leave Everton to achieve that aim. This torpedoes recent allegations against him on this very site, that he is a 'con man', happy to sit out games and simply cash his cheque every week.
So from me Aiden, good luck lad. Sorry it didn't work out for you with us. I hope you get a good run in the side at Wednesday that secures your place for Ireland in the Euros.
Brian Mahoney
23
Posted 04/02/2016 at 20:00:13
He's forgotten what it's like to be a footballer!! Try thinking of the wages you were getting for not even being on the bench. The couldn't-care-less attitude at Barnsley and West Ham in the cup last season when he got sent off summed him up completely. I think what he should have said was "I cannot remember how to play football".
Paul Kossoff
24
Posted 04/02/2016 at 20:10:36
I'm not bitter, Jay, never have been and never will be, that name is thrown at us by the Shite over the park not by Evertonians.
There are plenty of so-called pro athletes, not just footballers, who sign a big contract and as soon as the ink is dry they are looking for a new club. You know that and if you think that's above anyone who pulls on a blue shirt, then you are too honest.
Ian Brandes
25
Posted 04/02/2016 at 20:16:23
Never quite duplicated his international form, so not a great player for us.
Wish him well nevertheless.
Paul Doyle
26
Posted 04/02/2016 at 20:26:31
After one game I new he had to be chased,
Waste of money; at times I forgot we had him.
Andy Crooks
27
Posted 04/02/2016 at 20:48:19
Good post, Jay Wood, I think that sums it up well.
Brent Stephens
28
Posted 04/02/2016 at 20:52:28
Jay #21 = well said. So lazy he wants to play for his country!
Jamie Crowley
29
Posted 04/02/2016 at 21:01:10
Aiden allowed me a great memory when he crossed the ball to Naismith who headed home, and my Blue friend (mate who played for Everton Academy in the youth FA Cup years ago) ordered a shot of Bushmills for him and Jameson's for me.
And we toasted the Catholic-Proddy connection.
Good luck Aiden!
Niall McIlhone
30
Posted 04/02/2016 at 21:02:20
Agree, Andy, yes Jay that's a very well-balanced post, IMO. Who knows, had McGeady not suffered these injury problems (pre Lennon signing and Deulofeu's second stint), he might have held down a place in the team and his career at Everton may have been more memorable?
He can certainly cross a ball, and beat a full back, perhaps when it came down to it, he did not have the physicality or mental attitude for premiership football? By comparison, a fellow Irish international, Kevin Kilbane certainly did have those attributes and will mostly be remembered with fondness.
I suspect there are very few players who "sit in their hands" taking the wages, and I'm just sorry to see another player go from our club who never reached his full potential (to follow Naismith).
Dave Abrahams
31
Posted 04/02/2016 at 21:11:00
Jay (21) you have a good knowledge of football, especially concerning Everton, why are you a "couch spectator", do you live away from Merseyside? So you can't get to the game.
Frank Thomas
32
Posted 04/02/2016 at 21:11:26
Absolutely needed to leave Everton for his football sake? He did not want a transfer to Celtic because they could not meet his salary but they could offer European football next year. Did not want to go to Leeds because they probably would get promoted but could not match his salary next year.
So he has gone to Sheffield Wednesday who will probably also go up and maybe match his salary but if not then he will return stating "I enjoyed my time there but I prefer Everton and will try to get into the first team."
Eugene Ruane
33
Posted 04/02/2016 at 21:18:19
I'd wish him good luck too.
After all, he didn't force us to buy him.
If you're not happy with him, save your ire for the our scouts and/or manager.

Don Alexander
34
Posted 04/02/2016 at 21:23:45
The fact is that he has great ability but, as the years have rolled by, he's displayed it less and less consistently, and rarely for us at all. Johnny Giles very recently said the same thing about him. Some might say he squanders his talent (but he's financially made for life so he may think, "what the hell"). It's such a shame that some gifted footballers are unable/unwilling to do the work on the training pitch that their talent and the paying fans demand.
Unfortunately the main culprit for us in this regard, but unfortunately NOT the only one lads, is our "phenomenal" one.
Shane Corcoran
35
Posted 04/02/2016 at 21:31:49
Surely if he was all the things he's supposed to be he'd have done exactly the same as he's alleged to have done for the last six months for the remainder of his contract?
For those who seem to know about how he turned down Celtic and Leeds etc, first of all he would probably have to take about 70% pay cut to play for Celtic in the environment that he couldn't wait to leave due the level of abuse he got for playing for Ireland instead of Scotland. Of course this doesn't compute for the anti-Aiden brigade because the man cares only for money, oh and chocolate of course.
If Leeds was an option then it was a choice between Wednesday and them and he chose the former. What's the argument here exactly?
Frank Thomas
36
Posted 04/02/2016 at 21:43:56
Eugene (30) our scouts identify talent and they are usually right but they cannot identify the vital 'determination' factor that players like Vardy, Peter Reid and Eric Cantona have. All of those footballers worked longer and harder than the rest to play in the premiership.
If Aiden was playing a blinder week in week out in the reserves don't you think he would be selected for the first team? Sadly for him and Everton it seems to be too much hard work for him.
He gets the same pay no matter how much work he puts in but he needs to remember most players who leave Everton tend to fade away and get much lower salaries than our players.
Peter McHugh
37
Posted 04/02/2016 at 22:11:25
Lot of sympathy on here. I remember him being paraded before he started. He was so overweight it was untrue. Not like he was a big stocky lad. I had huge concerns then.
Naismith I had sympathy for and clearly best for him to move not playing. Beat of luck to him. McGeady - no sympathy. I don't know ins and outs like Jay says. I do know a talent like him should not be going to Sheffield Wednesday - that's a waste of his talent. He obviously went to Russia for money and to me has gone to Wednesday for monetary reasons not football reasons.
Ciaran Duff
38
Posted 04/02/2016 at 22:17:21
Great post Jay #21.
Shane Corcoran
39
Posted 04/02/2016 at 22:18:15
Peter, "he obviously went to Russia for money"? Celtic received a £10m bid for him, it was accepted and he went. He got dogs abuse in Scotland and he went to a big European club. Some would say it was a brave move taking his family over there. Where does money fit in to that move?
It might come out that McGeady was on the beer for the last six months but ToffeeWeb seems to be full of lads that seem to think they know a lot with no evidence to back it up.
Jay Wood
40
Posted 04/02/2016 at 22:18:49
Dave Abrahams @ 28. Kind words. Thanks.
Sadly, far, far removed from GP - or indeed the UK - these days and unable to get to any live games, more the pity.
There is nothing - genuinely! - I miss more living away from the UK than the craic of attending an Everton game, be it at GP or away.
Peter McHugh
41
Posted 04/02/2016 at 22:22:20
Shane - shows how little I know as didn't realise that! My opinion might be a load of crap.
However, he was still overweight when he came and I instantly thought can't see you making it here. And I still have no sympathy for him.
Nick Armitage
42
Posted 04/02/2016 at 23:28:22
The 75 grand a week he cost us was about 75 grand a week too much.
Waste of effort, talent and space. He's now at the level he deserves to be, which is below the Premier League.
Good riddance.
Oliver Molloy
43
Posted 04/02/2016 at 23:34:35
Nick,
75 grand a week...you're having a laugh - there is only one player on this kind of money at Everton - Lukaku.
Nick Armitage
44
Posted 04/02/2016 at 23:43:51
McGeady was a free agent so there was no transfer fee to be factored in to the deal so he did very well. He was on big money in Russia and players very rarely take pay cuts, stupidly Martinez had a hard on for him and got done. Gareth Barry is on big money as well but at least he performs.
Lukaku is earning more than 75k a week.
Andy Crooks
45
Posted 04/02/2016 at 23:52:33
Nick, how do you know what the players earn? If you are not making it up then let us know your sources. I suggest that your assertion that McGeady earned 75k a week is utter fucking bullshit.
Oliver Molloy
46
Posted 04/02/2016 at 23:57:54
He wasn't a free agent and we did pay a fee for him which was undisclosed.
No way would he have been on 75 grand..
It was reported in most media circles that Rom signed a five year deal worth 75 grand a week making him the clubs highest earner ever.
Oliver Molloy
48
Posted 05/02/2016 at 00:17:36
Jamie @ 28
Aiden allowed me a great memory when he crossed the ball to Naismith who headed home, and my Blue friend (mate who played for Everton Academy in the youth FA Cup years ago) ordered a shot of Bushmills for him and Jameson's for me.
And we toasted the Catholic-Proddy connection.
So that's what you will remember about McGeady!
The former Celtic player ( presumably Catholic ) crossing the ball to a Rangers player ( presumably Protestant ) to score for Everton.!
Anthony Dwyer
49
Posted 05/02/2016 at 00:53:13
Being a fat, lazy, unfit useless bastard is the reason McGeady couldn't get a game at the blues.
Being shit at football didn't matter to Roberto, he liked him.
Frank Wade
50
Posted 05/02/2016 at 01:29:51
It's a shame that some posters resort to to slagging off a player and inventing personality attributes/weaknesses. Aiden McGeady is a very talented footballer. I have watched every game he has played for Ireland, some flashes of brilliance, but more often frustrating the fans. He always seemed to try his best, which is as much as anyone could hope for.
As Shane mentioned above, he took a lot of stick at Celtic from assorted Scottish fans for playing for Ireland and it says a lot for his personality that he persevered and built a career for himself in that toxic atmosphere. I was at the match v Norwich when he was paraded as our new signing and agree he did look overweight. Season in Russia had finished about 6 weeks previously, but who knows if this was down to a lack of professionalism, or an injury, or choice of clothing.
Some players just cannot reach the levels of physical strength to play in the Premier League on a regular basis. In Aiden's case, I think it has been a case of the harder he tries, the more often he breaks down with an injury. We all know of players we played with as teenagers, who we thought would make it, but didn't have the body to go with the talent. The arrival of Lennon and Deulofeu has pushed him further down the pecking order. His talent and physical attribute combination mix don't seem to match the requirement for Premier League. He has moved on and we will get some of his 50k approx salary paid. Hopefully he will do well at Wednesday and in the Euros for Ireland. We got him for next to nothing. He tried. We tried. It didn't work out. Move on. We should wish him the best. We gave him a contract for 5 years, so we honour that contract.
I haven't watched his YouTube reel but his goal v Leicester in 1st game of last season and his goal for Ireland away to Georgia spring to mind as worth a watch.
Interesting what Big Neville had to say about poor much maligned Brett Angel.
Philip Holding
51
Posted 05/02/2016 at 01:41:27
Has pace and skill but little else. One trick pony with a poor work rate and no end product. Had 2 decent games for us (vs Villa and Lille) and poor in all the others. Poor lifestyle choice is proven by the fact he's overweight. One of the worst I've seen for us, however, I do wish him all the best in the future, it didn't work out, it happens.
Tony Draper
52
Posted 05/02/2016 at 02:21:13
Aiden hasn't utttered a single bad word about Everton.
He has said that he wanted to be playing. As a professional footballer he should want to play...... FFS I'm a Plumber but I'd LOVE to play (only the two matters put pay to this........... my lack of ability and my pace which is akin to continental drift.......... OK 3 matters 'cos I suppose that at 58 my future prospects may be somewhat limited)
Aiden is neither the best nor worst player to pull on the sacred Royal Blue Jersey and men with less talent and far more determination have served us well.
Frankly, I hope that he reignites his passion for football, with Wednesday, with whoever or even with us. I'd hate to think that at my age he would suddenly realise that he had everything needed to be twice the player that he currently is.
Perhaps he should read my old school reports "Has ability in abundance, if only he would apply it". Apply your ability Aiden and enjoy the rest of your career.
Jamie Crowley
53
Posted 05/02/2016 at 04:43:22
Oliver -
Yes, that's what I'll remember about McGeedy. Honestly, what else was there to remember?!
The fact that moment happened between a Celtic player and a Rangers player for the good of Everton?? What's next? Peace in the Middle East? Jesus riding on his white horse out of the clouds??
Sublime moment John Lennon would have been proud of and a passage of play that microcosmically showed how fucking silly human beings can be with our petty grievances and we should all just go out, get along, and play footy!!
Celtic to Rangers, goal for Everton. Pass the Bushmills and the Jamesons for the Proddy-Catholic Everton friends down the bar!
gold... ;0)
Ian Jones
54
Posted 05/02/2016 at 08:16:42
Taking everything into account that has been said about McGeady sometimes it might be as simple as being in the right place at the right time and being given the opporrunity and being able to take the opportunity and running with it.
Players sometimes need a run of games in the side to get up to speed, see how others play and form good partnerships with other team mates, from which to gain confidence and feel you belong in the team. There are many examples but players like McFadden and Bilyetc had good matches but then would be dropped or rotated, possibly through picking up slight knocks, so any significant progress they had made would be nullified and they go back to square one. Good luck to Aiden. He is probably better than we think he is
Oliver Molloy
55
Posted 05/02/2016 at 08:25:00
Jamie,
Sublime moment John Lennon would have been proud of and a passage of play that microcosmically showed how fucking silly human beings can be with our petty grievances and we should all just go out, get along, and play footy!
Yeah fucking silly as you put is right - So why bring it up then?
John Lennon !
Nick Armitage
56
Posted 05/02/2016 at 08:26:32
Andy Crooks - tell you how I know this just to satisfy your curiosity? Get real.
You can speculate all you want, I know that's what he earned, you evidently don't. I was horrified by it, but it's kosher. Makes no odds to me whether you believe it or not.
Denis Richardson
58
Posted 05/02/2016 at 08:50:54
Not sure why people are angry here. We took a punt on the cheap (transfer wise anyway) and it didn't work out.
He was never really good enough for us and his injuries didn't help. The main cock up as I see it was Everton offering him such a long deal. For a player who was a gamble a 4-5 year deal seems a bit ridiculous. Should have been 2 years plus say an option for another 2. (The deal for Gibson was also far too long given his injury record at the time.)
Good luck to Aiden I say and hope he does well for the greens in the summer. (Better he does the better chance we can sell permanently...I can see him being back I the summer tbh)
Denis Richardson
59
Posted 05/02/2016 at 08:52:56
Oliver 41 - Baines is also on 75k/week.
Phil Sammon
60
Posted 05/02/2016 at 09:13:24
Aiden McGeady was absolutely not on £75k p/w.
Dave Abrahams
61
Posted 05/02/2016 at 09:21:39
Tony (49), you have given good advice there to Aiden. I would love him to act on it, you are only young once and if he doesn't turn his game around he'll have a long time to regret it.
Daniel Joseph
62
Posted 05/02/2016 at 10:13:06
World beater - just not in the Premier League
Dave Richman
64
Posted 05/02/2016 at 10:46:32
For me, Aiden McGeady's Everton career can be summed up in one match .... the FA Cup replay last season. If my (admittedly shaky) memory serves me correctly, McGeady had a great first half, and almost had me thinking that there was a decent footballer in there somewhere ..... then he went and bollocksed it by getting a second yellow for a ridiculous challenge.
I doubt he'll be missed by anyone
Brian Williams
65
Posted 05/02/2016 at 11:01:21
The thing is, and this is with reference to several posters above, McGeady's ALWAYS been the same. I have a few mates up in Scotland who support Celtic and when he was coming to us they used phrases like "headless chicken" and "really frustrating." They saw flashes of his undoubted skill nut that's all they saw "flashes."
There's no use being a world beater for 5% of any game and a ghost for the other 95%. He reminds me of the kid in the school playground who could do all the tricks and had all the skills, but couldn't reproduce it on a muddy pitch against big 'orrible 'ard case defenders....
I don't wish anyone bad... but I do wish him gone for good.
Baz Daly
66
Posted 05/02/2016 at 11:04:17
"I forgot what it was like to be a footballer."
Trouble is Aiden, that all started on the pitch.
Delighted to see the back of this guy. After a blistering start to RM's first season, this guy walked in the door and it all began to change for the worse, with any luck his departure can be the catalyst to regaining some quality.
We've won 2 with clean sheets since he decided to go...
Shane Corcoran
67
Posted 05/02/2016 at 11:12:22
Line of the thread "We've won 2 with clean sheets since he decided to go...". I suppose it's less offensive than some of the others.
Brent Stephens
68
Posted 05/02/2016 at 11:22:20
Yes, good job we dropped him from the first XI for the last 2 games.
James Marshall
69
Posted 05/02/2016 at 11:41:12
From world beater to panel beater. He was never any good. All that fancy footwork doesn't do shit.
There's that bloke in the Guinness book of records that can do keepy-uppy for about 3 weeks - doesn't meant he's any good at football.
Aiden McGeady my arse.
Andrew Presly
70
Posted 05/02/2016 at 11:52:09
Should do ok at Championship level. A good Euros could earn him another chance next season or more likely a new start somewhere else. Prove us doubters wrong Aiden!
Daniel A Johnson
71
Posted 05/02/2016 at 11:58:23
To be fair its not AIden McGeadys fault he was signed on a free and could demand top wages to match what he was being paid in Russia. I always thought he was on £45k a week.
You cant blame him for turning down offers which would half his pay cheque. I would too. You can argue footballers are greedy but when it comes to money they are not stupid either, esp with agents involved.
He was free and worth a punt but his high wages have been a massive barrier for him being able to move on. You in reality have to blame Martinez for a mmassive error of judgement as, to be honest, from Day 1, he has never ever looked good enough.
Mark Murphy
72
Posted 05/02/2016 at 12:17:03
Why would he get stick from Celtic fans for playing for Ireland??
Michael Polley
73
Posted 05/02/2016 at 12:36:36
Can't see him coming back. Good luck to him. Never an impact player for me?
Shane Corcoran
74
Posted 05/02/2016 at 12:42:04
Mark, the away fans at every other ground. I remember his dismay at grown men coming up to his face and saying "I'm going to kill you wee man."
Mark Fitzgerald
75
Posted 05/02/2016 at 13:04:30
Can't understand why a lot of posters here feel the need to slag off a player just because he has not fulfilled his potential for Everton.
Sensible summary from Jay@21.
Wasn't too keen on us signing him in the first place as I had seen McGeadys promising young career (when he was earning rave reviews on the European stage for Celtic) slowly go downhill through a series of inconsistent, and at times abysmal, performances for club & country. Yet so many people could see the obvious talent this guy had. So when RM signed him I hoped it might be an opportunity for the player to prove his doubters wrong. Alas, no such luck.
I genuinely wish him well at SW and at the Euros. Don't be surprised to see him do well at both (or flop at both).
That's the MacGeady enigma for you.
Teddy Bertin
76
Posted 05/02/2016 at 13:26:01
Gifted player, worth a gamble because there was a chance he was just bored and homesick in Russia, but in the end he hasn't got the desire or intelligence to really work out how to damage top teams. From all accounts he's one of the most skillful players on the training pitch and we know he can score spectacular goals.
Good luck to him, but id like to think that we're moving on as a couple from relying on taking punts on players like McGeady.
David Pearl
78
Posted 05/02/2016 at 14:21:36
He isn't a bad player, perhaps not consistent enough... or perhaps not played consistently enough to build up his form. He has talent, skill, can cross a ball and has also scored a few cracking goals. Writing was on the wall before this season kicked off though with us being overloaded with right sided midfielders He is still an Everton player and we should all wish him luck. Doubt though he has a future with us after the load ends.
Mark Murphy
79
Posted 05/02/2016 at 14:29:21
Ah I see what you mean Shane - sorry was speed reading...
Not just Rangers fans then?
Quite sad.
Shame it didn't work out for Aiden but don't understand the bad feelings towards him.
Best of luck to him!
Alan Bodell
80
Posted 05/02/2016 at 14:39:28
Teddy #72, my thinking exactly as I'd seen enough of him to give him a chance back from Russia when he played some very good games for the ROI, obviously not good enough for our squad now so I hope he shines at Wednesday and they take him and cut our wage liability.
Andrew Laird
81
Posted 05/02/2016 at 15:30:03
Time to get out rather than knuckle down and work hard? A bit like his time in Russia, Goodbye Aiden
Jamie Crowley
82
Posted 05/02/2016 at 17:06:08
Oliver -
Why bring it up? Elementary answer - cause I thought it was neat...??
Have a great day Oliver!
Tony Rio
83
Posted 05/02/2016 at 17:56:44
Nice one Roberto...seems your not a soft touch at all. There were plenty of fans saying he shouldn't wear the shirt again after his barnsley performance. I'm glad mcgeady is saying publicly what Martinez can't say. Ruthless Roberto - love it
Gordon Roberts
84
Posted 05/02/2016 at 18:54:31
Nice one, Roberto, sends the right message to the rest of the players. Just make sure you're consistent when another squad member doesn't pull his weight.
Barry Sherlock
85
Posted 05/02/2016 at 20:22:36
The only problem with this situation is that it isn't permanent! McGeady could actually come back!
TWO big clubs cannot be wrong. He sat on the bench and even trained with the kids for long periods of time in Russia. And now he has had to do it at Everton.
Aiden McGeady is such a waste of talent, but to be fair he doesn't have the work rate or desire or most importantly the pace to be consistently good in the EPL. Hopefully he has a good Euro's and get a permanent move to somewhere else.
I hate to think that he will return to sit around and pick up a huge salary.
Andy Crooks
86
Posted 05/02/2016 at 21:13:44
Nick # 54, I certainly do not want you to satisfy my curiosity. If, for example, you had said that you had it from an impeccable source I would not, based on your previous posts, have referred to it as bullshit.
However, that's not the issue. For McGeady to be on that amount of money would suggest to me that someone at the club has acted in a way that is incompetent beyond understanding.
Oliver Molloy
87
Posted 05/02/2016 at 23:21:46
Jamie, yeah bigotry in sport is neat alright and when it evolves to whatever whiskey you drink because of some sort of connection between orange and green, it is quite pathetic in my opinion.

Anthony Dwyer
88
Posted 06/02/2016 at 02:03:07
Zzzz
Are we all still on about McGeady, he barely give a toss about Everton, he took forever to get match fit after joining and ended up with a massive bank account.
Anyone who moans about my posts should look at how fit Pienaar is already after being back about a month. He's a lot older than McGeady and had bad injuries, but he has dedicated time to get fit, get back playing and earning his wages dispite being readied to leave at the end of the season.
McGeady is like Darren Gibson, simply put , they are not dedicated enough.
This is not a dig at paddys before anyone starts, Coleman and McCarthy are two of the most dedicated pros in the game.
Eric Myles
89
Posted 06/02/2016 at 03:08:05
Everton players salaries.
Not so sure of the accuracy or the source of info but it makes interesting reading!!
http://www.celebritiesmoney.com/Everton-fc-players-salary-list-2015-they-don't-spend-aggressively-in-transfer-market/
Eric Myles
90
Posted 06/02/2016 at 03:26:33
This one seems much more realistic but slightly older
http://www.tsmplug.com/football/teams/Everton-squad/
Jamie Crowley
91
Posted 06/02/2016 at 04:42:01
Oliver - we were MOCKING the bigotry.
Jesus man!
Sean Kelly
92
Posted 06/02/2016 at 09:49:34
Glad he's gone. I like players to have an attitude and show it on the pitch. He has an attitude alright but not the skills to match. He wont be back as hes not good enough for the premier and Martinez knows it. FFS he played Kone as a winger ahead of him. That in a nutshell m friends is abject failure.
Liu Weixian
93
Posted 06/02/2016 at 09:57:46
I do not understand the vitriol towards McGiddy. He may not be a success with us but he has hardly done a Balotelli off the field or disrespected the club and its fans in any way.
Phil Sammon
94
Posted 06/02/2016 at 10:16:49
What 'attitude' is that Sean 87?
He's never once bad mouthed the club. Fair enough if you don't like him as a player, but he doesn't deserve personal abuse.
Brent Stephens
95
Posted 06/02/2016 at 10:32:31
I'm with Liu, Phil and others. Nasty player or nasty comments? Take your pick.
Barry Jones
96
Posted 06/02/2016 at 19:51:41
Jay Wood, nice post. I also believe McGeady lost his confidence after only playing sporadically. I wish him well. Did Barnsley make an offer?
Oliver Molloy
97
Posted 07/02/2016 at 13:18:31
Sure you were Jamie.
Andy Crooks
98
Posted 07/02/2016 at 20:07:27
I wish I had the insight of some Evertonians. Those who can suss out a player's thoughts, attitude etc, just by the look on their face or by what they read in the paper. I actually think McGeady is a good player and our coach obviously thought so too. We have some good wingers and Aiden just could not get in the team.

I just do not get the vitriol towards him. If he gets a run of games and stays fit, Wednesday will have a good player. Good luck to him.
Add Your Comments
In order to post a comment, you need to be logged in as a registered user of the site.
Or Sign up as a ToffeeWeb Member — it's free, takes just a few minutes and will allow you to post your comments on articles and Talking Points submissions across the site.
© ToffeeWeb