Martinez hails Blues after 3-0 win at Stoke
by

38 Comments [Jump to last]
| 06/02/2016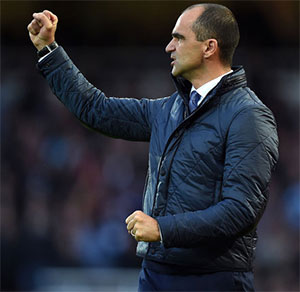 Roberto Martinez was revelling in what he described as a "complete performance" from his charges today as Everton registered a comprehensive 3-0 victory over Stoke City at the Britannia Stadium.
The Toffees were 3-0 up and cruising by the halfway stage and could easily have doubled their tally against an insipid Potters outfit who were spared further embarrassment in the second period by goalkeeper Jack Butland.
Having seen his team give up an unacceptable number of points from winning positions this season — not least against Stoke in the reverse fixture at Goodison Park at the tail end of December — the Catalan was particularly pleased with the way in which Everton defended and then added to an early lead given to them by Romelu Lukaku's penalty.
"How we handled the lead [was the most pleasing aspect]," Martinez said to Sky Sports. There have been many, many times this season where we've started games really well and had good opportunities, good chances, we  score goals and then from that point on we haven't been able to take advantage of those leads.
"Very similar to what we did against Newcastle and in the FA Cup Fourth Round [against Carlisle] we've been able to start the game well with a lot of concentration but once we had that lead we were able to use it to our advantage and we were able to create even more opportunities in the second half.
"So in the way that we kept that concentration for 90 minutes was very pleasing and it was a complete performance in that respect.
The manager was asked whether he felt his side should have done their goal difference more good after half time by padding the scoreline, Martinez paid tribute to Butland who made a terrific reaction save to turn a Lukaku header onto the bar and foiled substitute Arouna Kone in a one-on-one situation after the Belgian had been substituted.
"You always want to be clinical. In football, it's about creating chances and defending well but in terms of taking chances or not, you sometimes have to give credit to the opposing goalkeeper. I thought [Jack] Butland was outstanding; I think the one-v-one situation with Arouna Kone, the save from Romelu Lukaku… they defended with numbers at times and put in good blocks. 
"We could easily have scored another three or four goals in the second half and I think that's very pleasing and the sign of a consistent performance over the 90 minutes. It's not often you come to the Britannia Stadium and get a good three-goal lead and that reflects on what happened out there which is a real pleasing aspect of our performance today.
"We knew that today was a real opportunity to show our intent and I couldn't be happier with the manner of the performance."
---
Reader Comments (38)
Note: the following content is not moderated or vetted by the site owners at the time of submission. Comments are the responsibility of the poster. Disclaimer
Colin Glassar
1
Posted 06/02/2016 at 23:25:40
The save from Kone was a complete accident. Butland didn't know anything about it as it hit his foot and went out. The save from Lukaku was amazing.
Phil Walling
2
Posted 06/02/2016 at 23:39:35
Just this once I agree with you, Colin !
Michael Penley
3
Posted 06/02/2016 at 23:53:42
The save was only an accident if you think that an airbag saving a driver's life is an accident. Those kinds of saves are designed to be accidents. The best keepers will get into the perfect position and hope for the best, and Butland did that. Howard would have botched it.
Jim Hardin
4
Posted 07/02/2016 at 00:52:11
Hmm. Michael, didnt Butland give up a penalty today? perfect positioning right? He meant to do that?
Michael Penley
5
Posted 07/02/2016 at 02:08:52
Jim, my post wasn't in praise of Butland but his save of Kone's attempt. No keeper is perfect and Butland certainly erred in conceding a penalty.
Dennis Ng
6
Posted 07/02/2016 at 02:22:40
A good win. a much better "complete performance" than other "complete performances". It seems that his dictionary only includes good, better, best. Bring on West Brom.
Brian Porter
7
Posted 07/02/2016 at 06:19:05
It was indeed an excellent performance and I would go as far as to suggest that, whether by accident or design, Martinez has found our best starting eleven at last. The defence, previously so shaky and at times inept, suddenly looks calm and assured, our midfield looks totally comfortable with and without the ball, and up front we continue to pose a significant threat.
Without doubt, Robles has had a part to play. His mere presence seems to have had a cathartic effect on the men in front of him and though some may disagree, which I respect, Funes Mori and Jags perform well together with more maturity than we show when Stones is playing.

John Stones may become a great star one day but at present, we have a job to do in salvaging what we can from our season and he really is a luxury we currently can't afford with his clever but very risky approach to defending.

Yet again, Funes Mori showed his scoring potential yesterday though this time he missed his chance. Lennon is a revelation and I have to wonder why Martinez hasn't utilised him before now this season, similarly with Cleverley.

Did Roberto pick what he thought was a lesser team for Carlisle, only to find that it just happens to be the best and most balanced eleven he's put out all season? I can only hope he doesn't tinker too much with this particular line-up, which really does look as it can do what we've all been wanting all season, and that is to WIN games, without the attendant worry and nail-biting at the end we've become so used to.
Les Martin
9
Posted 07/02/2016 at 09:02:03
What a difference a week makes. Roberto – and some of the fans – are dancing to a different tune ,I see. I always said relax, we have a sensational team, it's just a matter of time and patience as we are going to be the envy of all in the Premier League.
We – or should I say Roberto – is building a great side and also has the underpinning of young players to come through so or future growth is sustainable.
I don't think it's a coincidence that we have had clean sheets since Jags has come back, and hopefully Roberto will realise that we still need an old head alongside Stones and Funes Mori at this stage in their careers. Well done... it's an exciting time to be Blue.
Bun McGale
10
Posted 07/02/2016 at 09:41:07
Very good result but I do believe Kone needs to be moved on in the summer, he has missed quite a few one-on-ones this season and other clear chances. He's just not clinical enough.
Geoff Evans
11
Posted 07/02/2016 at 09:53:23
Even a blind squirrel, stumbles on an acorn sometime.
John Jones
12
Posted 07/02/2016 at 10:06:17
Would it be dramatic to say Baines's time at Everton is up? Oviedo is surpassing him in all departments at the moment and we have young Garbutt returning in the summer, cashing in £7-10M in the summer for a 30+ Leighton Baines with increasing fitness problems wouldn't be bad business, would it?
Anthony Flack
13
Posted 07/02/2016 at 10:43:30
John it would be lousy business, you are focused on a couple of reasonable stints from Oviedo and I am not sure what you are basing the praise of Garbutt on, I am picking up very little about how he is doing at Fulham.
On the other hand Baines has been one of our best players for years, has been cracked this year, and may need a little support to get back to his undoubted greatness.....
Gary Carter
14
Posted 07/02/2016 at 10:58:09
It wouldn't be dramatic to say that Baines's time with us is up – it would be completely ridiculous!! Possibly the best left back in the Premier League – never mind at Everton.
Good to see us get another win, but it doesn't change anything on Martinez – he needs to go at the end of the season as there's no real point doing it now the window's shut.

Three wins doesn't change his underperformance or his awful tactics and philosophy that's totally hamstrung a top six squad for the last two seasons. We could have been Leicester this season with a half-decent manager, would any of their players get into our team?
Ian Hollingworth
15
Posted 07/02/2016 at 12:40:17
Great result and very pleasing that we are stringing together a winning run
Interesting that our results have improved with Geri not in the starting eleven.
Ian Brandes
16
Posted 07/02/2016 at 13:22:31
Great result. How good was Lennon?
As for Martinez, he picked a team of in-form players, something we, the fans, have been demanding for months.
And guess what? We won.
Maybe he is learning a lesson here, and, if so, that is good.
Danny Tetley
17
Posted 07/02/2016 at 13:26:31
Good performance. Nice to see we didn't bottle it when we took the lead.

He should keep the same team for West Brom if he can.
Brian Mahoney
19
Posted 07/02/2016 at 13:47:54
I asked on a previous post, if we won at Stoke, who will Roberto pick next week as Stones and Howard will presumably be fit.

For most of us, it is a no-brainer as the last 3 games have proved and, as much as I like Deulofeu, we cannot afford to drop Lennon who has been outstanding – even dropping back to cover in defence.

Our next two league games against West Brom and Aston Villa are both winnable and could see us back up there challenging for a European place.
Michael Williams
20
Posted 07/02/2016 at 13:49:10
Someone should mention this is our first win at the Britannia since 2008.
Ben Mackenzie
21
Posted 07/02/2016 at 14:25:40
This is our first win at The Britannia since 2008.
Kim Vivian
22
Posted 07/02/2016 at 17:25:26
Geoff 10...
";.......Glasshopper - know, and rearn..."
Mark Melton
23
Posted 07/02/2016 at 19:54:28
I read somewhere that Baines in the team impacted more negatively on our form than any other player. It was a statistic, not an opinion.
Alan Bodell
24
Posted 07/02/2016 at 20:30:17
Ben, that's funny mate.
John Jones
25
Posted 07/02/2016 at 22:16:28
I don't see how Baines is going to replicate the form he's had in recent seasons and with all respect to him he is on the decline. His main attribute was bombing forward providing assists and he doesn't seem as effective at that now. Then his set pieces he hits the first man with every corner, sails his free-kicks and bottled taking penalties since the Mirallas incident.
Defending has never been his strong point and, if you take the other attributes away, he is a very very average left back.
I may've been hasty in suggesting Oviedo or Garbutt should step in, but I do think there are other options out there that would suit us better.
Brent Stephens
26
Posted 07/02/2016 at 22:26:59
Oh how fast we're writing off Baines. Back after a lengthy, troublesome injury. I actually think he's slowly getting back into it. And I also love Oviedo baby.
Steven Jones
27
Posted 07/02/2016 at 22:43:33
Still think Jags and Stones are the best pairing and would have Baines back in.
Love the fact that we are able to use the squad - have competition for places and keep everyone on their toes and sharp for the run in.
Hopefully with a Wembley trip at the end!
Colin Glassar
28
Posted 07/02/2016 at 22:56:21
I would continue to play Oviedo but I won't write Bainsey off just yet. Lack of competition for the LB position, the loss of Pienaar and now an injury hit season have all contributed to Bainsey's form over the last 18 months but the lad is still class.
We are overloaded at left back with Baines, Oviedo, Galloway, and Garbutt (next season?) but we don't have a left footed midfielder who can play wide. I sincerely hope that Roberto can give one of these lads the opportunity at some point next season.
Niall McIlhone
29
Posted 08/02/2016 at 09:21:30
Nice to come away from one of the least hospitable grounds in England with a win, and I sincerely hope that Roberto resists the need to tinker further , now that the team appears balanced and confident. WBA will park the bus on Saturday , but a win for us, and anything less than a win for Southampton, will put us in touching distance of West Ham who , by common consent, have had an outstanding season? Despite an erratic season for us, we have a very health "plus" goal difference , and if we maintain the momentum in the coming weeks, that could be the difference between finishing, say, sixth or seventh, realistically? As for Aaron Lennon, I think he has proven this season and last what an asset he is, and Roberto has proven very astute in signing him , as he is reported to be very well liked in the dressing room as well as his performances on the pitch, which have been very beneficial to the team. COYB
John Roberts
30
Posted 08/02/2016 at 12:22:28
A lot of excitement after two good results, be it against a piss-poor Toon team and a Stoke side without their leader and hard man Shawcross. It's encouraging that our squad has sufficient quality to rotate and still compete whereas, in years gone by, this has not been the case. We always relied on Arteta / Cahill etc.
Still, this happened last season with RM; we were way down the league with too many draws, only to pick up at the end to finish well and miss out on Europe. Again this is exactly the same even though we have a fantastic squad and no European commitments.
Martinez will not change, I'm afraid, and will continue to under perform. Sorry to say but we have some excellent talent in our squad and it should be better; don't be dragged into thinking different after a few wins.
Dave Abrahams
31
Posted 08/02/2016 at 13:32:21
Brent (24) think you are right there, plenty of life left in Leighton, he has done well since he came back and is still feeling his way after a bad injury.
Don Alexander
33
Posted 08/02/2016 at 14:02:01
Niall at #27, we all want Everton to do as well as possible but you're right on the money saying that, IF we maintain what our Incredible One just has stumbled on in terms of two good results (and it's just two, folks) based on time-proven tactics, we may well making 6th or 7th.
But that stinks given what he's had at his disposal for this and last season. He has consistently and deliberately used tactics that have failed, consistently provided loads of angst to the fans, and squandered two season's worth of the short careers of our players. For that, he deserves the sack – even if they all stay on for next season, which I doubt.
Scott Bosworth
34
Posted 08/02/2016 at 17:29:07
"I am not sure what you are basing the praise of Garbutt on, I am picking up very little about how he is doing at Fulham."
Anthony (12)--
A friend of mine is a STH at Fulham and gave me a report a few weeks ago. Said that Garbutt is clearly talented, but that his talents are mostly being wasted at Craven Cottage because the squad isn't good enough to allow him to do what he is good at. In short, he described him as a carbon-copy of Baines: "adequate" defender with superb attacking instincts. Because Fulham is so poor, though, he doesn't get to attack much, and his defending isn't his main positive, so his contributions are somewhat limited.
Kim Vivian
35
Posted 08/02/2016 at 18:40:36
I started to write this post yesterday a.m. and ditched it for some reason. I can't remember on which thread but probably thought I was going off topic.
Anyway - I was a craven Cottage on Saturday with a bit of a work hospitality gig and it was nice to have some partisan interest in the game with Luke involved. The standard of football was hardly the cutting edge of the noble art but I was able to spend much of the game watching Garbutt, his play, positioning etc.
All in all he did ok - provided the cross from which Derby scored an own goal, picked up a yellow for his tenacity, nearly got on the end of a cross only to be denied by a bit of excellent Derby defending and generally was always looking to get in to the game.
I am not sure besides getting actual game time what he's is gaining by being at Fulham though. He is being asked to play a markedly different role from that which he has with Everton but you can see he is constantly looking to penetrate down the left Baines-like.
It seems most of Fulham's attacking play seems to arrive down the right were they have a couple of reasonable lads. He did defend ok against Derby I thought, but I would have to agree with Scott's mate (albeit on the basis of just one game) that his talents are certainly not being exploited as you might expect.
Good that he's staying fit though, and we should look forward to getting him back and continuing to develop with Everton
Neil Munnelly
36
Posted 09/02/2016 at 09:33:18
This is typical Martinez, string a few results together towards the end of the season, in the hopes that it will gloss over the atrocious previous portion. He did the same at Wigan for years until it caught up with him.
I Know it's still early days in his 'renaissance', but let's look at who we've beaten...Carlisle...need I say anything? Newcastle...need I say anything? Stoke...who have been on a very poor run since they gut punched us at Goodison.
If, and I emphasise IF, he has accepted that defence is also an art, then brilliant, long may he reign...but don't get your hopes too high, and DON'T forget what has gone before, not just this season, but last season too.
And as for selling Baines...Christ on a bike, some people are just unbelievable...How can he bomb forward if he has no one dropping back to cover him? No one to link with (Pienaar)...get a grip of yourselves...You'll be after cashing in on Seamus next, or haven't you noticed he's not had the same impact as previous seasons? Again, no one to drop back (Lennon aside) and cover his runs. It's the tactics that dictate the effectiveness of our full backs...
Ah, shite, I'm gonna have to write another opinion piece now...
Graham Mockford
37
Posted 09/02/2016 at 09:52:49
Neil
You seem to be in the same hyperbolic boat as Martinez. 'Atrocious' describes Villa's season or maybe Sunderland's but not ours.
Underachieving, frustrating as hell but hardly atrocious. Scoring goals at a really good rate, best away record for years and a run in the Capital Cup.
I agree it's too early to think we have neccesarily turned the corner after three games in six days but a least it's a start. Like many after Swansea and City I felt we may be at the point of no return, but that's being a supporter for you. The team and the manager deserve some credit for not folding after the City game. Let's hope it continues.
Neil Munnelly
41
Posted 09/02/2016 at 22:43:43
Sorry Graham, have to disagree, the last 18 months overall have seen us play some pretty poor football, whether it be last seasons sideways obsession or this seasons defending. Anyway you look at it, whatever adjective you want to use, we might have been good this season going forward, but at the back...ATROCIOUS. We have had, in the last 2 seasons, far too many shockingly poor results and I don't think atrocious is too hyperbolic a word for the overall record Martinez has gained or our league position has shown, with the players we have since 2014/15.
But you seem to be missing the major point of my post, Graham, which is that Martinez has a habit of putting decent runs together, doing enough to put the gloss on the end of the season. He's like a kid who has all week to study for a test and leaves it til the morning of the test and crams on the bus to school...ends up with a pass. That'll keep the parents quiet, you know? This is his approach to defending! Last minute, if it looks like we have to to save the season, then we'll do a bit of defending, but not before!!!
I do hope the good run continues, but I really do not want to be here again next season saying I told you so. Lessons learned, corner turned? I really want it to be true.
Graham Mockford
42
Posted 10/02/2016 at 13:18:54
Neil
You described the season as atrocious, I would say that is over the top given we are 8th, reached the semi final of one cup and still in the other.
It's been maddeningly frustrating at times given that we all know we should be 10 points better than we are given the quality of football we have played at times. And some of it has been quality, certainly a huge improvement on last year's turgid fare.
I've been pissed of at times at what has appeared to be tactical naivety at times but I also think having calmed down a bit in the last week he deserves more time.
I would say lets see what the next three months bring, maybe we are on the verge of a good run. We certainly have the players to do it.
Neil Munnelly
43
Posted 12/02/2016 at 09:21:13
Graham, get a grip lad, have a read of the whole message. You have focused on one word and ignored the main theme of the post, and then done it again when I explained in greater detail what I was saying. How about for your sake, you imagine I said 'poor' or 'not very good' instead of atrocious and read it. Then see if you agree.
Taken in context, our last 2 seasons with the players we have at our disposal...no where near good enough. If Arsenal performed at this level and finished 11th last season, what would you describe their season as? What do you think Chelsea have been like until Guus Hiddink arrived? Below par?
I think player for player we're not far off their level, and Rom is way better than Giroud, so it's not a bad comparison. For gods sake, accept we have been far from good enough at the back and meet me half way?
And you have hit the nail on the head when you said things have calmed down in the last week...look at his record...happens every season(with the notable exception of his first with us, when the muscle memory for defending was ingrained) shit results, poor league standing , then a surge up the table after stringing a run together when he suddenly has no choice but to defend. Did it with Wigan, eventually got them relegated.
All I'm saying is if he's finally admitted to himself that clean sheets are an important part of a winning ethos, then great, if not, don't be surprised to find us in the same position next season, but with most of the talent having fucked off to greener pastures. That Graham, would be atrocious, and I will be sitting here wondering why people like you think that it's good enough.
Graham Mockford
44
Posted 12/02/2016 at 10:07:29
Neil
Well of course my whole point is that describing this season as 'atrocious' was not in my opinion a reflection of this season. Putting semantics aside I would not even describe the whole season as poor. It certainly has been poor at times but overall much better than last season. We have actually only lost 6 out of 33 games in all competitions.Our defensive record at home has been 'atrocious' but away from home we have largely been ok.
I would certainly agree we should have done better, that's why most fans have been so frustrated. We know we have walked away from at least four games where we should have taken all three points and at the same time losing home games specifically to Stoke and Swansea when we should be dispatching both those sides.
But the season unlike last year is still in the balance. We are still in the FA Cup and only potentially two points off European qualification. So it's still a little early for doom and gloom.
As I said the side and the manager deserve some credit for the last three games given the whole place was at a very low ebb after Swansea and City. It's definitely too early to be carried away but let's see where we are in May.
We have been more solid since Christmas on the whole which again is about our formation, three midfield players and Ross in a front three is the main reason for this for me. Whether that is by chance or by planning I don't know.
Add Your Comments
In order to post a comment, you need to be logged in as a registered user of the site.
Or Sign up as a ToffeeWeb Member — it's free, takes just a few minutes and will allow you to post your comments on articles and Talking Points submissions across the site.
© ToffeeWeb