Martinez banking on terrific Goodison atmosphere
by

137 Comments [Jump to last]
| 10/03/2016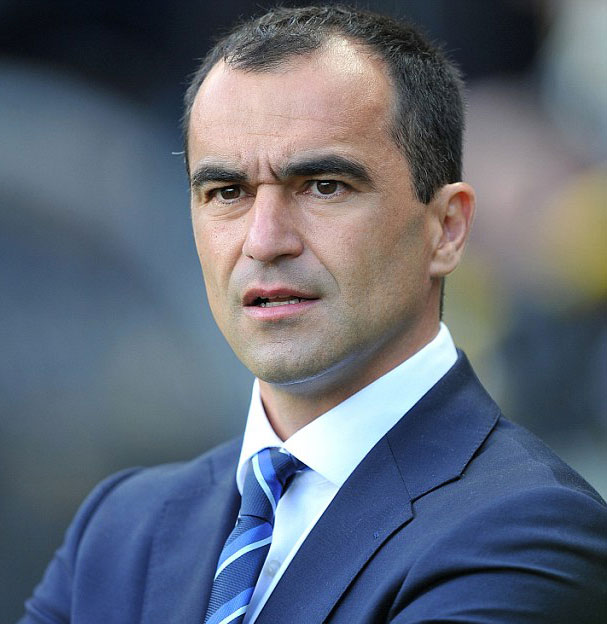 Roberto Martinez is confident that his players can help replicate the atmosphere at Goodison Park from last Saturday as he bids to steer the Blues to another semi-final.
Spurred on by the backing of the home fans, 10-man Everton overcame their numerical disadvantage last weekend to lead West Ham 2-0 and then win a penalty that might have made the game safe before things fell apart in familiar fashion late in the game.
Martinez admits that the dressing room is feeling frustration and "pure pain" at having let another two-goal advantage end up with the team losing to a late goal but the Catalan says this weekend's FA Cup Quarter Final clash with Chelsea is the perfect occasion to set things right.
"We are in the quarter-finals of the FA Cup, and when the draw put us at Goodison, we knew that would be very significant," Martinez said in the Liverpool Echo.
"We are really looking forward to supporting each other and making it a special environment. The atmosphere was terrific on Saturday. We know we can replicate that."
"[T]he character of the squad has never been in doubt. We have a group of players desperate to get back out on the pitch to ensure we put things right.
"The FA Cup is a perfect competition to do that. We have 90 minutes against the current champions competing for one of the best cup competitions in world football at Goodison, that's something to look forward to.
"We are desperate to make our fans extremely satisfied by our performance."
Behind the manager's rallying cry lies a deepening sense that Everton's season rests on the outcome of Saturday's tie.
Lose and with the Blues sitting in 12th place and incapable thus far of putting together the run of victories that would be required to bridge the gap to the European places, the season would effectively be over two months early.
Win and Martinez will have kept alive the hope that he could yet end the club's long trophy drought by landing his second FA Cup trophy while also perhaps providing a catalyst to the rest of a flagging Premier League campaign in the interim.
He feels his squad is ready to meet both challenges, however, and repeated the assertion he made last season that the campaign should be judged after the final 10 games.
"[W]e have 10 games to go in the league," Martinez continued. "We have a really strong squad with everybody coming back to full fitness.
"The competition for places is as strong as it has ever been. All the work that has been done to prepare us for the final third of the season is there.
"At the end of the season we will be able to look back and see if we underachieve or overachieve. This is a critical period.
"Whatever you do over a season, it's how well you can do over the final third of the season. That's exactly where we are now."
---
Reader Comments (137)
Note: the following content is not moderated or vetted by the site owners at the time of submission. Comments are the responsibility of the poster. Disclaimer
Peter Laffey
1
Posted 10/03/2016 at 08:14:03
With 5 games to go "We have reached a critical stage of the season" ... languishing in mid-table, forget the previous 33 games, our season starts now!
The final game of the season, we are 13th/14th, after no wins in 4 games, we win 4-3 and finish 11th. "We had a phenomenal finish to the season."
Davey Liver please.
Jim Bennings
2
Posted 10/03/2016 at 08:14:41
Nothing wrong with the atmosphere there last Saturday against West Ham, but we still lost the bloody thing!
If we don't get past Chelsea in this Quarter Final then lose to Arsenal and Manchester United then seriously, end of season or not, the board must seriously think about moving Martinez on.
There's only so long you can keep not winning games and losing big home matches.
If we don't beat either Chelsea or Arsenal at home in the next week then that will be ONE home win in the last TEN.
Utterly disgusting record at Goodison Park.
Ray Robinson
3
Posted 10/03/2016 at 08:16:20
I had my bullshit-ometer switched on as I read this and sure enough, it's not hard to find some:
"Whatever you do over a season, it's how well you can do over the final third of the season. That's exactly where we are now."Ă'Âť
Really? I wonder if Leicester hang on to win the League by a single point, whether it's down to the final third of the season! A win is worth 3 points whenever you achieve it. From Martinez's point of view, it looks like as long as we peak from now on, we can forgive what's happened previously.
Despite my disillusionment, I'm quietly confident about this one and on one thing I do agree. We need the crowd up for this one. Getting through and even winning the cup will not excuse the rest of the season though.
Colin Glassar
4
Posted 10/03/2016 at 08:20:27
Chelsea are like a wounded animal but Hiddink has lost his unbeaten record so it might be our chance to take advantage. Who knows with Everton?
Dave Pritchard
6
Posted 10/03/2016 at 08:24:18
Costa and Hazard went off injured. Costa had been looking dangerous so if he can't make Saturday that will be good for us. Ivanovic at centre-back is not ideal for them. All looking good for a 3-0 lead after 70 minutes. Oh, hang on a minute ....
Alec Smith
7
Posted 10/03/2016 at 08:31:09
Thats not funny Dave. I couldn't take that AGAIN!
Brian Hill
8
Posted 10/03/2016 at 08:36:54
Colin, Chelsea also lost the first leg against, PSG, so Hiddink was not unbeaten.
Colin Glassar
9
Posted 10/03/2016 at 08:40:13
I'm counting both games as one Brian.
Bob Skelton
10
Posted 10/03/2016 at 08:40:47
We'll see what happens in the last 15 mins. Never been to so many games at Goodison where the crowd is as subdued approaching the end of a game, even if we are 2 or 3 up. It's up to the team to provide the stimulus to the crowd, it is the entertainment business!!
Saying that the atmosphere will be great. ....until the last 10 mins
Rob Cole
11
Posted 10/03/2016 at 08:41:18
Everton can compete with Chelsea man to man in all areas except one, the manager. Goodison will rise to a good performance, but if the performance is poor the crowd's reaction will reflect the performance, and that's how spectator sports work.
David Hallwood
12
Posted 10/03/2016 at 08:45:38
Weirdly enough I'm rooting for good defending and half decent subs
Harold Matthews
13
Posted 10/03/2016 at 08:46:29
Someone should slap a plaster over this man's mouth. Whatever happens over the next couple of months, this will be a season of underachievement.
Dave Lynch
14
Posted 10/03/2016 at 08:47:29
So the first two thirds of the season count for fuck all?
God give me strength...
Phil Sammon
15
Posted 10/03/2016 at 08:55:59
Pre-match press conference coming up in 5 minutes. Off to put my head in the oven.
Jim Lloyd
16
Posted 10/03/2016 at 08:58:08
Well, I'm not sure this rallying cry, is either needed, nor "rallying."
I hate to say it, but Roberto's call to arms is embarrasing. If you are begging the crowd to support you in an FA Cup Quarter Final, there's something not right.
Andrew Ellams
17
Posted 10/03/2016 at 09:05:27
I don't he's begging the crowd for support. It's more like getting his excuses in ahead of time.
Ernie Baywood
18
Posted 10/03/2016 at 09:10:01
Results don't matter, and now two thirds of the season don't matter either.
I like some of the things Roberto is trying to do. But he's not in the real world... you can't just disregard results in football.
Tony Abrahams
19
Posted 10/03/2016 at 09:11:25
Good Colin, I hope our players are that quick on Saturday mate.
Mark Andrews
20
Posted 10/03/2016 at 09:17:49
I just can't listen to the man any more, his psycho-babble nonsense is more at place at a second-rate management conference than at a premier league club. I genuinely believe he's damaging our club now.

My fear is that our "diamonds" (did I just type that!?) will leave the club in the summer after yet another underwhelming season of disappointment as he fails to match their talent and ambition because of his glaring deficiencies as a coach.

He's squandering the talents of our finest squad in decades. Time to go Roberto. You're a nice fella but you're not up to the job.
Tony Abrahams
21
Posted 10/03/2016 at 09:18:34
"Everyone in football knows goodison will be up for it"
Can already see where this thread is going, but Harold says it all @13. Just keep your mouth shut and concentrate on your team.
If you do that we might win the cup, and I will even disagree with Mr Mathews, if we can do that.
David Hallwood
22
Posted 10/03/2016 at 09:19:08
Really we've got nothing to fear because in both games this season we've outplayed them. At the bridge we played really well until we went 2-0 then stopped playing. 2-0 is becoming our rock star 27.
Peter Gorman
23
Posted 10/03/2016 at 09:31:00
"Whatever you do over a season, it's how well you can do over the final third of the season."Ă'Âť = please don't sack me now.
I'll admit I judged him half-way through last season and found him massively wanting. Nothing I've seen since has changed my mind, but hell, what are 10 more games in the grand scheme of things. Just so long as he goes soon enough.
Dave Abrahams
24
Posted 10/03/2016 at 09:32:28
Shut up Robbie and just MAKE your team do the talking.
Maynard Hanna
25
Posted 10/03/2016 at 09:44:19
An FA Cup Quarterfinal at Goodison Park. Of course the Everton support will be up for it and it will be needed. Chelsea, after last night's result, will be more than up for this one as well. They like us will see their season over with 2 months still to go, if they loose.
The final 20 minutes will be as ever nerve-wracking, but I know that we can win this one, even if the skipper whose hands are on the tiller is not entirely sure of his course/tactics (indeed he's not sure of anything just right now?). I honestly believe that on our day (if we turn up), we are a better team than Chelsea.
Come Saturday, it's up to the manager and players to prove it, and do all their talking on the pitch. And if we win, there will be no need for any BS in the after-match press interviews, which have become an absolute joke as of late. COYB

Kunal Desai
26
Posted 10/03/2016 at 09:45:53
'Part of a process we unfortunately have to go through in order to compete with the best' hahahaha. Bumbling stuttering fool!
Eivind Nyhus
27
Posted 10/03/2016 at 09:48:01
And I'm desperate for RM to stop talking like a charlatan.
Jim Potter
28
Posted 10/03/2016 at 09:48:29
However one feels about our manager (ie 75% negative on all the polls I've seen) I hope the crowd don't desert the team if we start slowly badly on Saturday.
This is a really winnable game if we make it a hostile environment v Chelsea. I believe that we really can go on and win this trophy.
Just because many want him out doesn't mean we turn on players with the first mis- placed pass. If Mr M is turning up I hope he gets to see the true Goodison atmosphere rather than its evil twin.
Come kick off let's put the vitriol on the back burner for 90 (+9 Terry) minutes and show who we really are.
You may not support Martinez but you do support Everton. Right? Let's intimidate the Ruskie cockneys and not our boys.
COYB.
Christopher Dover
29
Posted 10/03/2016 at 09:49:14
The crowd was well up for it on Saturday, just a pity for the last 12 minutes the team wasn't and then the atmosphere turned quite nasty. So if he wants it like Saturday then perform like the first 78 minutes.
Also wonder what the sound bite will be in a few weeks? like judge us on the next 6 matches err 5 matches or wait – we will be phenomenal next season!!
Brian Porter
30
Posted 10/03/2016 at 09:53:45
"The character of the squad has never been in doubt." Really, Roberto? A squad with character and backbone would be capable of holding on to a lead in the last ten minutes of a match, wouldn't automatically implode as soon as they concede a goal, even tough we were still leading, and certainly wouldn't capitulate like lambs to the slaughter so many times without learning ways to prevent such an actuality happening time and again, like Groundhog Day. Who, I wonder is responsible for coaching them in ways to sustain a lead in the dying embers of a game? Oh yes, that's you Roberto, so what the hell have you been doing all season.

Now we have the insane remark that it's the final third of the season that counts. As others have said, does this mean you don't believe the first two thirds matter? The season runs for 38 league games plus any cup games that come up. That's a lot of points Roberto, but they clearly don't matter as long as we do ok in the final third.

How much longer must we, the paying fans, have to put up with the most delusional, inept and ineffective coach in our history? I think two more defeats between now and the end of the season will officially make him our worst ever manager, which, when you consider the Mike Walker days is truly saying something. Yet still he talks,about us as if we are a top four outfit. We're not Roberto. We're a bottom half outfit, as we were last year, a place you've achieved after we were a perennial top half club, (couple of blips excused).

Whatever the result on Saturday it won't make a blind difference to our league position. That's where I want to see the 'character' of this team, Roberto. The cup is fun, a grand day out, but ultimately, as you should know, even winning the cup doesn't make you a great Premier League team. Just ask Wigan!
Sam Hoare
31
Posted 10/03/2016 at 09:55:11
Worst indictment of this manager is that a tiny part of me would not mind if we lost so long as it helps rid us of him. When a manager is able to turn even a small part of you against your own team then something has gone badly wrong.
As Harold says whatever happens this season we have underachieved and think he might salvage some support if only he could admit that.
Liam Reilly
32
Posted 10/03/2016 at 10:10:43
Could never condone any Evertonian wishing for Everton to lose; regardless of the consequences afterwards.
I'll be vocally behind the Blues on Saturday afternoon – 90 minutes from Wembley; the final 20 minutes of which will no doubt feel like a lifetime if we are still in the tie.
Seriously – who'd be an Evertonian?
Abhishek Saha
33
Posted 10/03/2016 at 10:18:24
Chelski is out of Champions League, they have nothing to play for in the league apart from gaining few places between 7th-10th. They'll be coming at us with all they have got. Only injuries to Costa and Hazard are some good news for us, unless they have been taken off for preserving them for the Cup game, rather than expending for a lost cause. Trust Hiddink to have that kind of a foresight.
What foresight does our man have...... I would say he saved everything up for the last 10 games, they have a surprise trophy to be given for who scores the maximum number of points in the last 10 games. I bet he will be ranked 12th in that competition as well.
Jim Bennings
34
Posted 10/03/2016 at 10:31:41
What really gets me is why Martinez constantly goes on about the strength of character of his players.
Who is he trying to fool?
If we had any type of character then we wouldn't have had so many late horror shows at the likes of Bournemouth, Chelsea and Stoke at home and West Ham on Saturday just summed the lack of character and leadership up for me.
The 1995 FA Cup winning team, now that had character Roberto, limited skill wise in some area's but damn, if you want to know what character is then I suggest you have a little browse at old footage of those lads.
All I ever see from this bunch is them collapsing like a pack of poorly stacked cards.
Jim Lloyd
35
Posted 10/03/2016 at 10:32:19
Jim, I think we will support the team and give it our best (apart from the miserable sod behind me, who never supports them.)
What is unfortunate, is that we'll all likely be full of apprehension about what the outcome is going to be; like so many at Goodison so far.
Last week, the atmosphere was really good, then the anxiety started because of the way the match was going in the latter stages of the game.
The statement that Roberto has made though, is what is making it the beginning of the end, for me. It follows a number of statements over the last few months, that to me don't reflect how I saw the game but seem like either moaning about referrees, or bad luck, or that we defended well for 75 minutes etc.
It just seems to me that this is the kind of statement "we are desperate to make our fans extremely satisfies..." well, I don't want to repeat them all.
I'd love him to get things right regarding our weaknesses but the whole tenor of his remarks seem to ignore what to me are glaring contributions to our frustrations
Ray Robinson
36
Posted 10/03/2016 at 10:34:34
Let's hope the last third of the season doesn't replicate the last third of our matches! No, seriously, despite all that's gone on, I'm up for this game and I too cannot forgive anyone who'd rather see us lose just to "prove" a personal point.
As an aside, Leicester were the form team in the last third of last season. Didn't stop their hierarchy sacking Pearson did it?
Richard Reeves
37
Posted 10/03/2016 at 10:35:10
I was listening to the two Mikes on TalkSport last night and Mike Graham said there are reports coming out from Turkey that Farhad wants Mourinho. I've got no idea if there's any truth to it but I was thinking a rumour like that gaining a little momentum could fire up the team before such an important game. I just hope Martinez is aware of it, if it is true.
Of course it could work against us with Man City being the example but there was an official statement, a rumour could provoke a positive response from the manager. No doubt now I've said it there probably isn't any truth to it but I have to admit... the thought had me turning on my computer this morning hoping for the headline... "Everton want Mourinho".
Dave Burke
38
Posted 10/03/2016 at 10:38:31
It would be refreshing If Roberto would call a spade, a spade and admit that we are underachieving. We are so fragile, the moment we conceded one on Saturday our heads went and the writing was on the wall. Our inability to stop crosses at source was our undoing on Saturday yet we took our winger off and enabled their full backs to push on.
All that aside, I honestly believe we can beat Chelsea on Saturday. It will by no means make up for some of our horrendous collapses this season but a trip to Wembley is always welcomed.
James Marshall
39
Posted 10/03/2016 at 10:45:08
I just watched half his press conference (I couldn't stomach all of it) and the man is utterly deluded – he said, and I quote, "We are in a similar moment of form compared to Chelsea".
What? Since the 19th December when Hiddink took over (this is what he was alluding to) Chelsea have not lost a single domestic game (they've only been beaten twice by PSG) and in the same period Everton have lost 6 games.
He genuinely believes that our form is based on the way we play, and has nothing to do with results. I find this staggering, and so should our board – as someone else pointed out recently, if you look at the league table after 75 minutes we're second, so yes, we have been performed well to a degree, but it's about results and our manager hasn't got a damn clue that his teams are even losing by the sounds of things – utterly blinded by his own godknowswhat.
Amazing man.
Jim Scales
40
Posted 10/03/2016 at 10:45:53
I have just watched the Press conference, Martinez should have been a politician. He refuses to answer questions, asked if the players were behind him and he waffles about our away form! What serious journalist would allow someone to persistently swerve questions the way Roberto does?
It is infuriating.
Victor Jones
41
Posted 10/03/2016 at 10:58:15
What's that old darts saying, "scoring for show... doubles for doe". Let's apply that to Martinez's brand of football, tippy tappy for show... scoring for doe... Shame about the bloody defending bit though. Don't think that Martinez will ever get the defending bit right. Waffling on about his seven years experience in the Premier League (on another thread), and he still cannot grasp basic defending. If Wigan could have defended, they would most likely still be a Premier League team.
OK , that comment was a little of topic, but on this nonsense of a strong finish to the season... did Martinez not come out with the same clap trap comments last season. And did Everton not fade away in the run in also, in Martinez's first season at Everton. So we finished poorly in his first season, finished poorly in his second season, and now we are to believe that we are going to storm up the league in the run in to this season. Is every other team going to stop playing then?
Martinez cannot get Everton to win more that two league games in a row, but now we are going to win ten. I give up.
And please, no three central defenders on Saturday. That system does not work. Not with the three that we have. And not with our shackled fullbacks running to half way, stopping, turning, then passing the ball back to our keeper. We don't do that system well.
Can Martinez conjure up a win? Nothing would surprise me anymore this season. If the players are up for this game(and they should be), we can put it up to Chelsea. Although I hope we score our allotted two goals on 90 and 95 minutes. Give Chelsea no time to reply. And even then would be squeaky bum time. We can but hope. Martinez and Everton just might have another big performance to come, this season.
Up the Toffees.
Harold Matthews
42
Posted 10/03/2016 at 11:01:13
Spot on Jim #34. The afternoon before the 1995 Final I was watching the racing and the guy with the mike asked horse trainer and ex-Saints star Mick Channon his opinion on the up-coming match. Mick gave him a knowing look and muttered, "Everton will scare them to death".
James Marshall
44
Posted 10/03/2016 at 11:10:58
Mick Channon was right – we were an up an at em team in '95 which we certainly aren't now, but then who is when you look at the top teams? Football isn't about that anymore, and that 'dogs of war' spirit is long since past when you're talking about the best teams. The game has changed, the rules have changed, it's simply not the same anymore – that said, I do know what you're saying about us needing to be more aggressive, and snidey at times.
I was at the '95 cup final and we were excellent tin winning it of course – one thing that often gets overlooked is that they were missing Cantona, Kanchelskis and Andy Cole that day. 41 goals between them that season... so the '95 cup win was somewhat lucky for us in that respect.
Patrick Murphy
45
Posted 10/03/2016 at 11:18:10
James (#44),
Of course we were lucky that day as most teams have to be in the FA Cup at some stage, we were also lucky at Bristol City and to a lesser extent at home to Derby County in the third round. Man Utd did have major absentees but Everton still had to do battle with them and that Everton side had total belief in each other and in their manager.
I suppose the 'best' teams wouldn't include Leicester City, however with the season reaching its end they are still atop of the league why? Because they have very similar traits to Joe Royle's Dogs of War.
Jim Bailey
46
Posted 10/03/2016 at 11:22:58
Martinez's comments have long since been beyond common sense. He has been found out and I can only hope that Moshiri is willing to show his commitment to the club by sacking him. It would be a huge statement of intent. I hope he is gone, win or lose on Saturday night.

The club (Kenwright) has waited too long for this type of opportunity to take us to the next level, I cannot believe that he will entrust his dreams and vision, or Moshiri his money to someone as tactically inept and stubborn as Bobby.

Nice guy maybe, but nowhere near good enough to take this great club forward. Hope we get a jammy, offside 99th minute winner.
James Marshall
47
Posted 10/03/2016 at 11:24:00
Patrick – it wasn't a dig, I guess what I was alluding to was that the cards fell our way that season and 'luck' played it's part. Whatever luck is.
Anyway, if you think that Leicester are top of the league by being like Royle's dogs of war, I can only surmise that you haven't watched them play this season! Leicester play some dazzling football at times, and are nothing like Royle's team. They have a high workrate but other than that they're nothing like them.
Patrick Murphy
48
Posted 10/03/2016 at 11:32:45
James I would argue that Joe's team had better footballers than the current Leicester City team, I'm sorry but apart from Vardy's unbelievable work-rate and the skills of Mahrez they are a pretty ordinary group of players and whilst Joe's team were not blessed with world class players they did play some good football, but perhaps I'm guilty of looking at things through blue-tinted glasses.

That's why it's so galling when the current Everton team are performing so abjectly because we do have some very good individual footballers but they don't gel as a team in the true sense of the word.

James Marshall
49
Posted 10/03/2016 at 11:50:19
Sum of their parts – agreed it applies to Royle's team as well as the current Leicester, but certainly not Martinez's Everton.
Brian Harrison
50
Posted 10/03/2016 at 12:05:31
I noticed yesterday in the Liverpool Echo it said that since 2013 Everton have dropped 45 points from winning positions. That is staggering and also shows that it cant be labelled as unlucky for it to happen that often.

I can never understand how RM gets away with murder at his press conferences. They never seem to give him a hard time like they do with some other managers. Maybe the journalists are mainly local and don't want to risk upsetting RM.
Steve Ferns
51
Posted 10/03/2016 at 12:11:51
The '95 team was terrible to watch. We had Limpar and nothing else. Just a bunch of cloggers and endlessly hoofed it to big Dunc. Thank god those days are behind us.
Jamie Barlow
53
Posted 10/03/2016 at 12:30:22
Why do people keep telling him to keep his mouth shut? He has to do interviews. It's part of a managers job.
He isn't begging the crowd either. He said we can support each other.
Over to Bobby and the players. If they start well, the crowd will support as they always do.
Brian Porter
54
Posted 10/03/2016 at 12:39:18
Never has so much been owed to so many by so few.
Mark Tanton
55
Posted 10/03/2016 at 12:49:24
Steve Ferns are you kidding? What I'd give for that intensity now, steam rollering everybody who had the misfortune of getting in the way. Brilliant stuff.
Dave Ganley
56
Posted 10/03/2016 at 12:49:58
Martinez drives me mad with his talk but now the dust has settled on last Saturday, I'm really looking forward to the game against the chavs now. I agree with most of what the posters are saying on here (apart from wanting us to lose... never want that) and want Martinez gone as soon as.
However, its the quarter final of the cup, against the horrible scum bags Chelsea, in our own back yard, 5:30 kick-off. I for one can't wait now. Let's make Goodison a bearpit and frighten the lives out of them and salvage something from this mess of the season.
COYB
Helen Mallon
57
Posted 10/03/2016 at 12:55:28
I feel sorry for Gerry. I was at the Chelsea game and it was he who instead of putting the ball into the corner chose to take a player on loose it and they scored the third goal. But since then he has not played and Roberto is punishing him for it.

I know Lennon has been good but if he is coming off and he wants like for like, surely Deulofeu is your man. Start him on Saturday Roberto or he may leave in the summer.
Jim Hardin
58
Posted 10/03/2016 at 12:56:10
Well, with Terry and Costa out, that eliminates two offside goals. Now if we can prevent any onside ones from being scored, the fans will have something to cheer.
Andrew Ellams
59
Posted 10/03/2016 at 12:57:13
Brian Harrison, it's shocking and you can add the League Cup semi final to that and last seasons cup replay at West Ham. It's the number one reason why he has to be replaced by in the summer.
Joe O'Brien
60
Posted 10/03/2016 at 12:58:43
Just saw that Michael Oliver is the ref on sat... I'm very happy with that; I was dreading that Atkinson was going to be named again. Oliver is probably the best ref in the Premier League at the moment.
Jack Cross
61
Posted 10/03/2016 at 13:04:26
RM has just been on Sky News. He said Oviedo is not ruled out for the FA Cup Saturday. For god's sake, the man's been in hospital with chest infection only a matter of days ago.
If RM, doesn't iron out his petty squabbles with Baines, I can see see Baines leaving the club.
I can never fathom when people on here say that RM, is a nice man. How do they know? All I can see is a arrogant person who can't take criticism from his own players. Then he drops them.
Sky News also said Lennon as hamstring problem and maybe out Saturday.
Winston Williamson
62
Posted 10/03/2016 at 13:05:59
Jamie (53). People are telling him to keep his mouth shut, not because he is talking (contractual requirement), but because of what he says (or doesn't say).
John Pickles
63
Posted 10/03/2016 at 13:22:51
Maybe we could plant a Spanish speaking Blue behind Martinez to swear at the ref before he gets to make any subs. With a bit of luck, Roberto will get sent to the stands!
Incidentally, for those who like Football Manager as realistic as possible, here's how who can manage like Roberto. When approaching a critical part of a match i.e. winning comfortably with only a few minutes to go, go to the Substitutions page. Then, cover the keyboard with cat-treats and encourage your cat to walk over it. Finally, resume the game.
If you have more than one cat, choose the least intelligent one!
Gordon Crawford
64
Posted 10/03/2016 at 13:38:53
Niasse to score the winner from a deflected shot that was aimed at Martinez's head. Lol
2:1 Everton.
John Jones
65
Posted 10/03/2016 at 13:48:04
Jim (#40),
Completely agree, He should quit football and go and work for David Cameron as a spin doctor.
He was asked about the fans unrest at the home form and underachieving. He didn't even give a proper answer. Unless you can't judge us at the end of the season to see if we under or over achieved!! What!
He needs to open his eyes – there have been 2 polls this week one in the Telegraph on Tuesday asking if Martinez is the right man to take Everton forward?
10,000 votes 74% said No.
The Metro had a similar question, last time I checked that was 80% want him gone.
He is in danger of becoming one of the most disliked people to have been associated with Everton.
Duncan McDine
66
Posted 10/03/2016 at 13:53:15
If Niasse scores the winner I'd be more surprised than the time Bakayoko score a brace at Ashton Gate in the FA Cup many years ago. I'd love to think Niasse will be better suited to the English game than he was, but I have my doubts.
BTW, anyone enjoying a good pun... one of the tabloids went with "Yoko-o-No" in their report, following a game where he missed a few sitters.
Dan Nulty
67
Posted 10/03/2016 at 13:57:45
I'm reading between the lines here. My view is that Roberto is basically hinting at the fans to leave it another week before they unfurl the 'Roberto out' banners. Yes he might be pig-headed but I don't think he's that self-centered that he doesn't know the bulk of the fans have deserted him. I think he genuinely tries to keep the messages in the media positive. At times though he needs to be more honest.
I have been leaning towards the Mourinho camp, at times he can deflect with the best of them and blame everybody else. What I would say is that commercially having such a high profile manager would help us negotiate from a stronger position for sponsorship deals. I'm not sure if he will be good or not – my view is with this squad we need to show them that we want to challenge straight away and I think Mourinho could be the man to do that. I'm prepared to ignore his second period at Chelsea – Our legend Howard didn't do too well second time around either.
I just think the board need to show the players and as sad as it is their agents we are serious about how we want to compete next season. My worry if we stick with RM is that he will tell everybody how good we will be next year but show again that he has learnt nothing.

Dominic Tonge
68
Posted 10/03/2016 at 14:03:58
Sadly, I can't see us closing a game out against Chelsea. They have so much quality I fear for us even with a lead, I think their manager is much more tactically astute than ours that given the quality at his disposal he will be able to change the personnel, shape and tempo of Chelsea.
We can't seem to defend, Chelsea are good going forward, and they score a fair few from set pieces. It seems like a disaster waiting to happen, especially when coupled with RM's substitutes.
I really want us to pull a performance out of the bag. I really don't like Chelsea and am desperate for us to win silverware. I just don't think it's happening under Martinez.
Terry McLavey
70
Posted 10/03/2016 at 14:48:56
Tell you what Roberto we'll replicate an atmosphere, you replicate a win! Deal?
Paul Conway
71
Posted 10/03/2016 at 14:49:43
Willian is the one we should be worried about. His dead ball play is a game winner, so no needless fouls please!!
Alan Thompson
72
Posted 10/03/2016 at 14:49:47
See, it's you lot's fault if we don't win and you're all doubting Thomases if we do win.

Glad we got that out of the way.
James Marshall
73
Posted 10/03/2016 at 15:08:54
John@63
I don't play Football Manager but I can certainly see the Martinez-logic in your thinking. My cat loves 'Dreamies' and this is where our managers head certainly is, in fucking dreamland.
I find his interview waffling really hard to listen to these days, and just want him to either answer direct questions or shut the fuck up.
Winston Williamson
75
Posted 10/03/2016 at 15:19:39
The worry is if Lennon is unavailable to play in this game (Hamstring rumour, or was that an excuse for taking him off against WHU), as he has now become essential to the way we've been playing.
If Lennon is available and RM choses the right player to play on the left I think we have a chance.
Lets hope RM doesn't have to make a meaningful substitution or we're fucked, whatever the score at the time!
Eivind Nyhus
76
Posted 10/03/2016 at 15:22:48
I don't get why anyone would want Jose to manage Everton. He's a dirt bag.
Liam Reilly
77
Posted 10/03/2016 at 15:26:53
Jeez - RM is on Football365 now claiming that we've been really consistent this season. I must've missed that.

Alan Thompson
78
Posted 10/03/2016 at 15:37:50
Liam(77); we have consistently let goals in the last 20 minutes. Please listen more carefully in future.
Phil Walling
79
Posted 10/03/2016 at 15:43:24
I see that Lennon has conveniently picked up a hammy so will be saved the humiliation of being dropped on Saturday whilst Brian's chest will provide the reason to bring back Baines.
Expect also the return of Stones whose value must be falling with every game he is denied a start.
No doubt if we don't perform against Chelsea it will be because of enforced disruption to the team. But whatever team the maestro (note the spelling) puts out, I'll be happier looking forward to Wembley than another weekend of 'Roberto must go'. What say you all?
Dave Pritchard
80
Posted 10/03/2016 at 15:50:04
Where has the news on Lennon come from? Is is legit? Also is Baines able to start or not?
Mike Doyle
81
Posted 10/03/2016 at 16:00:43
Liam (77) ... and particularly consistent in throwing away leading positions.

Also I understand we are just 2 more home defeats away from matching the consistently poor home form of the 94 (almost relegated) season.
Steve Brown
82
Posted 10/03/2016 at 16:06:20
Don't really trust much of what RM says, not because he is trying to be false. It's just evident that he is deluded and out of his depth.
Steve Brown
83
Posted 10/03/2016 at 16:09:29
I don't expect him to be in charge beyond the end of the season regardless of what we do. Telling that Moshiri has not bothered to meet Martinez or talk to him.
Brian Harrison
85
Posted 10/03/2016 at 16:17:29
Completely off topic I see Ashley is again demonstrating what a complete arsehole he is. Whether McClaren is good bad or indifferent his treatment of the man over the last 3/4 days has been disgraceful. McClaren was supposed to meet with the CEO yesterday who cancelled the meeting but spoke by phone to McClaren.
Today on SSN they are saying Newcastle are in advanced talks with Benitez, yet nobody is saying anything to McClaren.
I really hope they go down and stay down for a long time.
Ian Burns
86
Posted 10/03/2016 at 16:20:54
Steve (#83),
RM has already stated that he has met Mr Moshiri and was commenting on his love of all things Everton and its manager.
James Hughes
87
Posted 10/03/2016 at 16:26:49
Mr Burns I would take Roberto's claim about the meeting with a pinch of salt.
Was the the meeting with Moshiri also about him building a dynasty at EFC and loving all things about Roberto's philosophy.
Paul Kossoff
88
Posted 10/03/2016 at 16:46:42
Are we absolving players of the blame here?

A bunch of school kids would be better organised than our team of seasoned internationals, who are acting as if they have absolutely no idea what to do in certain situations.

Yes Martinez is responsible for team tactics, but for God's sake when it comes down to it, it's the players on the pitch who need to man up and do there job.

Do they really have to be told what to do?
Ray Smith
89
Posted 10/03/2016 at 16:52:26
I have just sent an email to Charles Sale Daily Mail asking him to establish why Martinez is given an easy ride by the media in general, and to use his column and-or his journalist connections to challenge Martinez on his arrogant responses that go unchallenged.
Not sure if it will help, however, if several of you TW followers are as passionate about Everton as it certainly seems you are, please contact him as well, rather than a single submission from myself.
c.sale@dailymail.co.uk
Thank you.
Hope I haven't transgressed the TW rules by making this post.
Dennis Ng
90
Posted 10/03/2016 at 16:58:59
Paul, pretty sure we all feel the same, that they need to do their job, but if the setup is flawed and they are told to do something that is destined to fail, how can they not make mistakes? Do they defy rm at the risk of being dropped and then shipped out?
Ray, they are catching on. They ran out of piïatas after Mourhino is sacked, and that LVG flop.
Denis Richardson
91
Posted 10/03/2016 at 17:03:05
Paul 88,
If a team's training isn't intense enough and we don't practice defending properly nor set pieces, all of which leads to conceding a lot of goals, especially in the later stages of a game.....who would you blame?
James Hughes
92
Posted 10/03/2016 at 17:05:42
Paul, yes they do need to be told how to their job correctly, that's the whole point. How else can you explain the difference between Leicester and Villa this year certainly not a massive difference in quality of the squad. Have a look at Roberto and his failings many of which widely known,
Fitness or lack of it practice set pieces , why bother; clean sheet, not important – we can score more; game management, enough said....
So, in your role if you worked for a manager who either didn't understand your job, didn't monitor you, improve you and do the basics of management would you still give 100%
Gordon Crawford
93
Posted 10/03/2016 at 17:26:53
Duncan, I would be as surprised as you if Niasse scores the winner. But I can see it with my minds eye, so it's all good. Lol
People go on about the players Chelsea have. And that is a fair point. But take a look at the players we have. Some fantastic players at our disposal. The problem is that our manager is a tactical turkey.
Still fancy the boys to redeem themselves after last week's embarrassment.

Dave Pritchard
95
Posted 10/03/2016 at 17:48:21
Tactical turkey – ha ha not heard that one before.
Martin Mason
96
Posted 10/03/2016 at 18:00:52
The problem is that all teams know how to beat Everton and RM should have changed his tactics ages ago once he realised this. The awesome thing is he just thinks it's a case of bad luck or just the 2/3rds of the season that doesn't matter.

Gordon Crawford
97
Posted 10/03/2016 at 18:30:29
Glad your like that one Dave. :)
Martin your spot on. But that's why he is a turkey.
Alan Bodell
98
Posted 10/03/2016 at 18:50:11
Chelsea are renowned for intimidation of the officials, every decision they will contest and I've seen it time and time again with our lads that they just shrug and let things go.
Martinez must realise that his' nicey nicey, I like everyone' bollocks philosophy needs booting out and we need to start getting much nastier because the refereeing union must really think we are a soft touch these days compared to most if not all Premier League teams.
Arsenal after these and they are probably the worst so got to start questioning things before this season gets even worse.

Phil Walling
100
Posted 10/03/2016 at 19:11:00
On reflection, Martin, Roberto does right to say how important is the final third of the season. He almost certainly realises that his survival as our manager depends on it.
If he can somehow inspire the team to get us to the Cup Final – a second victory for him is probably just too much to ask – AND garner a further 20 odd league points, he will be able to lay claim to a pretty decent season and be entitled to a further term.
Of course, should all his bad fortune continue, the target can always be amended to the final QUARTER by when this NEW team he talked about today MUST have bedded in!
Jamie Barlow
101
Posted 10/03/2016 at 19:42:49
Paul@88, yes we are. Well, most on here are.
It baffles me how we can defend pretty well against West Ham for 75 minutes and then totally blow it with 15 left. The players have to be partly to blame for switching off. I know taking Lennon off and putting Niasse on was mental but Lennon wasn't heading balls out of the box or stopping every cross coming in was he?
Take a look at our 2nd and 3rd goals and look at Oviedo. That's not Martinez flicking a leg out for the 2nd and not even making a challenge for the 3rd and he didn't spend all week coaching Oviedo to do it.
Denis Richardson
102
Posted 10/03/2016 at 19:48:15
I'm still waiting for Atsu to 'explode'. Ah, sorry, wrong season....
Erm... final third of the season is coming up and that's super important, we're coming into a great moment..(psst boss, we're already into the final third)... erm, sorry, meant final 10 games.... yes, the final 10 games are the most important... great moment and momentum into the, err, phenomenal pre season....
I've ordered some lovely jam for next season,
Martin Mason
103
Posted 10/03/2016 at 20:06:36
Phil, I believe he sees that the writing on the wall and as it gets closer he becomes ever more outrageous and ridiculous. The problem is that a cup win means he keeps his job and, much as I love the club and team, it is infinitely better for Everton that he leaves and we don't win the Cup this year. Next year is a new beginning with that buffoon gone.
I would gladly lose all our remaining games but one and be deliriously happy if I could guarantee seeing him being put on the dole. I can't face getting beaten by Liverpool again yet I'm sure we will as they are a fast counter attacking side.
Kevin Johnson
104
Posted 10/03/2016 at 20:10:54
Got a good feeling about this ... Everton 3 -1 ... Big Rom grabs a brace and Ross scores a stunner – Here's dreaming!
Tony Abrahams
105
Posted 10/03/2016 at 20:35:26
As much as I love the club, I don't want them to win the cup? Martin, you must be the only fella who talks more shite than Martin- ez!
Ray Smith
106
Posted 10/03/2016 at 20:38:20
Re #89 posted 16.52 today, with the exception of Dennis #90, not one of you have even acknowledged the post.
Not expecting an overwhelming response, but a simple request has been completely ignored.
Perhaps I'm wasting my time?
Although new to TW I have been following Everton for 51 yrs since the age of 14.
I am as fed up with RM as the rest of you. Perhaps you just like complaining and doing nothing.
Get out of your ivory towers and drop Charles Sale an email how you feel. It takes no longer than posting on TW!
Rant over, but that's how I feel all the time RM is at the helm!!!
Ciaran Duff
107
Posted 10/03/2016 at 20:53:43
Ray (#89 and #106) – I think that the media tide has certainly turned. In the past the Echo was the Everton equivalent of the North Korean Peoples Daily.
Now there are plenty of articles (mostly from ex-Everton players) questioning various aspects of the team and manager. RM got a good bollocking from Shaka Hislop on ESPN Press Pass the other night for his post WHU press conf comments and rightly so. Plenty of other articles popping up. I think the Emperor has lost his clothes.
Ciaran Duff
108
Posted 10/03/2016 at 21:11:53
Tony (#105) and Martin (#103) - btw where did comment 104 go? - I can see where both of you are coming from. As an Everton fan, you never want to see them lose and a trip to Wembley and the chance of some silver ware is always welcome. However, like a lot of fans I am really deflated after this season and the WHU game seems to have been the last straw for many. I was really excited when we drew Chelski at home and it was to be an evening kick off. Now, honestly I couldn't give a flying fox. Maybe I'll change as the game draws closer. I think that Martin's point is valid about RM likely keeping his job if we do win the cup. That's what worries me.
Roger Helm
109
Posted 10/03/2016 at 21:12:22
It is a win-win situation. Either we go through or Martinez is another step nearer the exit door.
It is a dilemma; a good cup may save his job but I am sure if he is here next year we will be in a relegation battle.
Martin Mason
110
Posted 10/03/2016 at 21:15:42
Ray, please don't tell people what they have to do.
Kevin Tully
111
Posted 10/03/2016 at 21:24:51
That's a few "Blues" now stating they don't want Everton to win the FA Cup (different threads) in case the manager keeps his job. After 21 years without a trophy.
Hand your scarves in at the door on your way out lads. We don't need 'fans' like you.
Colin Glassar
112
Posted 10/03/2016 at 21:31:55
This has become a common occurrence with a tiny minority of fans who would prefer us to lose games to see their own wishes fulfilled Kevin.
Despite hating more than one Everton manager in my time I've never wanted us to lose a game. That's beyond me that mentality.
Kevin Tully
113
Posted 10/03/2016 at 21:33:37
I sincerely doubt anyone who has paid good money for a ticket wants us to lose, Colin.
Colin Glassar
114
Posted 10/03/2016 at 21:37:19
I would hope not, Kevin.
Oliver Molloy
115
Posted 10/03/2016 at 21:45:37
Martin @ 103,
And if by some miracle we win the cup and go undefeated till the end of the season, may I ask would you change your current opinion?
Ray Smith
118
Posted 10/03/2016 at 22:05:30
Martin # 110
I was asking, not telling.
Ian Bennett
119
Posted 10/03/2016 at 22:08:10
Fingers crossed he wins the cup and goes unbeaten to the end of the season. No trophy in 21 years, I'd never turn my nose up to it.
It is more likely this side will get turned over in the next 3 matches. Our inability to defend any sort of pressure, will cost him no doubt. Not from a trigger happy chairman, but punters who will call for his head and this will get louder.
The players can't escape blame, plenty have gone missing when we needed them to step up to the plate. Mental toughness continues to dog us.
Dave Abrahams
120
Posted 10/03/2016 at 22:17:25
Colin (112) understand you but there was literally thousands of Everton fans who wanted Everton to lose less than two years ago. I was one of them; maybe you were one too: Everton 2 Manchester City 3 – just loved it.
Colin Glassar
121
Posted 10/03/2016 at 22:26:06
That was a one-off, Dave. Exceptional circumstances, like.
Dennis Ng
122
Posted 10/03/2016 at 22:26:36
It's not like his job is guaranteed safe even with an FA Cup win and a 9 game riot. Just ask Nigel Pearson.
Win, then worry if Martinez stays.
I will seriously doubt Moshiri's acumen and ambitions if he keeps Martinez and gives him a boatload of money to spend. You can't undo 2 years of digression in just 2 months. I can see a stay of execution (5-10 games next season), but not new players and perhaps even backroom setup.
Jack Cross
124
Posted 11/03/2016 at 01:30:22
Dennis (#122).
Apart from posters on these threads no one at the club of any authority as showed any distaste towards any of Martinz, bad coaching or his strange rants.
So I for one can see him being here next season.
I can't for the life of me fathom why some posters want us to exit the FA Cup. If RM, had been given some ultimatum I could understand that, but it's really just hope from a very large amount of fans on here.
Declan Campbell
125
Posted 11/03/2016 at 01:57:23
Phil Walling, you don't half talk some shite. Why would Lennon be getting dropped when he's played for weeks and was outstanding last week? And as for your "pretend injuries", so they are not officially dropped theory, do you honestly think that garbage?
If they are dropped, they are dropped to the bench, why would a manager not want them in the squad. Utter bollocks!!
Ciaran Duff
126
Posted 11/03/2016 at 05:20:43
Some pretty harsh comments regarding people not wanting us to win on Saturday. I don't represent them as I'm actually a bit ambivalent now but I can see where they are coming from. I don't believe that it is a case of trying to prove a point or a personal vendetta. I think that they would argue that they are putting the club's long term interest ahead of short term glory.

Personally, I was a fan of RM and was happy that BK and the board gave him some time to develop a squad. He has some great qualities but IMHO he seems to have a fundamental defensive flaw and he either doesn't see it or won't admit it. We have a very squad and could go on to great things if we can get the right manager and tactics. The frustration for some fans is that this squad could be squandered and will likely break up if RM stays.

Also as fans, they are entitled to their opinions like everyone else.
Roger Helm
128
Posted 11/03/2016 at 08:42:57
He just talks rubbish. An article in the Telegraph today defending his record by saying we have a young inexperienced squad – again it is all someone else's fault, never mind being completely false.
Bad form to curse other TWers. We all love the club otherwise we wouldn't be on the site in the first place, but some of us can't bring ourselves to unconditionally support this manager, nor the attitude of many players.
Tony Abrahams
129
Posted 11/03/2016 at 08:48:48
If a person doesn't want Everton to win so the manager gets the sack, that's up to them. I can understand it in a way, because they obviously think that the manager is taking them down the wrong road.
But we have got a lot of good young players, mostly brought in by this present manager. I heard that we would be second if the game stopped after 75 mins, so we are obviously not that bad a team.
Winning, breeds confidence, especially to young lads, so who doesn't want to win the cup? Come on, how long is it since we saw such joy? Some kids have been watching Everton for 18 years, and have seen us win nothing, for god's sake.
Imagine we won the cup and sacked the manager? Not inconceivable really, if league results don't improve. What a statement that would send out, to both the fans and the players. Who knows?
I do understand why people want the manager gone though, because I'm actually more scared of what we do, than Chelsea tomorrow. I am the opposite of Martin though, because as long as we were safe, I would lose every league game including Anfield, to get our hands on the FA Cup once again.

Ray Jacques
130
Posted 11/03/2016 at 09:25:39
The manager should be sacked, he is not good enough. Last Saturday was the final straw and summed the season up.
We are in the Quarterfinal of the FA Cup, where we have been numerous times in the past few seasons with the usual capitulation, not the final with a 50/50 one-off game chance of winning it, so all the talk is speculative to say the least. I would love to win the cup, irrespective of our manager, as I support Everton.
Imagine the atmosphere in the ground on Saturday if we are 2 up with 15 minutes to go!! The tension will be unbearable whilst the players start the usual panic, stupid substitutions are made, the crowd become agitated, and I lose the remainder of my hair and bite my nails to the bone whilst it all goes belly up in front of us.
Look at the difference with the other lot last night and compare it to us. A manager who has belief in his ability and his players who believe in him. They, with possibly poorer individuals, are once again putting us to shame. Breaks my heart to say it but it's true.
David Harrison
131
Posted 11/03/2016 at 11:54:35
"2 legs good...4 legs bad" I'm sure it said something else last week ....but ho hum, Roberto must be right.
Jamie Barlow
132
Posted 11/03/2016 at 13:00:05
I can't believe the amount of people on here who don't mind if we get beat tomorrow. It's incredible.
I stand by what I said and it isn't unconditionally supporting Martinez because you want Everton to win, Roger. I support Everton Football Club, not Martinez.
Just my opinion, obviously.
Kevin Elliott
133
Posted 11/03/2016 at 13:03:05
Here's one for all of the statisticians on here.
If we win the FA Cup and our beloved leader gets the boot, will he be the only manager in English football history to win the Cup with two different teams and part company with them in the same season?
Don Alexander
134
Posted 11/03/2016 at 13:52:44
Ray Smith, I'd like to thank you for what you did. I emailed the bloke too after reading what you said. Not had a response as yet but here's hoping we're bringing this bull-shitter to accountability.
Denis Richardson
135
Posted 11/03/2016 at 14:04:44
So the debate is now lose tomorrow and RM is gone or win tomorrow and go on to lift the Cup in May....
That's a tough choice but, given we're now 21 years since we last won anything, I'd have to go with the trophy, every time. (Always a chance we win the cup and Moshiri still brings in his man in the summer as we've been crap in the league....)
Chances are we'll get past Chelsea and then lose in the semis...
Dennis Ng
136
Posted 11/03/2016 at 14:20:04
Jack, Moshiri just posted some comments on EFC. He didn't talk much about the manager but it is ominous.
"Playing fantastic football and winning". He's not oblivious to our predicament. I think he will fire Martinez for anything short of a complete turnaround even with a cup win. So.......
Patrick Murphy
137
Posted 11/03/2016 at 14:23:31
I honestly can't agree with those who are contemplating a defeat tomorrow in order to see the back of our manager. I've not forked out my hard-earned to sit back quietly and wait for what may be the inevitable outcome. I'll be hoarse at the end of the match and won't take any consolation if we are not in the hat for the semi-finals.
I don't actually think that a cup exit will lead to Roberto's end, in fact reading the programme notes by our new major shareholder for tomorrow, I think he'll be here at least until Christmas this year.
This should be a bright new beginning for the club, and anything which increases its status, eg, A victory at Wembley in May, is to be welcomed – not sacrificed for something which probably won't happen in the near term.
Dennis Ng
138
Posted 11/03/2016 at 14:29:31
Agree Patrick, except I don't think he will last past 10 games (maybe less than 5) next season. Christmas is way too long... LOL.
Let's hope we bring the cup home this time.
Jay Wood
139
Posted 11/03/2016 at 14:35:31
Didn't give a toss when a couple of seasons ago beating Shitteh at home would possibly have given t'other lot the title ...
Don't give a toss now what your opinion is of the manager ...
I want Everton to WIN!!! Every fecking game.
We've put 3 goals past Chelski in each of the 2 games we've played against them this season.
Let's have more of the same tomorrow.
Steve Brown
140
Posted 11/03/2016 at 14:51:37
Ian (#86). summary points from Liverpool Echo yesterday on RM's press conference.
So, that's all from Roberto. Here's what we have learned from that press conference.
Moshiri will be in attendance – but no talks with Roberto yet
RM also said "At the moment, nothing has been said in order to start the working relationship."
Doesn't sound like our new investor has him on speed dial.

James Marshall
141
Posted 11/03/2016 at 14:59:28
It's worth noting that McLaren has been fired after winning only 4 of Newcastle's last 15 Premier League games – the same record as a certain Señor Martinez.
They also now have the Spanish waiter in charge. Rather him than our Spaniard I say.
Jamie Barlow
142
Posted 11/03/2016 at 15:09:12
And they're second from bottom James.
James Marshall
143
Posted 11/03/2016 at 15:12:28
I'd still rather have Rafa in charge.
Martin Mason
144
Posted 11/03/2016 at 15:28:34
Oliver@115
Definitely Oliver although winning the cup would be secondary to winning the remaining 9 games.
I'll change my mind on RM unconditionally if he shows that he can change his methods which for a winning run of 9 games he'd have to do.
Dennis Ng
145
Posted 11/03/2016 at 15:35:16
James, I rather Klopp...Benitez has performed quite poorly since his rs days...
Jay Harris
146
Posted 11/03/2016 at 15:57:11
Just read that Lennon is a doubt with a hamstring injury (nothing new there then) and Hazard and the chav rat are going to be fit as is JT.
It appears Martinez may have a bigger challenge than we expected.
I hope the fans are really up for this one if only to show Moshiri what he is buying into.
Jack Cross
147
Posted 12/03/2016 at 02:24:25
Dennis (#136).
Sorry but all you're saying is what you personally think the owner means. You are interpreting it. So nothing concrete there, then?
Now if you can quote what he said, fine; otherwise, it's just bollocks, isn't it?
Dennis Ng
149
Posted 12/03/2016 at 03:15:00
What's your deal Jack Cross? That same message was posted a day ago and you want to pick a fight over it now?
Andy Meighan
150
Posted 12/03/2016 at 12:37:59
Well said, Kevin (#111). I can't stomach Martinez myself. But I've never wanted us to lose a game in my life. My ideal scenario would be to win the FA Cup and then sack the clown a few weeks later.
Meanwhile... back on planet earth...
Add Your Comments
In order to post a comment, you need to be logged in as a registered user of the site.
Or Sign up as a ToffeeWeb Member — it's free, takes just a few minutes and will allow you to post your comments on articles and Talking Points submissions across the site.
© ToffeeWeb