Unsworth says new boss has to be a winner
by

51 Comments [Jump to last]
| 13/05/2016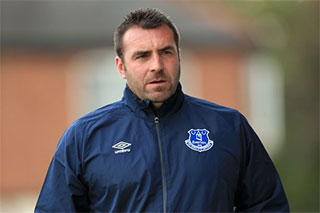 David Unsworth says that whomever Everton appoint as the next manager has to be able to work well with youth players and, above all, win matches.
The 42 year-old is in temporary charge of the first team alongside club legend and former manager Joe Royle for the final match of the season against Norwich City on Sunday but he was asked in his press conference for his thoughts on the man who will permanently replace outgoing boss Roberto Martinez.
Unsworth has managed Everton's Under-21 side for the past two years so his intimate knowledge of the youth system means he can speak to the potential that exists on the club's production line that the new manager can tap into.
"We've got amazing talent here. There's not just one or two in the Under-21 group, there's an abundance of talent that are probably ready to play first-team football.
"What we need is a manager who will integrate young players and top talent and win games. It could be anybody in charge — you have to win games, it's as simple as that.
"Recently, we haven't won enough games so whoever the new man coming in is, he's got top young talent anyway in the first team and he's also got under that an Under-21 group that are nearly ready or ready to play in our first team."
Unsworth agreed that the likes of Ronald Koeman and Frank de Boer, both of whom are being heavily linked with the vacancy, are top managers who could fit the bill but he reiterated that whoever comes in "has got to win."
"This is a top club," he continued, "with top fans who demand to win matches."
In the meantime, Unsworth is preparing for Sunday's game along with Duncan Ferguson, John Ebbrell and, of course, Royle he admits that he is loving working alongside his former boss.
"[Joe is] working for me now," he joked. "No, it's good. We have a great relationship; we did when I was a player, both here and at Ipswich. It's been brilliant to work with him, to tap into his knowledge and experience over the last few years here with the U21s.
"To have him next to me, to have John Ebbrell who's working with me as well, to have Big Dunc alongside us… you've got four passionate, massive Evertonians who want to see this club succeed."
---
Reader Comments (51)
Note: the following content is not moderated or vetted by the site owners at the time of submission. Comments are the responsibility of the poster. Disclaimer
Stephen Sullivan
1
Posted 13/05/2016 at 23:40:03
Thanks for that Unnsy! Talk about state the obvious and promote yourself at the same time?
Tony Abrahams
2
Posted 13/05/2016 at 23:42:14
Unsworth has only been in charge a day, and already his back room staff, have got so much more knowledge and experience, than the last group! Good luck Unsy lad, a true blue, if ever there was one!
Tony Byrne
3
Posted 13/05/2016 at 23:46:41
Can't wait to see the team they pick on Sunday....Niasse & Kone up front in a 442 with Oviedo at right full back ; )
Would like to see a few kids get a start & show some of our "stars" how to put a decent shift in.
All the best Unnsy/JR.
Damian Wilde
5
Posted 14/05/2016 at 00:22:00
Sounds like he's saying "Roberto never gave youth a chance and never won enough matches, the new boss should." :D
Stephen, give him a break ffs. Gutted you can't moan about Roberto, so feel the need to moan at whoever else.
James Flynn
6
Posted 13/05/2016 at 00:22:49
Well, our next guy will have the same mandate as our last two and every manager; win games. Hopefully, some of our kids have enough to contribute.
What's most important, I hope our new guy puts a lot of emphasis on coaching defenders. We really need that. Stones especially, but young Galloway too. A couple of raw talents to be molded.
With the clearing out about to happen, not sure how our new manager will be able to rely on untested youth thrust into an EPL environment.
Hopefully, well have some surprises.
Didn't we have a U-18 Skipper the U-21s? Who was that?
Phil Jeffries
7
Posted 14/05/2016 at 00:30:48
De Boer has consistently brought youth through and started at under 12 level at Ajax before working his way through and being a title winner. U-12's sounds perfect for this crew that he will inherit if he gets the job! Whatever you think of the dutch leagues, he is a winner as a player and manager. He is now looking for the opportunity to be a winner at a higher level. Everton are luckly to have such a high profile name interested.
Good luck Unsworth on Sunday. COYB!
John Roberts
8
Posted 14/05/2016 at 01:17:31
Joe Royle is Goodison royalty (!) - how great to have him on the bench for last game of the season. Hopefully the start of a much more successful era for us Blues. COYB
Marty MacDonald
9
Posted 14/05/2016 at 01:27:33
Looking forward to seeing Dowell starting under Unsworth.
Dennis Stevens
10
Posted 14/05/2016 at 01:40:49
In the wake of the Cup match against Chelsea, the following two "performances" against Arsenal & Manchester United should have seen Unsworth & Royle take interim control until the season drew to a close. We probably would have finished in the top half of the League &, who knows, we might even have won the Cup & qualified for Europe. Neither were going to happen under Martinez. I just wonder whether more decisive action may have been taken sooner had Moshiri bought his 49.9% a few months earlier.
Xavier Spencer
14
Posted 14/05/2016 at 07:00:06
Can't help but feel we could all be going to Wembley next weekend if Bill hadn't been such a sentimental tosspot and had pulled the trigger after the Anfield shambles.
Len Hawkins
15
Posted 14/05/2016 at 08:08:37
Christ! A bloke who has done a great job with the young players get's put in charge for ONE game and still that isn't good enough for some people. Jesus I give in, personally I hope Unsy picks a mix of youngsters and the better of the old guard and give Norwich a game to be proud of and give everyone hope for the future. And Everton can start climbing from the bottom of the barrel Rubbertoe took them to.
Martin Swindley
16
Posted 14/05/2016 at 08:21:44
We are four or five 'starting line-up' players from really pushing at the top. However, the next manager will have a massive re-building task on his hands.
A lot of dead wood in the squad who will either not have renewed contracts or be sold on. I believe we are looking at around ten signings and that is asking a lot for them to adapt with the squad that will remain. We need to give patience to the manager and players next season and hopefully be happy with the transition we see.
De Boer would be my choice, something new to the league with, good back room staff and as Rhino states, a winner.
Mourinho is toxic and Koeman hasn't really improved Southampton and none of his signings really stand out!
Ian Burns
17
Posted 14/05/2016 at 08:56:18
That was really an out of body experience. I actually understood - and agreed with - everything Unsy said. I have become so used to b/s at these press conferences, it sort of came as a shock!
Good luck Unsy - please pick a youngster or two!
Colin Glassar
18
Posted 14/05/2016 at 09:00:25
Looks like LVG is staying another season at OT so why don't we go all out for Mourinho? He wants to manage in England, we need a winning manager, we can satisfy his needs so why wait? FDB and Pellegrini can still be Plan B but we need to move fast.
Andy Walker
19
Posted 14/05/2016 at 09:04:47
That would be a dream come true as far as I'm concerned Colin. What a statement of intent that would be. Make Lukaku and Stones think too and all the dead wood would be shipped out. We can dream.....
Ernie Baywood
20
Posted 14/05/2016 at 09:13:37
He seemed to go out of his way to make it clear that it's not temporary joint control, it's him in control with a supporting cast. Throwing his hat in the ring?
Paul Conway
21
Posted 14/05/2016 at 09:19:32
Sanchez Flores has spooked his way into third favourite in most books – according to Oddschecker... are we heading for another disaster?
Ian McDowell
22
Posted 14/05/2016 at 09:23:08
Colin @ 18. Jose wants the Man Utd job; if he doesn't get it this summer, he will certainly be in the top candidates next summer when LVG's contract expires.
So the question would be, do we appoint Jose and give him an exit clause after 12 months for the Man Utd job, which he has openly stated he wants? Or do we appoint De Boer now and get on with giving him a 4-year plan?
Keith Harrison
23
Posted 14/05/2016 at 10:20:12
Think I can almost guarantee that Niasse will be nowhere near the team on Sunday.
Peter Jansson
24
Posted 14/05/2016 at 10:28:21
Lucien Favre must be a brilliant pick of a manager. He has done it good with limited budgets in bundesliga and has taken Bor. Monchengladbach to champions league. etc etc
Paul Kennedy
25
Posted 14/05/2016 at 10:32:09
We have got a bit of time. Keep a cool head, look at what is available, and make the right choice. Under our new owner and with a bit more balls in the boardroom, this really could be the start of something good.
Paul Burns
26
Posted 14/05/2016 at 10:38:42
We need WINNERS, not potential or people who reach the last 16, semis or the Champions League.
Steve Bingham
27
Posted 14/05/2016 at 11:58:19
You know what gang if all my dreams do come true and we appoint a certain Mr J. Mourhino as our next manager then this site will go into complete and utter meltdown. Why ? Because it's not like Jose to say anything controversial! And ye gods we all enjoy a dam good bicker and bitch on here !!
Patrick Murphy
28
Posted 14/05/2016 at 13:10:35
Scary interview with David Moyes (who is now talking about himself in the third person) in the Times:-
Would I consider going back? I've said if I get an exciting challenge and something that makes me feel I could get my teeth into it then I would be really interested. When we took over we had 11 great and successful years but we also had to rebuild the club a little bit. I just think now the change has been made and Everton need to now go and do it again. If you give David Moyes an opportunity he tends to rebuild a club and he tends to get it going in the right direction and making sure that things are correct and I'm looking forward to getting the chance to do that again.
Nick Armitage
29
Posted 14/05/2016 at 13:41:13
Rhino on penalty taking duties for tomorrow.
Don't remember him missing many.
Clive Lewis
30
Posted 14/05/2016 at 13:53:37
Please, everyone considering De Boer – what has he won in the Champions League? His record is ordinary.
It is shocking how anyone thinks a guy who has won the Dutch league 4 times is good enough to win the Premier League. You have to judge him on playing the best teams in the Champions League.
Daniel A Johnson
31
Posted 14/05/2016 at 13:58:55
Call me mad but I would like Roberto Mancini. Defensively disciplined, tactically very good, hes won 4 titles in different leagues. Premier League experience and also takes no shit –just ask, Tevez, Balotelli and Hart.
Oscar Huglin
32
Posted 14/05/2016 at 14:28:19
Moyes has decided to put his name in the mix by describing himself in the third person...
"Would I consider going back? I've said if I get an exciting challenge and something that makes me feel I could get my teeth into it then I would be really interested.
If you give David Moyes an opportunity he tends to rebuild a club and he tends to get it going in the right direction and making sure that things are correct and I'm looking forward to getting the chance to do that again."
Let's not eh BK/FM...
Paul Andrews
34
Posted 14/05/2016 at 14:39:15
"We had 11 successful years."
No we fuckin didn't.

Depends how you define success. Moyes and onion head brainwashed the fans into thinking 7th = success.
Peter Jansson
35
Posted 14/05/2016 at 14:39:31
#26. we need a winner. Are you kidding? Who do you call a winner. Mourinho? He made the same mess in chelsea as Martinez did with our club. But he had tons of more money...
Lucien Favre knocked out man u in champions league. He won both matches againt B. Munich. He wan the cup with Hertha Berlin and 4th place in the league despite they had the lowest budget in the league. etc etc
Also, when he did not succeed of various reasons, he left the club himself. Did not get forced out...like others I have heard of.
Frank D Boer eon the title 4 times a row in the dutch league. I am not buying that the dutch league is not any good etc.
Who do you call a winner?
Peter Jansson
36
Posted 14/05/2016 at 14:40:28
sorry for misspellings... mobile phone here...
Jackie Barry
37
Posted 14/05/2016 at 14:46:26
Mourinho also won titles with Chelsea the first time around and pretty much with every other club he has been at. He's a proven winner. 2nd time around never usually works out for returning managers. Stay away Mr. Moyes.
Chris Corn
38
Posted 14/05/2016 at 14:55:03
Oscar at 32, I agree. I'm sure the fans of Man U and Sociedad would disagree with David Moyes's self assessment. I'm sure people will say Van Gaal hasn't done much better, but ultimately he took the champions of England and dismantled them within the space of ten months to 7th in the league which is some going.
Patrick Murphy
39
Posted 14/05/2016 at 14:57:03
I'm amazed that people are seemingly finding fault with this manager or that manager when the truth is we don't really know how any of them will fare if they take on the Everton job - it's always a bit hit and miss and down to luck for whoever is appointed.
My own feeling is if Mr Moshiri is as good as his word, we need somebody who will command respect the moment he walks through the Goodison entrance.
Mourinho has his issues that's for sure but so too did Brian Cough and Sir Alex but all three have a knack for getting the very best out of players on a regular basis. If Jose came to Goodison it might all end in tears but it certainly wouldn't be boring, which for the most part of the last decade, it has been.
Even if his stay was for only 1 or 2 years he would alter the mindset of the club almost overnight. That is what this club needs at this moment in time, we could gamble on some other manager but none of them will come into the club and own it - metaphorically speaking - Jose Mourinho would.
David Greenwood
40
Posted 14/05/2016 at 15:05:32
It's pretty clear that there is no one manager out there who everyone agrees on.
One man's hell yeah is another man's FFS no.
Whoever it is, whether youre for or against him, we need everyone behind him and given our full support.
Agree with Patrick, Mourinho is and should be the man.
Peter Jansson
41
Posted 14/05/2016 at 15:14:56
Well I think many managers on the list could be good. Mourinho, Frank D B, Bielsa, Lucien Favre and Joachim Low would be good.
Koeman would be good but I think he will stay at southampton.
I don't want Moyes (will not be the right thing for several reasons), Mark Hughes, Rafa Benitez and Sanches Flores...and many others at the odds list.
Pellegrini could maybe be good. I think the position he has had in man c. was not healthy. If he got the chance I think he will be a good manager.
Ian Tunstead
42
Posted 14/05/2016 at 15:45:56
Completely agree with Peter 35.
Success is all relative, what exactly is a winner?
Some of the greatest people in history could be described as losers at some point in their lives. The real winners are those who face adversity and fail but never give in and persist until they succeed. There is no such thing as a born winner, everybody loses at some point.
Wenger created the "invincibles" Arsenal team about a decade ago so you would say he is a winner but many Arsenal fans want rid because hes only won about one trophy since.
Mourinho has won virtually every thing everywhere he has been but he has always had one of the better teams and a shed load of money to spend. But you wouldn't describe him as a winner last season, he did worse than Martinez.
Unsy never actually said we need a "winner". He said we need a manager who can win game. I interpret that as him saying we need a manager who is more interested in results than performance and possession tippy tappy football.
William Cartwright
43
Posted 14/05/2016 at 15:48:25
Mourihno is the only prospective candidate who could possibly turn Everton around into having a big club mindset 'quickly'. However it would be a high risk strategy which could backfire. And there is the rub. The only thing to fear is fear itself. . . . .
The reason he has not been appointed at manure yet is the conservative backroom nervousness at the cult of personality he carries around with him, and not necessarily an nice one.
At least what is clear is the middle range options will not be considered. I see it as a three horse race, Mourihno, De Boer and Mancini. People considering Moyes, because of his past associations with the Club, or Benitez because of his past association with the City are just not getting the magnitude of the decision.
I trust Moshiri to get it right, judging on the fact he never met Martinez! Absolute class. In bringing him to the Club might just be BK's saving grace.
I think if Mourihno were to come it would be in response to the most unique challenge in premier league history. Just consider the stadium, the dark side, the media bias, the small club mentality, Stones and Lukaku, the in-built prejudices to be overcome, the 2nd choice label etc. . . . Only a guy with the stature of Mourihno would dare to face that. Moshiri might just give him the opportunity.
Colin Glassar
44
Posted 14/05/2016 at 15:53:54
Good question Ian, 22. We all know Jose doesn't do long term. Get him in on a three year contract on the understanding that he can leave if MU want him. We win the league, and a cup, he gets no compo, we become a world name, he sets us up for a new, top manager to take over. It's a win-win for all involved IMO.
Peter Jansson
45
Posted 14/05/2016 at 15:54:42
Mancini would be great...but is it realistic?
Gavin Johnson
46
Posted 14/05/2016 at 15:58:59
I don't see why not Peter. I'd have Mancini over the fat Spanish waiter. He's a winner but tbh I don't remember City being a good team to watch when he was there. But as we are right now, I'll take results over attractive football.
Peter Jansson
47
Posted 14/05/2016 at 16:06:38
He won the league 11-12 with Man C. That I think was maybe the best I have seen from Man C. ever...
Michael Polley
48
Posted 14/05/2016 at 17:16:23
Feeling optimistic for the first time in months. Hopefully an announcement next week

Clive Lewis
49
Posted 14/05/2016 at 17:28:11
Mancini for me , Carragher has come out and suggested he would be good. I actually rate Carragher for accuracy.
Clive Lewis
50
Posted 14/05/2016 at 17:36:40
Mancini is realistic cobsidering inter are looking at Bielsa. Mancini or Mourhino it has to be . the others attainables are gambles. You may as well get Moyes back.
Jay Harris
51
Posted 14/05/2016 at 17:40:06
I have gone from not wanting Mourhino a few months ago to thinking he is the ideal man to restore us to glory.
Why?
Well despite that apparent arrogant ego he needs to feel wanted and loved and I think He would love Evertonians.
He has been successful at whatever club he has been at under difficult internal politics and is a proven winner.
He is loved by the media and would raise our profile.
Ok he has a suspect mental state but that hasnt stopped him winning things at every single club he has been at.
Whoever is appointed is a risk but at least he has proved he can walk the walk in the Premiership.
I am pleased to see De Boers odds going out a bit and Mourhino's odds coming right down to 8/1 with Skybet.
Would we ever have expected to be in with a chance of attracting a manager of this calibre.
Clive Lewis
52
Posted 14/05/2016 at 17:49:01
De Boer , it might be that it is because inter are now wanting him, that's why his odds have dropped. That's a relief because it's a major gamble we need proven premier league experience. The league is far faster than that of the Dutch and Italian leagues.
Andy Meighan
53
Posted 14/05/2016 at 18:35:31
Daniel 31, I wouldn't call you mad. I'd actually say that's a good shout. He seems to have slipped under the radar in all this. And I think he d be worth a punt for the reasons alone you stated.

My own personal favourite would be Ronald de Boer. I don't know why but he just seems to have something about him.
Rob Lawrence
54
Posted 14/05/2016 at 19:09:50
Roger Schmidt at Leverkusen looks a bit of a maverick ,maybe he could be someone to consider
Tony Hill
55
Posted 14/05/2016 at 20:57:03
What we want is a manager who cares not a damn for what others think of him and who is an established winner. It's Mourinho. None of the others have a fraction of his record: he did it with Porto when they were nothing, he can do it with us.
Let's unite, show him that he's really wanted and I don't think that he'd ever want to leave because we'd be offering him the chance to build a dynasty with one of the great aristocrats of world football. We're old money and we reek of class, I think he'd buy into us far beyond the spivvy nonsense that Chelsea offered; and we'd buy into him.
We need to understand and to sell what our club is about: one of the very greats in world football, one with a pedigree that puts the vast majority in the shade.
We're far too timid and apologetic. We have nothing to fear but ourselves.
Of course, the deadly obstacle is Kenwright who would far rather have charity ballet at every half-time than take on a nasty, winning bastard like Mourinho. I hope Moshiri sees through our fuckwit Chairman's mediocrity asap. If he doesn't, we're doomed.
Craig Mills
56
Posted 14/05/2016 at 21:07:28
The new manager will be a measuring stick on how to judge Moshiri's impact on the club - if we go safe, you know Bill is still calling the shots - if we go big - and I mean big - then Moshiri has the upper hand. I'd tell Jose we'll pay him his 10m a year and he has 100m to start with for players. I'm sure he'd do some damage with that!!
---
Add Your Comments
In order to post a comment, you need to be logged in as a registered user of the site.
Or Sign up as a ToffeeWeb Member — it's free, takes just a few minutes and will allow you to post your comments on articles and Talking Points submissions across the site.
© ToffeeWeb