Opinion
An Evening in the Bosom of the Everton Family
Lyndon Lloyd

04/10/2016

11 Comments
[Jump to last]
Share: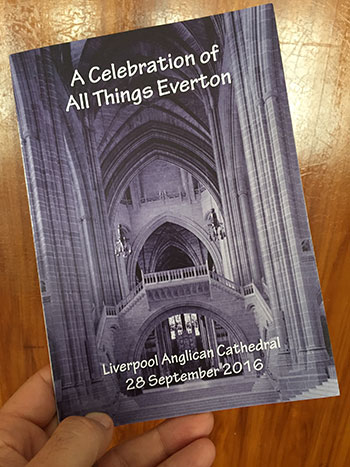 There can be few venues as majestic and grandiose for a gathering of Evertonians than Liverpool Cathedral, the splendid setting for a very special dinner hosted by Dr David France and his lovely wife Elizabeth to mark the launch of his new book, Everton Crazy.
From the moment I was privileged enough to be invited, it was an event I was determined to attend — for not only is a grand old evening in the company of the Frances always a memorable affair but I dearly wanted to show my support for David and share in what was aptly titled A Celebration of All Things Everton with the 80-odd other Blues who were on the guest list.
So, as occasionally fierce winds whipped around St James's Mount and one of Liverpool's most captivating landmarks, I completed my walk up Upper Duke Street to stand in front of the main steps of the Cathedral. Having offered to help David with any last-minute preparations, I was early and found locked gates at every turn until I eventually found the door to the Lady Chapel at the same time as the Good Doctor opened the door.
He proceeded to show me in, first to the chapel where aperitifs would soon be served for the arriving guests, and then upstairs to the main body of the church itself which, for those who haven't had the pleasure, needs to be seen to be believed. It would come as no surprise when Reverend Dr Pete Wilcox proudly explained that it is the longest Cathedral in the world because, standing close to the centre, it seemed to go back forever in both directions.
In short order, the summoned throng began to arrive and face after familiar face emerged from the blustery evening outside into the Lady Chapel, with David doing his best to introduce me to as many as he could. Among the early arrivals were Becky Tallentire (a match-going friend from the late 1990s when The Netley on Langham Street was the gathering place for the denizens of the ToffeeNet mailing list) and Andy Nicholls who pointed out one particular detail among the myriad ornate embellishments — the middle of three carved cherubs high on the chapel wall was holding not a harp or anything as ecclesiastical but an old-fashioned football rattle, the perfect nod to a football-mad city.
What followed was a flurry of introductions to Evertonians of all backgrounds, accomplishments and fame. I held my awe in check as I shook hands with the likes of Joe Royle, John Hurst, Derek Temple; was re-acquainted with Ped McPartland, EFC Heritage Society's Brendan Connolly, and EvertonUSA duo David Kurtz and Marshall Lamm; and finally got to meet Ped's Toffee TV co-host Barry Cass, one of ToffeeWeb's treasured historical writers, Peter Jones, NSNO.co.uk founder Simon Paul, and publisher of so many Everton tomes, James Corbett. I also introduced myself to another valued and long-time contributor, Paul Traill with whom I would sit at dinner once I made my way back up the stairs for dinner.
As we ascended the stone stairs, the building reverberated to the Cathedral's thunderous organ as Daniel Bishop played us to our seats around eight circular tables. I was delighted to have been placed on the same table as "Big Joe" and "Hursty" and their lovely wives Janet and Rosemary, not just because I'll always be able to say I dined with two members of Gwladys Street's Hall of Fame but also because the two old team-mates and now lifetime friends quickly settled into hilarious back and forth banter and reminiscences of the old days that would keep us entertained all evening long.
Rosemary explained that together with a small group of other ex-players and fans, Joe and Hursty meet for coffee at the same place every week and you could just imagine how easy and down-to-earth such occasions would be. You also wondered how feasible or likely such an enduring friendship and tradition would be for the members of our current squad with their disparate origins and trappings of fame.
As an ex-player from the Premier League era who has retained his humility and kept his feet firmly on the ground, moving into the legal profession after his career ended, Gareth Farrelly might provide a partial answer to that question. He was the other former player on our table; humble and approachable and perhaps even a touch embarrassed to be praised so lavishly by David as an Everton hero whose vital goal in 1998 was proof that God is indeed an Evertonian.
Our group was rounded out by Messers Kurtz and Lamm and Everton Fans' Forum Chair Nick Mernock, whose group has been behind the recent initiatives to decorate the walls of the stands inside Goodison Park with images celebrating past players and Toffees history, not to mention the proposed Holy Trinity statue.
No sooner had we taken our seats than the festivities began, with first Rev Wilcox and then David and Elizabeth welcoming us warmly, with the addition of some house (church?) rules for the evening: No phones, no profanities, no smoking and no talk of Niasse. While it was easy to stay away from texts, tweets and websites for the duration, I did sneak one photo with my mobile of Joe enjoying guitarist John O'Connell at the end and the odd mild profanity did, of course, slip out from the lectern during a couple of the speeches, with apologies duly offered by the speaker to the original Holy Trinity for any blasphemy!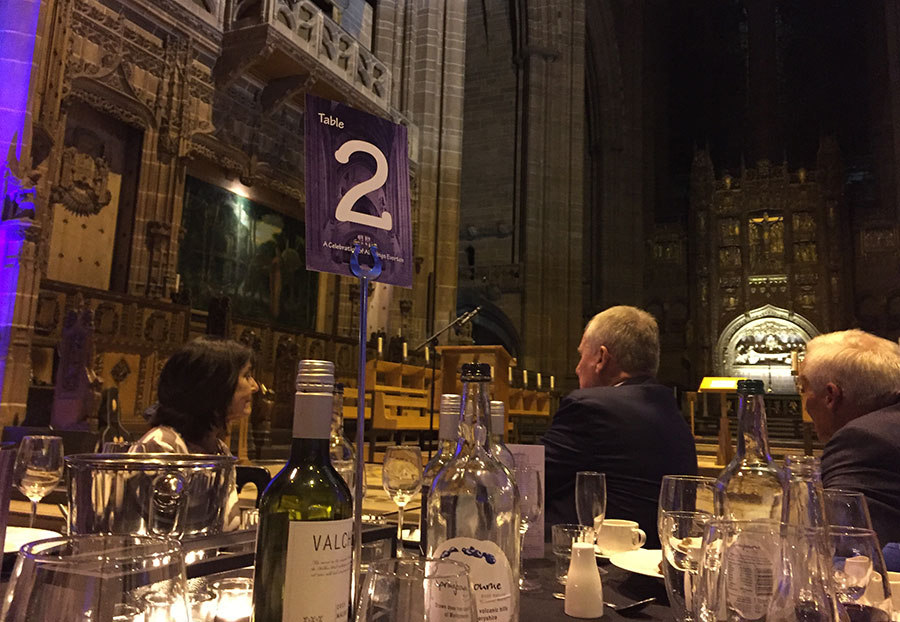 The one photo I sneaked of Big Joe and Hursty listening to guitarist John O'Connell (hidden) play us out after dinner
We chatted around the table as we savoured a five-course meal, with each interaction proving — if such were needed — that Evertonians really are a special bunch. I was especially pleased to have sat with and got to know Paul, who is as fine a Blue as you could hope to meet. He has been ToffeeWeb's representative at a number of events in recent years and I now know with certainty that he is an absolute credit to this website.
The main course eventually gave way to a succession of speeches from a selection of varied Evertonians. Peter Lupson kicked things off in eloquent fashion with a toast to the Frances and our beloved club, before David himself took to the lectern to be the first to describe "what Everton means to me."
He was followed by Joe who recalled the occasions when he was asked to come back to "home" to Everton as a manager and then to come on board at Finch Farm, never bothering to find out how much money was involved; he was just so glad to get the opportunity to rejoin Everton in any capacity.
Becky then spoke with emotion about how her love affair with the Blues has played out through her work on local television, through books, her association with the Former Players' Foundation and her friendship with the players it helped.
After a poetic interlude by Paul Cookson, it was my turn to speak and to describe at David's request my comparatively unusual route to becoming a Blue after I moved to England from South Africa as a 12-year-old in the mid-1980s. As I explained on the night, public speaker has never been my strength and, try as I did, I just couldn't memorise enough of what I wanted to say so I resorted to reading much of it to ensure that my fatigued brain didn't freeze in front of six-or-so dozen expectant pairs of eyes and ears!
I've rewritten parts of my speech a few times in my head since and what should have been the salient point about what the Blues means to me is the very fact that I was there at the Cathedral among Everton royalty and so many special people at all. That David has been such a friend of ToffeeWeb and that through my efforts on this site he saw me worthy of not only joining such an assembly of Evertonia but to address them as well was truly humbling. I just wish I had the off-the-cuff eloquence and wit of my fellow speakers but I've long since acknowledged that I do my best work with the pen or keyboard!
Derek Mountfield, whose hand I made a point of shaking after dinner, followed me and spoke with passion about how lucky he was to live the dream of playing for Everton before Dave Prentice of the Liverpool Echo echoed a sentiment that would be repeated over and over throughout the evening — that of family and Evertonian fellowship — as well as acknowledging, as others did, that it was nice to be in the Cathedral for a happy occasion given the services that brought many of guests in attendance together for more sombre reasons to pay respects to club greats have passed, most recently Howard Kendall.
Another poem, this time from Bobby Parry, and then a toast from club Chief Executive Robert Elstone to the club's future, which he described as very bright, led into further words from Kevin Sheedy who, similarly grateful to have played for the Toffees during it's most successful era, brought back his memories of the semi-final against Bayern Munich and the part he played in securing the club's only European trophy to date.
The evening continued over St Domingo Cake and then coffee with words from "reformed hooligan" Andy — read Paul's account for the funniest part of his speech about the time he played in a charity game at Goodison Park — whose gratitude that he has been welcomed back into the fold, thanks to his rewarding work for Everton in the Community, shone through; Everton's Director of Marketing and Communications, Richard Kenyon, spoke of how following the Blues has been an almost spiritual experience; and Ronny Goodlass rounded things off in his inimitable and irrepressible style.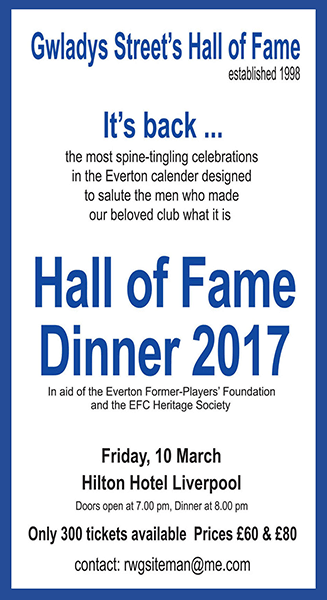 A quick closing toast from David and Elizabeth to — what else? — the Everton Family, was followed by more of the lilting strains from John O'Connell's nylon strings before everyone mingled for one final time to say goodbye. More hands were shaken and acquaintances either made or reaffirmed, of course, but there just wasn't enough time to meet everyone before we made our way out into the blustery night. I didn't get to pass on my thanks to Sheeds for his part in Everton's glorious history but it was nice to meet a few people I had hitherto only known via the Internet.
David will forever be known as the man whose Magnificent Obsession led him to assemble football's most extensive and far-reaching collection of memorabilia and whose deep-seated sense of duty and altruism towards Everton prompted him to found, among other Blue initiatives, the Former Players' Foundation.
Just as important has been his keen instinct for the importance of bringing Evertonians together in celebration of the wonderful institution we all love.
It is on unforgettable evenings like this that memories are made and the fabric of the club and the bonds that tie this family of Blues together are strengthened.
Good thing then that the next grand old evening is already on the calendar — Friday, 10 March 2017, when the four new members of Gwladys Street's Hall of Fame will be inducted at a dinner boasting 300 rabid Bluenoses.
What a man. What a club. What a family.

Follow @EFCLyndon
---
Reader Comments (11)
Note: the following content is not moderated or vetted by the site owners at the time of submission. Comments are the responsibility of the poster. Disclaimer
Jack Convery
1
Posted 04/10/2016 at 21:59:46
As Michael Palin says to Brian, whilst hanging from a cell wall, in the Life of Brian – you lucky lucky bastard.
Seriously though, a well deserved acknowledgement for your work on TW. We are family!!!
Keith Harrison
2
Posted 04/10/2016 at 22:11:22
Very pleased for you on your good fortune, Lyndon. We did, however, wait for you on Friday night in the Winslow, and I even had a spare ticket for the Park End lined up for you mate.
Never mind, next you're over eh, it would be nice to meet up.
Kase Chow
3
Posted 04/10/2016 at 23:44:47
Well done, Lyndon.
Well deserved and what an event to attend!!
Rick Tarleton
4
Posted 05/10/2016 at 06:10:46
Sounds like an event that occurs only in dreams. I envy you your attendance, but you deserve it for the work you do on this site.
Peter Mills
5
Posted 05/10/2016 at 09:04:43
As James Corbett's grandad said on more than one occasion, "We are cut from a different cloth".
Don Alexander
6
Posted 05/10/2016 at 17:17:02
John Hurst was unfortunate to be playing at the same time and in the same position as Bobby Moore otherwise, like Howard Kendall (but I could never get my head round why Alan Muller and then Peter Storey were preferred to Howie), he was of international standard.
Mike Gaynes
8
Posted 06/10/2016 at 18:48:06
Tony I'Anson
9
Posted 06/10/2016 at 19:19:15
Nice work, Lyndon. I hope you manage to get yourself along to the Darkhouse for a beer during your visit. You'll find many posters, impostors and lurkers from here in there, I suspect.
Damian Wilde
10
Posted 06/10/2016 at 23:50:24
Sounds like an absolutely fantastic evening, a truly blessed occasion for any Evertonian, Lyndon.
Glad you enjoyed it so much, an amazing experience. COYB. Paul, should have stayed and got a taxi, I believe he got the last bus!
Hope you got back to the US okay, I am currently here, enjoying the delights of California in Manhattan Beach, where I often frequent. :)
Brendan Fitzgerald
11
Posted 08/10/2016 at 18:54:33
Great article, Lyndon. Your eloquent description Helps us distant Evertonians understand why we follow this great club.
Andy Crooks
12
Posted 08/10/2016 at 23:19:11
I enjoyed your article and Paul's. I think that you both contribute top stuff to the site. However, I am so fucking envious. Well done on making it feel like being there. It must have been a very special night.
Lyndon, this is the kind of writing that, along with that of Eugene, John Daley and others, I think should just not disappear. How about looking at an annual Best of ToffeeWeb that can be preserved and made easily readable?
---
Add Your Comments
In order to post a comment, you need to be logged in as a registered user of the site.
Or Sign up as a ToffeeWeb Member — it's free, takes just a few minutes and will allow you to post your comments on articles and Talking Points submissions across the site.
© ToffeeWeb