Everton History
Nat, King of Goals...and Bowls
Rob Sawyer (EFC Heritage Society)

29/08/2016

21 Comments
[Jump to last]
Share: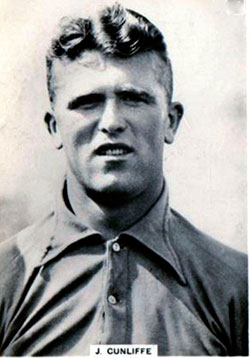 As with many players at Goodison in the 1930s, Jimmy "Nat" Cunliffe's achievements are overshadowed by the Everton giant that is W.R. Dean. Yet his life in sport was a remarkable one. Plucked from non-league football Jimmy went on to win international honours. Not content with this, he subsequently embarked on enjoy a highly successful career in another sporting arena.
Born James Cunliffe on 5 July 1912 to Mary and Peter (a coal miner), Jimmy grew up in Blackrod – a small settlement close to the current location of Bolton Wanderers' stadium. Upon leaving school he started an apprenticeship as a plater in the boiler-making section of the nearby Horwich Locomotive Works.  The young man excelled at cricket, football and crown green bowls, confiding, years later, to the journalist Stork that most of his friends rated him as a better cricketer than footballer. In one season he had a bowling average of seven but preferred to pursue a career in football, partly as he did not fancy the idea of playing cricket late into the evening. By the age of 17 he was turning out at centre-forward for Adlington FC, having previously played for Horwich.
With Everton suffering relegation from the First Division in the spring of 1930 the board were on the lookout for young talent to restore the clubs fortunes and gain instant promotion back to the top flight. Mr T. Fleetwood scouted Jimmy and teammate R. Parker playing for Adlington in early May. He reported to the board that they were "very promising indeed". It was left in the hands of the Chairman to conclude a deal for the pair – signing on in early June for £1 per week plus rail fares from their homes – presumably they were part-time pros initially. Adlington FC received the princely sum of £10 by way of a donation from Everton.  .
The scouting conducted by the directors that summer was clearly of the highest order as new arrivals, Cliff Britton, Charlie Gee and Jimmy would all represent England whilst at Everton.  Jimmy would generally known as "Nat" at Goodison Park  - a shortened version of Nathaniel,  his middle name. Perhaps this was avoid confusion with the Scottish left-flank duo of Jimmy Dunn and Jimmy Stein.
Jimmy's chances of selection for the first team were miniscule whilst "Dixie" Dean remained fit and in-form, so he had to content himself with A (third) team and Central League (reserve team) appearances. Come the end of his first season on Merseyside, in which Everton were promoted back to the First Division, he declined the £3 per week on offer for the following season before eventually settling on a revised offer of £4.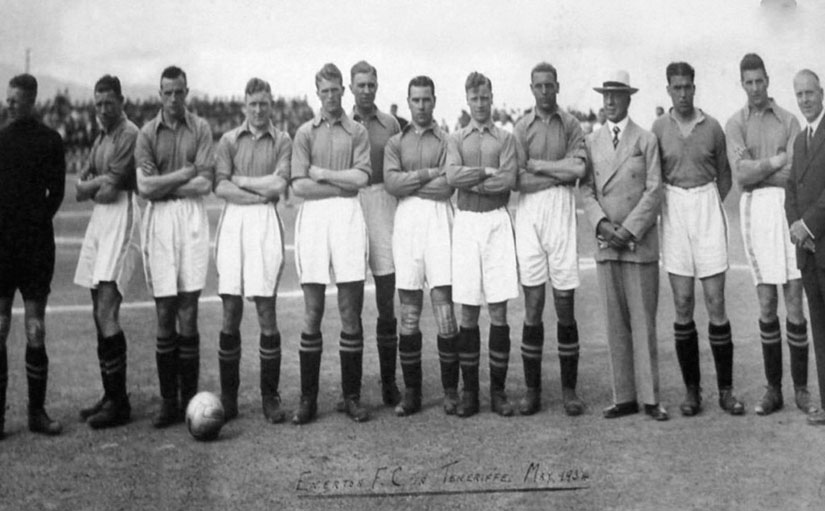 On tour in Tenerife 1934. Jimmy is 5th from left.
After three years Jimmy's first team break finally came when Jimmy Dunn, the inside-forward, was absent through injury.  A goal-scoring debut in March 1933 against Aston Villa was over-shadowed by a 2-1 defeat and in the following match, against Middlesbrough, he was described in one press report as "lost from the first minute onwards". After this second outing Jimmy returned to the reserves until an injury to Dixie Dean in the Autumn presented an opportunity in his favoured central position. He impressed immediately and when Dean returned, Jimmy switched to inside-forward at the expense of "Tosh" Johnson and Jimmy Dunn - chipping in with 9 goals in 28 appearances. From there he never looked back.  Proving to be a self-less foil to Dean, contemporary reports noted Jimmy's speed and ability with both feet coupled with a stinging shot. He contributed 17 goals the next, 1934/35, season but the 1935/36 would prove to be the vintage one. Playing across the front-line Jimmy  topped the scoring table with 23 goals – a better ratio than one goal every two games .   Twice he hit four goals in a match. In the 5-1 demolition of Stoke City Stork reported:
The game between Everton and Stoke City at Goodison Park was a complete triumph for Cunliffe, the Everton inside left, who scored four of the five goals against the one obtained by the Potters. He was in brilliant form, apart from his goals, for he tripped along with the ball at toe to make clever passes, so that the line moved along smoothly and well. It was, of course, as a goal scorer that he made his big hit, for each of his goals was a magnificent effort, particularly his third, for it was practically a self-made point from start to finish. He beat a number of Stoke defenders before finally coaxing Lewis out of goal and then turning the ball right away and out of reach of the Stoke custodian. I have never seen Cunliffe so sure with his shooting.
The feat was repeated in a thrilling 5-3 victory over West Bromwich Albion in April.  Rewarded with an England call-up he lined-up alongside Ted Sagar in a 3-2 defeat to Belgium in the Stade Du Centenaire (Heysel) Stadium on 9 May 1936. Like fellow debutant Bernard Joy of Arsenal (the last amateur to be selected for England) Jimmy was never selected again but he was the reserve on five other occasions. Humbled by the honour, he cherished his England shirt and cap for the rest of his life. Sporting talent clearly flowed in the Cunliffe family's blood as Jimmy's cousin,  Arthur, earned two England caps at outside-left in 1932.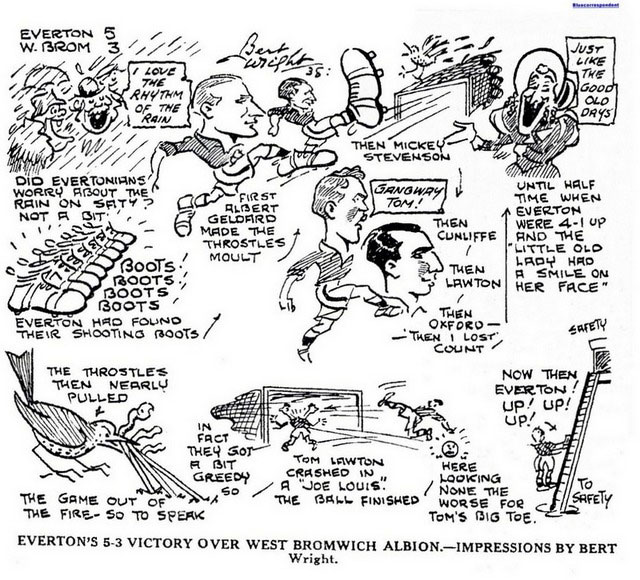 Everton 5-3 West Brom, April 1936
Jimmy, unlike most Everton teammates, chose not to live near to Goodison Park – preferring to live in Blackrod for his entire life. His love for the place is confirmed by a post-card he wrote to his girlfriend Margaret Ainscough from Switzerland whilst on a club tour in the mid-1930s:
"This is a very decent place and we are enjoying ourselves very much considering we are so many miles away from home, but there is no place like good old Blackrod."
Jimmy remained a near-automatic pick at Everton for two further seasons but, sadly for him,  his greatest Everton days coincided with a fallow period as far as silverware was concerned. He picked up an ankle injury in the Empire Exhibition Trophy Final, held in Glasgow in June 1938. This required an operation to remove four bone splinters and probably robbed him of some his lightning-fast pace. When deemed fit again in the autumn, he found himself unable to displace the less skilled but more defensively industrious Stan Bentham from the team. Instead he gave yeoman service in the reserve side alongside the likes of Cliff Britton, Charlie Gee and Bob Bell. When called up to the first team in the 1938/39 season he scored three goals in seven appearances –– sadly this was not enough to qualify for a medal when the league crown was secured.
Jimmy was retained by Everton for the 1939/40 season but, when this was abandoned after only three games his playing contract was terminated (his registration was retained by the club).  As a gentle soul Jimmy would countenance inflicting death and injury on the wartime enemy so he served down the pits in the Lancashire coalfields.  Everton gave him permission to "guest" for his nearest league club – Bolton Wanderers in the first two wartime league seasons, after which he became a regular guest for Rochdale, maintaining an impressive strike-rate. His sole wartime Everton appearances would come early in the 1941/42 season but, alongside other stalwart Evertonians, he was rewarded with a long-service "benefit" cheque for £520, presented at Goodison Park in April 1944.
When peacetime football resumed Jimmy, was released by Everton in September 1946 and played in two Third Division North fixtures for Rochdale before retiring from professional football. Shortly afterwards, in the summer of 1947, he finally married Margaret after in excess of a decade of courtship – they would have one child together, James (commonly known as Jimmy or Jim) in 1953.
Jimmy's career came full circle when he was employed again at the Horwich Locomotive Works, labouring in the spring smithy section. However, another sporting career was dawning. Jimmy had continued to play amateur play bowls throughout the 1930s and 1940s, he was a frequent finalist in competitions sponsored by the News of The World  and in 1955 won the coveted Sarti Cup – he was pictured cradling the trophy in one arm and his young son in the other. In 1958 he swapped his factory job for The Panel, the name given to a select band of professional crown green bowls players who would compete on up to six evenings per week across Lancashire.  Panel Bowling, as it was known,  was popular in the area with considerable sums wagered on the outcomes by 200-plus spectators. The players (generally, between four and eight were on The Panel) could earn over £1000 per year in appearance fees and prize money (£5 for a win, £4 for a defeat).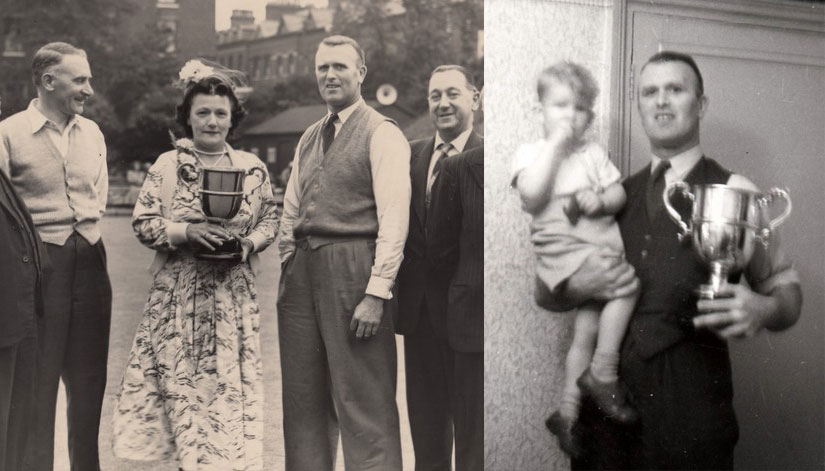 Jimmy Cunliffe with the Sarti Cup, 1955
No quarter was given to the newcomer and Jimmy had to devise a scientific of overcoming his uncompromising opponents. Through studying the contours of the greens and favouring bowls with a high degree of bias (known as "strength") he was able to position the jack in a location where only his bowls would hold. He had one other advantage over his opponents – physique. In 1963, the journalist Fred Eaton chanced upon Jimmy having a wash between games and noted:
He is 6ft tall and pulls around 14 stone with powerful shoulders and a good deep chest...He looks what he is: an all-his-life athlete. But what impresses me most in the 50-year-old-man is the air of professionalism about him. Here before me is the sort of man that typifies the big-timer in sport.
Another journalist, Michael Hardcastle, observed Jimmy in his element on the green and noted, amongst other things how the ankle injury sustained in at Hampden Park back in 1938 continued to trouble him:
Cunliffe is the master tactician, the hardest man in the game to beat on his day and his favourite greens. As he follows a wood to the jack he is expressionless, unruffled. He wears flannels, olive pullover, flat cap and walks a little crookedly on an arthritic right ankle.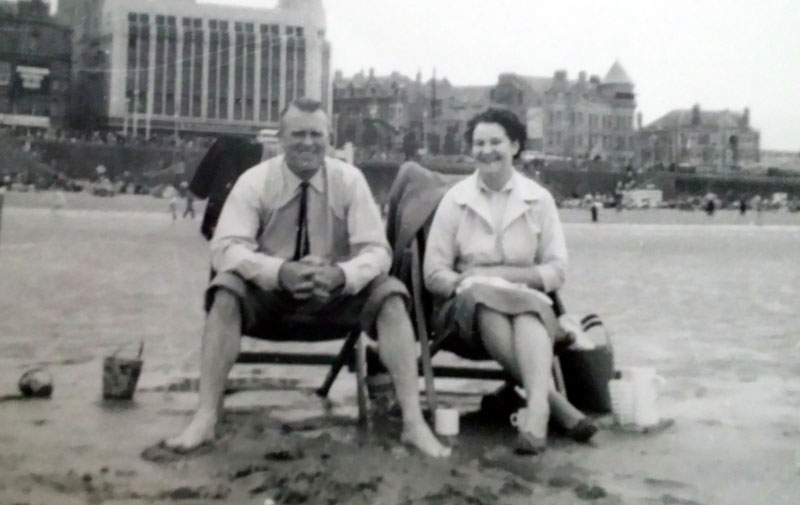 On holiday in Blackpool in the mid-1950s
By the mid-1960s Jimmy had become the pre-eminent bowls player thanks to his talent, preparation and fitness. There was even talk of making all players use the same standard strength of woods in order to temper his advantage.  
Edgar Boardman, a neighbour, recalls Jimmy being interviewed on television about his bowls career. In a strong Lancastrian dialect he told the interviewer: "Tha always knows when tha's bowlt a good wood - tha can tell as soon as it's left the 'and".
In spite of the relative riches earned as a Panel Bowls player he lived modestly. After collecting his winnings (in cash), Jimmy would get the bus home after the match each evening. He didn't own a car, stating that he "never fancied one"
By the early 1970's, Jimmy was stepping back from professional bowls but The Panel continues to this day at the Red Lion in West Houghton.
Although no longer involved in football Jimmy would still follow the game and was fortunate enough to attend FA Cup Finals as a spectator at Wembley on a number of occasions. In conversation about football he would sometimes mention that he had once played for Everton alongside Dean et al but he did not labour the point.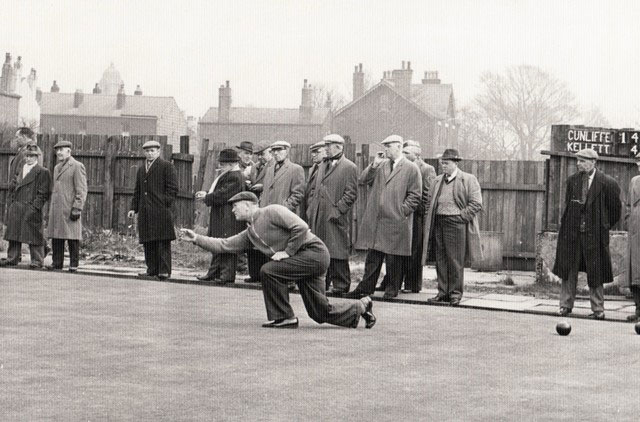 Jimmy bowls in a match against Ron Kellett
 Jimmy Junior, a roofer by trade, relocated to Torbay on the south coast and it was here, in 1983, that Jimmy's grandson – another James – was born. Jimmy and Margaret would journey down from Lancashire to visit the young family. Their daughter-in-law, Sheila, recalls Jimmy being was a lovely, quiet man – happy to leave Margaret to do the lion's share of the talking. He passed away in hospital on 26 November 1986, aged 74, following a stroke suffered at home on Chorley Road.
Despite the passing of time since his footballing days, word of Jimmy's passing, somehow, reached Goodison Park. At the funeral service, the family were surprised, but delighted, to see a blue and white floral tribute sent by Everton Football Club.
In a remarkable parallel, another Blackrod-born centre-forward was plucked from non-league football to join Everton and earn England honours.  Frank Wignall was signed by the Blues from Horwich RMI in 1958. Despite an impressive goal return, he failed to impress the incoming Harry Catterick and after one game (and one goal) in the 1962/63 championship season he was transferred to Nottingham Forest where he won two caps for the national team.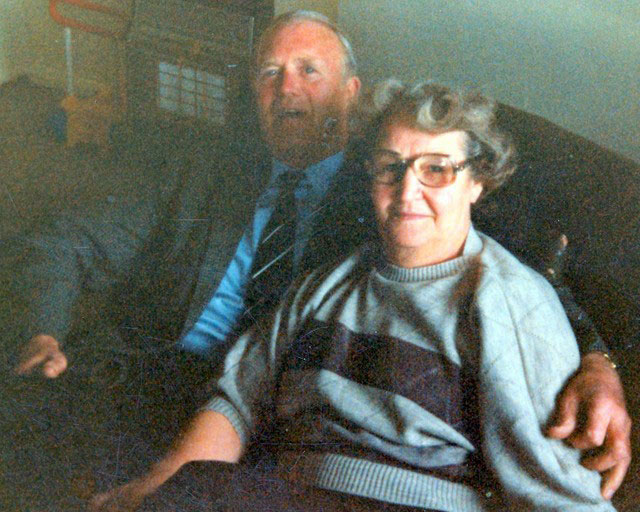 Jimmy Cunliffe and Margaret circa 1985
Career Stats:
Everton:
187 League and cup appearances – 76 goals
3 wartime appearances – 1 goal
Bolton Wanderers:
27 appearances – 8 goals (wartime guest)
Rochdale:     
119 appearances  - 54 goals (wartime guest) 
2 Football League appearances – 0 goals
England
1 appearance – 0 goals
Acknowledgements/Thanks:
The Cunliffe family
The Crook family
Rosemary Hill
Edgar Boardman
Keith Dickinson
Sports news articles and images on Blue Correspondent website (Billy Smith)
Everton Encyclopedia – James Corbett
Gwladys' Street's Blue Book – David France with Gordon Watson
Everton: The Complete Record – Steve Johnson
Everton Collection (minute book transcripts)
Family/bowling photos are used care/of Jimmy's relatives

Follow @handforth70
---
Reader Comments (21)
Note: the following content is not moderated or vetted by the site owners at the time of submission. Comments are the responsibility of the poster. Disclaimer
Don Alexander
1
Posted 29/08/2016 at 20:59:09
Fascinating read. Thanks to the author.
Jeff Armstrong
2
Posted 29/08/2016 at 21:19:25
Great read once again Rob. I imagine say, Romelu Lukaku becoming a crown green bowler when he's finished in the game, just to make ends meet. Can't see it happening, to be honest...
Kase Chow
3
Posted 29/08/2016 at 22:10:43
Fantastic read.
Very interesting and a great look at the past.
Current footballers don't know they're born.
Jimmy sounds like quite the gent.
Thanks for sharing.
Eugene Ruane
4
Posted 29/08/2016 at 22:44:44
As usual Rob, a terrific read.
Where it says 'In one season he had a bowling average on seven' - was that wickets per match?
(In a one innings each game, that would be staggering)
By the way, in that top pic he's got a look of one of the (young) Kennedys.
Rob Sawyer
5
Posted 29/08/2016 at 23:10:58
Thanks Eugene. I suspect it was an average of a wicket taken by Jimmy for every seven runs conceded. Quite a feat. It was not clear from the source material at what level he was playing back then.
Jack Convery
6
Posted 29/08/2016 at 23:30:54
A great article and nice to see into the long shadow cast by the legendary Dixie Dean. What a scoring record he had. I wonder how much – at a goal every three games – he would cost today?
Andrew James
7
Posted 29/08/2016 at 23:41:01
Thanks Rob, a worthy read and makes you realise how the game has changed.
Plus any William Ralph info is always welcome!
Eugene Ruane
8
Posted 29/08/2016 at 23:57:49
Rob, I didn't even think of that, a wicket for every seven runs would be even more amazing.
Dennis Stevens
9
Posted 30/08/2016 at 00:05:29
Another great piece, thanks Rob. Particularly as all other players of that era seem somewhat overlooked due the the main focus being on Dean & then Lawton.
Mick Davies
10
Posted 30/08/2016 at 00:21:29
I watched a news item on that very West Houghton bowls club a couple of nights ago. It' been vandalised and may have to close if it carries on; maybe our club could help out, in view of our connection... apparently it's still the only bowls club in the country where betting is allowed. Thanks for that wonderful story – our great club has so many.
Tony Sullivan
11
Posted 30/08/2016 at 09:50:37
Eugene, each wicket cost the bowler 7 runs, eg, 10 wickets for 100 runs is a bowling average average of 10 runs.
David Ellis
12
Posted 30/08/2016 at 10:11:14
Another great piece. Love the photo of Blackpool beach. He's wearing a tie... and his missus seems to be wearing heels extraordinary!
Pete Jones
13
Posted 30/08/2016 at 13:33:39
Nice one Rob, a lovely gentle story.
Andy Meighan
14
Posted 30/08/2016 at 20:43:56
Another great read. Love these stories about the players of old. Unfortunately, Dixie seems to overshadow every last one of them. Can't think why...

And great quip from Jeff about Lukaku. Made me laugh that. He'd probably be too lazy to bend down to pick the jack up knowing him.
Steve Austin
15
Posted 31/08/2016 at 01:26:12
Fantastic another great read.
David Ellis did you notice he is wearing a tie in every picture except the Everton team photos. And I bet he has a tie under the sweater in his bowls picture.
Rick Tarleton
16
Posted 31/08/2016 at 06:46:37
A great read, thank-you. A glimpse of a previous age. I remember watching a mate of mine play bowls for a club in Walton Hall Park and Brian Labone was in the same team.

Michael Farrelly
17
Posted 31/08/2016 at 13:34:20
Very special reading, Rob.
Thank you so much.
Ian Pilkington
18
Posted 02/09/2016 at 18:47:13
Thank you Rob for another tremendous heritage article.
I've always had a particular interest in Jimmy Cunliffe having seen him play Panel bowls several times in the late 1960s when I lived near Wigan. I can confirm he was one of the best in a very tough and competitive sport.
My father and uncle saw him play for Everton and I've always been fascinated that Jimmy must have enjoyed one of the longest careers of any professional sportsman, interrupted only by WW2 and the short spell when he returned to work at Horwich Loco Works after retiring from football.
I was particularly interested to learn that he signed for Everton from Adlington FC. I've lived in Adlington for many years, just 2 miles away from Jimmy's home village of Blackrod. As far as I know there has never been a professional club based here, so we must assume that Jimmy would have been an amateur when he signed for Everton in 1930.
Your article contains much more information about Jimmy than the definitive local history book about Blackrod, thank you again for a great piece of research.
Rob Sawyer
19
Posted 03/09/2016 at 09:34:16
Thanks, Ian. Adlington FC had gone to the wall by the end of the 1930s. It would have been an amateur outfit as you indicate.
I once heard that Alan Ball and his dad were Panel Bowls devotees (they were from that area, after all) so it is another nice link to Jimmy and Everton.
Ian Pilkington
20
Posted 03/09/2016 at 17:05:13
Rob, you're correct about Bally and his father enjoying Panel Bowling, although I didn't see them there myself as we only went to games on Saturdays when Everton were away.
However their attendance was widely known at weekday matches after Bally had finished training and I understand they were very keen on the betting!
Eric Myles
21
Posted 04/09/2016 at 00:47:48
David #12, Steve #15, it's probably due to the era he was brought up in. Me Dad wore a tie every single day of his life, indoors as well as out.
---
Add Your Comments
In order to post a comment, you need to be logged in as a registered user of the site.
Or Sign up as a ToffeeWeb Member — it's free, takes just a few minutes and will allow you to post your comments on articles and Talking Points submissions across the site.
© ToffeeWeb