Everton History
Initials T.G. – Researching Tommy Jones, The Prince of Centre-Halves
Rob Sawyer

30/06/2017

23 Comments
[Jump to last]
Share:

William Ralph "Dixie" Dean sits unchallenged as the king of Goodison Park. Joining him in the Royal Blue dynasty is the Prince of Centre Halves: Thomas George Jones. Tommy, as his friends knew him, was so famous in his pomp for Everton and Wales that he was known merely by his initials - T.G.
Devouring Everton history books as a youngster, I would read of this artist in the Blues' half-back line. Dominant in the air, immaculate on the ground and possessing a rocket-like shot, T.G. was so confident in his own ability that he would dribble in his own penalty area - accompanied by gasps of fear and appreciation from the terraces. In 14 years of service at Goodison, T.G. cemented his reputation as Everton's most cultured centre-half – overshadowing the likes of T.E. Jones, Brian Labone, John Hurst, Kevin Ratcliffe and Dave Watson.
I sometimes pondered on why T.G. walked away from Goodison to run a hotel in Pwllheli but nothing more might have come of it were it not for a chance conversation with a Bangor City supporter. Whilst helping Dafydd Islwyn with a query about Ian Hillsdon, a former Everton and Bangor left-back Ian Hillsdon, he waxed lyrical about T.G.'s impact as manager of Bangor in the 1950s and 1960s. In the North Walian university city he ended a six-decade barren spell in the Welsh Cup and led the Cheshire League part-timers into three epic European Cup Winners' Cup encounters with Italian giants Napoli.
I was hooked and, armed with Dafydd's collection of press cuttings, I set out to document T.G.'s life and times. My research led me to Connah's Quay – a short hop across the Dee estuary from England. His legacy in, this, his hometown, was the formation of the football club now known as Connah's Quay Nomads. With the Welshman not having kicked a ball competitively for well over 50 years, I raced against time to collect first-hand memories of seeing T.G. play. My late father's recollections of T.G. were corroborated by Toffeeweb contributors such as the Harold Matthews who dubbed T.G. "Like Pirlo in a number 5 shirt." Evertonians of a certain vintage (and contemporary match reports) were almost unanimous in their opinion that T.G. was the ultimate ball playing centre-half – some 25 years before Franz Beckenbauer announced himself on the world stage with a similar Libero playing style.
Having joined Everton from Wrexham, in his first full season as a regular starter, T.G. starred alongside Ted Sagar, Joe Mercer, Tommy Lawton, Alex Stevenson and Torry Gillick in a side which romped, unexpectedly, to the 1938/39 league title. T.G. would claim that the team was so good that it rarely had to break sweat. Hopes of further silverware were dashed by the outbreak of war. T.G.'s finest years for Everton, in the early 1940s, were never officially recognised in the record books.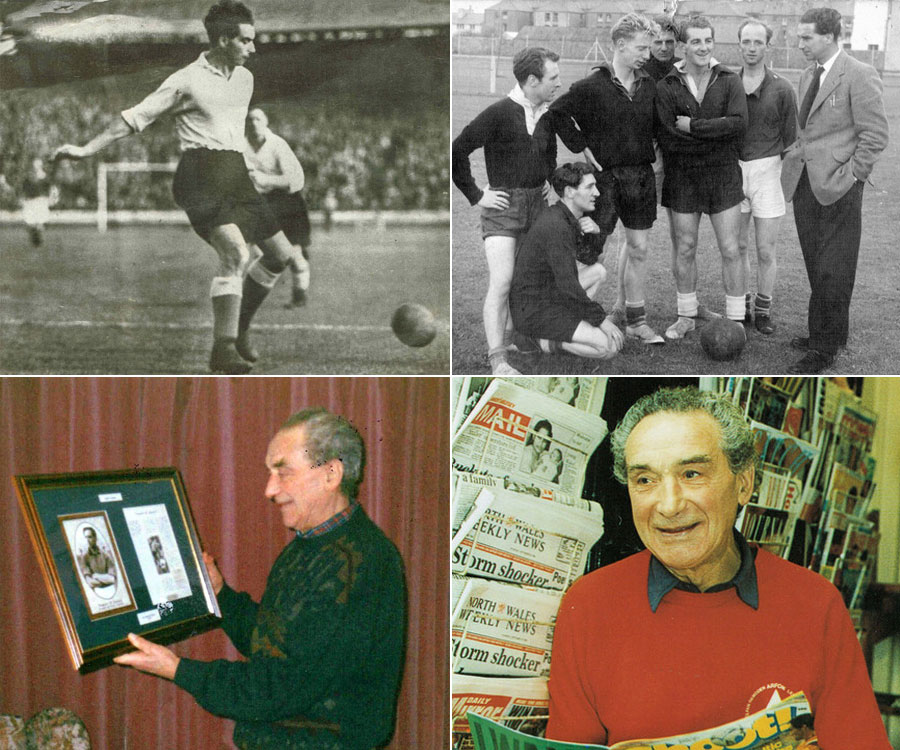 TG Jones, clockwise from top: In an Everton away shirt, post-War (courtesy of Jane Jones); Player-manager of Pwllheli FC; At home with his Everton Giant certificate; Photographed in his shop in 1990 for the Everton matchday programme
The seeds of discontent were sown in a wartime Merseyside derby when a club director tried to order a badly injured T.G. back onto the field. Disenchantment was added to resentment, post-war, when Everton sold Tommy Lawton and Joe Mercer and entered a downward spiral. In the days before agents and the Bosman ruling, T.G. fought unsuccessfully for 3 seasons to get a move to a more competitive club. Although still revered by the Everton faithful he was no longer an automatic choice in the first team – often losing out to fellow Welshman, Jack Humphreys. Having fallen out with incoming manager, and former team-mate, Cliff Britton, T.G. walked away from professional football in 1950. He doubled his income as a hotelier whilst continuing to ply his footballing trade in the Welsh League North with Pwllheli F.C. Having won every competition going whilst on the Llŷn Peninsula, he switched to managing Bangor City in 1957. His cup feats there in 1962 are still marvelled at on the banks of the Menai Strait.
Having stepped away from football management after an ill-fated spell at Rhyl, T.G. wrote for the Daily Post and ran a small newspaper and sweet shop with his wife, close to Bangor Pier. Keeping a low profile, he loved walking his dogs or visiting nearby beaches on Anglesey. He would sometimes reflect ruefully on how he almost became a European football star a decade before countryman, John Charles. For, in 1948, an audacious bid to take T.G. to AS Roma collapsed at the 11th hour due to post-war currency exchange complications.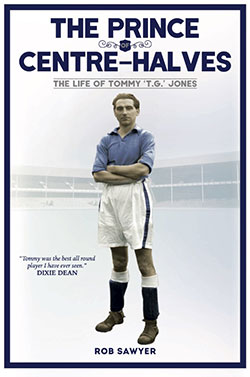 It may come as a surprise to Evertonians but, with T.G. feeling some lingering bitterness towards the Toffees, he claimed that his happiest years in football were spent in North Wales. Visits to Goodison Park became rare – the last confirmed sighting was for Tommy Lawton's testimonial match in 1972. In spite of his self-imposed exile from Goodison, he was selected as Everton's Giant of the 1940s at the dawn of the new millennium.
T.G.'s immense contribution to Welsh and Merseyside football was nicely summed up by Elfed Ellis, President of the F.A. of Wales. When he presented him with a lifetime contribution award in 1993, Ellis asked the assembled guests: "What do the initials T.G. stand for?" He then answered his own question: "Too Good for defenders."
The Prince of Centre-Halves – the Life of Tommy 'T.G.' Jones is published by deCoubertin Books and is available through their website, bookshops and Amazon.

Follow @robsawyer70
---
Reader Comments (23)
Note: the following content is not moderated or vetted by the site owners at the time of submission. Comments are the responsibility of the poster. Disclaimer
John Coghlan
1
Posted 30/06/2017 at 08:04:33
Great material, well researched as always Rob. A ball-playing centre-half eh? Wonder if that terrified the Park End in those days as much as Stones did in recent times.
Another Everton side prevented from becoming a "Dynasty" by circumstances outside of our control. Good work and I hope it does as well as your book "Catterick".
Dave Abrahams
2
Posted 30/06/2017 at 09:23:12
I saw him when I was a very young boy in 1948 and 1949 and marvelled at such skill, especially from a defender. He was completely unruffled, calmed everyone around him, very rarely went to ground, stayed on his feet to win the ball. He was immaculate with the ball, good ball control and measured every pass.
As a young boy, It surprised me that he hardly played although he was still on the books, growing up you heard various rumours why he wasn't selected but never found out the truth.
I think T.G. was still there when we played the semi final versus Liverpool in 1950, he never played and neither did Jack Humphries or Maurice Lindley the two usual centre halves at the time, it was Ted Falder from Ellesmere Port who stepped in and saw us lose 2-0.
But back to T. G. It was my utmost pleasure and privilege to have seen a master footballer at work.
Dave Pritchard
3
Posted 30/06/2017 at 09:34:45
In David France's book, Everton Crazy, Dr Everton paints a less than rosy picture of TG after he left Everton. He was asked to come to a Hall of Fame dinner by David but agreed only on condition that he (TG) was paid. As soon as he received his cheque just before the meal was due to start, TG left before even having his soup.
Tony Hill
4
Posted 30/06/2017 at 09:53:16
I just missed him, Dave (2), but my dad loved him and cited all the qualities you've mentioned.
Peter Gorman
5
Posted 30/06/2017 at 10:39:34
Excellent article Rob, thanks very much.
I've always been a bit confused between TG and TE Jones (being well before my time) but I kind of knew one of them was the original ball-playing centre-half who unfortunately didn't quite see as many games as he should so I appreciate the background to this.
Quite incredible that he was at Everton for so many years without reaching 200 games but I suppose that would be the war for you and the fall-out with management that you mentioned.
John Chambers
6
Posted 30/06/2017 at 12:13:23
You never know but we could meet the team T.G. founded in the Europa League!! The Nomads beat Helsinki 1-0 last night in the first leg of the first qualifying round.
Dave Abrahams
7
Posted 30/06/2017 at 12:19:45
Peter (#5),
T.E. Jones was a very good centre-half as well. He was a long-serving player who was part of the team that won promotion in 1954. He scored one of the goals that clinched the win versus Oldham Athletic on a memorable night that took us back into the 1st Division and he played long after that.
He was a very good penalty taker, and played in the Corinthian style of Brian Labone – meaning he was hard but very fair, with the added bonus of being a Blue through and through.
Jay Harris
8
Posted 30/06/2017 at 14:20:06
My dad, who also saw Tommy Lawton and William Ralph Dean play, always told me that TG was the best Everton player he ever saw – and my dad knew a thing or two about football.
Chris Williams
9
Posted 30/06/2017 at 17:36:28
My dad loved the man. "Labone was good, but he was no TG," was his comment.
I worked with TE when we were both at Littlewoods. He was a true gent who didn't like to talk too much about his career. A lovely, lovely man.
He used to visit his old pal Jimmy O'Neil when he wasn't so well. Got me his autograph in this book with a good write up of a lot of the players from that era. He took it with him when he visited Jimmy, just to show him.
Dave Abrahams
10
Posted 30/06/2017 at 20:53:23
Chris (#9),
I think T.E. Jones and Jimmy O'Neill made their debuts for Everton round about the same time.
Jimmy was another fine player and servant for the Blues, I used to see him watching the Toffees in the Main Stand when he was getting on a bit, another player who came from Eire as a young man but stayed in Liverpool until the end of his days.
I think he went to Stoke City after Everton for a couple of seasons.
Tony Hill
11
Posted 30/06/2017 at 22:47:47
Good memory, Chris (#9).
It's always uplifting when grace and humility accompany serious talent. We've had more than our fair share of such players: Peter Farrell (my earliest hero), Hickson, Young, Harvey, Labone, Royle, Sheedy and in the present, Baines and Coleman. Gueye bodes well as does Schneiderlin.
Grace: a lovely word and one which I always think is crucial to our club, or to the club I want it to be.
Terry White
12
Posted 30/06/2017 at 23:12:29
TE Jones also played some games for us at left-back after Brian Labone replaced him at centre-half.
Dick Fearon
13
Posted 30/06/2017 at 23:39:14
Vague old memories in Rob's pece of my dad and his mates arguing the toss about the relative merits of TG and TE.
I remember TE as a decent centre half but, other than my dads words of praise, I cannot recall anything about TG.
From my favourite speck behind the Gwladys Street goal, I remember the last few years of Ted Sagar and his replacement Jimmy O'Neil.

Mike Gaynes
14
Posted 01/07/2017 at 03:20:18
Dave (#3), good shout.
I just finished "Everton Crazy" and David France, the kindliest of gentlemen, can find nothing nice to say about Jones, whom he met several times before that Hall of Fame dinner. That's largely because Jones had nothing nice to say about Everton or his old mates, whom he variously described as snails, donkeys and cowards. And David describes him as still deeply embittered, 50 years on, about the failed transfer to Roma.
By the time Jones had vanished from the dinner with that ٟ,000 in his pocket, David had been disabused of his self-described naive assumption that "old footballers were sweet-natured."
Chris Williams
15
Posted 01/07/2017 at 09:35:11
Dave, I was in a meeting with a couple of blokes a few years ago, and somehow the conversation turned to Everton getting promotion in 1954, my first season watching them, with my dad.
One of them asked me who was in goal for Everton, and I said Jimmy O'Neill, and he said 'good lad'. I asked him a bit later why he'd said that and it turned out he was Jimmy's lad, Paul.
He was telling me how Jimmy would queue for the bus with the fans after the game, boots under his arm, and they'd be chatty and full of fun, but if they performed poorly, they'd completely ignore him.
He did go to Stoke, and when Jimmy had his funeral, the likes of Terry Conroy, Jackie Mudie and others all showed up, Paul was telling me.
Also in his later years, in ill health, Everton, sorted his house out with stair lifts and mobility aids and other support. Had nothing but praise for the club.
A nice man, Paul, and the image of his dad. Gave me a signed picture of the 1954 team too.
Dave Abrahams
16
Posted 01/07/2017 at 14:14:08
Chris (#15), yes Jimmy and players of his era, a lot of them anyway, seemed to appreciate fans much more so then than now – although quite a few present-day players have time for the fans.
When I saw Jimmy in the stands, I always passed the time of day with him and let him know I knew who he was, which he seemed to appreciate. I never imposed myself on him but let him know he was as much appreciated by us fans for his time with Everton. He was a quiet man, same as Tommy Wright from the seventies, who I saw a few times in the Bullens Road stands as a supporter.
Fans are different today as to what they were from my youth and have a different outlook on the game and what it is about. Success seems to be demanded and a lot have less patience waiting for it (success) to come. One thing I have learned as an Evertonian is that success will come when it is ready... mind you, this last span since a bit of silver is getting on my fuckin' nerves to be honest.
Chris Williams
17
Posted 01/07/2017 at 14:57:44
You and me both, Dave!
David McMullen
18
Posted 01/07/2017 at 16:01:46
IYKYH – There's probably players that would make an Everton 11 without question. Just been thinking about it from Southall, Jones and Dean. Throw in Alex Young up alongside Dean and Alan Ball in the middle maybe with Reid. Start to wonder who fills in the rest?
Do we add a Lawton or a Latchford? Either way, will need wingers with Dean in the team personally think Sheedy and Steven would be just as good as any.
Almost there. Probably Ratcliffe alongside Jones? So is it 2 full backs or 3 at the back and add an extra midfielder?
David McMullen
19
Posted 01/07/2017 at 16:34:22
I think I forgot about Mercer. Add him at the back and maybe Kendall in a middle 3? Lawton, Latchford and Lineker on the bench!

Bob Butchard
20
Posted 02/07/2017 at 09:59:57
My first season in the Boys Pen was 1950 so I can't remember seeing TG but I remember TE Jones through my formative years, along with Peter Farrell, Tommy Eglington, Ted Buckle, Eddie Wainwright, Cyril Lello and the evergreen Ted Sagar in goal.
I remember TE as a cultured centre half, positionally exceptional, good in the air, could teach young Stones a thing or two about bringing a ball out of defence, and never relied on cynical tackling to win a ball.
No substitutes in those days, most players were hard but fair 'cos they were all doing it for a living and I wouldn't think the insurance for injured players would have been up to much.
I know it isn't fashionable now, but I enjoyed the old WM formation. It gave the game great wingers who could dribble and cross a ball on a sixpence, centre-forwards who could head a ball and shoot with both feet, and wing halves and inside forwards who could thread a pass and weren't scared to shoot when the opportunity was there, and didn't know what a 40-yard back pass was. Ah, happy days!
Paul Birmingham
21
Posted 02/07/2017 at 22:30:09
Agreed, that it's been a lifetime game of patience, anguish, and handicaps, being an Evertonian.
TG, you're heralded with best of the best, in eternity.
The Best of Days... And now for the rejuvenation?
David Peate
22
Posted 03/07/2017 at 20:08:09
The most disappointing event for TG Jones must have been the Great Britain v Rest of Europe match in 1947. I think that it was played at Hampden Park. We all thought that TG would sail into the team at centre-half. But, oh, no! That position went to Jack Vernon of (was it) West Brom. The selectors had to make visibly even calls on the home nations and Vernon was an Irish international.
The class of TG was sacrificed for quasi political football reasons. There is no doubt whatsoever that TG Jones was an outstanding player and I have seen none better. My brothers and I were saddened when TG left the club in 1950 as were many other regular Goodison fans.
Rudi Coote
23
Posted 14/07/2017 at 19:23:46
T.G. has a statue at Goodison. It's called "Dixie"... Well. to be honest, that statue looks more like T.G. than Dixie.
---
Add Your Comments
In order to post a comment, you need to be logged in as a registered user of the site.
Or Sign up as a ToffeeWeb Member — it's free, takes just a few minutes and will allow you to post your comments on articles and Talking Points submissions across the site.
© ToffeeWeb