Everton unveil new away kit
13 July

55 Comments [Jump to last]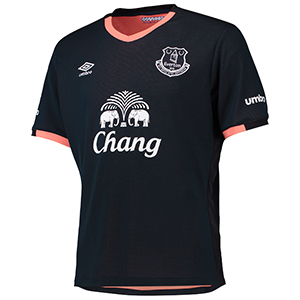 The club have unveiled a dark navy change strip for 2016-17, an attractive twist on the black of recent years following last season's white number.
The new away jersey is predominantly dark navy with a salmon colour on the inside layer, cuffs and V-neck rib collar, offering a striking visual contrast and is a nod to the 1890/91 season when the Toffees captured their first ever English First Division title.
Accompanying the jersey, the dark navy shorts have a tailored silhouette with a reduced volume waistband offering optimum comfort and fit. Contrast back detailing in salmon features alongside the Club and Umbro logos.
The dark navy socks feature a contrast salmon hoop and Umbro logo, with a cotton footbed providing optimum comfort for 90 minutes and beyond.
Like this season's home strip, the away shirt celebrates the Club's historic ground and includes the co-ordinates of Goodison Park inside the neck of the shirt. And like the year before last's black third strip, the badges and Chang logo are in white.
The new away strip is available to pre-order now from evertondirect.com, Everton One at Goodison Park and Everton Two in Liverpool One. It will go on sale on Friday 22 July both in-store and online and is available in men's, women's, juniors, infants and babies' sizes. .
---
Reader Comments (55)
Note: the following content is not moderated or vetted by the site owners at the time of submission. Comments are the responsibility of the poster. Disclaimer
Anthony Hawkins
3
Posted 13/07/2016 at 09:26:33
What is with the use of salmon pink in Everton kits? It's a horrible colour. Black or navy looks good but not with those colour flashes.
Shane Corcoran
4
Posted 13/07/2016 at 09:29:42
Well, I think it's just gorgeous.
James McPherson
5
Posted 13/07/2016 at 09:30:57
Seems our publicity department will earn their corn this summer... away kit announcements, new stand names, players bicycling in Austria, Unsy's pronouncements on the U21s in Spain... yadah yadah! What next, new crockery at Finch Farm?
All mildly interesting but as usual a foil for the lack of real news we seek... player acquisitions. We are three down with more expected to go... need to move on if our season is to start in August (as opposed to October)!
Phil Bellis
6
Posted 13/07/2016 at 09:39:06
Eric Myles
7
Posted 13/07/2016 at 09:39:55
Anthony #3, maybe an 'homage to one of our original kits in 1890-1891 when we won our first league title?
James Stewart
8
Posted 13/07/2016 at 09:41:47
Total let-down... I thought we were getting a Koeman-inspired Dutch orange.
Craig Walker
9
Posted 13/07/2016 at 09:49:54
I like it. I was hoping for an orange one after yesterday's teaser because I play 5-a-side on Wednesdays and we play blue v orange. Got a drawer full of blue shirts but only one amber one from about 5 years back.
Sorry to be pedantic but last season's 3rd kit was the green one. Think I'm right in saying our last black kit was 2 seasons back and was our away kit.
John Hughes
10
Posted 13/07/2016 at 09:50:15
Me too, James!
Rob Young
11
Posted 13/07/2016 at 10:10:02
The leaked bright Orange one was supposed to be the new 3rd kit. So it might still happen. I like this one better then the home kit.
James Hughes
12
Posted 13/07/2016 at 10:12:16
That's right, Eric, I had the one with vertical salmon & blue stripes in the late eighties. It looked okay.
Mike Green
13
Posted 13/07/2016 at 10:12:38
Girls' kit.
Dave Pritchard
14
Posted 13/07/2016 at 10:22:25
You'll be getting one then, Mike...
Mike Green
15
Posted 13/07/2016 at 10:29:44
Already pre-ordered Dave, to go with some hot pink heels I got in the sales. :)
Michael Penley
16
Posted 13/07/2016 at 10:49:56
Funes Mori agrees Mike, he's even got his earrings on for the promo video.
Christopher Wallace
17
Posted 13/07/2016 at 10:56:44
That's a nice kit!
Laura Round
18
Posted 13/07/2016 at 10:57:40
Craig (9) you could go for something from the away training kit.. It's 'fiery coral'.
Tom Barton
19
Posted 13/07/2016 at 11:18:01
Tempted by this, I like the salmon bits although prefer them from a tin with a dash of vinegar.
Iain Thomson
20
Posted 13/07/2016 at 11:18:37
Good lord, that's heinous.
Trevor Powell
21
Posted 13/07/2016 at 12:03:24
The pink and navy stripes was for 1992, one hundred years from either moving to Goodison or being champions!
James Morgan
22
Posted 13/07/2016 at 12:19:41
I quite like it!
Steve Bingham
23
Posted 13/07/2016 at 12:40:00
Not too shabby at all.
Craig Walker
24
Posted 13/07/2016 at 13:00:20
Laura (18). Just checked out the 'fiery coral' training range. Blimey. At least we wouldn't need floodlights in winter. I could lie on the side of the pitch and look like a steward.
Terry Underwood
25
Posted 13/07/2016 at 13:07:38
I like this; salmon pink – a nice nod to our "istory"
Tamhas Woods
26
Posted 13/07/2016 at 13:39:32
Is it just me or can anyone else imagine Atomic Kitten having a pillow fight wearing this shirt?
John Sagar
27
Posted 13/07/2016 at 13:54:59
How very European – anything is possible, I guess... look at Leicester. And for me, Salmon is always going to be Pink.
Brian Williams
28
Posted 13/07/2016 at 13:59:09
Its just you Tamhas.
Garry Corgan
29
Posted 13/07/2016 at 14:38:12
So this is our "away" kit (as opposed to a third kit.)
I'm not sure when we can actually wear this. Presumably we will want to change our strip when our opponents are playing in blue (e.g. Chelsea, Leicester) but surely this strip is too close in colour?
Jamie Crowley
30
Posted 13/07/2016 at 14:43:30
Ace.
John Pierce
31
Posted 13/07/2016 at 14:47:20
Sockeye lads, the colour is sockeye salmon.
The kit his horrendous, glum and cringeworthy. Just give me the yellow/blue any day.
Saying all that if we win in it then I don't give a flying salmon what colour it is.
Niall McIlhone
32
Posted 13/07/2016 at 15:04:32
I was happy with the khaki third kit. We wore it only once at Southampton, probably our best performance of the season and then, er, ditch it? I thought it was great....this one looks a bit meh. I'd have preferred a South America style diagonal stripe similar to the Nike kit of a few seasons ago? Agree though John (31) I don't give a FF if we end up winning in it.
Karl Zarb
33
Posted 13/07/2016 at 16:17:20
I like it. I wished for a navy blue and salmon pink 2 nd kit wanted more the striped one back but still very happy.
Liam Reilly
34
Posted 13/07/2016 at 16:52:46
I like it, but it's not Black. It's Navy, so like Gary, I don't really understand when this will be worn.
The third kit will have to be completely different to be practical. Orange would be different.

Laura Round
35
Posted 13/07/2016 at 18:01:21
Haha Craig (18) is that a no!?
Laura Round
36
Posted 13/07/2016 at 18:02:18
24! I'm 18! My eyes must be sore from the kit!
Tony McNulty
37
Posted 13/07/2016 at 19:17:13
Years ago on Bluekipper I think someone wrote along the lines of:
"I really like the new kit. Sorry this is in crayon. They won't let me have anything sharp in here."
As far as I'm concerned, so long as the manager improves the team and our prospects by way of new acquisitions, if they want, the players can wear blue feathers topped off by a salmon loincloth.
Which brings me back to transfers. Thirty odd days to go before kick off.

Max Murphy
38
Posted 13/07/2016 at 19:20:20
Why do we bother with this crap?
Peter Cummings
39
Posted 13/07/2016 at 19:50:01
It's quite amazing to me that fans fork out thousands every season for kits which are simply commercial advertising placards with 'tweaks'.
I think that given the choice fans would prefer NO advertising on the kits yet that choice is not available, I can remember the days when even the club badge wasn't on the shirts, let alone adverts, much like the bizarre haircuts many players now 'sport' for reasons only they can explain.
The game itself is becoming a freak show and real entertainment is taking a back seat, as evidenced by the 2016Eurobore, only highlighted by Iceland and Wales, for excitement.
Paul Burns
40
Posted 13/07/2016 at 21:46:31
Where did they get this from, Kelly's kits?
Looks cheap and nasty and not fit for Everton.
Jamie Sweet
43
Posted 13/07/2016 at 22:43:22
I like it.
Not really sure why we needed the big build up and "teaser" to make us think it would be a different colour though.
Keeps someone in a job I guess.
Kevin Kolasinski
44
Posted 14/07/2016 at 00:47:58
The away kit should always be white with blue trim and blue letters and numbers, in my opinion.
Phil Gardner
45
Posted 14/07/2016 at 03:29:47
Let's stop the frippery, lads. Stands being named, new kits, paint all over the ground.... smells of BK Bollocks to me...
Nowt's changed, boys... it's all cosmetic Kenwright none sense. Where's the substance?
Alan McMillan
46
Posted 14/07/2016 at 12:36:19
James (#8), I thought the orange kit that was leaked was the third kit.
And I thought it would have been a nice touch to mark the 30th anniversary of our last league title in the home jersey, which I received in the post a while back and isn't great. Some diamond detailing in the material would have been nice.
I really like the away one though. Looks like opinion is split amongst fans.
Alan J Thompson
47
Posted 14/07/2016 at 13:12:38
Bloody awful!
Alan J Thompson
48
Posted 14/07/2016 at 13:19:27
Sorry, meant to add, against whom do we wear this that we can't wear the Royal Blue?
Tom Bowers
49
Posted 14/07/2016 at 14:17:52
I suppose it really doesn't matter as long as they have a great season away from home but it really is awful... Which idiot chose this?
Mike Allison
50
Posted 14/07/2016 at 14:46:09
I don't understand how people can get so upset over an away kit.
There's not even anything wrong with it, it's just a simple, plain design. Which bit could possibly be 'bloody awful'?
Or is ToffeeWeb just like therapy to some people, go on and moan about anything and everything no matter what it is just for the sake of it?
We can't even launch a kit without at least a substantial swell of negativity. Is being negative actually fun? Or are people just that fucking miserable?
Michael Penley
51
Posted 14/07/2016 at 14:46:20
Are some people being serious that we can't wear this against Chelsea? It's one shade away from black and Chelsea are plain blue. If a ref can't tell those apart he probably shouldn't be refereeing as he'll have trouble telling the difference between his red and yellow cards.
Alan J Thompson
52
Posted 14/07/2016 at 15:03:47
Mike (#50); it's an opinion.
Ray Roche
53
Posted 14/07/2016 at 15:28:39
Plain Amber and Blue shorts and blue or amber socks. That should be our second kit. Worked through our great Alan Ball years.
Mike Allison
54
Posted 14/07/2016 at 16:13:47
Thanks for clearing that up, Alan. I hadn't realised. Even so, I'll stand by everything I said.
Why does there have to be incessant whinging about every little thing?
John Daley
55
Posted 14/07/2016 at 17:12:59
It's a non-story about a new kit. Obviously, people are either going to say they like it, dislike it or aren't going to bother their arse to comment either way.
It could look like something out of Tron and nobody would really give a toss as long as we win while wearing it.
Ste McCoombe
56
Posted 14/07/2016 at 20:23:06
Great kit!!!
Simon Roberts
57
Posted 14/07/2016 at 21:58:40
We've seen worse!
Alan J Thompson
58
Posted 15/07/2016 at 10:32:32
Glad to help out, Mike. The pursuit of excellence is never ending.
Anthony Dwyer
59
Posted 15/07/2016 at 12:44:19
Very smart .
Add Your Comments
In order to post a comment, you need to be logged in as a registered user of the site.
Or Sign up as a ToffeeWeb Member — it's free, takes just a few minutes and will allow you to post your comments on articles and Talking Points submissions across the site.
© ToffeeWeb