Sambou: 'Everton just felt like the right place for me'

18 Comments [Jump to last]
13 July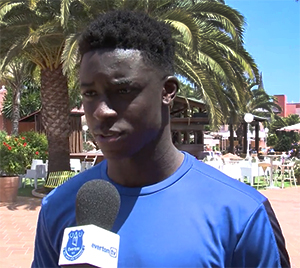 Bassala Sambou appears to be loving life in his new surroundings at Everton where he is quickly bedding into the Under-21s setup under David Unsworth.
The 18-year-old was snapped up from Coventry City this summer after he turned down a new contract with the Sky Blues in a bid to take his career to the next level with a bigger club. Identified by ex-Chief Scout, Kevin Reeves, the striker impressed with his 25 goals in all competitions at youth level last season and the club beat off competition for his services by signing him last month.
Speaking with evertontv from the U21s training camp in Spain this week, Sambou expressed how pleased he is to have joined the Blues and how he jumped at the chance after he heard they were interested.
"I just thought Everton was a really good place where I would get loads of opportunity." he explained. There were loads of other teams interested in me but as soon as I heard 'Everton', I just felt like this is the right place for me, to come here and give everything I've got and prove to people that I can be a great asset."
Asked how things have been going since he completed his move, Sambou beamed: "It's been a great week so far; I'm just happy to be here. Pre-season's been great as well. The boys have been absolutely fantastic.
"I was blown away by Finch Farm. I'm not really used to facilities like that coming from Coventry. Coventry is a nice place with good facilities but when I came to Finch Farm, it blew me away. I was really happy and really surprised. It was brilliant. I was just happy to be there, really!
"From day one, my teammates have been fantastic, they've been really helpful filling me in on everything. Out here [in Spain] it's just been great, we've all been bonding and spending time together.
Unsworth and Academy head Joe Royle were also closely involved in the scouting of Sambou and the teenager described how his new boss made him feel at home straight away.
"David's been really great towards me. As soon as I walked in the doors, he opened his arms to me. I remember he gave me a big hug and made me feel really welcome. He's a really good coach and I'm really happy to be working under him."
---
Reader Comments (18)
Note: the following content is not moderated or vetted by the site owners at the time of submission. Comments are the responsibility of the poster. Disclaimer
Iain Davies
1
Posted 13/07/2016 at 19:40:20
It's so refreshing to hear how much somebody wants to be at our club.
Bassala I hope you a very happy future at our beloved club.
Keep up the good work lad and hope you get a run out soon. :)
Raymond Fox
2
Posted 13/07/2016 at 20:10:01
Ditto Iain, tough for Premier League managers though especially Koeman in his first season here to gamble on young players. Fans will be the first to moan if he sticks a couple in and we get beat.
Brent Stephens
5
Posted 13/07/2016 at 20:52:41
Nice to hear, Bassala. Best of luck, mate.
Ian Williams
12
Posted 13/07/2016 at 22:37:03
The next Rashford anyone??
Les Martin
14
Posted 13/07/2016 at 23:17:14
David Unsworth appears to be getting the best out of our younger players, and they like playing and doing their best for him. Unsy is becoming quite an asset at the club.

Good luck to this young man, the talent is out there and we have some of it.
Peter Gorman
16
Posted 13/07/2016 at 23:34:39
Just watched the lad say these words on the OS and he genuinely appears to be on cloud nine.
Also, comes across as a nice and confident lad, not the average mumble princess you might forgive some players his age.
Tony Draper
17
Posted 13/07/2016 at 00:01:33
Bassala, enjoy being an Evertonian sunshine, I do.
Your mentor, Rhino, has truly earned his cult status amongst us. Ask him how to take a penalty. He knows.
Those who know...
Fran Mitchell
18
Posted 14/07/2016 at 02:35:02
Wait a sec, where are the comments condemning this guy for his lack of loyalty to Coventry?
Matt Traynor
19
Posted 14/07/2016 at 03:34:38
Fran (#18) not exactly comparing apples with apples though are you?A player moving to a club in a higher league? If he uses us as a stepping stone and is banging them in for a top 3 side in a couple of years, I agree, we could have no argument. The fact is that with Stones on the verge of joining Man City after 3 years at Everton, it's the order of things.
These clubs can't take a chance and develop players in the first team, and the U21s doesn't do it. So they watch clubs like Everton pick up Stones, develop him in the Premier League, and then take an almost-finished product (for a premium). Tottenham did it with Bale, RS with Sterling etc. It's the way it is.
I generally agree with the premise though – we demand loyalty but as soon as we're signing someone (or want someone out of the club) loyalty goes out the window. If you want loyalty, get a (rescue) dog.
Tony Draper
20
Posted 14/07/2016 at 07:48:58
Fran @18.
Neville Southall, Bury.
Pat van den Hauwe, Birmingham City.
Gary Stevens, Apprentice.
Derek Mountfield, Tranmere Rovers.
Kevin Ratcliffe, Apprentice.
Peter Reid, Bolton Wanderers.
Paul Bracewell, Sunderland.
Trevor Steven, Burnley.
Kevin Sheedy, Liverpool.
Graeme Sharp, Dumbarton.
Andy Gray, Wolverhampton Wanderers.
Adrian Heath, Stoke City.
Kevin Richardson, Apprentice.
Alan Harper, Liverpool.
Managed by:
Howard Kendall, Preston North End.
You had a problem with these lads did you?
Thought not.
Fran Mitchell
21
Posted 14/07/2016 at 11:49:35
Tony, if you didn't understand, I was merely making an ironic statement. When a player leaves a club like Coventry for Everton, we all say 'Good move, lad', 'Smart move', 'Seems a nice chap', 'Yes, better to be at a Premier League club to further himself'.
When Lukaku or someone says 'I want to play Champions League' we say 'you greedy twat, mercenary bastard' 'Where is the loyalty'???????
Hypocrisy, common as it is, is a football fan's worst trait.
Denis Richardson
22
Posted 14/07/2016 at 12:34:33
Fran - think you're missing the point a bit and comparing apples to oranges.
Most fans have no issue with a player leaving Everton to go to a Champions League club. However, in Lukaku's case, he and his agent have repeatedly mentioned this in the press – which is what pisses a lot of people off.
Trevor Lynes
23
Posted 14/07/2016 at 12:47:44
The problem with our coaches so far is of late we have produced a lot of really promising defenders.I want to see a young replacement for Osman or hopefully even better. A lad who is attack minded and can pick a pass, dribble and chip in with a few goals.Lets hope that this kid has the ambition and attributes to fill that sort of gap or become a regular scoring striker.
Alan Bodell
24
Posted 14/07/2016 at 14:20:30
Correct there, Denis, and the thing I am amazed by is that 'Team Lukaku' actually believe he is top draw. But maybe reality is kicking in with the lack of interest after he stunk out the Euros. I for one cannot wait to get him gone.
John Daley
25
Posted 14/07/2016 at 15:18:39
Fran,
Wasn't the lad out of contract this summer and free to sign for whoever he liked?
I'm sure the comments condemning Sambou for rejecting professional terms with the club would have been doing the rounds on the Coventry City equivalent of ToffeeWeb (think Rocky 'calling' Paulie by shouting out of a wide open window, but with a couple more participants and the words 'caggy handed whojamacallit' bandied about) but why would you expect to hear them on here?
Damian Wilde
26
Posted 14/07/2016 at 15:46:42
Nice story, good to see Everton doing things in a proper way, class.
David Barks
27
Posted 14/07/2016 at 15:58:59
Damian, what exactly did Everton do in the proper way? We waited for a young player to run down their contract and snapped them up from a smaller club, not paying a transfer fee. Could only imagine what we would be saying if Stones ran down his contract and then went to Man City for no fee.
Dave Abrahams
28
Posted 14/07/2016 at 16:49:34
David (27) David as he is under 24 I think Everton will have to pay a componsation fee which will vary to how good Coventry deemed him to be.
Add Your Comments
In order to post a comment, you need to be logged in as a registered user of the site.
Or Sign up as a ToffeeWeb Member — it's free, takes just a few minutes and will allow you to post your comments on articles and Talking Points submissions across the site.
© ToffeeWeb