Koeman targets striking reinforcements

26 Comments [Jump to last]
11 August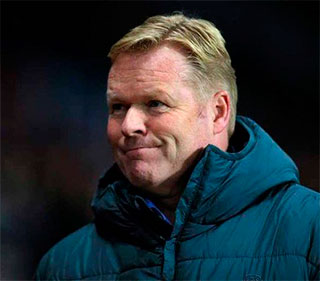 Ronald Koeman has admitted that the acquisition of another forward is one of his priorities this month after he confirmed that Oumar Niasse has no future at Everton.
The Dutchman addressed the press today as part of his media duties ahead of Saturday's season-opener against Tottenham Hotspur and transfer targets were an inevitable topic with the deadline less than three weeks away.
Koeman had already told the television media that he will do everything he can to keep Romelu Lukaku but he is also targeting another striker among the three or four new faces he hopes to land before 31st August.
"That is one of the positions where we are looking," Koeman told the Liverpool Echo.
"It is that position and that is one of the reasons why I put [Gerard] Deulofeu in front at No.9 to see if he can occupy that position."
Deulofeu performed well in a central attacking role in the early pre-season friendlies in the absence of Lukaku and Arouna Kone but Koeman is clearly on the lookout for a more natural striker to bolster his attack.
The fact that he has discounted Niasse as a viable option means that he will need to look elsewhere for a solution but, overall, realistic links with goal-scorers have been few and far between this summer.
Wilfried Bony has been linked with a move to Goodison Park from Manchester City but some media outlets, the Echo and the Express's Paul Joyce among them, insist there is no interest there.
Meanwhile, Utrecht forward Sebastian Haller was strongly tipped to join the Blues earlier in the summer but nothing has come from the speculation thus far, while talk of a bid for Sporting's Islam Slimani has been revived this evening.
---
Reader Comments (26)
Note: the following content is not moderated or vetted by the site owners at the time of submission. Comments are the responsibility of the poster. Disclaimer
Neil Shanahan
1
Posted 11/08/2016 at 20:34:55
Slimani would be a great purchase. Tall, physical, clever player and a proven finisher. Would suit our side.
Gareth Clark
2
Posted 11/08/2016 at 20:42:35
Bony/Slimani/Iheancho... Iheancho would probably be my first choice, but most difficult to get.
Kevin Rowlands
3
Posted 11/08/2016 at 20:52:38
Looks like the human pin ball machine is staying so I'd say a speed merchant up front with him because no chance can he play up front on his own. Shane Long for me.
Ian McDowell
4
Posted 11/08/2016 at 20:53:47
Yes please an new CF will be a welcome addition. All the top clubs have at least 3 top forwards.
Andy Meighan
5
Posted 11/08/2016 at 21:22:31
Don't you think he rates Niasse then?
Benny Snow
6
Posted 11/08/2016 at 21:51:57
I'd say Ronald doesnt want Bony, otherwise he would have been part of the Stones deal.
If we're targeting 3 or 4 players, surely these would be Bolasie, Mata, Kone and Slimani?
Gary Creaney
7
Posted 11/08/2016 at 21:53:23
Oumar Niasse, man I feel really sorry for that guy.
I know he's raking in good money under his contract but in terms of football the whole thing has just fallen apart for him.
A truly bizarre story.
James Marshall
8
Posted 11/08/2016 at 21:54:43
The way things are going he'll have Lukaku refusing to play and 'striking' for all the wrong reasons...
Anthony Dwyer
9
Posted 11/08/2016 at 22:26:11
I honestly believe Niasse and Lukaku have played there last games for us.
We need Bony plus another very very quickly.
Bernard Troare from Chelsea, about to be loaned to Ajax should have been someone we took a serious look at, got goals in him and he's hungry.

Brian Williams
10
Posted 11/08/2016 at 22:38:51
Slimani for me and play two up front.
Chris Gould
11
Posted 11/08/2016 at 23:02:25
I'm actually pleased he said that he isn't interested in Bony. He had the chance to get him as part of the Stones deal and declined. He obviously has someone else in mind. Hopefully it will pleasantly surprise all of us.
We need someone fast, fit, hungry, and full of venom up front.
Timothy Blanshard
12
Posted 11/08/2016 at 23:15:05
I feel a little bit for Niasse but not too much, I've been wondering if it would be at all possible to cancel his contract under the trades and descriptions act. It's annoying that the club has to pick up the peices of ofm utter blunder, it will also be interesting to see if/when he does find a new club in the UK how that pans out. He could end up being only good enough for league two.
When have we ever had any luck with a player direct from the Russian league? He was terrible in pre season going on what was reported, and he's coming out with stuff like I wont be rushed into a loan spell.
Nice one Roberto you played a blinder there, and by blinder I mean someone must have maced you in the eyes when you were making a decision, or you didn't have a clue in which case I hope the scout in question was asked to move to Russia forever.
Damian Wilde
13
Posted 11/08/2016 at 23:37:29
We need two strikers even if Rom stays.
Personally I think Niasse is a great striker with bags of potential.
Roy Steel
14
Posted 11/08/2016 at 23:38:55
Koeman should let that big lump of wood Lukaku go, and take a chance Bony and the big boy Slimani. Between them, they could get us a lot of goals and maybe a bit of gratitude.
James Watts
15
Posted 12/08/2016 at 01:52:51
I'll have a pint of whatever you're drinking Damian (13) ... ;)
William Cartwright
16
Posted 12/08/2016 at 06:43:39
Are you serious Damian, or are you taking the piss . . . . . . ? I have mixed feelings. Poor guy must be so embarrassed by the situation. But hey, I'd take a bit of embarrassment for w salary like that. At least for a while until boredom and good conscience gets the better of me.
I think we are still discovering the true aftermath of the Roberto legacy; imbalanced team structure, no passion, poor quality players over-promoted by marketing bullshit and all that. I find it fascinating hw when a charlatan is exposed the system rallies round to cover up for them? Perhaps this is the biggest embarrassment of BK, but he's thick skinned enough to deal with it.
Yes in a way I do feel sorry for Niasse. I wonder what the reaction would be if he moves on for buttons and bangs in loads of goals . . . . . . . . ? Naw, would never happen. Surely not . . . . . . . .
Ernie Baywood
17
Posted 12/08/2016 at 06:50:31
With most players you could argue that a change of environment could bring a change in fortunes. I'd happily argue for McGeady. Someone could get something out of him in the right circumstances.
Niasse is a completely different situation. He's not just poor, he's sub-amateur standard. I've never been more convinced about a player. How on earth did we pay all that money? How was he playing professionally at all? Just to remind people this is the guy who, in a low key pre season friendly against Jablonec, stood on the ball while shooting and fell over.
Shaun Wilson
18
Posted 12/08/2016 at 07:53:24
If Lukaku wants to go, let him go but in my opinion, he'd be an idiot to do so.
Finally Everton have got some financial backing and a good new manager who has the potential to get the best out of some of our existing players. (Mirallas, for one, couldn't get in a Martinez side yet Cleverley could... ridiculous!). Also, the new manager has global respect as both a player and a manager, which will draw the bigger names in over the next few seasons. (Williams had been wanted by Arsenal but came here to Koeman.)
If Lukaku stayed, he could let Koeman build the team around him. If the money's there, it shouldn't be too long until we are back up at the top of the table where we belong. Anybody remember how bad Man City, even Chelsea, were until they got their money?
But, if he wants to go, run on son. I just hope it doesn't turn into a graveyard for you, like all the other good players who have gone to Chelsea, and Man City for that matter, spent too much time on the bench and ended up not being able to kick snow off a rope.
But, send Begovic and Remy the other way. Begovic is one of the best in the game (why did he go to Chelsea with Courtois there?) and Remy was a star at QPR before the Chelsea bench ate him. I reckon he could be a good fit for the toffees.
Another one worth a shot is Bony but only at the right price (I'm assuming Remy will be cheap). Sign Slimani and let the two other boys fight for the other spot, or back up spot depending on the formation. Also get Kone and Bolasie, I think they will be great additions.
But most important of all, sign Juan Mata. He could be the most important signing Koeman could make right now, no matter who else comes or go. One of the best players in the league since he came into it, I was delighted to hear Mourinho was taking over Man Utd. If we got him, I'd make him captain and we could just sit back and watch that happy little spaniard tear the league apart! I reckon if that man had the right club he could be one of the best in the world.
Anyways, glad I got that rant out! Also Gueye and Williams two of the best transfers anywhere this summer - wait and see. COYB! NSNO
Dan Egerton
19
Posted 12/08/2016 at 08:58:07
I agree with Damien. He never got a good chance to show what he could do. Many bagged Naismith and Coleman when they first arrived. They both had many years to prove themselves.
Eivind Nyhus
20
Posted 12/08/2016 at 14:11:31
Ernie, Bakrleys done that many times, the same with all footballers. Baines tripped himself while trying to take a free kick against Norwich last season, ffs. Against Jablonec, a shit team yes, he was clearly closest to actually scoring a goal from open play. I'm not saying Niasse is good, I'm just saying he's not close to as bad as some paint him to be. Too bad Koeman isn't giving him a chance at all, Id like to see him play while fit and managed by a real manager.
He would probably fall on his face, but maybe not..
Les Martin
21
Posted 12/08/2016 at 20:44:36
Makes you wonder whether Ronald wants to play with two up front which casts doubts on other players and their roles, 442/352 ? interesting...
Brian Williams
22
Posted 12/08/2016 at 20:51:50
Ernie (#17)... McGeady? Really? Do you mean that?
I have watched him for some years as I've got mates who are Celtic supporters and he has only got worse. His faults have worsened as he's got older (and fatter).
Personally, I don't think he's got that winner's mentality or the 100% desire that could have made difference. Reminds me of the best player in the playground who never did much for the school team.
Gareth Clark
23
Posted 12/08/2016 at 20:57:48
Les #22... Mate, we only have one first team quality striker at the moment - of course he's looking for striking reinforcements?
Why would that mean he is playing 2 up front? Think a little man, come on!
William Cartwright
24
Posted 14/08/2016 at 16:58:33
What happened to that promising Scottish adolescent No 10, named Ryan Gauld, who went to Portugal a couple of seasons ago, and has not been heard of again? He was supposed to be the bees knees. Can't we track him down / look him up etc?
James Stewart
25
Posted 16/08/2016 at 19:27:18
Most of the best have strikers have been snapped up already but lacazette would be my pick of what is left out there.
Trevor Lynes
26
Posted 19/08/2016 at 10:25:09
Bolasie said that Rom influenced him in his joining us which suggests that Rom will be staying for another season at least.IMO Lukaku is our most valuable asset in goal scoring and future transfer value.
My priority would be a decent striker plus a top playmaker.Silva the Portuguese or Ziyech would be really good buys.
Slimani and one of those two would be a fantastic pair of signings.
---
Add Your Comments
In order to post a comment, you need to be logged in as a registered user of the site.
Or Sign up as a ToffeeWeb Member — it's free, takes just a few minutes and will allow you to post your comments on articles and Talking Points submissions across the site.
© ToffeeWeb