Koeman targeting 'three or four' more players

84 Comments [Jump to last]
11 August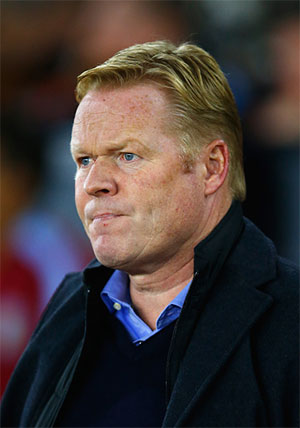 Ronald Koeman says that he is looking at bringing in three or four new players this month as he continues the process of reshaping his Everton team.
The Blues have already acquired Maarten Stekelenburg from Fulham, Idrissa Gueye from Aston Villa and Ashley Williams from Swansea City since the Dutchman came on board to replace Roberto Martinez but continue to work on other targets ahead of the transfer deadline.
Though there is likely to be one out-going player this month in the form of Oumar Niasse, Koeman insists that Phil Jagielka will not be leaving the Blues despite interest from former Blues boss David Moyes at Sunderland.
The Scot reportedly wants to make the Everton skipper a makeweight in the proposed transfer of Lamina Koné but Koeman told the media at his pre-match press conference this morning that he wants four senior centre-halves on the books.
Williams has already been brought on board and the club are trying to get a deal over the line for Kone following the sale this week of John Stones to Manchester City.
"I knew about the situation with Stones for a long time. That's okay. It was his wish that if the club got right offer [he could leave] and the club has accepted that offer," Koeman said in what was a candid press conference. "What we had to do was get a new player in his position and that's Ashley Williams.
"Ashley will bring leadership, experience and he knows the Premier League.
"Phil Jagielka is the captain of the team. We don't have too many centre backs. We need four so there is no way he can leave the Club.
"Romelu Lukaku is still an Everton player and we want to keep our best players."
Speculation is rife concerning potential Everton targets, with a deal for Yannick Bolasie thought to be close, negotiations underway regarding Koné and fresh reports of interest in Spanish midfielder Juan Mata.
Koeman wouldn't be drawn on specific names but he outlined his hopes to further add to the team.
"We will do business for three or four more players," he explained. "I don't comment on rumours [but] we have had discussions with the board and with Steve Walsh, and we want three or four more players."
That will likely include an addition to the forward line after Koeman confirmed that Niasse is not a part of his plans.
The Senegalese striker arrived in a £13.5m deal on transfer deadline day at the start of February, the third-highest fee paid for a player by the club to date but has struggled to justify that massive price tag.
"Niasse, in my opinion, is not what we need for the future in that position," Koeman said, "but good luck to the boy."
After a season-long loan move to Galatasaray collapsed, Niasse has been linked with clubs in Germany, Portugal and elsewhere in England but nothing concrete has yet emerged in terms of a deal for the 26-year-old former Lokomotiv Moscow man.
---
Reader Comments (84)
Note: the following content is not moderated or vetted by the site owners at the time of submission. Comments are the responsibility of the poster. Disclaimer
James Marshall
1
Posted 11/08/2016 at 14:55:36
Honest, no bullshit, frank approach and assessment from a proper manager. How refreshing.
Brian Wilkinson
2
Posted 11/08/2016 at 15:05:27
Made up Jagielka is staying.
Alan J Thompson
3
Posted 11/08/2016 at 15:08:53
3 Goalkeepers, 4 centre halves, all the defensive mids you could want. Not a criticism but the 5-a-side games at training probably all go to penalties.
Fran Mitchell
4
Posted 11/08/2016 at 15:10:20
Assuming Bolasie and Kone are in the process of completion, a striker and a midfielder .I do wonder about Goalkeeper.
Is Stekelenburg really up to being no1? Does Koeman have someone in mind who just isn't available at the moment? Is he maybe seeing is Robles can improve?
A top class keeper can make such difference.
Eric Myles
5
Posted 11/08/2016 at 15:12:07
I'm disappointed that Koeman didn't comment on how phenomenal Niasse can be when he's in the moment and how it's just the fine margins that have prevented him from showing his true quality.
Neil Shanahan
6
Posted 11/08/2016 at 15:17:37
Very honest man. No bullshit. Players will be knocked into shape pretty quickly by him. Need more like 5-6 rather than 3-4 new signings though.

After Kone (or another CB) and Bolasie, we still need a keeper, a strike partner/cover for Rom, a footballing central mid to replace Barry who's 107 and also a player to open up a defence in the final third similar to Mata, Mahrez, Ozil, Payet etc. (A no.10 basically. Might also give Ross a kick in the arse to stay in games and be fit enough to play for 90 mins.)
Drew Shortis
7
Posted 11/08/2016 at 15:19:52
Very candid comments over Niasse. I had hoped he would somehow prove his worth but these comments draw a line under that episode.
My guess would be CB (Kone), AMC (Mata, Sigurdsson or Ziyech), left sided attacker (Bolasie) and then the fourth would either be a goalkeeper or a striker if the right person becomes available. I think we need a backup for Lukaku more desperately than we need a keeper, at least in the short term.
So far Koeman/Walsh/Moshiri have spent well which gives me confidence that the next 3-4 will really strengthen the team in key areas. Fingers crossed.
Brian Williams
8
Posted 11/08/2016 at 15:20:20
Ruthless Koeman, that' his full name.
Lewis Barclay
9
Posted 11/08/2016 at 15:26:06
This is so refreshing.
I am going to enjoy listening to Koeman all season as I actually trust him.
John Daley
10
Posted 11/08/2016 at 15:31:23
Fran,
A confident, commanding, screeching gobshite of a goalkeeper with Vito Corleone levels of concentration and organisation would have been my number one transfer wish, as it as been for about five years now. The single most important position on the pitch in my opinion. Thing is, I can't think of many out there at the moment who would meet the criteria I have in mind (which is basically Southall minus the muzzy and arl scruff chic).
It's looking very much like a case of going with what we've got.
Robles does have ability but the defence don't seem to find him a reassuring presence to play in front of and he, like many modern keepers, seems to struggle to maintain focus for a full ninety minutes. Stekelenburg, who I expect will get the nod over Robles, probably brings with him a bit more authority due to experience, but neither would by my idea of an Everton No1.
Muj Rasul
11
Posted 11/08/2016 at 15:36:06
Refreshing. Talks sense.
John Daley
12
Posted 11/08/2016 at 15:45:01
Got to say, I do feel great sympathy for Niasse. This entire situation was not of his making. He became a joke figure in record time without being given a real opportunity to justify the reason he was brought in. Whilst financially he can't be beside himself at the way the move went bad, it must represent a sickening cut to any professional's pride to roll up and be rejected so swiftly and summarily.
Ciarán McGlone
13
Posted 11/08/2016 at 15:48:09
So Lukaku stays...
He needs to stop waving his arms about and play for the obscene money he's being paid.
We all know he can be brilliant.
Peter Laing
14
Posted 11/08/2016 at 15:50:05
In the words of chairman Bill 'wow', no bullshit, no empty rhetoric and no superlatives, Ronald was certainly in a 'moment', long may it continue and refreshingly 'phenomenal '. My take is that following his comments on Niasse another striker will be arriving. I would suspect that Bony has been identified and along with Kone and Bolasie that leaves one other player - Mata ?. In terms of the GK situation could it be that Koeman trusts Stek ?
Jack Convery
15
Posted 11/08/2016 at 15:50:17
Hurray. A manager who says it like it is and treats us as intelligent supporters and not a bunch of idiots, who know nothing about football.
He's getting in the beef and then it's on to the guile.
Peter Laing
16
Posted 11/08/2016 at 15:53:35
John, word has it that when Niasse turned up at Finch Farm a couple of the senior pro's could not believe their eyes on how woeful he was after just a couple of training sessions. He couldn't trap a bag of cement from what I have briefly seen, question is a) how did he cut it in Russia and b) who the hell scouted him ?
Brian Furey
18
Posted 11/08/2016 at 15:59:07
I wonder what RK's starting 11 might be if he gets in Kone and Bolognese? Is Jag's place under pressure as I would imagine Williams will become a definite starter but will it be Jags or Mori to partner him. Because of those 3 I suspect Kone might not be so keen to come after all now. You would imagine Gueye and Barry will start so McCarthy to miss out.

I'm sure Mirallas isn't too pleased to see more competition for his left side of midfield either. I've a feeling RK is going to make Stekelenburg his No 1 for now. Reading wiki he seems to have done well for Holland and he is very tall at 6'6''.
Clive Rogers
19
Posted 11/08/2016 at 16:01:11
Peter #16,
a) not sure he did really, he only played 28 games, 12 goals.
b) Nobody/Martinez. Same thing really.
Ernie Baywood
20
Posted 11/08/2016 at 16:01:30
What he says makes sense but are we really lauding his honesty? Or are we just happy to him say the things we want to hear?
If you were contemplating selling Phil Jagielka would you announce it in your presser? I wouldn't. I would say we need him in the hope that his suitors lift their offer.
I don't recall him saying too much about John Stones leaving. Of course. Why would he?
As a supporter I think all you can do is judge the team that is built (or being built). Anything else is just words.
Kunal Desai
21
Posted 11/08/2016 at 16:02:21
Four players could well be Bolaise, Kone, Mata and Bone.
I think he'll go with Stekelenburg and Robles for this season and will bring a strong keeper in next summer.
Paul Ellam
23
Posted 11/08/2016 at 16:04:10
Would be well made up to get Bolasie, Kone, Mata and Bony in.
Would be even more made up if Koeman wasn't including Bolasie and Kone in those 3/4 extra players he wants and we could get in Ziyech and a top notch goalkeeper too!
Thomas Kelvin Jones
24
Posted 11/08/2016 at 16:06:42
Awaiting 3 or 4 players.
Going on the news this week you'd have to go for Lamine Kone, Bolasie, Bony and the fourth being between Mata and a goalie.
The team will be physically stronger than its ever been with the likes of Williams, Kone, Jags, Barry, Barkley, Lukaku and maybe Bony.
The line-up for Saturday concerns me though. Coleman and Lukaku doubts. Possible team without them:
Stek
Holgate
Jags
Mori
Baines
Gueye
Barry
Deulofeuo
Mirallas
Kone
Jimmy Sørheim
26
Posted 11/08/2016 at 16:09:07
We need a TOP quality goalkeeper, this is a bad joke.
Nobody trusts either Robles or Stekelenburg. to be an improvement on Tim Howard.
Erik Dols
27
Posted 11/08/2016 at 16:10:17
Ernie, I was thinking the same. He is saying that Stones leaving was acceptable, that he doesn't want Jags to leave and that he wants some more signings. That's all we want to hear. The plus people perceive is the lack of bullshit "phenomenal" talk and his honesty on Niasse. And that everybody likes his Niasse-comments actually surprise me a bit. One could easily say that it is his role to say the lad is still an appreciated part of the team and that his chance will come. This to keep his resale value intact and to keep his morale up a bit - who knows, if we get a load of injuries we might need him!
This "Dutch honesty" will be slated if results don't go his way...
Tom Bowers
29
Posted 11/08/2016 at 16:12:32
Lot's of speculation about the starting eleven as expected but who is fit and who isn't will determine a few spots.
If Rom. is out then I won't be that bothered. Better to have him 100% rather than risk further injury given that we only have Kone as back-up.
However, it may be that Big K has a different strategy than what RM had, in that not playing an out and out target man may be a good option on occasions when you have quick guys like Delboy, Mirallas and Lennon.
The key will be the form of Barks and how quickly Gueye slots in.
Spurs will be tough on any day so let's not expect a goal fest.
Niasse hasn't really been given any chance to prove himself but maybe he hasn't done himself any favours in training matches.
Similar situation to Traore ? (remember him, one game, one goal)
Keith Conchie
30
Posted 11/08/2016 at 16:14:43
So refreshing to watch anbc Everton press conference that isn't full of bullshit and bollocks.
He said it how it is, we're 70% fit, (we know he's not just blaming the Euros for that). I think he seems shocked at just how much our players are unfit due to poor training sessions under our previous manager.
Yes he's had them in training for a few weeks now, but if he all of a sudden drastically increased the training in an effort to increase the fitness, in such a short time scale they would dropping like flies through injury.
He said they will be upto 100% in 3 weeks, yet won't expect them to play like that in the mean time. That'll do me. No excuses just honesty.
Carl Sanderson
31
Posted 11/08/2016 at 16:21:37
Clear, pertinent answers, no verbal diarrhoea, no hyperbole, what a relief.
Winston Williamson
32
Posted 11/08/2016 at 16:30:58
It's pretty obvious he does not regard Niasse as a good player. He's being polite saying he's not what the club needs.
A. Kone is not really what the club needs, but can do a job (in a form of capacity). Yet he's not saying good luck to Kone! yet.
James Hughes
33
Posted 11/08/2016 at 16:37:04
Good to see we have a project in place seems to show that we actually have targets that are set and aimed for. Rather than just I will get you into the CL with no timeframe (no dig at RM)
Chris Corn
34
Posted 11/08/2016 at 16:37:15
Erik 27, if he wanted to keep Niasse's morale up or was bothered about his resale value, he would have simply named him in his squad and give him a number.
He clearly doesn't rate him, and was asked about it; as would be expected when a high profile
signing is drummed out after such a short time; and Koeman answered accordingly. To say anything like you suggest would have made everyone look stupid.

Eric Myles
35
Posted 11/08/2016 at 16:47:04
You don't think Martinez would pick him then Tony (#17)?
Paul Kossoff
36
Posted 11/08/2016 at 16:48:54
Brian 8, If Koeman was ruthless this team would be 110% fit never mind 70%. If he hadn't have been sitting on a beach on his extended holiday possibly we would have those players in already instead of trying to sign them two bloody days before the season starts.
Saying players he has trained for five weeks are only 70% fit is bullshit. Using Martinez's fitness regime as an excuse didn't cut with me. I played football long enough to know it doesn't take a supposed athlete five weeks to get 100% fit. Football is the same what ever level it is, if you're not fit it's down to the player as well as the coach.
'Awaits criticism from Koeman supporters' 😋
Paul Kossoff
38
Posted 11/08/2016 at 17:00:27
Drew 7, 'So far Koeman/Walsh/Moshiri have spent well'? A 34 years old keeper who couldn't get in Fulham's reserves, 'Fulham had the third worse goal's against last season,' a defensive midfielder who's side were relegated and a 32 year old centre half who is not fit to play on Saturday, I am slightly underwhelmed to be honest.
Julian Exshaw
43
Posted 11/08/2016 at 17:17:31
John Daley@12. Nice to see there is still room for reflective sympathy in this ever-increasing greedy world of football. I also feel sorry for him. Whether he was injured or not, he really didn't get much of a chance and after he arrived we were a catastrophe. He had no influence of the fee either . Koemann doesn't like him, though so I hope he gets on well elsewhere.
Ben Challenor
44
Posted 11/08/2016 at 17:44:26
If said injuries are the case, I predict we'll line up with the below against Spurs. 451
Stekelenberg, Baines, Jags, Mori, Davies, Mirallis, Gueye, Barry, Barkley, Lennon, Delboy
Thoughts?
Keith Conchie
46
Posted 11/08/2016 at 17:49:07
A bit of negativity on here regarding lack of signings, and to a certain extent I agree. But at the same time, I would sooner they take their time in identifying what and who we need, rather than just splashing the cash for the sake of it. Although I do keep checking on the Web to see if we've signed anybody.
With regards to the comments about 70% fit I made before, from what Koeman said. A large part of any athletes fitness training is for conditioning. This takes a lot longer than 5 weeks to change from what they've been doing for the previous 3 years. If you rush any changes, then you'll get injuries.
Mark Tanton
47
Posted 11/08/2016 at 17:56:26
It's August - traditionally an awful time to Evertonians. We are conditioned to fear the worst, and we can't help but be on collective suicide watch as opening day swings round.
Green, immaculately trimmed and striped pitches, new kits and bare arms across heads to shield the sun all point to a false start. Where others hope, our wives and partners hide the razor blades and take our ties.
This is August. This is Everton.
Tony Draper
48
Posted 11/08/2016 at 18:11:56
Mark @47
Love your closing remarks.
Evertonians in August are like Polar Bears in spring emerging from hibernation, devoid of a decent kip.
Hungry and grumpy!
We have somehow evolved to survive the privations.
We rapidly accustom our dreamy expectations to the less than bountiful reality.
We emerge.
We growl.
We hear Z-Cars!
We GROWL !
It's really about time that we stopped hibernating !
Lee Gray
49
Posted 11/08/2016 at 18:23:44
Tin hats ready for Saturday then it is COYB!
Nicholas Ryan
52
Posted 11/08/2016 at 18:50:49
Drew 7; one of your chosen players is Sigurdsson ... unfortunately, he's just signed a new 4-year contract with the Swans.
As to the goalkeeper, I think RK is waiting till January, to see what happens with Joe Hart. Until then, the Flying Dutchman will have to hold the fort!
Teddy Bertin
54
Posted 11/08/2016 at 19:08:45
Great job RK for much needed straight talking after years of exaggeration and false hopes.
Still I hope that Roberto will be proven right that Tom Cleverley is the "most sensational free transfers you are going to see in Premier League history."
Unlikely but not a closed case like Niassco
Ed Fitzgerald
57
Posted 11/08/2016 at 19:20:54
I don't buy all this honest Ron bullshit, he is just giving most of you exactly what you want to hear, i.e. tough sounding rhetoric that is trying to lay all ills at the feet of the previous regime. To be fair he can be judged by results, (not his media utterances) over two to three years the same as Martinez was. Of course thats if he stays for two to three years, because if he gets a 5th place finish in his first season he will be off if he gets a better offer.
If Martinez was still in charge now and had bought; a midfielder that lets be honest most of us didn't even know before we bought him, Fulham's reserve goalie and to be fair a good solid centre half who is aged 32 most of us would be furious, particularly if he had also sold Stones. I have nothing against Koeman he is however just a paid employee of the club (well paid at that) and he should be judged on results, end of.
I really couldn't care less about how media friendly/savvy he is, just get the results and make us attractive to watch as well.
Jay Harris
58
Posted 11/08/2016 at 19:26:18
Paul,
I don't know what level you played at but there is a serious difference between fitness at every level.
To even get to Premier league fitness is a major achievement let alone the skill.
I remember a few years ago a lad who played for Marine got to run out at Anfield and play in a charity match for the RS. To say he was blowing for tugs after 5 minutes would be to put it mildly.
Even Souness (I think it was) said he shouldnt be on the pitch with top level pros as he was likely to get seriously injured.
Top level conditioning can take 3 to 6 months otherwise as others have said you risk an injury.
Alan Bodell
59
Posted 11/08/2016 at 19:33:23
Saw Pardew on Sky today stating something like ' Bolassie is contracted to us and remains here..blah blah' and his body language was screaming defiance at losing him to us but hinted that his bosses were happy for the deal to go through.
I have no idea how good this lad is but if RK wants him i'll go with that but Pardew just seemed unusually agressive at the thought of him leaving so be interested if he features for them in their opener.
Ian Burns
60
Posted 11/08/2016 at 19:45:46
A little harsh on Niasse I thought but having said that, truth over bullshit every time as far as I am concerned. I have no idea how he measures 70% fitness but if that means we are ready for knackers yard after 70 minutes - I won't watch the last 20 minutes on Saturday it will only remind me of last season!
Barry McNally
61
Posted 11/08/2016 at 19:47:23
If fee agreed why won't they release him for medical etc???
Teddy Bertin
62
Posted 11/08/2016 at 19:47:42
Well it was honest Ed because unlike Martinez who claimed Niasse was injured when the player himself was claiming to be fit, RK has come straight out and said he's not the type of player we want But good luck to him in the future.
I think that's pretty honest.
Gordon White
63
Posted 11/08/2016 at 19:49:24
Kunal#21. I agree entirely. Just hope, if we get Bolasie, he becomes more consistent. Would be chuffed if we got Kone. Except for the name. My heart sinks when I hear that name.

Les Martin
64
Posted 11/08/2016 at 19:56:19
I think the players required depends on whether Lukaku stays or goes ( and I think he will go). If I am right then you could probably add another couple to the in comings, maybe Bergovic and Remy could be used as make weights in such a deal.

As things stand now, I expect Kone,Bolasie and possibly and hopefully Mata and Bony to be the ones in the number.

Ronald would really like, the last two having played under him before.
Should this happen the personally I would be extremely happy.
James Morgan
65
Posted 11/08/2016 at 20:04:23
Les #64, those four of Bony, Kone, Bolasie and Mata would give us a very strong squad in my opinion, behind only a handful of clubs.

Throw in a keeper and a back up right back and we would have in my eyes a complete squad.

We should go all out for Butland, he would probably cost over 㿊m but would be worth it.
Michael Polley
66
Posted 11/08/2016 at 20:04:57
No Bullshit from our manager. How refreshing!!
Raymond Fox
67
Posted 11/08/2016 at 20:26:15
I don't know about refreshing, it sounds like he's softening us up for a poor start.
Martinez was sacked in May, there's nearly 3 month's gone buy since then, of course its all Martinez fault on here, along with the weather, the nights drawing in and the dog dying.
All the self appointed media experts are predicting us to finish 9th!! Not much improvement on 11th is it, even with the Moshiri money.
Unless we make some stellar signings I fear they may be right.
Rian Magee
68
Posted 11/08/2016 at 20:35:27
I'm glad to hear RK just spit out his honest (or so it appears) opinion. Does make me a little nervous about the Spurs game if were onky 70% fit. Be interesting to see who else RK, FM and SW bring in and how we're then fixed when running at 100% COYB!!
Mike Dolan
69
Posted 11/08/2016 at 20:45:21
I think both goalies now are a lot better than the Tim Howard of the last couple of years and the defense in front of them will be much improved. Both are serviceable so IMHO we should be concentrating on an out and out playmaker for CM and a proven goal scorer to get Lukaku a bit of space because for the last two years he has had to drift out to the wings to pick up the ball on the counter. hopefully the Bruno Martin rumor might still happen he is a mountain of a center half.
Dave Ganley
71
Posted 11/08/2016 at 21:04:55
I think this is definitely going to be a transitional season after the mess Martinez left us in. First impressions of Koeman are very impressive. He is getting rid of the deadwood and the statement about the players being too nice is so refreshing to hear after all the bullshit we were forced to endure from the so called manager Martinez.
He appears to be wanting the players to actually be fit. As to the new signings, like others a new GK is a priority and also a striker. Not sure about Bolassie but I am willing to trust Koeman/Walsh on that one. I think the writing is also on the wall for Cleverley McCartney and Barry to be honest. I will be very surprise if we play with 2 DM and the fact that Gueye is here suggests that he will be the man to fit into that role. Bony would also be a good addition.
I think the fans should get used to the idea that until we start producing on the pitch then top players just won't want to come. However I have every faith that RK will lead us to having a successful team with unity, a team that will play for each other and not just gesticulate when things don't go their way. I haven't felt this positive about a new season for a few years. A new era is upon us and whilst we may have to put up with a few disappointments along the way until RK finally gets the side he wants, most likely being a 7th or 8th ish finish this season, all is looking good and regardless of Raymonds unnecessary criticism of a regime in its infancy, it will be a step forward on all the crap we had to endure from the previous regime.
Paul Kossoff
72
Posted 11/08/2016 at 21:05:02
Jay 58, Obviously not at the level of fitness millionaire athletes with world class equipment and coaches are, but at my peak I was very fit.
Football, karate, tennis and weight training and working 5 days a week. I played in the Manx league and got fit running up very large hills, near enough mountains.

As I said the players are responsible for fitness, and have no excuse whatsoever not to be fit for the start of the season, and we shouldn't be making excuses for them.
Mark Morrissey
73
Posted 11/08/2016 at 21:09:02
I am very happy about everything that is happening at EFC at the moment but here is my current view on proceeedings. If Koeman does not try and buy a top keeper in the class of Forster, Neur etc he is a knob. You cannot spend £30 million on a midfielder and use a keeper you got for £1 and expect to win games. Don't get me wrong, I trust RK but we have needed a top keeper since Nev left us. Howard was past his best when he joined. I'll be in a mood until we get one
Peter Howard
75
Posted 11/08/2016 at 21:31:41
Ed
You're right,of course, he's not being honest.
Everyone knows that Niasse has a very serious wrist injury which is preventing him performing well.
Jon Withey
76
Posted 11/08/2016 at 21:33:44
The only really significant thing that has happened with the squad is Stones leaving and being replaced by Williams.
Gueye has replaced Besic, Skeltenberg has replaced Howard.
We are more or less where we were last season - I think 9th might be about right !
Ian Burns
77
Posted 11/08/2016 at 21:35:23
Mark - 73 - the season hasn't yet kicked off yet RK is a "knob" - at least wait until the Spurs game is over!
Keith Glazzard
78
Posted 11/08/2016 at 21:50:51
One very interesting point. RK is buying from the PL. These players are battle hardened. They know all about playing at Stoke in the snow, as it were. Maybe the south European craftsmen come later, we have to wait and see. And he has two keepers who can take crosses, command the box, anticipate play and stop shots. Least of our problems I would say, but he still has a few bob spare so you never know. Bringing Nev out of retirement doesn't seem to be an option.
Phil Sammon
79
Posted 11/08/2016 at 21:53:30
Mark 73
The very fact that you put Fraser Forster and Manuel Neuer in the same bracket leads me to suspect you have limited footballing knowledge.
Why anyone would be so keen to brand Koeman a 'knob' is beyond me. A ball hasn't even been kicked yet. Get a grip, man.
Dave Lynch
80
Posted 11/08/2016 at 21:57:36
Mark.
How much did Big Nev cost us? And Big Nige come to that, both very fine keepers.
Len Hawkins
81
Posted 11/08/2016 at 22:09:36
Christ! anyone got any razor blades, life is no longer worth living. Just thank yourselves lucky you aren't Belgian from 2nd in the World to obscurity quicker than the doom mongers can compose another suicide inducing post.
Paul Kossoff your team mates must have loved listening to you in the dressing room did you take 13 rabbits feet with you incase a black cat got run over by an ambulance.
Sajid Patel
82
Posted 11/08/2016 at 22:20:42
Still can't believe we bought Niasse. Is that he really that bad? I saw glimpses of him and he looked a little bit clumsy but he must have a few goals in him.
Pete Cumberlidge
83
Posted 11/08/2016 at 22:30:28
What a manager!
Mark Fitzgerald
84
Posted 11/08/2016 at 23:00:20
Really happy with RK targeting experienced and proven players. But reading up on some young talent out there got me dreaming of Everton signing the next Messi or Ronaldo.
If our new financial muscle is a reality, then how about bidding for a few of these young stars before they (possibly) become household names:
Keeper; Bern Leno from Leverkusen.
CB; Almamy Touré from Monaco
Midfielders; Ruben Neves from Porto and Youri Tielemans from Anderlect.
Strikers; Gabriel Barbosa from Santos & Sebastian Driussi from River Plate
Granted, I haven't see much of these guys playing but perhaps others have and can share their opinions. Or have other young starlets to add to the watch-list.
Stan Schofield
85
Posted 11/08/2016 at 23:04:51
Mark @73: A knob, really? RK has only been here 5 minutes, and the season hasn't started. He's trying to get a functioning team as a priority, out of the disaster of last season. A functioning team is the basis of success, onwards and upwards as they say. I don't know about a knob, but I do think he's got a handle on things.
Patrick Murphy
86
Posted 11/08/2016 at 23:13:51
It used to be that Everton managers got at least a year before the crowd turned on him, it seems that eleven weeks and no competitive games is enough for some fans to make their minds up about the merits or otherwise of the boss and his approach. I can see Koeman walking out on Everton if the club don't support him or the players don't respond to his methods, but I think supporter angst will be water off a ducks back to him.
Laurie Hartley
87
Posted 11/08/2016 at 23:25:59
John Daley # 12 - suffice it to say I agree. Good luck to Oumar Niasse.
Brian Furey
89
Posted 12/08/2016 at 10:21:06
I'm happy with us getting Williams but do we really need Kone as well? Is RK not happy with Mori or Jags. It will be tough to keep 4 centre halves happy all season. Amazed how a few of you feel sorry for Niasse. The guy was Russian footballer of the year last year so no matter how bad that league is, how do you go from that level to looking like an amateur when you get your big money move? He has made the club look like fools spending £13M on him. I wonder will he end up back with the Russians.
John Hughes
90
Posted 12/08/2016 at 10:43:02
For what it's worth I wouldn't mind betting that a deal to take Lakaku to Chelsea has been in the making for several weeks; I can imagine that it could be quite complex i.e. sell on clauses, image rights etc. Could just be that Begovic is part of that deal which would explain the GK conundrum. As far as the CB situation is concerned, it does point to RK not rating one of the present incumbents and my bet would be Mori.
The only thing I definitely know is that Ronald Koeman is not a (k)nob!
Craig Bellew
91
Posted 12/08/2016 at 11:07:57
Rumour mourners and wishful thinkers re Bony can cross him off their list as RK has confirmed that he isn't part of his future recruitment even though he is in the market for another striker.
I for one am quite pleased with this outcome too as I don't rate him too highly and anyone who says he could regain his Swansea form are defo in the wishful thinkers bracket as IMHO I can't see that happening.
Sam Hoare
92
Posted 12/08/2016 at 11:25:27
Hardly seen us linked to any keepers so perhaps RK is happy with Stek and Robles right now. Both look an improvement on Howard last season.
4 more huh?
I'd be pretty happy with:
Kone
Ziyech
Mata
Slimani
PLay 3-5-2 with wing-backs
Stek
Kone Williams Mori
Coleman (WB) Gueye Barkley(orDavies) Baines(WB)
Mata (or Ziyech)
Lukaku Slimani
Get that team super fit and playing to its potential with the likes of Deulofeu, Mirallas etc to come on against tired defenders and I reckon top 6 or better could just beckon
Alex Jones
93
Posted 12/08/2016 at 11:49:09
Has 3-5-2 ever been successful in England?
I'd rather play 4-2-3-1 with
Horm,
Coleman jags kone baines;
Gueye barkley ;
Ziyech mata Mirallas
Lukaku
With another decent striker on the bench and deloufeu, bolasie, cleverly, Barry, Williams and the young lads We'd have a decent bench
Anthony Dwyer
94
Posted 12/08/2016 at 12:18:46
Seems as though a lot of our fans are being a little unrealistic.
Comment 93 for instance, play 4-2-3-1 with Horn who we don't own or haven't made any noise towards buying. Ziyech and Mata in a starting 11 with Bolasie on the bench. Again we don't own any of the three mentioned, but I can't help but feel if we did own Bolasie, and the fee was the fee banded around, then he would have to start, or he's a bad buy.
We have spent around £20m on three players, and recouped £40m from the Stones deal once we paid Barnsley off.
With that is like to believe we at least have the £20m left from that deal, plus £50m from the new owner.
£70m with fees already agreed for Bolasie and Kone coming to around £40m, leaves us £30m.
RK has already stated we need another striker, that's got to be around £20m, leaving £10m, hopefully yo spend on a keeper.
Can see the story of £100m to spend plus the Stones money being true, so if its not true then clearly Mata and Co are off the list.
Raymond Fox
95
Posted 12/08/2016 at 13:02:56
Mata would be the priority for me.
Next we need another striker, pity Defoe isn't 6 years younger.
Why not Mirallas or Barkley as strikers, I think either would make a fist of it, although thinking about it, neither can head a ball.
I'm happy with Robles in goal as first choice, I think Baines and Coleman are suspect in defence, going forward good, but!
Bolasie would be a good purchase in my eyes, I hope it happens but will they sell.
I just hope our young players get a chance to play this season, it would be a shame if their not used, as there's a few very promising lads among them.
Alex Jones
96
Posted 12/08/2016 at 13:16:29
The thread is about 3 or 4 potential new signings and none of my suggestions are particularly unrealistic.
Go and post in the other threads if you don't want to play championship manager here.
Mark Morrissey
98
Posted 12/08/2016 at 17:01:07
Phil @ 79 you quote me and say "The very fact that you put Fraser Forster and Manuel Neuer in the same bracket leads me to suspect you have limited footballing knowledge" .all I was trying to say Phil is that I happen to think that both Neuer and Forster are very good keepers, admittedly in very different moulds but it is their level of quality that I feel Everton should be aiming for and not settling for Robles who will merely " do a job". I've been watching Everton for 51 years and first stood in Goodison Park when Gordon West was in goal. The only world class goalie I have seen playing for Everton is Neville Southall. Some have been good but if you hanker after having a top team, then you start at the back and work down the spine. That's all I was trying to say. You're right, I have got limited football knowledge but I was simply trying to say that if Koeman doesn't prioritise the keeper situation, he's a knob. You know I don't really think he's a knob, I watched him in is pomp and he is class. It was just a turn of phrase. I'm getting used to ToffeeWeb. Not been on here long. You're a feisty lot.
Raymond Fox
99
Posted 12/08/2016 at 18:18:10
Doesn't sound like you've got limited knowledge to me Mark, don't take any notice of this lot.
Steven Jones
101
Posted 12/08/2016 at 21:59:51
Well positioned Mark ... RK as we know is not a knob but if he does not see what you are suggesting then he would have knob tendencies ...
Shilton, Nauer, Schmeichel (senior), Bin Man, Clemence etc won the league for their respective teams ...
Never forget going to Southampton - winning with a Mountfield goal I think and then on the Wednesday going to Hoddles Spurs and Nev being our rock with one world class save and three outstanding blocks/saves .
Yes a top class goalkeeper is a must for the new EFC vision!!
and hopefully I am not a knob suggesting it!
Patrick Murphy
102
Posted 12/08/2016 at 22:12:05
Steven (100) It was Southampton away prior to the infamous WHL encounter but it was two goals from Kevin Richardson that earned the three points. Derek did score in the home game against the Saints that season a 2-2 draw and again the following season in a 6-1 win.
Saints(A) 1985
Mike Allison
103
Posted 12/08/2016 at 22:18:42
Yet more people talking about Timo Horn. I've seen him play, have you?
He just isn't that good.
Ooh look, the grass looks greener over there.
Paul Birmingham
104
Posted 12/08/2016 at 23:12:37
Transition and so it will take some time to get the team in terms of numbers and players to the Koeman level. At least Koeman knows is that this squad has a very soft belly, gonna be a grind, till Chrimbo.
Let's hope tomorrow we show some grit. I hope Spurs don't turn up, may be they won't? Wishful thinking. Slainte!
---
Add Your Comments
In order to post a comment, you need to be logged in as a registered user of the site.
Or Sign up as a ToffeeWeb Member — it's free, takes just a few minutes and will allow you to post your comments on articles and Talking Points submissions across the site.
© ToffeeWeb