West Bromwich Albion vs Everton

63 Comments [Jump to last]
19 August
Match Preview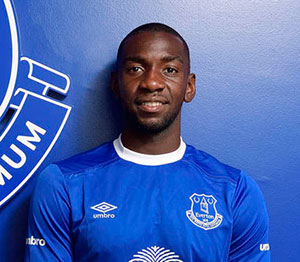 Yannick Bolasie is in the squad and likely to make his Everton debut at The Hawthorns.
Everton's staggered readiness for 2016-17 gets its second examination this weekend with the team's first away game and a trip to The Hawthorns to face West Bromwich Albion.
Another week fitter under the gruelling training regimen implemented by Jan Kluitenburg under the instruction of Ronald Koeman, the Blues could also be two players stronger depending on whether the manager elects to hand both Ashley Williams and Yannick Bolasie their debuts.
Both are likely to be included in the squad but with Williams perhaps borderline in terms of full fitness following his belated return from the European Championships, he might have to be content with the bench.
Bolasie, though, having had the benefit of a full pre-season at Crystal Palace, could face the Baggies for the second week running after coming on as a second-half substitute against West Brom for what would be his last appearance for the Eagles.
Fitness is only part of the equation for Koeman, however. Just as Roberto Martinez's first few weeks at Finch Farm involved ingraining his new charges with a new way of playing, so his successor is instilling a different style to the one that eventually proved counter-productive under the Catalan.
"It's difficult," Koeman said in his pre-match press conference on Thursday. "It's not only about the physical state of the players, it's also about our philosophy and how we like to play… with more pressing from the front and sometimes playing direct football.
"Of course we like to keep the ball but sometimes the easiest way to create is [through] direct play and if you can change that in the game that's an extra quality for the team but we need time and that's normal."
After drawing 1-1 on his first visit as Everton boss, Martinez oversaw victories at The Hawthorns in the next two seasons but thanks to his side's infamous defensive vulnerabilities playing out from the back and from set-pieces, they had to come back from 2-0 down for the first time in the Premier League era since that game against Wimbledon 21 years previously.
Koeman acknowledged the Baggies' renowned strengths under Tony Pulis as being reasons why it won't be an easy ride on Saturday. It could be a physical game with the potential for referee Neil Swarbrick to have a busy afternoon and if you fancy having a flutter on just how exercised his notebook and pencil will be, take a look at cardtips.co.uk
"I know from my experiences that it's a very tough opponent," he admitted. "Maybe one the strongest in terms of direct football, physical strength, very strong defensive organisation and maybe the one of the best teams at set-plays and that's a really nice challenge for us."
Whether that need for defensive solidity will tip him towards starting Williams — with Seamus Coleman expected to be out for another fortnight, it would almost certainly be at the expense of Mason Holgate — remains to be seen but the manager will be hoping that it's his team's strengths at the other end that win him the game. Romelu Lukaku is expected to play a part after returning to training yesterday for the first time after sustaining a gash to his heel.
It was the Belgian's heroics in combination with Gerard Deulofeu that won all three points in this fixture last season and, having missed out last weekend against Tottenham, he will hopefully be raring to go. Should both he and Bolasie start, however, it will have interesting ramifications for the rest of the line-up from an attacking standpoint — another formation with a back three would mean both Deulofeu and Kevin Mirallas making way, assuming Ross Barkley keeps his place.
The rest of the side is likely to remain unchanged, with James McCarthy expected to continue in the right-wingback role with which he was tasked against Spurs.
Despite getting the new campaign off to a win last weekend, Pulis has been candid in assessment of his team's prospects this season, saying that West Brom need to sign almost half a team before the transfer deadline. Saido Berahino's future continues to rumble on but in Salomon Rondon he has a dangerous striker that Everton will need to keep shackled.
They lack quality in midfield, however, and, as such, will likely rely on their aerial prowess from crosses and dead-ball situations, an Achilles heel for the Blues over the last couple of seasons but one hopefully shored up by the new regime.
With Koeman's own squad-building efforts still not complete and the players still not where he wants them to be physically, Everton are still a work in progress heading into the second game of 2016-17. However, having obtained a decent result last weekend against a side tipped for the top four again this season, if the boss can steer them to a victory this weekend despite not being at full strength, it will bode very well for when they are firing on all cylinders.
Kick-off: 3pm
Referee: Neil Swarbrick
Last time: West Brom 2 - 3 Everton
Predicted Line-up: Stekelenburg, Holgate, Jagielka, Funes Mori, McCarthy, Barry, Gueye, Baines, Barkley, Deulofeu, Lukaku
Full details: ToffeeWeb match page
---
Reader Comments (63)
Note: the following content is not moderated or vetted by the site owners at the time of submission. Comments are the responsibility of the poster. Disclaimer
Kunal Desai
1
Posted 19/08/2016 at 07:20:40
This will be a more physical test compared to the free flowing football Spurs play.

I'm still surprised we haven't at least brought in one striker as I think we need two. Without Lukaku we are struggling up top and it clearly appears that Niasse and Kone are on their way out.
Peter McHugh
2
Posted 19/08/2016 at 07:32:57
Kunal - I suspect Everton are trying to bring in strikers but starting to get rather twitchy now!
Gareth Clark
3
Posted 19/08/2016 at 07:45:36
Hopefully we go and get Chicarito (Javier Hernandez)... He'd be perfect for us!
McCarthy did a solid job against Spurs, but I'd prefer to see Davies in that RWB position against WBA.
Steklenburg
Holgate Jags Funes Mori
Davies Gueye Barry Baines
Barkley
Lukaku Deulofeu
Kieran Fitzgerald
4
Posted 19/08/2016 at 07:46:24
West Brom are a very physical team and rather than trying to go toe to toe with them, I would look to run at them and stretch them as much as possible.
I would be tempted to drop Barkley. I would try Bolaise instead of Barkley as he may be able to offer more right now through the middle in terms of fitness. We can always bring Ross on and then shift Bolaise out wide. We can also bring Lennon on as he will run at West Brom and will help to keep them stretched over the course of the full game.
Guy Hastings
5
Posted 19/08/2016 at 08:31:07
If Lukaku's not had the 'Pingu wings' drilled out of him, standing still in a crap position, arms out, wanting the ball when he's got the first touch of Douglas Bader's tin legs, we might as well play three quick men up front and run the daylights out of them.
Dave Abrahams
6
Posted 19/08/2016 at 09:05:54
I don't expect Lukaku to start, he may come off the bench if he plays at all.
Laurie Hartley
7
Posted 19/08/2016 at 09:33:26
Dave # 6 - I think you could be right about Lukaku not starting. I wouldn't be surprised if he plays Deulofeu in " the 9 position" with Mirallas and Bolasie either side of him.
I am looking forward to seeing his team selection and how he sets them up.
Thomas Kelvin Jones
8
Posted 19/08/2016 at 10:26:55
Difficult to predict a line-up for tomorrow.
We know that Seamus is out, Ashley Williams isn't quite there yet but will be conidered, Romelu Lukaku is in a similar position.
Bolasie on the other hand has had a full pre-season and therefore fully fit.
Do you start with Rom and replace him after 60 min or bring him on in the latter stages?
Knowing this I'd start with Rom.
I'd also start Williams in a 3-4-1-2
Stek
Jags Williams Mori
McCarthy Gueye Barry Baines
Barkley
Deulofeuo Lukaku
Paul Kennedy
10
Posted 19/08/2016 at 11:27:20
I would love to see Lukaku gone for big bucks. Ever since he has been at the club he has undermined the team, if he is not talking about a move his agent or family are. In a time when mediocrity reigns he is at the top.
Anthony Dwyer
11
Posted 19/08/2016 at 12:03:25
Can't understand why we want to play wing backs v west brom.
Teams like that we need to go 4-4-2.
Bolasie and Del wide, with Rom and Miralas up top.
Guyeye and Barkley cm.
Possibly even Lennon at right back.
We really need to start fast and trying to blow these teams away, that's how you kick on in the prem.

Thomas Kelvin Jones
12
Posted 19/08/2016 at 12:31:42
Anthony@11;
I understand where you're coming from but WBA are no mugs.
Berahino will be running into channels taking a CB with him. Funes Mori on his own to deal with Rondon .!
Three at the back will nullify their attack.
Jack Convery
13
Posted 19/08/2016 at 12:38:38
Guy 5 - Pingu Wings - Brilliant !
I hate playing WBA since they broke my heart in 1968 in the FA Cup Final. My perception is they are a bogey team - stats may prove otherwise - just hope we can get 3 points tomorrow. A win will boost confidence in the squad and confidence is the essential ingredient for a good season.
Mark Fitzgerald
14
Posted 19/08/2016 at 12:43:11
If We're gonna stick with the wing backs then I think RK needs to look at an alternative to Macca who, in fairness, put in his usual tireless shift but didn't offer much going forward.
Didn't Davies get some time at RB in pre-season? Or even Mirallas who seems eager to impress the new boss and will certainly break forward as often as possible.
Obviously we gotta find room for the two new boys whom I'm really looking forward to seeing.
Stek
Jags-Williams-Funes Mori
Mirallas-Baines
Gueye-Barry
Delboy-Bolasie
Lukaku
If Rom isn't started, then Delboy up front with Barkley slotting in.
Simon Bates
15
Posted 19/08/2016 at 12:56:41
Anthony I would also like to see Ross dropped back in alongside Gueye, against these. I like the idea of that set up going forward, the interchanges between Del,Kev and Bolasie could be devastating, each one can all keep swapping as all 3 can play in those positions.

I really think we are going to need Ashley Williams though, for his physicality,experience and organisational skills at set pieces and corners, that's their strength and our weakness .
Phil Jeffries
16
Posted 19/08/2016 at 13:18:34
When teams played 2 up top, Southampton played with x3 centre backs. Williams debut would make sense as the 5th defender and then Gueye in front. This would leave Pulis trying t figure out who would play where out of Bolasie, Mirallas, Deulofeu and Barkley.
Ged Simpson
17
Posted 19/08/2016 at 13:31:16
I agree Phil J. Not perfectly executed v Spurs but we had them guessing.
Kieran Kinsella
18
Posted 19/08/2016 at 14:01:12
WBA were a turning point under Moyes when we went on that six game win streak and everyone except David O'Leary acknowledged we were no longer cannon fodder.
Clive Rogers
19
Posted 19/08/2016 at 14:10:23
McCarthy is not suited to the position he played against Spurs. He was OK defensively but his contribution going forward was zero. I got the impression he'd given up, preferring to leave it to someone else. Davies for me with Luke and Bolasie up front.
Michael Penley
20
Posted 19/08/2016 at 14:46:09
Lukaku can't possibly play, can he? He doesn't look fit at all. Chubby neck and sweating like a pig after any burst of effort.
Dave Pritchard
21
Posted 19/08/2016 at 15:04:06
On the transfer front I see that Kone (Sunderland one) is out of their weekend game. Word from Moyes is that he has an injury.
Fran Mitchell
22
Posted 19/08/2016 at 15:16:15
Moyes' comment seems he is being ironic 'he has rejected tell contract and today he has a back injury (type of injury that can't really be evaluated by doctors - much to do with the players word).
Expect him in blue soon.
Kevin Tully
23
Posted 19/08/2016 at 15:20:53
It seems like Koeman had decided that from "Our best squad for a generation" only 3 or 4 players are good enough for his first team. That's got to be a good sign, hasn't it?
Olalekan Taofik
25
Posted 19/08/2016 at 15:27:11
I personally look forward to a winning outing though it will be a difficult game.
Our boys must not lack focus and I wish them victory from Lagos, Nigeria here.
I will be watching the game through the satellite with my young boy, 9 years old.

Fran Mitchell
26
Posted 19/08/2016 at 15:36:58
Davies at RB for me.
Yet I do wonder where is Kenny? Or Connelly? Young right backs. Surely now is the chance to see if they are up to it or if we need to buy someone in.
Nick Page
27
Posted 19/08/2016 at 15:50:47
Can someone please remove the McGeady pictures et al from the website? They're making my stomach turn.
Always a tough game against a Pulis side. Hopefully Ronald has a plan. COYB

Anthony Flack
28
Posted 19/08/2016 at 15:58:28
We need guile to break down West Brom. Last season at home we found it near impossible to get through them in spite of actually playing ok, if too much through the middle. 2 wingers for me pull their defence out high and hit them in the break and down the flanks
Easy...
Brian Furey
29
Posted 19/08/2016 at 16:08:35
Was listening to RK interview there at lunch time from the official website and he was saying Bolaise is big strong and can play either left wing, right wing or up front. I just wonder is he pondering playing him up front as a striker like he did with Geri. I just hope he's not going to be considered our No. 2 striker after Rom. I really hope we're not going into the last day of the window with no other strikers brought in. Sounds to me Kone wants out of Sunderland when he heard Everton are after him. Working with Koeman and not fighting relegation is probably a lot more appealing. Contracts mean nothing any more as the amount of money being offered is crazy.
David Price
30
Posted 19/08/2016 at 16:12:10
agree fran22, all the talk in Sunderland seems to be that Kone is leaving asap.
Feels strange being the bad boys like City and Chelsea but we want the title. I'll learn to deal with it.
David Price
31
Posted 19/08/2016 at 16:21:08
Pienaar signed a one year deal at Sunderland.
John Hammond
32
Posted 19/08/2016 at 17:47:19
The comment about sometimes having to play direct is music to my ears. The amount of short free kicks Martinez had us take drove me mad when we could've lumped one in the box and caused some problems.
Nothing wrong with mixing things up a bit.
Clive Rogers
33
Posted 19/08/2016 at 18:23:23
Pienaar signing a contract shows what a poor manager Moyes is. He's been finished for two years.
Tony Twist
34
Posted 19/08/2016 at 18:41:02
Must win games home and away against teams like WBA. It is a must win match in my opinion to build on the feel good factor that is with us after Moshiri's arrival. We really need another quality striker.
Andy King
35
Posted 19/08/2016 at 18:55:48
I'd go 4-4-2 against these and try to destroy them down the flanks. You never catch a Tony Pulis team on the break because they never attack!
Stek
Holgate, Jagielka, Funes Mori, Baines
Del Boy, Barkley, Gueye, Bolasie
Mirallas, Lukaku
Keep mixing the two wingers and Mirallas up so WBA can't get settled. Also tell the fullbacks to concentrate on defending so Barkley isn't asked to defend too much. Having Holgate in the back 4 adds an extra big fella for set pieces.
COYFBB!
Raymond Fox
37
Posted 19/08/2016 at 19:13:14
We are 6/4 favs to win, but also the game is the most likely one in the Prem. to finish a draw @ 11/5.
Probably another draw for me, I cant see Lukaku starting the game after only one tentative training session!
If we are going to challenge for anything this season we need a playmaker/ 1 or maybe 2 class front men quick.
I think Kone will be recruited, and maybe another goalkeeper.
Chris Gould
38
Posted 19/08/2016 at 19:19:29
Can't agree, Andy. I don't think it's wise playing Holgate at right back with only Geri offering protection in front of him. He's a great prospect, but Pulis would set traps for him and make sure he had a torid time.
If we played a basic 4 4 2 we will play into their hands. They'll soak up pressure and look to score from a set piece.
It will be interesting to see if Williams is fit. If so, I think we'll play with all 3 senior CB's at the back. Away from home, we can't take any premier league team lightly. A 3-5-2 for me.
Andy King
39
Posted 19/08/2016 at 19:43:24
Fair point Chris, but I just feel we need to take the front foot more often than we have in the past. We're not Real Madrid but we are a much better team than West Brom.
I'd keep switching our front line to have them so worried about us that they can't really attempt much going forward themselves. Their major threats are set pieces and catching us on the break. Having an extra 6 footer should help with set pieces, and I've assumed Williams won't be thrown in straight away.
Hopefully having the fullbacks concentrate on defending should nullify the threat of being caught on the break.
Drew O'Neall
40
Posted 19/08/2016 at 19:52:09
If we can't get someone like Mandzukic from Juve, a player like West Brom's Rondon would fit the bill for me.
Big and strong, mobile, aerially threatening - typical Everton 9.
Dave Pritchard
41
Posted 19/08/2016 at 19:56:08
Tony 34 I really hope we get a win as it would give us some momentum but we cannot have a must win game already can we?
Robert Workman
42
Posted 19/08/2016 at 20:37:10
I can see Williams and Lukaku starting, but maybe not lasting 90 minutes. I always believe that we should start with our strongest team and worry about substututions later (that includes League Cup matches).
Edward Wallis
43
Posted 19/08/2016 at 22:33:37
So impressed with Koeman and Everton now. It feels absolutely great.
Chris Gould, I agree with you... I think we will play a combative, experienced side with Bolasie, Barkley and Mirallas playing on the counter, can see McCarthy playing right wing back/mid. Geri/Lukaku come on last 30.
Stekelenburg
Jagielka, Williams, Funes Mori
McCarthy, Barry, Gana, Baines
Barkley
Mirallas, Bolasie.
Ian Bennett
44
Posted 19/08/2016 at 22:33:40
I'd go:-
Stekelenburg/p>
Funes Mori
Jagielka
Williams
Baines
Gueye
Barry
McCarthy
Bolasie
Lukaku
Mirallas
Subs:- Holgate, Deulofeu, Robles, Galloway, Cleverley, Barkley, Oviedo.
Andy Meighan
45
Posted 19/08/2016 at 22:39:06
If I see another post that's calling that impostor Deulofeu "Del boy", I'll scream! He's had so many chances but hasn't delivered. And mark my word, Koeman will see through the little phoney soon enough.
Another thing: he's a diver And didn't we used to deride opposing players for doing that. Now we've got two of the worst in him and Mirallas... Oh, sorry... meant 'Super Kev'.
Ian Riley
46
Posted 19/08/2016 at 22:43:40
Most apposition managers coming up against Everton won't know what to expect. A 1-3 will do nicely and keep the west brom fans I work with quiet. Come on Everton!!!!!
Frank Thomas
47
Posted 19/08/2016 at 22:58:40
With a likely packed WBA defence we need to play the ball fast on the ground using Mirallas, Bolasie and Defeulu and pick up the fouls when they try and stop our runners. Then 2nd half replace Mirallas and Defeulu with Rom and Barkley leaving them stretched as they try and come back into the game.
No game for Williams this week give him some more time to rest.
Tony Hill
48
Posted 19/08/2016 at 23:02:41
I am very confident for the season on the assumption that we will buy high quality striker(s) before the window closes. For tomorrow, however, the best we can expect is someone who is not match fit, or we will have makeshift forwards. Rationally, we cannot expect to score many, if any, and that is a concern.
I still think we may sneak it.
Craig McFarlane
50
Posted 20/08/2016 at 07:35:06
Andy @ 45: Would that be Gerard "2nd highest assists in our squad despite only starting 26 games over 2 seasons" Deulofeu?
He's a cracking little player and was only taken out of the team last season because he was performing really well and Martinez was worried about Barca poaching him back! And at 22 he's still learning his craft...lay off the lad - we'll all be moaning if he ends up back at Barca for a relatively nominal fee.
Yes he doesn't last the full 90, but who did last year? With Koeman's methods in full flow, we'll see a fitter, hungrier Deulofeu who will tear defences apart!
Jon Withey
51
Posted 20/08/2016 at 09:51:50
Deulofeu was a breath of fresh air when he joined and can only improve.
He had several chances to put Tottenham to the sword but his finishing let him down - but they were chances only a player like him would get.
Him and Bolasie will be our x-factors this season if Koeman can get it right.
The big misses in the Tottenham game were Coleman and Lukaku - I hope Lukaku will get at least 30 mins.
Alan J Thompson
52
Posted 20/08/2016 at 11:57:33
It will be interesting to see how our Manager's tactics change for away games and from opposition to opposition. I get the feeling he is a bit too canny to play the same way week in, week out while maintaining the basics and taking into account other teams playing styles.
Eric Holland
53
Posted 20/08/2016 at 12:08:05
Why do people come on here and slate our own players?
The season has only just started ffs.
Colin Glassar
55
Posted 20/08/2016 at 12:34:24
True Eric, I hope we are at 75% today.
Neil Wood
57
Posted 20/08/2016 at 12:47:16
Del Boy will prove to be the very best thing about Martinez's time here. Like mentioned above, Craig @50... Second in the assist table.
He absolutely terrified people and played the right way will be our most potent weapon.
Mike Corcoran
59
Posted 20/08/2016 at 13:42:13
Where's the live forum. I've missed the bulging veins and volte faces
Mike Corcoran
60
Posted 20/08/2016 at 13:42:52
Any good streaming links?
Ray Roche
61
Posted 20/08/2016 at 13:51:15
Mike,
Bein HD13 Are apparently showing the game. Otherwise try firstrow sports, they usually have a link.
Ray Roche
62
Posted 20/08/2016 at 13:54:08
Mike, just realised, have a look at the "Global TV" at the top of this page. It contains a list of links and sites showing the game,useful especially if you have a Kodi box. Youtube also sometimes have a live link.
https://www.youtube.com/watch?v=s1iy3_2eDs8
David Milner
63
Posted 20/08/2016 at 14:01:47
I also think that a back 4 with a mid 4 & 2 strikers is necessary against West Brom.
So:- Stekelenburg
Holgate, Williams, Funes, Baines
Barkley, Gueye, Barry, Mirallas
Lukaku, Bolasie
Subs:- Deulofeu, Robles, Oviedo, Lennon, Jagielka, McCarthy, Davies
Ray Roche
64
Posted 20/08/2016 at 14:04:00
Lukaku on the bench with Williams,
22Stekelenburg
30Holgate
6Jagielka
25Funes Mori
16McCarthy
17Gueye
18Barry
3Baines
11Mirallas
8Barkley
7Deulofeu
Substitutes
1Robles
5Williams
10R Lukaku
12Lennon
14Bolasie
15Cleverley
20Oviedo
Ian McDowell
66
Posted 20/08/2016 at 14:08:52
I expect at some point we will see Bolasie and Lukaku once Delufeou and Mirallas fade.
Colin Glassar
67
Posted 20/08/2016 at 14:11:07
No live forum yet?
Steavey Buckley
68
Posted 20/08/2016 at 14:15:03
A great bench, WBA will be too aware of.
Phil Walling
69
Posted 20/08/2016 at 14:17:24
No fire power in that line-up but should be good for 0-0 !
Fran Mitchell
70
Posted 20/08/2016 at 14:19:24
With Lukaku and Bolasie on e bench, we have options.
But no youngsters (apart from Holgate) and McCarthey at right wing back again.
Personally, i'd prefer to see Dowell and Davies on the bench more than Lennon or Cleverly.
Colin Hughes
71
Posted 20/08/2016 at 14:21:24
Looks like we will be waiting untill we are behind to bring the big guns on, always a dangerous tactic especially against a well drilled Pulis side.
Add Your Comments
In order to post a comment, you need to be logged in as a registered user of the site.
Or Sign up as a ToffeeWeb Member — it's free, takes just a few minutes and will allow you to post your comments on articles and Talking Points submissions across the site.
© ToffeeWeb