Lukaku: I could have had more goals

249 Comments [Jump to last]
13 September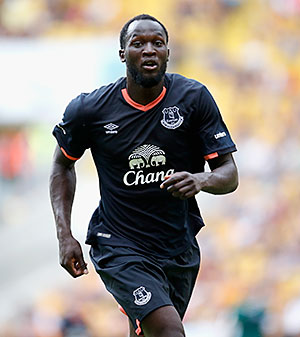 Romelu Lukaku has admitted that he should probably have scored more than the three goals he fired past Sunderland last night that ended his 11-game goal drought in the Premier League but overall he was just happy that the team won.
The 23-year-old hit a hat-trick in just eleven second-half minutes to power Everton to a 3-0 win at the Stadium of Light that lifted the Blues into 3rd place in the early league table with four games in the books.
It was a contest in stark contrast to the one there just four months ago where Lukaku drew another blank and Everton were crushed 3-0 in Roberto Martinez's last match in charge. The team looks to be a completely different proposition under Ronald Koeman however, more so now that Lukaku is off the mark and looking back to his sharpest.
"I think we could have done better, especially in the first half," Lukaku admitted to Sky Sports after the final whistle. "The first half was not as good as we wanted. The defence did well but up front we didn't keep the ball as well and we didn't create any clear-cut chances beside the one I missed.
"We didn't create enough and it wasn't good enough but in the second half we performed way better and it was a well-deserved win.
Lukaku ended a personal goal drought in the Premier League stretching back to March and he was asked how he felt to get that particular weight off his shoulders.
"I think it was coming," explained the Belgian who scored a brace for his country in World Cup qualifying last week. "When I went away with Belgium it was all about my fitness levels, really. They weren't as good as I wanted them to be.
"With the technical stuff, my team-mates have helped me a lot and I was very happy but in the Premier League you have to be focused until the end of the game. I got a lot of service from Yannick [Bolasie tonight] and I managed to finish the other chances.
"I could have had five goals maybe when I missed that chance after the hat-trick. I have to be more of a 'serial killer' if I want to help the team achieve it's objectives.
"But we won today, the defence did well, you mustn't forget that; they did brilliantly and as a striker you know that if you have a good defence, you're if you score a goal you can win.
"And I'm happy for the team. We are in a good position in the league; now we have to keep going.
---
Reader Comments (249)
Note: the following content is not moderated or vetted by the site owners at the time of submission. Comments are the responsibility of the poster. Disclaimer
James Morgan
1
Posted 13/09/2016 at 08:13:19
Our whole forward line were very poor in the first half but they soon sorted it out in the second. I've never understood the stick that Lukaku gets on here; pick whatever holes you want in his game but the lad scores goals, plain and simple.
Credit to Koeman for making the change at half-time, he has balls unlike his predecessor. Deulofeu came on and changed the game and seemed to ignite the rest of his fellow forwards. Top work from the lad.
And as for Gueye, wow, the lad is a machine. Covers every blade of grass, tackles, intercepts, picks forward passes, hardly ever seems to waste possession, what a signing!
Dave Pritchard
2
Posted 13/09/2016 at 08:20:03
Rom was poor for 70 minutes. He just pointed and missed a great chance. Big Dunc would have been a better option. Then he came alive and scored 3 goals. Would I be happy with that every week? Let's think for a second... yes!
We know that during the next international break there will be stories about him moving on. Do I care? Errr, no.
Brian Keating
3
Posted 13/09/2016 at 08:36:51
Lukaku is a brilliant finisher. He's unstoppable when on his game, he's still working his way back to match fitness though. I don't understand the criticism he gets on here sometimes, for a lazy mercenary he was unreal in the 2nd half last night.
Phil Sammon
4
Posted 13/09/2016 at 09:04:31
'Unreal'?
Was he really? Two pin-point crosses that he met unchallenged. And a one-on-one with the goalkeeper. Rom can be a fine player and his goal scoring record is remarkable... but he had bags of chances laid on a plate for him today.
Anyone think Defoe wouldn't have got a hat-trick if he was playing for Everton last night?
Sam Bull
5
Posted 13/09/2016 at 09:13:19
Yup, chances put on a plate for him as per, could've had 6 – he was on his heels the majority of the game, hand in the air. William Defoe would'vegot at least 3 of them. But it's good to see him scoring again.
Dave Abrahams
6
Posted 13/09/2016 at 09:15:29
Well done Lukaku, now score a few more hat tricks in the coming months and we might get the ridiculous price for you that the club are asking, and you will get the move you crave for.
Stan Schofield
7
Posted 13/09/2016 at 09:20:00
Phil @4: Defoe doesn't play for Everton, Lukaku does, so that's irrelevant.
Dave @6: If he scores a few more hat-tricks and we end up in Europe, he might end up staying.
Damian Wilde
8
Posted 13/09/2016 at 09:20:14
I will admit I was slating him during the summer, though it appeared deserved. You'd have to say on this form, we have to keep him. Before last night we looked a good team, but lacking in goals. Lukaku brought that to the table last night.
Nice interview too, especially the bit about being better and helping the team, change in attitude!
Wonderful hat-trick though. And Bolasie looks great. COYB.
Radio stations still saying no chance of top four, no respect.
Christian Hoff
9
Posted 13/09/2016 at 09:21:54
Why so harsh on Lukaku? Those headers are powerful and not that easy. We have a goalmachine in our ranks. He has shown that for years! Get behind our players. COYB!
Phil Sammon
10
Posted 13/09/2016 at 09:42:18
Oh thanks, Stan. That's that cleared up then.
Matt Williams
11
Posted 13/09/2016 at 09:47:04
Two thoughts I had watching last night's game: If Lukaku gets injured, who the fuck is going to score? Despite our dominant performance, apart from Lukaku we didn't look like scoring.
And, could this signal the beginning of the end of Barkely's Everton career. I think it's clear Koeman is starting to get frustrated with our mercurial midfielder.
Martin Mason
12
Posted 13/09/2016 at 09:48:14
Rom was at the end of those crosses because of his movement and positioning. He was magnificent turning defenders and getting at the through balls and as usual was unplayable when on song. The difference yesterday was that we played the ball to him as he needs the ball playing to him. Only on TW could anybody find negativity in a superb hat-trick – absolutely beyond belief and demeaning to both the club and the player.
Talk about finding the right pieces of the jigsaw, Bolasie from the wings and the magnificent Barry and Gana winning balls in midfield and passing them through defences to match his superb runs.
The danger now is expectations and disappointment, we must sometimes be happy with lucky or ground-out draws and wins. We play Man City away soon and that will be the real test. At the moment, our league position is probably flattering and not too important.

Paul Thompson
13
Posted 13/09/2016 at 10:03:42
Rom scores the first away hat-trick since Tony Cottee in the dim and distant past and the response of some – score a few more and we might stop whining.
There will never be pleasing some people, but what pleases me is that Rom himself was not satisfied with his and the team's performance in the first half. Remember 'feed the Yak' – the same goes for Rom: he will deliver.
Phil Sammon
14
Posted 13/09/2016 at 10:11:40
To clarify. I agree he played well. I just don't think it was an 'unreal' performance.
I'm very pleased with the start of the season and really enjoying our play. It's a joy to watch Everyon again.
Patrick Murphy
15
Posted 13/09/2016 at 10:13:10
Paul (13) The last hat-trick scored by an Everton player away from Goodison Park was at Upton Park by Nick Barmby in 2000.
186 Tony Cottee 3 Home League Sheff United 4-2 1993-94 Centre Forward
187 Paul Rideout 3 Away LC Lincoln City 4-3 1993-94 Centre Forward
188 Tony Cottee 3 Home League Swindon T 6-2 1993-94 Centre Forward
189 Andrei Kanchelskis 3 Away League Sheff Wed 5-2 1995-96 Outside Right
190 Gary Speed 3 Home League Southampton 7-1 1996-97 Outside Left
191 Duncan Ferguson 3 Home League Bolton W 3-2 1997-98 Centre Forward
192 Kevin Campbell 3 Home League West Ham U 6-0 1998-99 Centre Forward
193 Nick Barmby 3 Away League West ham U 4-0 1999-00 Centre Forward
194 Steve Watson 3 Home League Leeds United 4-0 2003-04 Centre Forward
195 Ayegbeni Yakubu 3 Home League Fulham 3-0 2007-08 Centre Forward
196 Ayegbeni Yakubu 3 Home Uefa Sk Brann 6-1 2007-08 Centre Forward
197 Louis Saha 4 Home League Blackpool 5-3 2010-11 Centre Forward
Tony Abrahams
16
Posted 13/09/2016 at 10:27:19
Didn't Lukaku, score "A-trick" on that AstroTurf pitch in Europe two seasons ago?
Dave Abrahams
17
Posted 13/09/2016 at 10:28:34
Stan (7)I wouldn't bet on that, not even with your money.
Martin (12) did you notice his movement and positioning in the first half, I did, wasn't very good was it?
Damian Wilde
18
Posted 13/09/2016 at 10:28:55
Phil S. Are you serious? For goodness sake, the lad's finishing was superb, he scored a hat-trick and we won the game! What more do you want?
And no Defoe wouldn't have scored all of those goals, but I do rate him.
Kevin Gillen
19
Posted 13/09/2016 at 10:34:17
ToffeeWeb Evertonians are an unforgiving lot. I wouldn't like to be part of some of the families of people who post on here, they hold grudges and have elephant's memories.
I am quite happy for Rom and nights like last night are surely liable to make it more likely that Rom stays at our club. I find some of the posts about Rom and some of the comments about David Moyes quite unsavoury and dishonourable. The paradox is the lauding of the club's honourable behaviour in donating a sizeable sum to that poor lad's hospital fund.
I think we all should be a little more understanding and forgiving towards petulant players or former managers and we should think on about the pressures of living a life in full view of the public's gaze before judging others.
Anyway, Rom, what about all those missed chances in the FA Cup semi-final last season...
Paul Thompson
20
Posted 13/09/2016 at 10:40:31
Patrick (#15). Thanks for correcting me and for the link to EFC hatricks. fascinating stuff and perhaps worthy of a separate thread. Was surprised to see that Martin Dobson scored one?!
Jamie Sweet
21
Posted 13/09/2016 at 10:43:52
Patrick – I remember the Tony Cottee hattrick against Sheffield United due to the headline in one of the papers the next day... "What a Lottee Cottee Gottee!"
Well I thought that was quite good anyway!
Brian Denton
22
Posted 13/09/2016 at 10:51:07
I seem to remember Steven Naismith getting one.
Franny Porter
23
Posted 13/09/2016 at 10:59:28
I've never been Lukaku's biggest fan but to say he was anything less than excellent last night is ridiculous.
Apart from his goals, his work rate, movement and strength were all outstanding. The two Sunderland CBs were terrified of him.
Sajid Patel
24
Posted 13/09/2016 at 11:03:25
I thought taking Barkley off and putting Deulofeu on was a good decision.
Barkley seems to slow things down too much; with Del Boy coming on, the Sunderland team got stretched and we know the rest.
James Stewart
25
Posted 13/09/2016 at 11:04:20
Lukaku is a goal machine, unorthodox and awkward technique at times yes but you can't argue with his record. To break into the top 4 we need him fit and firing so I'm glad he didn't get his Chelsea move. Gueye was MotM by a mile though insanely good.
Damian Wilde
26
Posted 13/09/2016 at 11:15:48
Has anbody seen that short video clip from Sky Sports Radio about Martinez giving his view on Rom? Mocked up clip, hilarious! I don't know how to copy a link from Twitter (where I saw it), share if anyone can!
Dave Abrahams
27
Posted 13/09/2016 at 11:16:55
I think some people are confusing negativity with the truth. Rom was poor in the first half, anyone who says they were happy with his performance in the first half wasn't watching the game. You can only beat what is in front of you but Sunderland were very poor.
By the way, Kone, who doesn't get much support on ToffeeWeb, scored a hat-trick against Sunderland last season, if I'm not mistaken.
Tony Abrahams
28
Posted 13/09/2016 at 11:23:17
Each to their own, Kevin (#19), but I found the comments that David Moyes made after he left Everton very unsavoury, especially for someone who lives his life in the public's gaze!
Ronald Koeman gave Mr Kenwright the credit for Everton donating the money towards that little boy's fund last night, and as much as I dislike our chairman, I have to applaud him for such generosity. It's made me very proud of our club, as well as football in general, and hopefully will help to save this little kid's life.
Let's hope this kid also lives enough life to also gain the memory of an elephant, because I'm sure Everton will forever hold a place in his heart, after making such a great deed last night..
Martin Mason
29
Posted 13/09/2016 at 11:24:22
Dave @17, exactly as it was in the second, we reorganised and with 2 wingers instead of Barkley the team finally got the ball into spaces. Not just Lukaku was poor in the first half. His hand waving speaks a very powerful message that the team needs to listen to. "I'm here, get the ball to me." Lukaku was superb last night as he was for a long spell of last season before the manager had a breakdown.
Negativity is negativity and believe me, your view is not the truth, it is an irrationally negative opinion that I believe shows little knowledge of the game.
Graham Mockford
30
Posted 13/09/2016 at 11:28:02
Patrick #15
Your list is only until 2012.
Here's a link from closer to home.
Ian Jones
31
Posted 13/09/2016 at 11:34:45
Like the response to Lukaku scoring 3, varied as ever – he seems to split the fans…
In the past, I have voiced my concern on TW about Lukaku's overall input to a game. Never doubted his ability to score. Had we managed to get upwards of 㿞 million I would have accepted it. Only saw the game on TV so appreciate you don't get as good an insight into players general movement off the ball as you do watching the game from the stands. To me, in the first half, he seemed to be wandering around aimlessly, fairly motionless, like the latter parts of last season.

Second half, especially once he had scored, he was different. Assume confidence plays a part in football, especially forwards. When they score, something changes.
As Lyndon states on another thread, 'He proved once again, however, that when he is fit, mentally on song and the team plays to his strengths he remains a naturally potent goalscorer'
Can't argue with what Lyndon says – I guess that is the key to Lukaku.
I am frustrated by Lukaku because I feel he has the ability to do more. Whilst it would be great to have a striker running around at 100 mph and no doubt into the ground, creating chances for himself and space for others to score, and generally causing havoc, that is not Lukaku, probably never will be, and I will accept him for what he is - a goal scorer. Of course, with Koeman as Manager and a good coaching team behind him, who knows, we may get even more out of Lukaku this year. The time to assess Lukaku will probably be at the end of the season. If he's not performing, he won't be in the team. Koeman doesn't seem the type to suffer fools gladly…
If he can get his head on to the end of some terrific crosses, whether being challenged or not (like last night) and be provided with the type of ball he thrives on for his third which produced a good finish, none of us should really complain, including me…
Lukaku also says "But we won today, the defence did well, you mustn't forget that; they did brilliantly and as a striker you know that if you have a good defence, you're if you score a goal you can win.
Baines in his Sky interview after the match indicated the players were getting fit or fitter.
It seems as if things are generally improving within the club, especially the defence. Early days, many more challenging games for our defence to face. I am sure our defence would have perfomed just as soundly with John Stones there because we have a proper coaching team in place.
I will leave you with the words of Taylor Swift – I can hear Lukaku singing this: :)
'Cause the players gonna play, play, play, play, play
And the haters gonna hate, hate, hate, hate, hate
Baby, I'm just gonna shake, shake, shake, shake, shake
I shake it off, I shake it off'
Eric Holland
32
Posted 13/09/2016 at 11:47:37
Martin (#29),
Spot on, mate, if he scored 3 every week the haters would still moan that it should have been 5. 2 on target in the very poor first half 9 attempts 6 on target 3 goals yes he was just average last night!!
Maybe we should swap him for Defoe!!!! Not.
Ian Jones
33
Posted 13/09/2016 at 11:51:55
Eric.
Just to be greedy. I'd have Defoe as well!
Not sure where I would put him. Perhaps we could loan him out to some Dutch team...
:)

Stan Schofield
34
Posted 13/09/2016 at 12:12:23
Phil @10: Sorry mate, yes, I stated the obvious there. What I meant was, if Defoe had played instead of Lukaku, the course of the game would have been different, and those three situations where Lukaku scored would not have occurred as they did (I'm not sure that's obvious to everyone).
If you then say, OK, but just let's consider what Defoe would have done if he had been there in those three situations instead of Lukaku, then, yes, he probably probably have scored. But that situation would be purely hypothetical, so I can't really see the point in considering it.
David Nicholls
35
Posted 13/09/2016 at 12:12:44
He's probably the best striker we've had in over 20 years. I think the reason he divides opinion is more due to the way he treats our club as a stepping stone.
I can't help but feel he mentally switched off after the match-winning display against Chelsea in the cup. As if his agent said "Job Done!" You'll get your move"!
Now the window's shut he seems to be focused again. Great for us. I hope he maintains this focus for the rest of the season and he might not need to move to get Champions League footie.
Brent Stephens
36
Posted 13/09/2016 at 12:25:29
A long drive back but worth it. Ecstatic when he scored a first, then a second (both from fine crosses with Rom in perfect position, unmarked), then a third (from a fine through ball, with a clinical finish). Ecstatic for us and for him.
Not a good first half from him. And could have had a couple of more goals. But as Eric says, 2 on target in the very poor first half; 9 attempts 6 on target 3 goals. Can't be dissatisfied with that.
Tony J Williams
37
Posted 13/09/2016 at 12:34:45
I'm glad he says he should have scored more. He could and should have but I'll never complain when your forward gets a hattrick.
In comparison, I always think about Robbie Fowler for the redshite. Would do naff all for 80+ minutes then bag a goal or two.
I don't care if he looks cack for 80+ minutes as long as he does what he is paid to do. Score goals.
Koeman has realised how to play to his strengths, it's a pity the dope before couldn't.
Dave Abrahams
38
Posted 13/09/2016 at 12:51:03
Martin (#29) – so Lukaku had a good first half last night, are you sure Martin? And you say my point of view is not the truth, well I never!!!? I suppose you are right Martin, in your own head.
Jay Harris
39
Posted 13/09/2016 at 12:52:14
I am not one of Lukaku's biggest fans for many reasons but I have to give him his due last night.
His off-the-ball movement has improved considerably for which he credits Thierry Henry for coaching him in how to lose defenders.
He has a big mouth, poor touch and should have scored a couple more but, if he keeps banging them in, he is the essential cog in the wheel.
I do think we are over-reliant on him, however, as nobody else last night came close to scoring.
Ian Jones
40
Posted 13/09/2016 at 13:18:29
Jay
Good point about Thierry Henry. Forgot about how influential he could be in Romelu Lukaku's development. We may end up thanking Roberto Martinez after all!
We may be over-reliant on Lukaku but on the other hand, if he hadn't played, then we probably would have been set up another way and who knows how we would have played...

Paul Mackie
41
Posted 13/09/2016 at 13:19:00
David (35) - You're right about the stepping stone thing, but I think if we're honest everyone knew at the time that it was going to be the case. The problem is that once we had that first 'phenomenal' season under Martinez (record points total) our expectations grew and attitudes changed. Why shouldn't we keep hold of him. Top 4 next year for certain! Obviously that's not how it panned out and I don't blame Lukaku for trying to get himself a move from a team that finished in the bottom half two seasons running.
If Koeman can turn us into top 4 (or even title) contenders then players of Lukaku's quality will stick around. You can see from the post match interview that he's not someone who accepts mediocrity, but thankfully, neither is Koeman. He knows he has weaknesses to his game and clearly wants to address them, hopefully Everton will reap the benefits for a while yet.
Sean Patton
42
Posted 13/09/2016 at 13:27:10
"I will leave you with the words of Taylor Swift", haha perhaps the most bizarre phrase ever written on here and that includes Eugene and his inspired imagination so kudos to you Ian.
My money is on Lukaku being more into Drake.
Dominic Tonge
43
Posted 13/09/2016 at 13:36:39
I feel that was a very positive performance last night. Having watched a very disjointed first half performance from our front four, The new blueprint for how we go about our business came to the fore.
Firstly it would appear both from performances in the second half, and from comments by RK and his players post match – The boss wasn't happy (understandably) and told the players. He credited them with a bit of intelligence and delivered what is known by some as a shit sandwich, ie, you are intelligent enough to know (sugary bready goodness – that first half performance was turgid and not what's required (shit filling). However, I know we have the talent and personnel to put it right if you give it a good go and do what I know you can! (Sugary bready goodness).
Secondly, Koeman made a big call in subbing Ross, although he was wasteful I feel it was moving Bolasie to the left that gave us move balance, but that's just me – realistically it could have been Mirallas off too as he seemed to float in and out of the game. He made the sub early (not for the first time) and again, it worked!
The players responded – a good sign all round. They seem to have found a boss with tactics they are onboard with and who they respect. I also felt that they know if they are sub par, they will be hauled off, and not just as a cursory acknowledgement after 60 minutes, but post haste.
Big Rom scored three... and could have bagged four or five and also got his round of applause to show it was appreciated .
Idrissa 'Gana' Gueye was outstanding again. He is a steal, and was Man of the Match for me. (Although, to be fair, if a striker goes home with the match ball he normally picks up MotM too.)
The boss came out post game and talked openly about the first half not being good enough. He was right. No pedestrian football passed off as a phenomenal moment , stark Honesty , refreshing. Clearly the players feel the same. Baines and Rom both acknowledged it too.
Stekelenburg had another good game, and Williams was again a leader, talking the defence through the game. We needed that so badly last season too.
The day was capped with the news that we donated 𧶀k to a really good cause, a classy manoeuvre from us and one more reason to love my club.
As a side note, it was an amazingly candid post-match interview from a very talented but clearly upset Duncan Watmore: I really felt for the lad, he is a real talent and clearly is very motivated. I hope he fulfils his potential as I think Sunderland will have a great player there.
I would like to finish by saying my very loud questioning of Bolasie seems to this far be misplaced. I said at the time I hope he succeeds at Everton but that I doubted he would. It appears (and who saw this coming??) that Koeman and Steve Walsh might know a bit more about togger than I do. So I am off to find some custard to go with my surprisingly sweet tasting humble pie. Keep playing like last night, Yannick, lad, and I will handwrite you my appology!
Ian Jones
44
Posted 13/09/2016 at 13:53:08
Sean, thanks, just to be included in the same post as Eugene is a dream fulfilled. But to be (perhaps) considered posting above his level – well, I am speechless
:)
I can just see 30,000 and more Everton fans singing those lyrics...
As for Drake, showing my age and initially thought who, then You tubed and found him. Recognise him and his music – that would be more Lukaku's style!
John Raftery
45
Posted 13/09/2016 at 14:42:47
Graham (#30) Thanks for the link. There is a minor error in the full list of hat tricks. Graeme Sharp's hat trick in the 5-2 win versus Newcastle in December 1986 was not in the league. It was in the Full Members Cup.
Dave (#2) You say Lukaku was poor for 70 minutes. His goals came in a spell between 60 and 71 minutes during which time he also hit the bar. The goalkeeper also made a very good save from his header in the first half, the only clear chance we created before half-time.

Ernie Baywood
46
Posted 13/09/2016 at 15:14:08
I agree, Lukaku needs chances created for him. At his worst, he offers nothing else.
They were put on a plate for him last night, but he's there to score and miss them. He scores plenty of goals. At some point you've just got to accept that he succeeds where plenty fail.
Anthony Dwyer
47
Posted 13/09/2016 at 15:16:50
What was great for me about Lukaku's performance was not only did he score 3 goals, but he had 9 attempts, can anyone remember the last time Rom had 9 chances in one game?
With Koeman, we move the ball forward with purpose, we seem to be playing to Rom's strengths, and that can only be good for Everton.
Gana, Barry, Mirallas, Bolasie, Coleman, Baines, and both Ross and Deulofeu when on were always trying to play into Rom instead of looking for the sideways pass, it's refreshing to see.
9 shots, 6 on target, and 3 goals, plus one of Rom's off-target efforts smashed the bar.
Feed Rom and he will score.
Anto Byrne
48
Posted 13/09/2016 at 15:22:47
Sunderland are crap and I don't rate their manager as highly as Koeman. We do however have several fixtures coming up to improve in a number of areas. Big test at Man City and progress in the cup.
God knows what is going on with Barkley – he needs to take whatever Geri is on. Not once did Deulofeu look to pass sideways and ran hard to get back and cover. Ross has the same ability so has no excuse so maybe it's just confidence and form.
Rom gets a hat-trick and it could have been five. Overall I thought he played well and I suggest that the flood gates may open and 30 goals is definitely on.

Paul Mackie
49
Posted 13/09/2016 at 15:34:00
A commentator last night mentioned that Lukaku was a 'streak' player – as in he tends to go on long runs of scoring goals in every game then a bit of a barren patch for a few games. Hopefully that brace he scored for Belgium has well and truly opened the floodgates.

Steavey Buckley
50
Posted 13/09/2016 at 16:19:58
Evertonians used to say about Yakubu, feed the Yak, and he will score goals. When Lukaku is given the ball first time when he has made space for himself, he is one the most dangerous strikers in the world, who proved it last night.
This is all down to Koeman, who is making Everton players more direct in their play. So instead of the ball usually going sideways under Martinez, the ball is getting played forward as soon as possible with players at pace.
Si Cooper
51
Posted 13/09/2016 at 16:55:40
Paul (#49) – if we can find someone who can provide some goals when those barren spells crop up, then we may well end up be truly competitive this season.
Martin Mason
52
Posted 13/09/2016 at 16:57:30
Dave @38. I just watched the game again and at 1,12 and 18 minutes Rom created great chances and could have scored. He was almost as good in the first half as the second, the difference was that the whole team were better in the second. I apologise for seeming rude btw.
Dan Nulty
53
Posted 13/09/2016 at 17:16:22
Lukaku reminds me a bit of Andy Cole in that he does need a lot of chances creating. But like Cole he has a natural instinct for where the ball will fall and how to find spaces. That is why they both get a lot of chances, they aren't just created by others, they take part in the creation as well by their movement and instinct.
What was pleasing though is for me in the second half you could see the work Dunc has been doing with him, holding it up and holding the defender off in the box.
I think last night could kick start a monster season for him, and therefore for us. Here's to hoping anyway.
Dave Abrahams
54
Posted 13/09/2016 at 17:16:40
Martin (#52), he had a good header brilliantly saved by the goalkeeper in the 12th or13 th minute but didn't do an awful lot for me during the rest of the half. Nobody could argue he didn't play well in the second half.
Martin, instead of gestilating and pointing to where he wants the ball, he would have been better moving a lot more and trying to anticipate where the ball is going to go.
No need to apologise, Martin, just take it easy now and again, nobody is right all the time. I know that better than anyone.
Jim Hardin
55
Posted 13/09/2016 at 17:46:53
Geez Dave A.,
Christmas must be a real blast at your house! You could take the shine out of moonlight and the luster off of gold. Cheer up FFS!
Graham Mockford
56
Posted 13/09/2016 at 18:02:23
I have undertaken a self imposed exile on all Rom related threads due to the Groundhog Day nature of the exchanges.
It seems to me he is a player who divides opinion like no other. Some of this of course is his perceived 'attitude', his less than unequivocal desire to remain at Everton. I understand why this upsets some but he's not the first footballer to want to play at the highest level.
However having not got the move he or his agent probably expected he doesn't seem to be sulking, he's not pulled a Lescott or a Tevez. He also seems quite popular with his team mates.
He also appears to get criticism for not being the player some want him to be. The nub of this is he is 6ft-3in and nearly 16st. He is not quick off the mark and when things are going badly he looks like he is lumbering.
I have sympathy; playing for Everton in the last two months of last season when the team had effectively given up. I've always thought the 'lazy' thing is unjustified but he undoubtedly needs to be more consistent to be a world class player.
But what he has got though his strength, very quick when he gets in his stride, and most importantly he scores goals and plenty of them. He also is very good in the air and I almost got to the end of this post without mentioning he was once described on this forum as the 'worst header of a ball of any Everton centre-forward'. Told you Groundhog Day!
Eric Holland
57
Posted 13/09/2016 at 18:23:46
Dave (#52) If a player is trying to set up an attacker to score a goal, surely he must be able to pass or cross that ball to him not just kick it anywhere up front and hope that the striker can anticipate where the ball is going. If the striker is telling you where he wants the ball played to, give it to him.
When Geri is on the pitch, he puts the ball where Lukaku wants it – that is why he creates so many goals for him.
Mike Allison
59
Posted 13/09/2016 at 18:48:50
At least we've established that he could score all 3 goals in a 3-0 away win and some people would still moan about him.
Gerry Quinn
60
Posted 13/09/2016 at 19:16:54
Has no-one else noticed that Lukaku's first touch is normally shite? :)
Tony Abrahams
61
Posted 13/09/2016 at 19:30:15
Good shout, Jim @55, possibly the first time I have ever agreed with you, mate!
Tony Abrahams
62
Posted 13/09/2016 at 19:36:52
Eric, have to agree with your logic, but I've watched Gerry, point towards the six yard box plenty of times, whilst Lukaku, stands back surrounded by defenders, instead of running towards the goal.
Charles Brewer
63
Posted 13/09/2016 at 19:42:04
Last night was very much "A Tale of Two Players". Both Lukaku and Barkley had poor first halves, the latter being slightly worse because he was more involved and hence made more errors.
I think both players have what might be termed "attitude problems" but of different types.
Lukaku attracts criticism because when things aren't going well, he has tended to look pretty awful as a footballer and to have had a disrespectful attitude to the club, and perhaps more importantly to its supporters. However, when things do start to go right – which tends to involve getting just those passes which suit him – he is a very effective player, and immediately attracts a great deal of attention from the opposition, thus opening the game up still further. Effectively, the better Lukaku plays (and terrifies the opposition), the better the team is able to play.
Barkley is an entirely different matter. We say a couple of years ago when he was dumped by some forgotten England manager and insulted by him, despite possibly being the best player in an England shirt that night. Now he's been dumped again while a shockingly bad 11 has managed to lose to Iceland, and should have lost against Serbia. Poor Barkley thinks he ought to be an international, and thinks that England managers have an understanding of football and therefore if they say he's poor, he is. Martinez actually did a good job in building him up again, only for the braindead clogger now "in charge" of the worlds most under-performing team to do him down again.
I'd love to see Rom come back with a great attitude (fire the agent perhaps) and Barkley to get a really good going over from Koeman who re-establish his confidence and really gets the best out of him.
Barkley's best move would be to announce he is unavailable for England while this halfwit is in charge.
Trevor Powell
64
Posted 13/09/2016 at 19:45:20
Surely, should have said, "I should have had more goals!"
Charlie Burnett
65
Posted 13/09/2016 at 20:03:23
Bet people are double-thinking £20 mil for Kone. They doubled up on Lukaku last night and he scored 3 – should have been 6.
Les Martin
66
Posted 13/09/2016 at 20:12:23
We can see even after a short space of time how Ronald is getting the best out of his squad including playing to Lukaku's strengths. I am sure all will improve under his tenure, he will sort out Super Kev and more urgent the perplexing Barkley.
The 3 unused midfielders in Besic, Cleverley and Gibson will also be given chances to impress before they cemented in or shipped out in the future. We may end up with a squad of players that are almost unrecognisable from their showings when under Martinez.
Darren Hind
67
Posted 13/09/2016 at 20:23:29
Knew you'd be on here Mockers.
Lukaku has finally delivered; after six months of worthlessness and disrespect, he has finally got his head right.
It's a start, but I want to see more than an 11-minute blast against a non-existent defence before I start proclaiming him a reformed character.
"Haters" – those who are not mug enough to be falling over themselves with gratitude that he stayed because nobody else made him an offer on the grounds that he hasn't done a tap since February.
If he gets his head down and starts to perform well on a regular basis, we will all be happy.
"Haters" ... What a ridiculous way to describe critics.
Dave Abrahams
68
Posted 13/09/2016 at 20:37:19
Jim (55) if telling the truth makes me a misery, in your eyes, so be it. If you want to explain why you thought I was wrong about Lukaku's first-half performance, please feel free to have a go.
Dave Pritchard
69
Posted 13/09/2016 at 20:45:02
Changing the subject to Deulofeu for a minute or two, why does he insist on trying to pass the ball straight through players? Now and again he will succeed, perhaps with a deflection, but 9 times out of 10 he just hits the defender's legs.
Having said that he was more effective than Ross, but then again I contributed as much as he did sat on my sofa.
Raymond Fox
70
Posted 13/09/2016 at 21:12:13
Dave (#68), it's always a famine or a feast on here, you should know by now; if we win we're effing marvellous! But get an unlucky loss, everyone's crap, and the end of the world is nigh.
Our first 8 fixtures give us a great chance of possibly being at the top of the table as the next 4 are very winnable.
Oliver Molloy
71
Posted 13/09/2016 at 21:25:48
Graham @ 56,
Lukaku would not be in the side if he was 16 stone – he would be told to feck off and get rid quick if that was the case!
He is,I think you will find 94 kg = 14.8 approx stones.
Always better winning than drawing or losing, but we played a very poor side last night. December matches will show us all what we are really made of.
In my opinion, Barkley could (just like last night) play himself out of the side if he doesn't start doing the simple things.
Dave Abrahams
72
Posted 13/09/2016 at 21:27:26
Raymond (#70) I'm more than happy the way we have started the season. I just thought we were not that good in the first half and said so. Nothing to be upset about to my mind, but understand what you are saying.
Like you, I hope this run continues and, with Koeman totally in charge, we have a very good chance of having a good season.
Jim Hardin
73
Posted 13/09/2016 at 21:32:06
Dave,
Not to put too fine a point on it but how are you the arbiter of the truth? I was merely commenting upon the tone and tenor of your gloomy comments. It would appear there are differing opinions on the first half of the game and on individuals' performances. Follow me on this Dave, None are the "Truth," just opinions,
Really, the only opinion that matters is that of Ronald Koeman. I am betting that based upon what he saw, Rom is not getting dropped to the bench for a "poor first half" performance eh?
Dave Abrahams
74
Posted 13/09/2016 at 21:42:44
Well, Jim, Koeman wasn't very happy with the first-half performance, so according to you, I am in good company.
Did you think Lukaku had a good first half eh?
Graham Mockford
75
Posted 13/09/2016 at 22:13:05
Darren,
Must have been gritting them teeth in those 11 minutes though eh?
I know I know if he scores a hat-trick every game, you will be happy.
Graham Mockford
76
Posted 13/09/2016 at 22:18:03
Oliver #71
I guess neither of us have weighed him but you often get a choice of 'facts' on Google
Bob Hannigan
77
Posted 13/09/2016 at 22:51:28
I'm sure you could have but 'almost' only counts in horseshoes & hand grenades. Keep it up big guy!
Lead us to the Champions' League.
John Daley
78
Posted 13/09/2016 at 22:52:32
Lukaku has been lambasted in the recent past for possessing a bigger gob/looser lips than that artificial faced arl arse out of Aerosmith, for his 'legs akimbo is akin to a lot of ambition' leading on of other clubs, for his anonymous performances toward the end of last season, for a perceived lack of effort at times. All perfectly valid points with the proof being either in print or out on the pitch at the time they were raised. 
Hitting a hat-trick last night doesn't automatically negate any and all criticism that came before, but it sure as shit seems to lead to a need for a certain type of poster to sermonise and seek to shame others:
 "You made out Lukaku acted like a wanker a while back? Well, now he's scored and I bet you can't stand it. I bet you hate it more than BA  used to hate being knocked out 'by surprise' and waking up all drowsy a while later to see that white haired old wanker Hannibal Smith (displaying a similar disregard for the perils of passive smoking as he does for the crippling anxiety caused by acute aviophobia) blowing absolutely shit-loads of stogie smoke all over the shop, before stooping down and saying "Psst. Plane's about to crash and Face Man forgot to bring the fucking parachutes because there was plenty of fanny about. Soz".

Well, I reckon that's nothing to how much you must be seething at seeing Romelu notch one, two, three (count 'em!) times, because you had the temerity to say something terrible about him once, like "take him off", "he wants to keep his trap shut him", or "Get a move on Lukaku! Grandpa's got Eddie all alone in his lab again". 

You should hang your head in shame, admit you were wrong about stuff that had absolutely nothing to do with what went on last night, retreat to a dark room for a few days self-flaggelation and then crawl back out on your stomach just in time to see Rom rub salt in the wounds by scoring again . Call yourself an Evertonian? My arse".
Does anyone truly believe there are people on here who would rather Lukaku permanently fire blanks than Everton pick up three points, just to gain the upper hand in a boring back and forth that's been done to death already? As if. 
There isn't a staunch "anti-Lukaku brigade" as some have claimed. There's maybe a 'react-to-Lukaku regiment' at most.
If he keeps banging goals in, nobody will be getting on his back about performances on the pitch and any negativity will be replaced with plaudits and praise. If he refrains from reiterating his desire to do one somewhere 'better' every time an international break comes around, then he won't get labelled a gobshite and it'll be a case 'good lad' rather than 'get over yourself, lad'.
I don't see the need to rail against that, for people to take resulting criticism of a player personally, or to try and rigidly pigeon hole others on the back of it. 
Dave Abrahams, on this very thread, quite rightly (and without any malicious intent) merely pointed out that Lukaku, like others, was poor in the first-half and upped his game considerably in the second. A point the player himself had no problem admitting in his post-match interview. Even Phil Neville managed to see it on Sky and he had his eyelids glued shut with shit loads of fake tan.
Yet, Dave is now getting jumped on by people trying to retroactively buff up a sub-par first 45 minutes into a barnstorming starter foreshadowing what Lukaku was about to produce in the next 45?
 'I've re-watched that first half again and I can now see that there was absolutely class centre forward play going on, with gazelle like off the ball movement and great Dusty Bin like feats of being a right dirty bastard to handle.' ?

 Bollocks. Either you're on the wind up or you've been watching 22 blurs on fucking Betamax.
Frank Thomas
79
Posted 13/09/2016 at 23:13:30
The conversion rates for Lukaku, Kane and Vardy for last season had Kane and Vardy on about 18%+ and Lukaku was only about 14%~15%. So this season we should see more goals from Lukaku based on more chances per game and a slight drop in goals from the other two.
Barkley's problem s are due purely to Mr Positive Martinez tactics and guidance. If we look at Sterling who I have never rated until this year he had a similar problem to Ross. In every game for Man City last year, he felt he needed to make an impact that meant more dribbling, more shooting for amazing goals and passes to set up goals for others on a plate. The result? He dribbled too far, lost the ball most of the time, shot when he should have passed and played long passes that were inaccurate. He looked crap and this play put himself under more pressure.
This year he has been told by Pep keep the ball, simple passes unless the player you are passing to is unmarked or in plenty of space. Vary your play go wide, come narrow, pass or shoot keep the defenders guessing and running.
Ross needs to do the same keep possession, pass when you pull players towards yourself, vary your play. He needs to be told he does not need to score more than a few goals a season but he is more useful in setting up assists for other players. Like he did in his first season under Mr Positive.
Graham Mockford
80
Posted 13/09/2016 at 23:25:05
John #78
I don't think anyone believes that any Evertonian on this thread didnt punch the air when Rom buried the three goals last night. Even my reply to Darren about 'gritted teeth' was tongue in cheek, but you know about tongue in cheek.
My issue about the criticism is not about 'possessing a bigger gob/ looser lips'. I think that's fair enough. He like a lot of modern footballers is motivated by money and fame and loyalty is way down on the list. Such is the way of modern footballers and our memory of players who played because they loved the club is a bit of a distant memory. He quite obviously wanted a big move this summer and it didn't happen. But I can't lose to much sleep about that because I'm glad he is still an Everton player ever if it is only another year.
No my issue is the criticism he gets as a footballer. I don't think he is a world class forward but I think he is a very good one and he still can improve. His biggest weaknesses is that he is still inconsistent but having been watching Everton for well over 40 years he is in the best 5 centre forwards I've seen (Latchford, Sharp, Gray, Lineker) and all those I've mentioned where not as good at 23.
I don't think he was particularly effective in the first half last night, however he did look the most likely to score. However, in the second half he was sensational (unless of course you take the view Sunderland are shit and the goals were on a plate).
As I said, he seems to divide opinion.
Brent Stephens
81
Posted 13/09/2016 at 23:31:12
Graham, "gritting those teeth" assumes you have teeth left after gritting them so many times. How about "spitting out those dentures"?
Oliver Molloy
82
Posted 14/09/2016 at 00:12:02
Fair enough, Graham, but I will stick by my opinion that if Lukaku was 16 stone he would be told to lose at least a stone.
I would be really surprised if there were any outfield Premier League footballer that would weigh in at 16 stone – maybe even keepers.
I have a mucker who will find out for definite and report back.

Graham Mockford
83
Posted 14/09/2016 at 00:18:54
Oliver,
To be honest, 15st or 16st – it doesn't really matter, he's a big unit who is never going to be quick off 10 yards – unlike say Vardy who's probably about 10st (could be 9st could be 11st).
I'd still back Rom over 200m.
Dan Davies
84
Posted 14/09/2016 at 01:17:42
As long as he keeps smashing the net, he could be a fucking sumo for all I care.
Jim Hardin
85
Posted 14/09/2016 at 01:17:56
Dave,
The player that got pulled wasn't Rom eh? So guess RK wasn't as displeased at Rom as he was at the play from the midfield and the service to him, although Rom did make a few chances out of it.
Honestly, I am glad that you recognize the that there is a difference between truth and opinion. Keep illuminating us with your opinions but please don't condescend to call it the truth okay?
John Daley
86
Posted 14/09/2016 at 01:28:33
Graham,
I don't disagree with too much you've said there and your earlier post wasn't really of the type I was having a pop at either.
It's more the unnecessary hurling of hot gravel, from the vantage point of the moral high ground, at anyone who has ever had a go at Lukaku in the past or elects to be less fulsome in their praise, that rubs me the wrong way.
Things like:
"I find some of the posts about Rom [and some of the comments about David Moyes] quite unsavoury and dishonourable". 
A statement made a mere couple of sentences after the same person pipes up with "I wouldn't like to be part of some of the families of people who post on here".
 
It's simply not cricket to criticise a centre forward lad, but it's fair play to slap a needless slight against a strangers family life in there.
"..if he scored 3 every week the haters would still moan that it should have been 5."
Do you not think they might eventually get bored and refrain from doing so through fear of looking an absolute fanny? 
Regardless, the first one to actually pipe up with something like that ('should have scored five') was the player himself.
Romelu Lukaku: full of self hate.
"Only on TW could anybody find negativity in a superb hat-trick – absolutely beyond belief and demeaning to both the club and the player"
Except nobody actually criticised him for the act of scoring a hat-trick. Some just happened to mention his movement was poor in the first half and improved significantly in the second. 
'Demeaning to the club' to mention or criticise something that was clear as day? In that case, the clubs dead accurate 'demeanedometer' must've self destructed after the debasing Koeman gave it in the dressing room at half time. 
"He was almost as good in the first half as the second"
Second half:Â Link
First half:Â Link

Darren Hind
87
Posted 14/09/2016 at 02:34:50
I was going to reply to you Mockers but I think JD nails the absurdity of these posts far better than I can.
"I have taken a self imposed exile of all Rom related threads" ... Yeah, of course you have. Nothing to do with the fact that he has spent the past six months making complete nonsense of your undying devotion.
BTW I distinctly heard Ronald Koeman say that we were okay defensively but our forward players were not performing in the first half. Like Dave Abrahams and several players (including Lukaku himself). He wasn't just giving "an opinion", He was stating the blindingly obvious.
We have waited six months for the guy to come good, can't we just enjoy the moment?
Barry Jones
88
Posted 14/09/2016 at 02:59:48
The team put in a great second half and Rom was the beneficiary. Most importantly, I just hope that this brings Rom out of sulk mode and is a catalyst to getting him focused on his job at Everton.
I mentioned a few weeks ago that Deulofeu would be a good option in the Number 10 slot if Ross fails to produce. Deulofeu has a great eye for when to deliver those killing through balls. The next few weeks will be interesting.
I haven't had this much faith in an Everton manager since I can't remember when. The guy has the intelligence and the balls to deliver. I am brimming with optimism at the quality and direction of the players and staff. Gueye is a sensation, Bolasie is a constant threat, Stekelenburg is a rock, and I look forward to seeing positive contributions from Valencia.
Mike Green
89
Posted 14/09/2016 at 03:23:20
According to last seasons 'Rothmans' Lukaku was 6'3" and weighed in at 13 stone exactly. Most keepers lie between 13 and 14, having had a quick scan the heaviest player I can find is Huth at 6'3" and 14st 7lb, Vardy is 5'10" and 11st 12lb.
I don't know how accurate they are but they'd suggest Lukaku is nowhere near 16 stone, unless hes put 3 stone on in a year. Ooo! Ricky Lambert – 14st 8lb... Ross Turnbull, Barnsley keeper – 6'4" and 15 stone...
Most pro-footballers it would appear are between 10 and 13 stone though, any heavier and you're generally not playing outside of defence. Andy Carroll 11 stone... Costa 12st 4lb... Kompany 13st 5lb... Toure 14st 2lb...
Tony Abrahams
90
Posted 14/09/2016 at 07:50:38
Jim, you were right the first time, so I think you're the one being condescending, when you tell Dave to keep illuminating us!
Jim, why would Koeman, take his only real centre-forward off, even if he was second to the ball on numerous occasions the first half?
Only an opinion Jim, but the truth his, Koeman, would have looked fucking ridiculous to have made such a move?
Dan Egerton
91
Posted 14/09/2016 at 08:50:58
Lukaku has scored almost twice as many goals as Ibrahimovic at the same age (I think like 121 vs 65).
Neil Wood
92
Posted 14/09/2016 at 09:02:49
Problem is an average pitch is 102 metres long. ;-)
Dave Abrahams
93
Posted 14/09/2016 at 09:04:19
Jim (85) is that an order, Jim?.
Simple question, Jim, did you think Lukaku had a good first half? Yes or no? You still haven't answered that one.
Stan Schofield
94
Posted 14/09/2016 at 10:05:06
Jay @39 and Ian @40: I wouldn't necessarily go that far in interpreting Henri's reported involvement with Lukaku (and Benteke and Hazard) in Belgium's recent training sessions. A few hours with a play station and some hints on how to lose defenders, that's it.
Some 'pundits' are even extrapolating to say that Henri could make Lukaku 'lethal'. Mmm... Lukaku is already lethal, more than 60 goals in about 120 games for us, with a barren spell likely to have ended anyway, especially under Koeman, with or without his involvement with Belgium.
Daniel Lim
95
Posted 14/09/2016 at 10:24:15
#92: Problem is an average pitch is 102 metres long. ;-)
Rom will bulldoze his way into the crowd. Vardy will stand there and look.

Chris Gould
96
Posted 14/09/2016 at 10:35:46
John Daley, I am crying!!
I watched your second half YouTube link of Lukaku's hat-trick and wondered where you would have got a link highlighting a first half of... no highlights.
I should have known better!!
Martin Mason
97
Posted 14/09/2016 at 11:53:34
The question isn't necessarily did Rom play well in the first half but did the side play well in the first half? – as how Rom performs is massively affected by the whole team performance. Having watched it again, I'd say the answer is that both played fairly well. The main thing that spoiled the first half was how good we were in the second half.
Peter Roberts
98
Posted 14/09/2016 at 13:27:36
"Lukaku is back amongst the goals with an improved attitude" version 15
I look forward to seeing him work for his goals along with the excellent finishes laid on a plate for him.
I don't know how many false dawns there have been but he better not let his attitude or focus slip.
Keep your mouth shut, Rom, and play for the team – you will be okay.
David Booth
99
Posted 14/09/2016 at 14:00:48
What Mike Alison (59) said.
We won 3-0 away, he scores a hat-trick, and out come the moaners still decrying him. No wonder he wants to go somewhere else?
About the only strikers who don't have off-days are Messi and Ronaldo.
We have our most prolific goalscorer for 30 years – who, at just 23, is more than capable of surpassing Sharp, Latchford and Royle – so give the guy a break.
True, in the latter half of last season he was abject. But wait a minute, they all were.
Give him the service and put the ball where he wants it and he's a goal machine.
Of course he misses a few. Of course he loses the ball occasionally. Of course he's sometimes not where he ought to be. But bloody hell, he knows where the net is.
How many times has he, alone, won a game for us with his power, skill and determination...
Indeed, if he scores 29 goals in all competitions this season, he will surpass Latchford's total in his four-season run as top scorer (1974-75 to 1977-78), which was the best of the modern age.
Latchford was a lazy sod too. I know, I watched him play. But he was paid to score – and he earned his money!
We have a quite unique talent on our hands with Lukaku: a player who most clubs covet, who all clubs fear playing against and whose goals are essential to putting our club back on track in the league and beyond.
We consistently mock Kopites for their behaviour, but take a look at yourselves some of you. Talk about Bitter Blues...
Brian Furey
100
Posted 14/09/2016 at 14:42:13
Well said, David Booth ,and some people won't realise that until after he leaves. People are quick to criticise Bill but you gotta say, he & brown shoes did very well getting us a real proper striker for the first time since Lineker, in my eyes.
Stan Schofield
101
Posted 14/09/2016 at 14:46:17
David @99: Well said, but the retractors will keep coming back, reiterating a mantra that has become really tedious. I always knew that some Evertonians could be narks, right from when I was a kid and witnessed barracking of players, sometimes our great ones, when they made honest mistakes.
To me, Rom is the best, most feared, striker in the Prem. The likes of Vardy and Kane are nowhere near as good. Could you imagine them scoring 25 goals during a season of management meltdown? Don't think so.
I know it's a fundamental human right to be a nark, but surely there are limits.
Martin Mason
102
Posted 14/09/2016 at 15:06:02
You don't watch any games then Peter?
Phil Walling
103
Posted 14/09/2016 at 15:12:39
Stan, you are dead right – we all have the right to an opinion and to voice it. That's what ToffeeWeb is all about.
Why you – or anyone – seeks to quieten those who don't agree with them is beyond me. Lukaku is a great striker when he nets three goals and crap when he goes 13 games without scoring. What's to disagree about?
Andrew Clare
104
Posted 14/09/2016 at 15:12:51
Yes, Latchford was the same and going further back so was Jimmy Greaves. They scored goals, full stop.
I think people moan about Lukaku because of what he has said about wanting to leave the club. My son was at the game on Monday night and he said Lukaku spent the first 60 or so minutes waving his arms around complaining about the lack of service he was receiving. Then he gets a hat-trick.
I must admit he has had me moaning about him on here but, when you look at his goalscoring record, it is unquestionably amazing. I'm sure we all just want to talk about the football after all this Stones, Lukaku, transfer window and Jim White stuff. I know I do. COYBs!
Stan Schofield
105
Posted 14/09/2016 at 15:19:04
Phil @103: I'm not trying to quiten you mate, but I do live in hope. It's just all very tedious, especially after a hat-truck.
Peter Laing
106
Posted 14/09/2016 at 15:20:29
David (#99) and Stan (#101), there will always be detractors and by simple definition; ToffeeWeb provides people with the opportunity to voice their opinions – often from the ridiculous to the sublime. In any one day over the summer we had moans and gripes about Stekelenburg – sub standard and couldn't get into the Fulham team; Gueye – relegated with Villa; Williams – over the hill; Bolasie – over-priced, not enough end product / goals and a bit of a show pony etc. Barry is like Marmite to some, Lukaku equally coming in for fire and brimstone due to his poor end-of-season form, angling for a transfer.
My perception is that Evertonians per se are no worse than any other supporters of other Clubs. Local boys can be whipping boys, opinions will always be divided and ToffeeWeb for me provides the platform for such diversity for views to be aired and debated.
Lev Vellene
107
Posted 14/09/2016 at 15:24:38
Lukaku did work hard, like getting off a (weak, okay) shot in the first half while down with a man almost hanging onto him. For me, it looks like he's played too many games without enough service to exert himself to be ready for crosses.
Like in the first half (I think it was), Bolasie was clearly annoyed when he put a wonderful cross from the right, and no-one was at the far post to meet it. The next one, Rom was where he should have been in the first half, and 2-0! Confidence works both ways, for your own abilities and for your team-mates' abilities.
Tom Bowers
108
Posted 14/09/2016 at 15:29:39
He is looking fitter now and seems to have gotten over the mood he was in concerning a transfer but also the work of Bolasie is diverting some of the attention away from him. We all hope that continues.
Also I see that Sunderland's Kone has now signed a 5-year contract. I hope he enjoys life in the Championship next season.
Stan Schofield
109
Posted 14/09/2016 at 15:30:59
Peter @106: Yes, we know TW is all about discussion, no problem with that, or indeed folks pointing out any concerns they have about Lukaku or any other player. But using the same principle of freedom of expression, I have to tell you that the sheer repetitive nature of the whole criticism of Lukaku has just become utterly tedious, because the same points are reiterated over and over again. It's like someone insisting on telling you the same joke over and over again. It might be funny the first time.
Dave Pritchard
110
Posted 14/09/2016 at 15:49:51
Sorry folks but I've just moved Rom into my fantasy footy team and made him captain for next weekend. Expect him to not score and likely to be sent off as well now.
Mike Green
111
Posted 14/09/2016 at 15:59:15
Dave #110 - do it - I fully expect him to bang 10 in over the next half a dozen games now, his goal sprees are like London buses.
Michael Kenrick
112
Posted 14/09/2016 at 16:07:16
Stan, forgive me but you are at risk here of becoming a bit of a nark yourself, for your very own narking at the so-called narkers. By all means balance things up by praising players to the hilt and ignoring their barren spells, but your incessant bitching at the opinions of others is becoming utterly tedious.
And what the hell is an "honest mistake"?
Help us please by giving examples of honest and dishonest mistakes so we narks can know which ones you will allow us to critique.
Alan Bodell
113
Posted 14/09/2016 at 16:26:42
Beggars belief the TW's creaming themselves at his hat-trick, any half decent National league striker would have bagged them and probably a few more of the chances he missed, let's see the next 5 games he graces us with and then we can see just how good he is.
I really hope I'm wrong and he has a great season for US (not him) but I'm yet to be convinced he's as good as he thinks he is.
Shane Corcoran
114
Posted 14/09/2016 at 16:30:46
Dave (#110), I took a chance on him before last weekend and he turned a terrible weekend into an average one.
Dave Lynch
115
Posted 14/09/2016 at 16:36:09
Alan.
I have myself been critical of Likaku in the past but that post is utterly rediculous.
It's not about how he scores but moreover, the service he receives and the positions he gets himself into.
Their keeper made a blinding save in the first half and he hit the bar with an instinctive spin and shot in the 2nd, if a striker puts away 1 in 5 chances then he is very prolific.
His 3rd goal was a great finish after some brilliant build up play, he can't and all strikers can't score screamers every week but his finishing was clinical on Monday night.
Long may he get the service and bury 1 in 5 chances.
Stan Schofield
116
Posted 14/09/2016 at 16:40:21
Michael @112: Strictly speaking, you are correct, I am being narky by raising the issue. The issue, by the way, is repetition, not the voicing of an opinion. Someone might tell me the same joke 5 times, but then I'd hope they didn't tell me it a 6th, but if they did I might get bit narky.
An honest mistake? That could be a whole discussion thread, hopefully avoiding too much repetition. In my mind, briefly, an honest mistake is what we might call a 'random error', as opposed to a 'systematic error'. A random error is the kind we all make under the best of intentions, due to 'random' influences. In contrast, a systematic error is due to a systemic underling problem, for example laziness or other bad attitude. If a player clearly had a bad attitude, then barrack away, they would deserve it, because we pay money. However, if a player is suffering a loss of form, despite their endeavours, and makes errors, then do not barrack, but cheer them on.
Josh Evans
117
Posted 14/09/2016 at 16:47:00
This at Football365
sums up the stiker we have. You cannot argue against those stats. Keep him fit and actually play to his strengths and he'll destroy defences and score for fun.
Martin Mason
118
Posted 14/09/2016 at 16:52:06
Opinions are fine but the forming of them must have some basis and they aren't sacrosanct. The management at Everton rate Lukaku highly and they know infinitely more about the game than those who believe that supporting the club and team is a matter of constant denigration.
Michael Kenrick
119
Posted 14/09/2016 at 17:12:43
Stan,
You say we're allowed to cite "laziness or other bad attitude. If a player clearly had a bad attitude, then barrack away, they would deserve it, because we pay money. " Very generous of you.
I feel really stupid typing this because I hope the answer is obvious... but did you not watch the Big Man through the second half of last season???
Given the revised Hobson's Choice you now present – systematic or random error – (having moved neatly away from the nonsense of 'honest' and 'dishonest' mistakes), surely the challenge for us simple observers becomes distinguishing between the two... which given your fuzzy parameters, comes down to an opinion that must, by your terms, be rendered as fact. Something Martin (another incessant moaner) keeps harping on about.
Both of you: please stop trying to control what other people post; instead, accept that people are presenting their opinions, just like you are.
And if your concern is not the voicing of bad opinion but the repetition of it, then please look at your own posting record, where incessant bitching at others, rather than offering the supportive assessments you advocate, seems to be the dominant theme.
Stan Schofield
120
Posted 14/09/2016 at 17:20:19
Michael @119: I'm sure I'm wrong, but I thought I detected a spot of narkiness there. The matter of 'random' versus 'systematic' errors is one that has filled whole philosophical tomes, so as I say could form an entire discussion thread, or indeed several, without any signifiacnt risk of over-repetition.
Joe Clitherow
121
Posted 14/09/2016 at 17:23:53
Infinitely Martin? Only technically if those people actually know zero, but you may have a point.
Would that comment have applied to the last regime then? Dennis Lawrence for instance?
Jim Hardin
122
Posted 14/09/2016 at 17:33:16
Wonder who PSG would rather have had up front last night? Cavani or Lukaku? For those criticizing Rom for not scoring more goals or finishing chances, look at Cavani, not just last night but over his career he has a poor finishing rate.
As for the tag team of the Abrahams boys, Tony did you actually tag in before entering the ring? Rules is rules boys. Answer to Dave's question is I did not think Rom had a bad first half. As for the Rom is the only striker comment to try to rebut my point about his not being pulled by RK, it is plain BS. First, Kone is there is he not? Second, seems RK already played a few others in the position before Rom got back and healthy. Please stop making up conclusions which ignore the actual "truth" boys.
Brian Harrison
123
Posted 14/09/2016 at 17:35:47
I cant think of a player who divides opinion so much amongst supporters. I don't think he helps himself with some of his comments especially when on International duty.
But Koeman rates him and for me that's all that matters, Lukaku to be fair is as good a finisher as there is in the Premier League. Now some other strikers might work harder or have a better touch, but his goalscoring record for a 23-year-old is better than Rooney or Ronaldo or Suarez at that age.
I read a piece by Stan Collymore someone who knows about playing up front. He said that he was delighted Lukaku had stayed with Everton, and he wanted to see him bully defenders more this season. He says in his opinion Lukaku is the best striker in the Premier League.
Martin Mason
124
Posted 14/09/2016 at 17:35:53
Mike
The problem isn't the incessant whingeing about Lukaku, or even an opinion of Lukaku, it is the baseless opinion; nothing to do with fact or valid opinion. Lukaku had a terrible second half of the season last year as did Everton and virtually all of the players who turned out. The team got it's collective criticism, why single out Rom?
When I see real football people like Koeman extolling the virtues of Lukaku and doing everything that he could to keep him at the club, and this is mirrored by any other experts I've seen commenting on him, I feel my opinion of him has some validity. When I see a TW poster saying Lukaku's useless, lazy, has no first touch and no movement, then I see somebody who has a baseless opinion, to make that comment let alone to keep repeating it as fact.
Surely it is valid to raise that opinion? Do you not feel that as supporters we should look for the good rather than look for the bad as some do with Rom?
I see 6 points directly attributable to Rom so far this year, the change he made to the whole team at WBA and the total destruction job he did on Sunderland. By any measure he is a very good striker at an age where he's not even at his best. Defending him should be mandatory not a breach of etiquette.
Eric Holland
125
Posted 14/09/2016 at 17:38:31
And now some stats for the haters and the lovers, make of them what you want.
Most shots on target, least minutes per goal and top 2 or three in all the rest. And he isn't even fully fit yet.
http://www.bbc.co.uk/sport/football/premier-league/top-scorers
Peter McHugh
126
Posted 14/09/2016 at 17:44:54
Eric I liked the link although it's like saying Everton are the third best team. We've only had 4 games! Can you share a link for last 3 full seasons he's played for us either individually or collectively? That will give a better statistical assessment. Cheers
Martin Mason
127
Posted 14/09/2016 at 17:46:02
Sorry Joe @121 poor choice of adjective and me an engineer.
I can't comment on Dennis Lawrence, Joe, because I don't anything about how he worked and fitted in at the club and I'd always make allowances for his boss anyway. As an ex-player I would accept his opinion of players. Did he have a bad reputation?
I believe that Villa fans didn't rate Gana?
Peter, a lot of the criticism is current so current performance is valid, he's in a new set up now?
Stan Schofield
128
Posted 14/09/2016 at 17:46:28
I feel blessed to be an Evertonian at my age. I've had the pleasure (which I eventually realised was a privilege) of pretending to be Alex Young when I played footie with my mates at age about 8, and then a few years later, pretending to be Alan Ball or Colin Harvey. I was too old to pretend to be Bob Latchford or Graham Sharp.
Now, I'm just imagining kids in the park. Who are they pretending to be? I bet Gana is there at the moment, but I also bet Lukaku is there a lot of the time as well. He's that type of player, makes Evertonian kids want to be like him. I reckon that's not a bad way to gauge the influence of a player on a team, hearing kids shout his name when they're playing footie.
Tom Bowers
129
Posted 14/09/2016 at 17:58:42
There is quite naturally a new breath of fresh air for us Evertonians at the moment, for not only has the team started the season well they are above the Red Shite.
Without being too over confident, as it is early days in the Koeman career, there are some very winnable games coming up which could cement the position in the league. The Sunderland game could easily have gone belly-up if Defoe had converted that early chance but after that they rarely had a sniff and a thoroughly professional second half won the day.
I am really impressed with the new boys and there is without doubt a new swagger about this squad that the new gaffer has contributed to.
Tony Hill
130
Posted 14/09/2016 at 17:59:44
It's the Bolasie link-up that I'm looking forward to. They seem to have a liking for each other and the run and cross for the second goal the other night were things of beauty. Lukaku only needs to connect right with a couple of those in any game.
Rom is a proven goalscorer with loud and irritating advisers and with a tendency to speak a bit too much himself. He can also be infuriating with his body language and his spells of incompetence. But I think he's formidable and that Koeman is going to get him firing consistently.
Martin Mason
131
Posted 14/09/2016 at 18:03:36
Tony, I see now why they paid so much for Bolasie. For a player like Rom to function to his potential he has to have somebody who can find him. I love Bolasie as a player and he seems to enjoy being with us.
Brian Williams
132
Posted 14/09/2016 at 18:05:14
Michael (#119).
Some very good points, Michael. The problem with a few on here is that they believe theirs is the only valid opinion and if anyone disagrees with that "opinion" then they are wrong.
They seem more intent on showing everybody how clever they are rather than exchanging views and opinions with other Evertonians, and respecting those views and opinions.
Stan Schofield
133
Posted 14/09/2016 at 18:28:08
Brian @132: I'm reminded of a famous Peter Cook & Dudley Moore sketch, paraphrased to "Don't call me a nark, you nark".
Alan Bodell
134
Posted 14/09/2016 at 18:47:27
One thing is for sure, he will not be allowed to be lazy under Koeman
so we will defo see another side this season.
Andy Crooks
135
Posted 14/09/2016 at 18:51:18
I think Lukaku is a fine player; I think John Stones is a fantastic player. Some Evertonians disagree with one or the other. Both have had shit games and, for a bit I thought neither were fine or fantastic. It seems to me that we do that as supporters.
Having said that, I know what it is like to see no wrong in a player and to resent any criticism of him. It's mad, though.

Martin Mason
136
Posted 14/09/2016 at 18:51:52
The concept that a modern professional footballer can be lazy is ridiculous.
Eric Holland
137
Posted 14/09/2016 at 19:14:24
Peter (#126), he was shit when he was young as well (from Wikipedia):
Lukaku joined his local team Rupel Boom at the age of five. After four seasons at Rupel Boom, Lukaku was discovered by scouts of Lierse SK, a Belgian Pro League team with an established youth academy. He played for Lierse from 2004 until 2006, scoring 121 goals in 68 games.

After Lierse were relegated from the Belgian Pro League, Anderlecht bought no fewer than 13 youth players from Lierse in the 2006 mid-season, one of whom was Lukaku. He played three more years as a youth player with Anderlecht, scoring 131 goals in 93 games.

Anderlecht

When Lukaku turned 16 on 13 May 2009, he signed a professional contract with Anderlecht lasting until 2012 and 11 days later, he made his Belgian First Division debut on 24 May 2009 in the championship playoff match against Standard Liège as a 69th-minute substitute for defender Víctor Bernàrdez. Anderlecht lost the match 1–0.

Lukaku became a regular member of Anderlecht's first team during the 2009-10 season, scoring his first goal at senior level against Zulte Waregem in the 89th minute after coming on as substitute for Kanu on 28 August 2009.

"After scoring, I dived into a sea of happiness," he told Berend Scholten from UEFA.com. "You think you are flying and can take on the whole world."

He ended the season as the top goalscorer in the Pro League with 15 goals as Anderlecht won its 30th Belgian title. He also scored four goals during the club's run to the quarter-finals of the Europa League.

During the 2010-11 season, Lukaku scored 20 goals in all competitions but Anderlecht failed to retain their league title despite finishing top of the table during the regular season
I am sure you will find some negative spin as usual.
Joe Clitherow
138
Posted 14/09/2016 at 19:24:24
Martin (#127),
Well I've never been coached by him mind but his job was specialist defensive coach under Martinez so you could make your mind up based on substantial indirect evidence.
Darren Hind
139
Posted 14/09/2016 at 19:27:44
Meanwhile, the OTHER Lukaku has stunk the house out for the past six months scoring a grand total of, err... let me tot this up:
Fuck all.
I don't give a flying fuck what Lukaku did when he was eight. I want him to start paying back the massive debt he owes to good Evertonians who deserve better
Raymond Fox
140
Posted 14/09/2016 at 19:45:59
One thing that you can put money on, is the fact that Rom will be marked even closer in the next few games after scoring his hat-trick!
Martin Mason
141
Posted 14/09/2016 at 20:00:48
Joe, the key thing is under Martinez. Don't judge him on that.
Mike Berry
142
Posted 14/09/2016 at 20:14:18
I cannot help feeling he will be back to concrete block mode on Saturday...
Graham Mockford
143
Posted 14/09/2016 at 20:29:47
Darren
Six months is stretching it a bit seeing as three months were close season where it's a bit hard to score. Fair enough though he's had a drought but based on three years evidence it's a fair bet he will score 20+ goals this season.
Out of interest, what is the debt he owes to 'good Evertonians'? Are all Evertonians 'good'? Do any other players owe a debt? I mean he wasn't alone in stinking the place up in the last two months of the season.
Peter Roberts
144
Posted 14/09/2016 at 20:34:44
Ahhh... he scored 3 goals – it's OK; erase the last 13 matches and the FA Cup Semi-final from your mind. All is well.
Barry McNally
145
Posted 14/09/2016 at 20:39:49
46 goals in 107 league appearances, not many from pens – what more do you want for 㿈m??? I know he's an arse but you can't argue with his record.
Eric Holland
146
Posted 14/09/2016 at 20:40:37
Yes, I think we can safely erase the last six months. Unless you can tell me which of our players performed well in the last six months???
Anybody????
Raymond Fox
147
Posted 14/09/2016 at 20:41:16
Stop press: Everton are now 66/1 to win Premier League. That's 7th in the betting now from 9th at the start of season.
Full betting is:-
10/11 Man City
5/1 Chelsea
5/1 Man Utd
11/1 Liverpool
14/1 Arsenal
16/1 Spurs
Leicester are 80/1 and West Ham are now 325/1.
Brian Harrison
148
Posted 14/09/2016 at 20:43:01
Seems like most posters fall into 1 of 3 categories, either pessimist, optimist or realist. Having been going to Goodison for over 60 years, I have probably been all 3 of the above at one time or another. I think that most fans at all clubs fall into the same categories at some time while supporting their clubs.
I just hope that at any one time we have more optimists than pessimists, although I guess it might be the other way round if your team is in the relegation zone.
Eric Holland
149
Posted 14/09/2016 at 20:45:34
It's funny how the only games you are interested in are the last 13 the other 15 years of his life are irrelevant just because it doesn't work for you.
I bet you haters where fucking cursing him every time he scored a goal the other night.
Patrick Murphy
150
Posted 14/09/2016 at 20:58:38
Eric (149) Why do people who question a particular players abilities or form have to turn into "Haters"? And why would any right-minded Evertonian be cursing an Everton player when he does what we all want anybody to do, ie, put the ball in the back of the net to help Everton win football matches?
God knows what's it's like supporting other football clubs but supporting Everton FC in the 21st century can be a minefield. You have to be very careful about what you write because, as soon as the submit button has been pressed, you might find yourself in a particular group without knowing it...
One Club, One Team, One set of supporters - many many views.
Peter McHugh
151
Posted 14/09/2016 at 20:59:47
Eric, it's funny how you reply to me but don't answer my question when your knowledge of Lukaku would allude to the fact that you can.
As for hating Lukaku, my middle son loves him and I was cursing the wife as she sent me to the emergency vets a couple of minutes before his first goal so I missed his hat-trick. Heard them on radio and was made up.
Seriously I'm wondering how those stats of Lukaku playing in 2.5 league games for us this season compare to his league performances for us since he joined us on loan. Can you help me out? No offence, I don't care how he did, I don't care how he did at Chelsea and I don't care how he did/does for Belgium – and you may find this hard to believe – but I simply care how he does for us. Cheers.
Alan Bodell
153
Posted 14/09/2016 at 21:02:06
No Eric, loving him for scoring the few that a kid would only miss but cursing him for the others that a 䀆k a week prima donna up his arse big mouth missed.
Give him 5 more games to see where he takes this.
Eric Holland
154
Posted 14/09/2016 at 21:04:24
Peter, as Barry said (#145), 46 goals in 107 league appearances, not many from pens – what more do you want for 㿈m??? I know he's an arse but you can't argue with his record.
Peter McHugh
158
Posted 14/09/2016 at 21:13:50
Thanks, Eric, didn't see his post and didn't realise that's he scored 46 league goals in 107 appearances for us. I am amazed at that stat and that is very good.
I thought first 6 months last season he was excellent tried hard and was in great form, the season before he seemed I struggle with fitness concerns. I like him as a player but didn't realise his league record was that good – I've obviously underestimated just how good he's been. Cheers
Martin Mason
165
Posted 14/09/2016 at 21:33:48
Lukaku owes nothing to Evertonians. Ridiculous concept.
Alan Bodell
166
Posted 14/09/2016 at 21:41:04
Eric, I want him to blast every defence we go against and with his physique and the supply he should do so.
That's where we differ on opinion (oh and also his lofted opinion of his ability that drew zero bids when he was pimped).
So let's give it 5 games and see eh? Koeman will sort this lazy boy out.
Patrick Murphy
167
Posted 14/09/2016 at 21:42:23
Every player owes something to the fans, Martin. They are paid by the club, we buy the tickets and merchandise, the players receive huge rewards to perform out on the park – that's how it all works, mate.
Paul Mackie
168
Posted 14/09/2016 at 21:48:02
What I've learnt from this thread is that some people are unable to look at Lukaku objectively due to the comments he's made about wanting to play in bigger tournaments and *gasp* a club that's going to win things.
Phil Walling
170
Posted 14/09/2016 at 21:55:30
The problem of writing off players and management is that you miss feeling good when they prove you wrong.
They say depression breeds on itself so all the Lukaku haters must have been well pissed off on Monday when you had to give grudging praise and then hark on about all those months since he scored.
Nothing about football is set in stone. Just think back to Martinez. 'First you said you loved him, then you said you loathed him.' Because the whole bloody 'feeling' thing is based on scoring/winning and misfiring/losing – simple as.
Andy Crooks
171
Posted 14/09/2016 at 21:56:26
Martin (#165), you come out with some really pertinent posts and then add this one....? If you cannot see that Lukaku owes Evertonians something then I would suggest that you have no concept of the relationship between players and supporters and have never heard Alan Ball talk about football.
Paul Tran
172
Posted 14/09/2016 at 22:02:35
He scores goals. The hardest and most sought after thing in football. He'll score more goals in a team with strength and pace. He's less likely to get away with slouching and sulking under Koeman.
I'm glad he's still here. That's it.
Eric Holland
173
Posted 14/09/2016 at 22:02:52
Patrick (#167), I think the monetary aspect is irrelevant as the whole Premier League has gone into cash-cow mode.
I think that the players owe the fans a right to give 100% every game. If they do that and still get beat by a better team, then I think you can accept that.
Patrick Murphy
174
Posted 14/09/2016 at 22:18:28
That's what I meant, Eric. Of course there would be no huge pay packets without the supporters, whether they are match going ones like myself or those who subscribe to the various TV channels.
Richard Dodd
175
Posted 14/09/2016 at 22:18:34
I'm struggling to get my head round the point you are trying to make @ 170, Phil!
If our 'feelings' are all dependent on winning or losing, how do you explain the large number of posters who insisted in writing off Howard, Hibbert Osman et al, however they played, and whether we won or lost ?
Personally, I believe Rom is good for another 200 goals in his career and I so hope most of them he scores for us!
Dave Abrahams
176
Posted 14/09/2016 at 22:32:34
Jim (#122) just got in.
I didn't ask you if you thought Lukaku had had a bad game; I asked you whether you thought Lukaku had had a good game. Third time now, Jim, what's your answer?
For someone who comes on here with smart arse threads, you don't seem able to answer a simple question. Do your best, Jimmy boy, eh.
Dave Abrahams
177
Posted 14/09/2016 at 22:36:03
Jim, talking about the first half, don't want to confuse you.
Tony Abrahams
178
Posted 14/09/2016 at 22:42:42
Jim (#122), so if Koeman would have replaced Lukaku for Kone at half-time, most people would have thought that was a good move? And before Rom got back and healthy, Jim, I think that says it all!
The truth is that you thought Lukaku did okay first half, and that shows me that you're happy with our centre-forward consistently coming off second best.
Conclusions which ignore the actual truth, Jim? Which is what exactly?
Eric Holland
179
Posted 14/09/2016 at 22:54:43
So, if Koeman would have replaced Lukaku for Kone at half-time, most people would have thought that was a good move?
You are joking aren't you?
Tony Abrahams
180
Posted 14/09/2016 at 23:01:19
No Eric, I'm asking Jim, because when I said we haven't really got another centre-forward, he said that was BS, because we had Kone, and therefore I wasn't telling the truth!
Tony Abrahams
182
Posted 14/09/2016 at 23:11:45
No problem, Eric, it's just some of the things you have to put up with on ToffeeWeb sometimes, when people talk about ridiculous concepts. And that comment wasn't aimed at my old friend the duke! Honest to god!
Tom Bowers
183
Posted 14/09/2016 at 23:17:04
Barring injuries, this current team could do really well. The likes of Bolasie, Gueye, Barkley and Deulofeu are players who can make things happen with their individual talents which can only bode well for Rom. Whilst many teams will double cover Rom, it will leave space for the others.
I am hoping, however, that Koeman will rotate the back four so that Funes Mori gets some starting games – especially against those teams that have big guys up front or at corner kicks etc. Williams and Jags are not especially commanding in the air, although very experienced and effective tacklers.
Laurie Hartley
184
Posted 14/09/2016 at 23:33:01
The Abrahams tag team enters the ring together. This could get interesting.
Where is the Christmas party, lads – and do I have to bring anything? ;)
Brent Stephens
185
Posted 14/09/2016 at 23:39:59
Graham (#143), "Six months is stretching it a bit seeing as three months were close season where it's a bit hard to score."
Come on, Graham, you know the close season is no excuse for not scoring goals! Next thing you'll be saying he shouldn't be expected to get goals on Xmas day because he's having his Xmas pud.
Ian Riley
186
Posted 14/09/2016 at 23:41:04
I don't think it was about taking off Lukaku. The attacking play was non-existent first half. That's why Barkley was taken off. No use of the wingers or desire to create chances for Lukaku.
Pressing the Sunderland back four with our quality created the chances. The front players were switched around and probably told to work harder. Yes, Lukaku could have had six but another three on Saturday will do me fine.
Darren Hind
187
Posted 15/09/2016 at 01:49:30
Mockers,
I know time flies wen you are having fun, but it's September. Lukaku has been absolutely garbage since February... and not only has he been garbage, he has been letting his mouth run away with him. THAT is the difference between him and all the other players; whilst they know they have under-performed, he has been sending out "Come and get me" messages all over Europe – nobody came.
I know there was a close season gap; I also know Lukaku went to the Euros – he stunk them out too.
Phil Walling (#170),
A revealing post, clearly it choked you every time Everton won under Martinez, but don't make the mistake of judging others by your own twisted logic. Not everyone loved Martinez, some of us saw through him long before you and we didn't start every post with "according to my pie eating rellies".
The idea that Evertonians cursed every time Lukaku scored is about as dumb as it gets. Do those making this claim REALLY believe his critics would prefer the misery of watching him miss chance after chance squandering point after point ?
When somebody owes you something, you don't curse when they start to pay you back... you only curse them when they don't.
Jamie Crowley
188
Posted 15/09/2016 at 02:31:25
Darren, mate (if I may be so bold...) -
I completely understand your stance. Rom, when he's not banging in goals, is just maddening! He looks as if he can't be bothered, looks lazy, and you just want to pull out the Remmington 700 with your scope and snipe the fucker! ;0) Tounge-in-cheek comment there and not serious it has to be said...
But...
We need to just build on the hat-trick and be positive. When motivated, he's got SO much to offer.
The kid can royally piss you off. But man he can sure as hell excite you. With support from the fans, I think he can rise to an unplayable level.
It's time to forget, and move forward. If he starts looking uninterested, half-ass again, man the turrets. But that time is not now.
Graham Mockford
189
Posted 15/09/2016 at 07:37:36
Darren,
He had a bad run, the worst he had in his career, but it's fair enough in context of the whole team being abysmal in the final two months of the season. The manager was a busted flush and the team's performances reflected that.
You are being a little disingenuous with 'six months' and 'since February'. He played four games in March scoring four including his best ever performance vs Chelsea.
He was then injured during the summer where he did in fact score two goals, more than Kane, Vardy, Sturridge, Zlatan and Messi *
So what we are really talking about is two months. A poor two months, I agree, but two months none the same.
[* sarcasm alert]
Alan Bodell
190
Posted 15/09/2016 at 08:05:25
Give the lump 5 more games and then we can resume this topic as he cannot claim a lack of match fitness or confidence now.
I really hope he shoves my lack of belief in him up my arse but somehow I think he'll prove me right all along.
Sam Barrett
191
Posted 15/09/2016 at 09:07:22
I just wish he'd rediscovered his scoring boots at the West Brom game when he missed that chance at the end, I had Everton to win 3-1 for a couple of grand!!
Martin Mason
192
Posted 15/09/2016 at 09:15:52
Andy @171, sorry, I just have a less than ideal view of modern players and their relationship with fans. They have an obligation to the club to play to the best of their ability and that is also applicable to the club's customers.
No doubt some have a bond with the fans but I doubt we'll ever see the type of genuine feeling that was developed between the likes of Bally and the fans. He was Mr Everton and I doubt we'll see the likes again.

Stan Schofield
193
Posted 15/09/2016 at 09:20:08
Jamie @188: I thought a Remington 700 was a beard trimmer.
Stan Schofield
194
Posted 15/09/2016 at 09:52:25
Martin @192: I don't disagree, but Bally was a total one-off even back then. I remember him having a kick-around with lads who'd run onto the pitch, as the players were warming up before the game. Yes, to me he is Everton.
John Daley
195
Posted 15/09/2016 at 09:57:56
Martin Mason on the 'Modern Professional Footballer':
"The concept that a modern professional footballer can be lazy is ridiculous"Roberto Mancini on 'Modern Professional Footballer' Mario Balotelli:
"If some player does not work well, he does not deserve to be involved, and that applies to Mario as much as anyone else. What you do on the training pitch will benefit you in the game. Mario needs to work much harder"Gary Monk on 'Modern Professional Footballer' Jonjo Shelvey:
"Jonjo has to wise up because that yellow card came from laziness and he has to be better than that"
Jose Mourinho on not one, not two, but eleven 'Modern Professional Footballers' in Chelsea shirts:
"In the first half, the whole team was lazy, and I did not like that"
Lionel Messi's arl grandad on 'Modern Professional Footballer' Lionel Messi:
"Triumphs are the greatest things there are, but the last three games he was bad. He was lazy."

Anonymous 'Modern Professional Footballer' on Martin Mason's comments on the lack of laziness in the 'Modern Professional Footballer':
"Can't be arsed commenting on that, lad. Just spent three hours at work and want to get back home for some kip. That's if the housekeeper's made me bed, fluffed me pillow and closed the curtains. Otherwise, I'll have to call her and wait for her to come back round and finish her fucking job properly first"
Laurie Hartley
196
Posted 15/09/2016 at 10:07:27
Martin – Alan Ball fell for Everton, hook, line and sinker, so we may not see that again but I was impressed with young Deulofeu's comments about the away fans at Sunderland. It is worth listening to the whole interview but his comments on "these Toffees" come towards the end.
He's got a sense of humour too.
http://www.Evertonfc.com/Evertontv/archive/2016/09/13/the-fans-are-magic

Stan Schofield
197
Posted 15/09/2016 at 10:28:55
John @195: The Mourinho comment refers, I think, to early last season when the Chelsea team seemed to down-tools during his last month or so as manager. They seemed to get back to work again as soon as the new manager was appointed.
This whole thing seemed odd to me, because all those players are professionals, they get paid to perform, and it shouldn't be a choice to just down tools. Everton seemed to do similar under Martinez's final months. Yes, there were major management issues, but for players to just apparently down tools is just odd. They didn't turn up for the Derby at Anfield.
I don't recall this kind of thing happening in the past, which isn't to say it didn't. I can't imagine professionals in other disciplines doing that. In fact, never downing tools is, to me, a necessary mark of a professional.
I think footballers need very firm discipline, otherwise they (or some of them) seem willing to get away with murder (could have said blue murder). One of the good aspects of Koeman is his discipline.
Martin Mason
198
Posted 15/09/2016 at 11:50:25
John@195
For the pedants, modern players can't be consistently lazy and continue to be picked.
Darren Hind
199
Posted 15/09/2016 at 12:25:55
Jamie - Long time no speak.
I don't disagree with you mate. I just don't understand why people protect him as he takes the piss out of them.
A long time ago, in a former life, I took a stunning looking girl to New York for the weekend. I knew I was punching above my weight so I decided to really push the boat out.
Anyway we go out for dinner to what looked like a quiet little French place. Another party had arrived around the same time as us. Within one minute of them sitting down, one of them, an evil looking woman, holds up he fork and shouts "Are you kidding me?" – apparently her fork wasn't quite sparkling enough.
I spent the rest of the evening having my less than pure thoughts interrupted by nitpicking Yanks who were making the lives of the staff pure hell. Anything that wasn't absolutely perfect was jumped on. "Wow," I said to my date, "These yanks take no prisoners." "Yes," she said, "but have you ever tasted food as good as this?"
Anyway, I spent the rest of my weekend being Romelu Lukaku (I went close, but I failed to score) but I grew to love these Americans and their take-no-shit approach to stuff they were paying for.
Back in London, still trying desperately hard to impress, I spent the last of my dosh in a posh ale house by Putney Bridge. What a contrast. Every time they were asked if everything was good, the people eating there were all smiles and thumbs up, but as soon as the waiter was gone they were bitching about just about everything... The food, unsurprisingly, was expensive and shite.
Times have changed; we don't accept shite quite as readily here now... but you don't have to stray from this thread to see the "mustn't grumble" mentality is still alive and kicking.
Lukaku has shown on more than one occasion that he can be a mighty force when he applies himself. He is a beast of a man, so please explain to me why some people not only accept his long periods of couldn't-give-a-fuck – they go to great lengths to excuse it?
I learned more from the cockneys than I did from the New Yorkers that weekend, Jaimie. I learned a life lesson: if you accept shite, they will serve it to you by the bucket load.
Take Mockers for example... I bet he still hasn't taken that dodgy calendar back and demanded a refund.
Alan Bodell
200
Posted 15/09/2016 at 12:31:22
Martin, not sure what a pedant is but Lukaku HAS been consistently
lazy and picked by club and country but now we have a proper manager that wont tolerate his lack of effort.
Looking up what a pedant is now, doesn't sound very nice.
Tony Abrahams
201
Posted 15/09/2016 at 12:35:53
Is right Laurie, but Jim, wasn't far off the truth when he described Dave's house at Xmas, so with me being more of a summer person, I was hoping you was gonna ask me to spend it with you!
I'd love to go to Melbourne mate, but if I'm being honest the first Tuesday in November, would be for-preferable to Xmas, after all the rubbing off Dave has done on me over the years!
Graham Mockford
202
Posted 15/09/2016 at 12:36:02
Darren
I agree, don't accept shite. That's why I replied to your 'six months' post.
Tony Abrahams
203
Posted 15/09/2016 at 12:48:45
That was a cracker that, Darren, and hopefully the reason I haven't heard back from big Jim!
Paul Thompson
204
Posted 15/09/2016 at 12:53:59
Darren – people who pick fights with you tend to lose hours if not days from their lives, so I'll just offer a mild corrective about Lukaku.
In the excellent interview with Deulofeu (mentioned by Laurie, #196), he says of Rom "When he's confident" he's unstoppable or something like it. Like many strikers, Rom's a confidence player and the two-month barren spell saw him at a low ebb in a team that was also at rock bottom.
Let's see how he does in terms of effort and output in a more confident team, a more demanding manager, and with better service. I hope for our sake that the answer is positive because we haven't got much alternative on the goalscoring front.
Martin Mason
205
Posted 15/09/2016 at 12:56:18
Alan, he has in your opinion been consistently lazy.
Laziness is a character flaw which in my opinion and that of his managers and coaches Rom just doesn't have. There is playing badly in a side that is playing badly, which I believe is what happened to Rom, and there is laziness which is what many mistake it for. Rom was no different in the first half and the second half Monday as I believe he was no different last season to what he is now the only difference to me was how the team got the ball to him. No manager would tolerate laziness in a player, if there'd been even a hint of truth in it he'd have been long gone.
I believe that the problem with Rom is that when he and the side gell he is capable of such amazing things that he just can't replicate it week in week out. Unrealistic expectations fill the gaps then. Everton's management and coaches and the vast majority of our fans rate him very highly, a few Everton fans don't. It's no competition.
James Hughes
206
Posted 15/09/2016 at 13:12:32
Darren #199 - In a former life! Are you in witness protection now mate? If so what was your former name something posh like Basil Smythe the third?
How many lifes have you had, tell me ☺
Stan Schofield
207
Posted 15/09/2016 at 13:14:35
Darren @199: Yes, we shouldn't accept shite when we're paying good money. But, even if Lukaku had a bad attitude, we've now got a brand new manager on £6M/year who's very competent and a strict disciplinarian. So I would expect any attitude problems to be sorted out, if they haven't already been sorted out. Koeman doesn't need me to tell him how to discipline players. So there shouldn't be any shite stemming from bad attitudes, not now anyway.
On the competence side, I'm happy to see how Lukaku does, given his overall goal record. I recognise he's had a barren patch, but I'm expecting (partly because of Koeman's expertise as a manager) plenty of goals from him, the hat-trick the other night being a good start.
Professionalism is a combination of competence and attitude, so if both are sorted out I haven't got a problem. But if not, I simply vote with my feet. I'm not going to expend energy telling any player, via TW or elsewhere, that he's a lazy twat or whatever other criticism I might have. I'm happy to leave the discipline to the £6M/year guy who's job it is sort everything out.
Alan Bodell
208
Posted 15/09/2016 at 13:38:39
Martin, a well balanced viewpoint and I really hope your faith in him
overrides my view of what I see on the pitch and my opinion of him off it.
I'll give him 5 more games now his match fitness and confidence is not an excuse.
Jamie Crowley
209
Posted 15/09/2016 at 13:57:03
Darren,
Please don't let New Yorkers be your "life lesson"! They are some of the most obnoxious, arrogant, loud, crass people on the face of the earth. 😉
Using the fork analogy... Rom, for a period, was the proverbial "dirty fork". Now you can either bitch about the dirty fork, or you can just nonchalantly wipe the fucker down and use it, appreciating you have one hell of a nice utensil.
Just wipe Rom down and move on.
But I do hear you loud and clear – some will completely disregard he has been a filthy, arguably rolled-in-shit fork for a bit!
John Daley
210
Posted 15/09/2016 at 14:06:54
"...for the pedants, modern players can't be consistently lazy and continue to be picked
."
So, an entirely different claim to the one you made originally then?

Alan (@200): "Martin, not sure what a pedant is..."
Alan,
I wouldn't bother asking Martin, as he obviously doesn't know the meaning himself if he believes 'being pedantic' and 'proclaiming the entirety of a statement to be bollocks of elephantine proportions' are one and same. 
Worry not though. I'm happy to help out. 
Pedant?:
Nah, I'll start again:
One way of summing up a pedant would be to say they're someone overly reliant on shite they happened to read somewhere at the expense of simple common sense. 
Say, for example, ohhhh I don't know...like the sort of person who comes across the term 'null-hypothesis' in a crappy 'My First Science for Meffs' textbook and wrongly believes it to be capable of application in any and all situations, thereby granting them free reign to rapid fire ill thought out brain farts (posing as self-annointed 'facts') all over the place, whilst simultaneously saving them the bother of ever having to back up anything they might say, ever again. 
Pedant that.

.

Rob Halligan
211
Posted 15/09/2016 at 14:15:51
For what it's worth, here's my say on this matter. It's only my opinion, so tough shit if you don't agree with me.
For me, Lukaku is not a target man, never has been, never will be. For anyone who doesn't know, a target man is a 7ft giant who you lump balls up to, for him to flick on for a 5ft dwarf to run onto and hopefully score. Lukaku is not one of these, yet we seem to constantly thump 100-mph passes to him, with his back to goal and when he mis controls, everyone starts moaning at him. I agree, his control should be better.
No, Lukaku is a forward who thrives on the service very similar to what he received on Monday night. He thrives on the crosses from which he scored two headers. Okay, he should have scored a header in the first half, but give the goalkeeper credit for a great save. If that had been Stekelenburg, we would have been drooling over it.
Lukaku thrives on the service he received for his third goal, passes down the middle, or down the channel, to run onto and score, similar to the one at West Ham last season, similar to the one against Arsenal when we won 3-1, similar to the one he scored against Chelsea in the cup. There are others, but off hand can't remember them all.
People moan when he points, and then starts waving his arms about. What do you think he is pointing at? He's not pointing at the centre-half saying "Oooh, they're a nice pair of boots, where did you buy them from?"
No, Lukaku likes to push up as far as he can on the opposition last line of defence, and then he's pointing, telling the likes of Barkley, Mirallas, Deulofeu, or whoever where he wants the pass to go, so he can run onto it and hopefully go and score. When that pass doesn't come, that's when he gets frustrated and waves his arms in frustration. Lukaku may get caught offside a lot because the pass is slow in coming (eventually) and he makes his run too early.
Given the right service, Lukaku will score tons of goals, like he already has done, by the way. Keep constantly aiming Exocet missile passes to him and he won't score many. Personally, I don't care if he sits on his arse for 85 minutes, providing he can get up and score one or two in the other 5 minutes.
He's the best goalscorer we've had in God knows how many years, and people want him gone, because of what? He wants to play in the Champions League. Nothing wrong with that. I was there on Monday night, and the abuse he took in the first half was pathetic. Didn't hear those same people when he was scoring a hat-trick in the second half.
Oh yes, first and second half. I've seen posts on here asking how he played in each half? A game lasts 90 minutes, not 45. His service, bar one cross in the first half, was non-existent. The second half he received plenty of service, and therefore did what he does best... Scored Fucking Goals!!!
So, until he's gone, I will be 100% behind Rom in every game he plays for us.
Stan Schofield
212
Posted 15/09/2016 at 14:20:12
John @210: Not a bad definition of a pedant. Not necessarily a good one, but certainly not a bad one. I must admit I couldn't quite see where null hypotheses came into the various TW debates. More like bull hypotheses.
Usually, when I encounter a pedant, I end up saying, OK, you win, life's too short, I can't be arsed arguing. Or something equivalent, like fuck it.
Stan Schofield
214
Posted 15/09/2016 at 14:28:54
Rob @211: Excellent post. If he can get the right service and things overall keep progressing as they seem to be, he could be playing in the Champions League very soon, with Everton.
Terry White
215
Posted 15/09/2016 at 14:36:51
What I liked on Monday were the balls played on the ground to Lukaku in the penalty area where he was one on one with his back to a defender and could do the "Victor-roll" to turn the man.
First half, I thought he was held by the defender and did not get a decent shot. Second half, there were two great balls in from Barry and Gana, from one of which, Rom rolled his man and hit the crossbar. More of these and he will score plenty.
Frank Mullin
216
Posted 15/09/2016 at 14:49:23
Terry @215: He's certainly got the strength. He just needs to develop other elements of his game and put himself about a bit more. His aerial challenges are non existent most games. If he can look a bit more interested, press occasionally and not wait for balls to be delivered on a plate every time it would help to create more affinity with those who are critical of him on occasions i.e. moi.
John Raftery
217
Posted 15/09/2016 at 14:57:43
Rob (211) Well said Sir. The criticism of Lukaku in the first half on Monday was ludicrous. He was on the receiving end of a series of high balls which nine times out of ten are meat and drink to a defender. On the rare occasions he was able to get his head to one, there was nobody on hand to get on the end of it.
Ian Snodin said recently he wanted to see Romelu in the final third of the opponent's half finishing off attacks – not dropping deep away from the areas where he can do damage. Plainly there are many on this site who cannot see that or choose not to.
Alan Bodell
218
Posted 15/09/2016 at 15:15:17
I'm 'one of them' John, let's see if 5 more games changes mine or your views on him, I really hope I get slaughtered here for thinking he is mega overated but something tells me I am right all the time with the lazy big mouthed twat.
Darren Hind
219
Posted 15/09/2016 at 15:25:47
Rob & Jamie,
I don't disagree with either of you, but nor do I disagree with those who have murdered Lukaku for his attitude, effort and performances since February. The set-up certainly didn't suit Lukaku, but that does not let him off the hook for missing those chances or that lack of effort.
These Lukaku threads are taking exactly the same shape as all those Martinez threads where many people point-blank refused to see what was in front their eyes, choosing instead to stay in the trenches they had dug themselves and only come out after the occasional victory to say I TOLD YOU SO.
Jamie's right when he says it's time to move on, but those who have been acutely embarrassed by Lukaku making a complete mockery of their claims for so long, just can't seem to help themselves.
Coming on here asking "Where are all the 'haters' now?" might well make them think they have saved face, but it doesn't. Lukaku's performance on Monday makes them look even bigger mugs for accepting and excusing the shite he has served up for so long.
I know it will upset the "hater" haters, but I was jumping all round the place when he was scoring the other night. I will do so again next time he scores and the time after than. I want him to break records.
That said, if he returns to the sulking cant-be-arsed lump we had to suffer for the second half of last season, you're going to have to be pretty quick to get on here and criticise him before me... . Isn't that how it's supposed to be?
Rob Halligan
220
Posted 15/09/2016 at 15:38:15
Alan, if the team in the next five games decide to provide Lukaku with the service on which he thrives, then no doubt he will score a few goals. It's all down to the likes of Mirallas, Bolasie and Deulofeu to provide this service, otherwise Lukaku won't score.
I've not included Barkley as personally I think he will be dropped for a few games, in order for him to sort himself out.
Jamie Crowley
221
Posted 15/09/2016 at 15:43:20
Darren,
I think there's a lot of truth in what you say regarding the, "I told you so" brigade.
Not one to throw rocks in glass houses, I personally was ENTIRELY guilty of doing just that when I backed Roberto all the way up to the first weekend in April!
If you look past the self-confirmation bullshit – and again not to be holier than thou I was the High Priest in that regard in the not too distant past – I think you can come to the following conclusions:
Rob's spot on.
Rom CAN be a lazy shit at times and that shouldn't go unnoticed or without critique.
We have a silly talented striker if he keeps his head screwed on and gets the right service for his particular game.

Terry White
222
Posted 15/09/2016 at 15:44:06
Frank (216), as I have said before to you I am happy if he sits on the 1-yard line and lets the ball hit him to go in – I want him in the box, not running around the midfield. We share our differences on him as you know. Cheers! Let's enjoy the start to the season.
Frank Mullin
223
Posted 15/09/2016 at 15:48:09
Cheers Terry. I'll drink to that. Hope to see you shortly.
Martin Mason
224
Posted 15/09/2016 at 16:05:42
Paul @204, good point well made.
Peter Roberts
225
Posted 15/09/2016 at 16:24:19
If Lukaku was a salesman, he would be sat in Costa Coffee playing Angry Birds on Wi-Fi, drinking Americanos after getting his quick wins – instead of trying to set up more sales with tougher clients; he gets his goals where he expects to sell.
He could be salesman of the year if he tried – but he is economic in his efforts.
His last goals? 3 vs poor old Sunderland, 2 versus Cyprus, 2 vs Ireland, 1 vs Switzerland . then you have to go all the way back to the FA Cup Quarterfinal.
"Lazy" – Lukaku fans hate that word. Everton fans see it is a word which answers questions as to why a player – who can make such a difference when he feels like it – looks like a League Two player when he doesn't.
Sorry... that's an insult to League Two players, I'm pretty sure they make the most of their talents and put all the effort in that they can in order to get out of that league and secure a proper living from the game.
I really do look forward to watching what I believe will be the most horrific of rude awakenings for the lad. The next time he decides to sit in Costa, playing Angry Birds on his phone, enjoying his Americano – his big Dutch area manager will be there ready to tip it over his head.
Koeman has allowed him his "summer" and his "getting up to fitness".

Graham Mockford
226
Posted 15/09/2016 at 16:28:13
Darren #219
I don't think the term 'hater' is particularly useful but of course when a poster describes him as 'lazy big mouthed twat' or even in your own instance a 'sulking can't-be-arsed lump' you are not exactly giving the love.
You are also still trying to rewrite history. He was excellent in both February and March, scoring four goals in four games in March.
He was poor, along with most of the team, in the final ten games and managed to save his worst performance for Wembley. But he certainly wasn't poor 'since February', 'for six months' or in 'the second half of last season'. You accuse people of being easy on him, which may have some credibility but you are just doing the opposite, giving him over the top criticism.
You gave us the story of nitpicking perfectionist types demanding the best. My experience of such types is they tend to be right wankers.
Martin Mason
227
Posted 15/09/2016 at 17:13:44
The question isn't whether he is lazy or not, the "hating" situation is ingrained in a few fans because he and his Dad dissed Everton by trying to engineer away a move. The "Lazy" thing is just a handy stick to beat him with that's all, the real crime is insulting the club.
The club dealt with him well, they desperately want to keep him and value him highly, for them, as with any reasonable person, his wanting to move was just part and parcel of the dealings with modern players and not a crime punishable by death.
Our future as a club and his as a player are very much intertwined.
Martin Mason
228
Posted 15/09/2016 at 17:27:22
Stan@212
The Null hypothesis is the hypothesis that must be falsified before an alternative hypothesis can be shown to be correct. Logically, Lukaku is not lazy and this is the null hypothesis which has to be disproven to show that he is. You first have to define lazy and differentiate between it and lacking in confidence or frustration and then prove that he is in fact lazy. Some say I can't use the null hypothesis but that is incorrect other than on a strictly statistical basis.
The pedant bit was to counter some internet cut and pastes which associated some players with laziness all of which were out of context. What I meant was that no player can be lazy and stay in a job, I'd say that Rom is first pick in the team?
For example the Jonjo Shelvey description wasn't that he was a lazy player. It was one incident in a televised game.
I'll be more careful using that word in future though as it upsets some.
Brent Stephens
229
Posted 15/09/2016 at 17:27:41
As Koeman says, reported today on another thread, when talking about Barkley, "In my opinion [his omission from the England squad] is in the past, what counts is what happens now."
Same for Lukaku, I'd suggest. All those goals he's scored for us are in the past; that barren couple of months are in the past. "You're only as good as your last game" (Sunderland), as they say. Now for the next game. Let's move on.
Darren Hind
230
Posted 15/09/2016 at 17:52:34
You spelt that wrong, Mockers... there is an I and two Ns in winners. They are the people who get the good service, who get the best deals... the people who win football matches. The "wankers" you speak about are the losers, those who live their lives accepting the substandard.
For a clearly intelligent man, you don't half apply some twisted logic.
Take that all forgiving calendar back, become a winner.
Graham Mockford
231
Posted 15/09/2016 at 17:57:02
Darren
There is no I in wanker.
You sound like Donald Trump.
And you can keep blustering but my calendar is a lot more accurate than yours.
Martin Mason
232
Posted 15/09/2016 at 18:12:43
Darren, what do you do as a winner to make Everton better? For example your refusal to accept the substandard? What does that mean for you, what do you actually do to reject the substandard? Do you have a say on transfers?
Surely nobody accepts substandard within the limits of their spending power and no Everton fan can ensure that Everton don't. It sounds good as a sound bite but that's all it is.
John Daley
233
Posted 15/09/2016 at 18:34:32
Rob (@211),
"People moan when he points, and then starts waving his arms about. What do you think he is pointing at? ...he's pointing, telling the likes of Barkley, Mirallas, Deulofeu, or whoever where he wants the pass to go, so he can run onto it and hopefully go and score. When that pass doesn't come, that's when he gets frustrated and waves his arms in frustration."

The thing is though Rob, he's often guilty of gesturing for the ball and then flailing his arms about in frustration when it fails to come even though he himself has been stood near motionless with a man mountain central defender or two right up in his mush.
The midfielder's we possess aren't magicians who can squeeze one of Dolly Parton's space hoppers through a tiny dormouse hole. A forward surely needs to work to find space and give the midfield a viable option to aim at?
It's like Miley Cyrus 'twerking' away as though she's the Basil Fawlty of Disney tarts, pointing to her basically bare arse and beckoning you on over to slide on in, when all the time she's stood right beside Billy Ray who, even if you somehow managed to miraculously sneak past his protective paternal blanket, is bound to put you right off your stroke by strumming Achy Breaky bastard Heart on his banjo. 
Move a bit love. Drift away from the dad/dirt box defender. Give me at least a slither of space to try and slip one into. Don't just stand there circling the circumference of a Wagon Wheel like you've been whacked in an invisible forcefield, with a watchful bodyguard stood so close you can both feel his breath and find out the answer to "Fuck, they still sell Brut?", then afterwards start going barmy, waving your fucking arms about to try and show how much you wanted it, when I've been forced to go for a more wide open option who at least made their arse available.
There was a televised cup game last season (I can't remember who against off the top of my head) where almost the entire half-time 'tactical analysis' revolved around Leatherface (Redknapp) and  All-face (Shearer) discussing Lukaku's lack of movement and failure to find space or show for the ball (It was the game where Redknapp made a crack about him covering more distance than Lukaku when he took his dog out for a crap). They played clips of him just walking a couple of steps forward, a couple of steps back, sticking his arm out to say 'over here', walking a couple of steps forward, throwing his arms up in dismay that the ball wasn't delivered to him, walking a couple of steps back, sticking his arm out again. Repeat. It went on for so long it became fucking comical.
That wasn't a one off. I've witnessed that routine many a time since he signed for us and it's in the midst of such moments when the arm waving and wide eyed accusatory stares signalling 'you should have passed to me' start to wind people up.
In typical Lukaku fashion, he went from one extreme to the other, scored in the second half and ended up scooping Man of the Match. (Waved his arms all over the place after it went in the net as well, he did).
In typical Redknapp/Shearer fashion, after slating him, they nearly got into a fist fight over who got to suck him off first at full time.
John Daley
235
Posted 15/09/2016 at 18:40:39
Jesus Christ.
"The concept that a modern professional footballer can be lazy is ridiculous."
'They were my words. That's what I said, but i'm going to keep on wriggling and say that's not what I meant really when I said it. I'm going to change it now to 'a player can't be consistently lazy and expect be a first-choice pick for his side'.
"For example the Jonjo Shelvey description wasn't that he was a lazy player. It was one incident"
The 'description' (from his own manager) was that he opted for the lazy option, that he did something out of "laziness", that he was fucking lazy 'in that instance'. So, Shelvey..a modern professional footballer, let us not forget...is indeed capable of being lazy. Something you incorrectly claimed to be a ridiculous concept.
Every human being has the capacity to be lazy, Martin. Doesn't make a blind bit of difference if they have to run around a lot in their job and come home out of breath. You've got absolutely no way of knowing how many times the thought "fuck that for a game of soldiers" has flashed through their mind and caused their legs to slow down or stop completely.
You're simply doing that thing you do: deluding yourself into believing that any conclusion you yourself come to can be self decreed a 'FACT'.
Martin Mason
236
Posted 15/09/2016 at 18:49:39
John
The Shelvey incident doesn't support an accusation that he was lazy only that he took a lazy option in one incident. The accusation against Rom is that he is lazy not lazy sometimes.
No, seriously, I really understand what fact and opinion are. Hopefully that is the theme of most of my posts?
Jim Hardin
237
Posted 15/09/2016 at 19:12:10
Now this is fun with the Abrahams tag team jumping off the ropes.
Dave, I did answer your question, read the post. I did think he had a good first half and a better second half. It is a 90+ minute game though so since points are not awarded for each half, who cares?
As for Tony, your tag team partner, commenting on Kone. I didn't say it would be a good idea to sub him in but that wasn't the point of the comment. I merely pointed out there were other options if RK thought Lukaku was so poor and that the claim there were no other strikers was in fact false BTW, who did sub in for Lukaku in the game? When he did, was Lukaku still playing striker?
pssst . . . it was Kone. Now, one in the ring at a time boys, play fair.

Stan Schofield
238
Posted 15/09/2016 at 19:15:49
Martin @228: I wasn't inferring that you were pedantic mate, I think you write quite thought provoking posts, so apologies for my not being more explicit. But I still don't see why you have to introduce null hypotheses and all that.
My understanding of a null hypothesis is that they normally apply when considering the likelihood of a fact being the case when you assume a certain hypothesis, the null hypothesis. You assume the null hypothesis, estimate the chance of the fact occurring given the null hypothesis, and reject the null hypothesis if the estimated chance is lower than some chosen criterion, but do not reject if the chance if higher. I'm not clear how this kind of approach is being used in the debates we have on TW.
Not only is Goodison Park the School of Science, so is TW obviously!
Tony Abrahams
239
Posted 15/09/2016 at 19:47:14
Jim, you are correct, of course, just like when Lukaku wasn't back and healthy, Koeman still chose to keep Kone on the bench.
Come on, Jim, one in the ring at a time? Not for me sir, because I think that's what you talk out of, when you try and start talking soccer on ToffeeWeb!
Dave Abrahams
240
Posted 15/09/2016 at 20:03:06
Jim, this little debate started when you tried to support Martin Mason. I'm getting off here, not going round in circles with you, mate. Give Martin a go, you will keep each going for ever. Terrah, Jim.
Rob Halligan
241
Posted 15/09/2016 at 20:04:10
The thing is though, John (#233), by making his run early, chances are Lukaku will be caught offside. As I said, he likes to sit on the opposition back four, ie, either level or just behind, so he can latch onto any pass either down the middle or down the channel.
The only other alternative is for him to sit deep and make his run, a bit like the final leg in a 4 x 100 relay. At least he couldn't be accused of being motionless or a lazy fucker.
Who'd be a football manager or coach!!
Jamie Crowley
242
Posted 15/09/2016 at 21:27:50
Christ above... I post, go to work, log back in hours later assuming the thread is a dead one...
Anyone up for a 12-pack and some boxing gloves? We might be able to charge admission and fundraise some money for that poor Sunderland kid!
And if we do decide to just duke it out, don't draw Halligan! Dude will just mess you up. Paired against him I'd dive and take a 10 count before the first punch!
Rob Halligan
243
Posted 15/09/2016 at 21:34:15
I'm like a big soft teddy bear, Jamie!!
Andy Crooks
244
Posted 15/09/2016 at 21:36:43
John, I enjoyed post #233 a lot. What I don't get, and Eugene does it too, is how you are happy to fire top notch material into the small pond of ToffeeWeb. I wonder if the editors could get together an annual "Best of" compilation.
Rob Halligan, I agree with your target man comment. When Lukaku was at WBA, I saw him as a really powerful Ian Wright type with the potential to be top class.
Brent Stephens
245
Posted 15/09/2016 at 22:01:39
Andy, that's interesting. I was thinking only this week that a compilation of the best of John and Eugene would be a good wheeze.
I dare say one of them will now provide a link to a "wheeze" of some sort or other.
Peter Roberts
246
Posted 15/09/2016 at 23:08:50
Rob (#241), this is my frustration... the understanding of what making runs is all about isn't "linear" – that belongs back in primary school.
Lukaku has to be the most predictable and markable "runner" in the league. Embarrassing at times.
No, it isn't the relay where you run forward and hope the ball is played before you breach the line... over 30 years ago forwards worked on curving their runs – Ian Rush expertly so. Lineker, Ian Wright, Michael Owen.
Lukaku doesn't even aim to get in front of his marker on crossed balls – no feigning a dart to drop back.
His movement is schoolboy level... it's embarrassing. Every now and then, the other players will expose the defence enough to leave him unmarked (Belguim, Ireland); when it comes to intelligent movement, he lacks the desire and craft to do it.
Brent Stephens
247
Posted 15/09/2016 at 23:17:41
"Lukaku has to be the most predictable and markable "runner" in the league."
So predictable and markable that defenders couldn't stop him scoring not far off a goal every two games for us.
Jim Hardin
248
Posted 16/09/2016 at 00:41:28
Tony,
Should I use bigger type or simpler words or maybe pictures for you? You continue to miss the point of the post which was a response to your misinterpretation of the previous ones. Stop making things up.
As for my knowledge of soccer... well, I am comfortable that talking out of a ring (whatever you meant by that?) is better than talking out of one's backside despite your apparent preference for doing so.
Matt Traynor
249
Posted 16/09/2016 at 07:29:32
Martin (#97) makes an interesting point about how the team playing as a unit seems to affect certain players/positions more than others.
Many years ago, I came out of an away league cup match at Bury (2-2 draw after being 2-0 up, but we won the 2nd leg comfortably), and there's Pat Nevin, hobbling towards the team bus on crutches (he'd got a really bad injury in a league match at home to Forest).
We caught up with him, and chatted to him about the game, and football in general. And he said that if the team was out of form, then he'd seem to suffer more than most – they'd either give the ball to him in a bad position, or he'd be stuck out on the wing and never get it.
The bus was then sounding the horn, as they wanted to get going, and he politely declined our offer of a lift back to Chester, but I've always thought there was something in what he said –and you see players getting frustrated.
Anyway, thought I'd try and lighten the mood a bit. Roll on Saturday.
Tony Abrahams
250
Posted 16/09/2016 at 07:58:50
Morning Jim, I bet you they need floodlights when you referee, mate? I thought Eric's post about me joking, should have been enough for you to blow-up, and I think I've read enough of your posts over the last twelve months to realise what misinterpretation is!
What exactly do you mean by your knowledge of soccer, Jim? Don't answer that question though, mate, save it for another thread, when you might just be able to come up with something remotely sensible!
Tony Abrahams
251
Posted 16/09/2016 at 08:04:30
Just shows you how diverse the opinions can be on ToffeeWeb, Andy. I actually thought Rob's description of a target man was the only thing I disagreed with, when he posted the other day.
Peter Roberts
252
Posted 16/09/2016 at 08:21:12
Does he score a goal every other game Brent? Or does that stat try and cover the fact that he scores most of his goals against lesser teams- when he fancies it. Flat track bully if you will
He scores his majority of goals against lesser opposition also but yeah if you add up all those goals and divide appearances by them you could maybe try and kid people that he scores loads of his goals against the likes of Man Utd etc.
Brent Stephens
253
Posted 16/09/2016 at 12:57:41
Peter, yes, it's nearly a goal every two games. Looks as if it's currently 56 goals in 122 games for us.
"He scores his majority of goals against lesser opposition also but yeah if you add up all those goals and divide appearances by them you could maybe try and kid people that he scores loads of his goals against the likes of Man Utd etc."
You're the one making things up – I never for one moment suggested he scores most of his goals against the likes of Man Utd etc!
Somebody else has previously gone over his goals and who he's scored against and that seemed to show he scores against the big clubs as well. I'm not going to trawl back for that info. Even if he does score most of his goals against lesser opposition, the question is, then, don't other strikers do the same? And, if not, why not if it's that easy!!
A goal pretty much every two games for us – now that's a stat I like! And you can't rub it out from the record books.
Peter Roberts
254
Posted 16/09/2016 at 14:09:36
He's scored the odd goal against better teams – if you compare his proportion of goals scored vs Everton goals in matches against the top half versus bottom half teams, there is a massive difference. Naismith for example blew him out the water in this regard.
He is a flat track bully who disappears in big games or when a centre-half pays him close attention.
Brent Stephens
255
Posted 16/09/2016 at 14:39:02
Peter.
1. Rom has an average of a goal almost every two games. Do you want to acknowledge that that is a very good record, as a starting point?
2. Anybody would expect a striker to score fewer goals against the top half clubs. Is there anybody currently who doesn't, amongst strikers who average a goal every two games?
3. Naismith? I loved Naismith, I really did, but Naismith never had a scoring record as good as Rom.
4. And if your point about Naismith is solely that he scored better against top half clubs than Rom did, then can you give us the stats? And regardless, see 3. above.

Graham Mockford
256
Posted 16/09/2016 at 14:42:43
Peter Roberts
The trouble with talking shite is that it's easily checked.
Rom scored 18 league goals last season 9 against sides in the top half of the table and 9 against teams in the bottom half.
In Cup games against PL opposition he scored 3 against top half sides and 1 against bottom half sides.
He scored a further 3 in the Cup against lower league sides.
As it happens of Naismiths record he scored 23 goals of which 11 were against top half teams.
Brent Stephens
257
Posted 16/09/2016 at 15:53:38
Graham, there you go again, spoiling a prejudice with facts.
Darren Hind
258
Posted 16/09/2016 at 16:04:14
46 goals in a 107 league games is 1 in 2 ?
Looks like the guy who sold Mockers his Calendar has been selling calculators too.

Brent Stephens
259
Posted 16/09/2016 at 16:16:27
Darren. I didn't say 1 in 2. I said "not far off a goal every two games".
And the stats I cited, which you've ignored, were 56 in 122 (a slightly better average than your convenient stat). For the avoidance of doubt, that is not 1 in 2.
Darren Hind
260
Posted 16/09/2016 at 16:37:04
Oh you mean Nearly ?
He nearly scored with all those sitters he missed, he nearly scored that penalty at Wembley... He nearly got the move he has been agitating for all summer.
Okay I made the last bit up...
If I was you, I wouldn't be arsed coming on these threads twisting the stats every which way you can if the best I could do is to be nearly right.
Brent Stephens
261
Posted 16/09/2016 at 16:57:33
"If I was you, I wouldn't be arsed coming on these threads twisting the stats every which way you can if the best I could do is be nearly right."
Darren, that stat is that stat. It isn't "twisted" as you try to make out. Unless you can tell us all how I "twisted" that stat. I know now you won't be telling us.
I referred to that stat as "not far off a goal every two games". So I never claimed 1 in 2. You tried to "twist" what I said by saying that I had claimed he'd scored 1 in 2. And anyone can see that I didn't claim that.
Interesting, in fact, checking the official EFC website - they have him down for a grand total of 64 goals in 125 games for us. Even better than I was originally suggesting (but still not 1 in 2, you understand). Are you going to stick or "twist"?
Paul Tran
262
Posted 16/09/2016 at 17:24:43
He scores goals. Play with all your stats all you like on either side of the argument. He scores goals. And he's not quite good enough for a step up in class which makes him perfect for us until Mr Walsh finds someone better.
I could put this whole thread on Private Eye's Pedants Corner, but I'd fall asleep in the process.
Dave Abrahams
263
Posted 16/09/2016 at 17:47:53
Matt (249) I think Pat got a raw deal off Howard Kendall who never rated Pat.
I watched him once on a bleak winters day up and down the wing for the Reserves v Nottm Forest, playing as he always did with skill and endeavour. He didn't let his very slight frame put him from getting stuck in and having a go.
I think he went to Tranmere after Everton, deserved better off Howard, but one man's meat is another man's poison.
Darren Hind
264
Posted 17/09/2016 at 06:07:31
"I don't twist the stats. I just put two conflicting sets up and claim they are both right."
Paul T
You don't need stats, you understand the game. The only stat you will need is how many this season.
BTW He looked more than a tad interested on Monday, maybe Koeman can get him focused... I'd only give you eights now
---
Add Your Comments
In order to post a comment, you need to be logged in as a registered user of the site.
Or Sign up as a ToffeeWeb Member — it's free, takes just a few minutes and will allow you to post your comments on articles and Talking Points submissions across the site.