Koeman: You can't win if you play as we did first half

76 Comments [Jump to last]
25 September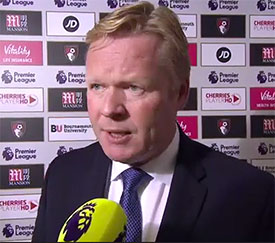 Ronald Koeman expressed his disappointment with his team's poor first-half performance at Bournemouth and questioned their attitude following the 1-0 loss.
The Blues fell to their first Premier League defeat of the season after going behind to Junior Stanlislas' 23rd-minute rocket and proving incapable of finding a way back into the match despite a marginally improved second period.
It was Koeman's first league defeat since joining the club in June but his second this week following the EFL Cup loss to Norwich City and while he elected not to criticise his charges that on Tuesday, he was not pleased after the final whistle at the Vitality Stadium.
"[We maybe deserved something] from the second half, not the first half," Koeman told BBC Sport. "Of course we had a good chance for Lukaku, a great save by the goalkeeper, but Bournemouth was the better team, the more aggressive team, and that was the problem in the first half.
"You can't win if you play like [we did] in the first 45 minutes. We lost every second ball, we lost every battle and [there] was not really that aggression that you need to win the game. At least we showed that in the second half but we did not score.
"It was the whole team performance in the first half. It was not good enough and not [only] football-wise but [also] in the aspect of being sharp in every aspect of football.
"They (Bournemouth) were stronger, they were faster, and they had the better chances in the first half. That, in my opinion, was the big difference between the two teams.
"Football always starts with your attitude and [ours] was not good enough to start today. We showed [in the] second half how to start the game but it was too late.
"I understand little by little the attitude of the players and what we need and what we need to change. [What we need] was the Everton of the second half."
---
Reader Comments (76)
Note: the following content is not moderated or vetted by the site owners at the time of submission. Comments are the responsibility of the poster. Disclaimer
Michael Kenrick
1
Posted 25/09/2016 at 06:44:47
Attitude.
This is what the great man had to say about his charges last Monday, when he was being 'realistic' about their chances in the Premier League, with Everton sitting high and proud in 2nd place:
"The big teams have many more qualities. If they don't disappoint like last season then it will be impossible [for a team like Everton]."
And they've been shit ever since he pulled the rug away.
I mean, if your manager clearly doesn't have any faith in you...
Nice attitude, Ronald.
Craig Fletcher
2
Posted 25/09/2016 at 06:45:51
"I understand little by little the attitude of the players". Makes me wonder who specifically he may have been referring to.
Too many of our inconsistent "stars" simply didn't turn up at Bournemouth. Lukaku, Bolaise, Mirallas, Deulofeu, Barkley. All world-class on their day, however they need to show it more often.
If they could have the consistency of a Gareth Barry or maybe Jags, Champions League wouldn't be a pipe dream. That, and our lack of adequate depth to challenge the aforementioned players in our forward line, will be our Achilles heel, at least until RK figures out how to get the best out of them, week-in & week-out.
Craig Fletcher
3
Posted 25/09/2016 at 06:52:32
Michael (1)
Ranieri for the first half of last season talked down Leicester's European chances, let alone the possibility of winning the league, and yet his players turned up week in and week out. In fact if memory serves, up till December his aim was for Leicester to get to 40 points.
Koeman is being (admittedly brutally) realistic. Even for us to get a Europa League spot, which I think is certainly possible, we still need minimum two out of the new Sky 6 and Leicester, to slip up this season.
Chris Watson
4
Posted 25/09/2016 at 07:37:43
Trouble is our 'strength in depth' or lack of it to be accurate. No matter which 'stars' have poor games, the likelihood is they will get a start in the next game.
As for Koeman's reverse psychology to bolster performances, it could literally go one of two ways in my opinion.
Next up: Palace which won't be easy and there needs to be a positive reaction or we'll be mid-table again in no time.
Colin Grierson
5
Posted 25/09/2016 at 07:56:59
I like his honesty. If the players think he's wrong then it's up to them to prove him wrong. I'm sure he'd welcome that.
We all know that certain players only turn up intermittently and that means they are not world class. End of.
Duncan McDine
6
Posted 25/09/2016 at 07:57:13
Michael, Roberto was full of bullshit, praising the players too much, and now Ronald is far too realistic for you!
I was at the game and completely agree with the manager. He shouldn't be blameless for the display though. He keeps persisting with Ross, and he was pathetic for most of the game. Not one player could be proud of their performance though. Amazingly, Cleverley came on and added some urgency but we were still well beaten.
Keith Harrison
7
Posted 25/09/2016 at 08:00:57
Michael, are you seriously saying that if Koeman tells the team they will win the league, they will automatically into a team of world-beaters?
Or is this the latest Everton manager on a slippery slope at ToffeeWeb? I hope Lyndon is a bit more positive about Koeman and the team this week.
John Wells
8
Posted 25/09/2016 at 08:13:04
Best team won; correct it and literally tear into the next opponents, put it right... move on. I played lots of sport as a kid and lost a few that we would have deemed points in the bag before crossing the line!!
Mike Green
9
Posted 25/09/2016 at 08:31:55
"I understand little by little the attitude of the players and what we need and what we need to change."
For some players there could be trouble ahead...
Liam Reilly
10
Posted 25/09/2016 at 08:35:41
Koeman's right; that was arguably the best starting 11 he could've put out and they let him down.
The first half was very poor and the scoreline could've been a lot worse. 2nd half was better, but we missed 3 gilt-edged chances to score and that summed up a miserable day.
Hope Barry's injury is not serious, so this can be put right on Friday.
Ian McDowell
11
Posted 25/09/2016 at 09:08:36
Most coaches in sport tend to agree that the top athletes, footballers, tennis players etc are very closely matched in ability, but it's attitude that separates the winners and top players from the rest.
I didn't see the game yesterday but have just watched the highlights on TV. Despite us playing very poorly in the first half, we had three guilt-edged opportunities in the game and we needed to take two of these.
Dave Abrahams
12
Posted 25/09/2016 at 09:09:47
I never saw the game, just listened in the Live Forum, so can't comment too much, but for me there are too many players in the squad, and yesterday in the team, who are "good on the day" players. I keep saying that the team needs players like Lennon and Cleverley in the team who play for 90 minutes every week.
However, we move on and hopefully Koeman can learn as much from these two defeats as he does from when we are winning. We will improve under this manager but these defeats prove that the squad needs proven reinforcements, so we will all have to remain patient, and I know it gets harder and harder to wait.
Jeff Armstrong
13
Posted 25/09/2016 at 09:12:06
Michael, if you think the players are that fragile when they get a bollocking, then maybe you think they need someone to only focus on their good points and tell them how phenomenal they are...
Sam Hoare
14
Posted 25/09/2016 at 09:33:28
For all the talk of our improved fitness, I thought Bournemouth out-ran and out-fought us from the start to the finish.
Dunno if it was complacency or damaged confidence from Norwich or what but we just looked tired and blunt all over. I can handle us being out-played but never like to see us lose due to lack of effort.
Steavey Buckley
15
Posted 25/09/2016 at 09:36:09
Everton's hangover after the Norwich game continued with the Bournemouth match, due largely to the Everton midfield, which did not show up, and an Everton defense that played far too deeply, allowing the opposition to run at them.
One of the biggest mistakes Koeman has made this season was allowing Galloway to go out on loan, when there is no real cover for Baines. Oviedo is not the same player since his injury against Stevenage in the cup some years ago.
So what the Everton fans may think about the rest of the Everton team does not matter if the team cannot get into the match, when both midfield and defense are ineffective, as they were in the first half. And that is why the transfer window was not good as it should have been, because Everton lack another quality midfield player.
Paul Hay
16
Posted 25/09/2016 at 09:47:01
Totally agree with the manager.
The first half, apart from Rom's opportunity was really poor and the key word is 'faster'. Bournemouth exposed our lack of pace, particularly in the left channel at the back, and the inability of players to track back sufficiently – particularly Ross, I'm sad to say. Coleman had a difficult time from the outset and didn't inspire the confidence he usually does.
Talking to a couple of Bournemouth fans at half-time, they were surprised how sluggish we looked – we were second to everything.
Unquestionably, we were better in the second half and at least showed a willingness to compete but overall the better team deserved their win.
I hope Gareth Barry is okay for next week.
Not one of our best weeks, guys. Keep the faith.
Denis Richardson
17
Posted 25/09/2016 at 09:54:48
At least we can say our manager calls a spade a spade. I was hoping for a reaction yesterday after the Norwich result but watching the game I knew something wasn't right after the first 5-10 minutes. The Bournemouth players seemed far more up for it.
You can't fault a player for not being good enough but there is no excuse for lack of effort and hunger. From the off, players like Lukaku and Barkley would be barely 3-4 yards away from Bournemouth players with the ball but just ambling about, not making any real effort to press the man in possession. I constantly found myself screaming at the screen in frustration. When players start the game like that, giving the opposition all the time in the world to pick a pass (in our own half!) you just know it's not going to be your day.
Lack of quality did not cost us against Norwich and neither did it cost us against Bournemouth. There is something not right in the camp at the minute. Sitting 2nd in the league with 4 league wins on the trot, there is simply no excuse for lack of hunger and effort at this stage of the season.
Koeman has a massive job on his hands – hopefully the crowd can get the players to up their game on Friday.

Jack Cross
18
Posted 25/09/2016 at 10:06:11
I think there may be further unrest building up in the dressing room. If the players are aware that the manager as little faith in a said few of them, they might be thinking they'll be gone in January or the summer, so why give a shit about any European football if they may not be part of it?
After all, it is a confidence game. And the manager is there to build it and not knock it down.
Andy Meighan
19
Posted 25/09/2016 at 10:09:41
I'll say one thing in Koeman's favour – he doesn't sugar-coat nothing. Unlike a certain former manager – could you imagine his take on it???
At least Ronald has practically admitted it was a shit performance and it's refreshing to hear him tell the truth. Let's just hope the players respond on Friday night. They owe us that after the last two non-performances.
Mike Gwyer
20
Posted 25/09/2016 at 10:09:49
Mike Green #9.
"For some players there could be trouble ahead... "
Not a chance of that I'm afraid. These boys are on contracts that will compete with the payouts for the Euro Lotto.
Niasse could not give a fuck if he plays or if he sits in with his Mrs in his luxury Manchester mansion. Mirallas has always blown hot or cold but he still goes out shagging in his gold-painted Bentley. Deulofeu has always had a shite attitude regarding tackling and winning the ball the back, now he's giving the ball away and he just stands there like a fucking tart. Barkley, well something is just not right with him at the moment, but hey, he's in the big bucks paying system so you can bet your last tenner that some club will continue paying him buckets of cash till he's in his early thirties.
Nah, I'd say these players couldn't give a fuck and if we don't want them then Everton will sell them to some other club who will just continue the paying process. Happy days.
Paul Smith
21
Posted 25/09/2016 at 10:15:19
Just to reiterate the lack of effort and complacency was criminal yesterday. Maybe I'm more vexed than normal as it was my first game of the season and I was bang up for it, unlike the 11 men in blue.
I'm not blaming Rom for once, he was fed scraps and there was no sign of his pointing and hands on the hips antics. Oviedo is not the player he was as posted above and the decision to loan out Brendan is looking iffy. Gana was looking to be red carded if not hooked and Cleverley did better if still playing lose balls too often.
We have to few consistent players and too many fancy dans, Bolasie was a disgrace to be fair, no effort to run and cover, must be hard work having him as a team mate doubling your work load and only interested when in possession. Some big personalities for Ronald to tame.
Paul Goodchild
22
Posted 25/09/2016 at 10:26:23
Steavey (#15) – totally agree. I can not at all understand why Galloway was loaned out. He was great at the start of last season and is a better left back than Oviedo.
Andrew Clare
23
Posted 25/09/2016 at 10:26:46
We were completely overwhelmed by Bournemouth in the first half and not one of our players performed. I knew Koeman wouldn't make any changes at half-time because it was obvious the whole team weren't in the game.
When the second half started, the game was already lost and I think Koeman could see it. Bournemouth were full of confidence and our players just couldn't get back in the game.
Unfortunately it's quite clear that our squad is very limited and, as said earlier, we do have a lot of 'on the day' players who can't be relied on, week-in & week-out, to perform. Having said that, I am certain Koeman will get it right but it may take some time.
Mark Frere
24
Posted 25/09/2016 at 10:35:11
Interesting how he thinks the second half was acceptable but it was then too late for us. Isn't 45 minutes enough time to turn a game around when we're only a goal behind?
We were crap in the second half. The worst thing about the performance was not the lack of commitment (although not good), it was the general poor quality of everything we did.
We constantly gave the ball away, Bolassie and Deulofeu being the worst offenders. Barkley had one of his typical games where he didn't release the ball quick enough and made bad decisions. Mirallas was completely anonymous.
So many of our players had a bad day and it resulted in Lukaku getting no service, and ultimately in a defeat.
Ray Roche
25
Posted 25/09/2016 at 10:39:19
It's a refreshing change after Martinez to have a manager telling it like it is. A bad day at the office which will hopefully be our only one for some time. All teams have them, the Red Shite lost to Burnley FFS, who have only scored three goals, two against them.
We are 6 Premier League games into a two-year project, with a record of played 6, won 4, drawn 1, lost 1 and we have shipped 4 goals, bettered only by Spurs. The current Champions have been found out and have conceded 11 already and Mahrez and Albert Steptoe must be kicking themselves for not joining Arsenal when they had the chance.
Let's be realistic, pre-season I'd have taken that record, especially as Koeman couldn't bring in all his transfer targets. I know this is ToffeeWeb, a Rest Home For Whingers and Moaners (of which I occasionally am a member) but let's just think back to last season's car crash before going overboard.
Jeff Armstrong
26
Posted 25/09/2016 at 10:57:36
Ray, we've lost 2 cos I'm counting the League Cup, and that hurt as much as yesterday.
Plus, as has been pointed out, we've played some very average teams including Bournemouth and hardly ripped anyone apart for longer than 20 minutes (Sunderland and Boro'). We need to get back on track against Palace, cos if we lose that one, October and November could be very painful.

Don Alexander
27
Posted 25/09/2016 at 11:03:22
Well said, Ray Roche. It's going to take rather longer than an incredible three-month moment for Koeman to sort out the phenomenal pile of crap he inherited.
Don Alexander
28
Posted 25/09/2016 at 11:12:47
For the avoidance of doubt, the pile of crap I refer to is the shitty mindset BBS allowed to set in to the cost of players manning up and actually trying to do their obscenely well-paid jobs.
But then there is Niasse, McGeady, Kone, Gibson and so on as well.
Geoff Evans
29
Posted 25/09/2016 at 11:19:34
Koeman has made clear his thoughts on Niasse; he should be saying the same about Barkley and Mirallas – Championship standard at best.

Brian Harrison
30
Posted 25/09/2016 at 11:19:36
I have only seen highlights on MotD so I can't comment on the overall performance. Most pundits reckon we were below par, but having said that Lukaku, Barkley and Valencia all missed guilt-edge chances from around the six-yard box. On a normal day, you would expect at least one of these chances to be converted.
Michael, I thought the main criticism of Martnez's reign was that he couldn't or wouldn't see the problems or the poor performances. So to criticize Koeman for an honest appraisal of where we are at the moment I find baffling. He is making it very clear to everyone that our intensity and aggression were not what he expects, and either players adapt or they will be replaced.
Surely that is the right approach if we are to challenge for a top 4 place these things have to improve and quickly. Yesterday's result was not because he said he didn't think we at the moment would get a top 4 place or indeed win the title as he was asked.
James McPherson
32
Posted 25/09/2016 at 11:41:52
Well, here's a first. I actually can see where Michael (1) is coming from. Don't necessarily totally agree with it, and yes, like many contributors I am liking Koeman's refreshing honesty. However, I did think the words he used in his press conference strayed from realism to apathetic acceptance that we just make up the numbers when winning the league.
The framing was right (downplaying) but the words not so. I do wonder what the players made of it... there is a story doing the rounds that they did not take too kindly to being written off in such a manner. I am not sure on that. But you could see why that's feasible.
Mark Morrissey
33
Posted 25/09/2016 at 12:15:13
Everton's current team has too many players who want to float in and out of games. That is our biggest weakness. If Koeman felt that, in buying Bolasie, he had 90-minute dynamo, he was very wrong and players like that can rarely change. Lukaku is that type of player.
Ross showed yesterday that he won't break his neck to track back and that can even be over a distance of merely yards. He is far happier to let others defend. He simply does not fancy the rough and tumble world of getting "stuck in". Mirallas is the same. I think he has been worse than Ross so far this season. Deulofeu is the same as is Valencia.
It means our team is awash with "lazy" players. Great going forward (at times) and woeful in defence. Problem is we are stuck with them all and Koeman has a tough task in changing their mindset. They are what they are. He is going to have to find players (perhaps some of our current youngsters) who will die for the cause each game and when they leave the pitch they come off with no regrets.
Gueye was poor yesterday. Perhaps he is simply getting fed up running himself into the ground and watching the others swan around doing very little. The better teams are the ones who play as a team. They are united going forward and defend like warriors.
Koeman is the man. He has clearly identified the problem that we had last season. Lazy but talented individuals. The next few months should see us become a "team" because he will not do a Martinez and talk us up. He will crack the whip and I expect a huge reaction.
January is a good opportunity to buy some warriors but he may not need to if our current crop can wake up and smell blood rather than the latte that they are more accustomed to. Keep the faith, Koeman is the man.
Paul Tran
34
Posted 25/09/2016 at 12:35:05
Or maybe the team just had a bad day?
The big difference this season has been the intensity, energy, organisation and aggression. All four were absent yesterday.
If we're going to look attractive to the better players we missed in the summer, we need those four things consistently.
Monday's presser was Koeman doing the downplaying expectations shtick Ranieri did superbly last year. His comments on Niasse confirm what everyone in the game knows; he's a dud that even the manager that spent £13m on him wouldn't play. I think Koeman was right on both counts.
I'll start judging the project at Christmas. There'll be plenty of bumps in the road till then, starting in this last week.
Henrik Lyngsie
35
Posted 25/09/2016 at 12:44:49
Respect for Bournemouth they played really well. And they had so much energy and aggression. According to OPTA statistics even Eddie Howe was running longer than Barkley during the game!
Seriously hard work pays off and some of our guys really need to understand that. And I think Koeman will make them understand.
Patrick Murphy
36
Posted 25/09/2016 at 12:45:12
Whatever the reasons for yesterday's abysmal performance, I hope we don't see a repeat of it anytime soon. Palace will be no pushovers, even if the Everton team are fully at it; if they're not, they'll get nothing from that game.
Don't forget that some of this current crop visibly downed tools last season, as Roberto took all the flak for bad results and performances. It's something I never believed I would see at Everton FC but, in this new age of player power, it must be harder than ever to manage a group of very rich individuals. I can put up with a certain amount of disappointment with the actual results – what I can't abide is a team that doesn't put the effort in, or only does so when it feels like it.
I sincerely hope it was just a bad week at the office this week, if it proves otherwise, we are in for a tricky three months.
Peter Cummings
37
Posted 25/09/2016 at 13:44:49
I knew it was too good to be true and said so before Norwich which was bad enough. There was no excuse for yesterday's debacle and Koeman's so-called 'honest assessment' of the game had a hollow ring.
As for players not turning up, only Jags came out with any credibility; all of our recent panic buys were garbage... and the least said about Barkley, the better.
As expected, by me anyway, yet again we have surrendered bragging rights to the enemy across Stanley Park who, to be fair, deserve them by far.
Matthew Williams
38
Posted 25/09/2016 at 14:05:46
The steps to Footballing nirvana...
1. The League Cup.
2. The Europa League.
3. The Super Cup.
4. The Premier League.
5. The Champions League.
6. World Club Trophy.
Unless we WIN the first one on the the list we will remain a club going nowhere & keep falling.
BTW, our general play is STILL shite...sigh.
Peter Morris
39
Posted 25/09/2016 at 14:11:18
I'd much sooner have a manager like RK, telling it how it is, rather than Martinez making the disappointment of a defeat doubly worse by describing the game as if he was witnessing an entirely different contest. This week shows how thin the squad is. With Barry and Baines facing injury lay offs, their potential replacements are well short and we will need to get ready of a dose of realism with the fixtures coming up. At least now we have the resources to underpin a plan, which will in all likelihood take a couple of seasons, to raise the bar with the quality levels in the squad. The current team is too reliant on a small group of key players and if they lose form or are injured , it sure shows.
Mark Andersson
40
Posted 25/09/2016 at 14:38:12
Oh no... the players are already doing the down-tools shit because their new manager speaks the truth!!
On a serious note, Koeman looks like a man who has realized the job he took on is harder than he thought. He is stuck with a bunch of slackers who have no respect for him or the club they're playing for. Koeman will resign before he gets the sack.
William Cartwright
41
Posted 25/09/2016 at 15:14:31
Rest home for the whingers and moaners! Yes, Ray, you are right. I am a fully paid-up member. I am a very positive person, most of the time. However, watching the Bournemouth game, which did involve spilling a pint of Guiness (an accident ,not frustration) did not improve my mood.
I had a rant and a rave last night, not a whinge or a moan, but on reflection, what really hurts is the harsh reality of where we are as a team. Where the responsibility goes back to, I don't really know or care. Assuming Koeman is competent, sincere, and has a strategy to deal with the situation, then I am prepared to sit back and be more patient than my heartfelt outburst of last night.
Let's keep the faith, but not blindly. I have given up getting a fair crack from the media, and I expect to come out on the bad side of most refereeing decisions against the big Sky 5 or 6. I expect us to be last on Match of the Day, and to be marginalized by the BBC. So what do I expect?
I expect any player who pulls on the shirt to do his absolute best on the day. Some days will be better than others, that's natural. I expect the team to play as a team, not as strangers. Again some games this will be better than others. I expect Koeman and his crew, with the support of the chairman, to treat the players with equanimity and respect for the game plan to deal with the opposition of the day.
In this, Koeman has my support.
Steavey Buckley
42
Posted 25/09/2016 at 15:35:08
It is a pity when Koeman took the manager's job he did not ask the fans about Everton players from last season. If he had, Everton would have had more players signed.
Although, I believe Koeman has wrongly over looked Tom Davies this season, he is a lot better than those who played yesterday against Bournemouth.
Brent Stephens
43
Posted 25/09/2016 at 15:37:51
William Cartwright (#41), I came on here today wanting to vent my spleen and whinge about yesterday, as a release mechanism. Then I read a reasoned, restrained post from you and I can't have that whinge.
Bastard, William!
Tony Hill
44
Posted 25/09/2016 at 15:41:17
Patrick (36), I suspect there are some political difficulties arising because yesterday showed an Everton side bereft of desire (ditto the Norwich debacle). The change from the attitude which applied in the previous games has been marked.
It is imperative that the supporters stick behind Koeman. This is an absolutely crucial phase in Everton's history, both on and off the pitch, and the players – or any discontented grouping of them – cannot be allowed to run the club. All of this frustration is part of the process by which Koeman must gain full control of team affairs and then re-mould our approach generally.
As he has said, two seasons will be needed. We cannot let cracks appear in our backing for the manager after two defeats, deeply annoying though they have been. This season is about getting rid of dross and building a platform. As a big critic of Martinez, I want to see us redirecting fire against those players who plainly don't give a shit except when it suits them (including some established names). I hope Ronald takes some risks and bins them and that we support him when he does.
Winston Williamson
45
Posted 25/09/2016 at 16:15:41
If, as is alluded to, the players are not putting the effort into winning games because the manager made a correct observation to a fucking ludicrous question (ie' "Can Everton win the league") then I don't want those players any where near our football club!
I'm also starting to lose patience with certain players! Barkley, Mirallas, Deulofeu and Oviedo specifically.
Football is a simple game. Each of those players are talented. Indeed, have shown their talents on a number of occasions! To put minimal effort in is disrespectful to us and our manager.
"The forwards should chase and close down the opposition" says our manager! Then Barkley fucking do it! It's not hard! Chase the bastards down like your life depends on it! Same in respect of the others in terms of effort.
I'm tired of half-hearted displays – show you want to be here, earn the right to wear our shirt, or fuck off.
Winston Williamson
47
Posted 25/09/2016 at 16:25:55
Also, if players are peeved at Koeman's realisation, maybe they should be asked a simple question: how many trophies have you collectively won??
Compare that to the only real winner we have at the club...
Allan Board
48
Posted 25/09/2016 at 16:27:47
Koeman knows he has a load of poor quality, can't-be-arsed sods on the playing staff. I said at the start of his tenure that 80-90% of the current lot won't be here in 2 years time because he will get rid as they have and will never cut the mustard at the top table.
The only fly in the ointment is whether the owners, and Kenwright in particular, try to force him to make do and mend, like has happened at the club for 25 years.
Be optimistic that Mr Koeman will make Everton MUCH better – because he will given the right backing. If they try and stiff him, expect the two-fingered salute and Everton lose out again!
Matthew Williams
49
Posted 25/09/2016 at 16:48:23
Our play is still far too slow, we never take shots on goal, our general passing & crossing is woeful. We look Championship quality at best & have rode our luck so far to get 2nd. We will be found out big time... I just hope & pray it ain't at Anfield again!
Play the youngsters... nowt to lose now as our best chance of a trophy has already gone.
Michael Kenrick
50
Posted 25/09/2016 at 17:20:25
The post-mortem is inconclusive because we can all point to our preferred interpretation of exactly what it was that would explain yesterday's shockingly poor performance, and therefore what the solution needs to be.
Reading through the comments on this thread and elsewhere, I am puzzled by the large number that continue to put it all down to failings in the transfer window, and who seem to be suggesting we can somehow press Hold until the next one opens, when we will buy our way out of the current challenges.
Sadly, that misses the real challenge of needing to perform in every match in the Premier League. To my mind, the transfer window closes and it becomes an irrelevance. The squad is set... and the manager's task is to make the best of what he has, one game at a time.
My point was about the contrast in Koeman's assessment of poor attitude in his players, compared with his own poor attitude to what those players could actually achieve this season. Forgive me if I'm wrong but I think it is his job to inspire, motivate, encourage... it doesn't mean he has to become Martinez reincarnate with all the bizarre Brown Shoes bullshit he spouted.
To my eye, the players yesterday played just as if their manager had told them before they took the field "Well, you lot have no chance of winning the league. For Everton, that is impossible."
In my experience, there is a tendency with the Dutch for them to be very direct in their language when using English to express themselves, and I believe they can come across much stronger than they intend. There is a very thin line where realism of this ilk becomes energy-sapping and demotivating.
I think Koeman has clearly crossed that line with his utterances on Niasse, and I am left wondering if his attitude to the rest of the players, as James Macpherson suggests, could perhaps explain the stunning lack of energy, commitment and intent evident on the field yesterday?
William Cartwright
51
Posted 25/09/2016 at 17:21:21
Sorry about that, Brent, your turn next Friday perhaps...?
George Cumiskey
52
Posted 25/09/2016 at 17:22:39
As I have said on another thread, we need to start looking to get players lined up now, not wait until the last minute, and sadly it looks like we need a lot more than we first thought.
Geoff Williams
53
Posted 25/09/2016 at 17:49:43
Just be grateful we don't support West Ham.
Bobby Thomas
54
Posted 25/09/2016 at 18:01:50
It's not Oviedo's fault as he is lucky to still have a career but... I've seen nothing, absolutely nothing, to suggest he can handle top flight football since his injury. At Anfield last season, he reminded me of Kendall's third spell.
We need a left back. A long term option in their mid-20s that can take over from Baines as he is 32. Oviedo needs to be released in January or season end to find a club/division he can play in. It's absurd he's first reserve.
Andrew Clare
55
Posted 25/09/2016 at 18:03:34
...and just look at the attendance at the Olympic stadium.
Tony Hill
56
Posted 25/09/2016 at 18:08:23
If our players can only be troubled to play for the club when the manager contrives to get his motivational tone pitch perfect then we are indeed going to struggle.
The team currently lacks a leader – Jagielka's bland captaincy remains a problem – and it's time for these men to maintain a level of committed and courageous performance. It's the least they should be able to summon.

Steavey Buckley
57
Posted 25/09/2016 at 18:12:43
Koeman must take some of the responsibility of Everton not doing too well in the first half by playing a half-fit Barry. If that's the case, then there is not much in midfield to choose from. That goes for playing Barkley in midfield most of the time.
Yet, I can't understand why a very promising Tom Davies has not been given a look in. He was Man of the Match when Everton beat Norwich 3-0 last season. It definitely would have been better playing him last week against Norwich than others who were given game time but did not produce.
Andrew Clare
58
Posted 25/09/2016 at 18:18:57
I suppose what surprised me the most yesterday was the lack of improvement in the performance in the second half. I thought that Koeman would have given the players a rocket at half-time but, if he did, it didn't have the desired effect.
On paper, we had a better team in every position so it was obviously down to tactics and motivation that Bournemouth won the game. Isn't that the managers department? We seemed totally unprepared. Maybe it has dawned on Koeman that the players aren't up to scratch?
As I said on an earlier post on another thread, I am sure Koeman will get it right but it may take some time.
Dave Ganley
59
Posted 25/09/2016 at 18:24:34
Or alternatively, Michael, Koeman doesn't want to come out to the media and say we can win the title at such an early point in the season. That would come across as highly optimistic at best and highly conceited at worst, setting himself up for a big fall if and when we lose ground when getting hit with embarrassing losses at such places as, dare I say it, Bournemouth.
I can't for one minute think that Koeman says behind closed doors, "Hey guys, you're a pretty lousy bunch of players, let's just make an effort to stay in the division, eh."
If the players are that mentally fragile that when a manager of Everton plays down (realistic) expectations of us winning the league, they then down tools because it's all so futile, then I don't particularly want them at the club. I am quite sure that Koeman doesn't send them out on the field without a ringing endorsement in their ears that they are better than the opposition so go out and prove it.
Problem is that the players aren't that good. All this nonsense that we had to listen to last season that they were the best squad in a generation at Goodison was, well, just nonsense. This squad isn't even as good as Moyes squad circa 2007. To be mentioned in the same breath as the mid 80s squad is just an insult to those great players. To be a half-decent team, they need to put in maximum effort in every game, and as we can all see, that just doesn't happen.
Truth is, Michael, the job Koeman took over was a complete car crash from OFM. It is going to take quite a while to rectify and get rid of the obvious deadwood we have at the club. We have some talented players but they are far outweighed by over-pampered average journeymen who can't or won't put in the required effort game-in and game-out to make a significant difference throughout the season. I'm not going to start singling out individual players as that would take far too long but even limited players can make a contribution, problem is our limited players don't, end of.
To blame the manager for supposedly downplaying expectation resulting in unmotivated players is just giving average unprofessional players a get-out clause for not performing, again. We, as fans, are getting quite fed up of listening to excuses for that pile of prima donnas parading as footballers for Everton Football Club.
Can you imagine Gray, Sharp, Ratcliffe, Reid et al sulking and not performing because Howard Kendall upset their feelings? No me either. Read Sharpie's biography, that tells you what a winner's mindset was when he was left out of the team. Go out and prove the manager wrong, not sit and sulk. Crikey, everything that is wrong with the modern day average footballer.
Rant over.
Stan Schofield
60
Posted 25/09/2016 at 18:25:58
Steavey @57: Yes, Davies should be given a chance. Can't really understand the approach to using (or rather, not using) the up-and-coming younger players. It's something that successful past Everton sides did, and it worked.
I'm betting on last week being a bad week in the office, because before then we had been playing the pressing game that Koeman wanted, and he was chuffed the weekend before (as opposed to being pissed off yesterday).
If there's more to it than this, then we'd seem to have serious issues that even the new manager might not be able to resolve. Hopefully not, and we beat Palace comfortably, as we should do.
Patrick Murphy
61
Posted 25/09/2016 at 18:39:52
Not sure that we'll beat Palace comfortably, Stan, they have a decent record at Goodison Park and they will join us on 13 points if they win. I think that's part of the problem at Goodison and elsewhere, we tend to look at the club we are playing rather than the team that we'll face out on the park. Everton could expect to beat the likes of Bournemouth, Palace, Leicester et al perhaps 30 years ago, because generally Everton had better quality teams than those types of clubs.
That certainly isn't and hasn't been the case for about four or five years, if not longer, and it's getting more difficult to say which clubs Everton are likely to beat in any given week – of course we have to perform to our best most weeks to win three points, because there are no 'easy' games, which is why I will accept dropping points if we are giving it our all, but fail to see why we should accept poor performances with little or no effort, because the players deem they don't have to work hard against the so-called smaller clubs.
Whatever the outcome on Friday, it will be interesting to see which Everton team we see, the lacklustre, half-hearted one or the swashbuckling (for us at any rate) team which has the passion and effort to succeed.
Paul Tran
62
Posted 25/09/2016 at 18:42:25
Michael, you're right about the Dutch and their forthright clarity. To me, it's just plain old realism and telling it like it is. Maybe I've gone native?
I'm in Dave's camp here. Go and prove him wrong by performing and winning games. Show him we don't need to look to the transfer window. Isn't that what winners do?
Brent Stephens
63
Posted 25/09/2016 at 19:12:49
William (#51) – haha! I hope not!
Mark Frere
64
Posted 25/09/2016 at 20:02:51
Cracking post, Dave Ganley. Agreed with every word.
Anthony Lamb
65
Posted 25/09/2016 at 20:40:30
Having watched young players such as Barkley consistently fail to challenge effectively in the middle of the pitch; "hunching" forward in front of the man in possession while remaining some yards from him in a now pathetic attempt to "con" people into thinking that he is tackling his opponent for possession... I despair.
We have a young Spaniard who people say has fitness problems in that he seems incapable of physically competing for 90 minutes; then the despair is deepened.
I would suggest that Mr Koeman sits these indulged, complacent characters in front of a recording of the 1966 World Cup Final and watch every moment of another young player of 21 run himself into the ground for 120 minutes against one of the finest full backs in world football at the time. Of course Alan Ball was a greater footballer than either of these two could ever aspire to.
Ball's illustration of a great young footballer applying himself completely, affectively and honestly has often been overlooked by Hurst's hat-trick and the victory etc. It would do these young players, and some of their older colleagues the world of good to have a long hard look at that lad's performance that day and hang their heads in shame at their own lack of application to their professional responsibilities. It is such a shame that such is the paucity of talent readily available at Everton now that they are allowed to get away with it so easily.
We now have managers talking about players' "attitude" not being right for the first 45 minutes etc! Then we have appeals to supporters to "get behind the players". Of course supporters should cheer their team on but, when players' attitudes are as woeful as some have shown on far too many occasions, then supporters should let them know that it is unacceptable.
Brian Williams
66
Posted 25/09/2016 at 21:05:36
Michael (#50).
While I don't agree with your assessment, it's certainly a possibility but, and it's a big but, I hope to God you're wrong because if the players have reacted in the way you suggest, it's gonna be a very long season.
Personally, I welcome Koeman's blunt, straight-talking approach but, mind you, I haven't had a boss for two years telling me the sun shines out of my arse only for the new gaffer to tell me the suns "gone in."
Having played for many years myself, I can safely say I never walked out onto a pitch and to not give 100%, and not be absolutely gutted if we got beat.
After the showing at Bournemouth, I'd challenge at least 8 of our team to say the same, no matter what the manager's said.
Peter Murray
67
Posted 25/09/2016 at 21:24:48
Michael, you are absolutely correct.
If the leader of a team in any job thinks it is "impossible" for that team to succeed, and makes matters worse by announcing it publicly, then they may as well all pack it in.
Koeman is not being honest. He is being crass.
Jimmy Sørheim
68
Posted 25/09/2016 at 23:09:34
I like Koeman, but something is wrong. I think it is the fitness issue; remember he said the squad was not fully fit for the start of the season. 70% fit, he said, and I agree.
We need to remember what Koeman started with, we are still not fully fit and the last two games have showed that very clearly.
Koeman needs to reasess the fitness situation.
Paul Kelly
69
Posted 25/09/2016 at 00:49:57
Ganley, excellent post, again.
Si Cooper
70
Posted 26/09/2016 at 01:15:22
Three months ago, apparently all Koeman needed to do was to get this squad fit and well drilled because the previous gaffer was a clown who mis-managed everything.
Now, it's a mammoth task because so many of the players are not good enough or not made of the 'right stuff' that would enable them to react how supporters would like them to when effectively written off by their leader. Quelle surprise!
Sean McCarthy
71
Posted 26/09/2016 at 01:28:30
Craig (#2) said " ... Lukaku, Bolaise, Mirallas, Deulofeu, Barkley. All world-class on their day "
Can someone please tell me what day that was. I must've missed it!!
"World class"??? Steady on, Craig. I'm not convinced at least 2 of them are even Premier League class!!!
David Hamilton
72
Posted 26/09/2016 at 01:50:18
Good point, Michael (#50),
I had a Dutch boss who maintained that, whereas we might call something either blunt or rude, the Dutch would regard it simply as honest.
Nigel Gregson
73
Posted 26/09/2016 at 02:46:52
Well put, Si. Prevailing narratives are fascinating. Suddenly, it's a two-year project.
Jay Wood
74
Posted 26/09/2016 at 03:04:19
Following the League Cup exit to Norwich, some posters simply shrugged their shoulders, told us it didn't matter in the grand scheme of things and that maintaining a high position in the league should be our present and overriding priority.
One game later and the Cherries have shown up you simply cannot cherry-pick your opportunities at this level.
Our club needs to win a trophy, simple as. Four more games in the League Cup would have seen us in the final.
Before Saturday's game, there were a further 33 games to play over the next 8 months to not necessarily win the league, but merely to secure a top 4-5-6th place.
Which scenario represents the best chance to really achieve something and kick start the new order?
Saturday's performance was abysmal. It was shocking how we were shrugged aside – literally, in the case of some players – by a Bournemouth side who will not break into the top half of the table.
Koeman was a big game player. He has shown he can make big decisions as a manager and will not suffer fools, or slack arses, gladly. He has also already said, quite categorically, he will not change his methods. Who must change are the players.
For that reason, at every transfer window, expect an exodus of players, because Koeman will not be as tolerant or forgiving as Martinez was.
The club will be better for it and the fans happier, because IMO we have too many indulged players in the squad who, tantalizingly talented as they sometimes appear, are not mentally strong enough to take us where we want to go.
Paul Kelly
75
Posted 26/09/2016 at 03:12:24
Picking up on what Michael and James said about attitude/motivation, that was my first thought after two lack lustre performances and I hope I'm wrong, very wrong.
If this bunch are that fickle, then Ronny has a much tougher task ahead than we first realised, or it could just be a bad week at the office.
Either way they ruined my Saturday, right effing miserable when we lose, more so when we don't seem to put the effort in.
Lee Brownlie
76
Posted 26/09/2016 at 04:21:00
Some seriously missing-the-point comments of how the manager should be 'bigging up' the lads not 'knocking their confidence'! So, Roberto was right then and we were all wrong in wanting him out???
So... where do we want the success we all crave to happen, exactly? Premier League Crowd Cuckoo Land or in the REAL football world (where our NEW manager is firmly based)!!
Jack Cross
77
Posted 26/09/2016 at 10:31:18
Michael Kenrick 50,
Everything you have said is true, regarding Koaman. He as over stepped the line.
Who wants to know their not good enough? He's there to motivate them as you say, not knock their confidence.
As I said in another post, what's in it for them? If they know their not part of his future at the club?
Dave Williams
78
Posted 26/09/2016 at 21:58:57
Dave (#59) – what a great post. You sum it up wonderfully and it was the late great Alan Ball who asked in his autobiography "How do you motivate a team of millionaires?"
Difficult... but that's what Ron is paid to do and, given time and changes in personnel, I think he has a decent chance of being the man.
Add Your Comments
In order to post a comment, you need to be logged in as a registered user of the site.
Or Sign up as a ToffeeWeb Member — it's free, takes just a few minutes and will allow you to post your comments on articles and Talking Points submissions across the site.