Players look to Friday to make amends

143 Comments [Jump to last]
26 September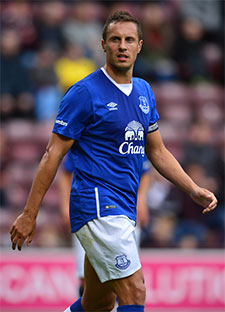 The poverty of Everton's display at Bournemouth on Saturday and the need to put on a better show in the televised match against Crystal Palace was not lost on two of the Blues' players who have spoken up over the past couple of days.
Captain Phil Jagielka admitted after the 1-0 defeat at the Vitality Stadium that as a team performance it fell well below expectations and that Everton will need to consistently be at a much higher level if they are to finish in the upper echelons of the Premier League this season.
Ronald Koeman's side sit in fifth place after six matches despite the weekend's set-back and both Jagielka and the season's revelation so far, Idrissa Gueye, are eyeing Friday's game against the Eagles as an opportunity to get back to winning ways.
"Far too many of us were below par against Bournemouth," Jagielka said. "We need to look at ourselves in the mirror if we are to challenge up at the top of the league. We need to make sure we go to places like Bournemouth and put a better display on.
"We will look at the video and iron out a few things that we did wrong and then move on to Palace. That's a massive game at home before the international break so it is important we get back to winning ways."
Gueye, who was afflicted by the same torpor that pervaded the whole Everton team in the first half against the Cherries before he improved in the second, expressed similar sentiments, telling the Liverpool Echo:
"We didn't start well. They pressed us and scored early. After that they showed us how to play like a team. If you don't start well then it's difficult to get playing like you want to play.
"[Bournemouth] showed more energy and played well. If we had played to our capability we could have won but they caused us a lot of problems.
"We must hope we win the next game. Friday is at home and we have our supporters with us. Now we rest and then work hard. The confidence is still there. It was a bad day but we keep going. We never give up."
---
Reader Comments (143)
Note: the following content is not moderated or vetted by the site owners at the time of submission. Comments are the responsibility of the poster. Disclaimer
Chris Gould
1
Posted 26/09/2016 at 07:05:58
Jags and Gueye saying it how it is. Just like Koeman does. We weren't good enough, we'll do much better on Friday.
Good. We all have bad weeks. Don't forget about it, but don't dwell on it. Work harder, win on Friday, and move on.
James Stewart
2
Posted 26/09/2016 at 07:22:09
We will see. Saturday wasn't just about the result, it was more the total lack of any quality in our play. Pretty embarrassing for the likes of Mirallas, Barkley, Deulofeu, and Bolasie who were all woeful. I'd be very surprised if we beat Palace.
Craig Fletcher
3
Posted 26/09/2016 at 07:42:13
Let your actions on Friday night do the talking, lads.
Ben Mackenzie
4
Posted 26/09/2016 at 07:42:45
I'd be very surprised if we don't beat Palace convincingly.
Joe O'Brien
5
Posted 26/09/2016 at 07:48:05
Totally agree, Chris, it was a bad week. I think that result will stand to us in the long term. We can't just turn up against teams like Bournemouth and expect to win because we're 2nd in the league and we think we're better than them. We are better than them but we'll get run over by more teams if we play with that attitude.
Saturday's result was a big wake-up call. We just need to learn from it, not dwell on it, and move on. I'm sure we'll see a different Everton on Friday.

Ian Jones
6
Posted 26/09/2016 at 07:49:41
The team hasn't done too badly so far this season in the league. So perhaps a bit too early to dismiss our chances against Palace.
Didn't see the game or highlights but I haven't seen much said elsewhere of Barry's injury and the fact he went off early 2nd half. Assume if he had been fit and stayed on, the second half could have had a brighter ending. That in itself is worrying as if he is the glue that sticks us together, then we might have an interesting season ahead.
Onwards to Palace on Friday and upwards to 2nd place.
Liam Reilly
7
Posted 26/09/2016 at 07:58:43
There was an arrogance and over confidence against Bournemouth that should serve as a reminder that there are no easy games in the Premier League.
Time to put that right on Friday, just as Liverpool did after their similar outing at Burnley.
If they want to be at the top come May, then these must be the exception and not the norm.
James Byrne
8
Posted 26/09/2016 at 08:16:52
After watching the Bournemouth game, I'm now feeling like I did under Martinez before any game; I'm not confident at all.
Like many other have mentioned, it wasn't the defeat against Bournemouth that was the issue, it was the manner in which it came. That performance was atrocious and it's evident now that big Ron needs a complete clear-out in January and the end of the season.
We've made a decent start but too many players at Everton are not good enough. I've defended Barkley for seasons hoping he would come good but I hate to admit that he is shite and he's not up to the task. Some of the players we have won't be able to deliver the Moshiri ambitions so changes will come.
Gerard Carey
9
Posted 26/09/2016 at 08:23:59
Do your talking on the pitch on Friday. Let last Saturday be the exception and not the norm. I would hate to think we would revert back to the apathy of last season where the norm after every loss was certain players coming out and saying the team had to play better, etc etc.
James McPherson
10
Posted 26/09/2016 at 08:27:35
Let's hope this is a one-off. I for one could not stand another season of the EFC treadmill:
1) crap attitude... followed by 2) crap performance, followed by 3) senior player banality about how we are going to get it right next week, one game away from it clicking, blah blah... followed by repeated cycle ad nauseam.
Mark Andersson
11
Posted 26/09/2016 at 08:32:43
It doesn't take much for the blue cloud of doom to blot out the Ray of light we mostly saw the week before. Palace and every team will learn from our poor performance and try and do likewise.
With the blue cloud of doom descending the players will need to man up and fight for every ball from the first whistle to the last.
Koman will have realized after that game that most of his team are shit houses. How he motivates them this week is his biggest test as manager of Everton FC. Good luck, Ron – I hope the crowd do their bit to help and not hinder this team...
Kunal Desai
12
Posted 26/09/2016 at 08:37:15
We've been a little fortunate to get 13 points after 6 games. Against Spurs we were fortunate to get a point and against Stoke we probably should have got a point.
Perhaps you can say things even themselves out. That little luck ran out in the last two matches.
Max Murphy
13
Posted 26/09/2016 at 08:38:32
James (#10) you're quite correct with 'crap attitude' as the number one problem. Koeman mentioned this in his BBC post-match interview. And that is a real worrying concern. If a player puts on an Everton shirt, he should have nothing else but a 100% positive attitude, and then the performance will follow.
We've had a very easy run of games, and I wasn't totally convinced with some of our victories in that run. The team has no cohesion or spine. Some of the top players put in a performance when they want to – and if this attitude persists with the rest of the squad, we'll be beaten again by lesser teams than Bournemouth.
Jon Withey
14
Posted 26/09/2016 at 08:41:38
Honeymoon period over? He was a bit too nice to the players after Norwich and that malaise seems to have continued.
Keith Conchie
15
Posted 26/09/2016 at 08:50:14
To put things into perspective, 1 defeat in our first 6 games and 4 wins is a good return, considering Koeman is still in the process of putting his team together and getting them to play his way.
A win on Friday (which I expect to see) will put us back up near the top, we can't complain too much about that.
My main concern is about Ross Barkley, he just hasn't lived up to the expectations everyone had for him. I know he's still relatively young, and can still improve over time. But is it just me, or does anyone else feel that this could be a sign that he's been over-hyped, and this is as good as he will get?
I really hope not, because he shows moments of class, but lacks the consistency we see of other players his age in the league.
Dave Abrahams
16
Posted 26/09/2016 at 08:50:22
I think what bothers most Evertonians is the talk that comes after a defeat such as Saturday's, the talk by players that is – action speaks louder than words.
Get your attitude right before the game, not afterwards. If the players go out and perform for 90 minutes, then that is acceptable; if you've done your best but got beat, then most fans will accept that. On Saturday, too many players were off form and did little in the way of effort and fight to try and get back in the game.
I think it would be much better if the players said nothing but concentrated on getting it right in the next game.
Eddie Dunn
17
Posted 26/09/2016 at 09:12:14
We have, over the years, heard all of this before, particularly from captain Jags, who has often been the one to be wheeled out to face the media.
I will wait and watch on Friday, and I am far from confident against a Palace side that came back from a two-goal deficit to beat Sunderland.
Stan Schofield
18
Posted 26/09/2016 at 09:32:43
We had all this post-match "we'll get it right next time" talk from players last season. Particularly, before Anfield. A little less talk, a little more action.
Anto Byrne
19
Posted 26/09/2016 at 09:32:44
We're 5th after 6 games and will be happy if we are 5th after 12.Of course I expect the football to improve as we banish the remnants of the Martinez style.
I would like to see Deulofeu in the middle playing as a striker/No 10 playmaker as it's unlikely that he would be double-teamed as was the case with Bournemouth – they gave him no space to play in. Bolasie had the same problem sometimes, he was crowded by 3 players and they stopped the crosses even when Coleman was up in support.
Our play was pretty predictable. Koeman should have been looking at a more direct style of play throwing Williams forward... just a pity Funes Mori wasn't playing as he normally gets on the end of a few crosses.
As much as I like Jags as a footballer, albeit a bit limited in the air, he is not captain material in the same way Phil Neville was. I don't have a candidate for the skipper – unless it's Williams?
Andrew Clare
20
Posted 26/09/2016 at 09:36:47
We've been here before. A poor performance followed by rallying talk from the players, followed by concerted attacking pressure in the next game to no avail, followed by a breakaway goal from our opponents, followed by deflation and frustration and a defeat.
I hope that's not the scenario but looking at our last two performances it's very likely. Nothing's going to happen overnight. It's going to be a long job for Koeman.
Peter Healing
21
Posted 26/09/2016 at 09:45:45
God, I hope we're not going back to the dim dark days of Phil Neville and his verbal diarrhoea.
Craig Walker
22
Posted 26/09/2016 at 09:50:52
Palace look a dangerous team to be playing after such an abysmal performance. I think Benteke would have been worth a punt for Everton. He'll get goals in this division which is more than can be said for Valencia and Kone. If Lukaku isn't firing, and let's be honest, he hasn't been for months, then we'll struggle to win games.
Steve Green
23
Posted 26/09/2016 at 09:51:56
I wish Jags would do the skipper's role properly and tell them on the pitch, at the time, in no uncertain terms and not just blah blah it to the media afterwards. Fucking Captain?!!
I managed to get over and get a ticket in the pub and I wish I hadn't cos that display was so poor it was unbelievable, even for us.
It is very sad to see first hand what Barkley has become at the moment, very sad and very painful to watch. He needs putting out of his misery cos he is just not worth a place in the team at the moment. Simple as.
Mirallas is not worth his place in the team. There have got to be young prospects who, whilst not world beaters at the moment, will contribute more to the team all round both in attacking play and defensive play. Whilst they might not be the overall answer, it has got to be an improvement in what, let's be honest, has been coming for a few games now.
Clive Rogers
24
Posted 26/09/2016 at 09:54:46
Saturday's game told us that certain players are not good enough. Mirallas, Oviedo, Cleverley, Deulofue, Valencia and Barkley. Mirallas has had three poor games in a row and Barkley's form is far too unreliable.
Jack Cross
25
Posted 26/09/2016 at 10:13:02
Kunal 12, As you say, mate, we're extremely lucky to have 13 points from the last 6, games.
No Premier League team are pushovers. And Bournemouth beat us in every department. That was the worrying thing. I can see us getting beat in many more games. The quality just ain't there.
But we should expect that, really. Especially as Koeman's expressed and said openly that basically we'll only do well if the teams above play as bad as last season.
If we get a draw against Palace I'll be happy. But it's how we get it that really matters. Blood and guts mean more to me. Pride in the shirt. Less words and more action. You get paid for a shift, so put one in.
Brent Stephens
26
Posted 26/09/2016 at 10:20:43
Early days under Koeman. And I guess I'll keep saying that for the rest of the season plus summer (including the next two transfer windows). Today feels empty. But equal 4th in the table.
Sam Morrison
27
Posted 26/09/2016 at 10:27:19
There's no point laying into the players for stating positive intent in interviews they're contractually obliged to give.
Kim Vivian
28
Posted 26/09/2016 at 10:43:37
Our paucity up front is increasingly worrying. No Rom and we're toothless as Norwich showed. Benteke may have been a good but unlikely shout... but can someone remind me why we didn't jump in for ('5 out of 4' so far) Charlie Austin when he departed QPR? I know many on here lobbied for him.
Valencia looks no better than Niasse from what I've seen of either of them. I work with a few Hammers fans down in Essex and to a man they think he's a bag of horseshit and can't believe we took him.
Hopefully they'll be proved wrong but I have my doubts.
Peter Murray
29
Posted 26/09/2016 at 11:27:52
Just about totally pissed off re this total club rubbish. Do all your talking on the Goodison pitch – not this total garbage – regardless of who might be the blue requested to comment from within!!!!
Totally disregarded – because of years of this utter intent – with no obvious improvement before our unfortunate Brown Shoes arrival!!!
Tony Marsh
30
Posted 26/09/2016 at 11:31:22
Barkley, Baines, Mirallas, Deulofeu are not good enough for this team any more. Holgate looks a better player than Coleman and, if Rom doesn't score, the other so-called strikers don't know how to.
The Norwich game exposed the lack of quality in depth in the squad. Massive clear-out required. Early season optimism now well and truly evaporated.
Aidy Dews
31
Posted 26/09/2016 at 11:36:00
The fact is they all have to start working harder. Although we'd been unbeaten in 5, winning 4 on bounce in league, we hadn't played particularly well imo but our hard work and effort got us through those and was enough to get us the right results but on Saturday we were devoid of any work or effort and it showed and it cost us!
The players need to put a shift in on Friday and improve their performances but Koeman needs to step up to the plate and make some big decisions teamwise as, for me, one or two of them haven't been doing enough – not influencing the game to help us win or working hard enough for the team off the ball – and it's time one or two others got a chance instead, imo.
Dave Abrahams
32
Posted 26/09/2016 at 11:44:04
Sam (27) fair enough, but you do realise that most of us do not take a blind bit of notice to what they say, so the players should know this and cater instead to how the fans are feeling, give us a bit of credit.
Brian Furey
33
Posted 26/09/2016 at 12:05:24
For those of you who are overreacting to our first league defeat, have a look at West Ham's start to the season. Moved to a new stadium, got knocked out of the Europa League at the qualifying stage, have conceded 16 league goals and are sitting 3rd from bottom. All this from a team who many on here said have passed us out last year.
We are one point behind Spurs in joint 3rd place who have played virtually the same teams we have bar the RS. It's a little early yet to hit the panic button. Trust our new manager.
John Raftery
34
Posted 26/09/2016 at 12:29:02
Most certainly there is no need to panic after our first defeat in six matches. Many of us would have settled for that at the start of the season.
What Saturday demonstrated yet again was that, in this league, the players have to be up for a fight from the first minute. The fact we might have been 1-0 down in the first minute on Saturday should have served as a warning but unfortunately our players just drifted through the opening half as though they thought eventually things would come right. We could have had no complaints if Bournemouth had scored three or four by half-time.
Apart from the Spurs match on the opening day, we have started every game very slowly. Repeat that on Friday and we will likely lose to a confident Palace team. Our team need to grab the game by the scruff of the neck from the first whistle and make things happen.
As for our new manager, he needs to get his selection and formation right from the outset. Having to alter the personnel and shape of the side halfway through a game is a good skill but not something to be relied upon every time we play.
Ste Traverse
35
Posted 26/09/2016 at 12:34:10
Ben (#4),
Palace are on a good run, and we've a poor record against them recently, so what makes you think we'll beat them 'convincingly'?
Matthew Williams
36
Posted 26/09/2016 at 12:52:38
Jeez... heard it all before... yawn, try starting the game fucking fast, score in the first minute and then add five more.
Put on a real show for the fans or shut the fuck up and keep failing whilst picking up your big money for nothing!
Steavey Buckley
37
Posted 26/09/2016 at 12:56:04
The Bournemouth game just showed that Everton are desperately light in midfield when things don't go well. With both Besic and McCarthy injured, there is not a great deal on the bench to come on and change things around.
No wonder Koeman was desperate to sign Sissoko (formerly of Newcastle, now at Spurs) before that last transfer window closed. The other problems Everton have is having only two really wide players in Bolasie and Lennon. Barkley, Mirallas, Deulofeu, Cleverley and Valencia are all No 10s of varying quality.
Stan Schofield
38
Posted 26/09/2016 at 12:58:31
It's frustrating because they can perform well, with hard work. When they do that, it works. Although the first games have been relatively kind, none of them are 'easy' as such, and knuckling down is absolutely essential. But doing the hard work and supporting each other has been too sporadic.
It seems to be a consistency issue. Up to the Norwich game, the defence and midfield had been fairly consistent. Then it went to pot.
Hopefully we can get back on track, now with pressing from the start rather from mid-way through the game. That seems to be why Koeman has been getting them fitter, for this pressing game to be consistent. Similar to what Klopp has been doing at Liverpool.
Jonathan Tasker
39
Posted 26/09/2016 at 13:06:23
Everton had the chance to strengthen in the last window. We didn't. The squad is wafer thin. We have several woeful players and several who are merely not very good.
When we don't strengthen again in the next window, Koeman will be looking for a way out.
Jay Woods
40
Posted 26/09/2016 at 13:10:09
It's a pity they didn't have these candid epiphanies during the game.
Personally, I think they may have thought they'd made a good start to the season and accordingly, could afford to take the foot off the pedal a little.
Les Martin
41
Posted 26/09/2016 at 13:14:33
Let's see where we are after the Palace and Man City games. It beggars belief that paid professionals should not "put it all in" for every game; you would assume they would.
This squad has ability and lots of it; it's the Manager's job job to sort it out, and he will do as it's early days yet and every player will be under the microscope, no matter who they are.
If they are not up to it professionally or ability wise, then Ronald will ship them out.
Brian Harrison
42
Posted 26/09/2016 at 13:18:07
I think we have to be realistic: Ronald Koeman has only been here a very short time and it will take a while for everybody to get used to what he wants. I think it will also take a couple of transfer windows to get something like the players he wants. As Steavey said with the injuries, we are a bit light in midfield, but I don't think RK fancies McCarthy long term.
I also think by the end of this season he will have made his mind up if Barkley has a long term future under him. I also think that applies to many in this squad. I know Martinez was useless but finishing in the bottom half for the past 2 seasons shows that we lack the quality to even try and challenge for a top 4 place at the moment. Koeman is a shrewd coach and he knows that, despite a good start, we are nowhere near the level or the consistency that he will want.
But as fans we need to get behind the manager and the team. Yes, when the games finished, we can all have our moans but, while the game is going on, make sure we back them more than we are at present. At home games despite the good start Goodison is so very quiet, we need to change that and quickly. When Goodison comes alive, there is no finer place to play but I have only seen that atmosphere once against Middlesboro but that only happened after Mason allowed a goal that was clearly a foul. Then the crowd really got involved and what a difference.
Patrick Murphy
43
Posted 26/09/2016 at 13:32:54
I think the atmosphere on Friday will be fine, Brian given it's an evening kick-off; however, the bear-pit mode isn't what it used to be back when Duncan Ferguson first came on the scene. We were desperate for victories and it mattered not who the opponents were. Also, with a more family-friendly supporter base, the raw passion that Goodison used to have has been diluted, apart from for the 'big' games.
Where I sit, if anybody as much as shows agitation with a poor pass or cross, or more positvely attempts to 'get behind the team' in a vocal or animated manner, it is met with disapproving looks and 'tut tuts' by many who sit around and about. I'm not talking about the Directors Box or one of the posh lounges either. The game has changed for clubs and supporters and it's now a lot more passive on and off the field. I don't particularly like it but that's how it is.
Simon Smith
44
Posted 26/09/2016 at 13:45:13
We seem to have done quite well under the gaze of the Sky cameras so far this season. Let's see what Big Ron is made of and see if he can put the fire back into their bellies.
Bolasie will have a point to prove; let's hope that bodes well for us and not against us. Lukaku will come good as the world will be watching. His agent will insist on it... haha.
Coyb!
Martin Nicholls
45
Posted 26/09/2016 at 13:46:09
Doing your job one week doesn't "make amends" for not doing it the previous week. Still pissed off!
Mike Allen
46
Posted 26/09/2016 at 13:47:13
Talk is cheap. Same claptrap from players after the Norwich game. We have players in the squad at the moment who are not good enough for the team to challenge the top so we have to be more workman like.
Having players in the team with the attitude such as Barkley and Deulofeu does meet those standards; they are a liability when we are up against it. Anyone can have a poor game but you have to put the effort in.
Gordon Crawford
47
Posted 26/09/2016 at 14:03:52
One hundred percent commitment – that's what I expect from the players every game. To fight tooth and nail for the cause... but sadly some don't seem capable of this and that is a serious worry. Long season ahead, I feel.
Tom Bowers
48
Posted 26/09/2016 at 14:36:25
These last 2 games are hard to explain. Talk about coming down to earth with a bang. They played almost as poor as The Hammers did yesterday. Couldn't score even one goal against Norwich or Bournemouth. Pitiful!
Not to worry, though... Koeman will have them back in the groove against Palace if he is any kind of a manager. The question is: Does he stick or twist? How many games do you give some of these guys before dropping them and giving one or two eager youngsters a shot?
Mirallas and Barkley are currently top of my list for the chop as neither are cutting the mustard but that's not to say some of the others haven't been great this season.

Oliver Molloy
49
Posted 26/09/2016 at 14:45:25
"We must hope we win the next game."
No, Jags, hope has nothing to do with it. Everton, with this squad, should be beating the likes of Palace.
Put in the required effort and we will win on Friday. Do your talking on the pitch for once.
Peter Cummings
50
Posted 26/09/2016 at 14:45:35
So far I haven't been impressed with any of the buys we made in the window, Gueye excepted... and while many are wondering what happens if we lost Rom for any length of time, I think he has been as culpable as any of the team in unreliability. His early hat-trick apart, he still tends to go absent for long periods; admittedly, the services he needs from crosses has been less than effective but his overall attitude still needs to be addressed.
It has been noticeable that some teams in the Premier League have adopted a practice of 'swarming' the opposition, especially those across the park, by not allowing them to settle on the ball or directing passes which is what Bournemouth did to us.
Like many, I don't believe Palace will guarantee us three points on Friday if we continue on the same 'Martinez mode' as we did last game – we have to battle for 90+ minutes and actually EARN the big bucks the club is paying out.
William Cartwright
51
Posted 26/09/2016 at 14:52:10
A consistent theme in the comments thus far is the paucity of the squad. We can't all be wrong. Balancing the books over John Stones was just that, a balancing act, and I think we did well out of that, short term at least.
Meanwhile, what does the manager do when the players sometime perform well in training but screw up on the day? What does he do when they play well on the day but screw up regularly either in training or other day to day issues issues? What does he do with world class talent (step forward Ross and Geri) who only show up one game in three?
There is the problem. Everton are short of the key jigsaw piece. The replacement for Michael Arteta. The creative hub of the team.
We only have 2 players who can currently play this role (step forward again Ross and Geri). However, neither of them are played as a "No 10" in the true sense of the modern game requirement. To be honest, I can't think of any available who are. De Bruyne, Hazard, the Brazilian Redshite (can't bring myself to mention his name), are rarities. We might chase that off-the-radar young Scottish chap Ryan Gauld who pissed off to Portugal, never to be heard of again until... ?
I've said it before and I will continue to say it until I am 'blue' in the face; Ross is not a creative inside forward; he is a mesmerising talent who just wants to play as if he is still in the school yard. Martinez let him, but that was sheer irresponsibility. Geri however could be a true No 10, if only he could apply himself. The other alternatives on hand are Dowell, but it may be too soon, or the young lad Evans which is even too sooner!
The challenge is to keep our shit together until January and seriously scour the international market and bring in someone who can perform the No 10 role. Here I should list a lot of names, but I can't honestly think of anyone. Is there anybody out there? Are there any older generation examples similar to Cambiasso, or Pirlo, et al. who may be looking for a swansong season?
Over to you, Mr Walsh. Can you find another Payet? Meanwhile, I would take Geri to one side and tell him, train him, enforce him, reward him or whatever it takes, together with our young prospects Evans, and Dowell, including selected game time, to really focus on that key position and then see what develops.
John Pierce
53
Posted 26/09/2016 at 15:08:03
Let's get this right. Everton have yet to put a decent 90mins together under Koeman. They have been good in patches of games; pleasingly they've have been clinical to date. The main difference is the defending – in general, better, more robust. This has kept us in several games.
So clearly the players arent good enough. But Koeman should be fronting up as hes had to change things twice at halftime, bold yes but selection is his responsibility.
Saturday's performance was so far below what was is expected, that the scepticism is right to be explored. Is Koeman just waiting for the next window? Some talented players looking at the scrap heap, for one I welcome it.
Home win on Friday as you can't get any worse than Saturday
John Pierce
54
Posted 26/09/2016 at 15:13:31
So, as Barkley and Mirallas are so out of form, time for a change:
4-4-2; Holgate for Seamus, Geri 'n Yannick as wingers, Valencia off Rom, which is his strongest position. Cross, cross, cross.
Here's hoping.
Gerard Carey
55
Posted 26/09/2016 at 15:15:24
Two things:
One, we have not got the right players (forwards) to play a pressing game. The likes of Lukaku, Deulofeu, Mirallas, Barkley and possibly Bolasie can't defend from the front. To play that pressing game, forwards have to close down the opposition quickly. Ours don't; in some cases, they just saunter around after losing possession.
And Two: we have never replaced Arteta. Sad to say, Barkley is not the answer. Throughout our last manager's reign, we were short an experienced attacking midfielder, a proper back-up striker and a top-class goalkeeper. And three years on it is still the same.
As some have said above, Koeman really has his work cut out. It's going to take a few transfer windows to get things sorted,
Dave Abrahams
56
Posted 26/09/2016 at 15:23:04
William (#52)
Evans is a striker, he has got good control and is a bit on the lines of Joe Royle. I hope he finishes up as good as Joe.
We are looking for young players with ability and fighting spirit: you've seen one with Tom Davies, Joe Williams is another but is just getting fit after a bad injury.
The one player I would put on the bench, and have no hesitation of using, is Liam Walsh: he'd put four or five of the team who played (or went on the pitch) on Saturday to shame. He'd fight 'til he dropped, like most of us would if we got the chance to play for the Blues.
Gary Creaney
57
Posted 26/09/2016 at 15:39:31
Brian Harrison (#42),
"I know Martinez was useless but finishing in the bottom half for the past 2 seasons shows that we lack the quality to even try and challenge for a top 4 place at the moment."
At one point I would not have batted an eyelid at that statement, I would have been in full agreement. But as we all now know, Leicester City (in a time when it was believed to be impossible) went from the Championship, to a 14th place finish in the Premier League (after a late surge), to Champions. They didn't have the quality to win the league, and this season probably shows that but my god did they have a serious work-rate and balls about them. They barely used a sub and relied on a handful of decent players.
We simply don't have the balls for it. There is enough quality in my opinion in our first 13 players to do what Leicester did or something half close. Last season basically means I don't accept excuses for failure anymore.
Steavey Buckley
59
Posted 26/09/2016 at 16:15:36
In some ways Everton are still playing the same footballing style under Martinez. Everton are still playing 2 midfield players as cover for the back 4, who are still playing deep with Barkley as a go-between them and the other 2 of Mirallas and Bolasie with Lukaku, the same as usual, isolated upfront.
Instead of Everton having a more dynamic formation of 4-3-3 with the back 4 coming up to the half-way line, giving the team a more solid and compact look about them, with less gaps for the opposition to exploit, as Bournemouth did last Saturday.
Steavey Buckley
60
Posted 26/09/2016 at 16:29:38
The whole point of getting the team fitter this season than last, is for Everton to play in a 4-3-3 formation with them all attacking and defending as a team, with no large gaps left for the opposition to run into and exploit like what happened last Saturday against Bournemouth. It was a disgrace, that reminded all Everton fans what it was like under the dying days when Martinez was in charge.
Koeman must be regretting missing the opportunity for bringning in more quality in defense and midfield while the transfer window was open, because Everton are playing far too deep at the back, which is a big worry, even against the Premier League's lesser teams.
Jay Harris
61
Posted 26/09/2016 at 16:39:21
Just reanalyzing Saturday's game, it seems we have trouble breaking down teams that play it tight and press. It was compounded by such a small pitch and we didn't have the answers. I think Koeman realises this and is just trying to motivate them until the January window when I expect we will see some major changes.
I also think it is unfair to pick out Ross Barkley for criticism as the whole team were off-colour – particularly Williams, Barry and Gueye who have been our mainstays this season.
Patrick Murphy
62
Posted 26/09/2016 at 16:45:31
Jay (61) I know you're right about Everton finding it difficult to break down packed defences, it has been our downfall on too many occasions. BTW the Bournemouth pitch according to Lyndon in one of his reports, is longer than Goodison but the same width.
"making the tight confines of Vitality Stadium — it's five metres longer than the pitch at Goodison Park and just as wide) feel much smaller than it actually is.
Jim Burns
63
Posted 26/09/2016 at 16:56:08
Blah Blah Blah.
To those who point to the lack of depth in the squad – Saturday had nothing to do with that. It had everything to do with eleven plus Premier League players not putting the very basics into play, ie, putting a shift in, pressing and passing the ball to a player in a blue shirt – preferably after a maximum of one touch.
Hardly rocket science for the trained and talented professionals that they allegedly are. They were more or less all guilty of a poor attitude and even poorer application on Saturday .
Are we saying we need a full second eleven players as good as our first choice, so we can simply replace them when the ones on the pitch fail to understand the meaning of start the game strongly and work hard? FFS – we are not talking complex tactics here!
Get a fucking grip of them this week, RK – and a nod towards those of us who made the journey wouldn't have gone amiss either.
Rant over – for now.

Paul Kossoff
64
Posted 26/09/2016 at 17:25:17
Jim 63, Well said.
Oh for performance-related contracts, you would soon see a difference if a player could be docked half his pay for not putting in 100%.
Seems to me over the last two defeats that the 'Martinez' excuse still exists. Players not trying or seemingly not fit enough to play for 90 minutes. This side should be having no problems against the likes of Bournemouth or Norwich reserves.
Is it attitude? Are there players in this squad who simply don't care if we win or not? Lukaku, Deulofeu, Barkley, Mirallas all look like they are not bothered; it should be in your DNA as an athlete to be a winner and want to win, whoever you are playing. Whether it's Wembley or Accrington, you should give 100% always.
Phil Bellis
65
Posted 26/09/2016 at 17:33:09
Brian Clough saw it coming... "How do you motivate 20-year-old millionaires?
Gordon Crawford
66
Posted 26/09/2016 at 17:34:13
I agree, Jim. It's about heart and commitment. Most don't seem to know what those words mean. Prima donnas – that's what they are.
I would play some kids, who I'm sure would be willing to run all day for the cause.
Patrick Murphy
67
Posted 26/09/2016 at 17:43:20
Had the team put in a decent performance and won the game last Saturday we would all have been looking forward to the Palace game dreaming of waking up on Saturday morning with Everton sat at the top of the table – albeit briefly. Of course, the first part of that particular equation didn't materialise and now we are looking forward to Friday with more than a little trepidation.
I sometimes wonder, whether our players only pay lip-service to 'giving it their all' and "we'll do everything possible to finish as high as possible"... Loads of hot-air from the players and little to shout about for the fans.
It's not a recent phenomenon either, it goes back at least a decade. Everton FC is far too comfortable a place for our players: little in the way of expectation. No real competition for any of our 'star' players and they know full well that, as long as they win now and again, they will be safe in their comfortable footballing lives.
If Ronald can't or won't change that attitude, then I'm at a loss to see who will.
Steve Harris
68
Posted 26/09/2016 at 17:56:51
The most frustrating thing for me over the last few years was the distinct lack of movement all over the pitch. I was hoping for a marked improvement in that aspect when Koeman came in but it's hardly any better. We are so predictable and easy to defend against because everybody just stands by their markers and so passes have to be played to players with a defender right up their ass which invariably means they just play it back to where it came from or lose it completely.
I really hate to say it but the difference in us and the Red Shite is frightening. All their front players and midfielders are constantly on the move which means the ball can be zipped around at speed and is very hard to contain and defend against. I'm actually relieved that the derby is later than usual this season because if we were to play them at the moment, I fucking dread to think what would happen...
Ciarán McGlone
69
Posted 26/09/2016 at 18:03:44
A lack of squad depth and quality in vital positions means there is little Koeman can do from the bench to effect change. It also means starting places are pretty much nailed on without any real threat of competition.
I don't agree with the analysis that our players are crap. We've seen them play fantastic football this season (although we've yet to see it for more than 45 minutes in any given game).
Saturday's capitulation was mostly about the playing staff not meeting expectations (Koeman made some mistakes too)... But without any credible alternatives in key positions, there is no big stick to beat them with...they still get picked and they still pick up their new Bentley.
Koeman has a hard season ahead of him.
Patrick Murphy
70
Posted 26/09/2016 at 18:06:16
The Derby, The Derby, The Derby, RS RS RS, Klopp, Klopp, Klopp. Post ad infinitum but I think we all get the message the Dark Side are light years ahead of us and they've played 'real' fixtures such as Arsenal, Chelsea and Spurs away. God help the Blues when they come up against such talented teams...
I really wish I hadn't spent all of that money on a season ticket (again) when it is so bloody obvious that we are all wasting our time – who needs to spend shed loads on advertising when Evertonians continue to promote and propagate the legendary RS for free.
Eddie Dunn
71
Posted 26/09/2016 at 18:14:48
Patrick 43, your comments regarding the change in atmosphere are interesting. The modern penchant for massive season ticket sales results in almost full stadiums regardless of performance. I have never had a season ticket, and when I still lived up there ,i always paid on the gate. Attendances fluctuated depending on the visitors, and our form.
Players today trot out at home games to regular sell-outs regardless of the football being offered. Perhaps they would feel differently if their poor show was rewarded with 20,000 fans to see them. Maybe they would pull their socks up a bit?
The demographic of fans has changed, especially in the premier league. It is only our away support that regularly gets behind the side.
The lack of standing and increased ticket prices, allayed to the propensity of season tickets has resulted in less young people at the game.
Today the atmosphere at Goodison is regularly ridiculed by the travelling fans, and rightly so.
Bobby Thomas
72
Posted 26/09/2016 at 18:18:27
We have too many lads, especially attacking wise, that are 1-in-3 type players. You don't know what your going to get from them. Excellent, anonymous or garbage. And I include Lukaku in that. Barkley and Del Boy being the worst offenders.
Mark Morrissey
73
Posted 26/09/2016 at 18:22:14
Too many excellent posts here today. Can't really expand any further... only to say I will be very keen to see how Bolasie plays on Friday. I can't see him strolling around behaving like a wallflower like he was against Bournemouth.
I expect him to have an absolute blinder and get us back on track. I'd also give the captaincy to Williams as I think we need someone who'll throw a few fucks into the players.
Denis Richardson
74
Posted 26/09/2016 at 19:19:24
At least Friday's not that far off.
Let's do the talking on the pitch. I'm confident we have the ability to beat Palace, hopefully we go back to 3 CBs and bring Holgate back in. Could do with a bit of youthful arrogance in the side.
Frank Crewe
75
Posted 26/09/2016 at 19:26:45
Heard it all before. We're all really sorry and it won't happen ever again... until it does.
Andy Meighan
76
Posted 26/09/2016 at 19:28:18
Great post, Patrick (#70),
It seems a lot of our fans would rather crow about our loveable neighbours than praise our own side. Yes, it's been a poor week, we all know that, but to hear some on here, you'd think the title had the ribbons on waiting to be presented to them across the park.
It's a long season... a very long one so let's see what transpires. Every side will hit a lull, even Man City. It's how you respond that matters. Anyway, the last time I looked, the magnificent reds were on the same points as us and only above us on goals scored. So it's not all doom and gloom.
Darren Hind
78
Posted 26/09/2016 at 19:55:13
We lost on Saturday because Howe did a far, far better job than Koeman. Despite coming off the back of two poor results, they were sharper, more confident, more organised, and wanted it far more than we did.
We are beginning to pay for the much-vaunted transfer window. We knew Valencia wasn't up to it and he seems in a hurry to confirm that. We knew Bolasie would blow hot and cold and he's blowing hot and cold. We knew Lukaku offered nothing when he doesn't score and nothing is what we got – apart from squandering another golden opportunity.
Why do we insist on giving managers a free passage? Bournemouth are probably the smallest club ever to be in the Premier League, they don't have a player who would get in our team yet they bossed us all over the park. People whinge about resources but look at theirs?
Eddie Howe would swap Koeman's squad for his own in a heartbeat, so can we have less of this poor old Ronald? He was out-thought, out-witted.
Not good enough.
Ian Riley
80
Posted 26/09/2016 at 21:35:51
Got to earn the right to play. Too slow on Saturday considering players were rested from the Norwich game should take some of the blame. I don't think we have the players to get at teams. It's going to take Koeman at least two transfer windows too sort it out.
Remember the style and mentality of the previous three years will take time to change. Koeman is giving time and chances to players to prove themselves. Koeman expects hard work. A lot players are playing for a future at Everton.
Geoff Evans
81
Posted 26/09/2016 at 21:41:01
Words are cheap!

Don Alexander
82
Posted 26/09/2016 at 21:46:59
Gary Creaney at (#57) hits the nail on the head for me. I was in full sympathy with the squad whilst BBS was buggering about but, if they haven't noticed, there's a new manager and owner in now.
In the real world, new bosses with the pedigree of our two demand a drastically improved attitude from all employees, immediately. Professionals try to deliver it, immediately. Losers don't give a shit.
Over to you lads.
Jim Burns
86
Posted 26/09/2016 at 21:49:00
Ciaran @69. Define 'fantastic' in your view.
Ciarán McGlone
87
Posted 26/09/2016 at 21:52:49
The first half against Spurs.
Jim Burns
88
Posted 26/09/2016 at 21:52:55
Gordon at 66 -– you are right about the youngsters – until they too fall victim to the 'overhype' virus and become infected. Incubation period – approximately one to one-and-a-half seasons, depending on exposure.
Jim Burns
89
Posted 26/09/2016 at 22:00:53
Ciaran – I suppose, to be fair, the term is relative. A decent effort for sure in the first half against a Spurs side that failed to get going until after half-time – but a decent 45 minutes for sure. Fantastic though? Hmmm.
Ripping a team apart – any team – by at least 4 goals with little reply, as some have done already... now that would be fantastic in my book.
Hopefully we will – but we've work to do!
Stan Schofield
90
Posted 26/09/2016 at 22:32:11
Patrick @70: Yes, some posts say Liverpool are way ahead. But I don't think they are. It's worth looking at them because I think there are similarities to our situation.
When Rodgers was sacked and Klopp took over, he started as Koeman has, getting the players to a higher level of fitness. At one point, he said they need to get used to it, because they're young professional footballers. He's had nearly a year, so obviously they're doing the 'pressing' game better.
Koeman is doing similar with us, and it's been working, but sporadically. He's trying to get them to do the pressing game over a whole match. The players have the ability. The transfer window wasn't great, but nevertheless our squad is not the big issue that some are saying it is. We do have the quality (in my opinion), we've seen it in action (until last week), and we just need to see it working as a matter of routine. A new routine that these players will get used to.
Brent Stephens
91
Posted 26/09/2016 at 22:51:58
My money is on Koeman's team being above Howe's team at the end of the first half of the season. And at the end of the season.
Darren Hind
92
Posted 26/09/2016 at 23:27:58
"My money is on Koeman's team being above Howe's team at the end of the first half of the season. And at the end of the season."
How refreshing it is to know we have fans prepared to stick their necks out THAT far.
Given the respective squads and resources, if Koeman does not finish at least 20 points clear of Bournemouth, we have the wrong manager. He has already been embarrassed by Howe in their head to head. Koeman gets paid around 4 times what Howe gets,
Even Martinez went close in his first season with this group of players, what was it, record points? Given that so many believe we we have strengthened, Koeman should be aiming to at least equal that...
"My moneys on Koeman's team to finish above Howe's" ?
Kinell....
Mike Dolan
93
Posted 26/09/2016 at 00:00:01
We have played quite well until this game. I thou ght Bournemouth crowding out the wings was crucial as we have absolutely nothing creatively in midfield at the moment.
The goal this season is to get in the top 4; it will be a fantastic achievement if we do that. Koeman said it will take 4 windows to get the right team on the field; after this week, you can see why.
Everton have to many soft players on the books and that will change. The really fantastic news is that the defense is much improved that ,even on a bad day, we are not conceding much.
Stan Schofield
94
Posted 27/09/2016 at 00:11:36
I'd put my money on finishing in the top 4 provided they just get their arses in gear. The ability is there.
Trevor Peers
95
Posted 26/09/2016 at 00:13:25
It would be a big surprise if Koeman doesn't make some changes in midfield for Friday night's game.
At half-time in the Sunderland game, after a dire 1st half, he read the situation right and made a change remarking 'I had to do something to change the game.' Something similar is now required, if he makes the right call I think we can win.
Failure to make changes could mean another defeat. Koeman has made a good start, but now he needs to show he's got some of the answers. Barkley needs a rest, that's obvious, but he's idolised in some quarters. Let's see if Koeman has got the balls to drop him on Friday.
Bill Gienapp
96
Posted 27/09/2016 at 01:14:32
Look, I get that people are disheartened over the Bournemouth match, but I really don't like this sudden need to denigrate and discount our previous four league victories as if they count for nothing.
No, they weren't dominant displays and no, they didn't come against the quote-unquote "league elite" but they were still hard-fought wins that we 100% earned, largely through discipline, grit and mental toughness – qualities that were sorely lacking during the Martinez era.
I know people are afraid this past week signals a regression to last season's dire form, but I, for one, am heartened at the clear positives we've already seen under Koeman.
Anthony Dwyer
97
Posted 27/09/2016 at 01:33:23
I hope we get back to winning ways on Friday, but two defeats last week showed us in our true light.
The first loss proved the squad depth is weak; the second loss proved that we lack creativity.
It may sound a little harsh, but if you look at most of the top 6 sides you will see a lot more players worth in excess of 㿀m than you will at our club. That's the truth of the matter.
We have a decent enough side, but if it's not going well, the subs are hit and miss. Deulofeu is about the best we have to offer and he can range from world class to awful, while players like Cleverly and Lennon are mid table Premier League players at best.
Koeman is a good manager, but he can only work with the tools at his disposal.
Hopefully Baines will be back and Ross will find his form; if that happens we will more than likely win more than we lose.
John Malone
98
Posted 27/09/2016 at 07:11:04
We were lucky against Tottenham. We only just scraped past West Brom and Stoke, which both could have easily been different results, and we well to beat a poor Sunderland side whose defence went MIA!
We played okay after a slow start against Boro and got completely outfought, outworked and outplayed against Bournemouth!
Let's put thing's into perspective: we have both been playing well, we have been getting results!
The defence has looked solid, Gueye has made a good start, but all the forward players have been pretty hit and miss!
For me, a lot of our attacking shortcomings come down to our shape and Barkley playing Number 10. He is not intelligent enough to play in that role; he slows most attacks down with his pass selection or 'dallying' on the ball.
Koeman needs to realise his squad's strengths and weaknesses quick and change the shape to suit the opposition and their tactics.
Palace will be a real test up against Puncheon, Townsend and Benteke amongst others. I'd like to see Koeman be creative with the shape and get Kone or Mirallas up next to Lukaku somehow as I expect them to sit deep and counter.
Matt Butlin
99
Posted 27/09/2016 at 07:17:40
I wonder whether Barkley will be looking to impress the next England manager, whoever that is?
Liam Reilly
100
Posted 27/09/2016 at 08:53:01
Yep, Fat Sam looks a dead man walking, Matt.
I lost respect for him when as Blackburn manager he deliberately singled out Tim Cahill before a game by insisting that the referee keep a close eye on him, because he was clever at getting away with fouls.
Deserves all he gets.
Rob Halligan
101
Posted 27/09/2016 at 09:10:55
Sam Allardyce and Sammy Lee remind me of Mike Bassett and Dave Dodds from the Mike Bassett, England manager, film.
They were bloody useless as well.
Rob Halligan
102
Posted 27/09/2016 at 09:37:05
Can anyone imagine this being Koeman at half-time against Bournemouth:
https://m.youtube.com/#/watch?v=7SN9le_U5SI
Paul Conway
103
Posted 27/09/2016 at 09:39:45
Craig Walker (@22),
I have to agree with you. This game being judged pre-Norwich and Bournemouth, would have put us down as favourites. Seeing us being seriously exposed and exploited in our last two matches puts a different slant on the game.
I feel it will be a lot more nervy and will be more of a cup game for us. In fact, given the inconsistency and ineptitude of some players (who imo have been shown far too much patience), we are in for a whole season of cup games!
Eddie Dunn
104
Posted 27/09/2016 at 09:50:46
We have more pace in the team this season. Bolasie, Valencia and Gueye all add in this department, which is one key ingredient for a team to do well in our league. However, we do not have enough guile in the midfield.
Barkley cannot provide it on his own, and though Barry and Gueye can pass, we simply don't have anyone who can run the show. Oh for a Mata, a Cazorla, or Coutinho. We haven't dominated a game for 90 minutes, even the win at Sunderland was a second-half performance.
There is much to do, but the reality is that, much as we wanted to load the blame onto Martinez, many of the players that let him down are continuing their form under Koeman. The inconsistency is still there, the only difference is the defence , which Williams has helped to tighten.
Players like Mirallas, Deulofeu, and Barkley have shown that it was not the boss that was holding them back. Bolasie seems cut from the same cloth, but we suspected as much. A general lack of quality is what we are left with.
I watched Arsenal take Chelsea apart with a standard of football that was light-years ahead of anything we have played so far this season. Intelligence, movement and precision passing.
This manager needs to jettison 6 players and bring in better ones. A striker, two passing midfielders, another centre-half and another winger. We need to say goodbye to Mirallas, Lennon, Cleverley, Kone, Oviedo, McCarthy and obviously Niasse. Let's see more of Davies, and why not put Ledson and Walsh on the bench?
January will determine whether we challenge for the Europa League places or mid-table.
Joe Foster
105
Posted 27/09/2016 at 10:15:59
Other teams have managed to adapt quickly enough to their new managers' methods, eg, Man City and them lot over the way. Why do some of us make excuses saying it will take time to get over Bobby Brown Shoes' reign of terror?
Chris Gould
106
Posted 27/09/2016 at 11:27:38
Eddie, you're right about Arsenal, but how long did it take for them to get to this stage? How many years of underachievement? Also, they're just as likely to go and lose at Burnley or Watford after putting in a great performance. They lack steel.
People are being incredibly impatient with Koeman. I can't believe the amount of so called knowledgeable football fans up in arms over a couple of losses. Did people really think Koeman had a magic formula that was going to make us instant title challengers?
We're in the mix and that is way beyond what we were last season. It will take a couple more transfer windows for Koeman to have his own team, and if he keeps us in the top 7 in the meantime, he'll be doing a great job.
Dave Abrahams
107
Posted 27/09/2016 at 11:54:53
Eddie (#104) I 'd keep Lennon, Cleverley and McCarthy, we are going to need them starting on Friday night.
By the way, Eddie, Ledson has left the club... sadly no longer rated by those in charge.
Bill Gienapp
108
Posted 27/09/2016 at 12:26:02
John (#98) – not to pick on you personally, but this is exactly the sort of talk I'm referring to.
Lucky against Tottenham? We ran out of gas in the second half, then dug in and saw out the result. Stekelenburg had a couple big saves. Nothing lucky about it. Just a hard-fought, well-earned draw.
Barely scraped by against West Brom? We started poorly, but everything changed when Lukaku came on. We dominated the second half and easily could have won 3-1 or 4-1.
We were perhaps fortuitous against Stoke, both in terms of the penalty awarded and the manner in which it was converted, but we locked that game down defensively and barely allowed them to sniff the goal, after conceding four – FOUR – the last time they came to Goodison. That's progress, in my book.
Sunderland and Middlesbrough were uneven showings in which the outcome was never seriously in doubt.
It's inevitably going to be an up-and-down season and there are obvious issues the team needs to work on, such as slow starts and incomplete performances, but that doesn't mean we have to deny the existence of positive progress any time there's a setback.
Jonathan Tasker
109
Posted 27/09/2016 at 13:05:13
Interesting as all of the above is and good points all, what you have to remember is that the current owners don't want us to succeed – if they did want us to succeed, they would have given the appropriate funds to the manager.
They consistently have failed to do this over a number of years. I can only conclude therefore that they don't want us to succeed and I don't see that altering any time soon.
As soon as the manager works this out, he will leave.
Chris Gould
110
Posted 27/09/2016 at 13:21:55
Bill Gienapp (#108) – excellent post.
Eddie Dunn
111
Posted 27/09/2016 at 13:24:24
Dave (#107), I'd forgot about Ledson. I didn't mean to ship those players out before the Palace game! McCarthy is surely injured.
Chris, I think Koeman is doing a decent job, and he will be more aware than any of us, of the shortcomings of our players. We are in the mix, but have only played Spurs out of the better teams, so we might be in a different position come January.
Mark Andersson
112
Posted 27/09/2016 at 13:39:14
Johnathan, a wee bit cynical there. I posted something similar on another thread and got accused of being a conspiracy theorist.
It's an opinion with no facts, just a gut feeling. If the board don't back Koeman then he will do the best with the resources he has. After all, that's what he did at Southampton except our fans want and expect more.
Col Wills
113
Posted 27/09/2016 at 14:16:21
The simple fact of the matter is that their players worked harder than our players. That's what happens when you have the likes of Lukaku, Barkley and Bolasie in the team and the risk you take.
Not until they ALL realise that it's a team effort will they fulfill their potential.
William Cartwright
114
Posted 27/09/2016 at 15:38:45
Dave @ 56; My apologies for the late response, busy day with a living to earn! You are correct, the player I was thinking of was Walsh not Evans (no disrespect to Evans there)!
Paul Kossoff
115
Posted 27/09/2016 at 17:39:42
Jonathan (#109), I've thought the same as you for a while now: it seems silly that Kenwright and Co don't want us to succeed but I'm sure they've a reason... whatever it is, God knows.
Patrick Murphy
116
Posted 27/09/2016 at 17:52:11
Paul (#115),
I think they believe they have and are being successful, and like most businessmen/investors they'll tend to go for the cheap option rather than the best option. Ergo paying huge amounts in compensation to replace one manager with another.
We'll wait and see if Mr Moshiri has real ambitions for the club long-term, we should know by this time next year. What's that... we've heard it all before?
Mark Morrissey
117
Posted 27/09/2016 at 17:56:59
"We must hope we win the next game." The rhetoric of a failing captain. Get in their faces, Jags and tell 'em to buck their fucking ideas up. Tell 'em to earn their crust.
There are kids out there looking up to this lot as demi-gods. They are looking up to them like I used to look up to the likes of Labone, Ball, Kendall and Harvey. Those players used to leave the pitch like they had run a marathon. They played like their livelihoods depended on it because it did. It was their job.
I'm waiting to see that kind of passion and I suspect I will be waiting longer still but, for god's sake Jags, fucking stir 'em up or hand the armband to someone who will.
Ian Cowhig
118
Posted 26/09/2016 at 18:28:18
Here lies the problem for me.
The players after the game come out and say to the press that the performance was not good enough. Was this not discussed at half-time, and so the players came out 2nd half to make amends.
The 2nd half was not as bad. But not because we got any better. More because Bournemouth couldn't continue at the pace of the 1st half. They settled for holding on to what they had. At no point did I believe we had them rattled, and could get a goal back.
It reminded me of the England v Iceland 2nd half. We had enough of the ball, but no ideas. Extra touches before crossing that allowed defenders to get blocks in. Poor control & passing. So no build-up of momentum.
There have been spells of this in all the other matches. In some cases, 45 minutes worth. But we have been happy that the end result worked out for us.
Hope the players' comments act as the stimulus for a better performance on Friday. But, as I said, what happened to the improvement in the 2nd half on Saturday, that would give us that hope?
William Cartwright
119
Posted 27/09/2016 at 19:00:24
Jonathon @ 109.
Moshiri is a businessman. Kenwright is too, but not as successful. Kenwright loves Everton. Moshiri does not (no disrespect intended). Both businessman enjoy football and the business spin-offs of the current obscene wealth sloshing around the game. Kenwright loves the media; Moshiri is not so confident in that area.
Between these positions lies a balance. Businessman will invest into the team, the stadium, youth policy and whatever else will create more wealth. Ergo Moshiri is likely to have a deeper and more long lasting influence, whereas Kenwright, especially considering his age and health, will carry on at his 'hobby' and continue to exploit the position, withdrawing or redirecting funds on a regular basis etc) until the final curtain comes down. It will do so when Moshiri and his accountants see the swingometer on Kenwright's balance sheet move too far into the negative. Could take a year, maybe two, who knows...
Meanwhile Everton's stock will rise in line with the general market rise of the sport in general, or a bit faster, or slower, dependent upon our on-field success, or lack of. In any event it will rise. It's not rocket science.
I see Moshiri as passively active investor at a relatively big scale, and Kenwright as an actively passive investor at a relatively small scale. That is where the interests lie. They say opposites attract and in Everton's case they have, but whether they move forward together long term is doubtful. I don't think for a minute Kenwright 'sold' Everton to Moshiri. I think Moshiri wanted to invest into Everton because they were 'for sale' and because of the current and potential business wealth of the football market, Premier League especially, and in spite of Kenwright and his selling terms.
That is where we are, and until the Kenwright shackles are off, and the financial issues surrounding the Club are clearly reconciled, then the full steam ahead investment into the team won't be likely.
Also people are looking at the stadium investment as a capex millstone which it is. But don' t forget in property development terms, having the main attraction to regenerate an area is the main challenge and usually costs big time to be brought on board. Here we have Everton as a ready-made main attraction and they are making the land investment payment to the Peel Group for 'the privilege' of participating! If it happens according to plan, then the surrounding commercial spin-offs will run in parallel and, all being well, make the savvy investors extremely healthy profits and benefit Everton along the way.
This is not an anti-capitalist rant, by the way; it is just how I see the position is moving. In one of his early interviews, Koeman said he understands Everton's overall business issues (he's a clever guy so I'm sure he does), and he will be well rewarded for ensuring Everton's high profile runs nicely alongside the wider commercial issues. The symbiosis should benefit all. If the team performance dips, then more investment will be forthcoming. If it improves then great for all.
We are in for a roller-coaster ride and if anything assured me of the general business professional and exciting times ahead, it was the signing up of Koeman and Team and Walsh. Again, a business approach to the overall situation.
Example Gana Gueye; Cost £7.5m and 2 months later value probably quadrupled . . . . . . Meanwhile Sky money are paying the salaries.
What's not to like? Well let's hope the importance of the fans and EITC do not get lost in the process. We should be alright as after all the new stadium means nothing without the fans and the fans need the new stadium to attend the spectacle of the games, so we should be OK.
Eddie Dunn
120
Posted 27/09/2016 at 19:14:51
Perhaps our general assumption that we have more money to spend on the squad is completely wrong, regardless of the so-called Moshiri warchest. The lack of a net spend in the transfer window could be indicative that the players, with their expensive contracts, and our compensation to Martinez, leaves us short of cash to go for the better players.
At this rate we will never get a better ground or improve the team to the level we want! In January, if we don't splash the cash, I fear Koeman will have to do what he did at saints. Maybe we got Walsh in because we will never have any cash to spare.
Brian Harrison
121
Posted 27/09/2016 at 19:35:29
Regarding money I have just heard that some journalists are saying that Allardyce is only the tip of the iceberg. Apparently the Telegraph is going to publish over the next few days some revelations about 5 English managers and 2 International managers. They were the same paper that opened up the murky world of MPs expenses which they drip fed for weeks.
I can only assume there will be some very worried managers out there wondering if they have been included in this sting. The one thing that unites all the corrupt sportsmen is money; irrespective of what they earn, the greedy men still want more.
Patrick Murphy
122
Posted 27/09/2016 at 19:54:13
Brian (#121),
That's so very true; when there are potloads of money available, there are generally very greedy people waiting to grab as much as they can of it, legally or otherwise. Let's hope the name of Everton FC isn't associated with any of the upcoming 'revelations' in any way shape or form.
Kim Vivian
123
Posted 27/09/2016 at 19:56:53
Bit of a fishy smell around Niasse I fear....
Kunal Desai
124
Posted 27/09/2016 at 20:06:50
England are desperate. A national team which has been on demise for about three decades. They'll soon slide down the rankings with rata-tat in charge.
Wonder if they'll call upon ginger whinger once the mackems have booted him out?
Ken Williams
125
Posted 27/09/2016 at 20:37:37
Used to hear these sound bites after every defeat under Martinez. They need to convince the fans by doing the business on the pitch.
Brian Williams
126
Posted 27/09/2016 at 21:15:14
Thinking about it, is Allardyce the only England manager ever with a 100% win record?
Ian Cowhig
127
Posted 27/09/2016 at 22:28:09
The ridiculous amounts of money that are thrown around like confetti. Footballers lighting cigars with 㿞 notes. Is it any wonder that corruption and greed appears to be running rife. I would be surprised if criminal elements don't get involved in football due to the huge sums of money. Maybe they already are.
Eddie Dunn
128
Posted 27/09/2016 at 23:52:23
Venables lost the job due to his dodgy contacts and old Flappy-faced 'Arry missed out for similar reasons. There are plenty of wheeler-dealers out there in the dosh-pit that wouldn't stand great scrutiny. I wonder if old whisky nose got out of the game early to avoid this kind of shit.
Big Sam has been hung out to dry, but I wonder why the journos went for him? Also makes me wonder why the FA went for him in the first place. Are they so out of the loop that they don't have an inkling about the gossip in football circles?
Ian Linn
129
Posted 27/09/2016 at 00:04:03
6 league games, 4 wins, a draw, a defeat, it's not that bad is it?
William Cartwright
130
Posted 28/09/2016 at 02:59:25
My earlier message on the wider commercial health of the club relative to the team's progress, results and player investment is I think valid. However, the Niasse deal has a smell about it and I wonder if Koeman is keeping his distance for sincere professional reasons?
Meanwhile, in the wake of the Big, Fat, Greedy Sam fiasco, could be that finally the football money pit will be looked at more closely?
Meanwhile I see the BBC featured articles with one highlighting how the shining examples of quality managers acting with professional integrity, Guardiola, and Klopp (obviously...)
I hope just as we are getting started circumstances prevail that pull the rug from under us don't prevail? Given our history of being scapegoated by events unrelated to the Club, and bad timing, I feel a bit nervous...
Ernie Baywood
131
Posted 28/09/2016 at 04:10:51
It's all very off topic but here are what the Telegraph say they will reveal...
The assistant manager of a high-profile football club accepted a £5,000 cash "bung"
Ten managers were named by players' agents as taking bribes to fix player transfers
Two well-known managers discussed becoming ambassadors for the same fictitious firm as Sam Allardyce
Another high-profile manager admitted his players broke FA rules by betting on their own games but he failed to report it
A senior figure at a Premier League club helped undercover reporters to formulate a plan to bribe managers
If it's naivety and ego at the centre of this, then I start to feel a bit nervous for our former manager.
Matt Traynor
132
Posted 28/09/2016 at 05:20:21
Ernie #131, it's probably worthy of a discussion thread on its own this one. I wouldn't be so sure about OFFM, but the one he replaced at OT, Taggart? His name will be all over this I am sure. He's already been caught out before talking to "Far East investors" about what he could do etc.
Ralph Basnett
133
Posted 28/09/2016 at 07:36:33
'Players look to Friday to make amends'? Don't get this at all!!!
Didn't they look to Saturday to make amends after Tuesday's debacle and look where that got them.
On the money they are getting they should be looking at giving 100% everytime they put the jersey on (and obviously in training too) and not just after they have taken yet another knock.
I realise how difficult it must be playing professional football and having to live on a paltry plus a week (dependent on who you are and who you believe) and then if you sort your finances out properly be able to retire or get paid to chat on TV at the ripe old age of 35ish.
Us as supporters should have more sympathy for our team, after all they are only human and asking them to give 100% for 90 minutes over a week is extremely difficult whilst having to worry about things such as when the pool will be installed, did my children get into that private school, is it a diamond or a new Range Rover for her birthday
Blah Blah Blah..
Get a grip FFS!!!!!!!!
Rant Over - roll on Friday, so that they can put it right!!!!!!!!!!
Eugene Ruane
134
Posted 28/09/2016 at 07:55:56
Ian (127) -
'I would be surprised if criminal elements don't get involved in football due to the huge sums of money. Maybe they already are.'
There's no maybe about it.
Remember - "You knew full well that Kenny Dalglish had engineered for one of his unsavoury friends to come and facilitate this meeting,' Lord Carlile, Hylands' barrister said in court. 'It was you who brought the heavy mob, wasn't it?" - Link
Or - "Gerrard wished it to be known that he had 'the utmost respect' for the man who stood in the dock. Never mind that the defendant, John Kinsella, was a known gangster charged with tying up a security guard during a £41,000 robbery" - Link
Just two (ahem) random stories.
Brian Wilkinson
135
Posted 28/09/2016 at 08:21:07
Sorry to piss on your bonfire Ralph@133, put away any sharp objects before you read my next line.
Clattenberg is the ref for Friday's game, talk about kicking someone when they are down.
Tony Hill
136
Posted 28/09/2016 at 09:05:41
At least we can be comfortable that none of our top people have ever associated themselves, or formed close friendships, with greedy spivs who don't give a toss about the poor punters.
Colin Glassar
137
Posted 28/09/2016 at 09:17:34
I've been saying for years that football is corrupt (everywhere) despite our squeaky clean image and at last it looks like the lid is coming off. Certain referees also need to be investigated as some of their "decision making" is suspicious to say the least.
Dave Pritchard
138
Posted 28/09/2016 at 09:23:49
Brian 135, Clattenberg has become one of the best refs in the Premier League. I know the history from that game but it doesn't change my opinion.
Chris Williams
139
Posted 28/09/2016 at 09:59:16
Which of our former managers had a close relationship with Willie McKay??
Paul Thompson
140
Posted 28/09/2016 at 12:04:39
All these 'heard it all before', 'do all your talking on the pitch' comments are a bit pointless. Players do not ring up the Echo and say we'd like to waffle on about what went wrong and what we want to put right. There is a 24 hour news cycle and the beast must be fed. Players (of every club) are required to speak to the media.
Of course most of it is unilluminating and occasionally annoying. Let's hope they have more positive things to say after Friday. This game will tell us a lot about the ability of Koeman and the players to learn from defeat and move forward.
Peter Murray
141
Posted 28/09/2016 at 12:35:43
Mark (#117),
Excellent – totally my opinion, I just count myself to be so lucky having personally witnessed "blueboys" of the quality of Ball, Kendall, Harvey & so so many more.
Our existing players, unfortunately are just "rented" & so we do not have the same affinity to them, for example Lukaku, Deulofeu, etc. The game has moved on and, to a large proportion of all players, is devoid of total personal "effort" and unfortunately... a win bonus!!!
Ralph Basnett
142
Posted 28/09/2016 at 13:36:05
Brian (#135), I can accept being beat even if Clattenberg is the ref if the fuckers just give the 100% their huge salaries demand.
All I ask is for my pound of flesh just as does my employer!!!! Of which he more than gets .
Paul Conway
147
Posted 28/09/2016 at 20:43:17
Colin Glassar ( #137), I am inclined to agree. I am now watching the Celtic v Man City game and the 2 offside goals were blatant.

How many players must be offside before the goal is deemed offside?
Jack Convery
148
Posted 28/09/2016 at 21:48:23
With Man City coming up soon, I took in the Celtic - City match. Apart from the game being a cracker, it illustrated that you have to go at City from the off and if you have a decent defence you can cause them trouble.
Dembele, who I believe Martinez watched, bullied City's defence from the off and made Otamendi and Kolorov look inept. Why pass on this kid and buy Niasse? ridiculous!
Dave Abrahams
149
Posted 28/09/2016 at 21:57:57
Jack (#148), you are right, it was a great game with Celtic not resting for a second, Gordon the goalkeeper made some brilliant saves but you couldn't begrudge Celtic their point and a great night for the Celtic fans.
Regarding Dembele, I think with him going to a Scottish club there would be no transfer fee involved, he would get an excellent signing on fee and wage, plus putting himself in the shop window in all the European games.
Oliver Molloy
150
Posted 28/09/2016 at 22:21:05
Celtic paid Fulham a development fee which has been reported to be in the region of 𧺬,000.

James Stewart
151
Posted 28/09/2016 at 23:12:54
138. Actually agree there, him and Michael Oliver are the only refs who impress me these days. He has improved.
Jay Wood
152
Posted 28/09/2016 at 23:24:10
I submitted this story to TW Towers and I'm surprised it seemingly hasn't been given any attention or picked up by others.
It is a very thorough and explicit explanation by Jags, comparing defensive training (and expectancy) under RK, contrasted to that under RM. Well worth a read.
Revealing and reassuring.
Eddie Dunn
153
Posted 28/09/2016 at 23:44:33
Thanks for pointing that out Jay!

Brian Wilkinson
154
Posted 29/09/2016 at 06:42:51
With you on that Ralph, 100% from the players, I came away from Goodison from the Norwich cup game last week and not once did I think, unlucky here or there, or we could have won.
The team as a whole were awful, I really thought we would put that right against Bournemouth,
I would like to think come Friday, we will have got over our blip, the players respond and put a shift in, that's all I ask as well Ralph, getting stuck in and having a bloody go from the first whistle.
---
Add Your Comments
In order to post a comment, you need to be logged in as a registered user of the site.
Or Sign up as a ToffeeWeb Member — it's free, takes just a few minutes and will allow you to post your comments on articles and Talking Points submissions across the site.