Moshiri talks of faith in Koeman and transfer sagas

37 Comments [Jump to last]
Monday 7 November 2016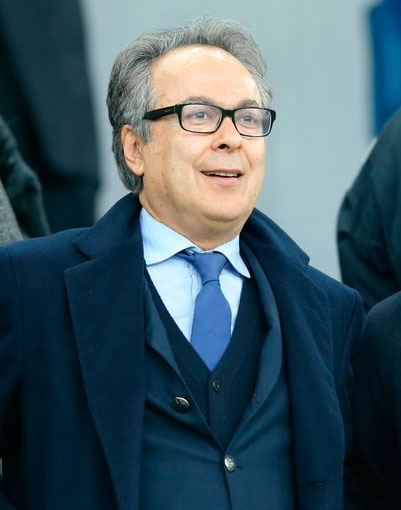 Farhad Moshiri has outlined his thought process in identifying and then hiring manager Ronald Koeman, as well as his full backing for the manager in terms of coaching and player recruitment.
The 61-year-old businessman made the Dutchman his number one choice to succeed Roberto Martinez once it became clear that a change in manager was needed at the end of last season and he successfully tempted Koeman away from Southampton in June.
"He's everything I wanted — a disciplined, experienced, top coach," the club's major shareholder said in an interview with Jim White for talkSPORT this afternoon. "The manager is the most important individual and you know, he has the aura. He was one of the top 60 all-time players.
"I think the job of the owner and the Chairman is simply to hire and fire the manager. The rest is down to him. Our job is to back him but he keeps his own counsel and he has the personality, the aura and the ability so we trust him."
Moshiri revealed that it wasn't until Koeman gave the green light to sell John Stones that he eventually acceded to the player's desire to join Manchester City this past summer and fulfilled a promise made by Martinez the year before.
He also revisited the transfer sagas surrounding the likes of Moussa Sissoko, Lucas Perez, Kalidou Koulibaly and Manolo Gabbiadini during the previous transfer window as well as the successes in landing the likes of Idrissa Gueye and Yannick Bolasie.
"I didn't want to sell [Stones]," Moshiri explained. "I did what I could to keep Romelu, whom I kept. I just looked at the club and the three big stars for me were Romelu, Ross Barkley and Stones. I liked it [but] the boy wanted to go and Martinez had promised him that he could go the following year.
"I didn't let him go until the manager said, 'he can go.' At the end of the day, I did what the manager wants because what is £47.5m? We tried to buy Koulibaly of Napoli and they wanted £60m. I mean every defender in Europe is now £50m for a 29-, 30-year-old. It's just Monopoly money, it doesn't mean anything.
"We competed with Chelsea [for Koulibaly]. We went right to the asking price but the club didn't sell, neither to us nor to Chelsea. We were right there.
"Then the manager had seven names, four of those we got: the Dutch goalkeeper [Stekelenburg] he bought and we're happy with; he wanted a holding midfielder and Idrissa Gana is a big success; he wanted more assists for Romelu [so we got] Bolasie; and [he wanted more] leadership at the back [and in] Ashley Williams he got that.
"Then he wanted a box-to-box [midfielder] so we went for Sissoko, we matched the asking price — we actually offered more — and all the terms were in agreed. Some time before midnight we realised he had changed his mind.
"He wanted to go to a Champions League club. Lucas Perez was the same — all ready to sign and Arsenal took him from us at the last minute.
"And then [Manolo] Gabbiadini of Napoli… again we did everything but at the last minute the club decided not to sell. But you know, Jim, you don't really know if that would have helped us. Lucas Perez is injured at Arsenal, Sissoko is suspended, Gabbiadini has only scored one penalty. You just don't know."
---
Reader Comments (37)
Note: the following content is not moderated or vetted by the site owners at the time of submission. Comments are the responsibility of the poster. Disclaimer
Alan Bodell
1
Posted 07/11/2016 at 18:14:45
For the 'box-to-box midfielder', he is here under the name of Tom Davies; he has it all and is ready so spend on other areas.
Andy Meighan
2
Posted 07/11/2016 at 19:17:59
I wouldn't call landing Bolasie 'a success' – he's been shite (so far). What other clubs came in for him? Not one, if I remember rightly.
Gueye has done very well but he's off to the AFCON in January; he'll be a big miss. Unfortunately, what I've seen of Bolasie so far... he won't be.
Alan Humphreys
3
Posted 07/11/2016 at 19:53:29
This fixation with Jim White is worrisome.
Gareth Clark
4
Posted 07/11/2016 at 20:14:57
Alan (#1),
As much as I'd love Davies to play regularly... that is not the way of modern football.
Davies is still very young, and I doubt Koeman has the trust in him, over someone he could buy, such as Shneiderlin (who he has worked with), or Strootman.
What I like about Koeman & Moshiri is that they are very honest & very blunt. If we want to be equal with the top top level clubs, then there is no time for emotion or sentiments.
Davies will be a player in the future, he has plenty time; trust Koeman, he knows what he's doing.
Pete Edwards
5
Posted 07/11/2016 at 20:19:07
Alan, at least this seems like the proper way to give Jim White info in an official interview rather than a Notepad txt message!
I personally think this is the best news we could have been given... no debt, seems that we did make serious moves and offers for players, yet I'm still seeing on social media people calling him a liar or fraud!
I'm sure there will be similar comments on here too over time – don't you just love being an Everton fan!
John Malone
6
Posted 07/11/2016 at 20:34:03
Nice use of smoke and mirrors by Moshiri to deflect the negative feeling left by the 5-0 thumping and desolate display at Chelsea!
I listened to the interview live on Talksport and it was refreshing to hear the focus of the club and to get clarification that we were actually trying to sign certain players, but on the same hand worryingly transparent that our main man was airing all our business live to the nation!
The relationship with Jim White is a funny one and one which Moshiri has to be careful with, I do hope someone at the club has the sense to speak to Moshiri and make him aware and apply a bit of the media training the players get or get him to use a spokesperson rather than run the risk of saying something he shouldn't or sounding stupid like in the case of the whole Sissoko McCarthy debacle!
It was good to hear that the new stadium is top of the agenda and he means business about trying to compete at the top!
Tony Abrahams
7
Posted 07/11/2016 at 21:05:27
Trust Koeman, he knows what he his doing? I hope you're right, Gareth, because his starting formation on Saturday really confused me.
The reason it confused me was because I still don't think the team are really getting to grips with what the manager wants, and then he's altered it?
Some players looked like they couldn't wait to get off the pitch after 30 minutes and really look like they haven't got the stomach for the fight.
If Koeman does know what he's doing, then we are going to be really busy in the January transfer window.
Alan Bodell
8
Posted 07/11/2016 at 21:09:15
Gareth, I totally understand he is too frail bodied to make a whole season but this kid has it all. Beefed up another year, and he will be twice the player we hoped Ross would be. I'll lay money on him being a top, top player for us and (I don't give a shit) England.
Dick Fearon
9
Posted 07/11/2016 at 21:32:19
Being a tad cynical, I could have predicted that our shameful display at the Bridge would bring forth a tit bit of news about a new stadium.
Could it be the work of a certain theatrical impresario trying to resuscitate our flagging spirits? Nah...couldn't be that, could it?
Minik Hansen
10
Posted 07/11/2016 at 22:00:36
Let's wish for a great bit of business in January. Hopefully we will keep prices down.
Ciarán McGlone
11
Posted 07/11/2016 at 22:03:37
The telling thing about this part of the interview for me is about Sissoko...
Moshiri has now changed his tune from 'Everton pulled the plug.. James McCarthy.. blah, blah ... Blah' to "sometime before midnight we realised he had changed his mind".
That volte face alone brings his entire credibility into question.
We are being asked to take a leap of faith here and I'm far from convinced.
I'll be happy to be proven wrong – I'll be ecstatic... but at this stage of my Everton career, I've earned the right to be cynical.
Paul Smith
12
Posted 07/11/2016 at 22:47:02
After the debacle at The Bridge on Saturday (and it hurt), I feel uplifted somewhat after this statement from Moshiri.
I'm only surprised by the lack of contributions from these boards. It's what I've been waiting to hear for months.
Patrick Murphy
14
Posted 07/11/2016 at 22:54:56
Paul (#12),
I think we all want to believe that Mr Moshiri will indeed take the club forwards in a different way to his Chairman; however, I did feel at times during his interview with Jim White that he was acting a little like an Iranian Jim Bowen, showing us the players we could have won but sadly telling us why we had to settle for the less-than-star prizes of Stekelenburg, Williams, Gueye and Bolasie.
Who can blame any Evertonian that has earnestly followed the club for more than six months for being a little cynical and not wanting to put up the flags and bunting until we see something 'concrete' happen at the club? I will be as happy as the next Blue if we get a proper stadium on the right site and we see a procession of top level players arrive at the club in the next few years which may help us properly compete at the top end of the table – only time will tell.
James Doran
15
Posted 07/11/2016 at 23:18:35
I think Moshiri was embarrassed by the Sissoko farce and his knee-jerk reaction was to effectively waffle 'We didn't want Sissoko anyway'.
In my opinion, Moshiri's fine interview today has redressed the balance – 'I am a realist and will do everything I can in supporting our manager as he endeavours to make EFC very successful again' is what I gleaned from the transcript above.
NSNO.
Nigel Gregson
16
Posted 08/11/2016 at 04:26:20
So basically Koeman has the team that he wanted. Can we stop with that excuse already.
Alan J Thompson
17
Posted 08/11/2016 at 06:06:41
I suppose I suffer from cynicism brought about by being ring fenced in supposed grounds in shopping malls but all we've seen is some photographs from 500 metres away at one of two suggested sites. All of which makes me wonder at the timing of this and the wisdom of telling the world that you are willing to pay more than the seller is asking but that hasn't been possible as you haven't been able to convince players that they will be better off at Everton.
I do trust Mr Moshiri more than the previous regime as there has been movement and I will be more patient as it does appear he has made some progress in what is a short space of time. Otherwise, the alternative would be giving up altogether and I've followed the faith far too long for that.
My dilemma now is that I really do want someone from within the club to be open and honest so I'm just going out onto the window ledge to think about it for five minutes but as I live on the ground floor it could be construed as merely a gesture.
Lee Wareham
18
Posted 08/11/2016 at 07:40:07
Stop being so cynical – I can understand why people are... after all, I've supported the Blues science 1974 when I was just 7 years old but it's time Koeman was given a chance.
He messed up at the Bridge, we all make mistakes the thing is to learn from them, as I'am sure Koeman will. Give him the chance to bring in his own players and then judge.
After all, this is just a season of him getting to know the club, like Klopp had last season, and as much as I don't like to say it, them lot are doing alright.
Steve Bell
19
Posted 08/11/2016 at 09:20:29
Christ almighty, some of the cynicism/apathy on here is ridiculous.

I get the fact that Bill has let us down before, but now the owner HAS changed. We're no longer in debt. We're going in for top players. He got Koeman (many on here at the time said "why would he come top us??"). We're going to get a new stadium, he's said so.

Take him at face value. None of it will happen overnight but everything I've seen so far in the 8/9 months he's been here, has promised much. Plus, he's now given an expansive and transparent interview about real stuff, as opposed to theatrical waffle.
Peter Laing
20
Posted 08/11/2016 at 09:50:23
Rewind a year to the last AGM in November. Elstone gave a pitiful performance, refused to answer probing questions and the proposed stadium at Walton Hall Park was dead in the water with the Mayor basically intimating that Everton had once again failed to produce the goods in terms of both finance and feasibility.
We now have Farhad Moshiri at the helm who is seemingly a man with a plan and a very clear vision of where he wants to take Everton. This is a man with serious wealth and seriously wealthy friends, not a charlatan sitting in a bed sit in Manchester.
My biggest worry to date has been the lack of communication from Mr Moshiri. The interview yesterday, albeit a rather strange place to air it, served to allay some of those worries and we now need to afford Farhad a little bit of trust and give him the time to deliver. After all, Bill Kenwright was given 20 years and I certainly don't want to return to the negativity and general doom and gloom that pervaded prior to Mr Moshiri's arrival.
Paul Holmes
21
Posted 08/11/2016 at 13:15:48
Koeman has only been here for four months, give him a break. He has now seen first hand that the squad is not good enough. He has a lot to get rid of, it is going to take a couple of transfer windows.
We brought in Steve Walsh to identify players but, up to now, they wanted to sign for Champions League teams so we can't blame him just yet. He got good players to sign for Leicester so there is hope.
John Pierce
22
Posted 08/11/2016 at 14:49:24
Paul (#21), Seems reasonable but remember Ronald was here 10 minutes and got rid of players or deemed others them not good enough. Where was their break?
Judge him by his own standards in terms he lays out to others. After 10 games, not good enough, the points gloss over the fact we've not put together more than one decent half of footy.
He cannot change the squad overnight so needs to show he can improve them. I'm not seeing that yet but, then again, what more do you want for ٤m a year?
Ed Fitzgerald
23
Posted 08/11/2016 at 18:04:43
I am encouraged by Moshiri's words about the ground – as long as it's the docks! A ground on the outskirts of the city would be a disaster for the long-term future of the club.
Koeman has more work to do, to win me over. My complaints are three-fold:
1. Negative tactics and formation – and too much long ball at home and away
2. An over-reliance on older players – Davies, Dowell, Holgate, Galloway and others need their chance, IMO.
3. A reluctance to take personal responsibility for poor performances at Bournemouth, Chelsea and at home to Norwich
Like with Martinez, however, I am prepared to reserve judgement for a few seasons
Michael Lynch
24
Posted 08/11/2016 at 18:16:34
If every 30-year-old defender in Europe is being touted at 㿨m, why did we only get 㿛.5m for John Stones?
Andy Meighan
25
Posted 08/11/2016 at 18:41:02
Paul (#21), why should we give him a break. He was quick enough to blow Niasse out without giving him a chance. Yet continues to play over-rated under-performing shite like Deulofeu, Mirallas, Barkley and their ilk.
Now I'm not saying for one minute give Niasse a go – far from it. But his treatment of him has been shabby to say the least. And while we're being linked with a couple of Man Utd OAPs. There'll be no breaks coming from this way.
The Stekelenburg, Bolasie and Williams signings haven't filled me with any great hope for the future The one success so far, Gueye, has been a snip at ٥ Mil so credit for that.
Granted he's only been in the job a few months. But, for me and many others I know, it's like Martinez never left because nothing's changed. No-one can say the football is any better or worse.
One of Koeman's main gripes at the start of the season was that the players were only 70% fit. Well, on Saturday night at Chelsea, I'd say they weren't even half of that. Because the way Chelsea cut through us at will so many times was embarrassing. Massive job on his hands and I hope to God he turns this round because it's not nice being an Evertonian at this time.
Anthony Lamb
26
Posted 08/11/2016 at 21:55:31
While we would all like to be able to be competing for the top players that may come not the market I do feel that we need to temper our understandable desires with a note of realism. Being a supporter now for over 60 years I too still succumb to the life-long belief that we are a "top club". However, the fact of the matter is that at the moment we simply are not and of course that grieves me as I am sure it does for many others.
We have not competed at any level, nor won any trophies for far too many years to mention. Never to have even won the League Cup must be a clear example of how far we have fallen. We play in what is now one of the poorest stadiums in the Premier division. We are susceptible now to offers for any of our players who come through the ranks and show potential, Rooney, Stones etc. The shoe well and truly on the other foot now for those of us who remember the days of Everton breaking transfer records, plundering other clubs for their estimates, and signing World Cup winners etc. Could we dream of signing current World Cup winners today?
So we surely have to find the regime that will build this club from top to bottom and it will be a slow process. It may be that we need people who can spot players who while not at the very top of the ladder are nevertheless able to establish a genuinely secure, strong team over the next two or three years and target one of the competitions that would get the team on one rung of successful achievement.
There is no way we can compete for the championship itself in the immediate years so the cup competitions seem our only realistic chance of success. Obviously establishing a secure position in the league is also another sign of "success" but at present that would surely mean establishing ourselves again as a regular top eight team. It would also mean that woeful performances such as the Chelsea debacle become totally and utterly unacceptable.
We can only hope that Mr Moshiri's judgment regarding Mr Koeman and his staff is sound. There is little doubt that there is need for a steady, gradual clear out of some of the current squad whose names are readily brought to mind by many. It will not happen in one or two years but Mr Koeman must show that he is not prepared to accept woeful levels of commitment even from some of the very limited players currently available to him.
The stadium issue itself must indeed be complicated but one hopes that some progress could be made soon and a decision taken that would illustrate the determination of the club to return to the successful levels we all hope for. In the meantime some degree of patience and realism is called for even from those of us who would truly wish it could be sooner rather than later due to the fact that we are running out of years!
Trevor Lynes
27
Posted 08/11/2016 at 22:17:53
It will take far more than one transfer window to get our squad to a competitive level. We need cover all over the pitch and bringing on players like Cleverley and Lennon will not bring glory.We remain a pretty ordinary side lacking guile. We need a big clear out and a large infusion of better players.I truly hope that a couple of our youngsters can improve and force their way into our starting side but they all seem to be defenders unfortunately.
Sean Kelly
28
Posted 08/11/2016 at 22:31:40
Is this the dreaded vote of confidence already?
Dave Ganley
29
Posted 09/11/2016 at 08:40:54
Anthony (#26) – the most sensible and realistic comment on here.
Phil Walling
30
Posted 09/11/2016 at 09:53:23
Looks like the Club has found a spokesman at last!
'What is 㿛.5M,' he asks. Well it's more than Everton has ever spent on a player and likely to remain so until the sale of Romelu goes through.
We all hope he's got it right with Koeman who certainly seems more Moyes than Martinez. But then, what did Moyes ever win for us?
Brian Furey
31
Posted 09/11/2016 at 11:51:35
Post 25 had me shaking my head at what some people believe should be happening at our club after 3 months into the job but then post 26 makes me realise that we all see things differently and those who are sensible and wise realise this ship has been off course for a long time and it will take a lot of time to get it back on track.
As I posted on another thread, if you compare us to Man City who already had their new stadium in place when the club was took over by the multi millionaires. They were allowed to spend hundreds of millions over a short period yet they still had to wait 3 or 4 years before breaking into the top 3.
It will take time to clear out the deadwood in this club and rebuild it to being a top 4 club again. Football is a funny old game and we can see that last year with Leicester winning the title yet Man Utd who are one of the top 3 richest clubs in the world struggle with new managers.
Nicholas Ryan
32
Posted 09/11/2016 at 12:07:23
Anthony (#26),
Every post on every thread should now be removed, just leaving yours. Why? Because not only does it say everything which needs to be said, but it does so with a quiet elegance rarely seen in these pages!
Dave Pritchard
33
Posted 09/11/2016 at 13:33:04
Nicholas wants to close ToffeeWeb down apart from having one post on one thread. Bizarre statement.
David Price
34
Posted 09/11/2016 at 13:36:19
Great statement Nicholas and a superb post from Anthony.
William Cartwright
35
Posted 09/11/2016 at 15:05:18
Just joining your fan club, Anthony, well said indeed!
Steavey Buckley
36
Posted 09/11/2016 at 16:01:03
Jack Convery (#7),
"Could Mr Moshiri please talk to us through the BBC."
What? Through this lacklustre left-wing organisation that is inconsolable after Donald Trump's victory. The BBC are about as timid as Everton's display against Chelsea. Moshiri is better off talking to Donald Trump, because he is a winner. Big time.
Mike Gaynes
37
Posted 09/11/2016 at 17:03:50
As if Buckley knows anything about American politics. Gratuitous and clueless comment.
Mick Davies
38
Posted 09/11/2016 at 17:15:09
Mike @ 37, The new President of the United States knows nothing about politics either: he's never held any political office at all!
"(Now where's my application form for the England job?)"
Add Your Comments
In order to post a comment, you need to be logged in as a registered user of the site.
Or Sign up as a ToffeeWeb Member — it's free, takes just a few minutes and will allow you to post your comments on articles and Talking Points submissions across the site.