Coleman: First half not good enough

44 Comments [Jump to last]
Saturday 19 November 2016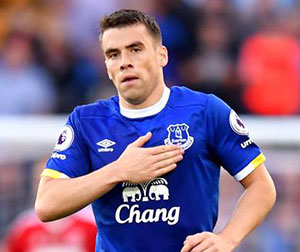 Seamus Coleman echoed the thoughts of his manager and his disappointment with Everton's first-half showing against Swansea today but he was grateful to grab a late equaliser that preserved the Blues' unbeaten home record in the Premier League.
The Irishman steered an 89th-minute header into the top corner to rescue a point just when it seemed as though Bob Bradley was going to earn his first victory as manager of the South Wales side.
Ronald Koeman blamed his team's failure to really get going before half time on the fact that Everton were only able to draw and Coleman agreed that they were well below what was expected.
"It was very frustrating," the fullback told evertontv after the match. "Obviously we weren't good enough in the first half by any means.
"We were very poor, were chasing a game that we dominated in the second half and probably got the equaliser too late. It's disappointing.
"We've been saying [that we've played poorly in the first half] a lot this season so we need to put it together for the full game.
"We're disappointed for the fans and I know it can be frustrating for the fans but when they get behind us at Goodison it can be a really tough place to go, even when things aren't maybe going so well at times.
"You've seen when we got the equaliser they've tried to suck a second goal in for us so if we can all stick together, even when things aren't going so well, it can only benefit us all in the long run.
"[The goal] keeps us unbeaten at home so that's a positive. I missed a header here last season to equalise so I needed that."
---
Reader Comments (44)
Note: the following content is not moderated or vetted by the site owners at the time of submission. Comments are the responsibility of the poster. Disclaimer
Barry Thompson
1
Posted 19/11/2016 at 21:18:53
Everton's next sponsors – Talk Talk.
David Connor
2
Posted 19/11/2016 at 23:10:44
What a bunch of no-marks we have at our club... Keep your fucking big mouths shut and get on with trying to win football matches.
Let's hope half this squad isn't with us next season.
Jack Convery
3
Posted 20/11/2016 at 00:24:29
Maybe after 19 Premier League games, we'll get going!
Andrew Presly
4
Posted 20/11/2016 at 02:41:35
We got the equaliser too late eh. Meanwhile in the world of teams who actually do something (albeit it's currently just making the Champions League and nothing more, thankfully) Spurs equalise on 89 and go on to win. Good attitude!
Peter Fearon
6
Posted 20/11/2016 at 04:21:54
It says something when there are – how many forwards on the field – five? – and the equalizer comes from a defender, a header from the smallest player on the team.
We played with real aggression and skill for two periods. Unfortunately those periods were five minutes long and very late in the game.
We are doing no better under Koeman than under Martinez and that is a big problem. Maybe they are being overworked in training and reach the end of the week knackered. Maybe there is a problem behind the scenes between the players and manager...
Whatever it is, I hope we go into February with some new talent because these players are not going to get it done. Nobody emerged from that game with any reason to be proud, least of all Koeman.
Fran Mitchell
7
Posted 20/11/2016 at 05:24:27
Coleman, Williams, Baines, Gana, Lukaku and Bolasie and maybe Stekelenburg.
These are the only players worth keeping. Maybe Barkley and Deulofeu could offer something but currently there is something seriously wrong with them. The rest of the players are dispensable.
Bring in some youngsters, Davies, Holgate, Dowell. Sell the rest. Build a new team over the next 2/3 years (it will probably mean losing Lukaku).
Hopefully the manager is up to the job.
Paul Kennedy
9
Posted 20/11/2016 at 10:25:48
How much longer can we play a captain who gives penalties away because of lack of speed, positioning sense, and play-reading?
Thanks, Phil, but enough. Make Coleman the captain – he proves he has the ability on the international stage and saved us quite a few times, perhaps he could help install some balls in the other dummies ahead of him.
Ricardo Gimpardsle
11
Posted 20/11/2016 at 11:14:15
I find it hard to fathom why we started yesterday's game with two holding midfielders and on many occasions Barkley was even deeper than both of them. Against a side lacking confidence and bottom of the table, I would have expected a more cavalier approach, but hey what would I know!
Brent Stephens
12
Posted 20/11/2016 at 12:28:51
Peter "Nobody emerged from that game with any reason to be proud".
It was very much gloom and doom yesterday but please don't be one of those who never have a positive word to say – I'm sure you'll agree that Gana was again very good.
Jack Cross
13
Posted 20/11/2016 at 12:31:15
One thing about Moyes, he made sure the players played to the final whistle.
I remember when Jemain Beckford was here and in one game he was complaining of being tired. Moyes said to him through Neville, you don't get tired at this club. Also Distin said after training he had to have a nap, when he first arrived. So Moyes certainly got something out of the players that Koeman or Martinez seem to be lacking.
Peter Roberts
14
Posted 20/11/2016 at 14:00:39
If we got points for talking about what we should be doing then we would be top of the league. Unfortunately the small matter of doing what we say needs to be done is a problem.
Not enough tough characters in the team. Far too nice to each other. Seamus seems to have a bit about him. That's about it.
Peter Fearon
15
Posted 20/11/2016 at 14:40:24
Brent, funny thing about Idrissa. He played well but he seems to have a very narrow role. His good performances don't seem to translate into anything tangible. The defence is weak with him and without him. He played well at Villa and they were relegated.
I'm not saying he's not an asset. Maybe if his role was expanded, I would be more impressed.
The one I am really concerned about is Bolasie. I was warned the minute we bought him that he was all head and no Guinness and I am afraid that may be true.
Brent Stephens
16
Posted 20/11/2016 at 14:44:53
Peter, I think you're right about Gana – he's there to break up play and does that brilliantly but is less of a creative player. That's what we missed in Barry yesterday. He can spot and execute an incisive pass better than most at Everton, which Macca, for all his energy, can't do.
Gerard Carey
17
Posted 20/11/2016 at 15:17:22
With a tough run of games coming up, we'd better stop talking and start playing.
Guido Blumberg
18
Posted 20/11/2016 at 15:22:46
Honestly the goal was by chance and happened after a series of rebounds. But that goal has enormous value. I think Seamus Coleman has won the captaincy against a poor performance Phil Jagielka.
Dean Williams
19
Posted 20/11/2016 at 15:42:37
Peter (#15), spot-on.
It doesn't take a FIFA coaching badge to see Bolasie is just another headless chicken. Slows the play down and delivers 1 decent cross in 10. Koeman's eye for a player is worrying me.
Peter Mills
20
Posted 20/11/2016 at 16:15:08
Interesting thoughts about Gana. He's excellent at what he does, breaking up the play. But surely there is only a need for one player doing that, in the style of Lee Carsley – when did it become accepted that we should play two defensive midfielders, especially at home?
Yesterday, there was nobody controlling the flow of attacking play. Bolasie, Lennon, Lukaku, Mirallas and Deulofeu may occasionally do something exceptional when they are given the ball, but don't contribute a lot to the team ethic, and that leaves just Ross Barkley. I don't know whether Ross could cut it with a good playmaker alongside him, but he certainly can't on his own.
Gary Reeves
21
Posted 20/11/2016 at 16:30:30
Peter (#20), I might be a bit old-school like but I expect my midfielders to be able to tackle, and cover, as well as being able to pass the ball — that's why they're midfielders!!

Since when did you see a decent team where only one player goes around making tackles?

And that's also why Barkley will NEVER be a midfielder! In fact, I don't think he'll ever be a player.
Paul Roberts
22
Posted 20/11/2016 at 16:46:37
If someone had said to me after our '95 FA Cup win, we'd win nothing for the next 20-plus years, I'd have laughed in their face. But here we are potless and, more to the point, clueless.

I fear under Koeman the drought will continue. He says we are a pressing team. Pressing teams work hard and get in the opposition's faces. Our lack of tempo and urgency mean we are a containing team at best!

Koeman bemoans our dreadful first halves as though it's nothing to do with him. Klopp has no such problems inspiring his players!

I suggest, unless he turns things around, he should move on – and take his pet Lukaku with him!
Kim Vivian
23
Posted 20/11/2016 at 17:55:59
Playing? or praying, Gerard?

Paul Walsh
24
Posted 20/11/2016 at 18:01:50
I can' t believe Gueye is attracting criticism here. Without him we may have been dead and buried long before Coleman's equaliser.
Put it down his way, if we had three or four more like him with his attitude and quality, we'd be right in the middle of the leading group in the table and not struggling to stay in the second one.
Gerard Carey
25
Posted 20/11/2016 at 18:03:24
Now that you say it, Kim, praying sounds about right.
Peter Mills
26
Posted 20/11/2016 at 19:24:49
Gary (#21),
I couldn't agree more. I didn't express myself very well, I meant there is a need for a maximum of one dedicated "destroyer" in midfield.
The rest of them need to work much harder – the 6 other players I mentioned need to be sat down and watch film of Johnny Morrisey, Howard Kendall, Peter Reid, Andy Gray or Tim Cahill.

Andy Meighan
27
Posted 20/11/2016 at 20:13:44
"First half wasn't good enough"? Is he joking — the whole performance was shocking.
Coming off the back of that humiliation at Chelsea, they should have been at it from the 1st minute. They weren't, though Swansea were far better in the first half and deserved to lead going in at the break.
Yes, we had a lot of the ball in the 2nd half but created virtually nothing We've got at least 8 players who are clueless and offer nothing creatively at all.
I couldn't believe he left Bolasie on yesterday. Is it the transfer fee that's keeping him on the pitch for 90 minutes? He was awful and how he's getting his place is shocking.
To think young Davies wasn't even on the bench and yet the likes of Cleverley and Deulofeu were makes my blood boil.
Jagielka is shot to bits now. Two penalties given away at Man City, shocking performances at Burnley and Chelsea. Yet he still captains the side... oh and the penalty yesterday. It's a joke.
I said on Friday that Chelsea result won't be the last hiding we get. Not with that back four. A decent side with pace would have picked us off easy on the break yesterday, but it seemed like Swansea decided "What we have, we sit on." We were lucky to get a point because I honestly thought we'd never score.
I'm sick to death of our players coming out after shit performances and trotting out the same old shite. Nothing has changed under Koeman and, if he thinks the likes of Depay etc will come in January and turn our season around, he's fucking deluded. Shower of cowards, the lot of them!
Geoff Evans
28
Posted 20/11/2016 at 23:39:23
Gary (#21) Re: Barkley, spot-on. This club's going nowhere with him in the team. For the life of me, I still can't believe that the manager persists with him. The guy's a passenger and a liability.
Anthony Dwyer
29
Posted 21/11/2016 at 00:23:37
It amazes me that our team can play absolutely awful, and the only person who people pick out is Barkley.
Very few players in blue did anything on Saturday, most of our squad don't deserve to play for us, but for some reason only Barkley gets a mention.
Out of around 22 first team players, only Ross, Rom, Coleman, Gana, Williams and Bolasie (last 2 debatable) would get anywhere near any top 6 sides in the Premier League.
By my counts we need to bin 15 (-ish) players before Ross and Co even begin to get a mention.
Gary Reeves
30
Posted 21/11/2016 at 08:27:28
Anthony (#29),
How long have you got (re; Barkley)??
Firstly, he holds down no particular position – so he's detrimental to the shape of the team. I thought if he had any chance he would be a "supporting forward" but he lacks any killer instinct, and he dawdles. Yes, he gets the occasional goal and assist but that's what he's supposed to do in that position, and he doesn't do it enough.
Secondly, he'll never be a midfield player – not a chance... never. He's the single worst player I've ever seen when we haven't got the ball. He floats around, dangles a leg, chases shadows, and often he does this thing where he actually shows the opposing player the easiest route around him – unbelievable! This then creates a gap that another blue shirt has to cover (as I was saying about the shape – we're one man down).
I could go on, I mean it's there to see; it's time we stopped with the Barkley stuff now – it's not going to happen.
Eddie Dunn
31
Posted 21/11/2016 at 09:22:51
For those knocking Barkley, remember that some of the very best midfield players were not inclined to put in lots of covering and tackling. Hoddle,and Platini spring to mind.
Get a couple more "Ganas" in the team and let Ross Barkley do what he is good at.
Trevor Peers
32
Posted 21/11/2016 at 09:45:56
I'm beginning to wonder if Koeman recognises how to fix the midfield power failure that has stricken this club for many years now. His job now depends on him finding the answers.
Depay is another Mirallas type player, slightly better maybe, but not a team player. Other than him, we have not been linked to any other creative attacking midfielder, only an endless list of under 20-year-old strikers who would struggle to get in the team.
Barkley's only chance to shine is to surround him with top class players and see if he can match them; at the moment, he has no competition at all and is virtually fireproof.

Geoff Evans
33
Posted 21/11/2016 at 11:09:58
Barkley in the same sentence as Platini and even Hoddle, I wish.

Jack Convery
34
Posted 21/11/2016 at 12:35:16
We don't have a midfield. No midfield = no impetus, that's why we start so slowly every game. Gueye is the only midfielder we have that the top five would be interested in.
We have lots of wingers, with only Bolasie being the one Koeman has faith in and that's because he bought him. Bolasie is a maverick and will never form a partnership with a full back, which is why we play with two defensive players in the centre, in Barry and Gueye. They cover, as Gueye did with Oviedo at Man City.
I personally prefer the Baines - Pienaar wide type of play but we don't have a Pienaar at the club. Given the squad we have at the moment, I would prefer us to go 3-4-3 until January.
My team would be, all things being equal:
Stekelenburg,
Holgate, Williams, Funes Mori.
Coleman, Gueye, Barry, Baines
Bolasie, Lukaku, Barkley.
Subs: Robles, Jagielka, Oviedo, Cleverley, Lennon, Mirallas. Deulofeu.
That team should be hard to beat and maybe nick a few wins.
I would only play one of the kids in an emergency as being near the first team at present would more likely break them than make them.
Anthony Dwyer
35
Posted 21/11/2016 at 17:57:20
Gary (#30),
You have the right to your opinion, but IMO we have no-one good enough to displace him.
You talk about lack of work off the ball, so there goes Deulofu's chance of replacing him as he's as bad, but with less game time in him (he's blowing out of his arse after 60 minutes).
If you want to replace him as a supporting striker, who would you replace him with? Let's list the options: 1. Kone, 2. Niasse, 3. Cleverley, 4. Valencia, 5. Mirallas, 6. Lennon.
Who is a better supporting striker than Ross of the 6 options?
Kone, Niasse, Cleverley, and Valencia are clearly not in the same bracket as Barkley, and never have been or will be. Even if you don't rate Ross, anyone who knows anything about football can see Ross has more in his locker than all of the above put together.
Lennon has averaged 3 goals a season for a decade, and has always been criticised for his lack of end product.
Mirallas I have supported, but Koeman has given him a chance to shine and he's not taken his chance. Week-in week-out, he gets a go: no goals, no assists... he either isn't good enough or doesn't want his spot.
If we added the option of changing to an extra midfielder, then McCarthy, Besic and Gibson would be considered. Ross hit double figures last season, the above 3 didn't hit double figures between them.
Ross is the least of our worries, he's clearly one of our better players, plus he's one of our own. He's young enough to get better; he creates chances and that at Everton is a rare commodity.
My view on our starting 11 is this: we need a top-class goalkeeper; we possibly need a left-back – although Baines may come back to his best and we have good kids in that position; Jagielka needs replacing; Funes Mori should be given a chance; Browning and Holgate should have a chance to press their claims for his spot; Gana is our centre-midfielder who would demand a place in some of the top 6 teams... meaning, if we want to be a top 6 team, then Barry, McCarthy, Besic, Gibson and Cleverley need moving on.0
Bolasie is the closest thing we have to a good winger; Deulofeu isn't living up to the hype (although his displays for Spain U21s tell me he's worth holding onto); Lennon wasn't good enough for Spurs and was replaced by Townsend... who's now at Palace!
Lukaku is our only forward who is worthy of Premier League football, meaning Kone, Niasse and Valencia are basically Championship players.
We still own McGeady, Kone, Oviedo, Robles, Lennon, Niasse, Cleverley, Gibson... all of whom take wages of at least 㿊,000 a week and don't even play. Moving them on would save the club millions of pounds a year but, for some reason, you only seem to find issue with Ross; it just seems strange to me.
Gary Reeves
36
Posted 21/11/2016 at 20:50:39
Anthony it's pointless to ask how X, Y and Z would do if they played in Barkley's position because Barkley doesn't have a position – that's my point.
He's been indulged by Koeman and Martinez and is allowed to do "a bit of this,and a bit of that" – in the hope it will eventually happen (and I mean regularly, not once a season).
Now – if he was a Le Tissier, Beardsley, Mahrez, Hazard, Mata – I'd say "Go on, Ross, do your stuff." But he's not and he never will be. Any Everton player who performed in a defined role would improve the team at the moment.
Anthony Hughes
37
Posted 22/11/2016 at 06:47:34
An accurate but damning breakdown of our present squad, Anthony.
James Hughes
38
Posted 22/11/2016 at 09:03:54
As said on the U23s, put Davies & Dowell in the first team as they will want to impress and would give some ommph from the get-go.
Anthony Dwyer
39
Posted 22/11/2016 at 09:15:12
I think you will find that Le Tissier, Beardsley, Hazard and many others had a worse ratio than Ross in his first 100 starts, he's got something like 20 goals 12 assists, averaging a goal or an assist every 3.5 games.
That's not bad for a lad who's playing for a bang average side with very limited movement ahead of him.
I also think Ross dawdles on the ball because ahead of him is usually one player, who would be Rom, and he's not known for his movement.
I honestly think Ross in a free flowing side like Arsenal, or the current RS side would bring lots more out of Ross.
Before Ross was initially dropped by England, he had created more chances than any other English player by a country mile, yet he only had one assist, that says to me that we aren't lethal enough, even though chances are being created.
I'm not just defending Ross for the sake of it, I just feel that in our current squad he is easily in the starting 11.
If we were to buy another 8-10 top players I might be as inclined to drop him.
Eddie Dunn
40
Posted 22/11/2016 at 09:44:36
Anthony Dwyer, spot on.
Ernie Baywood
41
Posted 22/11/2016 at 12:01:09
He's comfortably in our starting 11. If I didn't have Barkley to watch at the moment, I don't think I'd bother. There's zero creativity in that team without him. Almost every decent chance on Saturday involved him. Far from a great performance but he's all we've got.
I didn't read Seamus's quotes above. I could guess what he had to say. Ultimately, club-fed press statements are worth fuck all.
To be honest, I'm confused by Koeman. It's not really clear what he's trying to do.
The thought of our upcoming run of games is almost terrifying. The thought of watching that fraud Bolasie flatter to deceive is infuriating. In my 35+ years of watching Everton, he's the first player I've actively disliked.
Ian McDowell
42
Posted 22/11/2016 at 13:51:57
Our next 6 games look tricky:
Saints (a)
Man Utd (h)
Watford (a)
Arsenal (h)
Liverpool (h)
Leicester (a)

Patrick Murphy
43
Posted 22/11/2016 at 13:54:22
Yes Ian, how observant of you. At this moment in time, every fixture looks tricky because we aren't playing well.
Football is a strange game and we have to hope the team can show improvements in the near future – otherwise, what is the bloody point of us taking any interest in the game at all???
Ajay Gopal
44
Posted 22/11/2016 at 14:39:51
Maybe time to revisit Moyes old 4-5-1:
Howard = Robles
Hibbert = Coleman
Jagielka = Holgate
Distin = Williams
Baines = Galloway
Carsley = Gana
Osman = Davies
Pienaar = Bolasie
Arteta = Deulofeu
Cahill = Barkley
Yakubu = Lukaku
Robles
Coleman Holgate Williams Galloway
Bolasie Gana Davies Barkley Deulofeu
Lukaku
Subs: Stekelenburg, Jagielka, Baines, Barry, Lennon, Mirallas, McCarthy
I wonder what's happening with Besic, Gibson, Kone, etc?
In the next transfer window, my priorities would be: a striker, a creative mid-fielder, a left-back.
Ben Jones
45
Posted 22/11/2016 at 18:02:16
The issue I had with that game was when the centre backs had the ball. They had both bad games and aren't great on the ball, but they were prohibited by a lack of confident ball players further ahead.
Gueye is great for us but there's no point playing him and McCarthy, they're both too similar. We missed Barry's presence where he can start attacks on the pitch, and Gueye can go about the pitch like he does. It's a perfect balance.
Having no Barry meant the side ways Martinezesque passing in the first half. That was a big part of why we were poor against Swansea. Getting a long-term replacement for Barry in January has to be a priority for me.
Geoff Evans
46
Posted 22/11/2016 at 18:13:25
Next six games would test a very good team.
Our opponents must believe in Santa.

Ralph Basnett
48
Posted 02/12/2016 at 09:11:13
I think this should read "first half of season not good enough" – never mind one game!!!
---
Add Your Comments
In order to post a comment, you need to be logged in as a registered user of the site.
Or Sign up as a ToffeeWeb Member — it's free, takes just a few minutes and will allow you to post your comments on articles and Talking Points submissions across the site.