Everton starlets likely to remain in the wings

110 Comments [Jump to last]
Saturday 3 December 2016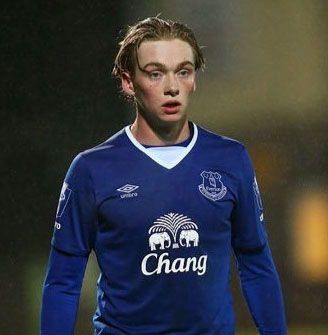 Tom Davies has looked impressive every time he has played at first-team level but Ronald Koeman insists he is not ready for regular duty
Ronald Koeman is unlikely to be turning to the likes of Tom Davies or Mason Holgate any time soon after he admitted that they are not yet ready to handle the pressure of improving his senior side's fortunes.
Everton's poor recent run and the perceived lack of commitment and energy from some of the regular first-teamers had prompted growing calls for the manager to turn to some of his up-and-coming youth players in a bid to inject some spirit and fight into the side.
Koeman has played down those hopes, however, in his comments on the eve of the Blues' home clash with Manchester United.
"Of course, we have young players but when is it time for a young player?
"I don't believe [it's] now because still they are not ready and the pressure is more on than it was. It is a reason we need to wait when we make these kind of decisions.
"The Under-23 competition cannot be compared to the Premier League. They train a lot of times with the first team and if there is a moment that they show they are on the level of other players in their position then I will give them the chance. It is also a physical question about young players. Everyday we have the contact with David Unsworth and they need time.
""It is so easy to say, he played fantastic, he needs to play in the first team. No, they don't understand the level of the Premier League and they need time, they need time."
---
Reader Comments (110)
Note: the following content is not moderated or vetted by the site owners at the time of submission. Comments are the responsibility of the poster. Disclaimer
James Watts
1
Posted 03/12/2016 at 00:38:52
Just reading his comments about the U23 side. He has no intention of playing any younger players.
Koeman:"This is why I won't blood Everton youngsters anytime soon."
My reaction: Oh FFS. This guys is starting to spout more shite than Martinez. They don't need to play every minute of every game, they need to be there to be able to bring on for 30 mins or maybe start for the first hour to give the team fresh impetus and energy. But unfortunately he's going for the same shit under performing older players who don't give a crap! Oh deary me. Wake up you dick.
Gordon Crawford
2
Posted 03/12/2016 at 04:17:44
My thoughts are: "If you're good enough, then you're old enough."
Timothy Sebastian
3
Posted 03/12/2016 at 04:29:17
The youngsters have shown that they've got what it takes to be in the side. Holgate, Davies and Galloway have all had first team games and haven't given any indication that they aren't ready. Dowell and Walsh should be next in line, together with that young striker we just bought from Sheffield Utd.
Koeman must be able to see what we all can, ie, blending some of our promising youth with the experience that already exists in the squad may/will inject some much-needed energy into the side.
I suspect it's the senior players who may be the ones that Koeman is worried about upsetting. Mutiny spreads fast in this team, as Martinez found out in his 2nd season.
Gary Russell
4
Posted 03/12/2016 at 05:13:37
And there lies the conundrum. How many of the first team regulars are ready for the first team? From the last 18 months, very few from what's been witnessed.
When a serious shake up is needed, Koeman's words are disappointing. Would it really have been that big a deal to give some of these lads 15-minute cameos in the last month?
Blooding them may get a surprising reaction. To me, it is a much better scenario than the one that has played out so far this season with his constant choices.
Look at Josh Sims for the Saints last game... How long till he stops being inflexible? 'Tis becoming annoying and boring. Some 'first teamers' have proven they don't deserve to start. Yawn...
Peter Barry
5
Posted 03/12/2016 at 05:17:25
Yet another statement from Koeman that just confirms my opinion that he is not a good Manager at all.
Michael Kenrick
6
Posted 03/12/2016 at 05:48:38
Really, really disappointing.
Brian Porter
7
Posted 03/12/2016 at 06:19:32
Very disappointed to hear this latest load of crap from our so-called 'top manager'.
I regularly watch the Bundesliga, (a very high standard, so don't fall for the crap about the PL being a higher standard), and many of their teams are regularly selecting players in the 18-21 age bracket, who either play full games or at least get used for 20 to 20minutes. FFS, Koeman, that's how they learn to integrate with the older first teamers and how they learn to make the step up from reserve to first team football.
While I admit I never wanted old sour face Koeman in the first place, I was prepared to give him a chance. However, I'm beginning to think he's even more intransigent as Martinez, unable or unwilling to make changes that everyone can see are desperately needed. Persevering with an out-of-form Jagielka when he has a full Argentine international ready in the wings, refusal to change his game plan (whatever it is), now a virtually complete dismissal of anyone not already in the first team squad, just smacks of very poor management, designed to be demoralising to those aspiring to step up to the first team and an overall failure to utilise the clubs younger assets.
I'm definitely coming to a conclusion that took me over a year to make with OFM, that Koeman just isn't what he was cracked up to be, and is already floundering and proving with each passing week that he just isn't the man for Everton.
Paul English
8
Posted 03/12/2016 at 06:32:08
Lyndon, Ronald Koeman is spot on. He cannot play these young lads at this time.
You have players like Lukaku, Barkley, Mirallas, Deulofeu and McCarthy not playing for Koeman. They are a lazy bunch, who have had it so soft, and obviously don't like the man's training methods... Then we have Jagielka, Baines and Barry who are at the veteran stage.
The young guns will pick up some very bad habits, playing in the team with some of the above mentioned
Darren Hind
9
Posted 03/12/2016 at 06:35:20
It's worse than disappointing, Michael. It's fucking idiotic.
Holgate not ready for the Premier League???
Koeman needs to take a look at the run of results and performances we had when young Mason was in the team and contrast them with the current run of performances.
Straight-talking Ronnie is once again talking out of his rear end. What he REALLY means, is HE can't handle the pressure of playing them.
It's good practice for an incoming manager to keep the senior pros on-side but, when they are not performing, you need the balls to tell them so and drop them... That's what an honest manager would do anyway.
Peter Healing
10
Posted 03/12/2016 at 07:50:33
All the U23s will want to leave. Ain't no future at EFC.
Paul Tran
11
Posted 03/12/2016 at 08:14:33
Koeman's in the wrong here. Holgate looked good earlier in the season and Davies looks very promising. Who knows, the younger players might actually press and carry out instructions?
There's a fine line between protecting and inhibiting young players. He's on the wrong side of it right now.
In the words of our former striker turned crisp salesman, "Have a word with him"!
Mark Murphy
12
Posted 03/12/2016 at 08:15:56
He sees them day-in and day-out in training and is much more qualified than anyone on here to make that judgement.
Too many people have given up on Koeman because we're not top of the league already.
Just because a team including youngsters beat an already doomed Norwich in a meaningless final game doesn't mean they are ready to take on Mourinho's Man Utd.
Clive Thomas
13
Posted 03/12/2016 at 08:18:20
If you're good enough your old enough. These senior players are the problem all prima donnas they need to be given a wake up call and dropping them to the bench might just do the trick.
Come on, Everton, let's get our season back on track!!!
Martin Nicholls
14
Posted 03/12/2016 at 08:25:55
Mark (#12) – I can't dispute your first paragraph when some are advocating blooding "that young striker we just bought from Sheffield United".
I have my doubts about Koeman but before picking the team for him I'd at least find out the names of the players I think he should pick!
Dermot Byrne
15
Posted 03/12/2016 at 08:26:30
Just maybe this is also a public message to the Board stressing that they need to dig deep.
Tom Davies, now close to a fooball legend status already, cannot take Everton back to Europe alone. I would expect Sir Tom to be on bench soon but don't pin your hopes on him to be yet another player to rescue Everton.
Time after time we play out this fantasy (Rooney, Vaughan, Roswell, Barkley etc). I think it is often when Kenwright and fans sing from same dream-sheet. But as with nearly all clubs, this truly lovely dream of your preferably local and working class new star saving the day is 99℅ just that – a dream.
Headline writers write for the same dreamers so every special game by any youngster anywhere will be highlighted and the dream and myth perpetuated. None will see the crap games, goal errors or the lon- term rise and falls (though we know our own well enough over a long period of over investment in this kind of dream).
Anyone who introduces a dose of reality as the gaffer has done here is slated because we cherish our dream.
In my head I am still playing the same dreamy game with Jack, Vaughan, Barkley, Niasse etc Been playing about 3698 mins now. Two fantastic FKs from Ross, Vaughan first to race 746 yards to pick up cool through-ball from Jack and leave their England No 1 stranded. That young Spaniard has tricked his way through their entire team on 75' . He waited and waited as Davies ran 4560 yards to collect and score. We are the new Barcelo... blah blah.
Current score in dream: Everton 5, Them 24!
And I know. it's not a silly dream. It is practical good sense to introduce youngsters when we need them. I probably agree. But the ferocity at Koeman's management of expectations suggests some may be pinning too much on Lord Davies of Disney.

James Watts
16
Posted 03/12/2016 at 08:35:50
Mark (#12). It's about giving them some time out there because every single combination he has tried has not worked. I'm not talking 90 mins, week-in, week-out – and they may indeed not be ready for that. I'm talking about a cameo for 30 mins or maybe a start here and there.
I would much rather see Davies given a go for a few matches instead of Macca or Cleverley. He can't be any worse as those two? I would much rather see Holgate given some time instead of Jags or Coleman. Even if he gave away a couple of pens he wouldn't do any worse.
I would much rather see us bring on Dowell instead of Mirallas or Deulofeu. Even if he didn't touch the ball it would be no worse than them. Whether Man Utd is the right game is debatable, but I know some of the recent games we have played would have been ideal!
What it would do, is it would give us much needed energy and the crowd a real buzz. If these younger lads screwed up, the crowd would be much more forgiving and get behind them still.
Koeman's stance is idiotic in my opinion as he is completely missing the point of bringing in some younger players. The guy has got his head firmly stuck in the sand and appears unbelievably stubborn and loyal to players who don't give a shit.
Mark Murphy
17
Posted 03/12/2016 at 08:45:38
James, as I said, Koeman (and his advisory assistants) see the whole squad every day of the week – often in competition. He's more than qualified to make the judgement and much more so than a posse of "if I were in charge of t'team" fans.
The Man Utd reference was simply because they are the next game.
Winston Williamson
18
Posted 03/12/2016 at 08:55:59
We as fans see the same game as Koeman. Some of us have watched, trained and played the game for decades.
It's not a difficult sport to analyse.
I watch Davies and Holgate in particular and I see desire and passion. I watch Barkley and Jagielka, Mirallas, Lennon, McCarthy, Deulofeu and Cleverley and I see nothing that warrants them being any where near the first team.
How is Koeman supposed to know if Walsh (for instance) isn't ready (mentally) for the first team unless he's picked?
Koeman isn't being fair, but as Darren said, he is being idiotic.
Dave Abrahams
19
Posted 03/12/2016 at 09:04:39
I tend to agree with James Watts but can see what Mark Murphy is saying.
Regarding what Mark says, "Koeman sees them everyday in training and doesn't think they are ready to play for the first team" or words to that effect. Well, what he (Koeman) hasn't seen is one lad, constantlyadvocated on here, play for the first team. He hasn't yet to my knowledge even been on the bench.
Too many senior players have had chance after chance to show what they can do and have failed miserably to perform on a consistent basis. A lot of us are asking for two or three of the young players to be put in the match day squad, even just to be given the boost of being considered to play for the first team.
Mark Murphy
20
Posted 03/12/2016 at 09:07:10
I've played, trained and watched for decades too – I'm still playing and managing at vets level and I'm an FA qualified coach at grassroots level – but I wouldn't presume in a million years that I have anywhere near the experience, knowledge nor nous of Ronald Koeman.
With respect and no offence intended here at all, compared to the knowledge and day to day information that Koeman has at his disposal, none of us on here, knows sweet FA.
(I don't include YOU in that Roberto, if your still reading...😉)
Mark Murphy
21
Posted 03/12/2016 at 09:12:52
And Winston, would that be the same Barkley that most of us on here were demanding be given more game time??
The flush of youth can quickly fade if expectations are not managed properly.
Steve Brown
22
Posted 03/12/2016 at 09:12:52
This proves to me that Koeman is a 'here today, gone tomorrow' manager as far as Everton is concerned. He wants immediate results as a springboard to a bigger club (in his eyes).
Therefore, he isn't planning for the long-term and won't take a chance on Holgate, Davies, Dowell, Walsh or Calvert-Lewin. You cant tell me that none of those boys are ready and wouldn't improve the utter shite that has been served up at Chelsea, Swansea and Southampton.
As Winston said, we have 8-10 players who are weak-minded, lazy, complacent and unreliable. But they get picked ahead of the young lads? Shocking.
And the fans get blamed for being 'quiet' when served up dross? Well, if you seeded 2 or 3 of those lads into the team, the crowd would get behind them and Goodison would go off.
John Graham
23
Posted 03/12/2016 at 09:16:23
Well if he doesn't try them he will never know. We all saw Davies, Holgate, Dowell, and Kenny play well in games this and last season.
Yes, it is different, and yes there is more pressure, but playing in front of 35,000 plus people every week is surely better and more of a boost than playing in front of a few hundred or a couple of thousand.
This is when the good young players step up. They don't have to play every week but they need the boost of confidence from the manager to say he feels they are up to the job.
If he doesn't try them, he will never know.
Steve Carter
24
Posted 03/12/2016 at 09:16:51
That's lost Koeman for me. Fucking hell. The old guard have handled the pressure to a tee lately, haven't they.
Martinez... Koeman... I'd have Moyes back in a heartbeat if I had to choose between the three.
Steve Brown
25
Posted 03/12/2016 at 09:17:49
Mark @17, you answer your own point. Martinez saw the whole squad day-in and day-out and the picked a team that served up two years of the worst football I have ever seen at Everton.
And let's be honest, we haven't been brilliant since the Premier League started, so that's a pretty low baseline.
Andrew Lum
26
Posted 03/12/2016 at 09:32:51
Not ready? Need time? Senior players who have many years of Premier League experience are making schoolboy errors and have shown a lack of desire and footballing brains. Guess it's more of the same rubbish tomorrow then.
Derek Thomas
27
Posted 03/12/2016 at 09:34:04
It's all bluff and kidology. He's bluffing Man Utd and kidding the kids. They'll be told an hour before the KO... I hope so... because a tonking doesn't bare thinking about... and, unless there is a miracle, past performances not withstanding, the same old same old will see just this.
Stan Schofield
28
Posted 03/12/2016 at 09:35:59
I might have agreed with Koeman in principle, in the case of Under-23s who had never played in the 1st team (might, not necessarily would), but not in the case of players like Holgate and Davies who've already shown what they can do.
I understand that too much pressure should not be put on such young players, that they're not silver bullet solutions to a problem, but I don't understand not using them at all. They could bring incremental improvement and some much needed energy.
John Keating
29
Posted 03/12/2016 at 09:42:51
Can they play any worse or show less commitment than the present lot??
Ball was a regular for England and won a World Cup at 21. Man Utd had half-a-dozen kids come in all around the same time and they seemed to have done okay.
Southampton played a young lad last week that put our lot to shame.
At least the youngsters will come off at full time knackered.
Darren Hind
30
Posted 03/12/2016 at 09:46:52
You have to laugh.
"Koeman sees them every day so he knows more than us" ... err, does he not see the games where players are underperforming week after week.
You need a certain amount of courage to give youngsters their chance, Koeman proved before he even got here that he doesn't have it.
Those supporting his stance are basically saying he is right to keep doing the same thing.. I thought Einstein blew that particular theory out of the window long ago.
The "He's the manager, he must be right" argument is about as shallow as football debate gets.
George Freeman
31
Posted 03/12/2016 at 09:47:16
Does this mean that, under Koeman, we will never see a 16-year-,old play for the first team, become the youngest player to play for England, and go on to captain his country?
Dave Lynch
32
Posted 03/12/2016 at 09:47:49
I was an advocate of bringing in a proven manager when the Spanish Waffler was dismissed.
I'm now regretting that thought process and would give Unsworth the job in a heartbeat, the way things are panning out.
Eddie Dunn
33
Posted 03/12/2016 at 09:48:22
I agree with Mark Murphy. Although I have been impressed with Davies and Holgate, it could harm them being weighed down with the expectation that they will need to perform better than the seasoned pros that they replace.
Moyes and Martinez tried to blood youngsters in games with less pressure. So if we are 3-0 up, then pop one on.
I still play football at 56, mostly 6-a-side, and there is a big difference in strength and stamina between the 18-year-olds and those in their late twenties or thirties.
I have no conception of the fine margins involved in the Premier League, but I presume that the physical edge of just a few percent could mean a goal here and there.
Koeman sees them all in training every day, and we don't. Koeman has been brought in to manage and coach the team, and we should get off his back and hope he sorts it out. He will get the sack if he gets it wrong, so I think he is trying to get it right.
Steve Brown
34
Posted 03/12/2016 at 10:02:24
It takes guts to push youth through and move out experienced pros, but Fergie did it. He moved out Ince, Sharp, Kanchelskis, McClaire and Paul Parker to make way for Scholes, Butt, Beckham and Gary Neville.
And the stakes were way higher for him – they were expected to win the league every year. We were bottom half last season.
Gary Willock
35
Posted 03/12/2016 at 10:11:53
We've got Alan Hansen in disguise.
Mike Allen
36
Posted 03/12/2016 at 10:21:51
This is a very disappointing statement – what a slap in the face for the academy players. It must be gut wrenching for them, but it must send out the wrong message to youngsters thinking of joining. Did Holgate look out of place? Should he have been given an extended run? Most think he should be a regular.
These players are not kids anymore, anyone who watches the academy can see that there is more potential in giving these lads at least a chance and is a better investment than throwing stupid money at second-rate mercenaries in January. Poor statement... bad management.
Andy Crooks
37
Posted 03/12/2016 at 10:25:56
I support Koeman but my views are not so entrenched that I cannot see this as a major flaw. It is a simply nonsensical statement worthy of the hapless Martinez.
Colin Glassar
38
Posted 03/12/2016 at 10:28:32
I don't know why we even bother having an academy and youth teams. What's the point? Last week Southampton's MotM was a 'starlet'.
Alan McGuffog
39
Posted 03/12/2016 at 10:30:34
Cut the guy some slack, for God's sake. Colin Harvey was blooded against Inter Milan at the age of 18. And look how that turned out... totally wasted career!
Denis Richardson
40
Posted 03/12/2016 at 10:30:41
I think many people are just frustrated with the performances and results and are venting. Fact is the academy is not littered with loads of upcoming stars.
Holgate and Davies are pretty much the only youngsters we have (fit and not on loan) who are close to being able to play in the senior team, imo. Both of these players have made just 3 appearances in total for the first team – ever, all of these coming this season, so people can't say Koeman doesn't play the youth. Personally I think Holgate could make the grade now but Davies isn't ready for 90 mins – he's only had 3 subs appearances, ever. I think both will play more as the season progresses.
The sad fact that people have to accept is that our squad is pretty average (if not shit). We have a lot of players who used to be good but age is catching up with them and we have a lot of players who basically aren't that good and were signed half in panic or because they were cheap and all we could get (Lennon, Cleverley, Niasse fit the bill). It's unfortunate we didn't sign more than 4 permanent players in the summer because we needed about 7-8 really. But it's hard to bring that many in if you can't shift a lot of players out first. We only sold Stones in the summer, the other 3 that left went because their contracts expired.
We have to hope we can get rid of a couple more in January and bring a couple of new faces in. Our squad needs a total overhaul. This is easier said than done however when we foolishly give players like Cleverley (2020), Besic (2021), Gibson (2018), Niasse (2020) long term contracts. And that's just to name a few. We have loads of average to shit players who we basically cannot get rid of.
I think only Jagielka's, Kone's and Barry's contracts expire at the end of this season. Everyone else is here till at least 2018 if not much longer.
It really is a transitional season and the managers was not lying when he said he needs a couple of seasons to refresh the squad. Until then, we hope we can scrape points together and Holgate and Davies grow into senior players later in the season.
Ray Roche
41
Posted 03/12/2016 at 10:31:27
Mark Murphy (#17)
You say "see the whole squad every day of the week – often in competition"
It was reported here (I think) and elsewhere that Koeman's first appearance at an Under-23 game was the Derby v Liverpool when we lost 2-0 at Prenton Park. It was the 23rd October.
He must have broken with (his) tradition and watched more games since then because he couldn't be bothered to watch the young Academy players at Southampton. Consequently the only "competition" he'll see them in is during training. He must rely on Unsworth and the ever present Walsh for his info if that's the case. (The Unsworth people are suggesting should replace Koeman...)
I can see why blooding too many too soon can be counter productive but he'll never know for sure if they're ready unless he gives the likes of Davies some others 30 minute cameos. I defy any one to prove that he, or others would do worse than the present incumbents.
Phil Walling
42
Posted 03/12/2016 at 10:36:23
'The Great Truthteller' paints a pretty dull picture of our immediate prospects. The established players are incapable of concentrating for 90 minutes and the kids are nowhere near good enough to replace them. Any of them. Even if one or two of them have proven more than capable when necessity has given them the chance so to do.
Every time this blusterer opens his mouth he puts his foot in it. Of course he sees the players every day. But so does every manager. That didn't make a genius out of the likes of Walker and Martinez, did it? And if that was the only qualification for success, none of them would ever lose their jobs, would they?
So as Koeman draws the blinds on the youngsters and goes about dealing with the shortcomings of at least half his chosen team, we must be patient whilst we wait for the arrival of more 'stars'like Bolasie and Valencia to arrive in January.
Depressing, ain't it?
Colin Glassar
43
Posted 03/12/2016 at 10:38:31
Interesting points, Denis, makes you think that it's not so clear cut as one thinks.
Andy Meighan
44
Posted 03/12/2016 at 10:45:41
Koeman is digging a hole for himself here. Imagine being on our way to the game tomorrow and hearing that a couple of the kids are playing and maybe another on the bench. Right away, everyone would be up for it.
As it is, it's likely to be the same side with possibly Lennon dropped for one of the other two – Deulofeu or Mirallas – everyone will feel deflated. That bad feeling transcends onto the pitch and the players pick up on it.
If we don't get a foothold in the game within the first 20 minutes then Goodison Park is going to be an uncomfortable place to be, and we could be in for a long afternoon. And the way we've started recently, it's not a given that we ill get a foothold in the game.
If Koeman thinks we are going to play our way out of this malaise playing the same players and the same system, he's fucking deluded, he really is
Len Hawkins
45
Posted 03/12/2016 at 10:50:24
Well that's the nearest I've heard to "how to ride a bike without a bike to try it". How OLD do YOUNG players have to be before you can find out if they are going to be able to hack it or not?
I will use a Rugby League episode from 20+ years ago when a 17 year old Bobbie Goulding was battering seasoned Aussies in Australia. If they are good enough they are old enough.
Christ, Rooney would still be in the reserves if that is the viewpoint that was used.
David Booth
46
Posted 03/12/2016 at 10:54:43
You don't know what you're doing...
You don't know what you're doing...

Andy Meighan
47
Posted 03/12/2016 at 11:09:08
What an ignorant post from Dermot (#15). No-one is saying Davies is going to be our saviour – far from it . Read what Darren Dave and Winston posted.
That the likes of Davies and a couple of others should be in and around the first team like hundreds have said they couldn't do no worse than the shower of shite currently occupying the first team slots.
There's a train of thought amongst some of our more ignorant fans that we ll just amble along to the transfer window and everything in the garden will be rosy Absolute nonsense, of course – the time to act is now. And Dermot, if you're happy with what you're watching, you're as deluded as the fucking manager.
Andrew Corness
48
Posted 03/12/2016 at 11:09:46
The same people slating Koeman for saying this are the same people who groan when Barkley passes sideways. Wonder what those groans would do for the other kids' confidence?
I would rather Cleverley got shit from the crowd and be moved on than have a kid's confidence destroyed.
Man City and Chelsea with the best youth teams in the country and hardly a chance for their kids as they care more about the end result. Hibbo and Ossie were our own, got a dogs life from the fans and the first names everyone wanted to replace every summer.
Jack Cross
49
Posted 03/12/2016 at 11:20:34
Pretty straight forward, he sees the young 'uns as a risk and he isn't a risk taker. Nothing as changed from his time at Southampton. Wasn't the young lad (Sims) who had an outstanding game last weekend kept in the background because of his age by Koeman?
New coach, new ideas, a bit of bottle and the lad's flying, as most of us saw.
Davies, I thought against Chelsea out-shone our so-called great players.
As Phill Walling said, break the bank January, and bring in more shite.
Ian Hollingworth
50
Posted 03/12/2016 at 11:29:35
God help us then.
So the kids are not good enough yet.
Most of the first team squad are clearly not good enough. Yet they play every week delivering the same shit.
So where do we go from here?
Andy Meighan
51
Posted 03/12/2016 at 11:37:16
Denis (#40),
Koeman doesn't play youth.
There... I've said it.
Dave Williams
52
Posted 03/12/2016 at 11:57:59
As some say above, the kids might not all be ready for 90 minutes and there are teams full of physical players who you wouldn't necessarily want the kids to face at this stage, but we have enough experience in the team to nurse a couple through a game.
Holgate, Galloway (OK,on loan at present) and Davies have all indicated that they can cope in the first team. Also, whilst I haven't seen him, I have spoken and listened to a lot of people who have seen Liam Walsh play (Dave Abrahams really rates him, as does Joe Royle) and they all say he is no shrinking violet and isn't scared of anyone. This is surely the attitude we need in the first team. From what I have seen of Kenny, I think he could hold his own and Connolly has looked decent too when he has played.
If the first team was playing well then fair enough, don't play the youngsters if in doubt but for heavens sake what have we to lose? The alternative is to vary the wingers all of whom have been consistently poor apart from Bolasie, play a group of old men in the defensive part of the side and place way too much of a burden on Gana who has looked vulnerable lately and almost certainly because he has too much on his plate. Is that collection of players going to turn over Man Utd?? Not bloody likely Ron!!
Barry Pearce
53
Posted 03/12/2016 at 12:14:08
This really disappoints me. I really wanted Koeman as our new manager after the disaster that was Martinez, but he's showing he's inflexible as well.
Like others have said, when the youngsters have been given game time, they didn't look that much out of place. In fact the opposite. If the the team was playing well, I could understand it, but some need dropping and pronto.
Give the youth a chance you stubborn Dutch Bugger!
Tony Dove
54
Posted 03/12/2016 at 12:17:41
I had always held out some hope that eventually he would liven things up by playing some of the youngsters. Obviously now that is not going to happen.
I would move him on but obviously that is not going to happen either. If results were better or there were any signs of improvement it would be more difficult to criticise but that is not the case.
I think he is on the same wavelength as Moyes in that unless forced by injuries he will always play experienced [old lags] players in front of the youngsters. He also managed to increase the already high average age of the team in the last transfer window. Expect the arrival of some more 'experienced' players in January when our youngsters will move even further down the pecking order.
Pass the Prozac please.
Eddie Dunn
55
Posted 03/12/2016 at 12:19:58
I think Koeman is a pragmatist. He thinks the older players, and the experienced slightly younger ones, will get him through the season, with a mid-table finish, and if they get it together, an outside chance of Europa League.
He sees the kids as a risk at the moment, and only injuries will force him to play them. As the squad is nearly at full strength, it appears they will have to be patient, as will we.
I like the look of Davies, but I think Koeman sees it as too risky, and he is trying to keep the steady pros onside for the rest of the season.
From his angle, we will be a more attractive proposition to attract new players if we finish, say 9th/10th than if we end up 16th Also we earn more for each place in the table.
As a manager your CV doesn't look so good if you finish 16th (but you played the kids). He is putting his faith in experience and we will see if he is right over these next seven games.

John Raftery
56
Posted 03/12/2016 at 12:37:23
We can only hope injuries and suspensions will force his hand at some point. His latest comments will do nothing to encourage a belief in younger players that, if they keep working hard, they may be given an opportunity.
We have an Under-23 squad which is proving to be among the best in the country. Other clubs with foreign coaches such as Spurs and Southampton seem more prepared to take a risk by promoting younger players.
Coming into a losing team is never ideal for any player but our team is in dire need of an injection of youthful energy which may just come from one or two such as Davies and Holgate.
Mark Murphy
57
Posted 03/12/2016 at 12:39:49
Sorry, nipped out for a bit of shopping
All I'm saying is Ronald Koeman knows more than anyone on this thread about the abilities or otherwise of the footballers of Everton FC. For supporters to second-guess reasons for playing or not playing kids when we don't have his insights is nothing more than pointless banter and for those getting upset about it, it's been like this for years so breathe, relax and what will be will be.
ps: By "in competition", I meant playing against their peers in training matches.
pps: No-one is clamouring for Niasse to get a game but he's scored 6 in 4 for the U23s
ppps: For the record, I'm giving Koeman at least two more transfer windows before I start calling him rude names.
Mark Murphy
58
Posted 03/12/2016 at 12:43:35
Last thoughts from me:
Maybe Koeman will seek to move players such as McCarthy on in the window. Sticking them in the reserves won't be conducive to negotiating the best price...
But I'm second-guessing there, maybe McCarthy is brilliant in training.

Dave Williams
59
Posted 03/12/2016 at 12:48:31
Ball won the World Cup at 20; Kendall played in a cup final at 17; Harvey played at the San Siro in the European cup at 18; Rooney and Royle made their debut at 16.
Okay there are plenty who started young and failed to make it but surely you examine not only their ability but spirit, character, physical toughness and some are worth the risk.
The likes of Cleverley, Lennon, Valencia, Oviedo etc are hardly going to turn the game if they come on as a sub so why not let a couple of the young lads soak up the atmosphere from the bench? Provided the opposition is not likely to kick lumps out of them, we could give them 15-20 minutes at least as they can't do any worse than most of the old lags and never-have-beens we are seeing at the moment.
At least the youngsters would press and put in some real effort!!
Dave Williams
60
Posted 03/12/2016 at 12:52:19
Mark, you may be right... or it could be that he is too scared to risk damage to his reputation by taking a chance with youngsters.
Currently he can, and does, put the blame on the players and he can do this because they are all experienced internationals; he couldn't blame teenagers so the blame would fall on him.
Oh, and "pointless banter" is surely what this site is about — we exchange views, none of which will ever influence the powers that be, but we may feel a bit better for it!!
Kevin Tully
61
Posted 03/12/2016 at 12:54:28
Let's be honest, even if the manager gave one or two of the youngsters a start in the first team, it won't solve the problems we are currently facing.
We are not talking about having two or three young Wayne Rooneys waiting in the wings here, are we? It's always nice to see home grown players given their chance, but to listen to a lot of posters, it is the key to winning the League.
Even though the current first team are stinking the place out, the answer isn't to bring in a couple of kids from the Under-23 squad. We need to spend real money on established players, like every other team. Villa tried to go down the road of promoting players from the ranks and were relegated.
Patrick Murphy
62
Posted 03/12/2016 at 13:06:00
I have to agree with Kevin, throwing youngsters into the team when things are going really badly isn't the best idea and it won't solve the issues that the first team is having. It might work for a game or two but in the end the established players have to produce on the pitch far more than they have done so far.
We as fans have two choices: moan and grumble at everything that emanates from the manager... or get behind the team at every opportunity.
Not a single one of us is happy about the current situation and, if things don't turn around soon, the manager will definitely have to shake things up. However, if the experienced players can't raise their collective games for the upcoming fixtures, they never will, and then the call for youngsters will be fully justified – and if that doesn't work, the call for the manager's head will probably grow louder.

Andy Meighan
63
Posted 03/12/2016 at 13:32:33
Patrick,
The calls for a couple of youngsters are justified now. We are on a shocking run and there's not one single sign that the current first team squad will play their way out of this. It already looks like half of them don't want to be here and have downed tools. No-one is calling for wholesale changes – just a fresh face or two to give us a lift.
Or, failing that, a change to the system we are playing. because this two defensive midfield and one isolated striker up top isn't working hence the lack of goals and chances created
We look what we are: an ageing side and it badly needs an injection of youth and energy. Unfortunately there's not a prayer it's going to happen because Koeman must be seeing something we're not. Worrying times...
Phillip Warrington
64
Posted 03/12/2016 at 14:26:23
Koeman has to go before he destroys Everton. Or we let him buy 2 or 3 players that can't make the first team for which we aspire to better for ridiculous prices and huge wages that we will struggle to continue when we have the equivalent in Holgate, Davies, Dowell, Walsh and Calvert-Lewin. This guy will turn us into another Leeds without any of the glory.
John Charles
65
Posted 03/12/2016 at 14:34:18
Whilst blooding a gaggle of youngsters may not be the answer, it does raise the question: What now then?
If the current team isn't good enough – some, myself included, would say 'crap' – transfer windows are the only answer. This is not only a long process, at least another year of this dross. Ronald's first window hardly inspires confidence.
Ron Sear
66
Posted 03/12/2016 at 14:50:13
Davies not ready? The only player who tried to give Chelsea something to think about during that disaster. Koeman is beginning to look like a very dull, unimaginative man indeed.
Phil Walling
67
Posted 03/12/2016 at 14:59:20
I don't think anybody is advocating throwing in youngsters willy-nilly but the odd sight of Davies and Holgate before 'they are shipped out to Brentford' might spread a little seasonal cheer.
As it is, we are stuck with a team hardly fit for purpose and a vague hope that the January window will provide the sight of half-a-dozen decent players who will somehow be attracted to the 'cold fish' of a manager we are blessed with.
It ain't gonna happen, methinks!
Eddie Dunn
68
Posted 03/12/2016 at 15:05:07
Ron Sear. Perhaps Koeman is looking at the big picture. We haven't much leeway until January, and then who knows who we will get, so he has to work with what he has till the summer. Piss off too many players and he will be fighting a losing battle.
He needs his own people in before we can judge him. I can't imagine how to get this lot performing, as on paper they look a fairly good team. Martinez struggled to get consistency with them, and so far Koeman has found the same.
I like the look of Davies but if he was ready, I think the manager would put him in.
Colin Glassar
69
Posted 03/12/2016 at 15:09:36
I hope we don't wait until mid-January before we start "enquiring" about players. If we are going to make a serious move, we'd better have identified our targets and started some sort of negotiations. I'm not holding my breath.
Richard Lyons
70
Posted 03/12/2016 at 15:51:58
Yawn... Someone should show Koeman repeats of Fawlty Towers, so he can learn to speak bullshit with a Spanish accent. Then his transition from RK to RM will be complete.
A couple of others have already used the word "desire" (Winston #18 and Andrew #26) – and that's exactly it. The so-called senior pros are not showing any of it, whereas the youngsters have it in bucket loads.
Sean Patton
71
Posted 03/12/2016 at 16:37:05
How would he know they are not ready when he has only watched one U23 game the whole season?
If Tottenham and Southampton can pick their best young players and our U23 team is currently the best in the country, then Koeman is taking nonsense.
Phil Davies
72
Posted 03/12/2016 at 16:41:00
I'm going to make a counter argument here to what most people are saying.
The phrase "if they're good enough, they're old enough" has been used repeatedly, has anyone actually thought whether or not these kids are currently good enough? Look at Ryan Ledson, calls for him to be more involved with the first team, left for Oxford and has started a total of 6 games whereas Lundstram has 23 starts and hardly anyone batted an eyelid when he left.
Davies has had fleeting appearances with no pressure on him to preform, Holgate played well admittedly but in a full back role, where a fit again Coleman is a better option.
I understand the frustration with the quality of play and the point that we should be looking at players to change that, but I'm not so sure whether the kids are genuinely good enough to step up and raise the entire team as some people are seemingly expecting.
Gary Russell
73
Posted 03/12/2016 at 16:50:28
Phil, its the shite of the last two months, something has to change. A bit of energy and desire. Maybe none of them are good enough, BUT we won't know till he shows some initiative, and tries something different.
Brian Porter
74
Posted 03/12/2016 at 16:55:46
Well, he'd better do something because today's results see us down to 8th with bloody West Brom up to 6th. Even a draw would leave us 8th so this is, for me, a real must win game tomorrow. If we don't, I can see the pressure mounting on Koeman.
John G Davies
75
Posted 03/12/2016 at 17:02:50
I prefer to look on the positive side. If we win tomorrow we are 6th.
I would have bit your hand off if offered 6th position going into December.
It's not all doom and gloom.
Eddie Dunn
76
Posted 03/12/2016 at 17:12:55
Sean (#71). He does see Davies, Holgate and Calvert-Lewin to name but three, as they have been training with the first team. He sees how they do against these mature guys and perhaps they don't match-up in training.
Darren Hind
77
Posted 03/12/2016 at 17:16:16
Again with the straw man arguments.
I don't think anybody is suggesting that giving a game to 1 possibly 2 youngsters will solve our problems. We are too far away from solving our problems, lets settle for small improvements.
"We as fans have two choices: moan and grumble at everything that emanates from the manager, OR get behind the team at every opportunity".
Why does there have to be an "or"? Koeman is dropping humongous bollocks, but that doesn't me we shouldn't be getting behind our team tomorrow or at any other time.
If the manager improves so will our results. Have people learned nothing from the misery we went through with the last guy? This none stop apologising will not get it done. In his own words "criticism is healthy and brings about improvement".
Those apologising for him now must surely remember him saying that that... The place was awash with virtual high fives in awe of his steely-eyed candour.
Patrick Murphy
78
Posted 03/12/2016 at 17:18:03
Merry Christmas, Darren.
George Cumiskey
79
Posted 03/12/2016 at 17:18:26
Mark Murphy, with all your playing, coaching and managing experience – and you can't see we are actually regressing? Very strange!
Darren Hind
80
Posted 03/12/2016 at 17:22:39
You too Patrick.
Hopefully starting tomorrow.
Mark Murphy
81
Posted 03/12/2016 at 18:32:54
Okay, George, I'll bite. I said I'll give Koeman two transfer windows.
I CAN see we're not playing well – I trust Koeman to get it right in the long term. Calling for him to be sacked already is nonsense!

Colin Glassar
82
Posted 03/12/2016 at 18:44:03
I'd go back to a 3-2-5 formation.
GK - Stekelenburg
RB - Coleman
CH - Williams
LB - Baines
MF - Gana
MF - Barry
OR - Lennon
IR - Barkley
CF - Lukaku
IL - Mirallas
OL - Bolasie
Back to the future, I say.
Tony Twist
83
Posted 03/12/2016 at 19:10:42
Until the attitude of the players change we will struggle against anyone. I still think that the manager is failing on this with his lack of man management skills.
He is not getting the best out of the players, it needs an arm round the shoulder and encouraging words for some players and kick up the backside for others. It's the managers job to find what works and we ain't seen any evidence to suggest that he knows what he is doing.
Nigel Munford
85
Posted 03/12/2016 at 19:42:11
Colin, those were the days, it always looked like you had 5 forwards, as that's how they generally lined up, 5 across the half way line at kick off, then 3 across midfield and 2 across the back, that's how I learnt to play at school. Strange how things change; it worked then –why not now?
Damian Wilde
86
Posted 03/12/2016 at 19:54:52
Koeman: "Of course, we have young players but when is it time for a young player?"
When we're playing absolutely terribly EVERY week, Ronald, that's when!
Ron goes on to say that you can't vompare the U23s to the Premier League, etc. Now for say Walsh et al, fair enough. But Holgate (especially) and Davies have played in the first team and done well, so that point doesn't wash there.
I think Martinez and Moyes were the same. They have in their head 'senior players' and anybody not classed as such is a 'risk' = don't play them, no matter how crap the 'senior players' are. It's a sort of rigid cognitive style ruled by fear that all three have. Okay, yes, we're not party to everything that goes on, but Moyes not dropping Neville for ages when it was blindingly obvious he should be dropped. Martinez the same. Koeman now looking similar.
I suspect we'll lose tomorrow as nothing has changed with this miserable get and if we do, I'll be shouting '"Koeman Out'" at the end of the game.
I'm sick of not enjoying going to the match... arrgghhh!!!
Jim Hardin
87
Posted 03/12/2016 at 20:55:48
Colin,
Apologies but any position for Lennon with "offensive" attached to it is wishful thinking. Last week, he rarely ventured across the midfield line and was often as deep as Barkley and even Gana, even when we had the ball.
Seems anymore that Lennon is a defensive substitution to hold a lead only. When he does finally find his way to the opposition's box, he will have to introduce himself to his teammates.

Colin Glassar
88
Posted 03/12/2016 at 21:23:52
Nigel, football was so much simpler then and far more entertaining than today.
Jim, I was undecided between Lennon and Deulofeu. I just think Lennon is more of a traditional type outside right / winger. I had to use players in the current squad.
Dermot Byrne
89
Posted 03/12/2016 at 22:10:22
Andy (#47): I will do Very Light And Possibly Not Funny Humour warning next time.
I was trying to make an fairly insignificant observation without becoming ultra serious. you call it "ignorant" . Maybe a bit unfair? Perhaps you should have checked out the statistical analysis I did on my dream game we are still playing and losing?
If you see my last para, I agree on youngsters getting a chance. Of course I do. You may notice my post was actually about a trend over decades and about more than this day, this manager and even just the Blues. I don't specifically argue with those you so bravely bit inexplicably defend!
To then jump to my potential problems with delusion baffled me. Where do I say or even hint I am happy with what I am watching? I think you may have boxed me in as thinking a certain way just a bit to quickly, my friend.
Trevor Lynes
90
Posted 03/12/2016 at 22:27:25
Until we have an academy coach who can teach the youngsters ball control and accurate forward passing we will continue to need to look outside for the first team.None of our youngsters have 'forced' their way into the first team otherwise they would be playing.We are only producing defenders and that is because we lack a coach who can concentrate on producing attacking midfield players and quality finishers.Since the emergence of Rooney I have not seen any youngster who really excites me.Barkley is so inconsistent he actually frustrates me.Most of the young players we have sent out on loan seem to have found their level in lower leagues.Galloway is unable to get into the West Brom team so why should he get in our side ?I reckon Holgate may make the grade but Davies is not ready yet IMO.Surely our much touted talent scout can find us a few decent prospects.It serves no purpose slating Koeman until he has brought in more players he wants.The nucleus of our first team succeeded in getting shut of Martinez, maybe they are now working on Koeman.
Sam Hoare
91
Posted 03/12/2016 at 22:49:43
Seeing what a player can do in training is not the same as knowing what they might do in a match. The main reason to play the kids is because of the freshness and unpredictability they might bring and how that could galvanise the crowd and the team.
In a way I think they'd be much less pressure on them now as they couldn't do much worse than the first team and the crowd are desperate for a change. I turn on Everton expecting a drab performance and I reckon I'm not alone. Expectations are low.
Stekelenburg
Coleman Holgate Williams Baines
Dowell Gana Davies Bolasie
Calvert-Lewin Lukaku
At least that team sheet would get me off the back of my chair and a little closer to the front. If the likes of Davies, Dowell, Holgate and Calvert-Lewin stink the place out, then it's not like Jagielka, McCarthy, Mirallas and Kone were doing any better...

Jim Hardin
92
Posted 03/12/2016 at 23:05:02
Colin,
Understood. I like Lennon but he is AWOL too often as a forward player. He is very good defensively, however, so while I would not start him, I think he has a role to play coming off of the bench. If, of course, we ever get a lead to try to hold onto.
Mick Davies
93
Posted 04/12/2016 at 01:38:28
So all these experts on here (especially Mark Murphy) are telling us that Koeman sees these 'kids' in training and they don't look up to the job against the senior pros? Well in that case, considering how shit our seniors are, why didn't he act in the transfer window?
He had months to sort it out, knowing he had no replacements for key positions, and if you say he never had the money, then how is he going to sort it out in January?
We all know how difficult that one month gap is to prise decent players away from clubs who need all their squad through the winter, the cup competitions and to cover the African Cup absentees, so if the youngsters aren't as good as the shit we have in the first team now, then we are in for a difficult time.
Also, the continued references to McCarthy's form are ridiculous; he's played one game since early on when we're actually doing okay. Give him time to get back to his best, then, if he's not doing the business, have a go – don't forget, he wasn't involved in the Chelsea and other debacles. He actually does give his all on the pitch, which is what we want them ALL to do.
Alan J Thompson
94
Posted 04/12/2016 at 05:11:01
Mr Koeman is reported to have asked the Board to bring in 5 new players in the January transfer window while selling some of the players in the 1st team squad as they show no enthusiasm for his high pressing game. So, having killed off their enthusiasm he now kills off any in the Under-23s.
Mark (#57); "Sorry, just nipped out for a bit of shopping".
Is this a quote from Mr Koeman concerning future team selection?
Mark Murphy
95
Posted 04/12/2016 at 08:13:45
Ah Mick, I see what you did there!
I'm no expert and not pretending to be one. My point is that Koeman knows more than any of us, that's why he's manager of Everton FC and on shitloads of money.
But I bow to the sheer volume of the men in the crowd – your all right, Koeman knows fuck all.
Right then, Eddie Howe for the next dozen or so matches??
Mark Murphy
96
Posted 04/12/2016 at 08:22:45
Okay, final final FINAL word from me – resistance is futile...
Alan – surely that's good news? I get the impression from this board that whatever Koeman says or does he's already a dead man walking as far as many are concerned.
I hope we win today and I hope we bring in some class in the next transfer windows. I also hope very much that some of the kids DO come through – I personally just don't know enough about them to contradict the manager – which has been my point all along!
David Midgley
97
Posted 04/12/2016 at 09:10:02
Young lad plays for Reds and scores against Leeds and the Southampton teen against us. They are obviously not ready for the competitive hustle and bustle.
Our 20 somethings must be terrible.
Tahir Abdullah
98
Posted 04/12/2016 at 09:53:16
"I don't need 20 options. I just need the right options. If I brought in more players of the same quality they would not get enough games, so it is better to select a young player if you are able. We have some young boys that look good; there are lots of things we can change..."
That's Herr Klopp in yesterday's Guardian; Koeman on the other hand...
John Davies
99
Posted 04/12/2016 at 11:32:16
I have been a massive fan of Koeman and was over the moon when we got him in. But he needs to be very careful now that he doesn't end up losing some cracking good youngsters if they can't see a future for themselves at Everton.
And I don't believe they can do any worse than some of the lazy, under performing shirkers who are getting first team football at the moment. Seriously, Mr Koeman?!!
Andy Meighan
100
Posted 04/12/2016 at 12:06:54
Dermot (#89) Sorry pal. The frustration of supporting this crowd at the moment is getting too stressful for me.
You did make some very good points but were a little bit harsh on young Tom. I hope we are both happy tonight and in total agreement after a good win (ahem).
Loko Sanchez
101
Posted 04/12/2016 at 12:52:30
You're the manager, Koeman. You know best.
Hope you won't end up like Mike Walker...
Peter Gorman
102
Posted 04/12/2016 at 17:31:25
People defending Koeman's comments are missing the entire point; nobody thinks the kids are world-beaters, just that they seem to have so much potential (and they visibly have a point to prove every time they play).
Why worry about how they will fare in the league when the first team is just utterly shit.
I suspect he is being a pragmatist and trusting in the 'experience' of the likes of Cleverley (hate having to keep bashing the lad but he sticks out as the personification of this attitude) but this is no good for us.
My concern is not whether or not Koeman keeps his job but the long-term success of the football club. So again, play and develop the kids if you've not got any players worth a damn.
Gary Edwards
103
Posted 05/12/2016 at 09:51:44
Denis (40) ... your opinion re: which of the U23s are ready for 1st team action is wrong. Do yourself a favour, go and watch the U18s, U23s etc... also take note of their opponents (you'll see a few stars too).
Also, those that keep calling for Dowell to get a game be aware that he's not in form. Liam Walsh, Harry Charsley and Antonee Robinson are more than ready.
Koeman's stubbornness re: giving some of the younger lads a chance angers me. Contrary to what the odd poster may counter, we need our youth system for many reasons... not least than we occasionally produce a player of note. We have a good youth system that I would rather see the club nurture than bow to a journeyman manager such as Koeman.
Denis Richardson
104
Posted 05/12/2016 at 10:53:03
Well Gary, if our U23 manager himself says most of them are not yet ready then I don't know about you but I'm going to go along with what he says. I presume Unsworth and Koeman know the U23s and U18s better than anyone on this site.
More than happy to see the likes of Holgate, Browning and Davies given a nod but putting a large number of the U23s or U18s into the mixer is probably not going to end well.
Mark Pendleton
105
Posted 05/12/2016 at 16:24:21
Koeman either watches the kids in training every day or listens to reports from the likes of Unsworth.
Considering he will ultimately be judged on results, I'm sure that if the kids were believed to come in and improve things he'd be mad keen to do so.
Okay, we may improve with some of them in the side, but in the past we have often ruined youngsters by playing them too soon bar a few exceptions.
Dowell looks promising but he also looked lightweight when given a run out. He needs a season in the Championship but we have put some other promising kids out on loan in the Championship and they've been sent back having hardly played so they aren't all THAT good yet!
Lewis Montgomery
106
Posted 05/12/2016 at 16:28:50
Dermot Byrne #15, that was brilliant. I'm still chuckling as I write this. Lovely to see someone on here with a bit of sense!

Nathan Rooney
107
Posted 05/12/2016 at 16:37:22
After the so called "performance" of Senior Pro Tom Cleverley yesterday, are we still to believe that some of the U23 lads could not get to at least matching his level or even slightly improving on the performance of Cleverley???? There are a few players I could have used as examples, but Cleverley's performance stood out like a kick in the spuds.
Holgate didn't disgrace himself at all when replacing the injured Coleman – does he not warrant a start or at least some minutes at CB in place of Jags, and maybe at RB and push Coleman on (if fit)???
We are not asking for wholesale changes with 10 U23 players coming into the first 11 (for me this might not be a bad thing!), but a few young lads in now and again, when several of the senior squad members are clearly not cutting it surely is the way forward?

Frankly, it's downright negligent on the managers part to not do this!
Add to the fact that Mr Koeman didn't have a Scooby Doo about the identity and ability of the kid Sims, who destroyed us vs Saints, and my consternation goes up another few notches!
Sorry Koeman, your chatting bobbins here and need to give your head a wobble.

Gary Russell
108
Posted 05/12/2016 at 17:09:55
Lewis! 'Dermot Byrne #15, that was brilliant. I'm still chuckling as I write this. Lovely to see someone on here with a bit of sense!
Nothing brilliant at all about 'ya man's post and you sound like a paid up customer.
Seriously? What a load of warty mange on Mourihno's bollocks. (I wish as he's the most classless, biggest girl's blouse there's ever been in footy.) And some would've had this complete twat in charge of Everton, if they'd had their way.
There's winning, and then there is Winning. He just whines. When he doesn't win, he's like a spoiled ricjh kid/baby
Chuckling implies you found it funny that some of us would be willing to have Davies on the bench, with an option of adding some verve, spark and passion in the 2nd half.
Gary Russell
109
Posted 05/12/2016 at 17:12:54
The more I think about it, Lewis and Dermot, do you have the same DNA by any chance?
Mark Hughes
110
Posted 05/12/2016 at 23:29:22
Koeman needs to understand the fans will make result allowances if he plays the youngsters towards the season's end. Walsh should tell him this needs to be done.
Roy Steel
111
Posted 06/12/2016 at 15:50:34
I've said this before on here, when Ferguson took over Man Utd, he bought shite after shite until he was almost out the door, and he was forced to play the boys and we all know what happened.
I am not saying this would work for us, but what you will get is an honest 100% effort and a willingness to die for the jersey. What a refreshing change that would be! Even if we finished in the lower half of the league to start with, we wouldn't get relegated.
Bring on the boys, Ron.
---
Add Your Comments
In order to post a comment, you need to be logged in as a registered user of the site.
Or Sign up as a ToffeeWeb Member — it's free, takes just a few minutes and will allow you to post your comments on articles and Talking Points submissions across the site.