Koeman brands his team as too 'weak' to compete with physical teams

165 Comments [Jump to last]
Saturday 10 December 2016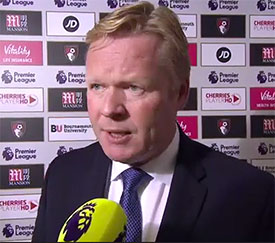 Ronald Koeman was once again left searching for answers as Everton threw away a 1-0 lead and slumped to their fourth consecutive away defeat despite a late rally that yielded another goal but it wasn't enough to salvage another point.
Having been poor in the first half of so many games this season, it was refreshing to see the Blues in competitive mood in the early stages of the game at Vicarage Road and they took the lead in the 17th minute when Romelu Lukaku brought down Gareth Barry's lofted pass and tucked it under Huerelho Gomes.
Instead of going for the jugular, however, Koeman's team allowed the Hornets to level the game nine minutes before the break through poor defending and then gave up two goals in the second half to more dreadful marking at set-pieces.
Lukaku scored a second four minutes from the end but there wasn't enough to get a third and the manner in which the Blues tossed away a precious advantage prompted Koeman to criticise his players' lack of fortitude.
"We know the Premier League is difficult," Koeman said after the game. "The Premier League is not always about football qualities. It's about physicality, second balls.
"In that aspect the team is too weak. We have many difficulties against teams like this who are direct and really aggressive. That's not the players we have.
"It's strange. It's sometimes difficult to understand what happened. Why: why we lost the control in the game; why we gave the belief to Watford who until that time were nervous and not good? That's my question."
"That's the big concern because you cannot change that in two weeks,' he continued. 'You need time for that. You need January. You need the next summer.
"That is my job to improve the team and to change what we need. We need a better balance. We need more physicality in our team. That's the Premier League."
---
Reader Comments (165)
Note: the following content is not moderated or vetted by the site owners at the time of submission. Comments are the responsibility of the poster. Disclaimer
Paul Hewitt
1
Posted 10/12/2016 at 20:52:29
This team isn't just weak, it's spineless and pathetic.
Andrew Yates
2
Posted 10/12/2016 at 20:52:31
Surely he knew this? He's had enough experience in the Premier League to know this was blatantly obvious.
I'm a lost Evertonian in a sea of despair, bewilderment and pain,... a lot like the whole of our squad.
James Morgan
3
Posted 10/12/2016 at 20:57:14
Just another piss-poor excuse from a manager who's doing fuck all to earn his exorbitant wages.
Collapsing after we score has nothing to do with physicality, nor does conceding so easily on set pieces. Poor tactics, poor team set ups, just utter shite. I can't see how it changes.
We lost one important first team player and brought in five players Koeman identified to push the team forward. Let's cut our losses and look elsewhere.
Steve Guy
4
Posted 10/12/2016 at 21:07:43
This group of players were crap under Martinez, so I don't get the Koeman bashing. He can't make a silk purse out of a sow's ear. He's given them all a chance to show what they can do and they are failing.
He's getting ready for a purge starting in January with fringe players and then the ones (Lukaku for one) who are nothing like as good as they think they are.
Mr Moshiri will back his manager and (unfortunately) it's another season gone; but it ain't Koeman's fault. Blame the previous owners for indulging Martinez, don't shoot Koeman, he's just the messenger.
Patrick Murphy
5
Posted 10/12/2016 at 21:10:55
I'd much prefer it if he said he was going to work the lads harder or alter the way we play or anything that gives us a ray of hope. Identifying the weaknesses in a group of players short of confidence isn't going to help them re-discover their form is it?
Did Koeman really believe that Everton were a bigger club than Southampton or did he believe we were mugs ready for the taking? If the current form continues, could he motivate the team enough to take points from must win games come the end of the season?
It's all very well thinking a few additions will save the team come January but, by the end of January, we could be floundering in the bottom six.
This rot has to be stopped and it has to be stopped now, not next week or after Christmas or in the New Year but right now. If it means culling the squad by making some players train alone and only using the players he trusts to form his first team group, then do it. If it means throwing a couple of youngsters into our next two games at Goodison, then do it. But for God's sake can somebody do something rather than just point out the problems.
Everton FC don't pay ٤m a year for somebody to audit the squad – I assume they pay that sum of money to get results out on the pitch.

Mark Burton
6
Posted 10/12/2016 at 21:11:32
Another piss-poor performance and poor defending from a manager who played defensive midfield for one of the best teams in the world. He obviously does not have the team behind him and he's afraid to try anything new.
We have young squad players on the bench that would put their life on the line to start a game but he sticks to the same old shape and players that other teams have worked out.
Tuesday is going to be nightmare against Arsenal and I'm really dreading the derby.
Phil Davies
7
Posted 10/12/2016 at 21:15:32
Steve (#4), I completely agree, I think how bad Martinez is as a manager hid how bad some of the players were getting,
Coleman for the last 2 years under Martinez was terrible and I personally felt a new manager would get him back to his best; maybe he's just not at that level anymore and won't get back there; Jagielka the same.
Today was an off-day for a lot of players: Williams, Barry, even Gueye wasn't at his best, and when you add that to under preforming players like McCarthy, Mirallas and Coleman, I'm not too surprised we lost. We need better quality in quickly and let Koeman have his squad with his style.
Danny Broderick
8
Posted 10/12/2016 at 21:20:59
Spot on, Steve (4),
He's given them all a go, but no-one is really seizing their chance. I include Lukaku in that – he's scoring goals, but he doesn't contribute much apart from that.
We need 2 or 3 players with fight and nouse – this team isn't streetwise. I looked at Troy Deeney leading them today, running down the clock etc. We are lacking some of this. We seem to have a nice team who are all quiet. We need a bit of heart.
This group have been lacking mentality for a long time now; Koeman will need to bring some new blood in who can provide what we are lacking.
Patrick Murphy
9
Posted 10/12/2016 at 21:22:50
What happens if Everton are unable to attract the players that the manager wants in January? Where do we go from there?
Signing players should never be done from a point of weakness – it's a recipe for failure. Promoting the youngsters would have been a less threatening way to alter things and would have kept the 'unwanted' onside.
What other industry allows a manager the luxury of picking and choosing who he wants in his workforce? Of course over time, Koeman or any other manager can buy those he wants and sell the ones he doesn't but you can't force it all in a six month period, without it having a detrimental effect on all of the staff.

Kunal Desai
10
Posted 10/12/2016 at 21:24:35
Could it actually be that Koeman has shot himself in the foot here?
He's been making noises about the squad not being good enough in public many times, when it probably would have been better to keep his opinions a bit more dignified and kept in house and made the decisions during the transfer window re-opening.
I don't think Koeman has helped himself in this hole we find ourselves in. Once you criticise those publicly, you generally lose all respect, and that's what the players have to some extent done to Koeman.
Ian McDowell
11
Posted 10/12/2016 at 21:25:55
Patrick @ 9. Good points and for the life of me I have no idea what we should do.
Ian McDowell
12
Posted 10/12/2016 at 21:29:06
I don't think Martinez was as bad of a manager as people are making out. Didn't everyone say Stones will improve at Man City?
Last season, we had some great performances under Roberto but were often let down by individual mistakes. This has still not been rectified.
Baines is one of our major problems in defence if not our main problem. Too slow, lightweight and not aggressive enough for a full back.
Alan McGuffog
13
Posted 10/12/2016 at 21:32:02
Yeah and they don't like playing with a "casey " either. Too hard!

Ffs... what have we become?
Anthony Hughes
14
Posted 10/12/2016 at 21:33:42
First, they weren't fit enough; now, they're not strong enough. What next? – they've all got the wrong colour underpants on?
And he hasn't given any of the young lads a go... so no, not everybody has been tried out.
Derek Thomas
15
Posted 10/12/2016 at 21:40:34
My first though is you're the coach, fuckin coach them. Find footballing ways around the problem. Just playing Grocks won't do, the Pullis / Big Sam Watford method only takes you so far – don't just throw sky money at it in a real time FIFA 17.
There does seem to be a wide streak of Can't Be Arsed in the team and there in lies most of the problem.
But are they CBA'd because of Koeman or is there another reason(s)... They all seemed up for it on the first game of the season.
This CBA'd seems to be slowly soaking into the fans as well... How long before it gets to Moshiri. If it keeps up like this there could be 2 people with no job on Boxing Day.
Dear Santa. How do you motivate players on £80k a week, who get their money if they play or don't... seems contracts only work one way.
I for one won't be getting up at fuck knows what am to watch Arsenal fuck us over.

Brian Williams
16
Posted 10/12/2016 at 21:45:40
Thing is he's 100% correct. We are too weak and too small as well.
You've got Deulofeu, Mirallas, McCarthy (he did play didn't he?), Baines, and to a certain extent Seamus all getting bullied off the ball. Jesus, even Lukaku gets bullied off it and he's a man-mountain.
Barry Pearce
17
Posted 10/12/2016 at 21:56:21
We have got some players who couldn't win a 50/50 if their life depended on it. In fact ,we haven't got many that would challenge for a 50/50, full stop.
Colin Metcalfe
18
Posted 10/12/2016 at 21:56:40
Arsenal are not a physical side – they don't have to be, quick passing and speed of though will always beat physical sides.
Seems Koeman wants us to play hoofball and match the likes of West Brom! I have no idea what sort of style he wants to impose. Yes, he wants to have us pressing when the opposition has the ball. Okay, I get that; however, it's when we have the ball that we just seem lost, no pass and movement at all.
Two managers have commented on our "direct style" this season, which is embarrassing. Everton should always play attractive football.
Martinez stamped his mark on our style within the first few games of his first season; Koeman, on the other hand, has had plenty of time plus a transfer window to make an improvement from last season's disappointment and, to be honest, we look worse!
I'm not sure what the answer is but I just feel throwing money around in January is not the answer. Certainly certain players need to be dropped and hopefully Koeman can give some of the youngsters a chance and they can step up to the plate... but this latest excuse – I am just not buying. Football is not just a about physicality – it's about skill, pass and movement.
Mike Berry
19
Posted 10/12/2016 at 22:03:43
PLAY THE KIDS. Remember Norwich last match of the season. Unsy as boss, would do better than Koeman.
Sam Hoare
20
Posted 10/12/2016 at 22:04:25
It's not just about physicality. It's about heart.
Williams, Funes Mori, Barry, Lukaku, Bolasie, Stekelenburg, Barkley. All these lads are big units but we just seem to keep getting outfought.
I dunno if the players don't have the stomach for a fight or whether Koeman is failing to inspire them but something is wrong and we are only heading one way until it gets fixed.
Alan Bodell
21
Posted 10/12/2016 at 22:23:50
Did anyone see the film 'The Revenant' where the trapper was mauled to death's door then beyond all belief got himself back on his feet with a mission?
Well, forget it – with this crew, that drive out of Finch Farm daily in their SUV 4x4, Lexus etc., all of them except the obvious four need a gentle nudge to fuck off and bleed some other dozy club that will over-pay them and massage their egos.
Dick Fearon
22
Posted 10/12/2016 at 22:25:14
Talk about a purge in January is all very well but most of these lazy arsed useless gits have contracts that go well beyond this year.
I cannot see any of them forfeiting a lucrative salary by walking out the door and into an unknown filled with hard, demanding managers.
Jamie Barlow
23
Posted 10/12/2016 at 22:32:10
It's a lot easier when there's nothing to play for Mike@19. Not that I think Unsy is a terrible idea.
I find it hard to imagine any manager getting something out of these lot. They've not looked interested for 2/3 years now. I don't think I've ever seen so many players pull out of tackles. There's no fight in them.
I hope he goes out and buys a couple of right narky fuckers in January and gets rid of penty of shite.
Neil Wood
24
Posted 10/12/2016 at 22:32:47
Load of shit. Messi. Coutinho. Hazard. Silva. Eriksen. Robben. Hagi. Maradonna. Puskas. All massive units? No.
Whilst I appreciate you need a balance, it's no excuse in modern football. There's many a player that doesn't have the physicality mentioned and they are successful. Look at Mascherano for example A centre-back and he's about 4 foot tall! Heart, commitment and passion is the biggest requirement and we currently have non.
What I saw today was a disgrace. 㿔k + a week to give fuck all desire and no commitment at all. Give me ٢k a week and I guarantee more heart and sole and I'm 38 now so a bit rusty!
It's just so frustrating to see... I'm a Police officer (no boos please) who often has to encounter dangerous situations and people treating me like shit and these so-called role models are earning more in a week than I earn in a year. I had a woman spit in my face last week whilst trying to arrest her husband who had just hit her!!! What a bizarre and upsidedown society.
Rant over.
Brent Stephens
25
Posted 10/12/2016 at 22:34:50
Neil Wood
27
Posted 10/12/2016 at 22:39:36
Ha...touché!
Brent Stephens
28
Posted 10/12/2016 at 22:45:06
Just watching MotD and see wonder kid Stones made a massive boob again today to give a simple goal away. One a week almost.
Patrick Murphy
29
Posted 10/12/2016 at 22:55:05
According to the Mirror, McCarthy wants out of Goodison as he sees no future under Koeman at Goodison Park. A number of clubs are believed to be interested with Spurs heading the queue... Sissoko in a swap deal perhaps?
The Mirror also claim that McCarthy is one of a number of players about whom Koeman would listen to offers. Tom Cleverley, Phil Jagielka, Aaron Lennon, Gerard Deulofeu, Bryan Oviedo, Muhamed Besic and Joel Robles are all in the firing line.
In a separate report, The Mirror also say that Everton are favourites to land Saints player Virgil van Dijk as the Dutch player ditched his agent to link up with the company that represents Toffees' boss Ronald Koeman.
Could be an interesting few weeks in January, then?

Matt Williams
30
Posted 10/12/2016 at 23:00:37
Koeman is just saying what most of us on here have known for a while. It basically boils down to the fact that most of them are not Premier League standard players or have come to the end of their shelf life.

I think if Martinez was still the manager we would already be in a relegation battle and unless Koeman can turn it around soon it wouldn't surprise me if we end up in one.
Mike Crawford
31
Posted 10/12/2016 at 23:03:52
Just watching MotD about Arsenal's "pace and power".
Bodes well for Tuesday night.
Nick Armitage
32
Posted 10/12/2016 at 23:07:24
I don't swallow this lame excuse. If this is the only facet to football, then West Brom would waltz through the Premier League.
The problem isn't an utter absence of desire and intensity. Despite all the hot air in the media after every half-arsed performance, I don't see any evidence that any player out there wants to play for Koeman.
John Daley
34
Posted 10/12/2016 at 23:35:15
"We have many difficulties against teams like this who are direct and really aggressive. That's not the players we have. It's strange. It's sometimes difficult to understand what happened."
I've been trying to bite my tongue of late and not feed the all permeating negativity nonce currently stalking ToffeeWeb, just waiting to pick off any little pieces of positivity remaining in the Everton playground, but... fuck me... for someone so feted for his 'straight-talking honesty' this manager sure likes to situate himself outside the shit storm.
Since first walking through the door, he's stressed the need for 'pressing', putting a shift in, and battling for second balls over every other aspect of play. Never any mention of the technical side of the game – composure, putting your foot on the ball, passing it about, looking for a way to create more chances or getting more shots off at goal.
Whenever questioned on what went wrong during a game, or what the team might need to work on to improve, the answer has always been some permutation of 'praise pressing, for it is the be all and end all'

"Pressently the most pressing issue with the players is they don't press enough when under pressure. Pressumably pressing more will eventually lead to impressive results rather than pressipitate further piss poor performances. I was presscient enough to foresee this when others thought 'press, press, press' might pressage other aspects of the game being oppressed. That is why I can still expressionlessly slurp an espresso whilst short sighted Evertonians scoff antidepressants and shout random Cypress Hill lyrics at me like "Jump Around", "I could just kill a man" and 'Insane in the brain".
From the first minute of today's match, his men were hoofing it aimlessly down the pitch toward Lukaku. Absolutely nothing to do with Watford forcing us into playing their game.
It's the way we've approached every match, every opponent, under Koeman. Bypassing the midfield for the most part, getting it forward early, looking for the front man to hold it or for others to feed off any scraps that might fall their way after he challenges for it.
A cursory glance at our squad is enough to gather that we don't have the personnel to pull off playing that way. The manager now openly admits this, yet he's continually sending them out, week after week, to go toe to toe with more physical sides in a pub-team style battle where the tactics seemingly consist of nothing more than 'close down, challenge, compete and see who comes out on top'.
Surely, it's not difficult to understand why a team might fall into the trap of trying (and failing) to mimic more physical direct sides, to the detriment of every other means of approaching a game, including keeping the ball on the deck and actually knocking it about, when their manager repeatedly makes such a public fucking virtue of doing so?

Brian Williams
35
Posted 10/12/2016 at 00:03:05
Our players just aren't good enough. All through the team we have players who do very good stuff rarely. We have a number of players who do good stuff occasionally. What this adds up to is a "team" that is much less than the sum of it's parts.

100% all out effort can make up for a lack of top-notch skills every now and then and vice versa. The thing is we have neither. We, as a team don't have "enough" skills or "enough" effort to make up for a lack of each other.

What that results in is getting beaten by so-called "lesser" teams who work harder even when they supposedly have less skillful players.

Today we were outworked AND outskilled, not because Watford are a great side but because what they did, they did better than us, which wasn't that difficult for them.

Victor Jones
36
Posted 11/12/2016 at 00:24:20
John Daley... Very good post. I totally agree with what you say. You say that we continually bypass our midfield ..what midfield? I have always had our midfield down as our main problem. They couldn't play Martinez's passing game. They now cannot play Koemans pressing game..( whatever that is). Because watching Everton I'm baffled and lost. What players press. How do they press when does this pressing happen? Am I missing it.
Our midfield don't protect the defence. And believe me our defence needs protecting.
Our midfield doesn't provide anything going forward. Their long ball game is poor. We're don't even put teams under pressure with our hoofball game.The ball comes straight back up our end. Opposing teams run right through our midfield. Opposing teams have been doing that for the last couple of seasons. Koeman has done nothing to address that. Can we have faith that he ever will I'm not so sure. We should be seeing signs of improvement by now.
And we will lose our best player in January. Who will Koeman replace Gueye with. Cleverley or Davies? Stupid question ...it will be Cleverley. We stumble from one clown of a manager .to another. Get Unsworth in now ...let's see how "weak " these players really are. Before this all gets into deja vu Martinez territory .we've all been here before.
Another wasted season. No wait, we still have the FA Cup...God help us if Leicester decide to turn up.
Ernie Baywood
37
Posted 11/12/2016 at 00:31:28
Brian, Watford know what they are. And they play that way. Leicester's success last season was based on being really good at the things you can be really good at. Play to your strengths.
Right now, we're the opposite. We don't really know what we are. We press a bit but we're no good at it and don't have the players for it. We play long ball to a motionless striker who can't play the hold up role and is completely isolated.
How can you press without the ball and belt it away as soon as you have it? Who would ever be fit enough for that? We seem happy to concede space and free kicks in wide areas when we aren't able to defend a cross. We play to our weaknesses.
This is a fucking disaster and while it would be unreasonable to expect Koeman to turn us into title contenders, it's entirely fair to expect him to manage the current crop with some kind of expertise. The guy has no plan whatsoever except deflecting blame onto his players.
So we have players who aren't up to it being publically blamed by the manager every week. It's a scandalous level of mismanagement.
Brian Williams
38
Posted 11/12/2016 at 00:42:34
Ernie, I agree with a fair bit of what you say but it's now two managers who seem unable to get them to play.
Anto Byrne
39
Posted 11/12/2016 at 01:01:54
The last 15 minutes showed the type of football this team is capable of, quick passes out of defense and accurate passing without the hoof. We did create and look dangerous, Lennon was good and Deulofeu put in a shift, I even thought Rom was doing okay.
It's not like they had 30-odd shots and 70% possession; it's just that we were very poor at set pieces, again not putting men on the goal line and then we have to attack the ball as it comes in from a set-piece.

I would point the finger at Baines for two of the goals, being caught out of position and failing to clear the ball off the line, but hey, it's a team game and shit happens. Not sure what the answer is but we had Davies and Holgate on the bench? Koeman better get his finger out and start managing the team.
Kevin Dyer
40
Posted 11/12/2016 at 01:11:13
Bang on assessment, John (#34).
Koeman has no original thoughts, just the mantra of "press". Utterly clueless. I think he has no firm idea of what he wants the team to do and this transmits itself to the players. Some of them aren't up to it but I cannot believe an entire squad to be lazy, weak-minded etc. Impossible.
Koeman's demeanour on the sideline – muted, tense, unreactive – is mirrored by the team on the pitch. He plays with fear. Today we essentially played 3 DMs vs Watford, though McCarthy was nominally a confused-looking AMC.
85 mins to get our 2nd shot on target vs a poor defensive team. Story of the season so far.
Despite encouraging cameos from Holgate and Valencia last game we get neither starting, but McCarthy in for Cleverley. Our formation was flawed. Our 2 wide attackers provided no cover to our FBs; that should have come from our CM and Gana did cover Coleman. Barry didn't have the legs so Baines was exposed. McCarthy could have supported but was in limbo upfield. As soon as Watford quit playing through the congested middle, they were all over us. No reaction from Koeman.
Lukaku is a great finisher but cannot play as a solo striker. Valencia needs to come in; Rom looks 50% better with a strike partner. We need to shift out the dead wood (McCarthy, Cleverley, Gibson, Jagielka etc).
Finally, assuming Koeman figured that Watford would be physical, maybe starting Holgate over Seamus and not sending Galloway out on loan may have been a decent idea?
Don Alexander
41
Posted 11/12/2016 at 01:22:25
This week's presser-to-be from AN Other Everton player;
"Well obviously we're a bit down about losing but playing Z-Cars went we went out for kick off was a real stunner. I mean, we're way better at home, so that was a kick in the teeth and the new signings especially thought we'd be nailed on for an equaliser in the last minute.
"But we'll just have to put it behind us now, regroup, and move on. It'd help though if the new manager would just give us a song more suited to our identity as a team. Something like I've Got A Lovely Bunch Of Coconuts would get us all buzzin' for sure!"
Dick Fearon
42
Posted 11/12/2016 at 01:26:46
Koeman's team selections are akin to moving deck chairs on the Titanic.
Clive Mitchell
43
Posted 11/12/2016 at 01:40:47
Koeman is a disastrous appointment. He complains we're not tough enough having just sent out Baines, Deulofeu and Mirallas with Barkley and Jagielka on the bench. He's a poor judge of a player – Stekelenburg for god's sake.
Have you ever seen a less inspiring sight on the touchline than dour Ronald, his slightly embarrassed-looking brother and the frankly lucky-still-to-have-been-in-his-job-12-months-ago Ferguson? The whole lot needs sweeping out, and the only established players who should be at the club in a year are Coleman, Funes Mori, Gueye, Barkley, McCarthy and Deulofeu.
There's plenty who'll say it's ludicrous to argue for sacking Koeman now. Well, where do we stand in the form table of the last TEN Premier League games? 19th, two points above Hull. Anyone who's seen signs of the improvement needed to survive the drop this year in our last five utterly woeful performances needs an optician.
Mike Gaynes
44
Posted 11/12/2016 at 01:48:56
Our worst weaknesses are mental, not physical.
Great point, Danny Broderick (#8)... Deeney's leadership exemplifies what Everton is missing. That's what Williams was supposed to bring us, but I'm not seeing it right now. And nowhere else in our roster is there anyone who remotely appears to be a leader.
Andrew James
45
Posted 11/12/2016 at 02:00:32
I don't accept the players are completely to blame.
Koeman keeps singling out Ross and dropping him but the results don't change. He dropped Jags and we just conceded 3 to Watford.
He plays Cleverley out of position against Man Utd and he's poor. Next game we have 3 defensive midfielders. We go to Chelsea and random like play 3 at the back and get done 5-0.
When we were 3-1 down today he threw on Ross, and guess what he stuck with the ball in the top third. Koeman is stubborn hence why he kept playing Bolasie until the terrible injury and Williams who for me has done little to be ahead of Jags and Funes Mori.
Koeman is to blame and blaming the players is comical when you look at his line ups.
He needs to go (I've been saying this for 6 weeks but genuinely don't think he is a good manager) as on current form we will go down. I am not overacting, it is possible unless we get some wins and fast.
You can blame the players and Martinez but in 2013-14 we finished 5th with most of these players.
Koeman is a journeyman and we need better.
James Watts
46
Posted 11/12/2016 at 02:12:28
For me, 70-80% of the blame is squarely on Koeman's shoulders. He has nearly 6 months to work with these players, and 3 or 4 of them are his signings.
He should be getting more out of these players. He should be changing things when they aren't working. He should be going back to basics of keeping it tight, hard to beat, etc when things are not going well. I could go on but the simple fact is he is doing NONE of this.
He has been found out. He is out of his depth. He is far too stubborn. The direct style he seems to play (but who really knows?) is tedious and boring. He has no connection with the fans or club.
He gives the impression he doesn't give a fuck. And worse of all, the players performance and most of all attitude prove they don't believe in him. I want him out. NOW. Before we hit the bottom 4 or 5. It took 2 years for me to feel this way about Martinez, which shows how bad this guy is in my eyes.
Get out of our great club, Koeman. You are not one of us.
Don Alexander
47
Posted 11/12/2016 at 02:35:19
Am I alone in believing that professional footballers should NOT see that playing for their current manager is the be all and end all? Do they not have far more of an obligation to play for those people standing/sitting around them on match day?
After all, if those people don't pay and turn up then there's no point at all in the players turning up, cos they won't get paid, and that would never do would it?
Taking it further, the power to effect change might therefore be in the hands of said stander's/sitters. Am I alone in thinking this?
Peter Barry
48
Posted 11/12/2016 at 02:38:41
The real question we should be asking is: Who foists these useless NUMPTIES like Bobby Brown Shoes and Koeman on us?
Which footballing GENIUS in the Boardroom looked at Martinez's record and Koeman's record and said these are just the men to take Everton forward, to make us successful?
David Pearl
49
Posted 11/12/2016 at 04:36:39
Howard Kendall was given time and new players, eventually it paid off. So we need a little patience, hard as it is.
Koeman and Walsh must surely know what they want and need. Apparently we have the resources to go out and get those players, if they want to come. Something that no Everton manager has had in years. Years!!
So let's give it time and see what Santa brings. If it doesn't change after that... Well. Hang him, hang him, hang him. Etc
Duncan McDine
52
Posted 11/12/2016 at 07:24:27
For me, the real issue here is:
Did Cypress Hill sing 'Jump Around'?
I'm pretty sure it was by 'House of Pain', which incidentally matches the name of our future stadium.
Chris Williams
53
Posted 11/12/2016 at 07:37:07
The reason we bypass midfield is our midfield is shite.
Football seems to be changing and many sides who compete near the top are big physical sides, others are full of fast nimble intelligent footballers. Both types of team have one thing in common: their players work their arses off and show desire and passion. They have 'ticker'.
We are neither one type or the other, and definitely do not have ticker.
Under Moyes how many matches did we win away at the Sky 4 or Anfield? How did the semi-finals or finals go?
Under Martinez, we consistently threw away leads and points, were weak in semi-finals, and these players seemed to down tools in the last third of last season.
These same players are letting us down again. Those we could once rely on are ageing or slowed down by injury. Williams is criticised because he is not leading. He must feel like a stranger in a strange land, largely talking to himself.
Koeman has permutated this lot every way he can and the only criticism I have is he has been too patient with this gang of bottlers.
Years of mismanagement and acceptance of low standards are now biting us in the arse. These players have lingered like a bad smell but those running the club have allowed it, being of low standard themselves.
The last window was hopefully their last hurrah, where we missed out on 4 players, named by Moshiri and all midfield or attackers from memory. That cannot be allowed to happen again.
But here's the thing – the tide is beginning to turn and the stables are going to be swept out. It is not going to be an easy ride. It isn't an easy ride, it's horrible and unpleasant and the football is grim and unattractive.
Batten down the hatches, folks, it could be a bumpy ride. But more of the same is no answer.
Ajay Gopal
54
Posted 11/12/2016 at 08:03:33
I am of the opinion (just a feeling really) that there is a toxic core of players who are pulling everyone else down – I include Baines, Jagielka, Coleman, Lukaku, Mirallas in this bunch. I may be totally wrong, but this is my theory. Take this bunch out, give the kids a chance and then see what happens? Play 4-4-2 or 3-4-3.
Play: Holgate, Williams, Funes Mori, Galloway as a back 4.
Play: Gueye, Barkley, Davies, Cleverley in a midfield 4.
Play: Deulofeu in a hole behind Valencia as 2 forwards
It can't get worse than this. In fact, I have a feeling that this team will show fight and desire, and may actually end up stopping the rot.
My fear is Koeman will spend huge money on a handful of players and they will not make no significant difference, and push Everton again into dangerous debt levels, but also stunt the growth of a whole generation of Everton's young players.
Dave Lynch
55
Posted 11/12/2016 at 08:11:21
FWIW, my opinion is he isn't a good fit for the club.
It happens – some managers don't settle into clubs and therefore cannot get the best out of players, doesn't excuse the lack of effort though.
To my mind, he has never looked comfortable in his press conferences and appears to be very lacklustre on the bench as well.
Andrew Clare
56
Posted 11/12/2016 at 08:48:09
If the signings in January are as bad as the summer signings (Gueye being the exception), then we really are in trouble.
At the moment, it looks like Koeman has no idea what to do with the current squad. Yesterday, the football was terrible. I am hoping like all of us that 3 or 4 new signings will spark the team into action.
We persevered with Howard Kendall and Man Utd did the same with Ferguson when things looked grim and look what happened then. We have to be patient.
Clive Lewis
57
Posted 11/12/2016 at 09:02:14
When is it going to sink in? – Lukaku cannot play as a lone striker, he needs chances in the box to be effective.
The midfield is weak. Push Coleman forward and play Holgate. Mirallis is not good enough, Barry can pass but his legs due to his age are not fast enough.
We don't look like we are benefitting from a £6 million-a-year coaching influence. We are getting the basics wrong. Players marking etc is basic coaching.
I would have preferred Unsworth. We have recruited another manager with no real management credentials to support his reputation.
Paul Smith
59
Posted 11/12/2016 at 09:18:00
Duncan (#52) – it was indeed House of Pain, how very apt.
I look forward to seeing you there in the future and on our travels.
Good old TW.
John Salmon
60
Posted 11/12/2016 at 09:21:40
Team against Arsenal:
Robles,
Holgate, Williams, Funes Mori,
Coleman, Gauye, Barry, Lennon, Mirallas
Lukaku, Valencia,
Subs: Stekelenburg, Barkley, Dowell, Deulofeu...
Dave Lynch
61
Posted 11/12/2016 at 09:23:21
The House of Pain is from the Island of Dr Marou (spelling?).
Amit Vithlani
64
Posted 11/12/2016 at 09:44:42
Koeman is not going anywhere until he is given 2 more windows. Moshiri has said Koeman was brought in as another 'star' manager in the Northwest. I can't seem him rowing back from this atleast until we actually are near the bottom 3. For now Koeman is safe.
It will also be hard to justify his sacking (unless we really are near the bottom 3) when so many of the team are:
1. Not his players;
2. Have been under performing for almost a year (looking back the full 2016 are form has been very mediocre)
I don't give a flying fuck about the players morale and attitude. They need to be pulling on the jersey and putting in a shift. Lukaku has been taking the butt of the criticism but the whole team has been poor and singling him out is futile. Even if Lukaku ran as much as Costa, we would still allow crosses to rain in and look vulnerable from set-pieces.
Martinez was rightly given the boot because after 6 transfer windows he simply could not get us above mid table, and he made enough signings to have called the team his own. Southampton's key performers were Koeman signings (Van Dijk, Pelle, Mane (I think), Long (I think))
All that said, it has been a poor start to his reign. He has certainly not helped himself with his divisive comments. Like Mourinho, his utterances are tolerated when things are going, when they are not, they make him look divisive and aloof.
He has also not helped himself with his nonsensical selections. His chosen style of play is direct football. Playing one upfront with a guy who cant hold the ball up, supported by a midfield that almost never wins possession back in the final third, and a disorganised defence, and goalkeeper that sits far too deep, is nonsensical.
Leicester City played two up to against Man City and showed direct, fast counter attacking football can be played with 4-4-2.
In the context of his salary, I find it odd that this is thrown around as a stick to beat him with as it is our hierarchy that hired him and chose to pay it. Koeman put forward his demands and these were accepted so the flack should be aimed at the powers that be if Koeman continues to fail.
James Newcombe
65
Posted 11/12/2016 at 09:51:00
In that case, why sign Williams? Or Stekelenberg for that matter? Both are consistently out-thought as well as out-muscled.
Paul Conway
66
Posted 11/12/2016 at 09:52:08
With the unfortunate injury to Bolasie, it's turning out that Gana wasn't the £7.5M snip we thought....
IMO, with the rest of Koeman's signings being shite, it turns out that the £47.5M we got for Stones was spent on Gana!
Mark Morrissey
69
Posted 11/12/2016 at 10:40:55
Kunal @ 10 has hit the nail squarely on its head.
It goes like this. If I say Paul @ 1, Andrew @2 and James @ 3 you need to do better posts than these sorry excuses, you're gonna get dropped from TW next week if you don't buck your ideas up and I do this openly, as I have done here, I can bet already, even though I don't mean this, that Paul, Andrew and James will already be on the defensive.
Imagine how the likes of Barkley feel when the entire British population is told "Barkley is not good enough for Everton, never mind England"? This entire teams nerves are shot to bits. It doesn't matter how much you are paid. Cut them and they bleed. They are human.
His man management is piss poor. He has fucked up the teams confidence and that is what is missing he needs to learn and learn fast. One word – RANIERI. Look and learn Ronald.
Paul, Andrew and James, well done for being the first three to respond to this article, good on you and a Merry Christmas to you 3 wise men. All good bible names. I loved your posts by the way, all good in their own respect. Keep 'em coming... [See how easy it is?]
James Watts
70
Posted 11/12/2016 at 10:43:46
Mark( #63). If only you was Dutch or had the surname 'Koeman', we could hire you as a motivational coach as god knows we need one!
Karl Meighan
71
Posted 11/12/2016 at 10:59:35
How do Coleman and Baines always escape criticism? We concede more goals from crosses than any team in history yet these two constantly stand off and invite opposing widemen to put it in the danger area. Even when defending set pieces or corners; it's rare that either of our fullbacks clear danger with a header from inside the penalty area.
Let's face it every team we play has the most simple tactics or easiest team talks I can think of: "Just get the ball in the box, do it often enough and the rewards are there."
Coleman was a very promising player I now struggle to remember when he last hit a good pass, constantly hits passes the wrong side of its target and his crosses well; the lad cant take a corner.
Baines has struggled with injury and I fear hes going the way of Jags and being honest his defending has always been average anyway.
We concede far to many goals from crosses; fullbacks and the rest of the defence needs drastic surgery... if you don't concede goals, you don't lose games. I suggest starting there.
Karl Meighan
73
Posted 11/12/2016 at 11:16:39
Dear Ronald,
It's not Britian's Strongest Man, for fucks sake... it's the Premier League football and our players are not the best – they ain't good enough.
Trevor Peers
74
Posted 11/12/2016 at 11:21:09
Karl, the answer is simple: when Moyes was the manager, Baines and Coleman were protected by their respective midfield partners Pienaar and Osman, who would cover for them if they attacked down the flanks. Now that protection has been removed, Mirallas and Deulofeu never track back and cover, they are left isolated, and are easy targets for every team we play.
Until Koeman sorts out the attacking midfield, we will keep on shipping goals. Moyes has his critics, but he did have the midfield playing in harmony with the defence and the team were a proper unit, now it's just chaos.
Richard Leeming-McHale
75
Posted 11/12/2016 at 11:57:59
"The Everton manager is visionless, uninspiring and out of his depth."
(Radio Merseyside pundit, 17th January 1984 – the day before 'The Day'...)
Dave Older
76
Posted 11/12/2016 at 12:02:06
After 6 games, I thought we were on to something with Koeman. What has happened?
I cannot explain it. We have no fight, no quality, no passion. Koeman shows no personality in the dug out so I can't really understand what is going on his head? His post match interviews are pretty depressing and uninspiring.
3 DM's against Watford? I mean seriously?? Why is it we are obsessed with playing one up front? Lukaku needs a partner, it's not rocket science is it??
I really am dreading the next fixtures, don't think I can watch us get thumped twice at Goodison in the space of 7 days. >
Overhaul in January required, a BIG overhaul. RK has got to earn his money in January, because he hasn't so far. God knows who he will be able to get in but I hope he can work a miracle. Otherwise, he won't be around for very long...
Eugene Ruane
77
Posted 11/12/2016 at 12:02:23
"We know the Premier League is difficult" Koeman said after the game. "The Premier League is not always about football qualities. It's about physicality, second balls. In that aspect the team is too weak. We have many difficulties against teams like this who are direct and really aggressive. That's not the players we have."

Well said, I agree with him, he's identified a massive part of the problem (although... as I've been saying 'no brains and no brawn' for almost three years, maybe he's agreeing with me).
So, right now, it's (kind of) this simple.
There's a transfer window coming up. If, after that window has closed, all we've bought is a 9 stone winger and a 5'-8" centre-half (and moved Lennon on) it will mean one or all of the following is the case.
Koeman is clueless.
Or Walsh is clueless.
Or Moshiri is full of shite.
Or Kenwright is... Kenwright.
It's a nice idea to think that a side of elegant ball-players (not saying we're that) can successfully compete against a side of big-shouldered grocks, but the harsh reality is that we aren't physically competing, we don't get enough second ball, our forward (can't say 'forwards' as we only play one) doesn't win enough headers.
We are currently piss-weak and, if that doesn't change fast, the second half of the season could be worse than the first.
We are also in dire need of a real brain in the middle, but in our position right now (heading towards a scrap we're not equipped for) brains may have to wait.

Geoff Williams
78
Posted 11/12/2016 at 12:14:25
One shouldn't underestimate the role of a manager and coach. Chelsea's squad is almost identical to last season's but the manager has turned them into a cracking side.

To say that the players at Everton don't care or try their best is wrong. The players are constantly being told by the manager that they are not good enough and that he needs four or five new players so is it any wonder that team morale and confidence is low and, as a consequence, they under perform???
Gary Russell
79
Posted 11/12/2016 at 12:25:30
Something is Rotten in the State of Everton.
Why are managers so fucking conservative and keep playing the same players? Why not be a little adventurous and as has been said on here 1,229 times in the last couple of months, "It can't get or be any worse."
Holgate and Galloway as full backs and Coleman and Baines either side of Gana or throw Davies in for his energy and passion. Put ValencIa next to Rom. TRY SOMETHING DIFFERENT FOR CHRISTSAKE!!
Because it can't get any worse, I hope.
Karl Meighan
81
Posted 11/12/2016 at 12:30:05
Geoff @78, the manager is very important but the fact is them players are not good enough.

I mean, Hull City have 3 midfielders who would arguably walk in the Everton team and they are second from bottom and big relegation favourites. The 3 are Livermore, Huddlestone, Snodgrass... oh, even Mason is arguably better than the shite we have, so that makes 4... it's laughable.
Raymond Fox
82
Posted 11/12/2016 at 12:44:05
While I think Koeman has not had the best of starts and has made some right cock-ups, especially on the PR front, sacking him already is not a good idea. We don't want to start to give the impression that whoever comes here be it manager or player, we turn on them in 5 minutes.
While I go along with the comments that all employees of the club are overpaid, don't really care about the club and are only interested in themselves, that's not the whole story.

Koeman and Martinez have one common factor in this sorry tale and that's the players, are any of them of interest to top 6 clubs?

Its been common knowledge on here for the last 2 1/2 seasons that our first priority has been a top quality midfielder one that can boss our play; secondly, a big rough tough no nonsense central defender; we are still waiting.
If we are getting outmuscled and we are, why has Koeman bought Williams!

Baines and Coleman are not defensive full backs, when do they ever head a ball, Baines is not worth his place anymore I'm sorry to say, its time to play Galloway.

Apologies for keep banging on about the same cause but trying to beat the usual top teams with squads largely made up of ٤m and free transfer quality players is never going to work.
At the end of the day, it largely comes down to who can afford the best players. Yes, Leicester bucked the trend last season, but I'm willing to bet it won't happen again in our lifetime!
Colin Glassar
83
Posted 11/12/2016 at 12:51:03
Not only physically weak but mentally feeble. That's our biggest problem.
Karl Meighan
84
Posted 11/12/2016 at 13:06:18
January is not a time to buy and make lots of changes as who wants to sell their best in January and only players out of form or not good enough are available. We need something and seem to have little choice but to try and bring in players and just hope they come good and help improve the squad.
Presume that's you, Gary @79 – hope you're well, mate. Have a nice Christmas lad.
Patrick Murphy
85
Posted 11/12/2016 at 13:14:53
Ray (#82),
I suspect your observations are accurate when it comes to this present squad not being good enough to compete with the top six teams; however, that's not what most of us are crying into our beer about. It's the inability to compete with most top flight teams in each and every fixture.
As poor as this group are, there is no real reason they can't pick up a few more wins along the way, but the issue seems to be that most of them aren't giving maximum effort and that has to be addressed by those in charge.
I haven't done a full analysis of which teams we have managed to take three points off in the last three years, but I would guess that not many of them were either in form or in the higher reaches of the league table at the time that we beat them.

Bobby Thomas
86
Posted 11/12/2016 at 13:18:25
If we are not careful, we are going to end up in very deep shit.
Koeman has to do more than just waiting on January. If this goes on another 10 games, we are in the shit and then its very, very difficult to pull yourselves out of it and bank on a window when you are signing mercenaries on mad dollar, adding more potentially suspect characters into an already dubious dressing room.
What we are actually seeing, on a smaller scale, is similar to the chaos at Man Utd, post Ferguson. Post Moyes there has been way too much change, too quickly.
I read an interview with a former member of the medical team at Everton who said that when Moyes was there, the last few years it was like a family. Martinez ripped all that out. Big or stabilising characters, and I don't care what people thought of them they were lads you could trust, like Cahill, Ossie, Pienaar, Neville, Distin, have left and the dressing room now seems toxic. Stubbs has left as well.
I think this dressing room needed challenging. But there are ways to do it. He's been a player, it doesn't take a genius to work out that basically saying, "I can't work with this bunch and I can't wait till January", ain't going to get you far. The squad needs work, but it's a top 8 – 10 set of players.
After the first few games I thought we were ok, had improved, were looking more solid were setting up for a transitional, almost early Moyes type season of being tight and grinding results. Whatever has happened, and something clearly has, its fallen off a cliff and the players aren't having him.
In response Koeman has resorted to tactics that get the best out of NOBODY. I've made my feelings plain on my suspicions about Lukaku's character on here in the last couple of days; however, there is absolutely no point in asking Lukaku to act as target man, banging diagonals and straight balls into him in the hope he will make it stick and we can play from there. He's crap at it and you can see the players just don't believe in it.
They are also better than the nonsense game plan they are being asked to play to at the moment. I think there are problems in the dressing room but its also a group of international players and they are being asked to do this, as if this is all they are capable of? I would, to be honest, be pissed off.
Something needs to happen or deep shit beckons. All the signs are there. I would see how the next few games go and then lean towards getting rid of him before January if they will just not play for him. Maybe Unsworth & Royle in for the rest of the season and take stock in the summer.

Tony Woods
87
Posted 11/12/2016 at 13:21:37
For the life of me, I don't understand how Koeman thinks. His comments do little to uplift players or fans. In fact, many of his public comments seem to undermine players.
Why are we told that at the age of 21+, players are not ready for the first team? If they are good enough, they should be used. A few players come to mind: Ball, Harvey and Rooney. Such an attitude must dent the confidence of the youngsters.
Also confusing are his public comments about some players. For example, I feel sorry for Ross Barkley – he looks lost and way short of confidence and Koeman's approach doesn't seem to be helping matters.
Koeman's comments after the Watford game really take the biscuit. To admit publicly we were out-muscled and bullied into submission beggars belief. Have a guess what clubs are going to do in the next few games!
Koeman has had six months at the club and comes out with such a statement... Surely as an experienced manager, he must have learned something about our squad even before he joined us. He just doesn't get it and I don't think he will.
Despite his shortcomings, Martinez was passionate about our club and it was clear he was proud to be our manager. Seems we are stuck with Koeman – in the short term at least. Let's hope he proves me wrong!

Brent Stephens
88
Posted 11/12/2016 at 13:32:59
Bobby (#86):
"Moyes was there, the last few years it was like a family. Martinez ripped all that out. Big or stabilising characters, and I don't care what people thought of them they were lads you could trust, like Cahill, Ossie, Pienaar, Neville, Distin, have left and the dressing room now seems toxic."
I think that's a good call. The players you mention all had, in their different ways, a commitment to the cause.
Kevin Tully
89
Posted 11/12/2016 at 13:35:36
The situation at Everton is about on a par with this quote from Donald Rumsfeld: "There are known knowns. These are things we know that we know. There are known unknowns. That is to say, there are things that we know we don't know. But there are also unknown unknowns. There are things we don't know we don't know."
We do know Koeman wants these players to play the exact opposite of the last manager. A high intensity pressing game, similar to the lovables across the park.
We also know these players downed tools on the last manager and hung him out to dry, even though he ridiculously said every one of them was the bestest player in the whole wide world, ever.
There is absolutely no doubt that the majority of the same players don't like this manager's methods either. It's clear in the way they are playing. The question is, Blues, who should be shown the door? The players who don't like the manager, or the manager?
I know who I would get rid of. Koeman can be a ruthless bastard, it's probably just the approach these serial losers need.
Loko Sanchez
90
Posted 11/12/2016 at 13:51:38
Still blaming Martinez? That's just sad.
Raymond Fox
91
Posted 11/12/2016 at 14:04:32
To be fair, Patrick, look at some of the results this season, there's no walkovers now.
There's still a divide between the usual 6 and others in the Premier League, but Guardiola, Klopp and Mourhino have been beaten by teams from towards the bottom of the League recently.
We do play like there's no organisation and there's no excuse for that, I agree.
Brent, when Martinez took over, Ossie, Pienaar and Distin were past it or injured; also, Pienaar. The game's gone crazy money-wise, most players could retire tomorrow as millionaires. Some managers have even admitted the players have to be handled with kid gloves or they take the hump!
Bobby Thomas
92
Posted 11/12/2016 at 14:04:40
It would be drastic getting rid of Koeman and I have not considered it as an option until today really, but 4 or 5 away defeats on the bounce is nailed-on relegation-fight form. And we don't have much fight really do we?
The defending yesterday and the lack of discipline, such as Barry, who has the fucking armband, giving away a brain-dead free-kick in the lead up to the goals, smells real bad. Sometimes you just have to knock it on the head.
We can keep this manager, who has shown a complete inability to take people with him, and give him and his man management skills 㿞 - 100 million. If it goes tits up, then what?
Always cheaper to get rid of the manager. Always.

Dean Adams
93
Posted 11/12/2016 at 14:05:42
Kevin Tully,

As you are aware, Ronald Koeman has a long and distinguished career in football, being Dutch, so understands passing and having played for Barcelona. I for one trust him more than the hundreds of nobodies who want him gone.

He may prove me wrong but, for now, I will trust his judgement, just like you!
Karl Meighan
94
Posted 11/12/2016 at 14:10:26
Let's get things right – these players are shite with about three exceptions they have got a cheek if they downed tools on Martinez and are doing the same here as they don't like the way Koeman operates.
My opinion is somewhat different. Gana, Williams who has been poor recently and Lukaku for his goals apart, I would not be concerned if any of them were sold, dropped or burnt at the stake because they are piss poor footballers.

They would struggle to break into a relegation-threatened team – never mind a top four team challenging for the Champions League – and lack basic skills like passing a football 10 yards or controlling a ball first time without needing three or four touches.
Alan J Thompson
95
Posted 11/12/2016 at 14:11:38
It's difficult to argue against being honest but does anyone think being so publicly is the best way to get players performing at their optimum? Once may get the point home but he seems to put his foot in it at every press conference.

How hard would you try if you are continually reading that your Boss is telling the world what your weaknesses are and what you are doing wrong?

Then he announces he intends moving a lot on at the first opportunity and the only thing you both agree on is that you are fairly sure that you can get employment elsewhere fairly easily.
Eddie Dunn
96
Posted 11/12/2016 at 14:19:12
Koeman has his own style – he sits quietly in the dugout and he watches the game. Martinez was criticised for standing ,arms folded, alone, not talking to his assistants.

Some managers are jumping up and down, some shout a lot, and if we had one of those, he would be getting stick on here "fecking stupid tit, jumping around like a jack-in-the-box."

Things don't look good, and that first half was possibly the worst I have seen in 5 years-from both sides. However, the manager needs time.

His straight talking style may have ruffled a few feathers, but we have been used to the bullshit from Roberto, and I would rather listen to Koeman. He got Southampton playing good football. He rebuilt the team and got them high in the league.

People moaning that he isn't buying in to Everton, should relax, and buy in to Koeman. Support him as he tries to rebuild this team. The full backs are poor, and we need a big centre back. We need a creative centre midfield player, and another striker.

Those people calling for Unsy to take over should consider the size of the task. Unsworth has no experience and if some of the squad don't respond to Koeman, then how much influence would the Under-23s coach get?

The club won't sack him. He has to have the January window and they have to back him.

Let's see if the team can do something against the next two opponents, it might bring the best out of them!
Anthony Hughes
97
Posted 11/12/2016 at 14:19:52
Dean, those hundreds of nobodies you refer to are fellow Evertonians with many long years of watching our club and so I think are more than qualified to comment on set up and tactics of the team.

Don't get drawn in by Koeman's name and career as a player. He hardly has a glittering trophy-laden career as a manager. I do think he needs more time but he shouldn't be beyond criticism for the dross and complete disorganised mess we are at the moment.
Colin Glassar
98
Posted 11/12/2016 at 14:35:31
Moyes downplayed us as a club.

Martinez spoke a good game but turned out to be useless.

Koeman gives the impression he doesn't care.

Can't we have someone who is just moderately normal?
Dean Adams
99
Posted 11/12/2016 at 14:38:13
Anthony. Don't fall for the Three Musketeers saying. I was home yesterday and read the Live Forum. I used to think, if you were an Evertonian, all was good... but clearly that is not the case for all!
Dave Abrahams
100
Posted 11/12/2016 at 14:56:42
Like most on here, I am completely disheartened by the current state of the club; I can't see where the next win is coming from. Who is to blame, the players? The manager and his coaches? We started off relatively well but all of a sudden things have come to a complete halt.
I think the manager should have been more professional; he never got the players he wanted/ was promised in the summer but, instead of just getting on with it and doing his best until January, he seems to have told some players they are not part of his plans, and there has been a bad reaction to this.
Mr Moshiri has got to get to the bottom of this, call the lot of them together and try to sort it out by bringing some sort of unity to the squad; things can not be allowed to get any worse. We are in trouble and already relegation is been talked about.
If the players have any sort of conscience, they have got to start earning the massive wages they receive... or am I completely naive?
Alex Fox
101
Posted 11/12/2016 at 15:11:53
From Koeman's interviews, it would appear that he wants us to play as a direct all-action physical team with a tight defence and high-energy pressing. Yet you would never know this from what we've seen on the pitch each week. If this is how he wants us to play, then fair enough... but his major issue is that he is picking completely the wrong team to make it happen.
Don't get me wrong: I think Gareth Barry is a terrific footballer. He was perfect for the Martinez set-up, and I sometimes wonder whether we might have won some trophies if we had Barry in the Phil Neville role during the latter Moyes years.
We'll never know. But what we do know is that there is no other team in world football that aspires to play a physical high-pressing game, and yet consistently starts a 36-year -old in the centre of midfield. Barry has never been particularly strong, quick, or physical - and he certainly isn't now. He can't boss games playing the style Koeman purports to be attempting.
Who should be there instead? James McCarthy is the obvious choice, but unfortunately he happens to be utterly mediocre. Someone posted an infographic of his contribution to the Swansea game, and it crystallized something that we've known for years: the guy runs about a lot, and yet the game consistently passes him by. He's a giant black hole in the middle of the pitch and ought to be shipped out to anyone who will take him.
Ross Barkley is of more use higher up the pitch. Mo Besic might be able to do the job alongside Gueye, but is permanently injured. Tom Cleverley is tidy, but ineffective. Which leaves Tom Davies... Give him a chance. At the very least, he would show welcome enthusiasm and energy.

Anthony Hughes
102
Posted 11/12/2016 at 15:12:17
You do have a point there Dean.
Colin Glassar
103
Posted 11/12/2016 at 15:16:17
Dave, maybe it was Moshiri who undermined Koeman with his public calls to his mate, Jim White? I never understood what he was doing but maybe he was making it clear who is going to do the selling (McCarthy) and buying (Sissoko) etc. Just a thought.
Bobby Thomas
105
Posted 11/12/2016 at 15:23:22
I wonder if we will, or have already reached the "palpable discord" stage?
There was an interesting tweet from James Corbett yesterday, author of two or three Everton books – he collaborated with Big Nev for The Binman Chronicles. He tweeted that the performance would do very little to ease the concerns the men at the top apparently already have about Koeman's suitability for the job.
Tony Croxford
106
Posted 11/12/2016 at 15:25:30
Please get off Koeman's back. We're Evertonians The problem is simple the players are not good enough. They were crap last season under Martinez and they are worse now as some are a year older, especially Jagielka and Baines who have been great servants but sadly are not up to the task of competing in the toughest league in the world
Let's have faith in Koeman and Walsh with Moshiri's backing to turn this great club around starting in January. Having said that, I can't understand why Barkley is being left out. He is our most creative player despite his limitations. Also we need to give some of our younger players a chance. Davies, Holgate, and Kenny – they can't do any worse.
Paul Smith
107
Posted 11/12/2016 at 16:15:25
I genuinely never want to go against any Evertonian. I get we are all frustrated and all have ideas of what needs doing but, so many times, I read people's comments and ask myself why we support Everton. For me its the sense of pride (I feel none lately) and the prospect of going into every game knowing we are at least in with a chance. Near almost every one of us fans are not privy to training sessions or board meetings so I can only suggest saying what you see.
The day Koeman came, I warmed to it straight away. He wasn't my first choice but the man is a legend. Being a legend doesn't make him a top manager but gives him an edge and respect others don't have. As of today, my opinion is Koeman is another overpaid and not getting the job done person as anyone else. The huge wage and willingness to take it suggested to me he knew what he was in for. There is no patience in football. Moyes would still be at Man Utd if ambition and time went hand in hand.
All I want from Evertonians is to stop crying when the teamsheet is announced and give the energy we waste talking about Peel Holdings and Moshiri (who we still don't know) to the team. If they can't do the job, we can analyse after the game – not before it – which happens on Twitter every week.
Let's get on the same page coz us fans matter – not anyone else. The rest are there to provide for us and return our great support. When we are all on the same page and not bickering amongst ourselves, we are a great club and a run like this should not be accepted in any way shape or form from any level. Martinez is long gone for me, that excuse is dry.
Paul Smith
108
Posted 11/12/2016 at 16:19:45
I think Anthony (#97) makes a great point too. As a long-time blue, I don't see the point in falling in love with a man who won't be here as long as me.

Koeman has my respect but he has a job to do for Everton and our fans. He hasn't had it easy and I think the summer sold him short but he's not showing great motivation.
Colin Glassar
109
Posted 11/12/2016 at 16:31:05
Just watching the WHU players in the tunnel at Mordor and they were all miles away from each other, slouching against the wall, no talking etc. No wonder they, and us, can't string a decent performance together. Shit attitude shown my these so-called pros.
Minik Hansen
110
Posted 11/12/2016 at 16:33:13
I think about our players when Koeman speaks like that, imagine how players feel. They're not good enough for Koeman... doesn't help self-confidence.
The team might divide into groups (the good enough ones and the secondary team); that they will be replaced in January makes you think they want to get away as quick as possible.
I hope it's not the case, that they all – including Koeman – will help each other. Seems like money will be spent in January...
Peter Morris
112
Posted 11/12/2016 at 17:03:42
This team continually come off second best when challenging for loose balls, and when we do have possession, our short passing is woeful... hospital passes all over the park. The amount of times we see short passes to right-footed players being passed to their weaker foot is uncanny.
I'm tired at screaming "Stop giving the fucking ball away!', but they never seem to improve. The team lacks leaders on the field, players who take the game by the scruff of the neck and battle. Come back, Tim Cahill. All is forgiven.
We are sorely exposed to high balls into the middle of the defence because, whatever centre-half pairing we have, it lacks inches and is exposed continuously, and only Jagielka seems to have any ability to anticipate a threat, but he now has lost his pace. The rest of the defenders are continuously being caught out of position.
Barkley, Mirallas and Deulofeu are expensive passengers who watch the game just as much as I do, but I'm paying for the privilege, whereas they're getting paid.
It's all very well going on about January and future transfer windows, but why would players who would improve the current squad want to join us?
A dog-fight awaits and we lack the players for that fight, I fear.
Paul Tran
113
Posted 11/12/2016 at 17:22:03
Minik, if they were top-class competitive professionals, I'd expect them to roll up their sleeves and prove him wrong.
But no, this is Everton, where you down tools, wink at management, and get the manager sacked. And so on, and so on....
These people have been overpaid and feted for too long. I'd happily forsake another season of mid-table mediocrity to smash the squad up and start again.
And if anyone thinks we're getting relegated, see you on Betfair!
Nigel Munford
114
Posted 11/12/2016 at 17:22:46
Silk purse, sow's ear... enough said!
Andrew Yates
115
Posted 11/12/2016 at 18:38:58
Does anyone remember on Championship Manager 93-94 when a load of players would state "Unsettled – cannot work with their coach"? That just springs to mind.
Other than that, we've got a team who either believe they are better than they are and are not willing to fight... or there is a cataclysmic rot set into the very heart of this once magnificent club.
Colin Hughes
116
Posted 11/12/2016 at 18:53:38
Well, on a more positive note, the Red Shite never won again so won't be top at Christmas... and the police are still twats.
Ian Riley
117
Posted 11/12/2016 at 18:56:02
Koeman is spot-on. Martinez played a possession game. If we sack Koeman, this won't change the situation.
I do think two strikers should play now. Our defence and midfield are too slow and lack discipline. Lukaku will not work the back line and his ball-holding is improving at best.
No players can be brought in until January. Change our tactics to try and get positive performances. Doing nothing is not an option now.
Patrick Murphy
118
Posted 11/12/2016 at 18:57:13
Colin (#116),

I thought Message in a Bottle was a decent song at the time. :)

Ray Smith
119
Posted 11/12/2016 at 19:04:54
Big Dunc was never short of fire and brimstone in his playing days.
Does he have a role on match days? He never seems to be consulted by Koeman. He sits there passive with his notepad and pen.
He would shake them up, so why is he so quiet?
Peter Conley
120
Posted 11/12/2016 at 19:11:36
I have watched some bad Everton teams in my 58 years but have never seen one with less fight.
I'm confused as towho is to blame... but, for what it's worth... I would let Lukaku go in January. I know he scores goals but I think all the gesturing when a pass goes astray brings our already fragile confidence down more.
With that money, get in a couple of forwards who can actually run and challenge defenders.
I'm not sure wether half the players have given up, knowing they are not part of the bigger picture, but something stinks the place out at the moment.
I personally would put in couple of Under-23s on Tuesday. Any from Kenny, Walsh, Connolly, Dowell or Holgate. Can't be any worse. COYB
David Greenwood
121
Posted 11/12/2016 at 19:11:54
If we're going down a musical route, Patrick, given many of the players' current lack of effort, commitment and interest in playing for Everton, I'll throw in No More Heroes.
Nigel Munford
122
Posted 11/12/2016 at 19:14:47
David, as I started reading your post, that very song was in my head.
David Greenwood
123
Posted 11/12/2016 at 19:19:50
I can't see it being played in the tunnel instead of Z-Cars, Nigel. I would like to see it though.
Patrick Murphy
124
Posted 11/12/2016 at 19:21:55
I think the tune that best sums things up at the minute is A Mess of Blues by Elvis.
Soren Moyer
125
Posted 11/12/2016 at 19:32:15
I would only keep Idrissa. The rest of them are useless and I'm sure no other Premier League club would want any of them in their team either.
And stop calling for Unsworth as our next manager! One match in which neither of teams had anything to play for doesn't mean that he is the solution to our problems.
Michael Winstanley
126
Posted 11/12/2016 at 19:46:04
Bobby Thomas @86 cracking post.
Dean Adams
127
Posted 11/12/2016 at 19:58:18
The way we are playing, Leave in Silence would be more apt!!
Guy Hastings
128
Posted 11/12/2016 at 19:59:10
Ah, the great unopening of the Moshiri warchest, or, as we called it last summer... John Stones. Was part of the deal that Man City coughed up another 㿞m in January? I'm surprised they haven't sent him back.
I'll believe the Moshiri moolah when we see it, and I'm not taking Jim White's word for it either.
Steavey Buckley
130
Posted 11/12/2016 at 20:31:12
They are Koeman players, he was just deluded into believing that the current Everton squad were good enough at the start of the season. When most of these players got Martinez the sack.
Koeman should have had a clear out at the beginning of the season, just to save his job.
Colin Williams
131
Posted 11/12/2016 at 20:32:57
Koeman talks bollocks!! Always talking physicality, I don't see too much of that in the so-called top teams power/physicality.
They rely on a top technical manager who knows how to get the best out of International players!!! Also, top coaches who organise, prepare so all players perform at a high level consistently throughout the season!
This guy is talking crap! Chelsea, Liverpool, Man City, Man Utd, Southampton etc... the list is endless and NONE of them are fecking clueless like this fecking lot!
The only way this flop will get us to improve is spending millions on players and most of them will still be shite! Get rid of the fecking idiot before he ruins us!!!
Jon Cox
132
Posted 11/12/2016 at 20:52:52
Colin,
RS in a 2-2 draw at home to WHU.
What was it you were saying re #109...?
Ian Bennett
133
Posted 11/12/2016 at 20:56:12
We've got an immediate problem and he needs to stop the rot.
I'd go 3 at the back for a good while, and see how it goes. 4-2-3-1 isn't working, and we don't have the players for 4-4-2.
Robles in goal. Stekelenburg got lucky at Man City, but he's cost more than the point he saved.
Holgate. I don't really understand how he got dumped so quickly after a decent preseason and start to the season.
Williams and Funes Mori are the other centre backs. I don't trust Funes Mori, and don't think Koeman does either. Martinez missed a trick signing him rather than Van Dijk, whilst Williams is struggling which is a worry.
Baines and Coleman at wing back. It's obvious to me Baines isn't that mobile, Everton don't have a left winger, and we give away too many crosses into the box. Playing them wider could help.
Gueye, Barry and Mirallas playing ahead. I know Kev isn't everyone's cup of tea. But he scores goals in a side that doesn't. He's got to play.
Valencia and Lukaku up top. Lukaku isn't Suarez, and needs help to lose the 2 or markers that he has. Ask yourself how many times a midfielder bombs on ahead?
Jon Cox
134
Posted 11/12/2016 at 20:58:44
Patrick,
The song was not as good as how I'm feeling about Everton right now called "Driven to tears".
Dave Abrahams
135
Posted 11/12/2016 at 21:19:45
Dean (#127), the way we are playing, Let the Heartaches Begin by Long John Baldry wouldn't be out of place.
Gary Willock
137
Posted 11/12/2016 at 21:27:42
A couple of things which strike me:
1) For a manager who is just 15 games into his Everton career, he has a popularity rating up there with the worst days of both our former managers. That must take quite a level of gobshittedness!
2) We do not possess physical players and look smaller than most teams. Trying to out Stoke Stoke, at this stage of the transition, is madness. I'm also not sure it should be a long-term goal either, but I can't see any other 'plan'.
3) He's not learning! We're finishing games with 2 strikers and passion – how about starting a game like that? Even if it means putting a 'non-preferred' striker on the bench to have an attacking change if needed.
4) He's not getting us! We love those who want to be part of 'Everton' and we love our youngsters too. Give some of them a chance! There always should be at least 3 or 4 locals in our team – we don't care where it leads from there.
For me, I think there are just sometimes square pegs in round holes and the Dour Dutchman is one of them.
If we don't see a major improvement over the next 3 weeks:
a) Sack his brother and the coaching staff, bring back Stubbs and Neville and along with Unsy, Duncan and Sheedy – they take part of ALL coaching and training.
b) Put Royle and Walsh in charge of recruitment and have a blanket ban on anyone over 23. If he wants to improve us through buys, then they need to be investments too!
c) If he doesnt get off his fat arse and get involved in training the side, he does not get to pick the match squad or starting 11. Force him to agree this with Walsh and Royle and it is a 2-to-3 vote.
Basically blunt him until he either changes his ways and buys in, or does one so we do not have to pay 㿀m for the pleasure of his company so far.
Bobby Thomas
138
Posted 11/12/2016 at 21:31:21
Ian (#133),
I know where you are coming from as we need to find another way to play, but I don't know if Baines could handle left-wing back these days. All those years bombing down the left and the ankle have taken a bit off him and looking forward he should not be offered anything more than a 1-year deal. Wing-back is an intense position. I think Seamus could handle it no problem.
This is the thing about this squad. There's so few options; it's 4-2-3-1, 4-3-3 or nothing. We can barely get a 4-4-2 together. This is Martinez's biggest legacy, an unbalanced squad with few options and virtually no options in key positions.

John Pierce
139
Posted 11/12/2016 at 21:37:45
Simply put, 1 win in 11 with 2 very difficult games to come. We are likely to end the year with 2 maybe 3 wins in 15. Whether the incumbent has had 6 months or 6 years, that is relegation form.
Unequivocally cut our losses and move on, hands up, it just wasn't the right fit.
Sadly, Everton are on the Ron Atkinson 'glass mountain', the team that drops like a stone from Christmas onwards.
Hold on, fellow Toffees... it's gonna be a very tight thing we don't go down.
Colin Glassar
140
Posted 11/12/2016 at 21:39:17
Gary, even as a player, Koeman has always been a bit of a cold fish. He was never the most popular player in the Barcelona and Dutch sides. He's always been very single-minded and I think he honestly doesn't give a damn what fans, players or owners think of him.
Koeman wants to get to the very top in the game and he will walk over anyone who gets in his way. This is the only reason why I'm still giving him the benefit of the doubt. If he fails with us, his career could be over... and he knows it.
Colin Glassar
142
Posted 11/12/2016 at 22:11:53
Koeman, Klopp, Mourinho and Guardiola. The common denominator being?
Colin Malone
144
Posted 11/12/2016 at 22:36:20
Some very frustrated fans' comments. Some saying get shut of Koeman, surely not?
Is Ronald Koeman too much of a disciplinarian since Moyes's statements, saying we are punching above our weight? Then Martinez, who is a gentlemen, say no more...
Then Koeman comes in, he's saying what we have all been saying for recent seasons, our diamond is still rough. Koeman, seeing our pressing game is shite, Baines and Pienaar was our only avenue against big teams.
I would love to see Big Joe Royle as our manager and ex-Blues in as coaches but we are dealing with mercenaries with a project and the greedy bastards that move on and don't care. As in The Godfather film, it's nothing personal, just strictly business.
COYBB

John Malone
145
Posted 11/12/2016 at 22:37:11
I honestly think the message which Koeman received when he got this job was wrong.
I believe Koeman was informed we want direct attacking football as a result of the negativity surrounding Martinez's boring PIATB style what made the ground so quiet.
Of course we want to watch fast tempo attacking football but not to the point were we are incapable of keeping hold of posession and play aimless long balls up to a big striker whose strength is running off the shoulder!
In my 20 years of being a season ticket holder I can't remember us being so spineless in all departments!
This next transfer window could be one of the biggest in the club's history because, on current form, we are going down!
John Crawley
146
Posted 11/12/2016 at 22:37:46
Colin (#140) Koeman's been at it for 16 years and not got to the top, I just don't think he ever will because he's not good enough.
Chris Williams
147
Posted 11/12/2016 at 23:04:10
We could go into 2017 in 11th place. This is the place we are accustomed to, for fuck's sake. This is the place our squad is worthy of. Why are we surprised by this?
We play direct because our midfield is pretty crap and not to be trusted. Unfortunately now our defence cannot be trusted any longer, at least from set pieces, although that should be unsurprising.
All this angst is tiresome. Koeman is going nowhere, unless he walks away, which is unlikely. He is the choice as manager. Fucking live with it.
The problems that have been there for all to see for a good while are still there and need sorting. Sweep away the bottlers and prima donnas. Clean the crap out. Bring in winners with spirit and fight. And some big lads too!
We need to move forward but fucking hell, please stop the whinging and hand wringing. This is a big deal for this club. We need to change if we are to move forward.
And start with Kenwright please.
Gavin Johnson
148
Posted 11/12/2016 at 23:09:33
Just watching Fellaini get booed by the Mancs on MotD. I'm surprised we've not been linked with going back in for him, now that Koeman's doing his best to get us to emulate Wimbledon. Actually Wimbledon were quite good with their direct football. I mean trying to emulate Wimbledon, circa Egil Olsen era.
As for Fellaini, I wouldn't have had him back under Martinez, but he could do a job for us right now.
Patrick Murphy
149
Posted 11/12/2016 at 23:27:01
Chris (#147),
Many of us have lived with it for over 30 years, and the last 2 years or so is more reminiscent of the mid to late 90s than anything else.
What you are saying in a way is that Everton FC should accept that 11th is the proper position for the club and this has been established as true because that's the position that the club has occupied most often in its entire history.
The idea that Everton FC should have ambition shown from its supporters seems to grate on some fans. I don't know why that should be the case, since when did patience produce anything other than failure. I know Kendall and SAF came good in the end, but they must have been driven on by the dissatisfaction that rained down from the fans – even if they didn't actually change the way they managed.
Of course Koeman will remain in charge until at least this time next year, however, if the results don't pick up, how many games should we all wait to see a transformation or indeed any signs of life? 5,10 or 15 more games?
As fans, we want to see a team that tries its best; if that's not good enough then so be it, we can live with it. But when most fans recognise that the team isn't anywhere near to trying its hardest, the players, the manager – then the club will come under scrutiny. What's wrong with that?

Ed Fitzgerald
150
Posted 11/12/2016 at 23:56:04
Best bit of transfer business in the New Year would be to offer this dour Walter Smith clone £10 million to fuck off pronto.
Dour, negative hoofball home and away; three holding midfielders yesterday. Shite, gutless performances and the lamest excuses I've ever heard from a manager – does he ever admit he is culpable for the team's performances???
I want someone who doesn't view the job from the outset as a stepping stone to something supposedly bigger and better. I would also appreciate someone who tries to play attacking football.
Chris Williams
151
Posted 11/12/2016 at 00:02:25
Patrick,
I have watched Everton live for 65 years in February, since they were in Division 2. I have watched everything from shite to genius and back again.
What I am saying is that this gang of losers bring us to 11th in a seemingly habitual manner and yet somehow this surprises us. I have seen this club win championships and trophies many times, in fact every time since the Second World War.
they bottle out at every challenge and fail every hurdle. I actually resent yesterday's performance more than getting shafted 5-0 by Chelsea because we got beaten by an appalling football team.
Please don't tell me that this is where this great club should be or that this is what I am saying..
You talk about the 90s, you should have seen the 50s. Walter was a guru compared to some of that.
I understand ambition as an Evertonian and personally, and as a club we have lost ambition unless you think that 6th is the best we can aspire to.
What I think I'm saying is that we are at the start of something here and we really need to stop the "sack Koeman" bollocks. He needs to shovel the mediocre lazy shite out of the club, the drainers picking up handsome wage packets for nothing in return. And we need to trust him and Walsh and particularly Moshiri to deliver.
We may finish 11th again this season, but we will do better next season. 5, 10, 15 games don't really matter in this context. It's more important than that. This time is really important in my view. Pivotal.
This is important to me because I'd like to see us win something again before it gets too late.
Chris Williams
152
Posted 12/12/2016 at 00:08:14
Actually it should read 63 years in February.
It seems longer!
Mick Davies
153
Posted 12/12/2016 at 00:27:11
Danny @ 8,
Spot on, Steve (#4),
He's given them all a go, but no-one is really seizing their chance.
Strange remark: he gave Robles a chance and he kept a clean sheet, then he replaced him with his pet clown. Holgate looked good, but never gets a look-in. Davies played better than anyone when he came on at Chelsea and Valencia has shone when he's joined the fray.
You can back Konman all day if you like, but please think before you make inaccurate statements like that
Derek Thomas
154
Posted 12/12/2016 at 00:41:24
Gary @137; You had me right up to when you mentioned those pair of shites, Stubbs & Neville.
John Pierce
155
Posted 12/12/2016 at 01:10:41
Why many cannot see Koeman has bitten off more than he can chew?
Look at Conte, rubbished by some on these pages as he has better players, who incidentally stunk the place out last year. He made an immediate impact without the massive transfer outlay. He worked with what he had.
Name one player that has improved under Koeman? Nope, that's right... not one. So should the board sanction the outlay if Koeman cannot improve those players either?
He has systematically destroyed confidence amongst the squad of admittedly fragile players by publicly outing their performances whilst distancing himself from any accountability. That is cowardly to my mind.
I'm not excusing the players, as they have decided to down tools on Koeman – also a spineless lack of professionalism. Koeman has done nothing with his initial outlay and subsequent performances to warrant an extra window.
He should be sacked and Everton should move on knowing they have an internal structure that handle the schism. Unsworth will do no worse whilst we search for the successor, transfers can continue as they are sanctioned by the board dealt with by Walsh.
Players who we get offers for should be sold. Make no mistake whilst Everton are operating way below the level expected plenty will be interested in the role knowing there is investment in the background.
The alternative is to let Koeman further the noxious stink, let him sign his giant physical hulks and listen to his laments as he cannot inspire a slumping giant. Leaving us to sack him with only 10 games left. If the bottom six weren't so poor I'd be seriously concerned.
Bin him off.
Michael Kenrick
156
Posted 12/12/2016 at 01:35:46
Wow, another weekend with a poor display, and another deluge of TW comments, lots of which I feel empathy with, but some strange ones...
Paul Smith @107: You ask yourself why we support Everton? Really? I mean... really? is that a serious question? I don't think so...
Let's keep the utter shite that is Twitter well away from here. Although there are a few who persist in using less than 140 characters to predict defeat in Everton's next outing. Yes, I know it helps some insulate against the inevitable disappointment of misplaced trust in the belief that we might just get something from the next game, but in terms of mindless negativity, there ain't no beating that dead horse.
The bit that got me, though, was this bizarre non-sequitur: "When we are all on the same page and not bickering amongst ourselves, we are a great club and a run like this should not be accepted in any way shape or form from any level."
Getting us all on the same page is gonna be tough. This is why. Some accept the claim that Koeman should be given time: two transfer windows at least, to buy in his replacements and get them gelled as a team. Until that time (which is when, exactly? A 3-year 'project'?!!?), he gets a free pass while we plummet down the table.
Others don't accept that... mainly on the basis of his ridiculous salary, and the fact that he seems to have completely abrogated any responsibility for getting the players he inherited (plus the handful who are 'his') to perform at anything like the ability levels that he and we all know they are capable of.
The players are not good enough? Sorry, I don't believe that.
The manager is not doing his job? Sadly, the evidence seems to point increasingly in that direction.
Mick Davies
157
Posted 12/12/2016 at 01:41:14
So, according to some on here, we shouldn't have sacked Walter, as he may have been approaching his 'Oxford' moment? Same with Walker, or Martinez...
After watching Everton all of our lives, most of us on here have the ability to see when something is drastically wrong. We don't need a weatherman to tell us it's pissing down, and we can tell when a situation is spiralling out of control:
If Walker hadn't been sacked when he was, we may have lost our proud record of top flight status (2nd only to Arsenal who, by the way, cheated their way into the then 1st Division in 1919, therefore, we could really be 1st – read about it if you don't know the story).
It's never too early to change if the situation is looking hopeless under a useless manager (Moyes only just saving us late in the day when Smith finally got the bullet.)
As for those saying all this crap about the players being the problem, well just look at Williams, Stekelenburg and Gana: when they first came into the side, we were all impressed with them, and Williams had just came back from a very successful Euro Championships where he was immense. Look at them now; even Gueye's game has dropped recently.
To me, the players don't look like they know what they're doing, and a link to Roberto's last 2 crap seasons still sits on the bench alongside the Koemans, but none of us can see what HE actually does to improve the side. These lads are all internationals and most of them have recently excelled for their respective countries but come back to FF looking like different players.
And Eddie @ 96 He got Southampton playing good football
I think you'll find Pocchetino had them playing good football before Koeman arrived: it's easy to come into a happy, confident club and just sit there letting them carry on. Just like Martinez did here. Koeman has a lousy record in his near 20 year managerial career, and just because he was a top player, doesn't mean he can automatically cut it at management level (see Gascogine, Neville, Keane etc).
No, in 6 months, we've gone backwards again, and by Easter, I fear a mighty relegation scrap with a bunch of players, nowhere near as committed as Horne, Stuart, Ferguson etc unless the status quo is altered.
Mike Dolan
158
Posted 11/12/2016 at 02:18:57
Moyes with his annual damping down of expectations. Martinez with his stupid hype... and now three months in, it's all Koeman's fault.
A lot of you seem to have been expecting him to turn these players into a Champions League team in the short time he has had. Lets see which of our players do you think Barcelona would be breaking down the door to sign? NONE. How about we lower the bar a bit, what about Ajax or Man Utd? None.
The point is, our players are about the level of players who play for clubs in the lower half of the Premier League. Which is where we have been for over two years. Our wunderkind Lukaku last year covered less ground per minutes played than any other player in the league, how do you change that?
Koeman was left a team without one serviceable midfielder; he brought in Gueye who is now our only serviceable midfielder. Koeman was left a team where there is only one player who can score goals. Mirallas, Barkley, Lennon, Deulofeu have their moments but collectively they are good for about 15 goals.
Everton have a world class coach but you have to give him time; nobody could do anything with the disorganized shambles of a team that, even Moyes said the season that he left, was past its due date.
John Pierce
159
Posted 12/12/2016 at 03:17:24
Mike (#158),
What utter rot, fella. I accept everything you state about the players, which ever way you cut it they as a group are not a balanced squad and in decline.
What I cannot accept is Everton have a world class coach. His body of work to date is nomadic with a Spanish cup his only real major prize. Not world class.
World class implies he can improve players no matter what their level, inspire a squad to achieve more than the sum of its parts. Take mediocre players and find a system to limit their shortcomings and accentuate their strengths, however limited.
Many would happily give Koeman more time had his team (no bollocks about the previous manager – his influence is no where near that strong), shown any type of progression, pattern of play and player development. We have seen nothing at all, in fact his own signings (bar Bolaise), have gone backwards, Williams especially.
Sometimes an appointment just doesn't fit and if you think 1 win in 11 is world class, and most likely to be 1 win in 13 is world class, then perhaps a reassessment might be in order.
Sadly the fella must be relieved of his duties and a different world class coach can be found.
Peter Barry
160
Posted 12/12/2016 at 03:47:37
It's not just the team that is not fit for purpose – the manager isn't either... nor the Everton Board, who have given us two 'lemons' as mangers on the trot.
Karl Meighan
161
Posted 12/12/2016 at 04:53:31
Mick@157 Internationals (Funes Mori apart) for countries that have not and will not win a trophy in the next 100 years.
As I said earlier, Gueye apart, Hull City – 2nd from bottom and everybody's tip for relegation – arguably have better midfielders than us.
Hard graft and commitment will get you so far – you then need quality, guile, creativeness, and a system that players can fit into. I'm afraid the players we have are not good enough and have been given chance after chance and have failed and let us down again and again.
Mick Davies
162
Posted 12/12/2016 at 06:31:13
Karl, I remember only 3 years ago, and all the pundits (Sky, BBC, papers etc) were raving about how fantastic Barkley, Mirallas, McCarthy, Deulofeu etc were. They haven't all suddenly forgotten how to play: they're not being coached properly. Take Williams in defence for example, he was a star player on the European stage just a few months back; now he looks like he doesn't know a football from a mintball, and he's not the only one.
It all started with the ridiculous decision to change a winning side, when the League Cup was our most realistic chance of silverware, and we're not in European competition, so what would you feel like if you were dropped from a winning side by an arrogant boss, when you knew that it was the best chance of a medal?
Footballers thrive on competition, but most of these players know they play in the league week in and out, regardless of form – like Robles coming in and getting us a clean sheet, which this season have been as rare as Dalek shit, then being dropped for Ron's favourite muppet - and Y knows that X next to him is constantly letting him down, so why should Y try and compensate for his team mate's lack of effort? That is all down to 'management'. Something we've seen a distinct lack of for about two and a half seasons.
Paul Setter
163
Posted 12/12/2016 at 06:55:29
#158 – Koeman is not world class – if he was, why were we the only team after this mercenary??
Yes, I a accept you can't make a silk purse out of a pig's ear but 4 of our regular starting 11 until recently are his signings and apart from Gana the rest are muck!! His subs are diabolical at best and his reluctance to play the youth annoys me a lot.
Personally, I can't wait til this fraud is gone. I wanted Unsworth and I still do... at least he will be committed to the cause.
Paul Smith
164
Posted 12/12/2016 at 07:05:07
Michael (#156).
When I said I ask why we support Everton, if you read it properly I said when I see some comments. Such as do we support to be patient? Or idolise somebody who has achieved nothing? Or to see us lose every week and tell other blues they have got it all wrong.
Plus, when I was talking about being on the same page, I didn't mean every last fan. I didn't think anybody would take that so literally... maybe I shouldn't have said 'all'?
This is the kind of thing you see after a defeat or regular on the likes of social media which is adding to the rot of our fanbase and not helping the situation at all.
James Watts
165
Posted 12/12/2016 at 07:17:10
#158 Koeman a world class coach?! Spat my lunch out reading that. Brilliant. World class my arse. Not even pub class.
It's not completely all down to Koeman, I agree. But I believe 70-80% is down to him with his comments in the press, non-motivation skills, his tactics, his stubbornness to change and so on.
There are many things he could try to amend the slide, but he is doing none of them and he seems to be praying we buy him a new team in January. Give me a break.
Paul Smith
166
Posted 12/12/2016 at 07:44:28
Michael #156 great post.
Btw, and for the record, Paul Smith is a common name and there are a few of us on this board. No offence intended to the Paul Smith you refer to in your post but I fully understand why I support Everton it was my arl fella's fault, but I wouldn't have it any other way.
Paul Smith
167
Posted 12/12/2016 at 08:10:00
Paul (#166), Haha – I understand that it was my dad's fault too. My point was, mate, why do so many Blues sit and tell others to be patient or not negative? In truth, it's reality – not negativity.
In a run like this, how can anyone tell anyone it's nothing to do with Koeman or a certain player? It's everyone's fault and being patient for another 3 years while everybody else progress is not my idea of fun.
I said all summer we have to spend while Man Utd, Liverpool and Chelsea are outside the Champions League – not when they're back in it.
Gavin Fennessy
168
Posted 12/12/2016 at 08:17:17
Someone build a time machine and get the Dogs of War for the next two matches. Throw in Peter Reid and Joe Parkinson a smattering of Paul Bracewell and Pat van den Hauwe. Don't forget a young Nev and an up for it Dunc. Really worried that without HG Wells we are going to have two grim outings in the build up to Christmas.
Surely you have to give Davies a go versus Arsenal even as a sub otherwise the excuse will be used that you don't want to risk him in the derby. Twisted logic if you ask me.
Players want to play and we know what McCarthy and Cleverely are capable of and it is not nearly good enough. So Koeman sticking to his guns and stubbornly persisting with Plan A until he can splash the cash in January is nearly as bad as the magical thinking of wishing for a time machine to solve all of the teams problems?
Rick Tarleton
169
Posted 12/12/2016 at 09:08:18
Does anyone seriously believe that Koeman has a productive relationship with his players? His every utterance belittles their ability and their athleticism and he does it publicly. Generally the better managers keep their criticisms in the club.
The body language of the players suggests they aren't committed to this man, his face in close ups suggests his anger and frustration with his team.
This is not working. His treatment of Barkley suggests this is a manager, who knows how to use the stick, but has no idea when and how to use the carrot. Different players need different approaches; Koeman has only one and it "ain't" working.
Paul Bradley
170
Posted 12/12/2016 at 09:11:42
Stop blaming Koeman – this team got Roberto the sack. We need major surgery and Koeman knows this better than anyone.
Paul Bradley
171
Posted 12/12/2016 at 09:25:14
Baines is finished; his best form was 3 years ago.
Anthony Dwyer
172
Posted 12/12/2016 at 10:34:40
I'm inclined to agree with some of what Ronny is saying here, but I have my doubts about what he's doing as a manager to resolve the issues at hand.
Yes, we lack players who work for 90 minutes, but Ronny an his staff have been here long enough to get Dave Unsworth back match fit.
Yes, we need more steal through the team, but Ronny has left McCarthy out when fit, as well as using him at right back even though he's probably the fittest player we own, and is tough as old boots.
Also, if we need athletes in our team then why loan out Galloway and play Oviedo? They're totally at two ends of the spectrum for me in terms of physical strength.
Also Kone is miles from our most talented player, but he's as strong as an ox, he's fast, and he's already on the pay roll, so why bring in Valencia, who physically looks half the size of Kone.
Now I understand some people are going to throw this back in my face and say Kone is shite, McCarthy only passes backwards, and Galloway can't get in West Brom's side, but at the end of the day were not exactly shit hot ourselves.
It's not like were about to go out and buy Bale and Ronaldo for pace and goals, then bring in Matic to have energy and pass forward, whilst bringing in Marcelo to add guile, grit and physical strength down the left of our defence, is it!
A good manager works with the tools he has, Ronny seems to be lacking the ability to do that atm, and he's blaming everyone else.
He's recently said the young lads will struggle in the Premier League too, so what did he expect to inherit when becoming Everton manager? He must have been well aware of our squad, he must also have been well aware of the lack of European football which helps attract a better level of player, so what's his issue?
It sounds like excuses to me – he needs to stop making them and start doing his job.
Joe O'Brien
173
Posted 12/12/2016 at 10:57:38
Hopefully Moshiri hasn't the same patience as Kenwright when it comes to given managers time because Koeman's stubbornness will have is sitting in the bottom 3 next May.
Howe for me. That's if he'd come to us.
Paul Burns
174
Posted 12/12/2016 at 11:35:00
Someone said "cut them and they bleed". That's the best motivational idea on here today.
By the way, Cypress Hill sang "Insane in the membrane" – the way we're all heading if things don't radically change fast.
Frank Crewe
175
Posted 12/12/2016 at 12:05:20
Martinez never blamed the players for anything, regardless of how lousy we'd played. Koeman, on the other hand, does nothing but blame the players.
Apparently nothing is his responsibility. Although no doubt when we were winning at the start of the season those results were entirely down to him. He appears happy to take the credit but is quick to shift the blame.
I don't buy this "weak players" nonsense. I'm beginning to have my doubts about Koeman. His lack of enthusiasm on the sideline when the other managers are up encouraging their players. He just sits there with a gob on him.
His stubborn insistence on a system of play that plainly doesn't suit the players he's got. Managers have to be flexible and have to come up with a system that accommodates the players you have so that you get the best out of them.
I don't know about weak players. Maybe we have a weak manager pining to manage a richer club and is just making excuses and blaming others for his own failures.

Anthony Dwyer
176
Posted 12/12/2016 at 12:13:49
Watford, who beat us this week, probably only have Deeney who would get in our 11. Swansea who got a draw at Goodison last week only have Sigurdsson and maybe Fer who would make our 11. What's the excuse behind them results?
I'm not having it that we should have taken any less than 7 points in our last 3 games.
Matt Williams
177
Posted 12/12/2016 at 12:44:03
Frank @175, you're right – Martinez never blamed the players for the results but neither did he accept his total ineptitude was the route cause of the problem.
Judging by the shite that used to come out of his gob in post-match press conferences, I used to wonder if he actually realised we had lost.
Trevor Peers
179
Posted 12/12/2016 at 13:20:52
Koeman is right on this one, there are too many weak-minded posers and selfish mercenaries at the club. Identifying the problem is easy, putting it right is very tricky. He could be part of the problem himself.
We'll see if Ron is up to the job soon enough. If he can't sort it out, I'm sure he will be gotten rid of pretty quickly. We have to hope he buys wisely in January; good luck to him.
Ernie Baywood
180
Posted 12/12/2016 at 13:48:44
Just watched the first 30 seconds of his presser... apparently we started well but then played too many long balls. Really Ron?
What I saw was long ball from the first kick of the match. Is he really claiming that wasn't tactical? If it wasn't, then he simply hasn't got his message through.
The formation he set up... how else were they going to play? No one in the gap between defensive midfield and Lukaku. Of course we were playing long ball.
The players aren't doing themselves any favours but I'd be pretty pissed off if my manager was criticising me for playing to his tactics.
Karl Meighan
181
Posted 12/12/2016 at 13:51:25
Mick – change a winning side for a League Cup match at home against a Championship side who themselves made 10 changes. For me you could have Mourinho, Guardiola, Conte or Ancelotti in charge of that squad of players and they would at best finish 8th to 10th at worst in a dogfight.
Koeman has not impressed me but going down the road of changing the manager every six months is not a option. Changing the playing staff has to be the best policy – I'm sure Sunderland and the like would agree.
Paul Kossoff
182
Posted 12/12/2016 at 20:55:51
Does Koeman ever say anything positive about us? The last thing you tell an athlete is 'oh your too weak to compete against the others.'
What was that bloke on the telly, Mr Motivator? Get him quick, we may improve with his um, motivation.
Paul Tran
183
Posted 13/12/2016 at 13:56:20
The idea that a bit of squad rotation killed the morale of the team is nonsense. Most clubs rotate for the League Cup, including our Championship opponents that evening.
He should be doing better with these players, but they're brittle and I can't see this changing under any manager.
---
Add Your Comments
In order to post a comment, you need to be logged in as a registered user of the site.
Or Sign up as a ToffeeWeb Member — it's free, takes just a few minutes and will allow you to post your comments on articles and Talking Points submissions across the site.