Everton vs Liverpool

116 Comments [Jump to last]
Sunday 18 December 2016
Premier League Preview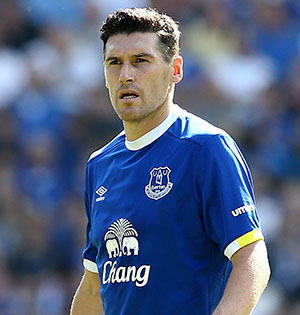 After being rested last Tuesday, will Gareth Barry get a recall into a side that eventually conquered Arsenal?
If this time last week, Everton fans were approaching the current two-game home stand with overwhelming dread, the pulse-racing win over Arsenal has transformed the mood, albeit within the bounds of typically cautious Evertonian optimism.
Blues fans have known too much pain in this fixture for expectations to be too high going into the Goodison derby but there is at least hope based on last Tuesday's performance which demonstrated that Ronald Koeman's men have the stomach for the fight in what is often a tempestuous and full-blooded affair.
Furthermore, the atmosphere inside the Grand Old Lady that built to a crescendo when Ashley Williams headed in that most welcome of winners will have demonstrated to the players that the supporters can be fully behind them if the requisite effort and desire is there on the field. Blue passion both on the terraces and on the pitch is going to be vital if Everton are to win their first derby in six years.
If the Arsenal win represented a mental hurdle cleared, there's hope that Koeman, who recorded wins against the Premier League's power players in his time at Southampton, can eliminate a longstanding psychological wall that has often blighted Everton against their neighbours since Tim Cahill and Mikel Arteta scored in a 2-0 Blues win in October 2010.
There has been agony at Wembley in the last four of the FA Cup and humiliation at Anfield in the form of a pair of 4-0 defeats and the need to fight back at Goodison Park where the Blues have conceded the first goal in four of the last five home derbies — the fifth ended goalless. Everton's propensity to go behind this season doesn't bode well but, again, hopefully the resolve is there to rescue any poor start.
Evertonians are due a strong display from the first whistle, however, and the caludron of noise should be there at kick-off for them to feed off. The rest is up to the players. And the manager is fully aware of the improvement that is needed in the Toffees' record.
"The record is not good. One out of 19… it's time to beat them," Koeman said in his pre-match press conference. "And, for course, every time you don't win, the one that you will win will come closer.
"You need to accept how difficult it is and win the game and make the fans happy."
As tempted as he might have been, Koeman won't be able to field the same side that started against Arsenal because of Phil Jagielka's suspension. The club captain was recalled for the clash with the Gunners but picked up a second yellow card in the frantic finale to the Blues' win. Ramiro Funes Mori, himself a late substitute in that game, is the likely beneficiary to partner Ashley Williams.
Then there's the question of Gareth Barry who was rested last Tuesday but has otherwise been an important component of the team this season. Handed a two-year extension to his contract this week, the 35-year-old is in line for a recall but James McCarthy made a very strong case for retaining his place with the energy he showed in the veteran's his stead against Arsenal.
Speaking of Barry, Koeman said in his pre-match press conference: "He is that player who runs a lot in distances. He is still one of the players who runs the most of every player and that's because his fitness is still OK. And he's clever, that type of player. And, of course, in this period there's a lot fixtures so you need to protect him a little bit and that is the reason why he did not start against Arsenal."
It would not be surprising if the manager opted on the safer side and deployed all three of his defensive midfielders like he did at Watford despite the poor team performance that day. In that instance, Aaron Lennon would be the like casualty along with much-needed width and pace on the flanks. Any alterations to the side that kicked off against Arsenal are likely to be few in number.
If you had to pick when to play Liverpool, it would probably be a time when Philippe Coutinho was out injured which remains the case going into Monday evening's game. The Brazilian has been sidelined with a hamstring injury which means his goal threat from distance and his creativity is one weapon Everton won't have to worry about.
They also remain defensively vulnerable and, like their Blue rivals, short of a dominant "number one" in goal — Loris Karius was dropped by Jürgen Klopp for the Reds' victory at Middlesbrough in midweek in favour of Simon Mignolet whose form can go either way — so there is enough to exploit if Everton can generate some sustained intensity.
Defender Joel Matip is also a doubt with a troublesome ankle injury but Emre Can and Daniel Sturridge are expected to return.
If the game were played on paper, Liverpool would have the edge based on form this season and that is reflected in the prices from the oddsmakers, who, predictably, favour a draw or away win. If you fancy making it more interesting with a flutter, Paddy Power have a no-risk offer for new accounts. To back any outcome with a bet without losing money, learn more about Paddy's offer — a £30 free bet that gets you started and some very interested enhanced betting odds for each big game.
As the cliché goes, of course, the form book often goes out the window in derbies and heart and desire take over. There was plenty of that in Blue last Tuesday — time to produce it again in spades to and give Goodison Park an early Christmas present.
Kick-off: 8pm, Monday, 19 December, 2016
Referee: Mike Dean
Last Time: Everton 1 - 1 Liverpool
Predicted Line-up: Stekelenburg, Coleman, Williams, Funes Mori, Baines, Barry, Gueye, McCarthy, Barkley, Valencia, Lukaku
Full details: ToffeeWeb match page
---
Reader Comments (116)
Note: the following content is not moderated or vetted by the site owners at the time of submission. Comments are the responsibility of the poster. Disclaimer
Charles McCann
1
Posted 18/12/2016 at 17:34:18
Same team as last week for me. McCarthy and Gana did really well and should be given a run of games to build on their promising partnership in the centre of midfield.
Mick Davies
2
Posted 18/12/2016 at 17:34:54
Wouldn't it be a breath of fresh air if Koeman was to keep Valencia in and put pressure on their vulnerable defence?
If Bournemouth can rattle them in an 11,000 capacity stadium, what will 40,000, with a comparable atmosphere to the Arsenal game do to their already frayed nerves, especially now they've had to bring in their dropped keeper.
If our manager reverts to type with 3 DM's, we would be playing into their hands, so here's hoping the adventurous koeman who picked the last side keeps his nerve. COYB
Kevin Tully
3
Posted 18/12/2016 at 17:35:43
Atrocious record of late – one win in the last 19! A Championship side would cringe at those stats.
At least the manager has no underdog mentality when it come to playing theses sides, let's hope he can get it across to the players. I'd stick with McCarthy & Gueye in the middle. What bottlers we are against these bastards.
Dan Davies
4
Posted 18/12/2016 at 17:44:25
Got a feeling he will start with Barry. Personally I wouldn't change from Arsenal apart from Jags of course.
Brian Williams
5
Posted 18/12/2016 at 17:53:29
2-1 Everton, end of.
Jon Cox
6
Posted 18/12/2016 at 17:55:15
I would like to see Holgate come in at right-back and push Seamus to right wingback.
Also, let Davies have a run in the last 20 mins. when RS legs are getting tired. (If you're good enough you're old enough!)
Dave Abrahams
7
Posted 18/12/2016 at 18:02:17
Apart from Jagielka having to be replaced, I'd be very disappointed if Everton don't start with the same team as last week; why change a winning team? – although Koeman has done this before.
I like Barry, surely he can start on the bench, and come on, if necessary, when the pace has dropped in the last 30 minutes.
If we play as we did in the last 70 minutes of last Tuesday's game, then Liverpool will know they have been in a match, and with the majority of the crowd roaring them on, Everton have a very good chance of another famous victory.
Dermot Byrne
8
Posted 18/12/2016 at 18:10:45
"2-1 Everton, end of"
If only it was that simple Brian. Say it with determined certainty and it will happen.
To me, it depends how we start. Go for them and crowd will carry on from Arsenal game. Start hesitant or scared and Liverpool will be three-up by half time and the crowd will be their 12th man.
I think the team that beat Arsenal deserve their starting places.
3-1... it will happen!

Jay Harris
9
Posted 18/12/2016 at 18:12:56
Like most posters, I would start the players who played against Arsenal but bring Funes Mori or Holgate in in place of Jags.
I would love to make it a case of attacking their porous defence but ours is no great shakes either.
Midfield dominance is the key to this game so let's hope our lads are up for it and Mike Dean keeps his cards in his pocket (for us anyway).
Mark Daley
10
Posted 18/12/2016 at 18:15:29
The congregation kneels.
O Lord we have suffered for such a long while
On us thy poor children bestow a sweet smile
Give us now the strength to go out there and fight
To play some good football and beat the Red Shite.
Amen
Alan Bodell
11
Posted 18/12/2016 at 18:16:32
Our heads are up, they're missing their best player so we won't get a better chance of stiffing them than tomorrow.
Eric Paul
12
Posted 18/12/2016 at 18:27:38
Go for the jugular. I'd rather die on my feet than live on my knees.
Joe O'Brien
13
Posted 18/12/2016 at 18:35:52
Same team – just swop Funes Mori for Jags, give Seamus the armband and we'll win. I've put a fiver on 2-1 with Bainesy first scorer – 175/1.
Colin Gee
14
Posted 18/12/2016 at 18:42:48
Funes Mori for Jags, that should be the only change.
About time we gave the 19th Century MK Dons a good twatting as well! No better time to do it on a Monday night before Christmas at a bouncing Goodison.
Terry Underwood
15
Posted 18/12/2016 at 19:10:36
Nice to see all the positive comments. I'm a bit scared, no terrified, but hopeful... Pleeeeeeeeeeze God, I will be good, promise!
John Malone
16
Posted 18/12/2016 at 19:13:22
Let's not kid ourselves –they're playing well, very well!
But let's be positive: I have a feeling Ross Barkley and Lukaku are going to step up, it's just a matter of can our defense hold strong!!!
I wish Jags was available but we've got who we've got so Koeman will have to have a word with Funes Mori – we can't afford a repeat of last year's carry-on!
Brian Williams
17
Posted 18/12/2016 at 19:26:06
Dermot. It IS that simple. Forget the past, just play like we did against Arsenal (first 20 minutes excepted).
We're at home. We have an unbeaten home record this season. They're not unbeatable by any stretch of the imagination.
So 2-1 Everton, end of.
Geoff Evans
18
Posted 18/12/2016 at 19:29:15
Memo to Ronald Koeman: Win against this lot and see the impact it will have on your credibility and standing with Evertonians.
To all Everton players: If you're not prepared to leave everything you've got out on the pitch tomorrow, tell the manager now and stay away. It's time for men – not over-hyped boys.
Get in their faces and stay there, don't let them breathe.
Dermot Byrne
20
Posted 18/12/2016 at 19:40:55
Hope you're right, Brian, mate.
Joe Hurst
21
Posted 18/12/2016 at 19:49:07
Everton, thank you that you sent us Dixie to bring us goals
Goals in the fullness
Goals for eternity
Thank you that I share in Howie's resurrection years
That he and Alan Ball's alive in us
And that their spirit dwells deeply in our being
Right now I receive your healing
I receive the same power like in '94 that saved the Blues from Division 1
I hold my nose as I receive your rubbish beer
I receive the strength from the dodgy pastie
Thank you that you are moving at speed down the left wing
May I continue to receive from you
Excitement this hour and every hour.
Continue to shine upon the first children of this Holy Land
And keep our ability steadfast,
to grin dismissively at the Norwegians for all their inability to win things without penalties
In your honour
Amen.

Martin Jamieson
22
Posted 18/12/2016 at 19:55:19
Haven't felt so confident going into a derby for years. I really think we're going to win and win convincingly tomorrow night. Let's make Klopp's first visit to Goodison a memorable one that he won't forget in a hurry.
3 - 1 Everton... same team as last week minus Jags and plus Funes Mori.
John G Davies
23
Posted 18/12/2016 at 20:16:07
Holgate in place of Jags. Funes Mori's feet are not quick enough to deal with the possession they will have around the box. Little one-twos will undo us on the left side of our defence if Funes Mori plays.
Otherwise, same team in a 4-1-4-1.
Brian Denton
24
Posted 18/12/2016 at 20:23:44
Brian (#17) as long as their goal comes in the 93rd minute – it will kill me if we go into the last ten minutes at 2-1...
Tony Twist
25
Posted 18/12/2016 at 20:28:33
All that matters is that we concentrate on our game not who we are playing. Koeman needs to play it simple, play as if we are the away team, swift decisive breaks and we need to take our chances. My team would be:
Stekelenburg, Holgate, Williams, Funes Mori, Coleman, Gana, Davies, Barry, Baines, Deulofeu, Lukaku.
Good luck Blues.
Gordon Crawford
26
Posted 18/12/2016 at 20:49:19
We need to play the same team from Arsenal and go for the jugular from the start. Also need the referee to play a great game as they will role about and cheat at every opportunity. But we have beat a better team on Tuesday night. Time to set the record straight. Now is the time to shine. I'm going 3 nil to Everton. 😁
Gordon Crawford
27
Posted 18/12/2016 at 20:54:24
Also on a side note it seems that Geri doesn't like how Everton play under Koeman:
Gerard Deulofeu insists he does not have a stamina issue.
Deulofeu has completed just one of the four league games he has started this season but is adamant he has no fitness problems.

And though the 22-year-old Everton winger says he has been forced to adjust to Ronald Koeman's demand for high pressing, the Catalan is enjoying the manager's tough training sessions.
"Always, I'm fit" Deulofeu said.
"What happens when the manager takes you off after 60 minutes, the people think 'ah this player is unfit' but it is not this.
"If you see my training I am running and I have good statistics so this is not a problem."
Deulofeu says Koeman expects different things of him to his former boss Roberto Martinez.
And he admits they go against how he'd usually play.
"They are different managers" Deulofeu said.
"For example, Ronald wants me to do a lot of high pressing.
"I am not a defensive player, my best is in attack, and I don't know but maybe I am playing better in defence than attack. This is not normal, I need to score goals, I need to make assists because if not then I am not Geri."
He added: "The training is very good but we need to improve with the ball, we need to play better, take more risks because I prefer playing with risks than playing long balls.
For a player like me it is difficult to play with long balls.
"We have good players - Gareth Barry, Ramiro, Ashley, Seamus, Leighton.
"We need to play better and improve."
Looks to me like Geri will be gone this window or in the summer.
Ray Said
28
Posted 18/12/2016 at 21:01:10
Whatever way we line up, the Arsenal game showed the importance of pressing and being 'face to face' with the opposition – as RK put it. I think it's also important that we play Valencia as he put a real good shift in last match and really supported Lukaku.
Paul Hewitt
29
Posted 18/12/2016 at 21:08:15
The same team please that played on Tuesday (apart from Jags). Please DON'T bring Barry back. The guy is to old and slow for a derby.
Dermot Byrne
30
Posted 18/12/2016 at 21:39:41
Geri being honest but unfortunately for him he is not the boss and certainly not good enough to dictate team tactics.
As for not being a defensive player... well, all attackers should be to able to press or defend to some extent – just like Baines, Coleman & Williams can score goals!
Anthony Burke
31
Posted 18/12/2016 at 21:50:10
2-0... 3-1... either way, we will win with a cushion. COYB!!!!!!!
Dick Fearon
32
Posted 18/12/2016 at 21:51:06
Anyone who was in that heaving roaring sweaty mob that witnessed the original super Kev and Franny his bandy-legged impish partner would never forget that night. The handbags between little Franny and Giant Westerfeld or crease heads Red card for trying to decapitate Super Kev at waist level.
Just a distant yet still blazing memory of that fantastic unexpected victory has been one of the few to sustain us in a long bleak period. Here's hoping for another even prouder rendition of Always Look on the Bright Side.
Ben Howard
33
Posted 18/12/2016 at 21:54:10
James Doran
34
Posted 18/12/2016 at 21:55:40
I'd go with:
Stekelenburg; Holgate, Williams, Funes Mori; Coleman, McCarthy, Barkley, Gana, Baines; Lukaku, Valencia in a 3-5-2.
Geoff Evans
37
Posted 18/12/2016 at 22:18:05
Valencia has to play alongside Rom and McCarthy with Gana.
Give Coleman the armband.
Denis Richardson
38
Posted 18/12/2016 at 22:18:50
No holding back - kick the shite out of them on the park and the crowd will be right behind!
Douglas McClenaghan
39
Posted 18/12/2016 at 22:35:33
Of course they will have 12 on the pitch so we'll have to be at our best.
Andy Crooks
41
Posted 18/12/2016 at 22:50:28
This is the chance for Koeman to buy himself enough good will to do him for the rest of his contract. This is massive. Play without fear and we will win.
Anthony Burke
42
Posted 18/12/2016 at 22:55:54
Fear is the word, Andy... Koeman will not let them play with fear.
Joe O'Brien
43
Posted 18/12/2016 at 22:58:57
If it's not broke, don't change it, Ronald. Bar the swop for Jags, play the same team and we'll beat them.
Mike Gaynes
44
Posted 18/12/2016 at 23:01:26
John #23, really? Holgate? A kid who has never played CB for the senior side? Getting his first CB runout in the Derby??? No thanks.
Tony #25, three at the back, which has worked so well in the past? Dump Macca, Barks and Valencia after they performed so well in our best effort of the season? An 18-year-old in midfield for the Derby? Again, no thanks.
For me, no changes except the one required. The guys who got the job done against the Arse get the call.
Peter Cummings
45
Posted 18/12/2016 at 23:03:57
At present here in Ontario it is around 10 below under a 12-inch snow blanket and we definitely need to be warmed up, so we are hoping that by 5 pm tomorrow over here our cockles will be warmed by, pardon the pun, a red hot performance by our tricky Blues.
The game is on live here at 3pm so, if we can put up a show like we did v Arsenal, the old girl will be rocking. It won't be easy against a well organised and pretty skillful outfit from across the park but hope springs eternal that we can turn it on again, we deserve it.
John Daley
46
Posted 18/12/2016 at 23:20:25
"Of course they will have 12 on the pitch so we'll have to be at our best."
Carragher made an interesting comment this week when he admitted that "As a Liverpool player, I always think you've got to try to control the referee at Goodison and I'm sure Everton fans won't be happy with me saying that, but I think that was your job at Goodison."
More often than not, they've managed to do exactly that and it's a sad indictment of our own stitch-lipped skippers over recent years that they've allowed such blatant, snide, badgering of officials to bear fruit without offering any opposition. In that respect, it might be a blessing that 'everybody's bud' and 'top tunnel jester' Jagielka is sitting this one out.
The crowd are going to be screaming blue murder and putting pressure on officials from the off. Whoever is handed the armband needs to be willing to do the same, not stand idly back, feeling mildly miffed while Mike Dean makes it clear Kopite cock-riding is his favourite mode of matchday transport.
Tony Twist
47
Posted 18/12/2016 at 23:37:39
Mike (#44), well it's more to do with 5 in midfield in the hope we can match them, harass them, rough them up, pressurise them into making a mistake and break quickly if the opportunity arises. What worked on Arsenal might not work on the RS.
Eddie Dunn
48
Posted 18/12/2016 at 23:38:36
I just have a feeling that tomorrow we will win and put those despicable ones into a dark and painful place.
Come on you Blues! No logic, no arguments, just a gut feeling.
Conor Skelly
49
Posted 18/12/2016 at 23:42:46
Will be rightly disappointed if he starts Barry.
Mick Davies
50
Posted 18/12/2016 at 23:46:06
How can a Merseyside referee officiate at an all Merseyside match? This is ridiculous, and a blatant infringement of the FA's own rules on impartiality, seeing as he is a football man so must have had a favourite club at some time or other, and if it's true that his son is an Anfield ST holder, that is a further indictment on his alleged objectivity. I think a more clued up manager would have jumped on this, not just in the unlikely event of changing him, but to put inverted pressure on him psychologically.
As or Koeman, if he wants to win over the faithful after months of dross, winning his first derby will make it all instantly forgotten. with a lot of leeway gained for the rest of the season. Is Joe Royle the only Blue boss to win his first derby game?
Richard Lyons
51
Posted 19/12/2016 at 06:34:39
Mark Daley #10 - love it...
"Lord hear us."
"Lord, graciously hear us."
It's about time!
Tony Draper
52
Posted 19/12/2016 at 07:22:45
War! If they want WAR, then war is what we'll give them.
Sod these arrogant whale hunters!
Cry Goodison for Harry Catterick and let slip Big Joe's dogs o'war!
If you're inside "The Grand Old Lady" tonight then make noise, make noise for these "bandwagon of a lifetime" gobshites to fear to their Norweigian/Japanese graves. Give the whale hunters and Jurgen Street-Porter an arctic cold spine for the rest of their miserable lives!
COYB!
Brent Stephens
53
Posted 19/12/2016 at 07:31:30
Tony "these arrogant whale hunters".
Very good! Hope to see them blubber tonight.
Paul Conway
54
Posted 19/12/2016 at 07:32:21
I don't normally predict Everton results, least of all against the RS. As a rule, I never ever bet, neither for nor against my team.
However, after the Arsenal victory and given that it's Koeman's first derby and the "get stuck into 'em" factor, there is a strong hint of victory in the air... For us evidement!
Mike Gaynes
55
Posted 19/12/2016 at 07:36:41
Tony (#44), yep, I get it, but I've always believed the personnel to be more important than the alignment, and I don't consider Deulofeu, Barry or Holgate to be among our best 11 right now. McCarthy and Valencia showed good ability to apply pressure and force mistakes.
That said, alignment does matter, and three at the back has been a ticket to catastrophe for us. Maybe someday. Not for this one.

Jim Whiffen
56
Posted 19/12/2016 at 08:05:03
Mike Dean's mother was the house cleaner for Bruce Grobelar when he lived in Tower Road North in Heswall; wasn't Grobelar filmed talking cash off a bookie?!?!?
Gerard Carey
57
Posted 19/12/2016 at 08:19:20
Only one change please, Funes Mori for Jagielka. We can take this shower if we show same attitude as we did against Arsenal. And for 90 minutes this time.
Peter Roberts
58
Posted 19/12/2016 at 08:23:53
Bournemouth showed what we need to do. Press them hard at the back, defending is their weakness. If we allow them to play it out then they will destroy our back 4 with their movement and interplay upfront.
Liam Reilly
59
Posted 19/12/2016 at 08:24:24
I suspect he'll sacrifice width for 3 deep lying centres and give Barkley license to roam behind a front two of Rom and Valencia.
This will make us more solid but much slower on the break and then look to change it in the second half.
Probably sensible as it's all about he result, this one.
Trevor Peers
60
Posted 19/12/2016 at 08:26:35
Intriguing game in prospect tonight, from our point of view: have we got the bottle to battle against the RS and blunt their title challenge? To do so we will need every player to compete, we can't carry any passengers, they will ruthlessly expose any weakness.
My main concern, and has been all season, is our attacking midfield. Valencia has brought something new recently, with his hard work and aggression, so he must play.
The spotlight will be on Barkley, he needs a big performance. He has to prove he can make an impact in big games. It's crucial if he wants a new contract, and the game could hinge on it.
Darren Hind
61
Posted 19/12/2016 at 09:19:49
We can't go for the jugular, we don't have the pace at the back to cope with swift counter attacks.
We got the balance just about right against Arsenal, we defended well enough to restrict their opportunities whilst getting enough bodies forward to ensure we gave them problems.
Different game, but like Arsenal, this crew don't want a street-fight. Lets give them one.
I agree with Dave A. Barry may find the pace of tonight's game a bit hot for him, but he will have a role to play at the business end of the game when the pace has dropped and experience is crucial.
I would love to really murder them but, I don't think that will happen. If he stays brave and plays two up top, I would fancy us, by the odd goal.
John Malone
62
Posted 19/12/2016 at 09:31:13
I love Barry and what he brings to our team but I think his lack of pace and inevitable late tackles make him a bit of a liability in the high tempo games!
I would start with the same team as Arsenal and give the instruction to Barkley to run at their back four and shoot early!!
Nick Page
63
Posted 19/12/2016 at 10:02:01
Ever noticed how many teams turn up and play absolutely shit against the RS? If we press these deep, they'll buckle. And someone kick that mong Henderson early doors. I hate him, the massive phoney.
Tony Abrahams
64
Posted 19/12/2016 at 10:09:54
I turned the telly on the other week, and Ibe was coming on for Bournemouth who were two down to Liverpool at home. I hadn't watched the first half, but thought how fucking negative is that to be changing from 4-4-2, to 4-5-1, when you're team is getting beat two nil at home?
What do I know, but I think it showed me that it's down the sides where you can get at Liverpool. There fullbacks like to attack, so you will find space in behind, unless they are cautious, which will also nullify how they usually play.
One thing Liverpool do really well is run, it's turning decent players into good or even very good players. Match this and we will see they are nowhere near as good as they are being portrayed, but that's the easy bit, the players have got to go out and do it.
Deulofeu is not a winger, play him off Lukaku for the last half an hour and he's definitely got the ability to destroy teams, especially once a game has been stretched. But is he brave enough?
Clive Mitchell
66
Posted 19/12/2016 at 10:48:45
I hope we find a performance tonight. I wish our players luck. But it's going to be interesting because, important as your last performance is, none of us has forgotten the utter tripe we produced, week-in & week-out for three months before Tuesday night.
Lenny Kingman
67
Posted 19/12/2016 at 10:56:57
Looks like we owe them a 4-0 thumping, among much else.
The red filth have duff goalies a-plenty and a defence that is non-too-reliable in general. Breathe fire down their scrawny necks early on and let's see what happens.
Paddy Power say 200/1 for the outcome mentioned previously. I say you're on.
Paul Mackie
68
Posted 19/12/2016 at 10:58:38
After the Arsenal performance, I want to believe. But I think it'll be a draw or they'll spawn a win in dubious circumstances because that's what those fuckers always do. We may have a new manager, but most of the players are the same ones I've seen capitulate to these bastards too many times.
I'd like to see our midfield absolutely kick the shit out of them early doors. Bollocks to playing them at their own game. They don't have any 'hard' players in their team anymore.
Rob Halligan
69
Posted 19/12/2016 at 11:12:48
This game is at Goodison, we are the home team, the Red Shite are the away team. What do SSN do? Give the Red Shite team news first, our team news second....
Bitter? – too fucking right. Let's do these bastards. COYB... FTRS.
Phil Walling
70
Posted 19/12/2016 at 11:24:29
I've taken some 3/1 about Everton but the gem of a game against Arsenal makes me feel a return on my money is unlikely.
When hopes are high, Everton ALWAYS let you down!
Raymond Fox
71
Posted 19/12/2016 at 11:24:51
Wow, the betting is 3/1 Everton 5/2 the draw 1/1 Liverpool.
I don't think we should be 3/1 to win, I think that's a value bet.
Not that you can fancy us really strongly though, their a right handful on attack, we will probably have to score 2, 3 or 4 goals if we are to win.
Very important that we keep 11 players on the field also!
Franny Porter
72
Posted 19/12/2016 at 11:27:43
Barry has been great for us but there is no doubt time is catching up with him. Right now, he should be backup for the foreseeable.
As others have stated though, I fear he will sacrifice something going forward to accommodate the three in the middle, most likely Lennon or Valencia.
Andrew Clare
73
Posted 19/12/2016 at 11:37:16
We sure are due a win against this mob. I hope it's tonight. High intensity is the requirement for the full 90+ minutes.
They are beatable, the approach has to be right that's all.
COYB!
Dave Pritchard
74
Posted 19/12/2016 at 12:34:39
No problem with people having a flutter if they want to but should Lyndon be advertising for PaddyPower in his write-up?
James Hughes
75
Posted 19/12/2016 at 12:41:49
Tony, Can we follow Chelski's lead and play 3-4-3? I never used to think 3 at the back worked in the Premier League but they are proving otherwise. Plus I believe Seamus is better than Moses Lennon on the right wing back role.
Tony Abrahams
76
Posted 19/12/2016 at 13:05:31
James, the key to any successful formation is getting the right players to do the job! Whenever I have watched Liverpool this season, I think Firmino has been the key player because he gets hold of the ball, which enables the other midfielders/forwards to either play off him, or run past him.
I think with Origi in the team, they might become a bit more direct but, as ever, we will only stand a chance if we can match their incessant work-rate. I honestly don't think the gap between the two sets of players is anywhere near as big as people are saying, but the big difference between the teams at the minute is the fact that they play as a team!
Let's hope Arsenal was the start of our own coming together?
Geoff Evans
77
Posted 19/12/2016 at 13:34:18
Trevor (#60): ''Have we got the bottle?''
Darren Hind
78
Posted 19/12/2016 at 13:38:34
Is right, Tony.
Nowhere near the gap between the two sets of players some would have you believe.
I said before last week's game that I had a gut feeling that the Arsenal game may be a turning point; judging by the responses a lot of other posters felt the same way.
Of course, we cant claim to have turned a corner after a solitary win, but, there was a genuine will to win last week and it would be fantastic to replicate that tonight.
Despite us having a Weston and them receiving universal plaudits for their "astonishing" season under an even more astonishing manager, a win for us tonight would put us within striking distance of the twats... which kinda endorses your point.
Ernie Baywood
79
Posted 19/12/2016 at 13:42:29
I'm not terrified this time around, that usually comes with confidence.
As much as the Arsenal game has given me some hope, I would have liked to have seen that kind of effort at least two or three times to make me fancy the odds of it coming around again.
Hopefully Ron has now realised that, if you set the team up to attack the opposition, then Goodison under lights is an incredible place to be.
But from his comments it sounds like Barry will come back in and we'll go defensive with that massive gap between midfield and attack. Do that and it's not going to be pretty.
I fucking hate derbies. Come on you blues!
Robert Workman
80
Posted 19/12/2016 at 13:51:29
A few hours ago, I saw Ramiro Funes Mori in a bar in Larnaca, Cyprus. I reminded him about tonight's match and that he could well be in the team! As look-a-likes go this guy was 100% – even with a beard!
Steavey Buckley
81
Posted 19/12/2016 at 13:52:16
It would be very wrong to bring back Barrry, as he slows down the midfield and does not keep up with play. There is no coincidence, Everton's best performance of the season against Arsenal was without Barry.
Geoff Evans
82
Posted 19/12/2016 at 13:58:35
If Barkley and Barry are on tonight's team sheet, Klopp will believe in Santa.
Terry Underwood
83
Posted 19/12/2016 at 13:59:33
My fav derby was the 2-1 Varadi cup game. Goodison was a bear pit. I was buzzing all the way home (south coast) the picture of Kennel Dogleash after the game in the pink was brilliant.
An unfancied player to score the winner... Lennon on as sub, cuts in from the right, exchanges passes with Rom and guides it into the net... YEEEEESSSSSS 1-0!!!!
COYMB
Brian Furey
84
Posted 19/12/2016 at 14:00:12
Great to read all the positive comments for a change before such a big game; hopefully the team at least put up a good battling performance and don't be waiting to go a goal down first.
Liverpool scored 3 away to Boro and 3 away to Bournemouth in their last 2 away games so we need to make sure we don't concede that many as we're not scoring many ourselves.
It would be a great night for Valencia to get on the scoresheet but I am expecting a big performance from Rom for a change as he knows what it means to the fans. I watched a bit of Wimbledon's win over them in the FA Cup Final last night and Vinnie Jones's first tackle on McMahon set the scene.
Matthew Williams
85
Posted 19/12/2016 at 14:01:07
Here at last..."The biggest game on earth", 3 more points Blues,send us all into Blue Heaven this Xmas time please!
2-1 win methinks, just gotta feeling we'll nick it.
COYB
Denis Richardson
86
Posted 19/12/2016 at 14:24:56
Surely it's got to be the same side as the one that dusted Arsenal off that week. Injuries and suspensions aside – please play the same team Ron.
Not much of a confidence booster if you play in a great win and then get dropped! Also, please DON'T play Barry, he's not going to have the legs to handle Liverpool's midfield and will mean Gana having to cover for him.
Simon Jones
87
Posted 19/12/2016 at 14:48:38
For once, can we not just batter them 5-0?
Brian Furey
88
Posted 19/12/2016 at 15:05:18
Just to get you in the mood:
Rob Nunn
89
Posted 19/12/2016 at 15:18:44
It's going to be 3 am here and I've run out of Bintang.

Tom Bowers
90
Posted 19/12/2016 at 15:34:16
We are due for a win. It all depends on which Everton shows up.
We all know how the RS play, fast and furious, so the boys need to stay composed. The tackling needs to be good and we don't need any garbage officiating but it will be there anyway.
Paul Kelly
91
Posted 19/12/2016 at 15:40:41
Just watched that, Brian, couldn't even make the end of it. Too wound up. Hate them, Hate them.
Colin Hughes
92
Posted 19/12/2016 at 15:48:33
I can't even think about having a nice Christmas if we lose this tonight. Fucking scarf-obsessed wearing knobs, would sooner see us get relegated than them win the title this season and they are well back in it if they win tonight.
James Byrne
93
Posted 19/12/2016 at 15:49:29
We just might have turned a corner last week against the Arse, so tonight's game becomes massive.
We have to start with the same team as last week but with the same intensity from the off. We can't afford to fuck around for 20 minutes feeling sorry for ourselves.
COYB's
Home win @ 3-1.
Kim Vivian
94
Posted 19/12/2016 at 15:52:20
I think Klopp and his merry men will be pretty nervous tonight. They know they are not facing a soft Martinez team and if the entire Everton army get up for it, we will pound 'em.
Gary Russell
95
Posted 19/12/2016 at 16:00:06
Midnight here in Taiwan. Shoit, 4 more hours to go...
Simon Jones
96
Posted 19/12/2016 at 16:00:10
#88,
Can we borrow Naismith for the game? Loved what a proper nark he was for us.
Mike Oates
97
Posted 19/12/2016 at 16:26:18
Trying to bring a bit of realism into the mix – I've supported Everton for 55 years, seen many a fine team, saw leagues won, FA Cups won, but brutally saw more false dawns than had hot dinners. As Evertonians, every season we believe we can compete at the top, but suddenly we lose 4-5 in a row and everything/everyone is to blame, then we win one again and suddenly we believe we're great again!
One thing is for sure Liverpool will score tonight, its whether we can match them and even just pinch the extra goal. It's not going to be easy, its not going to be 2-0, 3-1, we will all be biting our nails praying for that final whistle having just been awarded a Mike Dean penalty which Baines converts. There defence is as bad as ours, their attack is twice as good as ours (see the facts) but at least its at Goodison, under lights, with 35,000 Evertonians, screaming at Dean to blow his whistle, with the scores at 1-1 or hopefully 2-1 to Everton.
Scott Hall
98
Posted 19/12/2016 at 16:32:04
I ask for nothing more than every player in blue to fight, scrap, battle, chase, run and throw themselves at every Kopite shot and pass like your lives depend on it. But most importantly, I just ask that you walk out onto that pitch and believe you can win this game. Because you can.
If you do this, whatever happens, we'll be proud.
Come on, blue boys!
James Hughes
99
Posted 19/12/2016 at 17:07:48
I see Sky have Carragher and Neville as pundits Tonight, nothing like balance is there. Oh and Yard dog has just called us bitter!!!
James Hughes
100
Posted 19/12/2016 at 17:12:51
And the Manc Twat has just said we are not as good as them. Nothing like balance is there? There is no way I would agree with that even if EFC visually impaired team were lining up tonight.
One for Eugene – GGRRRRHHH
Mark Morrissey
101
Posted 19/12/2016 at 17:23:07
I hope Stekelenburg is not in goal cos he's shite. Other than that, provided Gareth Barry doesn't have a rush of blood to the head and reduces us to 10, we will win tonight. It is made for us following on from the Arse game. Hope Robles is given his chance (pigs might fly). I think they start favourites but we can win this.
Conor Skelly
104
Posted 19/12/2016 at 18:00:06
Right now, it's that same feeling I get when I'm on the assent of a roller-coaster. I'm filled with a mixture of excitement and dread which equates to pure anxiety. There is no way off now. No turning back and nothing that can be done other than to try and enjoy it as best I can and pray.
First hurdle is with the manager. He must not start Barry. Ideally he'd go with Robles in goal too as I don't think Stek will have the bottle for tonight.
A line-up to help the nerves would be:
Robles, Coleman, Williams, Funes Mori, Baines, Lennon, Gueye, McCarthy, Mirallas, Valencia, Lukaku.
Head says draw. Heart says 4-0 Everton.
Paul Tran
105
Posted 19/12/2016 at 18:03:24
Cover every blade of grass, scrap for every second ball, pass to a blue shirt, get into their box in numbers and shoot.
Just beat them. Any way you can. Just beat them.
Colin Glassar
106
Posted 19/12/2016 at 18:13:20
As the arse-licking media (mainly the BBC and Sky) have already given the title to either Liverpool or Chelsea I hope we absolutely stuff them tonight just to see how the media hacks cover it.
I'm sick and tired of losing or drawing to that shower. I suppose the neutrals Carra, Redknapp and Souness will be the pundits tonight. You know, Sky's fair and balanced coverage. Fucking hate all of them. Come on Everton, twat 'em!!!
David Hallwood
107
Posted 19/12/2016 at 18:23:56
Let's be honest, it doesn't matter who wins tonight because the winner will be Merseyside. No but seriously, I want us to beat the RS so badly I can almost taste it.
I've got a feeling that Koeman will pick Barry for Lennon, when personally I'd like to go 4-4-2 and have a real good go against a shite defence, but I've got more chance of winning the lottery than that happen.
James Byrne
108
Posted 19/12/2016 at 18:24:41
I want the win for obvious reasons but I do want to see big Ronald Koeman run to the corner flag at the final whistle if we win.
That's what he's promised to do anyway.
COYB's.
Ian Linn
109
Posted 19/12/2016 at 18:34:55
I have a bad feeling about this one. However, I am happy Jags is not playing as he's been such a liability this season; great player for us to be sure, but I think his time is up.
Laura Round
110
Posted 19/12/2016 at 18:40:02
I feel sick. 😬
Richard Lyons
111
Posted 19/12/2016 at 18:43:05
Sickening to read Danny Murphy in the London Evening Standard today, gloating about his winning goal in 1990-something. He then went on to twist the knife speaking about how RS vs Man Utd was much more important. That's not how I remember it...
Rob Birks
112
Posted 19/12/2016 at 18:45:23
Couldn't have said it better, Colin. Cheers!
Neil Gribbin
113
Posted 19/12/2016 at 18:49:54
Sat in a boozer surrounded by Home Counties reds. I hope we batter this shower tonight....
Tom Bowers
114
Posted 19/12/2016 at 18:53:41
Every Evertonian all over the world would love a victory today no matter how it comes. Our derby victories have been very few in recent memory and one of the reasons is the wealth the RS have had in superiority over Everton giving them a stronger in depth squad to call upon.
Sometimes Everton have overcome that differential by shear heart and workrate such as the victory when we had Timmie. That wealth situation may be changing gradually if Moshiri continues his benevolence.
Coincidentally both teams have lost to Burnley and Bournemouth but the difference was that Everton were poor in both games. We all hope that the Arsenal game is the turning point to the season and that good things continue today but it goes without saying that they have to be focused from the off and have to sustain the intensity level for 90 minutes because we all know the RS have been scoring for fun this season.
Thomas Surgenor
115
Posted 19/12/2016 at 19:02:59
Where's Geri? Is he injured? Kenny in squad but Geri not.
Denis Richardson
116
Posted 19/12/2016 at 19:03:05
Good start. No Barry in the line up. Just Funes Mori in for Jags.
Valencia starts:
First box ticked.
Paul Kossoff
118
Posted 19/12/2016 at 19:04:19
If we sit back against these bastards, we will get well beaten. We have to play two up front and have a go at them, their defence is suspect as we know. So please, lads, 100% effort for 90 minutes, Coyb 😇
Mike Hughes
119
Posted 19/12/2016 at 19:07:08
I've had my pre-match meal and done some limbering up. I'm in the zone.
Currently in Dublin so off to find a blue pub (The Mercantile? Murrays? Can't stand watching it when there are RS around).
Saw that Firmino interview in The Red Echo (free at John Lennon airport as I won't buy it).
Let's stick it to these scumbags. Come on you Mighty Blues.
Conor Skelly
120
Posted 19/12/2016 at 19:18:43
Mike, I am currently in the Mercantile now sitting at the bar on my first pint waiting for people to arrive. Couldn't wait any longer so just got on it an hour before kick off. By all means join us.
Colin Glassar
121
Posted 19/12/2016 at 19:19:13
Hate these games. Stomach churning, nerve wracking, blood boiling affairs. I wouldn't miss it for the world. COYB!!
Colin Hughes
122
Posted 19/12/2016 at 19:30:16
In the ground now, but only just ! back row of the Lower Gwladys and I can barely see the park end crossbar... stand up and I'm fucked for seeing anything. That new stadium can't come quick enough.
Mike Hughes
123
Posted 19/12/2016 at 19:30:20
Thanks Conor. My hotel is on O'Connell St. Just started in Murray's but might wander down there a bit later depending on the balance of power in here (though the landlord is a Blue and they have got Smithwicks IPA on tap).

James Hughes
124
Posted 19/12/2016 at 19:30:39
Colin – no fear tonight!
---
Add Your Comments
In order to post a comment, you need to be logged in as a registered user of the site.
Or Sign up as a ToffeeWeb Member — it's free, takes just a few minutes and will allow you to post your comments on articles and Talking Points submissions across the site.