Koeman pragmatic over Lukaku's future

84 Comments [Jump to last]
Thursday 22 December 2016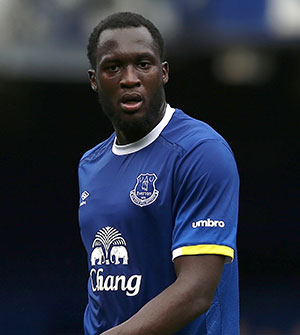 Romelu Lukaku stands to become the highest-paid player in the club's history if he agrees a new contract
Ronald Koeman says that Romelu Lukaku is a big part of Everton's future while admitting that there are no guarantees the striker will stay beyond next summer even if he extends his contract.
The manager confirmed that Lukaku is in talks over an improved deal that would extend his terms with the club beyond 2019 and said that it would be very positive if an agreement can be reached.
However, following similar comments from the player's agent, Mino Raiola, he acknowledged that the Belgian striker could still leave in the summer regardless.
"It's a big deal because the club is showing it wants to keep its best players and doing everything to do that," Koeman told the media today. "You never know what can happen in a year in football but at least it's an understanding that the boy likes to stay.
"He's a big part of our future. We know what can happen but that's football in general — players sign new contracts but don't always stay to the end of it. If the new deal is done that is a good thing."
Suggestions that Lukaku's new terms would include a release clause as high as £80m are contradicted by the latest reports that claim there will be no price triggers in the contract.
---
Reader Comments (84)
Note: the following content is not moderated or vetted by the site owners at the time of submission. Comments are the responsibility of the poster. Disclaimer
Anthony Hawkins
1
Posted 22/12/2016 at 19:11:16
Let me get this straight. We're asking Lukaku to sign a contract with an increased salary and a buy-outclause. But he can still leave in the summer? That's an absolute waste of everyone's time!!
Is it so Lukaku's price is pushed up? Or so the club can show they want to keep him?
It's certainly a confusing message to all.
Barry Pearce
2
Posted 22/12/2016 at 19:11:51
Not sure about this, just seems he wants a nice pay rise between now, and the summer.
James Power
5
Posted 22/12/2016 at 19:16:45
We tie him in for longer, make it difficult for anyone but the top clubs to be able to afford him, and push the value up of the fee.
In the meantime, make him as well paid as we can, so he will only be tempted by those who can offer what we cannot. Makes sense to me.
Patrick Murphy
6
Posted 22/12/2016 at 19:19:22
Of course if Romelu decided against signing the improved contract, it could lead to Rom leaving the club earlier than the Summer; would Juventus et al try and buy him before the close of the next window?
The modern football world were ordinary supporters don't know whether to laugh or cry – or is that just us as Evertonians?
Brian Williams
7
Posted 22/12/2016 at 19:32:58
Actually what's been said is absolute bollocks, or could be.
If Lukaku signs a new contract, or extends his present one my understanding is that the only way he could leave in the summer is if the club decided to sell him... unless there is something written into said contract that states he can leave in the summer under certain circumstances.
But if he's not three years into his contract he can't force a move (legally). He could of course stop giving 100%, not run round as much, and only turn up when it suited him... oh dear!
Mike Allen
9
Posted 22/12/2016 at 19:52:03
Even though he is in poor form and his body language suggests his heart isn't in it anyway, we give him a huge pay rise so we can keep him until the end of the season. If not dropped, he should have been at the very least hooked off several times this and last season. This is on a par with the Gibson contract.

I can't believe it's a devious plan to speculate to accumulate. I just feel I would jump at the chance to get our money back and, for the sake of the club, I'd take a loss just get shut of him and his cronies.
Lewis Barclay
10
Posted 22/12/2016 at 19:54:32
I don't really care. This regurgitated story is so boring. He'll leave eventually.
What I want to hear more about is the eight to ten players we'll be bringing in over the next 18 months.
Winston Williamson
11
Posted 22/12/2016 at 20:04:32
I seem to remember we did something similar with Fellaini. It's not a new thing.
Paul Ellam
12
Posted 22/12/2016 at 20:06:28
Hope he signs a new contract. No guarantee he will stay, even if he does sign one, but at least it means we won't be letting him go cheap and only a handful of clubs in world football will be able to afford him!

Fran Mitchell
13
Posted 22/12/2016 at 20:49:34
It will be a shame we couldn't build a team to benefit from having a 26+ goal a season striker.
But it appears inevitable, truly hope we reinvest well. Personally, a £30 million launch on Dembele from Celtic would make us miss him less.
Armando Canaj
14
Posted 22/12/2016 at 21:19:53
Football is a business, people. We will increase the value of our top asset for future clubs wishing to tempt him away.
He's also motivated to prove his worth.
Win-win for both club and player.
No hidden messages here. It's simply business.
Damian Wilde
15
Posted 22/12/2016 at 21:21:11
Pointless. Get rid of him.
Thomas James
16
Posted 22/12/2016 at 21:50:21
Extending the contract protects the sell-on value... All there is to it. He's got a crap first touch and limited skill with the ball at his feet, I'd love it if PSG or Juventus bought him.
Peter Roberts
17
Posted 22/12/2016 at 22:01:53
Oh no!!! If we sell Lukaku, it means that we will sign Beattie, Stracqualursi and Bent – the strawman argument that rages...
Well... actually, no; we will probably spend the 㿈m plus any profit on a striker or two that actually can play football, run more than a couple of kilometres per match, and actually may finish too.
Eric Paul
18
Posted 22/12/2016 at 22:03:47
I said on a previous article, come the window, if there's no interest his agent will negotiate an improved contract to generate more commission for himself whilst still trying to find "a bigger club".
Put him on the transfer list and, when no-one comes in for him, he might start to put a shift in.
Trevor Powell
19
Posted 22/12/2016 at 23:12:44
Marcus Bent never thought he was god's gift to football. He was limited but did what he was asked up front!
All he ever did was commit to the cause and run his bollocks off as a lone striker at a time when the club was learning that relegation struggles were behind them. If every other player gave as much as he did in blood, sweat and tears, we'd be much happier!
Iain Johnston
20
Posted 22/12/2016 at 23:36:48
Player amortization – don't you just love it...!
A player's value diminishes on the books by dividing his purchase figure by the contract length. Short contracts means more of a loss each year. This starts the minute he signs the contract...
Lukaku was purchased for 㿈M on a 5-year contract. The fee is currently amortized at a loss of ٣.6M a season; therefore, on our books he's worth 㾷.2M...
This 㾷.2M will now be amortized over the new 5 year contract until his value is zero at a rate of ٠.24M or until he's sold... A ٠.24M loss is a lot better to the club than ٣.6M.
Now for the interesting part...
With an 㾷.2M amortized value, if we sell Lukaku on January 1st for just 㾻M the club will post a PROFIT of ١.8M.
Football is a funny old game...
It's why so many clubs now state "undisclosed fee" and it's why player values aren't a component of a club's turnover.
We currently have 15 players out of the squad of 28 (including Niasse) with a club value standing at zero the remaining 13 are valued between 𧻯k to 㿀M.
Eric Paul
21
Posted 23/12/2016 at 00:07:23
Can amortization be applied when there is no loan or the value of the asset borrowed against has no value at the end of the loan period, ie, player's contract?
Kieran Kinsella
22
Posted 23/12/2016 at 00:55:32
Peter Roberts...
Dream on, buddy. If we sell Rom, no-one is going to sell us one or two better strikers for less than we get for him. Look at the crap strikers other teams have blown 㿀 - 㿊 million on, eg, Saldado, Darren Bent etc. We just spent £30 million on Bolasie who's what? An African Jimmy Bullard?
Also, please don't mention Beattie, Bent and Stracqualursi in the same breath. Beattie was the hot shot, arrogant flop. The other two were hard workers playing above their level. We came 4th with Bent as our lone striker, ably supported by journeymen midfielders Kilbane and Carsley. We shouldn't be dismissive of him or them as they've done a lot more for us than all the more recent Flash Harrys.
Phil Sammon
23
Posted 23/12/2016 at 01:03:42
Oh, just fucking get rid of him. He's a good player but he's not irreplaceable. Sick to death of him, his dad and super-twat Riaola. I think the whole club would benefit from getting rid of these idiots that clearly don't want to be here.
Ian Johnston (#20),
I don't know how you're coming up with those specific figures. Surely you know it doesn't actually work like that?
Mike Gaynes
24
Posted 23/12/2016 at 01:23:26
Trevor (#19), Bent scored 7 in 55 for us.
That's a goal every 8 appearances. For a striker. No amount of running can make up for being that "limited".
I get your point, but you might have picked a better player to wax nostalgic over.
James Byrne
25
Posted 23/12/2016 at 01:52:52
I've no issue stating that I've never liked Lukaku; I'd go as far as saying the lad is a liability on the pitch TBH. He's a shit football player who has shit ball control, shit vision and awful distribution.
I've never witnessed such a poor forward in football who can't hold a simple ball and create an attack.
Yet you'll get a bunch of Evertonians who come on here stating his game / score ratio is incredible. Yes, his scoring statistics might look okay but he's doing this in a very average league! Don't kid yourselves on the so called quality of the Premiership.
If any club around Europe comes in with a silly offer for Lukaku then please get rid. It's about time this club acted smart and cashed in on the lad and got rid of him and his dickhead agent once and for all.
Mark Andersson
26
Posted 23/12/2016 at 02:08:00
More Christmas cheer... Must be great getting paid all that money and not really working. I have not seen a marked improvement in his overall game to warrant a pay rise.
Meanwhile, in the real world, people are loosing there jobs, some loosing there homes and going hungry. The world is madder than ever.
Iain Johnston
28
Posted 23/12/2016 at 04:44:05
Phil Sammon (#23)
If I wasn't sure, I wouldn't have posted it...
This is for when Man City sold Robinho,
"[H]e was bought for 㿌.5 million in September 2008 on a four-year contract, so annual amortisation was ٦.1 million. He was sold after two years, so cumulative amortisation was 㾼.2 million, leaving a value of 㾼.3m in the books. Sale price to Milan is reported as 㾾 million, so City will report a profit on sale of ٟ.7 million in the 2010-11 accounts. Therefore, City will show an annual profit improvement of 㾾.1 million after this deal: ٦.3 million lower wages + ٦.1 million lower amortisation + ٟ.7 million profit on sale."
This demonstrates how clubs write-off the transfer value of a player over the life-time of their contract and also illuminates that because Robinho was worth 㾼.3m two years into his four year deal, Manchester City actually made an accounting profit on his transfer of ٟ.7m. Fans would see the sale of a player for 㾾m bought two years previously for 㿌.5m as bad business. The club in their accounts will class it as a 㾾.1m profit improvement.
I can give you the break down of the David Luiz transfer too?
Rob Tedford
29
Posted 23/12/2016 at 05:11:46
I honestly don't get what people want!
We had players like Bent and Stracqualursi that had zero quality but ran all day and people moaned that we needed a 20+ goalscorer... We now have one who has a better goal return for his age than Suarez and Henry and people want rid????
Just out of interest, who would we replace him with that would cone to Everton??? In the last window, just about every target turned us down – that includes Sigurdsson who chose to stay at Swansea over coming to Everton and God do we need someone like him.
It's the same with Barkley and Deulofeu, a youngster with genuine ability and most fans want rid cos they're not performing in a team with zero confidence.
Moving for Dembele from Celtic is a great shout.
Trevor Lynes
30
Posted 23/12/2016 at 05:55:20
Fans on here talk about letting him leave before we have a player to replace him adequately. No contingency plans at all!! If they want him to leave without a top quality replacement, then what? He is the most difficult member of our squad to replace. He is still young and worth his weight in gold IMO.
The rest of the so-called attackers presently on the books are not worth his transfer fee put together. Not one of them has shown anything that would attract big-money spenders so far this season. None of them could replace his goals and none of them have his strength.
Actually calling for him to be sold is suicidal.Other decent players may be attracted by the thought of playing alongside him but, if he goes, then no top player would be tempted here.
I would be more inclined to sell other players on the books and bring in some 'proper' players who know how to pass accurately and chip in with a dozen goals. By showing ourselves to be dependant upon Lukaku so much weakens our situation on and off the pitch.
I reckon Koeman is absolutely correct in offering our best asset incentives to remain at Goodison. Instead of being negative, let us hope that Walsh, Koeman and Moshiri can bring in a top playmaker and a second striker during the January window.
Eric Myles
31
Posted 23/12/2016 at 06:03:40
Ian (#28), I've been saying the same thing on here for years, it just falls on deaf ears.
Brent Stephens
32
Posted 23/12/2016 at 06:12:16
I understand amortisation exactly as Iain has set it out.
Eric Myles
33
Posted 23/12/2016 at 06:14:33
Brian (#7) "...unless there is something written into said contract that states he can leave in the summer under certain circumstances."
Something like a release clause maybe??
Derek Thomas
34
Posted 23/12/2016 at 06:39:06
They might've taken a leaf out of Barca's book on Deulofeu with staggered buy-out dates.
Kim Vivian
35
Posted 23/12/2016 at 07:49:07
Ian – help me with this amortisation business. Is the purpose to run down the value of the business for tax or some other purpose like depreciation of a tangible capital asset?
How does it work for appreciating assets like Coleman, Gana or Stones when he was with us who quite clearly are/were valued way above that amortised valuation who if shown on the books at their true realistic realisable value would benefit the club overall valuation.
I have never quite understood how player valuations are worked in to club financial statements but it seems one of two creative approaches could be used depending on the objective of the financial statements. Although I am sure there must be rules relating to this.
Tony Abrahams
37
Posted 23/12/2016 at 08:16:39
Damien (#15), that's exactly what it sounds like Koeman is trying to do!
Phil Walling
38
Posted 23/12/2016 at 09:42:32
All this means is that Everton will be paying him 'top dollar' as from now and until such time as a 'bigger' club comes up with a mega offer that 'can't be refused'.
Perversely, if he plays his tripe out and nets another 15-20 goals, there will be a queue round the block for him come summer. If he doesn't, we're stuck with him but no bad thing in most people's thinking – especially Koeman's!
Tony Abrahams
39
Posted 23/12/2016 at 09:49:59
Especially Koeman's, Phil?
If this is true, Phillip, then Ronald should be sacked right now, because something is definitely wrong in my book if a player is signing a new contract, and the manager is already talking about him leaving?
Anthony Dwyer
40
Posted 23/12/2016 at 10:18:55
Players' transfer fees, wages, contract clauses etc don't really mean an awful lot to me as I can't affect any of it.
I see it as this: Rom is there or there about our best player, he's still only 23, I'd be happy to tie him down to a 10-year deal.
Let's start worrying about clearing the dead wood, we all no we have enough of it.
Cleverley, Gibson, McGeady, Oviedo, Kone, & Niasse could all go without anyone even noticing them gone, any one of there deals would compensate for the increase in Rom's wage.
IMO we should cut our losses and do them all; we may lose on our transfer fee, but we would save millions of pounds a year – that can only be good for the club in the long run.
Phil Walling
41
Posted 23/12/2016 at 10:26:22
Anthony, all the players you mention are Martinez signings or re-signings – backed, of course, by Kenwright.
I have a sneaky feeling that in 12 months time, some of them will still be with us – together with one or two equally tragic signings made on Koeman's shift!
Colin Glassar
42
Posted 23/12/2016 at 11:00:43
Trevor Powell (#19), no offence, mate, but you have the honesty to say what many of Rom's critics on here think but won't come out and openly say, ie, effort is what counts. Like you say "blood, sweat and tears".
I respect your point of view as you are honest to a fault. A player of extremely limited ability but who at least "tries" is valued, by some, more than a lazy, fat-arsed lump who's only contribution is to score goals.
John G Davies
43
Posted 23/12/2016 at 11:07:47
My main problem with Lukaku is frustration. If... IF he used all of his attributes he would be as good if not better than he thinks he is.
I recall a game last season,but can't remember who the opposition was,in which somebody upset him and he lost it and reacted with the best 20 minutes I have seen him play for us. He started putting himself about, brute strength, had defenders bouncing off him.
If he could channel that aggression into EVERY performance, he would be some player.
Paul Tran
44
Posted 23/12/2016 at 11:21:17
Good to have the real Phil Walling back! Merry Xmas, Phil!
The rebuild will consist of getting rid of players we actually can sell, like Deulofeu.
Then we buy some decent players, which is where I hope Phil is wrong, but fear he might be right.
Then we let contracts run out and release players.
You can't just get rid of players when they have a contract and no suitors, though if by some miracle we gave a good transfer window, I wonder how many will join Niasse on gardening leave in the Under-23s?
Dave Abrahams
45
Posted 23/12/2016 at 11:30:50
Trevor (#19),
Marcus Bent never ever gave blood sweat and tears, he was a bluff merchant, chased a lot of back passes to the goalkeeper, never had a real tackle in him, but kidded a lot of Everton fans... Reminds me of someone else!
Steve Brown
46
Posted 23/12/2016 at 11:32:38
Lukaku is the best goalscorer we've had since Lineker – the stats prove that. He is also a big work in progress!
When he is 'at it' then he is unplayable – powerful, dynamic and a deadly finisher. That doesn't happen consistently enough and when he's not on his game he really looks ordinary – but he is 23 years old. Signing him was the one positive thing I can recollect from Martinez's farcical reign.
Peter Gorman
47
Posted 23/12/2016 at 11:43:05
Wow Dave, that is not at all how I remember old Marcus. Thought his workrate was his defining feature.
I must have been kidded but I can recall somewhere in the depths of my memory at least one goal he forced out of the opposition by harassing them from the front. Good bluff.
Brian Williams
48
Posted 23/12/2016 at 11:44:05
Eric.
Yes, something like an already denied release clause! Go figure, I can't. There's so much shite spouted by all involved there's little point in believing any of it.
However if Koeman states that he "could" still leave after signing a new contract... I'm past caring tbh.

Brian Harrison
49
Posted 23/12/2016 at 11:55:03
How times have changed. I can remember when it was the pinnacle of a players career to sign for Everton. But now it seems players see us as a Stoke or West Brom, a club to be used as a stepping stone to better things.
The days of us signing the best players around is now only a distant memory, and sadly for the last 30 odd years we have only signed players not wanted by the top clubs. We now look to sign players discarded by the top clubs, feels a bit like eating out-of-date food.
Dave Abrahams
50
Posted 23/12/2016 at 11:55:47
Peter (#47) we all see players differently. Marcus certainly did a lot of running, most of it to look good to the crowd, he never got hurt putting a tackle in because he never got involved that way.
A pudding of a player in my opinion, we got to 4th in the league with him playing and we made a profit on him when he went, so that's to his advantage, but to me Peter, a total bluff merchant.
Garry Corgan
51
Posted 23/12/2016 at 12:07:02
Nobody going to mention that Koeman's saying Lukaku's a "big part of our future" in one breath before admitting he may leave?
Ridiculous soundbites since they're mutually exclusive.
I personally think Lukaku's big-time Charlie attitude (and that of others) has contributed to the total lack of togetherness and team-bonding that we're such a powerful weapon under Moyes.
Brian Williams
52
Posted 23/12/2016 at 12:11:37
Brian Harrison.
Yep, it's sad how times have changed, for us in particular. Unfortunately we didn't change with them.
Not that that was all down to our own failings. The single biggest factor in us not moving forward was out of our hands. IMHO.

Colin Glassar
53
Posted 23/12/2016 at 13:20:00
Bent, Beattie, Andy Johnson, Jelavic, Naismith, Kone etc. All honest, hard working pros, but with one thing in common – they ALL struggled to get into double figures in ALL competitions.
Paul Smith
54
Posted 23/12/2016 at 13:25:08
Brian, I'm 45 years old and can never remember us having the luxury of signing the best players around.
Ian Brandes
56
Posted 23/12/2016 at 13:32:42
I am so pissed off with all this, that I am thinking "Perhaps both Lukaku and the Dutchman should go..."
Might be better for us in the long run.
Mark Pierpoint
57
Posted 23/12/2016 at 14:04:57
Spot on Colin. I put the same post on another thread.
People spent years under Moyes bemoaning the fact that we had everything – Lescott and Jags at the back, Howard at his best. Cahill, Arteta and Pienaar in midfield. We lacked that integral last piece though. It was the one thing we searched for but could never get.
Now we have Lukaku and people want a return to the plucky underdog striker. One guy seriously suggests Connor Wickham. Everton that.
Iain Johnston
58
Posted 23/12/2016 at 14:06:24
Kim (#35).
Players aren't assets, it's why you'll never see them in an asset column. They form no value of a football club; it's why turnover is only based on commercial business the club generates off the field and why Moshiri is so focused on this area.
The wage structure is the biggest stumbling block.
After all, just £5m will secure you a £25m rated player over 5 years, thing is, can you pay him the £19.5m salary over the contract term?
In football, there's a totally different psyche at play. It's about market force, exposure and attraction. It's why Spurs are seen they way they are and why, after over a quarter of a century, our great pretending neighbours still have the same lure as they did in 1990.
Players don't appreciate in value at a club as a tangible asset, they decrease in value over their contract term as a liability.
Homegrown players aren't even listed. >To the clubs amortization sheet Stones was valued at nil.
Just take a look at the non-homegrown players we have and their length of service, it's easy to identify who is still classed as a liability and who is now at nil.
Don Alexander
59
Posted 23/12/2016 at 14:41:49
Paul Smith (#54), only once have we paid a record fee, for Bob Latchford. You'd be too young to have remembered old "Roots-in-his-boots" as Duncan McKenzie jokingly refers to him.
He was a dependable scorer but, as I said on another thread, with him in the team, it was all very predictable for the opposition, and we won nothing. Sound familiar?
Stan Schofield
61
Posted 23/12/2016 at 15:15:12
Don, I thought Alan Ball, at 𧴦,000 was a record in 1966.
I'm not sure you can explain winning nothing on the basis of having a striker who scores 20-30 goals. Sample size too small, surely?
Ray Roche
62
Posted 23/12/2016 at 15:19:13
Don (#59),
Fred Pickering was a record fee when we bought him, as was, I think, Tony Kay. Kay was certainly the most expensive player in his position, as were several Everton players over the years.
A wing half would never cost as much as a forward so if you factor in that requirement you'll see we have broken the transfer record for players in a specific position on numerous occasions.
Ray Roche
63
Posted 23/12/2016 at 15:21:52
Stan, Denis Law cost 𧴫k when Man Utd brought him back from Torino. Ball may have been the highest between two English clubs.
John Daley
64
Posted 23/12/2016 at 15:22:32
"Bent, Beattie, Andy Johnson, Jelavic, Naismith, Kone etc. All honest, hard working pros, but with one thing in common.... "
They all cost the equivalent of a Curly Wurly in comparison to the current guy? The combined transfer fees of all six still falls short of the 㿈m stumped up for Lukaku.
If he finally gets the move he's long craved and Everton get anything near the crazy sums often quoted (㿨m, 㿲m, 㿼m), why do some people act like we'll automatically go straight back to shopping at 'Spazzy not Snazzy' for our next striker?
It's like some lid saying they're looking to get rid of their PS4 because they find the all round game play a bit pish and their disbelieving mate pointing out that the graphics are pretty decent, before saying "So you want to go back to one of those shitty Spectrums with sticky rubber keys, a squawky cassette player, and a loading screen that lasts for sixteen hours then, do ya?". Err, no. He'll probably just buy a fucking X-Box instead.
Paul Smith
65
Posted 23/12/2016 at 15:26:00
Don, my old man just informed me that it was 1977, my first game at The Ol' Lady, and if he's right, it was just after Bob's time at the Blues.
Still a legend in my mind though.

Steavey Buckley
66
Posted 23/12/2016 at 15:48:59
One of the reasons why Everton did well under Moyes, considering the lack of money at his disposal, Fellaini was scoring 1 goal in 3. Apart from Lukaku, nobody else gets near his scoring record. That's one of the reasons why Everton are not doing so well.
Yet, Everton fans were happy to see the back of Fellaini just like Lukaku. If he goes he takes his goals with him, and Everton may end up plying their trade in the Championship.
Stan Schofield
67
Posted 23/12/2016 at 15:59:21
John, that's fine if he can get hold of an X-Box. But what if he can only get his hands on a Commodore 64? We're talking Everton here.
Phil Walling
68
Posted 23/12/2016 at 16:22:14
Steavey, I keep reading that Koeman is interested in this and that show pony who can't get into the Man Utd team.
Rather than clutter up Everton's roster with the likes of the ridiculous Depay, he might do better to write off what the Mancs owe on Fellaini and get him back here post haste. He'd at least be useful at corners – both ends!
Colin Glassar
69
Posted 23/12/2016 at 16:33:06
Do Wigan have any decent cast-offs, Phil? We could do worse like a full French or Dutch international.
Steavey Buckley
70
Posted 23/12/2016 at 16:35:01
It is 3.5 years since Fellaini left Everton. Is he the same player who did so well at Goodison?
If he did sign for Everton, he would want at least a 3-year contract with a similar type of money he now receives at Man Utd. Jury is out on this one, I'm afraid.
Jay Harris
71
Posted 23/12/2016 at 16:50:50
Steavey, it's strange that you should mention Fellaini. I just posted on the Schneiderlin thread that we could do with his goals and height.
In my view, a lot of fans underestimated his contribution. Yes, he was clumsy in the tackle at times but he was a true box-to-box player who could help defend corners and was a major threat from free kicks and corners at the other end.
Mark Pierpoint
72
Posted 23/12/2016 at 17:00:16
Stan is correct. John's point is reasonably fair, but fails to take into account that buying this replacement striker is akin to buying the last X-Box on Christmas Eve. There is no finite number, and other people are in front of you in the queue
John Pierce
73
Posted 23/12/2016 at 17:04:59
Steavey,
I for my sins believe as an interim signing Fellaini would be an excellent No 10 in the old fashioned sense. He possesses the skills Lukaku has not.
Perhaps they both lack mobility but I think everything then is in front of Rom, and I cannot deny that's when he comes alive as a player. His ability to attract players at set pieces will ultimately free space for others.
I think a good buy for 18 months.
Anthony Hughes
74
Posted 23/12/2016 at 18:54:50
If Koeman's looking for a pressing style of football then Fellaini is the last player he should sign. Probably one of the most immobile players in the league.
Anthony Hughes
75
Posted 23/12/2016 at 19:03:06
There's no such thing has an old-fashioned No 10. That's a modern so called position in football.
In the old days 4-4-2 consisted of 2 wide players and 2 central midfielders who could get up and down the park. None of this defensive midfield crap and No 10s.
Mike Gaynes
76
Posted 23/12/2016 at 19:40:22
Steavey (#66), that season of 1 in 3 was an outlier. Overall, Fellaini scored 25 in 141 for us. Of course, his emergency partnership with Cahill a few years ago was a helluva lot of fun to watch, but...
John (#73), I'm sorry, mate, but I got a huge laugh out of your inclusion of the words "Fellaini" and "skills" in the same sentence. He cannot dribble or hold the ball, in fact refuses to do so, returning most passes with a one-touch. He's glacially slow off the mark, and his passing consists of whichever direction he happens to be facing at the time.
Fellaini has three valuable abilities... he's a ferocious ballwinner in the middle of the park, he wins in the air, and he has a knack for crashing the box with outstanding timing to score goals. But #10? No thanks. Pull up the video of Rom's goal against Chelski last March and tell me you can picture Fellaini doing anything resembling that.
Mike Allen
77
Posted 23/12/2016 at 20:14:04
Iain Johnston – fucking brilliant!!! I learn something everyday. I loved the film Money Ball as well. I'd like to think we have the sense to see it upstairs in the accounts so it makes it easier to offload him in January.
Ian Riley
78
Posted 23/12/2016 at 20:33:21
Players are assets. Ask the owners who want a return on their investment / loan paid back. Football is like no other business. Everton don't own their own training ground and the land Goodison is on is worth maybe £10 million. Our assets are the players.
Charlie Lloyd
79
Posted 24/12/2016 at 01:12:56
Protecting assets. That's what it is. Pay a player an extra 㿅k a week which equates to ٟ.2M a year on a long contract secures a decent sell-on fee.
As business goes it's a no-brainer. Do the maths on a Lukaku fee over the next couple of years and this makes sense.
Peter Roberts
80
Posted 24/12/2016 at 11:19:26
At this rate, Lukaku is dining out on his FA Cup goal against Chelsea as Ricky Villa did for Spurs. You'd be led to believe it was a regular occurrence. Sadly it's one of only two goals he's scored where I've seen him beat a player before scoring.
He scores goals when his team mates can find him unmarked in the box – quite difficult for them to do when he is attempting mannequin challenges mid-game.
Peter Roberts
81
Posted 24/12/2016 at 11:49:53
Steavey Buckley (#66) – one of the most irritating straw man arguments among the many for Lukaku is "If we sell him, without his goals we will get relegated."
Absolute tosh.
Are we going to replace him with an equally poor footballer who contributes less than he does to the team, concedes possession at a greater rate, and scores less than 15 prem goals to boot – at a cost of 㿞m??? I don't think so.
Maybe if people looked further than their own nose when evaluating this players impact to the team, they will actually see how much of a liability he is.
Rom's goals are like apologetic bunches of flowers from a husband to his long suffering wife. On the outside her friends will be envious: "Look at how many times Rom buys his wife flowers? What a great husband," says Mrs Deeney...
Mrs Lukaku says "Does Troy sit on his arse all day? Moan when you bring your dinner to him if it's not in the way he likes it, sometimes dropping a well made roast in the bin for no reason and then threatens to leave you for the slapper in a fur coat over the road in the big house because he thinks he can do better?"
"No! - Troy rarely buys me flowers but he helps me cook dinners, he doesn't waste them, he doesn't moan, he is as loyal as they come."
The butterfly effect of Lukaku's inability to play football can not be understated. "When Lukaku fluffs his lines in the opponents half the result is a tornado in the Everton defence"
Simply put, a Liverpool fan said to me the other night: "That yard dog is a liability for you lot. I wouldn't give you 㾻m for him. He set up most of our attacks."
Alan J Thompson
82
Posted 24/12/2016 at 14:19:35
Thank heavens we've got the accounting side sorted out. Perhaps now we can get back to the core business, playing football.
Oh,no, this is Everton, we do it the other way around. Sell the better players to balance the books.
"You don't need ٣mill to buy a ٣mill player". Now, who said that?
Brian Wilkinson
88
Posted 27/12/2016 at 01:27:19
If he wants Champions League football, take top whack off Chelsea and bring Michy Batshuayi in as part of the deal.
Kevin Dyer
90
Posted 27/12/2016 at 08:50:42
Peter (#80) et all: we get it, you don't rate him. I agree with some of your points actually, regarding the things he doesn't do well but that LFC fan was having a laugh. So a team that currently won't start ANY of their strikers wouldn't pay 㾻m for Lukaku. I think I have some magic beans somewhere...
Fact is, Lukaku is not a complete striker and to get the best from him we need to get our formation and/or shape right. A supporting striker or at least the other attackers playing closer to him. Sitting deep with our wide forwards deployed 5 yards in front of the fullbacks is not the way.
Lukaku is the most prolific and consistent goalscorer (his primary purpose, btw) we've had in decades. I think the fans of at least 15 EPL teams would be bemused if informed elements of the Everton fan base want shut.
Look at Defoe. The guy does no defending and contributes little to overall play yet where would Sunderland be without him? Spurs marginalised and eventually offloaded him due to his perceived faults but I don't think they were a better team without, except when Kane broke through.
Ricardo Gimpardsle
96
Posted 28/12/2016 at 12:51:21
Lukaku is paid primarily to score goals. This is something that he is actually very good at. Many fans can see that he lacks other attributes, I am sure his managers and coaches see it too, but why change him? It could be that when he becomes an expert at trapping the ball, he loses his ability to score.
I for one care little for his weaknesses. A good idea would be to play to his strengths. A second striker up top with him would allow more space for him more often and allow him to plough through defenders creating more chances.
It is interesting to see that Rom hits the target more often than others and his strike rate is fairly good too. But without making opportunities he will always frustrate the masses!!
Peter McHugh
97
Posted 28/12/2016 at 12:53:59
Lukaku is a class act.
Ricardo Gimpardsle
98
Posted 28/12/2016 at 12:56:59
Paul Smith (#54),
I see you are 45, so you must have been around for the time when we bought the likes of, Kanchelskis, Barmby, Speed, Ferguson, Dacourt to mention just a handful. I am sure you must have enjoyed these players when they strutted out at Goodison. It was not their fault that agent Johnson sold them all.
Brent Stephens
99
Posted 28/12/2016 at 13:03:03
Dave, I know contrary posts can be as long. It's just that Peter Roberts tends to be long and repetitive in most. And I know some responses to PR, including my own, do acknowledge Lukaku's limitations. It's just that his needle gets stuck. It is funny when that happens, though (control a pass, control a pass, control a pass, control a pass).
Kevin Rowlands
100
Posted 28/12/2016 at 13:30:12
Peter Roberts, spot on as per usual. I'm really hoping the club and Koeman are playing a blinder here: big him up, play the agent like a fool, hope he keeps scoring the occasional goal.
Then, keep fingers and toes crossed that some idiot club like PSG or a Chinese Super League club ignores his blatantly obvious flaws (like a few posters on here) and hands us £80 million. We will be a far better and much easier-on-the-eye team to watch when this lad is gone.
Tony Hill
103
Posted 29/12/2016 at 18:51:23
I try to keep out of the Lukaku debate or to express myself obliquely but I always compare him in style and superficial air of ineptitude to Drogba. Everyone thought that monster was a total clown when he arrived at Chelsea (older, of course, than Lukaku is now with a much less impressive record) and his apparent lack of touch and incompetence were notorious in those early days. We all know what happened.
As always, we will see what develops and I am not blind to the profound irritation caused by Rom's agent over the last couple of years. But I am going to say, contrary to the views on here of many whom I respect, that I think Lukaku is going to be an absolute beast for us and that we'd be utter fucking idiots to wish him out.
Of course, he may go regardless (and we may help him on his way) but if we create the sort of team that I am hoping for and that, far more importantly, I think Koeman is hoping for then Rom will pot them for fun and we will have one of the great premier league goal scorers.
This is a major work in progress, I sincerely hope we are the ones who see the finished product.
John G Davies
105
Posted 28/01/2017 at 12:33:11
That goes for every footballer in the professional game, Stan. It won't happen with Lukaku. I don't think Moshiri got to be a billionaire by business dealings such as allowing 㿞 million players to leave for nothing.
My point is, the players have a big say in it. If any player decides to sit their contract out, they force a sale.
---
Add Your Comments
In order to post a comment, you need to be logged in as a registered user of the site.
Or Sign up as a ToffeeWeb Member — it's free, takes just a few minutes and will allow you to post your comments on articles and Talking Points submissions across the site.