Koeman credits game-changer Valencia

21 Comments [Jump to last]
Monday 2 January 2017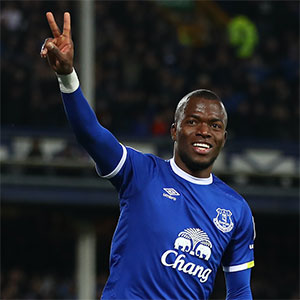 Enner Valencia scored his first Premier League goal in 31 appearances to set Everton on their way to a 3-0 win.
Ronald Koeman was pleased overall with Everton's 3-0 win over Southampton that saw his side kick off the New Year with three points against his old club.
Enner Valencia came off the bench and made the difference, breaking the deadlock and winning a penalty before Romelu Lukaku smashed in a third to put some gloss on what ended up being a fine win.
Koeman acknowledged that the Ecuadorian's pace what his side needed after another poor first-half showing and he also had praise for Tom Davies who made his first start under the Dutchman.
"The first half was not good. I think we missed some tempo in the game and every time the tempo was higher, we created opportunities to score.
"That was the problem in the first half. There wasn't that intensity in the game but we brought that in after half time and you see the final result.
"A clean sheet is always important because that's [all about] organisation. They did not have big chances… maybe at the end from Rodriguez but I think we did well defensively and much better in the second half than in the first.
After fielding three over-30s against Hull, Koeman named two teenagers in his starting XI this afternoon but lost Dominic Calvert-Lewin to injury after just 10 minutes.
It was hard luck on the young striker but Davies took his opportunity with a strong showing in the middle of the park alongside Idrissa Gueye who now departs for the Africa Cup of Nations.
"The reason to start with Dominic in the beginning was to have someone behind Romelu to make the runs and open the game," Koeman explained.
"It was unlucky [for] the boy that we had to change him but it's true that Enner when he came in… not only to score the goal but his whole performance — we needed his pace in the game.
"He is doing well. He's a young player and he needs time but he's physically strong. Two times he came off the bench and did well and, OK, his first start is also [to do with the fact that] we will miss Gana the next couple of weeks and we know we need to protect Gareth Barry sometimes.
"It's always good to have young players because it's always a good experience for them."
---
Reader Comments (21)
Note: the following content is not moderated or vetted by the site owners at the time of submission. Comments are the responsibility of the poster. Disclaimer
Tony Hill
2
Posted 02/01/2017 at 20:28:35
Valencia has been a real asset to us in what must be a very difficult situation for him in some ways. At the right price, I would give serious consideration to taking him on as a member of the squad but that may be unlikely I suppose.
Calvert-Lewin looked a bit out of it, I thought, in his substitute appearances but I was very encouraged by his style and energy today even in such a short appearance. Let's hope for a very quick recovery.
Minik Hansen
3
Posted 02/01/2017 at 20:52:29
He is finding his Ecuador national team form. I knew he'd turn things around, now let's wish he maintains his confidence.
Martin Nicholls
4
Posted 02/01/2017 at 21:03:24
Must admit I didn't rate Valencia but he turned the game today
Mark Tanton
5
Posted 02/01/2017 at 21:07:27
I thought he was pretty good at Hull. He provides energy and pace. I'd take him – he will indeed get better with game time.
Anthony Burke
6
Posted 02/01/2017 at 21:12:17
Sign him up; he looks the business, I say!
Alan Humphreys
7
Posted 02/01/2017 at 21:28:25
Then why not replace Calvert-Lewin with Valencia rather than Mirallas?
Paul Birmingham
8
Posted 02/01/2017 at 21:33:19
I definitely think Valencia, earned his pay today when he came on and he warmed up and played with guts and effort. Not quite like Inchy but some traits in the way he harries the opponents and closes them down.

Great result, still it's 90-minutes plus injury time, and over 38 games plus cups, so a long, long way to go before becoming capable of running the marathon and winning the EPL.

Ross Barkley's best game by a mile today but still consistency is needed; faster players around him seem to make his decision-making better? Let's hope for a good week ahead and some good transfer news soon.
Jim Bennings
9
Posted 02/01/2017 at 21:40:43
To be fair to Valencia he's looked a more useful player in the last few weeks than I gave him credit for.
Not a long term answer to the necessary quality needed to move us on to the next level that we require but for now he appears to offer more able back up than the likes of Kone or invisible man Niasse.
We can always be wise looking back in hindsight talking about why Mirallas was brought on ahead of Valencia for Calvert-Lewin but at the time nobody questioned it as Mirallas is as capable as any of producing a goal.
Let's just say today Koeman got his substitutions spot on and the later introduction of Valencia against a then tiring Southampton defence worked magic.
A good start to the year but we need to build and build and make a solid stable platform for a real top four assault next season.
Ciarán McGlone
10
Posted 02/01/2017 at 21:54:03
I thought the first 20 minutes of the second half was as bad as we've seen all season. First half wasn't great, but at least we strung some passes together. It came together in the end though.
Valencia may not be the greatest player in the world, but he plays with urgency and must be a nightmare to defend against. I hope Koeman takes what lessons he can from this and we're not back to Barry, Jags and an isolated Lukaku next game.
Jim Bennings
11
Posted 02/01/2017 at 21:57:31
What I'm hoping for is at least two quality acquisitions this month in the transfer window and then have a right good go during the summer and spend well but wisely on players that will move us forward.
The summer has to be when we attempt to move-on the dead-wood at the club too such as Gibson, Kone etc.
Des Farren
12
Posted 02/01/2017 at 22:37:14
"Valencia must be a nightmare to defend against."

I confess I have not noticed this level of ability from him up to now.
Kieran Kinsella
13
Posted 02/01/2017 at 22:56:27
I like Valenicia in the sense I liked Naismith. Will either ever be a top six start every gamÄ™ type? No... but theyre useful to have around and have plenty of heart.
Don Alexander
14
Posted 02/01/2017 at 00:21:49
Just watched his MotD interview and thought he put the onus very much in the board to deliver this month, or else. I'm with him.
I like the way he's conducting himself. He ain't perfect in what he says but if our players are men rather than wusses they'll appreciate it when he praises them and praise them he does IF, but only IF, they earn it.
It's the real-world, and way overdue to some of them who I think we're seriously damaged by that gobshite Martinez constantly bigging them up despite the ineptness they displayed.
The results are the clue and somehow he ain't doing too bad at all. With better players he may well do even better. He knows it, I believe it, and so it's time for the board to deliver.
NOW!
Charlie Lloyd
15
Posted 03/01/2017 at 00:23:06
Valencia made the difference today and, fair do, he deserves the accolades. He's not the long term solution but he's offering something right now.
Davies was pretty decent in his first start. He grew into the game and was prepared to carry the ball later on and not just release it like early on which shows he's got a trick in him. Great work rate throughout as well.
Let's be cautious though.
Barry came on and produced several passes forward that got us going. This is a strength of his game and shouldn't be forgotten just because he can't cover the ground at pace as before.
It's a transition period and patience is required as the new replaces the old.
Mark Andersson
16
Posted 03/01/2017 at 01:12:04
Don @14 personally I am looking forward to the transfer window as it will show if this club is moving forward or as usual just bullshitting.
I have said from the beginning that Koeman's appointment looked more based on what he did for Southampton than taking us up to the level we as fans deserve. Interesting times.
Mike Dolan
17
Posted 03/01/2017 at 05:39:50
Well said, Charlie. Ross seems to have grown up in the last few games. He is going to be an awesome player.
Peter Roberts
18
Posted 03/01/2017 at 11:39:52
Valencia proving many wrong. Like Naismith before him, he understands the importance of graft and team. A very likeable footballer who the team clearly like judging by the goal celebration.
Keith Monaghan
19
Posted 03/01/2017 at 15:33:01
Charlie @ 15 – great to read your common sense view.
Too many have foolishly written Barry off in the last 2/3 games – he made more telling forward passes when he came on than McCarthy's made all season and Ross made before he was subbed Mike @ 17.
When is Ross going to be an awesome player? How many more years will we wait to see that? 5+ seasons in Premier League already and still waiting for real signs of it.
Mike Dolan
20
Posted 04/01/2017 at 04:55:49
Kieth (#19). Barkley has always been an exceptionally talented player but he has always been a bit of a square peg who doesn't win the ball enough when he plays deep and doesn't score enough to be an out and out forward.His development really has suffered very badly when he broke his leg in several places and came within a breadth of losing his career.
Over his career up to this point he has looked magnificent on the ball sometimes but has seemed to shirk out of most physical contact which is a real handicap. But over the last few games something has changed in him its like the cloud has lifted and he is really throwing his weight around.
For me this is really a wonderful triumph for the lad because the monkey is off his back. It's taken a long time but finally we are seeing the real Barkley. It's great for the club, don't you think?

Trevor Lynes
21
Posted 04/01/2017 at 11:42:00
In all honesty no one seems to know what Ross's best position is.I reckon he is best suited to being an impact sub.He runs out of stamina after the hour mark as a starter.I am not knocking him as he is not the only player who suffers from stamina problems.Nearly all midfielders tend to flag and that go's for every club.We have quite a few including Barry, Mirallas, Deulofeu etc etc.That is why all the top sides have better quality squads as they can afford game changers sitting on their bench's.Only Valencia and sometimes Mirallas is a game changer from our bench.We have a real surplus of what I call drones.Players like Besic, Oviedo, Cleverley, McCarthy and Lennon come into that category.Spoilers in the main without real creativity in their game.I do not include McGeadie or Gibson in that bunch as they are just a total waste of money and would be sacked in any other industry.
Barry Jones
22
Posted 05/01/2017 at 17:57:34
Unlike most posters, I think Valencia DOES have quality. He is far from just a grafter.
---
Add Your Comments
In order to post a comment, you need to be logged in as a registered user of the site.
Or Sign up as a ToffeeWeb Member — it's free, takes just a few minutes and will allow you to post your comments on articles and Talking Points submissions across the site.