Middlesbrough vs Everton

108 Comments [Jump to last]
Friday 10 February 2017
Premier League Preview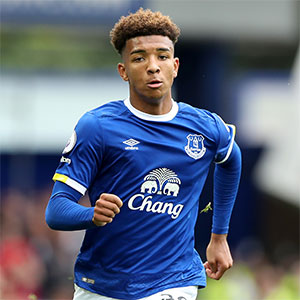 Mason Holgate could be recalled to a central defensive trio after starting the Bournemouth game on the bench
Everton make the trip to the Riverside for a Premier League game for the first time in just over eight years as they take on relegation-threatened Middlesbrough.
The Blues are looking to extend their recent unbeaten run in the Premier League to eight games which should maintain the pressure on the top six and keep alive the threat of closing further what was a nine-point gap. Indeed, Everton come into the weekend sitting just seven points off the Champions League places with 14 games left and 42 points up for grabs.
Based on his latest comments to the print media, Ronald Koeman is remaining realistic while allowing himself to see opportunity if Everton can keep winning and the sides above them stumble but it's matches like this weekend's trip to the Riverside Stadium that are going to be key to his team's chances.
The Blues have dropped vital points at the likes of Bournemouth, Burnley and Watford and Southampton — had they taken a draw in those four games, they would be sitting just one point behind Manchester United, the current occupants of sixth place — but if they can start collecting wins against bottom-half sides between now and the end of the season, then a finish in the European places is not out of the question.
"Everything's possible," the Dutchman said in his press conference yesterday when asked whether he thought Everton could sneak into the top four by the end of the season. "Everybody knows the Premier League is so tough. It's not about the opponent that you need to play.
"Look at Hull — they played Man United away, they played Liverpool at home and they have four points out of that. Every game is difficult and maybe our game this Saturday is maybe more difficult than Tottenham away.
"In my experience in the Premier League is sometimes you get more points from playing top-six teams than against teams that are fighting relegation. I won't make the mistake of thinking this weekend is different because it's a really tough one.
"It's all about yourself. The best way to be successful is always the [next] game; don't look further on because it's not important. What's important is now, who we play now.
"It's a difficult one because they're fighting for the points to stay in the Premier League and we know they can be really tough."
Middlesbrough may have won just four league games since they returned to the top flight and sit just two points above the relegation zone as a result but, as Spurs found out last weekend, they can very tough to beat because they don't concede many goals.
Indeed, they have the same defensive record as Everton coming into this weekend's meeting having let in 14 less than the next best defence among their rivals to beat the drop. Since losing 3-0 at home to Liverpool in mid-December, they've conceded at a rate of one goal a game at the Riverside, which suggests that, just as was the case at Crystal Palace and Stoke recently, Koeman's men will face a team that is difficult to break down.
As the Reds and West Ham have shown, however, if you can get at them early and score within the first half-hour or so, then your task becomes that much easier. In that respect, avoiding the early lapses that almost allowed Christian Benteke to head Palace ahead after eight minutes last month or the one that gifted Peter Crouch the chance to score his 100th goal around the same point of the game at the bet365 Stadium will be crucial for Everton's chances.
Encouragingly for the Toffees, if they can get off the mark first, Boro don't score many either — their return of 19 goals is the lowest in the Premier League and almost a third of them have been scored by Alvaro Negredo.
Once again, Evertonian eyes will be on the team sheet when it is announced an hour before kick off because, with the manager having options at his disposal in all areas of the pitch, there could be more changes to the starting XI, particularly in midfield.
Idrissa Gueye will be fully rested following his return from Africa Cup of Nations duty and Tom Davies will be champing at the bit to start but both will have to battle their way past the trio that started last Saturday. Rumours that James McCarthy was forced off against Bournemouth last weekend with a recurrence of his hamstring injury have not been substantiated and his fitness did not come up in the manager's presser but he will have done his chances of being selected again no harm with an assist and goal in the 6-3 win.
Morgan Schneiderlin, meanwhile, offered plenty of evidence to suggest that he could become a vital cog in the Blues' machine with his versatility and ability to move the ball around in the centre of the park.
In defence, a return to the back three system that Koeman dispensed with for all but the last 10 minutes against Bournemouth is on the cards, which could mean a recall for Mason Holgate. Further forward, after being handed his full debut and showing some wonderful moments going forward, Ademola Lookman will likely drop back to the bench, with Kevin Mirallas the probable beneficiary.
Kick-off: 3pm, Saturday 11 February 2017
Referee: Mike Dean
Last Time: Middlesbrough 0 - 1 Everton (26 December 2008)
Predicted Line-up: Robles, Holgate, Williams, Funes Mori, Coleman, Baines, Schneiderlin, Gueye, Barkley, Mirallas, Lukaku.
Full details: ToffeeWeb match page
---
Reader Comments (108)
Note: the following content is not moderated or vetted by the site owners at the time of submission. Comments are the responsibility of the poster. Disclaimer
Paul Baker
1
Posted 10/02/2017 at 00:29:25
I really like the suggested line-up and think it'll be the one to start. Boro are quite good defensively for a team of their position in the table, therefore I don't expect goals galore. A 2-0 win will like last season's in the league cup would be just fine.
Mike Gaynes
2
Posted 10/02/2017 at 00:58:08
Agree with your projected lineup, Lyndon. Boro doesn't have an Arnautovic to take advantage of Holgate's inexperience, and there's no blazing pace up front to discomfit Williams, so three at the back should be fine.
Negredo is quality but he relies on service from Ramirez and Downing, who can be smothered by our midfield... which is why it's time for Gueye to come back in the side, with Davies and Macca having to step aside for this week.
Interesting midfield matchup: Barkley versus our old boy Forshaw.
Bill Gienapp
3
Posted 10/02/2017 at 01:09:54
Middlesbrough are no push-overs. They struggle to win games, which is why they're in a relegation scrap, but they play almost everyone tough. A lot of 1-0 defeats on their resume, which is why their goal differential is only –8, whereas the likes of Hull are –25.
No reason we shouldn't keep a clean sheet, find the back of the net at least once and bank the full three points, but it may be a bit of a grind.
Sam Hoare
4
Posted 10/02/2017 at 01:57:55
It was interesting to see Donkor feature prominently in the first team training video this week. I wonder if he might nab a spot on the the bench...
Otherwise, I'd be pretty happy with Lyndon's starting line-up but would be equally with a 4-3-3 and Davies coming in for Holgate to start in midfield with Schneiderlin and Gueye. I think those 3 could be quite the midfield trio!
Craig Fletcher
5
Posted 10/02/2017 at 03:19:29
Kieran Kinsella
6
Posted 10/02/2017 at 04:17:12
I don't know about the back three cause they're pretty defensive so I think we might need to be a bit more adventurous with a back four but with the full backs roaming forward. If McCarthy or Gueye start they can provide coverage as needed.
I imagine this will be a low scoring affair so the first goal could win it.
Peter Anthony
7
Posted 10/02/2017 at 06:42:25
Hit the pace from the first whistle, full intensity, full focus, high tempo, sharpness all over the pitch. Let's get into these for 95 minutes, fresh legs off the bench when needed to keep the intensity. Put in the effort and the quality will come through.
Believe, fight. Please lord, hear my prayer!... Lukaku, Mirallas, Barkley to keep the goals flowing and a clean sheet. COYB. We can keep this winning momentum. Keep Clinical; Koeman's Killers.
Kieran Fitzgerald
8
Posted 10/02/2017 at 06:52:21
Sam, is Donkor eligible for the first team squad? Showing my ignorance here but I thought he was signed for the U23 squad. It would make more sense as a signing if he was eligible for the first team.
I hope he does start to make the bench. Him, Sambou and Calvert-Lewin between them should give us some hope of finding a striking option behind Lukaku.
Dan Egerton
9
Posted 10/02/2017 at 06:54:03
Kieran, a team can have a set number of senior players but, due to his youth, it doesn't matter.
Gareth Clark
10
Posted 10/02/2017 at 07:37:26
Agreed with the starting line completely!
The bench will probably be:
Stekelenburg, Jagielka, Barry, McCarthy, Lennon, Lookman, Valencia.
I'd actually prefer Donkor or Kenny on the bench, instead of Lennon, to be honest.
The line-up allows us to bring on what we need, when we need it, off the bench also. Jagielka, Barry & McCarthy to finish the game off with a bit of experience & calmness. Or change the game, with a bit of energy & skill through Lookman & Valencia. Or give a chance to a youngster if the situation allows it.
I like Mirallas's work ethic on defense – that's why I'd go with him over Lookman.

Ian Bennett
11
Posted 10/02/2017 at 07:38:01
Lyndon's team for me, with Lookman, McCarthy and Barry coming on when needed.
Hope we can keep ball and create without Barry.
John G Davies
12
Posted 10/02/2017 at 07:59:43
A difficult team to score against on their own ground. They have conceded less than a goal a game at home.
The key is the first goal; if we score it, they have to come at us, leaving space for quick counter-attacks. If they score it, they will sit deep with two banks and encourage us to look for crosses as opposed to playing through them. They are good in the air in defence.
As the manager says, while being realistic, we can put a run together who knows where we can finish. Good to see the ambition back in the Evertonian ranks, a lot of our fans talking top 5 or 6. The improvement in the team has encouraged this, we are heading in the right direction.
Jim Bennings
13
Posted 10/02/2017 at 08:45:04
It won't be an easy game but, if we are serious about mounting an assault on Manchester United and Liverpool above us, then this is a game we need to take three points from.
Yes Boro are quite tough defensively but the goalscoring return and win ratio is abysmal from a reason, they have won four games all season and the highest ranked side they have beaten is Bournemouth.
To me that says it all about their lack of quality and we need to make our class tell and not get involved in a scrap, get an early advantage to really put them on the back foot and we should be able to pick them off on the break after that.
We had a real wobble against the likes of Watford, Bournemouth away, Burnley (fair enough, they are good at home) but we can't afford another at Middlesbrough, we need to go there tomorrow and get the win.
Tony Hill
14
Posted 10/02/2017 at 09:12:51
I'm worried about this one but then I always am. Another Palace result would be fine but I hate these away games. It would be lovely if for once we could get early goals away from home so we can enjoy it.
Sam Hoare
15
Posted 10/02/2017 at 09:28:22
Kieran @8, I believe Donkor would be eligible and that youth players can step up to first team if needed. He was certainly signed for the U23 squad but is one of those impressing.
Pennington also featured in the first team training video but seems they particularly edited Donkor into it. May just be coincidence but if he has impressed Koeman then perhaps he might make the bench tomorrow or sometime soon.
Chris Williams
16
Posted 10/02/2017 at 09:52:22
Fast intense start, don't concede, then score first, control the game, sit on Traore, pick them off again. And again.
3 nice points, bring on Sunderland. Repeat.
Barry Pearce
17
Posted 10/02/2017 at 09:53:52
Gareth (#10). Surely Davies on the bench at the very least instead of Lennon.
He starts for me, but it depends which system Koeman decides to start with.
Sam Hoare
18
Posted 10/02/2017 at 10:02:15
It feels about time for an Everton speed bump. We miss a few early chances and then after half-time they nick one from corner that bounces off knees and arses and then manage to hold on grimly till the final whistle?
Hopefully not. Nothing is guaranteed in the Premier League as an out of form Watford showed at the Emirates last weekend.
They are solid in defense and many people were advocating Negredo this Summer but I think if we work hard and show the sort of improved movement and tenacity that we have been in the last month or so then we've got a decent chance. Concentrate at the back coz that first goal will probably be vital!
Phil Walling
19
Posted 10/02/2017 at 10:14:24
No great lobby for Davies to be included, probably because of his lack of experience. One thing for certain is that he won't get that cooling his arse on the bench!
Schneiderlin was a luxury signing brought about by his previous association with Koeman. I hope he proves worth all that money!
Terry Underwood
20
Posted 10/02/2017 at 10:26:09
Winnable, but the RS must have thought the same about Hull... Chickens and hatching comes to mind... not being pessimistic here, just a word of caution to all those already celebrating a win.
Still hoping for 3 points.
COYMB
Shane Corcoran
21
Posted 10/02/2017 at 10:30:35
Traore's acceleration and speed are incredible. He doesn't seem to have the know-how to go with it yet though but we'll have to be vary wary of him. I also find it incredible that Boro have only won four games this season.
The Blues aren't great at getting at teams that sit back so it's hugely important not to concede early. A potential banana skin no doubt but one we should win.
Paul Baker
22
Posted 10/02/2017 at 10:53:14
Traore might be one of the best dribblers and one of the fastest guys to currently play in the Premier League, but in front of opposition's goal he's less productive than Funes Mori. In the last 1½ seasons, he scored 1 goal (against the fourth tier Notts County) and assisted two another – and that's it.
Robert Leigh
23
Posted 10/02/2017 at 10:56:35
I agree with Lyndon's lineup, though Davies is unlucky our best player for Koeman's system is now available in the middle (he was our best until he went to AFCON).
I wouldn't be surprised to see a Barry-less bench for this one; Jags covers the defense (though Barry could in a back 3), McCarthy & Davies would 'get-at' Boro if we needed to more than he would, and in Schneiderlin we now have the calming influence if needed. Add that to a couple of attackers & a keeper and there's no room! Lennon also now covers the wing-back roles and the front three.
Subs: Stekelenburg, Jagielka, McCarthy, Davies, Lookman, Valencia, Lennon.
Peter Gorman
24
Posted 10/02/2017 at 10:57:22
I half agree with you Phil, Davies can only get better by playing but let's all be honest, has his lack of experience proven a hindrance thus far? In bossing nearly every game? Shouldn't even be mentioned.
But calling Schneiderlin a luxury? No mate, he is the best midfielder now on our books, Gana included. Whether or not he was a priority signing is another debate but he has more class than anyone in midfield as much as I love them all. If we want to go places, let's buy better players.
Clive Rogers
26
Posted 10/02/2017 at 11:16:29
Williams was awful last week, really slow, and it might be time to rest/drop him for Pennington if he's up to speed.
Graham Mockford
27
Posted 10/02/2017 at 11:53:20
It's actually good to see how much competition we now have for places in central midfield. I can't see how that is now considered a 'luxury'.
I wouldn't worry about Davies, he will get plenty of game time whether starting or off the bench. This will be Barry's final season I suspect.
I would go Schneiderlin, McCarthy and Davies tomorrow but I think it will be Barry instead of Davies.
I'm sure he will replace Lookman with either Mirallas or Holgate depending on formation.

Bill Griffiths
28
Posted 10/02/2017 at 12:19:49
Paul (#22), he's a cert to score against us then, isn't he?
Colin Glassar
29
Posted 10/02/2017 at 12:24:20
Anyone else having problems accessing TW today?
Brian Furey
30
Posted 10/02/2017 at 12:36:25
I've given up trying to predict games and teams any more. Before November we were all worried about losing Gana and Bolasie to the AFCON yet we beat Southampton 3-0, City 4-0 , lost to Leicester in the cup and beat Palace 0-1 away.
We now have so many good CMs on form that we can rest Gana and still beat Bournemouth 6-3 where I thought we would struggle to break them down.
I am surprised at all this talk of Donkor being promoted to the first squad. I thought he was just a backup for the U23s but has he done very well there?

Andrew Clare
31
Posted 10/02/2017 at 12:44:14
This game, as always against a well organised defence, is all about getting the early goal. Our Achilles heel is the centre of our defence. The rest of the team are playing well. We have to win this one to keep the momentum. I think we will have too much for them.
Geoff Williams
32
Posted 10/02/2017 at 12:45:19
Why is Williams automatically included as he has been poor of late? I would prefer Pennington or Jagielka. I would play Schneiderlin, Gueye and McCarthy with Davies coming on after about an hour.
I wouldn't start with Mirallas as the width would come from Baines and Coleman. Barkley being given a free role in support of Lukaku.
Colin Glassar
33
Posted 10/02/2017 at 12:52:41
Strange. When I type in ToffeeWeb I get 'server default problem' but if I click on news, or any other link, I can access TW. Bloody annoying!
Paul Baker
35
Posted 10/02/2017 at 12:57:34
@Bill (#28):
True, that would be quite typical of Everton.
@Brian (#30):
That is indeed puzzling. We have enough quality in the first team and apart from that, Besic is almost fit and Gana has returned from AFCON. Therefore I don't see any place for the U23s on the first team bench.
@Geoff (#32):
To be honest, Williams hasn't been that poor, and of all four centre-backs, he's been the most consistent. Boro away is a potential banana skin, so I for one wouldn't risk unbalancing the Holgate - Williams - Funes Mori trio and especially not by playing Pennington, who – for all his qualities – hasn't played a minute this season for the first team.
Chris Gould
36
Posted 10/02/2017 at 13:00:21
Phil, you're being mischievous again. Calling Schneiderlin a luxury is nonsense. The guy oozes class and moves between the defence and midfield effortlessly, bringing a calmness to the team that is already clear to be seen. Can't believe Man Utd couldn't find a place for him.
Our options coming off the bench into midfield are now fantastic. The energy and ability that we can now bring on in the 2nd half will be frightening and a real game changer.
Imagine being tackled and run ragged by Gueye and Schneiderlin for 60 mins to then see McCarthy and Davies come and continue the battering (not forgetting Barry).
I think we are in for an exciting run-in. Our boys are fit, focused, and hungry.
Colin Malone
37
Posted 10/02/2017 at 13:24:59
Got to bring Jags back for Williams.
Jon Withey
38
Posted 10/02/2017 at 13:33:21
Barry is still one of our best players, I can't imagine we'd have a bench without him, even if 90 minutes is an ask.
Terence Tyler
39
Posted 10/02/2017 at 13:42:24
Colin@33, I had same problem since yesterday, but now seems okay.
Nev Renshaw
40
Posted 10/02/2017 at 13:44:37
A team we should beat so long as we don't take them for granted. We've slipped on too many banana skins over the seasons. COYB.
Colin Glassar
41
Posted 10/02/2017 at 13:46:19
I can get on almost everything Terence but not the home page. I can get it (homepage) on my phone and wife's tablet though which is weird.
Franny Porter
42
Posted 10/02/2017 at 13:52:09
I know there are no "gimmes" in this league, but if we want to be taking the next step and catching up with the two above us (in every aspect) we need to be putting rubbish like Boro to the sword.
Brian Cleveland
43
Posted 10/02/2017 at 13:58:32
Any idea how far Barry is off the Premier League appearances record now? I think he'll need to play just about all games until the end of the season to be more or less level, anyone got the stats on that? Would be nice to see him break that record.
Chris Leyland
44
Posted 10/02/2017 at 14:02:33
Brian, he has 616 appearances, which is 16 off Ryan Giggs record of 632
Colin Glassar
45
Posted 10/02/2017 at 14:03:25
Sorted! 0-3 Everton.
Brian Cleveland
46
Posted 10/02/2017 at 14:06:50
Thanks Chris. After posting I decided not to be so lazy and decided to go and count it myself, and I thought he was now on 617, but anyway close enough for now, 15 or 16 behind, which means he needs to play next season too to beat Giggs.
Robert Fleetwood
47
Posted 10/02/2017 at 14:17:05
Anybody got spare tickets for boro tomorrow. I need two. Thanks, utft.

Rob Halligan
48
Posted 10/02/2017 at 14:18:57
Colin, have you tried typing in "Liverpool football club", and it comes back saying "disappeared into a black hole"?
Terence Tyler
49
Posted 10/02/2017 at 14:27:13
Colin. Stated on Schneiderlin thread, others having same problem. See Ray@ 95. Nice one, big Rob.
Colin Glassar
52
Posted 10/02/2017 at 15:33:23
It's working now Rob. TBH, that lot dominate the www like a bad smell. They are everywhere.
Mike Powell
53
Posted 10/02/2017 at 15:38:02
That looks like a good solid starting eleven. Davies to come on in the second half.
Middlesbrough are a hard team to break down; they defend well. This will be a different sort of test to Bournemouth; it will be very close... we always find it hard to break these kind of teams down.
If we have any chance of getting into the top four or five, we need to win this type of game. COYB
David Price
55
Posted 10/02/2017 at 15:50:59
I believe Middlesbrough have been to southern Spain for warm-weather training and arrived back today. It's bloody freezing here in the UK, can you imagine them running on the pitch on Saturday after topping the tan up for a few days.
Meanwhile our boys have been snarling their way through intense training sessions, growing another layer of skin against the cold.
I wonder who will be better prepared on Saturday...?
Cue the biggest away win of the season.
COYB...
David Connor
56
Posted 10/02/2017 at 16:12:40
Come on, boys. Nice strong finish between now and the end of the season. Keep the pressure on both them red bastards above us and you never know, European footy could be ours next season.

You would think we need Europe to entice any top players to Goodison in the summer. And keeping the big man up front fit is key. He is on fire at the moment.

European footy and the golden boot winner next season... We can only dream, can't we?
Brian Furey
57
Posted 10/02/2017 at 16:51:22
It would be nice to be only 3 points behind the RS this weekend should they lose to Spurs and we beat Boro. Often games don't go as you expect and they do seem to do better against the top 6 teams who want to come out and play but Spurs are unbeaten at home. They have only conceded 5 goals at WHL. We only had conceded 7 up until last weekends crazy game.
With Ireland in rugby at 2:30, Everton 3pm, Liverpool 5:30 and then my GAA team Tyrone v Dublin at 7pm, it will be a busy Saturday.
Steavey Buckley
58
Posted 10/02/2017 at 16:52:55
Tomorrow, Everton must be aware that Middlesborough, with 1 point off the bottom 3, will be all over Everton like a hot rash as soon as the whistle blows to start the match.
In this type of atmosphere, Everton cannot afford the luxury of Mirallas starting, because you don't know if he will put a shift in. Asking Lookman to start may be too much for him.
Everton should start with Robles in goal and a back 3 of Holgate, Williams and Funes Mori.
In midfield, Everton should have Baines and Coleman as wing backs alongside Gueye, Davies, Barkley and McCarthy. Upfront should be Lukaku. Davies and Barkley should team up to support Lukaku, as the lone striker.
So far this season, Gueye and McCarthy have shown they have been the best midfield pairing, because they get in the face of the opposition.

Brent Stephens
59
Posted 10/02/2017 at 17:04:18
Brian (#57)
"With Ireland in rugby at 2:30, Everton 3pm, Liverpool 5:30 and then my GAA team Tyrone v Dublin at 7pm it will be a busy Saturday."
Struth, when do you find time to do the washing and ironing?
Paul Jobling
60
Posted 10/02/2017 at 17:14:10
Anybody travelling up to Boro tomorrow with spare tickets give me a shout on 07905505815.
I'm a blue from Boro so can meet at the ground or a pub.
Jay Harris
61
Posted 10/02/2017 at 17:51:30
I can't believe all the hype about Schneiderlin. To my eyes, he is still settling in and plays far too deep although I can't see him being dropped as he seems to be a leader on the pitch.
Tom Davies has been all we needed and more so for me he would be a definite shoo-in and Gueye as our midfield dynamo has no peers so time to give James a rest and make Barry a benchwarmer (no disrespect intended).
Three at the back seems to suit Seamus and Bainesy so it's Barkley and Rom up front.
Mike Gaynes
62
Posted 10/02/2017 at 17:51:53
Geoff (#32) and Clive (#26),
Pennington is coming off a loooong injury layoff and only recently rejoined the U23s. He was brilliant (according to Unsy) in the win over Arsenal this week but he's nowhere near ready for first-team football. Maybe in the spring?
Craig (#5), you're right, I overlooked Traore, but given his part-time status and complete lack of productivity (per Paul #22), he's easy to overlook. Royston Drenthe – who, BTW, is now listed as "retired" at 29 – was a scoring machine compared to Traore.

Charlie Lloyd
63
Posted 10/02/2017 at 18:03:53
Jay @ 61.
Schneiderlin I thought, though deep, was excellent against Stoke. He sat in there and displayed great knowledge and passing (mostly!).
Against Bournemouth he was impressive in the first half. But the whole midfield lost their way a bit first 20 mins of the second half. The introduction of Davies coincided with us getting back control.
For me, I'd go for Schneiderlin - Gana - Davies as a middle 3 where possible. We do need to not overplay Davies though but when you've also got McCarthy and Barry, what a great choice to come in.
Terry White
64
Posted 10/02/2017 at 18:31:27
Brian (#57), not sure about the pertinence of your comment about the number of goals Spurs have conceded at home as the game is being played at Anfield. They are still difficult to score against away from home, however, but are likely to come out to try and get the win.
Robert Workman
65
Posted 10/02/2017 at 18:33:04
Why oh why would any Evertonian watch the RedShite? I have never and will never understand!
John Pierce
66
Posted 10/02/2017 at 19:28:11
'Boro not a hugely physical side. So no need to have too much of a defensive outlook on things. Lining up 3-5-2 is most likely, balanced and all the players look comfortable in that set up. Gana to hold, Morgan & Davies to press but with an emphasis on getting forward.
Ross gets the nod up top with Rom. As long as we win the ball high up the field Ross with be okay there. Should we pick Barry and or McCarthy, we are likely to be deeper; Ross would drop deeper and we know often Rom becomes and island.
They've not won since December, and score very few goals. Score first in this one and we should have a decent chance. Barry is there to close it out should we need to. Lookman to change if it goes tits up.
If Koeman wants to shoehorn in a 4 man midfield, by playing a back 4, we might get away with it as, Traore apart, they have no great pace in their side.
Actually an arguement for Jags getting a game, both Williams and Funes Mori are not good enough and neither is Jags so hey what could it hurt?
Whilst the jury is out on Galloway he must be sat in the Midlands thinking he is missing out.
Comfortable 2-0. No fears here .
Craig Fletcher
67
Posted 10/02/2017 at 19:30:05
Robert (#65), at the moment I enjoy watching the Redshite play, in the same way I enjoy watching Comedy Central.
Stan Schofield
68
Posted 10/02/2017 at 19:34:04
Robert@65:
I've got red mates, and sometimes went to Mordor with them in the 70s, but they reciprocated with visits to Goodison. Haven't done it since then though, and don't bother watching them apart from on MotD after they've lost. Generally, can't be arsed watching them running around like headless chickens with their 'gegenpressing', from which they might be running out of steam now.
David Hallwood
69
Posted 10/02/2017 at 19:37:43
I'm a long-term critic of 2 holders in MF, but just to be different for the remaining away fixtures, I'd go for 3!! And my team would be
Robles, Coleman, Williams, Funes Mori,Baines,
Schneiderlin, Gueye, McCarthy
Davies Barkley,
Lukaku
The reasoning is that there's energy all over the park, and it means that Coleman, Baines & McCarthy can bomb forward without leaving huge gaps, leaving Davies & Ross to support Lukaku but they can also throw a tackle in when not in possession, so it's not as negative as it appears.
The chances of this being the team is nil, but I would like to see it if not vs Middlesbrough then certainly vs Spurs.

Peter Lee
70
Posted 10/02/2017 at 20:13:24
David, my view of Everton's line-up at Stoke was that Koeman played a three but with just Schneiderlin sitting in. Davies and Berkeley played either side and 5 yards forward. It didn't work well. Our back five was a three because the full backs were pushed on. This cost us their goal as they kept hitting the spaces behind the fullbacks. Schoolboy stuff really. Coleman pushing on got us the equaliser though.
Second half we went to a four at the back and, bizarrely, swapped Berkeley to the right and Davies left. Berkeley then looked totally lost.
Not an argument against three but a good argument against that three and the original shape I think.
Whilst the reports here do a good job of reporting the action we don't get enough of a more detailed tactical analysis. There used to be a bloke with a site who did this superbly well for every Everton game. Can't remember the site's name, he stopped a while ago sadly.
Dermot Byrne
71
Posted 10/02/2017 at 20:34:34
I like that team, David H.
Andy Crooks
72
Posted 10/02/2017 at 20:43:57
Robert (#65), simple, you watch until a goal is scored, if they score it, you switch off. Believe me, there is much enjoyment to be gained from their recent shiteness.
Lev Vellene
73
Posted 10/02/2017 at 20:58:16
Jay (#61),
Schneiderlin has been doing what we'd all like Barry to keep doing past his by-date, and for more than 60 minutes! Give him more than two-three games to settle in, then moan! I expect Koeman will be playing all his midfielders up against each other to see who finally makes the cut!
Make no mistake, I still want Davies, Holgate (and even Galloway in time) (+++) in there.
But the kids (!) still need to feel some opposition! So let us play our experienced midfielders for some games until they maybe get hammered (I pray not!) like Holgate in defence vs Stoke, then let the other youngsters come on to wow the old fogies if those also messed up at some point!
Paul Kelly
74
Posted 10/02/2017 at 21:17:20
Peter@70,
"The Executioners Bong" was it?
Tony Hill
75
Posted 10/02/2017 at 21:20:14
Have a look at Schneiderlin in our 21-pass move for the Rom hat trick last weekend. He is still only three-quarters fit but his class is unmistakable.
He has the capacity to look unhurried which, as we all know, is one of the main markers of sporting excellence. Clever with it and hard-minded. I'd make him captain for the start of next season.
Peter Lee
76
Posted 10/02/2017 at 21:23:55
That was it, Paul, sadly missed.
Barry Morrison
77
Posted 10/02/2017 at 21:36:06
Callum McManaman has just come off the bench for Sheffield Wednesday. We've come a long way from when people were touting him as a serious option for us! It wasn't that long ago either.
Jay Harris
78
Posted 10/02/2017 at 22:05:29
Lev (#73), I wasn't moaning about Schneiderlin, I was making the point that he is still settling in and has yet to stand out imo but some posters think he's the best MF on the books.
James Stewart
79
Posted 10/02/2017 at 22:39:48
I don't think that will be the line up and nor should it be. 5 at the back works against the better sides when we have to contain for large periods of the game but it is completely redundant against sides who just sit back and counter.
We need the extra player further up the pitch against Boro and not playing Davies would be madness. He is in electric form and brings out the best in Barkley. 4-3-2-1 all the way.
Robles
Coleman, Williams, Funes Mori, Baines
Gueye, Schneiderlin, Davies
Lookman, Barkley
Lukaku
Tony Dove
80
Posted 10/02/2017 at 22:54:25
James@79. Totally agree. How anyone thinks we are better off without Davies is beyond belief. He might well tire later on in the season but so what.
We only played well against Bournemouth when he came on and Ross is twice the player alongside him.
Tony Hill
81
Posted 10/02/2017 at 23:18:33
Superb comments reported from Koeman on Martinez's critique of our defence; nails Roberto.
Also, very interesting on his approach to Barkley, revealing (in a backhanded way) just how highly he rates him. How could someone of Koeman's excellence not recognise the same in one of his own players and, more importantly, engender confidence in the player?
The more I see and hear of this man, the more embarrassing (even if rational at the time, I say) is my call for him to be sacked before Christmas.
Mike Gaynes
82
Posted 11/02/2017 at 00:33:51
Good on ya, Tony. Well done to hold your hand up. Few have.
Mick Davies
83
Posted 11/02/2017 at 01:27:00
Tony Dove @ 80, are you really saying that we never played well in the first half?

Paul Johnson
84
Posted 11/02/2017 at 01:34:12
4-3-2-1 for me.
Robles
Coleman
Williams
Funes Mori
Baines
Barry
Gueye
Schneiderlin
Barkley
Davies
Lukaku
Goals there and plenty on the bench (Valencia, Mirallas, Lookman) if we need it. Boro are no big shakes going forward so the fullbacks can still get forward and Barry can drop deep when required to cover them. I tried like mad to find a place in the starting eleven for McCarthy but Idrissa gives us a bit more. I would keep McCarthy though, to fill Barry's boots next year.

William Cartwright
85
Posted 11/02/2017 at 05:41:48
Amidst all the Roberto remarks nonsense, and Ronald's excellent measured response, we have a team moving forward, onward and upward and that is better than all the bullshit in the world. Onto the Middlesboro game and I think the inclusion of Davies would work and James's team selection nails it for me.
If we get maximum points from the Middlesboro and Sunderland games, and I believe we will, and if Spurs tonk the RedShite, then the derby should be really interesting...
Neil Wood
86
Posted 11/02/2017 at 08:11:48
Morning all!
Robles
Coleman, Holgate, Funes Mori, Baines
Schneiderlin, Davies, Gueye
Barkley
Lookman, Lukaku.
Ciarán McGlone
87
Posted 11/02/2017 at 08:26:10
Schneiderlin, Gana, Davies, Barkley and Lookman please.
I don't like this five man defence - or 3 centre halves. If we are under pressure then Gana can drop back into defence.
We have an embarrassment of midfield talent. Let's use it.
Peter Gorman
88
Posted 11/02/2017 at 09:03:47
Jay, some fans think Schneiderlin is the best midfielder on our books despite the fact he is settling in because their memories stretch back beyond the latest transfer window.
Christopher Timmins
89
Posted 11/02/2017 at 09:25:59
A hard game today at the Borough. They are good at the back and will play as if they were the away team.
Let's hope all the recent talk of challenging the top six is still on track at 5:00 this evening. Will be happy with a 1 - 0 victory.
Robert Leigh
90
Posted 11/02/2017 at 09:48:53
Neil (#88)
Love that team and hope to see it over the next few weeks, and indeed ideally next season. But Middlesbrough away isn't the time to chance a Holgate - Funes Mori centre-back axis;, we need an experienced head in there and for me that has to be Williams.
Matthew Williams
91
Posted 11/02/2017 at 10:32:14
Nervy moments will come throughout but the Blues will come through this one.
2-1 Blues...Onwards.
Brian Harrison
92
Posted 11/02/2017 at 10:34:30
There are no easy games in the Premier League, as recent results have proven; last week, Spurs needed a penalty to beat Middlesborough.
But confidence is high at present and even more pleasing is the competition for places, which keeps players on their toes.
Middlesborough don't score many I think they have only scored 19 league goals, but they seem to be difficult to beat. I will happily take a 1-0 win today and keep our run going.
Andrew Clare
93
Posted 11/02/2017 at 10:55:54
If he plays, I think Lookman could be the key in this game. Boro have a very well organised defence and I think individual skill will be the way to unlock it. Run at them with ball. Keep it wide and use the wings. Barkley should also be instructed to run at them.
It's going to be tight but we now have a lot of quality in the team and we are much better than when we defeated them earlier in the season at Goodison.
Brian Wilkinson
94
Posted 11/02/2017 at 13:01:57
I think it started with the cup defeat, Ronnie tried to make a point in the transfer window and played Davies, with this it has given Ronnie food for thought and has helped other youngsters to push for a start.
The additional players he brought in have fitted in well, Barkley and Mirallas have stepped up a level, we are no longer carrying many passengers in the team.
It will be tough at Boro, but we have the squad to get a result.
Dan Egerton
95
Posted 11/02/2017 at 13:30:20
I like that line-up. Williams plays better as part of a back 3 with 2 wingbacks. When we play 4 at the back he is poor.
Martin Mason
96
Posted 11/02/2017 at 13:38:05
Just saw a very interesting statistic. Peter and Kasper Schmeichel are the only father and son to have won Premier League Championship medals. The amazing thing though is that Liverpool FC failed to win the same Championship, from Peter's first to Kasper's last year.
George Cumiskey
97
Posted 11/02/2017 at 13:56:33
Going off thread here but I'm watching the Arsenal game, and I've just witnessed two of the worst refereeing decisions ever. If Clattenberg is our best ref, we are in trouble! By the way Niasse is having a good go.
Brian Cleveland
99
Posted 11/02/2017 at 14:04:03
George, I assume you're talking about the handball goal and the mere yellow for the last man? Ridiculous.
Robert Leigh
100
Posted 11/02/2017 at 14:04:57
Robles
Coleman Williams Funes Mori Baines
Gueye Schneiderlain Davies
Barkley Lukaku Lookman
No Mirallas or McCarthy on the bench
Steve Woods
101
Posted 11/02/2017 at 14:05:10
Everton
1 Robles
23 Coleman
5 Williams
25 Funes Mori
3 Baines
26 Davies
17 Gueye
2 Schneiderlin
31 Lookman
10 Lukaku
8 Barkley
Substitutes:
6 Jagielka
9 Koné
12 Lennon
18 Barry
19 Valencia
22 Stekelenburg
30 Holgate
Referee: Mike Dean
Brian Cleveland
102
Posted 11/02/2017 at 14:06:46
One hour before the game and the official site is still down for maintenance? Who does maintenance at one of your peak access times?
Colin Glassar
103
Posted 11/02/2017 at 14:08:21
Good team selection.
Raymond Fox
104
Posted 11/02/2017 at 14:11:44
I can't see us losing this, but a draw is probably the most likely outcome. If anyone is going to win the game though, it will be us!
I just hope that's not put the mockers on it.
Geoff Williams
105
Posted 11/02/2017 at 14:12:24
Very strange bench.
Robert Leigh
106
Posted 11/02/2017 at 14:14:02
Forgive my ignorance gents; what's the Global TV link?
Colin Glassar
107
Posted 11/02/2017 at 14:15:07
It just needs to be reupholstered, Geoff!
George Cumiskey
108
Posted 11/02/2017 at 14:16:02
Brian (#99), yes, unbelievable!
Brian Cleveland
109
Posted 11/02/2017 at 14:19:10
George, and now a red for a handball, that's a correct decision, but inconsistent!
Ian Smitham
110
Posted 11/02/2017 at 14:19:37
George and Brian (#99), here is a list of the sending off offences: Last man does not feature:
SENDING-OFF OFFENCES
A player, substitute or substituted player who commits any of the following offences is sent off:
● Denying the opposing team a goal or an obvious goal-scoring opportunity by deliberately handling the ball (except a goalkeeper within their penalty area);
● Denying an obvious goal-scoring opportunity to an opponent moving towards the opponents' goal by an offence punishable by a free kick (unless as outlined below);
● Serious foul play;
● Spitting at an opponent or any other person
● Violent conduct;
● Using offensive, insulting or abusive language and/or gestures;
● Receiving a second caution in the same match.
A player, substitute or substituted player who has been sent off must leave the vicinity of the field of play and the technical area.
Brian Cleveland
111
Posted 11/02/2017 at 14:22:52
Ian, OK granted it might not say last man, but it denied an obvious goal scoring opportunity, because he was last man!
Now of course ESPN in LatAm now banging on about Alexis being top league goalscorer. Come on, Rom, you need another two at least today!
George Cumiskey
112
Posted 11/02/2017 at 14:23:22
Ian (#112), What happened to being the last man and fouling a player running in on goal!
John Pierce
113
Posted 11/02/2017 at 14:29:43
They have altered the sending off law interpretation to factor in an last man situation to take account of the players 'genuine' attempt to win the ball.
A little absurd I think, but should you bring the player down making a genuine attempt to win the ball, yellow it is.
Pulling someone back, a tackle from behind etc. gets you the red.
One could easily argue Gibbs couldn't win the ball, so just barged into him, so not genuinely trying to win the ball. I thought it was red myself as he made no attempt to tackle him.
Lucky.
Ian Smitham
114
Posted 11/02/2017 at 14:36:21
George, they call it a DOGSO, and is outlined here:
denying an obvious goal-scoring opportunity to an opponent moving towards the opponents' goal by an offence punishable by a free kick
It is a bit about interpretation of "obvious" but I bet would pretty well all agree when it is obvious, probably why that word is used
If a guy had fouled Ross last week after he had gone past the goalie, I would have seen it as obvious, but as it happened, I like many in the ground I bet, had a fleeting thought of: What if he misses? That said, a trained professional on a perfect pitch, no-one in the way, what could be more obvious?
Add Your Comments
In order to post a comment, you need to be logged in as a registered user of the site.
Or Sign up as a ToffeeWeb Member — it's free, takes just a few minutes and will allow you to post your comments on articles and Talking Points submissions across the site.