Everton vs Chelsea

88 Comments [Jump to last]
Saturday 29 April 2017
Match Preview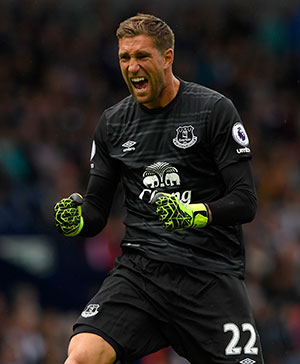 Maarten Stekelenburg is expected to start in goal again after being given back his place last weekend
Everton's penultimate home game of 2016-17 is a high-profile one as double-chasing Chelsea come to Merseyside.
The Blues are virtually guaranteed a place in Europe next season by way of a top-seven finish but there is still the chance of finishing higher if they can string together a sequence of wins at home and away over the remaining four games of the campaign.
Opportunity has knocked for the Blues in recent weeks but for varying reasons — a stoppage time goal at Old Trafford, another weak performance at Anfield and last weekend's awful display at West Ham — they haven't been able to take advantage.
It means that the prospect of a sixth-place finish, the extra Premier League prize money and the avoidance of a July start to the Premier League that go with it, is looking to be a taller order for Ronald Koeman's team but while it's mathematically possible, hopefully the manager won't be counting anything out.
Arsenal have re-found some form as the pressure was mounting on Arsene Wenger and Manchester United's long unbeaten record has continued but the Red Devils have a tricky run-in that involves trips to The Emirates, White Hart Lane and Southampton's St Mary's Stadium and a home clash with current spoilers Crystal Palace on the final day. They still have a game in hand and the Gunners have two, however, so Everton will need some help from other teams of they are to be in with a chance of improving on the seventh-placed berth they have occupied since December.
First, though, they need to help themselves as they move centre-stage in the saga of the title race. The Blues can throw the situation wide open with a victory over Antonio Conte's side on Sunday and a Tottenham win in the North London derby so the eyes of the nation will be on Goodison Park for a fixture that has favoured Everton in recent years.
Thanks to Steven Naismith and Romelu Lukaku, the Toffees have won three of the last four meetings between the two clubs in all competitions and Koeman will be banking on his team's sterling home form since the turn of the year to carry them past the league leaders for the first time under his stewardship. November's miserable 5-0 reverse to Chelsea should act as extra incentive — Everton and their three-man defence were torn to shreds that day by the rampant Londoners and it's unlikely that the Dutchman will make the same mistake with that formation again.
Given the injuries to Seamus Coleman and Ramiro Funes Mori, the defence will largely pick itself again and it's reasonable to expect that Maarten Stekelenburg will continue in goal at the expense of Joel Robles after last weekend's switch by Koeman.
Whether he feels he needs to alter things elsewhere in the team on the basis of the display against the Hammers remains to be seen. Ademola Lookman, a potential change for Kevin Mirallas, faded after a bright introduction at half-time at the London Stadium and Koeman has been reluctant to start him recently due to his defensive naivety. Dominic Calvert-Lewin also failed to make much of an impact so, if there is to be a change to the starting XI, it could be that Enner Valencia is the most likely to come in after being ineligible to face his parent club last Saturday.
With Chelsea boasting threats across midfield and up front, the key for Everton will be in emulating what Spurs and United have managed in recent weeks — namely hustle the Londoners out of their stride and press home any superiority with goals. Having notched 29 of them already at Goodison in 2017, the Blues haven't had trouble in that regard and Chelsea have shown of late that they can be rattled and are susceptible to conceding.
Another big performance by Lukaku against the team he has supported since he was young, played for and — if newspaper tattle is to be believed — wants to play for again will be crucial but it will, of course, take big performances throughout the team, akin to the big win over Manchester City in January, to get the job done.
Kick-off: 2:05pm Sunday 30 April 2017
Referee: Jonathan Moss
Last Time: Everton 3-1 Chelsea
Predicted Line-up: Stekelenburg, Holgate, Jagielka, A Williams, Baines, Schneiderlin, Gueye, Davies, Barkley, Valencia, Lukaku.
---
Reader Comments (88)
Note: the following content is not moderated or vetted by the site owners at the time of submission. Comments are the responsibility of the poster. Disclaimer
Tony Smith
1
Posted 29/04/2017 at 06:58:57
Definitely a winnable game especially with a packed Goodison, Chelsea seem to be affected by the atmosphere if the last few ties are anything to go by.
I don't think Lookman will start; yes, he got a couple of shots off when he came on last week... but, apart from that, looked extremely lightweight and got easily dispossessed on numerous occasions.
Ian Hollingworth
2
Posted 29/04/2017 at 07:03:28
Love us to win but it will be one step too far for the blues today against a quality side.
A draw at best but I really do hope I am wrong.
COYB
Will Mabon
3
Posted 29/04/2017 at 07:09:21
Ian - tomorrow (Don't head to the ground today!).
Funny, but I feel a bit giddy about this one, all excited like a big kid. It has little meaning for us now on the one hand, but should act as an important measure against a top side, who will be going all out for their own reasons.
Can't wait!
Brent Stephens
4
Posted 29/04/2017 at 07:09:44
Hope and expect to see an open, expansive game, with both teams going at each other. This smells of lots of goals. A point would be fine, a win a real bonus. Expose David Luis, perhaps – not sure he's the player he once was.
Will Mabon
5
Posted 29/04/2017 at 07:21:31
He's certainly a different kind of player, Brent, better in some ways but he's never been the world's best defender. I don't think they'll trust him alone to deal with Lukaku; it will be interesting in that regard to see how they choose to defend. An in-form Mirallas could cause problems for them if given the freedom.
These games have often been great in the past, hoping for more!
Colin Glassar
6
Posted 29/04/2017 at 07:57:20
Will Rom be out to impress his suitors or will he be in his shell? That may determine the outcome of this game.
Will Mabon
7
Posted 29/04/2017 at 08:13:48
I thought about that last night, Colin. It's
got
to be the "Impress" route, to show professionalism as well as ability.
Wonder what would happen though, if he had a total 'mare, kept falling over his own feet...
I shouldn't say that!
Mike Green
8
Posted 29/04/2017 at 08:14:00
Chelsea have far more to play for than us and are a better team. They royally spanked us at their place this season but I expect tomorrow's game to be much tighter. Either a draw or a goal in it, no more than three goals and Lukaku will go missing. Again.
That's my 'set yourself up for ridicule' post... 😄
Jim Bennings
9
Posted 29/04/2017 at 08:14:20
Might just a be a step too far for the great home form, this one, Chelsea know anymore slips in the run-in could prove costly.
That said, I expect a far better courageous display than the lightweight nonentity we witnessed last weekend; anything less and I'll be disgusted by it.
We are going to need to be big brave and strong if we are going to beat Chelsea, I don't think Chelsea are the best champions elect I've ever seen; I believe they are winning a poor Premier League that's been in transition for a number of years now.
I'd love to see Barkley and Lukaku turn up and have huge games tomorrow after the regular debates about if they can ever do it against better opponents.
Lukaku scored twice in the Quarter Final against Chelsea last year, more of the same will do.
Mike Green
10
Posted 29/04/2017 at 08:15:07
Emoticons on TW? Who knew? 😳
Bob Skelton
11
Posted 29/04/2017 at 08:16:15
If Lukaku is off to Chelsea, why would he derail their Championship bid? We'll see tomorrow...
Will Mabon
12
Posted 29/04/2017 at 08:22:09
Mike, if Lukaku did have a bad one, that would be at least two of us on the "Winning" team.
The staggered start times of our game and Spurs v Arsenal is a little twist in terms of the position at the top, and mentioned by Conte the other day.
Jim Bennings
13
Posted 29/04/2017 at 08:23:51
Just for the record I did a little research of the goal return of Romelu Lukaku and Ross Barkley against "so-called" top opposition.
Lukaku has netted league goals against the following..
Liverpool 3
Manchester City 4
Manchester United 0
Arsenal 1 (also 1 in Cup 2014)
Tottenham 1
Chelsea 0 (2 in Cup last year)

Following is Ross Barkley's record..
Liverpool 0
Manchester City... 1 (plus 1 in Cup)
Manchester United 0
Arsenal...1 (think he was awarded deflected goal last year?)
Chelsea...0
Tottenham...1
Will Mabon
14
Posted 29/04/2017 at 08:25:35
Bob – might be interesting to see who Joey Barton's backing to score. Bit of insider trading.
Ahem.
Phil Walling
15
Posted 29/04/2017 at 08:26:41
If last week's performance is anything to go by, our lads are already 'on the beach', seeing a 7th finish as a job well done.
I see this season – as with many before it – just drifting to a boring conclusion with all our hopes focussed on 'next season'. Yet again.
Will Mabon
16
Posted 29/04/2017 at 08:31:13
Phil – enough with the cutting pragmatism, just for once.
I've been really looking forward to this one, my wee rate is up to once every 90 minutes. Don't shoot me down just yet.
I'll join you tomorrow for a full-on rant & sulk if we play crap.
Mike Allison
17
Posted 29/04/2017 at 08:34:55
Jim for those numbers to really mean anything they'd need to be compared to the following:
Number of games played against those teams.
Scoring ratio of those players against lesser teams.
Scoring ratio of comparable players (Kane, Costa, Ibrahimovic, Alli etc.) in similar games.
For example, one charge often levelled at Lukaku is that he doesn't do it against the big teams. The BBC showed a statistic a month or so ago that showed that, actually, he has a better scoring record against the top six than the other leading strikers in the Premier League. No-one has a good strike rate against the top six because they're harder to score against, that's why they're in the top six.
Will Mabon
18
Posted 29/04/2017 at 08:34:57
So in theory, Jim, they're statistically getting ever more likely to score – I'd like to think.
Mike Allison
19
Posted 29/04/2017 at 08:39:52
BBC website, Danny Murphy's column on 7th April, its accessible from the Everton page under the headline about Chelsea being a 'no-brained' for Lukaku (which would make more sense to me the other way around).
Eddie Dunn
20
Posted 29/04/2017 at 08:40:28
Brent (#4), David Luiz is a better player than in his previous spell with Chelsea. He made the PFA team of the year, and their 3 at the back set-up suits him.
On tomorrow's match, it is hard to see us winning. We are becalmed in 7th place, with little realistic chance of closing the gap, whilst they are under pressure and playing for the Title. Our home form is good and we might give them a game if we attack the way we can.
They have had some tough games and perhaps we can take advantage but we will need to be good all over the park and we will need a catalyst a la Naismith, who had no respect for reputations.
After the mauling we got down at the 'Bridge we certainly owe them one. However I forecast a 2-1 defeat tomorrow.
Mike Berry
21
Posted 29/04/2017 at 08:42:35
Williams against Costa will be a bruiser. Ron will set us up to nullify and I expect us to beat them on the break.
4-1 Everton, Lukaku hat-trick!
Chris Gould
22
Posted 29/04/2017 at 09:08:32
I was at the 5-0 drubbing, sitting quietly amongst gleeful, gloating Chelsea fans. One of the most miserable couple of hours of my life!
We are a different team now, and I fully expect us to put in a gut-busting performance tomorrow. We need to right that wrong.
I agree with Lyndon's lineup. I'd like to see Valencia start.
Damian Wilde
23
Posted 29/04/2017 at 09:12:07
I would love it if we beat them; looking forward to it. #COYB
Kunal Desai
24
Posted 29/04/2017 at 09:14:49
This game reminds me of the season when Man City came to Goodison and needed the points to pretty much clinch the title ahead of Liverpool.
We have cemented 7th spot now. This will be Chelsea's toughest fixture. Big teams will grind out wins when they are under pressure. Chelsea will do this and probably grind out a 1-0 win.
Damian Wilde
25
Posted 29/04/2017 at 09:14:58
Ian:
"Love us to win but it will be one step too far for the blues today against a quality side. A draw at best but I really do hope I am wrong."
Pretty negative. We beat Arsenal here, Man City 4-0, have only lost once at home and won eight on the bounce.
We can win. Grow some balls!
Geoff Williams
26
Posted 29/04/2017 at 09:18:13
Costa v Williams – only one winner... and it won't be Ashley.
Jagielka would be the more obvious choice to mark Costa.
Dave Abrahams
27
Posted 29/04/2017 at 09:35:47
Will Mahon (#14),
If you find out who Joey is backing, then don't follow him. Joey backed more losers than me and I've backed plenty, Joey couldn't pick his nose, as they say...
Brent Stephens
28
Posted 29/04/2017 at 10:05:15
Eddie, yes, Luis is maybe more suited to a back 3.
Ian Wright suggested that "David Luiz still has a mistake in him, but gets better protection than if he were down the family planning clinic". He was referring to the protection provided by the midfield 4.
Anthony Burke
29
Posted 29/04/2017 at 10:11:07
Didn't Lukaku score 4 goals against Man Utd, Jim, in a single game? Although that was for West Brom.
Geoff Williams
30
Posted 29/04/2017 at 10:29:22
Probably I'm one of only a few who believes Barry's nous would be very important against Chelsea.
Andy Meighan
31
Posted 29/04/2017 at 10:31:59
Man Utd restricted them to very few chances. If Koeman does the same as Mourinho and man-marks Hazard, we could well cut out the supply to that bellend, Costa.
Personally, I'd let Gueye shadow him all over the pitch and not give him an inch. Difficult ask but Palace and United have beaten them recently, so it shows they're vulnerable.
Still, having said that, I still think we ll finish 7th regardless of whether we win tomorrow.
Eddie Dunn
32
Posted 29/04/2017 at 10:52:44
Brent,
Yes, having Matic and Kante ahead of you must do wonders for your confidence.

Denis Richardson
33
Posted 29/04/2017 at 10:53:44
I fancy us to get a result. 7th may be tied down but this is a home game against the league leaders, so I expect our players to be up for it. Anyone who isn't should be on the list to ship out next month.
Chelsea are in for a very tough game and whilst I really don't want Spurs to win the title, I can see us getting at least a draw if not the 3 points. Make no mistake, Ronald Koeman is going to want a result badly.
With our home form and only Coleman out, I am surprised by the negativity. (Then again, having been on TW for over a decade, I probably shouldn't be...)
Damian Wilde
34
Posted 29/04/2017 at 11:12:38
Indeed Denis, not surprised!!
Dave Ganley
35
Posted 29/04/2017 at 11:34:03
Really looking forward to this one, my last game of the season since the club moved the Watford game to Friday and now I can't go.
We have a fairly decent record against the Chavs at home so I expect a win tomorrow. They have a bit of pay-back to deliver to the fans after the shambles at Stamford Bridge so I'm going for a 2-1 win.
COYB
Dan Egerton
36
Posted 29/04/2017 at 11:38:43
We will beat them. These are shite.
Dan Egerton
37
Posted 29/04/2017 at 11:39:09
The power of positive thinking. Think positive everyone! :D
Brian Harrison
38
Posted 29/04/2017 at 11:46:05
Really looking forward to the game tomorrow, I think Hazard is terrific and will need to be watched closely. Whether Koeman adopts the tactics that Mourhino used in man-marking Hazard will be interesting to watch.
I am sure Conte will be looking to win this game and keep the gap to Spurs, so it should be an exciting game. Everton have absolutely nothing to lose in going all out for the win, so to see 2 teams both trying to win will make a difference to the usual of the away team being more cautious than the home team.
Man for man, Chelsea are far better than us, I would suggest that none of our team would get in their team. But I still think with the right mindset we can match them in a one-off game.
Martin Nicholls
39
Posted 29/04/2017 at 12:04:29
Brian (#38) – hope Rom reads your post and also concludes he wouldn't get in their team!
Minik Hansen
40
Posted 29/04/2017 at 12:29:50
A great show of football by Everton against the top side of this season will inevitably attract top players to our club to push higher on the table next season. There's always something to play for, I hope our squad show up to its potential. COYB.
Mark Wynne
41
Posted 29/04/2017 at 12:42:12
I would be very surprised if we don't see a midfield trio of Davies, Gana & Barry. I know the Barry haters here won't like it, but it's something Koeman has done against the other top sides. I'm not saying it would be my choice, Bese.
Like others, I think Lukaku will go missing. I suspect he's already house-hunting in West London and in spite of some of the tough talking on these pages, if the fella wants out then we have to sell early to recycle the money into the team.
We know that the manager does like to turn to his most trusted players in games like this and will not want to be still wondering "Will he/won't he?" ahead of an inevitable deadline day move where it will no doubt define our season.
Ian Bennett
42
Posted 29/04/2017 at 12:54:11
Agree with Lyndon's pick.
Paul Birmingham
43
Posted 29/04/2017 at 13:20:17
Looking forward to the game and I hope we have a game plan for the full 90 minutes. Surely some home truths and hard lessons have been learnt since we played at Stamford Bridge when we were wiped out in every aspect of play.
Last week, the players didn't turn up so tomorrow, with a full house, I hope Everton put on a show and do a professional job.
No doubt the media will be doing overtime on Rom, but Koeman will be demanding a show tomorrow. Let's hope so. With the crowd roaring, I'm gonna stick out for 3-1 for us (I've not had a pint yet!) – let's hope we win!
Raymond Fox
44
Posted 29/04/2017 at 13:27:19
Damian 25, Ian is giving his honest view. Yes we can win, but if your life depended on picking the winner, who would you pick? They have a stronger side than us, we haven't a player who would get in their side except Lukaku, and even that's debatable!
I think it might be close, but they have a favourite's chance. The pluses for us are it's a home game and neutrals expect us to lose, so we should go for the jugular, not just try to contain them.
My view – I think it will an exciting close game, but unfortunately I think they will shade it.
Anto Byrne
45
Posted 29/04/2017 at 13:50:38
2-0 thanks very much. Valencia and Rom to score.
Brian Furey
46
Posted 29/04/2017 at 13:59:11
If we finish above Man Utd or Arsenal (and they win the FA Cup) does it matter as we'll still have to play the qualifiers in July as their cup wins supersede their league position?
Man Utd and Man City will probably be above RS this weekend.
Alan J Thompson
47
Posted 29/04/2017 at 14:17:41
I'd be very surprised if Mr Koeman doesn't settle for his away formation with two defensive midfielders sitting in or just in front of the back four (five?) and hoping for something on the break.
Something like a back four, four defensive midfielders behind Lukaku and Barkley. Anything other than a 5-0 defeat will be touted at the press conference as a disappointing improvement.
Matthew Williams
48
Posted 29/04/2017 at 14:18:32
Thought for a while we'll win this one, still do. Chelski are owed big time after the hammering they gave us at the Bridge... 2-1 to the Blue Boys!
Stan Schofield
50
Posted 29/04/2017 at 14:53:40
Chelsea top the away table, but their away results are not as good as our home results. Our only Achilles heel is our away form, and consequently this game is readily winnable.
There's every reason to expect a high scoring game from two sides with a high goals tally. I can see us winning this 4-3 or something like that. It could of course be the other way, but as I say, our better home results gives us the edge.
Derek Knox
51
Posted 29/04/2017 at 17:24:04
Glad to see Stekelenburg is expected to keep his place, El Teflon has been a bit complacent, and decidedly dodgy at times recently.
Robles only got his place when Stekelenburg got injured, and admittedly played well for the most part. I think the realisation of not being a shoo-in is good for any player to keep them on their toes, and therefore sharper.
Kim Vivian
52
Posted 29/04/2017 at 18:31:16
Could actually be a decent game, this although I reckon 1-1 is as good as we can expect tomorrow. Hope the U23 champs are recognised at the game also.
Off topic - can anyone suggest a likely link/stream for the boxing?
Paul Ferry
53
Posted 29/04/2017 at 20:37:44
Boss one here Kim - http://streamhub.live/hd/hd.php
Gareth Clark
54
Posted 29/04/2017 at 20:51:31
Agree completely with the starting line up predicted!
Stekelenburg
Holgate Jagielka Williams Baines
Idrissa Schneiderlin Davies
Barkley Valencia
Lukaku
Subs: Robles, Pennington, Kenny, Barry, Besic, Lookman, Mirallas.

Would like to see Kenny given a bit of time for Holgate – he offers a lot more pace & works very hard.
Dave Abrahams
55
Posted 29/04/2017 at 21:05:55
Kim (#52), I will listening to the fight on the Radio 5 Live.
Paul Setter
56
Posted 29/04/2017 at 21:34:10
Off topic but has anyone noticed a certain Josh King this season has scored one league goal less than "world class Dele Alli" and looks mustard.
I think Rom is a gonna but if we can replace his goals with 2 guys who score 12+ goals a season each, we may be okay. Josh King falls in that bracket for me... very much so!!
Dave Abrahams
57
Posted 29/04/2017 at 22:47:18
Antony Joshua get in, comes back from the brink of defeat to stop Klishco in the 11 round, Yis!!!!!!
Ian McDowell
58
Posted 29/04/2017 at 22:58:36
Gutted Klitschko lost. I had him to be knocked down and win on points. Well done to Joshua. What a fight.
Laurie Hartley
59
Posted 29/04/2017 at 23:21:40
Tough tough game this one – Chelsea have to win this.
I like Lyndon's team with the exception of Holgate. I like young lad but I am concerned for him if he starts at right back against this lot.
Like Geoff Williams, I think this is a game for Barry to start in. I wonder if Gueye could do a job at right back and Barry goes into the midfield???
Laura Round
60
Posted 29/04/2017 at 23:23:35
Paul (#56), Yes, I saw he had scored today and said to my son he's had a good season. Nice mobile forward.
Dave Abrahams
61
Posted 29/04/2017 at 23:37:30
Ian (#58), hard lines, the fight had great moments for both men, looked like Joshua was going to lose then came back with great courage and determination to stop Kiltscho who fought a very clever and brave fight.
I always listen to the crowd when a fight is on the radio, it tells which way the fight is going, the crowd was quiet for much of the fight but came alive in the 11th round when Joshua put his opponent down twice for counts of eight and then the referee stopped the fight with Joshua raining blows on his gallant adversary.
Well in, Joshua.
Tony Byrne
62
Posted 30/04/2017 at 01:48:12
I hate Chelsea – cockney arrogance at it's worst, going back to when they beat us at Goodison 3-4 in '84, Gordon Davies hat-trick, mayhem after the game... Bastards.
Fast forward to 2014: 3-6 defeat (my son's 1st game! Jonah??) 2-0 win in the FA Cup, just fantastic; 3-1 win with more coins hitting kids & blokes in the Park End. (Why can't the club put a net up in between both sets of fans?)
Anyway, I can't wait for today's game... I've had 3:2 in my head all week! I'd take any win just to fuck the rent boys right up.
A club I've despised way before the dodgy Russian turned up.
COYB.
Terry White
63
Posted 30/04/2017 at 03:59:57
The game is all about winning the big battles. Win the Costa battle; Win the Hazard battle; Win the midfield battle; Win the Luiz/Cahill battle.
Time to stand up and be counted, Boys.
Jay Harris
64
Posted 30/04/2017 at 05:19:42
I look forward to Rom and Ross showing up for this one and showing Chelsea who's boss.
Mark Andersson
65
Posted 30/04/2017 at 06:07:51
Tony Byrne – so much hate, that's not the Everton way; embrace your enemy ,love them, then slowly kill em...
I just hope the players give a good account of themselves and stick it to Chelsea. Two contrasting managers on the touchline. Costa will be at his best I love his passion, Rom could learn a thing or two from this striker...
No prediction from me. If you're going to the match, enjoy it and do your part to help the team.
Darryl Ritchie
66
Posted 30/04/2017 at 07:06:41
The Daily Mail reporting that Schneiderlin may have been injured in training. Any truth in it?
Ian Hollingworth
67
Posted 30/04/2017 at 07:15:58
Damian (#25), I think it is the team that need to grow some balls today not the fans.
Why is an honest opinion being negative? Of course I hope we batter them and will be thrilled if we do.
Sadly they are a better team than us who have performed consistently better than us all season. Is that a fact or a negative eunuch?
George McKane
68
Posted 30/04/2017 at 07:53:05
A very busy and full day today for me - - have to be out The House before 9.00 am - - even have to miss Altar Boy Duties at St.Alphonus - - am going early to St. George's Hall for History weekend - - my wife has a stall there showing the history of Polish community on Merseyside - - I said it wasn't complete - - where's Booby The Pole - - I remember convincing Lech Walesa to become an Evertonian because of him.
Realising last night that I had a crazy day ahead I took a moment to stand by the window overlooking The Waterfront - - dark blue, cobalt blue, blue water, dark blue sky with stars shimmering in the evening light and bouncing off the water - - for a moment I was on the Bridge over The Rhone hand on Vincent' s shoulder under a Starry Night - - or maybe with Camille Pissarro on Boulevard Montmarte at night (have a look at it) and possibilities of revisiting these places on Blue European Trips - - went to Wolfsburg a few years ago and took some of our gang from TDH to The Hannover Art Gallery.
Sunday morning 7.00am - - listening to some Erik Satie - - those European Dreams were with me all night - - "My dream is to be played everywhere….." - - I went to his house in Honfleur - - amazing - - you can go upstairs to his attic and there is a sort of carousel in the middle of the room but just with 2 bicycles - - when you peddle the lights on the carousel go on and Gymnopedies plays - - absolutely off its cake - - also visited Boudin's house in Honfleur and Le Chat Noir in Montmarte. - - and sat in my downstairs room - - full of early light - - reading William Blake - - "If the doors of perception were cleansed, everything would appear to man as it is - infinite." 
I have been reading some bits on the Cold War and amazingly the Ipcress File was on yesterday - - much better the The Bond stuff - - made me think about people who had been tortured - - remember reading Koestler and his writings on inside and outside The Communist state - - "Courage is never to let your actions be influenced by your fears." ( Maybe he was an Evertonian)
Upstairs - - early morning pale yellow light coming through the windows - - the City and River look like a Turner masterpiece - - listening to CSNY "Sunday in the afternoon What have you got to lose" - - at my desk surrounded by all my memory tweaks - - pens and pads, notebooks, photos on the wall - - my little Goodison Snow Shaker - - Mr.Lennon looking directly at my right side - - so quite - - no noise - just an odd bird whistle now and then - - had to put a bit of Van on:
"When the vision vanished they heard a choir of birds singing
In the heavenly silence between the trance and the reeds
And they stood upon the lawn and listened to the silence
Of the wind in the willows and the piper at the gates of dawn"
Yesterday I moved my big armchair from my writing room to the side window where I can oversee the building of our New Riverside Palladium - - the roof of the Old Lady still visible just beyond - - I sat for a moment in the afternoon light and thought of Joseph Brodsky - - "No matter under what circumstances you leave it, home does not cease to be home. No matter how you lived there."
This is how I get myself into the mood for the match - - or whatever I am doing - - I surround myself with my books, my posters and photos, notebooks and postcards, music - - I have lived outside the system for the past 35 years and have devoted my time not in the pursuit of money (I had done that and it left me miserable and unreal - - not being) but in the pursuit of knowledge and through that wisdom - - I had decided to not be buried in mediocrity - - so I have within me collected bits of quotes, lyrics, poetry, music, art that I can drag into my consciousness whenever I wish - - so as I have said I rarely plan any event (just like Cool Hand Luke) - - I put myself into a 'state" for that day, that happening and just let it all roll out - - no editing or holding back just let it go - - sitting letting my fingers type just now - - stand up - - see The River - - open the window - - "Smell the Sea and feel the sky - - let your soul and spirit fly into the mystic".
My mind wondered off and I for some reason - - unknown to me and who cares where it came from - I allow myself to do that - - had to put Sandy Denny on - - - "Sad, deserted shore, your fickle friends are leaving
Ah, but then you know it's time for them to go
But I will still be here, I have no thought of leaving
I do not count the timeFor who knows where the time goes?
Who knows where the time goes?And I am not alone while my love is near me
I know it will be so until it's time to go
So come the storms of winter and then the birds in spring again
I have no fear of timeFor who knows how my love grows?
And who knows where the time goes?
I have been lifted, transported to my own heaven - - a slight tear in the corner of my eye - - once when I was hoovering I had Renata Tebaldi in the background singing Madame Butterfly and I noticed I was still with the vacuum in my hand with tears running down my cheeks - -its amazing how the movement of a vocal cord or the touch of paint from a brush of horsehair - - or the plucking of a string on a piece of wood can move us.
On match days I fill myself with beauty and set off to The Dark House with Wordssworth,Tarkovsky, Van, The Beatles, Mr Dylan - - this morning I read about The Rooney Quandary and some comments on TW and I immediately thought of Jack and Diane by John Mellencamp and put it on - - closed my eyes and floated into the ether for a moment - -
"A little ditty 'bout Jack & Diane
Two kids growing up in the heart land
Jack he's gonna be a football star
Saying oh yeah
Life goes on, long after the thrill of living is gone
Sayin' oh yeah
Life goes on, long after the thrill of living is gone
Now walk on"
I will leave St. George's Hall quite early and head to TDH - - passing St.Alphonsus - - remembering other Sundays where I could hardly wait for Mass to finish - - knowing that it wouldn't be long after the Holy Communion - - running down Great Mersey Street for Mum's bacon and sausage in tomato gravy with a spoon of Oxo in it to "brown" it - - listening to 2 Way Family Favourites - - BFPO40 - - who would have thought of Sunday football then - - looking up Kirkdale Road to The Doll's Hospital - - sometimes we could as a treat get Candy Floss from a machine in the back on quiet Sunday afternoons - -
- - but now onto TDH for a pint and a good gas about everything Everton and maybe even discussing European Trips - - back to the pub for a few more pints and philosophy - - maybe the quiz - - Monday is a day off for most - - so should be a long and lovely day and evening spent in wonderful company at TDH - - -nothing better than a pint and a gas after an Everton win. Wonder what odds I will get for my 4-0.
Got my headphones on - - It's All Too Much:
"It's all too much for me to take
The love that's shining all around here
All the world's a birthday cake
So take a piece but not too much"
Cosmic grooves to all Blues everywhere.

Darren Hind
69
Posted 30/04/2017 at 08:09:28
Your best yet George . . and that's saying something.
Enjoy your say
Peter Lee
70
Posted 30/04/2017 at 08:30:45
George, if I didn't know that your body is a temple I'd ask what you'd been ingesting, apart from the ale in the Dark House which, come to think of it, might be enough.
Dave Abrahams
71
Posted 30/04/2017 at 08:48:14
What a life you lead, George, brilliant! You've tired me out, George reading all that and the people you visit and they, no doubt visit you, your dreams must be full of fun, music and poetry, if you get time to sleep, just lovely reading that George.
By the way, I'm off to St Philomena's in half-an-hour so I'll say one for you and a few for myself, have another happy day, I don't think your spirit lets you have sad ones.
George McKane
72
Posted 30/04/2017 at 08:56:45
Just off now - - many thanks for the good wishes and thoughts - - my life is full of joy and magic - - as Picasso said " we are all born as poets - - sadly it is the man who survives" - - I worked in St.Philomenas for many years - - Mr. Jolly The Headteacher was a good man - - a Man Utd fan I recall - - it was there in the late 1980's that some young girl put the first yellow ribbon around my neck and and I have worn them ever since.
Posso waves and cosmic grooves all the way - - George.
Dennis Stevens
73
Posted 30/04/2017 at 09:27:45
Ta George, I always feel better for having read your posts. I'll be at work this afternoon, but your words will still be uplifting - like Everton's performance, hopefully!
Eddie Dunn
74
Posted 30/04/2017 at 09:58:33
George, another reflective and evocative piece from you to set the scene.
As long as you don't send the lads your playlist, as I fear that if players were to tune in to your cosmic grooves, they would be far too chilled to even get their socks on.
I wonder what they all listen to on the headsets before the game?
Tony Byrne
75
Posted 30/04/2017 at 10:09:28
Thank you, George, such uplifting positivity has convinced me even more that my 3:2 prediction might just come off!
Let us hope we can turn up today & give a good account of ourselves, this lot are a decent side, but beatable.
COYB
Tony Abrahams
76
Posted 30/04/2017 at 10:35:27
I've been waiting since yesterday for that George, and you never let me down mate!
Jack and Dianne? Great song, but after reading that epic, it's got to be "take a walk on the wildside" for me!
Peter Mills
77
Posted 30/04/2017 at 10:43:21
George, by virtue of some very poor planning I am having to miss the match today.
But I will take all your cosmic grooves to my daughter's wedding in Devon at 1 o'clock!
George McKane
78
Posted 30/04/2017 at 10:50:10
Safe journey, Peter – have a lovely time – keep cool guys and keep cosmic.
Clive Rogers
79
Posted 30/04/2017 at 10:50:59
Darryl (#66),
Yes, a damaged thigh apparently.
Chris Williams
80
Posted 30/04/2017 at 11:00:22
George, Wonderful stuff.
I'm in Pezenas today, Languedoc, so can't be there today but will be listening. Been to Mass, very long, 3 baptisms and a jolly priest, me struggling with my schoolboy French from 50+ years ago.
HOPE YOU WIN YOUR BET.
George McKane
81
Posted 30/04/2017 at 11:18:46
Chris, I love Languedoc – Van Gogh of course .
David Young
82
Posted 30/04/2017 at 11:41:15
I just hope Lukaku turns up today. Will he, wont he?
Brent Stephens
83
Posted 30/04/2017 at 11:53:27
George (#68) – our Blue Bard!
"Courage is never to let your actions be influenced by your fears." (Maybe he was an Evertonian)". Very good.
I know some of what you reference and allude to – but by no means all! I think that's one of the things that make your posts so interesting. They leave me with a bit of homework!
Seamus McCrudden
84
Posted 30/04/2017 at 11:55:55
Vinny Jones on Goals on Sunday, slipping in some bad language in mid story, nobody noticed or never said a word to him... lol.
Chris Williams
85
Posted 30/04/2017 at 12:02:10
George,
I'm drawn to the place by its history and its heritage as well as the culture.
They're fighting to get Occitan re-established as a language and fairly recently one of the local mayors did something to upset the local farmers so to show their displeasure they drove into town and sprayed the Hotel de Ville with manure. Direct action for these guys.
Lovely little medieval town this, once home to Moliere seemingly. Did him at school too!
David Hallwood
86
Posted 30/04/2017 at 13:10:33
George (#69), when is your post being published in paperback?
Colin Metcalfe
87
Posted 30/04/2017 at 13:22:02
Tremendous stuff, George, really brightened up my morning. :-)
Jay Wood
88
Posted 30/04/2017 at 13:23:48
Interesting line up. Morgan must be injured.
Stekelenburg
Holgate - Jagielka - Williams - Baines
Gueye - Davies - Barkley - Valencia
Calvert-Lewin - Lukaku
Substitutes:
Robles, Koné, Mirallas, Barry, Lookman, Pennington, Kenny.
It's bold, but I'm not sure about the balance of the side.
Ciarán McGlone
90
Posted 30/04/2017 at 13:33:13
Very strange line up. I'm not a fan of playing strikers as wingers.. seems we're doing it twice today..
I'll not be expecting anything from this game.
---
Add Your Comments
In order to post a comment, you need to be logged in as a registered user of the site.
Or Sign up as a ToffeeWeb Member — it's free, takes just a few minutes and will allow you to post your comments on articles and Talking Points submissions across the site.