Funes Mori on schedule for pre-season return

23 Comments [Jump to last]
Thursday 11 May 2017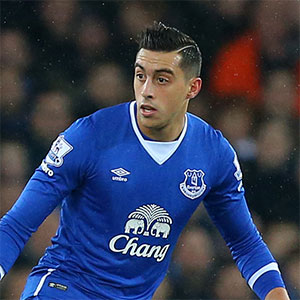 Ramiro Funes Mori's rehabilitation from knee surgery has him on track to be fit again in time for pre-season.
The Argentine international had to have an operation to repair a torn meniscus in his knee at the end of March after suffering the injury on international duty but he is back in light training again at Finch Farm.
Funes Mori has spent much of the past six weeks in his native country and has had the welcome distraction of his newborn daughter to keep his mind off the fact that he will be sidelined until next season.
"I was a little frustrated [because] of the injury, so it was good to be back home to clear my head," the defender told evertonfc.com. "Now I feel good to be back here doing my recovery.
"It's light training at the moment, balancing exercises with my knee and work with the weights. The physios are doing a great job to get me back as soon as possible. After the off-season, I'll be good."
The 26-year-old has made 16 starts for the Blues this season under Ronald Koeman but, like team-mate Seamus Coleman, had his 2016-17 campaign ended prematurely by injury.
---
Reader Comments (23)
Note: the following content is not moderated or vetted by the site owners at the time of submission. Comments are the responsibility of the poster. Disclaimer
James Watts
1
Posted 11/05/2017 at 07:37:49
Just in time to be sold... hopefully.
James Stewart
2
Posted 11/05/2017 at 08:14:51
Agreed.
Stan Schofield
3
Posted 11/05/2017 at 09:24:31
James @1: Have you informed Ron? I'm not sure it's in his plans.
Simon Jones
4
Posted 11/05/2017 at 09:37:46
I know certain players are not that popular, but the Europa League will require an enlarged squad if we are to progress in Europe and at home.
Whatever the shortcomings of Funes Mori, Mirallas etc are, they are already Everton players, know our systems, set-pieces and the like.
Andrew Presly
5
Posted 11/05/2017 at 12:01:52
He's Matterazzi-esque. Lots want him sold but wherever he ends up will be starting for his country (like Italy, one of the A-List national sides, World Cup contenders) for the foreseeable as we replace with another UK plodder like McGuire or Keane and feel like we've progressed. We did the same when we sold Marco and brought Unsworth back I think?
Same old Everton.
James Watts
6
Posted 11/05/2017 at 13:00:57
I agree to a point, Simon (#4). But Funes Mori is an absolute liability in my eyes.
I'm really not sure how he gets in the Argentinean first XI from what we see of him in an Everton shirt.
Dale Rose
7
Posted 11/05/2017 at 13:39:49
Good player, loads of enthusiasm, loves the club...
Terry Underwood
8
Posted 11/05/2017 at 13:44:31
I like him, I just wish people would give him a chance. He is still learning to cope with the demands of the English game.
Sam Hoare
9
Posted 11/05/2017 at 13:56:11
I really, really wanted to like him. To trust him. But I don't.
His positioning and decision-making are just...dodgy. He'll have three decent games and then totally lose his man for a crucial goal in a tight contest.
Perhaps we cannot do better but if we want top 4 then I feel we will have to.
Phil Smith
10
Posted 11/05/2017 at 13:57:15
I like him as well. Confident (maybe, sometimes, too much so) and always dangerous in the opposition's box. He's the only centre back who can score (excluding Jagielka's purple patch this season) and he's at a great age.
He should be first choice for me with Williams and Jagielka rotating with one of the youngsters. Jags has been great this second half of the season but was awful early on. I'm not convinced with Williams at all.
Tony J Williams
11
Posted 11/05/2017 at 14:01:40
He cannot get any distance on his clearances... strange but true.
Kieran Kinsella
12
Posted 11/05/2017 at 14:03:35
I just think he's not best suited to the English game. He's a bit too emotional; not great under pressure. He would probably do better in Spain or Italy. Like Materazzi.
Christy Ring
13
Posted 11/05/2017 at 16:02:10
The Napoli boss likes him... could we not use him in part-exchange for Koulibaly + fee?
Peter Laing
14
Posted 11/05/2017 at 16:10:56
When he first signed, I was impressed; he had pace and good ball control and seemed effective from an offensive perspective in terms of his aerial ability.
During the dying embers of Martinez's tenure Funes Mori became more calamitous, his decision making was poor and instilled Yobo-esque panic amongst his fellow defenders.
I haven't personally seen any real improvement under Koeman and, if we can command a good fee, I would be for moving him on.
Mike Gaynes
15
Posted 11/05/2017 at 16:17:37
I too expect him to be sold, but I won't be disappointed if he stays. We do need depth at CB for the Europa League campaign and, as Kieran points out, he's a "Euro-style" player who might be very effective in that situation.
He's relatively inexpensive at 㿔,000/week (Niasse, Deulofeu, Cleverley, Lennon all make more) and certainly not deadweight when fit.
Brian Furey
16
Posted 11/05/2017 at 16:25:27
I think a centre-half has to be decisive and determined not to let his man beat him. Too often I've watched him put in half-hearted challenges and not be busting his ass to get to the ball first.
I can see him staying as backup only but maybe he will want to leave if he loses his international place.
John Pierce
17
Posted 11/05/2017 at 19:05:37
Despite my love of his BBQ pictures the lad is another one that is just bang average. He will be sold but, I might proffer, not until another left sided center back is bought.
Rare as hens teeth it just might save the lad, given his age and extra games we should we qualify for the group stages of the Europa.
It also raises a long standing question about our scouting from that continent. The cult that is the 'Straq' apart our record in spotting decent South American talent is bollocks.
Time to get someone decent in that neck of the woods finding the right type of player from a traditionally maverick footballing culture.
Anyone fancy a trip to Brazil?!
Brian Porter
18
Posted 11/05/2017 at 21:32:02
Glad to see him working his way back to fitness. For all those who delight in knocking him, please remember that the downturn in our form towards the end of this season began when he and Seamus Coleman were both injured during that calamitous international break.
Before that, our defence was pretty solid with Funes Mori and Williams in place. I'd rather see Williams and Jagielka leave and keep the younger Funes Mori, while adding another experienced under-30 centre-back.
Paul Newton
19
Posted 12/05/2017 at 14:29:43
The question is, if he is as poor as some on here think, how does he get into a top international side like Argentina, and keep his place?
I really don't understand this. Is it something to do with different systems of play and the way Everton are set up just doesn't suit him, under both Martinez and Koeman? Or could it be something about how the game is played in the Premier League?
And yet, as far as I am aware he hasn't been agitating to get away, as you might expect if he wasn't allowed to play to his strengths.
Chris Williams
20
Posted 12/05/2017 at 15:18:48
Paul,
I think you've probably put your finger on it there. The sheer number and variety of attacking threats he comes across every Premier League game, all playing with pace, power and skill is probably completely different to the challenges he faces playing for Argentina.
From Sanchez, Costa, Vardy, Coutinho, Mane, Aguero to Llorente, Carroll, Kane.... And from Chelsea to Sunderland, a different challenge every week.
John Pierce
21
Posted 12/05/2017 at 15:55:45
Paul (#20),
As poor as he actually is the defensive options at Argentina's disposal are awful. Their current qualification record is questionable, and they've not had a world class center half for some time.
That's how he gets a game, and to reiterate, he is left-footed a rare quality. I live in the US now and get to watch the Comebol qualifying often and saw live in the Copa America last year how poor the back line of the Abli Celeste is. For every goal they score with their truck load of attacking talent, the back line is a circus act.
Swerve!
Paul Newton
22
Posted 12/05/2017 at 19:33:18
So, assuming that they qualify, they should be entertaining to watch in next year's World Cup!
Anthony Dwyer
23
Posted 13/05/2017 at 02:17:03
Funny how Ramirez Funes Mori divides opinions so much; imo, he should be the main man at the back and we should buy a suitable partner.
Funes Mori has a mistake or two in him but so do many defenders who play like him: David Luis, Otimendi, John Stones and so on. All the above make errors because they take a bit longer on the ball, looking for the correct pass, instead of kicking it anywhere.
Add Your Comments
In order to post a comment, you need to be logged in as a registered user of the site.
Or Sign up as a ToffeeWeb Member — it's free, takes just a few minutes and will allow you to post your comments on articles and Talking Points submissions across the site.