Bolasie looking to the next phase of his recovery

36 Comments [Jump to last]
Thursday 18 May 2017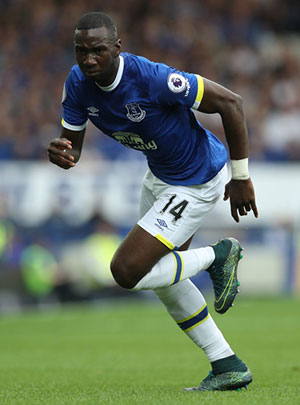 Yannick Bolasie says that the next few weeks will be indicative of how soon he can be back in action as he prepares to resume jogging again by the end of the month.
The Congolese forward explains that he is happy with his progress following two separate surgeries on the knee that he injured last December but will wait to see how he responds to light running before he knows how long the next part of his rehabilitation will take.
The early prognosis when Bolasie first suffered the ruptured anterior cruciate knee ligament and sustained further damage to his meniscus in an innocous-looking challenge in the home game against Manchester United suggested that he would likely be sidelined for a year at least.
"Everything's going good," Bolasie told evertonfc.com. "I couldn't ask for the knee to be in a better position right now..
"I'm just taking it steady and going with the flow. I've been working hard with the physios trying to cut down on the time (I'm out). That's the aim.
"It's too early to say when I'll be back playing. I think when I start running then I'll have a better picture of where I'm at.
"I'm hoping to start light jogging in two weeks and then I'll know what we are looking at. It depends how everything reacts and if I feel comfortable."
---
Reader Comments (36)
Note: the following content is not moderated or vetted by the site owners at the time of submission. Comments are the responsibility of the poster. Disclaimer
Kieran Fitzgerald
1
Posted 18/05/2017 at 07:17:24
Should be able to catch some of pre-season if all goes well. May not be fully fit for mid-August but maybe a couple of substitute appearances in September an then build form there. Fingers crossed,
Jim Harrison
2
Posted 18/05/2017 at 07:22:36
I reckon more like November or December. Full year out.
Drew O'Neall
3
Posted 18/05/2017 at 07:50:28
Seems a nice fella, Yannick.
Good luck pal.
Darryl Ritchie
4
Posted 18/05/2017 at 08:02:44
I hope he takes it easy, listens to the physios, because some never make a full recovery from this injury. Bolasie's game is speed and power, and that can be difficult on a gimpy knee. I wish him well and want him back terrorizing right backs.
Brian Williams
5
Posted 18/05/2017 at 08:14:09
Agree with Jim; towards the end of the year.
Huge difference between light jogging and the sprinting, and more importantly, turning, required to be considered fully fit.
The lad seems to have a really positive and upbeat attitude which will help tremendously in his recovery.
Mike Berry
6
Posted 18/05/2017 at 08:44:43
Take your time and get it right, a relapse and it could be all over. Wish him well, sounds like a top bloke.
Ian Herbert
7
Posted 18/05/2017 at 10:15:48
Be good to have the lad back but I expect it to be sometime before we see him 100% again. It's a nasty injury he suffered and let's hope he returns to full strength.
I just hope he takes all the physio's advice onboard and works his way back one step at a time, so to speak!
Eddie Dunn
8
Posted 18/05/2017 at 10:29:11
Never mind getting back ahead of schedule, just take your time and get it right.

Chris Corn
9
Posted 18/05/2017 at 10:43:49
Hope he comes back well. I thought he was effective albeit he is erratic.
Unfortunately, he's been written off as a dud by a few due to his price. Ironic really, that the 'net spend' brigade have spent years slaughtering the club for not paying the going rate... and when they do, they still get slaughtered.
Speedy recovery, Yannick.
James Stewart
10
Posted 18/05/2017 at 10:50:38
We've missed his attacking pace and power since the injury. Get fit soon, Yannick!
Trevor Lynes
11
Posted 18/05/2017 at 11:29:13
I rate this lad. We would have been 6th or better if he had been with us firing on all cylinders. He is a real handful with strength, pace and direct play.
Get well soon, but not too soon!!
John Daley
12
Posted 18/05/2017 at 12:43:34
Nobody will wish Bolasie anything other than the very best in his battle to recover from serious injury, but I'm calling bollocks on this:
"Unfortunately hes been written off as a dud by a few due to his price. Ironic really, that the 'net spend' brigade have spent years slaughtering the club for not paying the going rate and when they do they still get slaughtered."
Since when does a fee of 㿈m constitute "the going rate" for an attacking player with just 9 goals and 13 assists in 90 Premier League games?
True, transfer fees have soared to extortionate heights, with even the cost of decidedly average players coming close to that of a fully operational fucking Death Star, but even so, near 㿊m being plonked down for a player with a track record of producing relatively little in this league is still some way from being the 'norm'.
Nacer Chadli, a fellow winger of the exact same age, with an improved Premier League record of 15 goals and 12 assists in 88 games, went for 㾹m last summer. Less than half of what Bolasie cost.
Nathan Redmond, a player almost 5 years younger, with 7 goals and 7 assists from 69 games, fetched 㾶m when flogged. Given the way our 'trained negotiators' [cough] were taken to the cleaners by Crystal Palace, that sum probably wouldn't have even bagged us Bolasie's face stretched over a beachball and secured to a fucking broomstick sticking out of a solitary rollerblade.
Simply accepting and/or pointing out we paid dramatically over the odds for Bolasie doesn't mean he's being prematurely painted as a borderline dud, or that the club are being unfairly panned for digging deep into their pocket. It's simply a case of people pointing out the blindingly obvious and, perhaps, suggesting that such a sum might possibly have been better spent elsewhere, especially once Palace persisted in holding their palm out, nodding at the huge pile of notes in it and saying "Nahhhh, not heavy enough yet for Yannick".
Jim Knightley
13
Posted 18/05/2017 at 12:57:40
I agree completely with John. You are decontextualising and simplifying the criticism, Chris.
I like Bolasie, I want him fit obviously, but we paid way too much for a very inconsistent player who simply does not score and create enough. He will be a valuable squad player and his power and pace can be used effectively, but that kind of money is better spent on someone who can improve us, not keep us where we are.
I expect that he was further back on our list of targets, and a little desperation forced our hand as we were getting nearer to the end of the window.
Kieran Kinsella
14
Posted 18/05/2017 at 14:02:17
Agreed; I think Bolasie is a bit like the early days Cadamarteri. If we progress, I see him as a sub who can be the cat among the pigeons.
Phil Jeffries
15
Posted 18/05/2017 at 15:04:17
Bolasie has raw pace and actually has a habit of turning up at places like Anfield (where he ripped that shower apart more than once), which is more than I can say for our 11 that failed to turn up this season. Barkley losing the ball, Mirallas playing below standards and young strikers being played as wingers... I'd take Bolasie every day of the week.
I wish him well – not only as a human being, but I also wish him well as I genuinely want him back asap in a blue shirt as I rate him. COYB!
Mike Gaynes
16
Posted 18/05/2017 at 16:14:48
Agree with Trevor (#11)... I rate him highly and hope he takes it slow. Christmas is the most realistic target for his return.
John (#12), it's not my money so I generally don't care what transfers cost, but I would point out that Bolasie's price was based not on his spotty full career but on the dramatic improvement he showed in his final season at Palace... he got half his career goals in only 26 games and created a boatload of chances (mostly that his forwards couldn't finish). In both games against us he roasted Coleman alive. I wouldn't be surprised if Seamus kicked in a bit of his own cash just so he wouldn't have to cover him again.
Trevor Lynes
17
Posted 18/05/2017 at 19:40:00
Bolasie is a class act and comparing him to Cadamarteri is a joke surely. :)
If he returns fully fit, he will become worth every penny plus more of his transfer fee.
John Daley
18
Posted 18/05/2017 at 19:49:44
"
I would point out that Bolasie's price was based not on his spotty full career but on the dramatic improvement he showed in his final season at Palace."
How can you possibly know that is what his price was based on, Mike? It could have been based on any number of factors.  
It was suggested at the time that Bolasie was signed at the behest of his good buddy Lukaku. The club may have been prepared to pay whatever it took to keep their main man sweet (and his mouth switched to silent) for a short while longer. 
It could have been simple desperation on Everton's part to finally make a 'big' signing after dropping bollocks all summer and farcically failing to pull off a high-profile capture, in order to try and back up the big statements previously made about the club's new-found purchasing power.
It could simply be a case of Crystal Palace being able to pull a really cracking poker face and a suddenly 'cash rich' Bill Kenwright blinking, rapidly as fuck, first.
Regardless, five goals and three assists over the course of one full season now marks you out as a near 㿊m man? If that represents the pinnacle of a 27-year-old prospective purchase's career thus far, and a 'dramatic improvement' on everything he has done up to that point, then surely that fact alone should be sufficient to set alarm bells ringing about the sense in slapping down a joint club-record sum to secure his services?
As pointed out above, his price was preposterously swollen when compared to other players of the same position with an equivalent pedigree, who were similarly transferred last summer. 
Whilst I agree with the 'Well, it's not my money' sentiment up to a point (ie, I certainly won't be staying awake at night stressing over whether Moshiri can afford to shell out so many pennies without making Pot Noodles his one shitty meal every single night for the next six months), as supporters constantly watching and affected by what such purchases produce out on the pitch, and the impact they subsequently have on the club's league standing, then we're clearly going to form an opinion on whether any transfer fee was money well spent. 
If the club's transfer budget is 㿞m, say, and they decide to spend over half of it on a guy whose sole skill seems to be he runs about like he's trapped in a rapidly deflating spacesuit, whilst players of equivalent or superior ability are being snapped up left, right and centre for less than half the price, and other positions in the squad that are crying out to be strengthened are kept strictly on the back burner for transfer windows still to come, then I probably will carp on about 'value for money' and how said transfer budget might have been put to better use, even though I've (obviously) not taken any financial hit myself and my coffers are nary a coin lighter. 
John Graham
19
Posted 18/05/2017 at 19:52:12
The forgotten man. Well, I forgot about him anyway. Let's hope he makes a full recovery and doesn't lose any of his speed.
We will need all the players possible with the Europa League games starting early next season.
Good luck!
Terry Underwood
20
Posted 18/05/2017 at 20:14:03
It's not all about goals and assists. If he bombs down the wing, skins the full back, then lays it off for somebody else to put in the scoring cross, he gets no statistical credit, but is doing his bit.
Get well soon, Yannick!
Jeremy Jansen
21
Posted 18/05/2017 at 21:40:30
I wish nothing but the best for Yannick. I do feel as though we overpaid for him but that is no fault of his own. He usually has a positive impact on the game and that alone has me anticipating his eventual return.
And after just watching the Spurs trash the Foxes (wave goodbye to the golden boot Rom) I'm so very thankful we didn't end up with Sissoko. Bullet dodged on that one... Even in a great side he is woeful.
James Marshall
22
Posted 18/05/2017 at 21:54:36
Good luck to the kid, he comes across as a nice bloke and I enjoyed watching him play.
Peter Fearon
23
Posted 18/05/2017 at 22:02:40
I wish any injured Everton player the best on their struggle to recover but I have always believed Bolasie was overpriced and that he is all head and no Guinness.
He was bought to service Lukaku and, while he did not have a lengthy spell, he really did not do enough before he was injured to show that he was able to do that successfully and consistently. The idea at $28M is the "going rate" for a flamboyant but only moderately effective winger is luidicrous, with a capital 'lude'.
Mark Andersson
24
Posted 19/05/2017 at 01:12:40
Have to agree with John Daley simply put. I for one expect more of the same bollocks once the crazy money window opens.
Let's see what we spend the Rom money on, eh...
David Ellis
25
Posted 19/05/2017 at 04:56:12
John Daley (#12) etc,
Unless you are suggesting we signed Redmond or Chadli instead of Bolasie I'm not sure the comparison is useful as these are not options relevant to us. These players would not make it anyway near our squad and Bolasie is a first team player who is better than what we have and better than Chadli and Redmond (stats be damned). That's why his market value is so high. I don't like paying that kind of money, but you are critising the club for failing to take an option that was never open to it.
The choice was not between buying Bolasie for 㾹m or 㿈m. The choice was between signing him for 㿈m or not at all, and either wasting 㾹m on a player who won't make the squad (such as Redmond and Chadli) or having the money burn in our pockets for a season. There were no other options (we tried to sign many other players of high quality).
You could make an argument that not spending the money at all would be a wiser choice, but I don't think that would be a popular move with the fans, or rational since (a) Moshiri's intention is to spend money to improve the club's position rather than have it sitting in his bank account and (b) it[s unlikely that transfer prices will fall given the new TV contracts, so it's not as if we could buy better players for less later.
So the best option from the real world choices available was to buy Bolasie last summer for £28m.
I do however agree with you on the stupid "It's not my money so I don't care" comments. Er... it is Everton's money so we do care.
David Ellis
26
Posted 19/05/2017 at 05:02:42
Peter (#23) – ludicrous or not it is in fact the market value. Ageing centre backs cost £12m..young ones double that. Lukaku would be over £80m; Barkley between £35-50m. It goes on.
It's very hard to keep finding below market value players (like say Gana). We can't run the club on the basis that we only buy players below market price, we will not progress fast enough if we do that and momentum is important to keep the squad and the management together.
Mike Gaynes
27
Posted 19/05/2017 at 07:11:38
Thanks so much for the "stupid" remark, David. Very classy.
I consider the money debates essentially meaningless, especially because none of us really has the slightest idea what Everton has available to spend.
If you think that opinion makes me derelict in the intellect department, by all means dazzle our billionaire owner with your views of what he should spend and what he shouldn't.
John Daley
28
Posted 19/05/2017 at 09:10:22
David @25,
I wasn't suggesting we should have signed either Chadli or Redmond. Rather, simply disputing the claim that 㿈m was "the going rate" for a winger like Bolasie by pointing out players in the same position, with similar track records in the Premier League to that point, who were sold for significantly less in the very same transfer window. I fail to see how that's of no relevance when the issue raised was, specifically, whether we slapped down too sizeable a wedge or simply paid the 'current market price' for a comparable player.
You may determine Bolasie is 'defo' streets ahead of those two players, despite what their respective career stats say, but I would question on what basis you're actually making that call and whether the extra bit of quality you perceive can really be said to have been worth plonking down a further 㾻m - 㾾m for.
(Incidentally, I would probably dispute the claim Redmond wouldn't "make it anyway [sic] near our squad", on the basis that our paucity of wide players has seen Valencia, Lookman and Calvert-Lewin all shoehorned in as some sort of sub-par 'make do' patch at various points throughout the season).
"...you are criticising the club for failing to take an option that was never open to it"
No, I'm criticising them for taking the option they did, particularly at the price paid.
Bolasie's huge transfer fee put him firmly in the same bracket as summer buys like N'Golo Kante (㿌m), Sadio Mane (㿊m), Gabriel Jesus (㿇m), Henrikh Mkhitaryan (㿆m) and Georginho Wijnaldum (㿅m) – all players more coveted and of much greater reputation than the man Koeman chose to chuck a similar amount of cash at.
Had Bolasie really shown anywhere near enough in his career to that point to deserve similar 'big buy' billing? It's like Scorsese casting Kevin Webster from Coronation Street in 'Casino', but paying just the same as he would for Joe Pesci for the privilege.
David Ellis
29
Posted 19/05/2017 at 09:42:10
John (#28) – You make many fair points but I would say that we were better off getting Bolasie in than not, even at that price. Had we not signed him, the Moshiri -
Koeman project would have looked still-born and the fans would have been restless. That matters (whether rational or not).
The comparison with Georginho Wijnaldum (㿅m) is an interesting one as the press reported that we were interested in him but he choose Mordor. So he wasn't an option for us – neither were the other players you mentioned, Kante, Jesus, Mane etc. We have to pay more than the so called Champions League/big six clubs because the supply of players we can attract of the right quality is smaller – low supply equals higher prices.
Other than that I guess I rate Bolasie a little bit higher than you do. Let's hope he proves me right eh?
Mike (#27) – Sorry not intending to attack your intellect. But I just don't understand your point of view. Regardless of how much Everton has to spend (and you are correct we don't know), we don't want them to squander whatever they have.
Craig Taylor
30
Posted 19/05/2017 at 11:36:44
John (@12), you cant compere the prices between the two players because Spurs and player wanted to move on, Palace didn't want to sell. That means one will be a hefty price tag and the other a more modest price.
John Daley
31
Posted 19/05/2017 at 14:07:09
Chris @30,

If Crystal Palace were indeed reluctant to sell Bolasie and attached (what they thought was) an off-putting or prohibitive price on the player, then that simply suggests we did indeed pay more than he was actually worth in order to make sure we secured his services in the face of some resistance.
As we're talking about whether the buying club obtained value for money or paid over the odds, then a genuine reluctance to sell by the party sat on the opposite side of the negotiating table is only ever going to see the asking price rise over and above what is realistic and reasonable, and rapidly motor toward 'make them an offer they can't refuse' territory (although, if it took Alan Pardew awakening in his pit to find a severed horses head spurting blood all over his stale, semi-solid, spunky bed sheets in order to force through the Bolasie deal, then I'd probably do a complete about face and say it was an inordinately brilliant bit of business, purely on that basis alone).
Incidentally, for those who think I'm just being unreasonably harsh on, or dismissive of, poor old Bolasie, there was actually a study on the European transfer window undertaken by the CIES Football Observatory... an independent research group within 'The International Centre For Sports Studies'... back in September 2016.
(The spiel: "Since its creation in 2005 by Raffaele Poli and Loïc Ravenel, the CIES Football Observatory has become a reference point in the demographic analysis of the football players' labour market, the technical analysis of player performance and the scientific estimation of transfer values.
Researchers from the CIES Football Observatory are specialists in quantitative methods. The services provided include the mining of data and its visual representation.
The CIES Football Observatory has been regularly mandated by prestigious organisations such as FIFA, UEFA, City Football Group, Chelsea FC and SL Benfica. Mandates have also been carried out through the wider remit of the CIES Sports Observatory for organisations such as FIBA and the IOC." )

Their algorithm ascertained Everton had overpaid for Bolasie by a whopping 㾿m (€22.4m) with his true worth being closer to 㾶m.
Peter Fearon
33
Posted 19/05/2017 at 20:39:39
David Ellis – it depends on whether you think Bolasie was a shrewd buy. I would have rated him at about £10 million, maybe £15 million, given his age and performance. I think perhaps naively that £28 million should still buy you a highly effective, creative, inventive attacker with flair and spontaneity.
Bolasie has a little of that but without the end product. He will always take on one defender too many. We would have been better off keeping Deulofeu, especially if as you seem to be saying, £28 million only buys you mediocrity.
Ernie Baywood
34
Posted 20/05/2017 at 08:44:13
I've quite warmed to Yannick during his recuperation. It will be a shame when he comes back and infuriates me again!
Eugene Ruane
35
Posted 20/05/2017 at 13:15:11
John (#31), I agree (by any measure) we paid over the odds for Bolasie.
That said, after looking at the first link, the annoyance I felt at the estimate of us being stiffed to the tune of £19m, was tempered a little by the estimate of £17m over the odds paid for the player just below Bolasie on that list.
I shouldn't take succour from 'yeah but they're just as useless as us' (though much wealthier) but...any port etc.
Gary Edwards
36
Posted 20/05/2017 at 22:17:55
I completely agree with John's posts and believe I posted similar at the time of purchase. I like Bolasie, have admired him when at his best (in KL, 2013), had a few beers with a lad claiming to be his best mate, was glad that we bought him, was disgusted we paid £28m as he's simply not worth that much.
Liverpool, Man City, Man Utd etc have all wasted similar or larger sums on various players who didn't cut the mustard. Everton don't spend so freely, £28m is a large sum for us and with it comes the weight of expectation Bolasie was always going to struggle to meet expectation, reasonable or otherwise. I sympathise with the lad, he had no control over the price (& fees) Everton paid.
In this case the blame-thrower is pointed fairly and squarely at the amateurs who negotiated that transfer.
Paul Tran
37
Posted 20/05/2017 at 22:37:40
I can see why Koeman wanted Bolasie. The team lacked (and still does) direct pace and energy.
The time he did that WBA defender for pace from a standing start at the Hawthorns was one of my favourite moments of the season.
Since his injury, there's been plenty of games when I've longed for his (and Seamus's) pace to unsettle opposition defenders.
Of course he was overpriced; we'll have to get used to that. I hope his positive attitude pays off and we see him running down the wing for us again soon.

---
Add Your Comments
In order to post a comment, you need to be logged in as a registered user of the site.
Or Sign up as a ToffeeWeb Member — it's free, takes just a few minutes and will allow you to post your comments on articles and Talking Points submissions across the site.