Broadhead pens new Everton deal

28 Comments [Jump to last]
Monday 22 May 2017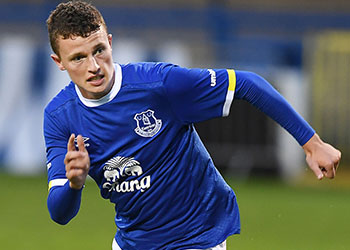 Everton U23s striker Nathan Broadhead has agreed terms on a three-year contract with the club.
The Wales U20 striker has signed a new deal that ties him to the Blues until 2020.
"I've been an Evertonian all of my life and it feels like the perfect place to be for me," Broadhead said.
"I'm just glad it's all done and I'm looking forward to next season now."
Note:: The length of Broadhead's contract was erroneously reported above as being five years and has since been corrected.
---
Reader Comments (28)
Note: the following content is not moderated or vetted by the site owners at the time of submission. Comments are the responsibility of the poster. Disclaimer
Eugene Ruane
1
Posted 22/05/2017 at 15:03:16
Well done to the lad, lot of hard work to get where he is.
Let's hope he has what it takes to make it to the top.
Oliver Molloy
2
Posted 22/05/2017 at 15:27:51
Yep, agree with that Eugene.
Clarence Yurcan
3
Posted 22/05/2017 at 15:29:37
Why couldn't this headline have read, "Barkley pens new Everton deal"?
John Quilliam
4
Posted 22/05/2017 at 15:36:28
"Barkley and Broadhead pen new Everton contracts."
That would have been the best headline...
Kevin Gillen
5
Posted 22/05/2017 at 15:58:12
This is obviously a joke thread to counteract the fact Barkley hasn't signed a contract yet and Koeman hasn't got the statement from the club he promised yesterday, right? Pleased for Nathan Broadhead if I'm wrong.
James Hughes
6
Posted 22/05/2017 at 16:03:17
Kevin, it's from the official site mate, the only joke is the sad soap opera being played out at present. Unless Broadhead is a fictional player made up by the club to distract all.
Eugene Ruane
7
Posted 22/05/2017 at 16:10:11
Clarence # 3 -
'Why couldn't this headline have read, "Barkley pens new Everton deal"?'
Dear me, Jesus, talk about a snowflake mentality.
1939: "GERMANS INVADE POLAND, BRITAIN NOW AT WAR!"
Granddad Yurcan: 'Tut! Why couldn't that headline have said "Veronica Lake to star with Clark Gable in new MGM thriller"?'
Mike Berry
8
Posted 22/05/2017 at 16:19:46
Good luck to this young man. I hope he still feels the same way about Everton in 5 years time.
As for Barkley, if he does not want to sign, let him go and allow Ronald to try and bring in the players he needs.
Dave Abrahams
9
Posted 22/05/2017 at 16:22:23
It seems a very long contract for such a young player, I don't think Kenny, Dowell or Walsh got 5-year deals, more like 3-year ones, maybe the lad is something special.
David Chait
10
Posted 22/05/2017 at 16:49:18
Him and Brewster would score in U18s for fun. Whereas it seems Brewster is stalling, this kid might have a future.
Personally surprised Brewster wasn't made automatic first choice for U23s. Seems to have everything. U23s wasn't blessed with a striker before buying Calvert-Lewin..
Damian Wilde
11
Posted 22/05/2017 at 17:31:12
Good to hear, another gem from the Unsworth stable? Has anyone seen the lad, good prospect?
Clarence, I hope not! 🙈

Bill Watson
12
Posted 22/05/2017 at 18:14:09
Dave (#10),
That's exactly what I thought. He must be really highly rated to get a 5-year deal.
Brent Stephens
13
Posted 22/05/2017 at 18:21:06
Hasn't Brewster had an injury?
Dave Williams
14
Posted 22/05/2017 at 19:06:50
I'm sure I read that the new contract was until 2020?
Dave Williams
15
Posted 22/05/2017 at 19:08:28
I did – the official site says 2020 which sounds more realistic given his age etc.
Well done anyway – reports suggest he is very good.
Hugh Jenkins
16
Posted 22/05/2017 at 20:01:17
The "new" Ian Rush?
John Dean
17
Posted 22/05/2017 at 20:01:18
Despite looking good in the Dallas Cup, Brewster couldn't hold down a first team place when on loan at either Stockport or Southport – I think he returned early from the Southport loan – so I think his horizon is more limited than our other young strikers, Sambou and Holland.
John Graham
18
Posted 22/05/2017 at 20:12:19
Just read that Jonjoe Kenny's contract runs out at the end of June. Is that right?
I can't believe we haven't signed him up on a longer contract yet. He's been brilliant in the U23s all season, captains the team, and just got MotM for the England U20s against Argentina.
Trevor McKinlay
19
Posted 22/05/2017 at 21:17:06
John (#18) – is that the same Holland that joined West Ham in January or is there another I'm not aware of?
Michael Kenrick
20
Posted 22/05/2017 at 21:39:32
Sorry, John (#19) — that might be our fault. Looks like his player profile has not been updated to June 2019.
Mark Dunford
21
Posted 22/05/2017 at 21:48:17
Seems like a vote of confidence in a talented young player. Good luck to him.
John Dean
22
Posted 22/05/2017 at 22:20:34
My mistake, Trevor. I should have said Fraser Hornby.
Peter Gorman
23
Posted 22/05/2017 at 22:54:59
Fraser Hornby looks like the real deal but seems to have disappeared into the ether of late, any ideas what happened?
Bob Parrington
24
Posted 23/05/2017 at 00:57:37
The coaching staff must see something in the lad or he wouldn't be offered a 3-year contract. Good on ya, Nathan!

Mark Andersson
25
Posted 23/05/2017 at 03:01:42
3 years is nothing these days – just Everton covering their backs for the future. Add's value to his eventual sale...
Alan McGuffog
26
Posted 23/05/2017 at 09:55:06
Whoopy bloody do. Another one bound for Brentford
John Graham
27
Posted 23/05/2017 at 19:37:48
Great. We need to keep hold of our good young kids. Some are just late developers. Some need a big crowd to boost them and others just can't cope with being a first team player, but we need to make sure we give them the time, support and enough chances before we discard them.
Barry Pearce
28
Posted 24/05/2017 at 10:43:12
Any news on Antonee Robinson?
I believe his contract runs out this summer. When I've seen him play, he has been impressive. Looks a good prospect to me.
---
Add Your Comments
In order to post a comment, you need to be logged in as a registered user of the site.
Or Sign up as a ToffeeWeb Member — it's free, takes just a few minutes and will allow you to post your comments on articles and Talking Points submissions across the site.