Robles to assess Blues role this summer

59 Comments [Jump to last]
Wednesday 24 May 2017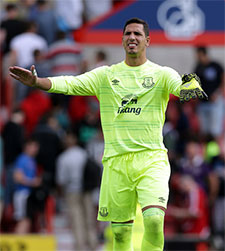 Joel Robles admits he is unsure of his future at Everton as he enters the final year of his contract with the club.
In that respect, while Ross Barkley's apparent contract impasse has been grabbing the headlines recently, Robles finds himself in a similar situation to his 23-year-old team-mate — although, unlike Barkley, it doesn't appear as though the Spaniard has opened negotiations over a new deal.
A year ago, Robles was looking ahead to finally enjoying being the Toffees' first-choice goalkeeper after wresting that title away from Tim Howard and then seeing the American secure a move to MLS with Colorado Rapids.
New manager Ronald Koeman had other ideas, however. Having signed Maarten Stekelenburg, he installed his compatriot as the starting 'keeper at the beginning of last season and Robles was again forced to bide his time.
Patience paid off again this year when an injury to Stekelenburg gave him the chance to prove his case again and a string of impressive performances earned him the starting berth even after the Dutch stopper regained his fitness.
Unfortunately, his form faltered again towards the end of the season and Stekelenburg was reinstated, only to miss the last two matches with another injury.
Robles, though, doesn't appear to be confident that he has won Koeman over and may be forced to assess his future if he doesn't want to play understudy again to what is predicted to be a new long-term goalkeeping acquisition this summer.
"It has been a complete season on a personal level," Robles told IBTimes. "I am quite happy with my performances. I played well and I think I have fulfilled the expectations.
"Now in summer we will see what happens. I only have one year left in my contract and I have to sit down with the club to make a decision."
"I think I have to make a good decision. I've been already here during four years fighting to be the number one and now the truth is that I am not very clear what will happen in the future.
"I have certain doubts. We will have to sit down with the club and see what happens."
---
Reader Comments (59)
Note: the following content is not moderated or vetted by the site owners at the time of submission. Comments are the responsibility of the poster. Disclaimer
Mark Andersson
1
Posted 24/05/2017 at 06:25:00
Good back-up keeper, but I would not blame him if he moved on.
James Watts
2
Posted 24/05/2017 at 06:41:53
Joel, it doesn't take a genius to know that unless our transfer window is an abject failure (which is more than possible) you will be, at best, 2nd choice.
But I guess with only a year left on your contract you should have made your mind up by now whether your signing or not? Then again didnt Ron recently say about Barkley "we offer contracts to good players" (or something similar). Guess that helps make your mind up.

Nigel Munford
3
Posted 24/05/2017 at 07:06:27
James, I don't think he's been offered a new contract yet, so how can he "make his mind up" and sign one?
James Watts
4
Posted 24/05/2017 at 07:17:36
Nigel (#3). Exactly my point. I think the decision has been made for him.
My 2nd para was tongue in cheek.
John Daley
5
Posted 24/05/2017 at 07:18:18
"Now in summer we will see what happens. I only have one year left in my contract and I have to sit down with the club to make a decision."
No pressure Joel, lad. Take your time (although I'm guessing if 'Honest' Ron hasn't been impatiently stood waiting with 'The Heat Is On' blaring full volume from his 'ghetto blaster', whilst tapping his watch to the beat and mumbling something about renaming you 'bloody Rossles', every time you walk by, then the writing could very well be on the wall).
Jim Harrison
6
Posted 24/05/2017 at 07:42:01
Was never likely to be Ron's choice. Good keeper, but to progress we need better than that.
Tony Abrahams
7
Posted 24/05/2017 at 07:50:09
Maybe this shows us that Koeman really does want Rossles to stay, John?
Sean Kelly
8
Posted 24/05/2017 at 07:58:36
Take the next train from Lime Street lad. Not at top level and unlikely to be.
Tony Draper
9
Posted 24/05/2017 at 08:10:41
Credit to Joel in two regards before this arose.
Firstly, he has improved immeasurably in the last 12 months in terms of technique. His "command" particularly has impressed me.
Secondly, when told by Koeman last close season that he was not first choice Joel went home furious and feeling hurt. However, he talked himself round and vowed to work harder and make Koeman think again.
Of our 2 first choice keepers, I'd happily wave Stekelenburg goodbye. He's as decent as he'll ever be, and frankly that's nowhere near good enough for Everton.
Robles has demonstrated his desire to improve. As a keeper he is still learning and eager to do so. He is, incidentally, the same age that Big Nev was when he broke through.
Do we need a proper top keeper to start next season? Absolutely. Is that Joel? Sadly, not at the moment.
I believe that to let him go could be a decision that we may regret. Extend his existing contract by another 12 to 24 months and reconsider in a years time.
We have far more fixtures to fulfill next season. Europa League plus we must have a proper tilt at both the League & FA Cups. With a view to winning all three plus European qualifying position in the Premier League. So retaining Joel makes good sense to me. Even buying a top drawer keeper doesn't make them impervious to injury.
Buy the best, keep Joel, lose Stekelenburg.
Denver Daniels
10
Posted 24/05/2017 at 08:14:47
Reading between the lines, Joel will be gone if we can find a buyer. Doubt we'll let him wind down his contract and leave for free. Even if he does stay, it won't be as first choice.
Ronald sure comes across as a ruthless SoB. Can't say I've warmed to his managerial style.
The way things are looking, we'll have to splash some major cash just to get the squad up to the right numbers, never mind improving the quality.

Raymond Fox
11
Posted 24/05/2017 at 08:16:59
Robles has performed well in my opinion; I would keep him as first choice goalie. There's never been a goalkeeper that doesn't make mistakes, we see any that Robles makes but we don't see all the other goalkeepers mistakes.
Our weaknesses are in front of him, central defence, midfield creativity and finishing. Pass and move forward into space is basic football strategy/skills, but this lot can't seem to grasp it!
Denver Daniels
12
Posted 24/05/2017 at 08:24:31
I agree, Raymond. We have more pressing concerns in most other positions.
How we'll replace Rom's goals and Ross's creativity has to be sorted out as a priority. We really do need an out-and-out playmaker to open up defences.

Oscar Huglin
13
Posted 24/05/2017 at 08:32:29
Let's not forget that Joel had the best save percentage in the league for a good few months. Not a bad goalkeeper at all. The problems were in front of him.
That said, if we spend right this summer, he should not be our Number 1 come August.
Brian Hennessy
14
Posted 24/05/2017 at 08:36:39
Agree with Raymond and Deenver, I think he is a decent keeper and did well this season.
Two centre halves, a winger, a two creative midfielders and a forward should be our priorities.
Kiern Moran
15
Posted 24/05/2017 at 08:44:17
I like Joel Robles and, in terms of age for a keeper, he is still young and learning the game. I would want to keep him at the club.
John Barnes
16
Posted 24/05/2017 at 09:08:45
Agree that Joel is on a par with most in the league and not an immediate concern to spend money on. It seems also that he wants to play for Everton which is a big thing with Koeman viz Barkley?
Dave Abrahams
17
Posted 24/05/2017 at 09:19:21
The lad has worked hard and been patient to get his chance at Everton, if the club, board, or the manager can give Mirallas a three-year contract then Robles deserves at least the same, even if it is, as in Mirallas's case, to get a decent fee for him.
In Robles's case he is a good goalkeeper who can get better with better defenders in front of him.
James Morgan
18
Posted 24/05/2017 at 09:30:41
I would keep him around as Number Two as he can be decent on his day. We need a real top-class, area-commanding nut-job of a keeper. They are few and far between but Germany seems to be a hotbed for good keepers so maybe we should look there.
Phil Walling
19
Posted 24/05/2017 at 09:47:15
Must say I have warmed towards Joel and he is far from the worst goalie we have seen at Goodison.
Having said that, I don't think he is what Koeman is looking for; if he prefers the duffer he signed last year, as seems to be the case, the Spaniard's days are truly numbered.
Shane Corcoran
20
Posted 24/05/2017 at 09:47:43
I think he has many of the attributes that a good 'keeper has but I think he has some issues upstairs.
His "guess" at Origi's shot from outside the box was ridiculous. He might improve in this department but a club with Everton's ambitions can't afford to wait around while he does.
Sam Hoare
21
Posted 24/05/2017 at 09:49:19
I think Robles did pretty well this season and was surprised to see Stekelenburg re-instated over him. All-in-all we could probably do with better but I'd be more than happy to keep Robles and second choice. Whether he'd be happy to stay in that role might be another matter...
David Ellis
22
Posted 24/05/2017 at 10:15:20
I'd certainly keep him as a No 2 but it seems this is not what the lad wants – so time to move on.
Paul Mackie
23
Posted 24/05/2017 at 10:15:53
He's a good shot-stopper but he's more than prone to some absolute howlers. If we're serious about breaking into the top 4,then we need a De Gea, not a Mignolet.
Daniel Lim
24
Posted 24/05/2017 at 11:26:55
He's better than Stek. If not for his stupid moment against... can't remember which team where he brought down a player running towards the corner flag and thus giving away a penalty – he wouldn't have been dropped recently.
James Stewart
25
Posted 24/05/2017 at 11:27:53
Not good enough on a consistent basis – his performance against the RS was a joke.
Daniel Lim
26
Posted 24/05/2017 at 11:30:59
Almost everyone was a joke against the RS...
Ian Bennett
27
Posted 24/05/2017 at 11:45:33
I am indifferent if he stays or goes. For most of the season, he's been improved, although when he's bad – he's terrible. On balance I think that means cash in and look to bring someone young and talented as back-up.
First choice for me would be Butland, although the links for Iker Casillas should be very welcomed. He could be a big name addition that could help encourage other talent in.
Ian Hollingworth
28
Posted 24/05/2017 at 12:05:48
I was unsure of his future when he signed and unfortunately I have not seen anything to change my mind.
David Pearl
29
Posted 24/05/2017 at 12:07:57
He's improved this season , I'm sure he'd keep improving too. Highly underrated. A few mistakes though, the Burnley one defied logic.
Actually Stekelenburg wasn't as bad as people make out. He's another that has the ability but not always confidence. The Spurs game he was great. And that performance away to City was perhaps the performance of the season by an Everton player. What a game he had.
Dale Rose
30
Posted 24/05/2017 at 12:17:57
Goalkeepers... that's a hard one – they can all have howlers on their day. All players can have a poor day, but goalies poor days are a disaster. Take it from the fat kid last to be picked who spent his formative years in goal having endless poor days.
Robles was never a bad keeper and has put a good shift in. I'd be sorry to see him go. Shittiest job on the field.
Jay Wood
31
Posted 24/05/2017 at 13:16:52
Hmmm...tricky one.
He has improved this season.
Still has much to prove and improve.
Is still young in goalkeeper terms.
Needs more game time to continue improving and maturing.
He could grow into a really good 'keeper. Or, he may eternally be just an 'Okay' 'keeper.
What he is now is NOT a top, top 'keeper who you can't drop from the team. IMO we need a really good and proven player in this key position. Both Joel and Stekelenburg have their good days, but are both a bit 'meh!'
It should be a priority position this summer. If Joel also leaves, then we need two incoming 'keepers to ensure cover.
The best option for the club is to retain him as backup to a better player, but the lad has a say in this. If his ambition is to play regularly, his best option may be to move on, because if Koeman and Walsh are in the market for 'keepers – and they should be – then logic dictates it should be for one better than those we already have at the club.
Rob Baker
32
Posted 24/05/2017 at 13:21:23
Well all remember Big Nev too well which means – with the exception of Nigel Martyn – the list of shite keepers is endless (Myhre, Simonsen, Wright, Gerrard, Howard, Ruddy, Robles, Stekelenberg etc)
Mike Berry
33
Posted 24/05/2017 at 13:30:22
I like him, he has all the attributes to become a top keeper; still only 26 – he just needs a little more time. I would definitely keep him as No 2 and be pleased if he made the main job his.
Anto Byrne
34
Posted 24/05/2017 at 13:41:38
Big Nev took a while to cement his place as our greatest ever keeper. Robles wasn't alone in some bad performances but he was probably our best player against Arsenal.
Peter Cummings
35
Posted 24/05/2017 at 13:51:20
While he apparently hasn't been offered a new deal I think he should get at least another year, I named him MotM after the Arsenal game for stopping a 6 goal rout with at least 3 'one-on-one' saves plus his improvement overall including many clean sheets since Howard left,
Not happy to include any red references in my posts but wasn't Mignolet made the whipping boy for their early losses?? Yet to my mind, it was his form that got them into the Champions League.
Peter Murray
36
Posted 24/05/2017 at 14:09:36
Just at a loss for comment!!!
If this is the quality of current "explanations" on our Web Page then we are definitely struggling, as after a season of this nature for our keeper to not comprehend this – is totally unbelievable.
Just hope his agent is more on the ball, & able negotiate something away from Goodison, or accept 2nd place behind AN Other.
Alan J Thompson
37
Posted 24/05/2017 at 15:21:22
It seems like straight-talking honest Ron isn't all he seems, certainly not a man Manager. How long has his mate Stekelenburg got to go?
Probably talking to the Board about this one after his hols...
Steve Ferns
38
Posted 24/05/2017 at 15:23:54
Who can we get to replace him?
I'd have been shouting from the rooftops for Hart, as I was last August. But he's not impressed in Italy and he looks to have been exposed over the last couple of years. I would still take Hart and do think he's top 6 or even top 4 quality, but the 㿀m+ it would need to secure him is too much. Robles is not that much worse than Hart.
As for blowing the 㿀m on Pickford, or 㿊m on Butland, I would prefer to use that money on other positions. Robles is not the same magnitude of weakness we have elsewhere, for example cover at left back, a top class centre back, cover at right back, pace on both flanks, and most importantly 2 strikers (1 if Rom surprises me and stays) and a Number 10 (regardless of whether Ross stays).
My shopping list if I was Walsh would be:
Big number 9, Pacey number 9, Flying winger capable of playing on either wing (2 depending on Bolasie's recovery), Number 10 – advanced playmaker in the Silva mould, and a commanding centre half.
I think we need to focus on quality and if only a few players arrive in the summer I could cope with that. Maybe we could give Kenny a chance as cover at right back, Galloway and Robinson could cover left back.
Centre mid concerns me also. We've gone from having far too many to actually looking light next season. In my mind we have a midfield triangle of two from Schneiderlin, Gueye and Davies and then a playmaker at the tip of it. Barry looks like he's in rapid decline now. McCarthy is off for sure in the summer, so we need someone else in there with a lot of legs.
On the flanks we only have Mirallas, Bolasie, Deulofeu, Barkley, Valencia, Calvert-Lewin and Lookman. Of these, Barkley actually did well on the right and I'd like to see more of him there if he stays. He can attack on the outside with his more dominant right foot, but he can also cut inside and unleash that booming left foot he seems to favour when it comes to the long range bombs he's hit in the past.
Deulofeu will be sold, Valencia will be sent back and not purchased, and Bolasie is an unknown quantity. Calvert-Lewin and Lookman were unconvincing on the flanks, with the former being a centre-forward and not a winger. Leaving Mirallas as the only wide player we have, and he wasn't even first choice last season for long spells.
This is an area that really needs to be addressed. How many times did we see how Valencia's pace opened up defences for Lukaku? We need more pace and someone with a better all-round game than Valencia.
It's going to be an interesting and probably disappointing summer...
Andrew Ellams
39
Posted 24/05/2017 at 15:31:27
Did anybody see the feature and interview that Sky Sports did on Jack Butland last Saturday and how long they spent discussing how Stoke would sell if a decent offer came in? It had "set up" by his agent written all over it. Go get him!
Gary Edwards
40
Posted 24/05/2017 at 15:41:16
It's highly likely that him, McCarthy and Kone will leave this summer and therein ends the 'Wigan link' and about time.
I really hope we get Butland; I also think Bergovic would do the job. However, Hewelt has just signed a new contract – is this the route we're going down? The club seems to be selling such events as "signings" which I suppose technically they are.
Fran Mitchell
41
Posted 24/05/2017 at 17:23:21
Should be kept as back up. Give him Europa League, FA Cup and League Cup duty and a decent pay increase.
Having a good back up is essential. Without one and we are vulnerable, and Stekelenburg is no good. Also, a player who is equal to Joel will cost 㾶 million upwards, and we need to focus on a new No 1. Give him a 3-year contract, the chance to prove himself in Europe and sell in a year for a good fee and replace with a young prospect.
Andy Crooks
42
Posted 24/05/2017 at 19:34:44
I agree with Raymond Fox. In my view he is good and will get better. Hart reminds me of Gary Sprake; inexplicable that someone capable of such jaw dropping howlers could play at the highest level.
Peter Lee
43
Posted 24/05/2017 at 20:09:19
The fact that he has got to this point with a year left suggests that he is not a priority for the club.
He is at least as strong as Stekelenburg and will get better. All keepers prosper behind a solid, predictable centre-back pairing. He hasn't had that. To judge where he's at compare him with De Gea. He has also worked behind nonsense for most of the time but he is always top notch.
I'd keep him and play him for cup and other less challenging league games to see how he works out behind a more solid back 5.
If we can sign better, we should do so.
Stephen Scofield
45
Posted 24/05/2017 at 20:45:21
I like Robles and he's way better than Stekelenburg. He's not a world beater yet, but could be with consistent game time. His dealing with crosses had got a lot better this season.
I think goalkeepers are affected by confidence as much as strikers and he's been let down by Ron by putting that awful Stekelenburg back in when he makes mistakes.
As he doesn't have the rep, it's a lot easier to see his mistakes. He was 7th in the stats table for Premier League keepers this season, so a couple of consistent seasons he could be right up there.
Not saying don't sign a world class Number 1. But if push comes to shove I'd prefer the money spent on defence and on the wing and a Number 2 goalie.
Jack Convery
46
Posted 24/05/2017 at 22:21:00
Plays one or two good games a season and therefore simply not good enough for a team with our aspirations. Butland is the keeper we must buy – I repeat, WE MUST BUY.
No ifs, buts or maybes – it's the only decision to take. Top goalies win matches and Butland is and will be for years a top goalie. Van Dijk and Siggurdsson too – not asking for much is it?
Darryl Ritchie
47
Posted 24/05/2017 at 23:15:33
Keep Robles... lose Stekelenberg.
Gavin Johnson
48
Posted 24/05/2017 at 23:59:03
Probably best to try and sell. It's unfair to keep him as a No 2 after being given a chance and him just coming a little short to make the place his own.
Joel needs to be a No 1 at this stage in his career. We need to buy an established name keeper we've been talking about for the last 3 seasons. Stekelenburg would be my No 2 next season.
John Pierce
49
Posted 25/05/2017 at 00:27:49
Another player for one reason or another has never been able to grasp the nettle and nail the position down.
That, after 4 years is enough to say sorry lad, move on. I'd clear out the whole goalkeeping fraternity.
Time to buy a clear Number One and find and suitable back up, time served I'd say rather than up and coming. Candidates are few and in many ways not a many that standout either
I think Butland would be my choice, despite the injury has made a decent comeback, Stoke are treading water and will be dogs to deal with but I reckon £15-20m would get us our man.
Less said about Stekelenburg the better, just a comfort blanket for Ronko and useful to have a zealot in the dressing room to spread the book of Ronko.
To start the season without a clear recognised No 1 would point to a poor summer out of the gate.
Wouldn't bet against Joel starting the Europa League games equally...
Jim Hardin
50
Posted 25/05/2017 at 00:54:52
Joel Robles deserves to be a Number One keeper matched up at a team in a league that suits his ability. That is neither the Premier League, nor is it Everton. Take his locker and give it to Niasse. Has not improved significantly enough in four years to warrant either wages or a spot on the team. Still not even the best keeper in the world with the last name Robles.
Mark Riding
51
Posted 25/05/2017 at 01:49:02
John #49. You really think £15-20m would get Bultand ? He would cost £40m all day long mate.
Drew O'Neall
52
Posted 25/05/2017 at 03:26:17
Joel is better than Stekelenburg, who is pony.
Joel saved us with saves in one-on-one situations a number of times this season – most recently at Arsenal from abject humiliation.
I would put up with awaiting improvement in his positioning and make him No 1 in light of the paucity of alternatives and priorities elsewhere.
If Butland became available for 㿀m as John says, I would snap him up.
Sean Kelly
53
Posted 25/05/2017 at 06:54:02
Gavin (#48) – "it's unfair to keep him as a No 2"
Unfair by whom? He's a well-paid No 2 who is supposed to be challenging for top position and cementing that position when he gets it. Easy ride for him since arriving.
Tom Hadley
54
Posted 25/05/2017 at 11:58:15
I definitely want Robles to stay. It would be foolish for Koeman to say that he'll start the season as No 1 but with Europe League games Joel would probably get at least as much game time next season as he has this.
He's a very capable keeper, sometimes excellent, so he's just the kind of guy you want to push your No 1 to maintain form. As long as Koeman doesn't make him feel that he has no chance of first-team action, then I hope he'd stay.
Perhaps it'll come down to how settled he feels personally in the UK, I doubt he'd get a better gig in the Premier League, but if he wanted to move back to Spain then I'm sure there'd be suitors from middling La Liga clubs.
Ernie Baywood
55
Posted 25/05/2017 at 12:51:15
It's not exactly make or break whether Joel stays. I find him very likeable and a decent Number 2 but he's probably not quite what we need in our first choice keeper.
This news article serves as a bit of a reminder that clubs and fans really have no right to demand loyalty or commitment from players with regards to contracts. Joel hasn't been offered a contract, while we insist on Ross's commitment. The only difference here is what the two players are worth on the market.
Dan Egerton
56
Posted 25/05/2017 at 15:48:41
Give him another two years extension. Let him continue to fight for the Number 1 spot; meanwhile we have a solid, hungry, still-young goalkeeper to play in cup games etc.
John Chirk
57
Posted 25/05/2017 at 18:36:39
I would give this guy away for free. He's cost Everton so many goals and points this season. In my opinion, he is slow and has no positional sense... he's a disaster.
Ian Linn
58
Posted 26/05/2017 at 06:00:26
Simply not good enough
Dave Abrahams
59
Posted 27/05/2017 at 09:08:40
Interesting to read Kevin Ratcliffe's take on Robles: he thinks he can improve, lists his qualities but points out the mistakes he makes and finally says Everton should sign Joe Hart.
Sorry Kevin, if any goalie makes repeated errors throughout his career, it is Joe Hart.
Paul A Smith
60
Posted 29/05/2017 at 21:35:29
I hoped we would offer Joel another deal but keep him as sub keeper. Is he going to start for another club? I doubt it unless its a lesser standard which he maybe happy to do?
A lot of Keepers don't get out of their bad habits until they hit over 30 and while Joel has made mistakes he has played very well when he was the bit part.
5 years is all a long-term goal keeper can expect these days and maybe over 2 years playing League Cup and the nothing Europa League games (hopefully), he may cut out the nerves or the hasty decisions and become the regular keeper for 5 years.
Or simply loan him out, but who w ants to enter the market for two goalkeepers in one window!

---
Add Your Comments
In order to post a comment, you need to be logged in as a registered user of the site.
Or Sign up as a ToffeeWeb Member — it's free, takes just a few minutes and will allow you to post your comments on articles and Talking Points submissions across the site.