Deulofeu could be heading back to Barcelona
Monday 19 June 2017

72 Comments [Jump to last]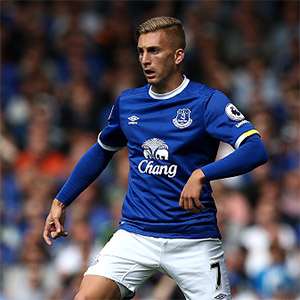 Gerard Deulofeu is set to return to his former club Barcelona, who will be activating their buy-back clause, according to a reliable journalist.
Paul Joyce of The Times, who has an impressive track record when it comes to reports about Everton, tweeted earlier that Deulofeu will be heading back to the Nou Camp in a £10.5m deal this summer.
Barcelona negotiated an option to purchase the Spaniard back from Everton after the first or second year of his permanent contract at Goodison Park and while former boss Luis Enrique wasn't interested, it seems as though incoming manager Ernesto Valverde wants Deulofeu back with the Blaugrana.
There had been suggestions from some media sources that the 23-year-old wasn't that keen on going back to his old stomping ground, preferring to stay in Italy where he enjoyed a fairly successful loan spell with AC Milan.
With no offer forthcoming at the San Siro, however, and Ronald Koeman seemingly unconvinced that he has a long-term future at Everton, it appears as though a return to his boyhood club makes the most sense.
Should the transfer go through, it would represent a profit to the Toffees of over £6m and, under the terms of the original deal, Barça are barred from selling Deulofeu on for at least a year.
---
Reader Comments (72)
Note: the following content is not moderated or vetted by the site owners at the time of submission. Comments are the responsibility of the poster. Disclaimer
John Pierce
1
Posted 19/06/2017 at 05:29:45
A deal so convoluted that did anyone really know what it was?
The player trading profit will add to our new wage bill. Ding!
I saw a player who had some eye opening cameos, coupled with a poor attitude but most fatally an inability to grasp the physicality of the Premier League.
Would it surprise me if we saw more from him in Spain or Italy, no the talent is there for sure, however his spells at Sevilla and Everton seem more typical than his spell at AC Milan.
Shaun Wilson
2
Posted 19/06/2017 at 05:45:11
Totally agree with you there John. I had high hopes for this lad the first time I seen him play, and even higher hopes when we got big Ron in, as Martinez would rather have Tom Cleverley on the pitch. I'm guessing big Ron figured him out and got rid.

Another lad who should be worried is Mirallas. Time to shit or get off the pot, lad. Plenty of talent but no consistency, how long is Ron gonna put up with that?
Mark Andersson
3
Posted 19/06/2017 at 05:47:02
Something dodgy here. Buy back for £10 million then sell to Italian club for £15-20 million.

Never a Premier League player. Let's hope we can get some players in that have the right attitude and want to play for Everton FC.
David Barks
4
Posted 19/06/2017 at 06:12:53
Mark,
No, they can not buy him back and sell him. Maybe next year, but not this year. He wouldn't be the first player to not make it at one club or in one league but be a success at another.
In fact, we've benefited from plenty of those players, Arteta to name one. I still feel like he could have helped us last season but oh well.
Joel Jones
5
Posted 19/06/2017 at 06:20:57
Gutted at this one. Seems that anybody with any sort of attacking edge to their game will be pushed out the club in favour of lads that run around loads... We're literally back to where Moyes left off!
Instead of looking what they can't do and trying to coach it into them, why not take their strengths and improve them? Allow others to do the grafting
Paul Dewhurst
6
Posted 19/06/2017 at 06:32:05
Joel Jones – top flight games: 98; top flight goals: 10, 4 being at Milan. He's made a pass here and a good cross there but on the whole not delivered, he doesn't win games and doesn't work as part of a team.
James Stewart
7
Posted 19/06/2017 at 07:05:01
Not good enough, simple as that. Poor decision-making, embarrassing fitness issues, and does not press at all from the front.
Charlie Lloyd
8
Posted 19/06/2017 at 07:09:03
Joel @ 5
You'll never coach defensive awareness into his game. Some erratic talent but too petulant.
Koeman is going for tougher players physically and mentally at some expense of mercurial types. Let's not forget though that the Mourinho Chelsea version has achieved more than the Wenger Arsenal version.
As much as Deulofeu has talent he is not the answer to take us forward and making a profit of ٤m is fairly good business.
Adam Scott
9
Posted 19/06/2017 at 07:09:04
Joel, he is one of them that look class on a highlight reel. Truth is that he is a luxury player. Off the ball, he does nothing, owing to his physicality and awful level of fitness.
Sam Hoare
10
Posted 19/06/2017 at 07:18:01
Hmm. He's not cut the mustard yet but I do think there's a good player there with age on his side. He is captain of an extremely talented Spain U21 team. He's also one of our very few players who can make something happen out of nothing.
Yes, he has flaws that probably stop him from being a consist starter in Koeman's XI but, if it were up to me, I'd keep around; if nothing else, to bring him on in tight games which might need a mercurial moment.
Philip Jeffries
11
Posted 19/06/2017 at 07:23:15
Best of luck to the lad. A glimmer of hope when we needed one and will be remembered for his goal celebration at Arsenal.
No way he would fit into Koeman's pressing game, so that's another off the wage bill and another £10m back in the kitty. This transfer business is easy, hey?
Steven Jones
12
Posted 19/06/2017 at 07:28:58
He has been good for us – attracting talent, good for our brand. He has amazing talent, hence in Spanish full and U21's as captain.
Yes he needed to improve his physical and defensive aspects. However the biggest miss was Martinez and may be other players not being able to read all his brilliant crosses.
The "get to the by line and pass to the near post and 6-yard box" play was something that we missed a big trick with. A Defoe type rather than a Rom type would have had a field day – as would a Frank Lampard running late into the box – dare I say a Davy Klaassen type would have seen and relished getting onto those balls.
We minimised his strengths and maximised his weaknesses.
Trevor Peers
13
Posted 19/06/2017 at 07:32:01
Maybe Deulofeu wasn't the answer in terms of giving consistently good performances, but It's baffling that we will now have no obvious attacking options down the wings, except Bolasie who is months off a full recovery.
Koeman now needs to concentrate on shipping in some players who can score and create goals from the flanks; looking at the present squad, where are the goals going to come from?
Hugh Jenkins
14
Posted 19/06/2017 at 07:41:06
Trevor (#13).
I thought that this is supposed to be one of Sandro's strengths?
Thomas Surgenor
15
Posted 19/06/2017 at 08:01:45
Another point that people seem to forget in this convoluted deal is that, if they do end up selling him, Everton are entitled to a large percentage of any profit.
I don't know who was primarily responsible for all these terms but it was one heck of a deal. I had hoped he would stay though.
Trevor Peers
16
Posted 19/06/2017 at 08:08:24
So Hugh @ 14, you're satisfied with our attacking options?
Ray Roche
17
Posted 19/06/2017 at 08:11:17
Hugh@14
Have you seen Sandro in and Everton shirt yet? When or if he signs, then we'll see if it's one of his strengths or not. I'd have kept Deulofeu myself.
Paul Tran
18
Posted 19/06/2017 at 08:26:54
I've seen lots of talented players in my time. So many of them lack the resilience, nous and desire to get to the top. Deulofeu is one of them.
I wanted him to be better, he's had more lives than a lucky cat, but ultimately if we want to progress, he isn't good enough.
Best of luck wherever you go, Geri. There'll be a league somewhere where you will shine.
James Morgan
19
Posted 19/06/2017 at 08:32:55
Shame that he didn't quite make it here, the lad has talent but his stamina and strength are questionable. It's also a shame we won't be selling to another club for about ٣m more!
Good luck, Geri.
Brian Williams
20
Posted 19/06/2017 at 08:35:17
If Barcelona choose, and it seems they have, to activate Geri's buyback clause and Geri himself is happy to accept that then we couldn't keep him. Yes, that's right, we couldn't keep him even if we wanted to.
The deal included the buy-back clause on the condition that Geri was included in Barca's first team squad for at least a season and couldn't be sold for at least a season.

Andrew Ellams
21
Posted 19/06/2017 at 08:40:27
Geri will be one of those remembered with a shoulder shrug. Not the worst player we've ever had but never lived up to his potential. A bit like a certain local lad who may or may not be with us next season.
Colin Glassar
22
Posted 19/06/2017 at 08:46:06
Munir coming the other way?
Eddie Dunn
23
Posted 19/06/2017 at 08:46:12
An example of a flawed genius. Incredible skill but lacking tenacity, with poor fitness and a penchant for diving with his pathetic squealing. He is like Raheem Sterling, only Sterling knows how to put in a shift.
If he had played for one of our rivals, we would have despised him. He will eke out a living somewhere but not here.
James Morgan
24
Posted 19/06/2017 at 08:54:45
One wonders what he had to say about the club and Koeman to Sandro. You'd be forgiven for thinking he may hold a grudge against Ronald, or on the contrary he may respect his honesty and have great things to say about the fans and training facilities etc.
Just a thought.

Phil (Kelsall) Roberts
25
Posted 19/06/2017 at 09:15:18
29 starts and 30 times off the bench. 2757 minutes on the pitch with only 8 times when he played the full 90 minutes. 5 goals at an average of one every 545 minutes = one in every 6 games over 3 seasons.
Thanks for the profit.
And who did negotiate that deal? Can't have been Bill or Bobby as they cannot negotiate anything.
Adam Fenlon
26
Posted 19/06/2017 at 09:32:31
If he's on loan, Ron considers him surplus to requirements. If we're getting £10m for a player the boss doesn't want, then it's a no-brainer.

Rob Coles
27
Posted 19/06/2017 at 09:44:55
Was wondering where we have found a reliable journalist???
Peter Gorman
28
Posted 19/06/2017 at 10:12:28
Haha, indeed Rob.
Jim Potter
29
Posted 19/06/2017 at 10:31:30
On his day, a really exciting player. But it tended to be one day per annum – just like Super Kev (aka Fairly Poor Kev).
I liked him and I think he 'got' us – so a shame he never played to a consistently good level.
Good luck Del (but please cut the fake injury acting out of your game).
Andrew Ellams
30
Posted 19/06/2017 at 10:36:41
Colin, is that a guess or do you know something?
Brian Williams
31
Posted 19/06/2017 at 10:53:57
Andrew, it's been on a few sites. More junk rumours.
Danny Broderick
32
Posted 19/06/2017 at 10:55:47
I always liked Geri, for the simple reason that he could come off the bench and change a game.
I know he doesn't track back, but I don't feel we have used him enough in a central role, where he could make runs through on goal. He has been banging them in for Spain Under-21s, and is now their captain. Surely there's a good player in there somewhere.
I would have liked to see him playing just off Rom.
In any case, it's a reasonable deal for the boy if he is not wanted. I just think we will struggle to buy a better player then him for 㾶 million. And he gave us something different...
Ernie Baywood
33
Posted 19/06/2017 at 11:05:17
I can't believe anyone can say he's not good enough. For the seemingly physical and stamina issues, he's extremely talented. I don't know if we've seen too many with more talent.
Someone will find a way to use him effectively, it was just never going to be us. Never really fitted in with our style of play.
I'll still keep an eye out for him.
Rob Dolby
34
Posted 19/06/2017 at 11:06:38
The Spanish version of Pat Nevin. Lots of skills and dribbles but the lungs of a sparrow.
A part of me is sad to see these type of players frozen out of the game by the stereotypical 6-pack 400-meter runner.
Give me quality over perspiration any day but in reality modern day football is all about workrate and arguably less about the art of the dribble.
Good luck to the lad; let's face it, he isn't being sent back to Accrington Stanley, is he?
Andrew Ellams
35
Posted 19/06/2017 at 11:17:22
Danny, I think Lookman will be a better player and he's already on the books.
Brian Williams
37
Posted 19/06/2017 at 11:26:40
Lot's of rose-tinted specs views IMO. Some seem to remember his "wonderful" moments but neglect to remember that those moments were just too few in number.
There's no doubting when he does what he does well he's exciting, but unfortunately those moments are few and far between.
It's not about him having to become an automaton or a workhorse but it is about him being effective and it's about percentages. You have to weigh up how much he's in the game for how many games.
Answer is not enough on both counts.
Brent Stephens
38
Posted 19/06/2017 at 11:33:42
I was excited when he first started playing for us. But he increasingly frustrated expectations. It wasn't just his lack of effort and poor stamina but his decision-making, too many crosses misjudged, that hanging of the head and giving up, throwing himself to the floor when tackled.
Tom Bowers
39
Posted 19/06/2017 at 12:35:26
Yep, Deulofeu is a disappointing player. Everton need consistency and have had too many players over the years who, despite obvious skills, just flatter to deceive – and Barkley seems to be that way too.
I cannot see him being any different back at Barça except as a bit-part player.
Mark Morrissey
40
Posted 19/06/2017 at 12:42:37
He arrived as a beacon of hope from a top club and at the time I felt we had raised our profile by attracting a player of his proposed prowess but he flattered to deceive and it was a real shame.
A top lad who did a lot off the field with the local hospitals to help the spirits of some of the City's children. If indeed he is on his way, I'd say thanks and best of luck to the lad.
Tony J Williams
41
Posted 19/06/2017 at 12:46:01
He is one that you thought could grow into being Arteta Mk II.
Unfortunately, as Rob above states, huge amounts of skill, minimal lung capacity (rumours are that he's a smoker).
Not one to put the blame at the board's door too much if Barça have decided to invoke the clause. we all knew it was there just didn't expect it to happen.
It's a shame, would have been nice to keep him and let him flourish in a more central, defensive-free role.
Not enough end product – and I hated the diving and moaning too.
Julian Wait
42
Posted 19/06/2017 at 13:06:38
I liked to watch him play, and wish him the best of luck, but sometimes both player and club have to move on. A small profit helps too.
Tom Bowers
43
Posted 19/06/2017 at 13:12:03
Brent Stephens (#38),
What you say reminds me of Raheem Sterling to a tee. So much possession and no end-product and yet still, for some unknown reason, rated by Man City and England.
John Pendleton
44
Posted 19/06/2017 at 13:20:56
For – his performances against Arsenal away and Middlesbrough in the cup.
Against – diving habit (at a time where our non-diving set us apart from most).
Hired to beat his man, not track back; judged on that alone, he didn't do enough for us. But he might do for Barça, it seems.
Rob Hamilton
45
Posted 19/06/2017 at 13:49:39
£10.5M would be good business for someone who has only shown glimpses. It would be £500k more than we got for Arteta!
Simon Jones
46
Posted 19/06/2017 at 14:03:23
File in the same section as Royston Drenthe.
John Hughes
47
Posted 19/06/2017 at 14:12:16
Rob (#45) – where is the Arteta money? Somebody's going to ask so thought I'd may as well ask...
Brian Furey
48
Posted 19/06/2017 at 14:32:36
He's the top scorer for the Spanish U21s and holds the most caps at that level – 33.
To me, this sums up the lad very well. He has played for the U21s for 5 years. He started with them in 2012 when he was 18 and has remained at that level ever since.
Some reporters seem to think he's done well at Milan but like most clubs he's moved to, he starts off well and puts in some effort but soon becomes his old self and often has no final product.
I think Barca know that 㾶M that was agreed a few years ago is really worth a lot more now and so they will either play him in the B team or can they loan him out for a year with a view to selling him after the one year agreement is fulfilled.
To me, he's the exact type of player that Koeman doesn't like in that he won't work hard for the team and is too quick to give up. Klaassen probably doesn't have half his speed, skill or potential but is a hell of a lot more effective.
Mike Gaynes
49
Posted 19/06/2017 at 14:48:56
Simon (#46), way too harsh but I agree with the general sentiment.
Since he left, we have missed him... in the final 15 minutes of perhaps four games. That's not enough.
Time to stop thinking about what might have been; wish this nice young man the best and close the door.
Anto Byrne
50
Posted 19/06/2017 at 15:13:17
Seemed to lack match fitness so needed a run of games and also a team with some form. Did well in a defensive Italian league.
I was hoping he was going to mature and become a better all round player. Surely the fitness coaches have a responsibility to ensure he gets to the right level.
Anyway good luck to him wherever he goes still a player that I would pay to watch.
Brian Williams
51
Posted 19/06/2017 at 15:48:49
Stay tuned to this channel Phil! ;-)
Jay Wood
52
Posted 19/06/2017 at 15:49:29
A wonderful player to watch who gave us more than the one good game per year claimed by some.
There isn't a player at the club capable of reproducing what Deulofeu can. He evidently doesn't conform to the template Koeman wishes to apply to the team.
There is more to football than your greatest attribute being to run for 90 minutes all over the pitch.
I for one will miss him and what he can add to our game.
John Smith
53
Posted 19/06/2017 at 15:56:04
"Something dodgy here. Buy back for 㾶 million then sell to Italian club for 㾻-20 million."
Wrong.
Everton FC have first buy rights deal. Barça can't sell him on for big money if we want him back. Also, if we do lose him, we get a huge percentage on the deal. I think it's like 30% or maybe more.
Hugh Jenkins
54
Posted 19/06/2017 at 16:11:32
Trevor (#16). That will depends on whether Lukaku stays and how well Lookman and Calvert-Lewin develop in the coming season, along with Sandro, if we do eventually get him.
Like most, I cannot feel satisfied if I feel we are standing still, but I do believe we are starting to make real progress and are finally moving in the right direction.
John Smith
55
Posted 19/06/2017 at 16:42:33
And don't blame Bill Kenwright for the deal. He negotiated a pretty savvy deal at Martinez's insistence.
Mike Berry
56
Posted 19/06/2017 at 16:50:22
Not suited to the hustle and bustle of the Premier League and cannot do the 90 minutes, only the odd flash of genius but then a lot of wasted passes. Sometimes he is sadly a passenger.
Not good enough when you look at the whole package,and the needs of the team, we will take the money and move on. I wish him well and I am sure he will do better in Spain.
Paul A Smith
57
Posted 19/06/2017 at 17:41:07
I agree with Joel post 5 to a certain extent.
I would have liked to have seen us bring out the best in Deulofeu and I see Barca as another waste of time for him.
If Fabregas at the top of his game can'tget respect or trust at Barca its hard to see Deulofeu breaking into their amazing attack.
Not sure we are back to the Moyes days but these run around players cannot produce quality enough over a season and the majority of our fans prefer the duracell bunny approach.
I think it needs mixing more to be successful.
Gordon Crawford
58
Posted 19/06/2017 at 18:03:25
Would be disappointing to see him go. I still don't think he has had a chance to shine.
Fair well Geri, I hope you succeed.
Anyone any news on Sandro?
Paul A Smith
59
Posted 19/06/2017 at 20:41:49
Jay Wood (#52). I got so much stick for saying McCarthy was shite in his first year. I love a player showing loads of energy but without the ball or at least putting a foot on it, I thought it was so easy to see how limited he was.
In my opinion, since the Moyes days a lot of our fans became accustomed to the Andy Johnson types and no matter what Lukaku or Deulofeu produce, they will never get respect from some fans because they aren't at a point to impress every week like Marcus Bent (who had no quality).
I appreciate its hard for a manager to balance that blend in a team but plenty have shown its managable. If we were away at old trafford and its a tight 0-0, I would still fancy Deulofeu in any form to put the most dangerous balls into their box. Yes, before Gana, Schneiderlin, Calvert-Lewin, Mirallas and Bolasie.
Kristian Boyce
60
Posted 19/06/2017 at 21:36:07
I heard an interesting piece on the radio this morning about Barcelona and the return of Deulofeu. The guy talking was the Spanish league reporter for ESPN and basically said that the deal was done.
Interestingly he went on to say that they actually need him this year and he'll get some decent game time. Part of the reasoning is due to Barca's ownership setup and the funding that goes along with it. Barca can really only make one to two big signing a year due to big deals needing votes from all members.
Monreal from Arsenal and Dembele from Dortmund are supposedly going to be the big name this year as they are in desperate need of strengthening. The reporter went on to say that with all the focus on the front 3 over the last 3-4 years, the rest of the team is a bit dodgy.
With Deulofeu, they get a cheapish forward who knows the club and knows the system. Having those forward players around him will help him shine and probably earn him another big move after a year or so once Barca identifies a successor to Messi. Which will be good for us as we will get some of the fee with the sell on clause.
Alexander Murphy
61
Posted 19/06/2017 at 21:38:04
You know what? I just like Deulofeu. I do. He drives me up the bloody wall. But then he does that thing he does.
Yes, call me inconsistent, irrational and you're correct. Still can see him wheeling away in Royal Blue after scoring a late killer winner.
I don't want to see him go.
Paul Tran
62
Posted 19/06/2017 at 22:06:01
I've got four memories of Deulofeu:
1) Minutes after Lukaku scores his second goal to put us in front against Liverpool, Deulofeu was clean through to clinch the game. He missed it.
2) Early in the second half in the semi final 2nd leg at the Etihad, Deulofeu was through on goal to put us back in front. He missed.
3) Deulofeu gets tackled. He loses the ball He waves his hand in the air.
4) He can't last a game. That's a top-level professional footballer. Can't last 90 minutes.
I'd love it if he was better. He isn't. We're making a profit. We'll buy more effective players. Good business for me.
Bill Gienapp
63
Posted 19/06/2017 at 22:32:09
I'm a big Deulofeu fan, maddening and mercurial as he can be.
That being said, I felt like he had a golden opportunity to establish himself at the start of this past season and did little to take advantage of it. I suspect Koeman had already written him off, but with Barcelona triggering the buy-back clause, it's now a moot point – the decision is out of our hands, so there's nothing really to dwell on.
Hard to believe there's a good chance that, in the span of a year, we could lose Stones, Deulofeu, Barkley and Lukaku (the core of young talent some claimed was the envy of the league) and possibly be better off for it (depending on how the rest of the summer plays out).
Mark Gordon
64
Posted 19/06/2017 at 23:56:12
Let's be fair – this kid is still just that, a kid. He has undoubtedly made a big impact since going to Milan and deserves more credit.
We have the Spain U21 captain, an exciting young player who can be coached. Big European sides want him; we should keep him if we can
Denis Richardson
65
Posted 19/06/2017 at 09:04:16
At least it will end the 'will he won't he make it' discussions.
Didn't do anything at Everton or Seville but captains the Spain U21s.
He'll find a level on the continent but the Premier League is not for him.
Cheers for the (few) memories.
Dave Wilson
66
Posted 20/06/2017 at 10:24:36
Doesn't fit Koeman template. He wants competitors. (Don't we all?)
Good luck to him.
Colin Glassar
67
Posted 20/06/2017 at 18:59:50
I will always remember that goal against Arsenal. Gracias and adios, Geri.
Michael Kenrick
68
Posted 20/06/2017 at 19:03:20
Will Mabon
69
Posted 20/06/2017 at 19:13:37
Michael, fake news has been around forever, long before football, and the sporting press is amateur in comparison with some. It's just that until last year, no-one had coined the phrase.
Dermot Byrne
70
Posted 20/06/2017 at 19:15:43
Used to be called bullshit.
Gavin Johnson
71
Posted 20/06/2017 at 21:39:59
I've not read all the thread so apologies if I'm repeating the question.
So are we able to sell Deulofeu directly to Milan after the end of the month if he doesn't want to go back to Catalonia.
Or is there some clause stating that we have to give Barça so much of the fee and can we in fact sell him ourselves this summer?
John Smith
72
Posted 21/06/2017 at 02:54:44
"Let's be fair – this kid is still just that, a kid. "
That's what we all (me included) said about Barkley, and look what's happened with that. We Evertonians deserve better. We demand success now.
Will Mabon
73
Posted 21/06/2017 at 08:28:49
In football now, men are still called "kids" at 23. In war, kids are called men at 16.

---
Add Your Comments
In order to post a comment, you need to be logged in as a registered user of the site.
Or Sign up as a ToffeeWeb Member — it's free, takes just a few minutes and will allow you to post your comments on articles and Talking Points submissions across the site.