Bolasie hopes to return before end of the year
Wednesday 21 June 2017

31 Comments [Jump to last]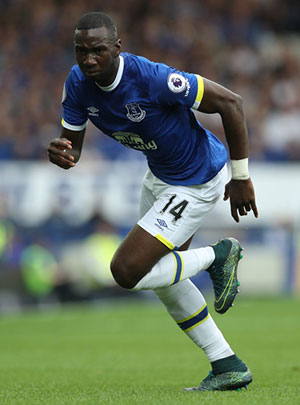 Yannick Bolasie says that he feels his long-term knee injury could make him a better player and that he is hoping for the perfect Christmas present – a return to the pitch before 2018.
Sidelined since December after rupturing an anterior cruciate ligament and damaging the meniscus in the same knee, Bolasie has undergone two surgeries that threatened to keep him out of action until early next year.
Bolasie is hopeful of beating that early prognosis by completing his recovery by Christmas but, regardless of when he does return, he feels the injury will make him a more composed player and that he will emerge from his rehabilitation with his pace intact.
"Getting back in December would be the best Christmas present," the Congolese international told Mirror Sport. "A player like me always wants to be on the pitch.
"Strangely, I think that having this injury will give me the ­composure that I have been ­looking for. I know that will take my game to another level. I am going to be subconsciously more cautious with any sharp movements, but that should improve my game massively.
"My old managers — Alan Pardew and Tony Pulis — always felt I would gain more ­composure with age. Now I have had this injury, I think it will come, but I don't think I will lose my pace or my sprinting. And I feel strong already."
---
Reader Comments (31)
Note: the following content is not moderated or vetted by the site owners at the time of submission. Comments are the responsibility of the poster. Disclaimer
Trevor Lynes
1
Posted 21/06/2017 at 19:14:28
I hope you are right, Yannick...we have missed your direct running and pace.
Best of luck :)
Bill Gienapp
2
Posted 21/06/2017 at 19:27:41
Would love to see him back on the pitch; though, by the same token, I hope he doesn't jeopardize his recovery by trying to rush back or overextend himself.
Si Turner
4
Posted 21/06/2017 at 20:04:00
Will be a massive part of Koeman's plan I am sure with his high energy way of playing.
I disagree with those that say he wasn't playing well before the injury, I thought he was a big threat and was linking with Rom great.
Gareth Clark
5
Posted 21/06/2017 at 20:08:38
Was playing very well before the injury!
He brings a fantastic energy to the team & has a great attitude on and off the pitch. Plus he is a born entertain & gives the crowd a boost!
Best of luck to him on his recovery!
Can't wait to see him back out there!
Chad Schofield
6
Posted 21/06/2017 at 20:14:18
Let's hope so... But as others have said, it's important to not rush an injury like that. Far rather see him back long term than see him race back only to be out for another long spell.
Rick Pattinson
7
Posted 21/06/2017 at 20:58:11
Just relax and get healed. No rushing back. We need ya... and to think you once played for Plymouth Argyle. ;)
Kase Chow
8
Posted 21/06/2017 at 21:26:44
Super player
Hope he gets back to his best
Denis Richardson
9
Posted 21/06/2017 at 23:04:07
Hope he's the same player when he comes back but we can't plan the season with him, or Coleman.
Both will likely miss the first half of the season, at best.
Tom Bowers
10
Posted 21/06/2017 at 23:14:11
Sure would like to see him back and ''fully fit'' ready to make a contribution no matter when it is.
It's amazing how many key players Everton have had down the years who don't seem to get little injuries but very serious ones that keep players out for long periods of time. Of course other teams have players injured but when your squad is not as deep as others it is very hard to get results despite the best efforts of replacements from the bench or the reserves.
I do think Everton suffered badly when Bolasie, Besic, Coleman and Funes Mori all were unavailable last season.
Andrew James
11
Posted 21/06/2017 at 23:32:37
I like Yannick, I like his attitude and what he says.
But he was an expensive purchase that, for me, Koeman compromised the team structure to incorporate him into to justify at the time our biggest signing.
Our form with Bolasie in the side was woeful in the November/December period. That wasn't Bolasie's fault as there were other problems but Koeman kept on changing the line-up yet always kept him in the side and we weren't doing well. Barkley was the biggest loser during that period as he was kept out or put on as sub to try saving games (a trend that was repeated in the run-in).
Bolasie got injured, as did others, Koeman was forced to change the side and we went on a winning streak where Barkley and Davies looked really good for 3 months.
I find it strange that a 28-year-old is predicting he will return from injury having learned to be composed. Wingers are normally spent forces by 30-ish so he should have learned that by his early 20s. I like the lad yet I think he's become political in Koeman's egotistical mission to always seem like he knows what he's doing.
Sissoko anyone? Who sanctioned that attempt?
I hope Yannick is fit and healthy and does return and I am sure Koeman will have him on the pitch at the earliest opportunity. I also hope he does something special at Anfield. But I cannot see him being a long-term option.

Mike Gaynes
12
Posted 21/06/2017 at 23:57:26
I'll be so psyched to see him back on the pitch.
James Watts
13
Posted 22/06/2017 at 01:29:56
Seems a nice guy and hope he comes back a better overall player but is it just me who remembers him being pretty average after he joined us? He had the odd decent game but that was it.
He would be a good option from the bench, for me, but I hope he isn't in our starting XI.
Mark Andersson
14
Posted 22/06/2017 at 02:42:38
James and Andrew – good posts, hopefully we will have a settled team playing well and winning by the time he is fit to play again.
I think he would be better as a impact sub and IF he proves he's good enough then he has to work for a starting place. Unlike our previous manager, I don't think big Ron has his favorites.
Ronald is a winner although sometimes many on here think he plays a negative formula away from home. This season is the big one for Ron, it will mostly be his team with his game plans.
Most Blue fans are excited with the new signings and are hoping we hit the ground running. Me I'm still on the fence and happy to see what unfolds. It would be nice to beat Liverpool, but not by a spawny goal,, a win that states, "We're back in business – get used to it, and move over."
Andy Meighan
15
Posted 22/06/2017 at 07:46:37
Andrew (#12) and James (#13) have pretty much nailed it . Done next to nothing in most of the games he played. Sunderland away... An assist against Man City, and a goal against Burnley and that's pretty much it.
Eddie Dunn
16
Posted 22/06/2017 at 08:36:43
I hope for a full recovery for this lad. He seems to have a very upbeat attitude and seems popular with the other players. A good guy to have around. Missing him and Coleman has been a big loss to the team.
Andrew Wayne
17
Posted 22/06/2017 at 08:59:17
Echo reporting that Sandro deal is done with announcement later.
Dave Abrahams
18
Posted 22/06/2017 at 09:10:30
Mark (#14) even a draw against Liverpool will do if it proves we are back in business when it comes to them.
Like the 1-1 draw when Alan Harper scored and Sharp missed a penalty, we knew we were on the up. More importantly those bastards knew it as well and didn't like it one bit.
Mike Keating
19
Posted 22/06/2017 at 09:15:49
Andrew @17, I've Just seen that too. Can you imagine Bolasie, Lukaku and Sandro running at defences?
Great news – just get it done before he gets any more coverage at the U21s.
BTW, Rick@7 – we got Mike Trebilcock from Plymouth Argyle.
Paul Newton
20
Posted 22/06/2017 at 09:27:13
I hope Yannick is right, but I can't help feeling that, after injuries like this, players often lose some of their pace, and 'more composure', while it might be a good thing, could also be a smokescreen for 'slowing down'.
Hopefully I am wrong and the pace will be regained but with more intelligence on the ball.
Clive Rogers
21
Posted 22/06/2017 at 10:12:58
I can't see how a long term injury can make a player better. Positive thinking I suppose.
I thought he struggled just before his injury but to be fair the team and Koeman's system were evolving at that time. Good luck though.
Paul Kelly
22
Posted 22/06/2017 at 10:20:31
I wish him all the best getting back to his best but...
"I am going to be subconsciously more cautious with any sharp movements, but that should improve my game massively."
The Psychology of an injury usually has a negative effect, doesn't it? And by being cautious would it not impact his style of play? Which was the reason we bought him in the first place.
Derek Knox
23
Posted 22/06/2017 at 13:12:52
Yes, it would be nice to have him back, although I still think we paid over the odds for him, and that was before the unfortunate long-term lay-off.
I know it's hard to make a definitive assessment on his limited outings thus far, but I do feel, as some have too, inconsistency is a trait in his performance.
Anyway, I do wish him a speedy recovery, and welcome his return – he'll be just like a new signing!
Simon Jones
24
Posted 22/06/2017 at 13:38:22
The guy is saying that he hopes to get back by Christmas and a number of posters are still moaning about what he cost. Just because a player has cost 㿀M+ (the new normal), doesn't mean he comes with titanium ligaments, or that it will be anything less than fantastic news to see him back on the pitch.
His price tag is utterly meaningless to the narrative of his recovery.
Nigel Johnson
25
Posted 22/06/2017 at 15:39:52
Great News if he can get back by Christmas.
On a different subject I am wondering if Everton have stopo spending now because they are waiting for money to come through for Lukaku. Don't get me wrong I think Everton have done amazingly well getting the 2 possible 3 players in early, but don't understand why if Everton have known there targets for such a long time why they don't simply buy them and have everyone ready for pre-season.
Are Everton still looking for players which would suggest to me they don't know what they are looking for as such. What's happened to the Swansea player or Keane or Smalling – all are available it believe.
Nigel Johnson
27
Posted 23/06/2017 at 12:48:56
Bit worried about this Sandro deal if the clause is true. If so, that makes the deal a bit risky and means that he could cost ٣.2 million for one season, plus salary of course.
This could also be Koeman's last season by then so to risky.
Everton should forget the deal and move on; otherwise it's Lukaku all over again. He clearly wants to play in Spain and is just using Everton as a stop gap as it's the World Cup season.

Si Cooper
28
Posted 23/06/2017 at 14:41:25
I don't think Yannick and I would agree on the definition of composure. If he can come back with full strength, confidence and mobility I'll be happy enough, because that is a big enough ask as it is. If he comes back calmer and more measured as well, I'll be ecstatic!
James Lee
29
Posted 23/06/2017 at 16:04:40
Anyone knows when will Coleman be back?
Really miss his energy and the usually important points-winning goals.

Tony Abrahams
30
Posted 23/06/2017 at 17:07:31
Good luck, Yanny lad, I hope you are right and this injury turns you into a much better footballer!
It seems strange trying to figure out how an injury can make a player better, but maybe Yannick, like most footballers, has only ever really thought about himself? Not a bad thing really, especially when he employs his own people to help maximize his talent, but now he's had time to reflect, and watch a lot of football without participating, then maybe he's seen something through the looking glass?
I hope so because composure, or a little bit more thought is probably the only asset he's never really had that much of and he could be a really top player if he can add this to his game.
Fintan Spode
31
Posted 24/06/2017 at 12:28:05
Look forward to seeing Yanick back again – not only because he adds to our attacking options, but also because of the Bolasie song which is one of the best in the Premier League.
I'm not convinced that we have seen the best of him yet and I'm hoping that playing in a better team with a more mobile centre-forward than Lukaku will bring him on...
John Smith
34
Posted 25/06/2017 at 11:20:39
Improving every game and got injured just as he started become a goal threat.
Will Mabon
35
Posted 25/06/2017 at 15:37:05
I'd agree that we didn't yet see the best of him. I was a little disappointed not to see some of what he'd shown at Palace, but it was starting to come.
His pace was a huge component of this so fingers crossed for a full recovery. Not every player loses something after even a serious injury.
---
Add Your Comments
In order to post a comment, you need to be logged in as a registered user of the site.
Or Sign up as a ToffeeWeb Member — it's free, takes just a few minutes and will allow you to post your comments on articles and Talking Points submissions across the site.