Barcelona trigger buy-back clause to re-sign Deulofeu

161 Comments [Jump to last]
Friday 30 June 2017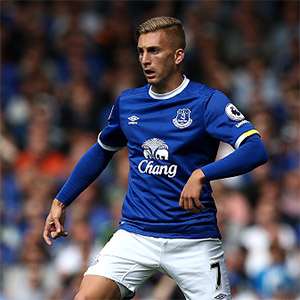 Updated
Gerard Deulofeu looks to be heading back to Barcelona on a two-year deal after the Spanish giants took up their option to buy him back from Everton.
The 23-year-old joined the Toffees in a permanent deal worth just €6m in 2015 following a successful loan spell with the club under Roberto Martinez in 2013-14.
He returned to the Blaugrana in the summer of 2014 but was loaned out to Sevilla the following season where he struggled to convince then boss Unai Emery before returning to Goodison in a transfer that afforded Barça two opportunities to reacquire him.
The first, which would have been worth €9m, expired last summer but it looks as though the new manager at the Nou Camp, Ernesto Valverde, wants to bring him back into the fold in a move that would be worth around £10.5m to Everton.
Barcelona will now look to finalise personal terms with him on a two-year deal, talks that look like they will be a formality based on Deulofeu's comments after Spain's defeat in the U21 European Championship final this evening.
There had been reports in the media this week that Deulofeu was not keen on the prospect of returning to his boyhood club, fearing perhaps that he wouldn't get the playing time he had been enjoying on loan from Everton at AC Milan this year.
His spell at the San Siro came to an end last month but Milan have not offered to sign the Spanish U21 skipper on a permanent basis. AS Roma have also been linked with Deulofeu but don't appear to have lodged an offer either.
Deulofeu was looking to future in his post-match interview following the 1-0 loss to Germany's U21s:
"I am very happy to be back at Barcelona It is my home and it was a shame I could not go back sooner.
"It is already decided. This year I will stay at Barca for sure. I am ambitious and I want to play with the best.
"I am very happy to have this opportunity that I have never had, to play in the first team of Barça."
Under the terms of the original deal that brought him to Goodison Park from the Nou Camp, Barcelona are barred from selling Deulofeu for at least a year.
---
Reader Comments (161)
Note: the following content is not moderated or vetted by the site owners at the time of submission. Comments are the responsibility of the poster. Disclaimer
Keith Slinger
1
Posted 30/06/2017 at 15:47:33
Sky saying he's gone... Good luck, Delboy.
Denis Richardson
2
Posted 30/06/2017 at 15:50:02
Gracias, adios.
Jay Wood
3
Posted 30/06/2017 at 15:52:17
So Del By won't be part of Everton's Brave New World.
Wonderful player. Thanks for some very magical moments you displayed in an Everton shirt, Gerard.
But, as ever, the club remains and he will be replaced.
Peter Laing
4
Posted 30/06/2017 at 15:52:49
Best of luck to Geri. Fantastic in his first season which was cruelly curtailed by that hamstring injury. Never got going during his second spell with huge question marks over fitness and stamina. Decent footballer but looks unsuited to the Premier League.
Tanvir Akram
5
Posted 30/06/2017 at 15:53:44
Strange one; he is not ready for Barcelona's first team and they allegedly will not be able to transfer him straight away. He does not really want to go there, so we'll see if it actually goes through. Also, Messi was not keen on him returning.
Good luck to him if he goes, I wish him well and I hope he can live up to this potential.
He might need to get fit first though.
Bill Brown
6
Posted 30/06/2017 at 15:55:44
Yes, he was never quite at home in the Premier League, maybe a bit like Diego Forlan, who was great at Villarreal, but couldn't cut it with the Mancs.
Put the money toward Dembele.
Garry Corgan
7
Posted 30/06/2017 at 15:56:02
Swings and roundabouts this one.
It's obvious that he's nowhere near good enough for Barça and that the only reason they're buying him back is to sell him for profit later.
On the other hand, we'd probably never have gotten him so cheap if it hadn't been for the buy-back clause.
At least we'll make a few million profit (or break even if you include his wages).
John Smith
8
Posted 30/06/2017 at 15:56:03
If he goes and they want to sell him, we get first dibs. If we don't want him, we get a percentage of the sale. Win-win. Egg on the face to those that rubbish Bill Kenwright.
Christy Ring
9
Posted 30/06/2017 at 15:57:47
It seems Delboy is heading back on a 2-year contract, which we had no control over. They can't sell him this summer but, like Real are doing with Morata, will they sell him on for a bigger profit next year?
Trevor Lynes
10
Posted 30/06/2017 at 15:59:45
He actually started really well with Lukaku and provided a few assists for the big man. Deulofeu's problem was his lack of consistency but he was definitely not the only culprit.He has better ball control than our other so called attacking midfielders and he is still young enough to make a fine career.Perhaps he will flourish in his middle to late twenties. If he is good enough to be made captain of a very good Spanish under 21's side then I am sure he will come good.Best of luck to Delboy and I hope he finds his best niche !!
Gordon White
11
Posted 30/06/2017 at 16:04:32
Buena suerte, Gérard. Gracias por algunos momentos màgicos. A todos desde Everton FC.
James Stewart
12
Posted 30/06/2017 at 16:05:56
One of the most frustrating players I have ever seen. Bags of talent but no brain or desire and the fitness levels of a Sunday league player. Adios.
Brian Williams
13
Posted 30/06/2017 at 16:08:13
He wasn't THAT fit James. :-)
Incidentally we get a big lump of any profit Barça make should they sell him after a year. They can't sell him earlier.
This is all dependent on Geri agreeing to go mind.
Wonder if he doesn't go whether we can sell him in this window?
Stephen Scofield
14
Posted 30/06/2017 at 16:11:22
Has to be that Barcelona have already agreed to loan him to someone else. Cannot get in the team here, he's hardly going to get in the team there.
Gordon White
15
Posted 30/06/2017 at 16:11:43
At least he wanted to play for us! And he would take players on rather than passing the ball sideways and backwards, yawn.
Brian Williams
16
Posted 30/06/2017 at 16:13:23
Stephen (#14).
Barca can't loan him out. One of the conditions of the buy-back was that he had to be part of their first-team squad for a season.
Chris Gould
17
Posted 30/06/2017 at 16:15:39
Going to miss reading the many variations of his surname. My favourite was Delefufu.
Feel a bit sorry for the lad as this is not a good career move.
Stephen Scofield
18
Posted 30/06/2017 at 16:17:49
#16 – if that's the case, then it appears he's willing to waste a year of his life being a very bit-part player off the bench. Shame.
Colin Metcalfe
19
Posted 30/06/2017 at 16:18:05
Gutted!!!
Chris Leyland
20
Posted 30/06/2017 at 16:23:49
The fact that so many of our fans love him is in part why we have been the sort of club we have been for 25 years. He sums up what we have become. We have been happy to accept the occasional glimpse of promise and take this over being largely let down by persistent under-achievement and mediocrity.
Time to move on to better and more consistent times when we don't accept one good game in ten as somehow being brilliant.
Nigel Munford
21
Posted 30/06/2017 at 16:24:48
Stephen (#14) – they can't loan him; it was part of the buy-back clause. So looks like he's destined for a season bench-warming.
Liam Reilly
22
Posted 30/06/2017 at 16:27:35
He'll get little game time there in a World Cup year; can't be too appealing to the boy himself.
Good business sense for Barça though; he'll only be 24 next year, is still a good prospect and, with the unfathomable riches in the game at present, they'll certainly get their outlay back and then some.

Nigel Munford
23
Posted 30/06/2017 at 16:27:38
So, just because Barça have triggered the buy back clause, if Geri doesn't want to go back to Barça does he have to go to them? Confusing this.
Chris Gould
24
Posted 30/06/2017 at 16:30:24
No, Nigel, he doesn't.
So it's not necessarily a done deal.
Brian Williams
25
Posted 30/06/2017 at 16:32:25
Anyone know the score, if he refuses to go back, with regard to us then selling him in this window?
I haven't read anything on that scenario.
Stephen Scofield
26
Posted 30/06/2017 at 16:34:58
The Barcelona website says they've exercised it, but the contract to be decided over the next couple of days. So he could turn it down.
Mike Green
27
Posted 30/06/2017 at 16:35:34
Buy to sell.
Dermot Byrne
28
Posted 30/06/2017 at 16:37:37
Not consistent enough IMHO.
Alexander Murphy
29
Posted 30/06/2017 at 16:47:01
All the best, Geri, mate. Enjoy your career, maximise your talent and we'll see you in the Champions League Final a few years from now.
Brent Stephens
30
Posted 30/06/2017 at 16:52:54
As Gordon (#11) says.
Chris #17 how about Gerard Doleful?
At his best, scintillating. At his worst (which was too often for me) he puffed and fell over too much. But I do wish him the best if he really is going.
Kev Wood
31
Posted 30/06/2017 at 16:54:21
At his best, he is a pleasure to watch and some of his stepovers were breathtaking. The only trouble was that defenders soon got wise to him and after that he just used to trot up and down his own furrow about a metre from the side line, occasionally trying to run with the ball and get a cross in.
I'll also never forget how he was bullied by big defenders away at West Brom last season when Koeman tried to play him in a more central role. I would have smacked them back double hard, myself (and probably have got sent off). Good luck to him though. I hope he does well at a new club.
Tony McNulty
32
Posted 30/06/2017 at 17:02:03
I always thought of him as a kind of latter-day Terry Curran. Great potential but never quite realised for us.
However, he is still young enough to realise some of his potential and best of luck to him.
Eddie Dunn
33
Posted 30/06/2017 at 17:05:37
If he was a power tool, he would be an Aldi 10V drill/driver with only one battery, suitable for hobby use/light trade. Complete with a massive set of cheap bits that go blunt after one use.
We need an industrial rated Dewalt SDS with 18V Lion batteries and a couple of high quality chisels.
Michael Winstanley
34
Posted 30/06/2017 at 17:17:53
Just watched Geri at AC Milan on YouTube, still the same player. I really like watching him, he's a threat with the ball at his feet in a game where not many are.
Good luck, Geri, training will be fun.
Craig McFarlane
35
Posted 30/06/2017 at 17:25:30
For what it's worth, I don't think he will go to Barça. In my opinion, they are just doing what any club would do – they've tried to negotiate a contract and have, so far, been unsuccessful.
So, with the deadline due to expire, they are extending their negotiating time by triggering the clause – definitely not a done deal if you believe the noises coming from the Geri camp on this.
Dan Parker
36
Posted 30/06/2017 at 17:25:57
He's 23 and an 18-year-old Tom Davies kept him out of the team.
Derek Knox
37
Posted 30/06/2017 at 17:26:33
Like a lot of fellow TWers I am sorry to see him go, but having said that, I don't realistically think his attitude, and contribution, during games, was in any way or degree, the requirement Everton needed from him, or for that matter, any other similarly talented individual.
I wish Geri all the best, and still wished it had worked out for both him and us!
Mike Gaynes
38
Posted 30/06/2017 at 17:33:54
Stephen (#26) et al:
Key paragraph in Barça's statement:
"FC Barcelona have activated the buy-back clause for Gerard Deulofeu. In the following days, the terms will be agreed with both Everton and the player. Deulofeu's contract will run until 30 June 2019."
Since terms aren't agreed and the contract isn't signed, the transfer's not yet official. Of course he can refuse, but what happens next will depend on what he signed when he left Barça. Is the buyback legally binding on him? We don't know. Can they force him back? Seems unlikely given the legal status of slavery these days.
All speculation, of course... hard to imagine him not signing in order to come back to a manager who volleyed him out before.
Paul Newton
39
Posted 30/06/2017 at 17:34:24
dup
Steven Jones
40
Posted 30/06/2017 at 17:36:14
Oh, me and my boy love Del Boy.
Players progress at different stages physically; I hope he comes again. Also managers and teams need to play to his strengths.
He is either a very destructive right winger able to put brilliant crosses in with confidence– love the I go the by-line and pass to the near post routine he has... Rom never got there, neither did Ross, Mirallas had is brain up his arse and Martinez didn't see it.
Guess what Barca will!
The problem we had was the midfield did not play it to him early enough so that the full backs backed off rather than all over him before they passed to him in a tight situation.
The other routine he has is going inside from deep and causing all sorts of havoc you need a manager that supports that and drills the other players to go left and right.
Actually think Ron saw this, played him upfront in the pre-season but really Del Boy was not physical enough to be a back to the centre-backs, turn them this way and that. Not in his education neither.
If he goes to Barça, I will now watch all their games hoping for him to come on and do what he did a few times at Goodison – when we all got up out of our seats! He is still young and me and my boy will follow him with affection!
Stephen Morgan
41
Posted 30/06/2017 at 17:41:46
Have we inserted a buy-back clause?
Paul Ellam
42
Posted 30/06/2017 at 17:44:41
Moments of genius coupled with moments of pure frustration.I quite liked him but too inconsistent for my liking.
We need more players performing at a high level more often – this includes you Barkley, Mirallas and Bolasie!
I wish him well and hope to see him playing in the future, wherever he may be.

Jason Broome
43
Posted 30/06/2017 at 17:52:05
Sad day.
Garry Corgan
44
Posted 30/06/2017 at 17:53:53
I like the idea of us asking him to refuse Barça's offer, and that we'll increase his wages and find him a new club in this window... for 㿀m.
Anthony Millington
45
Posted 30/06/2017 at 18:04:18
Flippin heck – our 3 best attacking players (bar Bolasie) leaving in my opinion: Lukaku, Barkley and now Deulofeu. We are going nowhere quick.
It's a good job we have some money. I think we'll have to spend millions just to maintain top 7 status first and foremost.
Alan Humphreys
46
Posted 30/06/2017 at 18:08:26
Sell the contract clause so they can sell him outright. Them not selling doesn't fill our coffers. £2-3m
Ary Lima de Moraes
47
Posted 30/06/2017 at 18:09:59
Very strange news tbh. Deulofeu doesn't have to go if he doesnt want to, but still says he'll have a contract til 2019?

How the hell do they have a contract til 2019 if they didn't talk to the player?
Steve Ferns
48
Posted 30/06/2017 at 18:11:25
Chris (#20) – I disagree.
Even when we've been good, his type of player have always been cult favourites.
The last time we won a trophy, 1995, mine and many others favourite player was Anders Limpar. He's hardly the greatest player to ever play for Everton, but he will always be my all-time favourite.
There's just something about infuriating inconsistent players.
Daniel A Johnson
49
Posted 30/06/2017 at 18:19:02
Farewell to a frustrating player.
He's played in Serie A, La Liga and the Premier League (pretty big shop windows) and no one was interested in him. That says it all for me.
In modern football he is too lazy and limited in what he can offer. He's Limpar- & Ginola-esque, when it's not working for him, he offers nothing to the team and you may as well be playing with 10 men.
He's had chance after chance and him missing that sitter at the Etihad in the Cup Semi-Final sums him up for me.
Denis Richardson
50
Posted 30/06/2017 at 18:21:57
Not in our plans. Should cut a deal with Barça, allowing them to sell him now and giving us a percentage of the proceeds.
Best for all three parties as sitting on Barça's bench for a season isn't going to help anyone.
Brian Williams
51
Posted 30/06/2017 at 18:25:03
We do already have an agreement with Barça for a cut of any profit on his sale, albeit in a year's time at the earliest. I think it's 30% as well!!!
Would be handy if we could do it sooner mind.
Tony Abrahams
52
Posted 30/06/2017 at 18:38:48
I'm the opposite of you Ste (#48), and think that Chris, makes a lot of sense with his opinion.
How old was you in 95, Ste? I loved Duncan McKenzie when I was a little kid, but I never would have swapped him for a Peter Reid because, when I got a bit older, I realised which type of player was more important for "the team"!
Brian Williams
53
Posted 30/06/2017 at 18:40:12
It will be interesting to see how he does tonight.
Will he be the "amazing" player some see him as, or will he flatter to deceive in probably the biggest game of his career so far.
If he can't do it tonight....
Paul Ferry
54
Posted 30/06/2017 at 18:53:40
Dan Parker (#36): "He's 23 and a 18-year-old Tom Davies kept him out off the team."
No, he didn't.
John Codling
55
Posted 30/06/2017 at 19:01:59
Good luck to the lad, but very frustrating, great skill but for some reason a youngster that could not last 90 minutes. As some of the other posters have said if he was not on his game we were a 10 man team.
All the best Gerri.
Tom Bowers
56
Posted 30/06/2017 at 19:11:06
Yep. We all know this turned out to be ''a what might have been if only''.

Lev Vellene
57
Posted 30/06/2017 at 19:17:35
Oh well, "triggering a release clause" is not the same as "succeeding with a signing". I understand that Deulofeu is the one everything pivots on here! Will he, or won't he? And rumors (= leaks by his agent, or maybe just pure speculation...) have said 'nay' up until now.
Anyway, if he goes, we have lost no money! If we could have unlocked his potential, I'd be very happy for him to stay! Even if that was just for a loan in Europe next year!
How long does his contract run? It's his lack of stamina and early vision that I objected to before. If he could be taught to raise his head (vision) earlier, he'd be a damn good winger eventually!
Steven Jones
58
Posted 30/06/2017 at 19:26:53
Aaaaah, Tony (#58) – you mention one of my all time favourites... Duncan McKenzie was one of the best team players ever. He took it to the opposition for the team and they knew if he was in your team you had a chance. A bit like Maradona or Gascoine.
I'll never forget him taking the piss out of Tommy Smith in the derby – when have the team last had that balls? Yes, answering my own question – Reid and Bracewell!
There was no inferiority complex when you had Duncan on the pitch. What, what a player. Brian Clough did not get it wrong... but Gordon Lee did!!!
Chris Leyland
59
Posted 30/06/2017 at 19:41:13
Steve (#48),
Me, I'd take Tricky Trev and Sheeds out wide any day over Limpar. Tjet were consistent week-in and week-out and we won the league twice.
Both got into double figures as scorers: Trevor scored 12 league goals in 40 games 84-85 and 14 in 41 in 86-87. Sheeds scored 11 in 29 league games 84-85 and 13 in 28 in 86-87.
And they also created loads of goals for others too. This is the sort of consistency we should be aiming for – not once every 10 games, like Geri.
Lee Courtliff
60
Posted 30/06/2017 at 19:41:56
I'll always live in the hope that one day he will return to us and fulfil all that obvious potential!!
Good luck, Geri.
Brian Williams
61
Posted 30/06/2017 at 19:55:17
Lee, "living in hope" is what most have done from Day One with Geri.
Have any of the "hopers" ever considered that what he shows isn't potential but just exactly how he is? After three years of football in the top league in whatever country, any potential should have been realized.
If it isn't, it's a fair shout that "what you see is what there is."
Dave Abrahams
62
Posted 30/06/2017 at 20:01:37
Steven (#58),
Brian Clough signed McKenzie from Nottm Forest for Leeds Utd, so he only had him as a player for about six weeks... although McKenzie did have a decent spell at Nottm Forest before Clough was manager.
Although Brian Clough signed him, I doubt he would have lasted long under Clough; mind you, he might have learned how to be a team player with Clough.
Fintan Spode
63
Posted 30/06/2017 at 20:28:43
I really wish him all the best and hope his wonderful talent does fully flourish somewhere. I actually didn't think he was anymore inconsistent than anyone else and also thought he was a top class passer of the ball.
I, for one, will miss him and the anticipation that I felt when he collected the ball 20 yards out and was running at the opponents' quaking defence.
Tim Greeley
64
Posted 30/06/2017 at 20:37:36
I've got 4 words for DelBoy: New York Red Bulls!!

Geri would set serious records in the MLS and have Merican soccer fanboys losing their bearded, craft-beer drinking minds. Would Spain ever give him another call-up!? Hell No, but Geri would rule The States!!
David McMullen
65
Posted 30/06/2017 at 20:59:29
Quality player and likeable but didn't live up to expectations certainly the levels we saw at times. Some of the crossing early on was 'magic'. He went missing and so too did many others. These are the players that need replacing.
Christy Ring
66
Posted 30/06/2017 at 21:03:47
Tony @52,
Duncan McKenzie was different class, and he could do what he liked if he had Reid & Bracewell beside him!!
Paul Kossoff
67
Posted 30/06/2017 at 21:04:58
Can't they sell him after one season? What's the bet he's not at Barcelona for long, and goes for twice the price we got for him.
I would rather Del than super Kev, but there again, two peas in a pod!
Dave Abrahams
68
Posted 30/06/2017 at 21:19:26
Christy (#68), your dad's cousin, Tommy Ring, was different class. Now he was a player to make you sit up and take notice.
Duncan did as he wanted anyway but a lot of it was for himself, but he did have his magic moments – just not nearly enough of them.
Christy Ring
69
Posted 30/06/2017 at 21:29:41
Dave (#70), I appreciate your comment. I saw Tommy on YouTube, but played against him on the green outside our family home, years ago... even then, he had same left peg.
Drew Shortis
70
Posted 30/06/2017 at 23:03:56
Look at it this way. We have lost Deulofeu and gained Onyekuru and Sandro from the money we received. Or if you take into account the original fee we paid for Deulofeu and subtract that from the fee we received then we in effect got Sandro for nothing!
I think it's fair to say he's a 㿀+ million pound player in today's market so that's an incredible piece of business!
Andy Crooks
71
Posted 30/06/2017 at 23:09:10
We have played some pretty functional football in recent times. For me, Deulofeu provided excitement, a bit of magic, something different and the ability to get me on my feet. We have no one else like him.
With the right coach, an arm-round-the-shoulder guy who accepts that a luxury player might be a good thing, he might just be special. Ronald Koeman is not that man but if he could change a little; we are on the verge of great times.
Christy Ring
73
Posted 30/06/2017 at 23:37:42
I agree, Andy, but even if Geri had been as good as Messi, Barcelona still had the final say, and triggered his release clause.
Chris Leyland
74
Posted 01/07/2017 at 00:16:25
Andy Crooks, most of the time when I got on my feet with Geri, it was because he had wasted the ball.
He made 75 appearances for us scoring 8 goals. I challenge anyone to name me 15 games when he actually did something truly worthwhile. That would make him a 1-game-in-5 player, if anyone can.
Kevin Dyer
75
Posted 01/07/2017 at 00:25:40
Baffling. So we sign his Spain U21 teammate to be (presumably) our primary centre-forward and sell Deulofeu? Daft. If he goes to Barca (doubtful) the fee we're getting is, in today's climate, shit. A bit more than Cleverley or two-thirds of a Jordan Ibe.
He may not be an Energizer Bunny but he is quite capable of playing 90 mins; the absurd obsession with players running around like headless chickens means he's blowing after 60 mins, is all. Square pegs round holes, again. The lad is now capped for Spain, ffs, but can't get in our team? Yeah, right.
Unless Barca are offering a major pay hike on his current deal (unlikely) then if I was his advisor I'd say "pass". He will spend all season playing for Barca B.
I'd decline their offer (the fact Barca are saying he's getting a 2-year contract should make it plain they will offload him next summer) and wait for a more attractive move, to a good team in a top league.
Andrew James
76
Posted 01/07/2017 at 00:25:56
I've seen Geri beat 3 or 4 players through the middle in the blink of an eye, play some tremendous crosses and a great free kick in the League Cup at Reading.
Yes, his diving is annoying but he was played out of position by Marinez and Koeman hasn't played him right or bothered to managed his undeniable talent which, for me, is a major problem with our manager and echoes his treatment of Ross.
He gets you off your seat. Massive shame if he leaves.
Drew O'Neall
77
Posted 01/07/2017 at 00:45:51
i feel a bit sorry for the lad himself. Obviously has no chance of playing regularly in Barcelona's first team but represents a bigger cash asset than his buyback fee.
He can't be sold for (I think it was) 2 years so he will be getting splinters in his arse... unless our crack negotiating team neglected to consider the option to loan him out ,in which case he's heading back to Milan for a two-season loan with option to make permanent.
Drew Shortis
78
Posted 01/07/2017 at 00:55:47
From what I have read, the consensus is that all these signings are in anticipation of Lukaku and possibly Barkley leaving. I'm not naive enough to pour scorn on this narrative, but the optimist in me likes to think that the money has been there to spend and Koeman & Walsh have been sussing out what they need and who fits the bill. Now they are moving decisively to find those missing jigsaw pieces that will give us a shot at the top four WITH Lukaku.
My logic is that they know that replacing his goals will be difficult and they have made these high profile early signings to A) convince Lukaku we're serious about Champions League; and B) Show the other clubs that we're serious and don't need to sell off our best talents. We're no longer the beggars at the banquet – poor little Everton. We're a serious team with the top four firmly in our sights.
I don't blame Lukaku for wanting Champions League football and if he does go I'm confident we will find the goals. Perhaps with a better all round player up front the midfield will weigh in with a few more. That said, I do really hope Lukaku stays as I feel were at the start of something special with the new stadium and owner.
Chelsea and Man City were not always top of the pile. They spent their way to success and in a short time it feels like they've always been huge teams. Everton may not have the multi billions, but we can now compete and with a talented Manager & Chief Scout combo, combined with an outstanding academy now regularly turning out first team players, we're set to reclaim our place amongst the elite.
Leicester won the title on a shoestring because they built a team with the right blend and chemistry. I am an eternal optimist and may be getting carried away, but I see our current setup as having all the right elements to build a real team. The blend of homegrown youth, experience and foreign talent. We are buying proven Premier League players and hot prospects. The future looks bright!
James Watts
79
Posted 01/07/2017 at 01:05:00
Kevin (#78). Not daft at all. Deulofeu is going for twice what we are getting Sandro for. Del isn't good enough, Sandro probably is (time will tell). And just because he's had a Spanish cap – what 6 months ago? – doesn't give him automatic dibs on a spot in our team, does it?
And the fee was agreed a couple of years ago before the stupid fees really started kicking in, not much we can do about that as having that clause is his contract was one of the reasons we got him cheap in the the first place!

John Smith
80
Posted 01/07/2017 at 03:01:27
Deulofeu has been quoted as wanting to fight for a first team spot and that he regretted not going back earlier. It's where he belongs, etc, etc.
John Smith
81
Posted 01/07/2017 at 03:03:22
Found it.
"I am very happy to be back at Barcelona," Deulofeu told reporters after captaining Spain Under-21s in their European Championship final defeat to Germany.
"It is my home and it was a shame I could not go back sooner. It is already decided. This year I will stay at Barca for sure. I am ambitious and I want to play with the best. I am very happy to have this opportunity that I have never had, to play in the first team of Barca."
http://www.goal.com/en-au/news/4153/la-liga/2017/07/01/36751822/deulofeu-wants-barcelona-spot-alongside-messi-neymar-suarez
Anto Byrne
82
Posted 01/07/2017 at 03:34:07
Don't panic – we still have the Preston North End Player of the Year to come back.... and Niasse – what the fuck is going on with him???
My other thoughts are, we don't have to sell Barkley or Lukaku as both are contracted. We won't lose money on Ross as he didn't cost us millions and we can run down Lukaku for 2 years and let him go then.
We get a player that costs say £6mil a season over 5 years. So the club can sit on these players; they can play or rot in the reserves and nobody gets the benefit of a striker or potential match-winning midfielder. With the club asking for £150 million, who is going to stump up that money?
West Ham fans are salivating over the YouTube clips and asking when he is arriving.... I suppose when you're a 20-goal-a-season forward, you're going to have to pay the going rate.

Mike Green
83
Posted 01/07/2017 at 08:26:45
Deulofeu has had more than enough chances to prove himself and he's not cut the mustard in the Premier League, as much as I would have loved him to.
In today's market taking him back for 㾶m is a no brainier for Barcelona – they'll chew him up and spit him back out in a years time for a 㾶m profit.
Tony Abrahams
84
Posted 01/07/2017 at 08:40:17
Chris (#77), I don't think that wasting the ball is anywhere near Deulofeu's biggest fault, because I think the kid has got a very good football brain, but If he wants to succeed, he's definitely got to show a lot more heart and desire.
Last night, he was bursting into the box, when the German defender pulled on his arm. The head-on showed him trying to shout and turn his body, as if to get the attention of the officials, instead of getting his left shoulder underneath the German to try and get inside him, and into the box.
"It was, after-all, a European final, and not a pre-season friendly."
Mike Berry
85
Posted 01/07/2017 at 08:51:41
Not suited to the Premier League; application and hard work is required along with his occasional flashes of brilliance.
I wish him a lot of luck and great success in Spain.
James Watts
86
Posted 01/07/2017 at 09:10:25
John (#83) & (#84).
Let's see what he says 6 months from now after he gets bombed to the bench or B team after a couple of games. I imagine it will start with "Going back to Barcelona was a big mistake..."
Not a cat-in-hell's chance he will get in that team and he doesn't have the bottle or heart to fight for a spot if he's not an automatic choice.
Phil Walling
87
Posted 01/07/2017 at 09:17:52
True, James, but he wasn't exactly an automatic pick at Everton, was he?
Paul Mackie
88
Posted 01/07/2017 at 09:19:53
Great at step overs but can't defend and couldn't really hack the Premier League.
I think he'll do really well for Barça and good luck to him. Who wouldn't want to play for their boyhood club!
Brian Williams
89
Posted 01/07/2017 at 09:21:21
Geri can't be bombed to the B team after six months. Part of the deal was that should he go back he HAD to be in the first team squad for a full season. During that season he therefore couldn't be sold or loaned out.
He can be sold or loaned after a full season. Should he be sold (which is more likely than loaned considering it's a two-year deal) then Everton get a decent percentage of any profit from the sale (as much as 30% if I remember rightly).

Derek Thomas
90
Posted 01/07/2017 at 09:23:07
I still think that, in 5 or 6 years, a team, maybe even Spain, could have a very good No 10 in him.
Barça seem keen enough and I wonder why Messi doesn't like him?
Charlie Lloyd
91
Posted 01/07/2017 at 10:25:50
He won't be missed that much because he never performed consistently.
We can all rave about his undoubted potential but, at some point, it needs to turn into performances and unfortunately it just didn't enough.
Questionable fitness and too petulant as well.
Kim Vivian
92
Posted 01/07/2017 at 10:29:45
Andrew Millington (#45). I share your concerns. I like Deulofeu. Exciting player to watch, albeit frustrating at the same time - but I'd like to see us keep and develop Del's strengths and iron out his weaknesses.
Precisely what do we have lined up as strike power? Sandro looks a lively little player – good movement but clearly has some way to go, and not a target man. Not a major contributor at the U21s and subbed each time he played.
What is the latest on Barkley? And I cannot think of a potent striker with whom we are, or have been, linked. He's looking promising but are we planning to rely on Calvert-Lewin as our target man?
Not long to go now before the new season gets underway. I seriously hope there is something in the offing about which we have not heard.
James Watts
93
Posted 01/07/2017 at 10:32:32
Phil (#90). That's my point. The teams where he hasn't been an automatic pick, he seems to give up pretty easily. When he was an automatic choice for us he played really well; when his form dropped off, he didn't seem to want to fight for his place – under Mr Phenomenal or Mr Productivity. I think people have said it before when he has to work hard, he hasn't got it in him.
Brian (#92). That seems a bit strange about the B team? It's still Barcelona. It'd be like saying a player couldn't play in the U23s. But from that he has to be either in the first XI, on the bench, or sitting around playing tiddlywinks. I guess by July next year he'll be great at tiddlywinks then!
Brian Williams
94
Posted 01/07/2017 at 10:44:14
James @96.
It may seem strange but it's true, believe me. The deal was very intricate and convoluted. It was dealt with on here in detail some time ago too though I've lost the link that explains the deal in great detail.
It is a fact, honestly, that the terms of the deal included the clause that should they buy him back he had to be in the first team squad for a season.
I guess it was to prevent them buying him back and selling him immediately, and for all the stick our negotiating team take they did as well as could be expected on this one, if not better.
Adam Scott
95
Posted 01/07/2017 at 11:06:02
The old adage about 'hard work beats talent if talent doesn't work hard' could have been written for Geri really...
I hope that the penny drops with him and he matches his undoubted football ability with the graft needed to get to the top.
Kevin (#78) – It isn't a shit deal at all. Without those terms he wasn't leaving Barcelona. They have been ahead of the game with buy backs – Look at Chelsea now. Stung by Lukaku, it will become the norm.
I think it was a good deal for Everton. Yes, not at market rate (though I don't think he is a 20m player either) but we didn't buy him for the market rate ourselves.
Tony (87) is absolutely spot on about him. Geri ought to watch and model himself on Ronaldo. A player who has fought to make the very best of himself. Or look closer to home at the Jagielka's of our team who have pushed themselves to make the most of a fraction of Geri's ability.
He had his moments, and I would have rather he stay. Never got the feeling he was ever going to prosper consistently in the Premier League really though. A league that requires more of the qualities he doesn't have than any other. File under 'could have been' but won't lose sleep over it.
Dave Williams
96
Posted 01/07/2017 at 11:06:07
Tony and Dave Abrahams make a good comparison to Duncan McKenzie – on his day he was spectacular entertainment but in reality apart from that FA Cup tie against Stoke (or was it Sunderland?) when he dribbled across the pitch, faking a number of drag backs he rarely showed anything more than flashes of brilliance.
Geri had a great step over but defenders soon learned to keep their eye on the ball and not on his feet and that greatly reduced his effectiveness.
His level of fitness is shamefully poor and he always struck me as being a bit "chicken" when it came to the physical side of the game.
Enormous potential and maybe Spain will be a better environment for him. I am sad to see him go as he could have been a great player for us but I think it was clear enough that he was never going to develop here – we need more winners not luxury players.
Brian Williams
97
Posted 01/07/2017 at 11:29:12
Kevin (#78).
Kevin I don't believe you're aware of all the facts.
Brent Stephens
98
Posted 01/07/2017 at 11:39:51
Kevin (#78) "He may not be an Energizer Bunny but he is quite capable of playing 90 mins; the absurd obsession with players running around like headless chickens means he's blowing after 60 mins".
I think the fact that he's blowing after 60 minutes shows he's not capable of playing 90 minutes in the Premier League.
Ajay Gopal
99
Posted 01/07/2017 at 11:50:50
"Barcelona welcome back Everton reject"
Sweet! ...although it is not a headline I have actually seen. :-)
Seriously, I am disappointed to see him leave because he failed to fulfil his unquestioned ability. Whether that was because he was managed badly or because he did not apply himself properly, time will tell. If he succeeds at Barça, the former, if not, the latter. Wish him the best.
Jim Hardin
100
Posted 01/07/2017 at 13:38:06
Chris (#20),
i read your post and thought you were talking about Barkley and were on the wrong thread somehow. I agree that Everton won't get better keeping hold of players like Deulofeu and I will throw in Barkley. There is no room in top teams for either of them.
Good luck to Deulofeu but I don't think he will ever become a great player. He really should take up a game where they have a lot less running and more standing around and stoppages of play. Golf or cricket perhaps?
Mike Powell
101
Posted 01/07/2017 at 13:47:01
I don't get why Barcelona want him back. He won't get anywhere near there first team. He can't last 60 minutes, never mind 90.
How many times does he give the ball away or lose it, and is always on his arse? Never good enough for the Premier League.
James Watts
102
Posted 01/07/2017 at 14:24:44
That's cool, Brian (#97). I do believe you. Just find it a strange one!
Shame he never made it with us but, unless he knuckles down, he won't make it with anyone.
Kevin Dyer
103
Posted 01/07/2017 at 15:00:00
James (#82) Yes, the fee is was it is, we were in no position to argue. Just saying that Deulofeu is worth a lot more that 㾶m in today's market.
Sandro is a poor yardstick as his release clause is laughably low and he's regarded by everyone as a total steal, virtually a free. How much was Bolasie? 㿅m plus? Like I said an unproven kid in Ibe went for 㾻m. Tom Cleverley, a journeyman went for ٦m.
1 cap, fair enough but if he wangled himself a move to a good team and plays like he did for a season like he did at Milan he has more than a decent chance of going to the World Cup.
Irrespective, that he is in the frame for Spain makes it bizarre that he is not considered good enough for us, particularly considering we are shit in attacking areas (Lukaku aside). We had no-one holding down a guaranteed spot in wide areas and even Ross when played as AMC was inconsistent.
Like I said, an oddity and proof that current football wisdom stresses running and chasing ability over footballing traits like technique, vision and creativity. Personally I don't see improved teams, regardless of better stats for running distance, sprints etc. A fad imo.
Kevin Dyer
104
Posted 01/07/2017 at 15:18:44
Brian (#100) –are you talking about the quote from Deulofeu? Yeah I hadn't seen that; the articles announcing the news didn't include any quotes from him, just that it was all done at Barca's end etc. Well, dumb decision imo.
Obviously vastly confident in his own ability but has exactly zero shot at getting any real game time. Yeah I think the Spanish B teams are kind of considered to be unique entities so he cannot be loaned to them either.
No big deal as they play in a lower decision anyway. Imo he's gonna atrophy on the bench, have no chance of the world cup and even with inflated fees that's gonna hurt his value, a lot. Don't see them getting much more than the 㾶M tbh. Odd, by everyone.
People saying he can't defend etc makes me shake my head. He's a forward, ffs. His job is to do damage in the opponent's half. People bang on negatively about crabs and Identikit midfielders, can't hit a decent forward pass etc but paradoxically enthuse about the high-tempo, pressing style in England like we've reached some hitherto unimagined level of football excellence. And creative players like Deulofeu. Shaking my head..
Peter Fearon
105
Posted 01/07/2017 at 16:10:40
It is baffling to me that Koeman has turned his back on a player of Deulofeu's extraordinary potential in a team that lacks his specific qualities, invention, pace, innovation, ball control and spontaneity.
We will be watching Deulofeu at the next World Cup, saying "that genius used to play for Everton – for five minutes – but we didn't recognize his talent"!
Andy Crooks
106
Posted 01/07/2017 at 17:18:30
Peter, I agree. We have no magic in the team; none. He could have provided it if Koeman had worked with him. I am gutted that he has gone. I fear we are assembling work horses.
Jay Wood
107
Posted 01/07/2017 at 17:20:36
The writing was already writ large on the wall in January when Koeman packed the most naturally gifted player at the club off to AC Milan.
Deulofeu doesn't fit Koeman's 'productivity and pressing' template, that is obvious. There are a number of players still at Everton who don't. One, several years his senior, has even been offered and accepted a contract extension.
Personally, it saddens me that managers and supporters alike criticise a player like Deulofeu for his presumed failings as a defensive player or for poor stamina as if a good set of lungs and the ability to run all game like a marathon runner and throw in a blood-curdling tackle are the sole prerequisites of a good player.
They are important, but the shortfall in that department by one player can be compensated for by other players and the team being set up tactically to take advantage of the positive things a player like Deulofeu offers, rather than dwell and condemn him for qualities he doesn't have in buckets of perspiration.
Teams and defenders hate trickery and speed and having players with the ability to run at them and go past them either side or deliver a wicked cross or telling through ball from deep.
We simply do not have a player at the club now capable of doing what Deulofeu can. The new kid Henry looks good, but he won't even be with us next season.
To me, Koeman is clearly intending to change the whole manner of the way Everton plays. I believe he is looking to introduce quicker transition from defence to attack, with greater goal scoring threat particularly from midfield. That is reflected in his signing of Pickford – a keeper with excellent distributions skills – and Klassen – a goal scoring midfielder.
Other than losing Deulofeu, I am delighted with the transfer window thus far. I am anticipating more action, possibly as early as next week, with big departures and big arrivals.
I just hope in this Brave New World at Everton 'productive and functional' footballers and football only is not prioritised at all cost over and above gifted and technically superior players like Deulofeu.
Jeremy Jansen
108
Posted 01/07/2017 at 17:22:50
I watched Geri a couple times in the U21 Euros recently and was never that impressed or made to feel as if he's grown as a player. He repeatedly runs down the side and hesitates to take his man on when he has a 1 vs 1. More often than not ending up with him getting into 2 vs 1 or 3 vs 1 and giving up possession one way or another.
I did see him have a nice assist on a Sandro goal but I feel like the pass nutmegging the defender was a bit of fortune. He just isn't cut out for the Premier League as many folks have pointed out... He has many of the necessary attributes but seems to lack that fire inside.
So long and thanks for all the fish, Geri.
Tony Waring
109
Posted 01/07/2017 at 17:23:35
My sentiments exactly, Kevin (#104). Even in the final against Germany last night which they – the Germans – controlled superbly Del was always trying and made some great passes but nobody managed to make anything of them. He has great vision and, as you say, he's not a defender and why should he be expected to do a job he clearly isn't used to?
Another point is that he lasted the 90 minutes well even though some contributors on ToffeeWeb complain about his stamina.
Chris Leyland
110
Posted 01/07/2017 at 17:26:05
Jay, as a supporter, I don't criticise Geri for lack of pressing etc, I criticise him for lack of consistency, lack of making a difference in the majority of games he played for us and a lack of application of his talent.
Some opposition players would love to play against him, week-in and week-out, because, for all his trickery, there is precious little end product far too often.
Brian Williams
111
Posted 01/07/2017 at 17:42:21
Hear, hear, Chris Leyland.
Jay Wood
112
Posted 01/07/2017 at 18:38:03
Chris @ 110.
Deulofeu is no longer our player. He is gone. In that regard, he is no longer of interest to me, although I will most definitely keep an eye on his progress.
For that reason, there is no need to engage with you on the merits and demerits of the lad, although I could offer counters to your opinion (and have done in recent months).
My broader point is that managers and supporters are showing an increasing tendency to demand all-round attributes from players to the possible detriment of their better skills and what they could offer to the team.
Deulofeu is such a player. Used correctly, in a balanced team and strategy which benefits the teams and all players, there has to be room for players like Gerard in the game.
Football, as Pele described it, is 'the beautiful game.' It should offer more than mere productivity and functionality as way of entertainment.
Lee Courtliff
113
Posted 01/07/2017 at 18:45:59
Whoever replied to my comment, I'd take Geri's "what there is" over a lot of the shite I've had to sit through over the last 27 years!!
Although, in fairness, he was nowhere as exciting as those Steady Eddies who play safe, sideways passes and I was obviously thrilled when we started bringing Arouna Kone off the bench towards the end of the season.
We clearly could have used him last season, even as a sub. We are not a club with a deep enough squad to be letting people like Geri go out on loan.
Frank Wade
114
Posted 01/07/2017 at 18:48:31
I can't see the point in criticising Koeman on this. Let's say he didn't go to Milan and Koeman 'improved' Geri's fitness and output and he had a good 15 games post January. Where would he be now? On his way back to Barcelona perhaps.
We all thought it was a great deal at the time, as we didn't expect it to be lucrative for Barcelona at this point. I think that Barça reckon they can turn a profit in the long run. He is worth a punt to them at £12m as a backup in their squad with a heavy schedule of League, Cup and Champions League games to play.
Same as Everton taking a punt on Lookman for even more £17m?, not nailed on for first team but with potential to be a first teamer.

Kevin Dyer
115
Posted 01/07/2017 at 18:59:06
Jeremy (#108) – but equally applies to the many contributors saying much the same thing: please explain what "not cut out for the Premier League" actually means? Is the Premier League proven to be superior to the other top leagues (except financially), because if so I must have missed this.
Unfortunately the obsession is with stocking our teams full of athletes first, footballers second. Because unless a player has athleticism they can't play in this league. It's this kind of nonsense that has players like Mata and Fabregas sidelined. Look at Pirlo: the guy would likely have been marooned on the bench over here, especially in his later years.
Phil Walling
116
Posted 01/07/2017 at 19:13:52
Frank @ 114; I thought Lookman's fee was ٥M – not 㾽M as you state. The latter figure would be truly ridiculous for what I have seen of him!
Frank Wade
117
Posted 01/07/2017 at 19:26:42
Oops, you're correct, Phil. £7.5M rising to £11M per Wiki. I've been thinking the same as you with £17M in the back of my leaky head.
Adam Scott
118
Posted 01/07/2017 at 19:30:24
A bit harsh, the criticism of Lookman. The lad will be a top player. At worst we would always get our money back.
I think people really are looking at Geri with rose tinted specs. Great talent, but his deficiencies are obvious. Bread and butter deficiencies that will impact on the team. We will lose more than we win with this sort of player..
Stan Schofield
119
Posted 01/07/2017 at 19:43:04
Kevin@115: Spot on.
Despite what the so-called 'pundits' have been droning on about for decades, in my opinion the Premier League is (like the 1st division before it) comparatively shite. In fact, in all my 56 years of watching football, the only team that I regard as top-quality in terms of world class football is the Everton side of the late 60s, which included the best midfield in the world. A true School of Science.
Of course, England never got its act together and chose that midfield, which would have competed equally with the great Brazil midfield of Gerson, Rivelino and Cloadoaldo. That in itself is an indicator, both of the shortcomings of how the England set-up thinks about football, and of why England has been so mediocre for so long.
Many highly skilled foreign players would not fit in to the dull and workmanlike style of British football, with its current banal emphasis on 'pressing'... More like 'depressing'.
Sam Hoare
120
Posted 01/07/2017 at 19:50:05
I'm not convinced he was 'technically superior'. I can remember countless times his first touch let him down or he dribbled straight out of touch. If he was Scottish and from the Celtic academy instead of Barça then I wonder how perceptions of him would be different.
Perhaps in time he'll develop further and prove me wrong but in terms of his contribution to Everton since the permanent move I don't feel we're losing a great amount; though it's true we now look short of players able to create something from nothing.
Darren Hind
121
Posted 01/07/2017 at 19:51:30
Koeman – flair?
Never the twain...
Chris Leyland
122
Posted 01/07/2017 at 20:10:15
Jay (#112) – I agree with you about the 'all-rounder' requirement seeming to be the fashion these days but wasn't it the case with our 80s title-winning teams that the likes of Trevor Steven, who was a wonderfully gifted player, also always put in a shift and often provided valuable cover for Gary Stevens?
Adam Scott
123
Posted 01/07/2017 at 20:14:29
The Celtic thing is spot on, Sam. Was thinking the exact same thing. People have a blind spot for anything Barcelona.
The lad has flattered to deceive for much of his career. He may come good, but the hard evidence is that of a stop start career by 23. People are quick to throw pelters at Barkley who has achieved much more at this age.
For what it is worth, I don't see 30-odd caps at U21 level a positive either.
Christy Ring
124
Posted 01/07/2017 at 21:41:32
I liked Geri but, as the saying goes, what's seldom is wonderful, but the problem was, it was too seldom, and Koeman could see that, and his wok rate was nil.
In my opinion, he was best as an impact sub.
Peter Murray
125
Posted 01/07/2017 at 21:58:17
Peter Fearon (#105)
We will be watching Deulofeu at the next World Cup, saying "that genius used to play for Everton – for five minutes – but we didn't recognize his talent"!
Surely in your dreams!!!!
Managers nightmare – never fit, never good enough, and defo just another bench warmer!!!
No loss at all, if we are building, but defo always a real frustration!!!
Tony Abrahams
126
Posted 01/07/2017 at 22:06:58
Andy 106, your fear is what I pray for, workhorses, similar to our great team of the eighties.
Kevin Dyer
127
Posted 01/07/2017 at 22:52:23
Adam (#123) You don't see a large number of Under-21 caps as a positive? Doesn't Milner own the record for England Under-21 caps? Not had a bad career (despite being a whipping boy for many morons following the national team) though, right?
Tbh, I'd rather a player stay in the junior level international team (of a strong nation like Spain and – don't laugh – England rather than getting prematurely promoted into the senior squad like currently Rashford is. Personally the lad would've been better served playing in tournaments for the U21s like Deulofeu than playing a bit part for England – as well as his club side.
Still haven't seen anybody post anything conclusive as to why Geri isn't good enough for us, other than corkers like "lacks determination", "defenders know how to deal with him" and the always popular "he loses the ball". Oh, he dives (Dele Alli) and flaps his arms when he loses the ball (Lukaku).
Here's a newsflash: you try ambitious, creative attacking play you're more likely to lose the ball. I remember watching Ronaldinho playing for Barca in a ECL game once and he tried all sorts of tricks and audacious passes etc. Lost the ball about 90% of the time. Funnily enough his manager and the fans didn't wig out and pretty sure he didn't get dropped next game.
Barkley gave a pen away under Moyes and got dropped like a stone and marooned on loan soon after to Warnock-Land I believe. Deulofeu never had a run of games under Koeman and presumably got bellowed at for not tracking back and "putting a shift in", so I don't blame him for getting demoralised.
Remember a while back all the criticism of the way English football developed players – emphasising running ability, strength, size and an engine and that we were miles behind the likes of Spain in what you might call "playing football"? Nothing has changed. Dinosaur mentality.
Adam Scott
128
Posted 01/07/2017 at 23:18:29
I am not saying it is bad per se. Anyone who is still knocking around a U21 team at 23 though you have to be concerned about.
I hope he makes it, I really do. A big part of me thinks he is a star player on his own terms and with particular opposition.
I don't think it is that he isn't good enough, full stop. I don't think he is good enough to lose sleep over though. My evidence is the underachievement that explains his career thus far.
Whatever people say about the Premier League, you can't carry people off the ball. Geri is the epitome of a player who is great when you are in possession, but useless when not. You don't get games in this league when you can afford this. That doesn't make us the best league, but it is a darn sight more competitive than other leagues.
I think he needs a top team in an uncompetitive league who can indulge him, to thrive.
Brian Williams
129
Posted 01/07/2017 at 00:03:17
Kevin. How about the fact that overall he's "ineffective"?
Koeman obviously saw enough of him to make his mind up and I'll take the word of someone who played alongside the likes of Nando, Juan Carlos, Eusebio, Laudrup and Stoichkov to name a few.
It's nothing to do with killing creativity Geri is just "ineffective." All the stepovers in the world, all the "blistering" paced runs down the wing aren't worth much if most of them have no end result and "most" of Geri's had no end result.
It wasn't that he couldn't defend or didn't track back – he just wasn't successful enough times in what he tried to do. One great ball a game doesn't cut it.
If we had 10 world beaters in our team we could carry him. We don't, so we can't. Koeman was right "productivity" has to be improved. Geri didn't produce enough often enough.
James Flynn
130
Posted 01/07/2017 at 00:12:20
He's no loss.
Even Roberto, who brought him in twice, finally sat him. Explain that away.
As for him captaining a U-21 team in a tournament? So what?
Drop Ross Barkley into England's U-21 side. He'd have torn through the opposition.
We move on. Those who think Everton made a mistake, link up with the "Stones will be great" posters and keep the rest of us informed.
Adam Scott
131
Posted 02/07/2017 at 00:14:01
Can't disagree with Brian there.
Like I say, he isn't a bad player. He did have a role in our squad. In these European matches, he could have been a match winner all day long.
He isn't a player to worry about leaving though. Not a write off a la McGeady for example, but isn't that important to us, either.
David Barks
132
Posted 02/07/2017 at 00:31:41
Kevin,
I totally agree with you. This garbage mentality of focusing on how much they run and how big they are is a Luddite mentality that has seen the English game torn to shreds, not just the national team but also the clubs in European competition.
Could you imagine any English club building around Messi? Not for a damn second, because he's too small, doesn't have the strength, doesn't run around like a headless chicken. Same goes for Xavi and Inesta as the midfield generals.
He was a talented player they was wasted, for a time in favor of fucking Cleverley on the wing. Christ, what an absolute joke that was. But now he's gone, and we have signed Klaassen. We've signed a single attacking player this Summer. And no I do not count the young guy we've signed and immediately loaned out because he's going to do fuck-all for us this season.
Why do I feel like this summer is being celebrated by the masses, yet I'm sitting here thoroughly unimpressed so far? I haven't seen us strengthen our squad. I've seen us pay a massive wage for a young keeper and a central midfielder that by all accounts is a replacement for Barkley when we finally sell him. We have Sandro maybe coming, but we'll be losing Lukaku.
But I keep forgetting, Walsh is magic. Moshiri is the messiah and Koeman is a wizard whom miraculously guided us to 7th. I guess it's crazy that I feel like we should be much more vocal in demanding the attacking players that we've been lacking for years now. And please do not tell me that Lookman and Calvert-Lewin are going to be those players. They're not even close.
If you dismiss Deulofeu's accomplishments with the Under-21s then do not for a second try to convince me of the Under-20s because the quality is light-years apart.
Peter Fearon
133
Posted 02/07/2017 at 01:38:11
Stan Schofield. Spot on. I watched that midfield back in those days and they were something most managers don't even think about today. They were entertaining!
As for Deulofeu not having enough end product, Koeman replaced him with Mr ZeroEndProduct himself, Bolasie! When Geri Deulofeu has a Ballon d'Or, I hope some of the people who are criticizing him on this thread have the decency to eat their words.
James Flynn
134
Posted 02/07/2017 at 02:13:24
Apparently, ToffeeWebbers get Delboy completely, while those who manage him don't.
You know what is good for Deulofeu? Whatever he thinks is good for him. That's what. Nothing else. Who's held to account for that?
We're well-rid of this show-pony.
Dick Fearon
135
Posted 02/07/2017 at 02:28:24
Can anyone tell me where or when our recent managers, including Ronald Koeman, have improved a player's performance?
It seems to me that, after their teens, other than in physique, there is no improvement in their skills.
Mike Gaynes
136
Posted 02/07/2017 at 04:51:44
Dick, I'd say Moyes worked miracles with Coleman. He was a fundamental wreck defensively when he returned from his loan spell. Moyes taught him positioning, man-marking and how not to be caught ball-watching, and turned him into a solid right-backto go with his attacking skills.
And I don't know how much credit Koeman should get for it, but Lukaku improved significantly this season on his first touch and holdup play.
Trouble is that, when a player does improve, you don't know how much credit goes to the manager, the coaching staff or the player himself.
James Watts
137
Posted 02/07/2017 at 05:43:02
Kevin (#103). I think you're actually making my side of the point stronger.
"Yes, the fee is was it is, we were in no position to argue. Just saying that Deulofeu is worth a lot more that 㾶m in today's market. Sandro is a poor yardstick as his release clause is laughably low and he's regarded by everyone as a total steal, virtually a free."
Sandro is the perfect yardstick. He has a low clause, so does Deulofeu. Luckily for us, his fee is pretty much half of Del's. Agreed. both would be worth a lot more if it wasn't for the fees, but they are there so the players are worth exactly that.
"Irrespective, that he is in the frame for Spain makes it bizarre that he is not considered good enough for us "
When Deulofeu played for us, he was shite the majority of the time. Yes he had good moments but also remember the majority of moments where he gave the ball away, stood around blowing because he ran 10 yards, the amount of time when he didn't even make an effort to help track back, his piss-poor decision making of trying to beat a man 10 times instead of crossing etc, etc.
The simple truth of the matter is that in the Premier League, a player has to put a shift in – unless you're in a privileged position like Lukaku who gets away with it because he scores goals. Del didn't want to work hard and his end product wasn't good enough to look away from that.
He does and will do well in a slower paced league because he can get away without doing the majority of the leg work. It that respect I think Italy is the perfect base for him. Spain? Time will tell but I just can't see him being a success there for the same reasons he wasn't a success here.
Andy Codling
138
Posted 02/07/2017 at 05:58:48
No real loss here. A frustrating player who can't last longer than 60 minutes. Hopefully the other frustrating winger will be sold as well!
Ian Jones
139
Posted 02/07/2017 at 07:26:29
I initially liked Geri, although frustrated by his performances on many occasions.
Could one of his problems at Everton have been that Rom is often the focus to our attack? Geri probably is the kind of player who needs a free rein. Not as easy to accommodate such a player in the Prem League these days. Shame that we will never see if he could flourish with a difference in our attacking focus.
Whilst useful to us as an impact sub, I doubt whether at 23, Geri would want that. Have to assume he wants to play every match. He is unlikely to benefit from that desire at Barcelona.
The terms of his agreement seem to have him remaining at Barcelona for the year before he can be sold on for a presumably healthy profit to Barcelona. I think Everton are a decent or fair club so imagine we could help Geri out and offer to take out this clause so he gets regular football.
If Barcelona have brought him back with a view to selling on at a profit, especially as his value as part of this deal is much lower than his value in the current transfer climate, as long as we benefit financially from such a sale, then that would be helpful.
Of course, that's only my opinion and life and contracts are never that simple...
Jim Lloyd
140
Posted 02/07/2017 at 07:50:01
I don't think that athleticism and skill are mutually exclusive but the basic requirement is the latter. The better players have both. I don't think Deulofeu was athletic enough and I don't think his skills amount to enough for him to be a regular in the team. My guess is that Barcelona will not keep him, they'll just sell him on and good luck to him but I didn't rate him as good enough for our team; and much more importantly, neither did the coaching staff. I think Kieran Dowell is at least as skilful and could well make the first team squad this season.
The transfer window only opened yesterday and some are complaining that the club has is not showing enough enthusiasm for buying attacking players! Well, each to their own but, so far, the club has shown ambition and decisiveness in going for the players we've already got.
If it's true that we have bought Sandro Ramirez, then we have a lad who can score goals, and works his socks off. I have no doubt there will be more players coming in with the same attitude and class, as Klaassen; and I think that we will be bringing in players to replace Mirallas, Deulofeu and possibly Barkley and Lukaku.
I certainly don't think the business that Everton are conducting, with Moshiri's blessing, will have stopped before the window is 3 days old. A lot will depend on whether Lukaku is wanted enough by Chelsea for them to meet the club's price. If he goes, I think we will get the best we can afford to replace him. I don't think it will stop there either.
The signing of Henry is another indication that we are collecting top class, young players, who other top clubs would have no problem in signing... only we got there first. I think this window will be a really good one for EFC; and us
Andrew Clare
141
Posted 02/07/2017 at 07:51:37
If a team is to be successful they require eleven players who perform to the maximum week in week out. Any players who don't do this shouldn't be considered.
We have had too many very inconsistent players in recent years and that is why we go no further than mid table.
If this window carries on as it has then we will no longer have to endure watching half-hearted performers. Watch any of the European giants and their players give everything every game.

Ernie Baywood
144
Posted 02/07/2017 at 08:48:40
Jim (#140). Transfer window opened June 10th. That's why clubs (including us) have been signing players!
Tony Abrahams
145
Posted 02/07/2017 at 08:51:59
Andrew (#141), that should be the post to end this thread! Can't always play great, but should always work your socks off for the team, It's why the Germans are so successful, they understand the concept of the team?
I also think Man Utd, will go and win the league this season, because their manager drills everyone the same way. Football is all about the team.
Jim Lloyd
146
Posted 02/07/2017 at 08:52:08
Ernie, I thought it was 1st July. I could be wrong like but we haven't signed Keane yet and I thought the Transfer Window opened on Saturday officially.
Ernie Baywood
147
Posted 02/07/2017 at 09:05:18
Plenty of news sites say it's July 1 but FIFA say June:
https://www.fifatms.com/itms/worldwide-transfer-windows-calendar/
Jim Lloyd
148
Posted 02/07/2017 at 09:06:10
Just checked the opening date. Sky say 9th June, other media outlets say 1st July, so take your pick!
Jim Lloyd
149
Posted 02/07/2017 at 09:12:07
One thing I'm fairly sure of. We haven't finished our transfer business, no matter when it starts!

Brian Williams
150
Posted 02/07/2017 at 09:52:34
The transfer window opens "officially" on July 1st for the registration of players but the deals can be sorted before then.
Kevin Dyer
151
Posted 02/07/2017 at 13:01:33
Brian (#129),
Well, if it's good enough for Koeman... Seriously though I don't buy that at all; it's early days for him at EFC so I'm not about to start treating him like he's Alex Ferguson.
Managers have their own preferences and foibles. Sigurdsson, who we are apparently desperate to sign for big money, was persona non grata in Germany when management changed. Even Aguero is clearly not fancied by Guardiola. Okay, so Koeman didn't rate Geri, fair enough but that in itself does not mean he wasn't good enough for us. Martinez dropped him when we stopped being an attacking team and became a possession side, not because Geri wasn't playing well. Koeman never gave him a run.
Same complaints from the fans about Deulofeu as Barkley: keeps the ball too long, tries beating his man multiple times etc. Every think some of this is because we have no runners from midfield? Nobody gets in the box. This is a team (and coaching) issue.
Koeman's initial desire seems to be to set us up as a kick and run team with pace and athleticism to chase and carry the ball. Guile and creativity a low priority. Personally I want to see trickery, skill and vision not a team of physical specimens who can also play a bit. Sissoko? The signing of Klaassen suggests that may have been a stopgap approach; we'll see.
Still not heard a decent argument as to how the Premier League is actually superior to the other top leagues. Just repeating that players like Deulofeu can't hack it in our league does not constitute fact. If we go with the high-tempo and rush everything when in possession style we will beat teams that have inferior players but won't be able to handle those with talent. This kind of approach gets international teams winning everything in qualification and looking like dinosaurs when it counts. Sound familiar?
Last point: look at Besic. Apparently he needed to bulk up to "compete" in England, though his lack of muscle didn't seem to be a problem vs Messi. Result: carrying too much for his frame, injury plagued. Great job, coaching staff.
Brian Williams
152
Posted 02/07/2017 at 13:31:25
Kevin. Guess we'll have to agree to disagree. I, and lots of others, think he just wasn't effective. You, and others, think differently.
As my old mother used to say "It'd be a boring world if we all agreed on everything!"
Gordon Crawford
153
Posted 02/07/2017 at 14:17:54
I agree with everything being said, by everyone. :p
Disappointed to see him go. Kevin (#151) makes some good points. :)
Mark Rankin
155
Posted 02/07/2017 at 20:24:31
Barcelona signing him to sell him on, after him sitting on their bench for a year - they've given us £10 mil then pay his wages for a year, maybe another £3 mil. How much do they think they'll get? If we get a cut of any sell on fee they're going to have to get upwards of £20 mil to make it worthwhile. Going to need some chump team who repeatedly blow big money on wingers that don't cut the mustard...
Brian Williams
156
Posted 02/07/2017 at 20:35:29
The bottom line in all this is that unless Geri had wanted to stay, which he obviously didn't, it wouldn't have mattered how amazing or not he'd been for us if Barça had done what they have and exercised their buyback option.
Nothing we could have done about it. Personally a 㾶.5m return with 30% of any profit from future sale is a good result. Imagine how sick we'd all be if he'd turned out to be the Spanish Ronaldo (Christiano) while he was with us.
Martin Nicholls
157
Posted 02/07/2017 at 23:44:50
Mark (#155) – "chump team who repeatedly blow big money on wingers that don't cut the mustard"? Step forward, red shite!
Bob Parrington
158
Posted 03/07/2017 at 05:49:43
Good Luck at Barca Geri! Great team and Barcelona is perhaps my favourite European city. Enjoy being back home!
Alan J Thompson
159
Posted 03/07/2017 at 06:22:44
Strange not to see the usual argument, "Would he get into a top 6 side? Then why would he be good enough for us."
Kevin Dyer
160
Posted 03/07/2017 at 07:08:32
Mark #155 good point and ROFL!
Brian Furey
161
Posted 03/07/2017 at 14:37:45
You would imagine that the player himself wants to move on to another club like in Italy and that Barça are happy to do that and make some profit on him, maybe with another buy back clause. So would it not make sense for Everton to remove their clause about not allowing him to be sold this year and so they get a cut of the sale and also strengthen the good relationship with Barça so future loan deals could happen.
If they see Sandro do well with us I'd not be surprised to see them offer us £20M next year for him to come back.

Clive Mitchell
162
Posted 04/07/2017 at 01:28:54
Good luck Geri. Proper player, wonderful young man, a credit to yourself throughout your time at Everton.
Peter Roberts
163
Posted 04/07/2017 at 17:42:12
Peter Fearon #133
The only Ballon d'Or Geri is likely to get in his career would be from going on Jasper Carrott's game show (if that's still going!)
Kevin Rowlands
164
Posted 04/07/2017 at 17:47:54
Nice lad by all accounts but nowhere near tough enough for the EPL, good luck to him in the future.
Andrew Keatley
165
Posted 14/07/2017 at 19:29:57
The clause that allowed Barcelona to resign Deulofeu being activated has resulted in them offering him a 2-year deal.
He's 23 years old.
Think I read somewhere that apparently they are not allowed to sell him within 12 months of activating the return clause.
Something tells me that as soon as that 12 months is up then Barcelona are going to be selling Deulofeu for whatever the market value is – and it'll be more than 㾶.8 million (or whatever the clause) was.
Feel a bit sorry for him. These buy-back clauses keep players in a limbo that isn't entirely helpful to their careers.
---
Add Your Comments
In order to post a comment, you need to be logged in as a registered user of the site.
Or Sign up as a ToffeeWeb Member — it's free, takes just a few minutes and will allow you to post your comments on articles and Talking Points submissions across the site.