Opinion
Nil Satis Nisi Optimum? Moshiri's own goal falls well short of Blues' motto
Four years ago, the club removed our cherished motto from the crest. They reinstated it following howls of protest from supporters but if Farhad's latest "statement" is any indication, it never made it back into the mission statement of the Board of Directors
Lyndon Lloyd

02/10/2017
97

comments | Jump to last
Share:
If Evertonians were hoping for some sign from the club's hierarchy that patience with Ronald Koeman's teetering reign was starting to wear thin after yesterday's defeat to Burnley, they will have been sorely disappointed by Farhad Moshiri's latest missive via Jim White today.
Delivered again as a screenshot of the iOS notes app, White passed on the acknowledgement from Everton's major shareholder of the team's poor start to the season but his assurances that Koeman has his full support.
That would have been frustrating enough for the unknown percentage of fans who have already had enough of the manager as Everton flounder above the relegation zone despite his rich playing pedigree, modest accomplishments as a coach elsewhere and £140m spent on new players.
Unfortunately, Moshiri went further, dismissing what has, in the context of the above, been an abysmal start to the new season by blaming fatigue and a tough run of fixtures in which defeat was not "unexpected".
Let's give Moshiri the benefit of the doubt where he says yesterday was the "only unexpected result", the phrase that has stuck so badly in the Evertonian craw. Let's assume he meant losing to Burnley was the only surprising defeat so far.
[Which is why, incidentally, you release such crucial messages through the club Communications department you pay to handle such things — to ensure that not only are the basics like grammar and punctuation correct but also that everything is 100% on point and there is no room for misinterpretation.
Quite why Moshiri insists on using a yellow-tie-obsessed television and radio presenter who spends half his professional time on a radio station many Blues now avoid because of the Murdoch empire and its ugly "journalistic" history regarding Hillsborough, is a mystery.]
It still doesn't excuse the fact that, just like Koeman himself, he misses the point spectacularly. Losing to Chelsea, Tottenham and Manchester United might not be a surprise, particularly when you've sold your best player, failed to adequately strengthen your squad and you're trying to bed in new players. But you should at least be able to walk out of those losses with your head held high knowing you gave it a go and that, at the end of the day, the opposition just had that little more.
Instead, just as they were twice by Chelsea last season, Everton were practically humiliated in those games, failing to register a shot on target in one of them and recording just a handful of efforts on goal in the others. You can add Atalanta to that list, an unforgivable performance which yielded just three shots on target. These weren't close games, they were underpinned by shocking performances from a team bereft of balance, pace, width and teeth.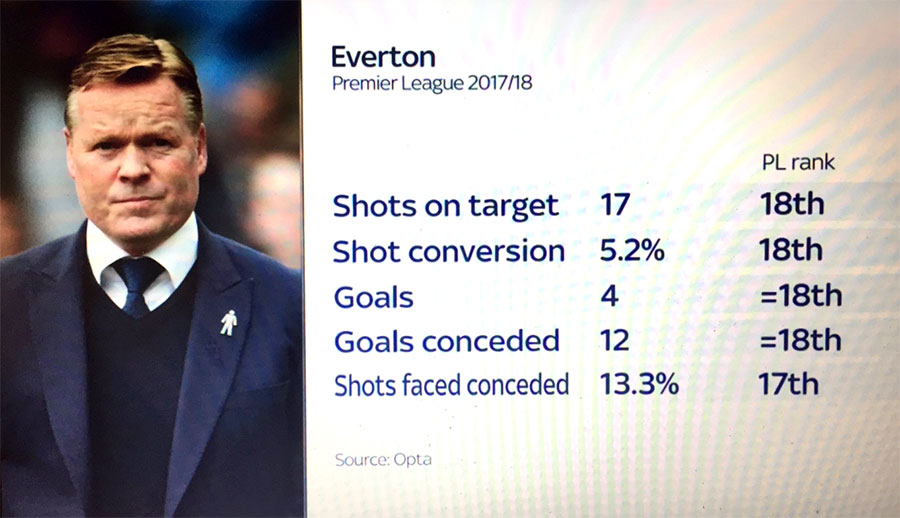 This screenshot from Sky Sports doing the rounds on social media illustrates how poor Everton have been as an attacking force so far this season. [©SkySports]
Even if you ignore Moshiri's own goal over "expected results", his attempt to pass off the poor run as a consequence of mental and physical fatigue and injuries so early in the season is just lame. Three of those injuries — Seamus Coleman, Ramiro Funes Mori and Yannick Bolasie — were known issues for the entire summer. Hell, throw in James McCarthy as well; not only is that area of the field stuffed with other options, he's not been consistently fit since he was forced to play injured in Wolfsburg three years ago!
If the squad is short on quality and numbers, it surely serves as an indictment of a transfer strategy that entailed paying over the odds for Davy Klaassen and Gylfi Sigurdsson and throwing almost £25m at the fading powers of Wayne Rooney when the money could have been allocated far better to achieve a deeper, better balanced squad. On some full-backs, another centre-half, a striker and some creativity, perhaps?
As slaps in the face to the record numbers of Evertonians who purchased season tickets go, Moshiri's statement is something. His arrival onto the scene, the greater financial muscle he has brought the club, and the moves forward made on the stadium front have ratcheted up hope among supporters to levels not known since 1995. It feels like he has washed much of that heady optimism away with one ill-advised communiqué.
We do have great fans and they do deserve better. Better than what is being served up on the pitch. A better attitude from the top than this holdover from the Moyes era where, despite spending the GDP of a small country on new players, an Everton team isn't expected to compete with the best or at the very least give them a go. And, frankly, a better method of communication from the man many felt was the ambitious, "nothing is impossible" leader to take us out of the doldrums of the past three decades.
Four years ago, the club removed our cherished motto from the crest. They reinstated it following howls of protest from supporters but if Moshiri's latest "statement" is any indication, it never made it back into the mission statement of the Board of Directors. [Not that Farhad is actually on the Board but you get the point.]
Nothing but the best is good enough, remember? That extends to attitude and the message you send out to we long-suffering Blues. Actually being the best may not be realistic in the short term but the very least an Everton manager, team and ownership should be doing is giving everything to perform at its best, never expecting to fail and certainly not accepting failure as an option.

Follow @EFCLyndon
---
Reader Comments (97)
Note: the following content is not moderated or vetted by the site owners at the time of submission. Comments are the responsibility of the poster. Disclaimer
Paul Evans
1
Posted 02/10/2017 at 17:07:57
Fully agree, a very disappointing statement that does nothing for the fans.

NSNO is something we've always aimed at even though not achieving for the last 20 plus years, but 'Nothing But YOUR Best Is Good Enough" is something the fans will always appreciate and expect, and not 1 of the 1st team squad has been anywhere close to giving his all in any game of the season so far.

Blame the early start, the Europa League, the tough opening fixtures if they like, but when it comes down to it, its the players and lack of management that's the issue. Even if you're playing shit, you still work your ass off, nobody has stepped up to the mark yet.
Paul Burke
2
Posted 02/10/2017 at 17:08:47
Well written, Lyndon, as per usual.
John McGimpsey
3
Posted 02/10/2017 at 17:18:25
Ex watford boss on shortlist... Oh dear, I think the bottom of my tattoo should be removed, a bit like Billy bullshit tried to do a while back
Kunal Desai
4
Posted 02/10/2017 at 17:25:02
He should keep his gob shut. He hasn't a clue about the footballing side. Coming on the radio and sky giving stupid soundbites about bringing in a striker in the next transfer window and players suffering from fatigue is making himself look absolutely daft. Us supporters weren't born yesterday.

Every club has had the influx of sky money over the last few seasons and can pay the inflated fees and wages.

Not quite sure if anything at this club has changed over the last 18 months.

What is the latest with BMD? When is the next update on this 'project'?
Paul Richardson
5
Posted 02/10/2017 at 17:31:35
Agree Lyndon. Look at the body language of the players. Williams hides under his shirt collar at every unfortunate turn of fortune and I suspect he's smirking with embarrassment. Sigurdsson and Schneiderlin don't look bothered either, heads up, bemused, smiling, not hurting.

But, all over, the players are not "facing up" to their opponents (ref: Schneiderlin's attempted tackle for the Burnley goal, but there are others) just lamely sticking a leg out to try and flip the ball away. Not standing firm, winning the ball, then purposely moving it forward.

It's the I'm-here-to-make-a-difference attitude that's missing most (along with all the other issues well aired on here, like selection, tactics and some of the transfer dealings).

I don't want Everton to be a team of cloggers, but they must have a steel about them; our best teams always have done...they have hurt opposing teams physically, mentally and creatively. At the moment we don't have these attributes.

NSNO is a way of life. But it starts with the attitude.
Darrel Pugh
6
Posted 02/10/2017 at 17:53:32
It was ill judged to provide what looked like an impulsive response. However does anyone think that any of our buys this summer would get into a so called top six team?
There is no identify about Everton, Koeman seems to be doing what England managers have done down the years, just try to shoehorn in, all his best players (in his eyes) and hope it works.
It is unforgivable that a manager on £6m a year cannot work out basic team formations, and doesn't know how to keep morale high, in all circumstances.
Where are his leadership skills?
It seems that you can be a manager in the PL, and have no evaluation processing on things like, team formations or managing the media.
10 games in, he needs to be on 11 or 12 points.

Andy Dempsey
7
Posted 02/10/2017 at 18:15:56
We do kid ourselves don't we? I remember the whole Moshiri means business, doesn't fuck about,, he's our guy, gets stuff done bullshit. I was a part of it. Same with Koeman; doesn't mince his words, really like this guy .
It's some sort of brain chemistry malfunction I think, we all love Everton, and the hint of a possibility that we might be moving in the right direction fires off dopamine jets akin to the first few weeks of a blossoming romance with someone who seems like 'the one'.
Alas, Moshiri and Koeman don't really care, and it's becoming very obvious. Now, we don't really need Moshiri to care, we just need him to be competent, ruthless, it's not really about emotion.

I'm afraid though that performance on the pitch and success in the league, while it would be great for the brand image, is just a minor concern. It's just about profile and business investments. Abramovich is doing this too, but he got in early enough in the recent billionaire explosion where the competition wasn't so fierce and so was able to deliver success too.

With FFP and the six clubs above us, it's going to be really difficult for someone like Moshiri to deliver success without bankrupting himself, which he's not going to do. Kenwright is the dark master behind all this. Letting Moshiri run the club while he continues to manipulate. Kenwright wants Everton to be successful but he can't let go, like a classic villain who thinks he's the good guy, smothering us with his 'love'.

Unsworth (I don't care if he fails, give him a chance) has a connection with the club, understands how good these young players are, sets his teams up in a way that will get the fans going at the now poisonously silent Goodison Park. If you bring in someone like Ancelotti they won't understand any of this, and will have to have it explained to them by someone like Unsworth, if they're willing to listen.
But Koeman is Moshiri's man, he'll be here till at least next season. They deserve each other.
James Stewart
8
Posted 02/10/2017 at 18:33:17
I really don't understand the Moshiri/White ventriloquist double act. If Moshiri wants to be the Wizard of Oz so be it, just have Elstone or some other stooge read a carefully prepared and proof read statement. Instead we get a second-hand iphone message like a group of high school girls. It makes the whole club look like a bunch of amateurs.
Liam Reilly
9
Posted 02/10/2017 at 18:41:18
The big question for me is, who decided on the players that came in and who dropped the ball in failing to have a plan B if Giroud couldn't be convinced to move north.
The sound bites from Koeman in the summer would suggest that he didn't get all the players he desired and now he's left with shoehorning in a bunch of misfits .
This does not excuse the performances and he's a dead man walking if we fail to beat Brighton and show up against Lyon, but it may explain the backing from Moshiri.
Phillip Warrington
10
Posted 02/10/2017 at 18:51:07
The season started with so much hope, actually thought we would be competing with the big boys and enjoying watching Everton play football. But now its like being smacked in the head with a four by four, not only has watching Everton play witch leaves you frustrated and shaking your head. Now we have our savior stating that loosing against the big teams is expected, so Mr Moshiri how many teams that are above Everton are we expected to loose against.

I have supported Everton for 40 years, I have for the first time lost interest in Everton information and results as watching them leaves you angry, frustrated and just shaking your head and now to hear we are expected to loose and that's ok with management. We should NEVER be expected to loose, so God damn angry these people are shitting all over a once proud club
David Israel
11
Posted 02/10/2017 at 19:56:33
John McGimpsey #3, which one of them? There's quite a long list of those!
Ken Kneale
12
Posted 02/10/2017 at 20:13:25
Lyndon - as usual your wordsmith skills express a view shared by many including myself. Personally I find the comments attributed to the situation by the majority shareholder appalling and the general lack of comment from the Club to either confirm or correct given their significance to us all who hang on every word, inept and derisory.

I intend to write personally to the Club to express my thoughts that Everton should not be 'expecting' to lose to any opposition given our heritage and any view expressed to the contrary from those within the Club is unacceptable in the extreme.

I will add that in my view, the manager has assembled a totally unbalanced squad, he insists on playing a rigid system disregarding those of us still in the majority at Everton where the style of play is most important.

This end result - a bunch of demotivated and demoralised players who are unable to perform. A fish rots from the head!!
Liam Reilly
13
Posted 02/10/2017 at 20:15:22
I used to get very angry watching us underperforming Phillip; there's nothing that can raise your expectations like Everton and have them cruelly crushed so unexpectedly.
But lately I don't find myself getting upset anymore, perhaps it's my 'anger management classes' or more likely the hope has been well and truly grounded out of me after 40 years of supporting this football club and a sense of apathy has ultimately crept in.
Paul Kennedy
14
Posted 02/10/2017 at 20:16:45
A well written thoughtful article. Now is the time for cool heads no knee jerk actions .


Koeman must be relieved a.s.a.p .The damage done is serious cut away the cause

Put Unsworth in charge to rebuild shattered confidence of players and improve from the rock bottom moral around the club
Issue a statement distancing the club from crazy damaging reports like the Andy Carroll one etc

Invite applications from proven successful managers only

Replace club captain with a stronger more vocal personality
Jack Convery
15
Posted 02/10/2017 at 20:39:28
Moshiri must stop communicating via Jim White - if he doesn't he should go. Its bloody embarrasing. Its as though he thinks its cool to sidle up to Jim and Sky - ITS NOT. It doesn't boost your profile, it makes you look like a real KNOB - so stop it now ffs. If you don't get it, look at Trump and what a DH he looks like every time he opens his mouth - you come across the same. Please, please get some blue blood in to you. Go the pubs on match day, meet real Evertonians or are you scared to find out the truth or muck in with us fiff raff ? You never know you might learn something, like why we believe we are a running joke and haven't won anything for over 20 years.
Have you found out why we didn't get a decent centre forward or don't you care ? Why didn't we get a left sided centre half and cover for Baines. Its not rocket science to coin a phrase. What were Walsh, Koeman and Kenwright doing all year ? They all knew Lukaku was leaving didn't they ? Lukaku , his agent and Man u did.
You have become what Everton is all about - FAILURE.
So start getting Everton and Evertonains or ship out and most of all start managing the club or your investment, if you have in fact invested, will disappear as quickly as the blues aspirations for this season.
Rick Tarleton
16
Posted 02/10/2017 at 20:49:10
One believes new owners, new managers will make a difference, but just as in the real world a new boss often makes great words, and gives us new aims and objectives, but actually manages little in the way of changing the culture. Moshiri seems to have accepted too much of Kenwright's laissez-faire attitude to running our club and it all seems the same. Koeman's team plays exactly like Martinez's team and we, the fans, are mere passive customers who stump up money.
I hope Moshiri does one thing and that is actually builds the new ground. However, given his inertia over the koeman disaster, for that is what it has been, I'm beginning to think that too will be fine words and a new mission statement and that's all.
Steavey Buckley
17
Posted 02/10/2017 at 20:59:13
Everton don't have the squad of players to make any real difference if there was a new manager. The squad of players are so mediocre and out of form and confidence, the only way is down. If anyone thinks about James McCarthy being fit to return soon, forget about that, he has been included in ROI squad to face Moldova and Wales. And that means only one thing, he is going to be injured again. Most probably until next March when there are international friendlies.
Tony Abrahams
18
Posted 02/10/2017 at 21:01:09
I don't think that anything Jim White, has said via Moshiri, has ever really happened, but if he has said this then things are really really bad inside our football club.
Talking during yesterday's game, our kid said that the club was rotten, from top to bottom, I disagreed and said we were only rotten on the pitch, and this will hopefully be rectified soon enough when we change our manager?
I just hope I'm fuckin right for once, otherwise things are going to turn really nasty, very quickly, I think.
Jerome Shields
19
Posted 02/10/2017 at 21:17:04
I think that you are all missing the point.
Moshiri gave the go ahead to pursue Koeman, who didn't even bother to come back from his holiday early. Moshiri also made the final decision not to pursue Pelligrini.
This is not the actions of John Moore, it is more in the league of Jimmy White. Moores would have never been caught dead in the presence of Jim White and his yellow tie and he wouldn't have never taken his phone call.
Moshiri's last communication with Jimmy White regarding the Barkley transfer was highly unprofessional and according to Barkley not true.
We are dealing with Muppets. God help all long suffering Everton Supporters, things could get worse.
Jack Convery
20
Posted 02/10/2017 at 21:26:08
Everton has never been a club built for success. When we do achieve it, it disappears as fast as scothch mist. We are a business first and foremost. If we were a club wanting success why do you sell Lineker and Lukaku - would Man U / CFC do that ? LFC are the same - Suarez. thats why they can't compete either - the clubs heirarchy are not interested in Silverware just the money coming in. Staying in the PL is whats its all about now. Thats why its aceptable to lose to certain teams and the players know it too.
Craig Walker
21
Posted 02/10/2017 at 21:26:09
I'm still waiting for the big news at 8pm on deadline day. Andy @7 sums it up perfectly. We sign a manager or player and then start talking "top 4" or "laughing at the RS". Every bit of hope is a false dawn. Every pre-season offers optimism. Bramley Moore is THE only hope I'm clinging to. If that falls through then I'll have to question the futility of wasting my life devoted to the Blues. We look a million miles off being a winning team. At least I remember the good days. I feel sorry for the younger fans who don't even have the memories of when NSNO meant something. My 6 year old lad came home from football practice and said kids laugh at his Everton shirt. I give him all the lines about "9 times", "Dixie, the Holy Trinity" etc. But that's all we have now, history.
Danny Broderick
22
Posted 02/10/2017 at 21:43:49
I know it has been shit but are we really saying that the manager should be sacked now after 7 league games? It's ridiculous surely? We have to give him some time to see if he can turn it around. I believe Big Nev has said something similar on twitter - our problem is we haven't got any strikers. Even if we change manager, we'll still not have any strikers so what's the point? I have just listened to the Royal Blue podcast and they are saying the same thing.
I think some people on here are permanently up in arms about something. People are now offended by Moshiri giving the manager a vote of confidence- what do you expect him to do?
We need to try to get behind the team and manager. We are only hurting ourselves feeding all this negativity. The damage was done in the summer with the recruitment - we can't change that now. We need to get behind the team as much as we can, because even if you don't like the manager, there are young lads in the team that need support - Keane, Pickford, Davies, DCL etc.
Tony Hill
23
Posted 02/10/2017 at 21:54:52
The best thing I've read by you. If only the lickspittles at the Echo could behave like proper sports journalists.
Brian Harrison
24
Posted 02/10/2017 at 21:56:30
There is no doubt that going the game at present is very depressing, both results and performance are not what we expected. Of course Moshiri has come out and backed the manager, it was either sack him or back him and if he hasnt secured a replacement then I don't see what sacking him would achieve. But I am sure Koeman is well aware that he must turn things round quickly or Moshiri wont extend that backing very long. I think there is another International break in a couple of months if things havent improved then thats probably when the board will make the change.
Sacking a manager is easy it placates the fans, but don't think by sacking Koeman things will suddenly become better. You only have to see that Hodgson as yet has made no difference at Palace, in fact some of their fans are saying its got worse. I know that many have suggested that Unsworth be given a try, but its a big step up from the Under 23s to Premier league . And would he want the job, the pressure would be huge and even though he may be the fans choice, if results didnt improve they would probably want him replaced by Xmas if they had sacked Koeman.
Charlie Lloyd
25
Posted 02/10/2017 at 21:59:09
Such a defeatist attitude is endemic of the people who run the club. From manager to the boardroom.
Imagine if Burnley's Dyche and his board had those type of thoughts. We may have actually got 3 points. But no small club Burnley came with a point to prove and wanted to mix it. So why do we just rollover time and again and whinge about excuses.
Actions speak louder than words.
Jay Woods
26
Posted 02/10/2017 at 22:10:35
I hope this now means we can dispense with "The Moshiri Delusion" and grasp the reality that we are still organised with a view to selling our best players in a break-even-and-hold-what-you-have strategy.
Smells familiar? Yes, it's that old Kenwrightian stale aroma loitering and lingering in the cool, damp, night air.
But did we really need to hear it from the horse's mouth?
Hell, no.
It was written in 40 foot tall flourescent lights when we - unlike Southampton in the Van Dijk case - crumbled and let a rival in the same sodding league sign our best player.
Anthony Hughes
27
Posted 02/10/2017 at 22:11:05
The myth of the Mosh is quickly surfacing. He hasn't been this all conquering billionaire so many of us hoped he would be. He hasn't pumped any of his money into the team other than incoming transfer fees and the huge tv deal. This squad needs another £200 million pumping into it to even hope of getting involved with the top 4.
Lawrence Green
28
Posted 02/10/2017 at 22:17:15
Danny # 22
I respect your viewpoint I honestly do, but I think you are looking at things with rose-tinted spectacles, it isn't just seven games or even fourteen that the football on display has been pretty pedestrian and difficult to watch it's pretty much for the last three seasons if not longer. It doesn't seem to matter which players are on the pitch or what manager is in the dugout, Everton for some reason are incapable of putting in a performance to be proud of apart from the odd game or two during a season.
Of course the same issues will confront a new manager as much as they confront Koeman now. At the moment and for too long now, Koeman seems incapable of addressing those issues and unfortunately nobody at the club - fans apart - seems in the least bit concerned about it.
Evertonians don't create the negativity they only react to what they see on the pitch and what they feel is happening behind the scenes at the club. It's long been said that Evertonians as a group are happy clappers prepared to put up with anything that the club throws at them and for much of the last twenty years there has been some truth in that, however, even the most optimistic among us are now facing the truth, perhaps for the first time.
I'm sure that many of us would prefer to come on this site and other outlets extolling the virtues of our manager and our team but we haven't had much cause to do that, particularly in the last few years. I'm also certain that we would all like to enter Goodison Park believing that we would see our team put in a performance and win the odd game or two.
Why has the team only managed one single Premier League game away from Goodison this calender year, why is our away form in general so poor in the last few years?
We as a group were led to believe that Moshiri would lead us to new glory, that may have been wishful thinking on our behalves and as we examine each statement, each action and each appointment we can only respond to what we see, hear or read.
I personally don't think we are on the brink of a bright new dawn, in fact I think it is quite the opposite unless something unforseen and dramatic happens in the very near future.
Danny Broderick
29
Posted 02/10/2017 at 22:48:29
Lawrence (28),
Thanks for your balanced response. I agree with pretty much everything you say to be honest. I guess I'm just trying to keep things in perspective. I know the performances have been crap. But just like I refuse to write off new signings like Klassen and Sigurdsson after half a dozen games, I also want to believe that the manager can turn things around. For me, sacking the manager has to be the final straw, and I don't believe we are there yet.
To be honest, I am surprised Lyndon has written such an opinionated piece on Moshiri's vote of confidence for Koeman. I am wondering if he is just trying to pour more fuel on the fire - only Lyndon can answer that.
Again, just to be clear, I fully acknowledge that things have been crap. But are we at the point of no return for Koeman? That's a big decision, that I am guessing would cost over £20 million for the club to get rid of him and his team, and then possibly another £10 million to get replacements in. I wouldn't like to to take that decision lightly - I would much rather give Koeman the chance to turn this around. If things don't improve in the next month or so, then we can make the decision with more justification.

Denis Richardson
30
Posted 02/10/2017 at 22:59:15
It's funny but I was always hoping for a big name international manager to come in to take it to the next level (not the bullshitter Martinez who spent 99% of his football life in the U.K. lower leagues but pretended he had intricate knowledge of S.American and Spanish football.) How wrong was I.
Now I just want any manager who can fire up the players, get them fit and play in a recognised formation and strategy that looks to win games. Some pace, aggression and creativity. Is that really too much to ask?
With the odd few games here and there, let's be honest, Everton have generally been shit to watch for a good 20 years now. Yes we had a good period now and then under Moyes and Martinez' first season, but the vast majority of the time we have been shite and one of the most boring teams to watch. Still get a shudder when I think of Neville and Heitinga in midfield or the 05/06 season start where we scored one goal in the opening 8 league games - one and only Marcus Bent against Bolton.
Why can we not find a fucking half decent manager for once? I really believe an up and coming manager who's already managed at a decent championship club or prem club would be the answer. Unsworth is unproven and the U23s is no real training to take the top job so not sure about that, it's a big ask but at least he knows the club inside out I guess.
We certainly don't need to be paying the next guy 6m a year. We just need someone who knows how to play it simple, has common sense and doesn't have an ego the size of the titanic. Just get is a half decent manager with a bit of fire about him. Cant be that difficult surely? We're a top div club with an average gate of almost 40k!
Hind sight is 20 20 but we paid 70m for Klaassen and Sigurdsson - 70m would have gotten us Mahrez and Vardy - pace, width, creativity, striker.
Shaun McGough
31
Posted 02/10/2017 at 23:03:12
Just read an article that we have contacted Walter Mazzari in Italy. Moshri wasn't at the game on Sunday and gives Koeman a vote of confidence; it's more interesting off the field than on with our club.
By the way, boys, if we were expected to beat a team who had drawn at Spurs, Liverpool and beaten Chelsea, we should be beating Brighton 7-0 in our next game... so not all doom and gloom.
Anthony Hughes
32
Posted 02/10/2017 at 23:15:10
I'm intrigued to know why people think Koeman can turn this around. The evidence is there on the pitch that inspite of now assembling "his team" he doesn't appear to have an inkling of what his best team is, where best to play his players, how to motivate and inspire them and show us any sort of style of football.
We exhibit no discernible football identity on the pitch. What are we? What is our style of football?
John Pierce
33
Posted 02/10/2017 at 23:15:29
Danny, stop trying to frame an argument around 7 games. Its simply disengenuous to say that.
He's be in charge for nigh on 60 competitive games. The reaction you are seeing & feeling is not one of a fan base who wants to lynch a manager after 7 games!
Every game he manages is counted. And from the very first to the yesterday there is patently no identity to the team. No germ of nythingbto give a short changed fanbase much needed succour.
Are you just trying to defend 'short termism' or are you actually saying keep Koeman? To what end? What do you think he can achieve, other than brooding on a bunch of players for a year so they magically come good in his last contracted season? I wonder why that would be.
Truly, nothing in your rhetoric is remotely positive about the man. It more a pointed reference to an argument that doesn't exist.
Moshiri's words are kerosene on an already raging bonefire, Koeman's effigy is lucky not to be on it.
We have as a fanbase been played like the classic fool. Distracted by the sparkly stadium we dream of whilst Rome burns on the pitch and Moshiri fiddles.
Kenwright could not have scripted a better play. In the end he comes back to save the club again...
Andy Dempsey
34
Posted 02/10/2017 at 23:16:25
Denis,
I was just thinking the exact same thing today about Vardy and Mahrez - 㿷m if you count Sandro too.
Mahrez on the right, Rooney behind Vardy and Lookman on the left would be a balanced, exciting attack.
I think Wayne has suffered for the last few years playing under negative managers. It seems like he's slowing the game down now, but it's just because there's no options to pass to. He's always been at his best in a United team with pace and skill alongside him, he's got nothing to work with here.

Neil Lawson
35
Posted 02/10/2017 at 23:40:36
Liam (#13). We have never met but your words are my words. 62 years a true blue. Never before have I been so apathetic (and Everton so pathetic).
William Cartwright
36
Posted 03/10/2017 at 03:31:06
Lawrence @ 22 - Whilst I agree RK should be gone sooner rather than later (gone he will be) sorry, I have to disagree with your alarmist views.
Why should it be necessary to have to invest 200m to get into the top 4? Leicester didn't? To me with a sensible and motivational manager on board, 2 left sided defenders, Coleman hopefully back to his best supported by Kenny, prune the midfield, play with width, and find a quality striker (that's the key) then we should move forward and fast.
Brian Murray
37
Posted 03/10/2017 at 04:13:25
Our motto has been totally lost by Bill and he has never ever adhered to it. It's just words that are more fitting at maybe Man Utd or Barcelona. Moshiri is proving himself to be Bill's right-hand man and no more... unless he acts decisively in the next week or so, which we all know is not the Everton way. Sad times, again.
Alan J Thompson
38
Posted 03/10/2017 at 07:10:23
Andy(#34); I find it strange that your defence of Rooney is exactly what was used to attack Barkley. My own opinion is that we were wrong to bring in a player who is past it, his best years are just a memory and, unfortunately, not one for us.
Steve Pugh
39
Posted 03/10/2017 at 08:15:24
I do wish people would stop using 'we have no strikers' as an excuse. If we were set up to play with no strikers and failing then it'd be fine. But the truth is Koeman still sets the team up as though Lukaku is there and he isn't. This is simple, four at the back, one holding midfielder, preferably Gana. Two wide men with full backs supporting them when possible and three forwards rotating, sometimes in the box sometimes hanging back. This would suit DCL, Rooney, Siggy, and Sandro. Even Lookman if is isn't being used on the wing.
So again, a new manager has plenty to play with if he makes use of what he has. We don't need a striker to play good football, just a plan.
Ian Bennett
40
Posted 03/10/2017 at 08:17:28
Rooney isn't the biggest problem. In a decent team he would still offer a lot.
In a shit team he is looking past it. But he's hardly helped by no pace in the side, no width,Sigurdsson and him getting in each others way.
The time I bomb Rooney out is hopefully after Williams, Martina et al.
Stan Schofield
41
Posted 03/10/2017 at 08:17:40
Nil Satis Nisi Bullshitium.
Nil Satis Nisi Raiseexpectationsium.
Nil Satus Nisi Letusdownagainium.
Nil Satis Nisi Mediocreium.
Nil Satis Nisi Cantbearsedwithevertonium.
Eddie Dunn
42
Posted 03/10/2017 at 08:49:47
Some of our players lack pace, some lack skill, but almost all of them lack motivation and confidence in either the system that they are asked to play, or their manager.
Koeman has tried most of the players, but many in unusual positions. Alas, he fails to get the basic balance right and his tactics are baffling.
I simply don't see him waving a magic wand and putting all these things right. We surely can't wait until the next international break by which time more points will have gone begging and we will look an even less attractive destination for a new striker and new coach.
I have seen enough to conclude that Koeman has lost the players and it is only EFC's attempt to look decent and honourable that he hasn't been sacked yet.

Lenny Kingman
43
Posted 03/10/2017 at 08:50:38
Any sign of the new stadium yet, rising from the muddy wastelands down on the dock road? No, thought not.
The Subterfuge stadium dream, rapidly turning into groundhog day.
Bob Parrington
44
Posted 03/10/2017 at 09:19:11
Mmmmm!!! Anybody see any good in the bad? Pessimism seems to be ruling the day?
Anybody got anything inspiring to write?
Steve Bell
45
Posted 03/10/2017 at 09:34:24
These interventions by our majority shareholder are eroding my confidence in him, one by one.
Last Summer we had the "McCarthy is family we didn't want Sissoko anyway" balls up; last TDD the live phone in to Talk Sport which was beyond toe curling, then yesterday's "expected defeats" pearler.
He may be a savvier businessman than Kenwright but his PR style is as inept as the on field performances we've seen so far this season.
Dean Johnson
46
Posted 03/10/2017 at 09:40:54
I think that sums up Moshiri quite nicely, Steve.
Paul Saleh
47
Posted 03/10/2017 at 09:42:46
I think we have to play Sigurdsson in the Number 10 position. Play a 4-3-1-2 formation:
Sigurdsson behind the attackers and Rooney up front with Calvert-Lewin, Niasse and Sandro as back-up strikers. Tom Davies in the middle alongside Gueye and Klaassen. Martina (until Coleman is fit) at right-back, Baines at left-back, Keane and Jagielka as centre-backs.
Williams on the bench with Schneiderlin, Holgate & Kenny.
Bob Parrington
48
Posted 03/10/2017 at 09:48:40
Even Stan is in the doldrums. Never seen you like this, Stan. I reckon you're approx of the same years as a supporter as me. My first Goodison Park adventure was 1953.
I can understand why the whole of this thread is negative. Shit, it started with Lyndon looking to popularise the negativity. Is this a "stir it up" so that the lynching squad grows to oust Koeman? Certainly not been too impressive has he?
Honestly, Moshiri has already pumped a shitload of money in to Everton and so why would he want to see this project fail? There is no sense to this part of the thought process. The guy isn't stupid or he wouldn't have been so successful in business.
Beyond this, we all want the very best for Everton and, perhaps, Koeman is the wrong choice (certainly looks that way just now). Seems we've jumped "frying pan to fire" from Bobby Brown Shoes to "Captain Koeman". Well, De Boer didn't last to long at the Palace and they seem to be hopping frying pans and fires. Question: is Moshiri just keeping faith with his original choice, unlike the Palace "Hoppites"?

Lawrence Green
49
Posted 03/10/2017 at 10:11:24
Northern Ireland manager Michael O'Neill has stated to the BBC that he is wary of leaving his current job to take up a Premier League job, because "The direction a club goes in now, I'm not sure the manager has influence. I look at the Premier League and you are not really managing a club, you are just there to try and get results."
There is little doubt that there is more than an element of truth in his remarks and that is one of the reasons that I may have come across as 'alarmist' in my earlier post. Everton don't have an infinite amount of money and therefore the club is unable to throw money at a problem to help find a solution to our current situation.
Therefore the people in the boardroom are more responsible than in previous eras for the success or failure of the team – they will argue that they have given the manager their full support via transfers etc but would probably acknowledge that they have also let him down in one or two areas too, which is likely why they will stick with Koeman for the remainder of this season.
Perhaps, Everton would have been better served sticking to their tried and tested ways of allowing the manager to dictate the direction of football matters which at least provided everybody with a focal point and was transparent as to who was responsible for recruitment.
All we can hope for is that Ronald spends the next couple of weeks having a good think about possible solutions and that he can transmit some positivity into his players when they return from International duty – if of course he wants to remain in charge for the full length of his contract. If he feels that he can't find the solutions or indeed as has been rumoured he doesn't want to continue – he should do the honourable thing and remove himself from the job.
Tony Marsh
50
Posted 03/10/2017 at 10:13:01
Bob @48,
What shitload of money has Moshiri already pumped in mate? The club's own money has been pissed away but we are at a nearly level net spend for the last two years. Moshiri is like Koeman – he is a fraud.
I have no doubt Kenwright is behind these pathetic public out pourings that spew from Moshir'is mouth every few weeks. "James McCarthy is family" etc. We are being kidded once again. Does anyone still believe Bramley-Moore will happen? Not a chance.
The fact Ronald Koeman isn't on the ferry back to Holland right now is enough proof that Moshiri is incompetent and clueless regarding our club. Kenwright is laughing his socks off. When the official announcement comes that we are not going to the docks site, Moshiri will take the flak. Kenwright at his slippery best.
I gave up believing this shower who run Everton a long time ago. I suggest you all do the same. It appears the players already have.
Steavey Buckley
51
Posted 03/10/2017 at 10:15:54
Sigurdsson is so short of confidence, he is probably wondering why he swapped playing for Swansea for this. Any other team permutations are having players who are not up to standard or are lacking confidence.
This season will be the worst for a long time, because most Evertonians' hated player, Lukaku, is not around anymore to offer any semblance of an attacking force. What makes matters worse, £200 million has be spent to get to this situation.
Ian Burns
52
Posted 03/10/2017 at 10:37:57
Lyndon, your recent articles have absolutely addressed the present Everton fan mood and its fast growing concerns.
Moshiri is becoming an embarrassment with his use of a mouthpiece and Koeman simply doesn't cut the mustard. Sean Dyche showed him up to be out of his depth.
I have a great deal of respect for the regular posters on TW but I refuse to believe we have purchased bad players. We have good players (too many Number 10s admittedly) but they are completely devoid of confidence, which comes directly from the manager. However, I then think to myself this is a manager chosen by Moshiri who is now also showing he is out of his depth.
With this latest addition of the Russian scout coming in from Arsenal, we keep loading our beloved club with the wrong Russians. Get Alisher Usmanov in asap and let Moshiri, his grin and his mouthpiece become history as quickly as Koeman hopefully becomes.
Stan Schofield
53
Posted 03/10/2017 at 11:00:02
Bob@48: I suppose we've got a decent squad of players, such that it would take only one or two good signings more to make us more balanced. And we've probably got the best set of up-and-coming younger players of any club in the Premier League.
Trouble is, as soon as a player excels and is noticed by the wider football world, we end up selling him. That, combined with the difficulty of attracting top established players, means it's difficult to see us progressing.
Under these circumstances, it's essential to have a manager who can really organise the team with good tactics and selections, and inspire the players to want to play for him. To make the best of what we have. It's become apparent that Koeman isn't that man.
But even if we replace Koeman with the 'right man', it's not certain he wouldn't be undermined by the apparent eagerness of the board to sell our best players as soon as they see a healthy profit to be made.
It seems that Everton's aspirations extend only to competing high up the Premier League, anything bigger having a cost that the board might consider disproportionate to the business benefit. A pure and cold business calculation. Perhaps a misguided business calculation (and perhaps selling Lukaku for the amount we did is an indicator of this).
So the board pump out the propaganda, the big talk in lieu of big action, to keep us paying punters paying, raising expectations then letting us down.
Now, this is not necessarily totally negative, because if we do consistently compete near the top (top-6?) of the Premier League, the chances of winning trophies increases. Most of the time, we'd be nearly winning, but occasionally we might win something. Much like Liverpool over the last two decades, and possibly like Spurs are turning out to be like. But I think that's it, no bigger than that, unless someone (like Usmanov?) comes in and makes us truly big, using lots of cash.
But unless that happens, it's mainly bullshit propaganda to raise our expectations, progressing to a state of being 'up there near the top' but seldom really winning anything. That could make a lot of supporters happy, but it wouldn't be glory like we used to have.
Ciaran O'Brien
54
Posted 03/10/2017 at 11:00:44
Ronald Koeman clearly doesn't want to be here, he has no emotion at all. He doesn't celebrate when we score and doesn't seem to get angry either. It has been an expensive mistake by Moshiri but even though I feel Emery was the top choice of his to take over from Martinez rather than Koeman.
Moshiri needs to stop using fucking Jim White as his mouthpiece because it comes across as unprofessional and is so cringeworthy, plus White is a Rangers fan I think, no connection to the club whatsoever.
I also think Monchi was the first choice for director of football and not Walsh but he can't really be blamed for the utter shite we have to put up with every match.
That is Koeman and his coaching staff, that includes big Dunc too. What do they do at training? There doesn't seem to be any tactical plan at all and our set-pieces still stink the place out.
The club needs to get out of this seemingly permanent place of utter garbage mediocrity and start aiming for the best. That means scouting for first team players and high potential young players from all over the world, not just England.
It also needs to actively encourage more of our academy players into the first team, look at Man Utd, Barca etc.
If we get the new state of the art stadium at Bramley Moore Dock, there's no point of it if we don't have a world class playing squad and management team.
Danny Broderick
55
Posted 03/10/2017 at 11:23:31
John (33),
To be honest, talk of sacking Koeman has reared its head from the last 7 or so games! Last season, we had a good season, for which Koeman deserves credit. We finished a creditable 7th, had our best home record in Premier League history I think (although admittedly, our away record could have been better).
We also saw Davies, Holgate, Lookman and Calvert-Lewin breaking into the first team, so lots of good things happened last season. The team was much fitter and better organised, and nobody was talking of sacking Koeman last season.
The summer was one of the most positive summers I have known as an Evertonian. We brought in several good players, and the mood among the fanbase was probably as good as I have known it going into a new season.
We then started the season by winning our Europa League games, beating Stoke, and drawing away at Man City. Again, everyone was happy at this point with our progress.
The wheels came off when the transfer window closed and we hadn't bought a new striker to replace Lukaku. I don't think any of us ever imagined a scenario where we wouldn't get a striker in at all, even on loan.
So talk of replacing the manager is very much from the last month or so.
Tony Marsh
56
Posted 03/10/2017 at 11:41:11
Danny @ 55
Some of us were on to Koeman last season, mate. Our away form was pathetic: two wins all season. Knocked out of two cups at home one of those loses by Norwich City. Apart from the 4-0 win over Man City we were awfully in the big games – two more loses to Liverpool to go with it.
The only reason we had any kind of a decent season was the Lukaku goals. Lukaku was here before Koeman and once Romelu left, Koeman was truly exposed. Last season wasn't that great really.
Danny Broderick
57
Posted 03/10/2017 at 12:06:38
It wasn't grounds for sacking the manager though, Tony, surely?
Phil Parker
58
Posted 03/10/2017 at 12:50:33
All I know is that we played Spurs early last season at home and battled to a draw. This season, we could have lost 8-0. That ain't progress.
Lukaku has been carrying the team for 3 years. Without him playing well, we had nothing. Now without him at all we look clueless.
Management wise, we need to get back to Everton basics then look again at the end of the season. The club is soulless at the moment.
Tony Marsh
59
Posted 03/10/2017 at 13:08:27
Danny @57,
Without Lukaku to bail us out Koeman is lost. The games last season when Romelu failed to perform we either lost or threw away winning leads. Last season's bad form added to the abysmal start this campaign has shown Koeman up.
Persist with Koeman much longer and we will go deeper in to the mire. Get him out and let someone else try to save what's left of the season – those are the choices. Do you really want Koeman at the club when the Xmas derby comes along?
My concern is Moshiri hasn't got the funds to buy Koeman out of his ridiculous contract. Why else would a so-called shrewd operator keep a dud like Koeman at the helm?
Alex Higgins
60
Posted 03/10/2017 at 14:04:56
The problem in my view is running before you can walk. Everyone was creaming over all the incoming transfers and how good these signings were. Even the media agreed that we did well in the transfer period.
I had this nagging feeling that too many new faces was not good. Koeman has been trying to blend these new faces as justification for amount spent on them. We had a good solid team base to build on and it has been destroyed.
We should have introduced a few players and prioritised a top striker.This surely was the way to go. I also think Koeman looked at the season start fixtures and decided there and then that the first five fixtures were a dead loss, so let's experiment.only thing is bad habits are hard to break and now we are deep in trouble.
Sean Patton
61
Posted 03/10/2017 at 14:13:48
Yes, he is cringeworthy but the debacle we are in can't really be blamed on Moshiri, this manager has spent over £200 million.
Let that sink in for a second...
Almost a quarter of a billion on players in 14 months and look at the state the squad is in and unlike Martinez who left assets on the pitch Koeman has wasted it all on late 20-somethings with little resale value.
Stan Schofield
62
Posted 03/10/2017 at 14:41:18
Just a comment on 'Nil Satis Nisi Optimum'.
Last year, a young red asked me why Ronald Koeman would join Everton. At the time, I told him about our history, our ambition, and how big we are compared with the likes of Southampton.
On Sunday, during the Burnley game, the same young red said to me, looks like you chose the wrong side to support (in terms of whether I chose to support Everton or Liverpool when I was younger).
This young red is 17, and started supporting Liverpool when he was about 7. I asked him how many major trophies he had witnessed Liverpool win, particularly how many league titles. He didn't say anything, just kind of looked at me.
I said to him, I started supporting Everton in 1962, when I was 7, and by the time I was his age, I'd seen two league titles and an FA Cup, plus mainly constant finishes near the top of the league. Not only that, but Everton were by far the best side in Britain in terms of sheer quality of football, the pinnacle being the 67-69 seasons when we were astonishingly good.
I only said this to him because of what he said to me, not because I'm an old git wanting to go on about how great we used to be. However, what I said to him was important, because at the end of the day football is all about entertainment and making the hairs stand up on the back of your neck. And the first 8 years of my support for Everton represents, to me, the meaning of Nil Satis Nisi Optimum.
At present, I can't see how we'll get anywhere near that level, unless someone with a massive heap of riches makes us big. In this sense, Nil Satis Nisi Optimum belongs to history, having little or nothing to do with the present.
Martin Nicholls
63
Posted 03/10/2017 at 15:02:43
Alex (#60) – doesn't matter what the fans and media thought of the frenzied transfer activity. It was the choice of Koeman and his team (including Walsh) to follow this course and it is he and they who are responsible for the result of it.
Sean (#61) – chilling thoughts!
Jay Harris
64
Posted 03/10/2017 at 15:21:43
Sean can I have you as my financial advisor.
You have turned £140m (less £90m for Lukaku) into "almost a quarter of a billion."
I get your point mate but please don't over-exaggerate the situation.
What some of us seem to forget is that Koeman begged for months for a striker and left-sided cover and was left wanting by Billy Boy yet again. I believe he spat his dummy out and it's affecting the players now.
Personally I think there is a major problem at the core of the club.
Stan Schofield
65
Posted 03/10/2017 at 15:40:07
Further comment on 'Nil Satis Nisi Optimum'.
Moshiri said "We're not a museum." In the general sense that we're a living football club, that's right, we're clearly not a museum. However, in the more specific sense of 'Nil Satis Nisi Optimum', we are very much a museum.
Evertonians of my vintage have seen the full spectrum, from sheer greatness to utter shite. The sheer greatness is the association with 'Nil Satis Nisi Optimum'.
Instead of Moshiri saying "We're not a museum" I suggest he just says nothing, and just gets on with the job of making us better. If and when we ever reach the stage of being great again, then he can say "We're truly not a museum". Until then, all the talk is just that, talk. In terms of 'Nil Satis Nisi Optimum' it's empty talk, mere bullshit from a guy with lots of dosh but perhaps not enough dosh to make us great again.
Some of us can recognise both greatness and shite, because we've lived through both. If Moshiri is going to talk about some sort of 'project', perhaps he should be clear what that project is. I suspect the project is one of having us 'there or thereabouts' in relation to being near the top, rather than a project to make us really compete at the very top.
So, Moshiri and your colleagues on the board, less talking and more getting on with it? Less propaganda and more realism, less attempts to fool us that we're heading somewhere big? Because, thus far, there's no evidence that we are. We can recognise greatness, and we can recognise shite when we see it, and not everyone is willing to pay good money to watch shite.
David Barks
66
Posted 03/10/2017 at 15:40:10
How can Moshiri's spending be cited without acknowledging the players sold? He's sold Stones, Lukaku and don't forget that he agrees to the sale of Barkley only for Barkley to refuse. So nearly £50 million for Stones, up to £90 million for Lukaku and what would have been £35 million for Barkley. So £140 million for Stones and Lukaku alone, and it would have been £175 million had Barkley not refused.
He is selling off the talented stars and replacing them with... not-so-talented stars. If Moshiri was the real deal, those players would not be sold but, instead, players would have been bought to build around them. Doesn't mean they'd stay forever;they obviously would not. But that is far different than selling to fund player acquisitions.
Daniel A Johnson
67
Posted 03/10/2017 at 16:08:37
Moshiri has:
Sacked Martinez.
Hired Koeman.
Sold our prized assets Lukaku, Stones... (Barkley to go).
Replaced our prized assets by buying cheap (only after the prized assets were sold).
We're still not even past the computer design stage for our proposed world class stadium.
Gave Goodison a repaint.
Not exactly the 2nd cComing, is it?
Ian Hollingworth
68
Posted 03/10/2017 at 16:08:54
22 years and counting.
Please show us some real ambition Everton.
Man City's owners have been ruthless in their pursuit of glory.
We need a real winning mentality throughout the club to replace the tired and toothless mentality that exists throughout the club.
Clive Lewis
69
Posted 03/10/2017 at 21:23:56
I can not get away from all this Misery, I turn on the TV to forget about it only to see a program about Barbie, the first thing I see is Ken.
Now tell me I am paranoid but he bares a striking resemblance, with this in mind. Please sack Ken Koeman. Things are not going to improve.
Nicholas Ryan
70
Posted 04/10/2017 at 02:40:11
I'll bet that no Burnley fan ever comes out of a game saying, "The lads put zero effort in today, they looked like they couldn't be bothered".
Unlike us, Burnley were a tight, cohesive group, who were 'switched on' and clearly had a plan (which they delivered).
Franny Porter
71
Posted 04/10/2017 at 10:24:50
I have to drive from near Telford to every home game and back after. I don't usually mind this but at the moment we are so uninspiring I just don't think I can be arsed with the Arsenal game. I haven't missed a game like that for years.
The only way I will be up for that game is either back to back convincing victories over Brighton and Lyon or for Koeman to have got the sack.
Stan Schofield
72
Posted 04/10/2017 at 11:31:21
David @66: Absolutely. If the so-called 'project' means anything, the next couple of years are crucial, and we could have kept hold of Lukaku until July 2019 regardless of his desire to leave.
We could also, by decent management and recognition of true talent, have prevented the Barkley fiasco from happening. Not sure about the contractual situation that existed with Stones, but I imagine a really substantial 'project' could have led to us keeping him.
All-in-all, what happened does not inspire confidence that the 'project' really means anything beyond mediocre.
Phil Walling
73
Posted 04/10/2017 at 13:23:48
Stan, what 'the project' means is that, as always, we fatten up the fees our stars can command and then we sell them off to the highest bidder. Fellaini, Stones and Lukaku had only to indicate that they fancied a change for negotiations to begin with agents and interested clubs.
True, the fee fattening took a little longer than it might have done with the latter two but we all knew they were on their way as soon as they began prevaricating about how much they wanted to leave for 'a big club'.
Of course, things have changed this summer with signings made at the market's highest prices and I can see no prospect of obtaining even the buying price for any of our Koeman signings.
No doubt the failure to unload our only remaining star, Barkley, in the recent window, because 'he stood on his dignity' and refused to join Chelsea, robbed us of a new centre-forward but come Christmas and Andy Carroll can be ours. I can't but feel that it will take a miracle to turn a profit for the project on him, though!
Will Mabon
74
Posted 04/10/2017 at 18:29:09
Phil, all that makes sense and I fully agree. Barkley actively not offered near what Sigurdsson earns, according to what we believe. Hmm, wonder what
that
is likely to engineer. Of course, it's all been vindicated by the performance of Sigursson and the team this season...
The club (not just Koeman) will still do their damnedest to sell Barkley in the January window and appease the fans by getting in a striker if they can get away with it.
A new manager might scupper this in wanting to keep Barkley. Unless there's a further collapse in the team's performance, or if there's the merest hint that things may turn, Koeman will be here til at least January.
Chris Stone
75
Posted 04/10/2017 at 20:04:07
Steve Pugh – nice idea in theory but in practice we'd get ripped apart centrally with just one holding midfielder and the 2 wingers and 3 forwards.
Paul Saleh – again, nice idea in theory but it does nothing to combat our lack of width.
I think Koeman got it badly wrong buying too many No 10s as we're hampered in our formation(s) to use them effectively. He's got to play proper wingers with pace and directness and also try help out the fullbacks to avoid getting exposed there...
Jay Woods
76
Posted 05/10/2017 at 07:22:27
Moshiri is the "Comical Ali" of club benefactors, it now seems.
As others have commented on TW, the rot is woven into the club's DNA. The suspicious way in which we get Man Utd's offal while they get our cream, the increasingly apparent attempt to generate a net spend of nil this summer, the dangerous retention of a manager who is strangulating the team's basic functionality to the extent that relegation now looks feasible... All of these issues point to charlatanism at the helm.
We're going through another false dawn with Moshiri. But the greater blame falls at the feet of the Supreme Soviet, Bill.
Like it always does.
It always does...
Will Mabon
77
Posted 05/10/2017 at 08:13:22
Jay, I don't think there are any false dawns, no blame being assigned at board and upper club management level. I don't think Moshiri messed up by speaking and
connecting
with Jim Whyte in the way he has. I don't think there are any power struggles within the club. I don't think Koeman was ever trying to "Tell the board" anything at times publicly via the press.
I think this whole thing is going just the way it was scheduled to go, with the possible exception that it was considered that Koeman would do a little better than he has with the new, "Better business" team... about as well as Southampton did for the last two seasons prior to us buying Koeman in. Those damned players alas, are not responding to the frown and scowl as they should.
If Koeman should drag it back on track to the extent that we recover to the top half of the table, it will be business as usual, I believe. Business as usual being more old guard leaving the club, Barkley for certain, and a couple more mid-quality players in, including a striker of a commensurate level (and cost).
If Koeman is here until the season ends or beyond, I wouldn't hang your hat on Lookman remaining, nor would I discount the vultures being convincingly deterred from some of our more promising younger players.
I haven't seen or heard anything to discount it.
Stan Schofield
79
Posted 05/10/2017 at 15:38:41
Will, yes, all the young talent who excel will no doubt be sold off at a nice profit, Lookman, Calvert-Lewin, Davies, and the others, just like Stones and Lukaku. It's the way of Everton, to keep a fairly mediocre football machine running smoothly while it churns a profit.
I watched Arsenal beating Brighton on Sunday, and the Brighton supporters were singing away, apparently just happy to be in the Premier League. Easy to please, compared with us. But our supporters will no doubt get easier to please, as the time span of mediocrity gets longer. The signs already show, when you have folks wanting rid of the real high talent, wanting them replaced with runners who will 'bust a gut for Everton'.
On the current evidence, 'Nil Satis Nisi Optimum' does not represent Everton anymore. It represents the bygone age of Alan Ball, a different Everton that played great football through midfield when other sides were just hitting long balls from defence to attack. In a way, we were ahead of our time then, when commentators like Wolstenholme referred to us as the School of Science.
These days, the realistic expectation is that we'll achieve the respectability of Liverpool or Spurs, where we're not exactly a laughing stock as at present, but near the top, a 'contender', without actually being the best.
Once that's achieved, and the expectations match it, and there's perhaps no longer talk of Nil Satis Nisi Optimum, Schools of Science, and the Holy Trinity, when we're consistently level with other mediocre sides like Liverpool, and we win some Derby games, most Evertonians might, like the Brighton fans on Sunday, be happy.
David Barks
80
Posted 05/10/2017 at 16:12:39
We haven't won the league since 87. That is 30 years without a league title and that has now become acceptable by a large number of the supporters. Even before the season started these pages were flooded by people saying another 7th place finish with some cup runs would be acceptable and even show we are moving in the right direction. Seventh, acceptable, while just being hopeful of maybe cracking sixth.
It's just sad. We accepted the decades of prior owners who allowed the Everton brand to crumble. We got this new owner and thought that maybe, just maybe it had changed. Maybe now we would hold onto our stars and actually spend money to build around them.
But what has happened is selling Stones at the first opportunity. Sold Lukaku with two years to run on his contract, but more importantly without even putting up a fight. They not only sold him, but did so with complete incompetence at far below market value. And then they tried so sell Barkley after completely bungling that situation.
All we've seen from Moshiri so far is a lot of talk about a new stadium and some naming rights being bought. It's on the pitch that matters. I have zero interest in a new stadium without it being part of a club aiming to win the league. Otherwise, why in the hell would any of us want to go watch Everton in some new stadium against United, Chelsea, City, Liverpool, Arsenal and Spurs while those running the club expect us to lose?
John G Davies
81
Posted 05/10/2017 at 17:12:22
In my time watching the Blues we have had three periods when we could be considered to be top of the shop.
A couple of seasons around the 62/63 title winning season.
A couple around the 69/70 title winning season.
Then from 84-88.
And that's it.
"We are Everton, we should be challenging for the title. We're a massive club"
Sorry, we are not.
Stan Schofield
82
Posted 05/10/2017 at 17:24:46
John, which is why Nil Satis Nisi Optimum does not apply to Everton these days. However, it certainly did during the periods you cited. Our expectations as Evertonians should perhaps be altered, such that terms like Nil Satis Nisi Optimum belong firmly in the Everton museum. We should stop talking in such terms. In fact, there should be less talking, and more action on the pitch.
Jason Bowen
83
Posted 05/10/2017 at 21:08:00
David Barks 80, absolutely spot on!
Dave Abrahams
84
Posted 05/10/2017 at 21:14:59
John G (81), a lot of truth there John, big spaces in between our good spells, maybe that is why we celebrate them with gusto, we never know when the next one will come.
One of the best nights of my life was in a bar just outside Rotterdam, the night we won the European Cup Winners cup, back there after the game, we sang and sang 'til the early hours of the morning, my son Tony in the bar, all in their early teens happy as could be, joining in the revelry, every one happy no trouble just pure joy.
The next morning just before we we setting off home a big black fella rolls up with two of his mates, he was the manager of the club, came to wish us all a safe journey home and to thank us for a great night.
Then just a week or so later Liverpool fans went to Heysel went berserk and we along with more English clubs landed in the sin bin with / because of them and the rest is history, yet we are the bitter bastards, life has given us Bluenoses plenty of kicks where it hurts.
But we shall return, that's my dream anyway, nearly every other night. !!!!!!!
John G Davies
85
Posted 05/10/2017 at 21:41:30
I can recall Rotterdam like it was yesterday Dave.
They loved us being there.
Tens of thousands of us full to the brim with joy and ale.
Never to be forgotten days Dave.
We can only hope we can give similar days to the kids who follow us everywhere.

Laurie Hartley
86
Posted 06/10/2017 at 10:24:23
Stan Schofield # 65 - There are quite a few of us on here who started watching Everton in the early 60's - some earlier.
It seems to me that even though we may disagree about players, formations etc, we all have one thing in common.
This season frustration has turned into anger for supporters of our vintage. In my view the reason for this was eloquently summed up in this part of your post:
We can recognise greatness, and we can recognise shite when we see it, and not everyone is willing to pay good money to watch shite.
I watched the 1962 Blues beat Spurs at Goodison 1-0. Both sides had great players and great managers. What I experienced from the Bullens Rd terraces that day was football greatness.
On my recent holiday back to the England, I watched the Spurs game from the Lower Bullens. I hate to say it but we were "shite".
No wonder we are angry - but I see that as a good thing. We need to stay that way and make it known to the club's heirarchy.
Dave Abrahams # 84 - you have been at it longer than both Stan and I - you seem to be doing a good job with that lad of yours Tony:)
It is good to see you haven't lost the faith - "But we shall return, that's my dream anyway, nearly every other night. !!!!!!!". I still believe that too.
We might be "shite" now Stan but there is something glorious about our club and somehow or other we will find a way through this nightmare.
Somewhere out there is a manager that can get this group of players playing. Moshiri has to find that man for his own sake and ours.

Eric Myles
87
Posted 06/10/2017 at 10:50:28
"It's the way of Everton, to keep a fairly mediocre football machine"
But the Club hasn't been making a profit Stan #79.
George Cumiskey
88
Posted 06/10/2017 at 12:14:04
Eric maybe the club hasn't been making a profit, but uncle Bill certainly has selling his shares.
David McMullen
89
Posted 06/10/2017 at 12:28:43
Well written article. Just on the article Moshiri I think is just playing up to the Jim White circus. I don't think it reflects well on Moshiri or Everton FC.
As far as Everton is concerned I think I hope Moshiri will be more demanding on those under him. He's hardly going to want to get rid of Koeman when he was brought in by him but I'm sure he know's this isn't good enough and the club themselves are to blame for the malaise. Something's not right it's not just a bit of poor form it's a shocking manifestation from the players at what ever is going on behind the scenes. I'd love it to be just a bit of bad form, confidence, new players settling in etc love us to pick up from Brighton and win the next two cup games to kickstart the season. And we all love Koeman and live happily ever after.
It's like the end of the Martinez time all over again.
Stan Schofield
90
Posted 06/10/2017 at 12:29:04
Eric, OK, I've been assuming that the club does or will make a profit, particularly under Moshiri. But I suppose that's an aside, the really important thing being the mediocrity. If Moshiri is content to get us 'near the top', 'contenders' but very seldom trophy winners, not actually at the top, that could be considered mediocre in relation to 'Nil Satis Nisi Optimum', since the latter says we're not satisfied by anything but the best.
A lot of supporters will probably be satisfied by 'near the best', but others might be frustrated by it, particularly if they've assumed the 'new era' is aimed at making us the best.
For me, 'the best' means we win trophies, and with style, where we get entertained. I remember in the 60s, we were on a par with Liverpool in terms of winning trophies and League position. But Everton were 'cooler' (to use a term youngsters use) because we played very stylish football, Alex Young and Colin Harvey perhaps being the symbols of that. Catterick always talked about good football, Shankley always talked about 'pace'. The difference is 'Nil Satis Nisi Optimum', where if you didn't win, or even lost, there was compensation through the sheer entertainment value of the football.
To get to a comparable level these days would probably need really big money, like City have. Otherwise it's not the best, and the motto doesn't really apply.
Dave Abrahams
91
Posted 06/10/2017 at 12:46:53
Stan (90) entertainment should never be forgotten, you are absolutely correct, but unfortunately it has been placed on the back burner, even with a lot of our own fans, success is the only thing they are interested in, and I acknowledge that to a degree, but to watch good football and walk away happy from the ground must count for an awful lot.
Laurie I know dozens of Evertonians I grew up with who have taken their sons, grandsons and great grandsons to the game, it's a creed, something we love and believe in, You have just proved it yourself with your pilgrimage to Goodison this year.
John G Davies
92
Posted 06/10/2017 at 12:51:43
Very true Dave.
Ask your mates, workmates, lads in the pub etc.
The vast majority of Evertonians take their kids to the match.
The vast majority of liverpool supporters don't.
Stan Schofield
93
Posted 06/10/2017 at 13:23:58
John, true. My dad took me when I was 7. Sometimes it seems a curse. But overall it's not. Just those first 8 years from 62-70 is enough for me to tell people (like the young red who implied I'd made the wrong choice supporting Everton rather than Liverpool) how utterly 'cool' it was to be an Evertonian, especially after the World Cup Final Man of the Match Alan Ball joined us.
84-88 was also great, obviously, but the first years, when you're young, surely make the biggest impression, setting the 'standard' for what Everton should be. We know it can be done, we've seen it.
Martin Nicholls
94
Posted 06/10/2017 at 14:16:11
John#92 - a couple of years back Prescot Cables' advertising slogan for their season tickets was "Don't Let Your Children Grow Up Thinking Football Is Something You Watch On TV" - no doubt coined with those red sh*te supporters you refer to in mind!

Sam Barrett
95
Posted 06/10/2017 at 14:21:52
Laurie @ 86, great post mate, nearly as uplifting as one of Georges Saturday morning 3pm kick off posts!
John G @92, the vast majority of kopites don't even go to the match themselves, never mind take their kids.
Brent Stephens
96
Posted 06/10/2017 at 14:29:43
Yes, Laurie #86, nice post. And Stan, Dave, John G. etc. I'm surviving on memories at the moment - just.
'60s the best days of my life. And now the worst!
Laurie Hartley
97
Posted 06/10/2017 at 22:03:00
Dave - the happiest days of my misspent youth were when I went to games home and away with my dad - God rest his soul.
You would have liked him. To this day I am still to meet a more one eyed Evertonian. I remember him telling me about listening to games on a crystal set when he was a boy.
Before he passed on he told me - "Laurie, we will be great again". We will.
The Lavender Hill mob need to stay vocal.
Dave Abrahams
98
Posted 06/10/2017 at 22:43:36
Laurie (97), growing up I knew loads of fans like your dad, passionate for the Blues, hated every other team especially The Reds, but could always appreciate good players no matter who they played for. Poorer days in many ways but happier days for me, money is taking a lot of fun out of the game, and what was once a relatively level playing field is decreasing season by season.
---
Add Your Comments
In order to post a comment, you need to be logged in as a registered user of the site.
Or Sign up as a ToffeeWeb Member — it's free, takes just a few minutes and will allow you to post your comments on articles and Talking Points submissions across the site.
© ToffeeWeb