Fan Comment
A gleaming, newly-decorated Everton squad – How will it all work?
James Lawson

26/07/2017
40

comments | Jump to last
I've gone and used the high-tech, futuristic lineup-builder (I know, I'm a genius) to get a solid idea of our current squad situation and the depth at our disposal.
It's got to be said; we're looking pretty strong.
Koeman, Walshy and the board have done a miraculous job at getting in convincing, first-team players very early on in the transfer window, something previously unknown to Evertonians. We usually spend our summers counting down the days until deadline day (the only day of the transfer window, as past-Everton would call it), just to be inevitably disappointed when our desired target drives straight passed Finch Farm after realising Arouna Kone was there.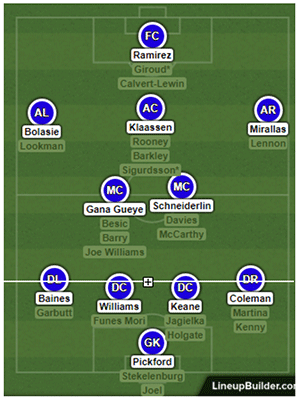 Things have changed now.
The tight budget Moyes had and the not-so-phenomenal ways of Roberto Martinez are no longer a problem. We've grabbed ourselves a manager who shares the ambition of the fans; Ronald Koeman. Tag-teaming with our sparkly, rich shareholder, Farhad Moshiri, and secret-spy scout, Steve Walsh, the blues are on the up.
The position in our squad that needed serious attention was the No.10 position. With Ross Barkley's future looking like a ticking time-bomb, the new blue trio had to make something happen. Well, the three musketeers did us proud, bringing in Ajax's Davy Klaassen and none other than blue-boy himself, Wayne Rooney.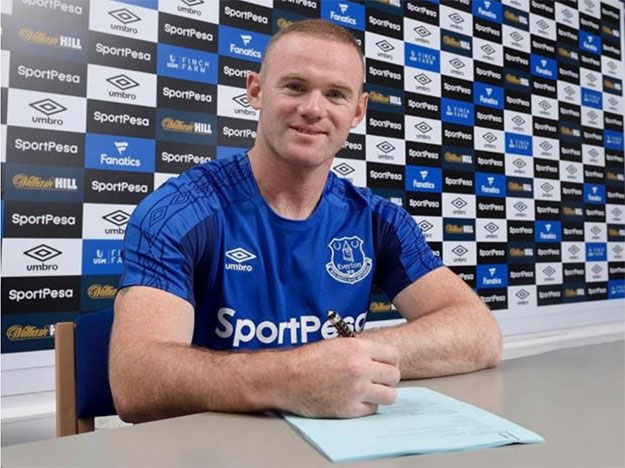 Evertonian, Wayne Rooney, re-signs for the Blues
The lucrative, potential signing of Gylfi Sigurdsson would be an impressive capture, but given the strength we now have in this position already, is it worth spending over £40m on a player who is yet to prove he's worth this much?
The signing of Michael Keane is nothing short of ingenious. The solid defensive wall had a top-class season for Burnley, proving his ability to play for a bigger club. The fact he's already gained experience at the top level means he should easily slot into the team and won't take time to adapt to the ways of Premier League Football.

Whereas, the likes of Klaassen and former-Barcelona forward Sandro Ramirez may take slightly longer to get used to the physicality of this league.
Nevertheless, I have great confidence that the two will hit the ground running, with Ramirez being said to have a fiery personality; just what Goodison Park love to see in a striker.

With Klaassen a proven goal-scorer over in Holland, scoring 54 goals in the last 4 seasons, we can look forward to his input for the Blues, hopefully providing us with the goals we need from our No.10 and not just relying on a high-scoring striker.
With Lukaku leaving for the 'best fans in the world', we do still need another striker, despite the bargain signing of Ramirez. It is unlikely that we will sign a forward who Evertonians will be greatly convinced can be a solid replacement for Rom. That would probably require a big name; Aguero, for example. Not gonna happen. But for all we know, Ramirez will be more than good enough and win the golden boot next year. After all, our little spider-man Gana Gueye wasn't exactly a guaranteed success, a lot of us had never even heard of him. But we simply must trust Walsh's sixth sense- scouting.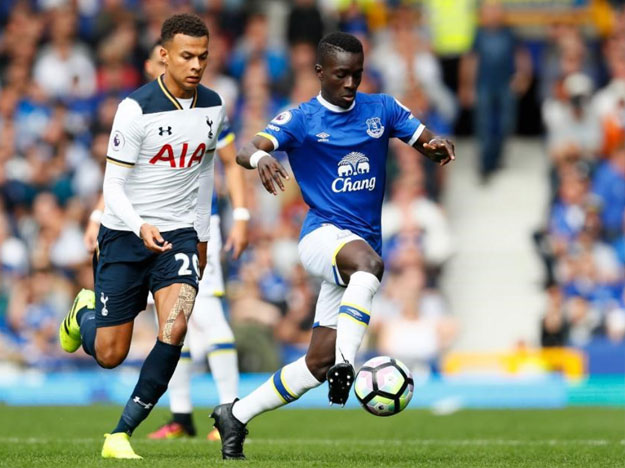 Idrissa Gana Gueye was the player who made the most tackles in the Premier League last season, with 135.
Depth is still required though, so if the Giroud deal goes through, that'd consolidate our striker-position rather well. I mean, look at the man. Show a picture of him to someone who doesn't know him, ask them what he does for a living. 'Model', 'hair-gel ad model' and 'deffo a model lad' would most definitely be the answers. He'd definitely boost our shirt sales revenue; probably women's shirts mostly. With solid Premier League experience though, the groomed-Frenchman would slot in comfortably.
We must not forget the promising set of youngsters we have in our squad that can definitely do a convincing job in the first team, providing us with further strength in depth.

Take Tom Davies, for example, you'd say he was one of the stars of our 2016/17 campaign, as Dutchman-Koeman gave him the sacred opportunity of wearing the royal blue shirt in many Premier League clashes.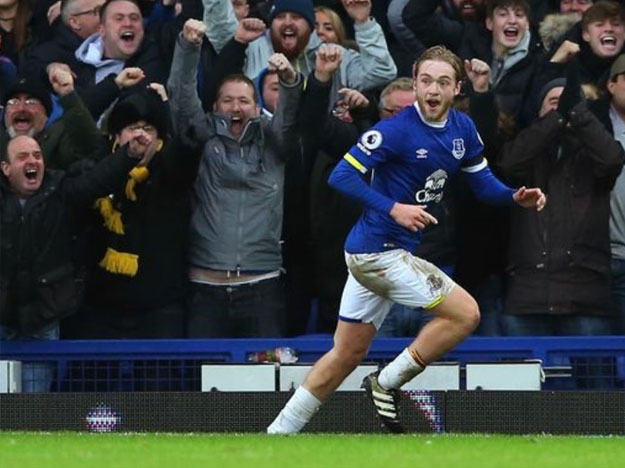 Tom Davies after his wonder-goal vs Man City
Koeman's interest in introducing young talent to the first team is fortunately mirrored by Moshiri (our filthy-rich shareholder), as he has expressed his mission of making Everton the most productive academy system in the country. Wow. Little old Everton, eh. Forza la Moshy!
To brag even further about our spectacular, emerging young players, I'd like to mention how influential they were in the U20s World Cup in South Korea. Promising midfielder, Kieran Dowell, bagged a crucial goal in their final group stage match, against the hosts, grabbing the young Lions the top spot in Group A.
19-year-old January signing, Ademola Lookman, took the round of 16 by storm by scoring the 2 all-important goals against a deflating Costa Rica. Ademola then went on the bag against the Italians in the Semi-final.

Now, we all know about Dominic Calvert-Lewin's success in this tournament and how special he was. But firstly, he managed to slot the first goal against 6-time U20s World Cup winners, Argentina, in a 3-0 tonking in first group stage game.

The former Sheffield United youngster then went on to score the winning goal in the final against Venezuela, becoming the 3rd player EVER to score for England in a World Cup final. Go 'ed Dom lad.
Anyway, I'm absolutely made up with the way things are looking and I'm massively confident that our squad will show great improvements on the pitch following our new recruitments. I'm predicting a solid 5th place finish for us next season, and I'd also expect decent cup runs and a famous knockout-round Europa League night at Goodison (or two).

Follow @james_j17
---
---
Reader Comments (40)
Note: the following content is not moderated or vetted by the site owners at the time of submission. Comments are the responsibility of the poster. Disclaimer
David Ellis
1
Posted 27/07/2017 at 03:04:21
Great summary, James, of a great summer. Hopefully the actual football will be just as exciting!
As for how it will work I don't think you will see Rooney and Sigurdsson competing with Klaassen for a place (at least initially). The way we have been playing in pre-season is with a midfield of 3 being Schneiderlin, Klaassen and Gueye.
Rooney and Sigurdsson will play in the front three (assuming that is that Sigurdsson is actually signed – although I am sure he will). I think we will also add one of Giroud and Slimani as the No 9. Assuming that this happens I think Koeman's first choice front trio will be Rooney, Slimani 7 Sigurdsson
The back four will be Martina, Keane, Williams & Baines. There are question marks over Martina (Holgate and Kenny) and Williams (Jags or AN Other or Holgate). But that's how I think Koeman will start. And of course, Pickford in goal.
Is this stronger than our first XI at the beginning of last season? – yes. Is it stronger than how we finished the season (with Davies/Lookman and Schneiderlin coming through during the course of the season)? – still probably yes, certainly in defence.
However, the real improvement is in depth. Last season we would have really struggled without Lukaku or Barkley whereas we have good cover in every position now.
The most eagerly anticipated season since 1986 for me.
Andrew Presly
2
Posted 27/07/2017 at 05:20:41
We'll need a lot more quality in the last third. He was a bellend but we had a 25-goal-a-season striker and we sold him. To a rival. Where are the goals coming from?
It's the usual story but the summer has been fun. 7th + campaign upcoming. If we'd kept Rom with these guys? That would've been interesting. Oh well...
Ray Robinson
3
Posted 27/07/2017 at 08:54:15
I think the summer transfer window has been very good so far although, of course, the jury is still out on Sandro and Klaassen at Premier League level. However, I'd feel much happier if a couple of out-and-out forwards were signed as I don't see a huge number of goals in the current squad.
Not sure Slimani would be an answer as he hardly set the world alight at Leicester. I'm not actually certain where a proven goalscorer is going to come from either. Has Iheanacho gone to Leicester yet? Dembele is not leaving Celtic yet, allegedly, and Chelsea probably wouldn't sell Batshuayi.
We could be therefore relying on Walsh unearthing a "hidden" gem. This element of the team desperately needs addressing if we are going to reap maximum reward from the transfer window.
Gary Edwards
4
Posted 27/07/2017 at 10:06:27
I thought that we'd had a good close season re transfers, lots of good players brought in. but when I see the team in James's formation one thing that is immediately apparent is that there's no height; there's also question marks over raw speed in attack and I don't think signing (solely) a Giroud or Slimani is the answer.
I'm a big advocate of bringing some of the younger players through. We have a talented bunch of youngsters with winning ways and a winning mentality; I really hope that some are given the opportunity I feel that they deserve.
Walsh or Charsley as an AM / # 10, Donkor instead of Mirallas or possibly as a true #9, Henry likewise, if Henen has made the improvement some observers have noted, give the lad a chance Kenny at RB, Robinson at LB.
Despite the incoming talent I feel that we should rely (on) and trust our youth 'pool'. We will play upwards of 70 games this season; it's highly likely that we'll need to use our U23 talent.
Stan Schofield
5
Posted 27/07/2017 at 11:06:49
It's been a good summer relative to what we'd come to anticipate from Everton, but I think it's going a bit too far calling it a 'great' summer. The signings are encouraging rather than exciting. I'll get excited if and when we show marked improvement on the pitch.
Lukaku has gone, and it's not yet clear how that will be handled in terms of striker replacement. It now looks like Barkley will also be gone, and it's not clear how that gap will pan out.
I can understand people being 'hopeful', since we always are as Evertonians, but getting 'excited' is a step too far at this stage.
Si Cooper
6
Posted 27/07/2017 at 12:26:05
Like most who have posted so far I am encouraged but far from getting carried away. I actually want to see the players in action as a melded team before making any judgements. Maybe after tonight's game I will be excited.
Danny Broderick
7
Posted 27/07/2017 at 12:28:16
For me, this season could go one of two ways. The new players could come in, hit the ground running and, if we get good results in our difficult early games, we could be well placed for a crack at the top 5. However, it could also take time for the team to gel. There is no magic wand in football, and generally speaking, wholesale changes do not bring about results overnight.
Personally, I think the defence and midfield are not a million miles away from what they were last season. Can Pickford do a better job in goal than Robles or Stekelenburg last season? And can the new strikers score more goals (or as many) as last season?
If the answers to those two questions is yes, then I think we could be in for a bloody good season. I would like us to bring in another striker though, to ensure we have enough goals in the team.
Simon Jones
8
Posted 27/07/2017 at 13:57:48
Not a bad pick for a first team line-up, only I would take Bolasie's return as "possible" rather than probable. I don't want to jinx the lad, just hope he can return and make an impact.
Based on what he did in his few cameos last season, I'd love to see Lookman have a longer run in the side.
I guess the midfield choice may well simplify with at least one other besides Barkley leaving?
Rob Dolby
9
Posted 28/07/2017 at 08:48:00
I think the graphic highlights certain areas that we need to strengthen. Both wings and striker areas are very lightweight. Would any of those players get into a top 4 team, I am not so sure.
We have lost our main source of goals and need to try and replace him before the season starts. Dembele from Celtic would be a good start.
Ian Jones
10
Posted 28/07/2017 at 08:56:45
Interesting piece James. Thanks. Only one thing. I can't spot Dowell in the squad or Niasse.
Mike Kehoe
11
Posted 28/07/2017 at 09:33:12
I feel we need height up front but would swerve the likes of Giroud and Slimani in favour of Benteke who would offer something different. Regards the the signings so far I am impressed by how efficient we have been but we have not yet spent more than was raised by sales.
Sigurdsson is not a 㿞 mil player but it is a necessary expense and would clearly demonstrate serious intent to challenge. The financial landscape has changed so much in recent years and is barely recognisable as the numbers involved appear obscene and ridiculous in equal measure.
Overturning the legacy of Martinez and decades of steady progress will require a big outlay and every club will be aware of our situation and looking to fleece us but it needs to be done; I worry that without proper big spending now, the early optimism of new signings will look like thrifty housekeeping with the 𧴜 mil from Rom and other sales.
We have waited a long time to dare to dream and the sense of optimism is exciting and confusing but feels fragile and hollow: so far. Perhaps I have seen too many false dawn's and feel a cynicism that is without merit, the promises of 'pleasant surprises' being exposed as an absence of football acumen combined with hugely modest outlay.
I want to see Van Dijk, Bale and Aguero signing and watch RS look on horror; but I would settle for Sigurdsson, Benteke and Richmond and feel certain we are definitely on the right track.
James Stewart
12
Posted 28/07/2017 at 09:45:56
Koeman never really plays 4-2-3-1 though. 4-3-3 usually and expect to see 3 at the back against the big boys.
Ciaran O'Brien
13
Posted 28/07/2017 at 11:36:45
After last night's game, although we're still in pre-season mode and most aren't up to full fitness yet it is clearly obvious that there is a major lack of pace in the side. Rooney, Calvert-Lewin, and Klaassen are too slow and we have no top Centre Forward or quality pacy wingers/attacking midfielders.
Rooney can't play as the central striker in a 4-3-3, he doesn't have the legs or sharp turn of pace anymore, he's better in the hole between midfield and up front.
I don't know where Sigurdsson if we get him would fit in a 4-3-3, perhaps maybe in midfield with one of the defensive midfielders out.
Williams is looking more and more like a retarded donkey who can't pass and makes me question why spend £12 million on him a year ago. Klaassen isn't a playmaker but looks like he could get onto the end of moves like Cahill used to.
Sandro looks a bargain and is the sort of support striker we have been crying out for with his pace and movement.
Calvert-Lewin
is not a winger and I don't know why Koeman persists with him there, hes not quick and can't dribble, he's a centre forward and a backup at that.

If I were Koeman I would look into getting in the rest of the window and over the next couple of Windows these areas and potential targets.
LB: Bertrand, Shaw, Gaya
LCB: Davinson Sanchez, Inigo Martinez, Koulibaly
Creative MF: Sigurdsson, Meyer, Brahimi
RW/LW: Redmond, Berardi, Insigne
ST: Giroud, Dembele, Dolberg
So team is:
Pickford
(Stekelenburg)
Coleman. Keane. Koulibaly. Shaw
(Kenny). (Holgate). (Williams) (Baines)
(Martina). (L.Gibson).(Galloway)
Gueye
(Schneiderlin)
(Walsh)
Klaassen. Sigurdsson
(Davies). (Williams)
(Rooney). (McCarthy)
Sandro. Giroud. Insigne
(Berardi). (Dembele). (Bolasie)
(Dowell). (Calvert-Lewin). (Lookman)
Clive Rogers
14
Posted 28/07/2017 at 14:43:22
Let's see if Lukaku still thinks Man Utd fans are the best after he's had a couple of bad games, or a barren spell, which is certain to happen.
Dave Speed
16
Posted 29/07/2017 at 15:29:46
I think that the hard start works great for us. If the team hasn't settled yet for whatever reason, i.e. nerves, tactics, the pace of the Premier League, then a run of poor results against most of last season's top 6 would hardly be the end of the world. Like for like, we haven't done well against them in the Premier League era. However, if they miraculously form into a team, and we pick up some good results, then we will be in a cracking position, provided we don't slack off and become complacent against the rest. Imagine an 'easy' start with poor results. It just doesn't bear thinking about.
I am happy with the way things have gone transfer-wise. Lukaku was on borrowed time and we did well to get him to sign the contract, keep him as long as we did, and then cash in.
Barkley will be more of a shock if he goes. I am not part of the anti-Ross crew, even now after the 100% comment, but I do have my reservations about him being able to play the way we are moving towards. There isn't the time in the Premier League for a dribbler who likes to perform a Zidane turn in his own half. The modern game is about moving the ball quickly and then keeping up with the play. If Ross stayed and could get his head round that, then he would become the player he, and we, hoped he would become.
Then there's the Gylfi saga. I don't know why Everton won't go the extra ٣m if the reports are true. Swansea don't want him to go and I don't think that they expected us to get that close to their price. Just cough up Blues. It doesn't have to set a precedent.
I've said before that if we said "Gylfi and Sandro" for 㿤m before the transfer window opened and before we knew about Sandro's release clause, then everyone would have said that it was good business.
A striker? I am not that up on European players but I am sure that Koeman and Walsh are going to surprise us with another Gana/Sandro. There must be a decent proven 15-20 goal striker in his mid-twenties out there we could get for the prices we are being quoted for Giroud, for example?
The rest I am not worried about for now. We have some good young players who can come in and be blooded, and we have enough cover with Jags and Holgate in the back line. Keane's undoubted class would mean he could play right or left centre-back.
So I believe that, if Koeman gets his tactics right, we will improve this year all round, and then in January and next summer we will see the last pieces of the jigsaw, if we don't see them before the end of August.
Jay Harris
17
Posted 29/07/2017 at 15:49:33
I agree with Mike Kehoe – we are still lacking a big lump who can not only upset defenders but can help defend corners.
I would love any one of Dembele, Giroud, Dzecko or Benteke.
David Pearl
18
Posted 30/07/2017 at 00:35:39
Well written positive spin.
I want to like Koeman. I want to be confident he has that tactical astuteness to make us greater than we are with what we have.
Not to moan about quality and then have 4 players for one position... while not replacing Bolasie or Coleman (considering we wont see them this year).
We have 2 more games before the season starts and we need to hit the ground running. I saw no evidence of that on Thursday. A host of players are still well away from match fitness.
I'm not convinced by Koeman at all... never have been, no matter how hard I try.
Bobby Thomas
19
Posted 30/07/2017 at 12:47:21
We are too narrow and we need width and pace. And if we don't get a main striker that will net at least 15, and who can go in behind & also join play up, it could be a long season.
All the good publicity & 15 milion Twitter followers doesn't mean Rooney can play up front anymore. He can't. Like all players who's legs are on the way out, he drops deeper & deeper. He doesn't occupy centre backs & doesn't go in behind or run channels. He doesn't have enough mobility for wide of a 4-3-3 either. He's strictly a Number 10 now.
And I'd be playing Jags ahead of Williams any day. We need a centre-back.
Brian Keating
20
Posted 30/07/2017 at 16:41:55
"Gleaming, newly decorated squad"?
I beg to differ. To stretch the metaphor, we're like a house that's walls have been stripped and there's a load of newly purchased paint tins in the hall. The paint isn't as good quality as that stripped off.
Dean Johnson
21
Posted 31/07/2017 at 14:57:29
Nice article; anyone else just think that we've just inherited the bullshit that's been all around Man Utd and England for frikking years?
Where does Rooney play? Cs he finished? Can he still offer something.... blah blah fucking blah.
That's why I didn't want Rooney back, because despite how he plays, he polarises opinion and you spend the entire games (if on TV) listening to wankers defend him after he's just shanked one into the Mersey.
I think he's alright and a good addition to the squad, but when he doesn't get taken off when playing shit, I expect ToffeeWeb to implode.
Reckon he has a "play me" clause like Lukaku did?
I'd go for Sandro in the middle, Dowell left, Klaassen right.
David Barks
22
Posted 31/07/2017 at 15:15:44
We are weaker up front. We have not added any pace into the side, added no width to this day. We have less strikers in the team than last season. What am I missing?
Kevin Tully
23
Posted 31/07/2017 at 15:17:33
I like it, James. If we can't start this season off with some "Posso waves" (TM: George McKane) then when can we? One signing I would also like to talk about is Pickford. When was the last time we came away from Old Trafford, or Anfield thinking "Wow... our 'keeper has just won us 3 points there." Not since Big Nev, that's how long it's been since we had a really top class goalie.
I'm not saying Pickford will be anywhere near as good, but he definitely has the athleticism to pull off a MotM performance on a regular basis. Great 'keepers are something every great team has, without them, it can cost you a title or a Cup. You only have to look towards Fergie at Man Utd, who was always looking for a Schmeichel replacement, and never settled for second best in this department.
I don't think we need a striker who will be as prolific as Lukaku if the midfield can contribute to our goal tally. Strangest stat of last season was that we would have finished 7th without Lukaku's goals (don't ask me how).
Can't wait for August 12th, when it's over to the management and players to justify their massive pay-checks.
Mark Tanton
24
Posted 31/07/2017 at 15:23:50
I think there are two categories of new signings here those nailed on and those who must fight with existing players. Keane and Pickford, Sandro and Rooney nailed on.
Klaassen probably one of those who will have to shove his way to the front despite the price tag.
Then there's those we hope will come in and those we don't know about!
Terry White
25
Posted 31/07/2017 at 15:36:02
Dean (#21), Dowell is a left-footed player who plays on the right. And please don't suggest playing Klaassen right up front. ToffeeWebbers are renowned for blaming the manager for playing players "out of position".
You can have Dowell on the right if you want but then you need to find someone to play on the left.
Tom Bowers
26
Posted 31/07/2017 at 15:38:02
The speed in the team is limited and Mirallas does have some pace but cannot beat an opponent. Lookman and Bolasie also have some pace but are not ready to start for different reasons. The quickest offensive player is Seamus who is also not ready to start.
However, it could well be that Koeman is not worried about that and wants to break down massed defences with his own keep ball tactics but it will be very boring. The top teams do have men who have pace, especially the Red Shite, and that may be the difference again come the end of the season.
David Barks
27
Posted 31/07/2017 at 15:53:18
The only question that really matters is, are we better than any of the sides that finished above us last season? Right now the answer to that question has to be, no we are not. So you'll have to forgive my lack of "positivity". What started well early in the summer has fizzled into inactivity.
We are haggling over a few million pounds for a player and there doesn't seem to be any striker on the horizon.
Man Utd bought our record goal scorer, making us weaker and then stronger in the process. They have continued to strengthen their side. Man City are focusing on strengthening their defense, which was their weakness last season. Chelsea are strengthening.
So who have we moved beyond with our signings this Summer? If we sign a few top quality attacking players, add some much needed pace and skill on the ball, then my excitement will grow.
Dave Abrahams
28
Posted 31/07/2017 at 16:08:10
David (#27), I think your excitement will grow, if not by the start of the season, then at the end of the transfer window.
Patience is the key word and I know you have been patient, along with the rest of us, for a long period but I honestly believe this a new era for the Blues... then again I could be naive.
Dermot Byrne
29
Posted 31/07/2017 at 16:30:00
Agree Dave (#28). The activity at start of window and then some quiet followed by a tired performance last week has got the jitters going on some of us. But I still think we are going to be a very much better side this season.
I'm very optimistic re Klaassen and Sandro and the next two!
Andrew Ellams
30
Posted 31/07/2017 at 16:34:03
I'm getting greedy now because I want to see Giroud and Dembele come in. But the lack of pace and quality to get in behind teams is very worrying.
Colin Glassar
31
Posted 31/07/2017 at 16:43:51
I think the three players we are being linked with (Sigurdsson, Giroud, Collins) are hardly exciting but they are players who would fit into the Koeman system.
I'd personally prefer the likes of Dembele, Gray, Mahrez, Redmond, Iheanacho etc but maybe Ronald can't see them adapting to his game plan.
James Morgan
32
Posted 31/07/2017 at 16:50:11
Some fair points made. I'm not sure Giroud will increase shirt sales though, as most people just replace what they were going to buy with another.
I reckon if we get Sigurdsson, Giroud, a left sided centre half and a winger (Sky reporting Gray of Leicester is today discussing a move away with us one of a few interested), then we would have one hell of a squad.
John G Davies
33
Posted 31/07/2017 at 17:15:14
I think we may get around 30 goals a season off Giroud and Sigurdsson, Colin.
Tied in with Sigurdsson's ability to create chances, it will do me if we get these two.

John Pierce
34
Posted 31/07/2017 at 17:19:50
Colin (#31).
All the players you name in your preferred list have flair. That won't wash with Ron. He looks for cogs in a machine.
With that he venerates in players who in the main perform well enough at their given task but ultimately can be replaced without weakening the side.
As for the article, enjoyed reading it and it was positively written. I'd suggest we are going to see more 4-3-3 than 4-2-3-1 but the builder was a good indicator of our depth or lack of there of.
Looking forward to two 'defensive midfielders' at the Slovakian farmers on Thursday.

John G Davies
35
Posted 31/07/2017 at 17:31:07
What, like Sandro and Onyekuru, John?
Come on, mate, that statement is just plain wrong.
Amit Vithlani
36
Posted 31/07/2017 at 17:42:50
Last week's game put to bed the nice theories and laid bare the desperate need for a proper centre-forward.
Sandro certainly did very well when he came on but he is not a target man. We would be wasting his obvious talents as a mobile forward who creates danger with his movement. A stronger, proven No 9 will be needed.
I see Sigurdsson as our set-piece taker who from open play can cross balls early and accurately, ideally for a big No 9, giving us a variation to what we saw last week. Baines trying to cut balls back from deep in the opposition half on the left and Martina attempting to whip balls from the right.
Calvert-Lewin and Mirallas have to work on their delivery and we know Lennon is hit and miss.
Sigurdsson will certainly bring in quality deliveries from deeper areas but lord help us if it's Sandro or Rooney fighting for those deliveries. Get Giroud in and we then have a semblance of progress in upgrading last season's squad.
John Pierce
37
Posted 31/07/2017 at 19:05:09
John (#35).
Plain wrong, perhaps.
Citing Sandro, who has played one game for us and is by definition a hard working player? Add to that a lad in Belgium who hasn't kicked a ball for us yet, is not the most persuasive arguement to my point.
Stack that against a squad packed with functional players who are mostly picked and favoured due to their high work rate and ability to go both ways.
Rooney
Bolasie
Klaassen
Schneiderlin
Gana
McCarthy
All excellent examples of players who provide function not flair.
I'll grant you Lookman has flair, but I'd expect, like the lad from Belgium, bought for the future and in all likelihood under Walsh's directive – not Koeman's.
Whilst there are one or two players who might be a bit 'flairy', you cannot deny Koeman favours pragmatic, mechanical players over excitement.
Assuming you watched the games last year?
John G Davies
38
Posted 02/08/2017 at 10:29:27
That they haven't played for us is not the point, John. The point was your take on Koeman refusal to sign flair players.
If you think Dembele is a flair player and Sandro in comparison is just hard working, you may get a pleasant surprise when you see Sandro play.
If you thing hard working players can't have flair, watch Suarez, Messi and Neymar.
It's becoming a regular shout on ToffeeWeb: "The workhorses are Koeman's signings, the flair players are Walsh's signings" You can't have it both ways.
Paul Kossoff
39
Posted 08/08/2017 at 01:01:05
Walsh has done a remarkable job has he? Keeper 㿊 million, centre back, 㿅 million, midfielder, 㿄 million, free-transfer third-choice full-back... and Rooney – remarkable? I don't think so.
Is Sandro Lukaku's replacement? I hope he's the real deal for our sake because Rooney is not the answer to where the goals are coming from.
Phil Walling
40
Posted 28/08/2017 at 14:05:39
Some folks are easily pleased, aren't they ? Any fool club happy to pay way over the odds for second class players will find shopping here and in Northern Europe pretty easy. But what to do with those players when they are signed up is another thing altogether.
Klaassen, Sandro and Martina are already looking like rivals to Niasse in the worst player ever stakes and many of us are not totally convinced by Schneiderlin either !
One award I do think the Dutchman has well earned though is 'The Buggers Muddle Trophy' for team selection and tactics. Roberto was an amateur in comparison !
Steavey Buckley
41
Posted 28/08/2017 at 14:45:17
When ever I see a back 3 including Jagielka and Williams, I know already Koeman is showing the white flag again, when Jagielka and Williams should move on in their footballing lives and give either Schenderlein and Holgate the opportunity to play alongside Keane.
Both players can not only defend but can play the ball out of defence. When already Schenderlein has shown already he wants to play there by being around the centre halves whenever he plays in midfield, while the rest of the team does not gel, because Everton have too many midfield players, who have no real pace to get forward, and support a non existent forward line; even when Baines gets forward he is really needing a hitch a lift to get back to his defensive duties.
After early transfers, Everton have managed with so many inept performances in friendlies, Premier and Europa leagues to have stunk the place out with so little optimism for the rest of the season; even if Barkley decides to play for Everton again after he gets over another injury. As for McCarthy, he is looking forward to renewing his aquaintances with the ROI and get injured again, so he can take over the mantle of 'sick note' from Darren Gibson.
Add Your Comments
In order to post a comment, you need to be logged in as a registered user of the site.
Or Sign up as a ToffeeWeb Member — it's free, takes just a few minutes and will allow you to post your comments on articles and Talking Points submissions across the site.
© ToffeeWeb