Allardyce pleased with first win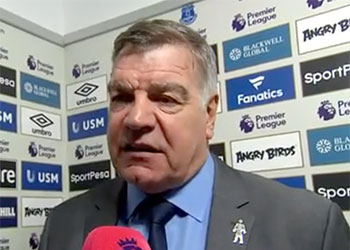 Sam Allardyce said he was pleased to see his new charges record their second home win of the week which relieves the pressure on a squad that looked destined for a relegation fight after last weekend's heavy defeat at Southampton.
The Blues followed up the midweek trouncing of West Ham by beating Huddersfeld Town at Goodison Park thanks to second-half goals by Gylfi Sigurdsson and Dominic Calvert-Lewin.
"After finding it difficult in the first half, the effort to win it was there from the players in the second half," Allardyce said afterwards in his first post-match interview as Everton manager.
"There was probably a bit of fatigue after the same side also playing on Wednesday night but I think once we got the first goal, it settled us down.
"I think defensively [from our perspective] Huddersfield didn't have a chance today and that gave us the platform to go and win this game.
"Then with Dominic on his own up front, I know he got a bit of luck but I was so pleased he scored.
"More importantly, it's our third clean sheet of the season and our second on the trot and it's ironic we've got two wins off it, isn't it?
"Everything was done right today. We could have done with a bit more entertainment, more passing and movement, a bit more give-and-go like we did the other night but, at the end of the day, the 2-0 is more important than that and we can build on that as time goes on.
"I had a bit of work to do tactically at half time to stop Lennon and Sigurdsson running too far back and saying, 'you let those fullbacks run on and we'll take the chance. You sit in those pockets and told everybody that when we've got the ball, we've got Siggy and Aaron free in the wide areas and off we go — we can get up the pitch.
"It worked for the first goal because Siggy was farther up the pitch than he normally would be and it's allowed him to score the first goal for us.
"We really needed it because in the first half we really weren't creating enough going forward. And of course, once we got that goal it made us more comfortable to go and get the second and a really good and valuable three points for these lads."
"Gylfi [Sigurdsson] and Aaron [Lennon] were spending too much time on top of our full backs," he explained. "They were chasing back too often. I wanted them further forward and in little pockets of space, to help us get up the pitch. And that's where our first goal came from."
---
---