Allardyce thankful for 'precious point' from poor Everton display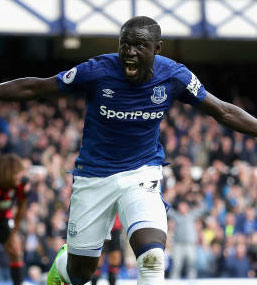 Oumar Niasse salvaged a point, scoring 57 seconds after coming on for Cenk Tosun against West Brom
Sam Allardyce admitted that he was containing his frustration at another lamentable Everton performance, saying that his team are struggling with a "mental problem" brought on by poor results.
The Blues salvaged a point against a West Bromwich Albion side that will count themselves unfortunate not to register back-to-back Premier League wins for the first time this season, particularly when Salomon Rondon hit the crossbar in stoppage time following a series of saves from Jordan Pickford.
Oumar Niasse came off the bench and scored from debutant Theo Walcott's header within a minute of being introduced to cancel out Jay Rodriguez's seventh-minute opener but, overall, Everton were lacklustre and lacking in conviction.
"It was difficult to watch it today," Allardyce admitted. "I think every fan in the ground is probably wondering what they were watching compared to what they saw just a couple of weeks ago when we were beating Swansea and put in a very resilient performance against Chelsea.
"I have no problem with them booing us, as they deserved booing. The players should listen to that, as I do. Our defending was that bad for their goal an under 11 side could have scored it.
"I see a lack of confidence in the side and it's my job to keep going and keep pushing the players about making the right decisions and playing in the right areas, defending properly when needed.
"There were a lot of nerves out there today and that caused a lot of mis-placed passes and, of course, even the goal we gave away came off our goal kick.
"I'm just pleased that we got a point in the end from our substitute making an impact and popping in an equaliser for us. But some of the decisions we made today obviously weren't the right ones so it's our job to try and sort that out for the players in their minds.
"We've got to try and get them back to [making the right decisions which] clearly comes from the last results not being very positive. At least this was a positive result because we didn't deserve any more than a point, that's for sure.
"I think frustration is an understatement!" the manager continued when asked if he shared the feelings of the Goodison crowd, many of whom booed their team off at the final whistle. "I'm holding it in!
"The players know they didn't perform today. They are well aware of the lack of performance they gave today in an Everton shirt at Goodison. They didn't pass the ball today very well to anybody.
"We have to pick ourselves up and make sure that we work hard and be more more determined mentally — it's a mental problem they're suffering [from] at the moment and we've to overcome that to bring out the ability that I've seen when I first arrived here.
"We (the management staff, the backroom staff and the players on the pitch) can be the only ones to make the change and can get it better and that's what we must work very hard to do.
"But in the end it's been a very precious point for us today."
Allardyce confirmed the worst fears about James McCarthy's injury, the Irish international suffering an awful broken leg in a freak incident with Salomon Rondon just before the hour mark.
The midfielder's leg was struck by the Venezuelan striker after he made a saving tackle to deny Rondon a scoring opportunity but had to be stretchered off the field and faces another lengthy lay-off.
"We've just worked so hard to get James back to fitness and overcome his previous problems and he was getting sharper and fitter with each game," Allardyce comiserated. "So it's a loss to us now to the end of the season. Of course, this happens in the game of football but not often this severe.
"But [it all came] from our own fault and our own stupid play in that particular area. They can't play the ball to people who are marked and facing our own goal. That's something you learn in the early stages of your career.
"We gave the ball but James recovered brilliantly to stop what might have been a goal and suffered a very bad injury because of it."
---
---