Silva: "4-3-3 is my system"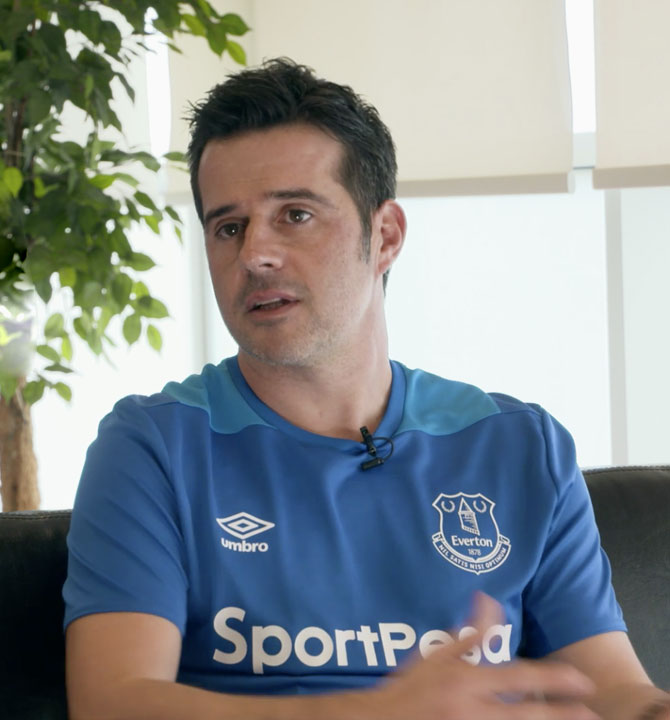 Marco Silva has been offering some hints on the way he intends to set his team up as Everton manager.
Speaking with the Liverpool Echo, the Blues' new boss stated his preference for an attacking 4-3-3 formation and a team that keeps the pressure on opponents for long periods in games, something that was lacking last term, particularly under Sam Allardyce.
"I really like a pressure team and if you can do that for as long as possible in a match then that will cause problems for our opponent," he said.
"We have to do that in the right way, in a good balance every time, but it is something I like and it is something we will work on many, many, many times during the week.
"I want to play to find the right way to win the match," he told evertonfc.com earlier. "The results will make the difference.
"My philosophy is, I play to win the matches. This is my way. I am not the type of coach to wait, (to tell my players) 'do not lose the match'.
"We need to have balance in our squad but we will try to find the ways to win and create chances to score.
"For sure we will be fearless, no matter the opponent or venue; this is our way. It is something we will work on every day during the week to prepare for the match."
While Silva has used a five-man defence in the past in the Premier League, he is known to prefer a traditional back four, with a holding midfielder and then a more box-to-box midfielder to compliment.
He was asked by the Echo which setup he will favour at Goodison Park, although he explained that it would be dictated by the type of defensive midfielder was at his disposal.
"4-3-3, I can tell you," he said. "Of course, it is the system I have played more. One second season I used 4-4-2 and sometimes last season three but 4-3-3 is my system, depending on my No.6."
"Depending the profile of my No.6, I can play one and two or I can play two and one behind the striker.
"If we play [Morgan] Schneiderlin he is a player who likes to play more alone which gives more freedom to the other two midfielders and this is the system I use more.
"But my model, first of all the team need to work all together and if we have a clean sheet then everything will start from there."
---
---