Silva: "4-3-3 is my system"
Wednesday, 6 June, 2018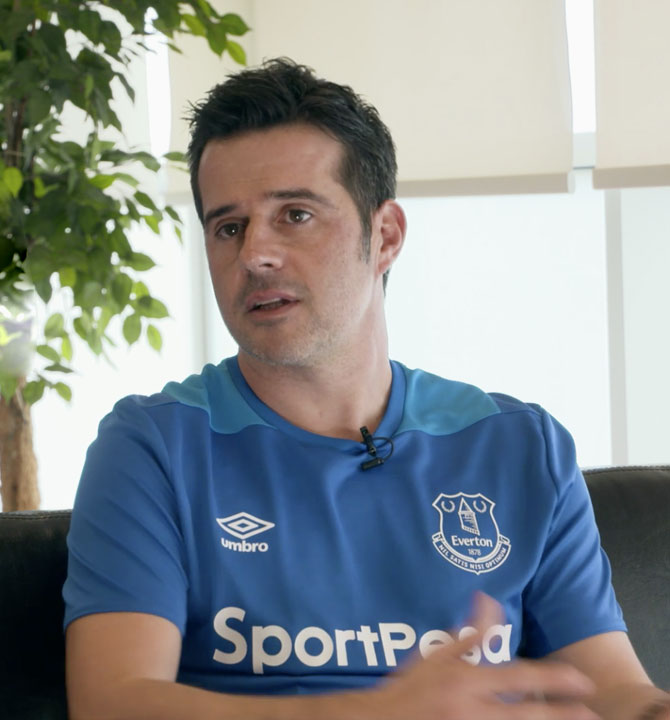 Marco Silva has been offering some hints on the way he intends to set his team up as Everton manager.
Speaking with the Liverpool Echo, the Blues' new boss stated his preference for an attacking 4-3-3 formation and a team that keeps the pressure on opponents for long periods in games, something that was lacking last term, particularly under Sam Allardyce.
"I really like a pressure team and if you can do that for as long as possible in a match then that will cause problems for our opponent," he said.
"We have to do that in the right way, in a good balance every time, but it is something I like and it is something we will work on many, many, many times during the week.
"I want to play to find the right way to win the match," he told evertonfc.com earlier. "The results will make the difference.
"My philosophy is, I play to win the matches. This is my way. I am not the type of coach to wait, (to tell my players) 'do not lose the match'.
"We need to have balance in our squad but we will try to find the ways to win and create chances to score.
"For sure we will be fearless, no matter the opponent or venue; this is our way. It is something we will work on every day during the week to prepare for the match."
While Silva has used a five-man defence in the past in the Premier League, he is known to prefer a traditional back four, with a holding midfielder and then a more box-to-box midfielder to compliment.
He was asked by the Echo which setup he will favour at Goodison Park, although he explained that it would be dictated by the type of defensive midfielder was at his disposal.
"4-3-3, I can tell you," he said. "Of course, it is the system I have played more. One second season I used 4-4-2 and sometimes last season three but 4-3-3 is my system, depending on my No.6."
"Depending the profile of my No.6, I can play one and two or I can play two and one behind the striker.
"If we play [Morgan] Schneiderlin he is a player who likes to play more alone which gives more freedom to the other two midfielders and this is the system I use more.
"But my model, first of all the team need to work all together and if we have a clean sheet then everything will start from there."
---
Reader Comments (207)
Note: the following content is not moderated or vetted by the site owners at the time of submission. Comments are the responsibility of the poster. Disclaimer
Soren Moyer
1
Posted 07/06/2018 at 00:44:23
And that's what we fans want to see, my good man. But could we have a new number 6 instead of Schneiderlin, please?
Daniel Lim
2
Posted 07/06/2018 at 01:07:56
Did Silva just tell us that Schneiderlin is here to stay, and is an important part of his plan?
I have no problem with that if that's what he thinks.

Chris Jones [NZ]
3
Posted 07/06/2018 at 01:08:31
Isn't that an old Toots and the Maytals song???
Steve Ferns
4
Posted 07/06/2018 at 01:26:25
"4-3-3, I can tell you," he said. "Of course, it is the system I have played more. One second season I used 4-4-2 and sometimes last season three but 4-3-3 is my system, depending on my No 6."
"Depending the profile of my No 6, I can play one and two or I can play two and one behind the striker.
"If we play [Morgan] Schneiderlin he is a player who likes to play more alone which gives more freedom to the other two midfielders and this is the system I use more."

So one and two is a 4-3-3 with one holding midfielder. Two and one is a 4-2-3-1.
At Sporting, he used the 4-3-3 with Carvalho deep and two more attacking midfielders in Adrien SIlva and João Mário. So, he's indicating this kind of system.
That raises a question over Sigurdsson (you're right, Darren!) and Gueye. We do know the front three will be all-out attackers and so I expect Tosun or Calvert-Lewin and Walcott wide right with Lookman or Bolasie wide left.
Maybe Silva fancies Schneiderlin and thinks he can rescue his Everton career. He'll save us a fortune if he can.
It's going to be interesting to watch the developments.
Jamie Crowley
5
Posted 07/06/2018 at 01:31:25
I think Schneiderlin should be sold. But if Marco thinks he can utilize him, I'd be ok with that. As if they care what I think but screw it, this is a fan forum.
I believe many players will get a "rebirth" of sorts under Silva with new roles and responsibilities. Schneiderlin may be one of those players. I had mentioned on another thread, I think Besic may be another.
Time will tell but it will be intriguing to see who makes the Silva grade, and which players get to hit the reset button under his management.
Mike Gaynes
6
Posted 07/06/2018 at 01:55:57
If Silva can somehow resurrect the Schneiderlin we saw 16 months ago, he's more than a manager – he's The Golden Child from that Eddie Murphy movie. Or Jonathan Livingston Seagull. touching him with a wingtip.
I'll believe it when I see it, but that alone would make this club better.
Bill Gienapp
7
Posted 07/06/2018 at 01:56:32
"It is something we will work on many, many, many times during the week."
Music to my ears. A refreshing change from Allardyce, whose response to execution issues was basically "What do you expect *me* to do about it?"
Bill Gienapp
8
Posted 07/06/2018 at 01:57:45
Cheers, Mike (#6). You don't see many references to The Golden Child on here.
Mark Andersson
9
Posted 07/06/2018 at 02:06:35
Schneiderlin was just one of last season's let-down players who played with no heart or desire. If the new manager can get him playing to his full potential, that will get the fans on both men's side.
I'm surprised at how open and frank he is being with the media. It's as though he knows exactly what the fans want to hear. Time will tell if he can walk the walk coz football fans are as fickle as Schneiderlin's desire to play a game.
Andrew Keatley
10
Posted 07/06/2018 at 03:10:45
If we can get someone to pay a half-decent fee for Schneiderlin (£12 million+), then I really hope we move him on. Finding a club desperate enough to stump up the cash might be a difficult ask though.
Watching Schneiderlin aimlessly trotting around our midfield at 5 mph game after game last season has given birth to a fairly palpable dislike of the bloke. He spent most of last season hiding, and I find that hard to overlook. Yes, most of our players had poor seasons, but I think very few of them resorted to hiding.
Alan J Thompson
11
Posted 07/06/2018 at 04:21:40
Oh God, No! Not Schneiderlin, please. If we must, can we have a defensive midfielder who'll cross the halfway line at least twice in each half and consider joining in when we attack?
On another thread, a Watford supporter stated that Silva, like Martinez, plays a zonal marking system in defence. I hope he doesn't have the same problems of nobody picking up a loose player who was not in their zone or the player who ran into the space between defenders.
Paul Mackay
12
Posted 07/06/2018 at 04:43:31
Can Unsworth please inform Silva on how much of a flake Schneiderlin is please.
Mike Dolan
13
Posted 07/06/2018 at 05:46:11
Silva has to play the system that suits the available players. One of the most obvious problems that dogged us the entire last season was that too many fingers in the transfer pot led whoever was picking the side to shoehorn players into roles that were not good for the player and even worse for the team.
Think of Martina playing in the wrong nest at left back, the player did heroically well but did it help the team? I would say no because we played every game like we were starting with ten men. <
Rooney and Sigurdsson both great players but they should never ever be on the same pitch at the same time, the Liverpool Echo website is faster than those two. The midfield pair Gana and Schneids are another two players who ideally play the same role as defensive midfielders albeit with totally opposite styles both are good players but again you can't play them both at the same time.
So by extension if you can't play Rooney and Sigurdsson together ,you most certainly can't put either with Schneiderlin. I think this is why we are so slow and deliberate. We would have been so much better playing a triangle of Gana, Sigurdsson Klaassen, and Davies.
Tom Davies and whoever replaces Rooney are key to the style of play next season.
Darren Hind
14
Posted 07/06/2018 at 06:10:13
"I play to win matches, this is my way, I'm not the type of coach to wait, (to tell my players) "do not lose this match"... "For sure we will be fearless, no matter who the opponent or venue."
That my old china plate, is fighting talk. I've waited nearly half my life to hear an Everton manager use this kind of language.
I cant say he was my first choice, but I can say I'm glad he is here.
There'll be heavy defeats if he is forced to go with the some of the players he has, but who cares about that. Passion and the love of football has returned to Goodison Park. Everything else can wait a little longer.
John Wells
15
Posted 07/06/2018 at 06:54:18
Going to Anfield and having it at them into the Kop fuck ya!!! COYB!
Morgan — I hope you're reading this and understanding the veiled threat... Time to hit the beach on your holidays and start running, my friend... you were a disgrace last season. Prove to us you have a pair; man-up to the challenge he's laying out for you.
Tim Locke
16
Posted 07/06/2018 at 06:57:58
This is brillant work from Silva.
He has just told everyone how important Schneiderlin is. Which will either drive his price up make other clubs come in for him or Schneiderlin is really that important and Silva gets something out of him and we have a much improved player.
Sam Hoare
17
Posted 07/06/2018 at 07:01:55
Personally, I will find it hard to forgive Schneiderlin for his lethargic displays last season but, if Marco rates him highly, I guess it would save us a fair chunk of money.
The talk of attacking football and playing to win bodes well. Like Darren said, it may lead to some heavy losses but hopefully there may also be a few glorious wins, which we've had far too few of. At the moment, it's all just words. But it's exciting.
Jerome Shields
18
Posted 07/06/2018 at 07:30:00
No wonder it has been reported that 12 players will have to go – with a 4-3-3 system, pace will be needed throughout the side. The main positive I got was that the squad were going to be coached, the importance of midfield, and it was important we keep a clean sheet.
It depends on two things: How the players respond to coaching and their level of ability. It is obvious that certain defensive and midfield Everton players are dead in the water, as far as this system goes.
Martinez and Koeman both talked about this system. Martinez failed to sort out the defence and midfield and Koeman hadn't a clue who could play there.
Silva has the same problem as Martinez failed to see or do anything about, and Koeman has exasperated the problem by bringing in the wrong players at inflated prices.
Silva will have to have the coaching ability to turn round certain players and Brands will have to have the ability to get rid of unsuitable players and bring in key suitable players, particularly in defence and midfield. The big plus is that Silva can coach other systems (Plan B), which both Martinez and Koeman hadn't a clue about. Big Sam and his unsuccessful dinosaur tactics were irrelevant, though the purchase of Walcott and Tonsun help.
Interesting times at Everton, at last. Good Luck to Silva and Brands.
Gareth Clark
19
Posted 07/06/2018 at 07:38:11
I really like what Marco has to say. I think his tactics are perfect & the formation is too.
I do wonder what will happen with Schneiderlin – and the rest of the squad too.
Exciting times.
Looks like Carvalho will be incoming soon – hopefully he has the pace we need in the #6 position. Will that mean Schneiderlin is on his way? I wouldn't be devastated if that was the case.
Kenny Smith
20
Posted 07/06/2018 at 07:41:50
I think he'll have a shock when he sees the lack of quality for himself in order to play 4-3-3. If Moshiri doesn't want to put his hand deep into his pockets (can't blame him after last season), then we don't have the midfield to do that. He'll need two top-class players in there with legs.
I'd be happy for a 4-4-2 after watching Allardyce, Koeman and the rest for years persevere with just one up front.
Ash Moore
21
Posted 07/06/2018 at 07:54:26
Agree with Kenny #20. We don't have the cattle to play 4-3-3 right now.
Ian Hollingworth
22
Posted 07/06/2018 at 08:20:27
Great words but he ain't seen them in training yet... lol.
I want to get excited by an ambitious Everton side so bring it on — but I think he will need some quality signings for his plans to work.
John Keating
23
Posted 07/06/2018 at 08:36:35
I had thought he'd kept tabs on us after leaving Watford, obviously not.
Since arriving he's mentioned only bringing a minimum number of new faces. Now he talks of employing a pressing game.
Had he known anything about us, he would have known that, since Moyes left, we have been one of the slowest, most unfit, lethargic teams in the league.
Fitness has been a massive issue and getting this lot to employ a pressing game....
Kev Jones
24
Posted 07/06/2018 at 08:41:58
All these numbers like tumbling dice. Silva is re-igniting the passion and I am really enjoying the sense of mystery and uncertainty about what Everton will look like and how we will play. Unfortunately the new season is approaching more slowly than a Schneiderlin stroll to the halfway line.
Rob Dolby
25
Posted 07/06/2018 at 08:56:25
Unless he is a miracle-worker, his 4-3-3 will struggle to work with the current squad. Schneiderlin, for example, is a Jekyll-and-Hyde player but yet the formation could be built around him.
It's great that we have a new structure and good positive noises coming from Finch Farm but we have to be realistic — you can't turn a sow's ear into a silk purse.
We need quality signings and to offload fringe players assuming we can find buyers.
Danny Broderick
26
Posted 07/06/2018 at 08:57:33
At the start of the article, Silva mentioned us being a 'pressure team'. Later he mentioned possibly having Schneiderlin as his Number 6.
These statements contradict each other. If you want to be a pressing team and have someone like Gueye in centre mid, okay. Having Schneiderlin in there is like leaving the handbrake on. He occupies a space, but one thing he doesn't do is press.
I predict the midfield will be the key area for Silva to get right. We didn't have enough legs in there last season with Rooney and Schneiderlin in the same midfield. Let's hope Silva has done his homework.
Bob Parrington
27
Posted 07/06/2018 at 09:01:43
Hmm? Having the right blend of manager (coach) and players can create magic. Let's hope we have this from now. Not wanting to be too negative though...
Move forward 3 or 4 years and (seems to make no difference whether amateur or pro) two things might get in the way: players egos become a problem and the board's ego is another thing (cite Real Madrid and Zidane — he's got balls, hasn't he?).
If we can get to this point and ride through it, we really have the right management group on board and a sound future for years to come at Bramley-Moore Dock stadium.
Iain Johnston
28
Posted 07/06/2018 at 09:02:57
Jonjoe, Seamus and Theo down our right side... Now there's a thought...?
John Raftery
29
Posted 07/06/2018 at 09:03:58
The way the manager wants to play and what the players can actually do may be two very different things. Good luck, Mr Silva.
Meanwhile the gossip columns are fairly quiet about transfers in or out.
David Hallwood
30
Posted 07/06/2018 at 09:08:56
Schneiderlin's off — he's practically come out and said it.
As for 4-3-3, bring it on — and for those who said we haven't got the players: Lookman, Tosun & Woolcott isn't a bad starting line-up. Not exactly Man City, Man Utd or Liverpool but it has potential.
It's the midfield 3 that's the worry with only Gylfi and possibly the Gana of the season before last as the only starting candidates (even though I'd like to ship him and Schneiderlin out but that may be too disruptive).
The defence, as we all know, a left-back and left-sided centre-back is a priority... in fact, if we only got a left-back and centre-back, and got rid of a lot of dead wood, I'd call that a good transfer window.
Colin Glassar
31
Posted 07/06/2018 at 09:13:56
Blow me down, matey. If Darren Hind is endorsing Silva, then we might be on to a winner here. Darren is one of the hardest Blues to please.
Now If Phil Walling chips in with, albeit, a soggy, limp dick endorsement I might even start to believe we could have a decent season.
David Midgley
32
Posted 07/06/2018 at 09:18:26
Marco, please don't say any more.
"Why do you build me up, Buttercup? Don't break my heart."
I don't want stuff to come back and bite you.
John G Davies
33
Posted 07/06/2018 at 09:19:13
A limp dick endorsement ?
The Blues can sort that out.
Ash Moore
34
Posted 07/06/2018 at 09:20:17
Sigurdsson and Gana in a middle three would get us battered. Siggy is nowhere near fast or mobile enough, Gana nowhere near good enough on the ball or even when we have possession, full stop.
I like the look of Lookman (hoho!) but neither he or Walcott appear defensive-minded enough to drop behind the ball when necessary. A fit Aaron Lennon is a player who would be a great fit in this hypothetical Silva setup.
ps: Does anyone see a spot for Vlasic?
Brian Harrison
35
Posted 07/06/2018 at 09:26:02
Darren,
I was a little surprised at your latest post, as you have mainly been against Silva becoming our manager. Surely anybody who has ever heard Silva or watched any of his teams play knows he goes out to win, regardless of who the opposition is. That was the main reason I wanted him as manager, and as you rightly pointed out playing this way will mean sometimes we get stuffed, especially until he gets his players in which will take a couple of windows.
His teams always play a high pressing game, and that requires a high level of fitness. Also, you have to be clever when and when not to press as no team can do it for 90 minutes. I think what we will get is a team trying to win and playing on the front foot, I think they will be exciting to watch.
There are no guarantees in football but we have now a manager who wants to play the game the right way. Martinez became obsessed with possession but without penetration. Koeman more pragmatic but his style never really excited the fans... and Allardyce was Allardyce.
Dermot Byrne
36
Posted 07/06/2018 at 09:36:31
I agree with many that it is hard to forgive Schneiderlin. But in the end, if Silva can get him to play as he did when he came, then I'm willing to go with it (as if my opinion matters a jot!).
But, if he does, he is either a great boss or at least better than the last two prats. Even the latter is a start and something that may get us excited again.
COYB
Laurie Hartley
37
Posted 07/06/2018 at 09:39:46
Tactical genius, I am not but of two things I am sure:
1. We need a left-footed, 6'-4" centre-half (that will help with the clean sheets that Marco wants)
2. Wayne Rooney needs to move to the States. He can do this with dignity now and the door has been left open for him to come back to the club when he decides to hang his boots up.
Using the 80/20 rule having too much (80%) of anything stops you get the best use of your best assets (20%). So the clear out of the squad is really important and has to start with Wayne Rooney.
Barring injury goalkeeper is sorted.
We have 3 of a decent back four in Coleman, Jagielka, and Baines. I don't subscribe to the theory that Baines or Jagielka are finished. I think there is another season in both of them – something that is part of Silva's new responsibilities as the coach. Goodbye to Williams hello "left-footer". Keep Holgate, Keane, and Martina. Sell Funes Mori.
I'll jump the midfield and go to the front 3. For me it is Lookman, Tosun, and Walcott. Barring a miracle of some sort, Sandro isn't coming back. Bolasie and Calvert-Lewin are the back up for the front 3. Sell Niasse.
Now to the hard part - the midfield. Looks like Marco Silva wants Schneiderlin who "likes to play on his own". So it looks like he is staying and Baningeme is his back up. Play Sigurdsson on his left. Who fills in the last spot – Gueye, Davies, Vlasic, or McCarthy?
I like McCarthy but I don't think his hamstring problems have been handled or treated properly. Because of this I don't think he can command a starting spot but I would keep him as back up.
My solution would be to sell Gueye (for a profit after he has a great World Cup) and Vlasic. Play Davies on Schneiderlin's right. Klaassen as a squad member or out on loan till Christmas. (Darren Hind might be right about Siggy in which case Klaassen takes his place.)
Goodbye, Kevin Mirallas and Nikola Vlasic.
So the starting 11 would be
Pickford
Coleman, Jagielka, [left-footed centre-half], Baines.
Davies, Schneiderlin, Sigurdsson,
Walcott, Tosun, Lookman.
Subs: Bolasie, Calvert-Lewin, Keane, Holgate, Baningame, McCarthy, and Klaassen.
Sell (or loan) Rooney, Gueye, Niasse, Williams, Mirallas, Funes Mori, and Vlasic.
If we get a mad offer for Keane or Bolasie, sell them.
Done and dusted.
Ian Burns
38
Posted 07/06/2018 at 09:41:04
Steve F; Sam H; Gareth C; Derek K... guys, help me here. Presuming Silva insists Schneiderlin is his Number 6 in a 4-3-3 – what sort of starting line-up is he looking at from the present squad?
I am struggling to see where the creativity is going to come from within the middle three (or two given the Number 6 is taken up)?
I am not talking here of players coming in as that is a guessing game all of its own – I am referring to the present squad only. I am trying to see what Silva sees which gives him the confidence of coming out to say a pressing 4-3-3 is his game.
Getting them fit is one problem; choosing such a system from those we have on the books is something else altogether... but better people than me post on these matters and I would love to understand what or who he is looking at.
Martin Reppion
39
Posted 07/06/2018 at 09:41:49
If we use a 4-3-3, we are not far off a decent line-up to start with. The issue comes with cover.
A back four of Coleman, Keane, Jagielka or Funes Mori, and Baines is solid. But we know we won't get more than 25 games out of Leighton so we have to be sure that Anthonee Robinson can hack it or bring in a good cover or first-choice replacement.
Gana with Tom Davies and Sigurdsson mixes hard tackling, work rate and some class. But Schneiderlin, McCarthy, and Klaassen don't inspire as cover. We could end up with a very pedestrian set-up, all looking for the other ones to get forward.
Up front, as has been said, if the defence and midfield can get the ball to them, Walcott, Tosun and Lookman would not be a weak front three. But Calvert-Lewin is still to prove himself ready and, other than Vlasic, we don't have much to write home about in terms of back-up. I see value in bringing in someone like Jamie Vardy, who always appears to be on the verge of leaving Leicester, yet none of the top 4 seem really interested. I'm underwhelmed by the talk of Shaqiri and other wide men who offer nothing we don't have already.
The issue is, can Marco Silva get this squad to perform to their potential, which is surely top 7 – maybe better? I didn't spend last year looking at Burnley's squad and thinking 'I wish we had that lot'.
I think we will see a lot of movement after the World Cup. And hopefully a lot more on the field once we get going.
Gareth Clark
41
Posted 07/06/2018 at 10:02:14
From our current squad
Schneiderlin is the only #6. I would use Davies as an impact player off the bench, or give him a start when his competition isn't performing. Gueye obviously a starter pretty much every game, along with Sigurdsson. I'm happy with Davies, Klaassen & Baningime as cover. However, I think that Carvalho will come in as a starter, in Schneiderlin's #6 position.
Jags and Keane give me the most confidence at centre-back – Holgate very close too.
Coleman & Baines are obvious starters, but I would buy a left-back to rotate with Baines. If Robinson is good enough, then I'd be more than happy having him.
I'd start Lookman & Walcott on the wings, with Vlasic & Bolasie as back up.
Tosun up top, with Calvert-Lewin & Niasse on the bench as perfect impact players.
Pickford
Coleman Jagielka Keane Baines
Gueye Schneiderlin Sigurdsson
Walcott Tosun Lookman
Subs: Stekelenburg, Holgate, Funes Mori, Davies, Klaassen, Calvert-Lewin, Niasse
Looking at that team, I'd look to improve at centre-back (I think we can improve on both of them, and Keane to go into 3rd choice centre-back with Holgate as 4th). If we are going to buy a left-back, he should be a starter. I would also like the option to play with two slighter deeper central midfielders with Sigurdsson behind the striker. So I'd go for Delaney or someone similar to partner Gueye in that role. Schneiderlin cannot play in a two like that; I'd probably look to replace him, with Carvalho being the obvious & most likely option. Baningime has only ever played extremely well, though, and he is a bit unlucky that our midfield is so congested with not that good midfielders. So, if Brands can open up a path for him to be in and around the first team, that would be perfect. Then I'd rotate Lozano and Lookman down the left wing, both are young, and take the pressure off them by rotating them.
GK: Pickford / Stekelenburg
RB: Coleman / Kenny
RCB: Lascelles / Holgate / Jagielka
LCB: Mawson / Keane
LB: Baines / Robinson
CDM: Carvalho / Delaney / Baningime
RCM: Gueye / Davies
LCM: Sigurdsson / Klaassen
RW: Walcott / Vlasic / Bolasie
LW: Lozano / Lookman
ST: Tosun / Calvert-Lewin / Niasse
A 26-man squad – could also do with more culling, but it's a good start.
Gareth Clark
42
Posted 07/06/2018 at 10:07:38
Laurie #37
My woooooooord!
SELL GUEYE? What are you smoking?
I think you should stay out of the tactics – as you say and have proved, you're no tactical genius... Nowhere near.
Gareth Clark
43
Posted 07/06/2018 at 10:17:08
Those saying that Sigurdsson and Gueye don't fit the system... you are truely clueless.
They're our two most consistent & best outfield players. There is no way they will be sold – in fact, they will be starters in pretty much every game.
Not sure if anyone actually listened to Silva's interview. He said he likes to use 4-3-3. He is used to playing with one deep central defensive midfielder and two ahead of that Number 6. Sigurdsson can easily drop slightly deeper, and be an attacking box-to-box midfielder. His workrate is unreal – he'll have no problem at all, he will most likely thrive. Gueye is also a roaming box-to-box midfielder – so he too fits this position perfectly.
Silva then went on to say he can shift his midfield three – with two deeper and one behind the striker. Sigurdsson would slot straight in, take away some of his defensive duties – Gueye reducing his movement up the pitch a little, and then partnering him with someone, Davies or a new signing.
This is football – when have you ever seen a manager use one strict system??? Of course, it will be a fluid system, especially in the midfield three. That is the beauty of the 4-3-3 system. Klaassen suits the #6 system well – where he plays in one of the two central midfield positions, slightly further up the pitch – as he did at Ajax.

Tony Everan
44
Posted 07/06/2018 at 10:20:08
Constructing a best 4-3-3 with what we have got:
Pickford
Baines Holgate Keane Coleman
Gana Schneiderlin Sigurdsson
Lookman Tosun Walcott
I think Silva is being clever talking up Schneiderlin, another way of saying we can be okay with what we have got, so don't think we are going to pay over the odds for Carvalho, Lozano or whoever. Also, you get a better sale price for a player that is wanted than one that isn't.
I am still convinced he wants Carvalho in that position.
Steve Ferns
45
Posted 07/06/2018 at 10:34:45
Tony, I think the midfielders need to be more dynamic. Our players fit and at their best it could be:
Pickford
Coleman Jagielka Holgate Baines
Schneiderlin
McCarthy Davies
Walcott Tosun Lookman
Gueye doesn't offer enough in the final third so he can't play there. Sigurdsson lacks the pace to get up and down enough. Sure, Silva can play him there and he might do a job well, but it won't be the tactic working as intended. These two need to bomb up and down, racing back and tackling. Protecting the defence, and then breaking at pace and supporting the front three. Schneiderlin can sit, like he prefers, but he will need to cover more ground protecting the midfield two who will be so often caught out of position. His main role is to act as the "spring" launching those counter attacks, meaning he needs to pass the ball forwards quickly.
I still think that after he has got the team together and assessed it properly it will turn out with the old familiar formation and personnel:
Pickford
Coleman Jagielka Keane Baines
Gueye Schneiderlin
Walcott Sigurdsson Lookman
Tosun
Whilst the personnel may line up in a familiar way, the way they play will require a lot more energy and Silva won't be carrying passengers.
One thing we need to bear in mind is the high energy pressing game that gets mentioned. Some seem to think we will play like Klopp's side. Silva isn't like that at all. The front 4 or 5 will press and try to slow the opposition, the back 5 or 6 will get into position and drop deeper and deeper. Silva tries to win the ball back immediately where it is lost, or slow the opposition to recover shape. After recovering shape, he is happy to defend, pulling the opposition onto him because this gives his side the opportunity to counter-attack. That means they will harry the opposition around their own box and try to win it to get their own counters going. There is a marked difference from other more intensive pressing games.
On the subject of 4-4-2 many will think of something like the old-fashioned 2 banks of four. Silva means the more continental style. There is a defensive midfielder to sit deep, and then still a narrow midfield three. Silva then populates the attack with strikers who pull wide and run the channels and allow the central midfielders to break into the box unmarked. He used this a lot at Estoril and at Hull. Niasse and Calvert-Lewin would be the strikers, scampering into the channels after a(n accurate) hoof up the pitch. The 4-4-2 is more likely to be used in backs to the wall type games. The midfield sits deep and looks to overcome the opposition through pace on the break. So something like:
Pickford
Coleman Jagielka Keane Baines
Schneiderlin
Gueye Vlasic Davies
Niasse Calvert-Lewin
Dennis Stevens
46
Posted 07/06/2018 at 10:41:56
Clearly our current squad of players are now in a "shape up or ship out" situation, if Silva & Brands are true to their word. No room for passengers undermining the team strategy. It's about time too!
Steve Ferns
47
Posted 07/06/2018 at 10:57:01
One thing some of you guys are getting a glimpse of for the first time is his man-management skills. A few of you are listening to him for the first time and he's turning you round, stoking the optimism within you. He's not got the charisma of say Klopp with his big goofy grin and jokes that seems to make everyone love him.
Instead, Silva is more subtle. You listen to his words and he makes you feel better. Imagine what this would do to you as a player. Imagine how Schneiderlin will feel. Schneiderlin is human, he knows he's been booed, he knows he's lost the fans, he believes his days are numbered. His priorities have changed. Last summer he got married, this summer he's just had his first child. But now he has some hope, here's his new manager building him back up, and he should be walking tall once more, showing why clubs have spent a total of somewhere around £50m on him.
I listened to the Grand Old Team podcast a few days ago and caught up on the interview with Steven Naismith. He talks about how he went in to see Martinez and was furious with him, but he walked out agreeing Martinez did the right thing and feeling good about himself. You could tell he really liked Martinez. Silva promises to have those interpersonal skills but, hopefully, without the hyperbolic bullshit that was just too over the top, and ultimately made the man seem insincere.

Franny Porter
48
Posted 07/06/2018 at 10:58:32
If we are gonna play this way, I reckon we need:
A centre-half to play alongside Keane, preferably a left-footed one (Lascalles?)
A backup goalkeeper (Hennesey?)
Either a backup or first choice left-back (Rose, Tierney or the Bristol lad?)
A number 6 (Carvalho?)
A dynamic centre-mid (No idea)
I can't see it all happening, however.
To free up money, I'd get rid of Stekelenburg, Robles, Williams, Martina, Schneiderlin, Bolasie and Rooney.
Carl Manning
49
Posted 07/06/2018 at 11:03:28
There is a player deep down inside Schneiderlin, we have seen glimpses and I think he will benefit from a manager who plays on the front foot. It's hard to play forwards when nobody is moving to aim at.
Like some other posters have said, I worry for Sigurdsson in a 4-3-3...
Laurie Hartley
50
Posted 07/06/2018 at 11:12:10
Gareth (#42) – "stay out of tactics". Okay.
Regarding the smokin, I don't or for that matter indulge in any other mind-altering substances – but, hey mannnn – I'm happy again.
Btw what's your plan? Just asking like.
Rick Tarleton
51
Posted 07/06/2018 at 11:12:45
Any system is only as good as the players who operate the system. I suggest a system that has Schneiderlin as its fulcrum is doomed to fail.
What I cannot see in the Everton squad is the creative spark that will allow Tosun and Walcott to operate effectively.

Paul Thompson
52
Posted 07/06/2018 at 11:17:32
I don't think giving Schneiderlin as an illustrative example was a definitive signal that he is the preferred choice, certainly not is Carvalho is on the way. However, it is a signal that he thinks Schneiderlin has the quality to do it. As we know with him, it's about the attitude not the skill.
Some interesting discussion about players to fill the 4-3-3 formation, but there will be 3 or 4 quality signings incoming, so it's hard to play selector with any certainty. I will just make one comment.
It is a myth that Sigurdsson isn't mobile enough to do box to box, or be in a pressing midfield. His stats on ground covered and his obvious engine say otherwise. Our two players with most mobility – Gana and Davies – unfortunately have poor control and vision.
Steve Fern is right to point out that there are different types of pressing game. It's mostly about where you press. Liverpool, for example, often press high, induce mistakes and win the ball back in midfield. As Steve says, Silva's teams press further back to facilitate a counter-attacking style. I think that will suit our players better. It's going to be a bumpy ride, but an exciting one.
Brian Harrison
53
Posted 07/06/2018 at 11:19:12
I don't think Schneiderlin or Davies will start, I think Silva will get Carvalho and he will be his sitting midfield player. Then he will play Sigurdsson and Gana either side, but Gana will become a more box-to-box player. Yes, his finishing needs drastically to improve but Silva will want his mobility.
I think it will be an important year for Tom Davies a player I like, but he loses too many 50/50 tackles and if you are playing a 3 they all need to be able to mix it.
Obviously when someone asks about players such as Schneiderlin, he is hardly going to say anything but positive, as depending on how we get on shipping players out he might have to use him sometime. But I would be amazed if Schneiderlin is here at the start of the season.
Tommy Surgenor
54
Posted 07/06/2018 at 11:22:41
This 'press'... is it a high press where by we have a defensive forward closing down their center backs?
or is it a retreat into our own half, as soon as the opposition cross the half-way line then everyone moves as a unit to press and win it?
The reason I ask, is the higher press means our centre-backs push up leaving gaps behind them to run into. Are our centre-backs quick enough to recover?
I would have concerns over Keane if it's the higher press. He performs better when he drops deep and can see everything unfold. He is by far our easiest defender to turn. Funes Mori and Williams are easy turned as well.
Final note, I don't believe Schneiderlinis savy or quick enough to be a #6 in a high press team. If a player is slow in this role, he needs to be a Gareth Barry and accept the tactical yellow cards.
Steve Ferns
55
Posted 07/06/2018 at 11:28:44
Rick, in the 4-1-2-3 type 4-3-3, the creativity comes from the number 6, so Schneiderlin or his replacement. He will hit a pass to the wing (usually the striker is unavailable for the ball over the top or the ball to feet, but he will look for this too).
The winger can either drive for goal himself, if the counter-attack is devastatingly effective, or if the winger finds himself taking on 3 or 4 then he will look for support inside from the central midfielders. This is why Gueye can't figure as his passing is terrible and he can't play the striker through on goal with his passing.
Davies is a lot better on the ball than some give him credit for, and I think this role will suit him. He might not be like Iniesta but he can develop and he has the speed and the engine. One thing is for sure, we need pace on the wings, so we cannot play Sigurdsson there.
If it's a 4-2-3-1 or a 4-2-1-2-1 type 4-3-3, then the creativity will still come from the defensive midfielders getting the ball down the pitch early, but in and around the box we will look for the Number 10 to unlock the tight defences.
Tommy Surgenor
56
Posted 07/06/2018 at 11:30:25
Sorry, forget most of the above! Just noticed that Paul (#52) points out that Steve has already stated it will be the more retreat press.

Steve Ferns
57
Posted 07/06/2018 at 11:38:36
He can do both, Tommy. But Silva loves the counter-attack, his teams like to invite the opposition onto them to counter them properly. That's certainly how we would play Man City. But say against Huddersfield, expect us to go full Klopp, especially late in a game and needing a goal.
That's one of the best things about Silva. He doesn't just have one way of playing. He's certainly not Martinez. Lots of long passes, devastating pace on the counter, but then some sweeping passing moves too. He can be a contradiction at times. Do the unexpected and the opposition can be caught with their pants down.
Marco Silva — Tactical Philosophy; worth a read if you haven't read it before... note: it's from before he went to Watford.
Tom Bowers
58
Posted 07/06/2018 at 12:19:39
It doesn't matter what formation you play if the players are not good enough.
Basically you need speed and tackling skills. Without those two essentials, you will struggle, much like Everton last season.
Coleman and Walcott have some speed but not what they used to have.
John Wilson
59
Posted 07/06/2018 at 12:27:13
[NB: I have 5 response cap for each article (so 4 more responses for this TW article left (I got carried away earlier - 20 posts for appointing Silva). I may look at the responses and for a common set of points (from TWer's choosing to answer broadly rather than individually.]
Probability

Stats: probability and chance. From what I remember of maths, probability (stats at uni) is something based on things which have happened several times (at least) so are more likely (not necessarily will) to happen in the future. Chance is something that might or might not happen.
Look not how he (Silva) will do it. How can you know what the man is capable of (except based on probability models). What we do know, he has worked wonders in the past (therefore a probability it can continue).
Broad performances
"His (Silva') teams have tended to win away from home, often at the bigger clubs, and to take pride in their fearlessness. Estoril handed Porto their first domestic home defeat in seven years (Everton need lots of help with winning away games, as at home we do much better)..."
Watford

"13 Premier League wins, Watford's boss is man of the moment for faltering clubs the middleweight miracle-man, oozing Euro-cool and bolt-on creativity, here to solve, and satisfy and set instantly in order."
"In the first eight games of the season Watford played some of their best football in years, with dominating performances against established Premier League sides coming from a club who just a few years ago were flirting with administration and third division football."
Hull

"Hull dug in, taking 21 points from 18 games...
"It's the 'details' with Silva." (Hull player)
Olympiacos

"..league title win with Olympiakos,...a record-breaking number of consecutive wins and pick up 85 points in total, as well as an away victory over Arsenal in the Champions League"
Sporting

"Silva brought Sporting their first trophy in seven years"<
Estoril (rather small club with limited players shoe string budget)
"..if you asked anyone involved in the recent history at Estoril...who was responsible whether it was 'players, staff (ie management team support) or fans..," he tells Sky Sports. 'It was Marco Silva...'
On Silva, he "'switched the whole thing around' upon being promoted to manage the club. From second division strugglers, Silva even took Estoril into Europe. 'His training was just so good,' Taylor tells Sky Sports. "He was tactically sound and very attentive to the details"
Conclusion

Niasse scored against Liverpool and Man United. That is a miracle for a man (who many expected him to leave football altogether) considering who has so bandy-legged that he made Forest Gump's gait look perfect. We can, therefore safely say that there is a probability he (Silva) can make players better based on what he has done at Estoril, Sporting, Olympiacos, Hull, and more recently, Watford (different class to Hull and other top Portuguese teams where the Premier League (relatively speaking) is considered a higher level (ie Silva wants to establish a good, professional reputation as good, solid top-rate manager in the Premier League).
Jay Wood
[BRZ]
60
Posted 07/06/2018 at 12:33:53
Gareth Clarke @ 42, re: your sneering post at Laurie.
Out of order. Like yourself, Laurie is simply offering his opinion. Unlike you in recent days, he is not writing reams and reams of Fantasy Football Crystal Ball Gazing, or being sniffy and petulant whenever his opinions and preferences are challenged in even the mildest way.
You are. Stop being so petulant and reign it in.
Ash Moore
61
Posted 07/06/2018 at 12:39:17
If Lookman, Tosun and Walcott are going to play together, then we need a really solid midfield, one that can both put the foot in and pass it a bit. In a 4-3-3 with those three guys on the field, it'd be mental to play Sigurdsson and Gana together. The opposition will compress and concede the free ball to Gana every single time.
Siggy not quick enough to join the break with our wingers, or to compensate when the team over-commits either. We'd also need Carvalho as Walcott and Lookman are both small guys for this level and, at set pieces, we'd get mullered.
Brent Stephens
62
Posted 07/06/2018 at 12:42:29
Anybody who watched Silva's sides wouldn't suddenly be surprised and excited about what he's saying. I can't wait for the new season now he's here and it's good to see everybody backing him here.
Steve Ferns
63
Posted 07/06/2018 at 12:43:16
John, all good stuff, but if you check back, you will see that, at Hull, Silva was excellent at home and terrible away. He was perfect at home for Olympiacos in the league, though his best result was away at Arsenal in the Champions League.
He was better at home for Sporting and Estoril. His counter-attacking tactics work very well away, but he does have a good home record and this should continue at Goodison Park with the crowd behind him.
Raymond Fox
65
Posted 07/06/2018 at 12:47:33
Good post, John.
If we concede that Silva is a quality coach – which I remain to be convinced of – I still go back to the point that, no matter how good the jockey is, if the horse is not good enough, your juiced!
Our squad has not measured up to a top 6 side in years and we are still a long way off them.
Steve Ferns
66
Posted 07/06/2018 at 12:52:59
Raymond, so you want our squad "juiced"? Are you advocating we get in someone like Dr Ferrari? I hear he's banned from cycling now, so maybe he can replicate his chemical work for our first team?
David Hallwood
68
Posted 07/06/2018 at 13:23:21
Alan McGuffog
69
Posted 07/06/2018 at 13:26:33
Chris in New Zealand... nice one. (#54 & #46)?
Toots Hibbert... any relation, I wonder?
Brian Harrison
70
Posted 07/06/2018 at 13:28:57
Both Guardiola and Klopp play this system and as you will see their front 3 are all very quick players. Klopp plays a more counter attacking game than Guardiola primarily because Klopp doesn't have the quality in midfield that Guardiola has.
So, to begin with, I think Silva will play more like Klopp's side; if he does, he will need a pacy centre-forward to play with two pacy wingers. That being the case, I can't see how Tosun can fit into this system.
So the ideal man to lead the line would be Jamie Vardy; now whether he would fancy a move or if Leicester would let him go, I don't know. But I would love to see him with Walcott and Lookman on either side of him.
Rob B Williams
71
Posted 07/06/2018 at 13:34:47
Welcome to the 'STEVE FERNS SHOW'
Whatever you want to know, if you even think you may know, or you know you know, this man will certainly have an answer.
His footballing knowledge is supreme – on a par with Jim White, Moshiri's chosen mouthpiece – this man could easily be our new manager's mouthpiece.
I for one am up to there reading his pontifications.
Sorry, mate, you could be a really nice fellow, you could even know a bit about the law, and perhaps who knows (Oh sorry, you know) something about the finer arts of the beautiful game.
Raymond Fox
72
Posted 07/06/2018 at 13:40:48
Steve (#66), Not really but it might help!
You like Silva and I hope you're correct, but he is ultimately limited by the players' abilities.
I keep labouring the obvious point that we need better players, but the hard part is getting them to sign for us. We have not succeeded yet.
Dennis Stevens
74
Posted 07/06/2018 at 13:51:52
Thanks for sharing, Rob B.
Jer Kiernan
75
Posted 07/06/2018 at 13:52:53
Well, if he can get Morgan Sschneiderlin to give a crap about pulling on the jersey, he must be Jesus Christ himself,... I for one would welcome the Second Coming... :)
Brian Williams
76
Posted 07/06/2018 at 13:53:51
Rob (#71).
Hey Rob (no relation) –it's my job to give Mr Ferns stick, thank you very much.
And he knows nowt about the law – he's a solicitor. I have him on a retainer. ;-)
John G Davies
77
Posted 07/06/2018 at 13:54:53
Rob B.
Can you share your analysis of Silva's tactical set-up please.
Lev Vellene
78
Posted 07/06/2018 at 14:14:14
Trust Everton to ruin my summer!
A month ago, I was praying for an extra month to be added to the summer, so that the start of next season would not come so painfully soon... Now, the summer seems much too long already!
Ahh, I never learn. It's the hope that kills you. Every season.
Minik Hansen
79
Posted 07/06/2018 at 14:54:36
As for now, with 4-3-3, I'd go with:
Pickford
Coleman Jagielka Keane Baines
Davies Gana Sigurdsson
Walcott Tosun Lookman
Two quick players on each flank to help Cenk being occupied in front of the goal, and Sigurdsson to cut in, while Gana gives Baines extra cover.
Man, I'm looking forward even to the first pre-season friendly against any lower league opposition. I'm so tired of that two central defensive midfielder formation under Martinez, Koeman & Allardyce.
John Hughes
80
Posted 07/06/2018 at 15:03:28
Blimey Brian (#76). If Steve is a solicitor then some poor bastards are subsidising his Everton Pontification role to the tune of around £400 per hour!
Let's hope they're Reds.
Gareth Clark
81
Posted 07/06/2018 at 15:10:14
Jay (#60),
If you haven't noticed - most people are doing "fantasy" as you call it. In my opinion, it is not as make believe as you'd believe. It is what the manager & DoF will be doing – so why can I not do the same?
My response may have been negative but constructive criticism is a part of life. Deal with it.
Unfortunately selling Gueye & saying Sigurdsson won't fit the system or be sold, is simply unrealistic & more "fantasy" than anything I have ever posted, as you love to say.
What's next? Sell Pickford to the RedShite?
All are entitled to their opinion – but, if it's uninformed & unrealistic, then I will say so. That's how life works.
Jer Kiernan
82
Posted 07/06/2018 at 15:28:01
Gareth @81
"What's next? Sell Pickford to the RedShite?"
Don't say that too loud... Kenwright is still here.
Christy Ring
83
Posted 07/06/2018 at 16:18:53
Silva likes a 4-3-3, and pressurise our opponents?
A fully fit McCarthy has to be an option in midfield, that's his game.
Nicholas Ryan
84
Posted 07/06/2018 at 16:36:05
Rob B Williams; So glad to hear you managed to escape from the Mandarin Oriental Hotel fire in London yesterday; .... what?; ... Oh, sorry; . ...Robbie Williams!
David Barks
85
Posted 07/06/2018 at 16:47:45
Christy,
The problem is that a fully fit McCarthy doesn't exist. He's just permanently injured, sadly; we need to move on.
Gareth Clark
86
Posted 07/06/2018 at 16:58:14
Thomas Delaney has just been snapped up by Dortmund... An opportunity missed & one I feel we will highly regret!
Gavin Johnson
87
Posted 07/06/2018 at 17:13:17
l think playing 4-3-3 is quite an exciting proposition if we play Lookman, Tosun and Walcott, with Sigurdsson, Gana and Carvalho (assuming that's who we buy) playing behind.
Gareth Clark
88
Posted 07/06/2018 at 17:14:22
I worry about Carvalho's lack of pace & mobility – but his passing and reading of the game is very good. Along with his physicality...
I guess we will see.
Jay Wood
[BRZ]
89
Posted 07/06/2018 at 17:14:33
Gareth @ 81.
You – and others – can play the Fantasy Football Crystal Ball Gazing as much as you like. I personally find it dull, but I most certainly did not and will not tell anyone NOT to post their own meanderings. I did not take issue with your 'right' to post at all.
What I specifically called you up on was your post @ 42 which (IMO) unnecessarily and rather pompously simply belittled a fellow TWer for...doing exactly what you yourself wish to engage in.
I haven't seen anyone – anyone at all – denying you that right. What I have seen is you getting the hump because others are offering alternative Fantasy Football lists that conflict with your own.
Your post to Laurie was totally absent of 'constructive criticism' as you now wish to present it. In writing it, you clearly elevate yourself as one possessing superior tactical knowledge than Laurie, which is certainly not indisputably demonstrated in some of your simplistic and petulant posts in the last couple of days.
Laurie certainly replied with a great deal more grace than you merited.
You further compound things by now fabricating an absurd scenario to convince yourself you have presented a knock-down argument: "What's next? Sell Pickford to the RedShite?" followed by "All entitled to your opinion - but if it's uninformed & unrealistic, then I will say so. That's how life works."
Pure gibberish.
Not happy with my negative criticism? Take your own counsel, Gareth: It's part of life. Deal with it.
Jay Harris
90
Posted 07/06/2018 at 17:20:54
Gareth, passing and reading a game gets distinctly harder in a fast and intimidating League where you are closed down the minute you get the ball.
I would much sooner have pace and technical ability to avoid losing the ball.
Arguably Schneiderlin's passing and reading of the game are his assets but mobility and pace are not.
I think Gueye and Davies are capable of so much more under Silva as there will be more forward availability for a pass.
Brian Williams
91
Posted 07/06/2018 at 17:38:54
Bring back the posting limit, I say! :-0
Steavey Buckley
92
Posted 07/06/2018 at 17:44:30
What matters the most is the quality of players.
Jay Wood
[BRZ]
93
Posted 07/06/2018 at 17:59:31
As the most active thread currently, this (unrelated) breaking news story is an interesting one to keep an eye on - Amazon UK have won the broadcasting rights to 20 live Premier League games for the 2019-20 season.
For those still predicting the Premier League cash cow media deal has been sucked dry and the bubble is about to burst, this deal suggests otherwise. Plenty of wriggle room and more 'zeros' to be added to existing TV deals yet, methinks.
I would think Moshiri has calculated for all this in his purchasing of and long-term planning for the club.
Rob B Williams
94
Posted 07/06/2018 at 18:07:52
JGD 77 "Can you share your analysis of Silva's tactical set-up please."
You will of course realise that I do not have the in-depth knowledge of 'Our Learned Friend" but, for what it's worth as a long-standing (Well it used to be long-standing... but it's sitting now) paid-up member of the Long-Suffering Blues, I will try and decipher the subliminal messages that OLF is trying to get over and that I fail to understand.
You will of course understand that I know nothing at all about football or mining for gold, silva or any base metal!
As I see it 4-4-2, 4-3-3, 3-4-2-1, 4-2-4, 5-3-2, 6-0-4.... whatever system OLF advocates, all these systems only add up to 10. And this is what I find difficult to understand – aren't we supposed to have 11 in the team, or am I missing a trick somewhere?
Now if OLF was talking about Cheddar, Caerphilly, Cheshire, Wensleydale etc etc then I do know quite a bit about Cheese (Soft - Hard or otherwise). Bye.

Dermot Byrne
95
Posted 07/06/2018 at 18:10:50
Agree Brian...yawn!
😘
Gareth Clark
96
Posted 07/06/2018 at 18:19:00
Jay Wood -
I find your comments extremely hippocrytical. I have seen you belittle and talk down to people many times on here – as you are now, by mocking my posts as simplistic and petulant.
Unfortunately, there is such a thing as being better informed and more knowledgeable than someone else. If you don't have the knowledge and haven't done the research, you simply shouldn't be commenting on something.
If my post was offensive to Laurie, I apologize to them. It was written in frustration to many poorly informed responses.
I can confidently say that my football knowledge is much deeper than most on here. As much as that might offend you – you seem to get uncomfortable when someone doesn't submit to your self-felt superiority. Laurie didn't not take offense and admitted to not being a genius.
In summary, I find your attitude and need to get involved in something that does not involve you as "dull" and I couldn't really be bothered.
I am completely open to listen to and debate opinions, for or against mine; however, what is important, is that these opinions need to come from a well-informed foundation.
I love TW & the debates that occur – but if you aren't informed, get informed.
Jay Wood
[BRZ]
97
Posted 07/06/2018 at 18:34:54
Fundamental difference between me and thee, Gareth. I have never, ever claimed to be 'better informed and more knowledgeable than someone else' as you boldly state about yourself.
I also take a more egalitarian and liberal attitude on TW posting. I actively canvassed for it with the editors: everything goes, as far as I'm concerned. With the one caveat: for each individual to take responsibility for their own words, opinions and their consequences. That is, how people react to them.
That is pretty much diametrically opposite to your again somewhat pompous declaration that "if you don't have the knowledge and haven't done the research – you simply shouldn't be commenting on something." Big presumption on your part on:
1) the quality of your own research and how your present or defend it
2) the implication yet again that other posters aren't as informed or as diligent in their research as your good self
I can't recall many (if anyone) being so narcissistic as you to claim about yourself: "I can confidently say that my football knowledge is much deeper than most on here."
It doesn't 'offend' me, as your claim. But it does make me giggle.
Carry on 'humphing'.
John G Davies
98
Posted 07/06/2018 at 18:39:11
Rob B,
Thanks for getting back to me and confirming my initial thoughts.
Cheers
Neil Wood
99
Posted 07/06/2018 at 18:41:42
Jay Wood & Gareth. I'm more superb and brilliant and fantastic and overwhelmingly amazing and knowledgeable than both of you!! Ha.
Get a grip, guys... come on, we are all Blues; let's not let any of this nonsense change that.
Kiss and make up or I will lay my vengeance (made up of my superior knowledge) upon both of you!
Martin Berry
100
Posted 07/06/2018 at 18:43:26
4-3-3 hmm... didn't someone called Sir Alf adopt that system and won the World Cup?
Maybe elsewhere it may be used to good effect to gain some Silva ware?
Let's be patient and see what transpires.
Peter Howard
101
Posted 07/06/2018 at 18:50:47
Gareth
Does being "hippocrytical" mean one doesn't like horses?
Kieran Kinsella
102
Posted 07/06/2018 at 19:10:28
You are Number 6.... "I am not a number, I am a free man."
Please help me understand what a Number 6 is? Also a Number 8? a 10? Back in the day I understood the following to be roughly the case:
1. Fat bloke goalie
2. RB
3. LB
4. RCB
5. LCB
6. LCM
7. RW
8. RCM
9. Tall striker
10. Short striker
11. LW
Martinez talked a lot about Barkley being an 8 or a 10. Now we have Silva on the 6 kick. By the sound of it, seems like his Number 6 is like a sweeper almost except one who sits in front of the CBs instead of behind. So then what do the 8 and 10 do? In this style do you have two centralish midfielders either side of this six? Up top is it one striker, two wingers? Or is more narrow with two strikers, a "10" just behind, with the other deeper midfielders providing width either side of the 6?
I don't know what any of it means.
Brian Williams
103
Posted 07/06/2018 at 19:26:20
Kieran. A number 6 is where you have to run to the loo 3 times in quick succession for a number 2 after a dodgy curry the night before.
Darren Hind
104
Posted 07/06/2018 at 19:28:14
Colin @31,
On the contrary, Colin, I am one of the easiest to please. I don't demand league titles, cups and European Glory. I simply want a team to be proud of, for the soul of this club to be restored... for a manager who wants to win.
There are two things I have come to despise. Miserable twat managers who serve up cowardly football... and clappers of the happy variety who have applauded them. Both have all but killed this club.
Managing Everton comes with a far greater level of responsibility. It's easy to attack when in charge of an already relegated Hull and a Happy-to-be-here Watford. Silva is about to get his nerve and philosophy tested like it's never been tested before. I like what he says; it's a refreshing change to the last two morons, but that's the easy part. He now has to put it into practice.
What is making me uneasy is the level the happy clapping has already reached. Endless ill-informed tactics pushed forward and applauded by people who clearly have no idea what they are talking about. Imaginary goals and formations made by players who are unlikely to even be selected. The assumption that the opposition coaches will ignore your weaknesses and very obligingly play to your strengths... football is played against determined and often superior players, not traffic cones. Some of this stuff is toe-curling.
The suggestion that I wasn't watching Silva's tactics in the past made me smile though.
Let me tell you: I was watching. I saw Silva's Watford side (during their miraculous run) concede:
3 to Liverpool.
6 to ManCity
4 to Chelsea
4 to Man Utd
And 3 to the shell-shocked rabble David Unsworth was forced to field...
Worrying when you realise how short a time he was there. Even more worrying is what I saw during what has also been described as a "miraculous" run, his Hull side concede - again in a short spell
3 against Leicester
4 Against a Koeman side renowned for their zombie football
3 against a struggling City
3 Against Mark Hughes's Stoke
4 against a Palace side in what was effectively a relegation shoot-out
7 against Spurs.
I'm backing this manager to do better with better players, because he says he wants to play football with aggression, ambition and passion. but please don't tell me I wasn't looking. I was looking more closely than you and whilst I look forward to seeing his teams play, I do so with my eyes wide open.
Hugh Jenkins
105
Posted 07/06/2018 at 19:30:18
Kieran (#102)
Going further back the numbers and positions were:-
1. Goalkeeper
2. Right Back
3. Left Back
4. Right Half
5. Centre Half
6. Left Half
7. Right Wing
8. Inside Right
9. Centre Forward
10. Inside Left
11 Left Wing.
It all changed in 1966 with Sir Alf's "Wingless Wonders".
Kieran Kinsella
106
Posted 07/06/2018 at 19:40:52
Brian Williams (#103),
That should suit Morgan then.
Hugh,
Simpler days back then. :( and a better Everton team too.
John McFarlane Snr
107
Posted 07/06/2018 at 19:42:04
Hi Kieran [102] I made a similar point on another thread, (When Strangers Meet)
The modern game does not feature centreforwards, they have been jettisoned to accommodate 'strikers'; the wing halves and inside forwards have suffered the same fate, losing out to 'midfielders', while the poor old full-backs and wingers have an identity crisis, they have been placed between two stools, and are described as 'wingbacks'.
I have no doubt that you're aware most Number 10s display anything but a Number 10... and it's often said that football is a simple game; I'm not convinced.
Rob B Williams
108
Posted 07/06/2018 at 19:43:02
Darren & Hugh (#104 &105). Thumbs up, boys.

Sandra Bowen
110
Posted 07/06/2018 at 20:08:40
Darren @ 104. Don't often agree with all of what you say but this post is bang on, my friend.
Forget all the tactical nonsense spouted on here by the experts plucking articles from 15-year-old internet tacticians who've probably never played to any decent level at all. I appreciate people doing their research and everyone's opinions... but please, let's not pretend that any of us are experts on Mr Silva as there is no way that we have watched that much of his teams over the last few years.
As much as I love football, I just find it impossible that many football fans would tune in to watch Hull or Watford anymore than a handful of times. I wish him every success and, like you, I want a team with the right identity to give us a side to be proud of... but I will make my own mind up once I see his team play.
Amit Vithlani
111
Posted 07/06/2018 at 20:36:10
The Amazon entry into Premier League broadcasting rights, whilst intriguing, does not yet mean the broadcasting gravy train will continue to grow at historic levels. It appears too early to judge.
The Premier League appears to have raised less cash than they were hoping for and the Amazon deal is being described as a potential "loss leader".
My opinion is that Moshiri is betting on the Stadium as the more likely avenue of delivering a big chunk of returns on his investment.
Future broadcasting revenue growth appears to have uncertainty and brings with it inflation in wages and fees as the bounty is shared across the board.
Nonetheless, our dependency on broadcasting revenues needs to reduce.
Eric Paul
112
Posted 07/06/2018 at 20:43:06
Steve @ 55,
A good coach will try to do something different, the ones sticking to the manual soon get found out. Your tactics are all very well but they're no secret.
Good shout on Gueye – a grafter but very limited
Denis Richardson
113
Posted 07/06/2018 at 20:49:59
Well, he's certainly saying the right things so can fault that. However, I made the mistake of being super happy when we appointed Koeman and that didn't work out (all be it I think he was destined to fail after Rooney was signed and we started last season without a striker).
Will eagerly await the transfer window and see which 12 players get shipped out and, more importantly, which get shipped in, then see how next season progresses. We have so much deadwood in the 1st team squad it really is some sort of achievement how we managed to collect so many players on massive wages who would struggle to look good in a Championship side. We can ship out at least half-a-dozen and the squad would actually improve!
Overall not holding my breath given the false dawns over the last 5 years with 3 managers and 3 seasons that were totally forgettable wastes of time.
I hope Kenwright's started packing.
Steve Ferns
114
Posted 07/06/2018 at 20:54:16
Sandra, you can watch the Spanish league and the Dutch league on Sky. You can watch the French, Italian and Portuguese leagues on BT. You can watch others on betting apps. And you can always find an internet stream.
Why wouldn't our Brazilian friend be a Sporting fan and watch every game?
Like football and get fed up Everton letting you down? Why not have a foreign side to cheer on?
As for watching Silva's games have a look how much is on YouTube from Estoril, Sporting and Olympaicos. As for Hull and Watford, you can watch extended highlights of every single one of his games on the clubs' websites, just like you can of our own. Just because you might think that's not your idea of fun, others might like to do so.
This thread is entitled 4-3-3 — surely of all the threads to discuss tactics, it's this one. It's typical of English fans though. No-one is interested in tactics;it's always sell the player, buy a new one. Talk to Portuguese, Italians or Germans and they always want to discuss systems and formations. The English just don't want to ever discuss the technical aspect of the game, which is why you have idiots like Merson, Thompson, and Nicholas prominently on TV.
Ian Burns
115
Posted 07/06/2018 at 21:31:55
Sandra (#110) – I understand your frustration/comments about some posters expounding on their tactical knowledge of the game. However, I think your comment – "Forget all the tactical nonsense spouted on here by the experts plucking articles from 15-year-old internet tacticians who've probably never played to any decent level at all" – wholly unfair and uncalled for.
Whether you like it or not, there are some talented and knowledgeable posters on TW and whose knowledge of the game is far more than my own understanding for example. Their contributions I often find most valuable in helping me understand some of the manager's thinking (or lack of it in the case of Allardyce).
It also encourages discussion amongst those who are in fact interested in such detail and you are not obliged to waste your own time in trawling through it all.
Having said the above, all I am saying is give these knowledgeable guys a break and allow them the platform to express their views.
Brent Stephens
116
Posted 07/06/2018 at 21:33:11
Ian (#115) – my sentiments exactly. Have a G & T on me.
Mike Gaynes
117
Posted 07/06/2018 at 21:42:32
Well said, Ian. If it seems like someone is going on a bit long, scrolling is your friend.
Off topic, what a pleasure to see our old friend Oviedo moving so well against England. I've always felt that if it hadn't been for the injury (so soon after that glorious gamewinner at Old Trafford), we'd never have needed a conversation about a left-back deputy / replacement for Bainesy. We had the guy.
Eric Paul
118
Posted 07/06/2018 at 21:45:16
Knowledgable guys?
I've got a pen in my pocket, it doesn't make me a writer...
Dennis Stevens
119
Posted 07/06/2018 at 21:57:11
No Eric, you'd need to put the pen in your hand!
Tony Everan
120
Posted 07/06/2018 at 22:14:34
Is it a crime to post feelings from the gut? From instinct? Ideas and notions formed from a lifetime of pleasure and torture watching our beloved team?
It is enlightening to read interpretations of tactics and formations from knowledgeable posters, I enjoy the majority of them. The forum is richer and more interesting for it. Such posters should take a bow.
But the forum is more than just that for me. It is a vent. A smoking volcano of blue passion. For me, whoever posts, posts with a magma chamber of love for Everton.
A bit of a ramble, but it's just a quiet call for respect and empathy to all the Blue-to-the-core diehards on here, regardless of the intellectual complexity of their posts.
Tony Abrahams
121
Posted 07/06/2018 at 22:15:34
But even if you was, Eric, not everyone would like what you wrote! It's the way of the world, mate, because we all like different things!
Darren showed us how many goals Silva's teams are capable of conceding, and I don't care how brave his football is because, if Everton start conceding that many, then he won't last long because it just won't be acceptable.
For this to change, I hope Tommy is right and Everton are going to play what he calls the 'retreat' press. It's alright getting after teams but, unless you have got the players to get it right, then the pitch becomes too big, and your team becomes to stretched, and easy to play against.
I don't care how brave you are, because intelligence is what this game is all about, and even though it's refreshing to hear, I'm just hoping that this new manager uses his head more than his heart, especially with the squad of players we currently have.

Dave Abrahams
122
Posted 07/06/2018 at 22:25:33
Tony (#121),
"But even if you was, Eric" — Tony, I paid £10,000 a year for your private education, and that's what I got for my money.
Worked my fingers to the bone... Jesus wept.
Jay Wood
[BRZ]
123
Posted 07/06/2018 at 22:33:52
Amit @ 111.
The Amazon entry into Premier League broadcasting rights is intriguing, as you say. It is the first toe-dip into a huge new (and growing) market which taps into the hand-held smart phone and tablet generation whose lives revolve around such technology.
There are plenty who no longer sit on the sofa in front of the telly to watch their favourite soap, film or live sports event, but rather do so remotely, far from the comforts of home, on the above-mentioned, oft times on the Amazon Prime platform the Premier League deal is linked to.
When Jeff Bezos first launched Amazon in 1995 as a website that only sold books, he already had the vision to be the dominant player in e-Commerce, basically selling everything.
Both Amazon's US and International operations continue to see its yearly revenues grow exponentially – now up to around $180 billioncompared to 'just' $15 billion ten years ago.
Bezos can well afford this 'loss leader', but I doubt it will be that. In the same way Sky and BT attract subscribers to their channels with their sports packages, Bezos knows by comparison subscribing to Amazon Prime is much cheaper... and he will be able to put individually targeted offer upon offer upon offer before every single subscriber. And they will buy through the secure and convenient Amazon store.
This particular deal is for a very limited period and number of games – shrewdly around the Christmas period – in the UK only.
For sure, Bezos and his bean counters will be running the numbers and analyzing the worth of the deal to Amazon. If favourable, they will extrapolate those numbers to other regions; other companies will do similar analysis and that is where the bidding war commences, potentially out-dwarfing the traditional TV media contracts.
That, in my opinion, is a more likely outcome and why the Premier League media deal will long continue to be the primary income source for most clubs.
I doubt any stadium construct Moshiri undertakes, no matter how well-utilised 24-7/365, will ever come close to making a dent in the monies Everton receives from media deals.
Quite agree with you our dependency on broadcasting revenues alone needs 'supplemented', rather than reduced.
But my guess is anyone interested in buying out a Premier League (or even Championship) club these days is primarily interested in the returns they can generate from the global media deals.
Ian Burns
124
Posted 07/06/2018 at 22:35:14
Dave (#122) – absolutely brilliant!!! – I am sending this to my kids in the morning!!
Tony, go and sit on the naughty step!!
Tony Abrahams
125
Posted 07/06/2018 at 22:39:28
Don't worry, Dave, I will give you it all back (in 10-pence pieces) once I win the lottery.
Sandra Bowen
126
Posted 07/06/2018 at 22:44:05
As I said, I really do respect all opinions and appreciate everyone's posts. I wouldn't be on ToffeeWeb as much as I am if I didn't. I guess I'm just a bit bored of all the current bombardment of tactical nous and that's my fault for reading it, not those who post it so apologies on that front.
If you, Steve, have really managed to find the time to watch old Estoril games, then I do salute you, I really do. I haven't the time to do so but well done you. I'll just bide my time and wait for the outcome of how he moulds his Everton side and take my own opinion from that.
And yes, I've got Sky, BT and even the Internet. I actually think I watch too much Footie as it is but thanks for the tip on how to keep up.
Steve Ferns
127
Posted 07/06/2018 at 22:55:07
Tony, let's give some balance though. Silva's Hull was whacked for 3 or more, 3 times in 18 league games (2 of Darren's games were cup games). Phelan's Hull was whacked for 3 or more, 8 times in 20 league games.
Mazzarri was whacked for 3 or more goals, 9 times in 38 games with Watford the season before. Silva was whacked for 3 or more, 7 times in 24 league games. Javi Garcia was whacked for 3 or more, 2 times in 14 games.
So, yes it's a concern that Silva has conceded so many goals in the Premier League (note it's not something that happened elsewhere though), but Phelan was on the end of far more heavy defeats in his tenure at Hull so if anything his record there shows an improvement.
His record of conceding 3 or more in 25% of his league games at Watford, needs vast improvements. Even if you can say they conceded 3 or more, 9 times in both seasons and so they obviously had issues in defence. Clearly, Silva was unable to rectify those issues.
With Everton having issues in defence anyway, Silva needs to show he can still build a good defence, and by loosing the reins to increase our attacking capabilities (from what Allardyce had done with the side) that he's not going to leave a defence that was so badly exposed time and again under Koeman and Usworth.
Steve Ferns
128
Posted 07/06/2018 at 22:59:37
Not Estoril or Olympiacos Sandra. Not until I did some research for my article. But I did watch the majority of Sporting games, in the season they were played, as they are my Portuguese side, and Portugal is the league I watch the most outside of England these days, due to family ties to the country.
Jay Wood
[BRZ]
129
Posted 07/06/2018 at 23:06:17
Mike @ 117.
I agree with you on Oviedo. I'm delighted for the lad that he is going to this World Cup, having so cruelly missed out in Brazil 2014. I hope he gets a game to tell his grandkids he played in the World Cup.
Another 'what might have been'. Because, like you, I thought he was the ready-made replacement for Baines, but for his leg break against... Stevenage in the cup, wasn't it?
Another memory from the incident was how the then 18-year-old John Stones - stayed with him all the time as the medics prepared to take Oviedo off, with senior pros standing off. Left a lasting impression for me about the calibre and maturity of Stones, that did.
Compare that to this season when James McCarthy suffered a similar injury and not one of his team mates approached him. I've witnessed something similar on the pitch and I appreciate it is stomach turning. Maybe the medics kept the players at a distance, but I thought it pretty gutless at the time.
James Flynn
130
Posted 07/06/2018 at 23:07:07
No formation anyone comes up with is going to work with Schneiderlin. Whatever good he did at Southampton is a few years and two teams late. We only have to look at how Gueye fared paired with Barry and then with Morgan.
I'd prefer Carvalho in and Schneiderlin out. Even if Carvalho doesn't work out, right now I'd take that chance rather than retaining this paycheck-thief.
He's hinted in the press at wanting to return to France to play. His newly-wed Mrs is also from there. Hopefully she will keep giving him an earful about how she hates living in England amongst its beer-guzzling Northern barbarians.
Je suis d'accord, Camille! France mérite Mr and Mrs Schneiderlin return.
Sight unseen, I'd take Carvalho over this stiff, wherever him and his wife wind up.
Eddie Dunn
131
Posted 07/06/2018 at 23:20:09
Mike and Jay, so good to hear you both supporting the unlucky Oviedo. What a lovely lad he is, and let's hope that the bloke has a good World Cup. Such a shame about his injury... who knows what might have been, but that goal at Old Trafford will live long in the memory.
Thanks, Bryan.
John Wilson
132
Posted 07/06/2018 at 23:22:36
Steve Ferns,
You raise a good point about Watford and Hull's home goals. Is this because these teams are weak defensively? Peter Reid when being interviewed by Baz from Toffee TV said, 'Watford do really well in games for about an hour then something happens, he says, 'and they just lose it.'
NB: I only have 4 responses left as you know.
Andy Crooks
133
Posted 07/06/2018 at 23:27:46
Gareth @ 96. Wow! Any chance you could provide some links where you demonstrate your football knowledge? It appears to be remarkably well hidden.
Jamie Crowley
134
Posted 07/06/2018 at 23:34:57
Why I love ToffeeWeb:
"But even if you was, Eric" – Tony I paid £10,000 a year for your private education, and that's what I got for my money. Worked my fingers to the bone, Jesus wept.

And
Hopefully she will keep giving him an earful about how she hates living in England amongst its beer-guzzling Northern barbarians.
Some of the posts on here are simply gold.

Steve Ferns
135
Posted 07/06/2018 at 23:38:28
Schneiderlin's wife is French, but I'm sure I read she was already living here before she met him (edit see link below). I think it was something like she worked in a store in the Trafford Centre that he frequented.
Another factor for him, those cryptic messages on Instagram about a new chapter, well they just had a child. So he either stays here to raise the baby for the next couple of years at least, or he moves back south or back to France.
http://www.dailymail.co.uk/news/article-3205826/Man-U-star-Morgan-Schneiderlin-s-girlfriend-10-hour-shop-girl.html
Paul McGinty
136
Posted 08/06/2018 at 00:41:06
Chris (NZ), referencing the great Toots Hibbert on ToffeeWeb. Nice One, I don't think you meant 54-46 as the new system; maybe Pressure Drop, hopefully Hard to Handle, and definitely not, please, Tears to Remember.
Mike Gaynes
137
Posted 08/06/2018 at 02:14:39
Jay (#129). I remember that about Stones and Oviedo. And because it happened right in a group of players, there were teammates all around him in seconds. I must admit my memory isn't clear, however, because I was watching through a welter of tears.
What I seem to recall about Macca's injury is that there wasn't anybody close except the keeper (Stekelenburg, maybe?) because everyone else had gone upfield. I can't recall whether it looked like they had abandoned him. I do remember, however, the West Brom player being distraught. Seeing an injury like that up close is truly distressing.
Eddie (#131), I had a special feeling for Oviedo because I had spotted him a year before we signed him, ripping up the US in an international. And I was absolutely over the moon when Moyes signed him -- always fantasized that he'd seen my posts about Oviedo on TW.
And, I must admit, that winner at Old Trafford was one of my greatest thrills.
Laurie Hartley
138
Posted 08/06/2018 at 03:33:36
Jay and Gareth (various posts) – I just want to set the record straight on a couple of things.
I didn't feel belittled by Gareth's response to my post – if I had, I would be responding differently. So Jay thanks for putting a word in, and Gareth no need for an apology. Let it go – as you are both aware I am not a tactical genius.
What I will say is in my 69 years (25 years in management of contracting businesses in the building game), I have learnt a little bit about people.
To build a successful team you need the right mix of individuals – some need their own space to work in and some need to work in a group. They are the environments they excel in as based on their individual skill sets.
If you get the right mix of personalities, and all the skills the business requires, you are on a winner provided that they all realise their individual success is dependent on the overall performance of the team. Regardless of their role, they all have to receive reward and recognition and it has to be fair. Put the wrong individual in the group, regardless of talent, and there will be disruption and a dropping off in performance.
I know this because the business I managed was bought for AUD6M when it was on its knees and sold for AUD124M 20 years later. I was appointed by them as one half of a two-man senior executive team. Although we were very different personalities our skill sets were a perfect match and we found a way to work together.
So, putting the tactics aside, which I have done, and based on my assertions above about successful teams, what I would like to know is this:-
1. Does anyone agree with me that our most glaring need is a dominant left-footed centre-half. If not why not?
2. Does anyone agree with me that Rooney needs to be the sold. If not why not?
3. Does anyone think my starting eleven is any good?
4. Does anyone see a case for selling Gueye.
Dave (#122) – Tony must have been sagging school to get to the night games like I did in the sixties. My most memorable sagging expedition was to Hillsborough in an FA Cup replay which we won 3-0 after scoring a last-minute equaliser (Fred Pickering?) at Goodison.
One thing you got right and it is plain for all to see on here is that you love him and he loves you and that is something you should both be proud of (no blushes, fellas).
In conclusion – as I need some help with tactics ;) I am appointing Tony Abrahams as my tactical and technical adviser from now on. He might not be very good at grammar but "by these ten finger bones" he knows about football.
Laurie Hartley
140
Posted 08/06/2018 at 05:19:32
Couldn't help it - Tony, I hope you have accepted my appointment.
If so, and because of your comment @ post 121 - "then the pitch becomes too big, and your team becomes to stretched", I would like to know what the tactical implications, if any, there are on playing on different size pitches.
Goodison at 6800 square metres is 340 square metres smaller than say the Emirates which is 7,140 m². A difference of nearly 6 square metres per outfield player.
Does the size of the pitch make any difference?
Do your players have to be fitter to play on the bigger pitches?
If so, can you stick to a rigid 4-3-3 system?
When you are playing on a different pitch size can you always use the same starting eleven?
Anything else?
Mike Gaynes
141
Posted 08/06/2018 at 05:52:03
Laurie, since you asked:
1. No.
2. Yes.
3. Somewhat.
4. No, no, absolutely not.
Regarding #1, I have never believed that it matters one iota whether a CB is left-footed or right-footed. I've seen far too many examples of great CB pairings where both were right-footed. Plus CBs frequently swap positions during play, so it doesn't really matter, and most CBs can use either foot for the simple clearing passes the position requires.
Regarding #3, I never again want to see an alignment that doesn't include Siggy in his proper #10 position. And I don't think that Davies, at 19, yet brings enough attacking skills and composure to be a consistent starter in a 4-3-3.
And Gueye must be a part of this side. He's the only player we have who can consistently win the ball, and he's one of the best in the world at it. Plus he plays with nonstop passion and joy, and this club needs that too. And hey, it would appear that he may actually have learned to shoot.
John G Davies
142
Posted 08/06/2018 at 06:08:50
Unfair criticism of Steve Ferns in my opinion. He clearly has a deep knowledge of football tactics. His in-depth posts are well worth a read if you have any interest beyond thinking passion and fight is all that's required for a team to achieve success.
Keep them coming, Steve.
Laurie Hartley
143
Posted 08/06/2018 at 06:26:43
Thanks Mike. A good and even-handed response.
By way of clarity – if anywhere I have come across as wanting to sell Sigurdsson, I don't. After Pickford he would be my first player on the team sheet.
On the left-footer; I have got a fixation on this. Permit me to tell you why.
I wasn't a very good footballer but was quite good at positioning and tackling so I usually started in a defensive position. I always found it harder to tackle with my preferred right foot when my opponent was heading down my left side so I always used to try to show them the outside. I would think this would be the same for a left-footer?
For example, against West Ham, Arnautovic turned Kean on his left and left him for dead (and scored). Also, I think this is how Jagielka damaged his knee – tackling with his right foot on his left-hand side.
Defensively over the past 15 years we have always been at our best with a "dominant" left-footer as the left-sided centre-half. Lescott and Distin are the stand out examples but I also have a sneaky suspicion that Stubbs was left footed. They were all most definitely big strong units and "dominance" is one attribute I am sure of that this team is short on.

Gareth Clark
144
Posted 08/06/2018 at 07:19:52
Laurie #138
Thank you for your cool headed & understanding response.
I 100% agree with you that a lot of success will depend on personalities, team chemistry & morale, and attitude. Synergy is the word that best describes it.
#1 is the most important point for me – I agree with Mike #141. There are too many examples of CB pairings both Right Footed to say we "need" a left footer. However, that assumption being, the right footer is comfortable with both feet – and as you say, is able to tackle on both sides. That exact factor, is why Keane struggles so much at times – especially on the left side.
So I think it definitely wouldn't hurt having a dominant left footed CB. The likes of Funes Mori and many other left footers, is that they aren't that dominant.
Mawson would be the best option – left-footed, physical, good on the ball, eye for goal. Plus he has that all-important personality & attitude that you mentioned.
There might be a bit of competition for him – but if we act early & make him aware of the fact he will be a starter for us, whereas he'll be a squad player for Spurs and alike – I think he is very gettable. Throw in Williams back to Swansea – to sweeten the deal.

Getting back to your questions:
1. Maybe
2. Yes - definitely
3. No
4. Definitely not
Hugh Jenkins
145
Posted 08/06/2018 at 07:27:13
Jay (#123),
Very interesting points you raise about the move from traditional viewing media to "streaming".
Another aspect of this is that the "new" type of customer wants to be entertained and probably by "gaming" standards.
So, the day of the 0-0 draw might well be over from an entertainment viewpoint and the day of the 4-3 win (or loss), is in the ascendancy.
I suppose the message is – if we ( Everton) want to be amongst the "new wave" darlings, we definitely need a Silva not an Allardyce.

Amit Vithlani
146
Posted 08/06/2018 at 08:02:13
Jay @ 123
I remain cautious on the entry of web giants delivering a profitable bounty to the EPL for a few reasons.
Bargaining power is a factor. Sky and EPL had a virtuous circle going, where each side needed each other, as Sky primarily made revenues from its bouquet of sports rights. Amazon and Facebook are giants as you note with billions of dollars of non-TV revenues.
Also, the business model doesn't yet work on a wide scale basis in my opinion. Amazon's content is delivered through high speed broadband. The user experience is still not as good as purchasing a Sky box, and the number of households with line speeds good enough to stream high quality pictures is lower than those with a Sky box.
If you look at this on a global scale, Satellite is even more dominant, and live streaming charged at a premium in developing nations is far away.
It is why I think this has to be a loss leader, as Amazon can't charge premium prices for a user experience that will be inferior to Sky's (for the next few years). They may be able to absorb the losses, but inflation in Sports Rights will need them to charge more in the future, which won't happen until households are given wider access to very good line speeds to support live streaming.
Netflix has been relatively successful because you can download the content and enjoy a high quality experience offline. Naturally, live sports does not work that way; you need a strong connection for the duration.
It will still take a few more years in my view before IP-based live content rivals traditional Satelite/Decoder based delivery.
When that does happen, the Premier League will be in trouble anyway. Their consumers will want to watch games online and the Premier League will have to face very large beasts holding the whip hand, who will have the bargaining power to keep prices down and preserve their own margins. Sky passed on much of the price increases to consumers as with a virtual monopoly for many years, they knew their customers would pay; they also knew they needed the Premier League just as it needed them.
So that is why I strike a note of caution on the bounty that the Premier League will earn.
I also base my view on the stadium being the more likely source of returns for Moshiri on his investment simply because the Broadcasting trends are not in the Premier League's control. It is still too much of a punt for someone paying hundreds of millions to own a club and rely on significant growth in these revenues. I think Moshiri would have been given some confidence over the Stadium before he invested and that would have been the core driver of his investment.
You are of course right that the stadium would not deliver greater returns. But those returns are more likely/more controllable since Broadcasting is dealt with on a grander scale with more parties involved.
Furthermore, any increase in Broadcasting revenues is tempered by a growth in costs. I recall several interviews with Football Agents who diligently followed the Sky negotiations and drove up the value of their client contracts. Clubs are spending 60-70% of turnover (around 70-80% of broadcasting revenues) on wages, and it is not unfair to assume that a sizeable chunk of increases in a club's revenue will be swallowed up this way.
On the mix of revenues, supplementing broadcasting revenues won't reduce the club's risks if broadcasting revenues still amount to the same proportion of turnover. If we double commercial and stadium revenues and double broadcasting revenues, 80% of our revenues still come from Broadcasting. It still leaves us vulnerable to future falls in Broadcasting revenues.
Also, my assumption is that wage and transfer costs would rise with Broadcasting revenue growth, so it would still mean that the club would suffer financially if, in the future, Broadcasting revenues fell.
We need to aggressively grow Commercial and Stadium revenues so that they outpace the growth in broadcasting revenues.
Commercial and stadium revenues also provides an edge in terms of financial muscle. It is independent of risks not in a club's control, and provides an advantage versus those clubs simply relying on the broadcasting gravy. Man Utd have exploited this masterfully.
I hope to see a day where 50% of our revenues are from commercial and matchday income. Not likely, but a dream worth dreaming.
Laurie Hartley
147
Posted 08/06/2018 at 08:14:20
Thanks, Gareth – looks like out of my 4 questions, the consensus ;) from you and Mike is that I got one out of four correct and one definitely wrong and perhaps two unresolved. That's a start.
Steve Ferns
148
Posted 08/06/2018 at 08:43:48
Laurie, as someone who played left-wing or left-back and was right-footed, I would disagree about the need to have a left-footed centre-half. You'll have seen far more games than me due to your age and I would ask you to think back to the decent Everton centre-halves. How many were left-footed? Prior to Distin, I don't recall any. The left-sided centre-half was usually right-footed and just used to playing that side.
When a player is running at you, you don't stand square on, you both stand at an angle. So it's a question of Do you lead with your left or right? I always lead with my right. This meant as the left-back, I was often showing winger down the outside. Which was fine if he wasn't a great crosser. My coaches differed on sending inside or outside. Some thought better to go inside so the centre-half could put the tackle in. But I always felt the outside was better as more often I could recover to either prevent the cross or hinder it.
So really I don't see any need to be left-footed. And if you really feel the need, it's not hard to lead with your left in the tackle. A pro has plenty of time to work on it. And this is more for a full-back anyway. The centre-half is not as often exposed to have a player running at him.
Peter Lee
149
Posted 08/06/2018 at 09:21:24
Don't you just hate close-season and threads like this? To play a pressing game we need a fitness we haven't shown, pace at the back and midfield we haven't got and a team that plays as a unit, moving up the pitch together in order to press, something we haven't done since Moyes was in charge.
Anyone else think we've got another Roberto?
Dave Abrahams
150
Posted 08/06/2018 at 09:34:56
Laurie (#143), I don't know if a left-footed centre-back is essential but I always prefer that sort of pairing, I didn't think Lescott was particularly good at defending but his goals got him noticed. Distin was very, very good for me, wish we had gotten him a lot sooner.
Stubbs we also should have had, maybe from school, a brilliant reader of the game and great at organising the defence. Only for his lack of pace, he would have won many caps for England.
Trevor Peers
151
Posted 08/06/2018 at 09:47:15
You're right, Peter @149, of course, it doesn't matter which formation Silva uses – unless we have the players to execute his plans on the pitch, it will look pretty much as bad as last season.
Silva was the only real choice for manager we had, so I wish him well. But I think we are in for a hell of a struggle next season, because the players just aren't good enough – no matter what tactics are employed. If we can add two players of real quality, things might start to improve; easier said than done, though.

Laurie Hartley
152
Posted 08/06/2018 at 09:47:26
Steve,
Not sure about having seen more games than you – 13 years home and quite often away in the 60s and 70s before I emigrated to Oz where I have relied on pay TV and to a lesser extent the Internet for my football.
Regarding the "left-foot" question, I have to say I am not convinced by your reasoning. We were talking about centre-half but, as you mentioned the left-back position, using your logic, that would mean that, if you had a decent right-back, you could play him at left-back without any drop in performance. Is this in fact the case? If so, it makes the Baines replacement conundrum much less difficult to solve.
Peter (#149) – for me, this thread beats the ongoing diatribe that Sam Allardyce inspired. I stopped reading or commenting because I was bored stiff with it. This thread and the appointment threads have got me interested again. Also, Jay's and Amit's input on the stadium and revenue streams I found both informative and interesting.
Do I think we have another Roberto? Don't know yet but I could handle another dose of his first 32 games of his first season. Three things Marco has going for him – he will have the Goodison Park crowd behind him, the support of Brands who seems to be a very competent individual, and a few bob to spend.
David Midgley
153
Posted 08/06/2018 at 09:48:21
Laurie (#138),
You was right with that decision.
Tony Everan
154
Posted 08/06/2018 at 10:08:09
Laurie 138
With Silva's expected lightening counter-attack philosophy, we will need a rock-solid defence who are ready for those counter-attacks to break down. Which they will more often than not. Liverpool buying Van Dijk has strengthened them in that department. We need similar quality, we'll need it cheaper too!
With regards left- or right-footed, preferably left, but I think the quality of the player we can get in will matter more.
There can be no weakest links in the back 4 if we are to make any inroads into the top 6.
Laurie Hartley
155
Posted 08/06/2018 at 10:28:39
My post at 140 should have read "a difference of nearly 36 square metres per outfield player".
Darren Hind
156
Posted 08/06/2018 at 10:50:24
Steve (#127),
My list of heavy defeats did not include two cup games. If it did, I would have mentioned Bristol's three goals and Fulham's four...
Alan J Thompson
157
Posted 08/06/2018 at 10:55:26
With regards to should your dominant foot determine which side of the park you should play; Salah plays on the right but is left-footed which he seems to use at least 90% of the time.
John G Davies
158
Posted 08/06/2018 at 11:24:11
I suppose goals conceded are reflected by the quality of defenders available to the manager.
How many goals did Unsworth concede in his handful of matches? The quality of defenders available for selection by Rhino has been put forward as a reason for the amount conceded.
Could that not be the case for Silva?
Steve Ferns
159
Posted 08/06/2018 at 12:17:46
Laurie, I don't think it's easy at all to switch flanks at all. At uni I had to play right back for a bit. You'd think it would be easy for a right-footed left back to play right back, but no. I couldn't get to grips with it and was back at left back quickly.
I think it'll be easier if you have daily training but in those uni days we trained or played nearly every day. I really don't think it matters what foot the centre-back is, he just needs to be used to playing on the left of the defence and to have good partnerships.
Tony Abrahams
160
Posted 08/06/2018 at 12:52:02
Steve @127, no balance is needed because Silva is starting with a clean slate, and I'm only interested in the future, mate.
Laurie, it's not a job I want, mate, because I think I'm gonna have to go back and sit my English tests again, but, as I said, the number one for any team has got to be intelligence.
I would say that you would have to be fitter to play on a bigger pitch but these fellas should all be super fit anyway. I just think that, without real pace at the back, then no team is going to want to play a high line, which is what you need if you want to play a high press?
Jay Wood
[BRZ]
161
Posted 08/06/2018 at 13:20:43
Good read Amit @ 146. I enjoyed that.
I agree bargaining power is a factor. In the days of the Football League the Beeb and ITV in the UK connived to pay rock bottom prices to broadcast footy matches, before fessing up and dramatically improving fees paid.
Even with the advent of satellite TV and Sky, it was a virtual monopoly and whilst monies to the clubs increased, it only went astronomic when more competition for broadcast rights were parcelled off and opened to more bidders, as continues to be the case.
Contrary to your own belief, I do believe the big online ecommerce presences – such as Amazon and Netflicks as you mention – can enter the market and be serious players, thus driving up the broadcast rights price even further.
You reference the streaming speeds and quality as a potential stumbling block. In the same way Amazon's revenues has grown exponentially since its formation (coincidentally around the same time as the Premier League came into being), technology has also grown exponentially at the same time.
The early 'mobile phones' were literally the size of house bricks – military field phones, in some cases! – with one basic function – to make and receive calls. Nowt else.
Then they shrunk to Star Trek-like micro-size, but now they are growing in size again with good-sized screens with excellent picture and video resolution. What today's cell phones are capable of was the stuff of fantasy 25 years ago. There are now more active mobile phones on the planet then there are inhabitants.
And in today's world if your business is not online or, more importantly, not mobile responsive, it could wither and die.
Visionaries such as Bezos at Amazon are aware of and alert to the opportunities of rapidly changing technology. He and other future-looking entrepreneurs will not be concerned with the kudos of having the broadcasting rights to the Premier League. He will be calculating the bottom line, how much he can profit from it by adding it to his platform.
He knows if he can attract more subscribers to Amazon Prime via the Premier League deal just announced, he will make 4-10-20 times plus the value of the loss leader subscription by marketing other Amazon products to them in every imaginable niche, market, hobby or interest anyone may have.
On the question of internet connection speeds to ensure a stable and enjoyable streaming experience, Amazon's richest markets have that already, Amit - North America and Europe. The two geo regions with the most disposable income. That is: Consumers!!!
In this respect, Bezos doesn't 'need' and probably isn't too arsed about the rest of the world and their slow internet connections. (Although many are catching up fast and they skip previous generations of telecommunication technology.)
I further consider a company like Amazon a possible future 'player' because they are already well-practised in delivering 'personalised content' to its customers.
Why, as an Everton fan, pay the full whack on Sky or BT (or any other provider) and then see THAT lot from across the park served up every week? Amazon has the wriggle room to deliver content specific streaming to any individual's particular interests: Everton only content.
Contrary to what you speculate on, that the Premier League itself could be in danger, I rather think it is the terrestrial and satellite TV companies that are the most vulnerable as they get outflanked by those ecommerce companies such as Amazon. And with today's connectivity, you can view your Amazon or Netflicks streaming content directly on your living room, cinema screen-sized smart TV.
Finally, on the need to improve our revenues from different sources, I wholeheartedly agree with you. I continue to believe the income from broadcasting rights will be the overwhelmingly dominant one, but there is a lot we can do improve in other areas.
A few months ago, I researched our commercial income streams and compared them to Man Utd's. From memory, we are only now in 2018 in terms of revenue from sponsorship deals, where United were at the turn of the century. Their own deals are something like 15-20 times more than us.
But a good discussion Amit. Thanks!
Jamie Crowley
162
Posted 08/06/2018 at 13:26:07
Steve and Laurie - back at 148 -
My coaches differed on sending inside or outside. Some thought better to go inside so the centre half could put the tackle in. But I always felt the outside was better as more often I could recover to either prevent the cross or hinder it.
Any coach who thinks it's a good idea to push an attacking player inwards towards the goal is an idiot and not much of a "coach". In fact, coaches like that are the reason your country and mine can't realize any success.
Any sport in the world - hockey, basketball, soccer, lacrosse, etc - where the goal / net is in the middle of the playing area - you push the attacker WIDE and NOT towards that which you defend.
Unbelievable a coach would actually advocate pushing the attacker inside at a university level - shocking!!
I think the concept is called "funneling" and it's utter trash and frankly stupid.
Amit Vithlani
163
Posted 08/06/2018 at 13:26:42
Nice one Jay. Back to the thread on 4-3-3...
Tony Abrahams
164
Posted 08/06/2018 at 13:33:58
Peter@149, who knows? I take it you mean defensively, but hope that Silva shows a lot more of that word 'intelligence' and doesn't try and get players to do things that they are not very good at.
Martinez, was good in the first season and I don't know if it was down to Europe but he really changed after that? The game became boring, especially when we had a good lead, and it looked to me that he was more interested in getting his players to conserve energy rather than going for the jugular.
This is what first turned the crowd, and maybe once that happened; the players probably never had the same faith in him, especially considering that playing keep ball didn't really suit most of his players anyway?
Dennis Stevens
165
Posted 08/06/2018 at 13:36:22
I never cease to be amazed that all professional footballers don't work to be as two-footed as possible, like Joe Mercer.
Steve Ferns
166
Posted 08/06/2018 at 13:37:01
That wasn't at University level Jamie. The coaching we got at University level was terrible anyway. We did most of it ourselves. I played in the seconds, and the proper coaches weren't interested in us, except for XI v XI matches.
Coaching in England was terrible when I was a youth. The only fella who taught me how to play football was my Dad. I did enjoy the soccer schools though. I remember going to the Bobby Charlton one. The only thing Bobby did was teach us how to shoot by taking penalties. He taught me how to really boot the ball at the age of about 8 and ever since then I had a rocket of a shot.
My experience is summed up by playing left wing or left back. Why did I end up there? My PE teacher (when I was 9) also taught me maths and knew I was left handed and so assumed I was left footed and drafted me into the side on the left wing. There's loads of pros who tell stories about getting boxed into a position at the age of 11 or under by a PE teacher and it sticking right through to youth level.
Who on earth thought Gareth Bale was best at left back and saw a defender in him? I hope the coaching in this country at grass roots level has improved a lot in the last 15 years, because I really despaired at my own experiences.
Tom Bowers
167
Posted 08/06/2018 at 13:47:49
Whilst we all know the manager usually is responsible for new signings, selecting the starting eleven and planning the strategy it all counts for nothing if those playing make mistakes or just aren't good enough to do what is expected.
Everton were remiss in many areas last season and neither Koeman nor Allardyce could figure it out but many of the squad were just not Premier league standard. Sandro, Klaassen, Niasse, Martina and Williams are the first bunch of names I came up with.
As the season literally dragged on some of the bigger names started to play under par, Rooney, Keane and Baines just didn't produce the kind of excellence one might have hoped.
It's hard to point blame at some youngsters or some later signings as it couldn't have been easy under a clown like Allardyce.
Of course, Silva will need time to settle in and make the changes he feels will make things better and we all hope that is sooner rather than later.
Best for us all if we don't expect too much too early like we did with Koeman.
Mike Gaynes
168
Posted 08/06/2018 at 14:13:26
Laurie (#152), I'd say that full-backs and centre-backs are different in this respect. Particularly with a modern attacking fullback, you need lefties on the left and righties on the right so as to assure the best crosses. And switching is difficult, as we saw with Martina. But even fullbacks must be able to tackle with both legs, and I believe this is what has derailed Galloway's career. He had a fine first season at left-back until attackers discovered he could not tackle with his right leg and they could cross over and cut in on him at will.
However, as someone who has played for almost 50 years (still going at age 62 against teenagers!), I'm convinced that anyone who properly practices tackling from both sides will have no difference in performance, and all centre-backs must be able to tackle on both sides, since they have to turn both ways in the area. I tackle equally well with either leg, which is to say not at all, because as a winger until I turned 40, I never learned how.
James Marshall
169
Posted 08/06/2018 at 14:15:08
Steve @166
A lot of coaching is still shite at youth level. My son played for a team where he was top scorer after about 10 games, then they put him in goal to 'give the other kids a chance' for the next 10. Ridiculous.
My nephew has just been selected to play in a Commonwealth tournament for England though, and he's being properly coached.
Where my son lives, you get lots of Chelsea coaches scouring the kids teams every week for talent – they pick them up very young (8 or 9 years old) and draft them into the Academy to get them properly coached but the amateur coaching is still useless in this country from what I've observed.
That thing you mention about shoe-horning people into any old position still exists.
Brian Murray
170
Posted 08/06/2018 at 14:27:48
The shite have signed two with another on the way. If anyone's wondering why we still haven't swooped decisively, answers on a postcard to a Mr B Kenwright.
Steve Ferns
171
Posted 08/06/2018 at 14:30:21
I've heard plenty of stories like the Chelsea one you mention, James. Sad to hear the old "big lad plays in defence and the quick lad goes to the wing" adage is still going on.
Good luck to your nephew, I hope he enjoys it and doesn't feel too much pressure. It will probably be something he thinks about for the rest of his life and certainly will recant over a few beers in the pub in 20 years time. It's amazing how much further out you get each time you tell the tale of your "wonder goal"!
Rob B Williams
172
Posted 08/06/2018 at 14:31:08
I went to 'uni' to kick a bag of wind — I'm still kicking a bag of wind!
Tony Abrahams
173
Posted 08/06/2018 at 14:42:22
It's not just the amateur coaching, but it's also the weather. Win at all costs, so once the mud comes, then two of the most valuable players are the ones who can kick it or throw it the furthest.
Brian Harrison
174
Posted 08/06/2018 at 15:04:39
The worst thing that the FA allowed was for Professional teams to take kids as young as 8 and coach them. Certainly hasn't done a lot for the England team since this started. I remember Moyes saying after training Rooney would go and play with his mates in the street. You want kids to develop, rather than being coached by professionals at that age. I know Messi went to Barcelona at a young age but he was naturally gifted – a complete rarity today.
I remember the debate in the 70s, professional coaches saying if we could get kids at 8 or 9 instead of 15, as was the rule then, they would produce better players. Well, where are they? This system has served us so well that the England manager has only 33% to pick from when selecting an England team.
So much for getting kids in at 8. I say instead of giving kids of 8-15 false hopes of a life as a professional footballer, let them enjoy the game and see what difference it would make if the youngest that clubs could sign players was 15. I suspect no difference at all.
John G Davies
175
Posted 08/06/2018 at 15:15:09
Brian,
It's worse than you think. Premier League clubs train kids from 4 years of age at their Academies.
David Graves
176
Posted 08/06/2018 at 15:31:52
Jamie at #162, I'd beg to differ.
I think it's a perfectly reasonable approach to have full-backs pushing wide players infield to be doubled up by the other centre-back or defensive midfielder.
In Rugby (either code), a common defensive drill is the "Blitz" defence that relies on quick line speed to force the wide attacking players inside. Can't comment on Lacrosse though!

Jamie Crowley
177
Posted 08/06/2018 at 15:35:35
David,-
As long as you're not coaching my kids, you're entitled to your opinion. 😜
Ash Moore
178
Posted 08/06/2018 at 15:36:39
What a fascinating thread!
Got to comment on #161 from Jay Wood. This is truly visionary stuff and we're at the precipice of the future of content delivery.
Firstly, Yahoo has already bought online rights to the London NFL games and streams them free, and at high quality too. The model for the future hasn't been hashed out yet but it soon will be.
The one point I do take umbrage is that the TV or Satellite broadcasters may be outflanked. To be honest Jay, with the political power they possess, it would be almost impossible for that to happen unless they let it. What will probably happen is mergers or stock swaps as the existing powerbrokers leverage their way into the new truly digital age.
Netflix and torrents broke the entertainment model, live events are now the only game in town. And at the end of the day, even Amazon cannot afford the very biggest events, the Olympics or World Cup for example.
It'll be fascinating to see how it shakes out. My bet is that the big clubs will push for individual shares of internet rights. If this happens it will be the death of the game, truly, as the broadcast deal will collapse. With each club retaining all or even a portion of their streaming revenues, it would essentially turn the Premier League into ten mini-ppvs a week. Good for the Man Uniteds not so good for the Brightons.
Also, check out some of the recent research on communal behaviours, the prevalence of individualised independent viewing habits and the changes by demographic. Nobody knows where it's headed, or when.

Jamie Crowley
179
Posted 08/06/2018 at 15:47:21
Oh and one other quick comment about coaching here on this side of the pond.
It's basically "England West".
We have a lot of English coaches. And the American ones generally follow their lead.
My 9 year old was playing striker, bagging them in for fun on the local academy team. The next year on a new team with a new coach, he was played at left-back. Why you ask? Because he's left-footed.
All lefties have to play left-back here. There's no real option. No matter what their natural skill set is.
The genius of coaching in this country is astounding (cue tounge-in-cheek now).
We have to pay thousands for this type of deep thinking coaching. Thousands.
Any wonder the USA isn't in the World Cup??
Sigh.
David Graves
180
Posted 08/06/2018 at 15:47:49
Jamie – I was coached the "Blitz" by the defence coach for the Welsh Rugby Union. He seemed to know a thing or two!
Darren Hind
181
Posted 08/06/2018 at 15:58:59
Quite a few coaching courses available around the Liverpool area in the 70s and 80s – great if you were out of collar at the time.

I once attended a course at Wrexham old racecourse, overseen by Dario Grady. Plenty there, but you could hear a pin drop when he spoke. You just had to shut up and listen. That guy had forgotten more than the rest of us will ever know. I never quite figured out how he never went further up the ladder...
Jay Wood
[BRZ]
182
Posted 08/06/2018 at 15:59:34
Ash @ 178.
I agree with you, the big global broadcasters are unlikely to be outflanked. I was trying to make the point to counter Amit's claim that the Premier League is most at risk in this 'Brave New World', when I rather believe broadcasters like Sky are more vulnerable to losing the presumed monopoly they have held until now particular in the sports market as more players enter the field.
I have no doubts though that such well-established broadcasters have some serious heads exploring every alternative of how their media is most likely to be delivered in the future.
Because if they haven't, they will be outflanked by others – possibly known and established, or even currently non-existent, unknown or unheard of companies – who will be investing in R&D in this area.
Seemingly like you, I also take interest in the stuff you mention: communal behaviours, individual viewing habits and changes by demographic. Harnessed to the inevitable advances in technology and telecommunications in particular, only your imagination limits you to where this is all heading.
Jamie Crowley
183
Posted 08/06/2018 at 16:03:53
David -
I know very, very little about rugby. But I would say this:
In rugby, you can "score" anywhere on the entire length of the pitch. So "funneling" or pushing an attacker inwards for support does make 100% perfect sense.
In soccer, hockey, basketball, and yes even the mysterious Native American game they call lacrosse, the goal is much smaller, doesn't cover the breadth of the width of the pitch, and is located in the middle of it.
I see no reason to ever push attackers towards the point they are ultimately trying to get to.
Rugby is entirely different.
Having played hockey as a youth, I can tell you if a defenseman tried to "push" an opposing player towards his own goal, he'd be benched and most likely suggested he try another sport.
I see more parallels with hockey than I do with rugby when it comes to your football.
I'm quite sure when it comes to rugby, your "Blitz" defense is viable. I'd highly doubt it's translatable to soccer.
But then again I'm an American who doesn't know half as much as he thinks he does.
Alan Wood
184
Posted 08/06/2018 at 16:05:36
Re the left sided defender debate, wasn't our most successful captain Ratcliffe a left footer?

I think a lefty and right footed central defence is better balanced.
John G Davies
185
Posted 08/06/2018 at 16:09:23
I didn't realise you had coaching experience, Darren.
How do you think we should set up next season using the current squad?
Tony Everan
186
Posted 08/06/2018 at 16:15:55
Interesting reading, some quality posts.
Amazon have already got the tennis rights for next year, now the rights for 20? football matches. Looks like they are putting together a tempting portfolio that will tip the balance for 'prime' subscriptions for the average punter.
If they bundle it all together people who enjoy their tennis as well as football may become primers.
Dave Abrahams
187
Posted 08/06/2018 at 21:47:42
Darren (#181), I think among scouts around the amateur football pitches, Dario was acknowledged as a great coach, but even 30 years ago, there were plenty of rumours, and I emphasise rumours, why he wouldn't go any further up the coaching ladder.
Laurie Hartley
188
Posted 08/06/2018 at 00:54:04
Mike (#168) – I was almost ready to accept that being left-footed for a left-sided centre-half was not that important provided they are "two- footed" – but then Alan came along @ 184!
After considering all the input, I am going with Gareth's suggestion @ 144. Get Alfie Mawson in at all costs.
Jamie (#183) – I think you know more about rugby than you think you know – if you know what I mean. Wingers in rugby love the corner flag. Wingers in football hate the corner flag. An opinion I have formed because I have played full-back in both codes.
Tony – Okay mate – it was a bit forward of me. ;)
Steve Ferns
189
Posted 09/06/2018 at 01:07:22
Dave:
Dario Gradi allegations
— it was more than rumours, he was investigated more than once. I will tell you more when we meet up with John for a drink, if you remind me.
Peter Gorman
190
Posted 09/06/2018 at 01:28:18
Some coaching horror stories on here, reminds me of my own sorrowful experience as a lad. I was stuck on the wing despite having little to no technique or pace simply because my older brother was a winger for the school in his age group!
Once the coach realised I was one of the few kids who could actually head the ball, I moved to my best position as centre-half. Which reminds me that nowhere ever was I taught, encouraged or tolerated to steer the opposing striker towards goal.
Perhaps the greatest defender I've ever seen, Paul McGrath, had the most amazing knack of sheparding his opponents away from goal before he'd commit to a challenge. Can't for the life of me see how moving them infield would be considered a good idea, sorry David but I'm with Jamie on that one.
David Graves
191
Posted 09/06/2018 at 01:49:05
Sorry, Peter, I disagree.
I don't want to get into a lengthy debate on keyboard coaching but see below:
"Get out tight to him, and get on his first touch as quickly as you can. Show him inside to your centre-back or midfielder. When he puts his head down to take another touch or cross the ball, he doesn't know where you are – that's when you put your foot in and make the tackle"
Fairly straight forward advice from England's most capped fullback!
John Boon
192
Posted 09/06/2018 at 02:14:34
It is amusing, and interesting to follow all the posts concerning Silva's system. The initial posts were completely relevant, either delight or concerns about what the system might bring to Everton. Not that the 4-3-3 is new and innovative, but that Silva may use it differently to other managers we have had.
The next series of posts were about the fact that Schneiderlin might still be around. This seemed to displease many of our loyal fans, while others felt that Silva might be the saviour who could get the best out of him. We had moved slightly away from the 4-3-3 discussion...
The remaining posts were nearly all about the difficulties of having to play on the left side of the field when you are right-footed, or the other way round. It is quite noticeable that many of the contributors quoted personal examples to prove that they had actually played football and they had been forced to play on left side despite being a "righty". At least this was a break from Schneiderlin, who had been left thirty or more posts back and almost forgotten.
This is why I love and read TW. There are so many ways of responding to any topic. However, we all basically want to see a better Everton for 2018-19 season. I think any fan who takes the time to give their opinion is probably an "Everton Fanatic". I know I certainly am. I watched my first game at Goodison in 1947 against Blackpool and have been "Blue" ever since. At that time, the left side were Nos 3, 6, 10 and 11 which a number of contributors mentioned in the above posts. This meant you were left-back, left-half, inside-left or left-wing.
Other than that, because there were no subs, you could also be "left out"! I also realise that I too have wandered off the topic. However, I don't care whether we play 4-3-3, 4-4-2, 5-3-2, or even 1-10 as long as we win. A good manager gets the best out of each player, whichever system he uses. I will back Silva to be the best ever. Well, at least until we start losing.
Darren Hind
193
Posted 09/06/2018 at 06:25:09
Kinell Dave/ Steve
This explains an awful lot.
John G Davies
194
Posted 09/06/2018 at 06:41:54
Common knowledge about Gradi. He's been under suspicion for many years. Should have been charged a long time ago, in my opinion.
Derek Taylor
195
Posted 09/06/2018 at 10:34:20
Whatever system Silva favours, the success of it will, as ever, depend on how well the players he selects can settle to it.
In recent seasons, whatever the team selection and set-up thereof, our players have looked at odds with it. Is that because they have been reluctant to adapt or because they are not skilled enough as a group to perform to instructions?
This situation goes right back to the days of Martinez where, after adding one or two new names to the Moyes clan, they fell apart.
Like so many others, I have high hopes that the new man has a style and personality to turn our donkeys into racehorses but it is, by no means, a given that he can.
One consolation is that we now know a team can attain an 8th-place finish by playing dross and 'keeping it tight'. Given the choice between 'Sam's Song' and relegation, most of us would opt for the Fatman (although reluctant to admit it) and full houses to the bitter end bear that out. At least, as we bagged the points, we had something to moan about. True Evertonians to the last!
Brent Stephens
196
Posted 09/06/2018 at 16:09:10
A colleague of mine lives in Crewe. He was telling me about Gradi years ago. Chickens coming home.
I knew a catholic priest in South Wales who was whisked off to Rome to cover up his wrongdoings of a similar nature. And the housing association he was chair of had a going-away evening in his absence when they collected money for a present! You couldn't write it.
John Hughes
197
Posted 09/06/2018 at 16:18:07
Re coaching: if you have a wide man who is noted for whipping in good crosses but is one-footed, then it makes perfect sense to guide him inside, onto his weaker foot.
Alan J Thompson
198
Posted 09/06/2018 at 17:06:26
As an aside to the coaching discussion, in Australia the foremost "expert" who played for the national team and Portsmouth when in the old 2nd Division was, some years ago, advocating the introduction of Brazilian coaches to replace the British coaches his argument being that Brazilians coached more individual skills whereas the British concentrated more on passing and the team game.
Ange Postecoglou who went on to coach the Australian national side asked if these Brazilians would be willing to do it without payment as most of the British coaches did and if not where was the money to pay them to come from, there ended the argument.
Steve Ferns
199
Posted 09/06/2018 at 17:22:02
Jay Wood will be able to enlighten us further, but Tim Vickery tells of a British delegation of coaches going over to Brazil to learn what they do differently, and to bring ideas back to England. They observed that the Brazilian coaches were doing nothing special or unusual, and if anything where 20 years behind the British.
I think modern coaching inside the academies is world class. It's the coaching outside of the academies that is the issue. If you look at the fact that we are world champions at both u20 and u17 level, this would go someway to proving that.
The problem the British have long had is how do you get all the talent at teenage level to develop into talent at the age that matters. Some talk of losing hunger because they are paid too much, others talk of not getting enough opportunities in the Premier League, and some say that they are not actually good enough.
What about Nicola Vlasic, a special talent at Split now seems to be stuck in the space occupied by many English counterparts (Lookman for one) of not quite able to break into the first team. If Vlasic had not been purchased but remained at Split and was playing, would he be a better player now?
Tom Bowers
200
Posted 09/06/2018 at 17:33:06
As I have always said it's not the system of playing but the talent you have on hand to execute it.
All teams have some talent but the top teams have more than most and a bit more besides.
Yes, I do believe to some extent that a knowledgeable manager and coaching staff can bring out the best in some players but getting the consistency is a big problem.
Walcott at Arsenal in the last few years is an example and it is evident at Everton also but others such as Vlasic and Lookman have found it tough even though they have obvious talent.
Under this new manager things may change somewhat as every manager has his own preferences so it will be fascinating to see who will be in favour and who won't come the start of the new season.
Peter Gorman
201
Posted 09/06/2018 at 18:01:21
"Some talk of losing hunger because they are paid too much, others talk of not getting enough opportunities in the Premier League, and some say that they are not actually good enough."
For my money, Steve, it is hands down getting opportunities in the Premier League.
An England U21 side (possibly to include 4 of our own) are about to face Mexico in a final. When you add that to the recent tournament wins for the U20s and U17s, it doesn't exactly look like youth coaching is much of an issue.
Ash Moore
202
Posted 09/06/2018 at 18:44:07
Lottery funding has fundamentally changed the way sports are administered, promoted and developed in the UK. From Andy Murray to Adam Peatty, talent has been unlocked that I simply didn't think would ever happen.
It wasn't all that long ago I'd have given a toe to see England win the Ashes; they've done it home and away now. I've watched Brits win the Tour De France, Wimbledon, dominate Olympics home and away... it's been an amazing turnaround.
The football team has progressed more slowly, but we're starting to see the results now.
Jay Wood
[BRZ]
203
Posted 09/06/2018 at 18:58:33
Steve @ 199, presuming I am referring to the same Vickery article I recently read on the Beeb, he also references just how far advanced the Brazilians were when they won their first WCs in 1958 and 1962.
Pele confirms this in his autobiography. The Brazilian Federation appointed a full-time medical staff for the national team who, as well as taking care of knocks and ailments, advised on diet and optimum training times and practices. They also introduced innovative training practices untried in football at the time.
As Vickery mentions, the Brazilians were astonished in Chile in 1962 when they discovered England didn't have any medical expert in their support staff at all.
The great GREAT Mario Zagallo - the first man to win the WC as both a player ('58 and '62) and a manager (the dream team of 1970 and as Perreira's assistant in the US in 1994) was also behind many innovative initiatives in his time with the Brazilian national side.
But that was THEN, not now. With reference to your opening paragraph - British coaches travelling to Brazil to learn what they do differently, only to discover that they were not doing anything special or unusual, but if anything were 20 years behind the British - I can say I know nothing of these visits. They were not reported in the Brazilian media that I heard of.
The reported findings don't surprise me, however. Tite, the current Brazilian coach (who I and many others hold in huge esteem - if the timing was right, he has the right profile to be Real Madrid's next manager), recently berated Brazilian coaches for being too home-centric...of not travelling abroad to study and learn in other countries, different football cultures, different tactics and training methods.
Indeed, Brazil doesn't have, and the top clubs don't insist on, their coaches having the equivalent of the UEFA professional coaching badges. Tite and the Brazilian footy federation are lobbying hard to change this culture.
Tite himself is quoted as saying "I have learnt how to learn". Something he considers the majority of his peers in Brazilian football are not prepared to do.
Because of who he is and what he insists on, the Brazilian team will be well-prepared and supported at the WC. Sadly, his extremely professional approach and attention to detail is an exception, rather than the rule in Brazilian football.
Increasingly, the most talented young footballers are hoovered up by the growing number of academies established by the big European clubs where they are already schooled in the football 'philosophy' of said club. Why? Because the coaching, housing and support they receive there is far superior to pretty much anything they would receive at even the biggest of domestic clubs. Barcelona alone has a number of centres around the country.
Andy Meighan
204
Posted 07/06/2018 at 21:53:07
Gareth (#42),
Why wouldn't we sell Gueye?
Apart from his first 6 months before he went off to the AFCON, he's been abysmal. A complete shadow of the player we signed. Passing – shocking; Shooting – shocking; Goals scored – shocking.
No, sorry, he's a complete let-down and has disappointed in more games than Davies and Schneiderlin... yet seems to get a free ride from most Evertonians. Baffling... I'd file him under: "Yes, looked great at first... but was a massive disappointment."
John G Davies
205
Posted 09/06/2018 at 23:52:00
Brent,
The one you mention is not an isolated case, unfortunately. Literally thousands of cases worldwide where the offending priest is moved to a different parish. An absolute cover-up by the bishops, cardinals and the whole hierarchy. An not restricted to the Catholic branch of Christianity by any means.

David Graves
206
Posted 10/06/2018 at 15:18:28
John – it is indeed perfect sense and a basic defending principle but has been described as "frankly stupid" on here!
I was at a coaching session run by Warren Barton. Best player he said he'd every faced – Ryan Giggs. How did he try and stop him? Get him off his left foot as soon as possible and push him inside. He knew that, if he showed him "outside" as some have advocated on here, he would get roasted.
Not rocket science is it! Professional coaches get an awful lot of stick but most will tell you that it is the ill-informed parents that cause more problems!
Brent Stephens
207
Posted 10/06/2018 at 15:37:23
John (#205), sadly true.
John G Davies
208
Posted 10/06/2018 at 15:41:55
Brent,
Just read how a priest who is a Vatican ambassador to Washington has yesterday been charged with possessing child pornography. It really is disproportionate the amount of church people involved in this. All while telling the general population how to live their lives. Hypocrisy at a high level.
Kieran Kinsella
209
Posted 10/06/2018 at 15:42:10
When I last checked this thread we were discussing Schneiderlin as a number six. I return to Find we have moved onto paedo Australian priests, and people touting Warren Barton's tactical advice.
John Wilson
210
Posted 11/06/2018 at 12:39:10
Steve Ferns,
I made a point about lawyers being crap. You made a comment in relation to 2.1. Can you explain what you mean by that? I am not saying I do not know what a 2.1 is obviously, I will reserve comments. I don't think I have any responses left due to my 5 limit cap per article.
nb: If you want to discuss the 2.1... where there is no restriction, you could join me on the ToffeeWeb Live Forum, where it is an open chat (ie no 5 limit response caps).
Steve Ferns
211
Posted 16/06/2018 at 00:59:25
Marco Silva's tactics explained by a Sporting fan in the infancy of his reign in Portugal with Diagrams:
The Portuguese translated (hopefully Jay Wood can translate it properly)
Before this gets dismissed as the tactical writings of a 12 year old, this is written by Portuguese coach Pedro Mendonca, formerly of Real Madrid. So I think he knows more than a 12 year old, and certainly far more than me.
Attacking Organisation
Sub-Principles:
1. In the first stage of construction, the fullbacks adopt a more offensive posture rising to the line of the defensive midfielders.
2. The link between the first stage of construction and the second phase of construction, is made (preferably when in possession of ball) with support from the defensive midfielders, who have the function of lateralising the game. (Note lateralising means getting the ball forwards quickly).
3. Marco Silva is concerned with creating situations of 2 v 1 (winger and fullback) and 3 v 2 (winger, fullback and attacking midfielder) in the channels, to create overloads leading to goal-scoring opportunities.
4. Presence of a more fixed target man in the penalty area, which should serve as a target for crosses (?). (Help please jay!: presenca de um ponte de lanca mais fixo na área, que deve servir de referencia nos cruzamentos)
5. When the ball is in one the channels, then the defensive midfielder, the full back (except in the first phase) and the winger (on the opposite side of the pitch to the ball) must move into the centre forming an offensive equilibrium zone (this seems to be describing tucking in).
6. In attacking situations, the attacking midfielder is responsible for being in the penalty area and attacking the far post, with the striker attacking the near post. (There's also some mention of the winger coming into the area, but I understand that more from the diagram than what is written).
Defensive Transitions aka getting back into shape when you've lost the ball
"Immediate pressure to opponents soon after the loss of possession of the ball" Quote from Silva himself?
Sub-principals
1. The players closest to the ball must take a very aggressive attitude towards the man in possession, and try to recover it or prevent players from progressing up the pitch.
2. Adaptation of the rest of the team to the positions of the opponent.

Defensive Organisation
Marco Principle: "defend the pressing zone with the players forming a cohesive and compact block in a middle block (moving according to the positioning of the ball), with the lateral corridors (channels?) defined as pressing zones
Sub-principles
1. In the first phase of pressure ( the 1st moment) the lateral opponents have responsibility of the extremes, leaving the striker in charge of engaging first. The striker marks the centre half on the side of the ball, and the attacking midfielder will close down the other centre half if he receives the ball.
2. The opposing team's game must be channelled to the side runners (wingers and fullbacks), where the pressing zones are defined. The striker should cut off the pass to the other central defender to force the ball down the flank.
3. If the ball comes down the middle, the midfield players must exert a strong pressure on the player in possession, in order to force the opponent to pass backwards and / or to the side.
4. When the ball is down one of the flanks, the players from the other flank must tuck in to occupy the centre and create a balanced defensive zone.
5. In crossing situations favouring the opposing team, the centre backs and the fullback from the far side shall occupy the central zone of the penalty area, each occupying the zone of the near post, the middle of the goal and far post. The defensive midfielders must occupy the central zone in front of the defence, near the entrance of the penalty area. In relation to the flank where the ball is located, the fullback and winger must press the opponent with the possession of the ball in order to prevent the cross.

Attacking transitions
"Quickly search for free space at the back of the opposing defensive line (space in the channels)" - Quote from Silva?
1. Look for passes to the middle, and from there perform a through pass for the winger. If it is not possible to play through the middle, then play the ball down the channel (Jay, got confused here? preocupacao em colocar a bola no corredor central, e a partir dai ralizar um passe as costas da linha defensiva adversaria, para entrada dos extremos. caso nao se consiga colocar a bola no corredor central, devem colocar a bola nas costas da defesa adversaria para a entrada dos extremos nos corredores laterais)
2. The Team must create situations of numerical superiority.
3. If the speedy transition mentioned above is not achieved, there is concern in making a security pass that allows the maintenance of possession of the ball and enter into an offensive organization. (In other words recycling possession with a slow build up).
Steve Ferns
212
Posted 17/06/2018 at 01:04:00
Much more accurate translation from Jay Wood:
5) describes squeezing the space and for the players on the opposite flank to where the ball is to (as you say) tuck in to deny lines or space for an 'outball' for the opposition player in possession.
To complete what you haven't yet translanted (square brackets my additional explanation as translating from one language to the other is never literal):
Sub-principals
1) The players closest to the ball must assume an extremely aggressive attitude to the opposition player in possession, looking to recover the ball or impede the progress of the opposition player [in getting upfield]
2) the other players [presumably, those NOT closest to the ball] adjust their own positions to [best repel] the opposition player in possession
Defensive Organization
Defending the zone by pressing with the players forming a cohesive and compact block in a midfield block (moving their position [in relation to where the opposition have] the ball) with the wide corridors [the wing flanks] defined as pressing zones
Sub-principals
1) in the first phase of pressure, the opponents' wide players are the responsibility of the full backs, leaving the opposition striker the responsibility of our centre backs. [Depending on which side of the pitch the opposition striker takes up, the responsibility for marking him falls to the left or right sided centre back]
2) [as a means to dictate the pattern of play of the opposition] in possession the opposition must be driven out to the wings, which are pressure zones [where we will compete to regain the ball]. Our striker must obstruct the passing lines of the opposition centre backs to force them to pass out to the wings [rather than centrally, to send them to our preferred 'pressure zones']
3) If the ball enters the central corridor in our half, our midfield players must exert strong pressure on the opposition player in possession of the ball, with the intention of forcing them to pass backwards or sideways
4) When the ball is in one of the wing channels, the winger and full back on the other wing, just like the defensive midfielder, must close the central channel, creating a balanced defensive shape
5) In crossing situations favourable to the opposition, the centre and full backs on the opposite flank must 'tuck in' so collectively, the near post, the central area and the far post are protected. The defensive midfielders must occupy the central zone in front of the defence, close to the edge of the penalty area. With respect to the wing where the ball is, our winger and full back on this flank must pressurise the opposition player in possession of the ball to stop the cross coming in.
Attacking transition
Quickly attack the free space behind the defensive line of the opposition, the space between the centre and the wings
1) Prioritise putting the ball in the central channel and from there to pass forward to the back of the opposition defensive line, between the edge of the penalty area and the flanks. If it is not possible to get the ball into the central channel, get the ball in behind the opposition defence in wide areas around the penalty area
2) the team must create situations of numerical superiority in attacking situations
3) if the previously mentioned rapid transition was not possible, then the priority is to ensure a safe bass to retain the ball and to maintain an offensive shape

Derek Thomas
213
Posted 17/06/2018 at 02:12:47
If a player has you for speed, you don't offer him the outside, especially if speed is his main advantage.
If he has you for close control and dribbling, you and/or your team mates don't let him run at you and pick which way he wants to go.
Horses for courses, but there's nothing wrong with shepherding inside or outside, as and when required.
If he has you for both, then you and he are both in the wrong Division, you're too high and he's too low.
Having grand children I've been exposed to 3 diverse U9 sports, AFL, Football and Basketball. They call it by different names and terms, but it all comes down to - Pass and Move...The Coaches push this all the time, plus directing them what Not to do.
I'm sure there is more to it than that, but its working so far.
Add Your Comments
In order to post a comment, you need to be logged in as a registered user of the site.
Or Sign up as a ToffeeWeb Member — it's free, takes just a few minutes and will allow you to post your comments on articles and Talking Points submissions across the site.