Everton History
Jack Brearley, a Prisoner at Ruhleben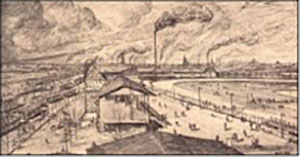 Located beneath the dark smoking chimneys of the gigantic Spandau Munitions Factory on the out skirts of Berlin, the harnessed horse racing track at Ruhleben was hurriedly turned in to an internment camp for the 5,000 or so British civilians who found themselves trapped inside Germany due to the outbreak of World War I.
The game of association football was still in its infant stages and several of the men held captive, former professional football players, had answered an advertisement to come as trainers and help improve the standard of the game. Liverpool-born Jack Brearley was one of four former Everton players detained but he had played for several other clubs before arriving at Goodison Park.
Records show that he was baptised on 13th of February, 1876 at the church dedicated to St Nathaniel at Edge Hill in Liverpool and was the second child born in to the family home at 13 Arundel Street. His father, William, was a sailmaker while his wife, Mother, had been born as the daughter of a fisherman on Back Sea View in Hoylake. The family later moved to Eden Street and by 1891 were living at 1 Solway Street in Toxteth where the number of children has now increased to 6. Jack, now 15, was working as a tobacco maker's apprentice.
He began his football career playing on the Shorefields, located at the bottom of Beresford Road, for a Liverpool South End side who played in the Liverpool & District League. It was from here, in 1895, that he joined Midland League side Kettering where he spent one season.
Brearley next joined Football League Division 2 side Notts County and helped them to finish in top place. The Trent Bridge side then had to play a series of Test Matches against Burnley and Sunderland to decide the promotion and relegation issues. In the final game against Burnley at Turf Moor, Brearley scored the only goal to gain promotion for Notts County. He nevertheless left the club and accepted the terms offered to him by Southern League outfit, Chatham, where he remained for one season.
Brearley next transferred his services to Millwall Athletic, also in the Southern League, and was in their side when they faced Southampton in the semi final of the FA Cup at The Crystal Palace. The match, watched by a crowd of 60,000, ended in a 0-0 draw. Southampton won the replay, which took place at Reading, 3-0.
Brearley next returned to Notts County, where he spent one season, and was at Middlesbrough when he joined Everton in Spring of 1902 for a wage of £4 per week. He made his debut in a rather sad set of circumstances.
Several weeks prior to Brearley joining Everton, England had met Scotland in an International match at Ibrox Park in Glasgow. The game had been in progress for 30 minutes when part of the wooden terracing collapsed sending the spectators crashing to the ground below. The game continued but, when the final analysis was revealed, 25 people had lost their lives while many more were injured.
The SFA, along with the FA, decided that Celtic and Rangers, along with Everton and Sunderland, would play in a specially arranged tournament to raise money that would go to help the families of the victims. Everton and Rangers met at Goodison Park, the game ending in 0-0 draw, and the replay took place at Ibrox 3 days later.
Jack Brearley, who took part in the game, scored as Everton were beaten by 3 goals to 2. He would have, no doubt, then returned to the family home in Liverpool in readiness for next season
He featured in the opening game away at West Bromwich Albion and scored his first goal four weeks later in a 3-1 win over Liverpool at Goodison Park. Midway through the season following an injury to Sandy Young, Brearley was switched from inside right to centre forward and, on the 3rd of January, he scored all the goals in a 3-0 win over his former club Middlesbrough at Goodison Park.
However, following the return of Sandy Young he lost his place in the side and played his final game, 21st of February, in an FA Cup tie against Manchester United that Everton won by 3 goals to 1.
Jack Brearley had played 24 league and FA Cup games for Everton and scored 8 goals. Next season he was offered terms by Everton, on a wage of £4 per week, but refused to sign.
Liverpool came in with an offer of £150 to take Brearley to Anfield but the Everton executive refused to release him. This news reached the ears of former Everton player John Cameron, now the player-manager of Tottenham Hotspur, who reacted immediately. The Scotsman travelled North and persuaded him to sign for the Southern League side for an undisclosed wage.
Brearley settled comfortably in the Capital and was living at 15 Foyle Road when he married Emily Barlow, on the 5th of May 1905, at All Hallows Church in Tottenham. He spent four seasons at White Hart Lane, making 133 appearances and scoring 24 goals, before moving to Crystal Palace where he remained for two seasons.
Around this time, he opened an outfitting business at Beckenham but the venture did not appear to have been a success. Brearley, meanwhile, ended his football career as a player/coach, with his former club Millwall Athletic and retired from the game.
The 1911 census finds Jack and Emily living at 69, Mark Road, Wood Green where he declared himself to be an out-of-work licensed victualler. The couple had two children: John, aged 3, who was born in Penge, and 10-month-old Arthur who was born in Tottenham. Being unable to find a suitable position at home, Brearley joined the exodus of ex-British professional football players who were presently working as trainers on mainland Europe. He accepted employment in both Sweden and Austria and was with the Berlin-based club Viktoria 89 at the outbreak of World War I.
He was immediately instructed to report each day to a civilian police station until, during a short spell in hospital, he was arrested and placed in Ruhleben Prison Camp where he was joined by his former boss at Tottenham, John Cameron. Interned with him were Sam Wolstenholme and Walter Campbell who had also previously played football for Everton.
Brearley took part in all the sporting activities that were designed to relieve the boredom of captivity until the surrender of Germany on the 11th of November 1918. Food was by now in short supply and the inmates were eternally grateful for the food parcels that arrived from home. Civil unrest quickly broke out in Germany and the inmates, whose numbers were now reduced to 1,500 men, were liberated by a group calling themselves "The Soldiers and Workers Council of Berlin". This group of people ensured safe passage to the Railway Station and issued them with the following declaration that they wished to be relayed to the people of Great Britain…
It took 4 years for the German People – who never hated you – to come to their own and four years of endless privation and suffering to make our people realise they had been misquoted and misled. The people were slaves of a barbaric system – therefore – withhold any ill feeling of hatred. Do not hold the German people responsible for the deeds committed by its former Aristocratic leaders.
The British subjects were then transported to the port of Sasenitz on the Baltic Coast where 2 ships, supplied by King Haakon of Denmark, awaited their arrival. The British journalist who witnessed the event reported that they were dishevelled and immediately dashed to the washing facilities on board. (He also made reference to the many local children who clamoured around the two vessels begging for food.) Brearley and the party had a medical examination while being shipped to Copenhagen where, after taking a rest, they resumed their voyage and arrived at Hull on the 27th of November, 1918.
Brearley later settled at Southend on Sea where, it was reported, he worked as a waiter in the hotel industry. He also played cricket and was a leading member of the snooker team at the Navel and Military club. However, the evil of war was again to cast its shadow over the Brearley family when their son Reginald, serving with RAF Volunteer Reserve as Wireless op/ Air Gunnar, was "killed in action" and buried at Coxyde Military Cemetery in Belgium. He was 21 years old and living at 9 Marlborough Road in the Thorp Bay area of Southend at the time.
John Brearley was residing at this address when, on the 27th of September 1944, he was knocked off his bicycle on Pier Head in Southend and died in the Ambulance while on the way to Hospital. He is buried, in Southend, at Sutton Road Cemetery.
---
Reader Comments (8)
Note: the following content is not moderated or vetted by the site owners at the time of submission. Comments are the responsibility of the poster. Disclaimer
Mike Gaynes
1
Posted 21/08/2018 at 00:37:16
Fascinating, Tony. Thank you.
Bill Watson
2
Posted 21/08/2018 at 01:32:38
Many thanks for an enthralling read, Tony.

David Ellis
3
Posted 21/08/2018 at 02:55:41
Great story... if a tad sad.
Millwall Athletic changed their name to Millwall in the 20s. A shame really.
Ari Sigurgeirsson
4
Posted 21/08/2018 at 07:52:08
Thank you for this article, Tony.
Tom Hughes
5
Posted 21/08/2018 at 09:07:31
Another interesting snippet of our history, and the quite unusual life of a local lad.
Paul Birmingham
6
Posted 21/08/2018 at 09:49:34
Excellent read, and a great insight to how life,was.
Jack had loads of character and guts to adapt and flex to make a living.
Inspiring and another piece of our clubs history, unfolded.
Thanks Tony.

Mike Owen
7
Posted 21/08/2018 at 12:16:47
A great piece, Tony. I am sure you spent a heck of a lot of time researching all that.
So, 100 years ago today, Jack Brearley and others were stuck in a prison camp. He surely never thought that Evertonians a century later would be reading about him. He'd want to buy you a pint, Tony!
I'd like to think some of our modern-day players might read this piece about him.
Lenny Kingman
8
Posted 21/08/2018 at 13:22:04
Even in those far off days, a man with a little talent and determination could fill his swag and head off to achieve a rewarding and adventurous life.
Thanks for posting a glimpse of a time long passed but not forgotten thanks to articles like this.
Add Your Comments
In order to post a comment, you need to be logged in as a registered user of the site.
Or Sign up as a ToffeeWeb Member — it's free, takes just a few minutes and will allow you to post your comments on articles and Talking Points submissions across the site.
© ToffeeWeb