Everton History
Charles Munroe Lindsay, an Everton Goalkeeper
In the year of 1871. the FA rules were reformed and it was decided that only one designated player was allowed to handle the ball in order to prevent it from entering the frame of the goal. He will henceforth be known as the designated goalkeeper. It was a hazardous place to be because the rules as yet did not prevent the man chosen from being "brought to ground" – with or without the ball – or surrounded and barged by opposing forwards. These rules were still in force when in 1883 Everton found the man who would become the first of a long line of "first-choice" goalkeepers.
Charles Munroe Lindsay was born on 14 February 1862, and spent the early years of his life living on Kemble Street in the area of Liverpool once known as Kensington Fields. His father, George, a former mariner, had met his Aberdeenshire-born Mother, Isabella Cameron, in Liverpool, where they had married in 1857. The head of the household at the time of Charles's birth was employed as a customs officer.
When the 1881 census was taken, Isabella was the head of the household and working as the matron of a local institution, while Charles, her eldest child still at home, was working as an invoice clerk. Their home was at 45 Albert Edward Road.
It is difficult to ascertain where Lindsay began playing Association Football but he was possibly introduced to the Everton club by a clerical colleague from his place of work. He first appears in the side playing in the forward line on the Rhosddu Recreation Ground, where Everton were beaten 5-3 by Wrexham Olympic.
On 5 March 1883, the visit of Bolton Wanderers brought the largest crowd yet seen on Stanley Park, where Lindsay made his first appearance in the Everton goal. The game attracted enough national attention for the Athletic News to send along a reporter who had this to say…
An exhibition match between Bolton Wanderers and Everton was certainly disappointing at Stanley Park. The Bolton men can give teams like Everton a long start and, in spite of the absence of 3 prominent men, playing 1 short and contained against the vagaries of a very amateurish substitute, they landed a respectable total of 8 goals against 2 for Everton. The latter possess a few good men, but they are too slow all around.
Lindsay made one more Everton appearance against Turton before the season came to end. The game with Bolton, however, had convinced the executive of the need to control the large crowds who were now watching football and charge them for admission, so next season they constructed a simple enclosure at the lower end of Arkles Lane.
The first team to visit this location was Hartford St Johns and Charles Lindsay kept goal for Everton as they christened the new venture with a 3-1 victory. He consistently kept goal throughout the season and was selected to represent the Liverpool & District side on 22 March 1884 against their rivals from Manchester. The match took place on Bootle Cricket Ground and his side won 3-2. Next weekend, Charles was back at the same venue to represent Everton in the final of the Liverpool Cup.
Their opponents were Earlestown and a crowd of 2,500 people watched Lindsay take up position in the Everton goal. He kept it intact throughout the game which ended in a 1-0 victory for his side. This was the first piece of silverware obtained by the club and the members celebrated by escorting the players back to the club headquarters at the Sandon Hotel.
Further scenes of triumph were later witnessed at the AGM of the Liverpool FA where the trophy was handed over to the Everton captain, Jack McGill. Lindsay was present and, along with rest of the Everton team, was the recipient of a gold-centred medal. Next season, he found himself playing at a new location on Anfield Road.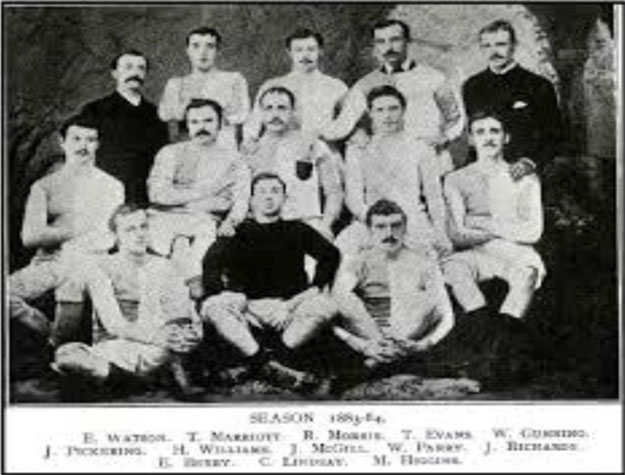 The move took place during the summer and the new venue opened on 27 September 1884 with a visit from Earlestown. Lindsay had kept goal for Everton in the two openings games at Port Vale and Wallasey but, for some unexplained reason, he missed the inaugural home game where his place was taken by Charlie Joliffe, who had joined Everton from St Benedict's. Nevertheless, he was back in the team when the next visiting side, Bolton Association, arrived at Anfield and was first choice goalkeeper throughout a season which saw Everton reach the final of the Liverpool FA Cup where their opponents, once again, would be Earlestown.
The popularity of the association rules game was now on the increase and the attendance was double the number who had watched the previous encounter. The venue once again was the Bootle Cricket enclosure but this time the match ended in controversy.
It had been in progress for about 70 minutes when Lindsay caught and held a high centre but, before he could release the ball, was swept over line by the incoming rush of the tightly packed opposing forwards. The referee awarded a goal. Everton then penned their rivals back into their own half and a late strike from Gibson looked to have saved the game. The referee, however, disallowed the goal on a plea of offside and the final whistle was sounded. The Everton executive entered a protest that was not upheld and Lindsay had to be content with a silver medal. Next season, Charlie Joliffe replaced him in the Everton goal and he slowly retired from the game. Charles now concentrated on married life, which was occasioned by sorrow, and a most successful business career.
In October 1892, Lindsay married Chester-born Catherine Humphreys at Birkenhead and settled at 18 Clarendon Road in Liscard. The premature death of Catherine sadly occurred just three years later with no addition to the family.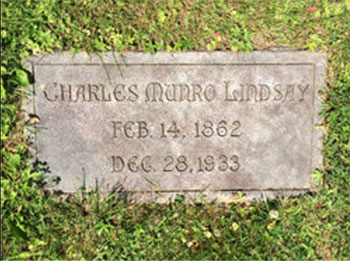 Lindsay was married for a second time in 1898 to Jane Stubbs, the daughter of a salt works manager from Winsford and the 1901 census finds them childless and living at 73 Serpentine Road in Liscard. He was a now a works manager and he employed one servant at his home. Jane, while living at this address, gave birth to two children whom she named Kenneth and Edna. Her husband, meanwhile, had developed business interests on both sides of the Atlantic Ocean.
He is first recorded sailing out of Liverpool bound for New York in 1904 and made several other voyages thereafter. In 1909, the Lindsay family emigrated to America and took up residence at 41 Reid Avenue, Passaic, New Jersey where their third child, Ronald, was born on 17 August 1909. They later moved to Montclair Township, Essex County, New Jersey where Charles spent the last years of his life. He died on 28 December 1933 and was buried at Mount Hebron Cemetery, Passaic, New Jersey.
---
Reader Comments (8)
Note: the following content is not moderated or vetted by the site owners at the time of submission. Comments are the responsibility of the poster. Disclaimer
Bill Watson
1
Posted 08/10/2018 at 19:28:10
Thanks, Tony, for another fascinating glimpse into our early days.
The reporter from the Athletic News mentions, "a very amateurish substitute". Do you know if this would have been during the game? Were substitutes allowed in the early days?

Paul Birmingham
2
Posted 08/10/2018 at 22:01:55
Thanks Tony for another excellent read.
I'm sure there's a potential for a book, down the line, EFC players, pre 1900.
David Ellis
3
Posted 09/10/2018 at 03:16:47
Amazing to think that there were several football clubs in Liverpool at the time of equal status to Everton (and of course all pre-Sauron's era). And only Everton emerged as the professional team. We could have all been supporting Earlestown now if things had gone slightly differently.
I fear a similar thing may happen if there is ever a proper Euro league. Half a dozen clubs from England are included and the rest just fade away.
Greg Anderson
4
Posted 09/10/2018 at 04:20:02
Thank you, Tony, for another great read. As David suggests, it is fascinating for us to read about the very humble early days of our club.
Speaking of which, Tony, I saw a comment you made on another site a few years ago which suggests that our history may actually predate 1878. Something to do with a St Saviour's Church team, I think. Can you please tell us more?
Alan Holman
5
Posted 09/10/2018 at 07:39:10
Really enjoy these stories about old players. Interestedly, David, what you said about Earlestown.
I have followed Everton and Earlestown since the early 50s as I live just 5 minutes fro the ground at Vista Park, sadly no longer with us and I can recall many stories about them. Earlestown must have been a very respected club at that time as Everton chose them to play the first game at Anfield.
Tony Onslow
6
Posted 09/10/2018 at 19:01:26
Greg.
Tom Evans (pictured) came to live in Liverpool in 1875 having previously played association football with Chesterfield. He immediately started playing cricket for Everton where he first came in to contact with John Houlding who was on the Vestry Committee at St Saviours church.
After Evans was married, at Clay Cross, he lived off Breckfield Road and worshipped at St Saviours church. John Houlding was his Landlord. Many of the early players with Everton appear in the records books of St Saviours which makes for a good argument that they were an extension of the cricket section who met to play football in the Winter, where Tom Evans would have taught them the rules of the association game.
Greg Anderson
7
Posted 09/10/2018 at 22:53:28
Thanks so much, Tony. Well, you have persuaded me at least that we need to add two or three more years to our history! I suppose we have to be grateful to Houlding in those early years, before his Lucifer-like fall from grace. From small beginnings ....
Peter Mills
8
Posted 11/10/2018 at 22:24:06
These things even themselves out over a period of time. Our Charles Lindsay was bundled over the line in the Liverpool FA Cup Final in 1884/85. Steve Sherwood had his hands brushed by Andy Gray's head/arm in the FA Cup Final in 1984.
Add Your Comments
In order to post a comment, you need to be logged in as a registered user of the site.
Or Sign up as a ToffeeWeb Member — it's free, takes just a few minutes and will allow you to post your comments on articles and Talking Points submissions across the site.
© ToffeeWeb