Everton History
Jason Scott-Lee: Football Pioneer
Rob Sawyer

20/12/2018
0

comments | Jump to last
Share: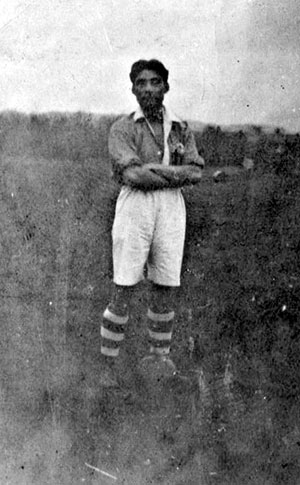 Jason Scott-Lee, c1940
In the summer of 2002 Everton announced the signing of Li Tie and Li Weifeng, two Chinese players who arrived on the back of a shirt sponsorship deal with Chinese telecommunications company, Kejian. The pair appeared together just twice for the Blues, in a 1-0 defeat to Southampton and a League Cup victory over Wrexham (the latter notable for Wayne Rooney scoring his first senior Everton goals). Li Weifeng's spell on Merseyside was short-lived, but Li Tie would win over sceptics and become an integral member of the first eleven in his debut season. A break to his shin on international duty ruined the rest of his Everton career; his contract expired in 2006 with him having made a modest 40 appearances.
Li Tie and Li Wiefeng were not the first players with Chinese heritage to appear for Everton, however. On 10 September 1942, the Liverpool Evening Express trumpeted the news that Everton FC was on the brink of making history with 'two Chinese footballers playing for them in their derby games with Liverpool.'
The players in question, both Merseyside-raised and of mixed English-Chinese background, were Frank Soo and Jason Scott-Lee. Soo (1914-1991) had arrived at Stoke City via Liverpool Schoolboys and Prescott Cables. He became a star player for the Potters and would go on to represent England in nine wartime matches (sadly, these are not recognized in the record books as official appearances). He had been pencilled in to appear as a guest player for the Toffees (a common occurrence in wartime fixtures) but, in the event, did not play in the derby. In fact, he had already made one appearance for Everton at the tail-end of the previous season – making a very favourable impression in a 6-1 hammering of Manchester City. Soo grabbed a brace and the Daily Post recorded: 'One of the main reasons for Everton's improved display was the inclusion of Soo, the Stoke City and England half-back. Playing inside-left, Soo transferred the Everton attack. He was always well up in the van of every Everton onslaught, yet found time and energy to help the defence in time of stress. He fed Lawton and Stevenson in a way they have not enjoyed for a long time, and in continuation with Stevenson on the extreme left flank formed a brilliant wing.'
Post-war, Soo was on the books of Leicester City, Luton Town and Chelmsford. He would then embark on a peripatetic management career – much of it in Scandinavia. Soo's later life was tough and he passed away in Cheadle, Staffordshire in January 1991, aged 76, having lived for some time with dementia. His life has been documented by Susan Gardiner in 'The Wanderer' and a foundation has been set-up in his name (thefranksoofoundation.org.uk).
But what of Jason Scott-Lee, who turned out for the Everton A (third) team on 12 September in the County Combination against their Liverpool FC counterparts? Although being only the second Eurasian player to represent the club, his story has not been fully told, until now.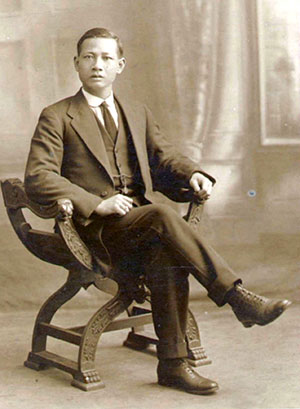 Chan Lee as a young man
For context, we need, first, to go back to 1911 when a ship named the SS Kitano Maru set sail for England from Hong Kong. Listed on its passenger manifest was Chan Chin Lee. He'd had a tough upbringing in the Guangdong province of China. Abandoned by his mother and orphaned when his father died, he was raised by relatives in Macao. He picked up English and French language skills as well as several Chinese dialects. With unrest in China rife, he headed for England – maybe for a better life or, perhaps, to raise funds for the political struggle back home. Docking in London his family name was inadvertently switched by British officials from Chan to Lee (due to a failure to understand Chinese naming conventions). He continued his journey by land to Liverpool to establish contact with the Chinese community there. Over time, he would establish himself as one of the most respected and influential figures in the original 'Chinatown' community which centred on Pitt Street (an area that had also been the residence of Jewish and Scandinavian communities). Many of the Chinese men were employed by the Joseph Holt Shipping Line (Blue Funnel) whilst Chan, himself, employed some compatriots in his businesses in Chinatown.
The First World War brought an influx of Chinese men to Britain to aid the war effort. They arrived, mainly from Mandarin-speaking Shandong Province, in the expectation that a defeated Germany would be obliged to return its Chinese colonies to Chinese sovereignty (in fact, the territories were handed to Japan in 1919). During the conflict, the Chinese Labour Corps/British Army Labour Corps would support the British forces by performing non-combative tasks such as digging trenches, burying the war dead, driving ambulances and servicing military vehicles. Some men never made it to the front – taken by 'Spanish Flu' before sailing for France and Belgium. In Anfield Cemetery, three graves stand dedicated to a trio of such unfortunate people, buried far from home.
Chan would purchase his tobacco from a shop where Gwenllian Ward and her sister worked as assistants. Gwenllian was from the Cotswolds but had travelled extensively in Europe with her mother and step-father, a Greek ship's carpenter, before settling in Liverpool. Chan would, go on to date Gwenllian and they would have five children together. Jason Lee, their second of five children, was born in 1921 and raised in the family home in Liverpool. A multi-talented child – he was proficient musically (guesting on violin with the Liverpool Philharmonic at one point) and possessed great rhythm and balance which were expressed in his passions of dancing and football.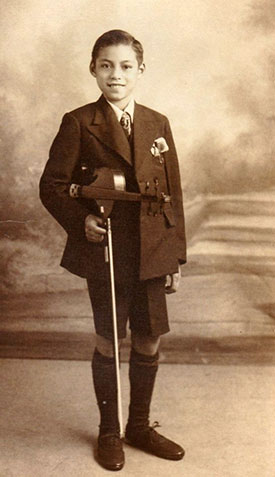 Jason Scott Lee with his violin, 1933
In the 1930s, the racial prejudice experienced by the Chinese men, inflamed by concerns over some of them courting local women, was accompanied by financial hardship. Chinatown dwindled due to emigration, older men dying and children of mixed-ethnicity settling into the wider Liverpool area. Chan harboured hopes of going back to China with his family but the move never came to pass; Japan declared war on China in 1937 and returning to China became impossible. After he lost his properties, and fought Liverpool council in the courts and lost, Chan spent a month in Walton Gaol for not paying court costs. Subsequently he felt obliged to move the family to Rhyl to operate a laundry owned by a friend. With the storm clouds of war gathering, it was a prudent move but Chan detested the toil of laundry work which failed to reap the financial rewards expected. However, the outbreak of war brought a fresh influx of 20,000 Chinese men to work for Blue Funnel and Anglo-Saxon Petroleum (Shell) in the British Merchant Fleet on the treacherous Atlantic convoys (the Chinese Seamen's Pool accounted for 15% of seamen working out of Liverpool during this period). Sensing a business opportunity, Chan moved back to Liverpool, leaving the family in relative safety in North Wales. His café-cum-gambling house on Oxford Street and, subsequently, Upper Canning Street proved popular with the sailors.
Jason, meanwhile, who had appended Scott to his surname of Lee - perhaps to anglicise his name, but also because he was great admirer of Scott of the Antarctic - was emerging as a footballer of some promise. He came to the attention of Manchester United and joined the club's junior team on amateur forms during the 1940/41 season. On 6 December 1941, he was called up to the United first team in place of Charlie Mitten, for a War League match played at Maine Road (Old Trafford being unavailable due to bomb-damage). Positioned on the left wing, with future Everton manager, Johnny Carey, alongside him, Jason contributed to a 10-3 rout of Wrexham. This history-making appearance by a player with a Chinese ancestry brought scant comment in the Mancunian press. The Manchester Chronicle merely noted that Jason was a Bangor University student (in fact he was a Liverpool University medical student). He retained his place for the return fixture at the Racecourse Ground a week later, a 2-2 draw. He would also be selected for a New Year's Day draw with Bolton Wanderers.
At the beginning of the 1942/43 season, it was reported that Theo Kelly, Everton's Secretary-Manager, had secured Jason's services on loan from United ('guesting' being a common occurrence in wartime football). The Liverpool Evening Express, on reporting his capture noted that 'the lad has the makings of a tip-top centre forward.' His debut for the Blues' A (third) team came in the 1-0 defeat to Liverpool in September. He would appear on a fairly regular basis for Everton as an inside-left forward (his preferred position) for the next two seasons in the A and reserve teams. Jason did continue to turn-out for Manchester United's first team when feasible. His four United appearances in the 1942/43 season included a 2-1 defeat in October at Anfield. His seventh, and final, United outing came on 2 January 1943 in a 4-1 loss to Chester.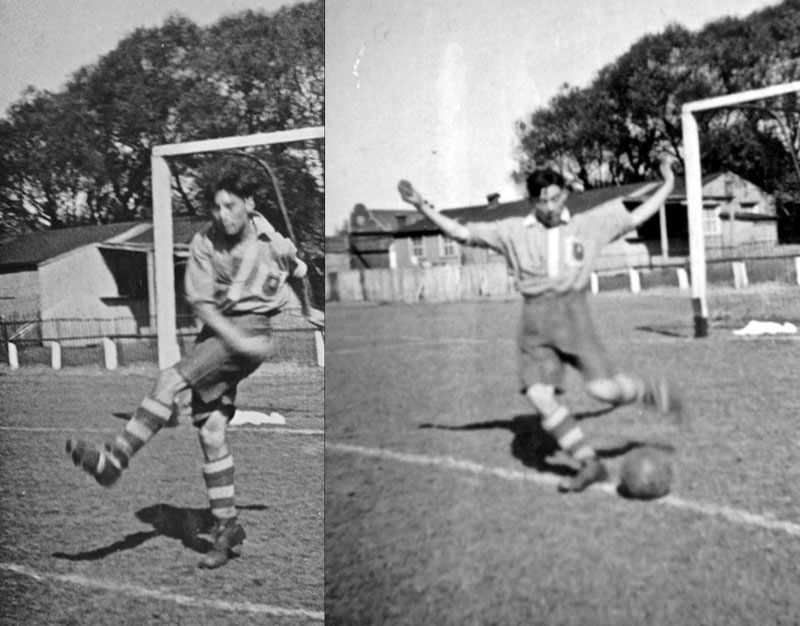 Jason Scott-Lee kicking a ball, c1940
Jason made his senior debut for Everton in place of the injured Gordon Watson. He lined up alongside Stan Bentham and T.G. Jones in the Toffees' half-back line on 2 October 1943. Of the 0-0 stalemate with Burnley, Pilot (Liverpool Evening Express) wrote: 'There were some delightful touches by Scott-Lee, as Everton proceeded to call the tune, but continued to keep the ball a little too close.' Meanwhile, Ranger, of the Daily Post reported, 'Scott-Lee making his senior debut, had rather too much of a handful with the Burnley right wing but struck to his task with rare determination and was well covered by Greenhalgh who played a splendid game.' He retained his place in the side for the following week's Merseyside derby. The 6-4 home defeat was a chastening experience for the Blues, and Jason in particular. Pilot wrote: 'Young Scott-Lee was out of his depth for Everton and was generally chasing shadows, while Bentham, anxious to attack, sacrificed defence, and Jack Balmer made the most of it. With the wing half-backs found wanting. Tommy Jones had an impossible task facing that deadly Balmer-Welsh-Done trio who switched positions so bewilderingly.' It should not be over-looked that Jason, a nimble forward by trade, was being asked to fulfil a largely defensive role against a Liverpool attack compromising three excellent forward players. This would be Jason's final senior outing for the Blues. He would return to appearing to the reserve and A teams with regularity until early in 1944.
From late 1944 into 1945 a 'Lee' (not first name noted) was reported to be playing for Tranmere Rovers (making 15 appearances). Although not explicitly identified as Jason, it was reported in the press that in July 1945 that, on expiration of his registration with Manchester United, Jason was one of seven new signings made by Tranmere ahead of the 1945/46 season. Although now a de-facto Rovers player he never made any senior appearances – and so his football career drew to a close. Perhaps juggling football and medical studies, along with his other passion of ballroom dancing, was proving too much of a challenge.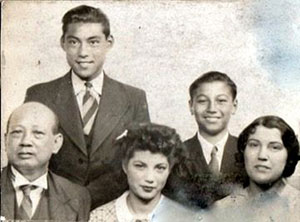 Scott-Lee with his siblings and parents, 1940
Meanwhile, for Jason's father, Chan, and the Chinese population of Liverpool, events were taking a sinister turn. In the months following the end of the war, the Home Office took steps to deport the Chinese seamen who had settled in the UK, mainly in Liverpool. The action began at the tail-end of 1945, initially aimed at 'undesirable' Chinese seamen (the term 'undesirable' being stretched beyond all reasonable limits). Underhand methods were used to push-through the deportation of men, most of whom were residing legitimately in England. Landing conditions, which had been set when the men had arrived in Liverpool, were retrospectively amended to set new leaving dates. When these men would could not, or would not, depart in such a short space of time, they were classed as 'over-stayers' and rounded up by the police, ready for deportation.
Blue Funnel Line, which had not forgiven the Chinese seamen for launching a short-lived industrial action in protest at unequal wages during the war, willingly laid on the transportation of the men by cargo vessel back to China – a country in a state of turmoil and civil war. By July 1946, 1,362 men were recorded as having left Liverpool by sea (some did so voluntarily but the majority left under duress). It is estimated that 300 of the sailors had partnered Liverpool women, many young children of mixed heritage saw their fathers deported – never to be seen again. All representations by members of the Chinese community and the Liverpudlian wives of the seaman were brushed aside by officialdom.
This human tragedy, which saw the sailors being sent to an uncertain future, their wives and partners left destitute and their children heartbroken, lay largely unreported until Yvonne Foley, daughter of one of the repatriated Chinese men, sought to bring it to the public's attention. Her website, halfandhalf.org.uk, makes for fascinating, and often depressing, reading. In 2005, Gregory Lee's BBC Radio 4 documentary Liverbirds and Laundrymen brought the episode to a wider audience. A memorial plaque can now be found at Pier Head. It reads:
To the Chinese Merchant Seamen who served this country well during both world wars.

For those who gave their lives for this country - thank you.

To the many Chinese Merchant Seamen, who, after both world wars, were required to leave.

For their wives and partners who were left in ignorance of what happened to their men.

For the children who never knew their fathers.

This is a small reminder of what took place. We hope nothing like it will ever happen again.

For your memory
The enforced exodus of Chinese men eliminated Chan's custom and his seamen's café business became unsustainable. Subsequent influxes of Chinese people to Liverpool have overwhelmingly consisted of Cantonese families, who arrived via Hong Kong (a British territory on lease from China until 1997).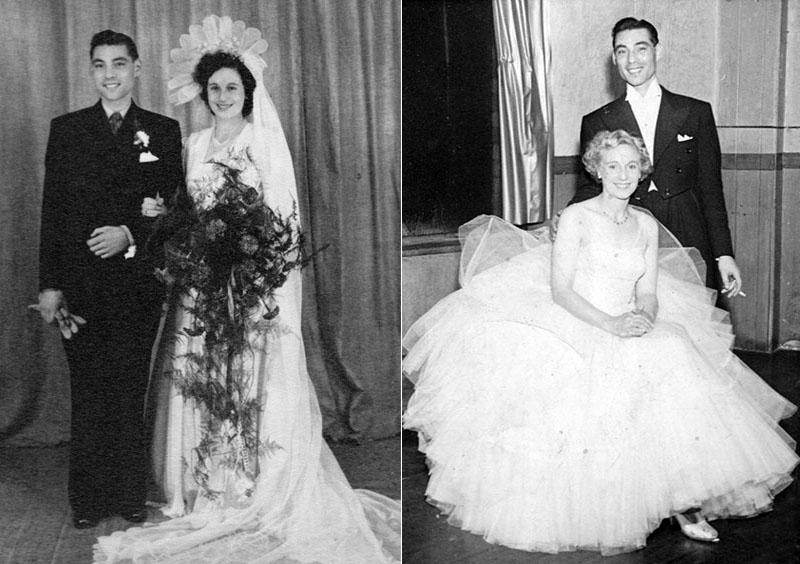 Photo credit: Gregory Lee
Jason would never finish his medical studies but he would continue to dance. He'd win ballroom competitions with Anne Crossland (who was crowned Miss Rhyl in 1947) and, being quite the renaissance man, he designed and made Anne's ballroom gowns. The couple married in Rhyl in October 1947 and went on to have four children (one of whom died in infancy). Jason ran a taxi company and, in later life, worked in education for children with disabilities. He also helped one of his sons set-up a successful North Wales photographic business, still finding time to become an accomplished golfer. Jason was still dancing until close to his death on 29 October 2002, aged 81. Anne was laid to rest with him in Maeshyfryd Cemetery, Rhyl, four years later.
The talent for performance has passed down the family line as Jason and Anne's grandchildren include Lisa Scott-Lee and Andy Scott-Lee, who enjoyed chart success with Steps and 3SL, respectively, in the 1990s.
As for Chan, he passed away in 1963, seven years before Gwenllian. He lies in the Chinese section of Anfield Cemetery, close to the graves of the Chinese Labour Corps members who passed away during the course of First World War.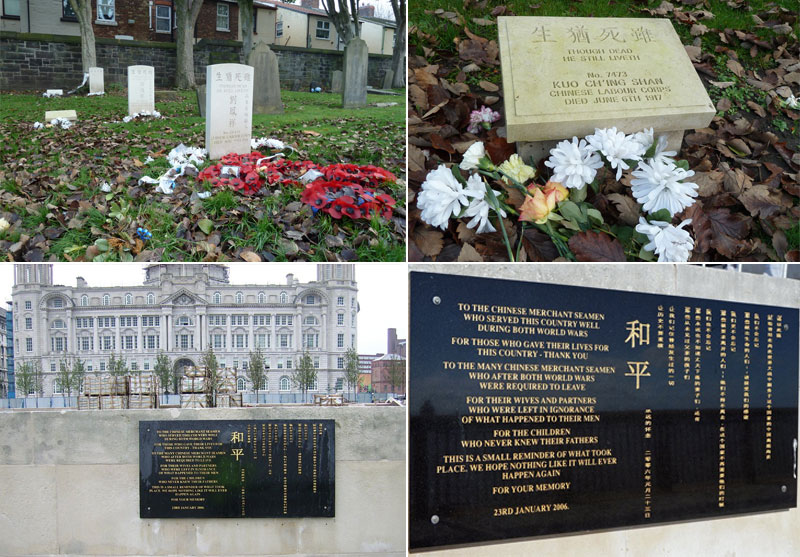 Top left: Chinese Labour Corps graves in Anfield Cemetery. Top right: Chinese Labour Corps grave plaque. Bottom: Pier head plaque and close up view
Acknowledgements
My sincere thanks go to Gregory Lee (Twitter: @GBLee) for his invaluable assistance with this article. Thanks, also, to Yvonne Foley for supplying images of the memorial plaque at Pier Head.
Sources and further reading:
The Eighth Chinese Merchant and the Disappeared Seamen – by Gregory B. Lee (available on Apple Books.)
Chinas Unlimited: Making the Imaginaries of China and Chineseness – by Gregory B. Lee (Routledge and University of Hawaii Press)
halfandhalf.org.uk website (Liverpool and its Chinese Seamen) by Yvonne Foley
http://news.bbc.co.uk/1/hi/world/asia-pacific/4433003.stm
The Wanderer: The Story of Frank Soo – by Susan Gardiner (Electric Blue Publishing)
Billy Smith (bluecorrespondent.co.uk)
Steve Johnson (evertonresults.com)
Kjell Hanssen (playupliverpool.com)
Manchester Chronicle
Liverpool Echo
Liverpool Evening Express
Liverpool Daily Post

Follow @robsawyer70
---
---
© ToffeeWeb